The completion tally actually goes over 100% (but doesn't show it in the stats menu). Thus, you may find that you only need to complete ~35-40 errands instead of all 50 (depending on if you unlock the running shorts and bike pants). Or you could skip unlocking the running shorts/bike pants (if you aren't going for achievements) and complete all 50 errands (up to you).
Things that Contribute to Completion Percentage:
Complete all main missions and side missions (71 in total).
Complete all classes (Chemistry, English, Art, Gym, Shop and Photography) to level 5 [unlocks Graduation Hat].
Collect/destroy the following collectibles: 75 rubber bands, 20 G&C Cards, 6 transistors, 25 gnomes, 27 pumpkins and 19 tombstones.
Complete all 50 errands.
Complete all 6 mowing missions (3 Park and 3 House).
Complete 3 paper route missions (6/10/14 letterboxes). [The other 2 paper route missions: 19 & 24 letterboxes are optional and don't contribute anything to the competition percentage].
Complete all 14 bike races (7 Bullworth Vale, 4 Bullworth Town, 2 New Coventry and 1 Bullworth Academy).
Complete all 8 Go-Kart Races (5 Carnival and 3 Street Races).
Beat keep-ups and penalty shoots at least once.
Ride all 3 carnival rides: The Ferris Wheel, The Big Squid and Big Canyon Railway.
Beat all 4 carnival events at least once: Strike Out, High Striker, Splish Splash and Shooting Range.
Beat all 4 training boxing side missions.
Beat the high score for consumo, nutshots and monkey fling.
Purchase all clothing from: Bullworth Academy (~$154 required), Final Cut (~$820.50 required), Aquaberry (~$1236 required), Worn In (~$752 required); and by winning all clothing items from the carnival prize tent (255 tickets is required) [obtaining all "purchasable clothing" unlocks the Gold Suit].
Obtain the Werewolf and Bandit Mask by picking lockers.
The following clothing unlockables need to be unlocked:
Black Ninja Outfit - unlocked by taking all yearbook photos.
Red Ninja Outfit – unlocked by completing the Big Prank.
Green Ninja Outfit – obtaining 1, 000 projectile hits.
Free Soda – Purchasing/drinking 100 sodas.
Soda Cap – Purchasing/drinking 500 sodas.
Running Shorts – Travel a distance of 41.84kms (aka 26 miles) on foot.
Bike Shorts – Travel a distance of 100kms on a bicycle.
Pirate Hat – beat up the secret pirate.
Fire-fighter Hat – pull 20 fire-alarms.
Dunce Cap – fail any 5 classes.
Things that Don't Contribute anything to the Completion Percentage:
Purchasing the 2 rock posters and scooter from the Carnival Prize Tent.
Beating Boxing Random Challenger mini-game.
The last 2 paper route jobs (19 & 24 letterboxes).
Spray a tag of each clique (nerd/preppie/greaser/jock).
Prison Outfit – obtained by completing 9 detention tasks.
Beat the future street racer arcade game.
Unlocking any achievement that isn't mentioned above such as: doing 200 wheelies, giving 50 wedgies, kicking 100 soccer balls, and skateboarding 50km (no clothing is unlocked – only an achievement is awarded).
Sours: https://www.speedrun.com/Bully/guide/rjl9d
What all do i need to get to 100% completion?
I have 96% completion on bully and im wondering what all do i need to get 100% on bully i have all the rubberbands the cards and the gnomes destroyed so what is all left for 4 percent in the gamebahamutzero666 - 8 years ago
Top Voted Answer
>>Completion of all Main Story Missions
*************************************
++From "This Is Your School" to "Complete Mayhem".
-------------------------------------------------------------------------
**NOTE: "The Big Prank" is *NOT* required for 100% Completion.

>>Pass all of the following classes
*********************************
++Art.
++Chemistry.
++English.
++Gym.
++Shop.
++Photography.

>>Collect or destroy the following
********************************
++Collect all 75 Rubber Bands.
++Collect all 40 "G&G" Cards.
++Collect all 6 Transistors.
++Destroy all 25 Gnomes.
++Destroy all 19 Gravestones and get the Edna Mask.
++Destroy all 27 Pumpkins and get the Pumpkin Head Mask.

>>Complete the following side-missions
************************************
++"A Little Help"
--II through VI to get additional fighting moves from the Hobo.
++Complete a minimum of 31 out of 50 Errands.

>>Complete the following tasks
****************************
++Fail five classes and earn the Dunce Cap.
++Pull the Fire Alarm 20 times and earn the Firefighter Helmet.
++Run 41.84 kilometers to earn the Running Shorts.
++Ride a Bike 100 Kilometers to earn the Spandex Bike Shorts.
++Buy 100 Sodas to earn the Free Soda Reward (all Sodas will be free for
the rest of the game).
++Drink a total of 500 Sodas (bought or picked up) to earn the Two-Can
Hat.
++Successfully complete the "Penalty Shots" mini-game once.
++Successfully complete the "Keep-Ups" mini-game once.
++Defeat the Pirate on the southern part of the large island at Bullworth
Lake to get the Pirate Hat.
++Complete five levels of Boxing at the Glass Jaw Boxing Club (Old
Bullworth Vale).
++Take all pictures for the Yearbook and unlock the Black Ninja Outfit.

>>Complete the following Jobs
***************************
++Lawn Mowing (Old Bullworth Vale Gardens - all three levels).
++Lawn Mowing (23 Estate Road - all three levels).
++Paper Route (at least past Level 2).

>>Complete the following Bike Races
*********************************
++Bullworth Vale (seven races).
++Bullworth Town (four races).
++New Coventry (two races).
++Bullworth Academy (one race).

>>Complete the following Go-Kart Races
************************************
++Old Bullworth Vale (by the Happy Endings Retirement Home).
++Shopping District (south of the Movie Theater).
++Blue Skies Industrial Area (by Spazz Industries).

>>Beat the high scores of the following Arcade Games
**************************************************
++"Monkey Fling"
++"Nut Shots"
++"ConSumo"

>>Complete the following tasks at the Carnival
********************************************
++Ride the following rides:
--"Big Canyon Railway"
--"Big Squid"
--"Ferris Wheel"
++Successfully complete the following Carnival Games (at least once):
--"Shooting Range"
--"Splish Splash"
--"High Striker"
--"Strike Out"
++Complete the five Go-Kart Races to unlock the City Races.
++Purchase all of the Clothes within the Souvenir Tent (you need to win
Tickets to trade for the Clothes - minimum of 255).

>>Buy all the clothes from the following Clothes Shops
****************************************************
++Bullworth Academy (Main Building - first floor).
++Aquaberry Fashions (Old Bullworth Vale).
++Worn In Used Clothing (Bullworth Town).
++The Final Cut (New Coventry).

>>Earn the following Save Houses
******************************
++The Beach Clubhouse (Prep Challenge).
++Dragon's Wing Comics basement (Nerd Challenge).
++Blue Balls Pool Hall (Greaser Challenge).
++The Jock Clubhouse (Jocks Challenge).
++Townie Hangout (Townie Challenge).Mantis503 - 8 years ago7 3
Answer this Question
You're browsing GameFAQs Q&A as a guest. Sign Up for free (or Log In if you already have an account) to be able to ask and answer questions.
More Questions from This Game
Sours: https://gamefaqs.gamespot.com/ps2/928128-bully/answers/340406-what-all-do-i-need-to-get-to-100-completion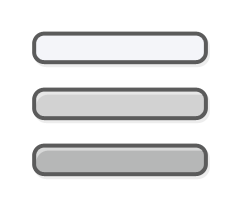 This item has been removed from the community because it violates Steam Community & Content Guidelines. It is only visible to you. If you believe your item has been removed by mistake, please contact Steam Support.
This item is incompatible with Bully: Scholarship Edition. Please see the instructions page for reasons why this item might not work within Bully: Scholarship Edition.
Current visibility: Hidden
This item will only be visible to you, admins, and anyone marked as a creator.
Current visibility: Friends-only
This item will only be visible in searches to you, your friends, and admins.
Story Missions, Side Missions and Errands.
There are a total of 52 Story Missions and 24 Side Missions which all need to be completed for 100% completion. You can recognize a story mission by the Gold star and the side missions by the Red star.

You also need to complete 47 out of 50 Errands. You can recognize errands by the Blue X moving towards Jimmy. You unlock errands after you complete Pete's first errand.

Be sure to complete 'The Big Prank' after 'Halloween'. If you sleep this mission will become unavailable. The reward for this mission is the Red Ninja Outfit which lets you Trespass without getting in trouble!
You have to pass all classes for the 100% completion if you fail a class you can retry it the next time you have that class.
Day One
Chemistry, After passing the first class
you will receive the Chemistry Set. After
Chemistry 5 you can make Firecrackers, Stink Bombs and Itching Powder


English, After passing English 5 Jimmy will be
able to Apologize to Bullies, Prefects and even Police officers. Jimmy will also be able to taunt bullies better.
Day Two
Art, After passing Art 5 kissing girls will give you
a 200% Health Bonus, Girls will no longer
request a gift and the Art Trophy


Gym, After Gym 5 you will have learned multiple Wrestling Moves, Improved Weapon Accuracy
and last but not least a Dodgeball Trophy
Day Three
Biology, After passing Biology 5 you have received multiple pieces of clothing and the Human Skeleton Trophy


Music, Before attempting Music class make sure you use the mouse and keyboard. Playing with a gamepad messes up the rhythm. After passing Music Class you will receive multiple music themed clothing sets and the Cowbell Trophy.
Day Four
Shop, After passing Shop 5 you will unlock the Red BMX which is the fastest bike in the game and a BMX Frame in the Dorm Room.


Photography, after passing all the Photography classes you will receive the following things: the Photo Album, the Yearbook, Digital Camera and Double Tickets at the carnival.
Day Five
Geography, after passing Geography 5 you will unlock the locations of all the collectibles, a couple of clothing items and the Globe Trophy


Math, After passing Math 5 you will receive 5 clothing pieces and the
Abacus Trophy
Paper Route
After passing 'Last Minute Shopping' Jimmy will be able to get his first job. Jimmy has to deliver all the newspapers on time. The first level has 10 clients then 14, 19, and eventually 24. Doing all 4 missions will earn Jimmy a total of $134

Jimmy will always start the mission on a girl's bike but you can switch bikes if you place another bike or moped near the newspaper stand in Old Bullworth Vale.

Lawn Mowing
Just like the Paper Route the Lawn Mowing job becomes available after 'Last Minute Shopping'. Jimmy has to mow grass in parks or gardens. There are a total of 6 levels. (3 Parks and 3 Houses). Mowing the minimum earns Jimmy $15 but if you mow 100% you Jimmy will earn $25.
There are a lot of collectibles scattered around Bullworth. All of these collectibles are needed for 100% completion, but each type of collectible has their own little reward.
Rubber Bands
After passing Geography 2 all the Rubber Band locations will be shown on the map. If you collect all the rubber bands Jimmy will be rewarded with the
Rubber Band Ball
, the Rubber Band Ball feels a bit like a slingshot but it can never run out of ammo and cant be taken away.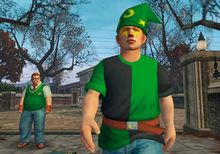 G&G Cards
There are a total of 40 Grottos and Gremlins cards to find in Bully, after succesfully passing Geography 3 Jimmy will be able to see the locations of the G&G Cards on the map. After Jimmy finds all the cards he will be rewarded with possibly the single best outfit known to mankind: '
The Grotto Master
' outfit.
Transistors
After playing through the mission 'A little help' Jimmy will be able to find Radio Transistors. There are a total of 6 transistors to find. After finding one a new mission will be available from the Hobo. In this mission Jimmy will learn a couple of
new fighting moves
. After passing Geography 4 You will be able to see the transistors on the map.
Garden Gnomes
After your strange encounter at the carnival Jimmy will be asked to destroy all gnomes. You can find most of the gnomes in Old Bullworth Vale (Left side of the town). After you pound, pummel or smash all the gnomes Jimmy will be rewarded with the
Gnome outfit
.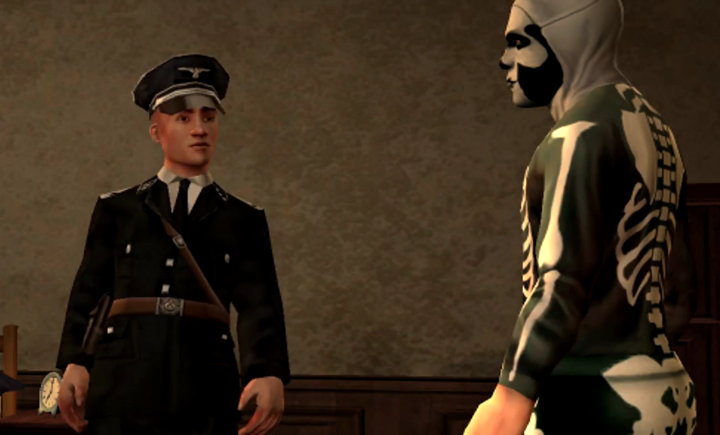 Pumpkins
During Halloween Jimmy will be able to destroy Pumpkins and Gravestones. There are a total of
27 pumpkins. After halloween you can still collect them, they will appear in the school basement. When you finally destroy the last pumpkin Jimmy will be awarded with
Lucky's Pumpkin mask
and a special
TrophyTombstones
The Tombstones appear after you finish The Candidate (Just before Halloween). There are a total of 19 Tombstones that need a beating. If you have not destroyed all the tombstones after 'The Big Prank' they will re-appear inside Spencers Shipping Warehouse (Chapter 5 & 6). After your destruction is done Jimmy will receive the
Edna Mask
and a special
Trophy
!
Go-Kart Races
There are 5 Go-Kart Races inside the Carnival (8 total) After winning the first race Jimmy will receive the Crash Helmet and 2 Carnival Tickets (4 Tickets if you passed Photography 5) For all the other Carnival races the same amount of tickets is given. After all 5 races you will unlock the
City Go-Kart Races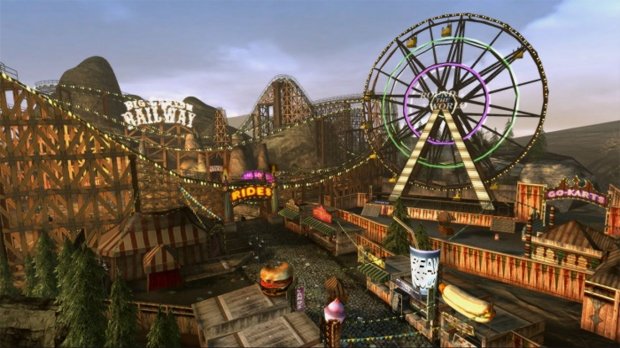 Carnival Rides
Jimmy has to ride some of the carnival rides, the rides needed are: The
Big Canyon Railway
,
the
Big Squid
and the
Ferris Wheel
Carnival Games
Jimmy has to win all the carnival games, the rides that Jimmy has to win are: the
High Striker
,
Strike Out
,
Splish Splash
and last but not least the
Shooting Range
.
Prize Tent
Jimmy has to buy EVERYTHING from the prize tent. Purchasing everything costs 300 tickets. THis might sound like a lot but after passing Photography 5 jimmy will win twice as much tickets. Some prices in the shop are quite cool. You can purchase a Scooter for 75 tickets. The scooter will replace any BMX you have stored and its faster than all of them.
There are a total of 14 races scattered around Bullworth. 7 in Old Bullworth Vale, 4 in Bullworth Town, 2 in New Coventry and 1 in Bullworth Academy. If Jimmy wins all the races he will earn a total of
$475
, a
Bike Helmet
,
Bike Jersey
and a
BMX Helmet
. You can switch bikes during a race.
(If you place a bike near the start you can switch when the race starts, you can even use a Mopet.) You can't get too far in front of the competition because of the Rubber Banding System.
(Others will stay close to Jimmy no matter how fast is agile he is.)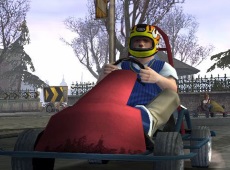 There are a total of 8 Go-Kart Races. 5 of them are inside the carnival and 3 on the streets of Bullworth. Winning all races earns Jimmy
Carnival Tickets
,
$75
and a
personal Go-Kart
. You can't complete the 8th race until Chapter 5 because the last race is in the
Blue Skies Industrial District
.
Boxing
After unlocking Chapter 2 Jimmy will be able to enter and fight inside the Glass Jaw Boxing Club. For 100% completion Jimmy has to win all 5 Boxing Matches. After each fight Jimmy's punching damage will be increased.

Penalty Shots
Before school, during lunch break and after school until 7:00 pm in front of the gym Constantinos Brakus will challenge you to knock him out with 5 shots. You have to knock him out at least once for 100% completion.

On the eastern side of the football field you can find Luis Luna, he will challenge you to keep the ball in the air for a certain time. If you can beat Luis Luna he will run away humiliated and you are one step closer to 100% completion.
There are some things needed for the 100% completion that are too small to make an entire section about. All the Miscellaneous objectives are placed here.
Soda
You need to
buy
at least
100
cans of Soda and
drink
at least
500
cans of Soda for 100% Completion.
Traveling
Jimmy needs to walk or run
100 Kilometers
on foot and has to travel another
100 Kilometers
on a bike. Running 100 Kilometers rewards Jimmy with the
Running Shorts
outfit and cycling 100 Kilometers gives Jimmy the Bike Shorts.
Fire Alarm
Jimmy has to pull the fire alarm a total of
20
times. You can do this just before sleeping in the dorm room.
Arcade Games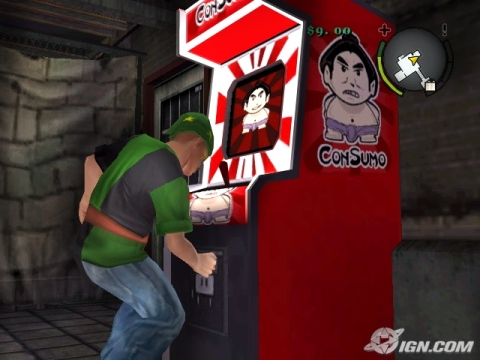 Jimmy has to set a new high score for all the Arcade games. All arcade games can be found in the Souvenir Tent inside the Carnival. You have to set a new high score in ConSumo for the Nerd Challenge.
Fail Class
This might sound a bit stupid but Jimmy has to fail a class 5 times. It doesn't matter which class it is and you can still get this after passing all classes. Just go to a class you have already done and fail it. Failing 5 classes will 'reward' jimmy with the
Dunce
hat
Hits
Jimmy has to get a total of
1000
hits on other students or citizens. After completing this task Jimmy will be rewarded with the
Green Ninja
Outfit. When Jimmy is wearing the Green Ninja Outfit he will have increased
Projectile Damage
and
AccuracyLockers
After passing the mission 'Halloween' Jimmy will be able to collect 2 hidden masks. To find these masks Jimmy has to pick some lockers.
Yearbook
After passing Photography 2 the mission 'The Yearbook' will start. From this moment the yearbook will appear in the pause menu. Some pictures will be taken during missions (special characters). After taking the last photo Jimmy will be awarded $300 and the Black Ninja Outfit.
Clothing
Jimmy has to buy all pieces of clothing from the
School Store, Worn In, Aquaberry and The Final Cut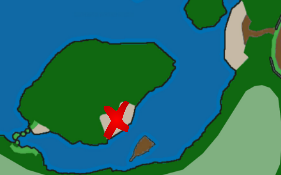 Secret
On the island marked on the map you can find a pirate,
if he's not there reload the game and try again.
If you knock the pirate out Jimmy will be awarded the
Pirate hat
.
You can recognize the place by the pirate ship that's near.
Trophies
You need all the trophies for 100% completion. If you pass every mission and do everything above you will have all trophies in the dorm room.


Sours: https://steamcommunity.com/sharedfiles/filedetails/?id=1269231443
NAMATIN 100% Bully Graphic HD! (Part 1)
As I stood, I collapsed (it's a shame, because I wanted to have a drink with everyone, to meet everyone). I woke up on the bed in my room. Looking at my watch, it turned out that I was passed out for about 30 minutes.
Bully 100%
She mastered a computer and worked for one company. Employers bought me a PC with Internet access. In the web I got acquainted with all kinds of sex. Including with the zoo. Hello everyone and thanks for the feedback !!.
NAMATIN 100% Bully Graphic HD! (Part 3)
Its essence. although you are unlikely to understand or believe. - Tell me. - with these words, he licked Nastya's shoulder, she in response, gently stroked his thigh.
You will also be interested:
Then the girls lay hugging each other, caressing each other's bodies. - Well, what did you like?, Sveta asked - Yes - Well, when well be on duty again, we will repeat, maybe my boyfriend will join, - do you mind. - Do not mind, but you will not be jealous.
964
965
966
967
968