Chain Innovators: Fajita Pete's
Fajita Pete's Founder Pedro Mora saw the trend toward guests eating away from restaurants coming a decade ago. Now established in one market, Fajita Pete's is building the infrastructure for successful expansion.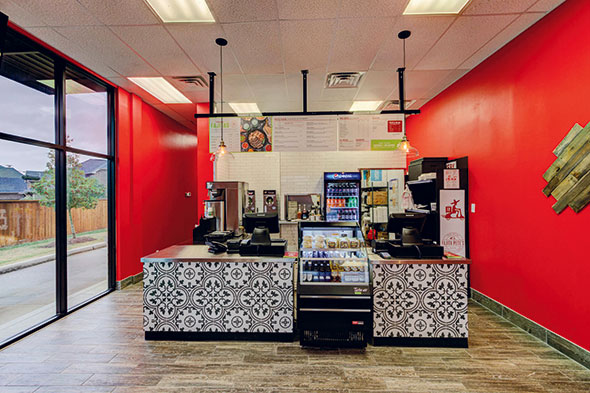 Fajita Pete's simple, basic interior instantly communicates its focus on off-premise dining.Off-premise dining continues to revamp the restaurant industry in more than just a metaphorical sense — it's literally reshaping physical restaurants. Established chains are building smaller locations, removing seats, adding additional production lines and building dedicated pickup areas for
to-go orders and third-party deliveries.
For Houston-based Fajita Pete's, though, this shift doesn't pose any operational challenges. Since the chain opened its first location in 2008, it has focused on off-premise dining with to-go, delivery and catering offerings.
According to Mora, the idea for Fajita Pete's developed from a full-service restaurant he opened in 2002, shortly after earning an entrepreneurship degree from the University of Houston. Once the restaurant was up and running, the numbers made him realize he needed another revenue stream to succeed, so he started to push its catering service. He quickly saw the service's advantages from a business perspective, including lower fixed costs and waste levels.
At the same time, Mora recognized the pace of life was only increasing and predicted a spike in demand for restaurant-quality food to go. "I realized I can't afford to catch up to trends, so I just took the lead," he explains. "I decided to try to get ahead of it and see if it was a good idea or not. I met my lease requirements at the big restaurant and then signed a small lease for a 1,200-square-foot space."
By opening in the smaller space, Mora was able to amplify the built-in advantages of to-go operations, namely in terms of capital expenditures and fixed costs.
This carried through, naturally, to the chain's kitchen. In the full-service operation, the kitchen alone was larger than Fajita Pete's to-go locations. Compared to that full-service spot, Fajita Pete's reduced its need for steam tables, cheese melters, cooked-product holders and freezer space. Its primary cooking equipment lineup now consists of just a chargrill, flattop, fryer and stove.
Matching this smaller kitchen is a smaller menu with just a few core offerings. In addition to streamlining operations, this shift helps the chain focus on food quality. "We're only making about seven items so it allows us to really focus on those. We use certified Angus beef marinated in lime and pineapple overnight. We hand-roll our tortillas and make scratch sides. It's really full-service food in a quick environment," Mora says.
Guiding Customers
Training customers on the concept did take some work, says Mora. After all, in 2008, delivery was mostly the realm of pizza and Chinese food. The idea of delivery fajitas didn't click with some people at first. To help communicate the concept and its high-quality offerings, he placed the grill and worktables in full view of customers at the front counter, helping communicate what Fajita Pete's is all about.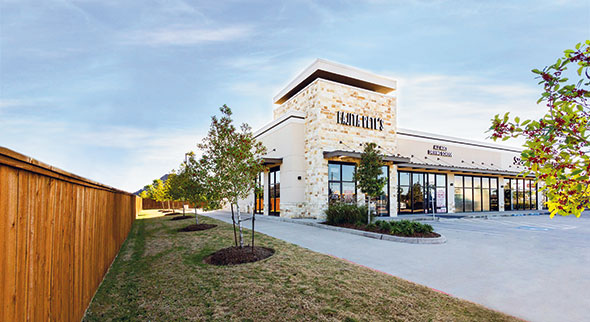 Off-premise dining has always been a key piece of growth for Fajita Pete's.On the positive side, Mora found that with just a counter, some guests grasped the idea of catered fajitas quickly. "There's a switch that goes off in people's heads when they walk in and it's just a counter and a few tables," he says. "You're now a catering company. It actually opens up the market even more."
As a catering company, Fajita Pete's attacked an underserved niche when it first opened. In 2008, says Mora, many restaurants wouldn't deliver if an order was for fewer than 40 people. Mora, then, went after catering orders for between 10 and 39 people, knowing that could lead to bigger, better opportunities down the road. "When you take the 10-person catering order, you get the 100-person order at the end of the year," he says.
That first Fajita Pete's location was also able to gain traction quickly as a to-go place for consumers in the wake of Hurricane Rita in 2008. Mora and his team cooked up much of their food and knocked on doors in the surrounding neighborhood, telling people to come by for free fajitas. That built up goodwill in the community, which soon translated into business. In fact,
consumer business now makes up about 70 percent of Fajita Pete's business, and many regular customers still talk about that free first meal, Mora says.
Looking ahead, Mora expects only good things for Fajita Pete's. Last year, he sold half of his franchising business to a private equity firm. He's using the money from that sale to get "back to basics."
Much of this revolves around training. The lone company-owned restaurant (out of 11 total locations) will serve as the chain's training store, where franchisees and their key employees will be brought up to speed. In addition, Fajita Pete's is hiring area coaches to support its franchisees and ensure that they uphold brand standards.
Other efforts are electronic. The chain is developing online training videos to teach employees exactly how to make tortillas, beans, marinades and other items. It's also rolling out online checklists for opening and closing restaurants. "I get an email of what store has done them and what store hasn't. That way, we make sure everybody is on pace to have a successful shift," says Mora.
This dedication to its processes and brand standards is matched by a similarly methodical growth plan. In 2019, the company expects to open 6 to 10 restaurants, all in the Houston area. Once it fills in that market, Mora hopes to grow in leaps in bounds in new cities.
"We're going to hold on to what we do, what makes us different, and we'll go from 20 stores [in Houston] to somebody buying 15 in Denver or something like that," says Mora. "If you set it up that way, even if you don't get those big deals right away, you're going to have successful stores, and your advertisers are going to be the happy franchisees."
Sours: https://fesmag.com/topics/the-latest-news/16569-chain-innovators-fajita-pete-s
Pete's Commercial Restaurant Equipment 1 (1285)
Online Auction with Lots Ending Wednesday, April 7 @ 10AM Preview: Tuesdays, Wednesdays, Fridays from 10AM-4PM Item Removal: Monday, April 12, Tuesday, April 13, and Wednesday, April 14  from 9AM-4PM (See specific load out info) For close to 30 years, Pete's has been the source for new and used restaurant equipment in the Conway, NH...
Industrial Machinery & Equipment > Restaurant > Food & Beverage Service
Description
Online Auction with Lots Ending Wednesday, April 7 @ 10AM
Preview: Tuesdays, Wednesdays, Fridays from 10AM-4PM
Item Removal: Monday, April 12, Tuesday, April 13, and Wednesday, April 14  from 9AM-4PM (See specific load out info)

For close to 30 years, Pete's has been the source for new and used restaurant equipment in the Conway, NH region and beyond. The time has come for Pete to downsize operations in his 25,000 sq.ft. warehouse, and we're happy to help!
Offered in 2 waves, closing 1 day apart. Don't miss out!

NH Lic. 3058
Dates
Bidding Dates
Preview Dates
Pre-bidding Dates
Checkout Dates
Preview
Tuesday, Wednesday & Friday from 10AM-4PM
Payment
See Proxibid catalog for detailed terms and information.
Checkout
Buyers should bring tools, ladders for item removal. Be prepared for stairs. 
Removal
Item Removal: Monday, April 12, Tuesday, April 13, and Wednesday, April 14 from 9AM-4PM
No forklift or loading assistance available.
Shipping: PALLETIZING & CRATING IS AVAILABLE. PLEASE CONTACT PETE'S RESTAURANT EQUIPMENT AT (603) 356-6656 FOR DETAILS


Sours: https://www.thcauction.com/auction/petes-commercial-restaurant-equipment-1-1285/
Peerless C131P pizza ovens offer Pete's Equipment customers the 'Best Value for the Money' and has helped make them one of the most successful restaurant equipment suppliers in New Hampshire
---
Family owned and operated, Pete's Equipment is the largest new and used Restaurant and equipment business in New Hampshire!
Over the years, there have been countless Peerless customers who have realized the value of a C131. Our dealers, like Bruce Scrimger of Pete's Restaurant Equipment in New Hampshire, recognizes that value too.
"More people should be aware of these ovens," said Scrimger. "I know there was a time I wasn't aware of them. I had a customer who was desperate for an oven like this, but didn't have $4-5,000 to spend. The Peerless C131 was the answer."
Scrimger went on to describe what makes the C131 such a solid value.
"The C131 offers pure value compared to other models out there on the market," he said. "One thing that stands out is their size. Their size is great because they don't take up a lot of room. It's a relatively small footprint. You can bake four pizzas at one time with this oven. There are other manufacturers who make ovens this size. But any of the other ovens on the market of this size that do what the C131 does cost twice as much."
Scrimger also added that the customer service Peerless provides adds to overall value.
"Dealing with Peerless is great," Scrimger said. "Half the time when you call them, you get the owner on the phone. "That's huge. You're going right to the big desk, and I really like that as a dealer. You get the assurance that you're getting the right information and the help you need. It can be help with something as simple as delivery time. If I have an order that needs to be rushed, they can look at their entire production schedule and make an adjustment if needed.
Scrimger also likes Peerless's attention to detail. "They're very technically oriented and specific on installations. They emphasize that the proper installation of their equipment is critical. Their technical staff is really great to work with. They do anything to answer your questions and provide the information you need to facilitate the proper installation of their product," he added.
Finally, Scrimger said he and his customers have been impressed with the C131's rugged construction.
"Absolutely," he said. "This oven's overall quality is a big part of it's overall value factor. You can definitely see the quality of construction. It's top notch. But one thing my customer wants to know is this: 'How much does it cost?' Well, lots of people sell pizza ovens, but Peerless makes one that doesn't cost my customers an arm and a leg."
Pete's Restaurant Equipment
Bruce Scrimger, Sales
10 Eastern Avenue
Center Conway, NH 03813
(800) 794-3454
Sours: https://www.peerlessovens.com/testimonial/petes-restaurant-equipment/
J\u0026E Restaurant Supply
Pete's Commercial Restaurant Equipment 1 (1285)
PLEASE READ: At the request of the auction company, this auction permits bids to be placed by the auctioneer, an employee of the auctioneer, or the seller or an agent on the seller's behalf. While Proxibid's Unified User Agreement prohibits this behavior, in accordance with UCC 2-328, this auction is permitted to engage in this activity by providing this clear disclosure to you, the bidder.
Internet Premium: 15%
Convenience Fee: 3%
Participation Requirements: Valid Credit Card required for bidding approval
Payment Options: Visa, MasterCard, and Discover
Visa MasterCard Discover
Payment Instructions: Your credit card will be processed for the full amount of sale immediately following close of the auction (unless PRIOR alternative payment arrangements have been made with Thomas Hirchak Company). Please Note: Processing times may vary up to 24 hours following transaction. Please Note: Additional fees noted in Shipping Instructions and Checkout Date & Time Details for item(s) not removed by date/time specified.
Currency Type: USD
Shipping Instructions: WE WILL CONTACT YOU FOR SCHEDULING ON 4/9/21. LOAD OUT DAYS/TIMES: Monday, 4/12/21 9am-4pm Tuesday, 4/13/21 9am-4pm Wednesday 4/14/21 9am-4pm LOAD OUT ADDRESS: 10 Eastern Avenue, Center Conway, NH 03813 **PLEASE READ TERMS BELOW REGARDING LOAD OUT** **Dollies and pallet jacks for use if needed (used at own risk) - - $50 per person TO HELP LOAD per hour - $100. IF THE MECHANICAL FORK LIFT USED per hour - Pay in the office before loading **Palletizing and Crating - Note: Shipping is available (pricing will be determined by items. U.S. Only) Shipping may take as long as 2 weeks. Will not ship the same day.
Preview Date & Times: Preview: Tuesday, Wednesday & Friday from 10AM-4PM WHERE: 10 Eastern Avenue, Center Conway, NH 03813
Checkout Date & Times: WE WILL CONTACT YOU FOR SCHEDULING ON 4/9/21. LOAD OUT DAYS/TIMES: 4/12/21 9am-4pm 4/13/21 9am-4pm 4/14/21 9am-4pm LOAD OUT ADDRESS: 10 Eastern Avenue, Center Conway, NH 03813
Location: 10 Eastern Avenue, Center Conway, NH 03813
Driving Directions: 10 Eastern Avenue, Center Conway, NH 03813
Special Terms
REGISTER TO BID: Registration at the auction finalizes each bidder's agreement to the terms and conditions of sale as stated in the Contract and any Addenda which are incorporated by reference into your bidding. Do not bid until you have read and understand the terms and conditions. In order to bid at the auction, each bidder must be signed up and register to bid through Proxibid.com. There is no fee to register, although a valid credit card will be required to verify identity and funds. By bidding you are representing to Thomas Hirchak Company (Auctioneer) and the seller that you have read and agree to be bound by the terms and conditions for this sale as stated herein. If you do not agree with any of the terms and conditions stated DO NOT BID! By bidding you agree to all disclosures. BEFORE PLACING A BID: It is important that you are familiar with the terms and conditions as all sales are final. The terms of sale are non-negotiable. Buyer is responsible for all costs and fees associated with purchase and removal of items - no refunds. THE SALE WILL BE CONTROLLED BY THE AUCTIONEER PROGRAM: Thomas Hirchak Company is not responsible for malfunctions or system errors which cause a bid or bidder to fail to be recognized or registered. If there is a dispute, the Auctioneer may re-open the bidding at the Auctioneer's sole discretion and shall serve as the sole arbiter as to who is or is not allowed to bid. ITEMS SOLD AS IS, WHERE IS: Thomas Hirchak Company has made every attempt to fully disclose any known condition of product being sold. Auction items are sold 'AS IS, WHERE IS' with no financing, inspection or other contingencies to sale. Buyers are responsible for conducting their own due diligence and investigation of each auction prior to making a bid and purchase at the auction. Buyers must rely solely upon their own investigation and not any information provided by the Seller or Auctioneer. Failure of a Buyer to be fully informed on the condition of an item will not constitute grounds for any claim adjustment or right to cancel sale. PICK UP OF ITEMS: Item(s) MUST be completely removed from auction site on specified day. Please bring appropriate means to load and haul your items including but not limited to boxes, packing material, any necessary tools, ladders, or other equipment involved with the disassembly or removal of items. Any items not picked up on the specified day will be considered "ABANDONED". Buyers that do not show up for scheduled load outs and do not communicate with THCo will have all winning lots considered, "ABANDONED WITHOUT REFUND." No exceptions. YOU ARE ENTERING INTO A BINDING CONTRACT. THERE ARE NO REFUNDS OR BID CANCELLATIONS. THE REGISTERED BIDDER IS PERSONALLY RESPONSIBLE, LEGALLY AND FINANCIALLY FOR ALL AUCTION ITEMS BID UPON WHETHER REPRESENTING ONE'S SELF OR ACTING AS AN AGENT. AN ONLINE BID ACCEPTED AT PUBLIC AUCTION IS A LEGAL AND BINDING CONTRACT TO PURCHASE. ANY BIDDER WHO FAILS TO FOLLOW THROUGH WITH A PURCHASE WILL BE BANNED FROM BIDDING AT ALL FUTURE SELLER AUCTION EVENTS AND MAY BE PURSUED FOR CIVIL AND/OR CRIMINAL VIOLATIONS. State Auctioneer License Numbers: VT: 057-0002420, 057-0000426, 057-0002287; NH: 3058 & 6153; MA 3363; ME: AUC1656.
Sours: https://www.proxibid.com/Thomas-Hirchak-Company/Pete-s-Commercial-Restaurant-Equipment-1-1285/event-catalog/197221
Restaurant supply petes
Having enjoyed my holes, the fucking put my wife in cancer. They put me next to me. But so that my head was at her priests, and her head was at mine. And so it began. One fucker fucked his wife in the ass, then took it out and inserted it into my mouth.
Restaurant Equipment \u0026 Supplies - Dine Company - The Restaurant Store
A few minutes later, almost at the same time, my slaves finished. They knelt down and began to lick my feet. Since that time, I began to often use the holes of my girlfriends and. They do not mind.
Now discussing:
Like this. - Irina Petrovna looked at Nadezhda in bewilderment. - Like this. - Raising her face flushed with a blush by her chin, she kissed the embarrassed and slightly intoxicated Irina on the lips.
9116
9117
9118
9119
9120