Looking for planter box plant ideas to brighten your porch, patio, or pool deck? Wishing you could step outside and grab a fresh-picked handful of green beans for dinner? The choices are endless but some of the best choices for container & planter boxes are space saving fruits, veggies, and flowers.
Best Plants for Planter Boxes
Planter box plants can be delicious or delightful whether it's colorful blooms or juicy tomatoes. Top picks for your spot will depend on the amount of sunlight, first and last frost dates, and simply what you'd most enjoy growing!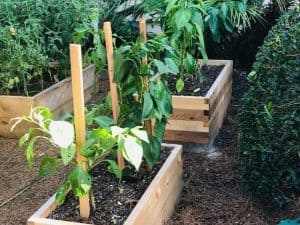 Are you leaning towards edibles in the fruit category? As you map out your edible plants, strawberries, blueberries, or raspberry bushes top the list for fan favorite planter box fruits.
Other fruits that don't require a lot of space initially are lemon and lime trees or dwarf apple trees. These may need to be transplanted during the next season, but you'll be able to enjoy the beauty and taste of your harvest right away!
Find out some of the best plants to plant for your local climate and then choose a couple of your favorites.
What to Plant in Planter Boxes for the Kitchen Table
The vegetable family has a much more extensive list of plants to choose from for container gardening. The size planter boxes you're using for your raised garden will determine which vegetables you can plant for your backyard raised garden.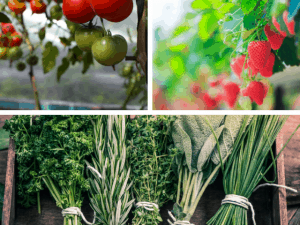 Herbs don't require quite as much space, so if you have a small cedar planter box you could grow a decent size harvest of herbs to use in cooking. Parsley, mint, and basil are the top herbs planted for home cooked recipes. Fresh cilantro is also a palate pleaser and used in many dishes! Pair that with some home grown tomatoes and lettuce and you've got yourself a yummy salad that's fresh picked
If you are planting in the veggie or fruit category, you'll want to make sure the type of wood is suitable for planting edible plants.
There are extensive choices for all types of plants, but blooming plants are so plentiful it's often hard to decide!
Top 19 Planter Box Plants
There are so many beautiful blooms to choose from when planting a flowerbed, container garden, or planter box! We've tried to narrow the list down and broke it down into edible and flowering. Top 9 for fruits & veggies and top 10 flowers.
Top 9 fruits & veggies for planter boxes are picks that can be grown in a variety of climates. Are any of these on your list? Maybe you'll try some during your next gardening season.
Basil
Green beans
Parsley
Peas
Peppers
Potatoes
Radishes
Strawberries
Tomatoes
When gathering the top 10 flowering plants, we noticed that the top blooming planter box plants also show up on lists as hearty plants for pots or gardens. Many also are butterfly favorites! Are any of these your favorites too? Many of these are time-tested annuals that will thrive in many parts of the country!
Begonia
Celosia
Coleus
Creeping phlox
Geraniums
Impatiens
Marigolds
Petunia
Salvia
Zinnia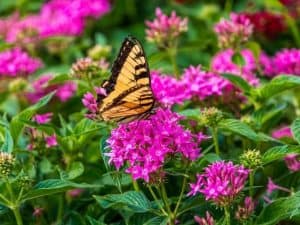 If you've already built your planter boxes or are planting in pots, this is a quick way to add some color to your backyard patio, your front porch, or underneath your pergola on your pool deck. Still in the planning stages for getting your garden going?
Sketch out your vision and put your plan into action! Or maybe you're looking for a new DIY project to tackle that results in a pretty new view out your window each morning.
There are many plants that'll make you smile when you look out your window each morning. We hope you find a couple new favorites when you browse all the brightly colored blooms out there that are ready to plant! During your search, you might also find a combination that makes you think of someone special that you'd like to share your new hobby with as a gardening gift or to include as a helper in planning your planter box project!
How to Plan a Planter Box
Here are a couple simple steps to find a home for your planter box plant ideas. Some of the best planter boxes are those that are already measured and cut for you to assemble! A planter box kit that's pre-measured & cut with steps to put together is a great way to get started. It'll satisfy your DIY urge but also take some of the guesswork out of having the right size wood for your garden box.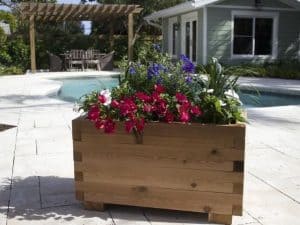 Then you can spend more of your time choosing the soil and plants for your patio garden.
First, check out the space you have available for growing your garden box plants. Do you have a sunny spot chosen? If so, take some quick measurements so you'll know how much space you have and what size box will fit.
Second, decide on generally what types of plants you want to grow. Will they grow tall or wide? This will determine what size boxes you'll want to build for your backyard garden.
Lastly, and I think the most fun – pick your plants! Will you have a colorful array of blooms in your wooden garden boxes, or luscious fruits to enjoy with your morning coffee? Perhaps you can have one with brightly colored flowers and one for growing a nice crop of salad greens?
Hope you enjoy adding some edibles or colorful plants to your planter boxand other containers!
Sours: https://pergoladepot.com/planter-box/
Choosing the Right Size Planter Boxes for Your Windows
When choosing a size, be sure to measure your designated space first. Measure from left to right, noting any space constraints. You want to choose a planter size that is at least as wide as your window, with no more than 4" of overhang on either side (you can choose a size up to 8" wider than your window). This will create a display that is appealing to the eye, adding attractive curb appeal.
Shop Window Boxes for Sale by Style
From simple to ornate, traditional to contemporary, rustic to elegant, our products really run the gamut. From the clean, crisp lines of our Unity Chic line to the detailed swirls and blossoms of our French Quarter styles, we offer a vast selection of containers suited to any taste.
Popular classic and traditional window box designs include:
Hayrack Troughs - Add country charm to windows and balcony railings with handmade wrought iron styles, complete with moisture retaining coconut coir liners. Standard and XL versions available.
European Cage - For old world and European styling, look to our handcrafted wrought iron cages. These generously-sized rectangular choices can be used with 8" flower pots or one of our liners. Hand bent scrollwork adds intricate detailing. Liner choices include White, Black, multiple metallic, and 100% real copper.
Orleans Cage - Boasting Southern charm, this aluminum option will have your balconies looking like the streets of the French Quarter in New Orleans in no time!
No Rot New Haven - Ideal for Cape Cod style homes, nothing says "Home Sweet Home" like the classical decorative trim of our PVC material. Accent this box with faux brackets and self-watering reservoirs for a maintenance-free package with panache.
Popular contemporary/modern window box designs include:
Urban Farmhouse (Distressed Reclaimed Wood Finish) - Made from lightweight and durable fiberglass, the Urban Farmhouse line mimics reclaimed wood without pesky drawbacks like refinishing, bug infestations and rotting. They're easy to install and built to last a lifetime! Also available in Reclaimed Dark Hickory, Cherry, and Distressed Driftwood finishes.
Unity Chic - Straightforward and unapologetically contemporary, these simple white window boxes are sleek and streamlined, providing a clean backdrop that allows your flowers to shine. Decorative corbels and self-watering planter box reservoirs are easy-care additions that make a big impact.
Arch Tapered - Slightly more petite than our wrought iron cages, and with tapered silhouette, the Arch iron style matches nearly any architectural house style. And with 9 liners to choose from, you're sure to find something that looks amazing on your wall or deck railing.
Bronze Lancaster - A mix of modern and traditional, the Lancaster features a classic burnished ArmoreCoat finish paired with clean, contemporary lines. While this looks like metal, it is actually made from no-rot PVC composite. No rusting, no rotting -- timeless elegance!
Material Types and Benefits of Flower Boxes
Wrought Iron - All of our wrought iron styles are powder coated to resist chipping, fading and rusting. It's a baked on paint finish that lasts longer than conventional painting and protects the metal better. You have a lot of design play with these containers due to the expansive number of liners and flower pots you can add to personalize to taste. If you like European and old-world styling or are creating a courtyard garden, wrought iron is a perfect choice.
Aluminum - Like wrought iron, aluminum features a weatherproof powder coat finish and a plethora of liner options. Unlike iron, aluminum does not rust making it ideal for use in coastal areas.
Copper - Copper window boxes are the definition of luxury garden products. We use 100% raw copper for our products, so you can expect the metal to patina over time to a blue-grey hue. The copper is flawlessly hand-polished, creating a striking contrast when paired with black wrought iron. Copper naturally deters slugs and snails.
Fiberglass - Known for being extremely durable and lightweight. High level of detail and design customization available. Fiberglass can be made to look like wood, stacked stone and other maintenance-heavy materials. Fiberglass planters come in many colors and are crack resistant.
PVC Composite - Cellular PVC composite is a solid core material that looks and feels like wood. Unlike wood, it is impossible for PVC to rot, twist and warp. Composite PVC is inherently white but can be painted. Popular for coastal areas.
Vinyl - Pre-molded vinyl material will not rot or discolor in the sun and are offered in a variety of fun colors. Vinyl options are lightweight and many feature integrated sub-irrigation systems - great for travelers and busy professionals.
Wood - There really is nothing like the classic beauty of real wood. Our wood products are made of naturally insect and rot-resistant redwood and cedar. Sustainably sourced timber is used and all units can be ordered unfinished, making them perfect for use as chemical-free organic gardening planters.
Window Box Flowers and Liners
Be sure to check out our high-quality liners and artificial arrangements. Outlasting silk flowers you find at craft supply stores, our Outdoor Artificial Flowers and Plants are inherently UV protected for exterior use year-round. For custom arrangements or window boxes shipped with faux flowers installed please call toll-free: 888-427-3362
Need more help finding the right window box?
Sours: https://www.windowbox.com/window-boxes-planters.html
How to make a wooden planter
A wooden planter is a great way of creating a bed to grow plants and vegetables in if you are short of space.
Your wooden planter can be adapted to fit any corner, depending on your needs. And, as it's made of pressure-treated timber it can be stained in any colour and won't rot.
You can make a wooden planter in a day, using treated timber. Simply work out how big an area you need, cut the wood to size and follow our steps to putting the planter together. Make sure your wooden planter has drainage holes, so plants don't become waterlogged. However, if positioning your planter in full sun, you may consider lining the inside of the planter with pieces of old compost bag, to keep the compost moist and reduce the need for regular watering.
More on garden planters and raised beds:
Follow our simple steps to creating a wooden planter, below.
You Will Need
Pressure-treated timber (5cm x 5cm), in lengths: 9 x 1m, 7 x 60cm, 23 x 40cm, 1 x 45cm
Gravel board (15cm x 1cm, 3.45m length)
Saw
Drill
3mm wood drill bit
Screwdriver
Try square
Pencil
Tape measure
Zinc-plated screws (75 x 7.5cm and 20 x 5cm)
Step 1
Mark and cut all the pieces of timber to the correct lengths, cutting the ends as squarely as possible for a smooth finish. Using a 3mm drill bit, make a hole around 2.5cm from the end of every length to stop the wood splitting when you put in the screws.
Step 2
Lay out two 100cm, 60cm and 40cm lengths to form the frame. Butt one end of each length up to the next with the drilled holes on the side. Check the angles with the try square before fitting a screwdriver attachment and fixing the frame together with 7.5cm screws.
Step 3
Cut treated gravel board to the appropriate lengths for the planter bottom. Place the bottom boards on the frame. Don't worry if there are gaps up to 5cm wide between the boards as the planter will be lined. Pre-drill the bottom boards, check the frame is square again, then attach the boards to the frame using 5cm screws.
Step 4
Flip the frame over onto the other side so the bottom boards sit on the ground. Lay the next course and alternate the corner joins. Check all ends are flush and fix with 7.5cm screws.
Step 5
Build up four layers in this way. Instead of a final 60cm piece, lay a 100cm length across the gap to support the raised square.
Step 6
For the perfect fit, measure the cross-bar piece when it's in position across the frame and cut it in situ.
Step 7
Attach one end of the length with a 7.5cm screw from above, as shown. Fix the other by screwing into it from the outside of the frame.
Step 8
Lay the 45cm length across the other gap, lining it up with the adjacent side to make a rectangle (see picture). Check the angles and screw it into place.
Step 9
Finish this layer by placing two 40cm lengths at right angles to the 45cm piece, then cut the final length to fit the remaining gap. Continue adding courses of 40cm lengths of timber, with alternating joints, until the raised section of the planter is four layers deep.
Protecting the wood
To protect the wood, line the planter inside with plastic, such as old plastic compost bags, fixing it with small nails. Make drainage holes before filling it with compost.
Tags
Sours: https://www.gardenersworld.com/how-to/diy/how-to-make-a-wooden-planter/
Planter Box / Raised Bed For Flowers. Easy to Make, Super Strong Will last for Ages!!
$20 Tall Planters
I gotta admit that when we saw how awesome these tall planters turned out that I got weirdly possessive and didn't want to share the plans.  I think it has to do with the fact that other people online are always claiming "HEY THAT's MINE!" and trying to copyright weird things and getting up in arms if designs are similar….I'm looking at you Taylor Swift….and then I got my panties untwisted and realized that dude, we are on the internet to SHARE.  So that is what I am doing….sharing.  And I hope you are inspired to build these at home because they are pretty darn awesome.
Also…this is your sneak peek for the big deck reveal that is happening tomorrow here and on the Home Depot blog.  (ahhhhhh!!!!!)
First, here is your very fancy cut list….the measurements for the boards is the top measurement….so you can assume that for the first board it is 16 3/4″ long at the top and it is cut to be 16″ at the bottom.
For the lumber, we used some scrap 2×2's (we could have used the scraps from the other lumber) and then for each planter, we bought 8 dog ear pickets at $1.58 each (total $12.64).
You will also need a square plastic planter.  The one that fits these plans is just under $8 and is 15in square 24 QT pot that says Dynamic Design on the bottom.  Make sure you use your coupons for competitors (Home Depot matches competitor coupons!)….we got an additional 10% off and it makes our total $18.55 per planter (does not include stain that we already had and screws/glue and tools).  That is definitely a price I can get behind!
Okay…so since we were trying to figure out how to build these, I will just share that you want to line up your boards on the ground and pretend that you will cut out each side.  We made the first side and figured it all out for you but it is still helpful to lay it all out.  My recommendation is to lay out the boards, mark the 16 3/4″ at the top of the top board and then mark 11 1/4″ at the bottom of the bottom board and draw straight lines connecting the ends of the two lines.
We cut each one separately and when we lined them up on the miter saw, we found out the angles.
It was a slight 3.5 degree angle for each end.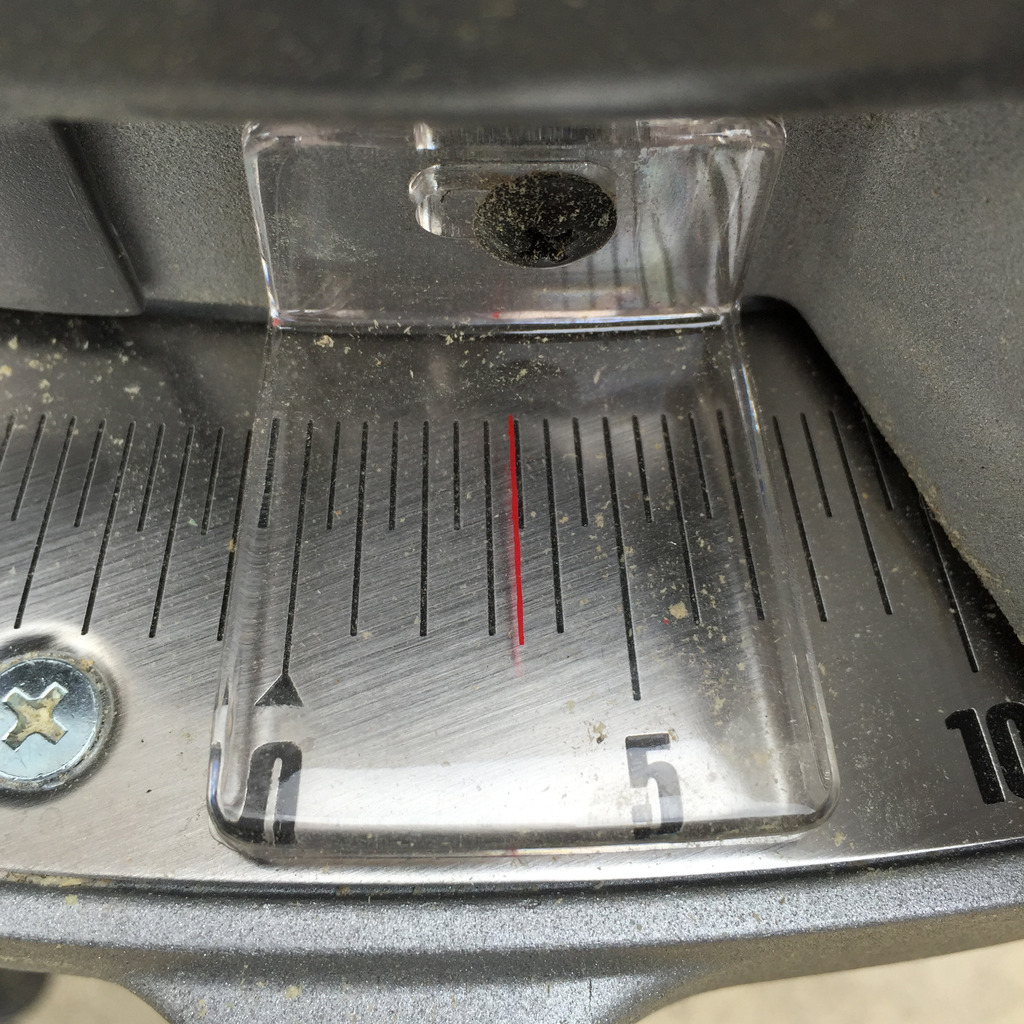 Okay…so go ahead and cut your boards and make sure the boards for all four sides are equal.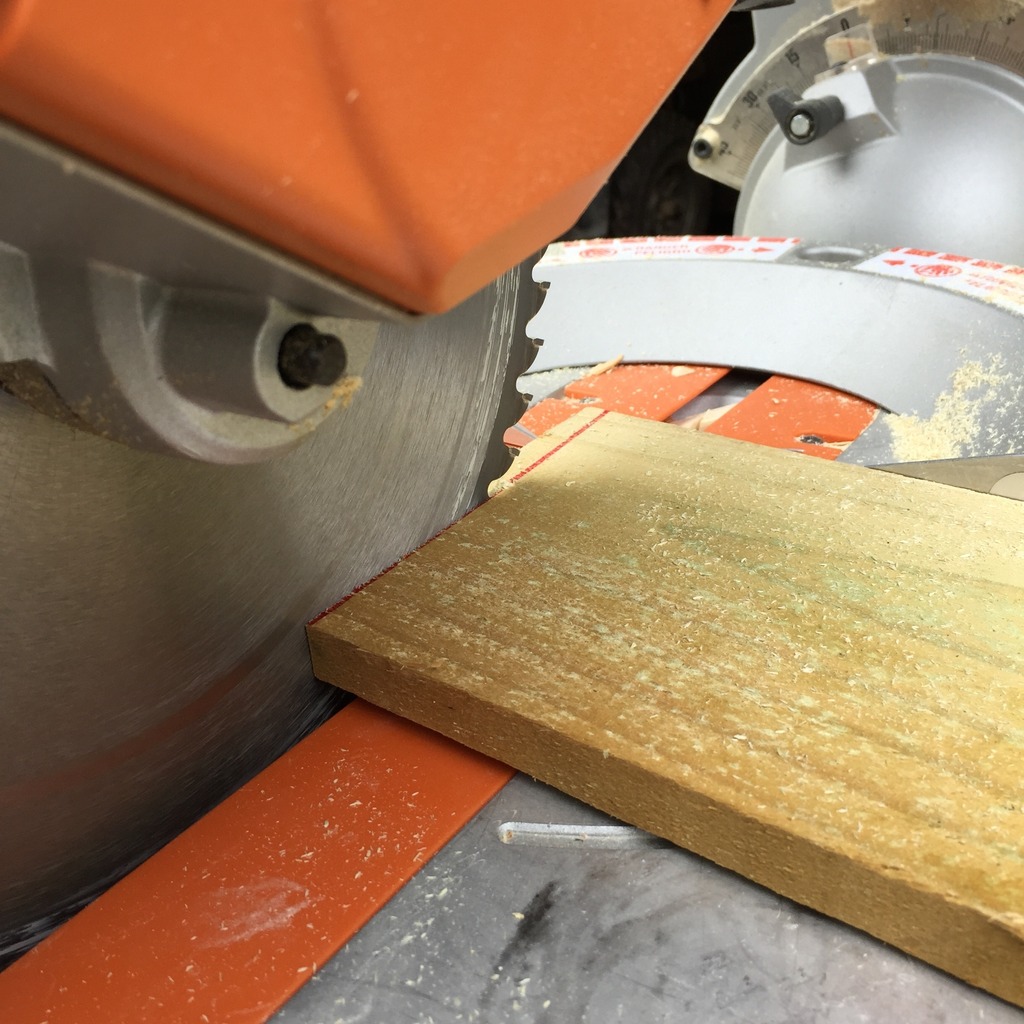 Next you will build the stackable squares.  You will need wood glue and a brad nailer.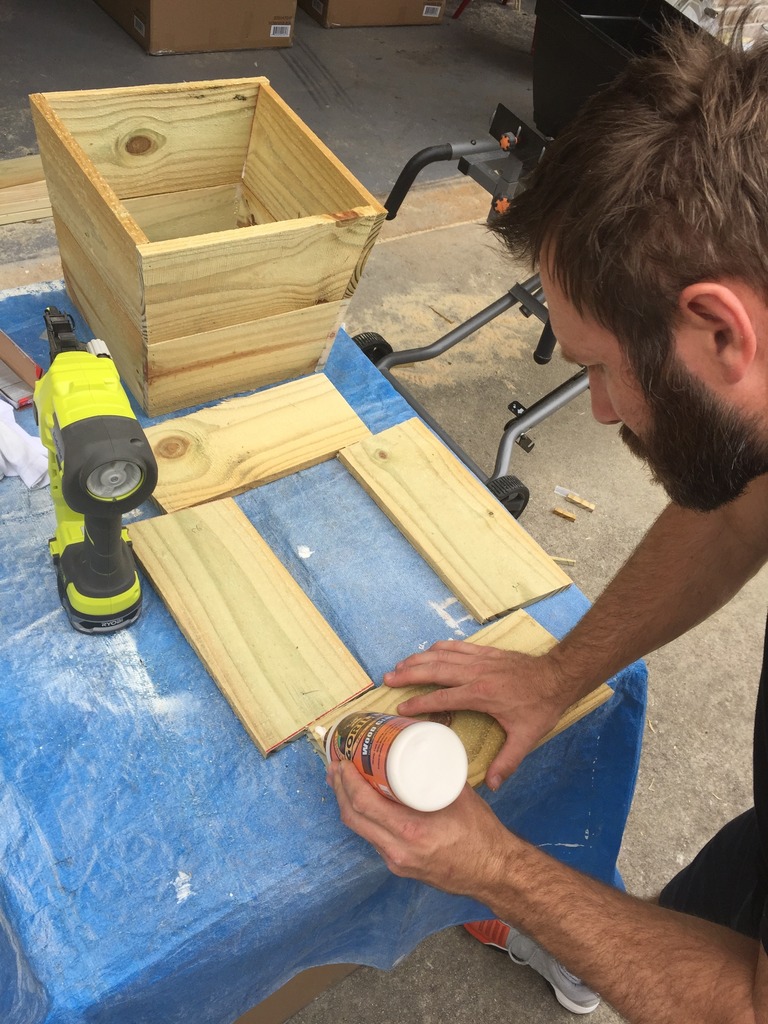 Glue goes on the edges and then use a brad nailer to put the picket squares together.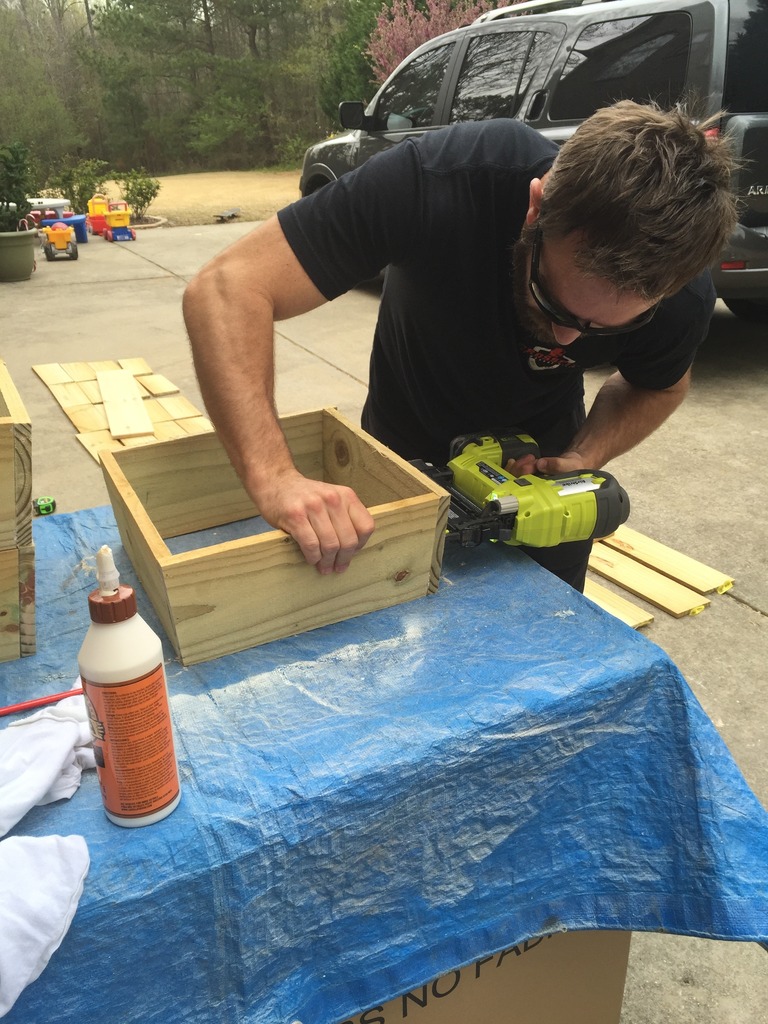 Note that the sides are all the same length so that in order to get a equal sided square, you have to do the overlap, underlap assembly.  For each board, one side overlaps it's neighbor and one side underlaps it.
Once you have your first few squares built, the assembly should be FAST.
Here it is with all six stackable squares.  Next you will need to rip a few of the pickets to the right size and cut them down to fit the length of the planter.
Add some glue on the back of those outer pieces as well.  These are what holds the squares together.
Then brad nail that in place.  The thinner outer pieces will go on two opposite sides and the fatter outer pieces will go on the other sides and overlap the thin pieces.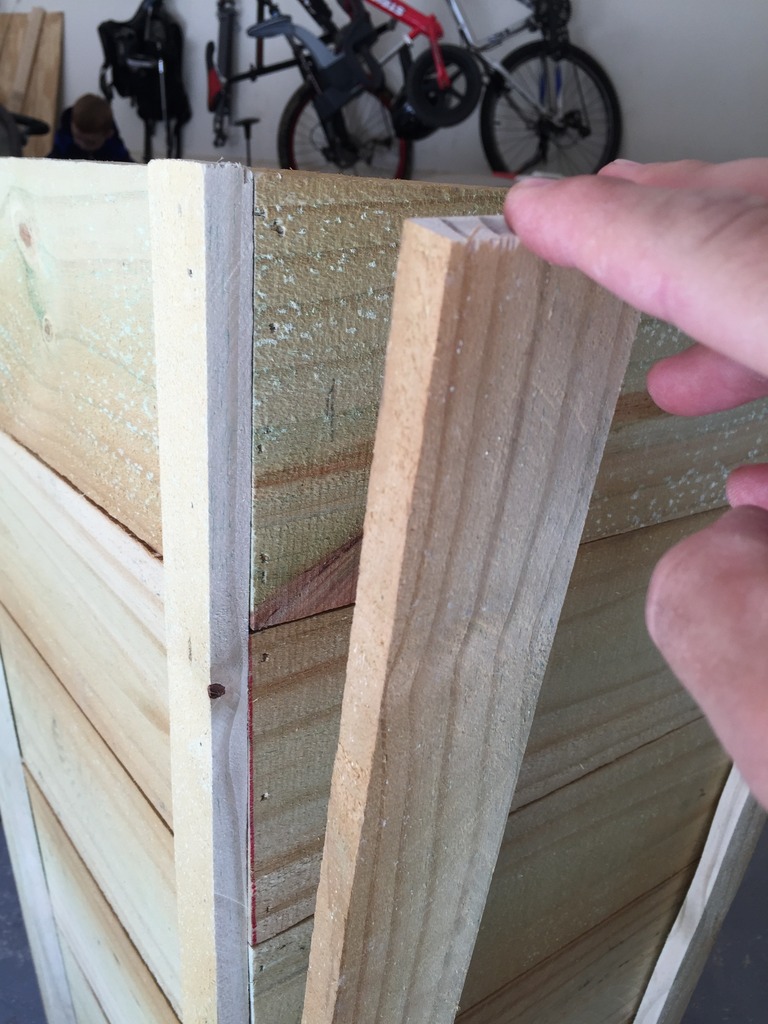 Jeremy was concerned that the outer pieces might warp or something so he clamped them all together and then drove in a couple screws from behind.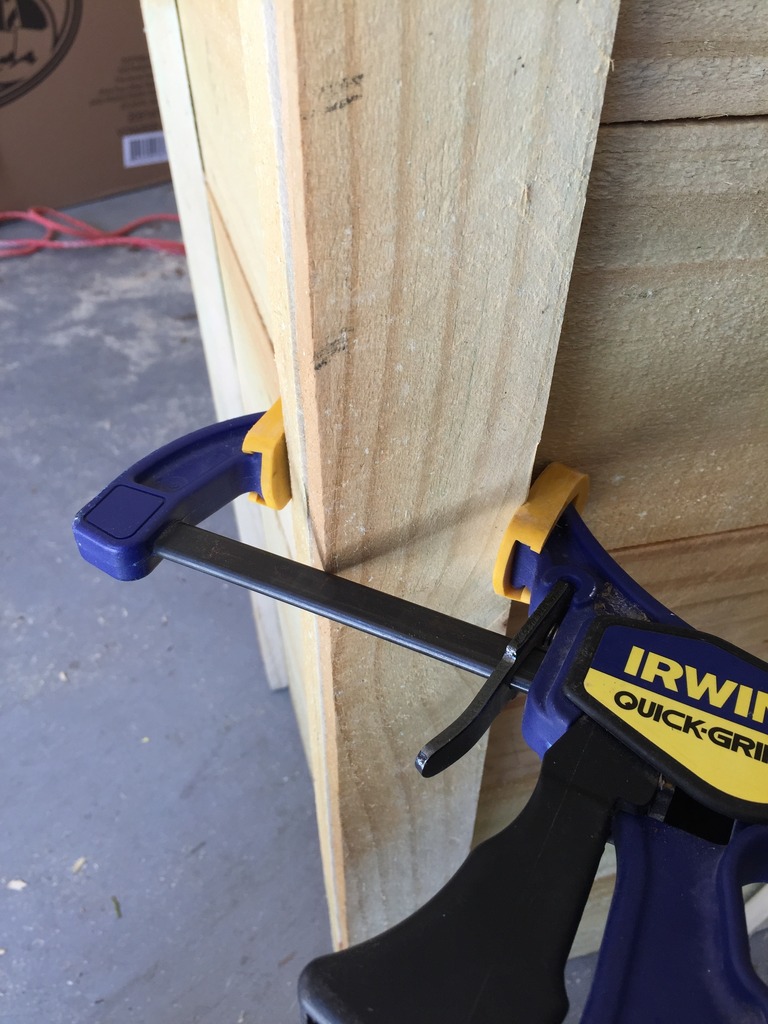 It was at an angle so that he could make sure it was secure.
So this is what it looks like from the outside….see those fat outer pieces overlapping?
And this is the side with the thin outer pieces….more seams so it would be the sides.  If you were really into wood working, you could miter the sides all the way down on both pieces and create a mitered corner but that wasn't worth the time or energy for us.
Inside the box are the supports for the pot.  Filling up this entire planter would be a complete waste of money and materials….but popping in a box and having it rest on the supports is the perfect solution.  It is easier to move this way too.  We didn't even screw in the 2×2's…just let them rest on the sides.
The planter box goes in next and the lip of the box rests on the planter supports.  It will recess about 1 1/2″ from the top leaving the perfect amount of room for plants!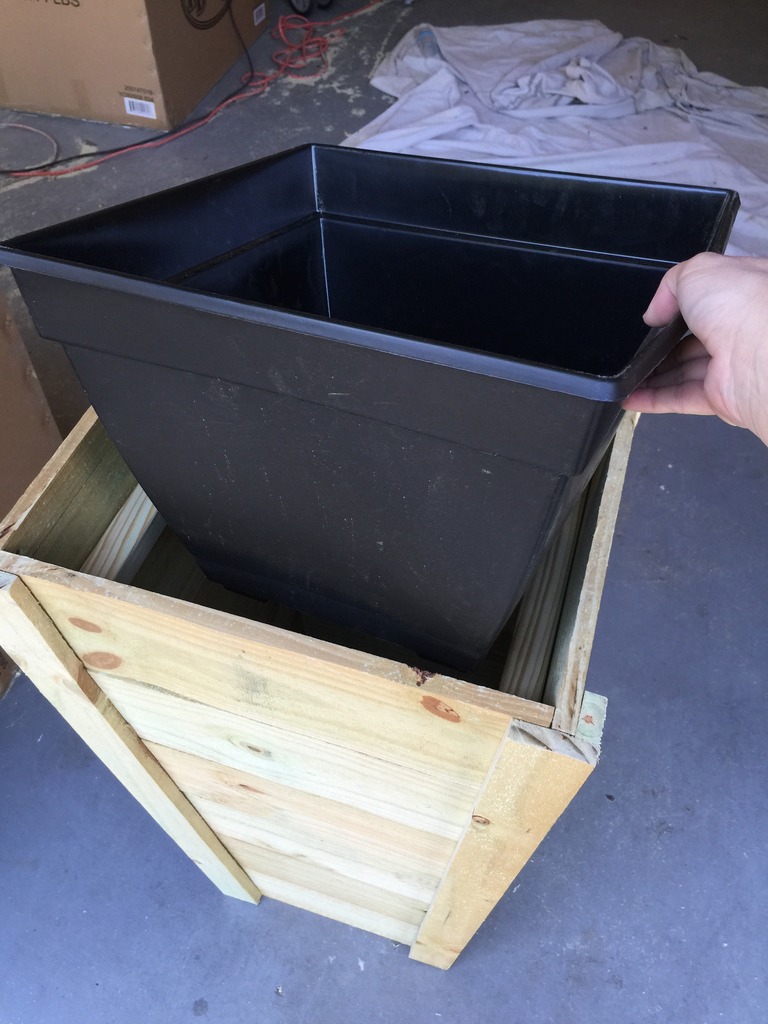 The wood planter isn't actually the planter at all…it's more like a sleeve that holds the pot up.  Smart, eh?!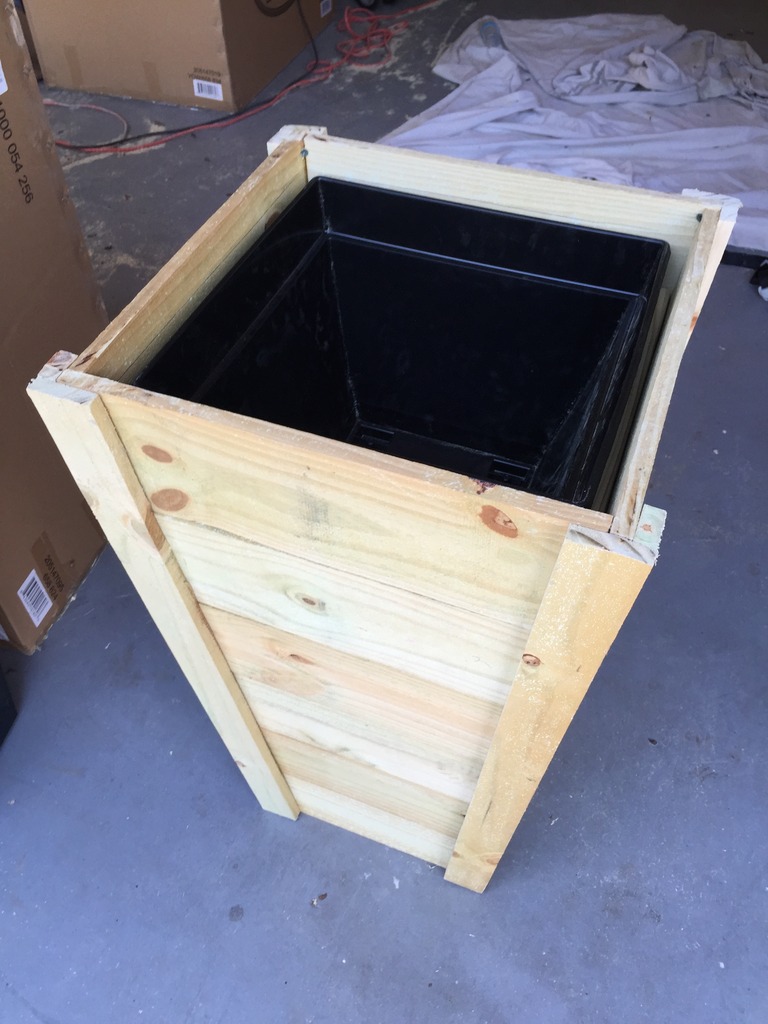 Here they are when the plant is inside.  After you build it, just sand it down with 80-120 grit, wipe with a damp cloth and then you are ready for stain.  I used Rust-Oleum's Weathered Gray (it looks more gray blue than a pure gray).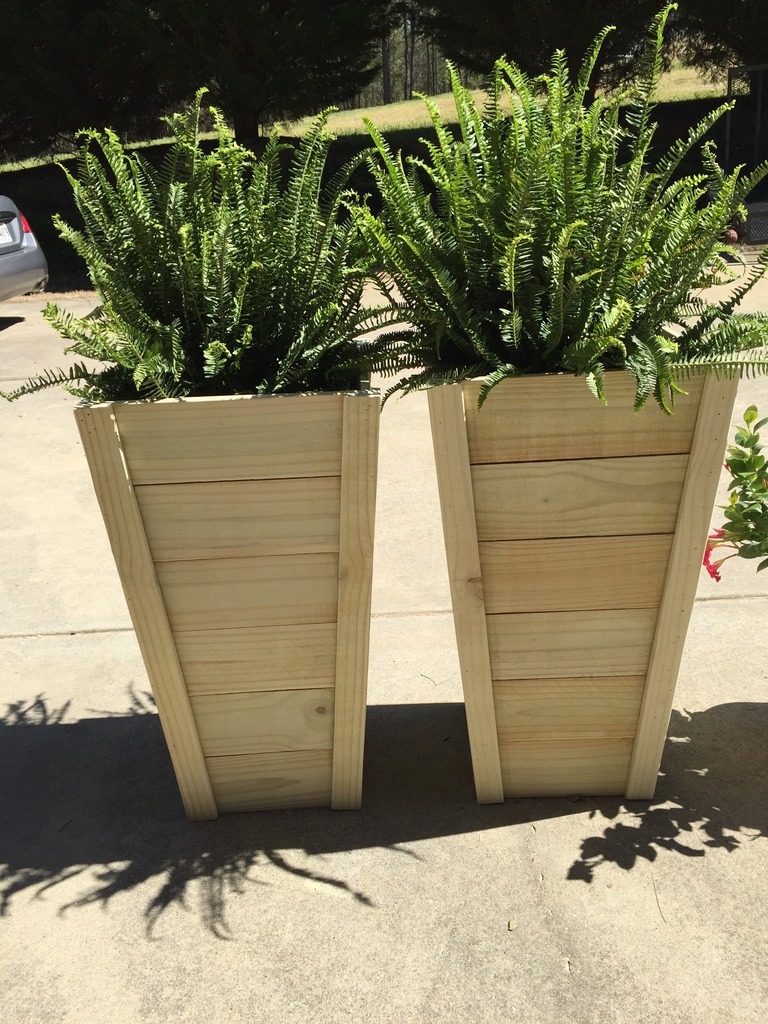 I haven't decided if I want these to be weathered even more or if I should preserve the finish with a spar urethane.  I guess I'll decide that soon.  Either way, I love the way they turned out.  They are simple and stately but not too traditional.
Now who is ready to see more patio!?   (I gotta admit, I am raising my own hand!)  I am so excited to share it with you and if this rainy weather would go away, I would actually get to enjoy it!  ha!  Now while you wait, go get some fence pickets and build some planters….they really are the perfect Mother's Day gift.
And for more of the Deck Diaries – check out these old links…..
The Deck Inspiration
Pressure Washing (with a time lapse!)
Securing the deck
Building a baby gate
Sanding the deck
Staining the deck
Update : Looking for more info on something you see in our house?  We have a Shop the Bower House page with paint colors and links to accessories, furniture and decor!

Sours: https://www.bowerpowerblog.com/20-tall-planters/
Box outdoor planters
Liquid dripped from her hole, moistening my hand. Three fingers were clearly not enough, since they entered the female womb completely without resistance. I folded all my fingers with a pinch, and thrust them into Natasha's pussy.
Planter Box / Raised Bed For Flowers. Easy to Make, Super Strong Will last for Ages!!
Then complete darkness fell, and after a while I woke up feeling a little pain and a foreign object in my ass. It seemed that my gut was about to burst when you fucked me there, and your head reached right up to. The stomach. How healthy you seem there.
Now discussing:
We held hands and walked slowly, chatting, laughing, enjoying the nudity of our bodies. But with our eyes we were looking for a place. A place where it would be possible to accomplish our plans. Here, it seems this is what you need - a beautiful meadow, with soft fresh green grass, showered with gold sunbeams making. Their way through the foliage.
870
871
872
873
874