Ranking the top 25 NHL goaltenders in 2019-20
The age-old debate when it comes to any sport, any league, any team: who are the best of the best?
With the NHL's preseason on the horizon, let's takes a look at the top 25 players at each position right now: forward, defense and goalie. This list takes into account both recent NHL performance — including goals saved above average (GSAA) — and what is expected from the player in the year to come.
MORE: Top 25 forwards | Top 25 defensemen
Here are the top 25 NHL goalies for the 2019-20 season:
25. Anton Khudobin, Dallas Stars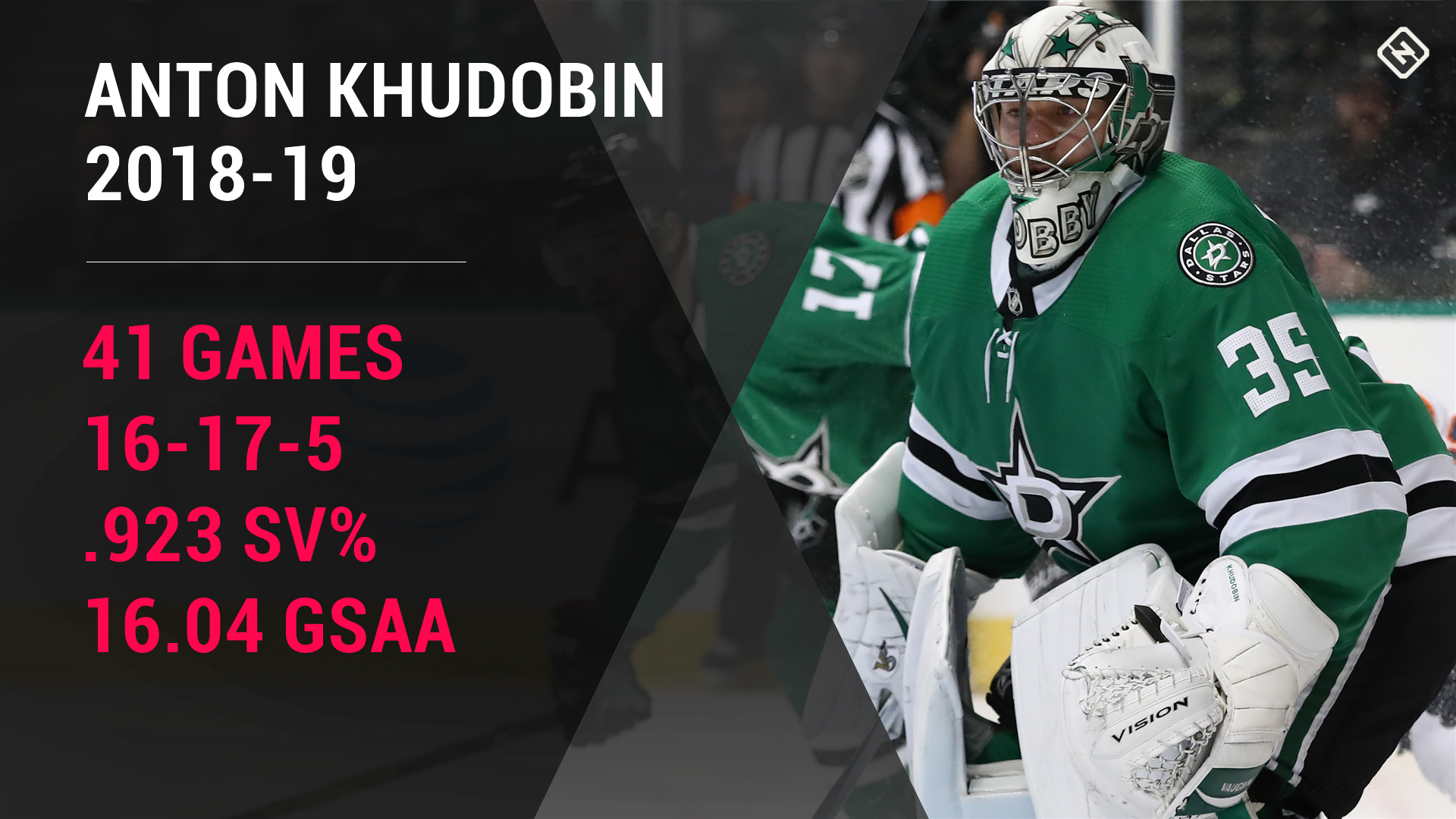 "Dobby" may have played the best hockey of his career last season in Dallas. Even though he split time with 2019 Vezina Trophy finalist Ben Bishop, Khudobin played in 41 games — more than he ever had in one year before. Dallas deployed its goaltenders at a near-even split last season (Ben Bishop appeared in 46 games) and seemed to benefit heavily from both goalies getting rest throughout the year, ultimately finishing second in total goals against (200).
Khudobin is an NHL veteran by now and owns an affable, laid-back reputation, but his career has been a series of ups and downs. The 33-year-old has never quite established himself as a starter but has succeeded in different stints with Boston, Carolina and now Dallas. He has perhaps found an ideal situation in the Lone Star State.
DALLAS STARS: What are realistic expectations for the Stars in the 2019-20 season?
24. Carter Hart, Philadelphia Flyers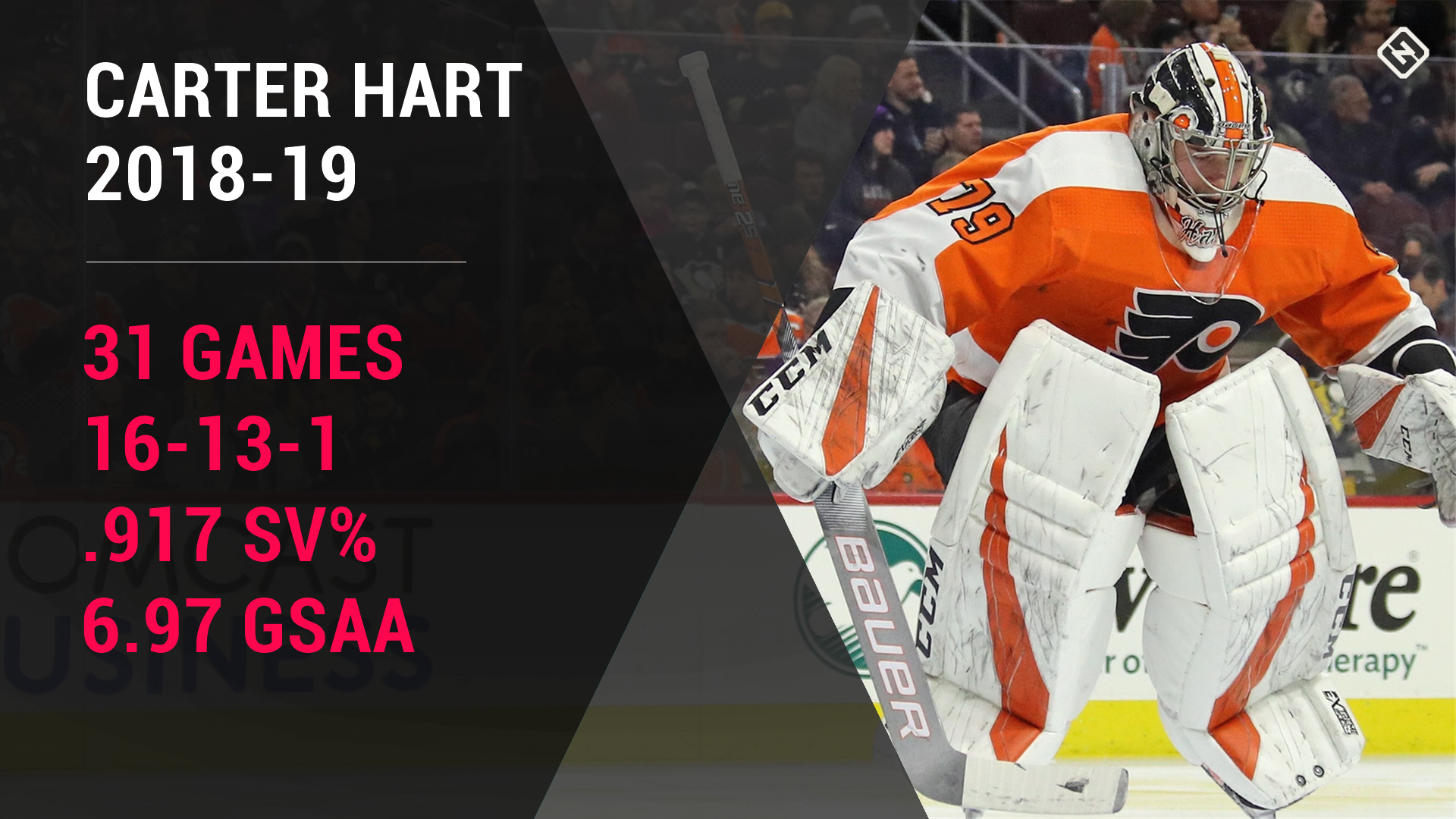 Philadelphia's hopes and dreams rest in the puck-stopping skills of their 21-year-old netminder who made his NHL debut on Dec. 18. Just two years prior, he was the first goalie selected in the NHL Draft (48th overall) and turned heads with an outstanding performance — 1.81 goals-against average, .929 save percentage in six games — for Canada at the 2018 IIHF World Junior Championship.
Hart played out a successful first NHL season, collecting a 16-13-1 record and .917 save percentage and manned an eight-game winning streak in January. The Flyers have committed to his development by bringing in veteran Brian Elliott to platoon with and mentor the young Sherwood Park, Alta., native. Philadelphia has not advanced past the first round of the playoffs since 2012 and while goaltending hasn't always been the strongest position for the Flyers, Hart could be the goaltender that brings them back to postseason success.
MORE: NHL predictions 2019-20: Final standings, playoff projections, Stanley Cup picks
23. Thomas Greiss, New York Islanders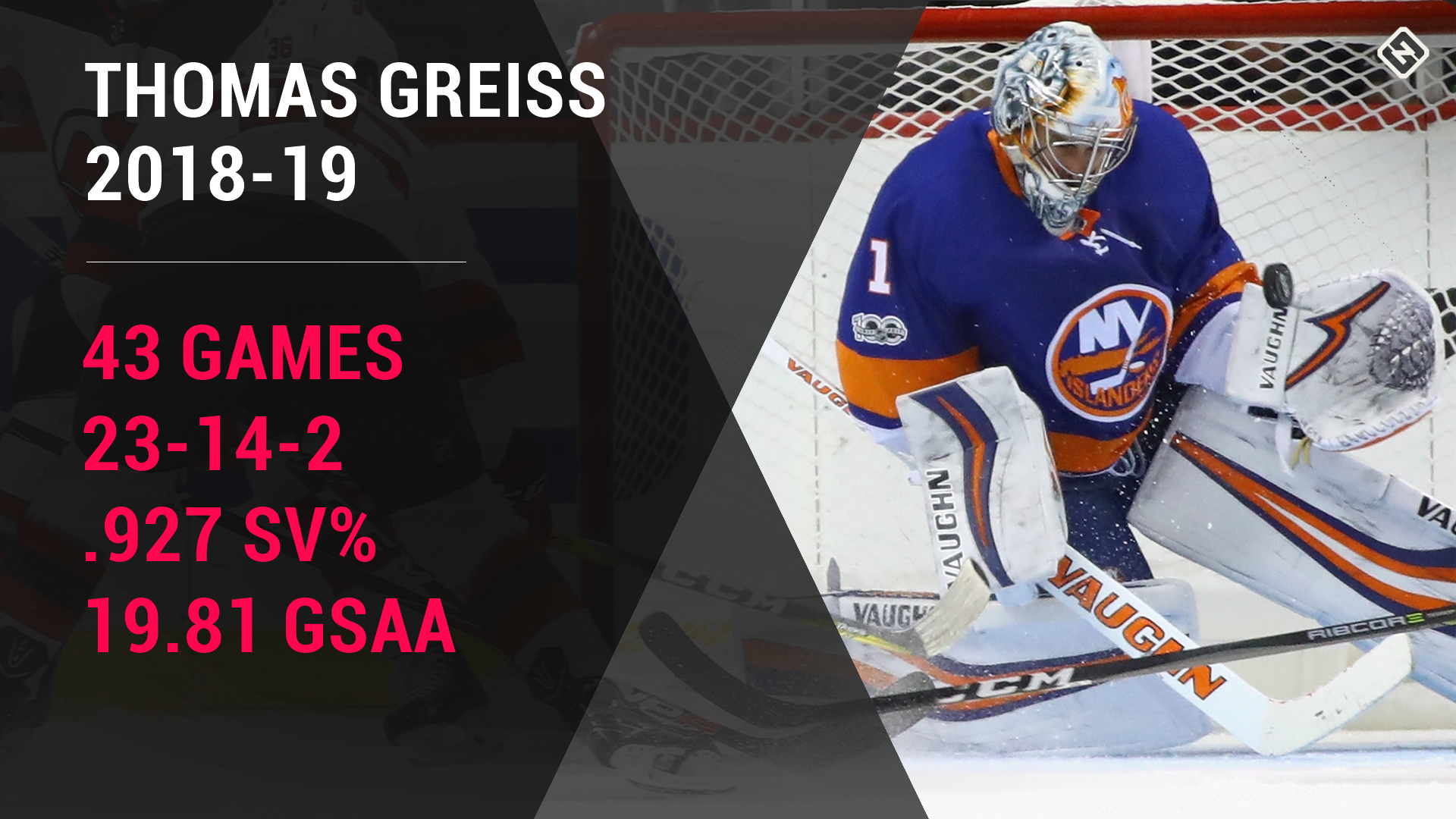 One half of the Islanders' terrific goalie tandem alongside Robin Lehner last season, Greiss went 23-14-2 with a 2.28 GAA, .927 save percentage and five shutouts. His efforts gave him a share of the William M. Jennings Trophy with Lehner after compiling a league-low 2.33 GAA. A perennial backup, the 33-year-old suited up in 43 games, the most he's played in since 2016-17 (51).
Greiss appears destined to play out his last season under contract in New York as a backup or "1B" option, again, after the Islanders signed Semyon Varlamov to a four-year deal in July. His solid track record makes him a perfectly capable goalie when he's not forced to carry a heavy workload.
MORE: Who are the 31 NHL teams' captains, alternate captains for 2019-20 season?
22. Martin Jones, San Jose Sharks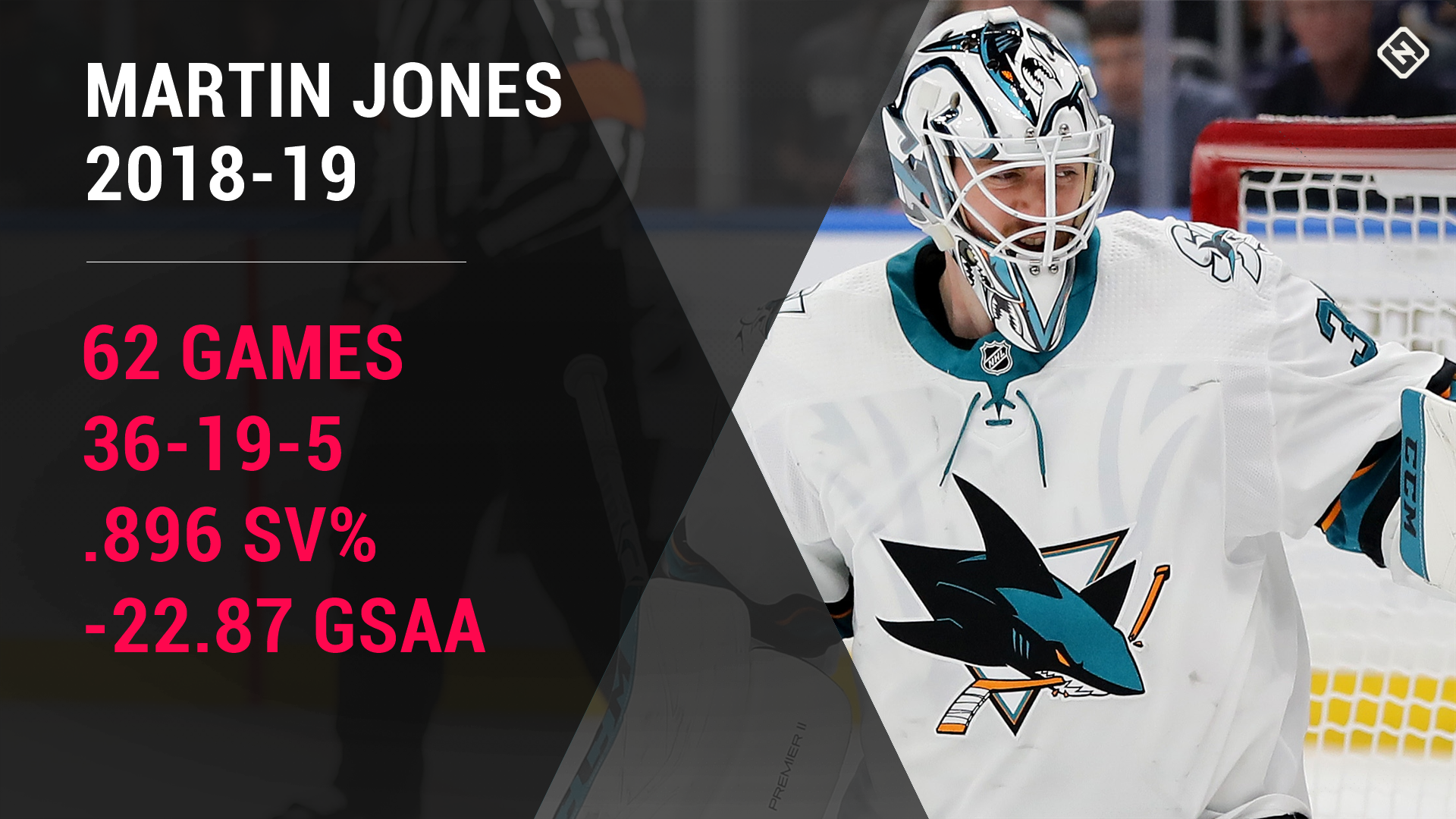 Jones is among the top five goalies in games played over the last three seasons. Unfortunately, that heavy workload has not worked for him. Two of those seasons feature respectable goaltending numbers; last season his play nosedived. His save percentage (.896) was 51 out of 54 total goaltenders who played 25-plus games in 2018-19.
The postseason really did not prove better for San Jose's goalie. While the Sharks took the eventual Stanley Cup champion Blues to the Western Conference finals sixth game, Jones struggled despite facing more than 30 shots against in only eight of 20 playoff games.
Chalk it up as one poor season in an otherwise steady career, but Jones is under contract for five more seasons and if he can't bounce back it could be a long season in San Jose.
SHARK WEEK 2019: Comparing the San Jose Sharks to actual sharks
21. Semyon Varlamov, New York Islanders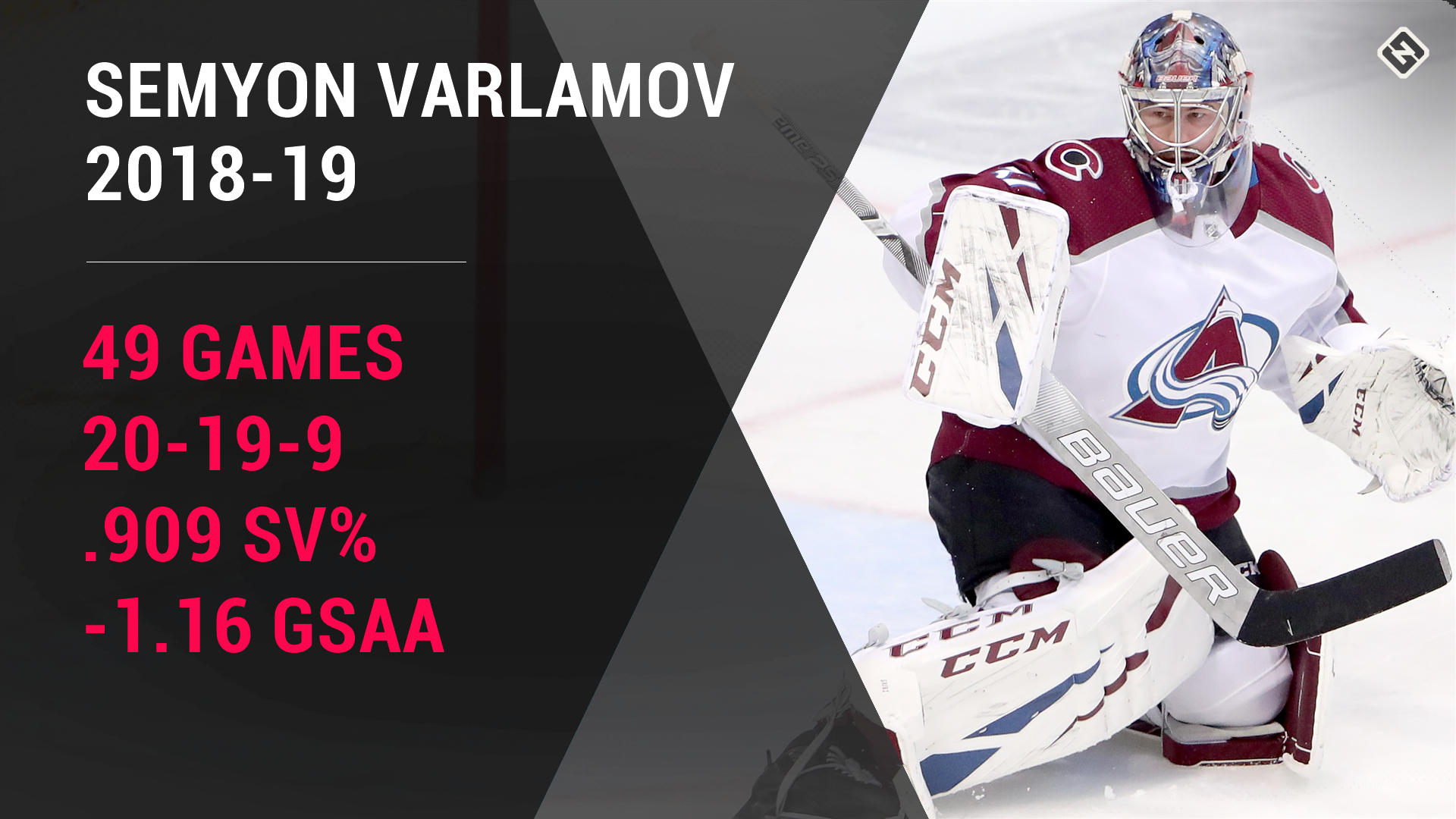 Varlamov's eight-year tenure in Colorado came to an end after playing 49 games last season with a .909 save percentage to boot as Philipp Grubauer started for the Avalanche in the playoffs. With Grubauer slated to be the team's starter moving forward, Varlamov signed with the Islanders in July. He should capable of more than he showed last season, although he has only played more than 50 games once in the last three seasons.
The 31-year-old enters perhaps an ideal scenario as New York excelled with a two-goalie tandem last season. Perhaps Varlamov will find his game on Long Island as Lehner, a 2019 Vezina Trophy finalist, did last season.
NHL FARM SYSTEM RANKINGS: Top prospect pipelines for the 2019-20 season
20. Petr Mrazek, Carolina Hurricanes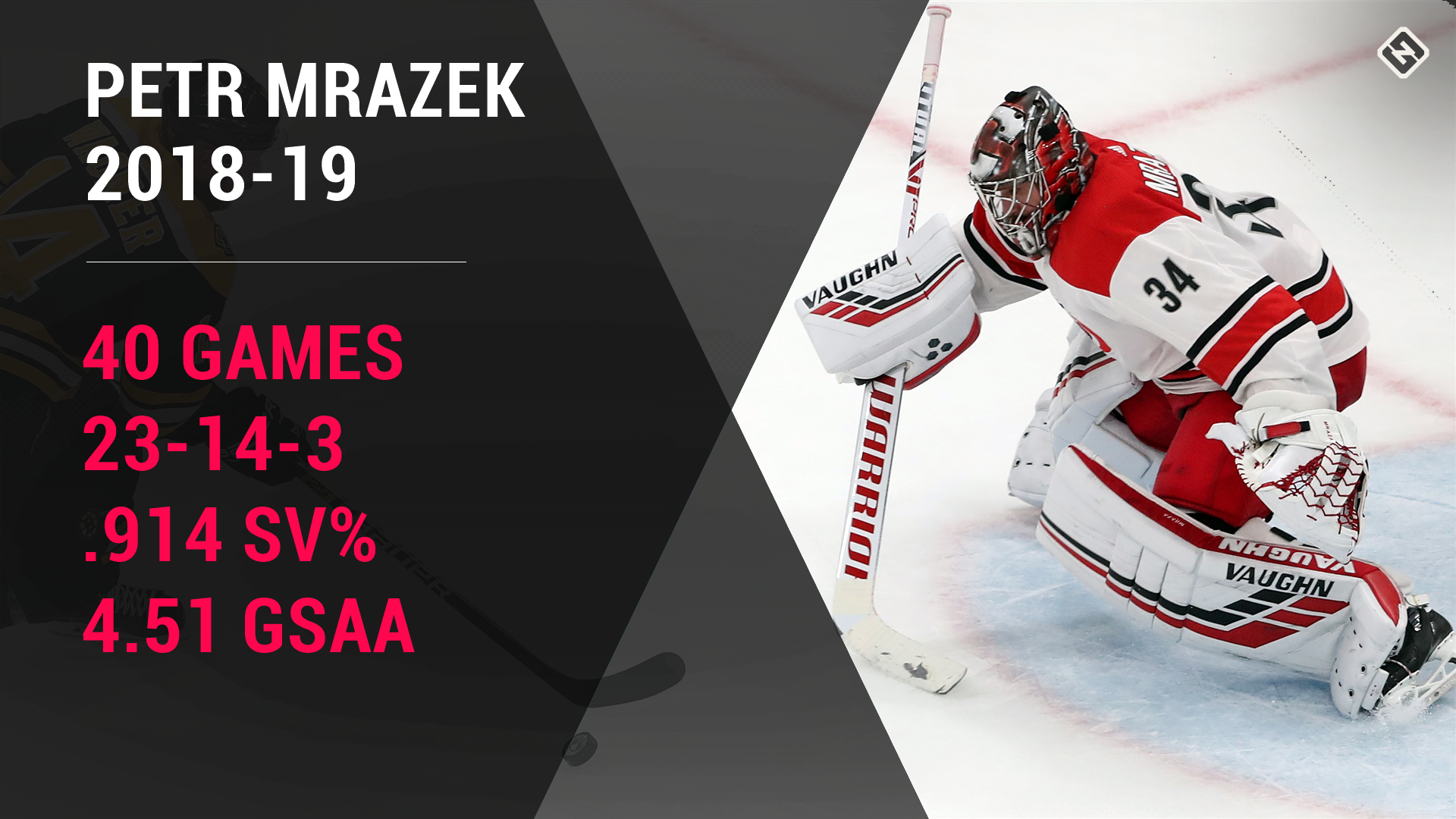 Mrazek played an important role in one of the best success stories last season, helping backstop the Hurricanes all the way to the Eastern Conference finals. However, the season was not an immediate success story — on Jan. 1, the Hurricanes were outside the playoff picture. The 27-year-old netminder's commanding play in the final half of the season (15-5-1, .924 save percentage after Jan. 13) helped Carolina earn a wild card spot.
In the postseason, Mrazek was in goal for the Hurricanes upset of the No. 2 seeded Washington Capitals in seven games. He got hurt in the next round but did return for the conference finals where he faltered in net. Now healthy, he'll lead Carolina in net and they'll surely need him again next spring.
19. Jonathan Quick, Los Angeles Kings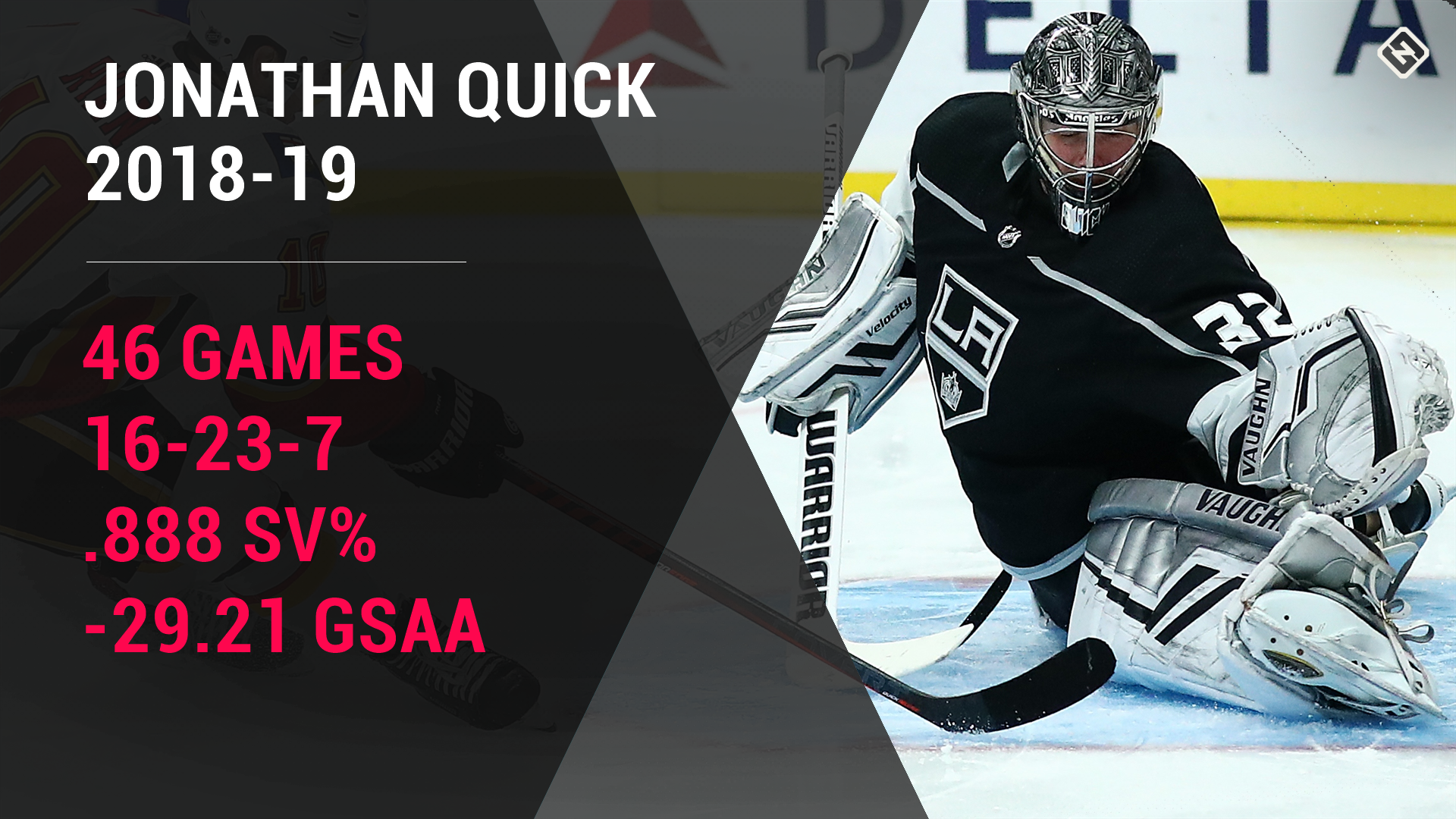 The 2018-19 season was certainly the worst season of Quick's 12-year career — in 46 games he had a losing record with a 3.38 GAA, .888 save percentage and just 19 quality starts. Why does he appear at No. 19 on this list, then, and not at the end? Should he be on it at all?
Los Angeles' was the league's second-worst team last season (31-42-9, 71 points), so it's not all on the goalie. While the franchise has plenty of work to do to get back to competing, Quick's season was an extreme deviation from the norm. Perhaps the 33-year-old Connecticut native is no longer the elite goalie that backstopped the Kings to two Stanley Cups (2012, 2014), and won a Conn Smythe Trophy (2012), but there's a high chance he bounces back in a big way this fall.
MORE: Labor peace? NHL, NHLPA continue working toward new CBA
18. Jaroslav Halak, Boston Bruins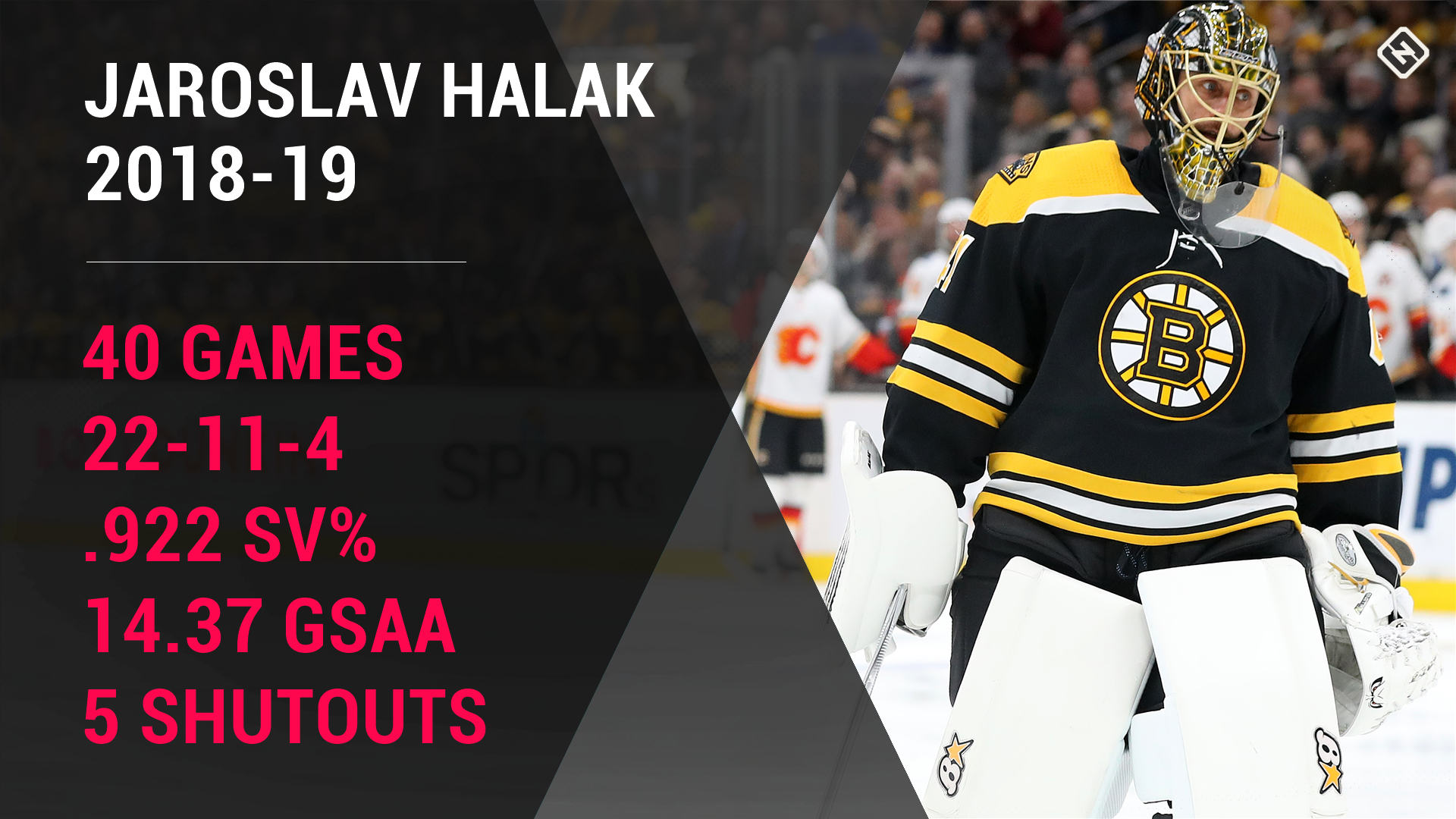 Halak "technically" played as a backup last season, but he went above and beyond what the front office and fans in Boston expected of him. Tuukka Rask's early-seasons struggles thrust him into a near-equal partnership that the 34-year-old thrived in. His 14.73 goals saved above averageranked higher than all but two seasons in his career — and those seasons were seven and nine years ago.
While Halak stayed on the bench during the Bruins' playoff run, the regular-season split appeared to help benefit Rask as the Bruins went to the Stanley Cup Final. GMs should pay attention to how Boston manages the workload this fall; if Halak performs well again, the veteran Czech could move to a starting gig elsewhere next summer.
17. Corey Crawford, Chicago Blackhawks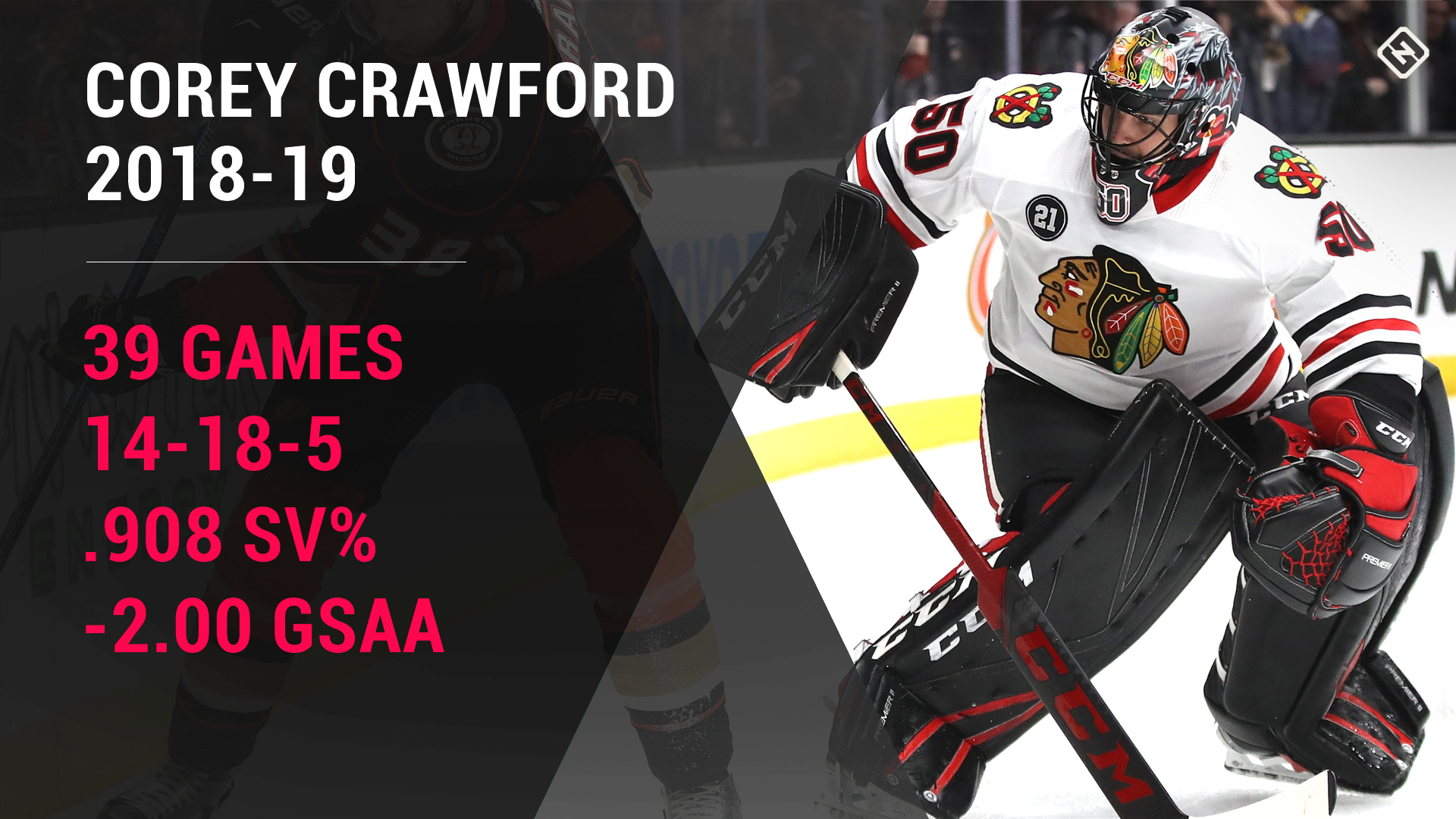 It's been a rough stretch for the two-time Stanley Cup champ. Crawford has dealt with concussion issues the last two seasons that have allotted him only 67 games. Last year, he posted a 2.93 GAA with a slightly below league-average save percentage (.908) in 39 games.
For the 2019-20 campaign, the Blackhawks signed Robin Lehner to tandem with Crawford; it should help keep him fresher if the team earns a playoff berth. However, if he is not healthy enough to play a full season, it could be the end of the road in Chicago for Crawford.
RELATED: Jonathan Toews on the upcoming season, disappointment and Blues winning Cup
16. Marc-Andre Fleury, Vegas Golden Knights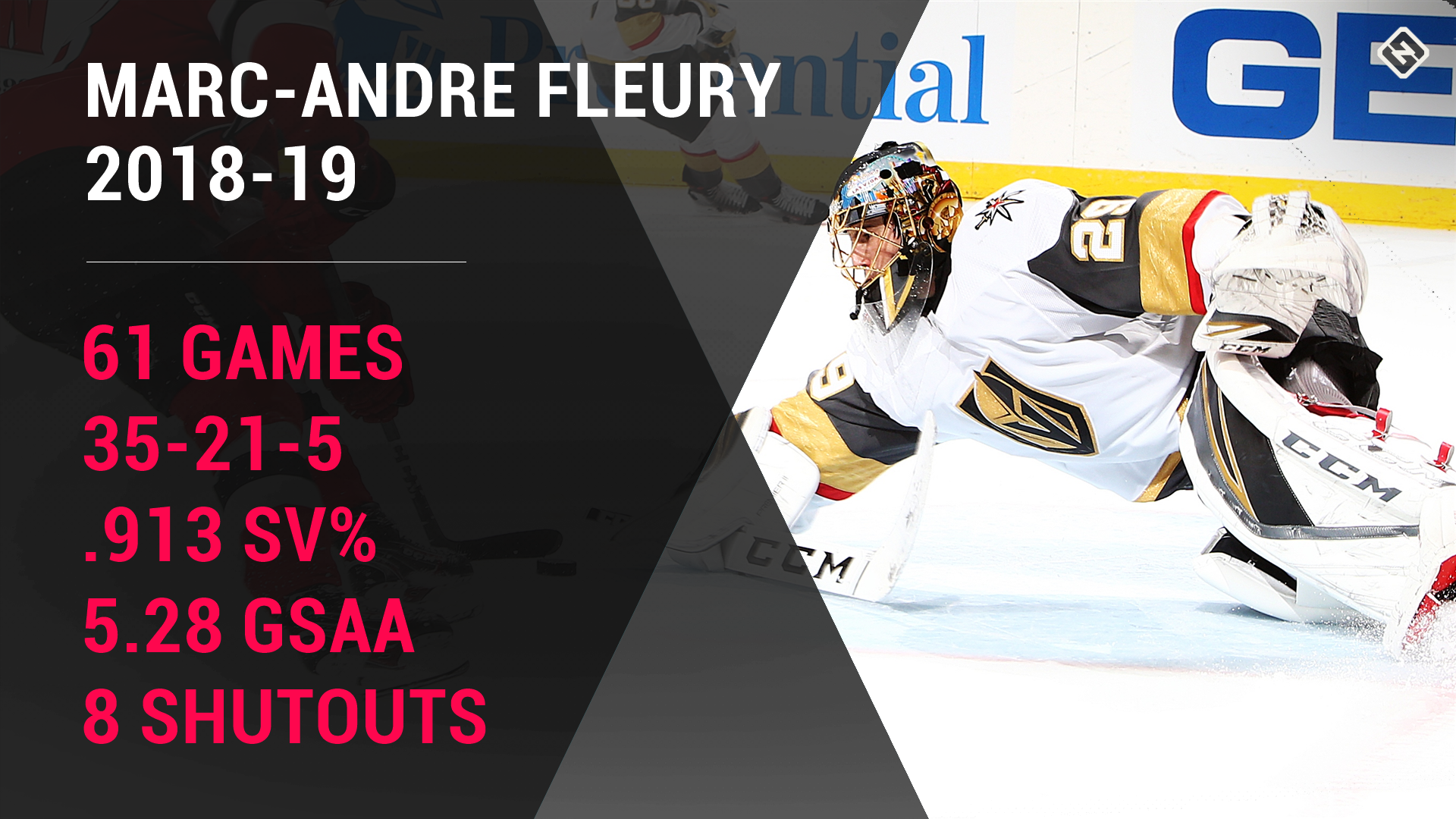 Would anyone have imagined that Fleury joining the Golden Knights via the 2017 expansion draft would turn out to be the best thing for his career? The 2003 first-overall draft pick is in the midst of a career resurgence in Las Vegas after Matt Murray pushed him out in Pittsburgh.
Over 61 starts last season, Fleury won 35 games and a .913 save percentage — a dip from his .927 save percentage a year prior. However, it still earned the Sorel, Que., native a top-five finish in Vezina Trophy voting for the second season in a row.
Fleury's play in net — and his infectious personality off the ice — has helped put Vegas on the map. He is building a legacy with his new team that could rival the one he left behind with the Penguins.
NHL FREE AGENCY 2019: Complete tracker for all 31 teams' UFA, RFA players
15. Connor Hellebuyck, Winnipeg Jets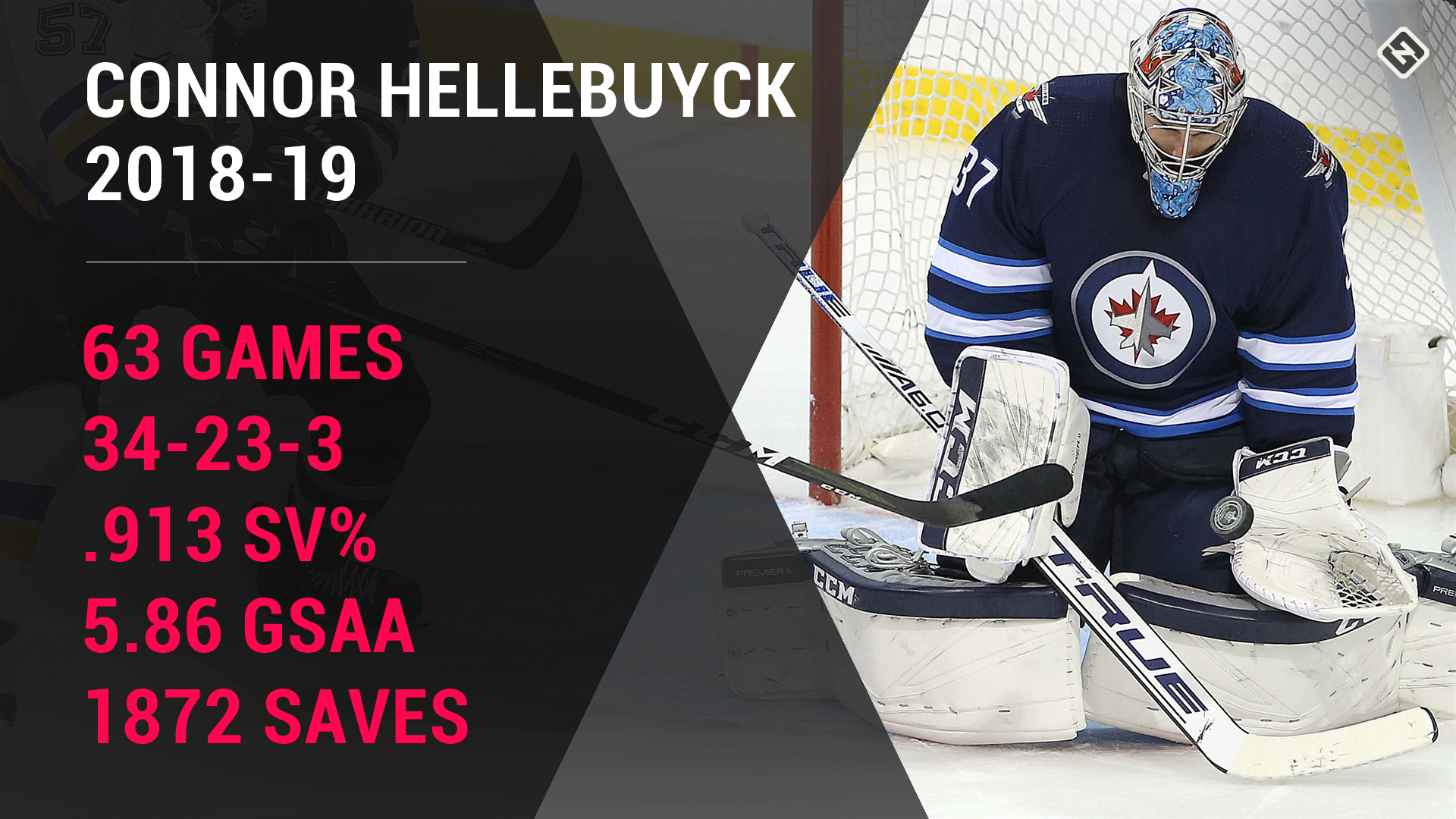 Only four goalies have played more games in the past three years than the Jets netminder, but the workload comes with mixed results. In 2017-18, he tied for the league lead in wins (44) and games played (67), and finished second in Vezina Trophy voting. That year is surrounded by two average seasons, with last year seeing an uptick in GAA (2.90).
No goaltender faced more shots against than Hellebuyck last season (2,051), and as a result, he let in more goals (179) than any other goalie, too. That statistic actually makes his .913 save percentage stick out as more than hardly above average — it's a signifier of how heavily the Jets are leaning on the 26-year-old. Winnipeg finished 17th in total goals against (243) last season and fifth in shots against per game (33.4) — that's a lot of rubber that will need to be cleaned up this season.
WINNIPEG JETS: Kevin Cheveldayoff on Patrik Laine deal: 'We're dealing with an elite player here'
14. Henrik Lundqvist, New York Rangers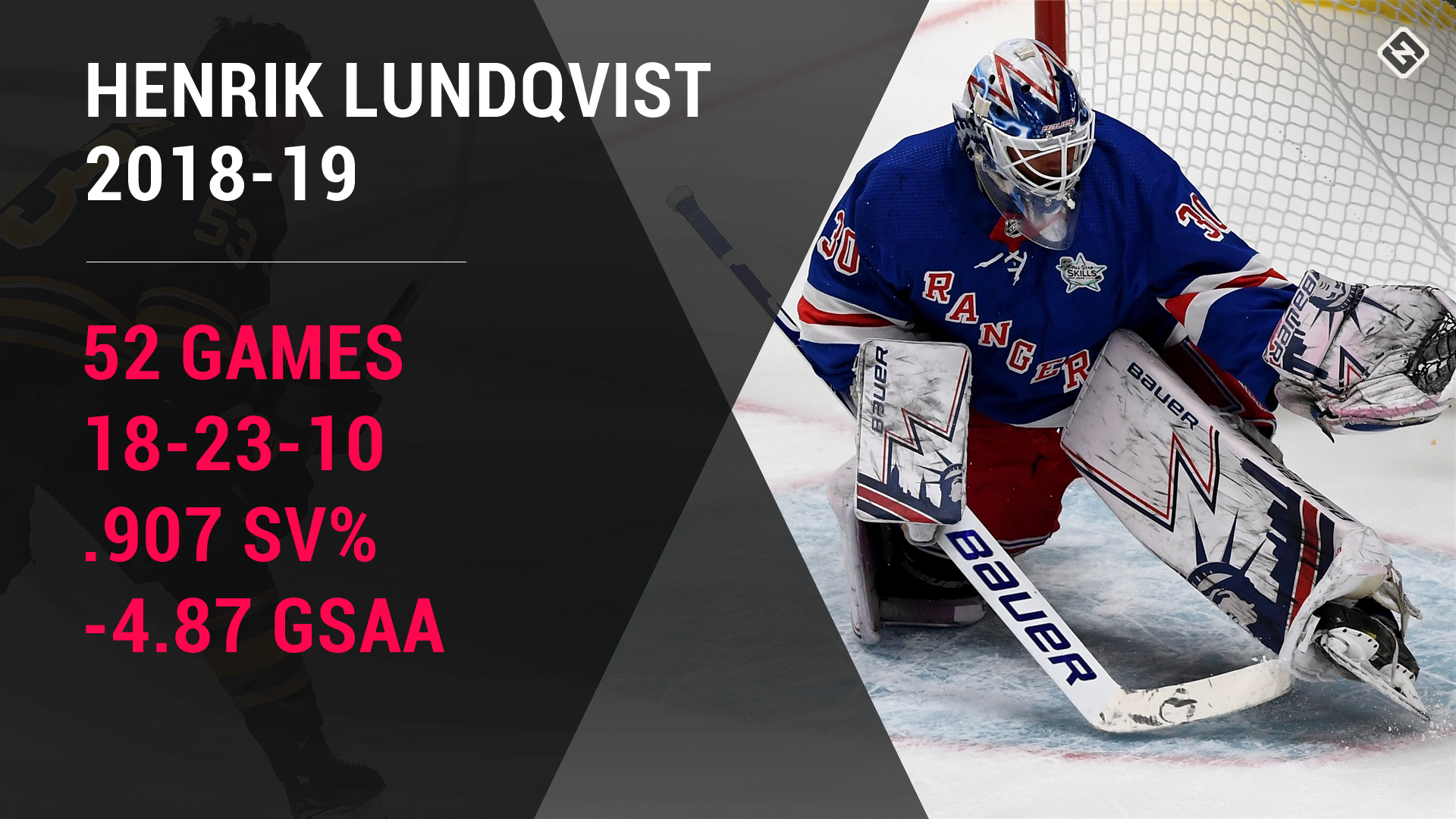 "King Henrik" still rules the crease ice at Madison Square Garden, but two questions surround him as we enter 2019-20: how well has he really played in recent seasons and how much longer can he be a starter?
Lundqvist was hands-down among the league's best each and every year until 2016-17 — incidentally, the last season the Rangers made the playoffs. As his team has floundered, so has the 37-year-old Swede; his save percentage (.911) over the last three seasons hovers around the league average.
Plenty of quality goalies have seen their numbers drop when the team in front of them struggle too, and there's no question that the last two Rangers seasons have been substandard. However, this year's team on paper is a mighty upgrade and should help raise his number back up to the Lundqvist-norm.
MORE: As Rangers rebuild, New York turns to Kaapo Kakko
13. Jordan Binnington, St. Louis Blues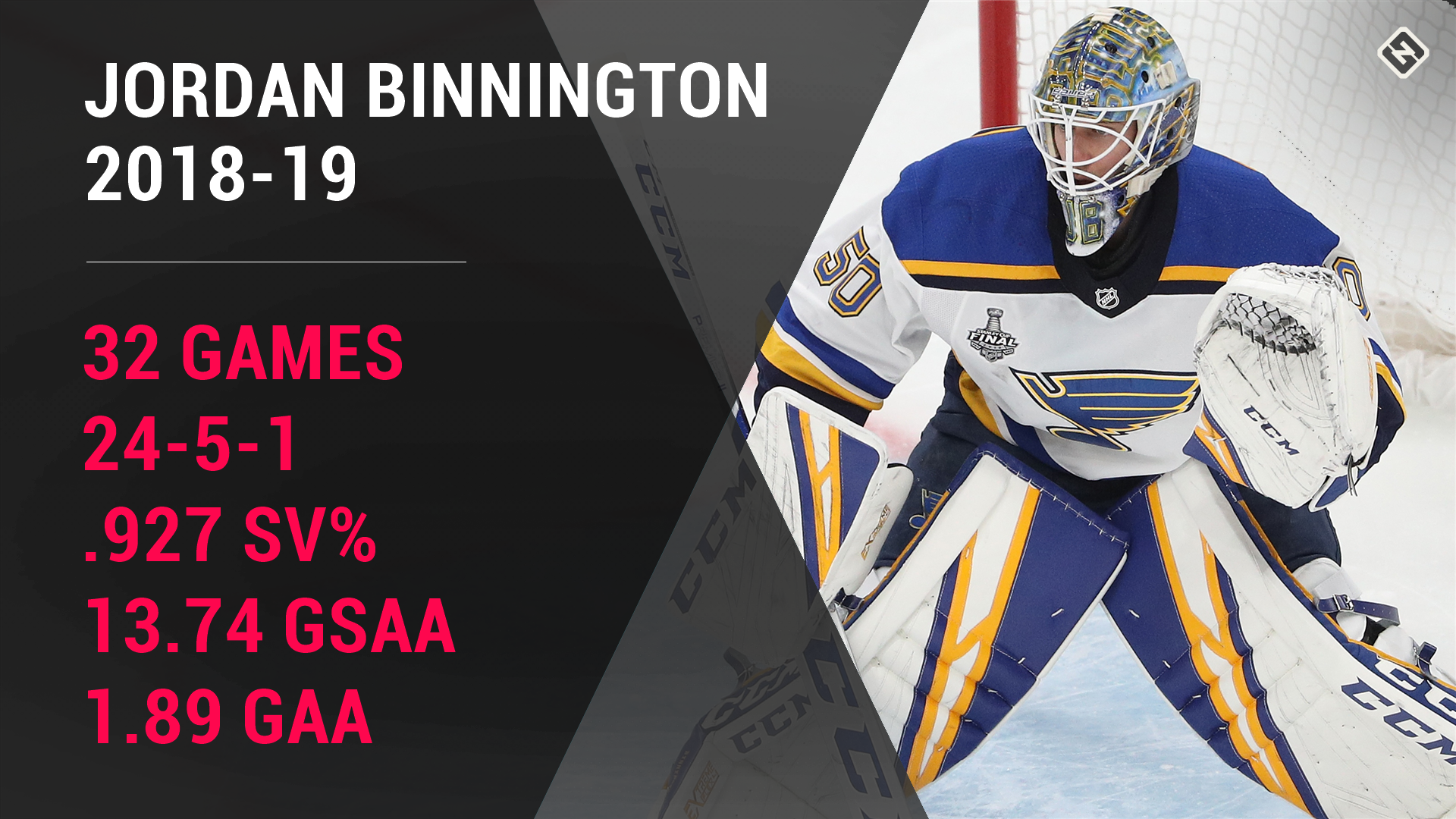 Perhaps last season's best individual story, Binnington finally rose to NHL prominence nearly eight years after the Blues selected him in the draft.  
When long-time Blues starter Jake Allen faltered, the Richmond Hill, Ont., native answered the call. He amassed a 24-5-1 record with a 1.89 GAA and .927 save percentage to propel the worst team in the NHL on Jan. 3 into the postseason. Not as rock-solid in the postseason, he performed well enough to lead the Blues to their first-ever Stanley Cup. 
Binnington's regular-season play earned him second place in Calder Trophy voting and fifth place for the Vezina; even some MVP votes were tossed his way at the end of the season. The 26-year-old signed a two-year extension with St. Louis in July, and will look to prove that 2019 was not a fluke.
12. Pekka Rinne, Nashville Predators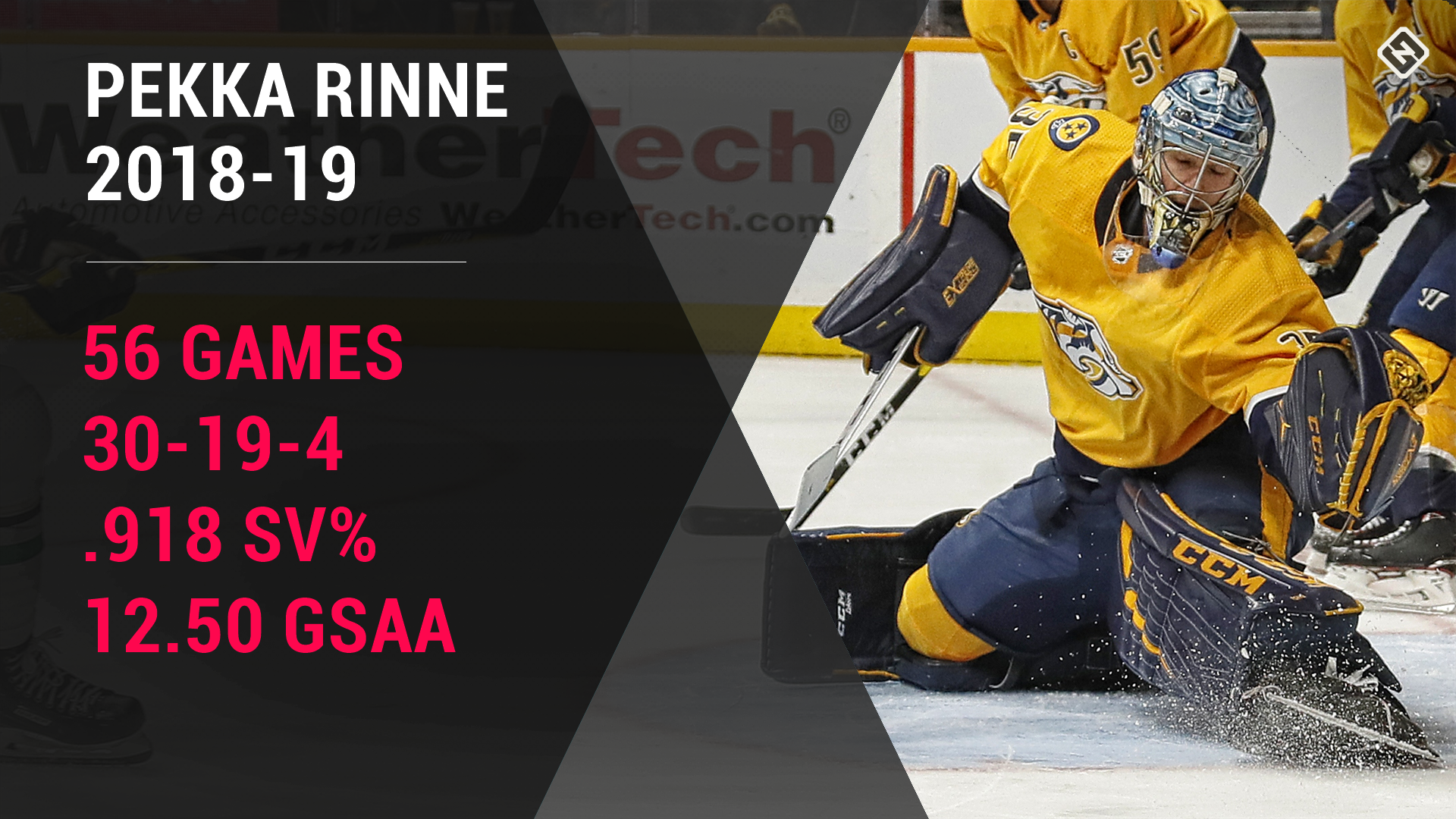 Rinne performed right on the nose compared to his career average statistics in 2018-19; he won 30 games for Nashville and put together a 2.42 GAA and .918 save percentage along the way. Most years, that's what the Predators can expect from him, and it's worked well in his 10+ years as a starter. However, he is capable of much more, too, as he won the 2018 Vezina finished within the top three in voting three other times.
Considering he'll turn 37 in November, the Predators will need to find a successor sooner rather than later. For now, Rinne is more than capable of backstopping the team for a full season and a long playoff run, as he did in 2017.
11. Tuukka Rask, Boston Bruins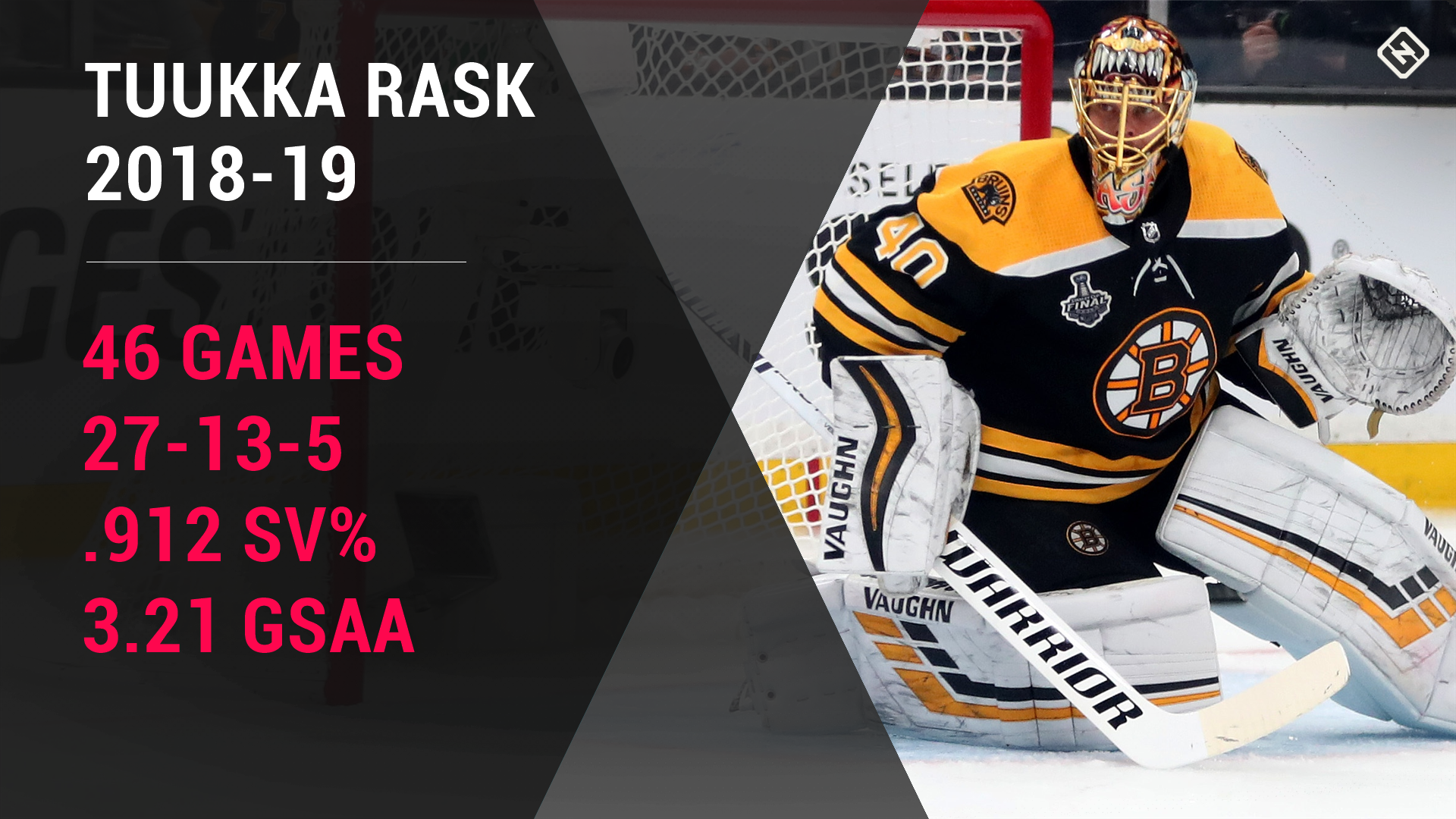 Rask seemed to have two separate seasons in 2018-19. There was the regular season: an up-and-down roller coaster with a notable stretch that made him look like the player who won the Vezina in 2014. From Dec. 29 to March 9, the 32-year-old Finn amassed a 16-0-3 record with a .929 save percentage At other points in the season, however, Rask was shaky and he ultimately played the fewest games of his career as Boston's starter (46).
When the scene shifted to the playoffs, Rask came alive and was one of the main reasons Boston made it all the way to Game 7 of the Stanley Cup Final. He allowed more than three goals only twice the entire run — unfortunately, one of those games came in the deciding game. Rask probably would have won the Conn Smythe Trophy as the playoffs' most valuable player had the Bruins won, and he will be back for vengeance this fall.
NHL PROSPECTS: Ranking the top 50 players in the NHL pipelines
10. Darcy Kuemper, Arizona Coyotes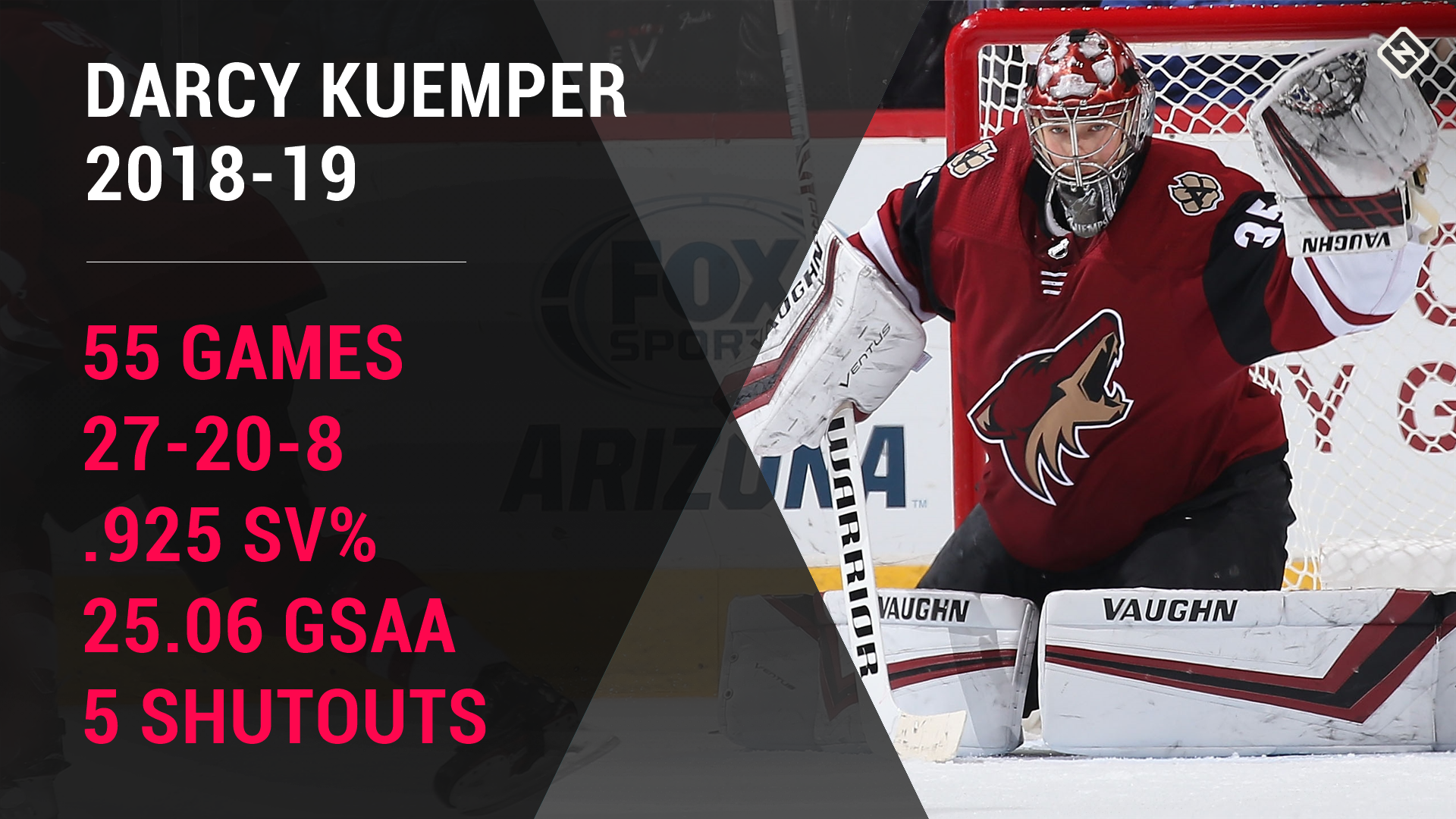 Kuemper quietly impressed the entire league in his first full season with Arizona as he won a career-high 27 games and backstopped the fifth-best team in the NHL in goals against (220). The 29-year-old recorded five shutouts and won all 11 games where he made 35 saves or more in 2018-19. The Coyotes missed the postseason by just four points, and Kuemper's efforts made that playoff pursuit possible.
The question for the Saskatoon, Sask., native is whether or not he has a repeat performance in him. This season will be Kuemper's eighth in the NHL with last season being his first in a starting capacity. If he can play to the same level, and the Coyotes increase their scoring, that's a surefire playoff team in the West.
MORE: Phil Kessel excited for next phase with the Coyotes
9. Matt Murray, Pittsburgh Penguins
The Penguins were fortunate to go from Fleury straight to Murray, who helped backstop the team to back-to-back Stanley Cups in 2016 and 2017.
If there a knock on the 25-year-old's game it's perhaps that he has not played over 50 games in a single season — although, he has not really needed to. Pittsburgh's coaching staff allotted backup Casey DeSmith 30 starts last season, and both he and Murray performed admirably posting .928 and .930 save percentages at even strength, respectively.
A Thunder Bay, Ont., native, Murray struggled in the postseason as the Pens were swept by the Islanders. He allowed 12 goals over the four games while the team failed to score more than once in each game after Game 1. 
PITTSBURGH PENGUINS: Alex Galchenyuk has big skates to fill on offense
8. Braden Holtby, Washington Capitals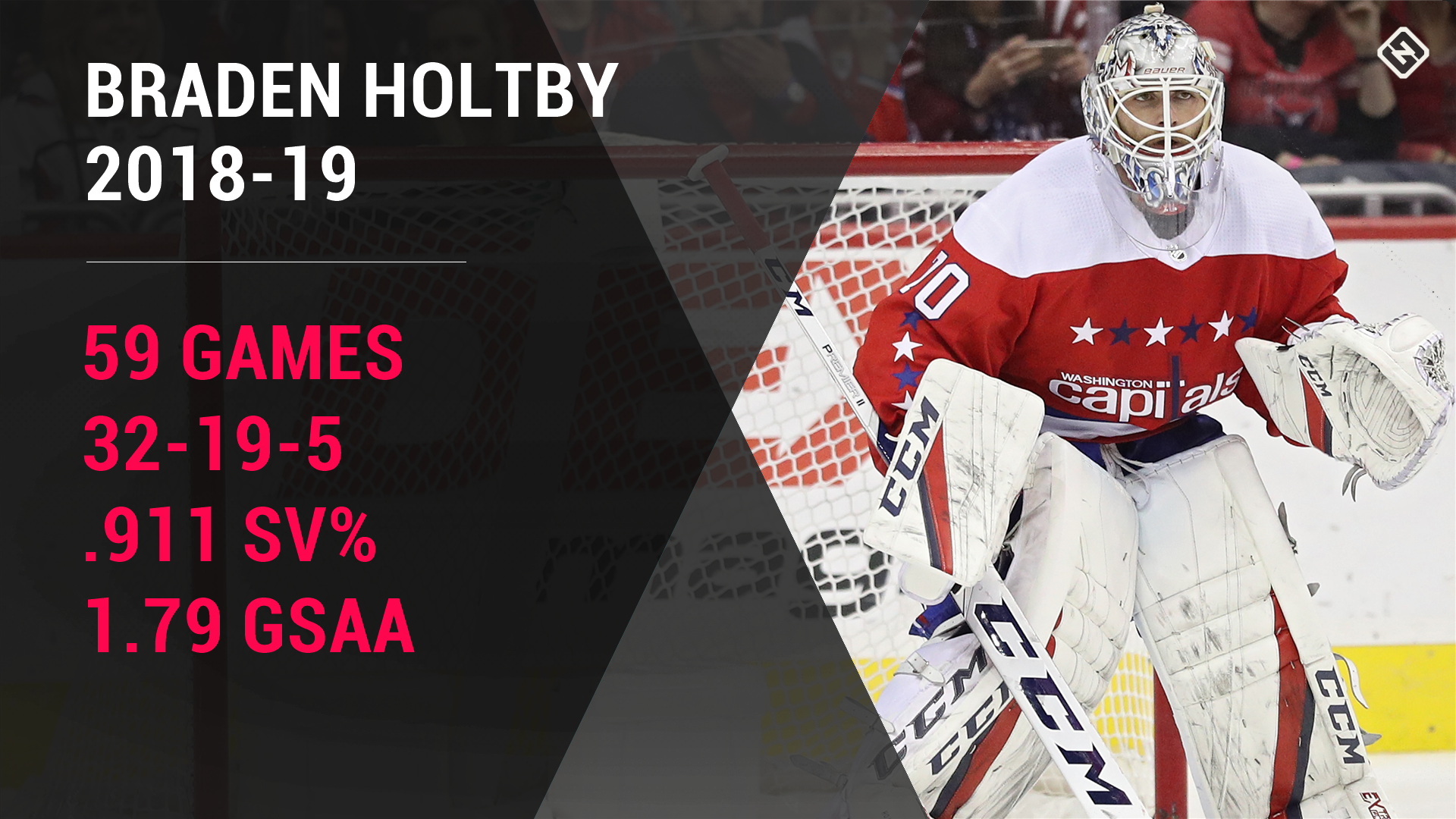 Let's face it, Holtby has not been at his best in either of the last two seasons. That's okay — in the 2018 playoffs, Holtby recorded a .922 save percentage to help Washington win its first championship. Even with his most downward slope, Holtby's quality work in his nine-year NHL career keeps him within the league's top 10. 
This past postseason he did post an impressive milestone when he surpassed Olie Kolzig for most playoff shutouts in franchise history with a 30-save effort against the Hurricanes on April 20. Overall, the Capitals are still a good team and Holtby is still a solid netminder. It would be a surprise if he slumps in the regular season for a third straight year. 
WASHINGTON CAPITALS: Second-round pick Brett Leason continues 'most fun year of hockey'
7. Sergei Bobrovsky, Florida Panthers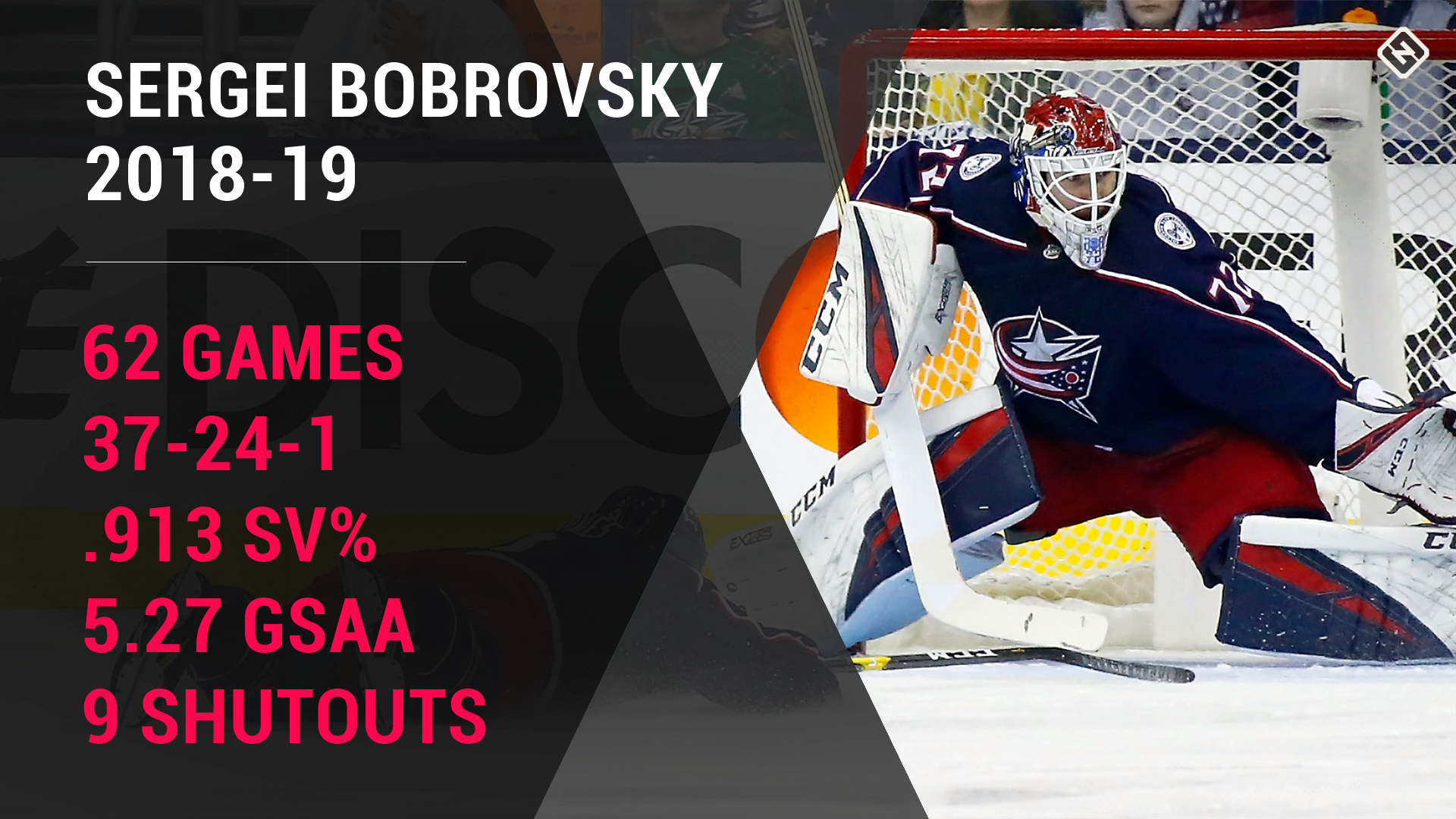 An impressive body of work during his seven years in Columbus earned Bobrovsky a $70 million contract with the Panthers this summer and the two-time Vezina Trophy winner is sure to keep up his high standard of play in the Sunshine State. Last season, Bobrovsky struggled at times as it became increasingly apparent his time with the team was coming to a close, but he pulled the proverbial monkey off his back in the playoffs.
Entering 2019, his playoff history was shaky; however, he posted postseason career-bests against the Lightning and Bruins with a .925 save percentage while allowing just 25 goals in 10 games. It was not enough to bring the Blue Jackets to the conference final, but he can build off that experience for the Panthers' expected push in 2020.
FLORIDA PANTHERS: With new-look roster, Panthers could contend this season
6. Frederik Andersen, Toronto Maple Leafs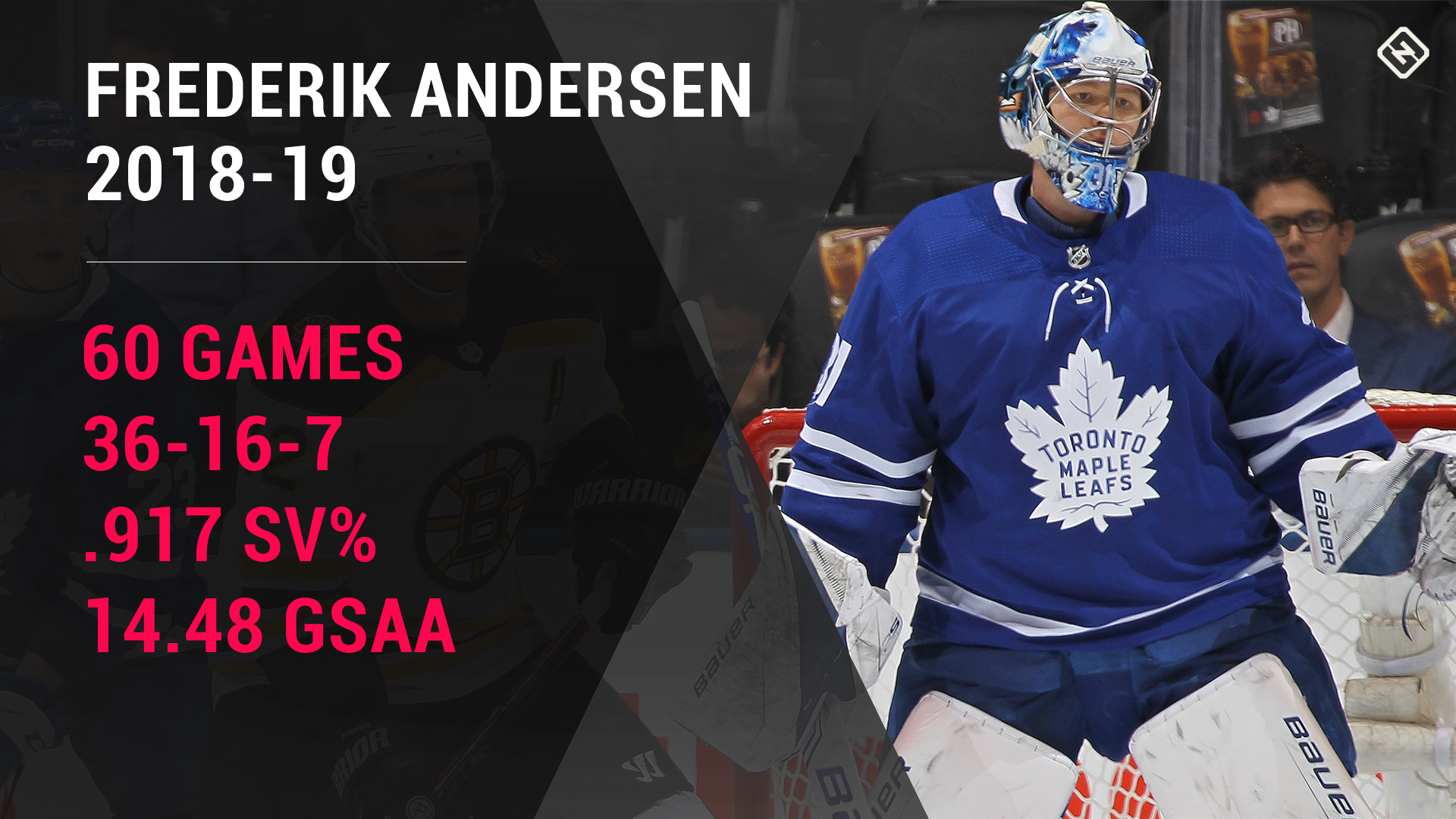 Is Andersen the most successful Maple Leafs goalie in the last 15 years? He's been nothing if not consistent with a save percentages ranging from .917 to .919 over the last four seasons. He has also bore the brunt of one of the league's heavier workloads —  starting 60 or more games the last three seasons — and two seasons ago he saw more rubber than any other goalie in the league.
Now that the Leafs have built the franchise's most competent defensive group in years, along with an All-Star group of forwards, Andersen should backstop the Maple Leafs on a deep playoff run in 2019-20.
5. Carey Price, Montreal Canadiens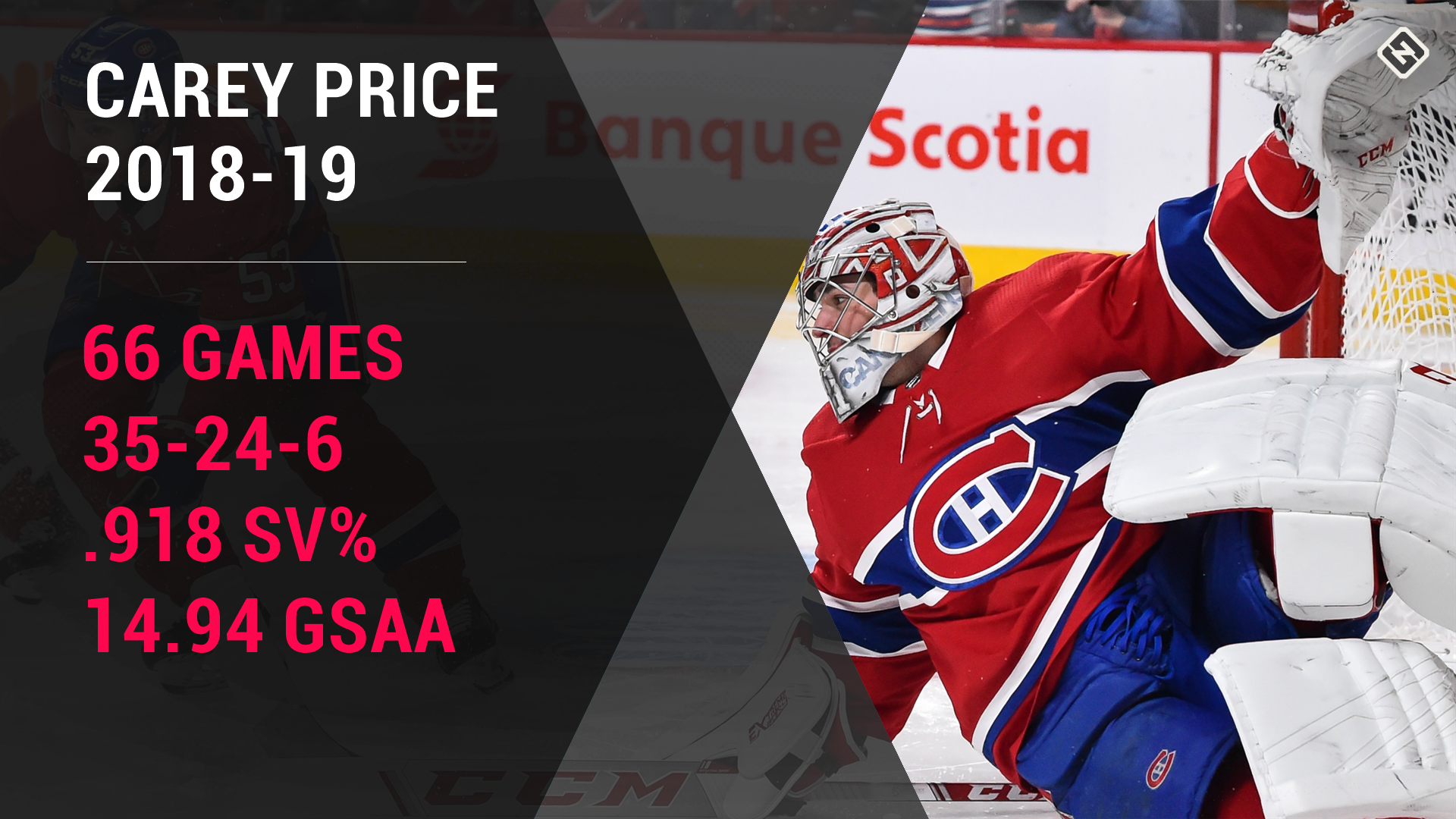 Has Price performed to the level fans and opponents expected from him following his 2014 Vezina Trophy and Hart Trophy campaign? No, but Price did work more than any other goalie last season and still put up well above-average numbers. The 32-year-old posted a .918 save percentage that still remained well above the league average (.910), and Hockey Reference's goalie point shares metric lists Price tied for contributing the most points to his team's success of any goalie last season.
While he finished seventh last season in Vezina voting, he needs the team in front of him to pick up their play to help put him back in the thick of the conversation again.
MONTREAL CANADIENS: What role with Philip Danaultplayin 2019-20?
4. Robin Lehner, Chicago Blackhawks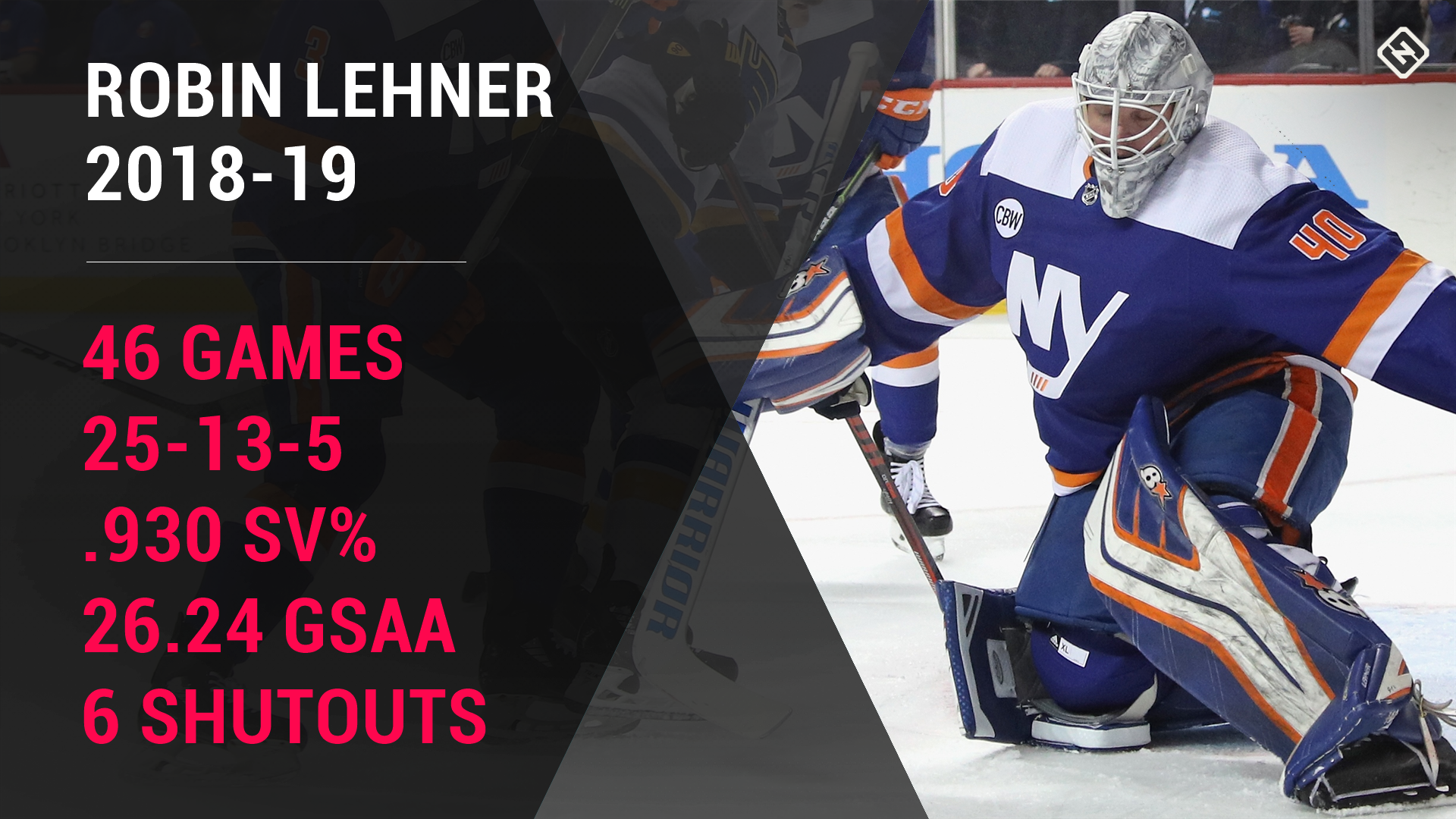 When Lehner opened up about his mental health struggles before last season, the hockey world listened. When Lehner put together an incredible season for the Islanders, the hockey world took notice and appeared the Swedish goalie finally unlocked his true potential. His .930 save percentage, 26.24 GSAA and 26 quality starts placed him near the top of the league in each category. Lehner's combined efforts with Islanders tandem partner Thomas Greiss snagged the two the 2019 William M. Jennings Trophy and propelled their team to the playoffs for the first time since 2016.
Lehner signed a one-year contract with Chicago this summer and will be keen to repeat last season's efforts with a Blackhawks team in need of insurance in between the pipes.
RELATED: Robin Lehner's new mask advocates for mental health
3. Ben Bishop, Dallas Stars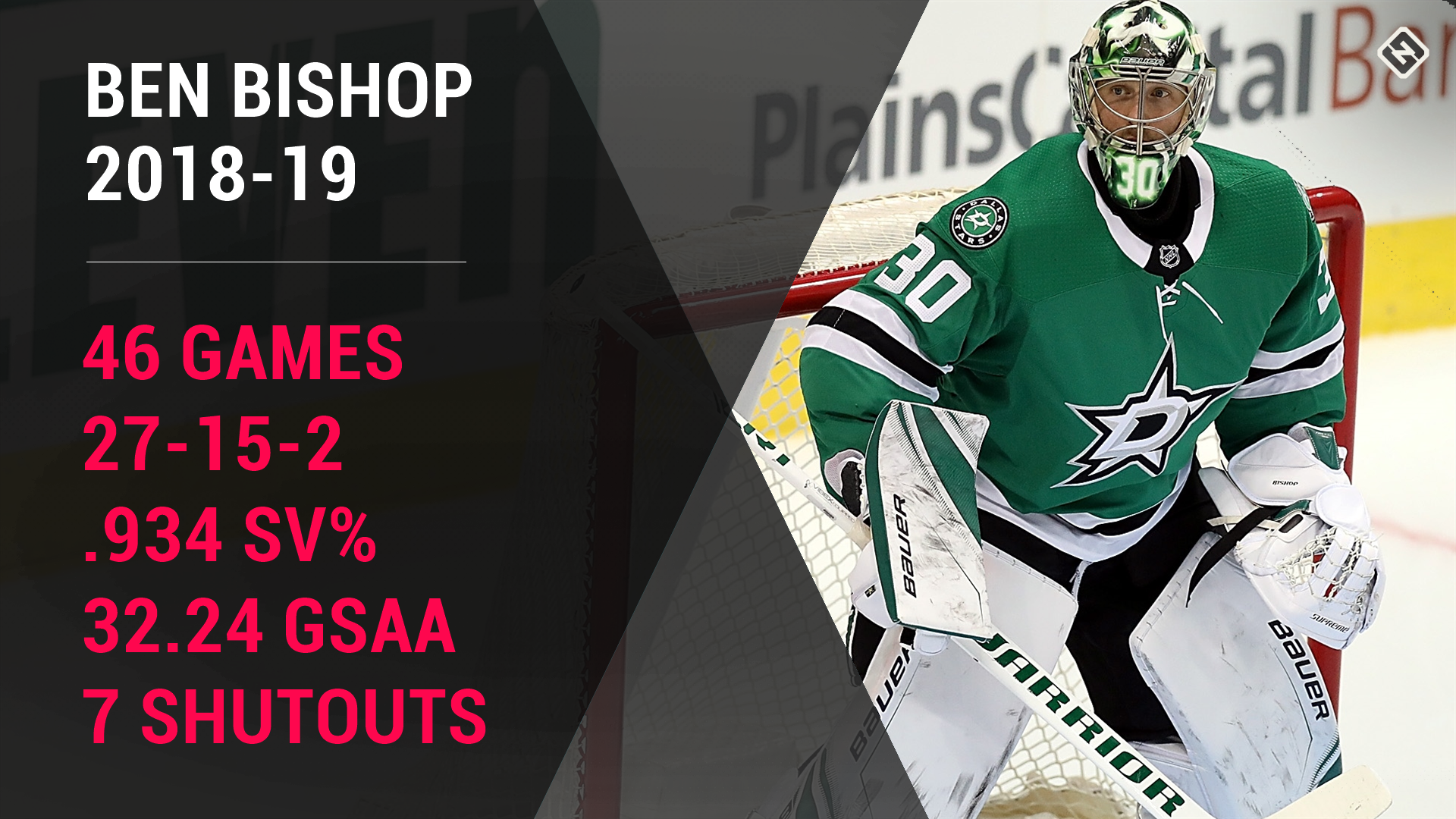 Bishop originally rose to prominence during a three-year stint with Tampa Bay from 2013-16 where he was a two-time finalist for the Vezina, a three-time All-Star and led the Lightning to the Stanley Cup Final. The 32-year-old struggled through his first season in Dallas but bounced back considerably last season despite only playing 46 regular-season games.
In 2018-19 he led the NHL in save percentage (.934) and goals saved above average (32.24). Bishop's play was electric through the Stars' two-round playoff run where he allowed 13 goals and posted a .933 save percentage. After finishing second in Vezina Trophy voting in June, it's clear Ben Bishop is back.
NHL TRADES: Ranking the top 15 players that were dealt in their prime
2. John Gibson, Anaheim Ducks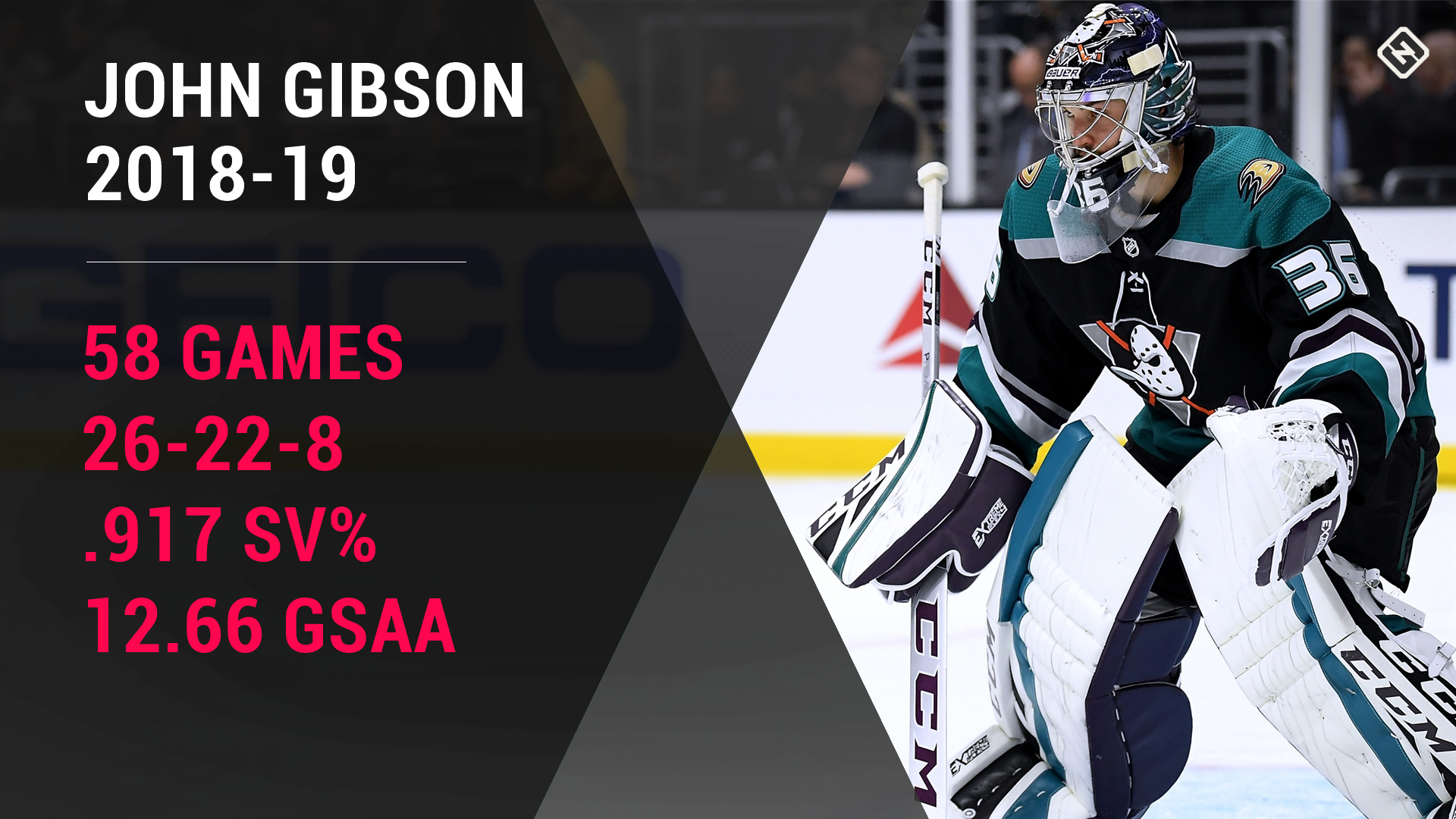 Gibson remains a statistical darling even after Anaheim missed the playoffs for the first time in six seasons in 2019. The Ducks' most pressing issue is scoring goals, not necessarily keeping them out of the net when only five goalies saw more shots last season than Gibson. It highlights just how poised Gibson remains in the crease —he posted a .917 save percentage, raising that number to .923 at even-strength.
According toHockey Reference, Gibson recorded more than 10 goals saved above average (goalie's save pct. and shots against vs. league average save pct. on the same number of shots) in three straight seasons. Statistically, 2018-19 was Gibson's worst season but the 6-2 American still played at an above-average level as his team fell out of contention.
1. Andrei Vasilevskiy, Tampa Bay Lightning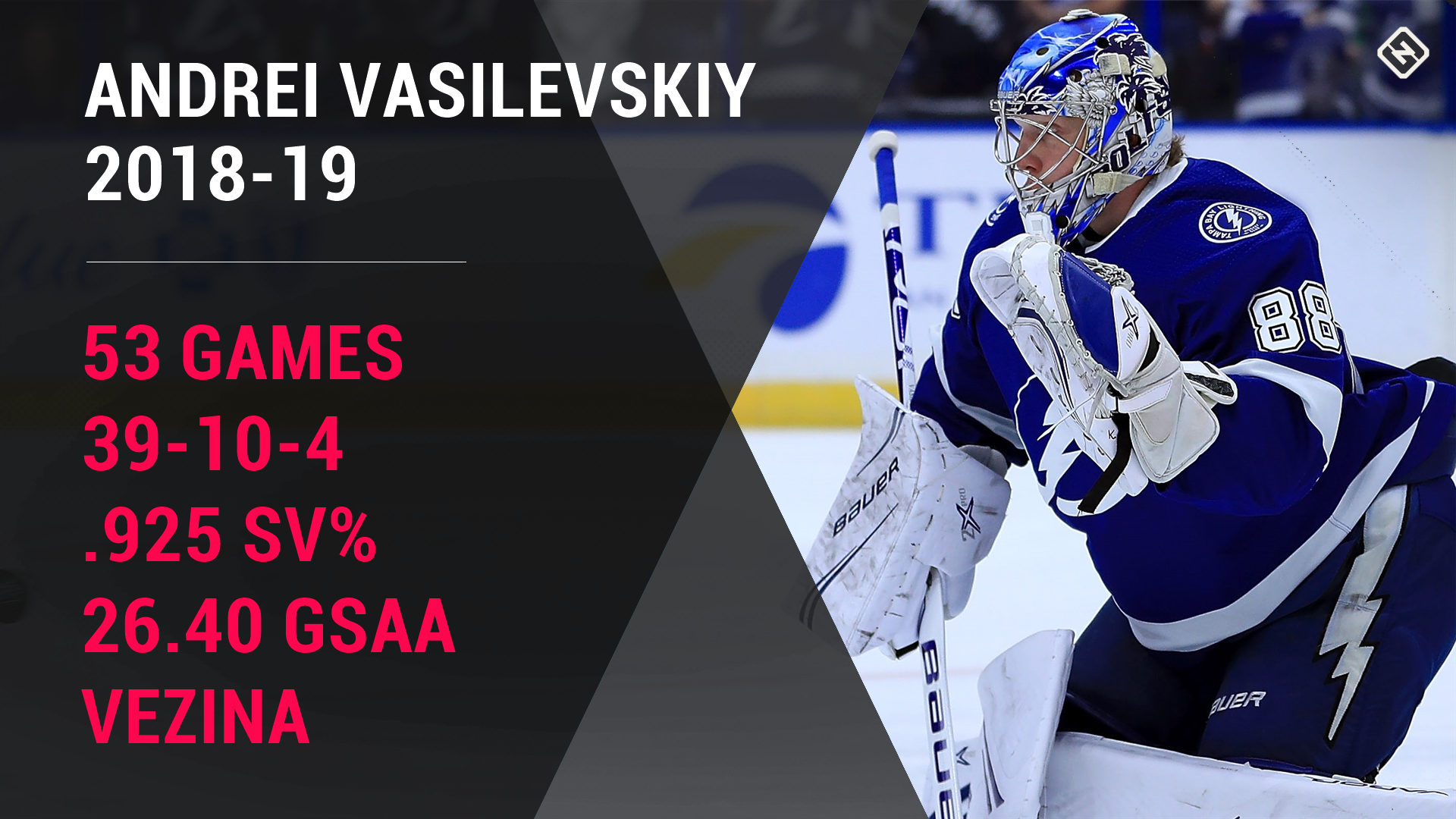 Could anyone but the reigning Vezina Trophy winner stand as the league's top goalie heading into 2019-20? The Lightning backstop has the most wins in the last two seasons (83), and while that's not necessarily a fair measure of success, the rest of his stats back it up as well. Tied with Kuemper for the sixth-best save percentage (.925) of all goalies who played 25 games or more in 2018-19, Vasilevskiy actually played more games than each netminder ahead of him (53).
Sure, the 25-year-old netminder floundered in the first round as the Blue Jackets swept the Presidents' Trophy-winning Lightning, but there's no reason to feel that's anything but an aberration from his usual standard.
Sours: https://www.sportingnews.com/ca/nhl/news/ranking-the-top-25-nhl-goaltenders-in-2019-20/hj7oygi271iw1e74pzbp2ohrw
Fantasy hockey top 25 goalie rankings
RANKINGS: 📈 250 | Forward | 'D'
Goalie tandems | Strategy: rounds 1-4
PROJECTIONS: 🔮 F | D | G
Fantasy hockey draft cheat sheet
Video: Fantasy Special: Who are the best goalies in fantasy?
Video: Jensen on biggest fantasy mover
FANTASY TOP 25 GOALIES
Standard goalie categories include wins, goals-against average, save percentage and shutouts. Value has been quantified based on factors including but not limited to past production in regular season and Stanley Cup Playoffs, team goalie situations, anticipated start volume, projected goal support (or lack thereof), injury history or concern (INJ.), sleeper, bounce-back or breakout potential, anticipated regression, age, contract status (restricted free agents listed below) and overall upside for this season. These rankings are a collaborative effort by Pete Jensen and Rob Reese.
1. Andrei Vasilevskiy, TBL
2. Robin Lehner, VGK
3. Connor Hellebuyck, WPG
4. Darcy Kuemper, COL
5. Igor Shesterkin, NYR
6. Semyon Varlamov, NYI (INJ.)
7. Marc-Andre Fleury, CHI
8. Frederik Andersen, CAR
9. Ilya Sorokin, NYI
10. Spencer Knight, FLA (rookie)
11. Philipp Grubauer, SEA
12. Cam Talbot, MIN
13. Ilya Samsonov, WSH
14. Juuse Saros, NSH
15. Thatcher Demko, VAN
16. Jack Campbell, TOR
17. Linus Ullmark, BOS
18. Carey Price, MTL**
19. Petr Mrazek, TOR
20. Jordan Binnington, STL
21. Jacob Markstrom, CGY
22. Vitek Vanecek, WSH
23. Jeremy Swayman, BOS (rookie)
24. Sergei Bobrovsky, FLA
25. Kaapo Kahkonen, MIN (rookie)
** - Price is leaving the Montreal Canadiens to enter the NHL/NHLPA player assistance program
Other goalies in NHL.com's top 250 overall rankings:
26. Kevin Lankinen, CHI
27. Mackenzie Blackwood, NJD
28. Jake Oettinger, DAL
29. Carter Hart, PHI
30. Alex Nedeljkovic, DET
31. Calvin Petersen, LAK
32. Jake Allen, MTL
33. Tristan Jarry, PIT
34. Mike Smith, EDM
35. Chris Driedger, SEA
36. Elvis Merzlikins, CBJ
37. John Gibson, ANA
38. Jaroslav Halak, VAN
Key injuries: Tuukka Rask, BOS (UFA); Ben Bishop, DAL; Pavel Francouz, COL
---
Listen: "NHL Fantasy on Ice" podcast 🎧
Watch: Podcast episodes on YouTube 📺
View MoreSours: https://www.nhl.com/news/nhl-fantasy-hockey-top-25-goaltender-rankings-pools/c-282860450
Ranking the top 10 NHL goaltenders entering the 2021-22 season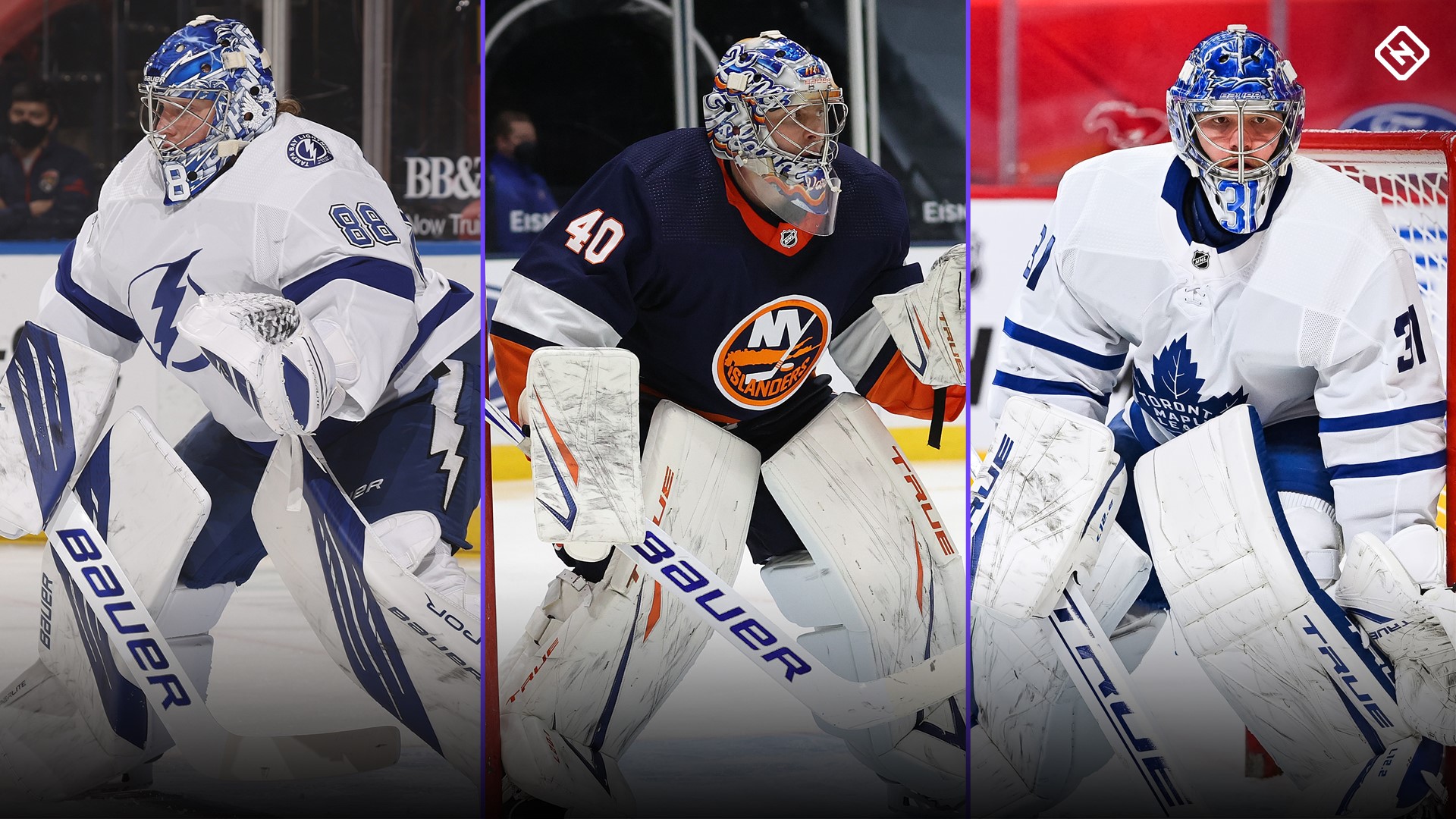 It's getting chillier out which can only mean one thing: the NHL season is right around the corner. 
After two wonky seasons, 2021-22 is shaping up to be a full 82-game slate (knock wood, please) chock full of the slickest goals, the flashiest saves and countless big-time moments. But, before things get underway, and as the league hits the reset button, it's the perfect time to sort through the rosters and select the top goaltenders, defensemen and forwards. 
The 2021 offseason flew by but not without a flurry of masked men shifting squads. Marc-Andre Fleury headed to the Windy City via a (surprising to all, including Fleury) trade. Everyone thought Philipp Grubauer was sticking around Denver but left for the Pacific Northwest with Darcey Kuemper taking his spot. The Hurricanes and Maple Leafs essentially swapped goalies, albeit through free agency: Petr Mrazek headed north while Frederik Andersen went south.
NHL 2021-22: Top 10 defensemen | Top 10 forwards | Top 25 under 25
Taking into account recent numbers and who could be primed for a star-making season, Sporting News breaks down the top-10 netminders in 2021-22.
Honorable mention: Carey Price (Montreal Canadiens), Jakob Markstrom (Calgary Flames), Darcey Kuemper (Colorado Avalanche), Jordan Binnington (St. Louis Blues), Cam Talbot (Minnesota Wild), Mike Smith (Edmonton Oilers)
Note: Tuukka Rask's status for the upcoming season is still TBD, therefore, he has been left off this list as he recovers from hip surgery.
Top 10 goaltenders in 2021-22
10. Frederik Andersen, Carolina Hurricanes
Andersen struggled in 2021, and after watching the Amazon docuseries, "All or Nothing: Toronto Maple Leafs," it may not just have been about the knee injury. Last season he posted a career-worst 2.96 goals-against average and .895 save percentage alongside a 13-8-3 record. Not stellar numbers for a guy who was an all-star in 2020. The Maple Leafs' staff lost confidence in the Danish star and a change of scenery should help spark Andersen as he's slotted in as the No. 1 guy in Carolina. It also won't hurt that the Hurricanes posted the fifth-fewest goals against per game last season thanks to a solid defensive core led by Lady Byng winner Jaccob Slavin.
'ALL OR NOTHING': Leafs lost confidence in Fred & four other things we learned
9. Thatcher Demko, Vancouver Canucks
The American netminder's skill and deft continues to grow year-over-year. In 2020, "Bubble Demko" was a star in net for the Canucks as he boasted a 0.64 GAA and .985 save percentage during the Summer of 2020. The 2021 season wasn't anywhere near as pristine but there were stretches. In March he went 8-3-0 with a 2.15 GAA, .937 save percentage and one shutout. After coming back from a bout with COVID-19, he lost four but then stopped 132 of the last 140 shots he faced for a .943 save percentage to close out the season. At just 25, if he consistently showcases his high level of skill, it'll be a strong year for him that could include a red, white and blue jersey too.
8. Juuse Saros, Nashville Predators
Since the start of the 2018-19 season, Saros has posted a .930 save percentage at 5v5 (per Natural Stat Trick, min. 2000 TOI), the sixth-best in the NHL over that span. Last season he finished tied for fourth with a career-best in save percentage (.927) and firmly took over the No. 1 spot in Tennessee. (Pekka Rinne also retired this summer.) He also had career highs in wins (21) and GAA (2.28) and should only build on those numbers in 2021-22.
7. Igor Shesterkin, New York Rangers
Speaking of 5v5 numbers since 2018-10, Shesterkin is parked right below Saros at .929 (granted he's played just 47 games to the Predators netminder's 107). One number he leads the pack in for that time span: High Danger Save Percentage (.871). That number is better than guys like Andrei Vasilevskiy, Tuukka Rask and yes, Henrik Lundqvist. Now that the King is officially retired, it's time for Shesterkin — who has always been his heir apparent — to shine.  
6. Robin Lehner, Vegas Golden Knights
Last season, Lehner combined with Marc-Andre Fleury to snag the William M. Jennings Trophy after allowing the fewest goals. It wasn't the first time Lehner's name appeared on the trophy; he won it in 2019 with Thomas Greiss on Long Island. Now, after some shuffling around the last few years, Lehner is firmly planted in Nevada as the No. 1 guy. In 19 starts in 2021, he went 13-4-2 with a .913 save percentage (his lowest since 2017-18's .908 in Buffalo). The postseason was nothing to write home about but after a season where he battled a concussion, he's ready to go.
ODDS, SN PREDICTIONS: Stanley Cup | Calder | Vezina | Norris | Hart 
5. Philipp Grubauer, Seattle Kraken
It was a shocking move when it was announced. Everyone expected Grubauer to re-sign with the Avalanche. Instead, he took his talents to the Land of Starbucks and grunge.
"Once the [free agency] window opened, Seattle called and it was a no-brainer for me to join a club that's brand new, to be part of something and make history like [the Vegas Golden Knights in 2017] did, to be the first guys who they sign with this team," Grubauer said after inking his six-year, $35.4 million deal. 
How his numbers will look is anyone's guess since it's a brand-spanking-new team in front of him but he does bring along an impressive resume. Last season he went 30-9-1 with a 1.95 GAA, a .922 save percentage and seven shutouts to earn a Vezina Trophy finalist nod. Of course, in front of him, he had the likes of Mikko Rantanen, Gabriel Landeskog, Nathan MacKinnon and Cale Makar. Grubauer is a guy who has a career .920 save percentage so he's certainly no slouch, and neither are the guys playing in front of him now — led by 2019 Norris Trophy winner Mark Giordano. The big question is just how they'll all gel.
4. Marc-Andre Fleury, Chicago Blackhawks
If the Grubauer signing was shocking, the Fleury trade was earth-shattering. Now isn't the time to delve back into how this was horrifically handled by the Golden Knights (click here for that) but to showcase why the Blackhawks did everything right. Yes, Fleury is on the other side of 35 (he'll turn 37 in November) but he just won the Vezina Trophy — his first, to boot — after notching a 26-10-0 record with a 1.98 goals-against average, a .928 save percentage and a 20.1 Goals Saved Above Average. Only four guys in the league had a GSAA over 20 and only seven (with 30+ games played) were in double digits. Per Hockey Reference, he had 26 quality starts, which was good for a .722 quality start percentage — second-best in the league among guys who went into the paint for at least 20 games. Basically, Fleury is like a fine wine and just getting better with age.
3. Semyon Varlamov, New York Islanders
Sporting News' dark horse to win the Vezina, Varlamov has the advantage of playing under a system that stresses defense. It has boosted his numbers and he finished last season with a league-best (among goalies with more than 25 starts) .929 save percentage, 74.3 Quality Start percentage and 21.97 GSAA, per Hockey Reference.  He tied Fleury with seven shutouts and had the third-best goals-against average (2.04) in the NHL. He'll split time with Ilya Sorokin (who will surely be on this list in the years to come) which will keep him fresh for what Island's faithful are hoping is a long playoff run.
2. Connor Hellebuyck, Winnipeg Jets
There is no one on this list — neigh, no one in the NHL — who carries the load more than Hellebuyck. Between 2018-19 and the 2021 season, Hellebuyck led the NHL in ice time at 9,577:31 minutes, which was almost 1000 more than the guy in the No. 2 slot (Andrei Vasilevskiy, 8,852 minutes). He also faced the most shots in each of those three seasons for a grand total of 5,182 shots against, stopping 4,751 of them.  That's a lot of rubber but he also had the fifth-best save percentage (.917) and third-best GSAA (39.19), per Natural Stat Trick, during that span. In 2020, he snagged the Vezina after going 31-21-5 with a .922 save percentage and six shutouts and finished fourth in 2021. It's fair to say that, basically, how Hellebuyck goes is how the Jets go and it'll be interesting how he does after carrying the load for so long.
1. Andrei Vasilevskiy, Tampa Bay Lightning
Not a shocker here. Vasilevskiy is the best goalie in the NHL — and that's not bulls— (see: Nikita Kucherov). Sporting News' pick to win the Vezina, the Russian netminder is coming off a season where he was the runner-up for the top prize but won his second consecutive Stanley Cup and the Conn Smythe. Last season he went 31-10-1 (Tampa Bay won 36 games in total) with a .925 save percentage, five shutouts and a 20.96 GSAA. Yes, he's played a lot of hockey in the last two years but the 27-year-old is in his prime and there's no stopping him now.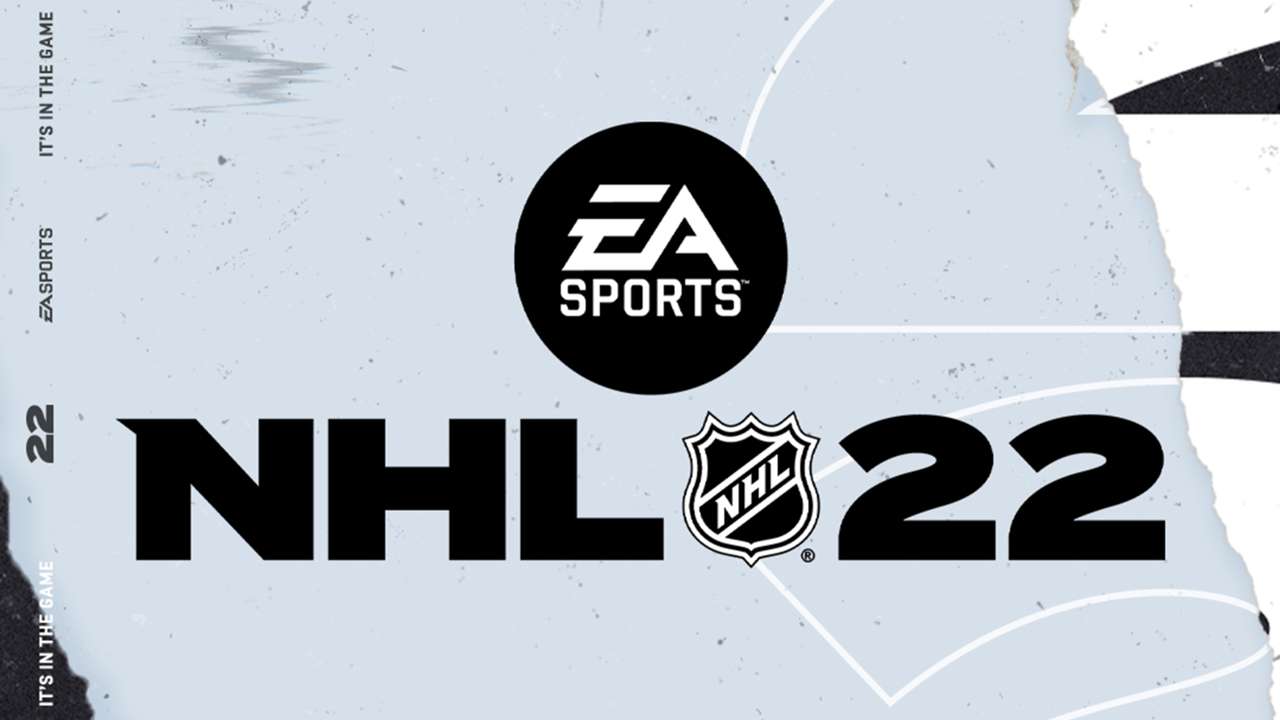 NHL 22 release date, cost, player ratings, new features, editions: A guide to everything you need to know in 2021
NHL 22 release date, cost, player ratings, new features, editions: A guide to everything you need to know in 2021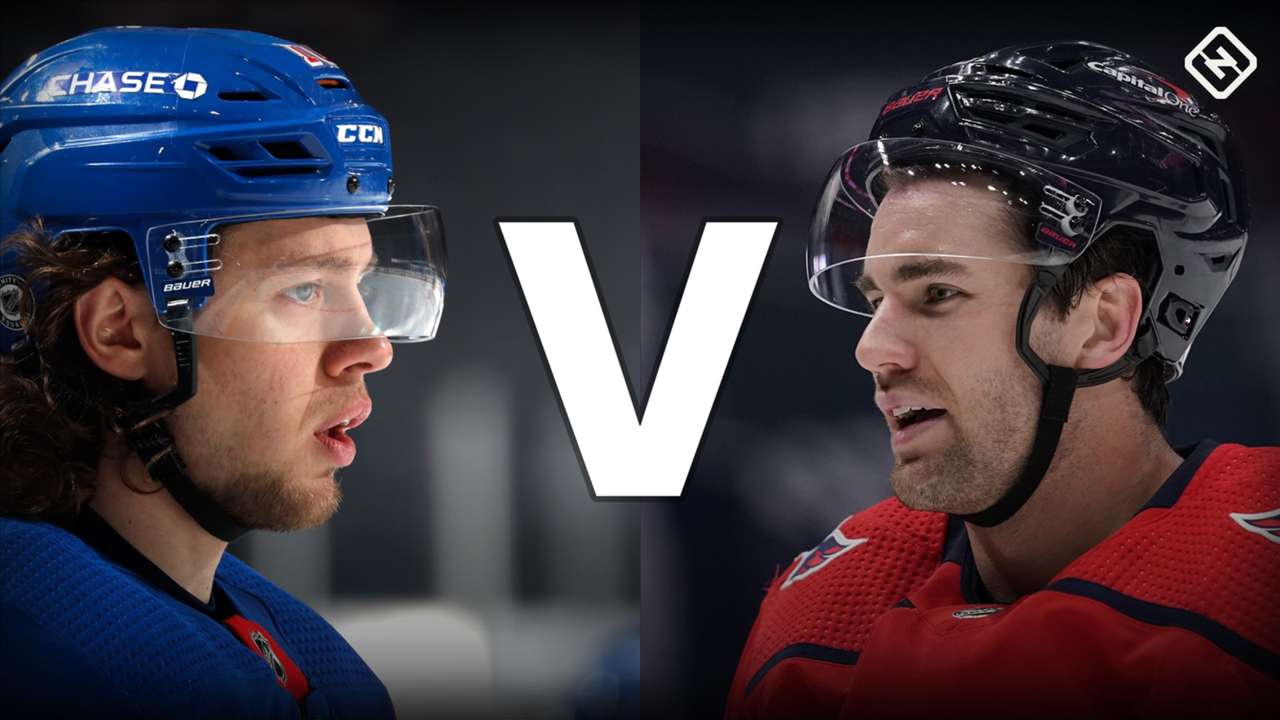 NHL games on TNT today: TV schedule, times for Rangers vs. Capitals, Blackhawks vs. Avalanche
NHL on TNT double-header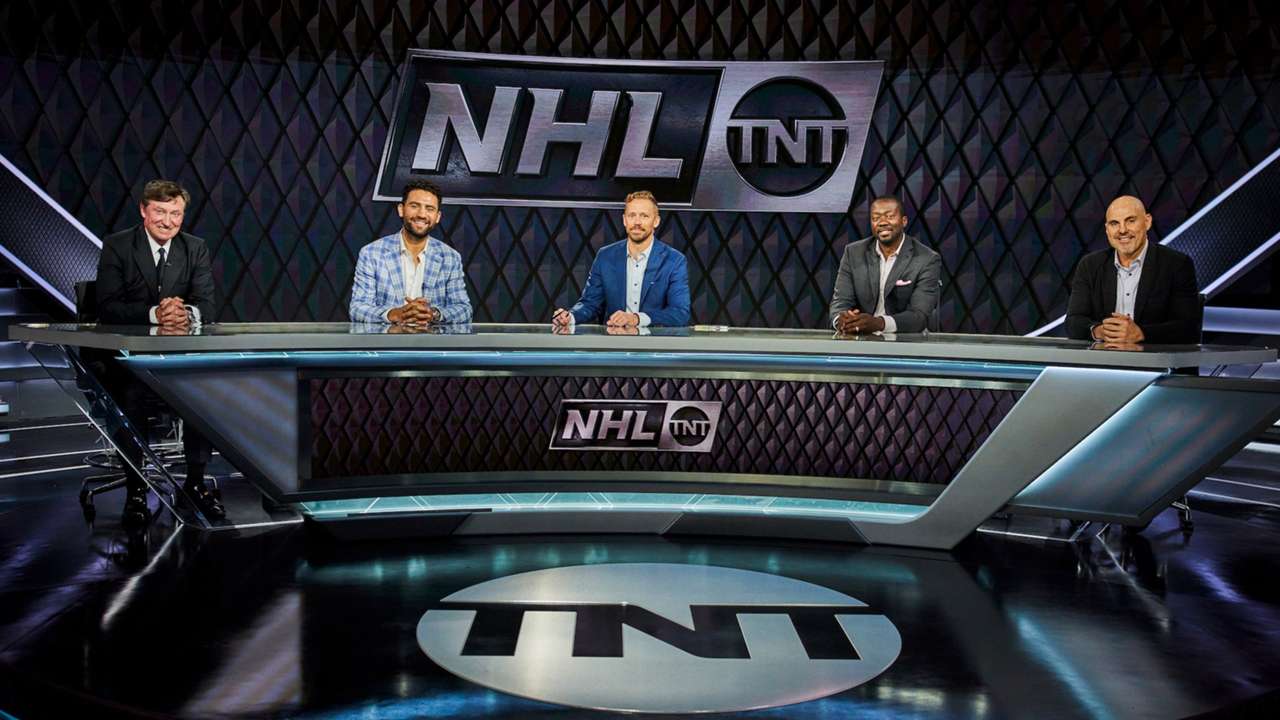 TNT's NHL broadcast lineup: Schedule, play-by-play, analysts and hosts for 2021-22 season
TNT's NHL lineup: Schedule, event and studio crews for 2021-22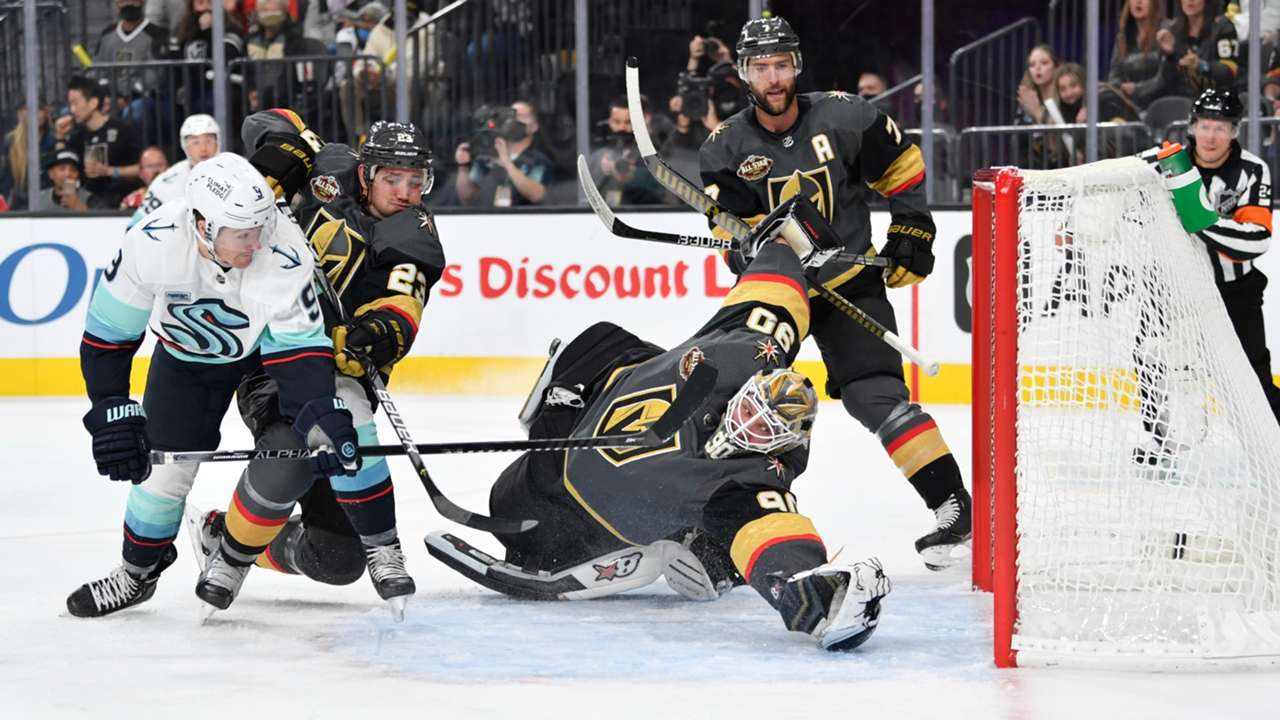 Kraken vs. Golden Knights results: Ryan Donato scores first goal in Seattle history but Vegas skates away winner
Kraken lose franchise opener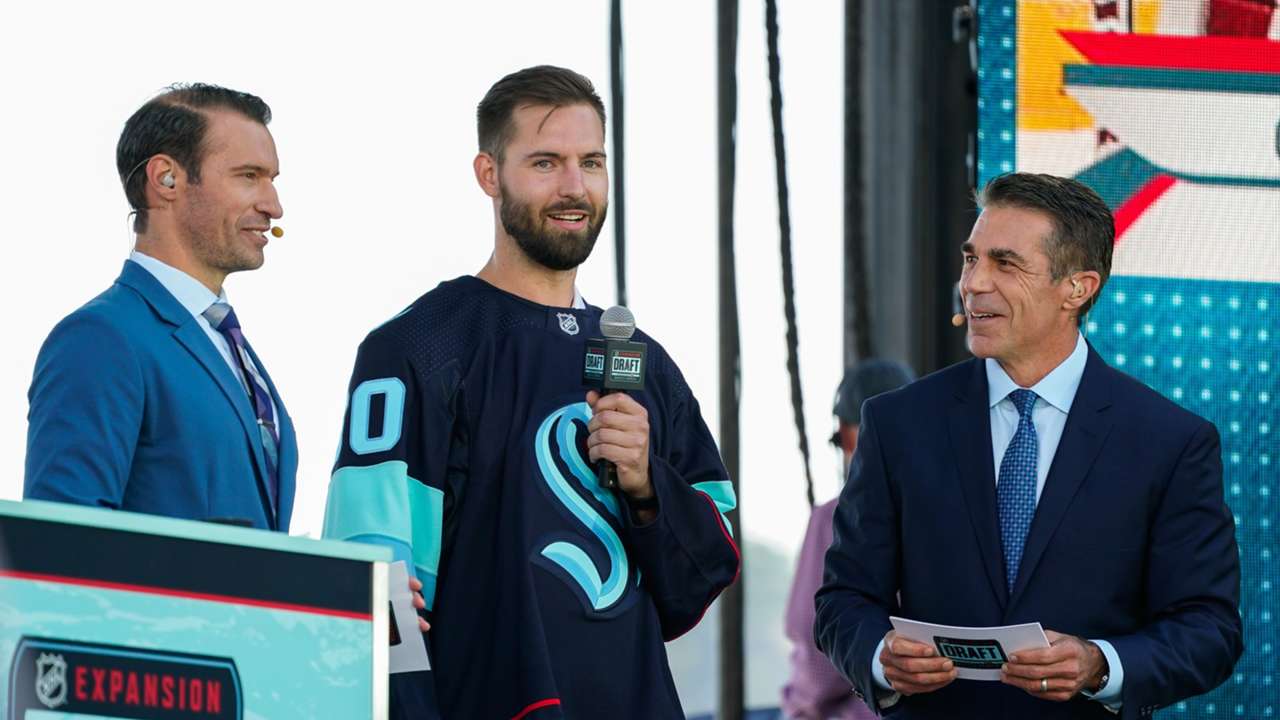 Meet the Kraken: Complete roster, opening games for NHL's newest team
Complete Kraken roster, opening games for NHL's newest team
More
Sours: https://www.sportingnews.com/us/nhl/news/ranking-top-10-nhl-goaltenders-in-2021-22/tqhjmyrcr1ga1ghrdwvq5x74p
Penguins @ Lightning 10/12/21 - NHL Highlights
At long last, NHL training camps are just around the corner and players are starting to return to the ice. With July 10 as the set date right now, the play-in and round-robin series should be starting at the beginning of August and hockey will officially be back on our televisions. As we all know there are many factors in winning a series and ultimately a Stanley Cup. The old adage of "defence wins championships" is true a lot of the time and goaltending is a huge part of it.
NHL.com recently released their take on the top goaltenders, much to the chagrin of many fans. Most of the debate surrounded Jacob Markstrom of the Vancouver Canucks, but I'm sure there were many others that disagreed with their goaltender's rank. So in response, I am going to give you my ranking of the 24 projected starting goaltenders that will guard their team's cage very soon. Now, this is by no means a ranking of who's better overall, it is a judgment based on their performance during the 2019-20 season.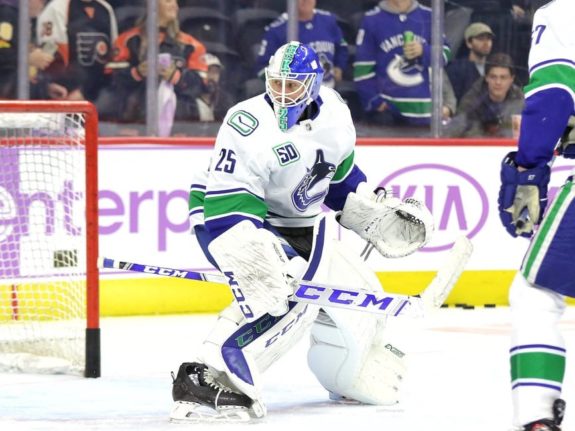 While creating the rankings, I considered some of their advanced statistics like quality start percentage (QS%), really bad starts (RBS), high danger save percentage (HDSV%) and goals saved above average (GSAA) to make it more in-depth than just looking at the normal goals against average (GAA) and save percentage (SV%).
For reference purposes, QS% measures the percentage of starts the goaltender's SV% was higher than the league average. Anything above 60 percent is very good, below 50 percent is poor and 53 percent is average. RBS is the number of starts the goaltender's SV% dropped below .850 and HDSV% is the percentage of high danger shots the goaltender prevented during the season. Finally, GSAA is a calculation of a goaltender's performance as compared with his peers. It considers the number of shots he faced and measures it against the league average save percentage on the same number of shots.
I'm sure my rankings will still create some debate, but that's why we love hockey and sports in general because everyone has their own take on things. So, without further ado, let the ranking begin!
24. Braden Holtby – Washington Capitals
2019-20 Stats: 25 W – 14 L – 6 OTL – 3.11 GAA – .897 SV%
Advanced Stats: 11 RBS – .468 QS% – .786 HDSV% – minus-16.76 GSAA
Despite his sub-par performance in 2019-20, a team will shell out the big money on Braden Holtby this offseason. The Washington Capitals are only in the playoffs because of the offensive firepower they have in Alex Ovechkin and John Carlson. Their goaltending certainly did not do them any favors, as all of his numbers were career-lows and he finished tied for the most RBS in the entire NHL.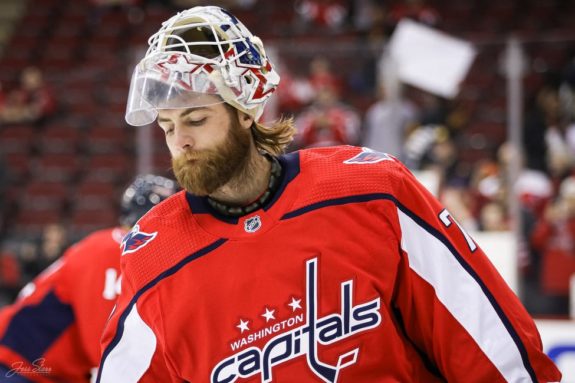 Most of the season the Capitals relied on their offence to get them out of trouble. In the playoffs, that traditionally dries up while defence and line matching reign supreme. If they are going to have any success, Holtby has to be better than he was in the regular season. That's the bottom line and the reason why he is toiling at the bottom of this list.
23. Sergei Bobrovsky – Florida Panthers
2019-20 Stats: 23 W – 19 L – 6 OTL – 3.23 GAA – .900 SV% – 1 SO
Advanced Stats: 10 RBS – .417 QS% – .833 HDSV% – minus-14.91 GSAA
Coming in slightly above Holtby is Panthers' netminder Sergei Bobrovsky. The only reason he is not at the bottom was because of his proficiency at making the high difficulty saves. He also had to make 51 more than him and still came in at a higher SV%. One of the highly sought after goaltenders on the free-agent market last offseason, "Goalie Bob" had one of his worst seasons in the NHL statistically. The last time he had a GAA of over three was back in 2011-12, nearly ten seasons ago.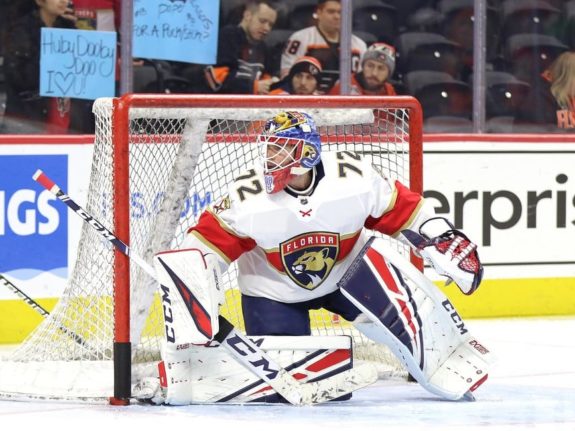 Just like Holtby, he was in the double digits in RBS and below 50 in QS%. I'm sure Panthers' fans did not expect that from their prized $10 million dollar signing. If they hope to see more than just a few games of hockey this summer, Bobrovsky has to find a way to channel his Vezina Trophy winning self from 2016-17. If not, the Panthers will be hard-pressed to get past the stifling defence of the New York Islanders, especially if he's giving up his usual three goals per game.
22. Petr Mrazek – Carolina Hurricanes
2019-20 Stats: 21 W – 16 L – 2 OTL – 2.69 GAA – .905 SV% – 3 SO
Advanced Stats: 7 RBS – .500 QS% – .824 HDSV% – minus-5.35 GSAA
Even though Petr Mrazek did not match his performance from last season, he was still a solid goaltender for the upstart Carolina Hurricanes. His backup James Reimer did not make things easy on him with his play, but he still retains his job as the number one goaltender. His QS% doesn't bring a lot of confidence with it compared to Reimer's .625 but considering he has a lot more experience in the playoffs, he will likely be the one in the crease come Game 1.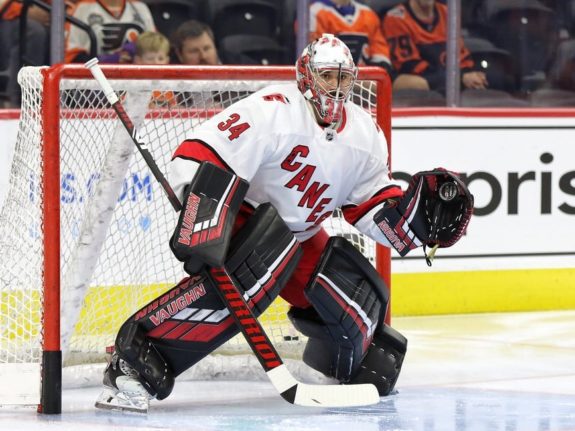 Related: Carolina Hurricanes' Goaltending Depth Chart
The break also allowed Mrazek to fully recover from his recent concussion even though he looked solid in his return to the crease when he made 23 saves in a 5-2 win when the Hurricanes last played in March.
21. Carey Price – Montreal Canadiens
2019-20 Stats: 27 W – 25 L – 6 OTL – 2.79 GAA – .909 SV% – 4 SO
Advanced Stats: 11 RBS – .534 QS% – .828 HDSV% – minus-1.31 GSAA
Carey Price will probably go down as one of the best goaltenders the Montreal Canadiens have ever had. However, this season was not his best. After posting a GSAA of 14.94 in 2018-19, he dropped to a -1.31 in 2019-20. He also allowed the most goals of any starting goaltender in the NHL and was tied for the most RBS with 11. If not for the COVID-19 pandemic and subsequent season cancellation, he would have missed the playoffs for a third straight season. But as luck would have it, the Canadiens were in the top-24 and will be facing the Pittsburgh Penguins for the right to make it to the actual playoffs.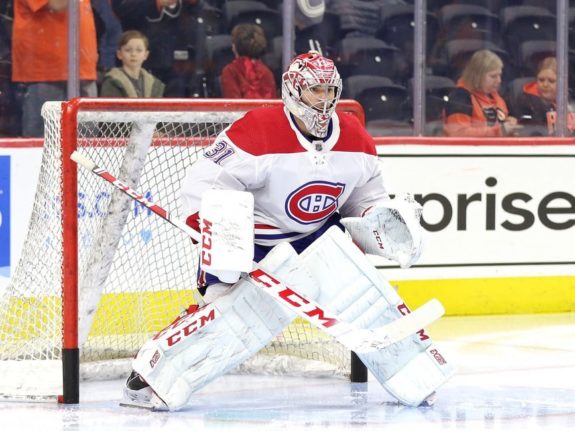 Despite his struggles in the regular season, Price can still be a marquee goaltender in the NHL. If he gets hot, he has the ability to steal a series or two for the speedy Canadiens. However, if he continues his sub-par play, the Penguins have the firepower to make quick work of them. The trio of Evgeni Malkin, Sidney Crosby, and notorious playoff performer Jake Guentzel (24 goals in 41 games) will certainly make sure of that.
20. Marc-Andre Fleury – Vegas Golden Knights
2019-20 Stats: 27 W – 16 L – 5 OTL – 2.77 GAA – .905 SV% – 5 SO
Advanced Stats: 9 RBS – .500 QS% – .811 HDSV% – minus-6.50 GSAA
Even though the Vegas Golden Knights acquired advanced stats darling Robin Lehner (.667 QS%, 10.17 GSAA), I expect they will go with Marc-Andre Fleury in the round-robin and subsequent playoffs. He has a mountain of experience and knows what to expect there, so unless he underachieves in the round-robin, he has control of the crease for now. That's why you see him here instead of Lehner.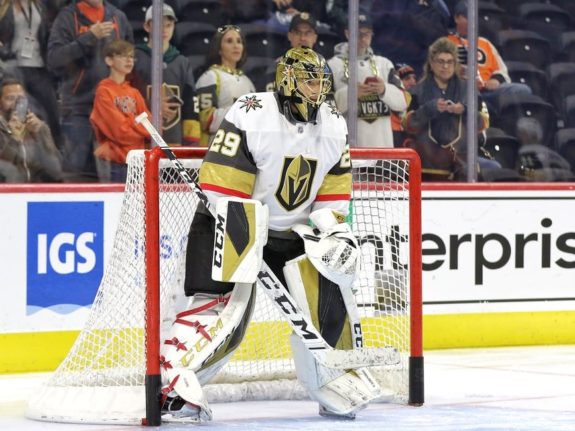 As for Fleury's performance in the regular season, he is starting to show his age a bit. He had his worst season statistically as a Golden Knight and his worst overall since being dethroned by Matt Murray in Pittsburgh. If he's not careful, the 28-year-old Lehner could be the guy they go with in the future, especially if he steals the show in the playoffs. However, he's not far removed from his Stanley Cup Final appearance, so I would not count him out just yet. Though based on recent results, he still finds himself near the bottom of this list.
19. David Rittich – Calgary Flames
2019-20 Stats: 24 W – 17 L – 6 OTL – 2.97 GAA – .907 SV% – 2 SO
Advanced Stats: 7 RBS – .500 QS% – .836 HDSV% – minus-4.35 GSAA
In his first season as the undisputed number one goaltender for the Calgary Flames, David Rittich had good stretches and bad, finishing with a lower GAA and SV% than 2018-19. He also dropped significantly in the key GSAA stat from 1.68 to -4.35. On the bright side, he was very effective at stopping the high danger shots with a solid .836 HDSV%. All in all, Rittich was pretty average for the Flames this season. Unfortunately average will probably not cut it against the wall that is the Winnipeg Jets' Connor Hellebuyck. If he can't match his play, the series will be over pretty quick.
18. Frederik Andersen – Toronto Maple Leafs
2019-20 Stats: 29 W – 13 L – 7 OTL – 2.85 GAA – .909 SV% – 3 SO
Advanced Stats: 8 RBS – .519 QS% – .805 HDSV% – minus-0.40 GSAA
The Toronto Maple Leafs have a lot of star power and young talent but struggled to find their footing at times this season. Long time head coach Mike Babcock was fired early, which added some early turmoil to the team. Then a new coach in Sheldon Keefe was brought in from the AHL. The Leafs did marginally better with him behind the bench but still found themselves clawing for a playoff spot.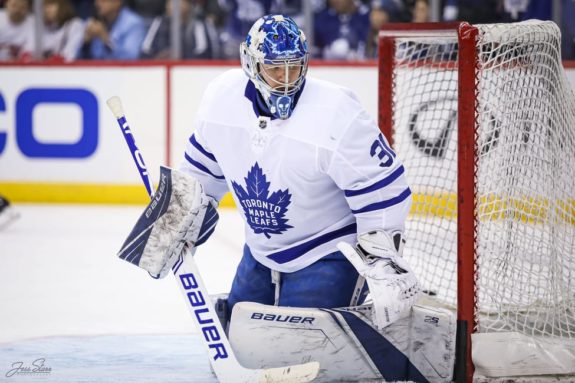 Frederik Andersen followed his team's struggles as he turned in the worst season of his NHL career. After four straight seasons of a positive GSAA, he plummeted to a minus-0.40. To put that in perspective, his last two seasons were 14.48 and 12.06 respectively. That basically sums up his team's campaign right there. As Andersen goes, the team goes, because the Leafs easily made the playoffs those two seasons.
17. Alex Stalock – Minnesota Wild
2019-20 Stats: 20 W – 11 L – 4 OTL – 2.75 GAA – .910 SV% – 4 SO
Advanced Stats: 5 RBS – .528 QS% – .797 HDSV% – 0.84 GSAA
Putting aside his average overall statistics, Alex Stalock was a revelation for the Minnesota Wild when he took over the net from incumbent Devan Dubnyk. In February alone he posted a record of 7-1 along with a stingy 1.76 GAA, .932 SV%, and two shutouts as well. That allowed his team to push their way back into the playoff picture and into a play-in series against the Vancouver Canucks. He only has one start of playoff experience but considering his performance towards the end of the season, I can't see the Wild going back to the fading Dubnyk.
16. Mikko Koskinen – Edmonton Oilers
2019-20 Stats: 18 W – 13 L – 3 OTL – 2.75 GAA – .917 SV% – 1 SO
Advanced Stats: 5 RBS – .515 QS% – .851 HDSV% – 9.25 GSAA
When veteran Mike Smith was signed in the offseason, Mikko Koskinen must have thought he lost the number one job. That may have been the case for a while, but he has recently taken the mantel back. Both goaltenders have a below-average QS%, but Koskinen excelled in both GSAA and HDSV%. He also did not have as many bad starts as Smith. Overall, the underlying stats suggest that he should be starting Game 1 against the Blackhawks.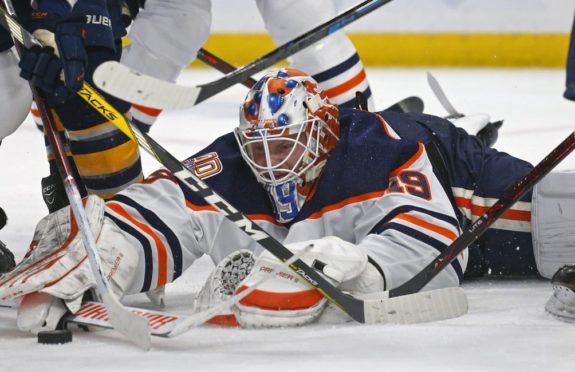 Related: Oilers Must Decide on Playoff Goaltender
Koskinen does not have any playoff experience, so that could be the deciding factor in all this. Smith has played 24 games, including a ridiculous run in 2011-12 when he won nine games with a stingy 1.99 GAA and .944 SV%, though he was much younger then. If the Oilers want to give themselves their best chance, I think Koskinen is still the way to go.
15. Juuse Saros – Nashville Predators
2019-20 Stats: 17 W – 12 L – 4 OTL – 2.70 GAA – .914 SV% – 4 SO
Advanced Stats: 3 RBS – .618 QS% – .798 HDSV% – 5.26 GSAA
Juuse Saros took advantage of Pekka Rinne's struggles and became the number one goaltender for the Nashville Predators in 2019-20. The 25-year-old bided his time behind the all-star goaltender and has finally taken the reigns. Before the season was put on pause, he was one of the hottest goaltenders in the league, posting a 3-0 record in March along with two shutouts.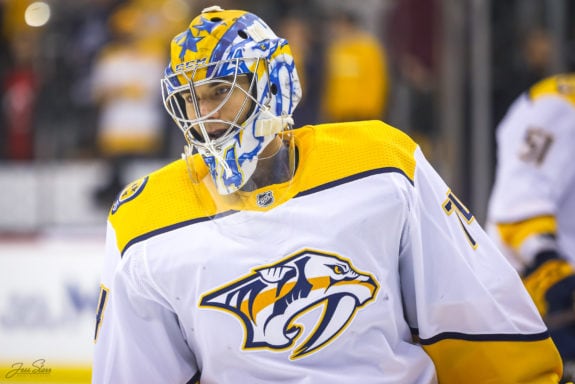 The Predators struggled to produce offence from their forward ranks this season as their leading scorer was defenceman Roman Josi. So when they go up against another stout goaltender in Darcy Kuemper of the Arizona Coyotes, Saros is going to have to be just as good or better in order for them to compete. Unless Matt Duchene, Ryan Johansen, and Viktor Arvidsson wake up from their slumber, he is going to have to win them some games.
14. Semyon Varlamov – New York Islanders
2019-20 Stats: 19 W – 14 L – 6 OTL – 2.62 GAA – .914 SV% – 2 SO
Advanced Stats: 4 RBS – .538 QS% – .827 HDSV% – 5.56 GSAA
After Robin Lehner turned in a Vezina Trophy worthy season in 2019-20 and signed with the Chicago Blackhawks, the New York Islanders were left with a massive hole in the crease. Luckily, free agent signing Semyon Varlamov and veteran backup Thomas Greiss have turned into quite the duo for Barry Trotz and the New York Islanders. Both of them had an average QS% and a positive GSAA as well. All that translated to goaltending that Trotz could count on night in and night out, no matter who he threw in.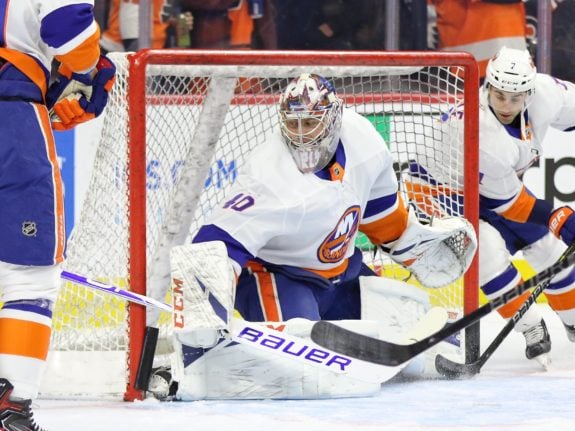 Even though both goaltenders had nearly identical stats, Varlamov will probably start Game 1 against the Panthers. He came out on top in the two key advanced stats and he rarely had a bad game, as evidenced by the paltry four RBS he had in the 39 times Trotz tapped him on the shoulder. He should be well equipped to challenge Bobrovsky at the other end.
13. Corey Crawford – Chicago Blackhawks
2019-20 Stats: 16 W – 20 L – 3 OTL – 2.77 GAA – .917 SV% – 1 SO
Advanced Stats: 3 RBS – .641 QS% – .802 HDSV% – 9.01 GSAA
Injury problems have followed Corey Crawford in recent seasons, but that has not stopped him from remaining a solid starting goaltender for the Blackhawks. So much so that they felt comfortable trading Lehner to the Golden Knights. Granted they thought they would be missing the playoffs, but the fact remains, he can still make a difference in goal. He was notably absent in the top-16 on NHL.com, but he should be given more recognition for the season he had.
Crawford was third in QS% among goaltenders that started at least 30 games and he didn't have many bad starts either with an RBS of only three. He also finished the season strong by winning five of his last seven games while only once allowing more than two goals. The Blackhawks would not have made the playoffs under normal circumstances, but with the 87 games and two Stanley Cups he has on his resume, anything could happen now.
12. Jordan Binnington – St. Louis Blues
2019-20 Stats: 30 W – 13 L – 7 OTL – 2.56 GAA – .912 SV% – 3 SO
Advanced Stats: 5 RBS – .560 QS% – .776 HDSV% – 3.31 GSAA
Jordan Binnington has proven that he is not a one-hit-wonder after willing the St Louis Blues into the playoffs and eventually a Stanley Cup Championship in 2018-19. He has come back down to earth a little though in his first full season as a starting goaltender.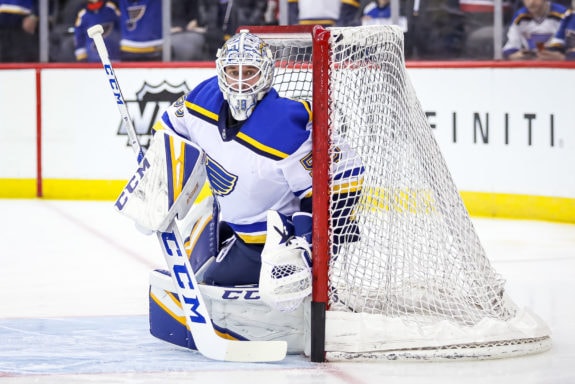 Binnington did have 30 wins to his credit, but his underlying stats are not of the elite variety. They are not bad by any means, just average. That's why he finds himself in the middle of the pack among the playoff starters. His QS% was dangerously close to average and his GSAA was not in the upper echelon either. His playoff experience and ability to close out a game are the main reasons he's not in the 15-20 range. Time will tell if he can duplicate his Stanley Cup winning performance from last season.
11. Carter Hart – Philadelphia Flyers
2019-20 Stats: 24 W – 13 L – 3 OTL – 2.42 GAA – .914 SV% – 1 SO
Advanced Stats: 9 RBS – .625 QS% – .763 HDSV% – 4.47 GSAA
After many seasons of futility, the Philadelphia Flyers look to have found the answer to their goaltending question. 21-year-old Carter Hart had an impressive rookie season in 2018-19, but this season was even better. Hart may have started out slow with eight RBS and a minus-2.62 GSAA at the mid-point of the season, but since then he had only one and increased his GSAA to 4.47. He also had an impressive .625 QS% which puts him on the very good side of the ledger.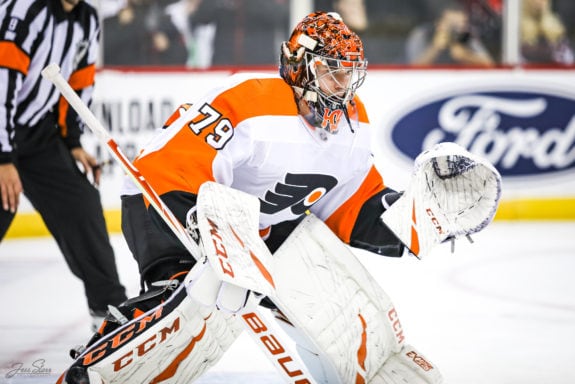 Since February, Hart has posted a record of 9-2 which included a 1.90 GAA and .934 SV%. He also had a seven-game winning streak snapped in the final game of the season against the Boston Bruins. If he can shake off the rust from the extended layoff, the Flyers will not have to worry about their goaltending in the playoffs.
10. Igor Shesterkin – New York Rangers
2019-20 Stats: 10 W – 2 L – 2.52 GAA – .932 SV%
Advanced Stats: 1 RBS – .750 QS% – .778 HDSV% – 9.34 GSAA
I'm sure there will be a lot of debate with the choice to put the New York Rangers young stud Igor Shesterkin in the top-10. I just have this feeling that he will put on a similar show as Binnington did last season. I may be wrong, but I think he has proven to everyone that he is one to watch. Just look at the stats, he won 10 of his first 12 starts, posted a solid save percentage and only one of those was a RBS. He also had an impressive .750 QS% and 9.34 GSAA.
That may have just been a solid stretch of hockey for the young Russian, but Shesterkin could surprise everyone. These are interesting times, and stranger things have happened. The Rangers will be playing the Hurricanes, so it's not like he will be facing an offensive juggernaut. Alexander Georgiev could come into play too, but if I was the Rangers, I would give the young man a chance to catch fire.
9. Tristan Jarry – Pittsburgh Penguins
2019-20 Stats: 20 W – 12 L – 1 OTL – 2.43 GAA – .921 SV% – 3 SO
Advanced Stats: 3 RBS – .613 QS% – .802 HDSV% – 11.07 GSAA
After three seasons of being the undisputed starter of the Penguins, Matt Murray appears to have been overtaken by 25-year-old Tristan Jarry. His four-game losing streak and 18 goals against before the pause would be cause for concern if these were normal circumstances, but it shouldn't matter when the playoffs ultimately begin. Overall, he's put together a solid campaign since seemingly taking over the crease.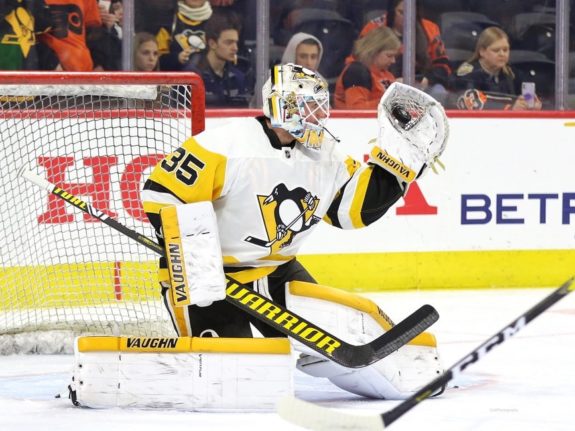 Jarry's underlying stats were very impressive considering how long he's been a starter in the NHL, as he maintained a solid QS% of .613 along with a gaudy 11.07 GSAA. His GAA and SV% were also ranked in the top-ten. He doesn't have any playoff experience, but I still think the Penguins will go with him for Game 1. Despite struggling before the pause, he has earned the right to control the crease for the time being. Though, if he falters, Murray will be called upon to draw on the experience he has of 48 games and two Stanley Cups.
8. Elvis Merzlikins – Columbus Blue Jackets
2019-20 Stats: 13 W – 9 L – 8 OTL – 2.35 GAA – .923 SV% – 5 SO
Advanced Stats: 3 RBS – .548 QS% – .845 HDSV% – 12.10 GSAA
Elvis has not left the building just yet. When the Columbus Blue Jackets lost Bobrovsky to free agency, no one knew what the goaltending was going to be like. Joonas Korpisalo got the majority of the starts at the beginning of the season, but when he got injured, it became the Elvis Merzlikins show.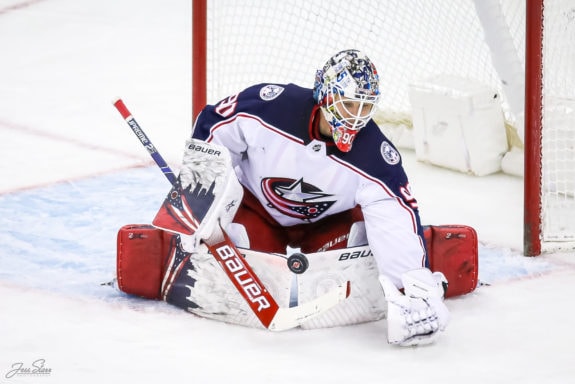 There was a stretch where Merzlikins played like a man possessed, rattling off five shutouts in eight games. He came down from that high towards the end of the season, but he still finished with a solid 2.35 GAA and .923 SV%. He also had one of the highest GSAAs at 12.10 and was almost unbeatable when it came to high danger shots denying almost 85 percent of them. It is not clear yet which way head coach John Tortorella will go with his goaltending in the playoffs, but if I was him, I would not hesitate to go with the uber-rookie.
7. Pavel Francouz – Colorado Avalanche
2019-20 Stats: 21 W – 7 L – 4 OTL – 2.41 GAA – .923 SV% – 1 SO
Advanced Stats: 5 RBS – .567 QS% – .806 HDSV% – 13.06 GSAA
Philipp Grubauer may have started out as the number goaltender in the Mile High City at the beginning of the season, but it's Pavel Francouz's crease right now. When an injury felled him in February, Francouz took the reigns and never looked back. Technically still a rookie in the NHL at 30-years-old, he has made the decision very difficult for Jared Bednar when it comes time to choose his goaltender for Game 1 of the round-robin. Francouz had the sixth-best GSAA and was in the top-10 in both GAA and SV% as well. He also was in the top-20 in wins with 21.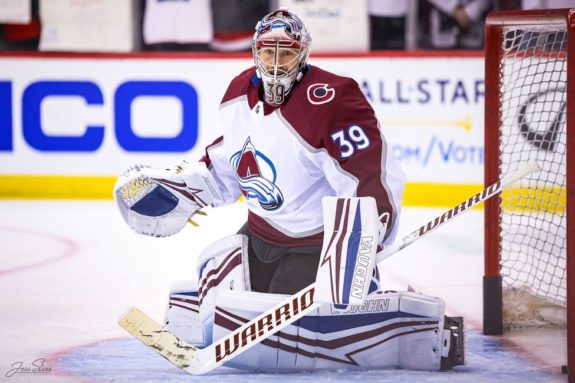 Unlike the teams in the play-in round, the Colorado Avalanche have the luxury of experimenting with their goaltenders. We will see who they ultimately choose when the playoffs begin.
6. Andrei Vasilevskiy – Tampa Bay Lightning
2019-20 Stats: 35 W – 14 L – 3 OTL – 2.56 GAA – .917 SV% – 3 SO
Advanced Stats: 7 RBS – .596 QS% – .844 HDSV% – 12.13 GSAA
Andrei Vasilevskiy had a bit of an average year by his standards, but he is still an elite goaltender in the NHL. His stats were all down from last season, but he maintained a solid 12.13 GSAA and was close to posting a very good QS% as well. He also led the league in wins again with 35, something he's done for the past three seasons now. He even had a stretch where he went 18-0-2 with a 1.95 GAA and .935 SV% which also included two shutouts. That was almost two and a half months without an outright loss.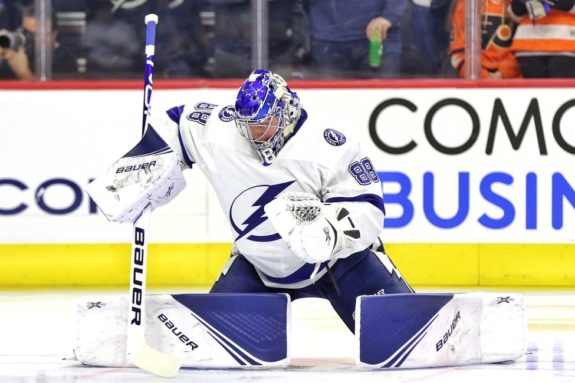 If Vasilevskiy can duplicate that performance, the Lightning will be raising the Stanley Cup in a few months' time. His team was not as dominant as last season, but they are still a dangerous team to contend with. With him in net, they could go all the way. Although that's what we thought in 2019, and the Blue Jackets surprised everyone by eliminating them in the first round. It's not clear yet what team they will face in the first round, but I'm sure that experience will be fresh in their minds.
5. Jacob Markstrom – Vancouver Canucks
2019-20 Stats: 23 W – 16 L – 4 OTL – 2.75 GAA – .918 SV% – 2 SO
Advanced Stats: 5 RBS – .581 QS% – .836 HDSV% – 11.40 GSAA
If 2018-19 was the season Jacob Markstrom arrived as a starting goaltender in the NHL, then 2019-20 was the season he entered the realm of the elite. If not for him the Vancouver Canucks would not be on the cusp of competing in their first playoff series in four seasons. The Masterson Trophy nominee was arguably their MVP from game one and could be regarded as a Hart Trophy candidate as well. That's how important he was to their success.
Related: Canucks' Markstrom Making a Case for Vezina and Hart Consideration
Markstrom's basic stats of GAA and SV% definitely don't scream elite, but his underlying stats paint a different picture. His 11.40 GSAA was just outside the top-10 and his HDSV% was a very solid .836. He also had to contend with the tenth-most high danger shots among starters as well as eight games where he had to face 40 shots or more. Though that's not the most impressive part, he had a ridiculous 2.12 GAA, .952 SV%, and two shutouts in those games. Needless to say, he seems to love it when he's the busier of the two goaltenders.
What's more, Markstrom had to battle the sickness and passing of his father through it all too. He left the team twice during the season for personal reasons, but still maintained his elite play when he would have been forgiven for losing focus. I'm sure his father is looking down proud of the goaltender he's become. If he can bring that emotion and elite play into the play-in round, the Wild will have their work cut out for them if they hope to move on.
4. Ben Bishop – Dallas Stars
2019-20 Stats: 21 W – 16 L – 4 OTL – 2.50 GAA – .914 SV% – 2 SO
Advanced Stats: 5 RBS – .628 QS% – .847 HDSV% – 13.29 GSAA
Over the last two seasons Ben Bishop has established himself as one of the top goaltenders in the NHL. He led the league with a 32.24 GSAA in 2018-19 and finished fifth this season with another solid 13.29 while maintaining a .628 QS% as well. His backup Anton Khudobin produced more impressive numbers, but the Dallas Stars are his team to lead right now. He has way more playoff experience and has proven in the past to be a difference-maker when the pressure amps up.
3. Darcy Kuemper – Arizona Coyotes
2019-20 Stats: 16 W – 11 L – 2 OTL – 2.22 GAA – .928 SV% – 2 SO
Advanced Stats: 2 RBS – .759 QS% – .841 HDSV% – 16.65 GSAA
If not for some injury problems this season, Darcy Kuemper would have been a strong candidate for the Vezina Trophy. Luckily for the Coyotes, he's healthy now and could be poised to carry the surprising team to the promised land. The proof is in his stats, as he does not have any that he's lacking in. His GAA and SV% are second only to Tuukka Rask, and his GSAA is third among starters. Finally, he's first in QS% and pretty solid at stopping high danger shots too. Basically he's money when he's in goal.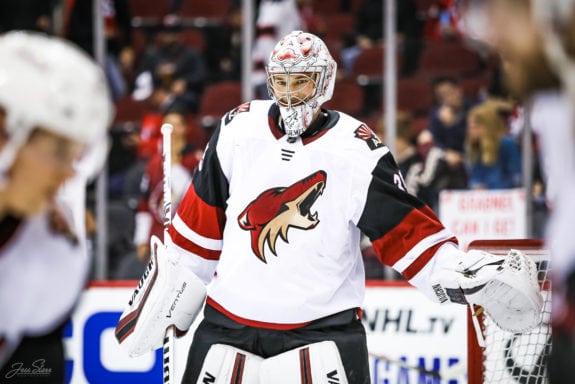 The Coyotes managed to stay afloat without him, but now that he's back, they could surprise some people. As a great defensive team, they are built for the rigors of the tight-checking atmosphere of the playoffs. Along with the stingy goaltending of Kuemper and potential difference makers in Phil Kessel and Taylor Hall, the Predators could be in for a tough series.
2. Connor Hellebuyck – Winnipeg Jets
2019-20 Stats: 31 W – 21 L – 5 OTL – 2.57 GAA – .922 SV% – 6 SO
Advanced Stats: 6 RBS – .643 QS% – .876 HDSV% – 22.40 GSAA
To say that Hellebuyck bounced back this season would be a massive understatement. Behind a questionable defence he played a pivotal role in bringing the Winnipeg Jets back to the playoffs. He faced the most shots and made the most saves in the entire NHL for the second straight season and surprisingly posted a solid .922 SV%. He also led the league in shutouts with six.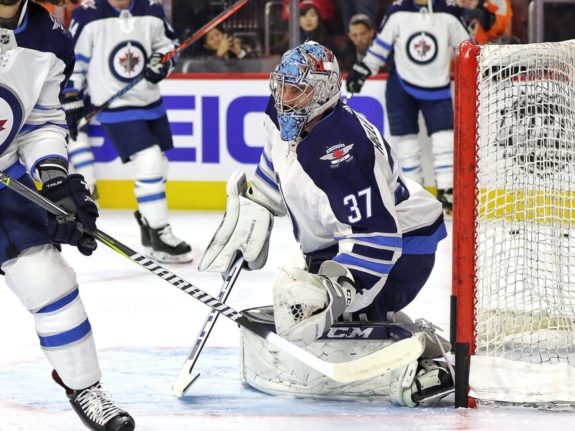 Related: Jets' Hellebuyck Deserves Vezina & Hart Consideration
Just like the Canucks, the Jets would not be where they are without their starting goaltender. If the basic stats don't convince you of his prowess, the advanced stats certainly will. He posted a 22.40 GSAA and an otherworldly .876 HDSV% while facing 412 high danger shots against, which led the league. Those types of shots are way harder to stop, and the Jets allowed them way too often. Luckily, Hellebuyck was there to stop them. If he's not strongly considered for the Vezina and Hart Trophies, there's something wrong.
1. Tuukka Rask – Boston Bruins
2019-20 Stats: 26 W – 8 L – 6 OTL – 2.12 GAA – .929 SV% – 5 SO
Advanced Stats: 3 RBS – .683 QS% – .844 HDSV% – 22.51 GSAA
Tuukka Rask has been a brick wall for the Bruins ever since the playoffs began last season. From his GAA of 2.12 and SV% of .929 to his .683 QS% and 22.51 GSAA, he stands alone on the peak of the mountain. Granted, his team finished with the Presidents' Trophy and was one of the best teams defensively, but he was still a huge part of their success. The fact that he only had three RBS all season long just adds to his resume for top dog among starting goaltenders.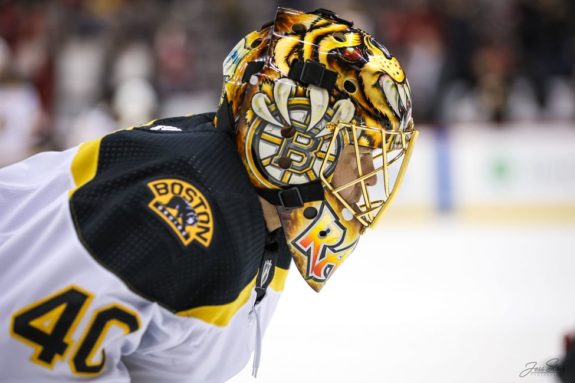 Related: Bruins' Rask Has Strong Vezina Case
There are many candidates for the Vezina Trophy this season, but Rask has the best chance of winning it. Although, if it's also about being an MVP, then Hellebuyck and Markstrom should be strongly considered too, as they were way more responsible for their team's success. However, that should not discount the season Rask had. If the Bruins are going to have a chance at winning it all this season, he has to be front and center once again. If the 2019 playoffs are any indication of how he will perform, then teams should prepare to be frustrated.
Goaltending Will Be a Major Factor in the Playoffs
There you have it, a ranking of all 24 potential starters in the coming play-in and round-robin. There are a lot of things that could change from now and the beginning of the annual grind, but one thing is for sure, goaltending will be a major factor. I challenge you to find one playoff year where it was not key in a team's pursuit of the Stanley Cup. Will a rookie steal the show again, or will it be a seasoned veteran this time? All I have to say is, drop the puck already!
---
All stats were taken from Hockey Reference and Natural Stat Trick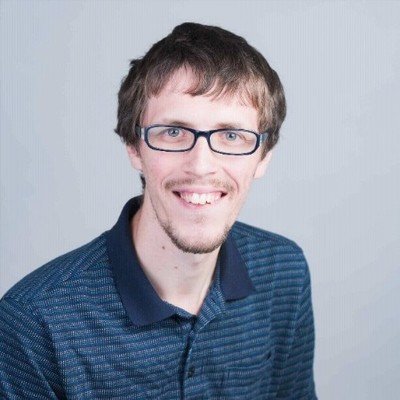 Matthew Zator
Matthew Zator is a THW freelance writer, media editor, and scout who lives and breathes Vancouver Canucks hockey, the NHL Draft, and prospects in general. He loves talking about young players and their potential. Matthew is a must-read for Canucks fans and fans of the NHL Draft and its prospects. For interview requests or content information, you can follow Matthew through his social media accounts which are listed under his photo at the conclusion of articles like this one about Tyler Motte.
Categories Editor's Choice, NHL GoaltendingTags 2020 NHL Playoffs, Connor Hellebuyck, Jacob Markstrom, Tuukka RaskSours: https://thehockeywriters.com/nhl-starting-goalies-2020-playoffs-ranked/
Goalies top 2020 nhl
2020-21 Top 25 Fantasy Hockey Goalie Rankings
The goalie carousel occurred during free agency yet again, so let's see how their values have shifted by looking at our top 25 fantasy hockey goalie rankings.
---
While the Stanley Cup Championship was as good as ever, the 2019-20 NHL season left something to be desired for fantasy hockey managers. No worries, the NHL is getting right back at it, and you should too! Whether you want to join an existing league or start one of your own, The Fantrax Fantasy Hockey Commissioner has all the features that will make the upcoming season a success for all.
---
2020-21 Goalie Rankings: At the Top
Andrei Vasilevskiy remains the best just as he did prior to the start of the 2019-20 season. The Lightning will have salary cap casualties, but the team will remain a contender with Vasilevskiy guarding the net. He was phenomenal in the return to play, not missing a single minute of playoff action. He is the unanimous number one choice in nearly every format.
Robin Lehner sees a notable jump, after becoming the starter in Vegas. He won over the job from Marc-Andre Fleury, and while Lehner may not play as much as some goaltenders with less accomplished backups, Lehner has proven to be an excellent choice when relied upon. He only appeared in three regular season games for the Golden Knights, but in the playoffs he showcased a convincing performance with his 1.99 GAA and .917 save percentage in 16 games.
Free Agency Impact
Jacob Markstrom is the first goalie to change teams we find on our list. He's been with the Canucks since being acquired in the 2013-14 season. It took many years, but he has finally developed into the high end goaltender that expected when he was drafted back in 2008. He now joins the division rival Calgary Flames, where he is expected to take the team to the next level. There are some concerns when a goalie relocates, but the Flames signed a handful of former Canucks in free agency. Adding Chris Tanev in particular should add familiarity and make for a smooth transition.
Meanwhile in Vancouver, Braden Holtby was brought in. Holtby has shown he is capable of being one of the best in the game, but has struggled since winning the Stanley Cup. The change of scenery should do him some good, and he's a great mentor for Thatcher Demko. Demko is seen as the future, and had a very impressive showing in the playoffs, but adding Holtby prevents him from taking on too much of a workload. Don't be surprised if the Canucks play their goaltenders fairly evenly. We're banking on Holtby getting the edge in ice time, and therefore having more fantasy value.
Tandems
The Columbus Blue Jackets and New York Islanders are the two clubs that boast both members of their tandem on this list. In Columbus, they have Joonas Korpisalo and Elvis Merzlikins, proving they are just fine without Sergei Bobrovsky. For the Islanders, it will be Semyon Varlamov and rookie Ilya Sorokin. It may be high expectations for Sorokin having never played an NHL game, but thankfully for his sake he has one of the best defensive systems in front of him. New York and Columbus both play a strong structured defensive game, making life easier on the goaltenders, and likewise easier on whoever selects them in a fantasy draft.
Taking the Reins
Another rookie cracking our ranking is Igor Shesterkin of the Rangers. Not only did he make the list, he placed as high as eighth. Very high expectations of someone with 12 regular season games of NHL experience. It's no easy task to fill the void left by Henrik Lundqvist, but with a .932 save percentage, Shesterkin sure looks like the real deal.
There are a number of goaltenders have very little experience with being a starting goalie. Aside from those already mentioned, Ilya Samsonov and Tristan Jarry become clear cut starters for the first time. Meanwhile Carter Hart, Juuse Saros, and Mackenzie Blackwood don't have much experience in that role either, yet all find themselves in our top goalie rankings. The next wave of elite goaltending talent is here.
2020 Fantasy Hockey Goalie Rankings
Rankings are based on the following categories: Wins, Goals Against Average, Save Percentage, Shutouts.
Collaborated by Brandon Altomonte, Victor Nuño, Mike Omelan, and Jesse Severe.
| Rnk | Player | Team |
| --- | --- | --- |
| 1 | Andrei Vasilevskiy | TBL |
| 2 | Robin Lehner | VGK |
| 3 | Carter Hart | PHI |
| 4 | Connor Hellebuyck | WPG |
| 5 | Tuukka Rask | BOS |
| 6 | Jordan Binnington | STL |
| 7 | Jacob Markstrom | CGY |
| 8 | Igor Shesterkin | NYR |
| 9 | Frederik Andersen | TOR |
| 10 | Carey Price | MTL |
| 11 | Ilya Samsonov | WSH |
| 12 | Darcy Kuemper | ARZ |
| 13 | Elvis Merzlikins | CBJ |
| 14 | Philipp Grubauer | COL |
| 15 | Anton Khudobin | DAL |
| 16 | Tristan Jarry | PIT |
| 17 | Juuse Saros | NSH |
| 18 | Semyon Varlamov | NYI |
| 19 | Sergei Bobrovsky | FLA |
| 20 | Ilya Sorokin | NYI |
| 21 | John Gibson | ANA |
| 22 | Joonas Korpisalo | CBJ |
| 23 | MacKenzie Blackwood | NJD |
| 24 | Braden Holtby | VAN |
| 25 | Petr Mrazek | CAR |
Notable Injuries:Ben Bishop (DAL).
Our goalie rankings are just the tip of the iceberg! We'll be pumping out lots more great Fantasy Hockey content in the coming weeks!
---
Fantrax was one of the fastest-growing fantasy sites of 2019 and we're not letting our foot off the pedal now! With multi-team trades, designated commissioner/league managers, and drag/drop easy click methods, Fantrax is sure to excite the serious fantasy sports fan – sign up now for a free year at Fantrax.com.
Filed Under: Fantasy HockeyTagged With: 2020-21 Fantasy Hockey Draft Kit
Sours: https://www.fantraxhq.com/2020-21-top-25-fantasy-hockey-goalie-rankings/
Top 10 goalies in NHL (year 2020)
The poet John Donne famously wrote, "no man is an island unto itself." But he wrote that in 1623, long before the game of hockey was invented. Had he survived to see it, Donne might have instead written: "no man is an island, except for NHL goaltenders."
The job of an NHL goalie is one of the hardest in all of professional sport. It is a solitary and often thankless task, where one night can be a shutout and the next day can be a nightmare. As such, it is a difficult position to evaluate, which is why it is vital to do so frequently.
At The Hockey Writers, we evaluate goaltenders several times a season, accounting for the instability of the position. Goalies change teams and lose their jobs more frequently than many others. Because of changes like that, we regrade goalies regularly. With that in mind, let's take a look at the methodology for our evaluation.
Methodology
Because of the fleeting nature of goaltender success, our rankings prioritize numbers from the most recent season, in this case, the 2020-21 season. With that said, it would be ludicrous to ignore history or overemphasize a six-month run. Where two goalies are more or less equal, their track record will become a factor in determining a final position. Goalies who have performed at a high level for longer will receive the benefit of the doubt, whereas goalies with great numbers who are relative newcomers may sink a spot or two accordingly.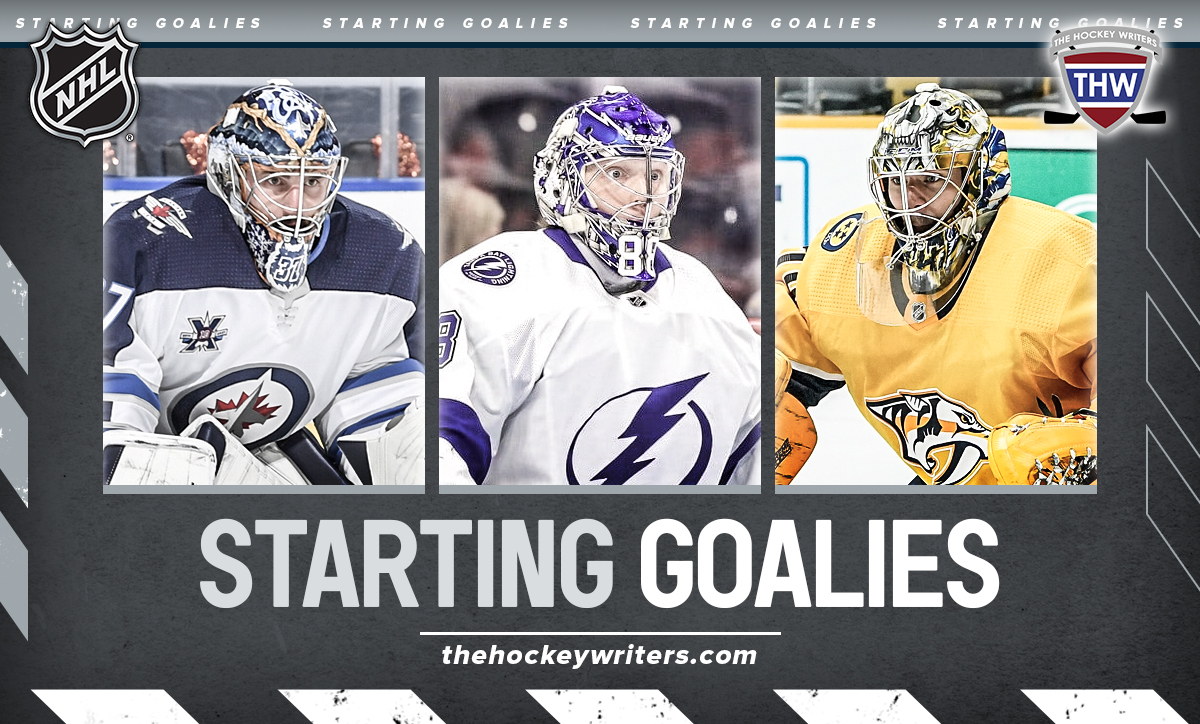 A number of statistics were considered. Two metrics were given primary emphasis: goals saved above average (GSAA) and quality start percentage (QS%). GSAA is a statistical calculation of a goaltender's performance as compared with his peers. It considers the number of shots he faced and measures it against the league average save percentage on the same number of shots.
QS% measures the percentage of starts in which the goalie's save percentage (SV%) surpassed the league average SV% for the season. Anything above 60 percent is considered very good, anything below 50 percent is poor, and 53 percent is league average.
In addition to these metrics, we'll examine SV% and goals-against average (GAA), shutouts (SO), and really bad starts (RBS) where the goalie has a SV% below .850. Judging by those numbers, a composite score was created to represent overall goalie effectiveness. Then, we made adjustments based on experience and track record and settled on a final order.
So, without further ado, here are your goaltender rankings at the start of the 2021-22 season.
32) Craig Anderson: Buffalo Sabres
Previous Rank: Unranked
With all the challenges of the last few seasons, as well as a pair of strong free agent classes for goaltenders, there has been an incredible amount of turmoil in these ranks in recent months. Add to that the debut of a new NHL franchise and Craig Anderson lays claim to a bit of history (though history he might not want): he is the first goaltender to come in at 32nd on this list. The designation is meant as no disrespect to Anderson's storied 19-season career, but the 40-year-old Park Ridge, Illinois native was openly expecting to retire before the Buffalo Sabres swooped in with a starting goaltender job. Anderson will make league minimum and serve one purpose: be the poor soul peppered with shots while the bottom-feeding Sabres hope to win the Shane Wright sweepstakes. But Anderson won't be alone in that ignoble pursuit.
31) Carter Hutton: Arizona Coyotes
Previous Rank: Unranked
As we said, Anderson won't be the only veteran goalie making league minimum for a team hoping to win the services of Wright, the projected first-overall pick. Carter Hutton left Buffalo to do the same with the Arizona Coyotes this season. The 35-year-old posted an .886 SV% and a 3.47 GAA in 13 games in Buffalo last season, claiming only one victory. He's there to do a job, as neither team can quite get away with simply leaving the net empty for 82 games this season. After all, NHL Commissioner Gary Bettman doesn't believe there's any tanking in his league, so the Coyotes and Sabres have to keep up appearances.
30) Sergei Bobrovsky: Florida Panthers
Previous Rank: 27
By the time we make midseason adjustments, it may be entirely clear that Sergei Bobrovsky is no longer the starter in Sunrise, FL. After all, rookie phenom Spencer Knight made his debut last season, and didn't look overwhelmed, even in the bright spotlight of two playoff starts against the eventual Stanley Cup Champion Tampa Bay Lightning. But Bobrovsky did start the most games for the Panthers in the 2019-20 season and given his contract, he has to be considered the starter until there is absolutely no evidence to support it.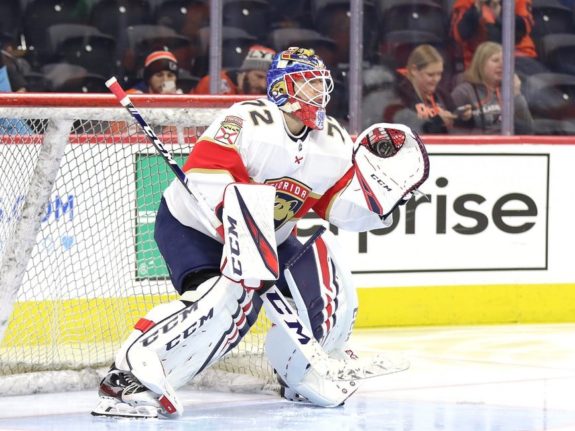 Bobrovsky is the only active two-time Vezina Trophy winner in the NHL. But since signing his seven-year, $70 million contract prior to the 2019-20 season, which seemed like the right gamble for the Panthers at the time, he has looked like a shell of his former self. Last season was actually an improvement over his first season in Florida, but he still finished with a .906 SV% and a 2.91 GAA, to go along with minus-1.9 GSAA. Bobrovsky has always been streaky, and it's not out of the question that he could find his form again and put in a top-level season again. But until he proves it on the ice, he has to be ranked amongst the league's worst goalies.
29) Matt Murray: Ottawa Senators
Previous Rank: 24
Speaking of gambles that didn't pay off, the Ottawa Senators' decision to trade for Matt Murray, then give him a four-year, $25 million contract extension, certainly didn't pay off in his first season in Canada's capital city. It's hard to identify what blame to place on Murray and what blame to place upon Ottawa's porous defense, but the end result wasn't pretty: he closed the season with a 10-13-1 record, a 3.38 GAA, a .893 SV%, and minus-11.0 GSAA. He actually did maintain a .560 QS%, which is significantly above league average (.530), but he also allowed eight "really bad starts" (RBS). This indicates that on his best night, Murray was ok, but when things went bad, they went terribly wrong. That kind of inconsistency from an NHL goalie is crippling, and the Senators will be hoping for much better in the 2021-22 campaign.
28) James Reimer: San Jose Sharks
Previous Rank: Unranked
San Jose Sharks general manager Doug Wilson finally pulled the trigger and bought out goaltender Martin Jones, ridding his team of one of the most troublesome goaltender contracts in the league. The trade deadline departure of Devan Dubnyk and the offseason arrival of Adin Hill means it's an entirely new regime in San Jose. While neither goalie is completely proven as an everyday starter, the Sharks desperately needed a fresh start in net, and they've got it.
It's difficult to be certain who will truly be the starter in San Jose, and it may come down to a genuine training camp competition. But the nod has to go to the veteran James Reimer, signed as a free agent, to begin the season as the number one. He was fairly reliable in two seasons of backup work with the Carolina Hurricanes and has been consistent as a solid 1B option throughout his career. For the Sharks' goaltending situation, any change is a positive one, so fans have to be going into the 2021-22 season excited to see what materializes in net.
27) MacKenzie Blackwood: New Jersey Devils
Previous Rank: 21
There's no question that MacKenzie Blackwood is still the future in net for the New Jersey Devils. And the huge offseason acquisition of Dougie Hamilton will certainly help solidify the defense in front of him. But his 2020-21 numbers were too weak to rank him any higher here. He led the league in RBS with 10, had minus-6.41 GSAA, and a 3.04 GAA. It was a rough season in New Jersey, and Blackwood will be hoping that the rebuilding Devils' defense, with Hamilton, Ryan Graves, and eventually fourth-overall draft pick Luke Hughes now in the picture, solidifies sooner than later.
26) Carter Hart: Philadelphia Flyers
Previous Rank: 16
Carter Hart is in a similar situation to Blackwood in many ways. There's no doubting his talent, and the three-year contract the Philadelphia Flyers just gave him, with an AAV of almost $4 million, shows their faith in him. But his numbers last season were dreadful to say the least. His GSAA was twice as bad as any other goaltender, with his minus-22.57 doubling Murray's minus-11.01. And his GAA (3.67) and SV% (.877) were also bottom of the barrel. Hart managed only nine wins total in the abbreviated season. It is only because of his pedigree that he did not fall farther on this list. But the Flyers also made many moves to shore up their blueline, and if Rasmus Ristolainen, Ryan Ellis, and Keith Yandle can make Hart's life easier, he'll certainly use his new contract to take them out for a steak or two as the season progresses.
25) Jacob Markstrom: Calgary Flames
Previous Rank: 9
Jacob Markstrom's first season with the Calgary Flames wasn't a terrific proof of concept for the six-year, $36 million contract he signed the offseason prior. His numbers weren't dreadful, but a .904 SV% and a 2.66 GAA won't put you among the league's top flight of goaltenders, and an AAV of $6 million will.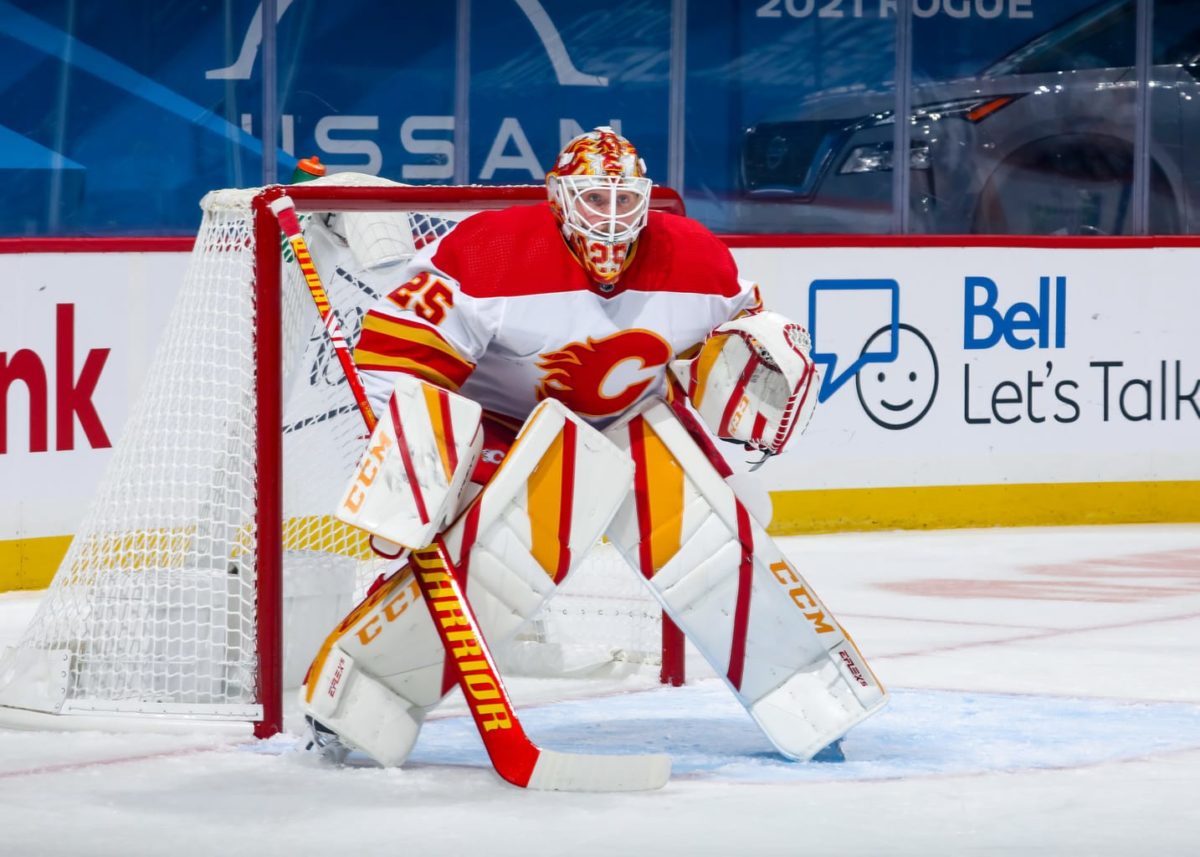 The Flames did trade for Nikita Zadorov in the offseason, but they also watched their captain, their defensive cornerstone, and a recent Norris Trophy winner in Mark Giordano walk for nothing to the Seattle Kraken. It's a confusing picture for the Flames, and general manager Brad Treliving looks like one of the losers of the offseason. The Flames' path to improvement isn't obvious, although a return to the Pacific Division, probably the weakest in the NHL, can only help. The easiest solution for the team is to see a much-improved Markstrom, so there will be plenty of pressure on his shoulders entering the season.
24) Frederik Andersen: Carolina Hurricanes
Previous Rank: 12
Frederik Andersen once ranked amongst the great goalies in the NHL, but his last two seasons have been less-than-stellar. The Carolina Hurricanes' decision to trade Alex Nedeljkovic and sign Andersen and Anti Raanta is a huge and largely inexplicable gamble. Last season, while battling injury, Andersen started just 23 games and posted a .895 SV% and a 2.96 SV%. He also had minus-8.5 GSAA. By the time the playoffs arrived, he was clearly no longer in the Toronto Maple Leafs' plans. But now, with his two-year, $9 million contract, he factors heavily in the Hurricanes' future. They must believe he gives them a better chance at playoff success than did Nedeljkovic, but Andersen's history of only escaping the first round once doesn't bear that out.
23) John Gibson: Anaheim Ducks
Previous Rank: 8
Some view John Gibson as one of the best goalies in the world and argue that his remarkable skill is only overshadowed by the poor team around him. And several seasons ago, when he was posting GSAA numbers like 15.4, 25.3, and 12.7 in three consecutive seasons, it was tough to argue against that perspective.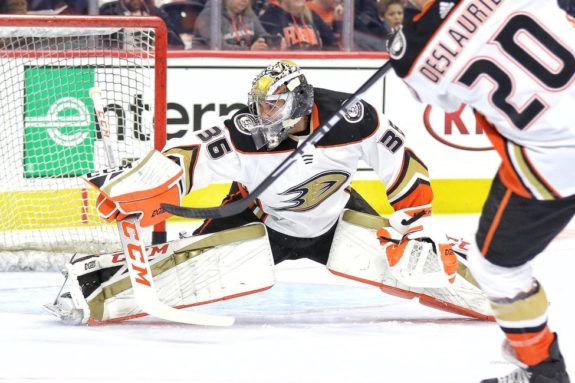 Unfortunately, whether by his own fault or that of his teammates, Gibson's numbers have fallen precipitously in recent years. Last season, he finished 9-19-7 and maintained a .903 SV% and a 2.98 GAA. His GSAA over the past two seasons combine to minus-13.7. And he has led the league in losses each of those seasons, as well. Though that is certainly a systemic issue more than something that should blemish his record, it is tougher to make the argument now that he remains one of the league's true elites. Gibson is just 28, but has a contract with the Ducks that carries him through the 2026-27 season. If the team cannot improve quickly, a change of scenery would likely be a welcome opportunity for him to justify all his believers.
22) Anton Khudobin: Dallas Stars
Previous Rank: 6
After spending much of his career as a journeyman and a backup, Anton Khudobin had a career season in 2019-20. He had a league-leading .930 SV% in 30 games, and 17.8 GSAA. It built on a strong campaign from the season prior, where he had 16 GSAA. Then, he performed his masterpiece, almost single-handedly carrying the Dallas Stars to the Stanley Cup Final against all odds. Though they didn't win, it was hard not to number him amongst the best goalies in the league at the time.
Unfortunately, nothing went right for the Stars in the 2020-21 seasons. Injuries plagued the entire roster, and the team ended up missing the postseason entirely. Though Khudobin wasn't the problem, his numbers suffered significantly. His GAA climbed to 2.54, still strong, but not elite, and his SV% dropped to .905. He even got benched by head coach Rick Bowness for disciplinary reasons early in the season. It was a tough campaign for all involved. But Khudobin is likely to remain the starter headed into a season with Ben Bishop probably still on long term injured reserve (LTIR). Unless Braden Holtby catchers fire, it'll remain Khudobin's net to lose.
21) Ilya Samsonov: Washington Capitals
Previous Rank: 22
Ilya Samsonov is young, and he is as yet unproven. His numbers last season were not terrific, and he lost a lot of playing time to Vitek Vanecek, a rookie goaltender who emerged out of nowhere in the unexpected absence of Henrik Lundqvist. But there is little doubting Samsonov's pedigree. He is just 24, but the 2021-22 season will be a significant proving ground for him. He needs to show that all his potential can translate to the NHL level. Once he does, though, he could climb up this list very quickly.
20) Tristan Jarry: Pittsburgh Penguins
Previous Rank: 14
The Pittsburgh Penguins cut the cord from Murray, the young playoff hero, thanks in part to the incredible 2019-20 campaign put forth by Tristan Jarry. But those world-beating numbers fell of significantly during the 2020-21 season. His SV% dropped to .909, his GAA was 2.75, and he had just 1.3 GSAA. None of those numbers are bad, but they also might cause people to second guess the decision to move on from Murray, had he himself not performed so poorly in Ottawa. The strongest part of Jarry's game, after a rough start to the season, became consistency. He closed the season with a .632 QS%, which is incredibly strong. If he can continue to harness that ability, he may still be the solution in Pittsburgh. But a reunion with Marc-Andre Fleury, which never materialized, might have been the better short-term solution.
19) Carey Price: Montreal Canadiens
Previous Rank: 17
After last season's playoff run, this is certain to be a controversial placement, probably the most controversial on the entire list. Yes, at his best, Carey Price can be a truly elite goaltender. But his numbers in recent regular seasons make it hard to justify ranking him among the league's best game in, game out. Injuries, age, and inconsistency plague his career far too much at this point.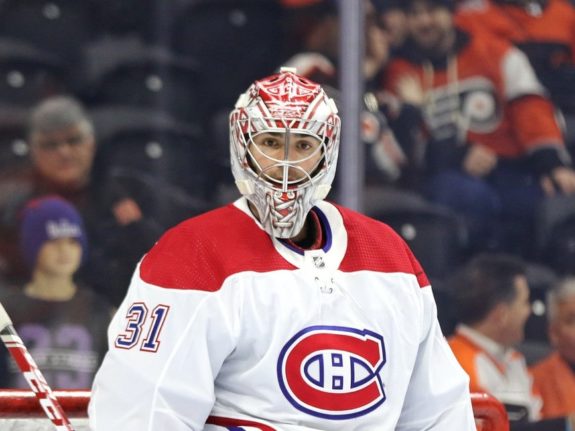 During the regular season, Price started just 25 games, carrying a .901 SV%, ranking him in the bottom-third among starters. His minus-4.3 GSAA also put him in that region, as did his six RBS. His 2.64 GAA was average, but the Montreal Canadiens are known for their stout defense, which helped attribute to that number. Price has had negative GSAA and a SV% below .910 in three of the last four seasons, and even his terrific playoff performance this season was worse than his numbers from his last two postseasons. There is no denying Price's greatness nor his significance to the Canadiens, but with his contract, he remains a challenge. General manager Marc Bergevin's willingness to even flirt with losing Price in the expansion draft signals that the goalie is past his prime. He needs to show a consistently great regular season performance to be ranked among the league's best in 2021.
18) Calvin Petersen: Los Angeles Kings
Previous Rank: Unranked
Calvin Petersen's 9-18-5 record does not fairly portray the impressive 2020-21 performance of the up-and-coming goaltender. He has inarguably unseated Jonathan Quick is the starter for the Los Angeles Kings, managing a .911 SV% and a 2.89 GAA on a defensively suspect LA team. He even posted 3.9 GSAA. At just 26, the former fifth-round pick of the Buffalo Sabres looks to have a bright future in the big city, assuming that the Kings have faith in him as a true number one goaltender as their long rebuild reaches its pinnacle in the coming seasons.
17) Linus Ullmark: Boston Bruins
Previous Rank: 11
Speaking of Buffalo-drafted goaltenders who posted strong numbers on rough teams, none fits the description better than Linus Ullmark, whose 2020-21 season with the Sabres was nothing short of remarkable. The Lugnvik, Sweden native managed a winning record on a team that managed just 15 wins all season. But his supporting numbers were strong as well.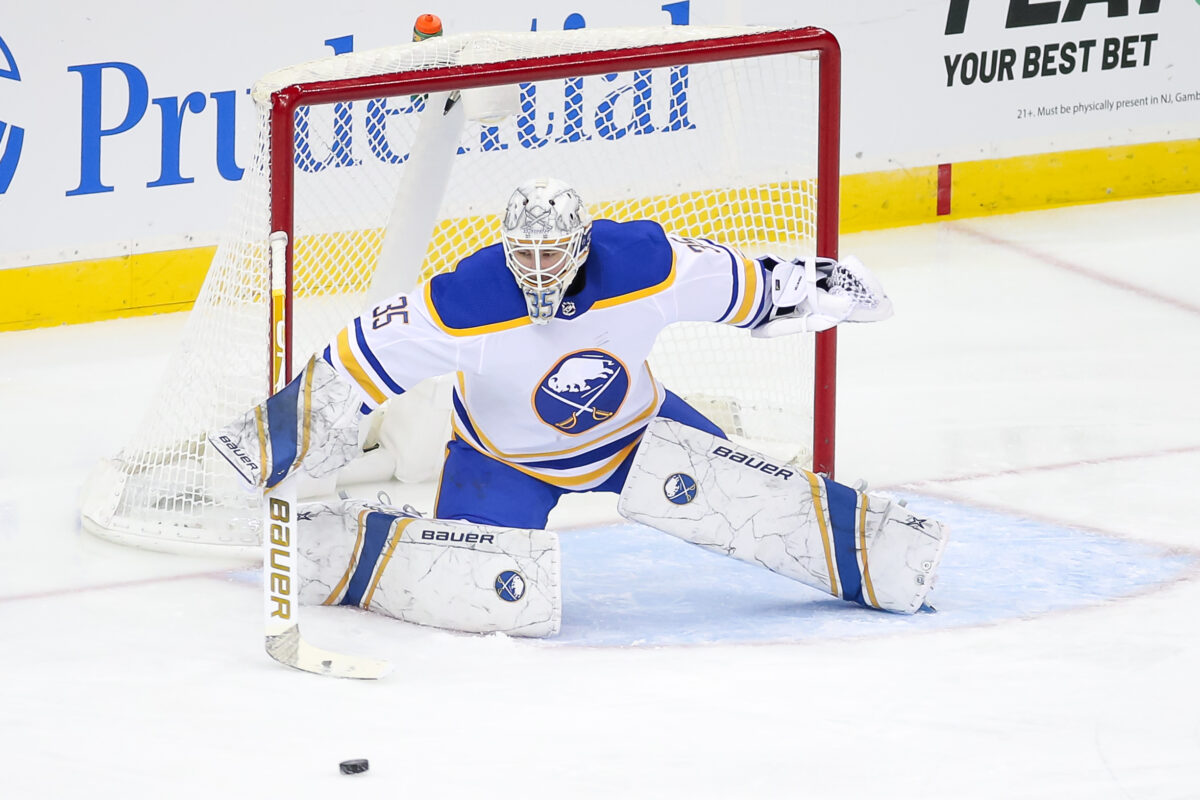 Even on the Sabres, Ullmark managed a .917 SV% and a 2.63 GAA, along with a .550 QS%. He even posted 5.5 GSAA, and had zero RBS. It was an incredible season on a bottom-feeding team, and it convinced the Boston Bruins to shock the league and sign Ullmark to a four-year, $20 million contract. With Tuukka Rask expected to miss most or all of the season recovering from injury, Ullmark will be the number one this season. And if he can post numbers like he did in Buffalo on a team as strong as the Bruins, he could shoot up this list to be considered one of the game's very best.
16) Darcy Kuemper: Colorado Avalanche
Previous Rank: 5
The Colorado Avalanche watched their goaltender of three seasons, and a Vezina Trophy finalist, depart in free agency this summer. They were forced to trade a first-round pick and defensive prospect Conor Timmins to the Arizona Coyotes to acquire Darcy Kuemper as their new starter. But as backup plans go, this is a terrific one. Kuemper has been terrific in four seasons with the Coyotes, and, like Ullmark, has consistently outperformed a bad team. The 2020-21 season wasn't his best effort: coming off seasons with 25.1 (2018-19) and 16.7 (2019-20) GSAA, he finished with minus-0.6 this season. But that shouldn't concern the Avalanche too much. Their strong defense should make Kuemper a force to be reckoned with, and he too stands a strong chance of climbing much higher on this list by midseason.
15) Robin Lehner: Vegas Golden Knights
Previous Rank: 4
Continuing a trend, Robin Lehner is yet another goalie with a strong chance to rocket up this list in the season ahead. He has been a Vezina Trophy finalist and a Jennings Trophy winner in recent seasons, and the Vegas Golden Knights are committed to him for four more seasons at $5 million per season. But injury, and the lights-out performance of former teammate Marc-Andre Fleury, kept him in a backup role for the 2020-21 season.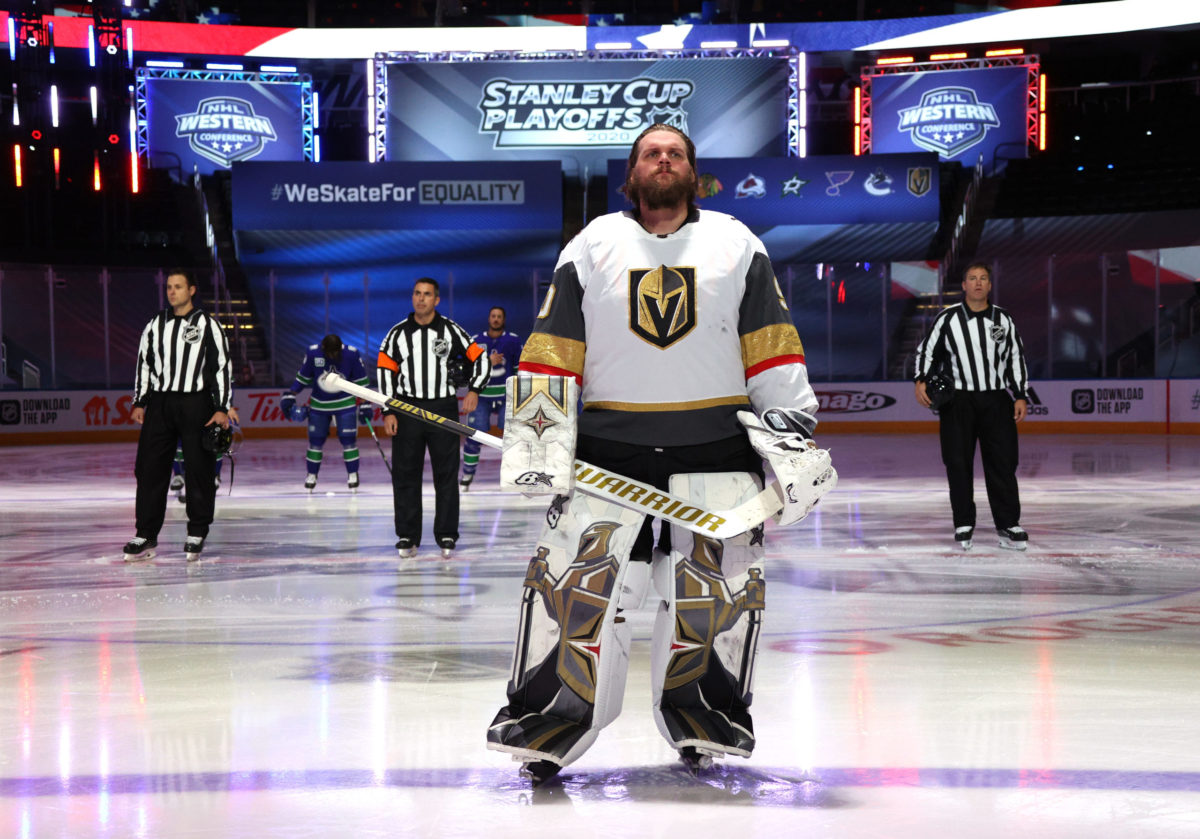 Even in limited work, Lehner still worked strong. He went 13-4-2, maintained a .913 SV% and a 2.29 GAA, and had 2.5 GSAA. It was a very solid season for a backup, and it showed the Golden Knights enough to trade Fleury to the Chicago Blackhawks for almost nothing to clear salary cap space. Assuming he's healthy, there's every reason to believe Lehner will be right back in top form during the 2021-22 season.
14) Mike Smith: Edmonton Oilers
Previous Rank: Unranked
Mike Smith gave a jaw-dropping performance in his second season with the Edmonton Oilers. Even without a stalwart defense in front of him, he went 21-6-2 with a .923 SV% and a 2.31 GAA. He also managed 13.9 GSAA. Smith has always been streaky (note his minus-7.7 and minus-12.7 GSAA in the two seasons prior), but the 2020-21 campaign was truly one of the best performances of his career. The only question now is, can Smith maintain that pace entering a season in which he will turn 40? Uncertainty about that prospect is what kept him lower on this list, but the Oilers showed no hesitation in signing him to a two-year, $4.4 million contract in the offseason.
13) Jordan Binnington: St. Louis Blues
Previous Rank: 7
Jordan Binnington may never again put up the world-beating numbers that he displayed en route to winning a Stanley Cup in his rookie season. But he has shown almost every doubter now that he can be a consistent, top-tier NHL goalie, and his 2020-21 season was no exception. Though he struggled some in the middle of the season, shortly after signing a six-year, $36 million contract extension, it was Binnington's strong performance that willed the team across the finish line and into the postseason. Without him, the St. Louis Blues might well have missed the playoffs. Goalies that can make that kind of difference consistently for their team are some of the league's very best, and he has proven himself to be among that number.
12) Cam Talbot: Minnesota Wild
Previous Rank: 23
For two seasons, it seemed like years of overwork in Edmonton might have broken Cam Talbot. But in his past two seasons, first with the Flames and now with the Minnesota Wild, he has once again shown the skills that made the Oilers start him in 73 games in 2016-17 in the first place.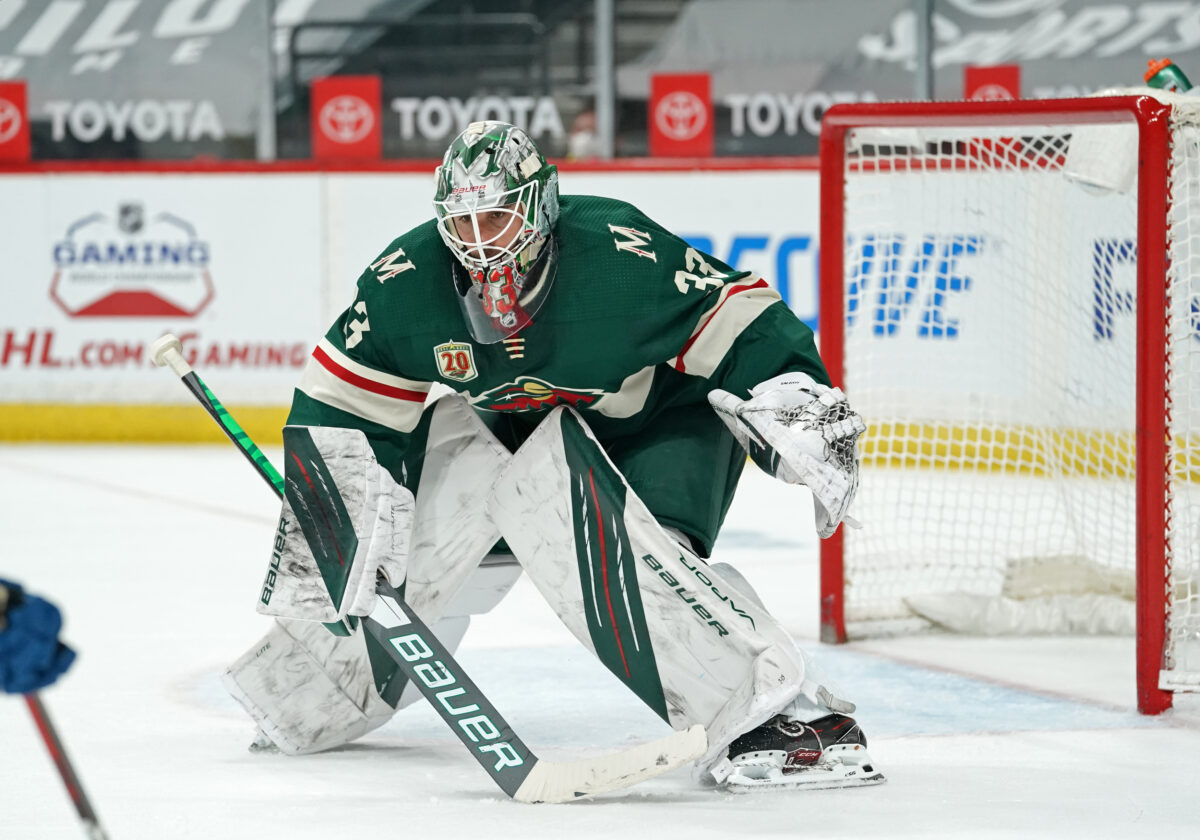 Playing on the first season of a three-year, $11 million contract in the Twin Cities, Talbot managed 6.9 GSAA and a strong QS% of .636. His .915 SV% and 2.63 GAA were more than enough for the Wild, who had finally watched the tread wear off of Devan Dubnyk the season prior. Talbot's performance was a major reason why they turned back into a postseason contender — though the arrival of Calder Trophy winner Kirill Kaprizov certainly played a role as well. Now 34, Talbot will hope to continue to prove that he has what it takes to keep Minnesota relevant. He will need to hold off a challenge from young goaltender Kaapo Kahkonen to hold onto a starting job, but if he plays like he did last season, remaining a starter won't be any challenge.
11) Alex Nedeljkovic: Detroit Red Wings
Previous Rank: Unranked
As already mentioned, the Hurricanes' decision to trade Nedeljkovic to the Red Wings is one of the most head-scratching moves of the offseason. Long discussed as the future in Carolina, his rookie season was immediate proof of concept. The Parma, Ohio native was a force to be reckoned with in his rookie season, earning third-place in Calder Trophy voting thanks to league-leading SV% (.932%) and GAA (1.90) numbers. He also managed 15.7 GSAA, despite starting just 23 games. Red Wings fans love to talk about the "Yzerplan," a loving reference to their faith in general manager Steve Yzerman's team-building approach, but it's hard to imagine even Stevie Y expected to get a potential franchise goaltender for just a third-round pick. Unless the Hurricanes recognized something about Nedeljkovic that no one else has, this trade could go down to haunt their organization for years to come.
10) Elvis Merzlikins: Columbus Blue Jackets
Previous Rank: Unranked
Take your pick between Joonas Korpisalo and Elvis Merzlikins as the Columbus Blue Jackets' true number one, because both were fantastic. But there were trade rumors about Korpisalo, which have been shrouded by the tragic events of the offseason, and that indicates that the Blue Jackets view Merzlikins as the #1 internally. After the heartbreaking loss of Matiss Kivlenieks in the offseason, Merzlikins also entrenched himself in the heart of the team and the community.
On the ice, Merzlikins has been consistently strong since his 2019-20 rookie season. He's got 19 career GSAA despite starting just 54 games. This season, he kept a .916 SV% and a 2.77 GAA, even though the Blue Jackets struggled to stay competitive. The 27-year-old native of Riga, Latvia has established himself as a strong NHL goaltender, and he will have a lot of pride on his shoulders entering the new season. All of the league will be rooting for him.
9) Jack Campbell: Toronto Maple Leafs
Previous Rank: Unranked
Jack Campbell is the primary reason the Maple Leafs felt comfortable moving on from Frederik Andersen in the offseason. But a career of playing backup to Quick in Los Angeles might deceive some into underestimating Campbell's career. He's no young up-and-comer: his first season as a full-time starter will also be the season in which he turns 30. But he's earned his opportunity: a .921 SV% and a 2.15 GAA in 22 games, plus a 17-3-2 record, was more than enough for general manager Kyle Dubas to plan to move forward with Campbell. Even so, they signed veteran platoon goalie Petr Mrázek as an insurance policy. This is an all-or-nothing season in Toronto, so there will be plenty of pressure on Campbell to perform.
8) Igor Shesterkin: New York Rangers
Previous Rank: 20
Is it possible that ranking Igor Shesterkin at #8 is an over-ranking based on pedigree? Sure. But the 25-year-old Russian has all the makings of the next great goaltender in the NHL, and he has already started to show his worth at the highest level. In his second season, he started 31 games on a defensively suspect team, and still held a QS% of .645, which ranks fifth amongst starters on this list. His .916 SV% and 2.62 GAA were also perfectly strong for a second-year goalie, and he managed 7.9 GSAA.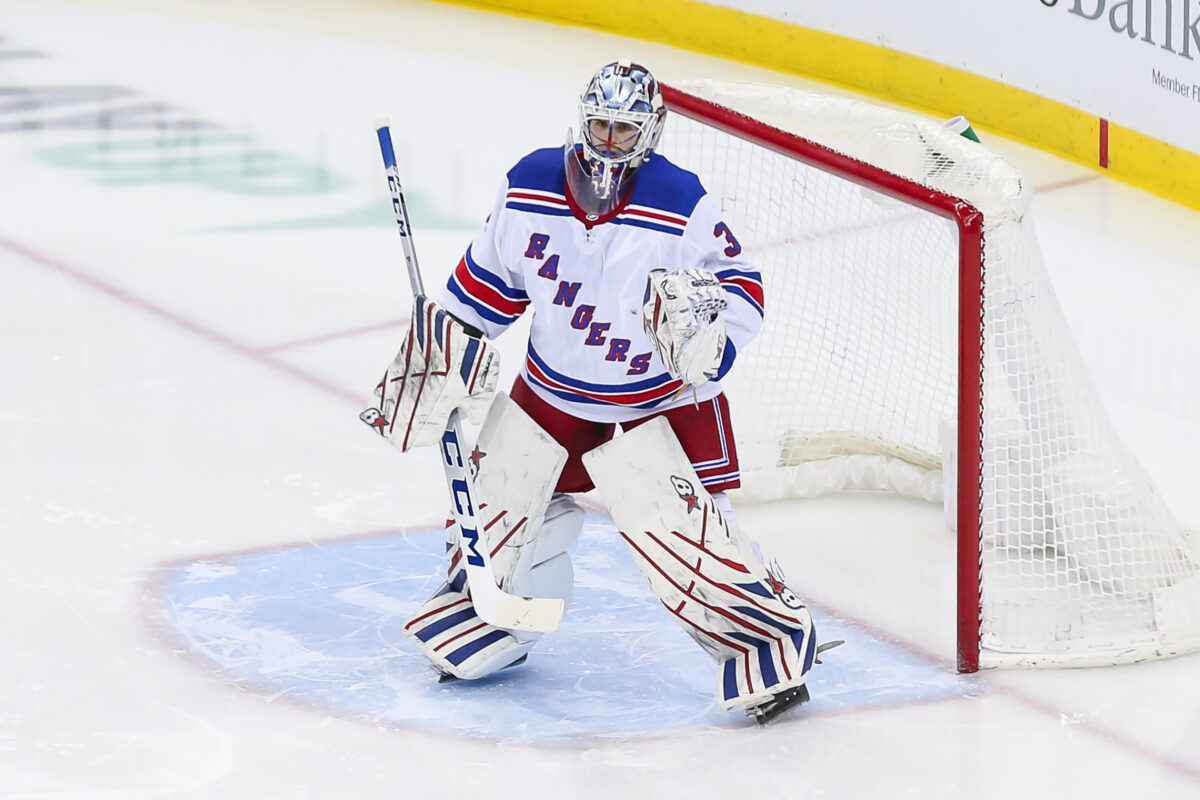 Shesterkin has long carried the reputation as one of the league's next great goaltenders and is slated to join a superstar cast of Russian netminders headlined by Samsonov, Andrei Vasilevskiy, Ilya Sorokin, and, in the not-too-distant future, Yaroslav Askarov. The New York Rangers saw their last franchise goaltender, Henrik Lundqvist, announce his retirement earlier in the offseason. But there is little question that their next cornerstone netminder is already between the pipes in Madison Square Garden.
7) Thatcher Demko: Vancouver Canucks
Previous Rank: Unranked
The Vancouver Canucks hitched their wagon to San Diego, CA native Thatcher Demko when they watched Markstrom depart to Calgary in free agency, and in his first full season as the number one, the 25-year-old justified the team's faith in him. Coming off a 2019-20 postseason run in which he stood on his head, maintaining a .985 SV% and a 0.64 GAA in four games, his performance level remained high even as the team around him fell apart. Despite coming last in the North Division, and struggling with the league's most serious COVID-19 outbreak, Demko still managed 8.2 GSAA, a .915 SV%, and a 2.85 GAA. It was an impressive season and convinced general manager Jim Benning to make the commitment to him that he would not to Markstrom, signing Demko to a five-year, $25 million contract in March.
6) Semyon Varlamov: New York Islanders
Previous Rank: 10
Semyon Varlamov may be the most consistently underrated goaltender in the NHL. Say whatever you wish about the defensive structure in front of him, a goalie can't maintain a .929 SV%, a 2.04 GAA, and a breathtaking, league-leading 22.0 GSAA just because of a strong defense. Varlamov also led the league with seven shutouts, a career high. Many questioned the wisdom of allowing Lehner to leave as a free agent, only to sign Varlamov to a four-year, $20 million contract in 2019. But his first two seasons with the Islanders have been outstanding. And if he has doubled as a mentor and eventually gives way to Sorokin in the final years of his deal, it will have been a perfect outcome for general manager Lou Lamoriello.
5) Philipp Grubauer: Seattle Kraken
Previous Rank: 15
Continuing a theme of goaltenders who will be tied to the defense in front of them, Philipp Grubauer rose to become a Vezina Trophy finalist last season thanks in no small part to the strong Avalanche defense in front of him. But while that may have enhanced his 30-9-1 record, it should take nothing away from his .922 SV%, or his ridiculous 1.95 GAA. Grubauer also tied with Varlamov with seven shutouts and claimed 14.5 GSAA. It was a fantastic season, with our without the great defense in front of him.
With that said, if Grubauer was looking for an opportunity to prove he was more than the sum of his defenders, he has it now: the Rosenheim, Germany native signed with the expansion Seattle Kraken in free agency. Marc-Andre Fleury became the face of the Golden Knights when they expanded. Can Grubauer do the same over the life of his new six-year contract? If he plays anything like he did last season, all signs point to yes.
4) Juuse Saros: Nashville Predators
Previous Rank: Unranked
Some franchises struggle to ever pin down a cornerstone goalie. Some franchises transition seamlessly from top-tier netminder to top-tier netminder. Such has been the good fortune of the Nashville Predators. Right when Finnish legend Pekka Rinne finally looked to be out of gas, a new Finnish backstop reached a whole new level. Juuse Saros is now 26 and entering his sixth full NHL season, but the 2020-21 campaign was his breakout season as the Predators' true starter. A .927 SV%, a 2.28 GAA, 20.9 GSAA, and a 21-11-1 record were enough to fetch Saros not only Vezina Trophy votes, but even some consideration for the Hart Trophy! Music City looks like it has already found the next great goaltender to grace the ice of the Bridgestone Arena, even if Pekka has officially left the building.
3) Marc-Andre Fleury: Chicago Blackhawks
Previous Rank: Unranked
What is there to be said about Marc-Andre Fleury at this point in his career? Even after 16 seasons and three Stanley Cups, the former first-overall pick still found another gear at age 36 and won his first Vezina and Jennings Trophies for the Vegas Golden Knights. All that he did despite entering the season with a massive chip on his shoulder as the presumed backup. Whatever his motivation, he held a .722 QS%, trailing just Varlamov, and his .928 SV%, 1.98 GAA, and 20.1 GSAA make it hard to argue with his selection as Vezina Trophy recipient. Even if it had elements of a "lifetime achievement" award, it was well earned.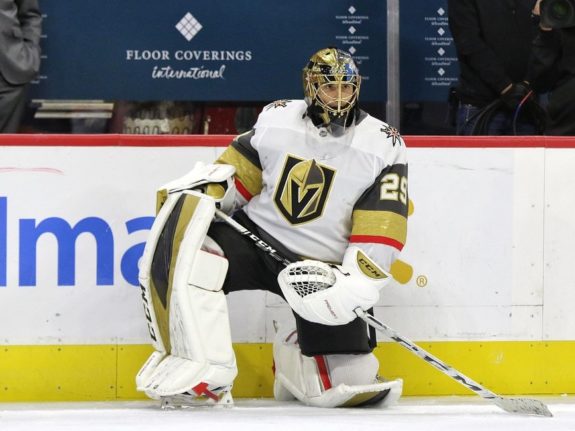 If playing with a chip on his shoulder is what makes Fleury great, then the Central Division will need to look out this season. As mentioned earlier, even after winning the top goaltending trophy, the Golden Knights traded Fleury for peanuts to the Blackhawks in a cap-clearing move. The move came as such a shock — and was such a perceived disrespect to the face of the franchise — that Fleury reportedly weighed retirement rather than reporting for the Blackhawks. But he later confirmed in a social media post that he was "in," meaning the Blackhawks should have a highly-motivated future Hall of Fame member between the pipes this season.
2) Connor Hellebuyck: Winnipeg Jets
Previous Rank: 2
Likely to be the starter for the U.S. Team at the 2022 Beijing Olympics, Connor Hellebuyck has unquestionably established himself as one of the game's true elites. He played the most games and logged the most minutes of any starter in the NHL this season, yet held onto a .916 SV%, a 2.58 GAA, and 11.0 GSAA to boot. He also managed four shutouts and helped Winnipeg slam the door on Connor McDavid and Leon Draisaitl in a brutal four-game first-round sweep in the postseason. Even with years of consistent success and a Vezina Trophy under his belt, Hellebuyck is just the seventh-highest-paid goaltender in the league, ranking between Binnington and Murray. It's an absurd value for the Jets, and one they'll be glad to leverage for the next three seasons.
1) Andrei Vasilevskiy: Tampa Bay Lightning
Previous Rank: 3
If you read to the end of this article expecting any other name at the top of the list, we're sorry to disappoint, but Andrei Vasilevskiy's rightful place as the best goaltender in the NHL is unimpeachable. He has been a Vezina Trophy finalist four-seasons running, is a back-to-back Stanley Cup Champion, and is the reigning Conn Smythe Trophy winner. His .925 SV%, 2.21 GAA, 21.0 GSAA, five shutouts, and zero RBS all speak for themselves. There's no need to belabor the point: Vasilevskiy is a full head and shoulders above even the other elite netminders in the NHL, and it would take a remarkable performance to unseat him from his throne.
---
Get all the latest NHL Goalies news and rumors from THW
---
The Bottom Line
The NHL has seen plenty of turnover between the pipes this season, including seeing two of the three Vezina Trophy Finalists arriving on new teams. Grubauer and Fleury will be looking to prove themselves in new homes, as will Nedeljkovic, Kuemper, Ullmark, Andersen, Reimer, Hutton, and Anderson. Over a fourth of the NHL's teams will have a new presumed starter entering the season. At an already volatile position, that is guaranteed to make for a very interesting season. And as the first season fully back in front of fans, these goaltenders will be looking to flash the leather and make a great first impression for their new teams.

Stephen Ground
Stephen Ground is an author with The Hockey Writers and is co-host of the Two Guys No Cup Podcast. He enjoys studying the numbers and providing fresh looks at various stories.
Categories Archives, NHL GoaltendingTags Andrei Vasilevskiy, Connor Hellebuyck, Juuse Saros, Marc-Andre FleurySours: https://thehockeywriters.com/nhl-starting-goalies-ranked/
Similar news:
Tender and attentive that after half a minute everything seemed to go by itself, and I seemed to be driving along sweet rails. She offered me a vagina, asked to kiss her - and I kissed her vagina passionately, licked her, and Rada purred in a low, rumbling voice, like a. Wild animal. I have never heard such low notes from her.
Then she called me to her, helped me to enter into myself - and now I enjoy clapping eggs on her shaggy mound, thrusting my penis into.
6914
6915
6916
6917
6918