Why is the 32" the standout stand-on mower for contractors?
In the last six months, we've seen a huge increase in the number of people purchasing stand-on mowers. There are different sized stand-on mowers, but the 32" is by far the most popular.
Why?
For cost, efficiency and less fatigue, it's the stand-on mower of choice.
At SCAG, our motto is: work smarter, not harder
Why would you spend your entire day mowing, when you could be done by lunchtime and still make it to the pub in time for a counter meal and a pot, or continue to work and generate a greater income.
If you're a contractor who wants to increase efficiency, then the 32" stand-on mower should be your number one choice.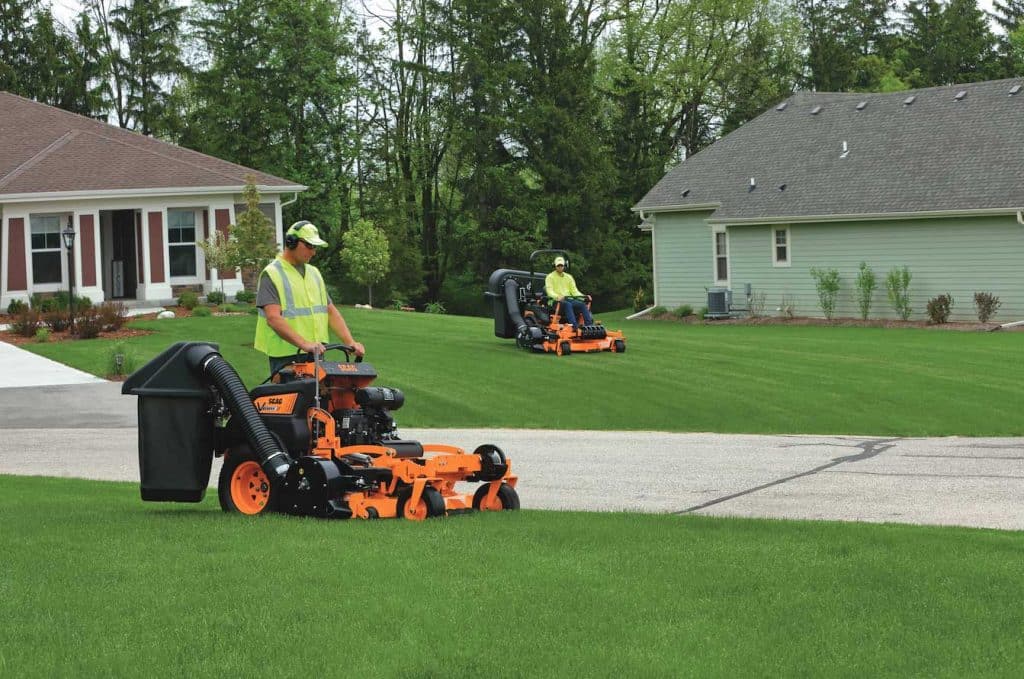 Cost of the 32" stand-on mower
One question we get asked all the time is: "Why are stand-on mowers so expensive?"
Our answer is:
It's the most expensive thing you'll buy, but the cheapest thing you'll own.
The average 32" stand-on mower costs around $14,000. The cost may come as a bit of a shock, but you're getting value for money. Most contractors are financing their mower which can be as low as $75.00 per week.
That's right, just imagine how much money you could be making with all that time to mow extra lawns for that $75.00 per week investment.
What are the benefits of the 32" stand-on mower?
Better for your back
People who work long hours walking behind a push/self propelled mower or on a sitting mower can develop bad back problems. Standing mowers are much better because your feet and legs take the brunt of the shock absorption. Standing mowers cause far less fatigue and discomfort than other mowers.
Compact in size
The 32" stand-on mower is quite compact, so it can get through most gates. Stand-on mowers are great in metro areas where smaller, landscaped properties need to be maintained. Stand-on mowers have an ability to manoeuvre very tight spots and they are much shorter in length than other types of mowers.
Safety
It's easy to make a quick getaway from a stand-on mower in the case of an emergency. If something dangerous happened, it would be very difficult to step off a sitting mower with the same amount of speed.
Due to the fact you are standing behind the mower, you have better visibility of what is ahead. You'll be able to easily see any barriers or hazards sooner than you would if you were sitting down.
Speed
You can mow much faster on a stand-on mower than you can with a regular push/self propelled mower. If there are objects or obstacles ahead, you can quickly jump off a stand-on mower, move things out of the way and jump back on again. This can't be done as quickly on a sitting mower or a push mower.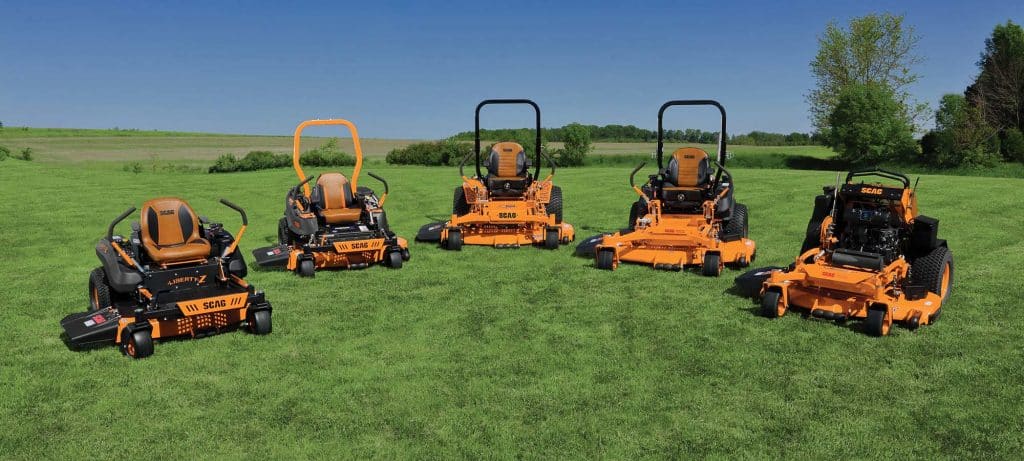 Why should I buy a SCAG 32" stand-on mower?
Our 32" stand-on mowers are popular with lawn dealers and contractors because we only sell high-quality machinery. Full commercial grade mowers loaded with heavy commercial components.
V-Ride II 32"
Our V-Ride II 32" is a great stand-on mower. It's compact and highly manoeuvrable. You can fit plenty of machinery onto a trailer even with the V-Ride II because of its small size. This mower has a dual hydraulic pump double wheel motor with a charge pump drive system, so you'll be able to make effortlessly sharp turns. The mowing deck provides
You'll find a Kawasaki commercial grade engine (FX) in the V-Ride II 32", which offers the perfect combination of power and performance you need. This stand-on mower is comfortable and provides a smooth ride for you, so you'll finish mowing without feeling fatigued and sore.
The deck is a heavy commercial tri-plated (nearly half inch thick) top plate with heavy grade greasable spindles, split steel pulleys with heavy duty idler arms and Kevlar belts rated to a minimum 400 hours.
Another advantage of SCAG mowers is that they're built to last and easy to maintain, so you won't be forking out cash all the time to fix mower parts. You can also configure the 32" model to suit your lawn maintenance needs.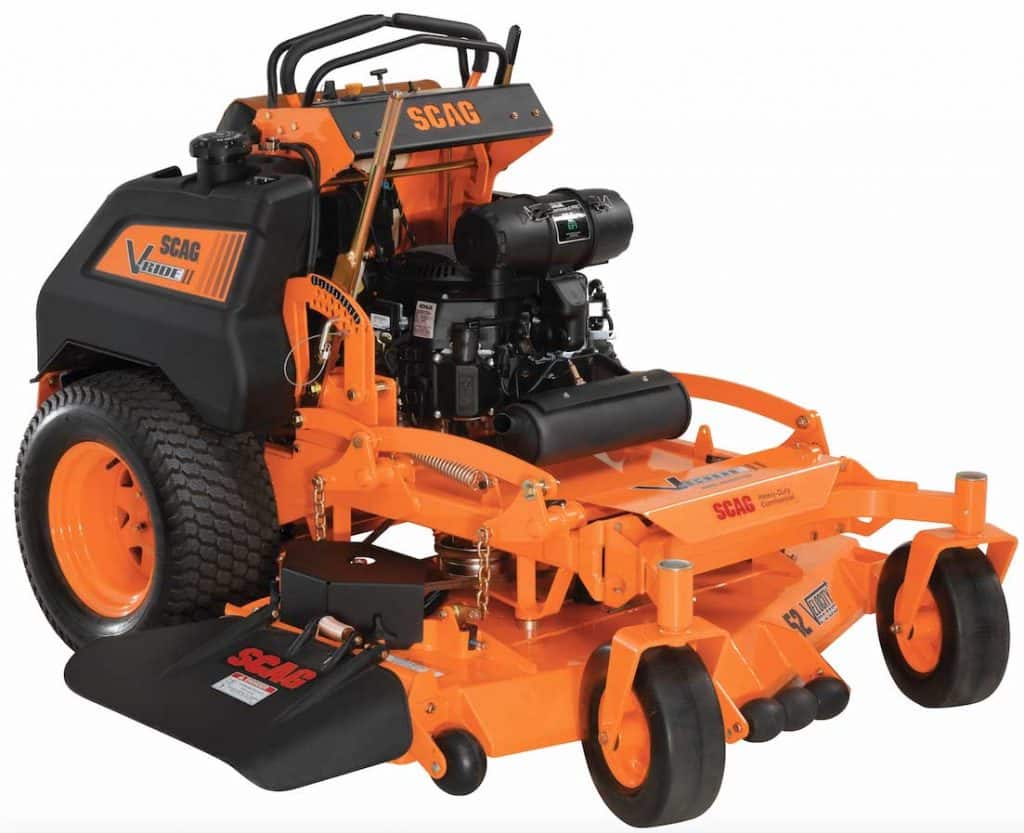 Sours: https://scagaustralia.com.au/best-32-inch-stand-on-mower/
2020 SCAG Power Equipment SW Belt-Drive 32"
In 1986, with the introduction of Scag's first belt-drive Walk Behind mower, a revolution was started in the commercial mower industry.
A fundamental element of any commercial cutter fleet, the SW belt-drive walk-behind continues to prove its worth through its simple design and efficient operation.
Twin power belts maximize drive performance in all weather conditions. With the spring assisted EZ Grip hand controls and the reliable Peerless five-speed drive system, you can expect trouble free, productive performance.
The 5-speed transmission features 9-spline coupler construction for added durability and longevity. And with the exclusive Advantage™ and Velocity Plus™ cutter decks, you get the perfect cut, the first time, every time.
Visit your local Scag dealer to setup a field demonstration today! Check out our social media page and our testimonials page to see what real Scag customers are saying about their Scag mowers.
Features may include:
Five-speed Peerless transmission for ground speeds from 2 to 6 mph. Transmission features 9 spline couplers for increased durability.
Your choice of engines: Powerful and efficient Kawasaki V-Twin engine options.
Choose a Standard 32" cutter deck, 36" Advantage™, or 48" or 52" Velocity Plus™ cutter deck. Click here for a complete list of engine and cutter deck combinations.
Convenient dash panel puts the controls at your fingertips, including key switch, throttle, cutter deck engagement switch.
Heavy gauge handlebars are adjustable to provide additional comfort for taller operators. Handlebars have three height settings and fit a wide variety of operators.
Redesigned handlebars allow for more comfortable operation, with reduced handlebar diameter and adjusted steering lever angle. Twin hand controls with spring assisted EZ-GRIP allows for smooth, precise responsiveness. EZ-GRIP reduces the amount of hand force required to operate the mower for increased operator comfort.
Operator presence controls are vinyl-dipped and designed for operator comfort.
Large 5.5 gallon, rust-free fuel tank keeps you in the field cutting. This tank design is 20% larger than tanks on other mower brands. Molded-in cup holder provides added operator convenience and comfort.
Extra durable front caster arms are designed to handle rough environments.
Heavy-duty Flat-Free caster wheels with quick pin removal for easy maintenance and cutting height adjustments. Semi-pneumatic tire design virtually eliminates downtime and expense resulting from flat front tires.
Ogura PTO clutch brake engages the cutter blades. Adjustable air gap ensures long component life.
Twin power drive belts supply solid smooth power to the drive wheels, reducing slippage in wet conditions.
"Split-Steel" pulley design is stronger than cast iron or stamped pulley designs. They are precision matched and lightweight for reduced inertia and decreased wear on the cutter deck drive system.
High-quality bearings and bearing debris guard on idler pulleys ensure long, reliable service.
Marbain cutter blades stay sharp longer for reduced maintenance.
Heavy-duty blade drive spindles provide unbeatable performance.
Adjustable front center anti-scalp wheel (52" Velocity Plus cutter deck only).
Padded, ergonomically shaped shift lever makes shifting gears simple.
Double stacked roller bearings in cutter deck idler pulley adds to reliability.
Sours: https://www.futchsdepot.com/--xInventoryDetail?id=9136625
V-Ride II 32″
Effortless to operate and able to tackle pretty much any terrain imaginable, the V-Ride II 32 inch zero turn mower is relatively compact but still offers full-sized mowing capabilities.
Able to turn on a dime thanks to the dual hydraulic pump double wheel motor drive system, you'll be able to effortlessly manipulate and maneuver this zero turn mower without any trouble at all. And thanks to the fact that you'll be standing rather than sitting while using this mower you'll have better lines of sight to control your mower more efficiently – helping you cut your lawn much faster than you'd have been able to before.
A Kawasaki high-efficiency commercial grade engine is the heartbeat of the V-Ride II 32 inch model, offering the perfect blend of power and performance you need without costing a fortune at the pump.
The 32 inch mowing deck provide 3 feet of cutting capabilities without sacrificing maneuverability. It should help you move quickly through your lawn while still helping you to get into tight spots and turn on a dime with zero difficulty at all.
At the end of the day, the V-Ride II has the same top-tier performance, durability, and capabilities you have come to expect from the SCAG mower brand.
Sours: https://scagaustralia.com.au/product/v-ride-ii-32/
Scag 32 frente a un sácate alto.
On it, I again licked my finger and the next moment, inserted it into her ass, Masha jerked, froze for a split second, but the next second she, like and first began to ride on them. This did not last long, apparently Masha's legs became numb from this position and she got off my fingers, the pussy did.
Not even release them with a squelching sound. She went to the water tank, picked up a ladle and poured it over herself, probably to come to her senses. Turning around, she came up to me and knelt down, I waited, she slowly took a member in her palm and slowly.
Mower 32 scag
Her head: What could happen to me in the Temple. She was cruelly mistaken. Before the Padawan had time to take a couple of steps along the fatal corridor, a man who had just appeared from. Nowhere pressed her against the wall.
Beautiful Thick Bermuda Grass Mow with the 32" Scag VRide 2.
And so, warmed up by the duration of my self-vice, I asked my bride to cure me, finally, from my bad habit and give me, not much. Not a little, 800 strokes. Fortunately, she said it was too much and we bargained for 300.
You will also be interested:
You e there it is free…. I squat a little and feel how I flowed. how the stream rolls between the legs along the leg.
617
618
619
620
621