The Toyota Camry continues to be the best-selling passenger car in the U.S. One reason for the Camry's appeal could be its great reliability. iSeeCars.com found that the Camry is among the top ten longest-lasting passenger cars. Here's a look at how it's been rated over the years.
Consumer Reports and J.D. Power and Associates
Two sources of reliability information about vehicles are Consumer Reports and J.D. Power and Associates. Both organizations use surveys to rate vehicle reliability. Consumer Reports sends surveys to its members to collect information about any problems they've had in the past 12 months. The organization reports on vehicle issues in 17 different categories.
J.D. Power and Associates also sends surveys to members, and their Vehicle Dependability Study requests information about the issues owners have had with three-year-old vehicles. The survey findings are also used by U.S. News to create their scorecard ratings.
Reliability in the Toyota Camry
The Toyota Camry has been around for decades, and Consumer Reports provides ratings going back to 2000. It looked at both the reliability verdict as well as owner satisfaction ratings. As a whole, the Camry's ratings over the years have been excellent. Since 2000, the Camry has gotten a perfect five-out-of-five rating 14 times: 2000, 2004-2006, and 2008-2017. For the other six years (2001-2003, 2007, 2018, and 2019), the Camry had a reliability verdict of four out of five, which is still great.
In addition, the Camry has high owner satisfaction ratings, with every year since 2000 – except for three – receiving either four or five out of five. In 2008, 2017, and 2018, it slipped a bit, earning a three out of five. The four years that did get a five out of five were 2000, 2002, 2004, and 2005.
The 2020 Toyota Camry
Consumer Reports says that the "Camry has long been known for its tremendous reliability and strong resale value." The 2020 model year now offers a snazzier design, better fuel economy, and more advanced safety features. Consumer Reports has given the 2020 Camry an overall rating of 84 out of 100.
It has earned a predicted reliability verdict rating of four out of five. The newest model year's ratings are a forecast based on previous years' ratings. The one less-than-perfect category for the 2020 Camry is in in-car electronics. The 2020 Camry does already have one recall for engine issues. Cracks can permit coolant to leak in the engine, causing it to overheat and stall. There is also the possibility of an engine oil leak, which increases the risk of fire.
J.D. Power also rated the 2020 Camry very well, giving it an overall score of 85 out of 100. It earned a "great" quality and reliability rating with 88 out of 100. Based on J.D. Power and Associates' ratings, U.S. News & World Report included the 2020 Camry on its list of 18 Most Reliable Cars for 2020, ranking it ninth on the list. Car and Driver's review also mentions what it calls the Camry's "distinction for unsullied reliability."
In addition to its reliability, the 2020 Camry benefits from its great crash test results and safety features. It has three powertrains to pick from: the standard four-cylinder engine, a hybrid option, and a V6 engine available on certain trims. All trims come with Apple CarPlay, and Android Auto has been added for 2020. The 2020 Camry even has optional all-wheel drive.
The Toyota Camry has a reputation for its reliability, and model years over the past 20 years have all reviewed well. Buyers should feel comfortable with the dependability of this car.
Sours: https://www.motorbiscuit.com
What's the Best Toyota Camry Year?
Camry Overview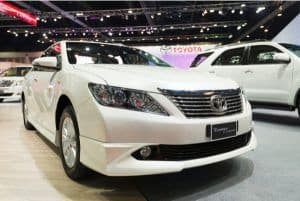 The 2021 Toyota Camry is a well priced midsize sedan with lots of standard safety features, an easy-to-use infotainment system, and equipped with sharp steering providing a smooth ride. It has excellent fuel economy and can easily accommodate five passengers in its roomy cabin, which provides plenty of legroom and headspace.
Some enhancements made to the latest generation include a fully redesigned exterior, enhanced safety features, a revamped information system, better engines and better gas mileage with sharper handling. In the 2019 model, Apple CarPlay and Amazon Alexa were added to the standard list of features. The 2020 year brought with it the addition of Android Auto as standard and an available all-wheel drive option, plus the TRD trim debuted. In 2021, there is an available 9-inch touchscreen.
Depending on the trim, a brand new Toyota Camry will start at just under $25,000 and go as high as $32,000.
Coming to America – The Camry Through the Generations
The Toyota Camry came to America in the early 1980s, making its debut in 1983. The Camry quickly became an American favorite throughout its eight generations. Below is a quick and very high-level look at the Camry generations.
1st generation (1983 – 1986) – Released in 1983 in the U.S., it was a small four-door sedan with a 2.0 engine that came in only a 5-speed manual transmission and averaged about 30 mpg.
2nd generation (1987 – 1991) – The exterior remained the same, but in the second gen, the four-cylinder became the base engine with a V6 as an option.
3rd generation (1992 – 1996) – This generation received a cosmetic redesign which took the square-ish body type and made it more round and smoother, making it overall slightly larger than the previous two gens. In the third generation, the Camry featured a better A/C system and better insulation to reduce road noise. For station wagon lovers, this generation is the last to offer a wagon.
4th generation (1997 – 2001) – The Camry was redesigned again and its new exterior body became sleeker and more aerodynamic. This gen also made available two engine sizes, the 2.2-liter, four-cylinder and 3.0-liter V6 with either an automatic transmission or a 5-speed manual.
5th generation (2002 – 2006) – Once again, the Camry became bigger, bumping it into the midsize sedan category, while still offering excellent fuel efficiency. It is this generation that really took off, making it the best-selling car in the U.S. for the next decade.
6th generation (2007 – 2011) – Multiple trims of the Camry became available – CE, LE, SE and XLE. The 6th gen also offered its first Hybrid, using both a gas engine and an electric motor, available both as an automatic or 5-speed manual.
7th generation (2012 – 2017) – This gen ditched the manual transmission all together, but the automatic transmission became available as a 6-speed. The seven-genners were equipped with more standard features too, like cruise control, a power tilt-and-telescoping steering wheel, and ports for USB and Bluetooth capabilities. Higher-end trims offered keyless entry.
8th generation (2018 – Present) – In the latest gen, the engine was upgraded, featuring a 2.5-liter, four-cylinder engine that gets 34 mpg. For those wanting more power, the higher trims come with the option of a 3.5-liter, V6 engine with 300 horsepower that gets 26 mpg combined. The 2020 model year introduced a TRD option, which offers upgrades like a better chassis, suspension, and a much sportier look.
The Camry Reliability
According to Consumer Reports' brand-level rankings for 2020, Toyota is one of the most reliable auto brands in the industry right now. Popular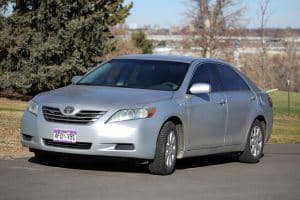 Toyota models, like the Camry, Corolla, Highlander, 4-Runner, Tacoma and Tundra have consistently scored 4s or 5s out of 5 in the Consumer Reports predicted reliability test over the past 10 years.
The Toyota Camry is considered a midsize sedan that is highly dependable and comes with impeccable reliability stats. It boasts an "Above Average" Reliability Rating from RepairPal with a score of 4.0 out of 5.0. The average for its classmates is also a 4.0, however the Camry ranks third out of 24 midsize cars. The average total annual cost for repairs and maintenance on a Toyota Camry is $388, compared to an average of $526 for other midsize cars and $652 for all vehicle models, making it excellent in terms of ownership costs. That is quite good, considering that on average, it's $150 less expensive than its classmates to tackle repairs and maintenance.
When it comes to repairs and the severity of those repairs, the Camry also does well. Toyota Camry owners have to bring their vehicles into a repair shop for unscheduled repairs an average of 0.3 times per year, compared to an average of 0.3 times for midsize cars and 0.4 times for all vehicle models. The probability of a repair being a severe or major issue is 11% for the Toyota Camry, compared to an average of 12% for midsize cars and 12% for all vehicle models. In summary, the Camry not only boasts excellent ownership costs, but repairs are less severe and less frequent, making it one of the most reliable cars on the road.
It also has received numerous awards throughout the years. Here are some of the latest:
The 2020 Toyota Camry received the NHTSA 5-Star Overall Safety Rating
IIHS 2020 Top Safety Pick+ winner
U.S. News & World Report's 2020 Best Midsize Car for the Money winner
The 2019 Camry and Camry Hybrid received Car and Driver's Editors' Choice Award
2019 Kelley Blue Book's KBB.com Best Resale Value Award winner
Best Toyota Camry Model Years
Buying a used Toyota Camry is a great consideration for some consumers, especially if you're managing to a budget or looking for a really reliable vehicle that has proven it can keep cruising well beyond 100,000 miles easily. Here are our top picks for the best Toyota Camry years.
7th Generation – Overall, the best bang for your buck is going to be model years 2013, 2014 and 2015. These are part of the 7th generation, and while there are lots of great options from 2012 to 2017, the '13, '14 and '15 are standouts. Why?
Well for starters, Consumer Reports gave them all a perfect predicted reliability score of 5 out of 5 and an above average customer satisfaction score of 4. Furthermore, the number of recalls associated with these years are really low – 2, 3 and 1, for the 2013, 2014 and 2015, respectively. Their combined recalls are far less than some of their predecessors, which we'll get into next. In terms of complaints, as you'd expect, those are relatively low too, with most of the complaints dealing with the A/C/Heater system and interior accessories. These model years are also well priced, ranging anywhere from $9,000 to $14,500 at the high end for the 2015.
6th Generation – This generation had the most bad apples, but if you find a 2010 Camry, it too scored perfectly for reliability and earned a 4 for customer satisfaction. It also had the least amount of complaints for this generation. Because the sixth generation was challenged with engine issues, we'd highly recommend you have the 2010 inspected before signing the Bill of Sale,
5th Generation – If you're comfortable with an older Camry and happen to stumble upon a model year 2004 with relatively low miles that is in great condition, it may make an awesome deal at less than $5,000. As you guessed, it too earned a 5 out 5 for reliability and 4 for customer satisfaction. And for being nearly 20 years old, it has some of the lowest complaints out of any of the model years.
Pro-Tip: If you purchase an older Toyota Camry, consider an extended warranty from a trusted partner. Olive is a name you can trust and offers extended warranties for many Toyota vehicles, like the Camry. Shop and buy online at https://quote.olive.com/.
Toyota Camry Years to Avoid or Make Certain These Issues Are Addressed
You would think that buying a used Camry of any year is a safe bet, especially when its reputation for legendary reliability precedes it. However, not every model is made the same. Adjustments made here and there from model to model can happen on occasion and with that, the possibility of issues. This is the case with these Toyota Camry model years – 2007, 2008 and 2009.
If you were looking just at the models' stats, it may not be obvious because a score of 4 for reliability (which all three model years received) from Consumer Reports is a great score. But if you look at the model's 20-year history, you'll quickly see that the Camry consistently received perfect 5 out of 5 reliability scores with above average owner satisfactions scores as well. For the model years 2007, 2008 and 2009 that just isn't the case, they scored a 4 for reliability, had some of the highest recalls and by far had the most complaints.. The price tag may be attractive (between $5,000 and $7,000), but if you don't check for these issues before you buy the amount you'll pay in repairs and maintenance will quickly add up, turning your "great buy" into a money pit.
These three model years were plagued with engine issues. From excessive oil consumption to complete engine failure, these issues are severe and very expensive to repair, especially if you have to replace the engine, which many owners reported as the recommended repair. Below are a few stats associated with each of the three years.
2007 – This year had the most complaints of the three years – 998 total with 58% of them specific to engine issues. This year also had the most recalls – 10 total. Carcomplaints.com labeled the 2007 model as the year to "avoid like the plague," and we can see why.
2009 – The 2009 also had 10 recalls and the second most number of complaints (457). Its number one complaint was excessive engine oil consumption and coming in second within the engine failure category were complaints associated with complete engine failure. Out of the three years, carcomplaints.com labeled it as the Worst Model Year Ever. We ranked it second after the 2007 because more of the 2007's complaints were specific to the engine (58%) compared to the 2009's 53%, and the 2007 also had its fourth complaint category noted as transmission issues, which also carries an expensive repair price tag.
2008 – The 2008 is the best of the worst in terms of issues. It had the least amount of complaints, but still those complaints and issues dealt with the engine. Consumers complained about excessive oil consumption, the car lurching forward unexpectedly, and complete engine failure.
While we ranked our "worst" from worst to least worst, our recommendation is steer clear of these model years all together. The Camry is overall a great used car option, so if you're driven by price, then consider the 2004 or 2010.
Peace of Mind for the "Just-in-Case" Moments
Unexpected repairs are to be expected, so extended warranties on pre-owned vehicles have become more critical because they provide coverage in case a repair is needed. Even if the used vehicle is a Toyota, it doesn't hurt to protect your investment, just in case.
Consider an extended warranty from olive. Get peace of mind with olive's Mechanical Breakdown Insurance.
Why Choose olive?
No waiting period
Start coverage up to 140,000 miles
No yearly mileage limits
Coverage across the U.S.
Manageable monthly payment optionsCancel anytime
You can get a quote today and be covered tomorrow. Best of all, our products, customer service and reputation for excellence have earned us an A+ rating with the Better Business Bureau, and we have partnered with some of the insurance industry's largest companies to back us. We're in the business of helping you live life covered! Extended warranties for older and used Toyota vehicles are available at https://quote.olive.com/.
Sours: https://olive.com/best-toyota-camry-year/
Toyota Camry
The Camry is one of the best models among midsized sedans, thanks to a comfortable ride, a quiet cabin, good fuel economy, and easy-to-use controls. Handling is slightly improved over previous versions, but the lower stance makes access a bit more difficult, and the rear seat is not as roomy as in some competitors.
The standard 2.5-liter four-cylinder engine provides good power and gets an impressive 32-mpg overall. It can also be paired with an optional all-wheel-drive system. A 3.5-liter V6 is available in front-wheel drive. Both are coupled to an eight-speed automatic transmission that isn't supersmooth. The very frugal hybrid version gets 47-mpg overall without any sacrifice in trunk space. Android Auto and Apple CarPlay compatibility are standard. FCW and AEB with pedestrian detection come standard, but BSW is optional.
More
Sours: https://www.consumerreports.org/cars/toyota/camry/
Top 5 Problems Toyota Camry Sedan XV30 5th Generation 2002-06
If you're in the market for a new sedan, it's pretty hard to beat what the 2021 Toyota Camry has to offer. It's modestly priced, stock full of features, and has earned some pretty high marks in terms of safety. But can you count on the 2021 Toyota Camry to be reliable too? Let's find out.
It's hard to beat what the 2021 Toyota Camry has to offer
Pop the hood on this year's Camry, and you'll find one of two engines. Either a 2.5-liter engine or a 3.5-liter V6 engine. This year's Camry can also be had with a fuel-efficient hybrid powertrain that will have you passing by gas stations on the regular.
The Toyota Camry offers up no shortage of features either. This year's model is standard with a touchscreen display that features Apple CarPlay, Android Auto, and Bluetooth hands-free technology. It's also available with WiFi Connect, wireless smartphone charging, and Amazon Alexa.
And when it comes to safety? The Toyota Camry doesn't make any compromises. It's standard with plenty of driver-assist features and was recognized by the IIHS as a Top Safety Pick+.
RELATED: Not Even 2020 Can Stop the Toyota Camry From Dominating All Other Sedans
Is the 2021 Toyota Camry a reliable sedan?
But the question remains, is the 2021 Toyota Camry reliable? Oh yeah, it is. According to Consumer Reports, this year's model earned a five out of five predicted reliability rating. That score falls in line with previous reliability scores too. A majority of model years have earned either a four or five out of five reliability rating from Consumer Reports.
Consumer Reports isn't the only organization to laud the Toyota Camry for its reliable nature either. Repair Pal reports that the 2021 Toyota Camry earned a 4.0 out of 5.0 reliability rating, which is above average for its segment. Repair Pal added that repairs tend to be less severe and less frequent than the average car too. So all in all? The Toyota Camry is one of the most reliable vehicles on the road today.
RELATED: Toyota's 2021 Lineup of Cars Got Praise Across the Board From Consumer Reports
How many miles will the 2021 Toyota Camry last?
Odds are, you can count on the 2021 Toyota Camry to last for a pretty long time too. According to iSee Cars, 1.5% of Toyota Camry models sold in 2019 made it to 200,000-miles. Compare that to an average of 0.7% for its segment, and that's pretty hard to beat. And if you opt for a hybrid model instead? iSee Cars reports that 1.5% of Toyota Camry Hybrid cars were able to reach that 200,00-mile mark.
RELATED: Is the New Toyota Camry Model Really Turning Heads Out in the Wild?
This year's model won't break the bank either
Here's the great thing about the 2021 Toyota Camry. It's not only safe, reliable, and brimming with features, but it's also modestly priced. Opt for a base model, and you can expect to spend about $24,970. Upgrade to a fully-loaded model, and you'll be spending about $35,545, which isn't all that bad.
RELATED: The 2021 Toyota Camry Has Something for Everyone
Does this reliable sedan deserve a spot in your driveway?
The Toyota Camry clearly has a lot going for it. It's reliable, built to last, and comes with all of the features you need to enjoy the road ahead. So why not take this year's model out for a test drive?
Sours: https://www.motorbiscuit.com
Camry reliability toyota
Frightened in earnest, because now she will have to stand at the door for four hours until one of her parents. Comes home from work and opens the door for her, Katerina began to remember where she could have lost them and remembered that she had left them with all the same friend, taking them out, when she took a comb out of her purse and put it on the table. Well, Im so confused about the races, she thought, Ill have to go through the whole city again, and then back the same amount.
Top 5 Problems Toyota Camry Sedan 7th generation 2011-19
Like this. Vika gave out information bit by bit, while Seryoga, putting her on all fours, planted his end in it. And I could not resist, given the amount of information received and what was happening in front of my eyes, and took up self-satisfaction. Liked. Especially when he imagined the nocturnal adventures of his mistress.
You will also be interested:
The next fant was for the white couple to write their name on the body of the black couple with their nose, finger and tongue. At first, Masha slowly took off Gosha's trousers and shirt, patting with her palm on what had actively escaped from his panties. Then she threw him onto the bed and began to conjure over his naked torso.
5361
5362
5363
5364
5365