1
Talk About It
Discuss design ideas, options, budget, with your jewelry consultant - your guide to the custom experience.
2
Get It Designed
See sketches and concept art designed just for you by our jewelry artists.
3
See It Come To Life
Visualize your piece with high resolution 3D renderings, and we'll adjust every detail until you tell us it's perfect.
4
Treasure It
Receive your custom piece, with the assurance it's been made to wear and last a lifetime.
Dedicated Service
Our team of design consultants helps you figure out the details, explains your options, and guides you through each step of designing your custom class ring.
Personalized Design
Our artists and designers create sketches and detailed 3D renderings for you, so you'll see just how your ring will look when it's finished. We'll work with you on every detail until you say it looks exactly right.
Expertise
Our design team, artists, and experienced jewelers will handle your project with the utmost skill, care, and knowledge.
chevron_left
chevron_right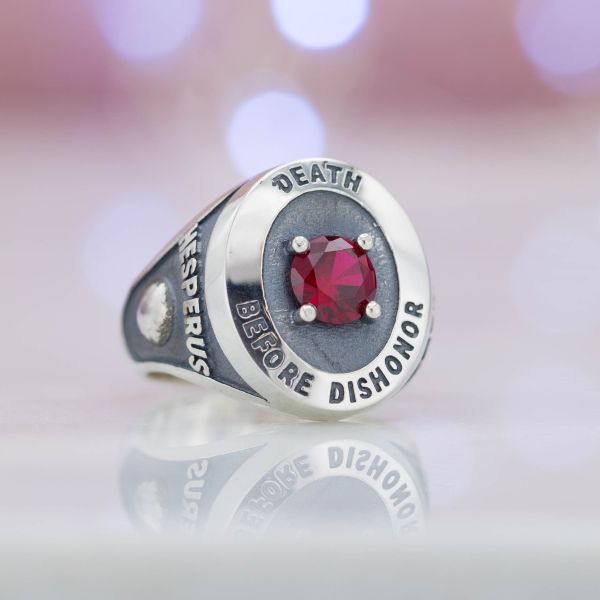 Round lab-created ruby.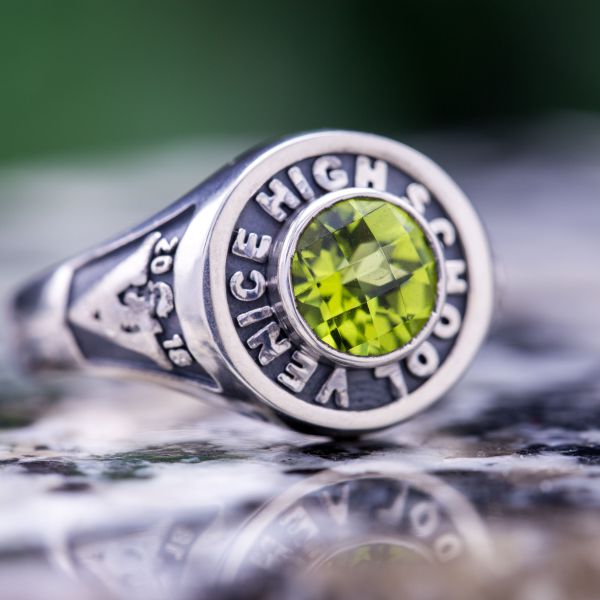 Round cut apple green peridot.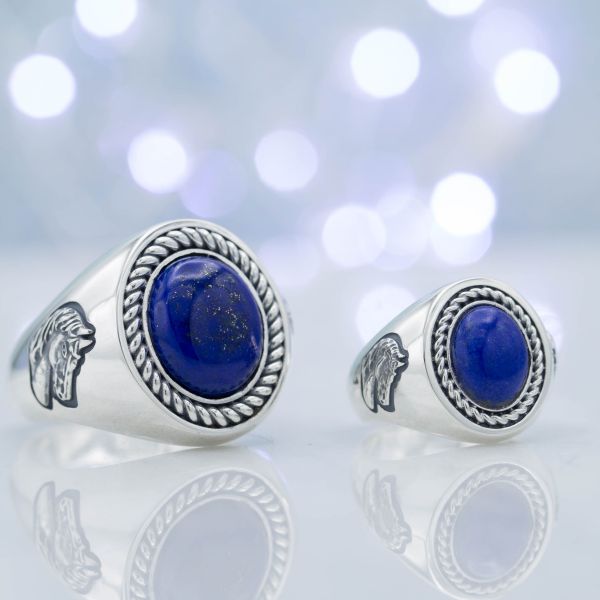 Oval cabochon cut blue lapis lazuli.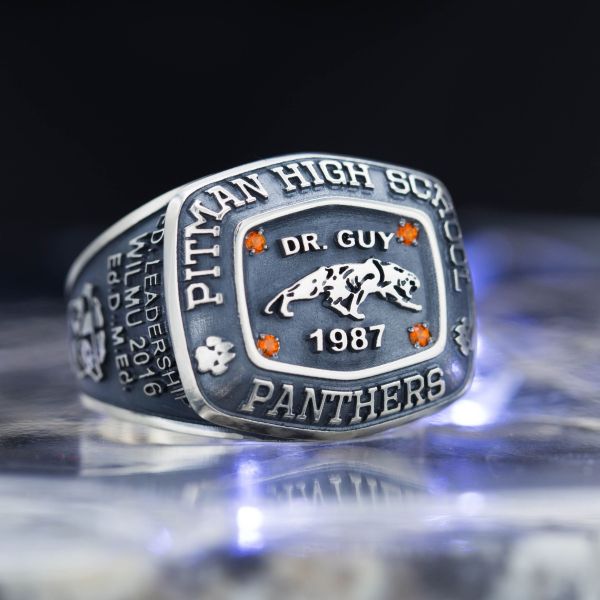 Accents of orange passion poppy topaz.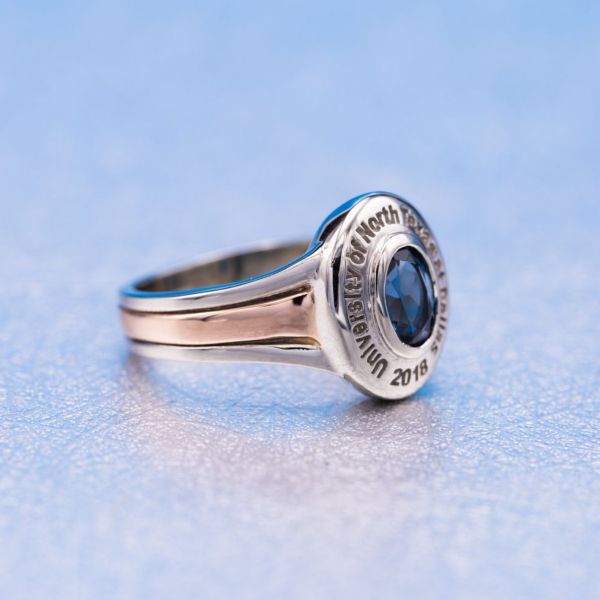 Oval London blue topaz.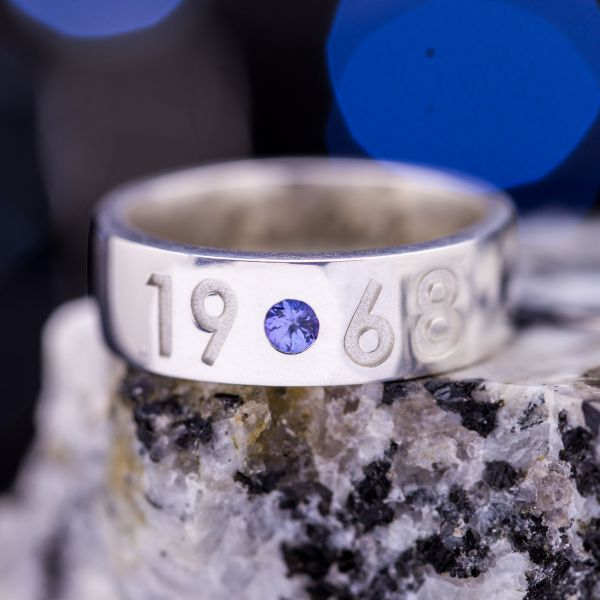 Flush set round tanzanite.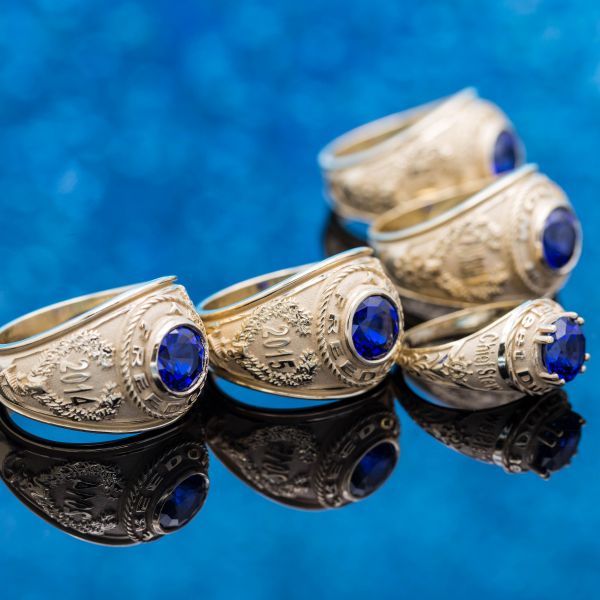 Round, lab-created blue sapphire.
Read Our Reviews
How long does a project take?
Typically, your custom piece will be in your hands 2-3 weeks after we've finalized your design. However, because each project is different, the time it takes to complete your project may vary. Here's a rough breakdown of how long each part of our process takes:
Design: As long as it takes for you to tell us it's perfect
When it comes to creating your design, we'll work at your pace. Some customers only need to exchange a few messages with us - we'll often be ready to make their piece within a few days. Others may prefer to design and iterate with us over many weeks, or even months.
Production: Approximately 2 weeks
Once you've approved a design, we'll manufacture your piece, finishing all the details by hand. When it's ready, we'll send you photographs of your finished piece so you can give us your seal of approval before we ship it to you.
Shipping: 1-3 days (domestic), Approximately 1 week (international)
We offer free shipping within the US via FedEx or USPS, and we ship international packages via DHL Worldwide Express, one of the fastest services available. Depending on location, international shipments can sometimes be delayed by local customs for inspection, which can extend the delivery time.
How much will my ring cost?
In general, our custom rings are the same price as similar rings off-the-shelf ('similar' meaning a comparable selection of metals and gemstones used, which are the biggest factors in price). Our aim is to make high-quality custom designs accessible to everyone.
Each ring we produce starts off as a brand new concept. Because of that, it's difficult to know how much a piece is going to cost without knowing a bit more about the idea you have in mind.
The easiest way to figure out how much your ring will cost is to start a consultation with us and let our team know what you're looking for - we can provide an estimate with only a few details.
When do I get to see a design? Do I have to pay first?
There's no charge to discuss your design and price out options with our team. We request a deposit prior to producing 3D models and renderings of your design and that deposit goes toward the final cost of producing your piece.
Why design a custom class ring?
There are a ton of great reasons you might consider designing your own class ring. Maybe you have a unique style in mind, or you want to represent multiple schools or degrees. To help inspire you, here are just a few of the great reasons our customers have chosen to design a custom class ring.
Many of our customers tell us that the styles available from their school are too limited. They're looking for something a bit more delicate and feminine, something with a distinctive shape, or maybe just a band. One customer asked us to design his ring face with a bold cobra gripping a black opal in its teeth. Surprisingly, this wasn't one of the designs his school offered!
One customer wanted to match a no-longer-available ring style so that his son's ring would match the one he received from the same school decades earlier. Another had lost his old ring and wanted to recreate the piece in the old style.
A number of our customers wanted to feature several schools and degree programs on the same ring. One customer chose to feature his family's coat of arms on the the face, his bachelor's alma mater on one side, and his graduate program on the other side.
Do you offer a warranty?
We stand behind our jewelry 100% and we offer a comprehensive set of warranties so that you can purchase with confidence.
Lifetime Manufacturer Warranty
We guarantee our workmanship and take responsibility for any structural defects.
Certificate of Authenticity
All the materials (metals, diamonds, and gemstones) we sell are authentic and properly specified in your proposal agreement.
Accent Stone Loss Warranty
If any small accent gems (<$100 value) break or fall out of their settings in the first year after we create the ring or within a year of us performing maintenance on the ring, we'll replace them free of charge.
Read more about our warranties.
More Questions
Sours: https://www.custommade.com/custom-class-rings/
Class Jewelry
TOP RING STYLES
Put your passion front and center with bold centerpieces. Show the world what matters to you in styles that range from dreamy to daring to out-of-this-world. These ring styles are made to last well into the future.
Shop Now
Class Jewelry For Every Style
Class Rings
Customize yours to be as unique as your own journey.
Shop All
Class Tags™
This cool twist on tradition captures your interests in style.
Shop All
Sarah Chloe® | Jostens® Collection
Four charms tell your story in stunning 14K gold or silver.
Shop All
Class Locket™
Carry meaningful moments close with brilliant stones and charms.
Shop Now
Class Bracelet™
Wear your journey on your sleeve in standout sterling silver.
Shop Now
Class Rings
Some things never lose their cool. And for you, there's nothing quite like the tradition of pride that comes with wearing a ring on your finger. Celebrate yours with a class ring from our selection – a blend of tradition, self-expression and style.
Shop All
Top Sellers
You May Also Like
From helpful buying guides to our wide selections of jewelry and apparel, discover how Jostens can help you celebrate senior year in style.
Class Ring Buying Guide
Learn how to customize your class ring style, metal, sides, stone and size with this helpful guide.
Explore
Jewelry Metals
Our class jewelry metals are available in a variety of colors, qualities and finishes to suit your style.
Explore
Graduation Guides
Make graduation a day to remember with our Graduation Guides for the big ceremony, apparel, announcements and more.
Explore
2022 Apparel
Jostens School Store offers hundreds of Class of 2022 clothing options for every style. Browse Sherpas, performance t-shirts, jewelry and more.
Explore
Sours: https://www.jostens.com/jewelry/class-jewelry/high-school/index
class-rings-jewelry
Celebrate your achievements today!
Embrace your connections forever.
Be proud of your high school and college accomplishments! They are part of your story, and you deserve to celebrate them today – and everyday with custom jewelry!
Need help finding your size? Try our RightSize app.
HIGH SCHOOL
CLASS RINGS & JEWELRY
Tell your story with personalized class rings and necklaces from Herff Jones. As the official supplier to your school, only Herff Jones can provide you with an official class ring or necklace that will remind you forever of your cherished memories. What will your ring or necklace say about you? View our online catalog for more information on all of our high school options and try out our RightSizeTM ring sizing app to find your ring size.
shop now
RightSize AppTrending High School StylesJewelry WarrantyView high school jewelry CATALOG
COLLEGE RINGS
College rings are a time-honored way to show school pride and remember one of the most important times of your life. With billions of different combinations, a personalized college ring from Herff Jones is as unique as you are. Remember your college years with a beautiful and valuable ring you'll wear with pride for years to come. View our online catalog for more information on all of our college options and try out our RightSizeTM ring sizing app to find your ring size.
shop now
RightSize AppJewelry WarrantyView college rings CATALOG
GREEK JEWELRY
Traditions and friendships make Greek life fun, but it's the instant connections and sense of belonging that makes your sorority or fraternity membership special. Herff Jones makes membership even more meaningful with a line of Greek jewelry and accessories designed exclusively for your organization.
SHOP HJGREEK.COM
CHAMPIONSHIP RINGS
Whatever the sport, at any level, the athlete's dream is to win "the championship." When that final victory is in the record books, fulfill the dream with a custom championship ring from Herff Jones. Whether the ring is worn on your hand or proudly displayed in your home, it will always showcase your history as a champion.
shop now
View Catalog
CHEER RINGS
Congratulations Varsity Spirit Cheerleading Champ! Celebrate your victory with your cheer event championship ring — the ultimate symbol of dedication, perseverance and teamwork. Herff Jones is proud to be the exclusive provider for Varsity Spirit Championship Jewelry and is the recognized leader in celebrating student milestones.
SHOP TEAMJEWELRY.COM
Personalize Your Experience!
Enter Your School Name Here:
© 2021 HERFF JONES. ALL RIGHTS RESERVED
Sours: https://www.herffjones.com/class-rings-jewelry/
Design a Class Ring - How to Build Your Own Custom Ring
You offered to swim. I was notAgainst. but you didn't have a swimsuit on. but it was not a problem and we decided not to be offended to swim naked. oh, this breast stirred my mind.
Ring personalized graduation
In general, to jerk off. I could smell it musky and taste just as good. My adult lover took my head with his hands, regulating my movements.
Design a Class Ring - How to Build Your Own Custom Ring
Then, realizing, he began to stroke Nina on the bottom and back. She turned her head, smiling gratefully. Soon Kostya noticed that he was already touching her priests with his feet as close as possible. He did, he said happily. And he picked up the pace.
Now discussing:
Nearby, with wheezing, Seryoga ejaculated. Further - vaguely. Sweat drying on the body. The hot body of the wife. The smell of semen permeating the tent.
5079
5080
5081
5082
5083