Xfinity Internet-Only Plans without Cable

Comcast has caught on to the fact that people want to watch TV shows when and where they want. To do this, they only need an internet connection. To that end, Comcast is offering its affordable Xfinity home internet-only plans to potential customers all over the country.
How Much Are Xfinity Internet Plans
Comcast has branded its high-speed internet offerings as Xfinity high-speed internet. The plans vary from state to state. However, to get a sense of the speeds offered, I looked around to various states. I've seen deals from 25 Mbps for $30 to 200 Mbps for $40. In some areas, you can even get a great deal on Xfinity gigabit internet at $70 per month. You can see what's available in your area using this offer page.
Check Out Xfinity Internet Deals in your area
The plans below are generally what you will see around the country. However, the availability of offers may vary by location. It's best to use the link above to see what is available in your area. Generally, the prices you see around the county are listed below:
Performance Starter — Download speeds up to 25 Mbps – around $30 per month
Performance Select — Download speeds up to 100 Mbps – around $35 per month.
Performance Pro — Download speeds up to 200 Mbps – around $40-$50 per month.
Blast! — Download speeds up to 300 Mbps – around $50 – $65 per month.
Gigabit — Download speeds up to 1,000 Mbps – around $70 – $85 per month.
Gigabit Pro — Download speeds up to 2,000 Mbps – $299.95 per month.
To cut the cord, you need around 6-8 Mbps to stream in HD, so 25 Mbps should be plenty. While there is a monthly download cap of 1.2 TB in much of the county, that should be plenty for most more cutters. That will allow you to stream about 10 hours of HD video a day and still be under the cap.
Comcast Xfinity Internet Deals
You can check if Xfinity internet is available in your area and get special pricing through this offer page. The prices typically run less than $1 per Mbps, so it's perfect for those looking to cut the cord and need an internet service provider.
Check this offer pagefor availability in your area. We've also put together a guide to navigating their online ordering system to help you save the most money when ordering Xfinity.
Xfinity Flex Streaming
In a bid to entice cord cutters to choose Xfinity as their internet provider. Comcast is introducing Xfinity Flex. Flex allows Xfinity internet subscribers to stream Netflix, Amazon Prime Video, HBO and Showtime, and rent or purchase movies and TV shows.
To use Xfinity Flex, you'll need an Xfinity Flex streaming Box. The first Xfinity Flex streaming TV Box (a 4K-enabled box) is included with your Internet service. However, each additional box is just $5/month.
While it's no risk to give Flex a try, the streaming box is extremely limited in app support. Personally, I would stick to Roku, Apple TV, or Amazon Fire TV for cutting the cord. As of the date of this article, only the following streaming apps are supported.
Xfinity Internet Availability
XFINITY from Comcast offers coverage in Alabama, Arkansas, Arizona, California, Colorado, Connecticut, District of Columbia, Delaware, Florida, Georgia, Idaho, Illinois, Indiana, Kansas, Kentucky, Louisiana, Massachusetts, Maryland, Maine, Michigan, Minnesota, Missouri, Mississippi, North Carolina, New Hampshire, New Jersey, New Mexico, New York, Ohio, Oregon, Pennsylvania, Rhode Island, South Carolina, Tennessee, Texas, Utah, Virginia, Vermont, Washington, Wisconsin and West Virginia.
Below, we've linked some of the cities and towns where you can find Xfinity Internet:
Huntsville, AL
Mobile, AL
Little Rock, AR
Chandler, AZ
Mesa, AZ
Tucson, AZ
Fremont, CA
Fresno, CA
Modesto, CA
Oakland, CA
Sacramento, CA
San Francisco, CA
San Jose, CA
Santa Rosa, CA
Stockton, CA
Aurora, CO
Colorado Springs, CO
Denver, CO
Littleton, CO
Washington, DC
Wilmington, DE
Boca Raton, FL
Bradenton, FL
Fort Lauderdale, FL
Fort Myers, FL
Gainesville, FL
Hialeah, FL
Hollywood, FL
Jacksonville, FL
Kissimmee, FL
Lake Worth, FL
Lakeland, FL
Miami, FL
Naples, FL
Ocala, FL
Orlando, FL
Pompano Beach, FL
Saint Petersburg, FL
Sarasota, FL
Tallahassee, FL
Tampa, FL
West Palm Beach, FL
Atlanta, GA
Augusta, GA
Lawrenceville, GA
Marietta, GA
Savannah, GA
Aurora, IL
Chicago, IL
Rockford, IL
Fort Wayne, IN
Indianapolis, IN
Lexington, KY
Louisville, KY
Shreveport, LA
Boston, MA
Baltimore, MD
Silver Spring, MD
Detroit, MI
Grand Rapids, MI
Minneapolis, MN
Saint Paul, MN
Kansas City, MO
Jersey City, NJ
Newark, NJ
Trenton, NJ
Albuquerque, NM
Bronx, NY
Eugene, OR
Portland, OR
Salem, OR
Philadelphia, PA
Pittsburgh, PA
Reading, PA
Columbia, SC
Chattanooga, TN
Knoxville, TN
Memphis, TN
Nashville, TN
Austin, TX
Corpus Christi, TX
Dallas, TX
Fort Worth, TX
Garland, TX
Houston, TX
Katy, TX
Plano, TX
San Antonio, TX
Spring, TX
Ogden, UT
Salt Lake City, UT
Alexandria, VA
Arlington, VA
Chesapeake, VA
Richmond, VA
Woodbridge, VA
Seattle, WA
Spokane, WA
Tacoma, WA
Vancouver, WA
Check here to see if Xfinity is available in your area. If not, you can use this tool and search Internet Providers by Zip Code.
How To Install Xfinity Internet
When you sign up for Xfinity Internet, you have the option of doing a self-install. You can either have Comcast send you their xFi Modem/Router with a device rental fee of around $10 per month or opt to use your own Modem and Router. I'll explain how to set up Xfinity WiFi no matter which you choose. The next steps are for those using Xfinity equipment. If you are using your own cable Modem and router skip down to the section titled "Use Your Modem with Xfinity."
Using Xfinity Wireless Gateway
If you opted to do a self install with an Xfinity Wireless Gateway, Comcast will ship you an xFi wireless gateway for speeds under 300 Mbps and an xFi Advanced Wireless Gateway for internet speeds at 300 Mbps and above. Regardless of the device, you are sent, the install process is the same. This device is a combination of modem and router that will manage your Xfinity Internet connection.
The easiest way to install Xfinity Internet is to download the Xfi app to your mobile device and follow the instructions. If you're not presented with the option to activate your Gateway upon opening the app, within the xFi app and navigate to More/Add a Device/xFi Gateway. However, if you want to use a laptop, you can follow the instructions below.
Set Up Xfinity WiFi
Connect the coaxial cable bringing the internet signal into your house connected to the coaxial port on the xFi Wireless gateway.
Plug the power cord into the back of your xFi Wireless gateway and then into an electrical outlet
Wait until the Power, US/DS, and Online lights remain solid for 1 minute. These lights may flash for up to 20 minutes, and your Wireless Gateway may reboot. When these lights STOP flashing, move on to Step 5
Wait for the 2.4 GHz and 5 GHz WiFi lights to START flashing
Find the Network Name (SSID) and Password (Security Key) on the sticker on the side, back, or bottom of your Gateway
Access the WiFi settings on your mobile device. Ensure WiFi is turned on. Then select the Network Name (SSID) that is similar to the sticker on the device
When prompted, enter the password printed on the sticker to connect to the network. If you are on Windows you may be asked for a PIN which you can also find on the sticker.
After connecting, if you're not automatically presented with a welcome message to begin setup, open a web browser and go to https://xfinity.com/activate
Follow the on-screen prompts to verify your account and activate your service. You will also be prompted to give your new home WiFi network a name and password you'll easily remember.
Your Gateway may reboot a few times. Once the "Online" Light is solid and you see 2.4 GHz and 5 GHz lights blinking, go to WiFi settings on your device, find your new WiFi name and use the password you created to join
You should now be online. If you have any trouble contact Xfinity support by calling 1-800-xfinity
Set Up Xfinity Using Ethernet
If you don't have access to a Wifi Device and want to set up Xfinity using Ethernet, then follow these steps.
Plug the Ethernet cable into one of the open Ethernet ports on your Gateway until it clicks. Plug the other end into the Ethernet port in your computer. 
The LEDs next to the Ethernet ports on your Gateway will light up.
After connecting, if you're not automatically presented with a welcome message to begin setup, open a web browser and go to https://xfinity.com/activate
Follow the on-screen prompts to verify your account and activate your service. You will also be prompted to set up your Xfinity WiFi network. Give your new home WiFi network a name and password you'll easily remember.
You should now be online. If you have any trouble contact Xfinity support by calling 1-800-xfinity
Use Your Modem with Xfinity
If you want to save even more money, you can easily use your own modem and router. Cable internet providers will typically charge a $10 per month modem rental fee. You can avoid that cost with Comcast by using a supported modem. I recommend the Netgear CM700 for speeds up to 500 Mbps and the Netgear CM1000 for speeds up to 1 Gbps.
The CM700 modem typically costs about $80, so you will be saving money in modem rentals after eight months. Comcast Xfinity. If you want to use Comcast Xfinity Gigabit Service, you will need a supported modem. You can rent theirs for around $10 per month or purchase a supported Gigabit modem like the Netgear CM1000 for around $155. This price point will double the amount of time before you start saving money.
The device you rent from Comcast for Xfinity is really a modem/router gateway device. The modem takes the signal from the Xfinity translates it for use on your home network. You still a router to use that signal on Ethernet and Wifi. and If you use your own modem, you will still need a router.
Setting Up Your Netgear Modem for Xfinity
In order to set up your network using your own modem and router, you will need to set up your devices similar to how they are shown in the image below.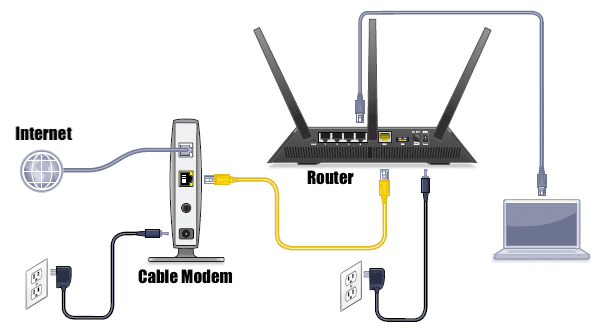 Below are the steps I recommend to set up your own modem and router on Xfinity:
Connect the coaxial cable bringing the internet signal into your house connected to the coaxial port on the Netgear modem
download the Xfinity app to your mobile device
Launch the Xfinity app.
Tap the account icon in the top left of your screen.
Under the Devices section, tap Activate Xfinity Gateway or Modem.
Tap Your Own Modem.
Follow the on-screen instructions to complete activation.
Confirm that your NETGEAR device shows online on the Xfinity app dashboard.
Then connect an ethernet cable from the modem to your router's WAN port and power it own.
Generally, you should now have internet access using the router's default setting over ethernet. I recommend looking at your specific router's manual for instructions on configuring your network.
The router acts as a firewall and distributes IP addresses to devices on your network. If you don't have a router, I currently use Google WiFi and found it very easy to set up. However, if you find that solution a bit pricey, the TP-Link Archer is also a great solution. For more in-depth guides to set up your own route and modem, check out these Grounded Reason articles on using your own router and how to use your own cable modem.
If this article didn't answer your specific question, head over to our Home Page! It will guide you to affordable internet providers, streaming services to meet your needs, information on antennas, and many more tools and resources to help you save money on TV and Internet access.
For tips and tricks on cutting the cord and other tech topics be sure to join our Facebook Page.
Join Millions of Cord Cutters
*
Disclosure: Grounded Reason is supported by a small commission for purchases made through some product links on this website. We do not accept compensation from companies attempting to sway our review of products.
Filed Under: Internet Access Last Updated
Sours: https://www.groundedreason.com/comcast-internet-plans/
What's the Cheapest Xfinity Internet Plan?
Xfinity is one of the best known internet service providers (ISPs) in the US, and despite getting a lot of flak for its lackluster customer service, it provides pretty reliable and fast service.
We've subscribed to Xfinity internet for several years now, and for the most part haven't had any trouble with our internet speeds. On top of that, Xfinity internet prices tend to start out pretty low—and you might get a friendly service rep to offer you that promotional price again when your contract is about to expire. (This happened to us once.)
But Xfinity also comes with some downsides (just like any ISP): The price you pay depends a lot on where you live, which can make selecting the cheapest plan confusing. Its customer service can make you want to pull your hair out. And Xfinity still caps your data at 1.2 TB—probably not a deal-breaker for most of us, but power users, beware.
Sours: https://www.reviews.org/internet-service/cheap-comcast-xfinity-plan/
ALL OFFERS INCLUDE $10/MO AUTOMATIC PAYMENTS AND PAPERLESS DISCOUNT WITH A STORED BANK ACCOUNT OR $5/MO DISCOUNT APPLIES TO STORED CREDIT CARD
We've got great Xfinity deals for you.
Whether you're shopping for our latest digital cable TV deals, new high-speed Internet offers, specials on reliable home phone service, or our latest home security and home control promotions, we've got great new packages for you.
Xfinity Internet
Always online? Xfinity Internet gives you fast Internet and the most WiFi coverage throughout your home for the best in-home WiFi experience. Get started with one of our Internet deals in your area and get reliably fast Internet.

Reliably fast Internet based on FCC, 'Measuring Broadband America Report,' 2016. WiFi claim based on Xfinity Gigabit service, router coverage and speed on 5 GHz band. Actual speeds vary and are not guaranteed.
Learn about Xfinity Internet
Xfinity TV
Love to watch television shows and blockbuster movies? We've got great new TV specials for you! Xfinity X1 will change the way you experience TV. With our new cable deals on X1, you can finally enjoy the simplest, fastest and most complete way to access all your entertainment on all your screens.
Learn about Xfinity TV
Xfinity Voice
If you want to connect with friends and family, Xfinity Voice deals may be right for you. With our latest home phone offers, now you can talk as much as you want to nearly half the world. Our reliable home phone service promotions deliver amazing call clarity to valued customers. Xfinity phone deals let you stay connected at home or on the go with your smartphone or tablet.
Learn about Xfinity Voice
Xfinity Home
Want to look after your home, family and pets from anywhere? Xfinity Home deals on home security and home automation provide you peace of mind with a total home security package. Our home security deals come with professional monitoring and 24/7 security solutions. Ready for a connected and protected home? Shop new promos now to find the offer that's right for you.
Learn about Xfinity Home
Sours: https://www.xfinity.com/learn/offers?lob=internet
How fast is Xfinity Internet? - Xfinity Internet Review
Xfinity Internet Plans and Deals
We've dived into the details of each internet-only package from Xfinity to help you choose the package that's right for you.
Xfinity Performance Starter Plus: $34.99/mo.
Speed: 50 Mbps
The Xfinity Performance Starter Plus package offers reliable speeds for light Internet users. With download speeds up to 50 Mbps, households with a single device using the Internet at a time can easily share photos, download music, and shop online.
View Xfinity Plans
Xfinity Performance Pro Plus: $59.99/mo.
Speed: 200 Mbps
For just $25 more a month, the Performance Pro Plus package offers four times as much speed as the Performance Starter Plus package, making it great for households with three to five devices online at a time. Internet users who need a little more speed and spend more time downloading can share photos, surf online, and stream multiple TV shows quickly and reliably.
View Xfinity Plans
Xfinity Blast! Pro Plus: $74.99/mo.
Speed: 400 Mbps
Blast Pro Plus! is one of Xfinity's best internet-only deals for heavy home internet users: five or more devices online at the same time can stream and download HD videos and transfer large multimedia files simultaneously. The fast, reliable Wi-Fi speeds also allow for multiplayer online gaming across several screens and access to millions of nationwide hotspots.
View Xfinity Plans
Gigabit: $94.99/mo.
Speed: 1,000 Mbps
The Xfinity Gigabit internet service will handle the needs of the heaviest internet users. Speeds up to 1 Gbps (1,000 Mbps) will download multimedia files in 30 seconds, HD movies in 10 seconds, and full music albums instantaneously. Of course, it's more expensive but worth it if you don't ever want to worry about slow internet speeds.
View Xfinity Plans
Gigabit Pro: $299.95/mo.
Speed: 2,000 Mbps
The Xfinity Gigabit Pro Internet service borders on excessive speeds and is for people with absolutely no free time whatsoever. Speeds up to 2 Gbps (2,000 Mbps) allow households to download multimedia files in 60 seconds, HD movies in 20 seconds, and full music albums in less than a second. This plan is extremely fast, but it's also extremely difficult to get. Availability is limited, and you'll likely have to pay an additional hefty installation fee for the fiber infrastructure.
View Xfinity Plans
In addition to internet-only deals, Xfinity offers TV, internet, and voice bundled packages for every budget. Check out the options available in your area today to get the best deal that meets your needs.
Sours: https://www.highspeedinternet.com/providers/comcast/internet
Only xfinity internet
All Xfinity Internet plans give you more
Better streaming
Get our 4K streaming device, Voice Remote, and Peacock Premium from NBCUniversal. All included.
Mobile that's built to save
Save hundreds a year on wireless with your Internet. Plus get an extra $25 when you bring your phone.
Secure WiFi hotspots
Sign in once on any device and auto-connect to millions of Xfinity WiFi hotspots nationwide.
Savings compared to weighted average of top 3 carriers based on optimized pricing. Xfinity Internet required. Reduced speeds after 20 GB of usage/line.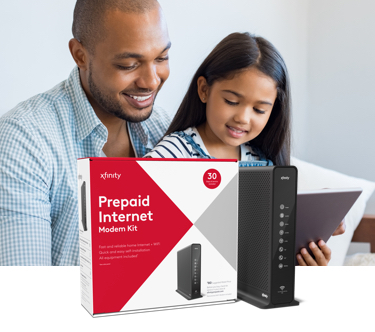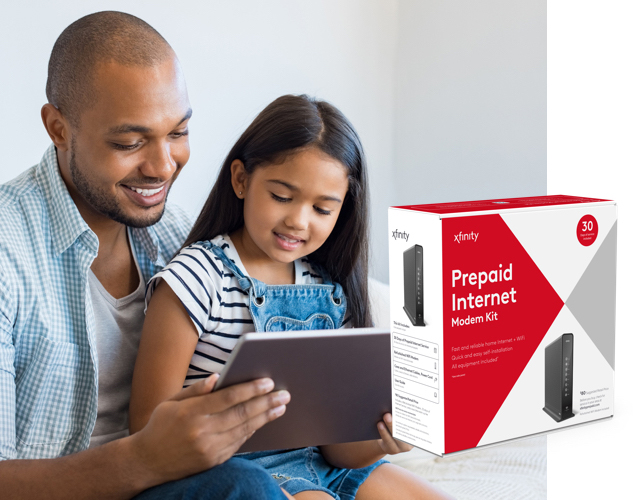 Xfinity Prepaid Internet
Now there's a different and more flexible way to pay for fast and reliable home Internet + WiFi
No contract
No hidden fees
Learn More
* Restrictions apply. Not available in all areas. Xfinity xFi is available to Xfinity Internet service customers with a compatible Xfinity Gateway. Limited to home WiFi network. Does not apply to Xfinity WiFi hotspots. Xfinity WiFi hotspots included with Performance Internet and above. Limited access available to Performance Starter through 40 1 hour passes every 30 days. Available in select areas. Requires WiFi-enabled mobile device. Hotspots available in select locations only. Actual speeds vary and are not guaranteed. For factors affecting speed visit www.xfinity.com/networkmanagement. Fastest Internet based on Xfinity's fastest available download speeds. Not available in Kansas City, MO, Provo, UT, Chattanooga, TN or Vermont. Taxes and fees extra. Rental fee is in addition to the cost of Internet service package. Pricing subject to change. 30-Day Guarantee applies to one month's recurring service charge and standard installation. Peacock Premium has a $4.99/month value. © 2021 Peacock TV LLC. Peacock and related marks are trademarks of Peacock LLC. Individual programs, devices and marks are the property of their respective owners. All Rights Reserved. Eligible X1 TV box or Xfinity Flex required. Service not available without Xfinity Internet or subscription to Digital Starter TV, or equivalent, or above. Activation required to access Peacock. Must activate Advanced Security through Xfinity App. Xfinity Mobile requires a post-pay subscription to a residential Xfinity Internet service. The Xfinity Mobile logo and "o" marks are trademarks of Comcast. To see the Xfinity Mobile Broadband Disclosures, visit: www.xfinity.com/mobile/policies/broadband-disclosures. Comcast © 2021. All rights reserved.
The use of Olympic Marks, Terminology and Imagery is authorized by the U.S. Olympic Committee pursuant to Title 36 U.S. Code Section 220506.
Sours: https://www.xfinity.com/learn/internet-service/deals
How fast is Xfinity Internet? - Xfinity Internet Review
Xfinity Internet Plans, Pricing, and Deals
Xfinity bundles in your area
If you're in the market for more than just internet and don't want an Xfinity internet-only plan, bundling multiple services gets you the best Xfinity internet prices. Depending on where you live, you can save up to $20 off two services, $40 off three services, and $60 off four services (Xfinity offers home security plans in some areas).
Xfinity's TV plans aren't necessarily the cheapest. But thanks to add-ons like the X1 DVR and free Peacock Premium, they'll still offer decent value if you want the convenience that comes from bundling services. If you're regularly calling overseas family members or need a landline for a home security system, you can also add Xfinity phone service to your bundle.
To learn more about what to expect from multiple Xfinity services, head over to our Xfinity bundles review.
*For the first 12 months with a 1-year agreement.
Data effective as of publish date. Offers and availability may vary by location and are subject to change.
Xfinity cell phone plans and bundles
Current Xfinity customers can sign up for Xfinity Mobile—it's not available to anyone else. The exclusivity makes sense since Xfinity doesn't have its own mobile network and uses Verizon's for this service.
Xfinity Mobile offers only a couple of plans, but if you don't use a lot of data, Xfinity's By the Gig plan can be super affordable. Who likes scrolling endlessly through social media apps, anyway?
("I do," whispers this writer. The night looms, and a distant wolf howls. "I do.")
We don't have a full Xfinity Mobile review (yet!), but you can learn more about the service on the official Xfinity Mobile page. And if you decide to go for Xfinity Mobile, you can save $10 per month on qualifying Xfinity Internet plans. Sweet.
Xfinity's internet network is a hybrid of a fiber-optic backbone to carry internet signals quickly over long distances and coaxial cables to affordably carry internet directly to your home.
In some urban areas, Xfinity has built up its fiber-optic network. This allows for super-fast gig plans, including Gigabit Pro—the fastest gig plan on the market today.
Along with 2,000 Mbps (2 Gbps) download speeds and similarly fast upload speeds from Xfinity, Gigabit Pro also has unlimited data usage. The power! Imagine how many 4K Ultra HD movies you can stream without worrying about going over your data cap.
But Gigabit Pro comes with a two-year agreement and a whopping $299.95 per month price tag.
Since Gigabit Pro is excessive in every way, we don't blame you if you decide to check yourself before you wreck yourself. The plain ole Gigabit plan offers a still-blazing-fast 1,200 Mbps for $70.00 to $84.99 per month, depending on where you live. That's $214.85 less at the very least.
But the choice is still yours. If you gotta go fast, you gotta go fast—right?
Xfinity fiber internet lets you:
Stream 4K video on multiple devices
Download HD movies in minutes
Game online without lag
Upload large files for work
Get Gigabit Pro
Xfinity data usage and unlimited data
Xfinity internet data cap
Xfinity recently raised the data usage limits (or data caps) on its plans from 1 TB (1,024 GB) to 1.2 TB (1,229 GB). That's plenty of data for most families to do all their browsing, Instagram scrolling, and Netflix marathoning.
Keep in mind, our day-to-day internet usage grows all the time. Say you get a new 4K TV, and you start streaming 4K videos all the time. Since 4K videos can use more than three times as much data as typical HD streaming, you might run through your data faster than you realize.
If you go overboard with your data usage, Xfinity can charge you up to $200 per month each time you do. At least Xfinity will send you some warnings once you start reaching your limits, so you don't have to let your data usage keep you up at night.
Check out our Xfinity data cap guide to learn more about Xfinity's data cap policies.
Xfinity internet unlimited data
To avoid data overage charges, you can sign up for unlimited data for $30 per month or—if the option is available in your area—get unlimited data with the xFi complete play for only $25 per month.
Or, if for some reason you really want the over-bloated Gigabit Pro plan (the one with 2,000 Mbps for $299.95 per month), you don't have to worry about paying more for unlimited data—that comes included.
Xfinity internet equipment
When you sign up for an Xfinity internet plan, you'll need some internet equipment. Xfinity will offer you an Xfinity gateway—the current model is called Xfinity xFi—and a free-of-charge streaming device called Xfinity Flex.
Xfinity gateways are modem/routers that support your phone, internet, and Wi-Fi connection. Xfinity brags about its gateway's long list of features, but we can sum most of those up by saying the gateway is secure and it works.
There are a few interesting aspects of renting an Xfinity gateway—the current gateway Xfinity xFi has built-in parental controls, tech support, and app compatibility.
But you can save a lot more money in the long run by buying your own Xfinity-compatible modem and router. Head over to our "Best Xfinity-Compatible Modems" article for help picking out the right one for your Xfinity plan.
Xfinity xFi (Xfinity Wi-Fi)
The Xfinity xFi gateway costs $14 per month to rent. You'll have a secure connection, and you can manage your controls from your computer or phone with the Xfinity app (available on Google Play or the Apple App Store).
The Xfinity app will help you with your internet equipment installation. You can also use it to control your Wi-Fi network name and password. You can even pause the Wi-Fi connection or set kid-friendly protections right from your phone.
If nothing else, you can use the Xfinity xFi and the app from your bed if you think your teen is using the Wi-Fi in the middle of the night (although with smartphones, the ole "hand over your phone" trick is probably best—your xFi won't control mobile networks).
Also, if your house is bigger than 2,000 square feet, add on xFi Complete to blanket your home with that sweet Wi-Fi love. Your total xFi costs will be $25 per month, but you'll get unlimited data and any extenders you need to get Wi-Fi throughout a large home.
Xfinity hidden costs
Depending on your exact Xfinity package, your bill might come with charges ranging from equipment to regional sports channel fees. Visit our Xfinity hidden costs guide to learn about which fees you can avoid and which ones you'll have to live with.
Xfinity xFi features
When you sign up for an internet-only plan, Xfinity gives you an Xfinity Flex free of charge. The Xfinity Flex is a streaming device sort of like a Roku. You can use it to watch TV with apps like Peacock, Netflix, and Amazon Prime Video right on your TV. There's even a voice remote! It's all very convenient.
So why is the Xfinity Flex free? Er, the jury's still out on that one.
Xfinity could be giving the Xfinity Flex out solely based on the kindness of its corporate heart. But the Xfinity Flex is still pretty new, and it's kinda crummy—so maybe Xfinity is tapping into its customer base for free beta testing.
If you want to look this gift horse in the mouth some more (and you really should—no one wants to be saddled with caring for a cavity-ridden horse), join us over at our full Xfinity Flex review.
How to get Xfinity Wi-Fi plans
You can get a Xfinity home Wi-Fi plan by following three easy steps:
Choose an Xfinity internet plan
Order Xfinity internet online or over the phone
Add xFi to your internet plan
Xfinity Prepaid Internet is Xfinity's no-contract and flat-rate internet package. For $15 per week or $45 per month, you'll get a 50 Mbps internet connection and won't have to deal with a service agreement or price increases after your first year. Check out our full Xfinity Prepaid Internet review to learn more about the service.
Xfinity customer satisfaction
Xfinity earned excellent scores as the second-best internet provider in our annual customer satisfaction survey. The provider didn't land lower than third place in categories including value, equipment quality, and ease of installation.
Sours: https://www.cabletv.com/xfinity/internet
Now discussing:
Xfinity internet plans and prices
By Joe Supan Last updated: October 14, 2021
Xfinity offers seven plans, with some of the cheapest and fastest options available anywhere in the U.S.
Get up to a $100 Visa® prepaid card when you order online by Oct 31st

Xfinity Internet Speeds up to 100 Mbps starting at:

$29.99/mo.

*Pricing per month plus taxes for length of contract. Additional fees and terms may apply. Pricing varies by location and availability. All prices subject to change at any time. May or may not be available based on service address. Last updated 10/14/21.
Table of contents
Subscribe to our weekly newsletter for internet news and promos
By subscribing, you agree to receive Allconnect newsletter and promotional emails. Your privacy is important to us.
Thanks for subscribing!
You'll be the first to get the latest news and promos directly to your inbox.
Sours: https://www.allconnect.com/providers/xfinity/internet
5078
5079
5080
5081
5082