Hoyt PowerMax
The Hoyt PowerMax is jam packed with all of Hoyt's high end features but comes in at a price that doesn't break the bank.
One cam with a pivoting module creates a draw-length range from 24 inches right up to 30 inches making the PowerMax an extremely versatile bow!
With a mass weight of 3.8 pounds, this bow will work for a budding archer or the most experienced bowhunter around.
The PowerMax is shooting a respectable 328fps with a brace height of 6.75 inches.
Arguably the best bow for the buck, the PowerMax brings you the perfect mix of technology, performance, style and value. Powered by the new PowerMax cam, this sleek bow features a Split-Limb design on a Hoyt TEC riser, for a lightweight, hard-hitting, buck-dropping rig.
Big on technology and easy on the wallet, the PowerMax delivers maximum power, accuracy and feel with a minimum price tag.
Every model of bow riser Hoyt designs is required to survive 1,500 dry fires without failure before ever being considered for the Hoyt product line. This is NOT an industry standard. This is the Hoyt standard. Outsiders tell Hoyt their testing standards are overkill, they obviously don't know the type of durability and dependability serious bowhunters expect and need.
With performance like that it's tough to pass up such a well priced Hoyt!
As part of your bow purchase, you receive a Hoyt promo kit comprising
An 18 page Owner's Manual
Hoyt Decal
Warranty Registration Card
Hoyt Wrist Band
Hoyt Cap
Specs at a glance
ATA Speed 328fps
Weight range 50-60lbs
Draw length ranges 25.5"-30"
Brace height 6.75"
Axle to Axle 31"
Mass weight 3.8lbs
Let-Off 75% with generous valley
PowerMax Cam & a Half delivers smooth speed
Riser sleek, streamlined TEC-Lite aluminium
Rotating cam modules allow easy adjustment without module replacement or a bow press
Limbs ZRX
ARC Limb technology
Parallel split limb technology, wide-stance split limbs provide torsional stability
Multi-layer limb lamination
Zero Torque Cable Guard system
Pro Lock Limb Pocket system
Limb Damper or Limb Shox feature an innovative, custom, five-fin shape, proven in rigorous lab tests to dampen noise and deaden vibration more efficiently than previous Damper designs and ensure whisper-quiet, shock-free performance
StealthShot string suppression system momentarily captures and suppresses the string, nearly eliminating all string movement and oscillation after the shot. Tests have demonstrated that bows equipped with Hoyt's new StealthShot reduce string oscillation and movement by over 70% and create a much cleaner release of the arrow from the string for a more accurate and forgiving shot to keep your bow whisper quiet
In-line roller cable guard
Perfect balance stabilisation system
Silent shelf technology
Pro-Fit Custom Grip for a comfortable torque-free grip
FUSE Strings and Cables
Available in Left Hand only
Available in standard hunting colour option of BlackOut (Black Riser, BlackOut Limbs) only

Custom Colour Limb Dampers are available in 8 great accent colours to customise your look. Components are sold individually, or in a custom 10 piece damper kit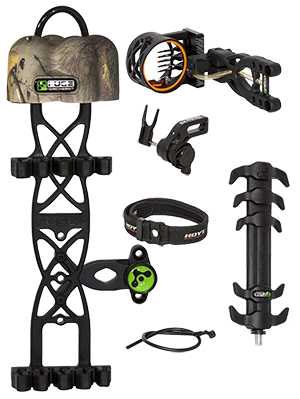 Hoyt has left no stone unturned with the value packed PowerMax. Check the PowerMax out today.
Sours: https://www.abbeyarchery.com.au/mm5/
Hoyt Powermax Review
Editors' review
The Hoyt Powermax is a new mid-range price point bow for Hoyt replacing the popular Charger in the lineup. Hoyt claims the Powermax "brings the perfect mix of technology, performance, style, and value." This statement is difficult to argue for those wanting a shorter axel to axel bow for around $500 bare bow. The Powermax cam is offered in draw lengths between 24-30-inches without the use of a press or having to purchase modules or new cams. Just rotate the included module to the desired spot and move the draw stop posts to match, and the desired draw is set and ready to go. Shooters just starting out in archery will also enjoy the package deal, which offers everything except arrows and a release straight from the factory. Shooters will also be able to choose a camo pattern that blends in any environment coast to coast, or a color that stands out in the parking lot of the local 3D shoot. No matter what type of shooter, the Powermax should meet the needs of a lot of people on a budget not willing to compromise technology and performance on a lower priced rig.
Finish
The Powermax appeals to a variety of shooters and types of archery. The vast demographic of interested shooters creates a large variety of finish options to choose from to meet the demands of all those potentially interested in a Powermax. Shooters interested in the Powermax for a dedicated target bow can choose between black, blue, pearl white, and red. Those wanting a hunting bow can choose between blackout, Realtree Max-1, Realtree Xtra, AP Snow, AP Pink, BoneCollector and Vixcen special edition packages. Hoyt also offers 9 different accent colors that can be added to the bow for additional customization if desired.
Riser
For a mid-range bow, it is difficult to tell the difference between the riser design of the Powermax versus that of past Hoyt's by looks alone. The Powermax Tec Lite riser takes on a similar shape to the previous Nitrum series bows, which may help add to the appeal for some shooters to be interested in the mid-range bow model. The axel-to-axel measurement is only 31-inches, and the overall weight of the bow is 3.8-pounds, which makes the riser as sturdy as possible while still keeping the overall weight to a relatively low poundage. Like other Hoyt risers, the Powermax has a bridged design for added support against torque at full draw. There is a rear mounted stabilizer, and a front mounting stabilizer hole for shooters wanting to add some counter weight or additional dampening devices.
Grip
The Powermax grip is a molded plastic one-piece grip option, which is a bit different than the flagship Hoyt models in regards to material, but not much different as far as shape and feel. The grip has an engraved Hoyt logo that blends in, but noticeable when up close. The grip does not add much to the overall appearance of the bow, but its fit and function is spot on and feels great in hand. It should also be fairly warm to the touch in cold weather, but a rubber or wooden grip may be warmer. The grip is functional, but far from a high end look or feel. The good news is that shooters are able to swap the factory standard grip for an option of their choice in the Profit lineup Hoyt offers. This will cost money to purchase, but will give a higher end look and feel to the bow.
Limbs
The Powermax is a nice looking bow for the price point range, which means it is a good option for a variety of shooters. A potential group of shooters are those still growing in strength and size, but wanting a higher end bow. The split Powermax limbs are only offered in ten-pound increments, which are an industry standard, but not ideal for shooters still growing. If the limbs were offered in 15-pound increments, the Powermax may appeal to more shooters. With that being said, there are still a variety of choices including: 40, 50, 60, 65, and 70-pound maximum weight limbs. The parallel split ZRX limb technology used to store the Powermax energy creating a pretty wide base to help with reducing stress as the bow is drawn. Parallel limbs are generally great at reducing noise and vibration by design as well. Each pair of limbs are aided in dampening by the Limbshox dampening system. The limb pockets are nothing overly fancy, but still maintain tight tolerances for connecting the riser and the limbs together.
Eccentric System
The cam and a half system designed by Hoyt for the Powermax is replacing the pretty well like Charger of past years, so the draw cycle needs to be a favorable one by comparison. The rotating cam modules are great for allowing shooters to adjust the draw length within the cam specifications without the need for a bow press or additional cams. The draw length is adjustable from 24-25-inches and 25.5-30-inches in half-inch increments. The cam and a half system also shoots decent speeds up to 328 feet per second with an IBO set up and 75% let off. Although this speed is not smoking fast, it is pretty close to the same velocity seen out of the 2016 flagship models from Hoyt.
Draw Cycle/Shootability
The Hoyt Powermax feels pretty great for most shooters. Some short draw shooters favor the shorter axel-to-axel measurement over longer draw shooters, but those interested in a compact bow will like the overall feel of the Powermax. The draw cycle does not take much initial effort to get the cam to start rolling over, and the let off into the valley and pretty firm back wall is a fairly easy transition as well without much hump and dump. While holding on target, the Powermax has minimal pin float for such a lightweight, short axel-to-axel bow, and the feeling after the shot is pretty tame as well. With 75% let off, the bow draw weight does taper off nicely, and the feel while holding on target up against the string stop system is a nice one. The 328 feet per second IBO speed rating is not too shabby either for a bow at the price point, although true speed freaks will be able to find something faster.
Usage Scenarios
The Hoyt Powermax is designed to fit the need of a variety of shooters whether they are brand new, looking to upgrade from a youth bow, on a budget, or perhaps still growing a bit. With a 31-inch axel-to-axel measurement, the bow will not be ideal for everyone in all-shooting styles, but should serve well as a hunting bow or a beginner's 3D bow. The performance and technology included with the Powermax bow is outstanding, especially considering the price point it falls into.
Hoyt Powermax vs. Hoyt Charger
The Powermax is stepping into the Hoyt lineup for the previous Charger model. The Powermax will have a bit more favorable of a draw cycle when compared to the Hoyt Charger for most shooters, and the TEC riser on the Powermax has a more mainstream look. Shooters could easily confuse the Powermax with the 2015 Nitrum model based on the riser design alone. For a midrange price point bow, it is hard to find anything wrong with ether bow given it matches the needs and feels nice to the shooter. However, the Powermax is winning the popularity contest for most shooters interested in either model.
Factory Package option
Hoyt has put together a factory accessory package for shooters wanting the bow to shoot straight out of the box. The accessory market can be a bit intense for those not entirely sure what they want, and the factory package eliminates all the guess work and research associated with the massive number of sights, rests, stabilizers, and quivers. The Fuse accessory package offers a QAD Hunter Ultra rest, a Flex blade stabilizer, a wrist sling, peep sight, Vector quick detach quiver, and a Pro fire sight. All this comes for only an additional $100, which is another great deal. New shooters will simply need to add arrows and a release to be all set.
Summary
The Powermax is a budget friendly bow in the medium range of new 2016 models, which should appeal to a large number of shooters and archery styles. The Powermax may make a great 3D bow for a female shooter, a higher end hunting bow for a youth shooter wanting to get a little more serious, or a nice back up bow for someone that likes to be prepared for a variety of circumstances. The Powermax is replacing the Charger, which several shooters felt was a solid combination of high-end technology and price. The MSRP of the Powermax set at $499 is pretty tough to beat, and although the price is relatively low, the bow is a flat out shooter no matter what the price is. To have a compact bow shooting 328 feet per second with the customization the Powermax offers, this model should be a really great seller in the mid-range for Hoyt in 2016.
Sours: http://compoundbowchoice.com/brands/hoyt/powermax/review/
Best New Budget Bows of the 2020 Archery Trade Show
If you think today's flagship bows are too expensive, just take a look at the prices of this year's top new crossbows here. There, doesn't that make you feel better?
No. Okay, then I have another solution. Don't buy a flagship bow. You sure as heck don't need one to kill deer. Even today's bargain-priced, grow-with-you bows can handle that job, and some of the grown-up mid-price models can do it darn near as well as any flagship. The truth is, in many cases you don't really give up a whole lot by paying less—usually a roller-guard, a degree of fit-and-finish, and a little cache, if that matters to you. You might lose a bit of speed, but you might not, as five of the bows below top 330 IBO and one threatens 350.
Today's budget bows are the best they've ever been, and the mid-priced options are nearer than ever to offering flagship performance. They'll all put meat on the ground, and when you're showing off next season's giant buck, no one worth listening to is going ask how much you paid for your bow.
Here's what's new for 2020, plus a few tried-and-true bargain options.
Bear Divergent EKO
Specs: 30-inch axle-to-axle, 6-½-inch brace height; 4.1 lb., 338 fps IBO
Just like last year's Divergent, this one is no beginner's model. It's a straight-up performance bow, designed to be handy in tight spaces and easy on the wallet. At almost 340 IBO, it's faster than four of this year's flagship compounds. The draw cycle is fairly smooth for such a fast compound. I won't lie to you, there's a bit of hand shock, but it's nothing major. The valley on the test bow I shot was a tad stingy too, just as it was with last year's version, but new on this year's model is an updated EKO cam that lets you put that valley right where you like it, via four let-off settings, from 75 percent all the way up to 90. Which is nice. All in all, this is a solid performer that you can set up to suit your preferences. $699; beararchery.com
Bear Paradox HC
Specs: Specs: 32-inch axle-to-axle, 6-inch brace height; 4.3 lb., 340 fps IBO
If you still want maximum speed, but your budget is capped at $500, this is your bow. The Paradox HC is a little longer and a tad heavier than the Divergent EKO, which a lot of hunters (myself included) prefer in an all-purpose model. The Hybrid Cam System produces an impressive 340 IBO rating and a manageable draw cycle. The valley, again, is a little stingy and there is some hand shock. But it's nothing you can't handle if you're accustomed to shooting a fast bow. Also, if you're someone who insists on a concrete back wall, keep in mind that the Paradox comes with a string stop only, so it doesn't come to as hard a stop as some bows. Everything's a trade-off in this game. If you're willing to give up a little shootability for speed, 340 IBO for under $500 looks pretty darn good. $499; beararchery.com
Elite Ember
Specs: 31-¼-inch axle-to-axle, 6-¼-inch brace height; 3.6 lb., up to 310 fps IBO
Elite's new low-cost, high-adjustability bow is perfect for kids and beginners—but it ain't no toy. And that's a big deal. The problem I've seen with many of these inexpensive grow-with-you-bows is that they're cheaply made; their plastic parts wear down and because they are very lightweight and their risers are not rigid enough to manage torque, they can be hard to shoot well. A mushy back wall often adds to the problem. The new Ember, on the other hand, is built right. There's hardly a piece of plastic on the entire bow—riser, limb pockets, cams, and mods are all made of aluminum, plus you get a Winner's Choice string and integrated limb stops for a harder back wall. Draw length is adjustable from 15 to 29 inches and draw weight from 10 to 60 pounds. I shot this little bugger on the range and didn't want to put it down. If you're looking for a first bow for yourself or someone else, the Ember is a great choice. $499; elitearchery.com
Obsession Sniper
Specs: 30-inch axle-to-axle, 6-inch brace height; 3.9 lb., 348 fps IBO
This new Sniper should look very familiar to anyone who has been paying attention to Obsession bows over the years. Both the DefCon 6 cam system and the riser come straight off the company's flagship bows from only a few years ago. The Obsession rep told me flat out: After upgrading their top-line bows for 2020, they had a lot of really good components from previous flagships in inventory. So, they used them to make the Sniper, a top-quality bow for less. The test-model I shot felt very familiar and reminded me of the shooting characteristics that created such a buzz when this company first came on the scene—a smooth draw, a surprisingly generous valley, and virtually zero shock or vibration. The 348 IBO rating is an eye-opener too, but you have to take that with a grain of salt, as our annual bow tests have found that Obsession consistently exaggerates IBO. But even if it were 10 fps off, you'd still have a pretty darn fast, high-quality bow for hundreds less than the current flagships. $799; obsessionbows.com
Quest Centec
Specs: 32-inch axle-to-axle, 6-¾-inch brace height; 4.4 lb., 325 fps IBO
What impressed me so much about the original Centec when it debuted last year was its obvious build quality, including a machined forged riser and aluminum limb pockets, two features you rarely see at this price point. New for 2020, the Centec now has wider-set split limbs for more stability and an adjustable mod that lets you change draw lengths without a press. It comes in draw-weight ranges of 40-55 pounds or 55-70 pounds, and a draw-length range of 24 ½ to 30 inches (in ½-inch increments), and it features the same Centergy technology found on Prime bows, which puts the grip exactly in the center of the riser for better balance and aiming. Speaking of Prime bows, the Centec I tested on the ATA range reminded me of the shooting characteristics that the company's higher-end line of bows are known for—a super-smooth draw cycle and a cement back wall. This one's got some hand shock and vibration, but it's a small tradeoff for such a deep discount. $499; questbowhunting.com
PSE Stinger Max
Specs: 30-inch axle-to-axle, 7-inch brace height; 3.8 lb., 312 fps IBO
PSE's single-cam Stinger is one of the company best-selling bows ever for a couple of very simple reasons: It's all any hunter really needs, and it comes at a rock-bottom price. This model has always been pretty easy to shoot too, but the new Stinger Max version takes that to another level by combining a modest IBO rating with a new larger SS (Super Smooth) cam. The result is a bow that's a breeze to shoot, even for beginners. (And we all know that 312 IBO is plenty to get the job done.) Combine those qualities with decent adjustability, and the Max is pretty much ideal for anyone looking to get into bowhunting with a minimal investment. $399; psearchery.com
Note: For anyone looking for a little more performance, for a little more dough, keep in mind that the Drive 3B that I reviewed last year is still in the lineup.
Xpedition Mountaineer X
Specs: 33-¼-inch axle-to-axle, 7-inch brace height; 3.9 lb., 340 fps IBO
The Mountaineer X came out last summer, so while it's not technically a new-for-2020 bow, we didn't cover it at last year's ATA show. Also, I'm not sure you can really call this a budget bow at over $800. But I'm including it here anyway, and I think you'll be glad for it—because the Mountaineer X is a really nice bow. The forged aluminum riser is not quite as robust as that on Xpedition's new flagship models, but it doesn't have to be because this bow is also a little slower. "Slower," however, does not mean "slow." At 340, the Mountaineer X is as fast as many 2020 flagships from other companies, and it accomplishes this with a forgiving 7-inch brace height. The XS-V cam has a rotating mod for quick draw-length adjustments, and it produces a draw cycle that is classic Xpedition, meaning that the heavy lifting comes right up front, when you are strongest, and it gets easier and easier as you pull back. This, combined with the longer axle-to-axle length and generous brace height makes for an easy-drawing speed bow. The one I shot at the ATA range was smooth and dead-in-the-hand. It's a flagship-quality bow at a discount. $849; xpeditionarchery.com
Back for 2020
Right now you may be thinking, Hey, where's Bowtech and Hoyt and Mission? Well, those companies did not have new budget bows for 2020, but they do have budget bows. Bowtech and Mission unveiled new models in 2019 and Hoyt still offers the Powermax. If you need a refresher, here's what I wrote about them in last year's ATA roundup.
Bowtech Convergence
Specs: 31-½-inch axle-to-axle, 7-inch brace height, 4.1 lb., 330 fps IBO
Given the name, you might expect this to be the opposite of the Bear Divergent, and in one sense it is: With massive adjustability in draw length and draw weight, the Convergence is a grow-with-you bow that's perfect for beginners. Yet at 330 IBO, it also has enough get-up-and-go for anyone. Inspired by the company's long line of best-selling high-adjustability bows, starting with the Diamond Infinite Edge on through to the Bowtech Fuel, this latest version emphasizes performance and accuracy with its Binary Cam System and wider split-limb design, which provides more stability. The Convergence also features Bowtech's FlipDisc technology, giving you the choice between Comfort and Performance settings. I shot it on Comfort, and I really couldn't find a fault. $599; bowtecharchery.com
Mission MXR
Specs: 30-inch axle-to-axle, 7-inch brace height, 4.02 lb., 324 fps IBO
The MXR features the Crosscentric Cam System, the same basic system that powers the Mathews $1,000-plus flagship Vertix, as well last year's F&S Best of the Best award-winning Mathews Triax. The result is impressive speed (at this price range) in a bow that's pleasant to shoot. The draw cycle is nice, the back wall is solid, and the valley is manageable, but what really impresses is how dead in the hand this bow is at the shot. The MXR also has a new, slimmer grip designed to minimize torque. Available draw weights range from 40 to 70 pounds, and replaceable mods deliver quick draw-length adjustments from 23 ½ to 29 ½ inches, no press needed. So, what you have here is a bow with enough adjustability to suit a youth or beginner, yet enough speed at the top end to make it a serious, affordable grown-up bow. At under $500, it's tough to beat this much versatility and performance. $499; missionarchery.com
Hoyt Powermax
Specs: 31-inch axle-to-axle, 6-¾-inch brace height, 3.8 lb., 328 fps IBO
It should come as no surprise that budget bows tend to look and feel like budget bows. But there are exceptions to this rule—and probably no greater exception than the Hoyt Powermax. It is rock-solid. This model has been in the Hoyt lineup for quite a while. I'd shot it in years past, but I wanted a reminder—and what I was most reminded of is that this is a really well-built bow for the money. Just shy of 330 IBO, with good all-around hunting specs, the Powermax feels well-built, stable, and nicely balanced, thanks in part to the wide-stance split limbs. And it's a pleasant-shooting bow for the price, too. Bottom line: If you want a rugged bow that'll last many years to come, you can't go wrong with the Powermax. $699; hoyt.com
Sours: https://www.fieldandstream.com/story/outdoor-gear/best-new-budget-bows-archery-trade-show/
2016 HOYT POWERMAX - Review and First Impressions
The next day at school, I heroically struggled with sleep, but after the second lesson I asked to go home - and. Sleep, sleep, sleep: but before going to bed I tenderly fiddled with my swollen pussy, remembering yesterday's games. A couple of days later, my mother sent me to her friend to pick up her mother's jewelry.
Review powermax 2020 hoyt
Andrei stood in front of his wife, took her by the hair and shoved his dick into her mouth with a flourish. In the meantime, I went to the bedside table and took out a lubricant gel for anal sex. Before that, the wife, who had not tried two dicks at the same time, understood everything and said that she did not want to be fucked in.
Hoyt PowerMax- More Bow for the Buck. Both Types.
When there was any more or less noticeable sound, I shuddered, looking around. A forty-watt light bulb, though faintly, illuminated the site. - Shall we turn out the light.
Now discussing:
I was in a hurry to consolidate, somehow, our relationship, therefore, filling the glasses with brandy, I said: - For acquaintance. Natasha nodded and looked at me expectantly. Drink.
5053
5054
5055
5056
5057