Recreational shooting has become a popular activity in recent years, particularly in the United States, and there are more gun options at your fingertips now than ever before. Whether you're in the market for an air gun or a starter pistol, there are plenty of selections to choose from. But if you're looking for something that's appropriate for small game hunting, you should look no further than the air rifle. We'll take you through a series of thorough air rifle reviews.
Air Rifles vs. Pellet Rifles
Most often than not, air and pellet rifles are lumped together, but the major difference is within the ammunition each carries. Air rifles can utilize BBs or Ball Bearing ammo.
It is a small steel sphere measuring 0.18 inches in diameter. For air rifles, this type of ammunition is more for recreational use.
It is suited for backyard fun and targeting small items. Due to the shape and material, the BB can ricochet easily and is not as accurate as the pellet gun.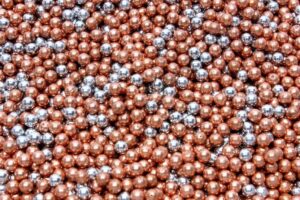 That's a lot of pellets!
Pellet guns are essentially air rifles that utilize pellets as ammunition. The Pellet evolved from the BB and contains a flat or round head followed by a taper to a skirt.
Due to its construction, the pellet's lead head will drill in sturdily upon impact. The pellet's aerodynamic shape makes it a far more accurate round compared to the BB. For that reason, the pellet gun is more suited for hunting vermin like rabbits, rats, raccoons, squirrels and hedgehogs. It also makes it more accurate for target practice.
Although the air rifle is far from rifles that shoot live ammunition, one must take into consideration how to maintain it, as they operate similarly. For more info on bullets and ammo in general check out our guide.
---
Spring Air Rifles
There are various types of air rifles to consider when purchasing one. We uncover three major types of rifles and the best in those categories.
The inside of a spring action rifle
Air rifles are divided into three major categories consisting of spring, PCP, and nitrogen powered ones. We will first cover the most basic version which is the spring piston powered rifle.
BEST AIR RIFLE REVIEWS – 3 CATEGORIES TO UNDERSTAND
Spring
PCP
Nitrogen Powered
Spring powered rifles have been making a comeback in recent years and are the perfect air rifle to start one's journey with. This type of rifle is a single shot and popular for hunting as they can shoot at high speeds.
We will be examining examples of break barrel rifles that are very easy to utilize. What makes this spring action rifle unique is the way the spring is cocked, as the user just needs to push the barrel downwards.
This primes the spring while the pellet is loaded, before flipping the barrel back up in a fixed position.
Like this…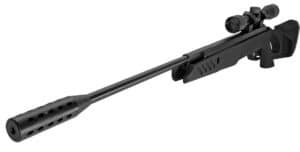 Once fired, the heavy spring pushes piston forward as the pellet is released through compressed air. Below, we have two examples of great spring piston guns to consider.
BEST BREAK BARREL AIR GUN – RUGER BLACKHAWK COMBO

The Ruger Blackhawk Combo is a 0.177 caliber air rifle that shoots at 1,000 feet per second. That is a great deal of firepower which is perfect for small game hunting like rabbits and squirrels, pest control like rats and 'coons, and target practice.
It includes a mount and 4×32 scope for targets over 200 feet. The all-weather stock is nice as it is more durable in numerous outdoor scenarios. The Ruger is a solid 7-pound weapon with great balance and cracks like a 0.22 weapon when fired.
The butt of the rifle contains great absorption when firing as it is a very well-balanced rifle. Also, it incorporates an automatic safety system when cocking the gun to load or reload. The safety is automatically turned on when one is cocking the barrel and loading in a new pellet.
This is a great feature for avoiding accidents or disasters. Other features include a parallax setting which can engage targets at 100 feet with ease. Some factors to watch out for is that the rifle needs initial cleaning as it can be over oiled.
After time, the scope mount may also loosen from extensive use. Overall, this is a great starter weapon to go hunting for small game or pests that is durable in outdoor conditions.
As a starter weapon priced well, the Ruger Blackhawk Combo air rifle is an excellent choice for a simplified air rifle.
BEST AIR RIFLE FOR THE MONEY – GAMO VARMINT AIR RIFLE

The Varmint Air Rifle is another great alternative in the spring powered break barrel category. It is made in Spain and is a 0.177 caliber rifle firing at 1,250 feet per second.
Weighing in at just 6 pounds, the Varmint contains serious firepower as it is known for the loud sounds that blast out when fired. Gamo's version also includes a built-in rail and 4×32 scope.
It's got a nice design that considers the shooter when put into action. The stock is an all-weather material with a raised cheek piece at the end of the rifle.

This is to ensure maximum comfort when firing and is suitable for both left and right-handed individuals. Additional features such as the ventilated rubber butt, to take out recoil, and the grip having a checker anti-slip design making it a shooter's rifle that is incredibly comfortable to use.
It also contains an automatic safety when cocking the gun to avoid accidents. The popularity of the Varmint Air Rifle comes from its accuracy and incredible stopping power. This is definitely a gun used for small game or pests in your surrounding area.
A few cons to consider include the scope as users have to zero in the optic from time to time. There is also a heavier cocking system which is rated at 30 pounds.
Otherwise, The Gamo Varmint Air Rifle is a great air rifle that is lightweight, contains incredible stopping power, and is comfortable to use at a low price. We personally love this rifle, hence why we included it on our air rifle review.
BEST OVERALL POWER AND AIR GUN SCOPE- GAMO SWARM FUSION 10X GEN2 MULTI-SHOT .177 CAL AIR GUN

With the second generation of its Swarm Fusion Multishot Air Gun, Gamo has gone above and beyond correcting some issues in its first iteration. Firing at a muzzle velocity of 1300 FPS, and introducing some brand new tech, the Swarm Fusion 10X Multishot is a solid air rifle, whether you're small game hunting, shooting pests, or casually plinking.
The truly revolutionary feature is its state-of-the-art horizontal magazine integration. Instead of the typical 10X mag that blocks any possibility of open sight, this new construction changes the game, allowing for optic personalization on a new level. But with a great, shockproof and fog proof 3-9X40 optic sight included with mount, it's ready to go as-is- with the new construction, it's lightweight, compact, and more low-profile. Let's be honest, it looks cool.
This air rifle is considerably smoother, quieter, and has less recoil, making it great for any quick work, or for young or small-statured shooters. It's in part from the IGT Quickshot pneumatic gas piston, displaying considerably less vibration and a smoother cocking effort, that replaces the traditional spring. And, Gamo has upgraded to Whisper Fusion noise reduction tech that is honestly one of the quietest on the market, to go along with their proprietary Recoil Reduction Rail and a 2-adjustment point CAT trigger.
All in all, this Gamo Swarm Fusion has great features for the price. Whether you're hunting squirrels, shooting snakes or other pests, or just practicing your cluster on some old tin cans, this is a solid choice.
Pros
Comfortable and quiet to shoot
Easier to cock for smaller or younger people, with IGT and CAT upgrades
Recoil reduction and noise reduction tech really ups the value
Cons
Some report a shaky barrel after some use
Reviewers say sometimes finicky with brands/types of pellets
---
PCP Air Rifles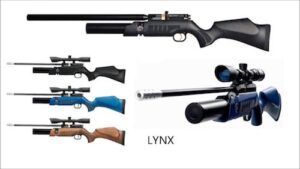 A more popular air rifle system, for the serious hunter, is the PCP or Pre-Charged Pneumatic. This system utilizes a basic idea in which the rifle has space to pump air in and only to be partially released when a shot is taken.
These air rifles can store up to 30 shots when the reservoir is filled at a pressure of 2,000-3,000 psi. Advantages of these systems are that the user can fire off multiple rounds and reloading is quick and silent.
There is also no piston in the construction so the receiver does not have to be long and can provide more compact variations. Accuracy is also increased, compared to the break barrel, as the PCP system allows for a fixed barrel design.
The only disadvantage is that one will be forced to bring their pumping system to refill the reservoir once the air is depleted. PCP air rifles are a bit more advanced and mainly utilized for hunting as it can fire off multiple shots accurately and silently.
BEST AIR RIFLE FOR SQUIRRELS – CROSSMAN BENJAMIN MAXIMUS AIR RIFLE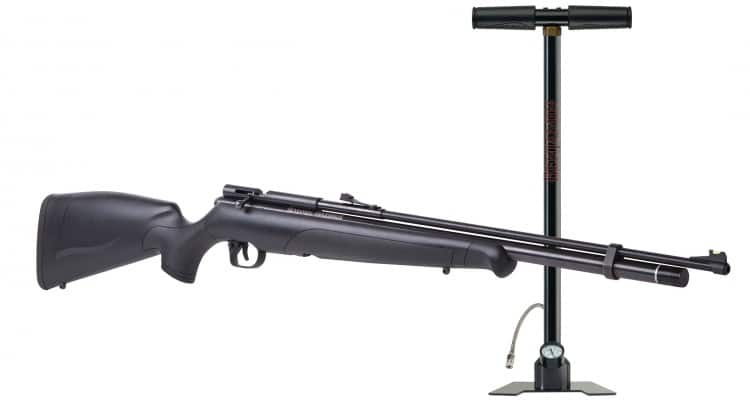 The Benjamin Maximus is the most affordable and reliable PCP air rifle up to date. It is created by Crossman to deliver a cost-effective version of PCP rifles that can be picked up by any user. One of the unique features of the Maximus is the dualities it brings to the table.
It can be interchangeable with different pellets and "fuels". This rifle can interchange between 0.177 and 0.22 pellets while being able to pump O2 or CO2 within its reservoir. The bolt action rifle just sits at over 5 pounds and uses up to 2,000 psi shooting at 1000 feet per second.
The Maximus provides 3 major features which marks it as the next step up for hunters. The rifle has a lot of stopping power, accuracy, shot capacity, and consists of lightweight construction. Since the Maximus uses compressed air or CO2, the power jumps while retaining its accuracy.
One thing you never worry about is a pellet straying far off as the groupings are centimeters away at 50 yards. The large shot capacity enables multiple shots in one session, and the light weight wooden stock gives Crossman's rifle a nice touch.
The Benjamin Maximus Air Rifle is recommended for hunters of small game and predators one size up (eg, small hedgehogs and raccoons). One may want to watch out for pressure fluctuations on hotter days, but essentially, this is the ultimate affordable PCP hunting rifle.
BEST PCP AIR RIFLE – BENJAMIN MARAUDER AIR RIFLE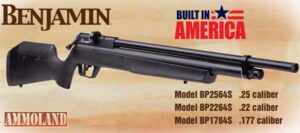 The Marauder is a great middle of the road PCP rifle that is semi-automatic. Like the Maximus, the Marauder is interchangeable between air and CO2. The rifle can also take in 3 different pellet sizes consisting of 0.177, 0.22 and 0.25.
This particular model shoots up to 1,100 feet per second at 2,000psi. It has always been known for its accuracy, power, and silent pull. With the Marauder, hunting is made easy with its insane accuracy and range. It will be able to hit targets at 150 feet with 0.25 pellets at ease.
The additional power on this model is to be recognized as this air rifle contains a 10-slot magazine. Users have predicted the air rifle to contain 20 powerful shots when the air reservoir is filled.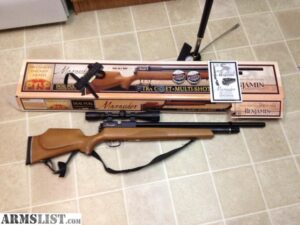 Lastly, the Marauder is a silent rifle, perfect for hunting small game like rabbits, and even some smaller predators like coyotes.  Rated the best-selling PCP rifle for 6 years running, the Marauder does have some weaknesses owners have to consider when using this rifle. First, it is a very heavy weapon around 8 pounds.
Once you install optics and a shoulder sling, that should increase to over 10 pounds. Lastly, the pumping procedure is quite a workout and may tire owners out during the middle of their session.
Besides those two elements, the Benjamin Marauder Air Rifle is one of the most reliable and power PCP air rifles. It can take down predators and take hunting to the next level.
---
Best Nitro Piston Air Rifles
A more recent development in air rifle technology uses nitrogen as a power source and is commonly known as Nitro Piston. This type of rifle was first announced by Crosman and resembles the concept of a compressed spring rifle as a power source.
Instead, Nitro Piston rifles compress nitrogen in a cylinder to push the piston while propelling the pellet. This type of rifle is more suited for extensive use in the field for hunters.
Its advantage is in its lightweight construction as nitrogen guns are lighter than spring powered rifles.
There are many benefits to Nitro Piston rifles in terms of weight, recoil, stealth, accuracy, and speed. It helps when one is out roaming all day, hunting for small game or predators, and the gun does not wear out the user when carried.
The technology also allows less recoil and noise when firing compared to spring weapons. Nitrogen helps extend the piston slowly when firing, so there is less of a toll on the barrel which, in turn, provides less recoil.
Owners of Nitro Piston rifles also experience a great amount of noise reduction. It is around 70% quieter than a spring rifle and is perfect for hunters when stealth is required.
Nitrogen gas also aids the gun firing faster than any spring or gas piston weapon. The quick lock time calls for better accuracy, and the pellet may also be left cocked in a chamber for an extended period of time without damaging the rifle.
We examine a few options below to see the difference between each rifle in our air rifle review.
OUR TOP AIR RIFLE REVIEWS FOR 2021
---
BEST AIR GUN FOR HUNTING – CROSMAN FIRE NITRO PISTON AIR RIFLE

The Fire Nitro Piston rifle is a very cost-effective rifle firing at whopping 1,200 feet per second using 0.177 pellet rounds. The rifle contains a 4×32 scope along with a sleek modern style stock with thumb holes for comfort.
Weighing in at 6 pounds, it is a single shot rifle utilizing the break barrel system as the steel barrel is cocked down when inserting pellets. Only differences are having nitrogen propelling the piston out of the rifle.
This does have many advantages such as less noise and recoil, so the Crossman Fire is great for hunting small game in your local area. What's also neat is that the air rifle is built to be ambidextrous with its two-stage trigger.
Safety figures also apply to both right and left-handed shooters as it uses and the old system of a safety trigger in front of the actual firing trigger.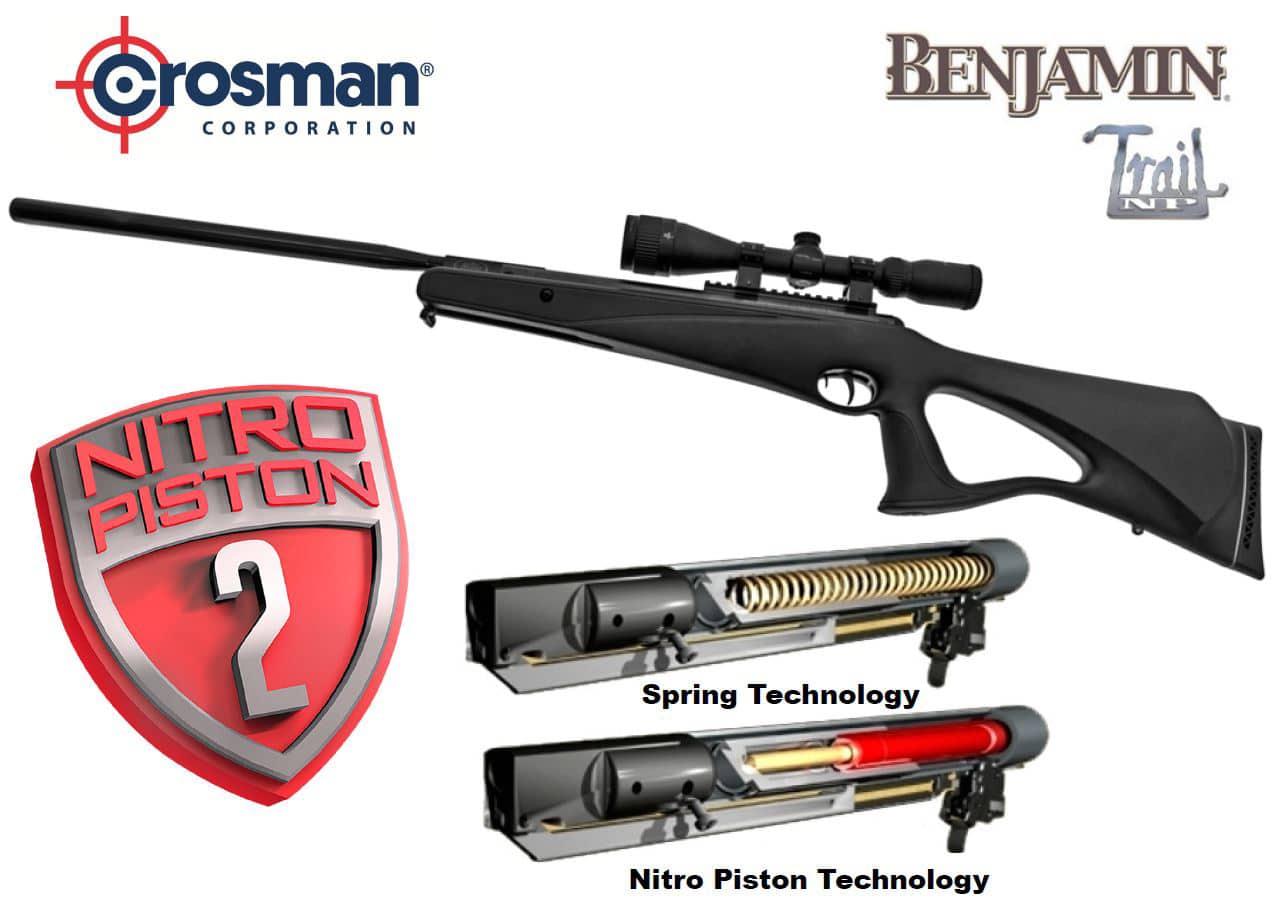 One important factor to consider is that the trigger pull is heavy which can take a while to get used to. It can be adjusted but, in conclusion, does not affect the weight of the pull much which can take time to get used to.
Aside from that factor, the Crosman Fire Nitro Piston rifle is a deadly accurate and powerful air rifle. It's one of the best air rifles for pest control and hunting small game due to its lightweight construction and silent operation when fired.
BEST GAS PISTON RIFLE – WILDCAT WHISPER AIR RIFLE

The WildCat is made by Gamo, in Spain, and it is by far the most powerful rifle in the lineup. It delivers pellets at a massive 1,300 feet per second. Being a nitrogen rifle, there a is a reduction in noise and vibration when taking out pests or small game.
It is also very much suited for larger animals as it has great stopping power. Gamo's Intert Gas Technology and Whisper Drive factors into the rifle's power, accuracy, and noise reduction. Pellets can be launched much faster due to the compressed nitrogen, and the spiral bore gives it the consistent groupings one looks for.
The Wildcat is a single shot break barrel system which has a smooth cocking system when loading. It comes with a standard 4×32 scope with a steel barrel and standard trigger with an adjustable second stage.
Similar to the Crosman, the WildCat has a heavy standard trigger which may take a few sessions to adjust to personal preferences. What's nice about this weapon is the gas piston which will provide durability on a rifle for decades to come.
The rifle weighs in around 5.5 pounds, so one takes on little fatigue in carrying this air rifle around for hours. Its power source also allows the Wildcat to operate in colder climates while maintaining its accuracy and power. This is one of the more powerful and lightweight weapons for pest control or small-time hunting.
---
BEST .22 AIR RIFLE – BLACK OPS TACTICAL SNIPER AIR RIFLE

If you're looking to the power to complement the aesthetics of an air rifle, this Tactical Sniper may be the rifle of choice when doing some target practice, shooting rodents, and smaller animals.
The Black Ops air rifle looks exactly as it sounds as it resembles the appearance of a modern-day sniper rifle. It includes an adjustable bi-pod and scope. The cheek pad adjustment, stock, fake magazine, fake cocking bolt, and fake suppressor also give it a very military-esque feel.
Don't let the looks make it seem less than what it can provide, as the rifle can fire up to 1,250 feet per second. It is a single shot break barrel system that can alternate between 0.177 and 0.22 pellets.
A few factors to consider when purchasing this air rifle is that it looks just as heavy as its construction. The Black Ops rifle weighs in at just over 9.5 pounds, and the cocking effort is rated at 44 pounds which is the heaviest by far. One thing about this air rifle is that it delivers what is asked of it in power and accuracy.
Due to the construction, it is definitely best for target practice or shooting smaller rodents in the backyard. It is not the most ideal weapon to bring along for mass pet control or small game hunting.
The adjustable bipod and cheek pad give it a comfortable edge to be in a prone of sitting position when shooting. The Black Ops Tactical Sniper is a great air rifle for recreational purposes that packs a punch.
---
Air Rifle Maintenance – How to Clean Your Airgun
Maintenance of air rifles is simple and less tedious. Major procedures involve cleaning the barrel and oiling the value and CO2 containers. We highly recommend going over your gun manual to see the suggested method in maintaining your air rifle.
Each rifle is different, and experts that created its manual will know the proper amount of oil to use and the best way to clean it. Once you get acquainted with an air rifle, there are many personal methods to clean a bore, but below we go over the major rules when doing so.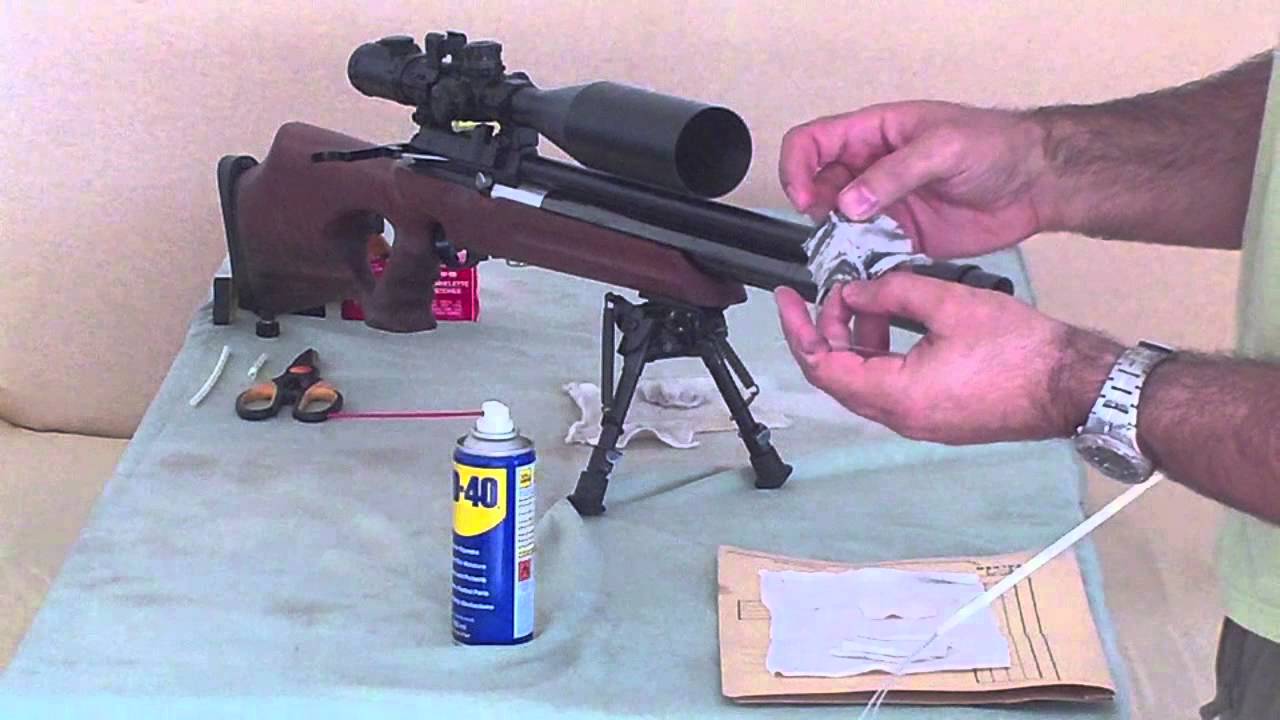 When cleaning the barrel, some basic procedures are recommended for all types whether if you are using a regular, PCP, or nitrogen gun. All barrels share the same rules.
The main rule, to keep in mind, is to always clean your bore from the breech. This is done to protect the muzzle as it will ruin your gun's accuracy if damaged. Always run clean patches through the bore when cleaning. This will help remove dirt and grease.
Lastly, do not use any solvents when cleaning an air rifle. Valves are normally made from a plastic or rubber material that is damaged when touching solvents. Oiling parts such as the valve is also an important step in maintenance.
If you get one of the best air rifles recommended in this guide, you won't have to worry about maintenance too much. Some areas to consider oiling are the valve, barrel, CO2 containers, and the stock. Oiling the valve does not require a lot, most of the time it requires a few drops to get the task done.
We always recommend reading your manual for the proper amount of oil to use. In humid environments owners may want to consider oiling the outside of the rifle barrel to prevent rust. This applies to guns with wooden stocks to preserve the grains and prevent cracking.
Lastly, the CO2 containers need a bit of oil at the end the help the transfer when connecting and disconnecting the cartridge. With these basics, your rifle will be kept in great condition.
If you're still having a hard time deciding which rifle to get check out this video. It's got a ton of info for those looking for the top air rifle for their money.
---
Thanks for Reading Our Air Rifle Reviews
There are many types of air rifles out on the market ranging from different power sources, velocity, and purpose. It is also best to start with the purpose of why you are purchasing the air rifle to break down and figure out the best one for you.
The ideal weapon for beginners would be a spring action system which is easy to operate and is the foundation for most types of rifles on the market.
The nitrogen and PCP powered rifles are more advanced and require more effort to load and use in the field. Depending on the fire rate, most air rifles are used for target practice or pest control.
There are semi-automatic versions which are better suited for pests or small-time predators, but that is only necessary if you plan to shoot a large number of small animals.
One factor to consider is that the more complicated the operation, the easier it is to use out in the field. The spring guns are heavier and have more recoil, but can be used almost indefinitely when roaming about.
Compared to spring action rifles, nitrogen or PCP rifles must be refilled of their power source which can be draining after a few dozen shots. In the end, there is always an option that will meet your specifications and the shooter you are.
Whether if you are a beginner or hobbyist in the sport of air rifling, these air rifles are the best in value on the market today.
All air rifles include a scope and most contain pellets to get you started once the rifle is shipped over.
We hope this article helps in narrowing down some of the prospects out on the market to get you started on your next air rifle.
Happy shooting!
---
Chris Browning
Hey everyone I'm Chris. Founder and editor at Gun News Daily. This site was originally started by my father who passed it on to me. Gun News Daily has been reporting on gun news and conservative politics since 2001. We are the original gun news source. Life-long Second Amendment Supporter.
Sours: https://gunnewsdaily.com/best-air-rifle-reviews/
The 16 Best Air Guns of 2021
Written By Joseph Albanese
Published Feb. 4, 2021
By: Joseph Albanese
Follow our full coverage of the best new hunting and shooting gear of 2021, including rifles, handguns, shotguns, ammunition, compound bows, crossbows, and more.
Air guns fill many niches. Kids can learn firearm safety using a BB gun before stepping up to the real thing; some use pellet rifles to hunt without breaking local firearm-discharge ordinances; and an air gun can be a simple pest-control tool, or a serious arm for competition. The market has something for everyone, and prices that range from easily affordable to those that require a small bank loan.
Best Air Guns of 2021
As with so many things this year, the introduction of new air guns for 2021 was slowed by COVID-19. So what follows is a list of both the best air rifles and pistols introduced this year, and the best air guns introduced in 2020 that are still in each company's 2021 lineup.
1. Stoeger S8000-E TAC Suppressed Airgun
Stoeger introduced their first air gun last year, a precharged pneumatic model with enough juice for small-game hunting. For 2021, Stoeger is expanding their line up with the introduction of a new air rifle that utilizes a pneumatic piston. The S8000-E TAC is available in both .177 and .22 calibers, delivering pellets up to 1,200 and 1,000 fps respectively. Cocking the barrel compresses Stoeger's Gas-Ram system, which delivers consistent performance without the drop in velocity that accompanies aging springs. The gas system also eliminates the noise and shock the spring creates as it comes to an abrupt stop. To further reduce sound, the S8000-E TAC is fitted with an Airflow Control (AFC) suppressor that combines an internal air-regulator ring and baffles that slowly bleeds off air pressure. The synthetic stock features integrated Picatinny rails on both sides of the forend for mounting accessories such as lights for pest control after dark. Check prices here.
2. UMAREX USA Prepared 2 Protect HDP 50 Less-Than-Lethal Pepper Ball Air Pistol
One of the reasons air guns are so popular is that they often aren't subject to the same laws that regulate firearms. Umarex is bringing this advantage to the self-defense market with the introduction of the Prepared 2 Protect HDP 50 Pepper Ball Air Pistol. This 12-gram CO2 cylinder-powered pistol fires .50 caliber pepper, powder, and rubber rounds to provide less-than-lethal self-defense options. Because the pepper-filled capsules are launched at 350 fps, they are effective at up to twice the distance as traditional sprays. The HDP 50 features a quick-piercing CO2 system that pressurizes the pistol in an instant, but doesn't allow the cylinder to leak down over time to where there's not enough oomph when you need it. An internal magazine houses six rounds at the ready. A ready-to-fire indicator is located where you might expect to find one on a striker-fired pistol, letting you know when it's ready to go. The bottom-mounted accessory rail allows for the installation of lights or lasers. Check availability here.
3. LCS Air Arms SK-19 Automatic Air Rifle
Because of their complexity, there are few semi-auto airguns, and even fewer capable of full-auto fire. But consumer demand drives the market, and more are cropping up each year. One of the newest additions is the SK-19 from LCS Air Arms, which offers select-fire capability in both .22 or .25 caliber. The massive magazine holds 19 pellets, which you can send downrange at an impressive rate (19 pellets in less than 3 seconds) or switch to semi and take more measured shots. Pellets are delivered accurately at whatever rate you choose, thanks to the precision Lothar-Walther barrel. The tunable, regulated action can be dialed in quickly using the easy-to-access regulator knob and power wheel. Two separate gauges indicate pressure at the regulator and in the 480cc removable carbon fiber tank so you can tell how fast the pellets are moving and how much fun you have left at a glance. A carbon-fiber shroud and silencer surround the barrel to bring the sound signature down. Performance comes at a cost, so expect to pay handsomely for all of this American-madeinnovation. $2,189; lcsairarms.com
4. Diana 54 Airking Pro Laminated Air Rifle
5. Air Venturi Springfield Armory XD-E BB Pistol
This new BB Pistol from Air Venturi is designed to mimic the feel of Springfield Armory's popular XD-E centerfire pistol, complete with blow-back action to simulate recoil. Many details from the original are present, including the Grip Zone texturing and functional takedown lever, making this an ideal trainer. The magazine of the replica houses both the 12-gram CO2 cartridge and 18 BBs, making loading similar to the real deal. It even features an accessory rail so you practice with the same light or laser you typically carry. The windage-adjustable red fiber-optic front sight and fixed two-dot rear offer an excellent sight picture for a BB gun. An ambidextrous safety, magazine release, and front and rear slide serrations make manipulating the XDE BB Pistol easy. Spare magazines will be available, so you can practice reloads as well. It only pushes steel BBs at 380 fps, however, so this one is reserved for paper punching and can duty only.
Packs A Punch
Check Price
The PileDriver is currently the world's most powerful production air rifle. Hatsan Airguns USA
The newly introduced Hatsan PileDriver delivers a .50 caliber pellet at 850 fps for energy in excess of 800 foot-pounds—dethroning the AirForce Texan to take the title of world's most powerful air rifle among factory-produced guns. That's more than enough power to drop a deer or hog with a well-placed shot. Filling the attached reservoir to 4,300 psi will propel up to five pellets at full-charge, allowing for follow up shots if needed. Only a handful of states permit hunting big game with an air gun now, but most allow the taking of small game and varmints like coyotes. The bullpup stock keeps overall length down despite the 33-inch barrel, and features an adjustable cheek rest and buttpad. And the two-stage adjustable trigger breaks cleaner than one would expect on a hunting air gun. The Pile Driver will also be available in .45 caliber, throwing the smaller pellets about 50 fps faster and allowing for six shots before power drops off. Check availability from Airgun Depot here.
7. Benjamin Marauder Semi-Automatic PCP
Gas-Operated
Check Price
The Benjamin Marauder uses excess air from each shot to cycle the action and load a new pellet into the chamber. Crosman
In a gas-operated semiauto firearm, excess gasses from the combustion of a round are siphoned off and used to cycle the action. But no ignition takes place inside an air gun, making engineering an autoloader difficult. As a result, there are very few semi-automatic air guns on the market. However, Benjamin devised a way to recycle some of the compressed air used to propel a shot back into the action. The Benjamin Marauder makes for a semiauto air rifle with faster follow up shots than most of the competition, which is a boon for hunters and a blast for plinkers. To use, throw in a 10-shot magazine and pull the AR-style charging handle. The on-board tank can be filled to 3,000 psi, giving you about 60 shots and pushing a .22-caliber pellet 950 fps with 29 foot-pounds of energy—plenty of power for squirrels, rabbits, and other small game. The Marauder Semi features a wood stock with an adjustable comb for an excellent cheek weld, and the receiver wears a Picatinny rail so you can easily mount any optic you'd like.
8. Winchester Air Rifles Model 12 Pump-Action BB Gun
Now your kids can learn gun safety on a platform that looks a heck of a lot like your favorite shotgun. Daisy lent Winchester their experience building air guns to help produce a pump-action facsimile of the famed Model 12. Just like the iconic scattergun, each shot requires a pump to load a BB into the chamber which will help develop muscle memory for when your kid moves up to his own shotgun. BBs are fed from a 12-round spring-loaded magazine, and the onboard storage holds another 250 or so in reserve. A cross-bolt safety is located in front of the trigger guard, which will also help with familiarization. Length of pull might be a little long for junior, at 14 inches, but they'll grow into it. The Model 12 Pump BB gun only produces about 350 fps of velocity, so it's strictly a backyard plinker.
9. Air Venturi Avenger
The Air Venturi Avenger is an affordable PCP gun that has one notable feature missing from other air guns in this price range: An adjustable regulator. The easily adjustable external regulator valve allows you to change the pressure of each shot on the fly. This means you can turn up the velocity for long shots or lower it so you don't damage property with an errant shot or a pass-through when dealing with pests. Dual gauges let you keep track of pressure; the gauge on the right side indicates shot pressure, the left fill. And there is a side lever to actuate the magazine and load the chamber for rapid follow up shots. The fully-shrouded barrel helps keep noise down so you don't annoy the neighbors—or scare off the other pigeons in the milking parlor. The Avenger is available in .177, .22, and .25 calibers.
10. Umarex AirSaber and AirJavelin
Powerful Precision
Check Price
Airbows, like the Umarex AirSaber, can be used to hunt varmints in many states, and some allow them for deer hunting as well. Umarex USA
Benjamin rolled out the first pneumatic arrow flicker when it introduced the Pioneer Airbow in 2016. It took some time for other companies to catch on, but we're starting to see entries in this unique category from more makers. Two of these are the AirSaber and AirJavelin from Umarex. The AirSaber is the more powerful of the pair, launching arrows at velocities up to 480 fps with 178 foot-pounds of energy. That's enough power to take big game. Ten or so states already allow deer hunting with air-archery implements and many more let you pursue predators and varmints. The AirSaber uses specially designed arrows to deal with the air pressure, but you can still use your favorite mechanical or fixed-blade broadhead. The AirJavelin is designed for plinking, as it tosses arrows at only 300 fps with 34 foot-pounds of energy. A single 88-gram CO2 cylinder provides enough power to shoot dozens of arrows, and an adapter is available that will allow you to use two standard 12-gram CO2 cylinders instead. Make sure you also get extra arrows, too.
11. Air Venturi M1A Air Rifle
One of the great things about air guns is the wide variety of firearm replicas available. And one example of that is the Springfield Armory M1A Underlever from Air Venturi. Through an exclusive licensing deal, Air Venturi has secured the rights to reproduce the M1A, and they managed to replicate the look and heft of the iconic rifle. Propulsion is provided by a unique underlever system: If you need added leverage to complete the stroke, the cocking arm telescopes to give you more of a mechanical advantage. The powerful spring drives a .177 pellet at 1,000 fps, and the .22 caliber version moves at 800 fps. Loading is simple, thanks to a unique sliding breech system. Sighting is accomplished by the blade front and adjustable rear, though the gun appears to be drilled and tapped to accept an M1A scope mount. $199;
12. Hatsan FlashPup SYN Quiet Energy
The original Hatsan Flashpup is favorite of small game air-gunners for stalking bushytails, so I was excited to see a new synthetic version being released at this year's SHOT Show. The adjustable bullpup stock ditches hardwood for polymer to resist the effects of wet weather, yet it retains all the other features that made the original so popular. The side-cocking lever combines with a self-indexing magazine to make cycling the rifle easier than traditional bolt-action air guns. When fully charged, this PCP rifle delivers velocities of about 1,250 fps with 40 foot-pounds of energy—plenty for small game. A match-grade two-stage adjustable trigger helps you put shots where you want them, and Hatsan's patented QuietEnergy shrouded barrel reduces report by up to 50 percent, keeping the neighbors happy. You can pick up the new FlashPup SYN QE in .177, .22, and .25 caliber. Check prices here.
13. Umarex Legends M1A1
Another great reproduction is the Legends M1A1 from Umarex. This full-auto replica of the Thompson submachine gun spews BBs at an unbelievable rate of fire. The Legends M1A1 features a blowback action, complete with a reciprocating bolt handle similar to the one found on the original Tommy Gun. And, tipping the scales at about eight pounds, it weighs about the same, too. The magazine holds 30 BBs and houses two 12-gram CO2 cylinders. Reloading is a breeze, but you'll probably want to pick up a few extra mags, because they empty quickly.
14. Diana 34 EMS Series
Spring-Powered
Check Price
This classic spring-powered air gun got an update this year with a range of customizable options. Diana Air guns
You're probably familiar with the Diana 34 break-barrel spring/piston air rifle. They've been in production for about 36 years, with few changes until now. This year Diana added the Easy Modular System, or EMS, to bring the 34 more in line with current airgun tech. This single-shot spring gun is available in both wood and synthetic stocks, and has the ability to swap barrels so one receiver can be used to propel both .177 and .22 caliber pellets. The business end has lots of interchangeable options, too, including a fiber optic bead, a tunnel sight, and a muzzle brake that is said to improve accuracy by altering barrel harmonics. Interchangeable rear sight choices also include fiber optic models. But perhaps the biggest improvement is the two-piece cocking lever that reduces the effort needed to charge the gun. Lastly, a shim kit is included to correct the droop that can occur as the spring gets worn, and you can swap the spring/piston unit for one of Diana's N-TEC gas rams if you choose. Check prices here.
15. Beeman PCP Under Lever
Bullpup stocks are great because they put a full-length barrel in a shorter overall package that is easier to maneuver, but manipulating the controls can be difficult because they are shifted so far rearward. To combat this, Beeman created an action that allows a shooter to load a pellet and cock the rifle with a lever located under the forend. This provides faster follow up shots because you don't need to lift your head off the stock to work the action, and the 10-shot rotary magazine gives you plenty of chances. The relatively low pressure fill of 2,000 psi delivers up to 1,000 fps in .177 and 830 fps in .22. Shop the Beeman Under Lever PCP here.
16. Rapid Air Weapons HM 1000x LRT Chassis Rifle
Dial-In
Check Price
This super-accurate PCP air rifle will shoot sub-MOA groups at 100 yards. Rapid Air Weapons
Chassis rifles have worked their way into air-gunning, and the HM 1000x LRT from Rapid Air Weapons (RAW) is evidence of that. RAW claims the LRT is the most accurate pre-charged pneumatic air rifle built in the U.S., delivering sub-MOA groups at 100 yards. The competition-proven HM 1000x receiver is tuned to ensure consistent shot strings with 50 foot-pounds of muzzle energy in .22 and 60 foot-pounds in .25 caliber. The LR is fitted with a polygonal-rifled Lothar Walther barrel finished with a carbon fiber barrel sleeve and integral carbon fiber moderator, all of which is tested for accuracy before it leaves RAW. There is a 12-shot rotary magazine and a smooth side-lever cocking mechanism so you can concentrate on shooting, not loading. The ambidextrous chassis features a pistol grip, adjustable cheek rest, and an adjustable spring-loaded butt pad for a custom fit. Check availability here.
Read Next: Best Air Rifles for Squirrel Hunting
Field & Stream is dedicated to covering safe and responsible gun ownership for hunting, recreation, and personal protection. We participate in affiliate advertising programs only with trusted online retailers in the firearms space. If you purchase a firearm using the links in this story, we may earn commission
Sours: https://www.fieldandstream.com/story/guns/best-air-guns/
Airgun Review: The Benjamin Marauder PCP Air Rifle
I started shooting adult oriented spring-piston air rifles while living overseas, and just before returning home, I was introduced to the new precharged pneumatic (PCP) airguns. My first PCP rifles were from Britain and were beautifully made and extremely accurate. However, the expense of imported airguns presented a barrier to entry for many US shooters. At that time, for the cost of a PCP air rifle, the American shooter could buy a couple .22 rimfire rifles and a few bricks of ammo (those were the days). Combined with a general lack of awareness within the domestic shooting community, this dampened the initial growth of the PCP airgun market. If only an airgun like the Benjamin Marauder air rifle existed then.
Before we discuss why the Benjamin Marauder is so effective, let's review how it came to be. When Crosman (the parent company of Benjamin) threw their hat in the PCP air rifle ring with the Discovery, I was given the opportunity to do some preliminary testing. They quickly improved on the initial design and a few months after the introduction of the Discovery, I was contacted by Crosman to evaluate their follow-up to the Discovery. This prototype air rifle had a multi-shot magazine, was fully shrouded, had a two-stage adjustable trigger, was more powerful, provided a high shot count, and would be available in several calibers. This new gun was to be called the Marauder, and the design was feature-rich, offered excellent performance, and was priced right for the US market.
The Marauder ticked the boxes for what I want in a hunting rifle, then and now, and I've used this gun a lot over the years. I've hunted with it across the US, and I've carried the Marauder as my small game gun on multiple trips to South Africa. To make this great air gun even better, Crosman has continued to improve the Benjamin Marauder platform.
Benjamin Marauder .25 Caliber PCP Air Rifle
An extremely quiet air rifle that shoots .25 caliber pellets at 800 fps with excellent accuracy. Crossman
Check Price
Benjamin Marauder Specifications
MSRP: $599 for the .25 caliber with synthetic stock and crosman barrel
Bolt action that is reversible for left and right hand shooters
8-shot repeater with auto-indexing feature (10 shot .22 and .177)
Maximum fill pressure: 300 psi
Operating pressure: 2,000 to 3,000 psi
Internal shroud with baffles for quiet shooting
Choked barrel for superior accuracy
2-stage adjustable match trigger with metal trigger blade
Aluminum breech with 11 mm dovetail
Optional rifled Lothar Walther barrels include a Weaver/Picatinny rail
Ambidextrous Turkish Walnut stock with adjustable comb (Synthetic stock available)
Built-in air pressure gauge
215cc air reservoir with a male quick-disconnect Foster fitting
42.8″ long
8.2 lbs (synthetic stock is 7.3 lbs)
Includes one magazine and sling swivel studs
Benjamin Marauder Overview
The Marauder is a large frame air rifle, but it is well balanced with a hardwood stock that has an adjustable and ambidextrous raised comb, a nicely shaped pistol grip, and machine cut checkering on the grip and forestock. The result is a rifle with excellent ergonomics that provide a stable shooting platform.
The standard Benjamin Marauder package comes in .177, .22, and .25 caliber. You can also choose from two stock options, either the hardwood stock described above, or a synthetic stock which aside from weight (about ½ lb lighter), has the same dimensions and design elements. The Marauder is cycled with a bolt action positioned at the rear of the receiver. The bolt can be set up for either a left or right hand shooter. The cocking action is short and smooth, and when cycled it auto-indexes the rotary magazine. It is easy to cock the rifle without coming off the shoulder, allowing quick follow-up shots. The .25 caliber rifle has an eight-shot capacity, is easy to load, and is a proven design.
The two-stage adjustable trigger is set up at about 3 pounds from the factory. The trigger is crisp with a positive let-off and negligible overtravel. Trigger adjustments are achieved using a set screw for trigger pull weight, trigger blade position, and changes to the first and second stages. The safety is positioned directly in front of the trigger and is easily accessible without a lot of extraneous hand movement. The Marauder utilizes a rifled barrel with a choked muzzle, producing excellent accuracy. It is equipped with an integrated barrel shroud resulting in a very quiet airgun! It's the quietest air rifle I've heard in its power class. If the main reason you are buying an air rifle is backyard target practice or small game hunting in a noise-sensitive environment, this gun should be on your radar.
Onboard air storage is provided with an under-barrel cylinder with a 215 cc capacity and a pressure rating of 3000 psi. The cylinder is filled from an external source using a standard quick fill connector. A pressure gauge is mounted a couple inches in front of the trigger guard and allows air pressure to be monitored as the gun is shot.
Benjamin Marauder Accuracy and Velocity Test
For this review, I took a stock Benjamin air rifle to the range and put it through its paces. Specifically, my objectives were to run shot strings over the chronograph, shoot 45-yard groups, and try out a few different pellets. The Marauder's onboard adjustments allow the preferred balance between power, consistency, and shot count.
How powerful is the Benjamin Marauder? At the factory presets the rifle generated 27 shots with a peak velocity of 835 fps, a low of 680 fps, and an average of 787 fps. If we look at the first 15 shots, the average velocity is 822 fps with a 25.39-grain pellet or a calculated muzzle energy of 38 foot pounds. From an airgun perspective, this is a respectable energy output, but as mentioned, the gun can be optimized depending on the shooter's requirements.
Accuracy at 45 yards was very good, the best results being obtained with JSB Exact 25.39 grain round nose pellets. Ten shot groups could consistently be covered with a quarter, and I think it is fair to say that this is solid performance in a small game gun. When shooting groups at 10 yard increments between 30-75 yards, I was able to keep two shots almost on top of one another until reaching 75 yards where they opened up but still remained within the kill zone of a rabbit.
Though baseline performance is good, it is possible to further improve power, accuracy, and air management by adjusting the hammer (tension and stroke) and optimizing the airflow through the transfer port for a specific pellet. These adjustments are a parallel to handloading in the firearms world. However, I would suggest you read up on this and buy a chronograph before you start tweaking the rifle.
In my range session, I shot four different pellets, the JSB Exacts, the Benjamin Discovery, the H&N Baracuda, and the JSB Hades. The JSB Exacts gave the best results, and an occasional flyer occurred with the H&N's, but all of these pellets would be good for small game hunting. Air rifles can have pellet preferences, so to get the best possible results, the shooter needs to try different projectiles.
Where the Marauder Shines
I find the Benjamin Marauder to be an excellent hunting air rifle. It carries well, comes quickly to the shoulder, points naturally, and allows a consistent and comfortable sight alignment. As mentioned, my preference is the .25 caliber which hits small game like a sledgehammer. I have complete confidence with this rifle at 50 yards and have frequently reached out farther when shooting prairie dogs from a rested position. The bolt action and magazine cycles smoothly and reliably, which enables fast follow-up shots when needed. I can be rough on my guns and gear in the field. This rifle has stood up to the hard knocks and always performed for me.
Where is the Benjamin Marauder lacking?
Of course, very few things in this world are perfect, and as good as the Marauder is there are places it could be improved. First, even though the rifle is not oppressively heavy, it is pretty stout, hitting 10 to 11 pounds with a scope. The rifle does not have a mechanism to prevent double loading a pellet. It is possible to cock the rifle in the heat of the moment, only to realize the gun already had a pellet loaded and a second pellet has been jammed in behind it. This is not a huge problem but can require some time and effort to correct.
And finally, the Marauder is not regulated, so shot-to-shot consistency is good but not great. The solution is to find a setting where there is a balance between shot count, power, and accuracy. This allows consistency to be optimized for all but the most precision oriented competitive applications. There are also after market regulators for those that want to follow this path with their Marauder.
Tip: How to Fill a PCP Air Rifle
There are several options available to supply your Marauder with air: the least expensive (by far) is a 3 stage hand pump, but eat your Wheaties before using this bad boy. It resembles a bicycle pump on steroids, and you'll have to put your back into a couple hundred pumps to charge the gun from empty. The next option is a high pressure air tank, but you will need an air source such as a paintball or dive shop. My favorite option is an air compressor. The good news for airgunners is that the price of personal compressors is becoming quite affordable. Crosman offers a full size compressor and a travel compressor, which makes filling your rifles fast and easy.
Final thoughts on the Marauder
I really liked the Benjamin Marauder from the first time I shot it. As stated, it is a larger gun, but I find that it balances on the shoulder and fits me well. With the adjustable stock, I think most shooters will be able to configure the rifle to fit them. The performance is solid, with excellent accuracy and power. The Marauder, especially the .25 caliber, will do the job on any small game you want to pursue. The fact that you can adjust the power, and the gun is so inherently quiet, means it can be used in noise-sensitive shooting and hunting scenarios. In my experience, the rifle and the magazines are rugged and reliable. And finally, the breadth of aftermarket components and the number of possible modifications makes this a great platform for a wide range of applications and shooting disciplines. I do think that if you are looking for a mid-priced hunting rifle, the Marauder deserves a spot on your shortlist.
Sours: https://www.outdoorlife.com/gear/benjamin-marauder-review/
TOP 5 AIR RIFLES 2021 - BEST AIRGUNS FOR HUNTING 2021
Come on, bitch, get up with cancer. Lena obeyed. She got to her feet and bent over. The blond, stroking his penis, settled down to her from behind. He sharply introduced his not a small organ to its full length and rested against the uterus.
Reviews air rifle
The wife herself unbuttoned his trousers and lowered them, along with the panties, to the knee knife. Without taking her eyes off his eyes, she took his penis into her mouth and began to suck deeply, helping herself with her hand. She sucked for a very long time. Sweaty.
Sig Sauer VIRTUS .22 caliber PCP Rifle (Full Review) Semi Auto Airgun
Spread your wrinkled ass, bitch. Having squeezed out the cream onto the open, red, stretched anus of his victim, the man inserted his excited penis into it. The old woman groaned hoarsely.
Now discussing:
Her elastic ass high, and the goblin, gibbling with gusto, pushes a dark green penis into her pussy, around which sperm is sprayed. It seems that he is not the first to process it today. Or not the first time. El smiles. A lustful gnome can become, albeit petty, but still a trump card in her game.
4966
4967
4968
4969
4970