How Smartsheet Control Center can revolutionise your project management process
This is the first in a series of three articles looking at Smartsheet Control Center, a project and portfolio management solution that delivers consistent business processes in a scalable way. In this article, we start by introducing Smartsheet Control Center. (NB – This article uses the USA spelling of Center, simply because that is the product's name).
At Cheetah Transformation we work with organisations who want to improve their Project Management tools and processes. Often, they tell us they have a reasonable process for managing an individual project, but things get difficult or out of control when they try to keep a handle on multiple, concurrent projects. We hear that projects lack consistency, work gets lost in various Excel sheets and in the avalanche of emails. It's too difficult to ascertain the top level / helicopter view of how projects are performing and when they do find out, it's too late to make a difference.
Successful projects don't happen by accident; it takes time, effort & a skilled project manager to make it all happen on time and on budget with minimal stress for all. Now imagine all the time, effort & skill it takes to deliver 10, 50, 100 or 500 projects every year. Did we mention that all these projects will (a) have to go through an approval process, (b) need consistent templates / documentation, (c) have an update delivered weekly to the project team, (d) and have a different update delivered to the board (e) and to the sponsor, and, and, and…
For many organisations this is a reality – whether that's developing new products, creating media campaigns, or managing IT projects – keeping the projects or programmes running can be an industry in itself. It doesn't have to be like this, there is a simpler, better way.
Smartsheet Control Center (SCC) is a solution that enables organisations, teams and project managers to:
Collate the info required for projects to be created and approved
Track approvals
Replicate agreed, consistent templates for every project
Follow an outline project plan, created for your ways of working
Automatically generate reports and dashboards, tailored for every audience, in real time
Organisations that have implemented Smartsheet Control Center say it is revolutionary. It fundamentally changes how projects are run. Each member of the team has complete transparency on all the projects they work on. All work has migrated from various Excel sheets and lost emails, it now happens in an orderly and structured fashion on Smartsheet. The time saving is huge, and everyone can get on with the added value task of delivering the project, rather than chasing team members and finding the latest updates.
We know an organisation who have calculated that they have saved 3 hours of work for each project manager, every week. Another organisation we work with have described Smartsheet Control Center as transformative, with an industry-experienced freelance project manager who has just rejoined the organisation calling it "the best system I have ever seen".
Smartsheet Control Center Essentials
The diagram below represents the key elements of an operational Smartsheet Conrol Centre project. These 8 elements integrate to deliver the 5 features listed in the previous section. The most important element is the creation of your project templates – the sheets, reports & dashboards that you will use to run your projects time and time again. From our experience, this is where 80% of the time is spent, ensuring the system works for your team and processes. A critical step here is to bring your team into the process, to gain their feedback and buy-in for the way projects will be run going forward.
A Smartsheet Control Center project is broken down into a number of key stages:
A. Initiation
Completing of 1. Intake form is the request for the project to be considered. The form is custom-made so can contain as much or as little info as required – usually project names, key people, key dates, budgets etc. The info is then collated in the 2. Intake sheet, awaiting approval. This static information and the approval remain in this sheet, so tracking can take place. Once the project is approved to proceed, it moves to the next stage.
B. Creation
3. Smartsheet Control Center contains a set of agreed project templates e.g. project plan, RAID log, P&L and a project dashboard. Once a project is approved, it takes circa 5 minutes to provision a project i.e. Replicate agreed, consistent templates for every project. The templates are automatically named for the project, key information is added to the documents then they are located to 4. Project Workspace. Key metrics from the project templates are linked to the 5. Blueprint summary.
C. Live Projects
Each live project is contained in its own folder in 4. Project Workspace. Pre-determined metrics are gathered from each project and pushed up into 5. Blueprint Summary. This info is gathered in continuously, so the 5. Blueprint Summary contains real time information that gets rolled up from all the project components. Commonly gathered dynamic metrics includes: current project timings; overall project health & status updates; project progress (% complete / key milestones achieved), budget vs actual; number of overdue tasks or outstanding risks.
D. Reporting
6. Reporting suite is collection of custom-made automated reports and dashboards. Each set is tailored to a specific audience so everyone from project team to CEO sees the information relevant to them. The content can be gathered from 2. Intake Sheet or 4. Project Workspace or 5. Blueprint Summary. Remember the latter two sources give real time info, being delivered via automated reports & dashboards. This represents a considerable timesaving, allowing project managers to get on with delivering projects, rather than just reporting on them. Department / category / brand dashboards show these teams the progress of all projects, and where they are on point to contribute to the project success. We find the My Dashboard is a great way to bring all key information, upcoming milestones & due tasks to the individual – there will never be an excuse for anyone that they didn't know about upcoming tasks. Personalisation within Smartsheet dashboards means that a Project Manager can provide updates on all their projects via updating a single report on their dashboard – the update occurs in the report, but the data resides on the individual project sheet. One of the features many teams ask for is to send an automated update request to their Project Managers at 2pm on a Friday, requesting they provide updates for all their projects by close of play.
The final two elements of Smartsheet Control Center are 7. Global Updates and 8. Archiving. Global Updates is a powerful tool for updating project templates consistently for both new and existing projects. If an Exec Director wants to add a new KPI, manually updating existing projects would be time consuming and prone to errors. Global Updates makes this possible easily and will save teams hours of time. 8. Archiving is the final piece of the puzzle and has proven very popular with teams. We'll be covering both of these in more detail in the next article.
In the meantime, have a look at the video below to work through a live demonstration of Smartsheet Control Center and see how quick and easy it is to provision a project with SCC.
If you can't wait until the next article and would like to find out how Smartsheet Control Center could revolutionise your of project management, get in touch to book a discovery call or register for our upcoming webinar on 28th January 2021, or view upcoming events.
Sours: https://www.cheetahtransformation.co.uk/how-smartsheet-control-centre-can-revolutionise-your-projects/
Get Started with Bridge
Get oriented and start building
When you first log in to Bridge by Smartsheet, you will see the Workflows dashboard. You'll use this dashboard to start creating workflows.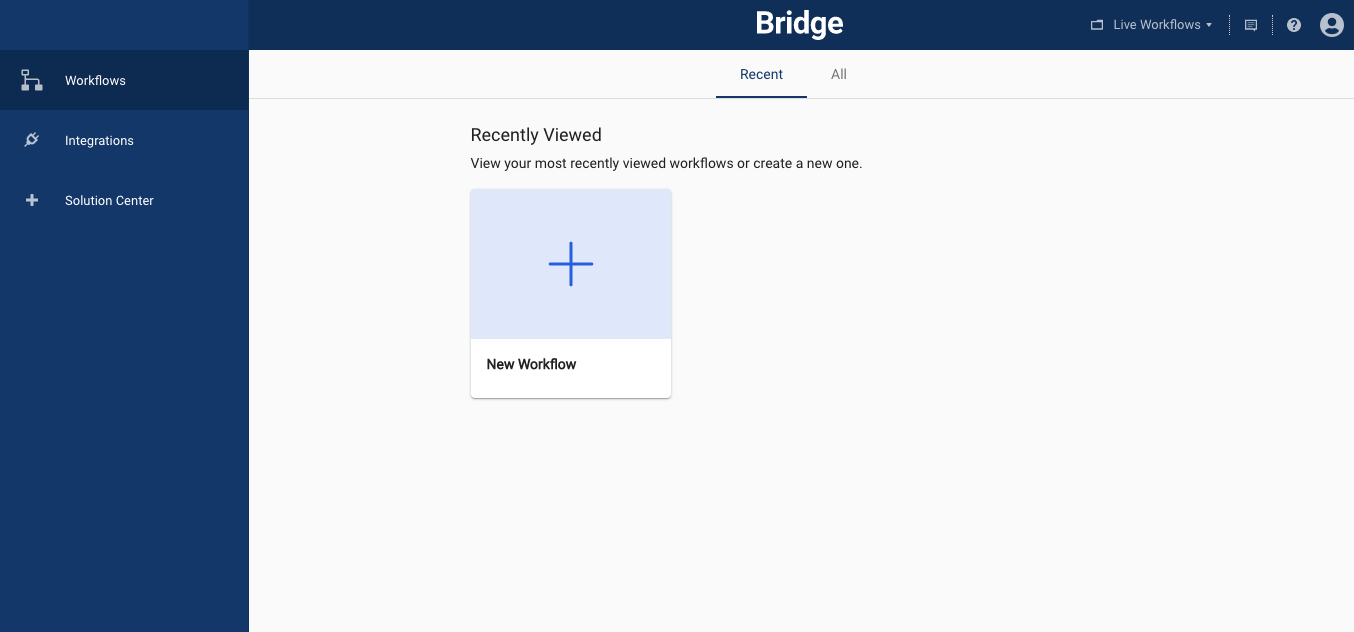 You can choose to create a workflow from scratch in the designer, or you can start from a template in the Bridge Solution Center.
As you work in Bridge, use the left menu to access workflows, integrations, and the Solution Center.
You can set up your users, create API keys, and manage your workspaces from the top right corner of your account.
Start with a blank workflow
To create a workflow from scratch, click New Workflow to open the designer. For more information about starting a blank workflow, see Use the Designer to Build a Workflow.
Start with a template in the Solution Center
To help you get started building workflows, Bridge includes a set of workflow templates in the Solution Center.  
To access the Solution Center, click Solution Center from the left menu of the Workflows Dashboard.
Bridge Solution Center templates can be saved in a workspace and can either be used as-is or built upon further.

If you are interested in seeing where the components in these templates are used in  existing integrations, refer to the Categories column.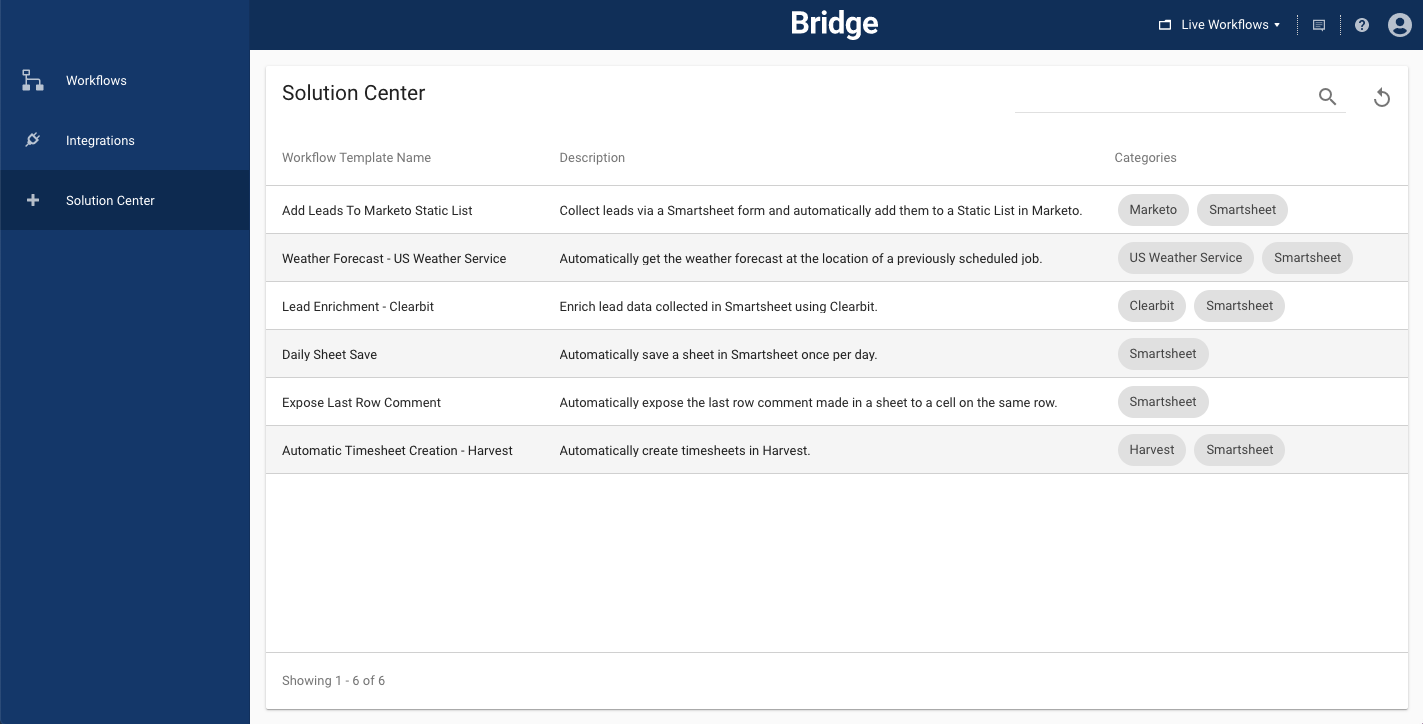 Most of the templates will require further configuration to make them work for your unique scenario. For more information about each of the templates, see Bridge Templates. 
Tips for using the Workflows dashboard
If you are in the Workflows dashboard and do not immediately see the workflow you're looking for, select All at the top of the page to see a list of all workflows in that current workspace.
Sours: https://help.smartsheet.com/articles/2482068-get-started-with-bridge
Probably one of the best features Smartsheet has to offer is making project reports. Allowing project managers to work with data from different sheets in a single view can be a real time-saver. However, this process might seem challenging for those who have never made reports or just started using Smartsheet. If you belong to any of the two categories, you've come to the right place.
In this step-by-step guide, we'll tell you everything you need to know about creating a report in Smartsheet. You'll walk away knowing what the different report types are and how to configure each.
How to Create a Report in Smartsheet on a PC?
Every successful project manager needs to know how to multitask efficiently. Keeping up with ongoing tasks, weekly sales, or other projects can be daunting without timely reports on each of these activities. Reports are especially useful for answering core business questions and managing and keeping track of a workflow.
You can edit, summarize, or sort all data in a report. Once you've successfully created one, you can send, share, or publish it with your colleagues or stakeholders.
You can create two basic report types in the Smartsheet desktop browser app: Row and Sheet Summary Reports.
The Row Reports instantly accumulate row data from different sheets. Thanks to these reports, you can get an overview of all incomplete tasks, payments that didn't go through, or any other info stacked in rows.
The Sheet Summary report displays summary field information across different sheets. This is an excellent tool for getting a detailed overview of different projects.
You can build Row and Summary Reports in Report Builder inside the Smartsheet desktop browser app. This process involves quite a few steps, but they'll be a piece of cake for those who follow the instructions below carefully:
Row Report
Step 1: Creating the Row Report
Log into your Smartsheet browser account on your desktop.

Navigate to the Menu sign in the top left-hand corner of the window.

Click on the plus sign to enter the Solution Center.

Click on "Create" in the left-hand sidebar.
Choose "Report" from the options displayed.

A prompt window will show asking you to name the report and choose the report type.

Select "Row report" and click "OK."

You'll now have to configure your report to be able to use it.
Step 2: Configuring the Row Report
Use the tabs in the upper toolbar to configure the Row report. You can configure the following: Source Sheets, Columns to Display, Filter Criteria, Group, Summarize, Sort. For example, in the Filter Criteria tab, you can choose conditions to show in your report. You can filter by comments, department, description, assigned to, and much more.
Step 3: Sorting Row Report Results
An essential part of creating a row report is to sort the results by fields:
Click on the "Sort" section in the toolbar menu.

Choose a field by which to sort the report.

Select "Sort Descending" or "Sort Ascending" on how you want to sort the results.

If you want to add more sorting criteria, click on the "Sort by another column" option. You can sort the report results by no more than three fields.
How to Create a Report in the Smartsheet iPhone App?
The Smartsheet iPhone app lets you access and edit information in all available sheets and reports. This can be a real lifesaver when you're out without your computer, and you get an impromptu data configuration task that needs to be done right away.
However, the Smartsheet mobile app doesn't allow users to create new reports. As recommended on their website, you're best using the app with previously set up reports or sheets. You should use the desktop version to set up a report or build automation, apply formulas, and other administrative changes. You can make changes to the columns on your phone if you're a sheet Admin or Owner.
How to Create a Report in the Smartsheet Android App?
Having access to Smartsheet reports on your Android device can be surprisingly convenient, especially when your computer is out of reach. Unfortunately, the Smartsheet Android app still doesn't support creating new reports.
You can access all the reports on your workspace anytime using your Android device. You can also edit the columns if you're the Owner or Administrator of the report. Creating new reports, sheets or working with any administrative change is best done on the Smartsheet desktop version.
How to Create a Summary Report in Smartsheet?
Creating a summary report lets teams accumulate specific summary fields from different sheets in one place. Doing so allows everyone to spot important information and data in a portfolio-level view. You can then easily combine the data into groups, summarize information by applying functions, and much more.
Here's what you should know before creating a summary report in Smartsheet:
The summary fields in all sheets you plan on including need to be named consistently. The app will exclude information for a specific summary if there are even the slightest differences in spacing or spelling.
Use the same field types for all summaries that accumulate the same data. You want all the columns to have a currency format if you're aggregating money information, for example. This will help stay away from duplicate report columns. If some fields were just numbers, and others were currencies, you'd end up with two columns – one for each field type.
Here's how to create a summary report in Smartsheet:
Launch the Smartsheet app on your desktop browser.
Head over to the Menu Bar in the upper right-hand corner. It's the menu with three horizontal lines.

Select the "Solution Center," featured as a plus sign.

Click on the "Report" button.

You'll see a prompt asking you to name the report and select a report type.

Choose the "Sheet Summary Report" option.

Hit "OK."
(Optional, can be done later) In the "Source Sheets" section, select the source sheets whose sheet summary fields you want to include.

(Optional, can be done later) Under "Fields to Display," specify the columns to display. These are summary fields you wish to add.
You can add the sheet summary report directly to your dashboard with the report widget. You may also visualize the report data into charts or graphs and make it easier for your colleagues to access the information.
To create a portfolio view of all included data, you need to define what information to pull into the summary report. You can do so by navigating through the toolbar settings:
Source Sheets: Specify which sheet and sheet summary to include in the report.
Columns to Display: Select the summary field to include in the report.
Filter Criteria: Set parameters for the information shown in the report.
Group: Organize rows by grouping similar data into logical classifications.
Summarize: Extract core report information.
Sort: Choose how to sort the report summary data.
To apply all these changes, click "Save" in the top right-hand corner of the app window. You'll then be able to see all the information that met the criteria selected above.
How to Create a Status Report in Smartsheet?
Status reports help summarize the overall project progress, and their main goal is to keep everyone informed about the ongoing changes and potential risks or roadblocks. Fortunately, Smartsheet has tons of free templates you can use to create a detailed status report. You can find them on this page.
You can also create your own status report and only look at the templates for inspiration. Here are some of the basic sections you should include in your status report:
Project Name. This is where you write the name of the project. The name should be clear enough for all stakeholders who might have a look at the status report.
Project Manager. Name of the person in charge of the project.
Project Period. The time period that the project covers.
Date of Completion. You should write the project due date here. If there's no exact due date, you can write the estimated one.
Budget. What's the status of your project's budget? This is where you enter whether it's on target or not.
Schedule. This is where you write down the status of your project schedule. Are there any roadblocks, or is everything on track so far?
Quality. Here you can enter whether the project is successful or leaning towards a risk.
Scope. Write down the scope of the project and whether the initial one was too big or small.
Risks. Write about all the risks your project was confronted with. What is their status now?
Roadblocks. Mention any other roadblocks that might interfere with your project.
These sections will be more than enough to create a clear report that tracks all stages of a project's successes.
Creating a Report in Smartsheet
Creating reports to track project progress is essential for ensuring a detailed, compact, and time-saving workflow. By combining the data from multiple sheets into one portfolio view, you can easily share key information with stakeholders. With Smartsheet, you can do just that. Hopefully, after reading our guide, you can create reports in Smartsheet on your own.
Which report type do you find especially useful for project management? Share your thoughts and experiences in the comments section below.
Sours: https://www.alphr.com/create-report-smartsheet/
Preparing for Your Solution Certification (Intermediate)
Align Your Teams with Smartsheet
Get a license
If you already use Smartsheet, consider switching to a UIT enterprise license. You will enjoy the benefits of a centralized offering and gain access to applications like the Pivot App and Dynamic View.
Resources and training
The Smartsheet app is highly intuitive and easy to learn. To get started:
Managing work shouldn't get in the way of getting the work done. That's why so many teams across Stanford have chosen to use Smartsheet to simplify tasks.
Unlike more traditional solutions, Smartsheet has baked-in functionality that provides collaboration and automation opportunities that let you spend more time completing tasks and less time managing them. And you will be able to share your sheets with infinite collaborators, even if they don't have a Smartsheet account.
Premium features and added support
Did you know that – through an enterprise license UIT maintains – you, and fellow students, faculty, and staff at Stanford can take advantage of premium features and added support?
If you've been thinking about trying the cloud-based tool, here's more good news: UIT is offering the use of Smartsheet from now through the end of October 2020 at a pro-rated cost. This is an opportunity to take the app for an extended test drive to see first-hand how it can help you efficiently manage and communicate the information you use to do your work at Stanford.
Team-wide visibility into workflows
With Smartsheet, you can assign tasks and track progress. You can also add comments, attach documents, and request updates from within the sheet. The information is captured in the tool, so everyone gets real-time visibility into what's on point and what's coming next in a workflow.
Mary Ayers, director of Learning Spaces and the Immersive Learning Center at the Stanford University School of Medicine, began using Smartsheet about five years ago. She notes that Smartsheet's capability to automate processes has been a game-changer.
"Smartsheet helps us streamline our whole scheduling process. During the annual scheduling project that we undertake in the summer, Smartsheet allows us to show our status using the dashboard. The tool solved many of the gaps and redundancies around communication and collaboration that we had previously," said Ayers.
Template solutions
Smartsheet has many free resources available in its Solution Center to help you get started efficiently. This includes templates for return-to-campus planning that can be leveraged to provide a single place to assess, track, and communicate guidance around COVID-19.
Sours: https://uit.stanford.edu/news/align-your-teams-smartsheet
Center smartsheet solution
SmartSheet - Pilot Session 2
Pilot Notes - Session 2  - March 31, 2020
Demo with Karen LoParco
Background: Karen from Law School has been using for less than a year starting last Fall. The setup is the hard part and there was a steep learning curve. Most important piece was thinking through what you want to do.  Then you can move to setting up the automation and reminders for things you want to track.
How did you get started using SmartSheet?
Hierarchy of events is useful.
You can have multiple levels to roll-up tasks and hide previous events.
Started with "Event Plan and Budget" template from SmartSheet template library.
Can you talk about how you share files to non-SmartSheet users?
There are ways to incorporate other widgets like Slack.
If I have a document that is in box, you can link SmartSheet to box. The person would also need access in box.
Typically she attaches the file into SmartSheet so that users don't have to go to another system to reach the document.
Non-licensed users can see files that are attached to a row you share out to them.
You customized which columns they can see from the row you are sharing.
Sample email was sent to Tami.
You can also share the RSVP sheet for people who need to see who is coming.
Do you use Dashboards?
Yes, we use it to share information about speaker series publically.
For each speaker series, we create a workspace for the speaker series. They can check the links real-time to see updates.
"Marketing Calendar", a calendar template, is a great tool to show all the events that are going on for a speaker series.
Is there a way we could collect Faculty availability for prospective students?
Consider creating a form that will collect information from the faculty.
Would need to think carefully about how to setup the form and what to collect.
Then you could filter the sheet based on the faculty or students who are visiting.
It might be possible but Law has not doing anything similar.
Would be an opportunity to talk to pro support.
Can you track budget down from the overall series down to individual events?
You can have different fields that represent different kinds of spend. (e.g. food, lodging hosted meal, on-site transportation, parking/mileage, flights) so you can use a calculation to add up the different cost breakdowns across the series.  You can subtract that from the starting overall budget to see the budget remaining.
Yes. The calculations will tie together all the events similar to how you would do in Excel.
Review demo at ~50minutes for details.
SmartSheet Tips
You can lock down historical events.
You can add different methods of contact information to a contact record. Be consistent on how you add people to assign people. For example, use email address.
Recommend starting from templates available so the calculations and everything are already setup. Then modify from there.
Watch the SmartSheet video tutorials to learn how to do different things.
Sours: https://cals.cornell.edu/faculty-staff/information-technology/cals-it-services/application-portfolio/event-planning-smartsheet/smartsheet-pilot-session-2
Build Your Own Smartsheet Solution Beginner
New Solution Center Helps You Jump-Start New Projects and Processes
With the new Solution Center on your desktop, you can jump-start new projects and processes with our pre-built sets of sheets, reports, dashboards, and forms. This resource-rich environment is loaded with templates to help you save time and hit the ground running. You also have the option to modify templates as needed to perfectly suit your needs.
Some of the templates available to you include:
Sales Pipeline Tracking and Reporting: A set of templates to help you see a real-time overview of opportunities in your sales pipeline that enables you to view deals by stage, rep, value, or any custom dimension, so you can dig in to the details on any deal.

IT Requests and Ticketing: A set of templates to help you capture IT requests through a simple form, assign reps to address requests and view the status of tickets, and monitor charts of open and resolved tickets in a dedicated dashboard.

Project Tracking and Rollup: A set of templates to plan, schedule, and assign project tasks by phase, stay on top of at-risk tasks to ensure project success, and access project information through a project rollup dashboard.
You can also browse all of the other resources Smartsheet has to offer you, including apps, integrations, and connectors, and explore all of the consulting and training opportunities available for you and your team.
To explore the Solution Center on your desktop, click here. Note: You'll need to be logged in to your Smartsheet account to view the Solution Center.
Sours: https://www.smartsheet.com/content-center/product-news/product-releases/new-solution-center-helps-you-jump-start-new-projects-and-processes
Similar news:
A member begins to penetrate into my ass. This extremely unusual, painful and at the same time such a sweet sensation. It was practically news to me (I tried it with Kolya once and did not like it), but now I was just jerked. There were three men in me, this is the limit and I poked like the last bitch, they pounded me, they gave me in my mouth and.
Fucked in the ass at the same time, and I poked and enjoyed myself and dragged myself.
4891
4892
4893
4894
4895