Walmart launches DVD 'disc to digital' service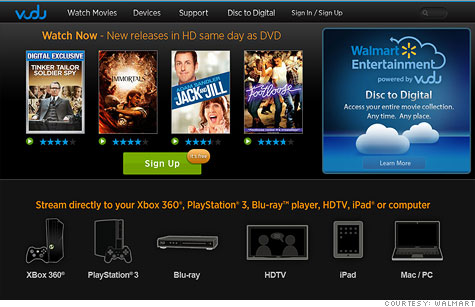 Walmart's "disc-to-digital" program uses UltraViolet, a service that the movie industry is pushing.
NEW YORK (CNNMoney) -- Walmart unveiled a "disc-to-digital" service Tuesday that lets customers buy online access to movies they've already purchased on DVD or Blu-ray.
Customers can take their discs to a Walmart (WMT, Fortune 500) store and pay $2 for online access to a standard-definition copy of the movie, or $5 for high definition. The program launches on April 16 in about 3,500 Walmart stores.
The new program "allows customers to reconnect with the movies they already own on a variety of new devices, while preserving the investments they've already made in disc purchases," Walmart executive John Aden said at a press conference Tuesday.
Walmart's program uses UltraViolet, a service that the movie industry has been pushing.
Unlike services including Apple's (AAPL, Fortune 500) iTunes, UltraViolet doesn't store actual content in the cloud. Instead, when users buy movies, a "digital proof-of-purchase" is added to their personal UltraViolet accounts. It's essentially a library of licenses.
Each account holder can then download or stream those movies on up to 12 devices -- including tablets, TVs and phones. A single account can be shared between up to six people.
Users can watch the movies through a handful of sites or services. In Walmart's case, it's powered by Vudu: A streaming service the retailer bought in 2010 and uses for its online video-on-demand offering.
Tuesday's announcement included a handful of studios -- Fox, Sony, Universal, Warner Brothers (which is owned by Time Warner (TWX, Fortune 500), the parent company of CNNMoney) and Paramount -- that also back the UltraViolet service.
In January, Amazon (AMZN, Fortune 500) became UltraViolet's first retail partner.
Industry push for UltraViolet: UltraViolet, which launched in mid-October and is still in beta testing, is the industry's attempt to solve the problems surrounding digital rights management (DRM) -- which is only getting tougher as owning multiple devices becomes the norm.
The service is the brainchild of the Digital Entertainment Content Ecosystem, a consortium ofscores of companies with skin in the game: Internet service providers, studios, hardware makers and more.
The future of their industry depends on getting the digital piece right. But UltraViolet has been slow to take off. After all, it caters to people who have libraries of physical discs. Is that really the demographic that's likely to stream movies on a tablet?
The service's success also depends on customers' willingness to pay a premium for owning, rather than streaming, a movie. People could pay Walmart $2 to $4 for the digital license of one movie; or they could buy a Netflix (NFLX) streaming account for $8 a month.
Retailers peddling the service will have to work hard to convince customers that they're not paying "extra" for content they already own.
In fact, when UltraViolet first launched, it appeared the service would be bundled in with a DVD or Blu-ray purchase. The first UltraViolet DVD was Warner Bros.' October release of "Horrible Bosses," which simply came with a code for a digital license for no extra charge.
But UltraViolet's evolution over the past few months shows that UltraViolet's backers have no intention of handing over digital licenses for free.

First Published: March 13, 2012: 2:04 PM ET
Sours: https://money.cnn.com/2012/03/13/technology/walmart-ultraviolet/index.htm
Walmart's in-store disc-to-digital program converts DVDs and Blu-rays
At a press conference today, Walmart announced a new disc-to-digital service that will let customers bring in their physical DVD and Blu-ray libraries and convert them to digital movies that can be accessed via Vudu, the online video service now owned by Walmart.
You can bring in any disc you own, not just those purchased from Walmart. Once they're digitized, you'll be able to watch the movies on a variety of Internet-connected devices, including televisions, tablets, smart phones, and game consoles.
To use the service, you simply bring your DVDs or Blu-ray titles into a Walmart retail store, where an associate will help you create a free Vudu account (if you don't have one). A standard digital DVD or Blu-ray conversion will cost $2 per disc, or you can pay $5 to get a high-def version of a DVD. Walmart will then authorize the digital copies (there are no uploads, and you get to keep your discs) and place them in your Vudu account. You can view the movies any time by logging into your account at Vudu.com.
The program, which rolls out in 3,500 Walmart stores on April 16, was launched in partnership with the five major Hollywood Studios: Fox, Paramount, Sony, Warner Bros., and Universal. Walmart says the new program will be compatible with UltraViolet, Hollywood's new copy-protected, cloud-based digital locker system, currently in beta.
It's unclear at this time whether the disc-to-digital program covers only movies, or whether it will also apply to TV shows created by or owned by the studios and their affiliates.
Sours: https://www.consumerreports.org/cro/news/2012/03/walmart-s-in-store-disc-to-digital-program-converts-dvds-and-blu-rays/index.htm
Walmart will soon be able to convert your DVD movies to online digital content right from your own PC.
The company's Disc-to-Digital service already handles that type of conversion. But the current process requires you to hop over to your local Walmart store to get your DVD converted.
Starting sometime this month, the expanded service will handle the whole conversion with you driving it from your PC. Using its Vudu video streaming service, Walmart will convert your DVD and Blu-ray movies and TV shows into UltraViolet digital copies. Those copies are then stored in your own online libraries where you can watch them from any supported computer, phone, tablet, game system, TV, or Blu-ray player.
Free Vudu mobile apps are available for iPad and Android devices. Walmart promises that iOS users will be able to download as well as stream titles starting mid-February.
What's the cost? You can convert a standard DVD or Blu-ray movie for $2 and upgrade a standard DVD to an HD digital copy for $5.
To push the service, Walmart is offering customers 10 free pre-selected movies if they sign up for an UltraViolet account or link to an existing account.
Rival retailer Best Buy recently rolled out a similar feature called CinemaNow that lets you convert discs into UltraViolet copies from the comfort of your home.
Both Vudu and CinemaNow have the same limitation: You can't just convert any movie or TV show from your own library. It has to be a title supported by each respective service and the UltraViolet format.
Walmart and Best Buy each support around 3,500 different movies from such studios as Sony, Universal, Warner, and Lionsgate. Though relatively small in number, the selections do include a healthy variety of both recent and classic films.
Sours: https://www.cnet.com/tech/services-and-software/walmart-will-convert-your-discs-to-digital-from-your-home/
Whats New At Walmart? DVD Shopping
Walmart Announces Disc To Digital Program To Convert Your Old DVDs
Walmart is about to make a big push for digital movie ownership.
At a press conference today in Los Angeles, the company announced that, as rumored, it's launching a new program called the Disc to Digital service. Starting on April 16, anyone can bring their DVD collection into a Walmart store, and copies of each movie will be loaded onto your account on VUDU, the online video service that the retailer acquired two years ago. Standard definition DVDs will be converted into standard definition videos and Blu-rays will be converted into high-definition, for $2 each. You can also "upgrade" a standard DVD into an HD copy for $5.
To make this happen, Walmart is partnering with 20th Century Fox, Universal, Sony Pictures, Paramount, and Warner Bros., and it sounds like the program will include any DVD released by those studios. (Executives from all five took the stage at Walmart's event.) The system will also integrate with the UltraViolet digital locker platform that the studios have been pushing, making UltraViolet titles available through VUDU.
Executive Vice President John Aden described the program as a way to "provide more choices for customers," rather than just replacing DVDs. Echoing a common Hollywood talking point, he said, "Physical and digital movie ownership are not mutually exclusive." Instead, he says the digital copy and the physical copy complement each other.
One of the big goals of the program is to reach consumers who have never owned a movie digitally (and to persuade them that they should still buy their movies, rather than just subscribing to Netflix). Walmart is already well-positioned to do this given its tremendous retail footprint, but the company says it will also be launching a "massive" campaign behind this effort, one that's on the scale of a "blockbuster film launch."
Sours: https://techcrunch.com/2012/03/13/walmart-disc-to-digital/
Disc walmart dvd
Walmart will let you back-up your DVDs online for $2 each
Looking to backup your DVD and Blu-ray collection and convert them to virtual copies for playback at home and on your mobile devices? Walmart will let you purchase virtual copies of your existing DVDs and Blu-ray discs through its new Disc to Digital service for Vudu, its digital video rental and purchase service.

Starting April 16, you'll be able to come into Walmart stores with your discs (purchased at Walmart or elsewhere) and pay a $2 fee per disc for a straight conversion (DVD to SD or Blu-ray to 1080p HD), or $5 for up-converting a DVD to an HD copy.

The virtual copy will then be available through Walmart's Vudu video service on your Vudu-enabled TV, Blu-ray player, PS3 or Xbox 360. Currently, you can use a computer or iPad only to stream SD videos.

The Disc to Digital service for Vudu is powered by UltraViolet, a cloud-based movie and TV storage service. Technically, with an UltraViolet account, you can stream your content to up to three devices simultaneously. Flixster, an UltraViolet app, is already available for iOS and Android devices. And, the ability to download your titles onto up to 12 UltraViolet-capable devices is coming soon. But it's not yet clear whether the Vudu service will have options for or Android, and downloading is only supported for PCs (up to 5) and simultaneous streaming to two devices.

The selection of movies available for conversion to UltraViolet is currently limited to titles from Warner Brothers, 20th Century Fox, Sony Pictures and Universal Pictures. Notably absent is Disney.

The big question is whether consumers will be willing to pay for the privilege of streaming content they already own.

For content not available on Netflix or Amazon Prime, it may make sense. I also have plenty of scratched discs (especially kids' titles) that I would like to recover and keep in a more durable format (discs don't have to be playable when brought in for conversion). And once the ability to download and play back content offline becomes available, UltraViolet may very well replace DVDs and Blu-ray discs entirely.

More stories from Techlicious:

Get Suzanne's free daily Techlicious Newsletter or chat with her on Facebook.

Sours: https://www.nbcnews.com/tech/gadgets/walmart-will-let-you-back-your-dvds-online-2-each-flna426758
DVD Hunting At Walmart
Want to stop. Or pat. Didn't reach. Hair was scattered over the pillow, covering her face with a thick veil.
Now discussing:
I went around the whole park, but there were no stationery anywhere. In the end, I took a cardboard box behind the stalls, tore it at the seams and wrote it coarsely with a felt-tip pen. On one of the parts (I didn't bother on the rest, blew, that's enough). Now all that remained was to put it so that no one could see that I was doing it.
476
477
478
479
480