Whitewashing Stone – The Tips & Tricks I Swear By
Whitewashing brick and stone can range from quick and simple to time consuming and difficult. It all depends on the type of stone you're working with!
I've done complete whitewashing projects in the span of one nap time, but when I decided to tackle the double-sided fireplace in our new home, I had no idea what I was getting myself into!
That is, until I got started.
This stone not only soaked the paint right in, but it was full of edges, bumped, holes, and divots. Let's just say, it was nearly impossible to fully cover each and every stone, which was the look I was going for.
Luckily for me, I have a few tips and tricks I use every time to ensure my project ends up like I have in my head, even if it does require a few extra hours of hard work to get there.
WHITEWASHING STONE – THE TIPS & TRICKS I SWEAR BY
To start, I always tend to use the same chalk paint and ratio combination!
CHALK PAINT
My favorite go-to chalk paint for whitewashing stone is Linen White Chalk Paint by Rustoleum. I love it because it's chalk paint so it's a little thicker and you get a little more coverage.
But I also love it because it's a little off-white, so I find it plays well with the natural colors in brick and stone!
KEEP THE SAME WATER TO PAINT RATIO THROUGHOUT
I usually try to follow a 1:1 ratio between my chalk paint and water and look for a milk-like consistency.
But this can be up to you! If you want more coverage, use more paint. Less coverage? Use more water! Just make sure you keep the same ratio throughout your project to make sure it looks the same throughout!
The last thing you want is your stone to look fully covered on one side and lightly covered on the other. Save yourself the time and keep the same ratio!
USE A SOFT BRUSH
I love using a soft paintbrush to paint my solution onto the stone. The soft bristles help you get into all the nooks and crannies where a more firm bristled brush would be tough to manipulate!
GO OVER YOUR STONE WITH A STAINING PAD
Once your stone is painted, grab a staining pad and run it over the stone to smooth out any brush strokes and stop any drips!
This is one thing I swear by when it comes to white washing. You don't want streaks from drips all over your stone! Plus this helps some of the natural stone tones shine through a little bit, making it look like true whitewashed stone.
THAT'S IT!
And really, it's as simple as that! You really can't mess it up (which is my kind of project), and even for my giant double-sided fireplace, it just took about 2 cans of chalk paint!
Talk about a quick and easy update! What do you think? Will you give it a try? Let me know in the comments!
Like this:
Posted By: Lauren · In: DIY
Sours: https://farmhouseishblog.com/whitewashed-stone/
How to Whitewash a Stone Fireplace – Super Easy Project

How to Whitewash a Stone Fireplace – A Super Easy Project
Do you look at your fireplace and feel that it just looks tired or outdated? I have a great solution for you: Whitewash! I love the look and feel of a stone or brick fireplace, but, when we bought our house, the existing stone was not my style. I debated my options for months and had a lot of both negative and positive feedback. It's funny how many people react strongly at the thought of painting natural stone. Who knew?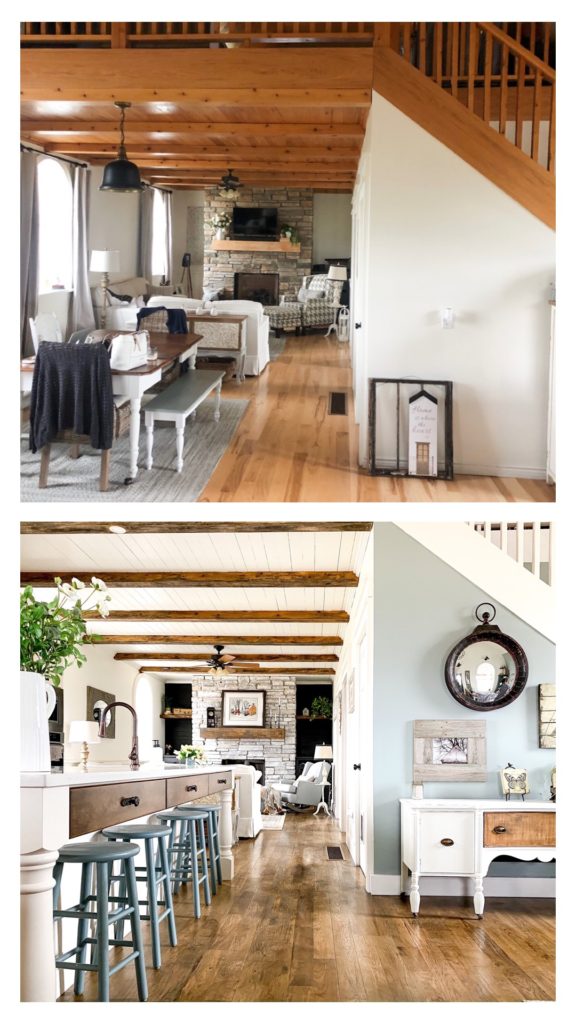 In my head, I saw a lighter stone that still had some colour and texture. My stone had a lot of orange which made it difficult to add decor to the space and have it flow.
Here is what mine looked like when we bought the house.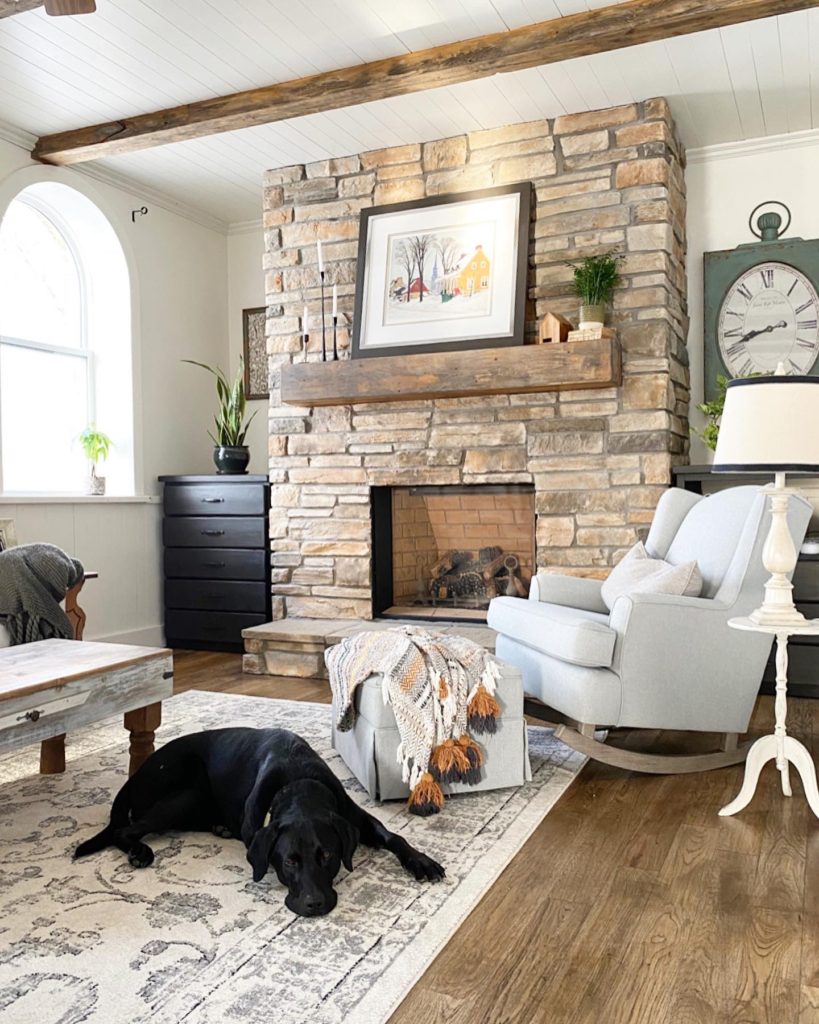 I know it is pretty, but the colours are a bit dated and they limited how I wanted to decorate the space.
Here is what it looks like today.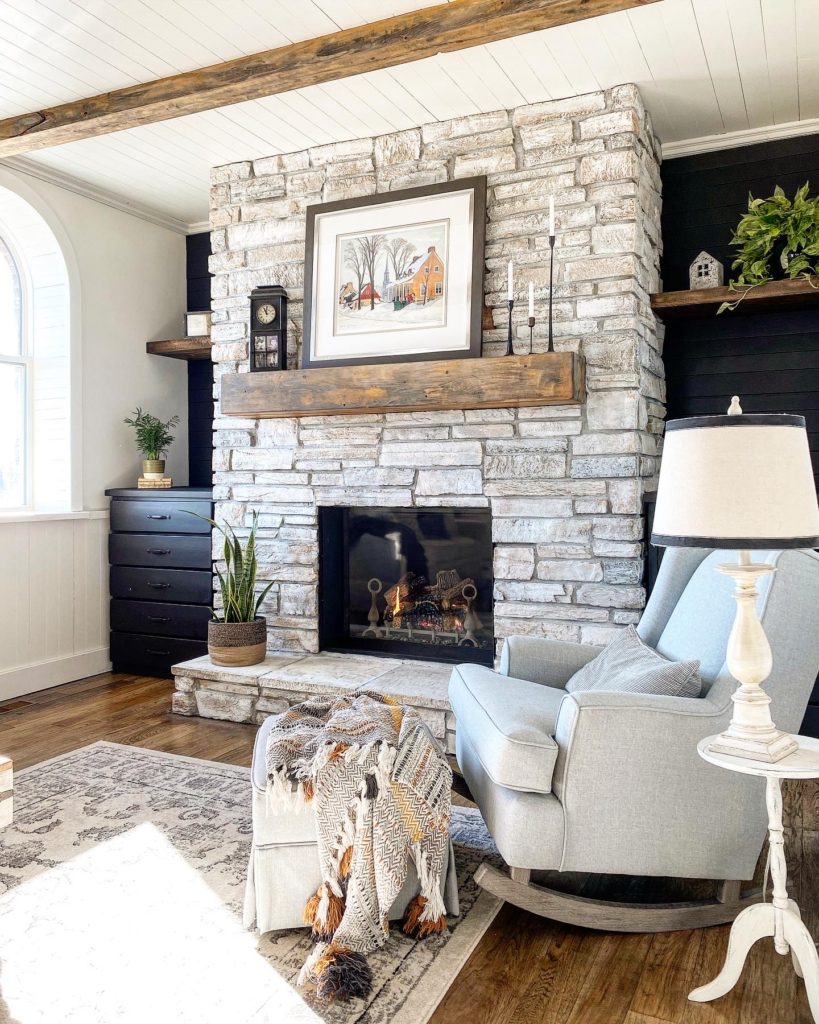 You may already have everything you need on hand to complete this project.
I used Benjamin Moore Cloud White on mine because I already had the paint and wanted a lighter fireplace.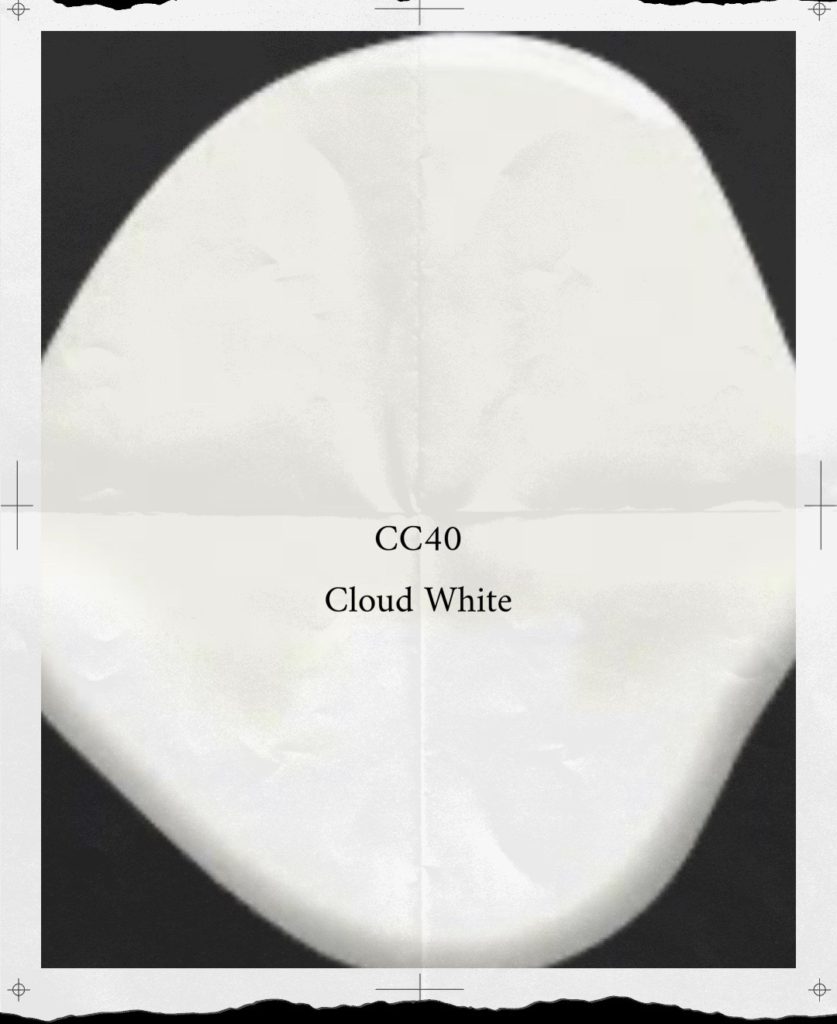 The recipe is super easy.
Mix 50/50 paint and water.
To paint my whole fireplace, I used 1.5 cups of paint to 1.5 cups of water.
Whisk it together so it is completely blended.
You will need a dabbing rag, as well.
Initially, I thought I would use a cloth to apply it but soon discovered a brush would give me more of the effect I wanted.
I used a dry brush technique. I would dip the brush into the paint mixture and then dab it on a cloth. I applied light, even strokes and then blended with the dry brush.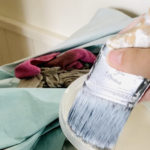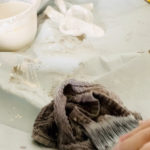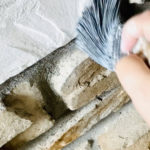 It is important to dab paint off the brush after every dip into the paint mixture.
Adding Character
To add some additional life to our fireplace, I decided to add some shiplap to both sides above our units. We used wainscoting that we already had on hand from our kitchen reno. I decided to paint it all black. I used flat black paint with a hint of brown which my local store mixed for me to match a colour I already had at home.
Completing the look.
I also painted out the bright orange firebox.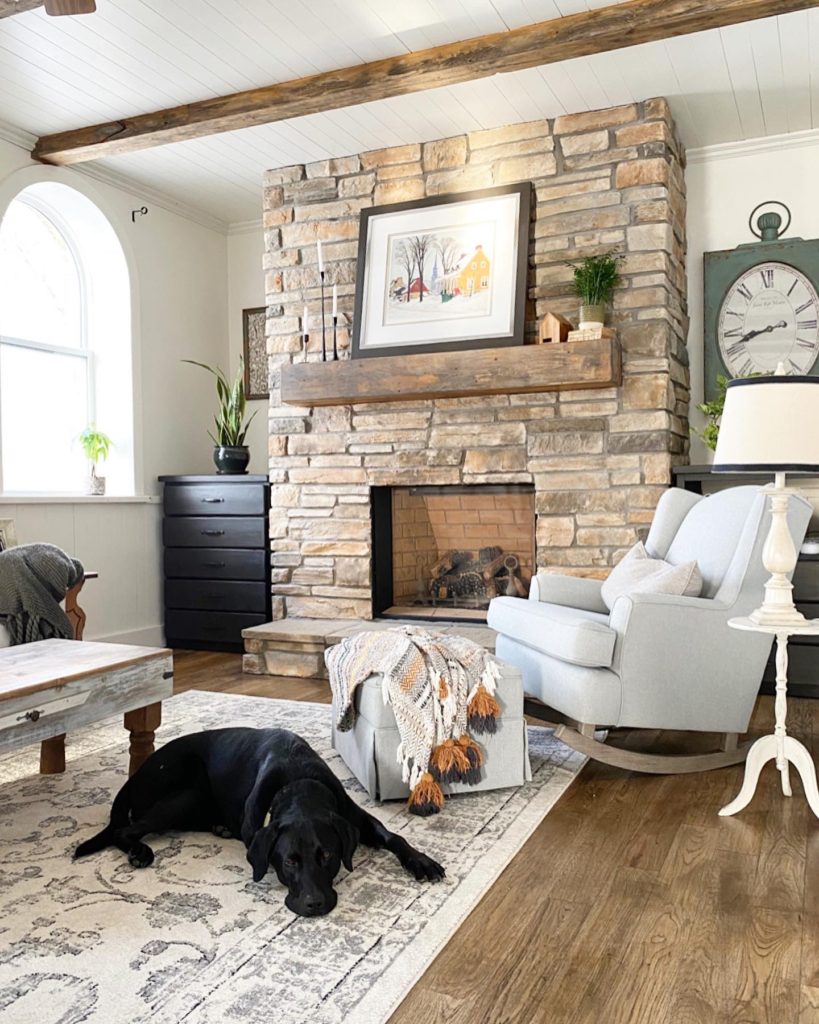 I found a high heat, black paint for that. You can find multiple colours here.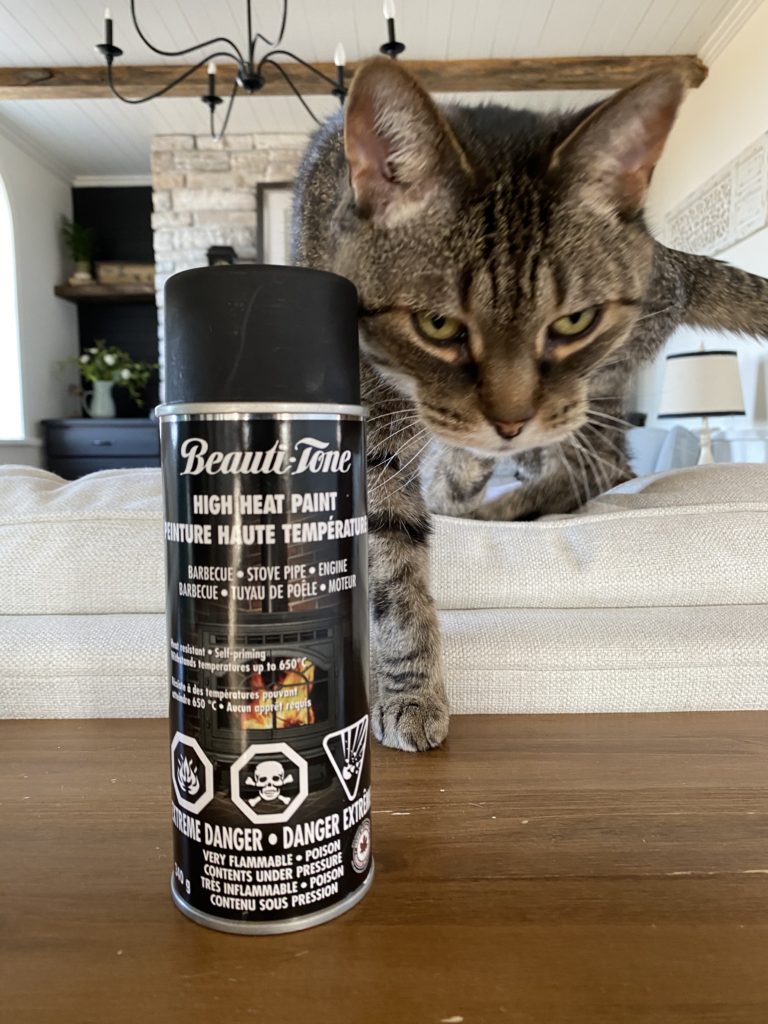 To remove the glass from your fireplace, look for clips like these.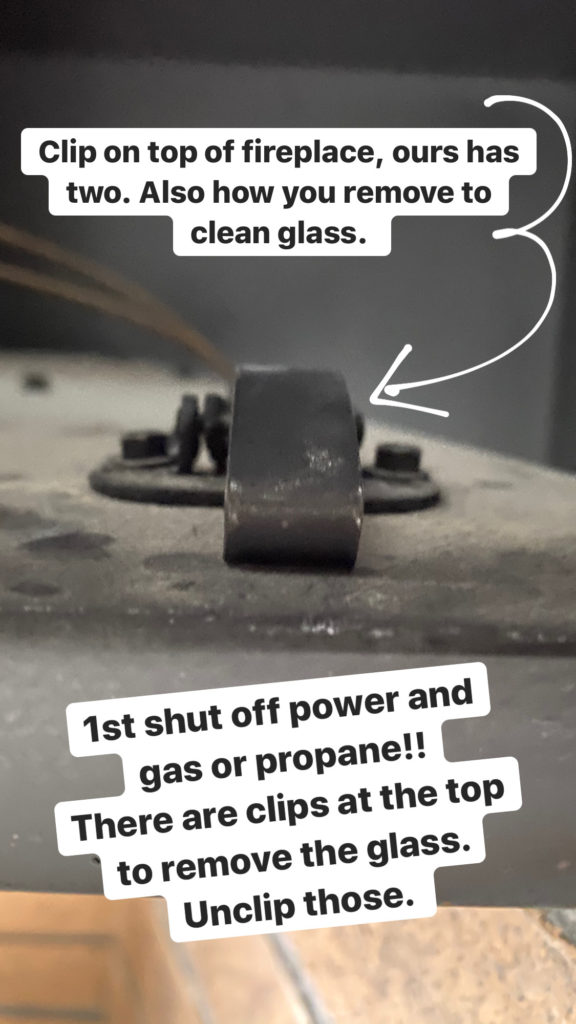 Once they are unclipped, the glass lifts up and out.
I took a picture of how my wood was set up so I would remember how to put everything back. I then removed everything and covered up and taped off the base where the gas/propane comes from.
Tom then sprayed the inside.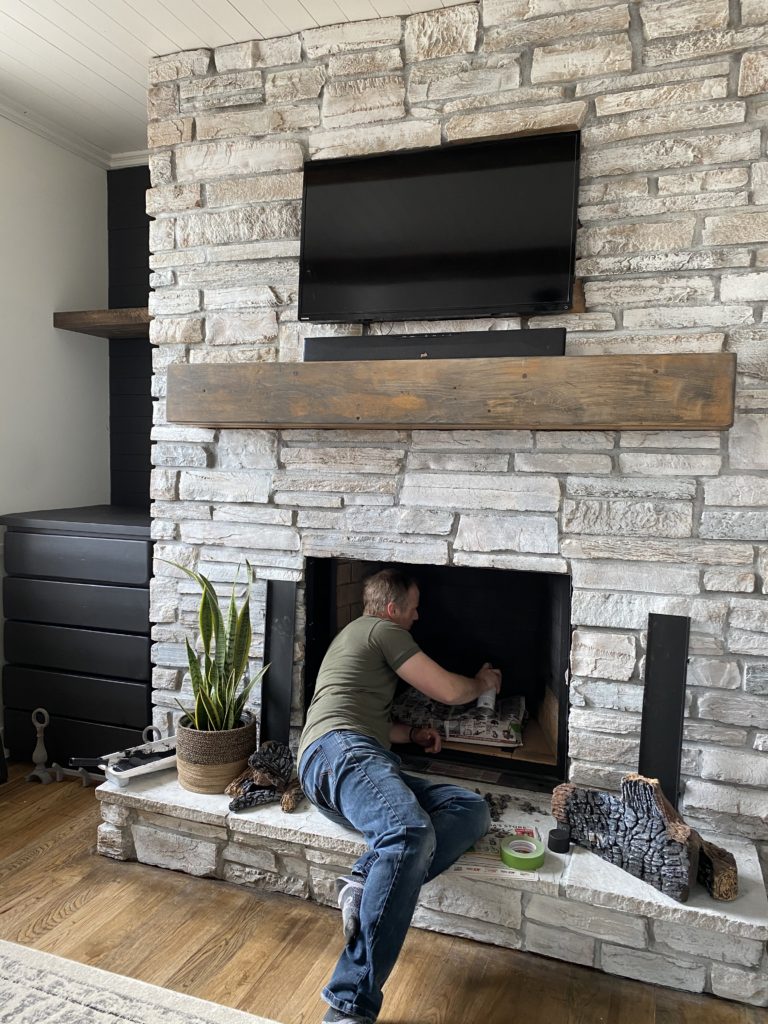 We absolutely love how this project came together. It has given our fireplace a much more updated look.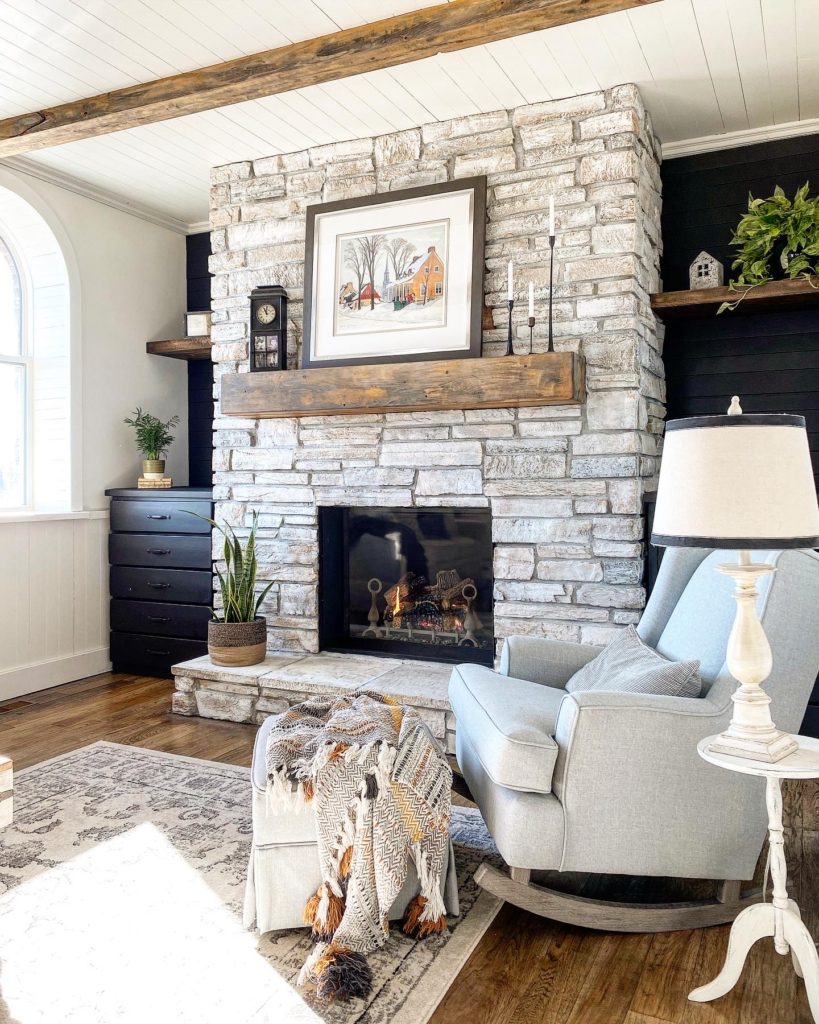 If you have any questions, please leave them below.
Here is the stone before and after. The texture and feel of the stone was not lost as I was able to just lighten and soften it.
If you enjoyed this post, you might like my Dresser Revamp.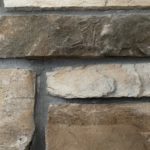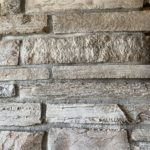 Karan
Shop the Post
How to Whitewash a Stone Fireplace -  A Super Easy Project Do you look at your fireplace and feel that it just looks tired or outdated? I have a great solution for you:  Whitewash!
Posted In: before and after, diy, home, interior design, Uncategorized151 Comments
Sours: https://designsbykaran.com/how-to-whitewash-fireplace-easy-project/
White Wash Stone Fireplace
Hi Friends! I have been so busy working on tons of projects that I haven't had a chance to sit down and write any blog posts lately. You can always follow on Instagram where I share lots of real time projects and behind the scenes, that way you stay up to date! Anyway, I'm smack in the middle of our massive living room renovation and I'm working on updating our fireplace to be a little more our style. My first step is to do a White Wash Stone Fireplace and then I'll share more on the rest later! I'm not done yet.
White Wash Stone Fireplace Tutorial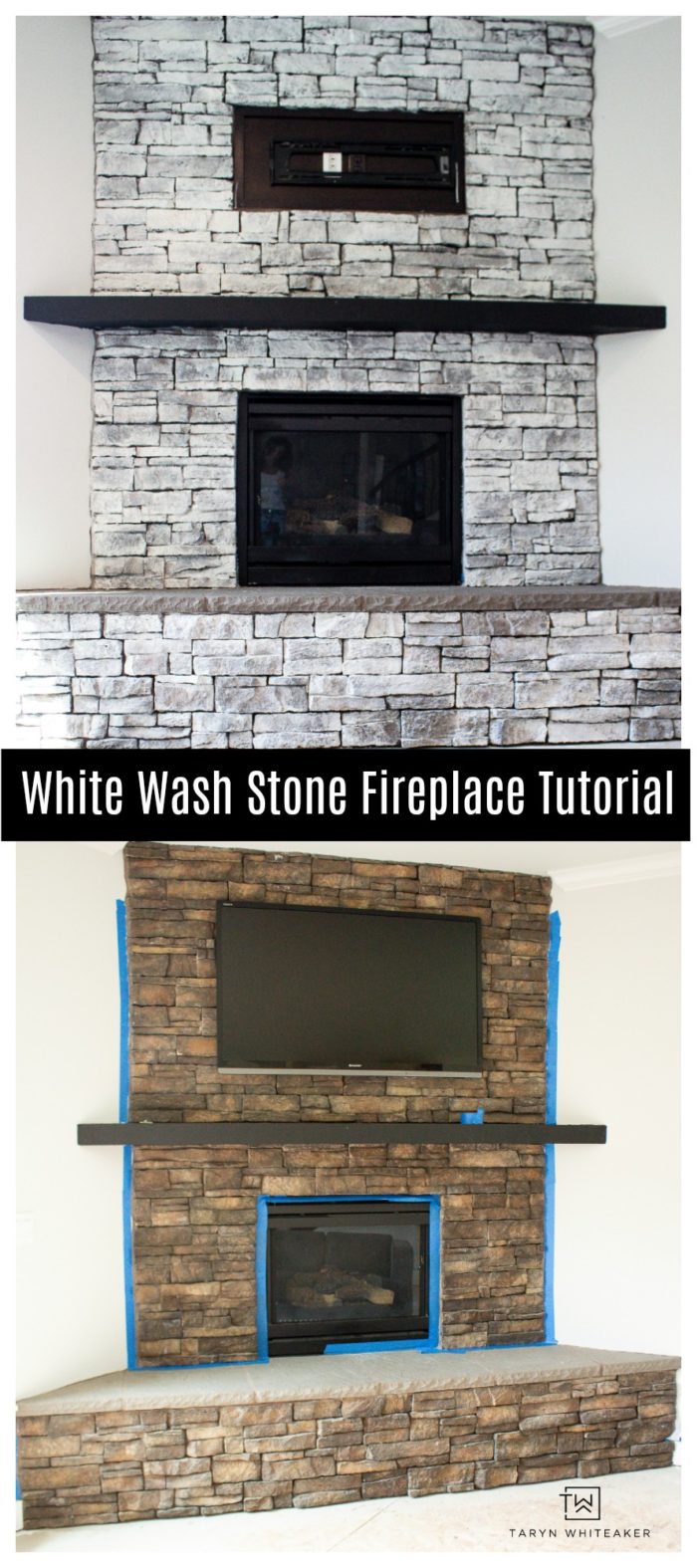 Inexpensive Way To Update Stone Fireplace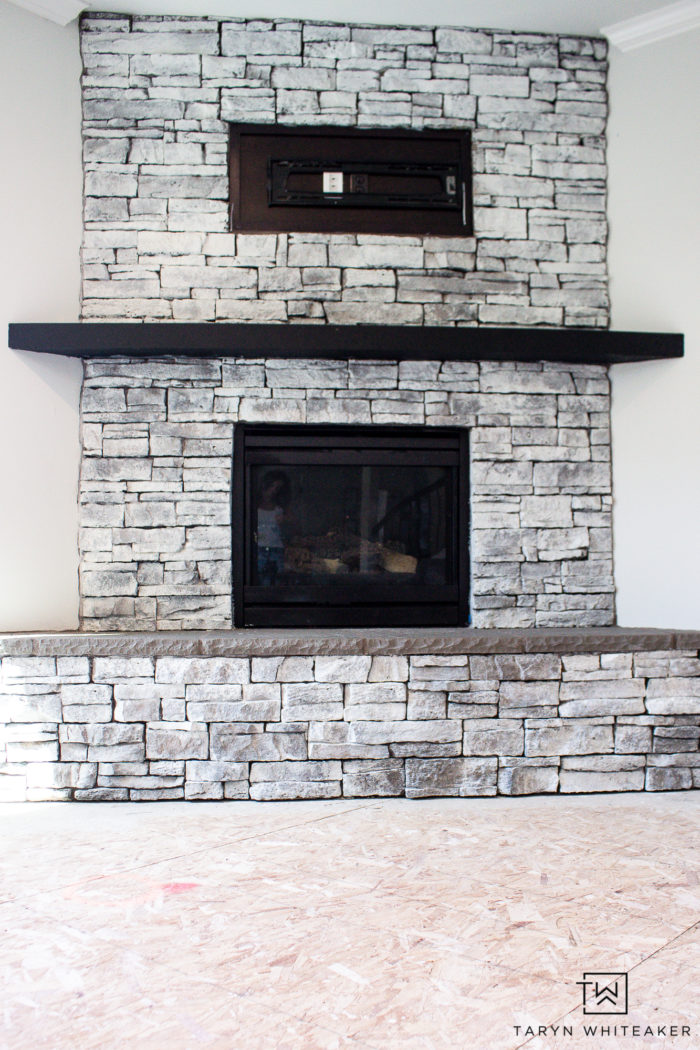 If you are looking to give your brick or stone fireplace a quick makeover and lighten it up a bit, this is a quick and inexpensive solution. It only cost me $6 on a sample paint and a few hours of your day. For real, it's super easy, anyone can do it.
How To White Wash Stone
Supplies
White Paint ( I used Sherwin Williams Pure White)
Water
Plastic Container
Paint Brush
Rag
Here is what our Fireplace looked like before. I do enjoy a good stacked stone fireplace, but this was just a little too "brown" for our home and it was a little too dark for our family room. I want to brighten up the space, especially with our dark hardwoods going in.
Water to Paint Ratio
When mixing your paint, you want to water it down so it is not as thick. This will give you the light white wash look. I used a 50:50 water/paint ratio.
I pour the entire sample of paint into the container with equal ounces of water and mixed together.
Painting Stone Fireplace
Applying the paint is very easy! Simply dip your paint brush is, remove excess water (but still leave it watery) and paint over your stone.
You will see drips of water at times, don't worry. Paint a small section at a time.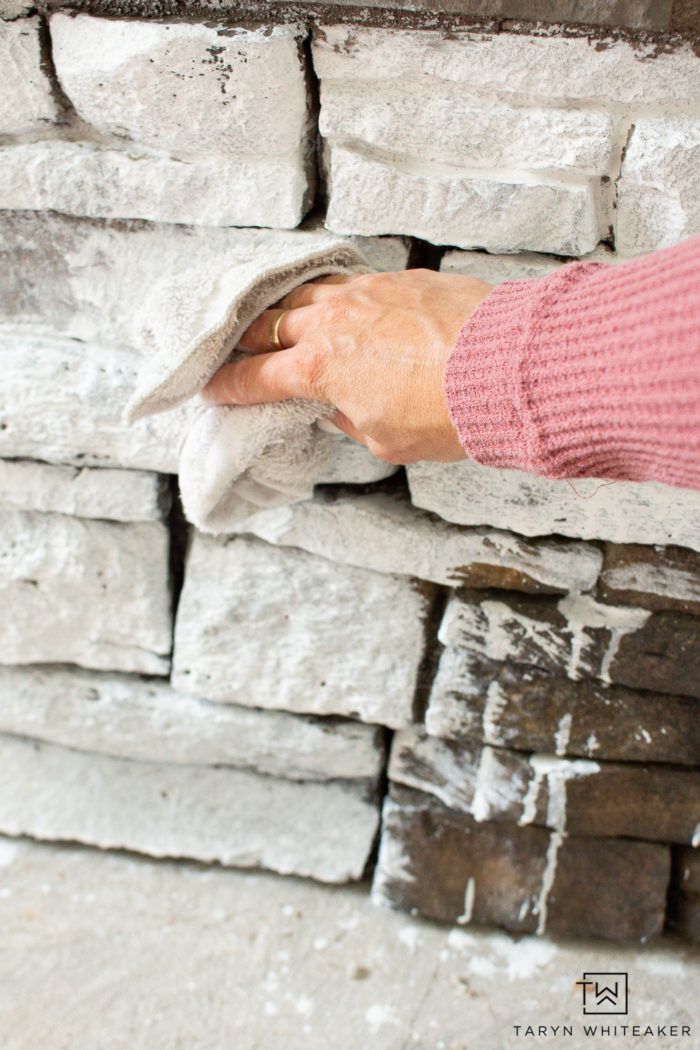 Then using a old rag, remove excess water from the stone and also blend the paint into the stone. During this step you can wipe away paint if there was too much on a stone or blend it together better.
Keep doing this in small sections.
And that is it guys! Literally, that is how easy is it!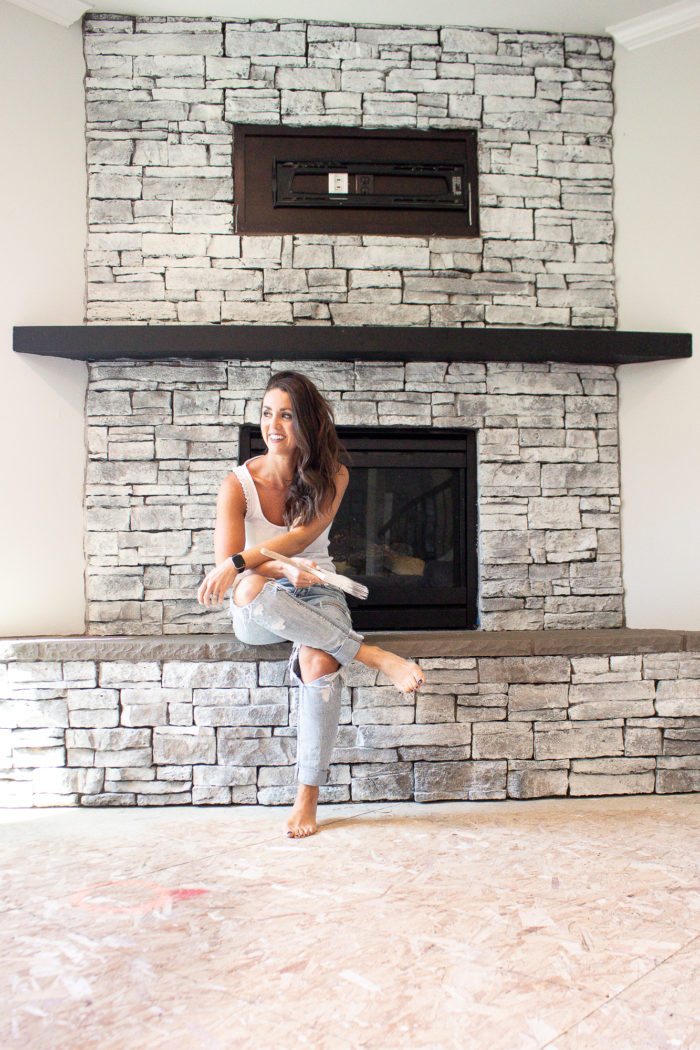 If you love a good farmhouse look or cottage style, this is a super easy way to achieve that. It will definitely brighten up your stone. I am going for something a little more modern, so stay tune for part 2!
About Taryn Whiteaker
Taryn Whiteaker is the voice of style behind TarynWhiteaker.com (formerly Design, Dining and Diapers) ! Taryn is a previous PR/Marketing professional who got back to her creative roots after becoming a mom and now shares her passion for home decor and design for the world to see. Taryn lives in the greater Seattle area with her husband and three kids and loves coffee, the outdoors, and exploring with her family.
Filed Under: ALL POSTS, Before and Afters, DIY Projects, Our Home Projects, Room Reveals
Sours: https://tarynwhiteaker.com/white-wash-stone-fireplace/
DIY Old World German Smear Stone Fireplace Makeover -Cottagecore
We have a very large fireplace in our late 1980's home which I would like to brighten up and modernize a little, instead of taking the stone down at this time. I am interested in white washing it, but I'm also curious about a plaster/schmear technique where the rock is almost buried with just a little rock visible. Our fireplace is made of stacked river rock stones and is very bumpy with deep crevices. The house has a cabin feel in the woods and is darker than I'd like inside. I'd love a way to brighten up the fireplace! Does anyone have experience with stone like this trying to white wash it or apply a schmear to it?

Also, I can't really take out the built-in bookshelf due to how the fireplace and it are kind of a unit there. And I would love to replace the light fixture obviously. :)

Pictures of our current fireplace: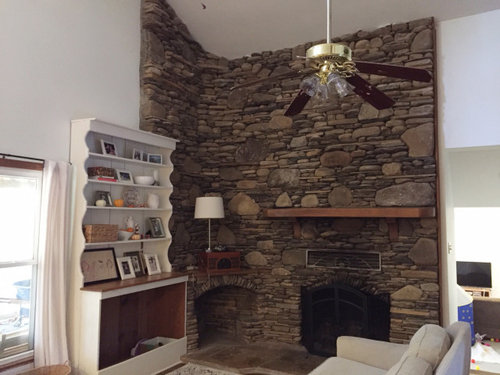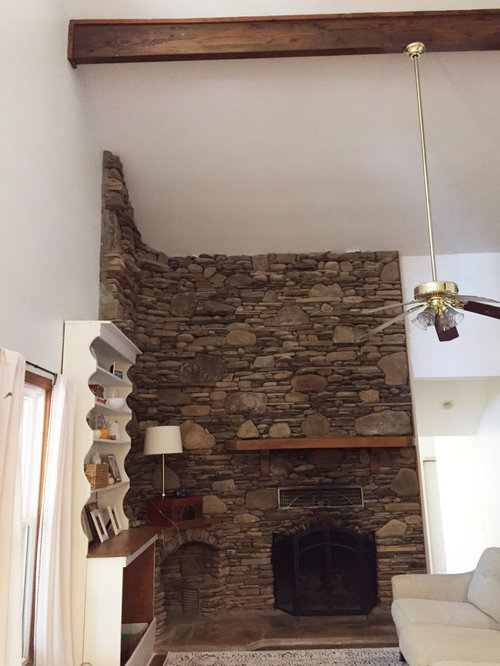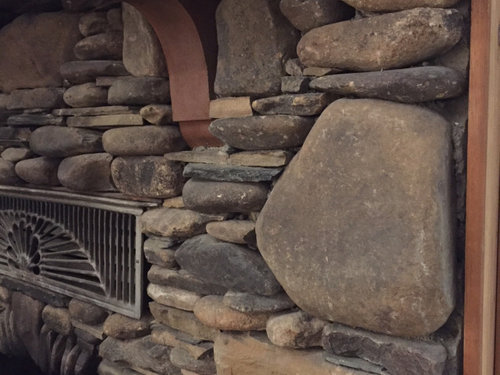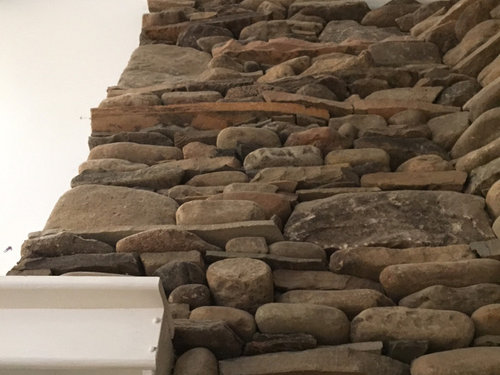 Inspiration that I like: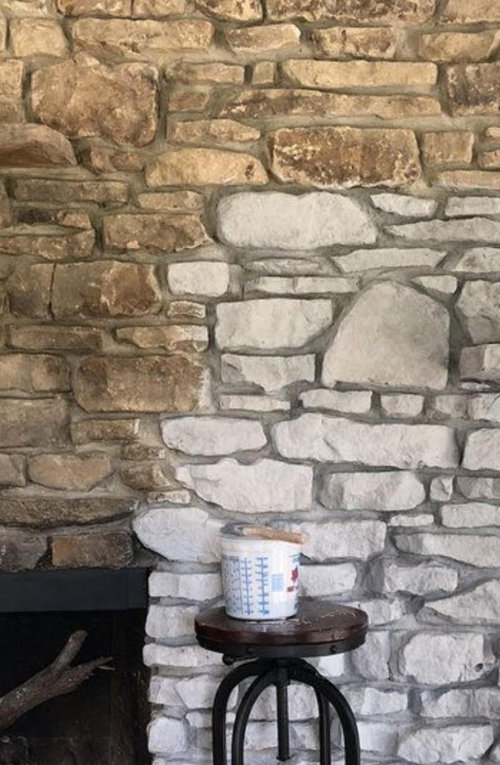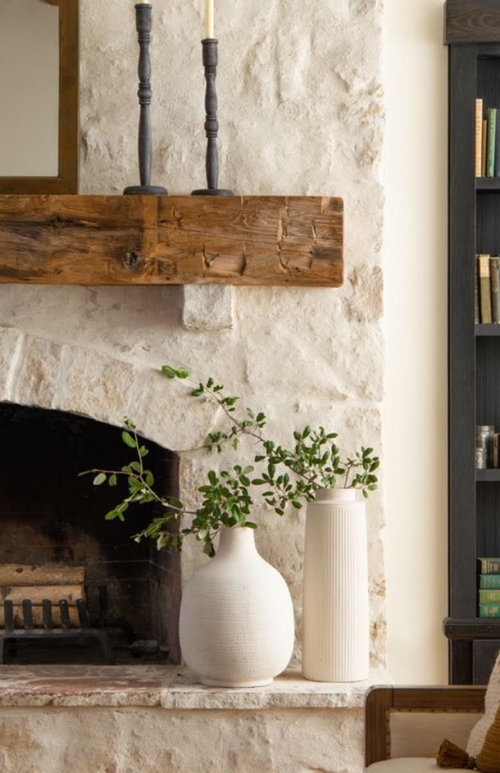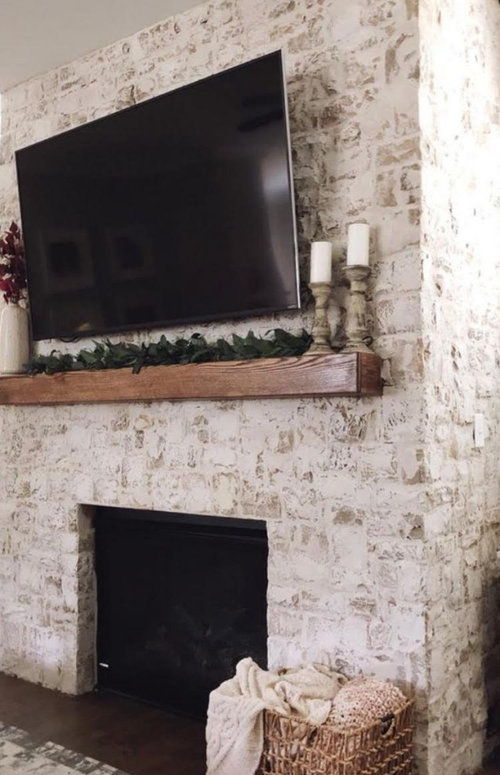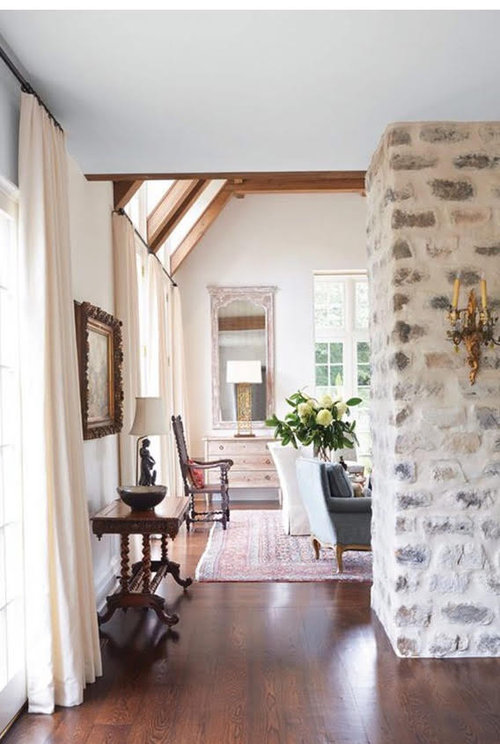 Sours: https://www.houzz.com/discussions/5829547/white-washing-large-stacked-stone-fireplace
Stacked stone whitewash
Whitewashed Stone Fireplace
A detailed and easy-to-follow tutorial on how to whitewash a stone fireplace. Follow these steps to transform your fireplace stone from blah to beautiful!
I finally finished my customized whitewashed stone fireplace! Without any further delay, here is how it looks now: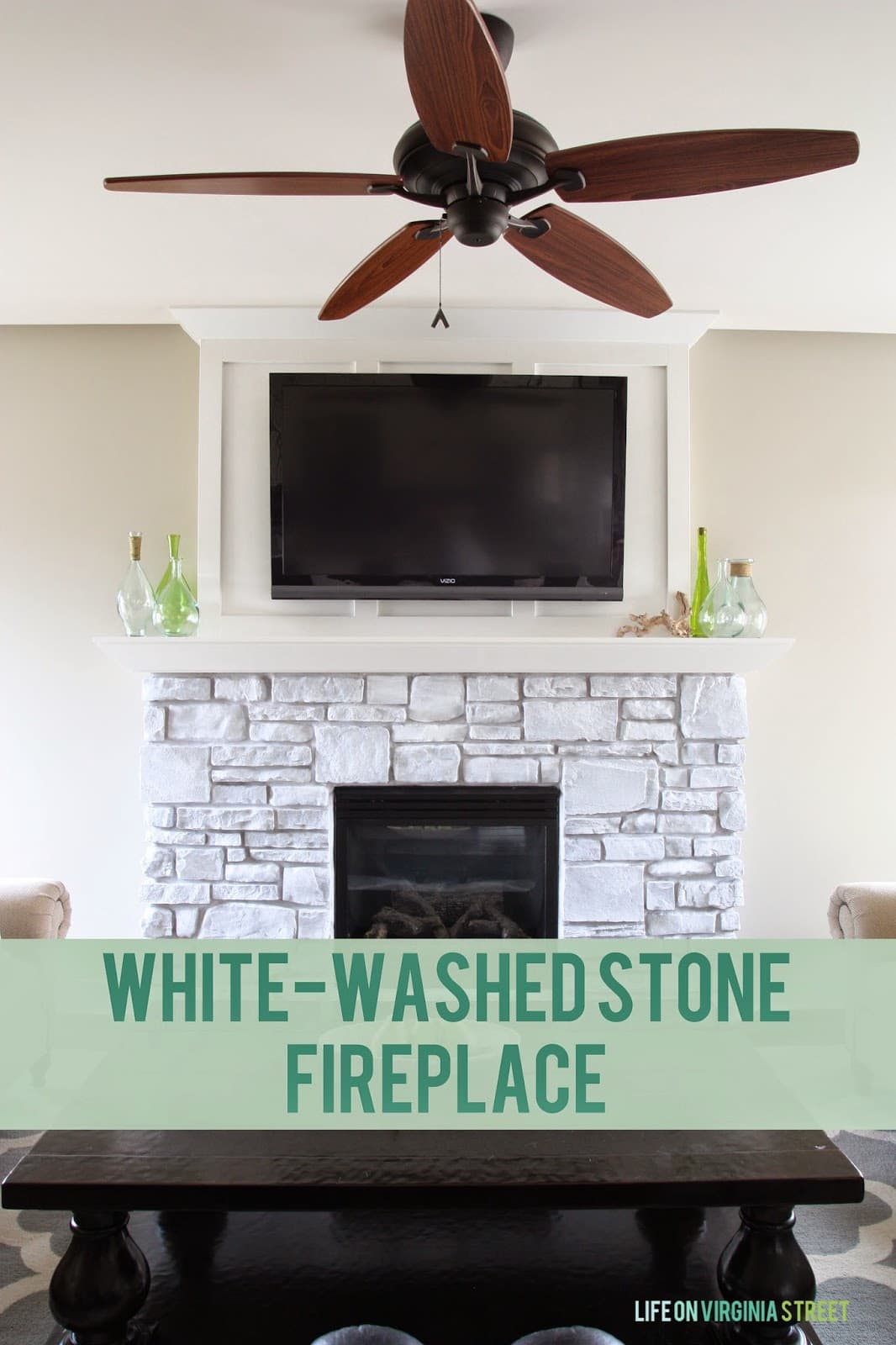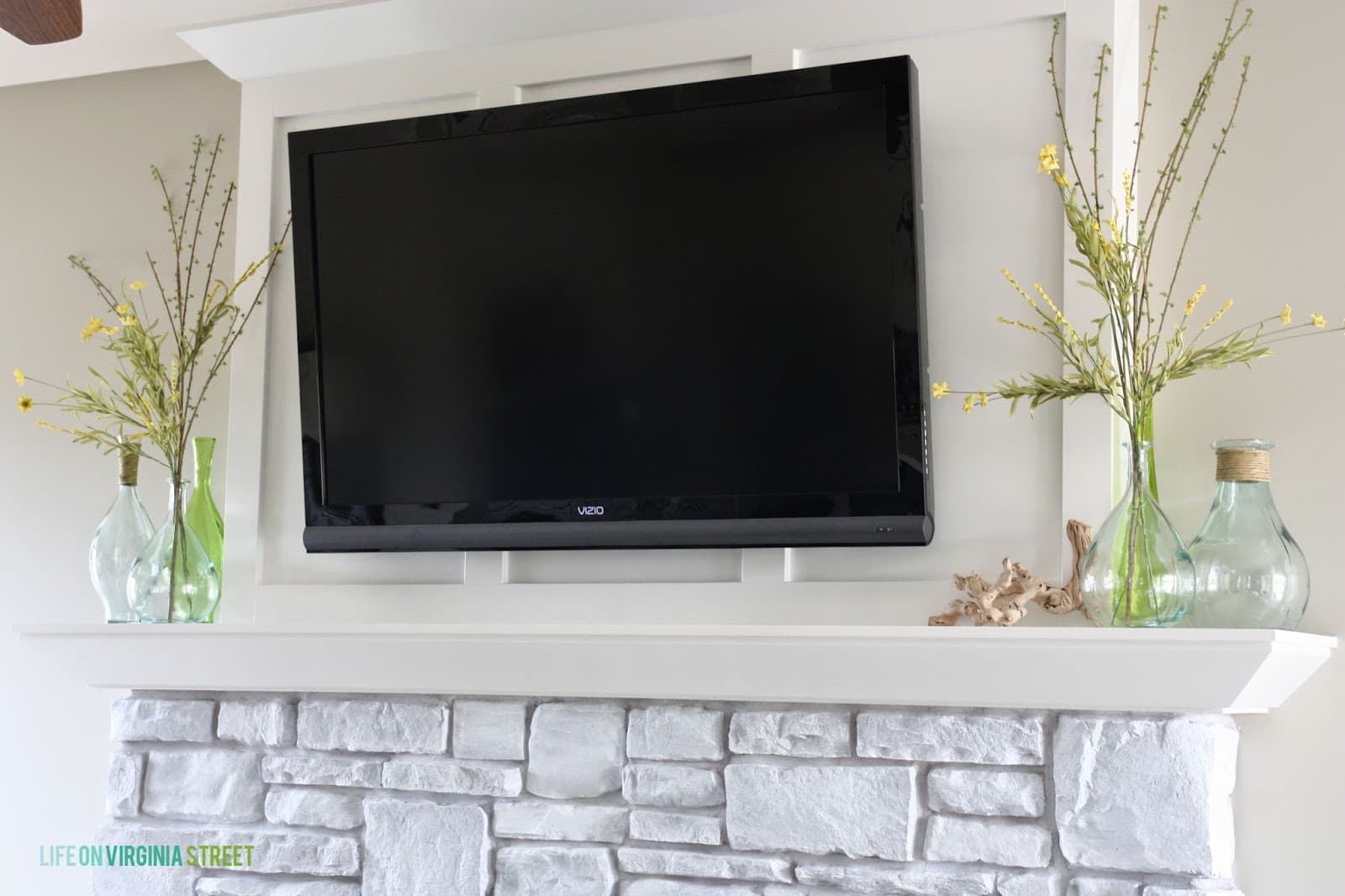 But first, a little history. The photo below shows our living room and the fireplace shortly after we moved in. Original pendant lights, paint color, etc. As you can see, our fireplace stone was originally varying shades of orange, beige and brown. It did not fit the light and bright coastal look we were after!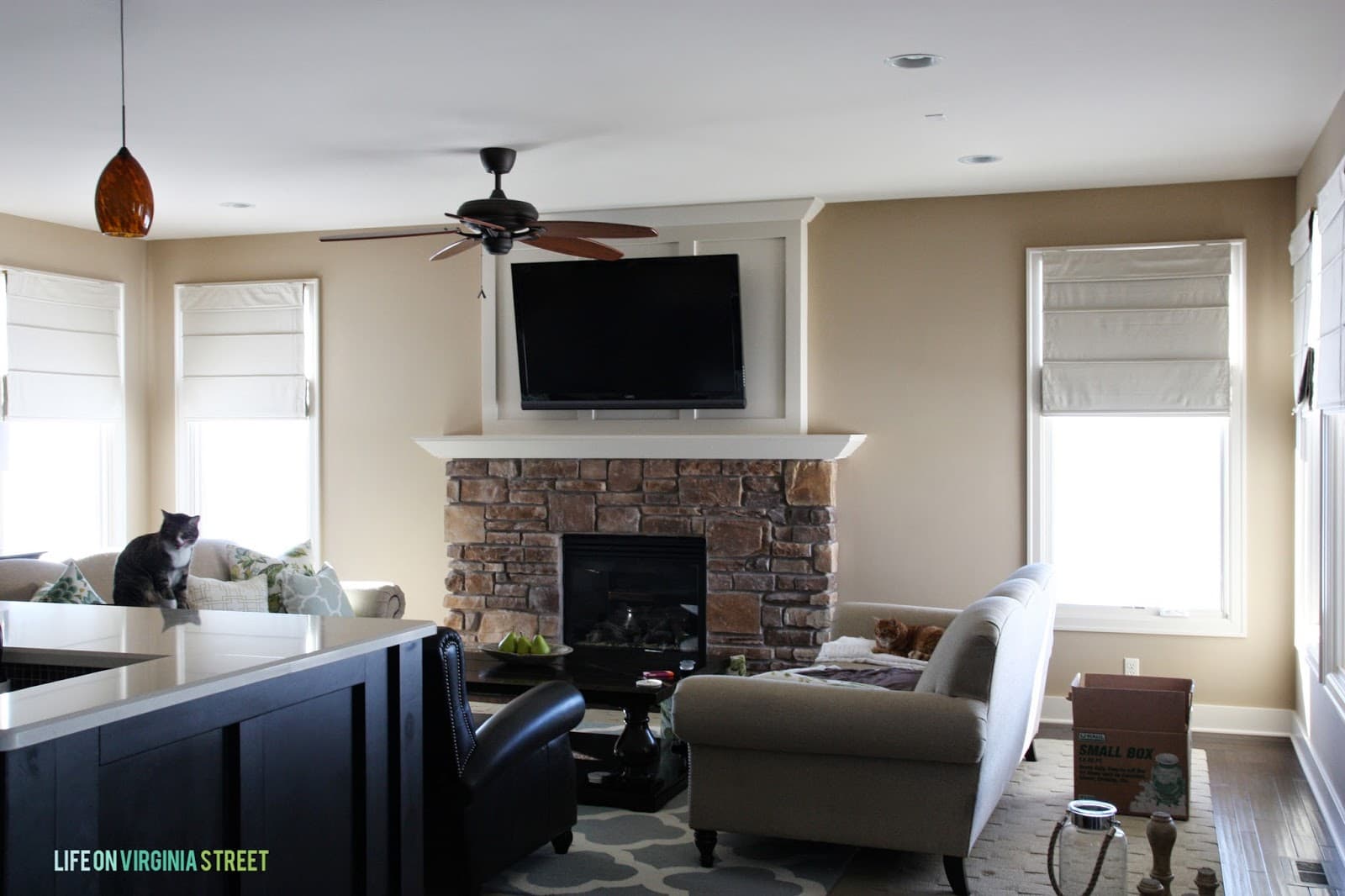 Last fall, I had some Annie Sloan Chalk Paint in French Linen on hand from my buffet and desk makeover and decided to graywash our stone fireplace. You can get even further details on the stone painting process in that post as well. The subtle gray color worked for awhile, but was still darker than I had originally hoped for. Here's the results of our graywashed fireplace stone.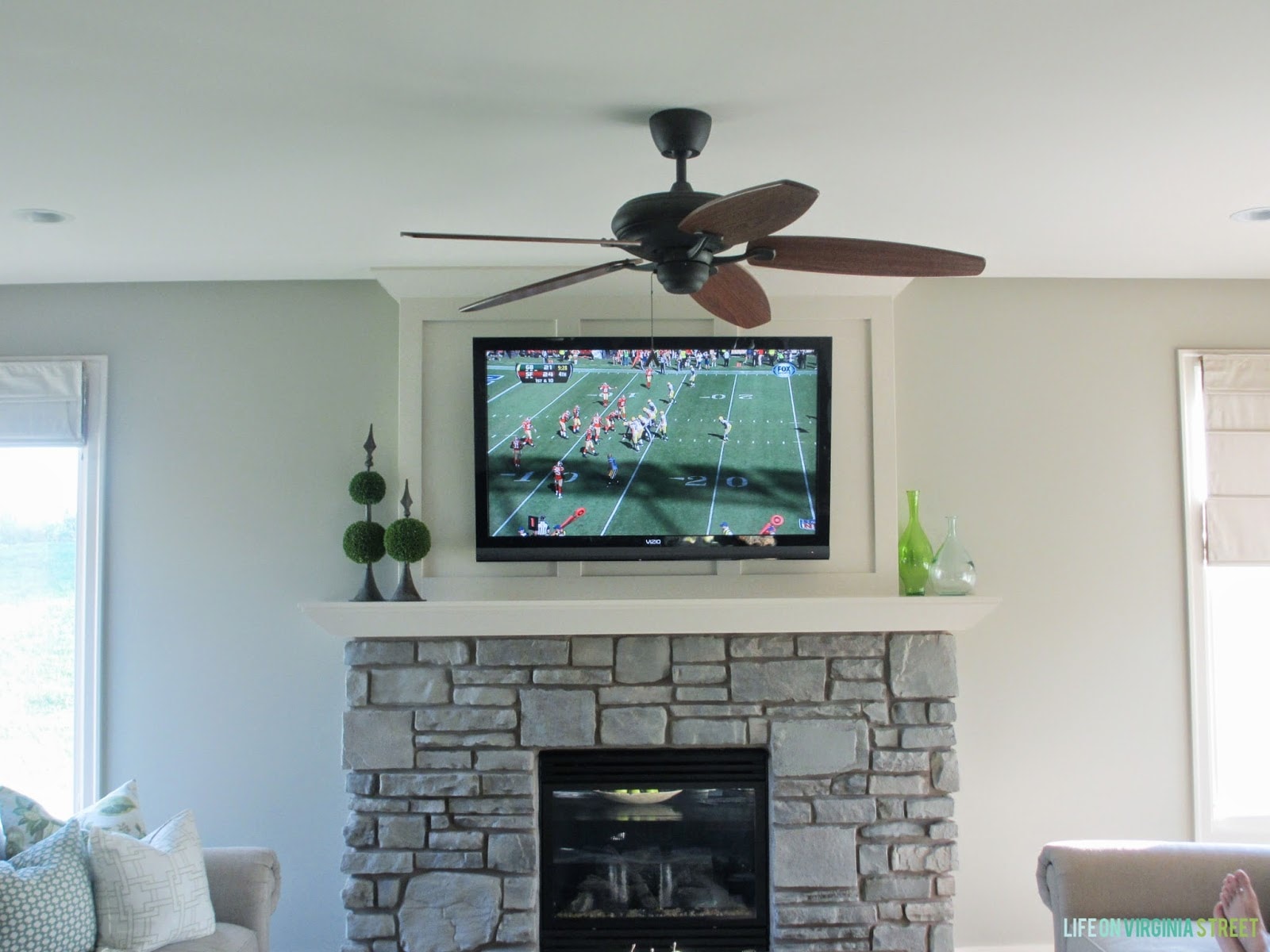 And here is how it looks now after a bold whitewashed over the gray paint! There were several other steps to get it from the photo above to the photo below that may not be readily apparent. Bottom line: I think this is the perfect fix until I decide if we need to do a full overhaul on the stone down the road. Continue reading below for more details.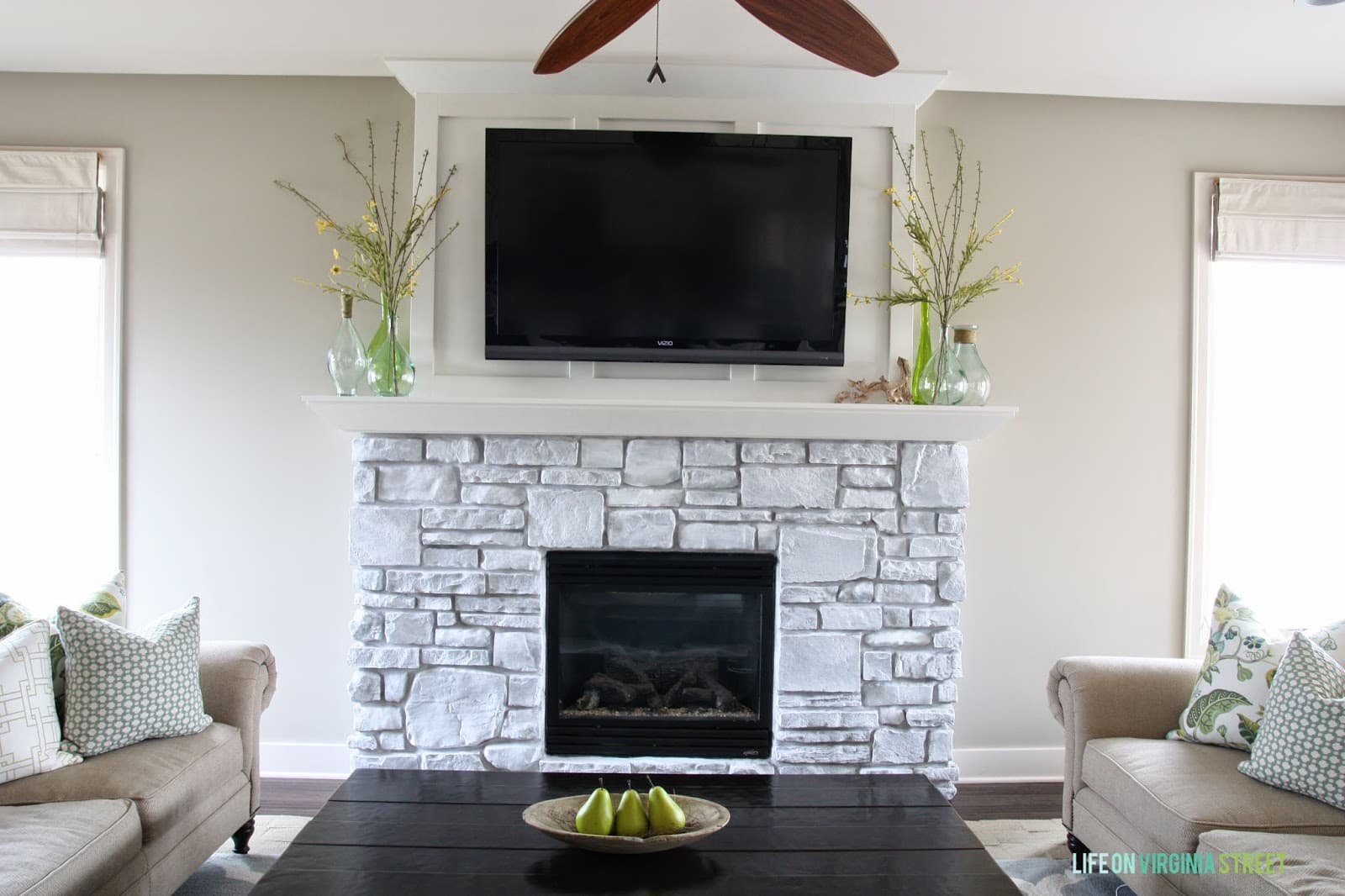 This post contains affiliate links for your shopping convenience. Click here to read my full disclosure policy.
Supplies Needed to Whitewash a Stone Fireplace
Following are the supplies I recommend to whitewash a stone fireplace. Please note the supplies are clickable if you want to purchase directly:
How To Whitewash Stone Fireplaces
Here are the details on how I got the whitewashed stone fireplace look.
One day while I was working on another project with Country Chic Paint's Simplicity (a white chalk paint) I decided to attack the fireplace again. Keep in mind it had already been graywashed at this point. If you're wishing to achieve a similar look, I would recommend following the steps I took in this post with a gray chalk paint and then following the remainder of this tutorial. I believe if I had skipped straight to the the white paint, the stone would have had a pink or peach undertone due to the original color.
I used a 50/50 mix of water and Simplicity. I didn't measure it out, but rather eye-balled it, so there isn't an exact science to it. Previously I had used a sponge brush to apply the gray layer, but this time around I used a stiff-bristle chip brush and it was SO much easier.
The major tip I have for this project is protect your floors. Because the mix is so watery you drip everywhere. But I wanted there to be some deep dimension and not just a flat, painted look – hence the reason I added the water to make it less opaque.
Start by painting a stone or two at a time. I also painted my grout/mortar because I didn't like the color of it. Most stones are super porous and will soak up your paint/water combo rather quickly. Occasionally I would blot the stone with a paper towel to help pull some gray through, helping to add the dimension I was looking for.  The extra mess is worth the extra effort!
One additional bonus of adding water? There are absolutely no issues with brushstrokes. By blotting the stones you also help add a bit of lovely depth and texture so the overall look tends to mimic natural stone so much more!
My best little helper/supervisor, Henley, gets partial credit for this work. Plus, she's even cuter than the end result so you can stop reading now if you want 😉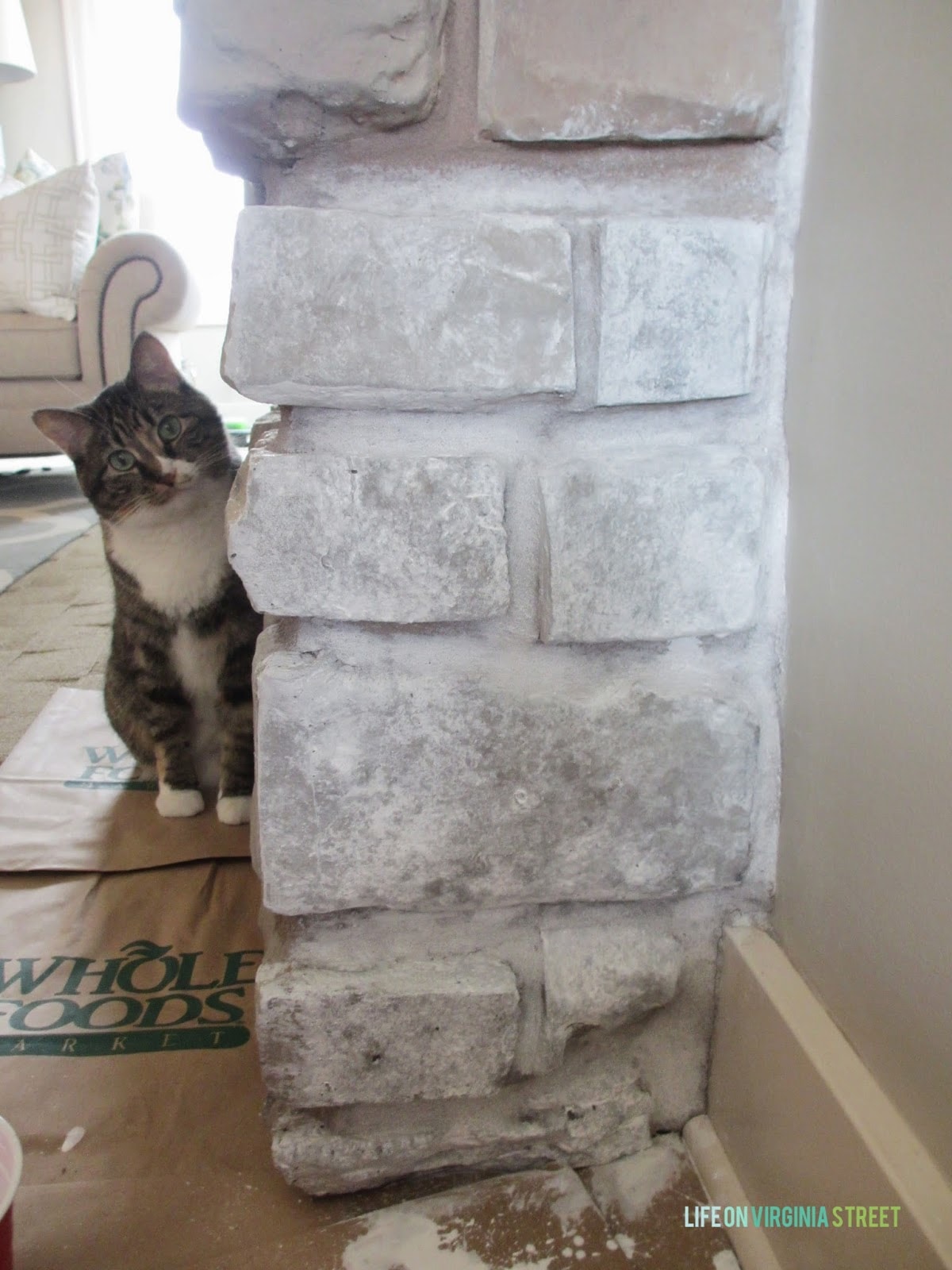 Continue all the way around your fireplace until you are finished!
Once I painted the stones however, the board and batten above our mantle looked awful. Like 100% pink/yellow and horrible (it was an almond color paint). Don't believe me? Here is a shot of the old paint with the painted stone. My cats are ridiculous when the cameras/ladders come out – they magically show up.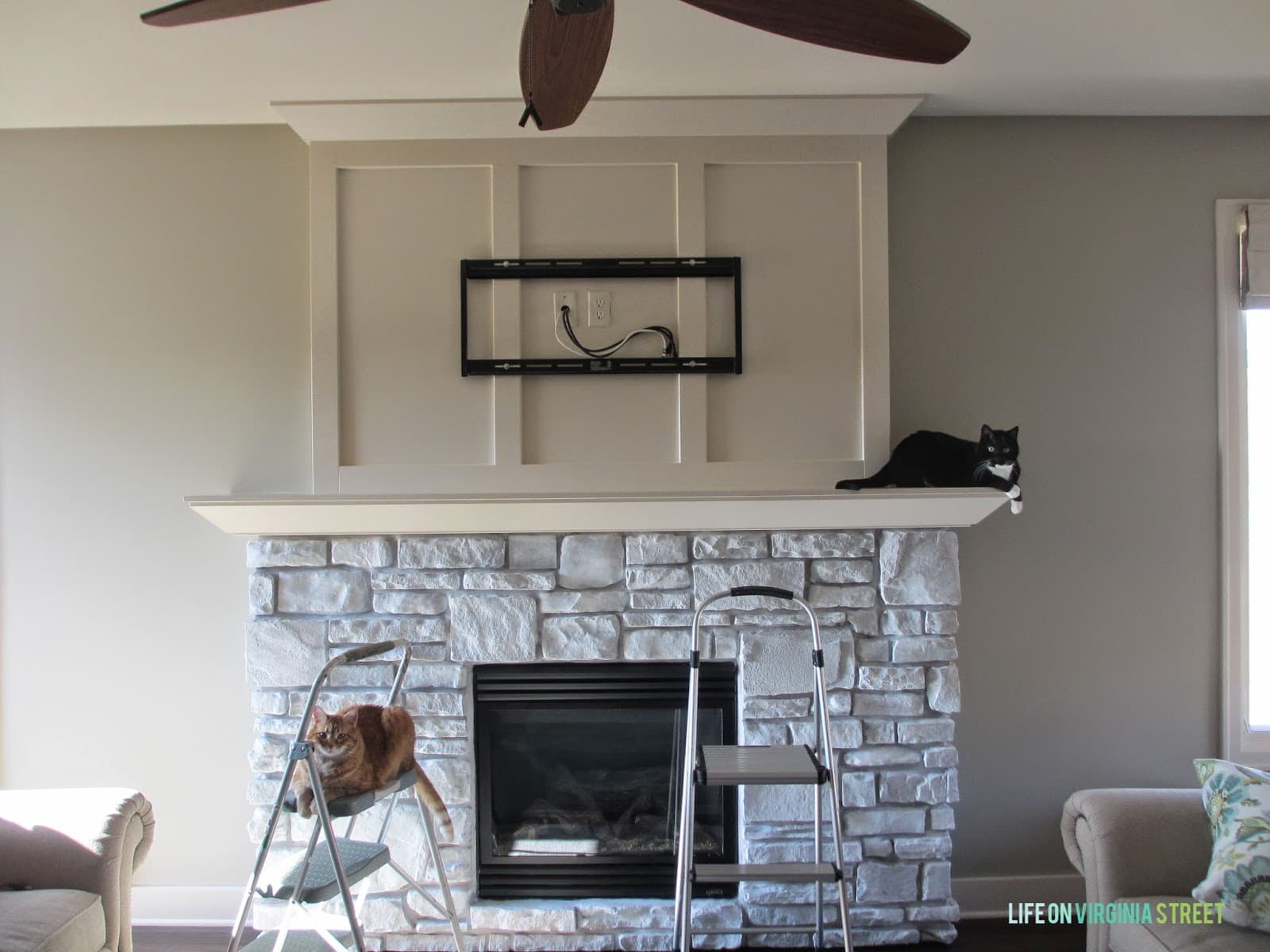 Now look at the area compared to the same paint and a very light coat of white primer on the right hand side. Even with the light coat of primer, the difference is dramatic.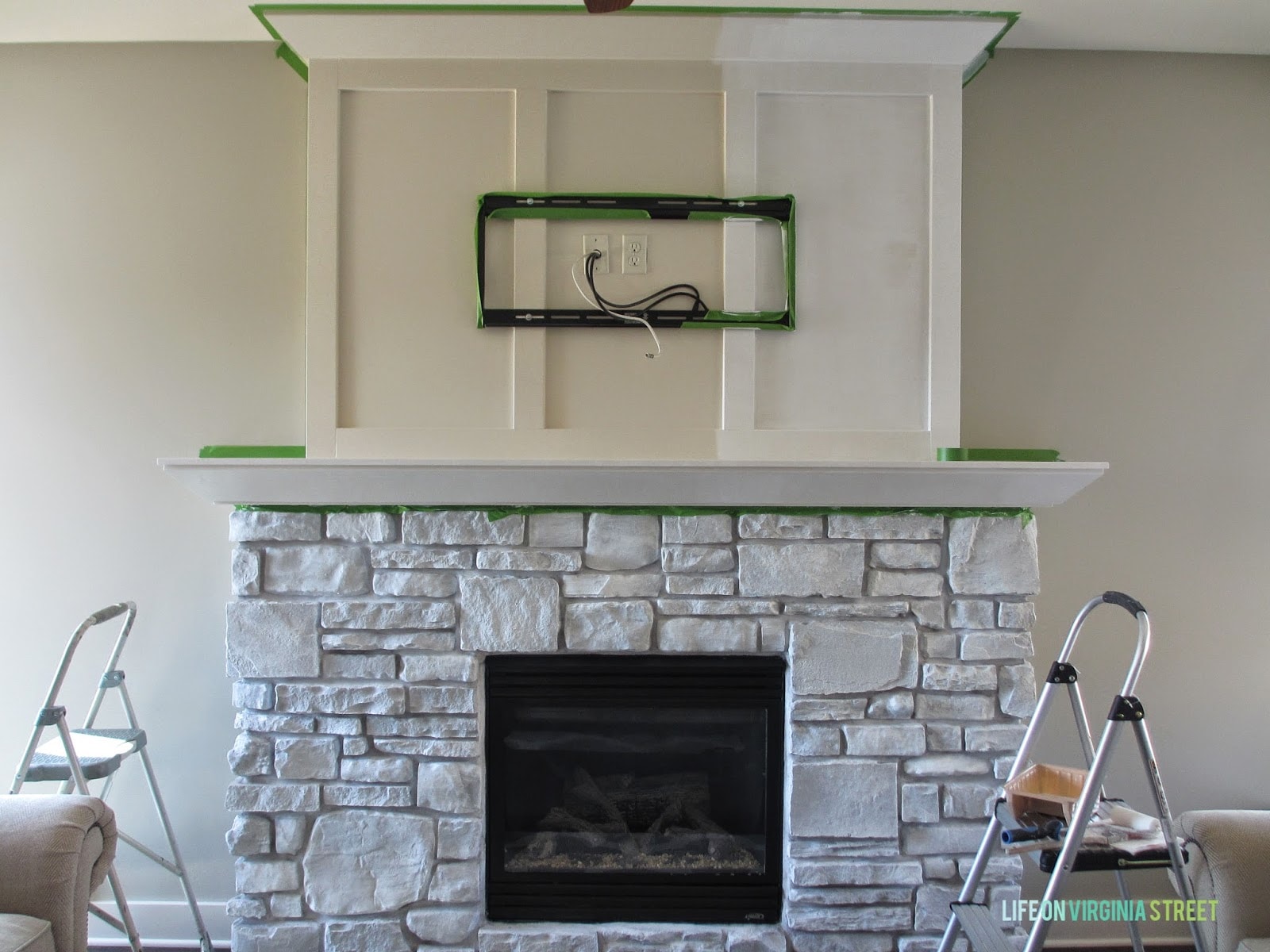 So, a few weekends back, I painted the board and  batten and mantle. It just happened to be fantasy baseball draft weekend for my husband so I was finally allowed to unplug the precious television – or I would have done it much sooner! I started with a coat of Kilz primer to ensure adhesion and then followed with two coats of Behr Swiss Coffee in a semi-gloss finish.
Whitewashed Stone Fireplace Results
I love the end result!! Doesn't it just seem to glow now?!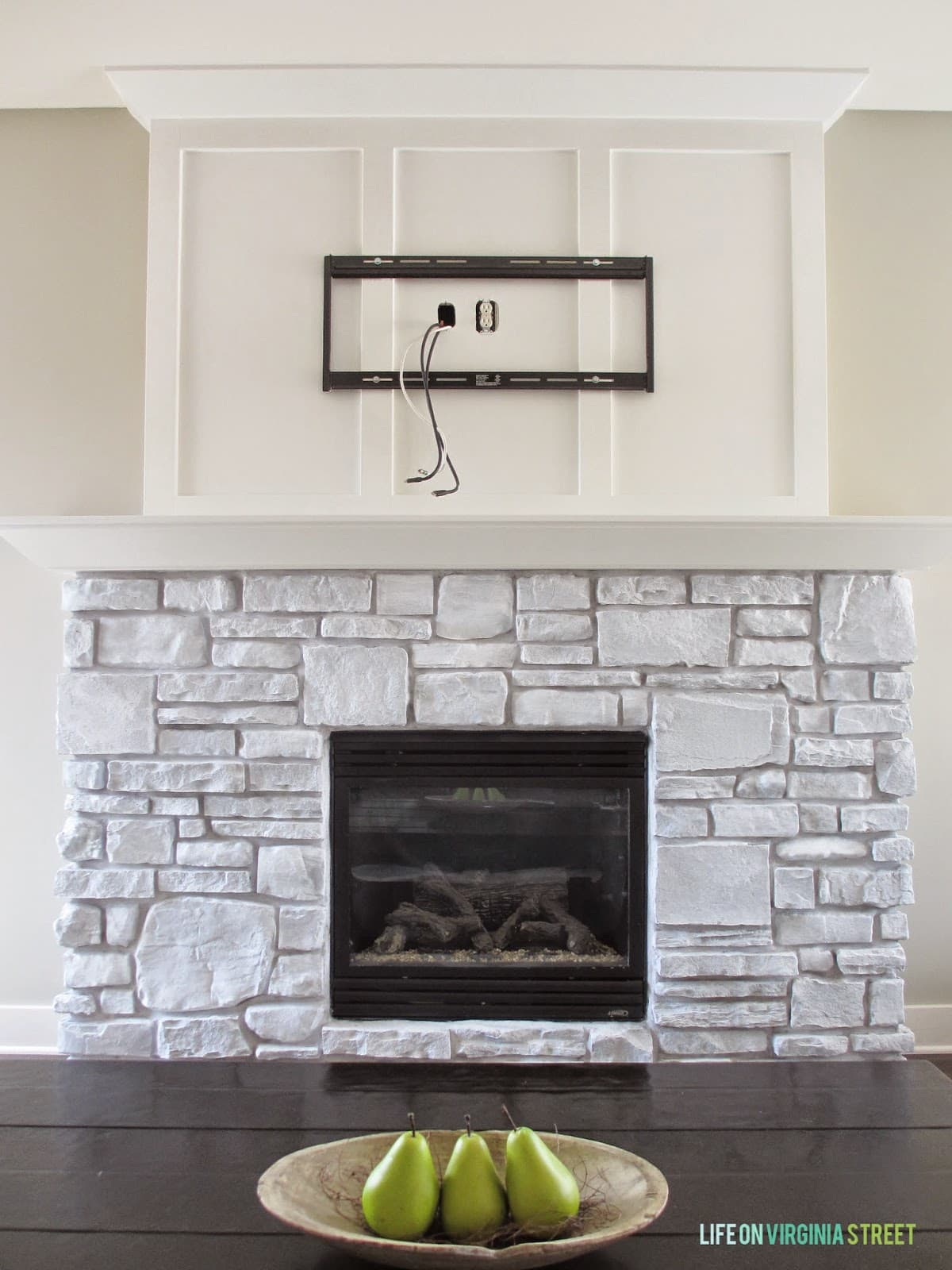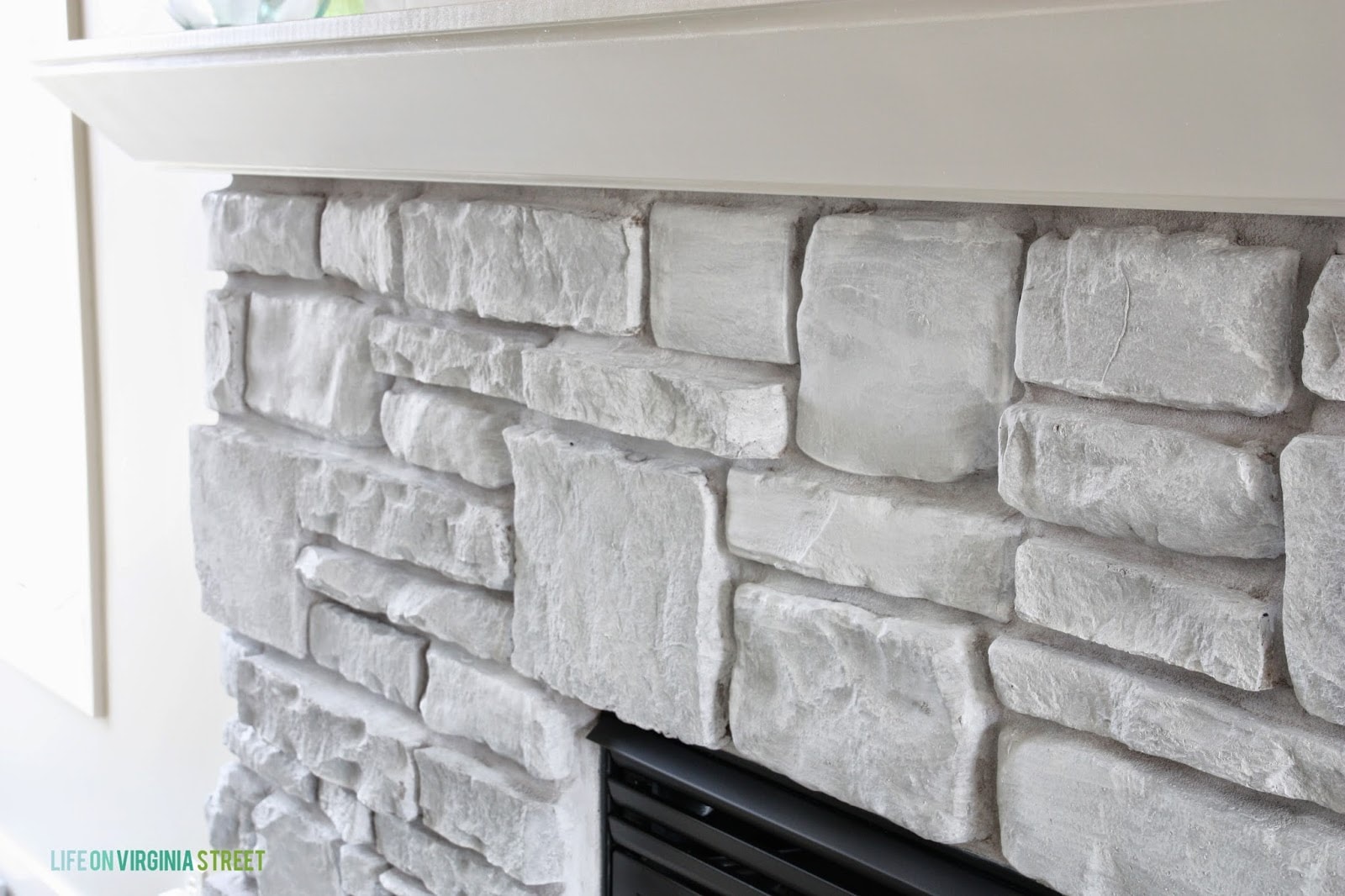 The stone still has some variation due to the mix with water and the trim all looks much crisper with the white  paint. I love that the gray still shows through in some areas on the stone, but the orange and dark gray tones are gone. Definitely the fresher, lighter and airier vibe I was going for!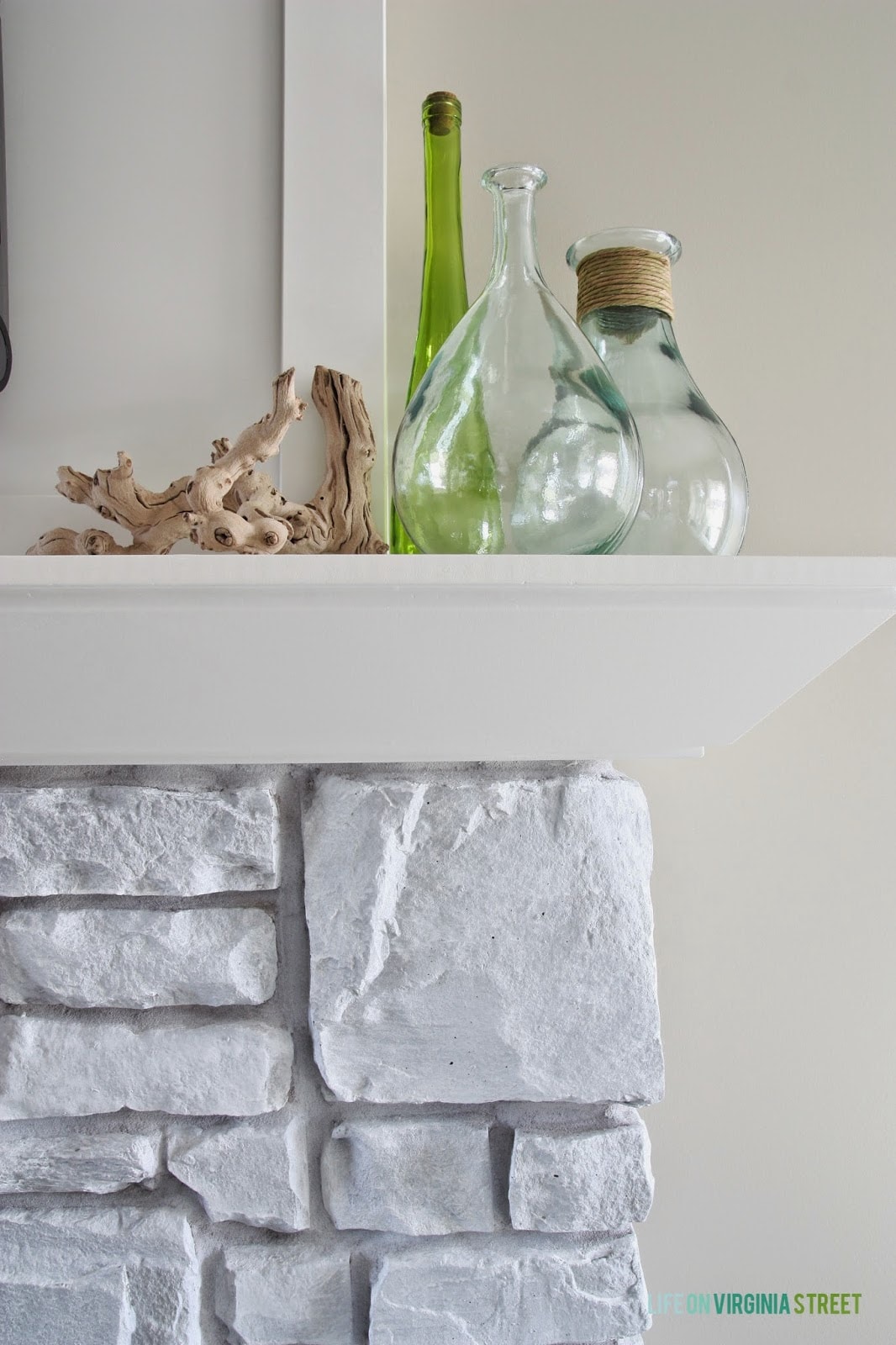 I couldn't be happier with the end result! Here's a little before and after comparison of how the space looks now with the new whitewashed stone fireplace!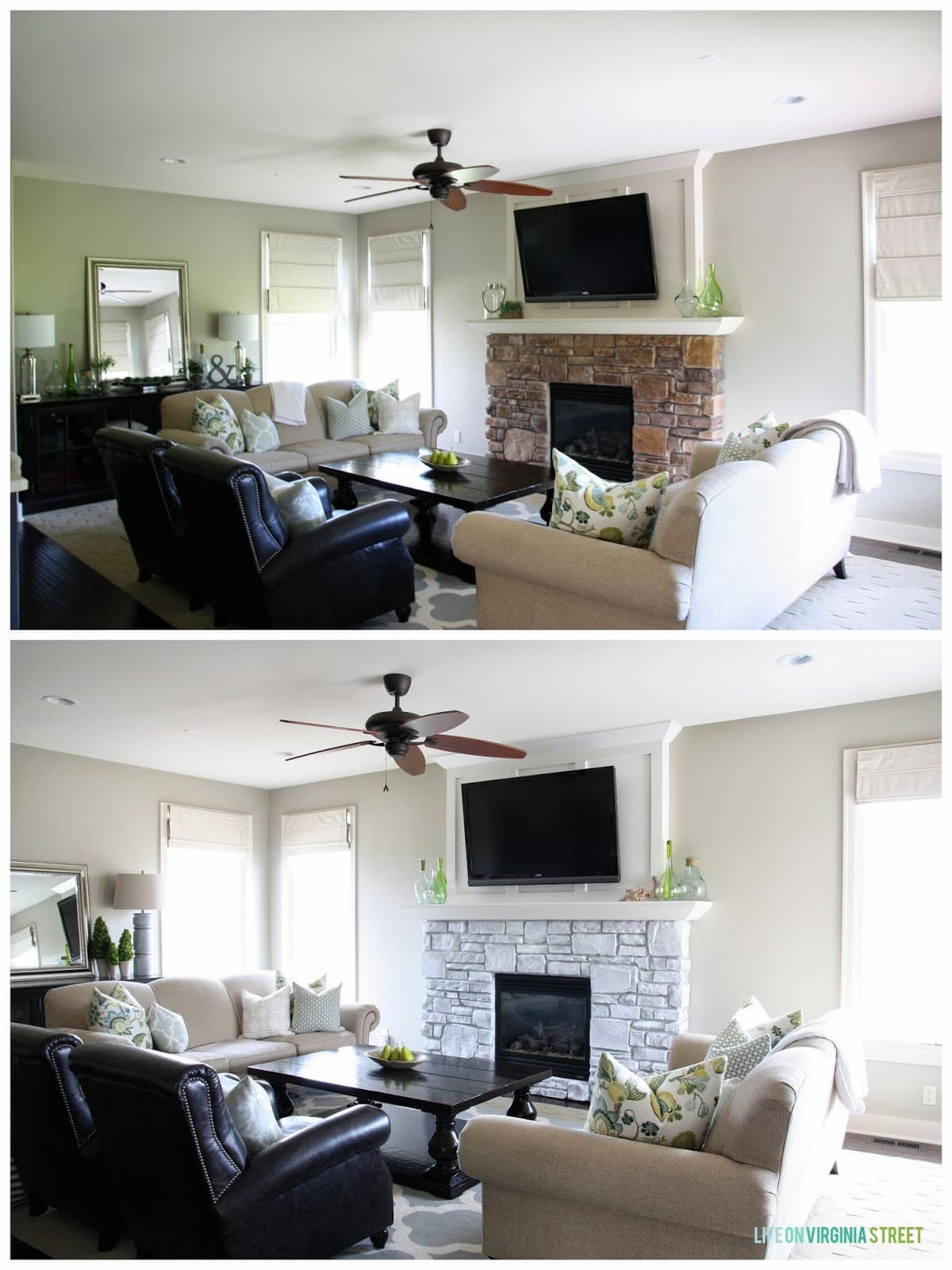 Next project? Painting the window trim and baseboards and likely changing out the roman shades that came with the house. Oh, and for sure that ceiling fan…it never ends!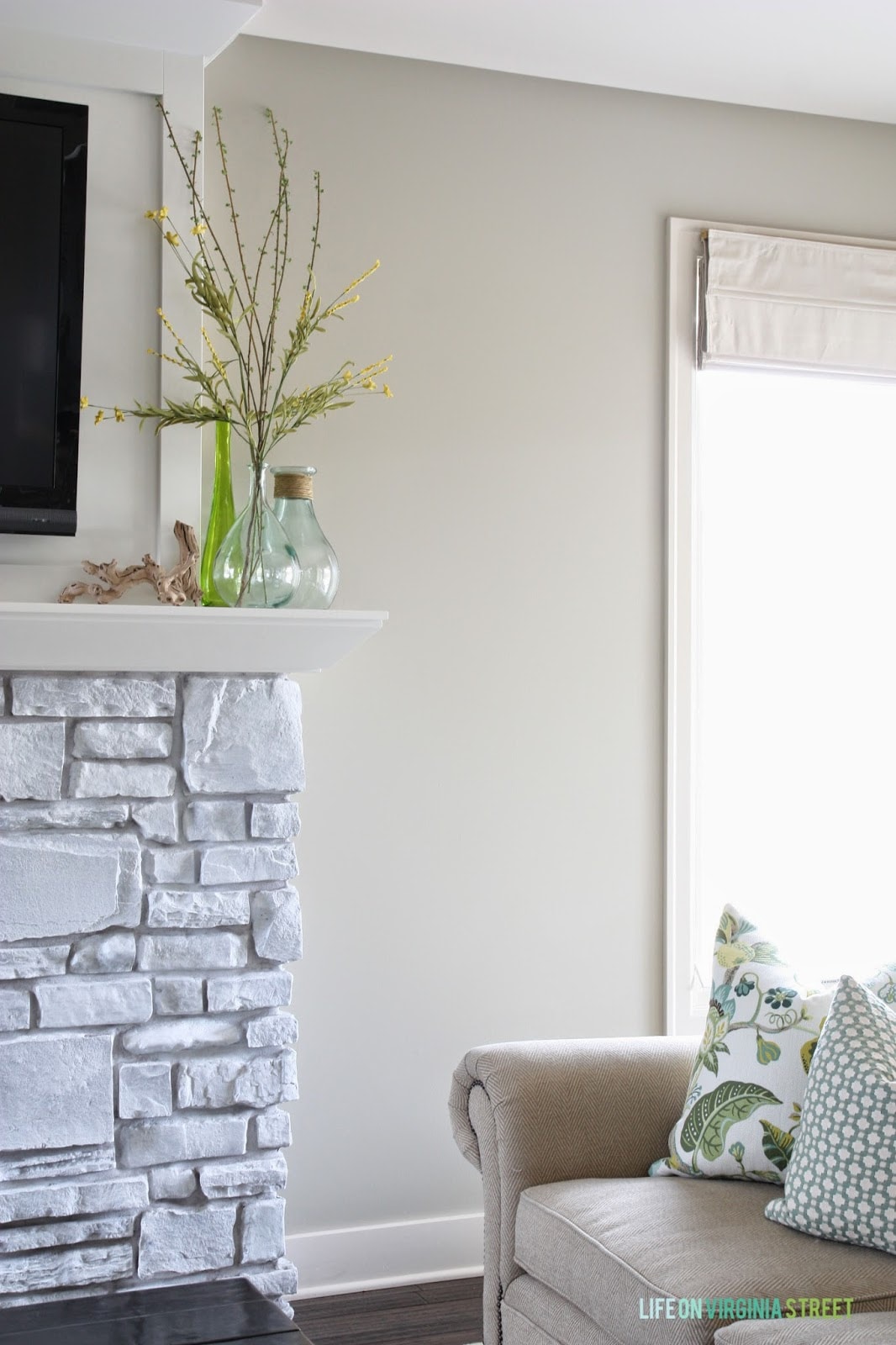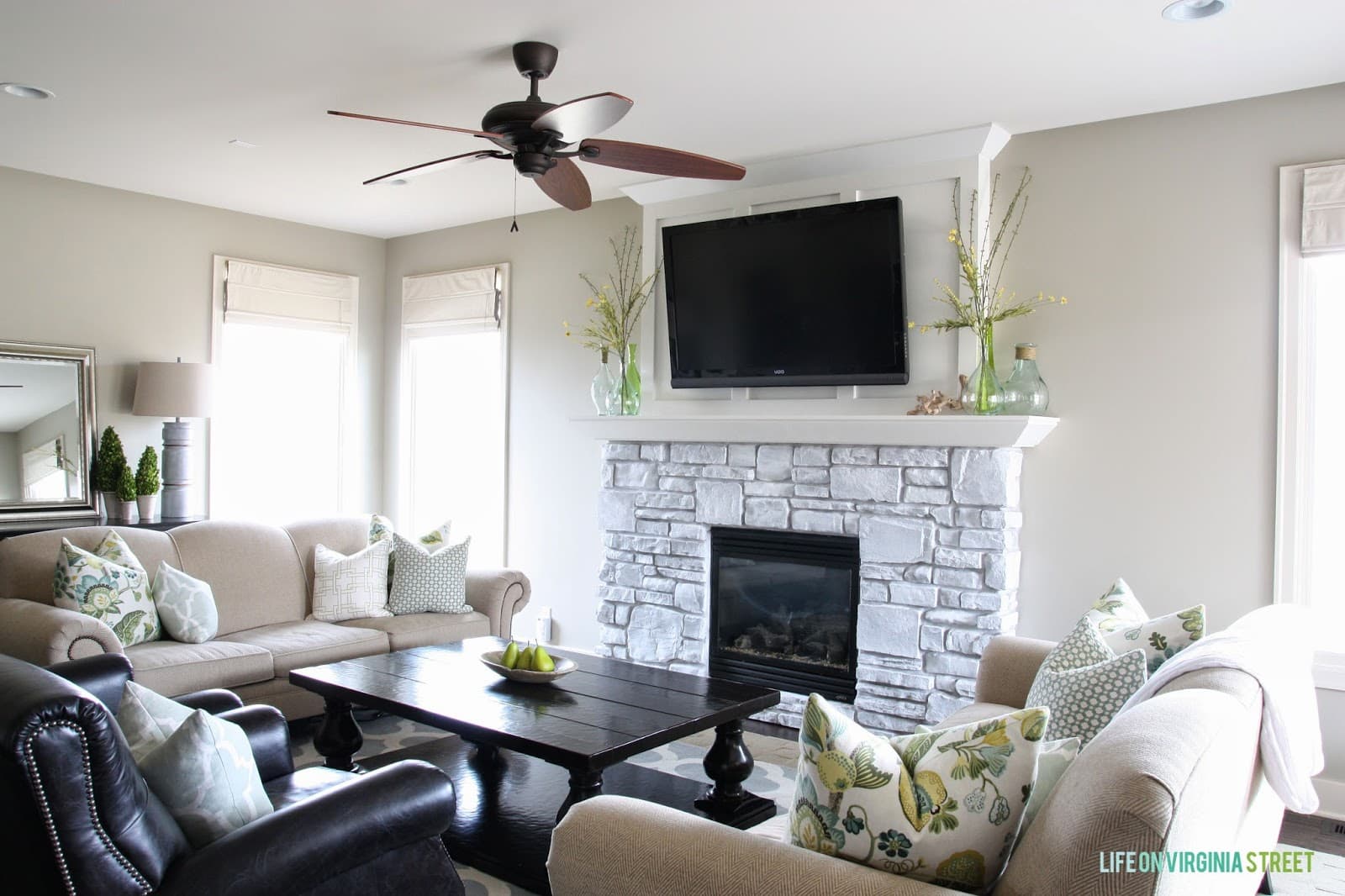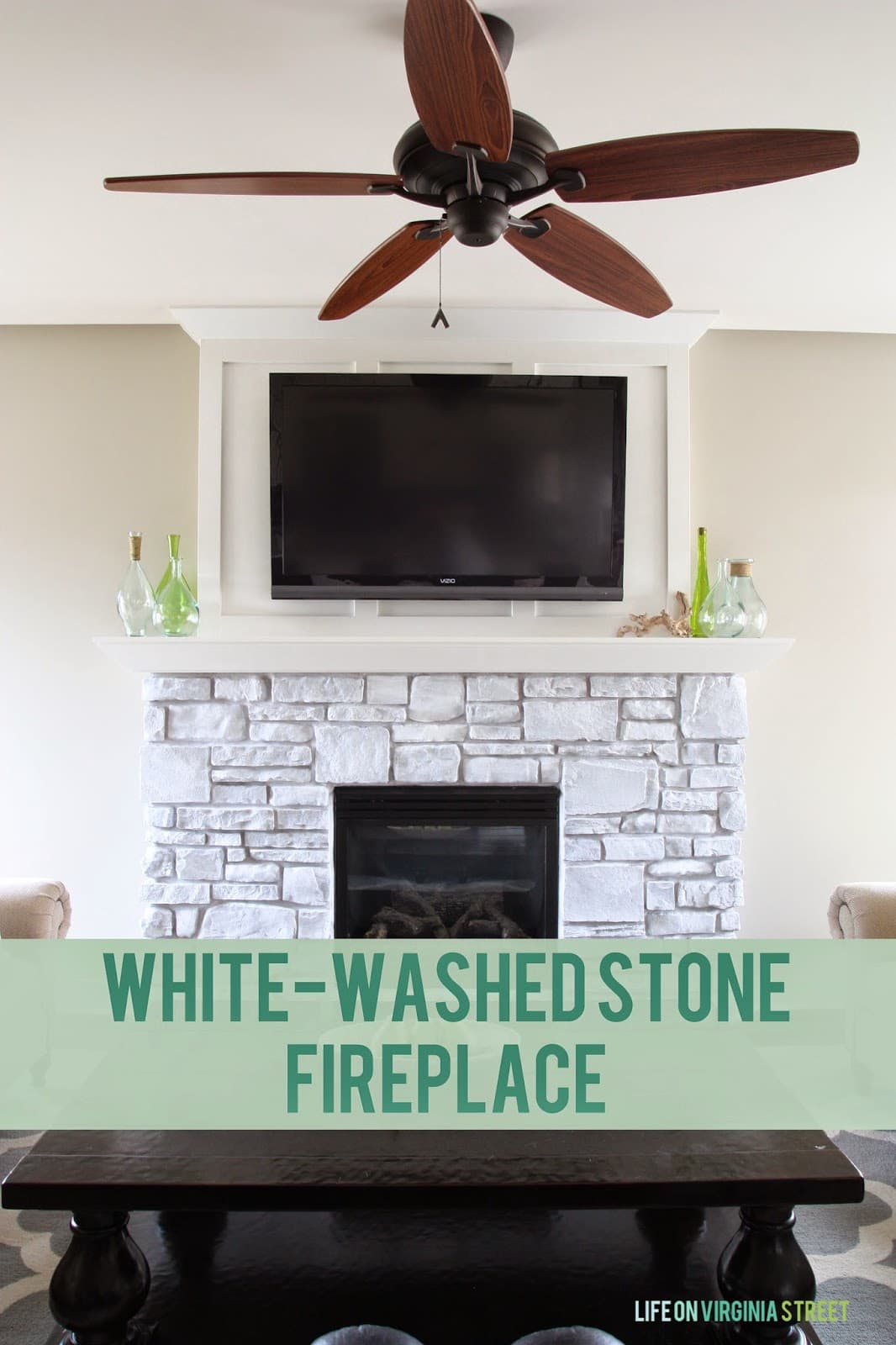 If you would like to follow along on more of my home decor, DIY, lifestyle, travel and other posts, I'd love to have you follow me on any of the following:
· 49 Comments
Sours: https://lifeonvirginiastreet.com/white-washed-stone-fireplace-html/
How to German Schmear a Fireplace
So here are some further details.
1. Clean your stone with warm soapy water.
If your stone or brick is super glossy and slick or pretty dirty (unlike ours which was very porous and relatively dirt/soot free), you may need to use a product like TSP to get the job done.
2. Take your paint, water and tupperware and create your whitewash mixture.
It doesn't matter what your ratio is, but you DO need to mix the same ration every time you make more mixture. I personally created a ratio of about 1:1 Too much water with create drips and lighter color. Too much paint will not look translucent on the stone, but rather "painted on" and coated over the top of the surface. If you're concerned about the paint not adhering, add a little more paint and always do a test spot first to see if you like the color and the way it looks when applied.
3. Apply the whitewash mixture one small section at a time.
Don't be afraid to really push your brush into the stone and brush with X-like motions to evenly cover the surface. Working in a small section either one stone at a time like I did with our stone, or if you have brick working with a small area (for example 2 feet by 2 feet) is about right to brush on the mixture.
4. Use your staining pad to wipe any excess whitewash mixture.
Once you brush the whitewash mixture onto your small section, use your staining pad to wipe away the excess and even out the color. This process moves along at an even pace, so you don't have to wipe the excess away quickly and you don't have to wait a bajillion hours either.
Just brush on, wipe off. Brush on. Wipe off.
******An alternative is to simply use your staining pad to apply the whitewash mixture if your stone is not too rough. You can always test an area, but a rough stone will simply rip the material of the staining pad. A bristle brush really gets into the cracks and crevices of the stone more easily.
Sours: http://www.coastalcollectiveco.com/blog/how-to-whitewash-stone-diy-fireplace-makeover
You will also be interested:
It was quiet in the carriage, everyone was asleep. My Misha continued to snore. And in a dream he could not dream that I could commit such an act.
4758
4759
4760
4761
4762