Have you noticed how your little ones are going simply Paddy lately? Yup, the Paddington Movie has taken the kids' party scene by storm, one marmalade sandwich at a time. Our friends The Party Elves are here to rescue you from that moment of weakness where you promised a Bear-y lovely party!
The Invitations
Make or buy luggage labels. You can get these at the older stationery stores in Bras Basah area, make sure to have twine or ribbon attached. On the label, write "Please look after this invitation. Thank you." along with the party details. On the other side, write the child's name, so they can tie it on for the party. We found these tags looking like the real deal on Etsy.
You can also check out the British blog Party Delights, which has handily created free, printable designs that you can use to make your own invitations.
And if you want to go the extra mile, tie each label to a little blue or gunny look-a-like sack with a mini bear in it, or just fill it with orange sweets for the marmalade effect. (Psst! You might have to make the gunny sacks yourself, in which case the cloth shops on Arab Street have the gunny material, and a couple of stitches or double sided tape should do the trick!).
If you are handing the invitations out, why not use little marmalade jars (or any little jar) and write the invitation on a piece of paper that looks like a marmalade sandwich? Again, try filling the jar with a few orange sweets in keeping with the marmalade idea, because as we all know, bears really like marmalade!
The Entrance
If there is a long path leading up to the party area/venue, try using bear paw prints to show everyone the way. You could have plain paw prints, or print "Bear-y good time this way" or "Pad along here for the party!' to get your little guests in the mood (without getting too lost!).
Decorations
The tendency with the decorations for a Paddington Bear party is to go British since all his adventures are in London. A red, yellow and blue theme (in keeping with Paddington's famous gumboots, hat and duffel coat) is a little twist on the traditional Union Jack colours.
Some British touches might be toy black cabs or London post boxes and buses around the tables and shelves. The alternative is to print drawings of these and have them in frames or sticks dotted around the party table and general area.
To instantly get everyone in a party mood, create a backdrop with the above-mentioned images and some coloured pompoms or rosettes.
Popping a few vintage-style suitcases around would be a great addition to the details. You will have to plan in advance for this, and trawl second hand stores, markets or online forums to find these. Our go-to Etsy has them in varying shapes and sizes – just search for vintage suitcases!
Alternatively (and not to mention more economically) you can make some out of boxes – three or four is really all you need to get the look.
Suitcase-inspired goodie bags for the guests work great – they start off as decoration and then you don't have to worry about what to do with them after the party because they go away with everyone. Minimum effort, maximum effect!
Finish the look with bunches of red yellow and blue helium balloons and you are ready to party.
The Cake
For this occasion, a suitcase cake is perfect. Bake two rectangular sponge cakes – you could even sandwich them with Paddington's favourite marmalade and buttercream instead of jam. Cover the cake in brown icing, add a fondant icing handle, and pipe "WANTED ON VOYAGE" across it.
If you're feeling extra ambitious, try making a little Paddington from fondant icing to sit on top – and don't forget the hat!
Can't be bothered with fondant or spending on a topper? Just use a paper topper by printing a picture of Paddington, the hat and marmalade sandwiches, pop them on popsicle sticks and push them into the top of the cake.
The food and drink
Clearly, marmalade sandwiches are a must.
Try these cookies for a different take, using orange icing for the middle if you don't want to do the actual bread sandwiches. You could also try your hand at bear paw cookies, Paddington's red hat or London Underground cookies.
As Paddington hails from Darkest Peru, include a few delights from his native country. Nuts and raisin bars, popcorn and a chocolate drink will go down a treat with mini fans. Other easy additions would be gummi bears or cheese crackers with a dollop of marmalade on them.
The Games
Plenty of Paddington games can also make the party go with a swing:
Guess the number of bears in a jar: stuff a marmalade jar with gummi bears and whoever guesses most accurately wins the lot.
Memory Game: Get a print out or find mini items related to Paddington Bear – it could be pictures of the hat, raincoat, sandwiches, or little toys related to the book/movie. Lay them on a tray, give kids a second or two to look at everything, and then make them write the items down. Or show them the pictures and hide the matching picture somewhere and they have to hunt the picture down (this is perfect for the younger partygoers as no drawing or writing is involved and gets them moving)
Musical hats: Paddington is rarely without his hat, so play a game around it. Gather all the hats in the house and when the music stops, each child has to grab and wear one. Last to grab is out.
Pin the label on the bear: Draw a big picture of Paddington, then blindfold each child one at a time and have them fix the label on his duffle coat. Nearest to the buttons wins.
Paddington roll craft: Collect empty toilet rolls, and lots of coloured paper/felt in the theme colours, and race the kids into building a 'toilet roll Paddington Bear'. This will be great for the yr olds and is a great ice-breaker, especially at the start of the party as you are waiting for more guests to arrive.
The Party Bag
Send children home with mini marmalade jars of gummi bears, or actual jam with a customised label.
Use the suitcase-inspired bags above if you want to fill a goodie bag, or get a lunchbox-sized brown cardboard box for each child and stick on a brown paper "handle" and a label stamped with their name and "wanted on voyage".
Sours: https://www.sassymamasg.com/throw-paddington-bear-party-party-elves/
Paddington is a cute and cuddly, often times curious, little bear. Fans of the books will be excited to know that a new Paddington film is arriving in theaters everywhere this January 16th. The film comes from the producer of the beloved Harry Potter films, and stars Nicole Kidman.
What fun it was to craft a Paddington themed party, celebrating with a few fun Paddington Bear ideas! With the new movie coming out soon, it's been so fun to watch the story of everyone's favorite bear come to life, even at the party! Treats, party bags, and sipping straws inspired by this lovable little bear!
Here are some ideas for a Paddington Bear themed party!
Drinks: We used apple juice in cute little mason jars with fun decorative lids. I found some darling brown polkadot straws that are perfect for a bear theme. Make a set of festive little straw sippers for each of the drinks.
Using red craft foam, trace out the shape of Paddingtons hat with a pencil. Make each about 23 inches in size. Cut out the hat, then cut 2 small 1/4 inch slits in the center of the hat by folding the hat in half as you cut. Thread your straw through the holes and your straw is ready for sippin!
Snacks: What do you think of most when you think of Paddington and food? Marmalade! It was a big part of the books I used to read growing up. I added a plate of shortbread cookies and some orange marmalade in the center for the treat table.
I also put out some of those cute little bear cookies, as well as chocolate dipped pretzels. You could also make little bear shaped sandwiches or paw print treats too. And I hear Brownie Brittle is another one of Paddingtons favorite snacks :)
Crafts and Games: There are loads of fun bear themed crafts, games, and activities to play. Here are a few perfect ideas for a Paddington Bear Party:
Make these cute teddy bear picnic baskets
Craft a paper bear with brown shredded paper
Play a game of teddy bear hot potato
Toss the teddy bear game with a stuffed bear and a blanket
Go on a bear hunt by create a scavenger hunt as you search for the bear themed goodie bags
Be sure to have everyone bring a special little bear with them to the party!
Party Bags: Fill some extra little goodies for your guests in these festive Paddington party bags! You can add a small bear toy, bracelets, wrapped candies, a jar of marmalade or gummy bears!
How to make Paddington Bear Party Bags: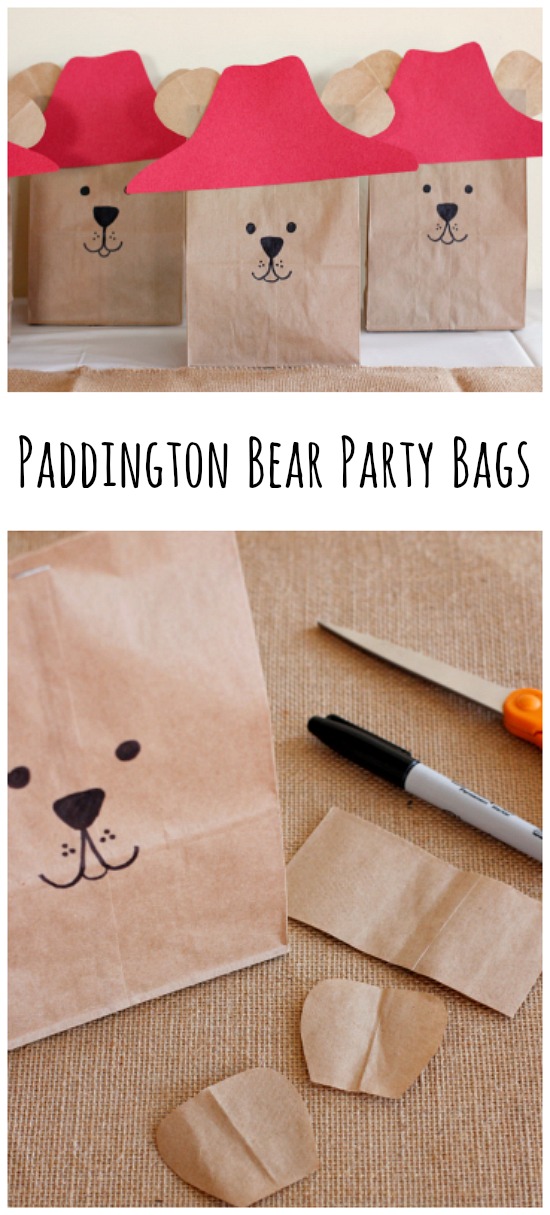 Supplies for Paddington Bear Party Bag:
brown paper lunch bags
scissors
black marker or crayon
glue or stapler
red art paper
1. Cut 2 inches off the top of your paper bag, save it for later.
2. Draw a bear face onto the center of your paper bag with your marker or crayon.
3. Fill the bag with your goodies.
4. Fold the top of the bag down 1/2 inch and glue, tape or staple it closed.
5. With the extra top of your brown bag, cut out 2 bear ears and glue them onto the corners of the bag.
6. Cut out a Paddington shaped floppy hat from the red paper. Glue it onto the top of the bag, between the ears.
Now they are ready to add as the finishing touch to your Paddington Bear party table! Have fun hosting your next bear themed party!
I cant wait to watch this sweet story come to life on screen. Be sure to watch the Paddington trailer below to get excited, its fun for the whole family!
For more inspiration, follow #PaddingtonMovie on twitter, facebook, instagram and pinterest!
*Thanks to Paddington Movie for sponsoring and inspiring this post. All ideas are my own.
Marie
Marie is a mother of 3 living in Seattle, WA. She's been the founder and managing editor of Make and Takes for the last 13 years, curating a DIY website with kids craft tutorials, home decor ideas, and simple recipes. As well as the author of the book, Make and Takes for Kids. Marie graduated with an Early Childhood and Elementary teaching degree and is currently teaching Kindergarten in Seattle. She loves sharing her creativity here at Make and Takes!
Sours: https://www.makeandtakes.com/paddington-bear-party-ideas
10 Paddington Bear Party Ideas
The movie just hit theaters but Paddington Bear has been a big part of many people's childhood. If you are hoping to throw a Paddington Bear themed birthday party for your child, there are so many ideas out there to do it. From fun themed cups and plates to DIY decorations and games, here is a list of 10 Paddington Bear party ideas to get you started in the right direction for party planning.
Also, if you don't have it, you should get the first in the series of Paddington Bear Books so you can be inspired to create your own party touches!
10 Paddington Bear Party Ideas
Living Locurto has a great step by step Paddington Bear Cupcake decorating tutorial. They turned out great!
Every birthday party needs a treat bag and this great and easy tutorial on how to make Paddington Bear Treat Bags from Make and Takes is perfect.
Party Delights offers a free printable of an invitaion. It is a Paddington Bear Suitcase invitation, even!
All parties need themed serving ware and I found some really cute cups, napkins and plates to go with this theme.
By far, these "Marmalade" Cookie Sandwiches are my favorite on this list. They are made by Cupcakes and Couscous.
Bento, Monsters has a nice Bear Pizza recipe and tutorial that would be perfect for a Paddington Bear Party. All you need is a special bear cookie cutter and it's easy!
The Telegraph has some great party ideas for games including Guess the number of Bears, Musical Hats and more!
I used to love doing crafts at birthday parties, so make sure you check out the 10 DIY Paddington Bear Crafts post for ideas.
If you have vintage suitcases, why not set them out and place plates, cups and napkins in them as part of the decor?
One last snack to make for your party would be these Orange Marmalade and Nut Muffins from Mommy Snippets.
Who are you throwing a Paddington bear party for? Have you seen the movie yet? Let me know in the comments!
Sours: https://premeditatedleftovers.com/naturally-frugal-mom/paddington-bear-party-ideas/
Paddington - Our Bear's Summer Birthday Calls For a Celebration - Friendly Faces
Image courtesy of Telegraph.co.uk
What's not to love about Paddington?  I absolutely love the movie and we even hosted a little movie previewing party after school one day.  If your little ones want a Paddington-themed birthday party we found some cute ideas you can use!  Plus we have a fun Paddington Bear and other goodies as a giveaway in celebration of Paddington Bear out on Blu-ray + DVD now!  Enjoy!
Cupcake anyone?
Kara's Party website has the best ideas for birthday parties  Read how to make these at Kara's Party Ideas.
Homemade Marmalade:
Found on Pinterest courtesy of The Best of This Life's Portrait.  Very sweet!  Would make a great party favor!
Add a pop of fun:
Found on Pinterest and available on Etsy here.
Be Beh Blog put together an adorable Vintage Train Party for her son's 4th birthday and I love all her ideas. You can read more at her great blog here.
Take it outside:
This set-up is really cute and you probably have most of these items in your home – or you can check out your local Salvation Army for some vintage suitcases.  Found on Grey Grey Designs.  Cute blog!
Where you going Paddington?
Here's another look at how you can use old vintage suitcases at your Paddington Bear party!  Found on We Heart It!
It's so British:
These photo props would be fun to have at the party! Found on Creative Party Ideas by Cheryl – she has a load of British-themed party ideas – you'll love it!
Party time!
In Good Company has put together the cutest Paddington Bear party yet!  You will love all her attention to details.  Read more here.
And in case your cat wants to get in on the fun!  Found on Buzzfeed.
It's a Paddington Bear Giveaway!
We have a Paddington Bear, luggage tag and Paddington Bear Blu-ray + DVD.  Good luck!
a Rafflecopter giveaway


0
Baby Shower IdeasBear PartyChildren's Birthday PartyPaddington BearPaddington Bear GiveawayPaddington Bear Party IdeasPartyParty Ideas
Sours: https://dandelionwomen.com//06/throw-a-paddington-bear-party/
Bear ideas paddington party
Throw a Fun Paddington Themed Party
This post is in partnership with Warner Bros. Pictures
Hello, friends!
I am so excited to share the Paddington Themed Party I threw for the kids to kick off the release of Paddington 2 in theaters on January 12th! My husband and I can't wait to take the kids to watch the second installment of the most successful family films of all time this Friday! Who's excited?
My kids had way too much fun at our Paddington Party. It was the first time they had marmalade and they got hooked! Now they keep asking to make marmalade sandwiches for school lunch (Too cute!).
For this party, I came up with a few DIY ideas inspired by Paddington, such as the giant marmalade sandwich cake, the drink sleeves to resemble Paddington's coat and the felt garland I used to decorate the front of the table, which I created my own templates for the coat and hats. These ideas are all super easy and don't require a ton of materials or time (Yay! The best kind!) Whether you are planning a birthday party or a just a little celebration to get your family ready for the movie, you can quickly recreate these stress free ideas for your own Paddington Party!
In addition to the DIY ideas, I created a balloon garland in three different colors for the backdrop. It's a fun and inexpensive way to add an eye catching detail to your party set up! I used 5′ and 7″ balloons.
The best thing about kids parties is you don't need much to keep them happy. You can visit your local supermarket and pick up a few store bought treats. I filled up coordinating bowls with teddy grahams, gummy bears and popcorn (my kids favorite!)
I also found these adorable soft bear mini cakes filled with chocolate at our local supermarket. For a more festive touch, I placed them in clear treat bags, added fun gumballs and attached the famous "Please look after this bear" tag, which I designed for you! Big thanks to Warner Bros. Pictures for sharing the Paddington font with me and make this free download possible!
These mini bear cakes make adorable take-home favors and classroom gifts as well.
CLICK HERE TO DOWNLOAD 'PLEASE LOOK AFTER THIS BEAR' TAG.
Of course we couldn't forget the marmalade sandwich. Luckily, I had a bear cookie cutter at home, so the kids had fun preparing bear shaped bread for their marmalade sandwiches.
Now the cake! This giant marmalade sandwich cake is my favorite detail from our party! The excitement in my kids' eyes was priceless! Look at Paddington sitting by his marmalade sandwich. So cute!
Ready to make your own Paddington's Giant Marmalade Sandwich Cake?
What you will need:
1 cake mix
2 6 inch square baking pans
Butter & Flour or Baking Spray for coating the pans
frosting
marmalade
Instructions:
Make the batter using the cake mix by following the instructions on the back of the box.
Coat the baking pans with butter & flour or baking spray.
Divide the batter in two baking pans.
Bake both at the same time as per box instructions. Let them cool completely.
Place one cake facing down and add a thin layer of frosting and a generous layer of marmalade. Then place the other cake on top. Ta-da! Adorable Marmalade Sandwich!
My little boy had the idea of topping cupcakes with mini marmalade sandwiches. How cute is that?
I put together these adorable DIY Paddington's coat cup sleeves. Aren't they super cute? You can make your own by following our easy tutorial HERE.
The kids simply adore this Paddington plush! We are totally bringing him to the movie theaters with us! Tickets for Paddington 2 are now available! Get them for the whole family today: paddington2tickets.com
I hope these Paddington Party Ideas inspired you to throw a fun pre movie celebration for the kids! I promise they will love it!
PIN FOR LATER
Sours: https://twinkletwinklelittleparty.com/throw-a-fun-paddington-themed-party/
PADDINGTON BEAR EASY CRAFT FOR KIDS - PADDINGTON BIRTHDAY PARTY
Paddington Bear Party Ideas Crafts
Oh we are SO excited about the new Paddington Bear Movie coming our way. We LOVED seeing the first Paddington Bear Movie and simpole ADORED Paddington 2! If you love the first movie, you are in for a real treat with the second. Love love loved it! I decided it would be nice to bring together the best Paddington Bear Party Ideas, as well as Paddington Bear Crafts for you. There are some great Paddington Party Food ideas (those little bear cupcakes are just fabulous), but also some great Paddington Crafts for kids to make (including our ever favourite TP Roll Paddington Bear. Have a good browse and enjoy!
These Paddington Bear Crafts were first published in October and republished and updated for your convenience
Paddington Bear Crafts for Kids
Paddington Bear Printables
Love this printable Paddington Bear Suitcase by Mgulin
Paddington Bear Thankfulness Note, what a sweet idea! By Tatertots and Jello
Make your own Busy Bear Suitcase, with this great Paddington Suitcase filled with Paddington Bear activities by No Time for Flashcards
Make your Own Paddinton Bear
Paddington Bear Party Food ideas
Ooh I am so excited to see that you can buy some Paddington Bear Cookie Cutters you get the bear and his little suitcase? How adorable!!! Check them out here US/ UK (affiliate links)
This easy Origami Paddington Bear would make GREAT Paddington Party invites too!
Cutest Hugging Bear Cookies seriously adorable!
Love these Paddington Bear Donut Milkshakes!! How fun! Complete with free printable hats and tags by Living Locurto
The most **adorable** Paddington Bear Cupcakes (including printable hats!) LOVE. By the clever Living Locurto
Love the sound of these marmalade muffins, I am sure Paddington Bear would approve. By Mommy Snippets
Here is an AMAZING Paddington Bear Birthday Cake (not that I could make this!! Ha! but you have to see it!) by Karas Party Ideas
Cutest Bear Pizzas by Bento Monsters
Easy Brown Bear PAW Cookies by Kitchen Fun with My 3 Sons
Bear shaped Cinnamon Toast by Tablespoon
Filed Under: Character Crafts, Party IdeasLeave a Comment
Sours: https://www.redtedart.com/paddington-bear-party-ideas/
Similar news:
Searching for a practically perfect Paddington Bear birthday party? You dont want to miss all the delightful ideas found in this charming party, submitted by Kaye Garcia out of the Philippines.
Paddington Bear Birthday Party
With the newly released Paddington Bear movie, a new generation of children have fallen in love with this adorable little bear. This party has such detailed and delightful elements and you dont want to miss any of them!
The party ideas and elements that you wont want to miss from this detailed birthday celebration include:
Paddington Bear-themed cake pops
Red umbrellas hanging from the ceiling
Darling 4-tiered cake topped with a fondant Paddington Bear cake topper
Royal guard napkin holders
London Bridge table centerpieces lined with red flowers
Paddington Bear gable boxes
Chalkboard dessert table backdrop
Darling drink bottle tags
Paddington Bear and Paddington Bears button fondant cupcake toppers
Paddington Bear plush toy favors and centerpieces
and so many other ideas waiting to be seen!
Vendors:
Cakes and Desserts: Cuppypuppy Bakeshop
Photography: Little People Photography
Candy: Warehouse Candies
Party Supplies Available from this Party:
Paddington Bear Decor Details Shared by Kaye:Decor:
Telephone booth storage for the Paddington Bear Plush toy giveaways
Red Umbrellas were hung from the ceiling
London bridge handmade using rolled paper
Paddington bear plush toys to compliment the london bridge
telephone booth handmade using rolled paper
Royal guard standees
Chalkboard art for the dessert buffet
Brick wall backdrop for the candy buffet
Dont miss the other inspiring details in this Paddington Themed Birthday Party!
Party Supplies Available from this Party:
Love Karas Party Ideas? Keep up with the latest party ideas, FREE party printables, tutorials, recipes and more by following Karas Party Ideas on Pinterest!
Share on TwitterPin on PinterestShare on FacebookSours: https://karaspartyideas.com//10/paddington-bear-birthday-party.html
4726
4727
4728
4729
4730