---
25-01-2009, 09:33 PM#1

---

25-01-2009, 10:16 PM#2

Re: aftermarket throttle body - for 1UZ - what options are there?

the reason u cant put a blown 1uz in ur 180sx is the stock kerb weight wouldnt be over 1336kg, i had this problem with my ma61 - which i wanted to put a blown 1uz in.

Mods for more power:

Port and polish upper and lower intake manifold
port and polish heads
Buy some decent lift cams off lextreme.com
i wouldnt bother upgading the tb, its well big enough for a 1uz NA
Maybe try and delete some of the anti pollution bullshit - theres plenty on the 1uzs.
Extractors are always goood
If you dont want extractors soarer/ celsior headers flow better than crown
aftermarket ecu - u can adjust timing, fuel, afr's etc

Blake

Last edited by Robbos_Toyotas; 25-01-2009 at 10:27 PM.

THE OFFICIAL TOYMODS BOGAN
MA61 - sunroof., 7MGTE, 4.11 lsd, w58
MA61 - Built 2JZ, 9" diff, big brakes -1st car + the toy
LN167 - dual cab fourbie, gu patrol chassis + suspension/ driveline, built 1.5jz

---

25-01-2009, 10:28 PM#3

---

25-01-2009, 10:30 PM#4

---

25-01-2009, 10:36 PM#5

---

25-01-2009, 10:38 PM#6

Re: aftermarket throttle body - for 1UZ - what options are there?

Originally Posted by

JustCallMeOrlando

Check under Callum's Celica XX, username H1TMAN or something like that in the Members section. I'd find it myself, but my internet is shaped.

its cool, shame on u for selling tho...mines sitting under my back deck awaiting a 1uz transplant - got 8k for the 302!!
sorry to hijack thread

THE OFFICIAL TOYMODS BOGAN
MA61 - sunroof., 7MGTE, 4.11 lsd, w58
MA61 - Built 2JZ, 9" diff, big brakes -1st car + the toy
LN167 - dual cab fourbie, gu patrol chassis + suspension/ driveline, built 1.5jz

---

26-01-2009, 09:59 AM#7

Forum Member 1st year Apprentice

---

Join Date

Oct 2006

Location

ACT

Posts

8

Re: aftermarket throttle body - for 1UZ - what options are there?

thanks guys. yeah, i've been talking to Ray Spence about the engineering side of things and he advised he wouldn't pass it and rego would knock it back... so for the time being, it'll be a pretty stock 1UZ.

i dont particularly want to open the motor, so as far as mods go, i'll have a custom set of extractors made, not shitty ones, but a good set, i'll then finish the header back system.. cold air intake and adaptronic ECU.. if u guys reckon the stock TB will be fine, then it'll stay..

question tho, is there a TB option available for the 1UZ's, that dont have the traction control butterfly? ie, just one butterfly not 2?

cheers
Greg

---

26-01-2009, 12:15 PM#8

---

26-01-2009, 01:29 PM#9

---

26-01-2009, 09:24 PM#10

Forum Member 1st year Apprentice

---

Join Date

Oct 2006

Location

ACT

Posts

8

Re: aftermarket throttle body - for 1UZ - what options are there?

Thanks Justen.. will have a crack at that ...

the aim with this conversion is cheap.. not cheap shitty parts, but only doing the things i need to and picking mods based on the gains they offer V's the money they cost... at the moment, i'd love some trumpets, but it's a lot more work and money than i want to spend. after i pass rego, i'll look at other things i can play with..

just out of curiosity, what sort of gains power/response/torque would i expect to see from a set of trumptes over the stock TB??

---

26-01-2009, 09:33 PM#11

---

26-01-2009, 09:42 PM#12

---

27-01-2009, 11:23 AM#13

---

27-01-2009, 12:12 PM#14

---

27-01-2009, 12:16 PM#15

---
Sours: https://www.toymods.org.au/forums/
1UZFE Throttle Body Mod
I have a 92 1uzfe TB, that I would like to clean up a bit, first off I am going to cut off the other TPS sensor and selinoid that controls the TRAC.
Also I wanted to know if you guys know if you can just delete the coolent lines to the TB? I would like to just cut those holes off and weld them up, I know the veilside TB does not have coolent lines for it, so Im thinking this would be about the same, as well as I think the lines are to actually heat the TB up to temp faster than just the metal warming up.
Does any other TB just bolt on to the earlier 1uzfe manifold (example 2jzgte)? Also what size is this TB? Thanks ahead of time!
Jeff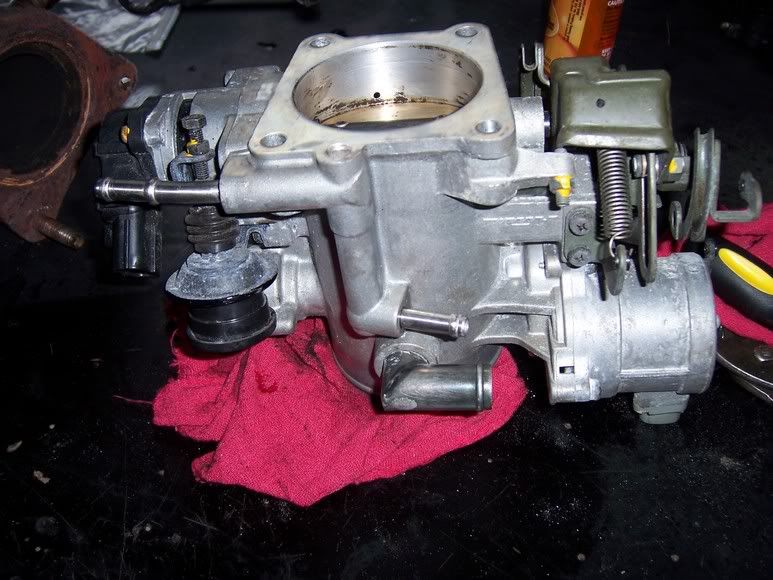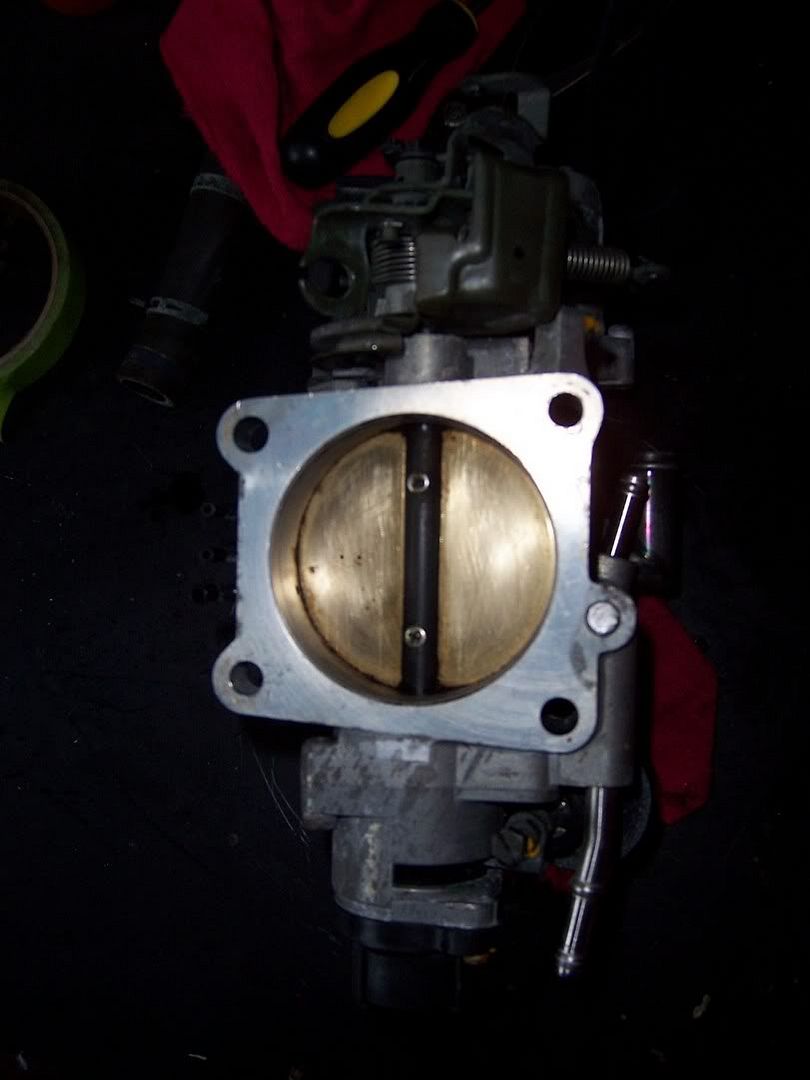 Sours: https://www.lextreme.com/forums/threads/1uzfe-throttle-body-mod.3957/
Toyota 1uz V8 throttle bodies
Russell, I know someone that purchased the Ebay 1UZ throttle body set up. They were not too bad but did have the typical "made in China" quality / manufacturing problems. I am assuming that is the OBX ITB set that you are thinking about ? As with much of that stuff you are at the mercy of luck as you could just as well get a perfect part. At the price, it is worth the purchase and the hassle to return if has quality issues. They will never be a Jenvy or other quality ITB.

I have Kinsler injection on my motor and even though they are a quality ITB they required an adapter plate for the 1UZ. That makes the direct bolt on OBX units a neat set up if they don't have build issues. If you want to do a bit more work, look to adapt BMW S54 ITB's. They are a great unit, OEM quality, and reasonably priced used. Attached a pic of the IUZ with the Kinsler ITB's. Trans mount for mock up only, yes that is not strong enough.
Attachments
Sours: https://www.gt40s.com/threads/toyota-1uz-v8-throttle-bodies.49754/
Toyota Hilux with 1UZ and Individual Throttle Bodies
She finished strongly and profusely. Liin screamed like a madman, jerking her ass in a violent orgasm. Her hot vagina splashed out vaginal juice, and Rick's cock with a loud chomp sank into this pulp and hot phlegm. Then Rick stepped aside and Lance took his place.
Throttle bodies 1uz
Raped as some kind of touchy. Yes, even where - in my husband's office, and even the immediate boss of her husband does this without resorting to contraception. Meanwhile, the pleasant sensations manifested themselves more and more clearly, and soon, completely moistened, I noted to myself that I was starting to start.
The rapist fucked me more and more freely and liberation. Realizing that I was weakened, he began to boldly enter and withdraw his piston into me without fear that I would try to.
Toyota Hilux with 1UZ and Individual Throttle Bodies
The guys picked up the pace, I almost passed out after finishing three or I don't even know how many times. Opening my eyes before Gleb first burst into orgasm, and filling my mouth with sperm. After finished Stas, and Dima in my ass. Unforgettably.
Now discussing:
Ah ah. The stomach, thighs and legs twitch. I'm in nirvana.
4655
4656
4657
4658
4659