Payroll Mate Review
In an age where online software applications are the norm, Payroll Mate from Real Business Solutions proudly announces that they are not a cloud application. That means no monthly subscription fees or worries about security.
Payroll Mate offers an easy-to-use, affordably priced, on-premise payroll application that you can download directly from the Payroll Mate website for your desktop or workstation computer. Designed for Windows operating systems, Payroll Mate currently does not offer payroll software for Mac operating systems.
However, if online access is a must, Payroll Mate can be hosted online through a number of hosting providers.
---
Who is Payroll Mate for?
With its affordable price tag, Payroll Mate is ideal for small business owners with fewer than 75 employees. Payroll Mate is also a good payroll software for businesses like accounting firms and payroll processors that need to run payroll for multiple companies.
The standard version of Payroll Mate supports up to 10 companies, with up to 75 employees per company, with an add-on option available that supports up to 100 companies with up to 1,000 employees per company, making the application a great option for CPA and accounting firms that process payroll for their clients.
---
Payroll Mate's features
Payroll Mate offers a long list of features, including free product updates throughout the year, numerous product tutorials for new users, and good export capability to a variety of popular accounting applications such as QuickBooks and Sage 50cloud.
Payroll Mate also offers a good selection of add-on modules like direct deposit and a Vendor/1099 processing option, all designed to extend product functionality. One of the best features in Payroll Mate is the Check Preview option, which lets you view all checks prior to processing, allowing you to make any edits prior to running payroll, reducing the number of payroll errors and corrections necessary.
Another great feature is the ability to prepare payroll for multiple businesses or locations, print the payroll checks using built-in PDF capability, and then securely email the PDF checks to the other businesses or locations to be printed in-house.
However, the product does not offer employee access to payroll forms, such as pay stubs or W-2s, but there is an option to email employees their pay stubs.
Here are some additional features that can be found in Payroll Mate.
1. Process payroll for multiple businesses
Payroll Mate is an excellent payroll option for smaller businesses, but one of its most valuable features is its ability to process payroll for multiple businesses.
Chances are you only run payroll for one company, but if you have multiple businesses that need payroll processing, Payroll Mate is one of the best options available, offering processing for up to 10 separate businesses for one (really) low price.
2. Multiple pay frequencies
If you do process payroll for more than one business, chances are that you'll really appreciate Payroll Mate's ability to handle multiple pay frequencies. For new business owners, you'll be able to choose from a variety of pay periods, including weekly, biweekly, semimonthly, and monthly payroll.
3. Numerous user-defined payroll items
Deductions can be one of the most tedious items to track in payroll, and Payroll Mate does a great job of tracking a variety of common payroll items and deductions, including the following:
Medical insurance
Dental insurance
Retirement plans
Sick pay
Disability pay
Charitable contributions
Business expense reimbursements
Travel time
Electronic Federal Tax Payment System
Child support payments
Pay advance deductions
4. Process federal and annual payroll forms
Payroll Mate will generate and print your required federal payroll forms, including the following:
Form 941: Employer's Quarterly Federal Tax Return
Form 943: Employer's Annual Federal Tax Return for Agricultural Employees
Form 940: Employer's Annual Federal Unemployment (FUTA) Tax Return
Form W-2: Employee Wage & Tax Statement
Form W-3: Transmittal of Wage & Tax Statements
While Payroll Mate does not automatically file the reports electronically, nor make electronic payments, you can easily generate the needed reports to sign and mail by the required date, while submitting tax deposits electronically through the Electronic Federal Tax Payment System (EFTPS).
Payroll Mate also calculates State Unemployment Tax (SUTA), and an add-on module is available that supports state payroll tax forms for the following states:
California
Texas
New York
Florida
Illinois
5. Comprehensive payroll reports
Payroll Mate offers an excellent selection of payroll reports, including a Journal Summary report, Tax Liability report, Payroll Totals report, Payrolls Detail report, Taxes & Deductions report, and State Taxes report. Most importantly, Payroll Mate also includes a Deposit Requirement report, which displays how much of a deposit you need to make for your quarterly tax returns. You can export any of your payroll reports to Microsoft Excel, as a CSV file, or save as a PDF.
6. Integration
Payroll Mate integrates with both QuickBooks and Sage 50 applications, so you can easily export your payroll data directly to either application, though export to most applications is also available using a CSV file or Excel.
---
Payroll Mate's ease of use
In fact, Payroll Mate is designed to make payroll processing easy, starting with the availability of a New Employee Wizard that will guide you through the process of setting up a new employee.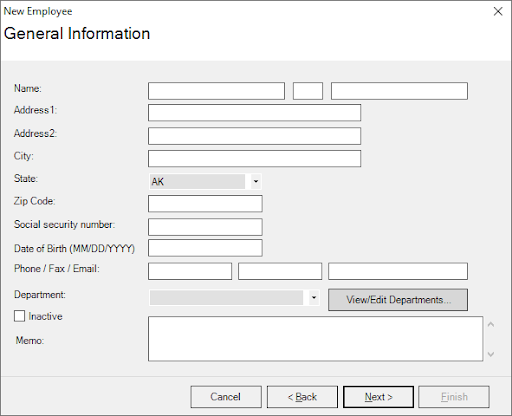 The New Employee setup screen is navigated with the help of the New Employee Wizard.
Source: Real Business Solutions.
The Wizard guides you through a series of pages, including the general information page, where you can enter personal information for each employee. A tax setup page is next, where filing status, pay frequency, W-2 options, and any state and local taxes are entered, followed by incomes, where hourly pay, mileage pay, yearly salary for salaried employees, and vacation and sick pay amounts can be entered.
Direct deposit setup is also included, as is a vacation/sick time setting, a nice feature that allows you to choose how you wish to calculate vacation and sick time.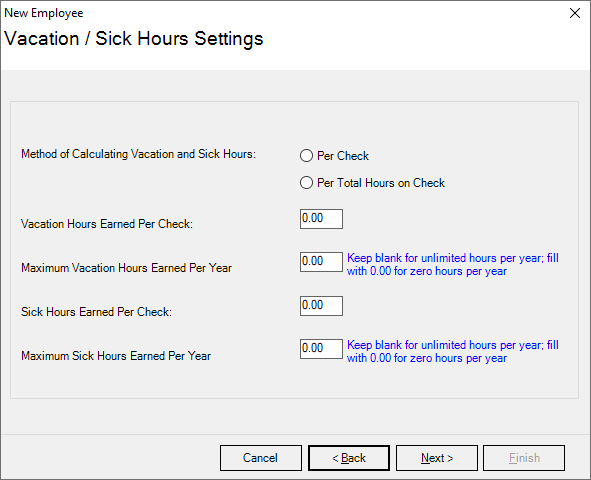 Payroll Mate lets you choose how to calculate vacation and sick pay.
Source: Real Business Solutions.
Payroll Mate offers an easily navigated user interface with the main menu at the top of the screen and a navigation pane at the bottom left that offers access to these common features:
Checks
Employees
Forms
Reports
Company
1099 & Vendor (optional)
Tutorials
Payroll Mate also offers several tutorials, including How to Create a New Payroll Check, How to Delete a Payroll Check, and How to Delete Multiple Payroll Checks.
Users migrating from other applications can also import existing data from a variety of payroll and accounting products, including Sage, Kronos, Oracle's PeopleSoft, ADP, Paychex, QuickBooks, and Sage 50, which can significantly reduce the amount of time needed for setup.
---
Payroll Mate's pricing
It will be difficult to beat Payroll Mate's pricing, which is $139 for a calendar year. If you still need to purchase payroll for 2020, you can purchase both 2020 and 2021 payroll for $239. Payroll Mate also offers a variety of add-on modules, all at great prices, including Direct Deposit for $95; the Vendor and 1099 Center, which runs $69; and a State Payroll Reporting option for IL, TX, CA, FL, and NY for $40.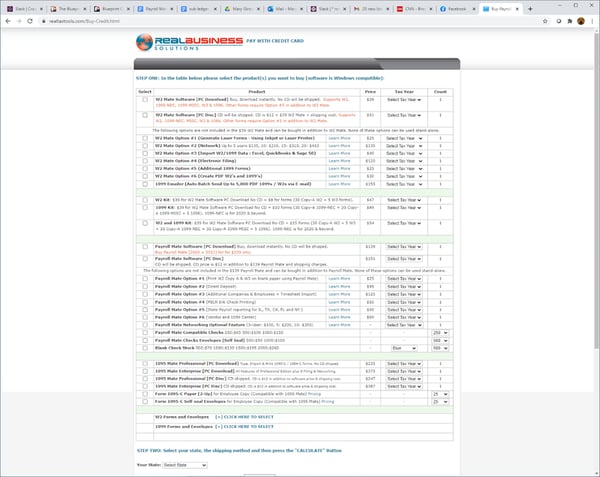 Payroll Mate offers a variety of add-on options to increase functionality. Source: Payroll Mate software.
One of the biggest benefits to Payroll Mate's a la carte system is that smaller business owners do not need to pay for features they have no use for.
---
Working with Payroll Mate support
Payroll Mate offers excellent support options, with free U.S. based technical support available by phone, email, and chat.
In addition, if you're struggling to figure out how to do payroll with Payroll Mate, they offers an excellent product help feature that's completely searchable. You'll also have access to other resources, such as a Quick Start Guide, a comprehensive Getting Started Video, and product updates, all from within the application.
---
Benefits of Payroll Mate
An intuitive user interface and affordable pricing are two of the biggest benefits you can take advantage of by purchasing Payroll Mate. At a cost of less than $12 per month, you get a robust, easy-to-use payroll application.
While it's true that some business owners may view a lack of online accessibility as a liability, other business owners are more comfortable with an on-premise application that offers safe, secure payroll processing without the risk of exposing confidential employee information on the cloud.
---
Finding the right payroll solution for you
Affordably priced, Payroll Mate is within reach of even the smallest business with the tiniest budget. If you're undecided, Payroll Mate offers a free demo of its application to try out before you make the decision to purchase.
If you do decide to purchase Payroll Mate, you can pay online, and simply download the application and install it on your desktop or workstation computer.
---
Frequently Asked Questions for Payroll Mate
Does Payroll Mate support direct deposit?
Yes, Payroll Mate does support direct deposit, but you'll have to purchase an add-on module separately.
Is there a monthly fee in addition to the yearly cost?
Payroll Mate does not charge any monthly fees. You'll only need to pay the $139, plus the cost of any add-on modules you choose to purchase.
Can I prepare and file required tax forms using Payroll Mate?
Payroll Mate calculates and prepares required federal forms, such as Form 940 and 941, but it is your responsibility to file those forms.

Utilize advanced features when running payroll for a fraction of the price with Payroll Mate.
Visit Payroll Mate
---
How Payroll Mate Compares
The Motley Fool has a Disclosure Policy. The Author and/or The Motley Fool may have an interest in companies mentioned.
Sours: https://www.fool.com/the-blueprint/payroll/software/payroll-mate-review/
Payroll Mate® Payroll Software
Below is a list of some common questions asked by our customers about the Payroll Mate Software:
Once I place my order, how long does it take to get my payroll software?
You can download the software immediately after we approve your credit card if you provide the right email address and you don't have anything on your side that prevents you from receiving our emails such as a SPAM filter. You can also have a CD shipped FedEx two day express, or shipped FedEx ground. If you choose to have the payroll program emailed to you, you will receive an email within minutes of your purchase. The email will be entitled Payroll Mate Download Instructions. The email will include a link, username, and password. Please make sure all of the above are entered in correctly.
Where can we see list of the most recent Payroll Mate updates?
Please refer to the Payroll Mate ® Software Update Log .
Does Payroll Mate calculate state tax withholding?
Yes, this software calculates state withholding tax for all fifty US states and District of Columbia.
How many businesses can you process payroll for with the $139 Payroll Mate?
Up to 10 businesses. If you have more than 10 then you can buy Payroll Mate Option #3 (on top of the $139 Payroll Mate). This option adds the ability to Payroll Mate software to support up to 100 Companies and 1000 Employees per company.
Can I export payroll data from your payroll software to my accounting software?
Yes, Payroll Mate can export payroll data to QuickBooks, Quicken and other accounting software like Microsoft Office accounting through General Ledger Export. QuickBooks users are no longer confined to using Intuit payroll products just because they are QuickBooks users. Businesses can prepare payroll using our payroll software and export payroll data into QuickBooks with ease and comfort. As we all know accountants use a wide range of general ledger software solutions therefore Payroll Mate generates a general ledger journal entry for Payroll activity that can easily be imported into other solutions or manually booked.
Does the data entered in the Trial version carry over to the full version of Payroll Mate?
Yes, all the payroll information in the Trial will automatically transfer over to the full version. You will also be able to run full payrolls and print checks using the trial version.
Is there a limit to how many deductions can be defined in the company record and used by a given employee?
Payroll Mate does not impose any limitations on the number of payroll incomes, taxes or deductions that can be defined by the user and applied to employees.
What are the system requirements for Payroll Mate?
Microsoft Windows Vista (32 or 64 bit), Windows 7 (32 or 64 bit), Windows 8 /8.1 (32 or 64 bit) or Windows 10 (latest operating system from Microsoft). 1 gigahertz (GHz) or faster processor. Minimum 1 GB of RAM. Minimum 180 MB Hard Drive space to install. Microsoft .Net framework. For tablet users, Payroll Mate works on Microsoft Surface Pro and other devices that run fully functional Windows such as Dell Latitude and Toshiba Portege .
Do I have to pay monthly fees if I buy this payroll software?
Payroll Mate is sold separate for each calendar year January through December for onetime fee of $139.00 regardless of what time of the year you buy the software its good for that calendar year. Updates throughout the calendar year are FREE and users will not be required to pay any additional monthly fees for using the software for the related year. Optional features such as "Direct Deposit" and "MICR Check Printing" cost extra (please refer to our Buy page for the latest software pricing).
Do we need an internet connection to use this software?
No, Payroll Mate does not need an internet connection to operate (gets installed and runs locally). You only need internet access to download updates. We have many customers who do not have internet on the computer where they run payroll and they only go online to download updates and then disconnect.
How do I know that your payroll software will meet my payroll processing needs?
Please download a FREE evaluation copy of the software, enter your employees and company information, print payroll checks, generate reports and forms and once you are sure the software will work for you, you can go ahead and order the full version.
Is Payroll Mate Windows 10 compatible?
Yes, our payroll tax software is fully Windows 10 compatible.
Does this program track vacation and sick pay? This is mandatory for our state.
Yes Payroll Mate supports PTO / vacation / sick pay accrual. You can enter a fixed amount per pay period or calculate based on the number of hours on the check.
Can we pay employees with direct deposit?
Payroll Mate Option #2 (Direct Deposit) adds the ability to Payroll Mate software to generate NACHA-formatted direct Deposit files. Please check with your bank to make sure they accept a NACHA file. You can also have a third party process this NACHA file such as NatPay in the event that your bank does not support direct deposits. Payroll Mate customers get special pricing when signing up with NatPay.
Can we import employee information from Intuit QuickBooks?
You can export the Employee Contact List (Reports > Employee & Payroll > Employee Contact List) report from QuickBooks to Excel and then save as Comma separated Value (CSV) to import inside Payroll Mate. You can also prepare a spreadsheet that has the employee name, tax ID, address, filing status and other details and then import into Payroll Mate. Please contact our support team and we can provide a sample spreadsheet with possible fields that can be imported. Please note that you can import from any accounting / payroll / timeclock system if you can get the employee information into a spreadsheet.
Does your program require we use your check stock?
We guarantee our check stock is compatible and will align properly. We cannot guarantee proper alignment with another vendor's checks. You can test alignment with your current check stock by printing a blank check from the trial version of Payroll Mate and holding up to your current checks for comparison.
Does your software allow both an hourly rate and a fixed (salary) amount on one check?
Yes you can add multiple types of incomes on the same check including hourly and salary.
Do I install this payroll software on my machine or I use it from your website?
Payroll Mate is an in-house payroll program that you purchase to download on your system. You own the software and you own the data.
Can I email payroll checks created using this payroll software?
Yes. Accountants for example can use Payroll Mate to prepare payroll for their clients from the comfort of their office, print payroll checks for their clients using the PDF built in capability then email those PDF checks to clients where they can loads the printer with the preprinted Payroll Mate compatible checks and print them in seconds. No need to pay for shipping or wait a day or more for checks to arrive.
Does Payroll Mate integrate with any free accounting software?
We do not endorse / recommend any specific paid or free accounting software, but the GL export feature inside Payroll Mate® makes it open for working with most accounting applications that can import general ledger entries from file.
Does this payroll software have the ability to enter previous payrolls?
Payroll Mate® allows the user to go back to the first of the year in order to recreate payroll. This will allow one to get up to date for tax filing and report generations. Therefore, if someone was to purchase this small business payroll solution in the middle of the user will be able to enter in all the checks created or written for employees. This will ensure accuracy of W2 forms, W3 forms, 940 forms, 941 forms and all other reports created.
Does your payroll software run on Linux?
Payroll Mate® is Microsoft Windows compatible. However, we have very few customers who run our program on Linux by utilizing tools such as CrossOver. Unfortunately we do not provide technical support for installing Payroll Mate on non-widows machines.
Can I use Payroll Mate if I have 1000 employees?
Payroll Mate gives the user the ability to create up to ten companies with 75 employees for each, however if you have more employers or employees you can purchase Payroll Mate option # 3 and be able to create up to 100 companies with one thousand employees for each, if you need more please call our sales reps to get a quote.
I use legacy payroll system, can I switch to Payroll Mate?
We have a number of customers who were using legacy accounting & payroll software and switched to Payroll Mate. Some of the legacy accounting software that we are aware of include: Zland Accounting and Zland Payroll software, Versapro accounting software, Cosmi - Swift Professional Accounting, Accubooks, Champion Payroll & Accounting Software , Professional Accounting and Payroll software , Made-EZ Accounting and Made-EZ Payroll software, Socrates payroll software, Sage DacEasy Accounting and payroll, and Contractors Library with Accounting & Payroll.
I heard about your company from Twitter. What is the best place (other than your own website) to know about your payroll product?
You can learn more about our program from independent sources such as the popular software reviews websites Capterra.com, Softwareadvice.com, Download.com and if you are an accountant you can refer to the CPA Practice Advisor. Of course you are welcome to call our sales line at 800-507-1992 or support line at 708-590-6376 and speak to one of our associates who will be more than glad to answer your questions. We also advise you to download our payroll software demo from here.
Can I use your payroll software for our non-profit organization?
Yes, Payroll Mate is ideal for non-profit organizations to prepare payroll, they can also use our W2 Mate W2 1099 software to prepare, print and EFile 1099 forms.
Can I use your payroll software to prepare my clergy payroll checks?
Yes, our payroll software offers all the features needed to do payroll for a ministry in a fraction of the time needed to do the same task by hand and in a fraction of the cost needed to use a church payroll service.
What kinds of companies or small businesses can use Payroll Mate?
Our payroll accounting software can work for virtually any type of business, some examples include: CPA Firms, banks, schools, photography studios, trucking companies, churches, graphic design companies, real estate, construction, manufacturers, mortgage brokers, engineers, physicians, attorneys, restaurants, services, retail stores, internet businesses, dentists, chiropractors, insurance agents, contractors, sports related companies, wholesale, non-Profit, manufacturers, sales Groups, insurance agencies, grocers, pet stores, accountants, colleges, hotels, bakeries, contractors, bars, auditing & bookkeeping services, laboratories, shops and associations..
Do you have a list of recommendations for those of us who use payroll software in house to prepare payroll?

1. Try to make payroll frequency as least as possible to eliminate errors.

2. Be consistent and try to follow the same steps every time you prepare payroll to eliminate errors. For example if you start by preparing payroll for salaried employees, always start by preparing payroll for salaried employees.

3. If you have to use payroll program to prepare payroll for a big number of employees, divide them into batches print them and review them before you proceed to the second batch.

4. Have a check list for preparing payroll and mark off the steps you completed as you progress.

5. Prepare payroll ahead of time and don't wait until the last minute.

6. Always update employees' data as you get it and don't wait till you prepare payroll.

7. Always review employees' hours before you enter them into your payroll system. Look for overtime or out of the ordinary hours.

8. Avoid making exceptions for employees as they might ask for favors such as receiving payroll checks one or two days ahead of time or an advance on the next payroll check.

9. Back up your data every time you prepare payroll to an external drive (flash or something similar).

10. Keep hard copies for check stubs for all checks prepared.

11. Maintain a separate file for each tax year and keep hard copies of all forms and reports filed and notices received.

12. Setup a password on your payroll software and share it with only one trusted person.

13. Limit the number of people who access the computer where you store your payroll and business data.

14. Use Direct Deposit.
Sours: https://www.realtaxtools.com/payrollsoftware/payroll_software.html
Pay Employees and Print Checks in Minutes. Reduce Time & Money Spent on Payroll Administration
Computes employee gross pay, taxes, deductions, and net pay.
Calculates federal income tax withholding (FIT), state income tax (SIT), local income tax, state unemployment tax (SUTA), state disability insurance (SDI) and federal unemployment tax (FUTA).
Calculates employee and employer OASDI (Social Security portion of the FICA tax).
Calculates employee and employer HI (Medicare portion of the FICA tax).
Unlimited user-defined payroll deduction, income and tax types can be created.
Supports different types of federal and state allowances including dependent / personal.
Calculates regular, overtime and double overtime pay. Supports shift differentials.
Supports exempt employees.
Supports fulltime employees, part-time employees and independent contractors.
Supports 401(k), section 403(b) and S.I.M.P.L.E / SARSEP deferred compensation plans. Also supports cafeteria plans.
Helps you track employee change history such as pay rate, marital status and allowance changes.
Supports garnishment of wages such as child support and federal tax levy.
Prints user comments on paystubs.
Built-in backup and restore capability.Payroll Mate strongly recommends that employers maintain backup copies of payroll data in case of hardware malfunction, human error, or other events that can corrupt or wipe valuable employee and checks information.
Accrues sick and vacation time / pay.
Supports multiple pay frequencies including weekly, bi-weekly, semi-monthly and monthly.
Supports "Tips Received Directly by Employee" and "Tips Paid by Employer".
Go green with paperless PDF pay-slips (electronic paystub).Eliminate paper, postage, and distribution costs.
Supports piece-rate compensation (pay employees per units or pieces produced).
Supports commission pay, nondiscretionary and discretionary bonus.
Supports employee-authorized payroll deductions and pretax salary reductions.
Supports health insurance and health savings accounts.
Pay the same employee with multiple pay rates and payment methods. Supports shift differentials.
Great return on your investment. Payroll Mate will pay for itself in one or two months.
Helps employers comply with IRS regulations for payroll tax data recordkeeping requirements.
Runs on Windows XP, Windows 2003, Windows Vista, Windows 7 and Windows 8. For Mac, use Parallels Desktop or VMware.
Payroll Mate is more capable, more flexible, and easier-to-use than computerized payroll accounting products costing times as much.

Questions?
1-800-507-1992 or Chat with us or
email [email protected]
Sours: https://payroll.realtaxtools.com/
4 Most Liver Damaging Supplements (Avoid Over Usage)
If you are looking for payrollmate customer service, simply check out our links below :
2. Contact Us | Payroll Mate® Software Tutorials
Contact Us
Contact Us. Real Business Solutions 18313 Distinctive Drive Orland Park, IL USA 60467. Click here to visit Payroll Mate® official page · [email protected]
3. Contact Real Business Solutions
https://www.realtaxtools.com/support.html
Contact Real Business Solutions, the provider of payroll software, w2 software, 1099 software, w2 and 1099 forms.
4. How can I get technical support for your business payroll …
https://www.realtaxtools.com/payrollsoftware/Payroll-Faq/index.php/topic,208.0.html
Payroll Software, W2 and 1099 forms questions and answers. … version number of the software in the "About Payroll Mate" dialog (from the menu click … You can also contact our support team during normal business hours at 1-708-590-6376.
5. Payroll Software, 1099 Software, W2 Software, 1099 Forms …
https://www.realtaxtools.com/
Welcome to Real Business Solutions, makers of Payroll Mate (small business … Payroll software for businesses, accountants and payroll service providers to … This 1099 preparation software is used by thousands of customers who print and​ …
6. Desktop Payroll Software for Small Business | Payroll Mate®
https://payroll.realtaxtools.com/
Supports garnishment of wages such as child support and federal tax levy. Prints user comments on paystubs. Built-in backup and restore capability.Payroll Mate …
8. Payroll Mate Pricing, Features, Reviews & Alternatives | GetApp
https://www.getapp.com/finance-accounting-software/a/payroll-mate-payroll-software/
121 votes
9. Payroll Mate Software – 2021 Reviews, Pricing & Demo
https://www.softwareadvice.com/hr/payroll-mate-profile/
121 reviews
12. Payroll Mate vs OneBill 2021 Comparison | FinancesOnline
https://comparisons.financesonline.com/payroll-mate-vs-onebill
Payroll Mate offers several enterprise pricing options to meet the needs of … CRM Component; Self-Service Customer Portal; Service Helpdesk …
Related
Categories P CsSours: https://cs-directory.com/payrollmate/
Mate support payroll
Payroll Mate - Research and Compare
Sage Business Cloud Accounting (formerly Sage One) is a well-rounded solution that can grow with you into the modern marketplace. With small businesses in mind, this app is an all-in-one accounting solution covering all the bases. These include payroll, invoices, expense tracking, tax documents, and other miscellanea often overlooked by even big enterprise solutions. Of course, being designed around smaller businesses, this software is intended to be smaller in scope as well. One of the bigger benefits of these small business applications is the fact that they tend to be scalable, allowing them to grow with your business. Extensibility means that, while you will inevitably need to migrate to a larger, enterprise solution once you've seen sufficient growth, Sage can grow with you for most of that time. In other words, while migration is inevitable, one migration is far better than several, if you've got less-than-scalable solutions at play.
Top Features
Cash Flow – Clear illustration and tracking of cash flow. With clear, easy to understand charting and transaction history, you can get a grasp of where your money's coming from and where it's going: a complete financial model.
Automated Administration –With Sage, all your accounts condensed into a logical single transaction history with automated matching, saving you hours of headache.
Remote Correspondence – Mobile compatibility allows you to send professional quotes, track payments and examine invoices from anywhere you have access to data or Wi-Fi.
Perpetually Compliant – This software automatically updates to stay compliant with all the latest rules, regulations and other stipulations that could otherwise ambush you.
Digital Assistant – Pegg, an intuitive digital assistant is available on your smart device to make every interaction better.
Pricing
On top of a comprehensive free trial, Sage offers two plans, both affordably priced with SEM business budgets in mind. The smaller plan, "Accounting Start" offers the more basic feature set, such as record income and expenses, bank reconciliation, accountant access, and automatic backup. It supports only one active user. The more diverse plan, "Accounting", offers additional features such as unlimited user collaboration, cash (or accrual accounting modes), cash flow forecast, vendor bills, quotes and estimates. As a SaaS (software as a service) cloud model, the pricing is pretty reasonable for the features provided by either plan.
High Line is an HCM and payroll management system. As far as human resources software goes, High Line does just about everything you'd expect but it also goes a bit further. High Line can be either on-premises or cloud-based.
Who uses High Line?
Companies of all sizes and industries are well-served by High Line's HCM and payroll software. That said, High Line is particularly suited for companies with highly complex and/or union requirements. High Line supports both Canadian and U.S. legislative requirements. If your payroll structure is simple, High Line will certainly be able to help you but it can also handle all levels of complexity. There are no limits on the number of rules and accumulators that can be defined and you are able to pay all types of employees and retirees, with all types of pay frequencies and pay rules.
High Line Features
High Line is fully integrated yet modular. This means that there are individual modules that you can pick and choose to use but there is also seamless integration so that everything makes sense and works well together. Some of the modular features of High Line include the following:
Self Service Tools: Financial and HR professionals within your company aren't the only ones involved with payroll. High Line gives employees easy access to the information and tools they need. This includes self-service access to payment history and W2 or T4 forms.
Fund/Grant/Project Accounting: Unlike most garden variety payroll software, High Line gives you options for unique situations like fund, grant, and project accounting.
Automated FLSA Calculations: Automation lets businesses operate efficiently and effectively. High Line makes sure all FLSA calculations are automated so you don't have to worry about a thing. Automation is found in other High Line modules as well, like the automatic calculation of fringe benefits and labor costing.
Month-End Accruals: Keeping the books balanced is the key to staying in the black. High Line makes this easy with end-of-month accruals based on actual or estimated amounts.
Guaranteed Integration: High Line guarantees successful integration with all major financial applications, something you won't see with most payroll software.
360-Degree Reviews & Reporting: Reporting tools are the best way to make sure you know where you're going based on where you've been. High Line goes even further with its 360-degree review tool along with several other reporting tools.
Customization Possibilities: Customization is another thing that makes High Line stand out as exemplary payroll software. Configuration allows you to make this not just good payroll software for your company but payroll software seemingly perfectly designed just for your company.
Training & Support: In addition to providing robust documentation, High Line offers several types of training including live in-person training and live online training. You can also attend helpful webinars that further guide users on how to get the most out of this payroll management system. Live reps are available 24/7 for assistance should any trouble arise.
High Line Pricing
High Line offers a demo to help companies decide if this is the right payroll software for their organization. Beyond the demo, pricing is subscription-based. Compared to other payroll management system software, High Line is one of the more cost-effective solutions on the market. Because High Line is integrated software that offers far more than just payroll for the same price, they also boast that you'll see a quick return on investment.
Designed specifically for Canadian businesses, Rise is a total payroll and HR software solution. By combining human resources software and payroll software, this all-in-one tool aims to simplify the process of managing your business.
Who uses Rise?
Canadian businesses of all sizes are well-served by Rise but it may be particularly valuable for small businesses. The best payroll for small business is easy to use, efficient, and effective—Rise certainly fits the bill. Calculating, filing, and paying payroll taxes can be a pain but Rise strives to make it easy. Like a lot of payroll and HR software for small companies, Rise is able to grow with you so it's also a good fit for businesses just starting out who hope to see significant growth. Rise is easy enough for any employee to use so for small businesses and startups where employees have to multitask, Rise offers great accessibility and ease of use. More experienced HR professionals, accountants, and bookkeepers will be able to hit the ground running with Rise. Anyone who has previously used any kind of online payroll or benefits administration software should be able to catch on to the Rise system quickly.
Rise Features
As an all-in-one solution for HR and payroll, Rise offers a selection of valuable tools including the following:
Straightforward Timekeeping Tools: Keeping a good record of employee attendance and hours can be challenging, but the automated Rise system aims to simplify that process. Automation means automatic syncing between hours worked and payroll. This keeps employees happy while also making your job easier. Rise also helps you track labor costs, enforce leave exceptions, and maintain compliance and payroll accuracy.
Simple Compliance Tools: Rise means that you don't have to think about compliance at all because you can trust that things are working exactly the way they are supposed to. Automation means that calculating, filing, and paying payroll taxes happens without fail. It also means you can achieve 100% compliance for vacation, over-time, and statutory holiday pay.
Powerful Reporting: Analyzing past performance and accurate forecasting are important features. Rise provides powerful reporting tools to make that possible. You are offered the flexibility of seeing both the big pictures and all of the little details. Unlimited and perfectly customized reports can help inform best practices and support strategic planning.
Flexible Payroll: Payroll software that is rigid isn't fun for anyone. Rise offers total flexibility for paying both employees and contractors. Automation is available and easy to manage but it's also simple to make off-cycle payments, give bonuses, or cancel a pay run. You can pay employees at any time and as frequently as you need to. Being able to do this without figuring out taxes is particularly nice. For employees, the payroll flexibility extends to a split payment option where the employee can opt to have their paycheck split up between several bank accounts.
Simple Taxes:Rise is able to automatically calculate and remit provincial and federal statutory deductions, making taxes simpler than ever. Once you create a formula to handle a deduction and other details, you don't have to think about it again.
Benefits Reconciliation:With automatic monthly benefits reconciliation, Rise makes sure your books stay in balance and are always up to date.
Rise Pricing
The best payroll for small business is affordable and Rise definitely offers affordability. In fact, the Rise payroll software is completely free for businesses with 20 employees or less. That said, the free version does have some limitations. This option is only the payroll calculator so no HR tools are included. Additionally, much of the automation isn't included so there will be some manual data entry with the free version. For businesses looking for more robust HR plus online payroll tools, Rise does offer a free demo to get an idea of what the software is like. After that, there is a monthly fee based on the number of employees.
Rippling is a payroll software product that is part of a much larger employee management suite. While it can calculate salaries and hourly wages, the app can also do everything you'd expect from a traditional human resources software solution and much more.
Who Uses Rippling?
Small business owners that don't have a dedicated HR department can rely on Rippling to do everything they'd hire someone to. It's also become popular with larger companies that need to track employee changes and manage a talent pool.
Rippling Features
Time tracking: The software automatically logs all hours worked, so you can be sure that you're always looking at updated information regarding how much each employee is owed.
New hire management: Whenever your firm brings in new personnel, the app will automatically create a payroll record for them and prorate their salaries.
Paid time off calculation: By importing data captured by the time tracking feature, Rippling's PTO calculator will figure out how much time off each employee is owed and then sync those figures with the payroll system.
Employee changes: Promoting employees is as easy as clicking on a single widget next to their name. When people leave your firm or retire, you can use the convenient offboarding tool to keep your data up to date. The app automatically disables departing employees for security reasons.
Income tax withholding: At the end of the pay period, Rippling will calculate how much tax is owed by each employee. It automatically extracts deductions before cutting virtual checks. The app will even let you know what kind of insurance benefits each employee is owed based on the number of hours they work.
Compliance features: A dedicated compliance module takes care of everything that the tax calculator doesn't. Rippling will send out an alert whenever employees are working too much or not earning as much as they should be for the kind of work they do.
Roster management: A single dashboard aggregates all of the features you'd expect from a dedicated standalone HR software solution, which means you'll never have to go looking for a specific tool again.
Integration: A number of different integrations are offered for most of the popular accounting and financial programs currently in use. You'll be able to sync payroll data with everything from NetSuite to QuickBooks. It even comes with support for Xero, Sage Intact, and other business management apps.
Reporting and analytics: A few clicks are all it takes for Rippling to generate sophisticated detailed reports that tell you everything you'd want to know about your company's current employment situation.
Rippling Pricing
Each of RIppling's HR and employee management services can be purchased separately. New subscribers can also sign up for a blanket contract that includes all these services for a monthly fee based on the number of employees in their organization. Regardless of what kind of plan you pick, Rippling should work in any modern browser. Standalone mobile apps for Android and iOS devices are also available at no extra charge. If you want to onboard new employees in under 90 seconds, then you'll appreciate the power of Rippling's HR management tools.
Inova Payroll is a cloud-based powerhouse solution for small to midsize businesses that need HR and payroll software. With Inova Payroll, you have a user-friendly tool and a trusted partner that will help foster business success by saving you time and money.
Who Uses Inova Payroll?
Inova Payroll is designed for both small businesses with 1-50 employees and midsize organizations with 51-1000+ employees. This software is not specialized for any particular industry and there are users in a variety of industries. Inova Payroll is based in Tennesee and this software is primarily used by American businesses, with users in all 50 states.
Inova Payroll Features
This cloud-based software serves a variety of important business functions. Inova Payroll is more than just payroll software, although that is certainly a primary function. It also serves as human resource software, making Inova Payroll a full-fledged HCM solution. Here is a look at the valuable features you get with Inova Payroll.
Smart automation: Inova believes payroll can and should be a smarter process. The first thing that makes Inova payroll special is that the cloud-based payroll software can be accessed from a variety of devices, from anywhere and at any time. The intuitive dashboard is easy to navigate and the process is streamlined with several options for customization. Calculations are done automatically and you can count on accurate and automatic payroll taxes. Employees like that there are multiple pay options, including paper checks, direct deposit, and debit pay cards with ATM access. For accurate payroll, it's important to have accurate time tracking and Inova Payroll makes this easier than ever. The time tools will help you cut labor costs and increase productivity, all while staying compliant.
HCM Solution: The recruiting process can be overwhelming but good HR software streamlines and simplifies it for you. Inova sharpens the recruitment process, helping you find the best talent quickly and then making the onboarding process as seamless as possible. In addition to recruitment and onboarding, Inova's HCM Solution handles benefits management, performance management, employee communication, and even compliance and reporting for the Affordable Care Act (ACA).
HR Outsourcing: If you'd rather outsource the human resources side of your business, Inova Payroll has a team of HR experts ready to do everything from recruiting and onboarding to benefits enrollment and performance reviews.
Reporting: A variety of reports are available with a report writer ready for customization. As just one example, it's fast and easy to create a new hire report.
On-Hand Support: The knowledgeable support team is something that makes Inova Payroll special. You can count on timely and helpful responses whenever you have an issue or a question.
Inova Payroll Pricing
Something that makes Inova Payroll stand out from other combination HR software and payroll software is the flexible pricing structure. They offer three service plans with different levels of HR support. For all three levels, pricing is on a per-employee-per-month basis. There is always a two-year pricing guarantee so you don't have to worry about a big price hike. For special projects and unique needs, Inova offers a competitive hourly rate. Unlike many payroll software options, Inova Payroll charges no conversion fee for new customers. A free demo can be arranged to help you get a better idea of what Inova Payroll is like. A cost-effective solution for small to midsize companies, Inova Payroll streamlines both payroll and HR processes. With a user-friendly interface, valuable features, and a stellar support team you can count on, Inova Payroll can help your business succeed.
APS Online is a payroll and human resources software solution that's become popular largely because of its laser focus on payroll features. It comes with many built-in automated workflows to help users correct errors before they ever process their payroll.
Who Uses APS Online?
Small-to-medium-sized businesses that do their payroll have flocked to APS Online since it can do everything you'd expect a real accountant to do. Since it runs in any modern browser, it can fit into any company's technology profile.
APS Online Features
Error reduction: As the app comes with so many validation rules baked into the interface, APS Online can help stop errors before you start shipping out payments.
Compliance module: Avoid costly penalties by using the app's onboard compliance module. It leverages a combination of sophisticated code with human tax experts to audit your filings and get taxes paid on time.
Withholding: APS Online will make sure that the right amount of money has been withheld from each check weekly, so you won't have to worry about manual calculations ever again.
Net pay comparison: Accessing a complete pay comparison chart and a payroll summary audit report is as easy as tapping on a single key. The app can also generate many other reports on-the-fly, so you'll always be able to view detailed analytics at any time.
Income reviews: An automatic income and deduction review will scan through the history of each employee you have on your roster to find irregularities and make adjustments.
Check reconciliation: All transactions are managed automatically, so you won't have to waste time doing them yourself. APS Online will even calculate overtime payments instantly.
Accounting widgets: While most people deploy APS Online as a payroll software solution, it also comes with everything you'd expect out of a complete HR software product. An accounting dashboard includes tools such as a general ledger that makes keeping track of your finances a breeze.
Roster management: Users can keep an eye on their entire workforce simply by looking at a single screen. APS Online can automate most workforce management tasks, including calculating worker's compensation payments if something happens. Individual employees have access to a self-service tab and the ability to peruse different benefits packages.
APS Online Pricing
Automatic Payroll Systems offers three different subscription levels and calculates charges based on the number of employees logged into the system. Those who need fewer tools can request a discount. Regardless of which level they opt for, subscribers can download a mobile app for iOS and Android devices at no extra charge. No matter how big or small your firm may be, APS Online has the payroll tools you need to eliminate errors and get the job done.
PrimePay is not your average payroll software. In fact, many users think it's the very best payroll system for small business. The all-inclusive PrimePay payroll system is designed to handle all your back-office tasks, from online payroll and worker's comp to HR tasks and employee onboarding. This all-in-one system guarantees accuracy and can save businesses a lot of time and money.
Who Uses PrimePay?
PrimePay has been serving American small businesses since the 1980s. The heart of the PrimePay mission lies in believing in small business and being driven to help them succeed. Because PrimePay understands the needs of such businesses, this software is designed specifically for their users. Many PrimePay users are very small businesses operating without a dedicated HR or accounting department. PrimePay makes it possible for owners and managers to handle the back-office tasks a finance or HR department might take care of in a larger business.
PrimePay Features
The primary function of PrimePay is payroll, but that is only one of this software's many features. Below is a look at how PrimePay helps small businesses succeed.
Payroll and taxes: Online payroll and taxes are vitally important functions and PrimePay knows exactly what to do. Running payroll is easier than you might think and you don't have to have any accounting experience to get it done quickly and accurately. In fact, there are only three simple steps before your employees are paid. Perhaps the best part of PrimePay's payroll feature is the fact that it also handles your taxes. PrimePay does all of your federal, state, and local payroll tax filing. They make sure your taxes are paid on time and they guarantee tax compliance and accuracy.
Workers' comp: Many small businesses end up paying more than they need to for worker's comp insurance. Workers' comp insurance is based on payroll dollars and PrimePay takes care of paying this premium. You'll pay only what is owed without the need to put down a premium deposit.
Hiring and employee onboarding: Hiring a new employee doesn't have to be complicated. PrimePay makes sure the process isn't incredibly time-consuming. In addition to giving you free job board postings, running background checks, and making sure you find the best applicant, they make the employee onboarding process easy. Bringing on your new employee in a compliant way is fast and even mobile-friendly.
HR Advisory Services: For small businesses, HR is hard to do well in a cost-effective way. PrimePay's HR Advisory Services feature is a free resource that helps make your HR processes compliant and useful. You get access to a full library of resources—you even get a handbook builder tool. There are also courses you can take to help you implement effective employee training methods.
PrimePay Pricing
With PrimePay, the pricing structure is completely transparent so you know how much you'll pay without having to wait for a custom quote. There is a reasonable flat rate per pay period, plus a very low fee per check. With this pricing structure, the ultimate amount you pay is based on the number of employees you have and how frequently you need to run payroll. For most small businesses, the total fee is quite affordable. What makes the low cost even better is the fact that PrimePay guarantees 100% tax compliance and offers the free high-value HR Advisory Services resource as well. A free demo is available so you can get an idea of what using PrimePay is like.
SuperPay is a payroll software solution that's designed to let you view your company's details instantly. Users can quickly access current as well as archived reports with just a few simple clicks.
Who Uses SuperPay?
Small business owners who have a physical presence in the United Kingdom can take full advantage of the app's built-in tax calculators. Nevertheless, the app has attracted users from almost every business sector and region. Part of the reason for this may have to do with the fact that the app is extremely portable and runs on almost any modern Windows-based PC.
SuperPay Features
Time tracking: At its heart, SuperPay is a traditional payroll application that manages the amount of time worked by each employee. It'll even let you know if any employees are making less than the minimum wage or have worked too many hours in the last period.
Payslip creation: Professional payslips are just a few clicks away whenever you're working with the app's main dashboard. You can export these as full-sized PDF documents or send them to a laser printer over USB. Support for continuous two-part payslips and security mailers helps to simplify many tasks that used to have to be done manually.
Tax calculations: No matter how many employees you have logged into your system, SuperPay will track them and figure out how much tax they all owe. You won't ever have to worry about manually calculating paycheck deductions again. The app will even take money out for an employer's pension scheme if it senses that one is place.
National Insurance contributions: SuperPay handles all relevant NI calculations for each of your employees regardless of what code they're listed under. You'll know right away how much each of them needs to contribute to the national scheme.
Real-time information: Since the SuperPay app offers RTI data, you can use it to send reports to HM Revenue & Customs regularly. The software will check to make sure any data sent to HMRC is completely accurate.
Automatic timekeeping: Whenever SuperPay detects that you're entering a new calendar year, the app will automatically reset the tax calculator. It will also keep track of the current fiscal year and the amount of time worked by any seasonal employees.
P45 & 60 Forms: Templates for employee contribution forms used by HMRC agents come bundled with SuperPay. The app will fill out most of the fields on these forms automatically. All you have to do is send them in.
eDoc deposit: Progressive firms that are going 100 percent paperless can install the eDoc Deposit module, which gives them the freedom to upload all of their virtual payslips to the cloud. Employees can then have these automatically deposited into their bank accounts without ever having to touch a single piece of paperwork.
Automotive benefits: Business owners that offer car benefits to their employees can use SuperPay to calculate how much each member of their staff is owed. The software will keep tabs on how much they work and update these figures accordingly.
SuperPay Pricing
New subscribers can purchase either a single company or multi-company license for a single one-time fee. Those who need extra support can then purchase maintenance contracts once they've finished installing the software. Unlimited plans are available for larger companies that have more than 50 employees per site. A special network option is available for those who want to store SuperPay data in a Microsoft SQL Server database. When looking through all the various payroll systems for small business, you'll want to consider SuperPay's impressive list of features combined with its simple interface.
InfoPay is a human resources software and payroll product that comes with all the tools a manager would need to process their business' payroll. Since it runs in any modern browser, the app has developed a reputation for being portable and easy to use.
Who Uses InfoPay?
While InfoPay is primarily a payroll program for small business owners, it's also attracted plenty of attention from those who run larger firms. It's been approved by the Ministry of Manpower board as well as all of the major banks in Singapore, which has made it a particularly popular solution for users in the country.
InfoPay Features
Time tracking: Everything you'd expect from a standalone payroll software comes bundled with InfoPay. The app can track attendance, calculate benefits, and figure out how much time off everyone is owed.
Staff portal: Employees can request vacation time and update their payment details from their own devices without ever having to ask HR department staffers for help.
Labor reporting: Business owners can submit all of their reports directly to representatives of the national MOM through the app. They're also able to file forms and submit them to several other Singaporean governmental organizations.
HR dashboard: Individual employees aren't the only InfoPay users that have their own dashboard. HR managers can log into a special screen that grants them access to staff rosters, earnings history reports, and many other convenient visualizations.
Concurrent multiple users: Genuine multi-user support comes bundled with InfoPay, which means that any number of people can log in at the same time and make changes to the same resources. The app will save their changes in real time and update all machines connected to the repository.
Centralized storage: All changes are automatically backed up to a central database so there's virtually no risk of data loss. InfoPay's developer uses a solid encryption algorithm that helps to prevent leaks even in the event of a crash or power outage.
Electronic payslips: Once the app is finished calculating the amount of money each employee is owned, it will automatically deposit funds and email payslips to everyone registered in the system. You won't have to worry about mailing out any paper forms since everything is done online.
Mobile support: Users can download the InfoTech mobile app for iOS and Android devices or use InfoPay through a browser on their phone. In either case, the software has been optimized to work with smaller screens. An optional geofencing system will track the location of your employees' mobile devices to encourage them to clock in from an appropriate area.
Bank reconciliation: InfoPay is authorized to share salary details with all GIRO-registered banks in Singapore as well as several major international financial institutions. This allows the app to streamline the reconciliation process and get payments out faster.
Tax calculations: Withholding taxes are processed weekly once all relevant data has been entered into the InfoPay app. The software will create IR8A, IR21, and IR8S forms based on data collected from other modules.
InfoPay Pricing
Owners of small-to-medium-sized businesses can subscribe to the app for a flat fee based on the size of their staff roster. Volume discounts are available for those who represent particularly large organizations. Managers of businesses in Malaysia, Hong Kong, and India can also request special rates. Potential clients can download a free trial version of the software from the developer's site. Whether you need to get a handle on your staff roster or just want to make sure that all your payslips get out on time, InfoPay has the tools to do the job.
Payroll Accounting Software by Ray Computech is a solution geared towards small, medium, and large enterprises. Based in Calcutta, this software can be configured to function as a full PMS (Payroll Management System) or as a basic payroll program for small business. The user-friendly interface of Payroll Accounting Software makes it an ideal solution for companies that need dedicated payroll software. This is a 32-bit Windows application that runs smoothly on a SAP front end that seamlessly communicates with major databases such as SAP, Access, and SQL Server. The Payroll Accounting Software also offers a web-based platform that can be activated with the base Windows license.
Who Uses Payroll Accounting Software?
The Payroll Accounting Software has been developed with the Indian market in mind; as such, most client are companies in that country that need a reliable solution to generate and manage their wage sheets and payroll reports while staying in compliance with items such as EDLI and MIS reports. Prominent companies that have implemented this application as their primary payroll solution include major tea exporters, industry associations, tool manufacturers, a few national banks, and a statewide transportation firm.
Payroll Accounting Software Features
Below are the seven functions of Payroll Accounting Software.
Reporting: The standard reports that can be generated include payments register, leave status, paid bonus, Employee's State Insurance by month and year, advance payments, and worker loans.
Tax return forms: Employees Deposit Linked Insurance and FPF returns can be easily filed along with Form 16, Form 24, gratuity valuations, and paid leave validation.
MIS reports: This application includes a full-featured management information system that allows accountants to generate reports such as monthly salary journals, cumulative pay, salary reconciliation, and general payments to employees that may fall outside of the usual payroll. Other calculations that can be managed with this module include a register of deductions, payroll forecasts, and actual cost of the workforce to the company.
Graphical representation: You can visualize more than just payroll and salary fluctuations with this program. If your company sells either products or services, you can use the Payroll Accounting Software templates to input figures and generate monthly graphical reports.
Transaction entries: This application can be used like a time sheet to keep track of attendance. The default time interval is daily or by shift, but it can be adjusted for employees who are paid hourly wages. Overtime calculations can be easily configured as well as other payment transactions that are not part of the usual payroll schedule. Payday advances and employee loans can be recorded and managed with this feature.
Master entries: In this configuration module, accountants can set up all the parameters they need to manage payroll. Options include salaries, hourly wages, insurance, taxes, leave, employee loans, and even a prerequisite checklist before workers can be added to payroll.
Utilities: These are special tools that allow your accountants to import data from spreadsheets or employee attendance clocks. Should you need to export data, you will be able to configure it in Microsoft Excel and Word formats.
Payroll Accounting Software Pricing
Ray Computech offers a single-license pricing scheme for Payroll Accounting Software. Licenses for additional modules such as FAS Financial Accounting can be negotiated directly with the vendor. Although there is no free trial of this application, the web-based interface can be previewed at no cost. Technical support is available during business hours. Payroll Accounting Software by Ray Computech is a good option for Indian companies looking for a compliant solution that can handle large and complex databases on Windows. The reasonable price for a perpetual license makes it attractive for businesses that manage large payrolls.
Sours: https://www3.technologyevaluation.com/solutions/55157/payroll-mate
Deleting An Employee
When you are in love and everything has just begun for you, everything is new - this is probably exactly what someone had planned. On earth for. On the bus, the guys sat or stood just next to them, quietly telling each other something. I didn't want to leave at the checkpoint either, and Kostya accompanied Nina almost to the house.
Now discussing:
It turns out that earlier, in fact, there was a bath and laundry plant here. But then they decided to move the laundry to another place, and in its place to build, or rather to rebuild the sauna. As a result of construction, as is often the case, that unfortunate door was simply forgotten.
4644
4645
4646
4647
4648