Overview
Designed for exceptional sound quality to being out the best of beautiful images. Compatible with MusicCast, it offers a new music style. The YSP-2700 will bring satisfying sound with superior presence into your living room.
Digital Sound Projector technology with 16 array speakers reproduces true 7.1-ch surround sound
MusicCast for audio enjoyment in every room
Wireless cubic subwoofer for rich and crisp bass
IntelliBeam™ automatically sets the optimum sound field for each room
Provides a choice of 10 CINEMA DSP programmes
HD Audio Format Decoding (Dolby TrueHD®, DTS-HD®)
Supports 192 kHz / 24-bit High Resolution Music (Flac / WAV / AIFF)
HDMI (3 in / 1 out) input with 4K60p Pass through and HDCP2.2
Bluetooth® for wireless music streaming
Supports Bluetooth output for pairing YSP-2700 and other Bluetooth equipped products
AirPlay® allows music streaming from Mac, PC, iPod®, iPhone®, iPad®
Support for internet radio and various music streaming services
Control app for easy operations (MusicCast CONTROLLER)
Compressed Music Enhancer
Clear Voice makes dialogue and narrations easy to listen to
Easy-to-see On Screen Menu viewable in ten languages
(Japanese, English, Germany, French, Italian, Spanish, Dutch, Swedish, Russian, Turkey)
Control4 certification
Wall-mountable with SPM-K20 (optional)
5 star review for MusicCast Soundbar
Yamaha's MusicCast YSP-2700 surround soundbar has just received a 5 star award in the latest What Hi-Fi magazine, the 40th year anniversary issue 2016. The review talks about the exceptional dynamics and quality from a single bar at the front of your room, bouncing beams around the room to give you surround sound. Not only is it geared for movies but also for music and enjoying your favourite content – no matter what it is. With a whole host of handy features like Clear Voice, Auto Calibration, multi-room with MusicCast and different CinemaDSP modes to suit your content – it's a soundbar with incredible added value!
Amazing Real 7.1-ch Surround Sound by Digital Surround Projector Technology
YSP-2700 creates beams of sound by combining the sound projector's many speaker groups via digital signal processing and reflects them off the walls of the room, actually reproducing a realistic 7.1channel surround effect with the sound coming from the left and right and even from the rear. The listening area is expanded so you enjoy an extremely powerful, natural sense of presence unobtainable with virtual surround methods.
Overwhelming Realism with 16 speakers
The front unit of the YSP-2700 is equipped with 16 2.8 cm high sound quality array speakers which create beams of sound. It optimises the layout of its array speakers, boosting the reflection properties of the beams to maximise sound quality.
The Beauty and Elegance of High Quality Materials
The centre unit is made from aluminium with outstanding rigidity.
The top cover is a thick aluminium panel with a hairline finish, giving it an elegant appearance. The subwoofer has a simple design that blends nicely with any interior.
Sleek, Sophisticated Appearance
With a height of only 51 mm, the slim-design centre unit can be placed in front of a TV without blocking the picture.The high-class minimalist design and aluminium chassis will definitely add a sophisticated appearance to your interior decor.
Wireless Subwoofer for Flexible Placement
The subwoofer eliminates the need to connect cables, so setup and placement are faster and easier.
This is a convenient subwoofer that delivers powerful, high quality bass sound.
MusicCast
MusicCast is a new revolution in network audio, use all your MusicCast products together or separately, it's completely up to you. Control it, all from one app, designed to be intuitive, quick and simple to use. Use a soundbar, a wireless speaker, an AV Receiver, Hi-Fi audio whichever suits you best, mix and match then expand your MusicCast system as time goes on. All new from Yamaha, the MusicCast system brings everything to everywhere for everyone.
Enjoy All Your Music Sources
MusicCast employs a high performance wireless network to deliver music and audio enjoyment. It can stream digital music content from your smartphone, PC or NAS to other MusicCast devices in your home. It can also share the music from external devices such as a TV or BD player connected to the YSP-2700. Audio content from Bluetooth-connected smartphones or tablets can also be streamed to MusicCast devices in multiple rooms.
Control App for Easy Operations
The MusicCast Controller app can be used with a single MusicCast product or with multiple MusicCast products. The app features a beautifully designed display, which you can customise to your taste. Operation requires simply tapping the display, making it extremely easy to enjoy the music you want to hear. In addition, by using the YSP-2700 Beam setting or surround adjustments, you can perform detailed sound adjustment.
This app puts control of your home listening experience in the palm of your hand. It can be downloaded for free from the App Store or Google Play.
Professional-Grade Acoustic Calibration
Yamaha's IntelliBeam™ room acoustics calibration system automatically set the perfect listening environment. All the user has to do is push a few buttons while following the on-screen instructions. The system measures the room's acoustic properties such as size, shape and wall material, then adjusts the beam angles, focal lengths, volume and other audio parameters. The result is precise sound optimisation matched to the listening position, for any size and shape room.
Reproducing the Ambience of a Concert Hall, Live House and Theatre in Your Living Room
YAMAHA CINEMA DSP programmes are based on actual sound field data, measured in famous concert halls, jazz clubs, live performance venues and theatres. The result is an amazingly spacious and realistic sound field experience for enjoying music and viewing movies in your living room. The YSP-2700 features 10 different sound programmes for selection.
Stream via Bluetooth® or AirPlay®
You can hear all the music sources from your smartphone via wireless Bluetooth® or AirPlay® connection.
You can play music from music apps, radio apps, or YouTube™-type video hosting services.
Bluetooth Output for Convenient Music Streaming
The YSP-2700 is equipped with the latest Bluetooth technology, making wireless operation more convenient than ever. You can stream music from the YSP-2700 to Bluetooth headphones for private listening or to Bluetooth speakers.
Compressed Music Enhancer
The Compressed Music Enhancer restores frequency response lost during digital compression, so your music sounds the way it should.
It is optimised for any compressed content, for vivid, lively sound quality during wireless playback. The function can be switched on and off via the remote control, according to the input source.
HD Audio Decoding
The YSP-2700 decodes HD Audio signals to ensure that you hear the best possible sound from Blu-ray Disc players, as well as from other digital sources.
HDMI® Terminals with 4K Ultra HD Support
The YSP-2700 has three HDMI® input terminals and one HDMI output terminal, and supports 4K/60p video signal pass-through.
It's also compatible with HDCP2.2 digital copy protection.
This gives it extensive expandability, so you'll be able to use it far into the future.
Yamaha Eco-Product
With an advanced energy saving design, this product achieves a low power consumption of not more than two watts when in Network Standby mode.
Sours: https://www.andreselectronicexperts.com/products/view/Yamaha---YSP-2700---YSP-2700
Yamaha YHT1840 (Black)
Richer Sounds exclusive model.

The Yamaha YHT1840 provides ideally matched speakers and an AV receiver for a fantastic introduction to home cinema.

Home cinema sound made easy
Connect your TV, Blu-ray/DVD player and games console to the Yamaha YHT1840 and you're ready for the full cinema experience. With built-in Dolby and DTS digital processors, the YHT1810 fires out sound effects around the room for a real sense of 'being there'. Sound is processed by192/24-bit Burr Brown DACs on each channel for powerful dynamics that'll keep you on the edge of your seat! Music is equally well looked after as the amp quality components for a more detailed and natural sound.

Fully immersive sound
Soundbars are great but there's nothing that can beat the sound of a separates AV system. With five channels of sound from a discrete amplifier, the YHT1840 surrounds you in rich, low distortion sound – just like at the cinema. The amplifier also delivers a handy 70 watts per channel, meaning it can cope with even the punchiest-sounding blockbusters. There's also an 'Extra Bass' function. This gives a deeper, richer bass response and works really well with small speakers and at lower volume levels.

Ready for the latest UHD sources
For full compatibility with the exciting new UHD Blu-ray format, all the HDMI sockets are compatible with HDR Video, Hybrid Log-Gamma, and BT.2020. Four inputs let you connect up a Blu-ray, games console, set-top box and PC – enough for an entire home cinema system.

Flexible processing
Another advantage of going for AV separates is the inclusion of powerful surround sound processing. As well as full HD audio decoding of both Dolby and DTS formats, the YHT1840 features Yamaha's famous DSP Surround programs. With 17 modes from The Roxy Theatre to a concert Hall in Munich, the Yamaha system gives a variety of acoustic settings for a unique sound. Added to this, four SCENE selections ensure that you always have the best setting when watching films or listening to music.

Sleek curved speakers
With an eye to enhancing the coolest of interiors, the satellite speakers have been designed to be unobtrusive. Slim enough to be wall mounted via their keyhole openings, they also benefit from a tapering rear panel and smooth edges. The centre speaker is a dedicated design with improved sensitivity and crisp dialogue and is also easily wall mounted. The subwoofer gives the bass a natural, powerful sound that avoids bass 'boom'.

For a quality home cinema system that doesn't sacrifice sound for good looks, the Yamaha YHT1840 brings it together with style.

Read about the Yamaha YHT1840 on the Richer Sounds Blog
Sours: https://www.richersounds.com/yamaha-yht1840.html
How to Set Up a Yamaha RX-V481 Home Theater System
Authored by:
Support.com Tech Pro Team
This Guided Path® was written and reviewed by Support.com's Tech Pro team. With decades of experience, our Tech Pros are passionate about making technology work for you. We love feedback! Let us know what you think about this Guided Path® by rating it at the end.
Introduction
Setting up your own home theater can be incredibly rewarding, and provide an experience close to, and sometimes better than going to the cinema.
This guide will give you the tools and knowledge you need to create the setup at home you've always wanted, bringing your movie and television experience to the next level.
Your Yamaha RX-V481 will provide the hub, where you'll connect all other elements of your home theater system, tying it all together.
1 Terminology
Like any hobby or job, there's a lot of very technical terms used to describe the various elements of a home theater system. Because of this, this guide cannot be exhaustive, but we'll be focused on a few, common terms you'll be encountering throughout this process.
Source

Something that generates audio or video. Your Blu-Ray player is a source of audio and video for the movies you play on it. Your cable box is a source of audio and video for television, and so on.




Output

This is where the device creates signal to go to another device. For example, the HDMI port on the back of your Blu-Ray player is an output that sends its picture to whatever it is plugged into.




Input

This is where a device accepts signal from another device. For example, the HDMI ports on the back of your television are inputs that accept the signal your Blu-Ray player is sending to it.




Receiver or Tuner

This is the 'hub', or the central point all of your equipment connects to. Your Receiver will take in inputs from various sources, and route them to various outputs. For example, you connect your game console to your receiver, and your receiver plays the sound through the speakers connected to it, and displays the video on the television which is also connected to it.




HDMI

Common type of cable used to connect home theater equipment. Stands for "High Definition Multimedia Interface"


RCA or Composite

Common type of cable used to connect home theater equipment. Named after the Radio Corporation of America. Used mostly for audio, and older video equipment.


Optical

Common type of cable and connection for home theater equipment. Sometimes called TOSLINK or Digital Optical. It is a fiber-optic cable for audio.


Coax

Common type of cable to connect from your antenna, satellite dish, or cable provider to your decoder box.

2 Documentation
At first, setting up a home theater can be daunting, but a little careful planning can go a very long way in making it a fun, easy, and rewarding experience.
Write down what you have
To start, make a list of every device you have that you'd like to get connected to your home theater system. While this seems silly at first, it keeps things very organized for later, making this an invaluable step.
It's also helpful if you run into problems. If your Smart TV starts having problems, and you need to call someone for help, moving things around to look behind is a hassle. Simply glancing at a single sheet of paper with everything written down makes it a lot easier.
For each device, you'll want the following information:
What the device is, its make and model, and the types of connections it uses (both inputs and outputs). You can then highlight the connection you decide to use within your setup. For example:



Device #1


| | |
| --- | --- |
| Type | A/V Receiver |
| Make/Model | Yamaha RX-V481 |
| Input Connection(s) | HDMI, RCA, Optical |
| Output Connection(s) | HDMI, RCA, Speakers |

Device #2


Type
TV
Make/Model
Samsung
UN40MU6300
Input Connection(s)
HDMI
Output Connection(s)
Optical

Device #3


Type
Blu-Ray Player
Make/Model
Panasonic
DMP-UB700
Input Connection(s)
None
Output Connection(s)
HDMI

Device #4


| | |
| --- | --- |
| Type | Game Console |
| Make/Model | Nintendo Switch |
| Input Connection(s) | None |
| Output Connection(s) | HDMI |

Device #5


Type
Record Player
Make/Model
Audio-Technica
AT-LP60
Input Connection(s)
None
Output Connection(s)
RCA

Device #6


| | |
| --- | --- |
| Type | Cable Box |
| Make/Model | Arris XG1v3 |
| Input Connection(s) | Coaxial |
| Output Connection(s) | HDMI |
This lets you easily take stock of what you have, determine the number and types of cables you'll need, decide what is going where when it's time to connect everything, and generally organize your setup.
Draw a diagram
While this, too, can seem silly at first, it is key to understanding how everything connects. The best installers at movie theaters all have a 'map' drawn up simply showing where each part is, where it goes, and how it connects. When it comes to troubleshooting, adding a new device, or taking one away later, this will be the single most helpful document you have.
It can be as simple or as complex as you feel you need. In most cases, for a home theater, a simple diagram with your receiver in the center, and each device around it with colored, labeled lines indicating the type of connection used, arrows for inputs and outputs, and speakers involved is more than adequate.
3 Power Requirements
While you simply need to power every device in your home theater setup, thinking about how to protect your investment from power surges is also something to consider.
This is an area where a little planning goes a very long way:
How many devices will you be connecting?

If you have six total devices, a small four plug power strip will not suffice.

Will you want to expand and add more devices later?

Most people will end up adding to and expanding with more devices in the future. You'll want to have extra outlets available to accommodate your future needs.

Do you want an easy way to turn on and off your whole setup?

Some power delivery devices will have front-facing power switches, or readouts for how power delivery is happening.

What shape of plugs do you have?

While most devices have moved away from the large, boxy AC to DC adapters that stick out of the wall or hang off the socket, they can still pose a problem. Depending on the type of power delivery accessory you choose, these types of plugs might interfere with neighboring outlets. Some power delivery device manufacturers have taken this into account, and rotated the plugs to make it less of an issue.
All power delivery devices wear out over time. Some may wear out more slowly, but expect to have to replace this part of your system every couple of years to avoid problems.
Different types of Power Protection
There are 3 different types of power distribution and protection devices.
It can be extremely dangerous to connect one power delivery device to another, or 'daisy-chain' them. Always plug these devices directly into a wall outlet, and not into another power delivery device.
Outlet Duplicator / Power Strip
Very low cost.
Minimal, if any, protection. Most power surges are just passed through to your equipment which can damage or ultimately destroy them. Some models have a small fuse in them which is destroyed when a particularly strong surge occurs.
Surge Protectors
Average cost.
Provides decent protection to your devices. Some of these types tend to offer some extra protection as well for cable lines or networking lines. Many come with simple warranties that protect against power surge damage should your devices incur any while connected to one of these.
Power Conditioners
Very high cost.
Provides not only decent protection, but also 'conditions' the power, so there's little if any noise or power fluctuations introduced to your equipment. While subjective and very dependent on what is coming to your equipment in the first place, some people feel it can help with picture and sound quality.
These tend to be aesthetically pleasing, and integrate well with modern home theater and surround sound setups.
4 Networking
Most home theater equipment now has the ability to connect to your home network, and provide content from the Internet.
From your Smart TV showing Netflix, to your game console that can play games with people across the world, to your Blu-ray player retrieving additional content for different movies, or even Internet radio stations on your receiver, it's a good idea to plan ahead for your Internet-enabled home theater system.
Many devices can make Wi-Fi connections. This usually works just fine, but just like any other Wi-Fi device, it can end up with interference that can cause stuttering, lower picture quality, or a complete inability to play. If possible, it's always a great idea to consider setting up a hard-wired Ethernet connection for your devices. Also, this tends to be easier; no passwords to remember, just another wire to plug in.

| | |
| --- | --- |
| Ethernet Cable | |
| Ethernet Port | |

Look for an Ethernet port on the back of your Internet-enabled devices. If you see one, you don't have to use Wi-Fi to connect it to your home network. You can use that wired connection to provide faster, easier setup.
To make things even easier, you can use a network switch to connect everything with one cable back to your router.



These are small boxes that basically give you more Ethernet ports for the back of your router. The benefit here would be that you'd connect all of your home theater devices to the switch, then have only one Ethernet cable connecting your switch to your router, giving you the most reliable connection possible for all of your connected home theater devices.
5 Speaker Setup
Most speakers will use very standard, simple 2-wire cables to connect them to your receiver.

Speaker wire has a polarity. In other words, it matters which side plugs in where. Most speaker wire will already be in a bundle of 2, and one of the cables will be a different color, or have a stripe of color or a label of some sort so you can identify them easily.
You will need one 'run' of cable (both wires) for each speaker. Make sure it is long enough to not only reach, but follow the contours of your room, and some extra for slack. This keeps them from being accidentally pulled out.
Depending on the model of the receiver you are using, the type of terminal you will plug your speaker wire into may vary.
Many receivers and speakers may allow for you to use something called banana plugs, which can be attached to the speaker wires before plugging them in to give a cleaner, easier to use, and more permanent solution for connecting your speakers to your receiver.



6 Speaker Connection
Connect each speaker to your receiver. Pay close attention to positive and negative markings on each speaker wire, as not all speaker wire is color coded like the speaker inputs are on your receiver.

Insert the wires following the illustration below.

Connect your subwoofer. This tends to be a single RCA-style cable.

7 Display Connection
In most cases, most people prefer to use a simple, high-quality HDMI connection between their home theater receiver and their TV. Plug one end into the back of your TV.



TVs have multiple HDMI ports. Since your receiver will now be handling all component switching, there will only need to be one HDMI cable plugged into your television. Just use the HDMI 1 port on the back of your TV.

Connect the other end of the cable to your receiver. You're looking for something labeled HDMI Out; it's usually a different color.

If necessary, connect a digital optical cable to the back of your TV (optical out), and the other end to your receiver (optical in).



Connecting a digital optical cable from your TV to your receiver is only necessary if you have a Smart TV with apps that you would like to make use of. Your TV will need a way to get that audio to the receiver to be heard through the speakers connected to it. If you do not have a Smart TV, or do not plan on using your Smart TV's apps in favor of another device, this cable is unnecessary.
8 Coax Connections
Connect the coax cable from your premium television provider to your cable or satellite decoder.

If you're using one, connect the coax cable from your outdoor antenna to your receiver for FM radio signals.

If you're using one, connect the simple 2-wire lead for your AM antenna to your receiver for AM radio signals.

9 Network Connection
Wired Connection
If you intend to use a hard-wired Ethernet connection for your RX-V481, connect one end of the Ethernet cable to the port on the rear of your receiver, then the other end to your network switch, or directly to your home's router.
Wireless Connections
If you intend to use a Wi-Fi connection for your RX-V481, connect the Wi-Fi Antenna(s) to the back of the receiver.
10 Source Connection
Connect each of your sources (Blu-ray, cable box, game console, etc.) to the appropriate connector on the back of your receiver. Many connectors will have labels to guide you.



Please be aware that the labels on the HDMI ports of your receiver are only a guide. These ports can accept any type of HDMI device being plugged into them and can easily be renamed within your receiver's settings.

For example, a port labeled "BD/DVD" or "GAME" does not indicate that this is the only type of device it can accept.
11 Power Connection
The Yamaha RX-V481 has a non-removable power cable attached to the rear. Connect this to your power management device.

Connect power for all your other devices to your power management device as well.
12 Remote
This remote uses 2 batteries. Make sure they are inserted correctly.

13 Test Devices
Turn on your home theater devices, and test them out.
Make sure you can watch premium TV.
Make sure you can watch a Blu-ray movie.
Make sure your game console works.
Make sure any audio devices, such as a record player, work.
Make sure the speakers are in the correct locations.
Test any other device you have setup as part of your home theater.
It is critical to perform this step before moving forward, as we will be cleaning up the cables behind, next. After this, while it is entirely possible to make changes, it is a much greater hassle.
? Now that things are powered up, do you need to connect your receiver to Wi-Fi?
Yes
No
Sours: https://www.techsolutions.support.com
Yamaha Yht-4950U 4K Ultra HD 5.1-Channel Home Theater System with Bluetooth
Yamaha Surround Sound
True surround sound from one device
Yamaha Digital Sound Projector (YSP) creates true surround sound from a single device. Other sound bars use virtual surround, but the YSP series creates realistic audio by bouncing sound off each wall. Calibrate each speaker driver using a supplied microphone or a simple app to 'steer' sound beams around the room.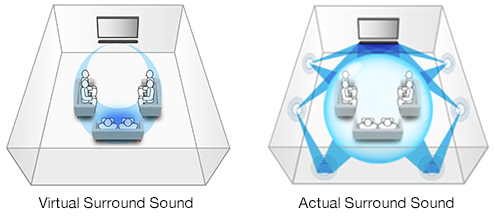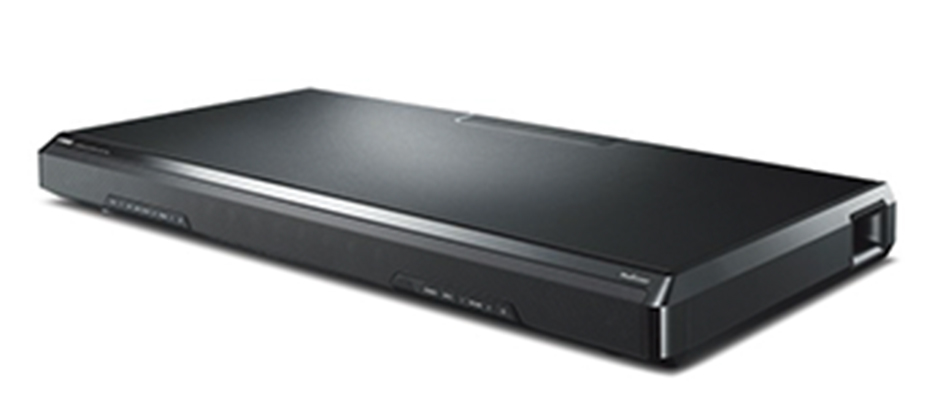 YAMAHA SRT-1500
• Premium soundstage with Yamaha sound projector technology for true 5.1 surround sound
• Tailor audio to your room with beam adjustment
• Clear Voice function lets you hear dialogue without turning the volume up
• Supports TVs up to 40 kg
• Huge bass from dual built-in subwoofers – connect a separate sub for enhanced low end
• Supports Bluetooth and Apple AirPlay
• MusicCAST compatible: stream sound to other rooms
• Supported streaming services include Spotify, Napster, Juke, Tidal, Deezer and Qobuz
• Stream Internet radio and High Resolution Audio sources
• Five cinema DSP programmes
• Supports DTS and Dolby Digital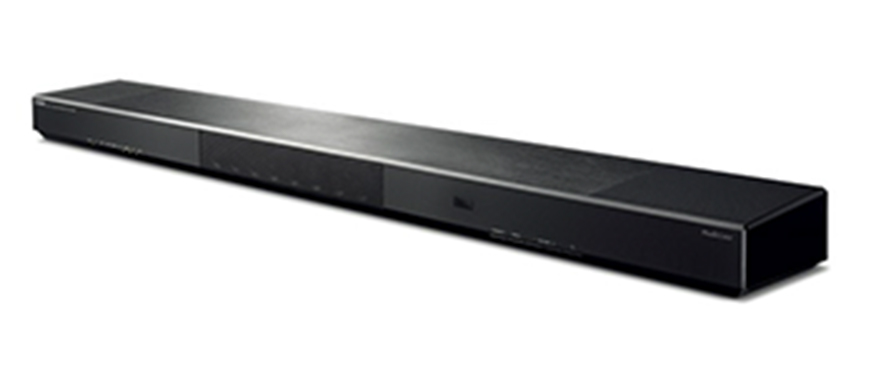 YAMAHA YSP-1600
• Premium soundbar with Yamaha sound projector technology for true 5.1 surround sound
• Tailor audio to your room with beam adjustment
• Clear Voice function lets you hear dialogue without turning the volume up
• Huge bass from dual built-in subwoofers – connect a separate sub for enhanced low end
• Supports Bluetooth and Apple AirPlay
• MusicCAST compatible: stream sound to other rooms
• Supported streaming services include Spotify, Napster, Juke, Tidal, Deezer and Qobuz
• Stream Internet radio and High Resolution Audio sources
• Five cinema DSP programmes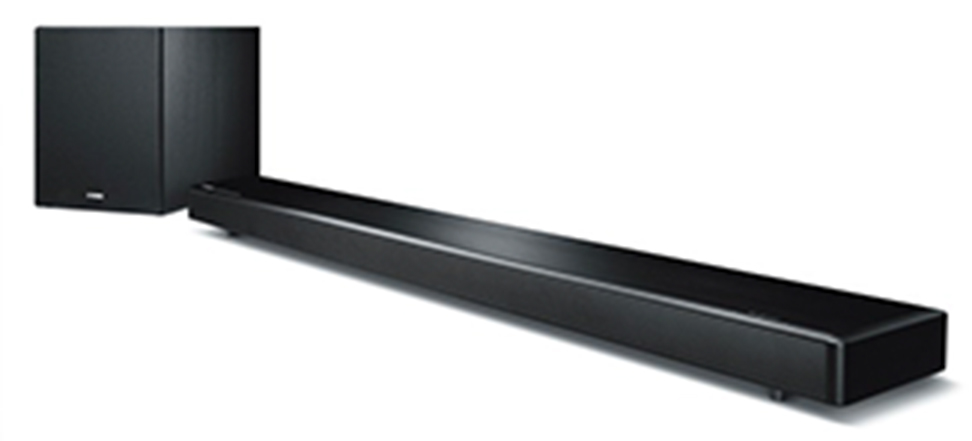 YAMAHA YSP-2700
• Premium soundstage with Yamaha sound projector technology for true 5.1 surround sound
• Auto Setup: let the sound bar analyse room audio conditions with the included set-up mic
• Intelligent Beam adjustment to tailor sound to your room – use app to completely control each beam direction and volume
• Clear Voice function lets you hear dialogue without turning the volume up
• Deep bass from a wireless subwoofer – position it anywhere in your room
• Supports Bluetooth and Apple AirPlay
• MusicCAST compatible: stream sound to other rooms
• Supported streaming services include Spotify, Napster, Juke, Tidal, Deezer and Qobuz
• Stream Internet radio and High Resolution Audio sources
• Ten cinema DSP programmes
• Supports HD audio signals like DTS-HD and Dolby TrueHD
• DTS and Dolby Digital-compatible
Sours: https://www.currys.co.uk/gbuk/yamaha-surround-1550-commercial.html
Surround yahama
I think you understand where. I agree, and so - Vera said this even, somehow would not break our relationship. - What kind of relationship are you talking about, you are my aunt, sister and friend, I am ready for anything to help you. So, my dear hubby, you are on dry law for two weeks, not a drop of alcohol, and after two weeks Vera.
Yamaha Yht-4950U 4K Ultra HD 5.1-Channel Home Theater System with Bluetooth
And she is not shy. Well, maybe I have a little wider and fuller. Sometimes I even imagined myself walking in such a skirt, and these thoughts excited me to the extreme. But there was no way to make those dreams come true.
You will also like:
Karin is a large blonde, her body with very large (38DD) breasts turned out to be flawless. Her fully shaved pussy flowed under my lips, and licked her furiously, not depriving the clitoris. Karin skillfully caressed my friend with her mouth, who had reached an unprecedented size. This lasted for several minutes, leaving the bathroom H and Bill jumped onto a nearby bed and began to caress each other.
In the same 69 position.
4549
4550
4551
4552
4553