Samsung
65" QLED 4K UHD Smart TV
Product Description
The Samsung Q6FN QLED 4K Ultra HD Smart TV features Samsung's proprietary QLED technology, where the Q stands for "Quantum Dot". So take your picture resolution to new heights with QLED and its capability of producing nearly a billion colors. Colors are not lost when viewing from a non ideal angle, making any seat feel like you're sitting in the front row.

You can experience a UHD picture paired with 4K video that will look stunning on this one-of-a-kind Samsung TV. The aesthetic appearance alone will impress and naturally draw one into a viewing field of its exquisite display. Plus, a new Smart TV user interface and a smart remote with Bixby Voice Control allows you to find shows and movies easily.


A billion reasons to step into the world of QLED
2018 QLED TV. See nothing else.
The eye will savor the 2018 Q6. Welcome to the prestigious QLED lineup that tantalizes your vision with 1 billion+ shades of Q Color™ while Ambient Mode™ alters the screen into a spectacular visual display.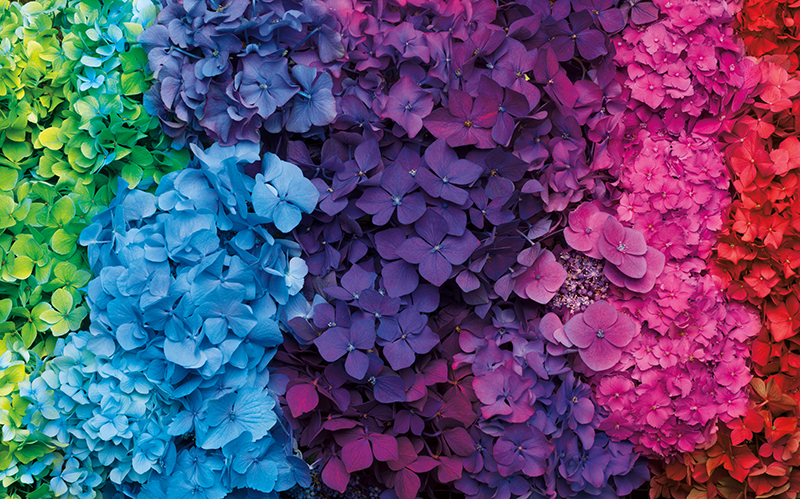 See the world in a billion colors
Push the boundaries of color with Quantum Dots and a billion shades, reserved for our flagship QLED TVs.
The secret behind color is it may fade in bright scenes; QLED TVs with 100% Color Volume rejuvenate color in challenging content for a brilliant visual experience.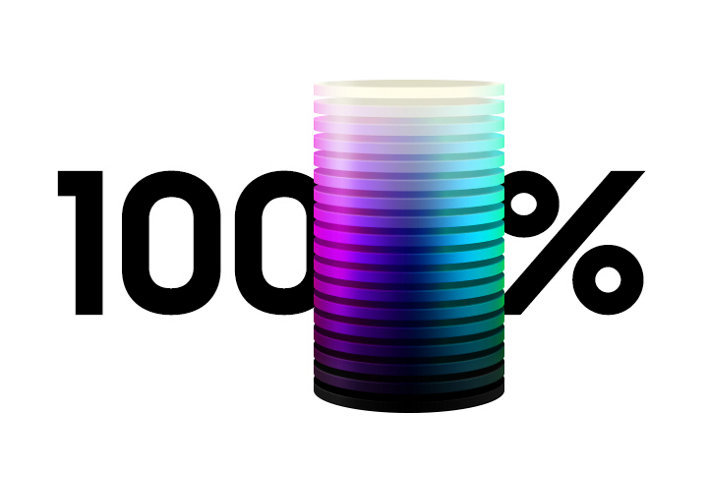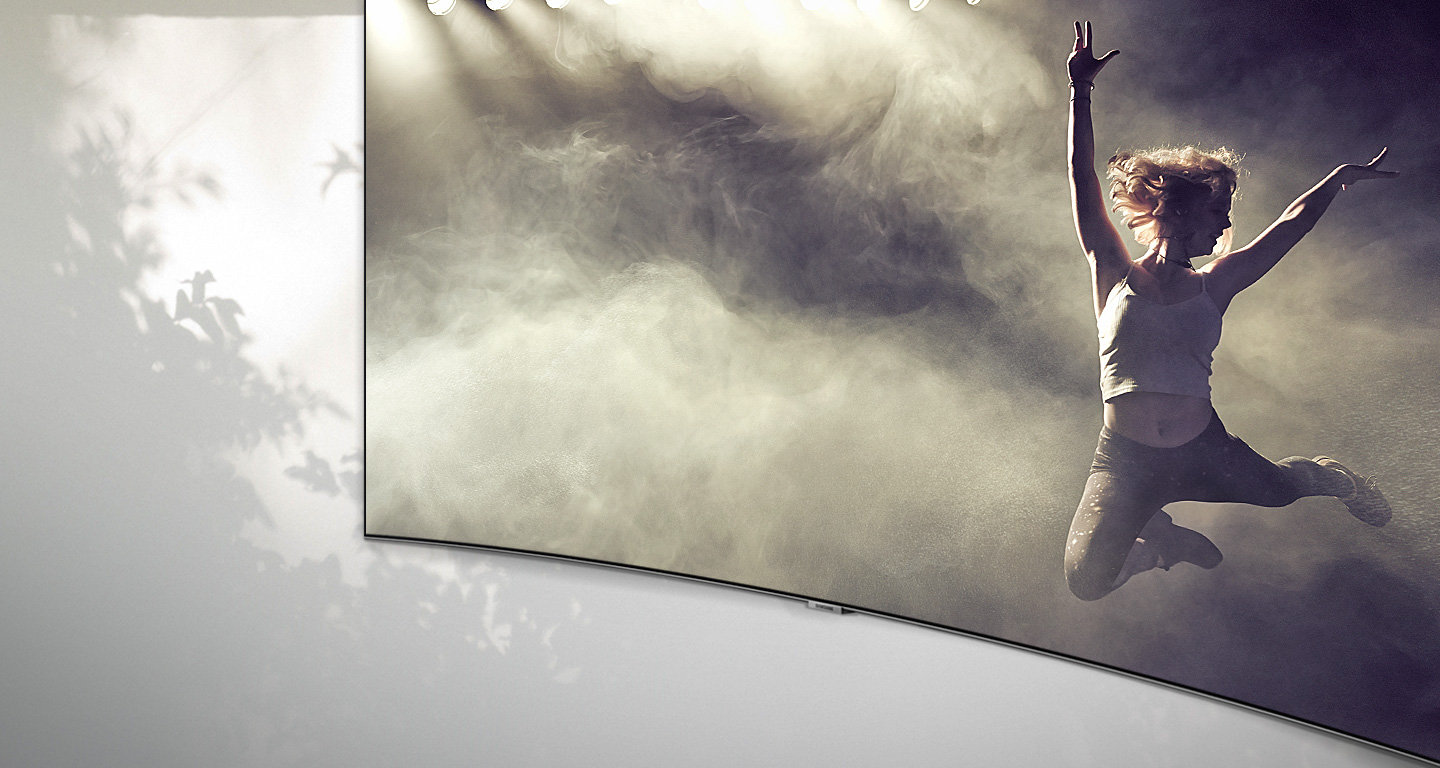 Experience dramatic depth from the darkest to brightest scenes.
See colors in movies and shows pop, just as the director intended, in stunning high dynamic range.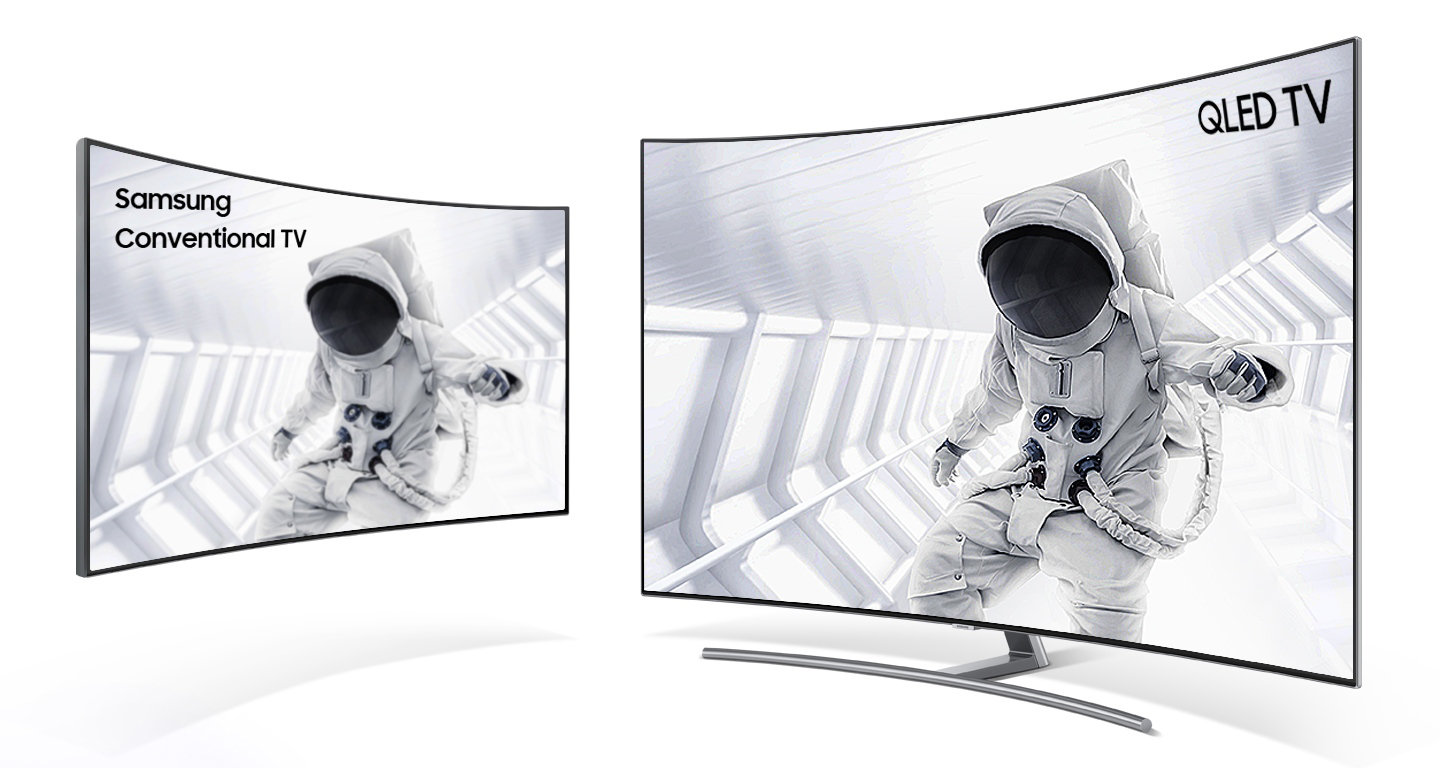 4x the resolution. 4x the clarity.
QLED TVs meet the highest 4K Ultra High-Definition standards as defined by the Consumer Electronics Association (CEA).
As some TVs age, you may see that colors are less vibrant. QLED TVs are built to last and provide a vibrant picture even after long periods of time. Our metal alloy quantum dot pixels feature inorganic materials that are engineered for durability and resistance to fading.
Burn-in is when station logos, stock tickers, or other images linger on your screen. But, with Samsung QLED TVs you don't have to worry because all QLED TVs are 100% guaranteed against burn-in.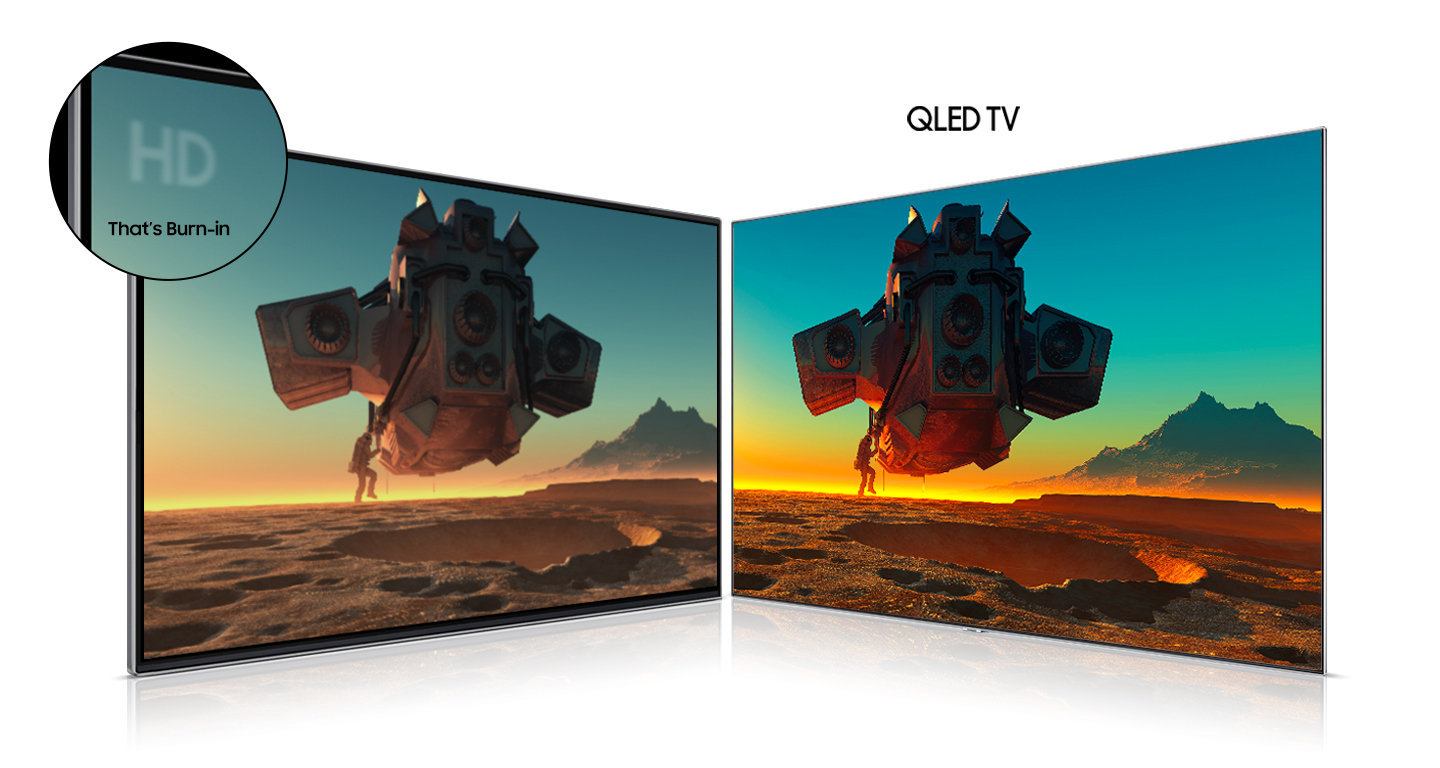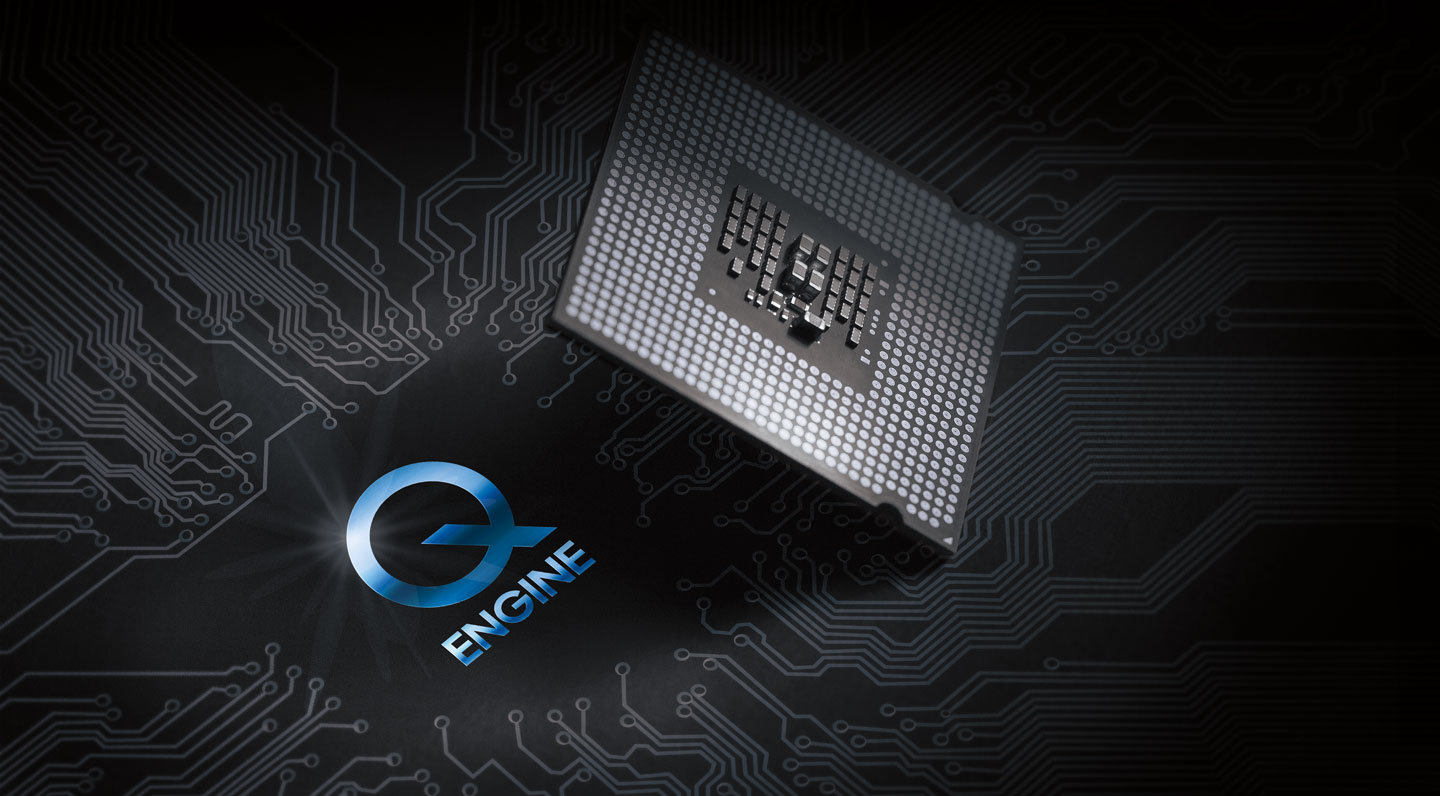 Powerful processing for spectacular picture
Heighten your view with a powerful processor that optimizes your content for 4K clarity, color and HDR.
Enjoy smooth, crisp action even in the fastest scenes with Motion Rate 240.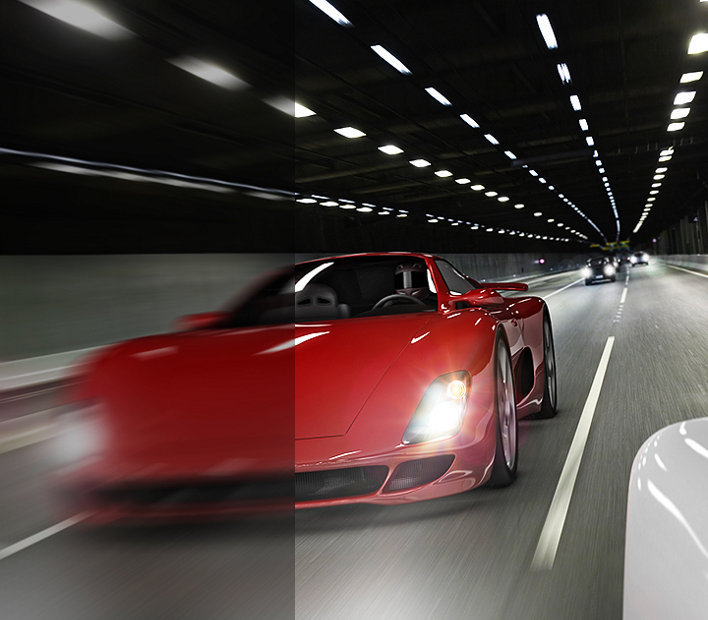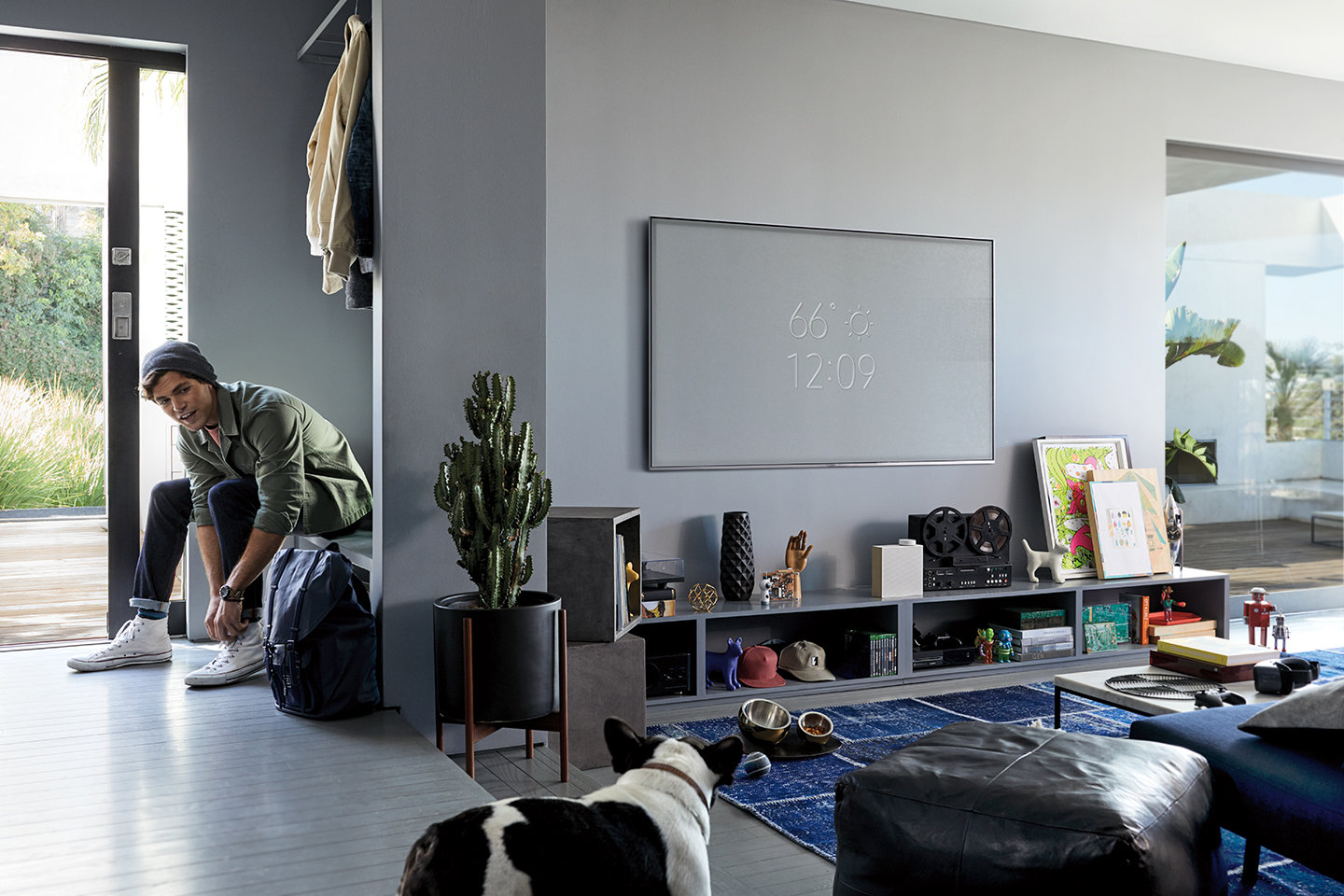 Amazing picture with minimal clutter
A thoughtful design with a Clean Cable Solution® allows you to focus on a TV without the clutter.
Clean Cable Solution®
Neatly manages cords for a crisp, clean look for no distractions from the picture on the Q6F. It only takes three simple steps.
Step 1. Plug in your cables.
Step 2. Push your cables into the embedded cable lines on the back.
Step 3. Neatly organize your cables through the TV stand.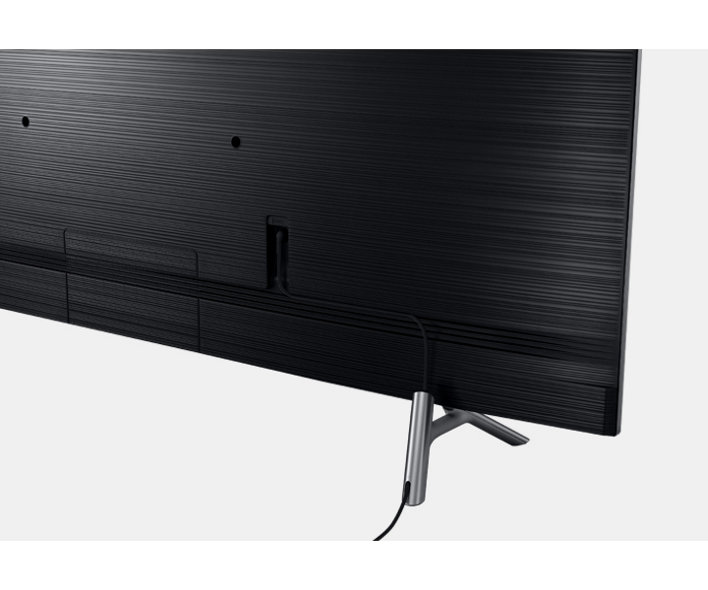 With our new Ambient Mode, you can elevate your living room with decorative content, useful information and your own photos. You won't notice the TV on the wall as it blends perfectly with your décor, and it can even play a bit of light background music.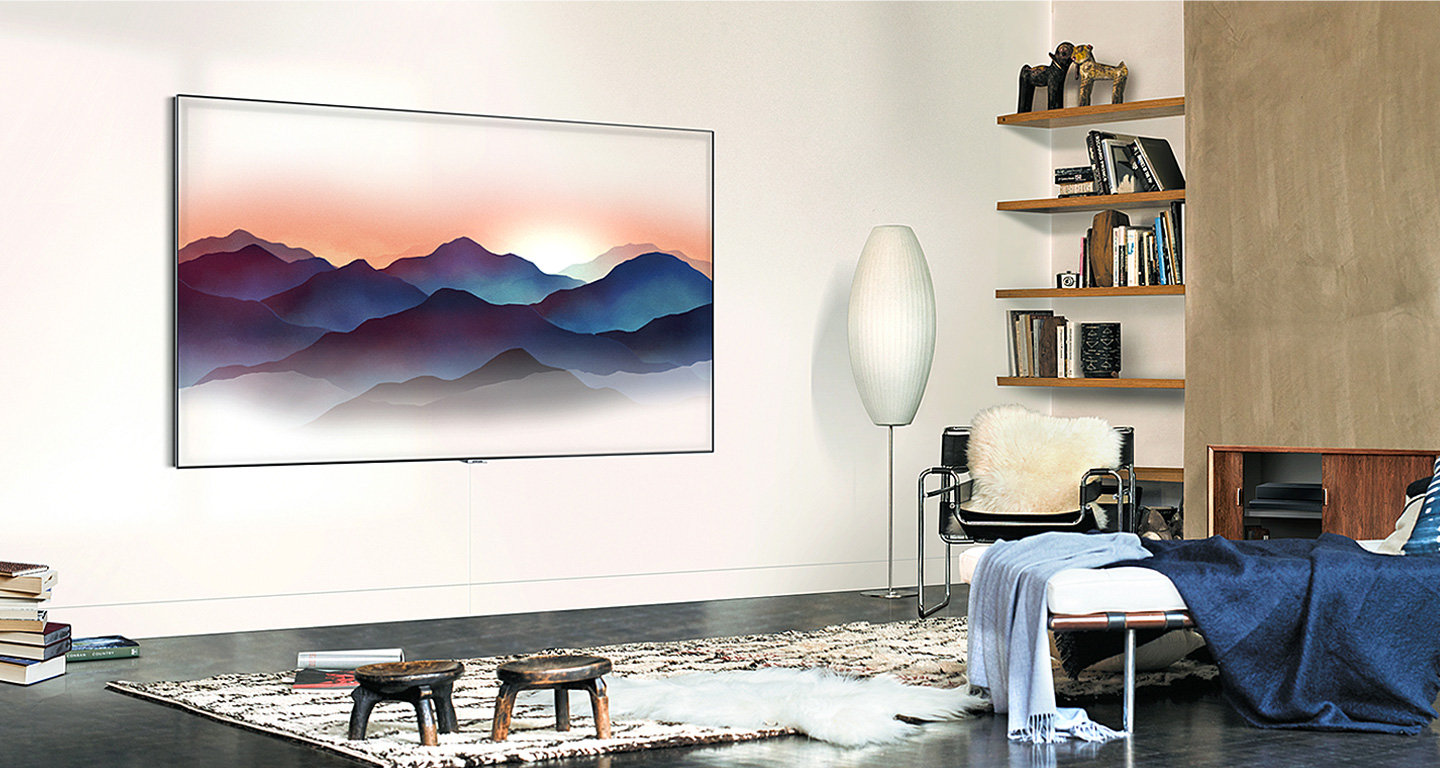 Decor - Elevate your room
You can also elevate your living room by applying decorative content that blends beautifully with the space around the TV.
Information Hub - The world at your fingertips
Get useful information such as weather, outdoor temperature and major headlines displayed on the screen.
Personal Photos - Relive your memories
Relive all your memories. Turn your living room into a personal gallery by displaying photos from your mobile device or the Samsung Cloud.
Play Music - Set the mood
Use your TV to set the mood. Find your favorite tracks or playlists with Bixby's intelligent voice command or use Bluetooth to play music from your phone.
With virtually no bezel on three sides, the sleek, clean design looks attractive from any angle.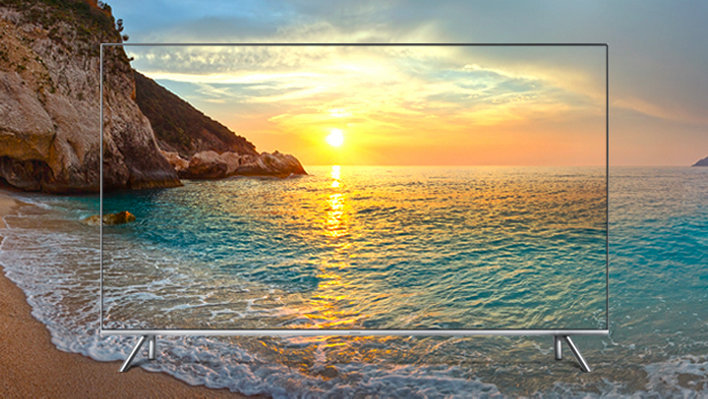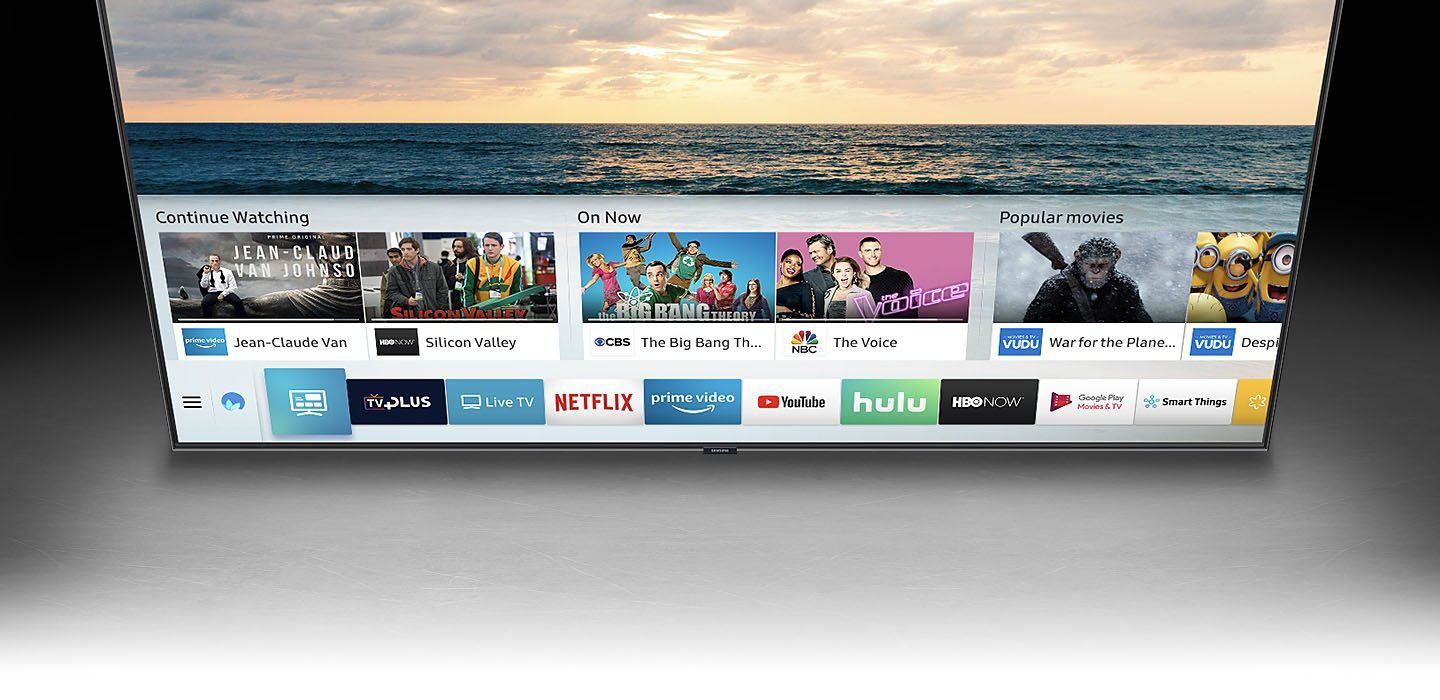 Spend time watching, not searching.
Seamless and effortless. A revolutionary way to help find streaming and live TV shows with a universal guide, OneRemote and voice assistance.
Bixby. A more intelligent way to enjoy TV.
Smart TV with Bixby Voice
Meet Bixby, your intelligent voice assistant in your new 2018 QLED TV. Bixby makes it easy to search for content, flip channels, or even ask questions such as the current weather using only your voice. Just click voice recognition on your remote or mobile, and Bixby is at your command.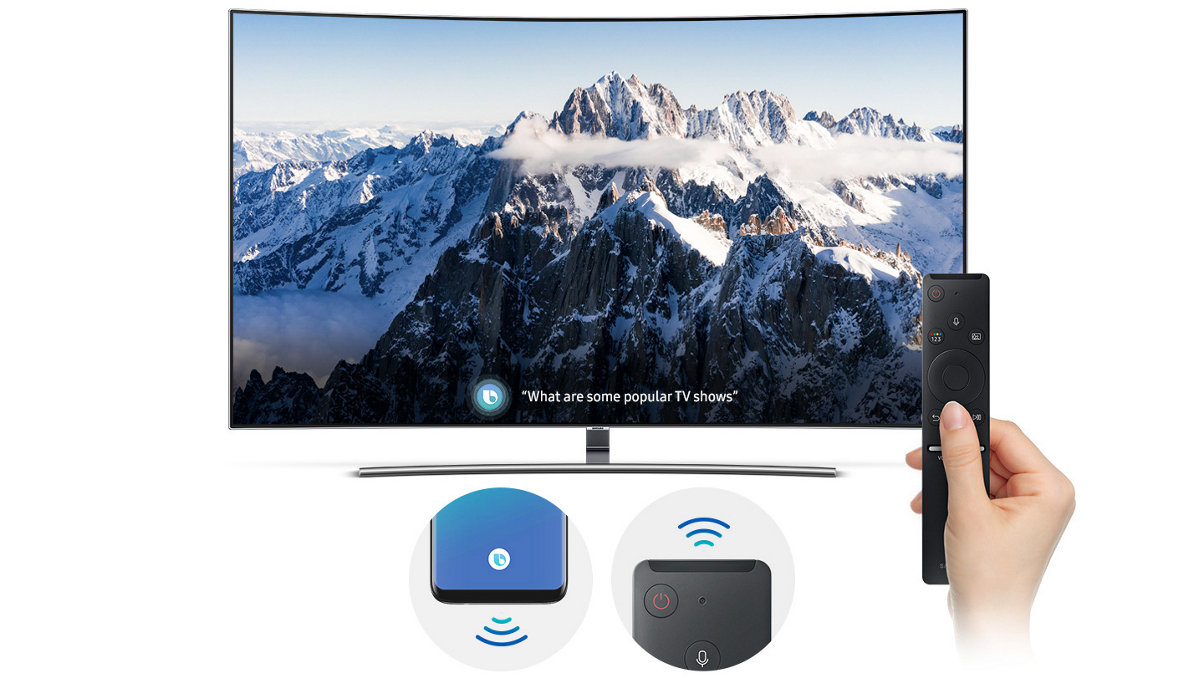 Sours: https://www.electronicexpress.com/catalog/181188/65-qled-4k-uhd-smart-tv
Samsung 65 Inch QLED Ultra HD (4K) TV (Q Series QA65Q6FNAKXXL / QA65Q6FNAKLXL)
Brilliant Product at Best Price !
Mahesh Telkar (Jun 1, 2019) on Flipkart
I bought this TV during on a Flipkart Sale at an attractive price of Rs. 169000/-. In fact I was looking for a 55 inch OLED/QLED TV with in a budget of 1.25 lacs. But, the deal was so attractive and I found that extra 40k for 10 inches is worth and it paid off. Usually the difference between 55 and 65 will be somewhere between 70k to 1 lac (for OLED/QLED models). It was delivered on time and safely and the installation team installed it on time. However a wall mount was not provided in the package but in delivery instructions it was clearly mentioned that if wall mount is not provided in the package the service engineers will provide it for free. Initially they asked to pay extra and when I contacted Flipkart regarding the same. They resolved the issue without much hassle and the wall mount was provided for free of cost. So beware if your service engineers ask to pay for wall mount. There is no need to pay anything extra for wall mount. It is free of cost. Contact Flipkart if there is any such issue. Coming to the product experience, all I can say is that it is worth every penny. The screen quality is simply mind blowing and keeps you glued. It is delight to watch HD channels on such a beautiful screen. Blacks, color contrast, refresh rate are so good and topnotch. Watching Netflix is an amazing experience on this QLED screen. If you are n audiophile you may be a bit disappointed but still I find it decent enough. However a soundbar is suggested (yet to buy) to have a complete cinematic experience. Here is the summary of pros and cons of this TV Pros _____ 1. Excellent Picture Quality with wide viewing angle. 2. Slim body looks like a show piece in your living room. 3. Clutter free cable management if you install it on a table top. 4. True worth of this TV can be experienced with 4K Ultra Content like Netlfix. 5. Remote control supporting multiple devices. 6. Ambient mode changes the mood of your living room. It is not just a TV, a beautiful wall piece for your living room. Cons _____ 1. Sound quality could have been better. 2. Screen navigation with remote is a bit old school. LG Magic remote kind of interface would make the experience richer. Hope this review helps.
Is this review helpful?
Reply
Sours: https://gadgets.ndtv.com/samsung-65-inch-qled-ultra-hd-4k-tv-qa65q6fnakxxl-qa65q6fnaklxl-price-in-india-91833
Samsung Q65T 4K QLED TV review: Punchy picture at an attractive price
(Pocket-lint) - No one ever accused Samsung of lacking ambition, nor of having too brief a TV range. For example, its 2020 QLED line-up consists of eight different ranges of 4K models, plus a couple more 8K series too. At some point 'spoiled for choice' becomes 'baffled by choice' - and there's a possibility Samsung might have crossed that line quite decisively.
But, of course, the bigger the model range the more likely there's an obvious sweet-spot for both your wants and wallet. And while the whistles-and-bells Q95T model is a no-holds-barred uncompromised delight, the pound-for-pound sweet-spot in this colossal QLED line-up might just be the Q65T.
The Q65T has got quite a lot of the features that make the Q95T so compelling, but at a price that won't make you double-take. And with the range starting at a titchy 43-inches - there are 50-, 65- and 75-inch variants available too, as well as this 55-inch version on review - there should be something here to fill that QLED-shaped hole in your life.
Design
Connections: 3x HDMI, 2x USB, Ethernet, composite video, 2x tuner, digital optical, CI slot
Dimensions (65-inch): 706 x 1230 x 57.4mm
Bluetooth 4.2, Wi-Fi for wireless
First things first: though Samsung has always touted its QLED technology as an alternative to the more prevalent OLED, in terms of showroom appeal it's not all that much of a contest. There's none of the crowd-pleasing OLED slimness of profile about a QLED TV - and as the QE55Q65T is an edge-lit TV, its wholly unremarkable 57.4mm depth makes it look a bit of a throwback when put alongside similarly priced OLED competitors.
Get beyond this relative girth, though, and the design of the Q65T has a lot to recommend it. After all, what do you really want from your new TV except plenty of screen? The Samsung's bezels are super-slim - or, at least, those at the top, left and right are - and its simple push-and-click boomerang feet are discreet.
There's plenty of space between those feet for a soundbar, too, if you decide against wall-mounting the telly. The whole set is put together with Samsung's usual efficiency, with barely a squeak from the chassis even though some of those plastics - the back panel in particular - aren't the heftiest.
The back panel is where the Q65T keeps its input and output connections. Unlike some 4K QLED tellies higher up the Samsung range, the Q65T isn't toting any future-proofing in terms of connectivity - its three HDMI inputs are of the 2.0 variety, so there's no support for the fancier features of the next-generation of games consoles. One of the HDMI sockets in eARC-enabled, though, which is helpful when it comes to selecting a half-decent soundbar.
Features
High Dynamic Range: HLG, HDR10, HDR10+
Processing engine: Quantum Processor Lite
20 watts of audio power
There are one or two features of more expensive Samsung QLED TVs that the Q65T goes without. We can touch on those in a moment. First, the slightly longer list: the things the Q65T does have.
Pocket-lint
Obviously this is a 4K screen, equipped to handle HLG, HDR10 and HDR10+ high dynamic range standards - Samsung's ongoing disdain for Dolby Vision shows no sign of abating. The panel is in a QLED arrangement, with a metallic quantum dot filter responsible for enhancing colour and contrast.
For the number geeks: the Q65T's colour gamut coverage is supposedly around 92 per cent - which compares to 94 per cent on the range-topping QLED models and roughly 80 per cent for Samsung's non-QLED LCD tellies.
The Q65T is governed by Samsung's Quantum Processor Lite picture engine, a slightly detuned version of the picture processor running the company's more expensive QLED screens. The Q65T is also giving away the anti-reflection screen technology the likes of the Q95T feature, but it doesn't have the same wide viewing-angle smarts as its more expensive siblings.
The Q65T's audio specification is a fair bit more prosaic than the multiple-driver, multiple-position, object-tracking sound of more expensive Samsung QLED TVs. Its sound is delivered by a pair of full-range drivers, powered by a total of 20W of amplification - which is completely in line with the sort of audio array featured by most TVs at this sort of price point.
Samsung
It's also worth noting the Samsung's absolutely lightning-fast response time when used as a gaming monitor. Sub-10ms lag is rapid, and it may be enough to sell the Q65T to some customers by itself.
Interface
Amazon Alexa, Google Assistant, Samsung Bixby voice control
Choice of remote controls (two included in the box)
Tizen-based interface
Happily, Samsung has resisted the urge to cut costs where the Q65T's user interface is concerned. The company's Tizen-based smart TV operating system continues to be one of the cleanest, most logical and most responsive around - and given that it's in no way broken, Samsung has sensibly avoided the urge to fix it. An interface so comprehensive and easy to navigate makes the Q65T seem a more expensive proposition than it actually is.
Pocket-lint
Moving around the interface, accessing setup menus and so on can be done using either of the two (count 'em: two!) remote controls the Samsung is supplied with. The first is the full-function wand that ships with every single 2020 Samsung TV - it feels cheap, has way too many buttons and the majority of them are too small for anyone who doesn't have cocktail sticks for fingers. The other is an altogether more pleasant and stripped-back alternative which does nearly everything you'll need it to.
There's also a degree of voice control available. Bixby is available for Samsung fetishists, while the rest of us can use Amazon Alexa or Google Assistant to issue instructions. Or there's Samsung's clean-and-tidy SmartThings app - which offers control over a whole host of connected Samsung products, not just TVs.
Picture quality
The QE55Q65T, naturally enough, has the best chance of performing to its full potential if given some native 4K content, ideally with an HDR element too. So loading a 4K Blu-ray disc of the HDR10+ remaster of The Shining into a reference disc player is done with a due sense of anticipation.
Samsung
In broad terms, the Q65T is a very watchable TV. It does great work with Stanley Kubrick's trademark colour palettes, bringing heat, vibrancy and nuance to tones of all kinds - it's not easy to make colours look vivid yet natural at the same time, but the Samsung is endlessly convincing in this respect.
That claimed colour gamut coverage looks entirely plausible when the strong primaries and muted autumnal colours of The Overlook Hotel fill the screen. Admittedly this fidelity can take some achieving, as fine-tuning the Q65T via the setup menus isn't the most straightforward task - but perseverance brings unarguable rewards.
The Samsung controls contrast well, too. Despite the theoretical limitations of both QLED technology in general, and edge-lit backlighting in particular, when it comes to generating convincingly deep black tones, the Q65T is capable of producing genuinely dark blacks. It does good work differentiating gradations of tone, and offers decent levels of detail into even its deepest shades. At the opposite end the Samsung is equally adept with white tones, keeping them clean and detailed even when they're popping brightly.
Samsung
Putting bright whites and deep black together on the same screen can cause some crushing and/or bleaching, and there's some mild-but-definite backlight clouding in the corners of the screen when a 21:9 aspect ratio film results in black bars top and bottom. On the whole the Samsung does a pretty manful job, even in fairly strong/or fairly direct light. The absence of the anti-reflection technology the Samsung's more expensive counterparts enjoy isn't quite as big a miss as might at first be feared.
Across the board, detail levels are high. The numerous complicated patterns and textures in The Shining present no particular problems (despite that famous carpet being a fairly stiff test of precision all by itself), and the Q65T does notably impressive work with skin-tones. Edge-definition is generally good, as is motion-handling - though combine the two and the screen will occasionally betray just how hard it's working.
Up to a point, the Samsung maintains these admirable traits when upscaling lower-quality content. Certainly 1080p and 720p enjoys similarly expansive colours, and comparable contrasts and detail levels. The Q65T's mild uncertainty with motion becomes rather less mild, admittedly, and the picture noise that's suppressed so effectively with native 4K content can become an undeniable part of the viewing experience, but by the standards of (fairly) large and (fairly) affordable TVs the Samsung applies itself to upscaling with real determination.
Samsung
Any less information-rich content than this, though, sees the Q65T give up the ghost somewhat. Standard-definition broadcasts can often look quite marginal on 4K screens, and sure enough the Samsung lets a daytime-TV broadcast of Father Brown look soft, indistinct and fundamentally short of detail. Picture noise is apparent more-or-less constantly, and black tones are crushed to uniformity.
Sound quality
While the Q65T uses its technical specification to absolutely maximise its picture performance, it uses its audio spec to underwhelming effect. No one's expecting a couple of titchy full-range drivers, driven by a wheezy 20W of power, to deliver a sonic performance to equal the cinematic potency of the TV's images, but nevertheless the Samsung sounds disappointing.
Even quite inexpensive TVs these days can gesture towards some low-frequency presence, or turn in a respectably dynamic showing, but not the Q65T. It sounds hazy most of the time - and when it's not sounding hazy it sounds hard. If you're seduced by the Samsung's price, try to budget a little more for a soundbar to bring the audio performance vaguely into line.
Verdict
As an object, the Q65T is pretty humdrum - and it makes a humdrum sound, too. But where picture quality is concerned, it punches well above its weight.
The Q65T's 4K images look a treat, and unless you're loading up some real poverty-spec content it's a very capable upscaler too. No, you'd never mistake it for a top-end Q95T - but it's closer than the difference in price might initially lead you to believe.
Also consider
Philips
Philips OLED 754
squirrel_widget_189236
HDR compatibility, passable sound quality and that striking OLED slimness all help this Philips' case. Three-sided Ambilight is not to be sneezed at either. But it's the images - lustrous blacks, dynamic colours and strong contrasts - that really make the OLED754 worth strong consideration.
Writing by Simon Lucas. Editing by Mike Lowe. Originally published on .
Recommended for you
How to watch Squid Game: Subtitles or dub? By Alex Allegro ·
Every Marvel movie and show to watch before Hawkeye debuts on Disney+ By Maggie Tillman ·
Billions season 6 release date how to watch and how to catch up By Stuart Miles ·
Best Amazon Prime Video shows: The top binge worthy TV series to watch By Britta O'Boyle ·
What's the best order to watch all the Halloween movies? By Maggie Tillman ·
Best Halloween movies: Top horror films and thrillers to stream right now By Maggie Tillman ·
Sours: https://www.pocket-lint.com/tv/reviews/samsung/152506-samsung-q65t-tv-review-4k-qled
Neo QLED 8K - QN900A: Official Introduction - Samsung
The 3 Best Samsung TVs of 2021
Reviews and Smart Features
Smart Features
In the infancy of smart TVs, Samsung was the leader in functionality and smart features. This isn't to say that they were very good, as it took quite a few years for Smart TV platforms to mature into something comparable to external set-top boxes. However, other companies have caught up to Samsung and offer similar all-around performance, like Roku TV or LG's webOS.
Samsung has constantly been updating its Tizen platform to make sure it competes with its competitors. In 2017, they added voice capabilities to their remote and smart platform, making it easier to navigate through menus. The 2020 update featured a new, sleeker look with a 'Dark Mode' that isn't as bright as the white theme in older versions.
In 2018, Samsung added their Bixby virtual assistant to most TVs except for some entry-level models. Bixby can integrate into Samsung's SmartThings smart home platform, allowing you to control compatible devices ranging from lights, outlets, door locks, and even your fridge.
Interface
The interface is very simple and easy to navigate. Everything is along a toolbar that appears at the bottom of your screen. You'll find downloaded apps here as well, and you can quickly access the different inputs and settings. The interface works well, and there are many animations; on lower-end TVs, these can be slow.
Ad-free
Unfortunately, Samsung's Smart Hub also shows ads on the home screen. It shows up in the same row as the installed Samsung Smart TV apps, and they can't be disabled.
You can opt out of personalized advertising in the settings, but that, unfortunately, only means that you'll see very repetitive ads instead of targeted ones.
Apps & Features
The app selection is pretty extensive nowadays. All the popular video and music services are available and more. Fortunately, the search function is quite good, and results come up very quickly. Like LG's webOS and Google TV on Sony TVs, Samsung TVs have an excellent selection of apps, and the vast majority of streaming services are available.
Voice Controls
Voice Command was overhauled in 2017, and they're pretty good now. Other smart interfaces were updated in 2018 to search for content, apps, and change settings, something Samsung has been able to do for a few years. Even more in-depth stuff like calibration settings are only a button press away, which is quite nice.
Changing inputs
Launching apps
Basic online searches, including "What time is it?" or "How's the weather in New York?"
Change some settings
It's also possible to search within apps, but only a few apps are supported at this moment. It isn't possible to search Netflix, for example, but it's possible to search YouTube.
Remote
Samsung updated their remote with the release of the 2021 TVs. It features the same buttons as remotes from previous years, except it has a redesigned body with brushed plastic on the bottom. There are quick-access buttons to popular streaming services and for your voice control. It's pretty minimal compared to traditional TV remotes, as you don't get a Numpad, but you still get navigation buttons. It's small and sleek-looking.
What sets this remote apart from others is that the QLED lineup comes with a solar-powered remote. This means that you can charge it via the solar panel on the back, and if that's not possible, you can still charge it via USB-C, but it doesn't come with a USB-C cable. The entry-level AU8000 from 2021 has the same remote, but it uses disposable batteries instead.
Known Issues
This is less common now than in previous years, but Samsung TVs often have issues with Wi-Fi connections. They'll randomly stop functioning after leaving the TV off for a while and require the connection to be set up again, which is quite annoying.
Sours: https://www.rtings.com/tv/reviews/samsung
Q samsung 65
Best Samsung TVs in 2021
If you've shopped for a TV in recent years, you'll know that Samsung is arguably the biggest name in TVs. With everything from budget 4K LED TVs to premium 8K TVs, there are Samsung TVs for every budget and featuring every level of TV technology.
Samsung isn't just one of the best TV brands and most popular TV manufacturer in the world, the company's assorted TV offerings are some of the broadest in the industry. Samsung's offerings include some of the best TVs we've reviewed, and feature prominently in every major retailer's TV lineup and get excellent sales throughout the year.
What are the best Samsung TVs?
Included in our list of the best Samsung TVs are all of the 4K QLED models we've reviewed in the last year. Far and away, the best option is the Editor's Choice Samsung QN90A Neo QLED TV. The set's mini-LED backlighting makes for unmatched picture brightness, while a bounty of smart features and a new eco-friendly remote complete the premium experience. With a breathtaking one-inch-thin design, it's also one of the best-looking sets you can buy.
The Samsung Q80T QLED TV is the best of the 2020 models we reviewed, followed closely by the Samsung Q70T QLED TV and the Samsung Q60T QLED TV. The QLED line is segmented in budget-friendly, mid-range and premium models, with various features and capabilities, but all of these models are well-made TVs with strong color and brightness performance.
They're all solid performers and safe buys, but the different features and price points mean that the different models lend themselves to different use cases.
Samsung Black Friday TV deals
Black Friday deals are on the way, and there's already a solid array of discounts available. Be sure to check out our Black Friday TV deals page for all the latest sales to make sure you get a great TV in time for the holiday season.
The best Samsung TVs you can buy now
1. Our favorite Samsung TV: Samsung QN90A Neo QLED TV
Neo QLED reminds everyone why Samsung stays on top
Specifications
Available Screen Sizes: 55, 65, 75, 85 inches
Screen Type: QLED
Refresh Rate: 120 Hz
HDMI ports: 4 HDMI (1 HDMI 2.1)
Size: 56.9 x 32.6 x 1 inches
Weight: 53.8 pounds
Reasons to buy
+Beautiful, thin design+Neo QLED delivers incredible brightness+Impressive anti-glare abilities+New solar-chargeable remote
Reasons to avoid
-Visible blooming at times-Just one HDMI 2.1 port-No Dolby Vision support
The Samsung QN90A Neo QLED TV combines Samsung's highly refined quantum dot technology with the tight control of mini-LED backlighting, resulting in one of the best TV displays you'll ever see. Brilliant color and unmatched brightness make for superb performance, and Samsung pairs that with a bounty of smart TV functions and genuinely intelligent features, like a solar-powered remote control that eliminates the need to swap out batteries – delivering eco-friendly design and unbeaten convenience at the same time.
The whole thing is packed into a gorgeous 1-inch-thick design that contains a huge array of smart features, potent Dolby Atmos sound and some of the best performance we've ever seen. HDMI 2.1 connectivity comes standard, along with gamer-friendly features and impressive 12.6-millisecond lag time for an unparalleled gaming experience. It's easily one of the best 4K TVs you can buy, and Samsung's reminder to the whole TV industry of just who makes the best QLED TV.
Read our full Samsung QN90A Neo QLED TV review.
2. A great QLED model: Samsung Q80T QLED TV
The best basic QLED TV
Specifications
Available Screen Sizes: 50, 55, 65, 75, 85 inches
Screen Type: QLED
Refresh Rate: 120 Hz
HDMI ports: 4
Size: 48.3 x 27.8 x 2.1 inches
Weight: 39.5 pounds
Reasons to buy
+Rich colors and contrast+Object Tracking Sound works well+Impressive 4K upscaling+Tizen TV is as smart as it gets
Reasons to avoid
-No Dolby Vision support
Our favorite Samsung TV is the Q80T QLED. With the excellent color quality and HDR performance offered by QLED, it's a great looking TV, but it also offers impressive Object Tracking Sound, a powerful Quantum processor, and clever smart features. In addition to Samsung's Bixby voice assistant, the TV has Amazon Alexa and Google Assistant support built-in, along with a wide selection of apps and content.
And there's very little downside. Like other Samsung sets, there's no Dolby Vision support, but the Q80T manages to match the best aspects of Samsung's most premium 4K set -- it has everything the more expensive Samsung Q90T QLED has, except for the separate OneConnect Box for ports -- but saves you a couple hundred dollars without sacrificing the great quality of Samsung's best 4K sets.
Read our full Samsung Q80T QLED TV review.
3. Best 4K QLED value: Samsung Q70T
The best Samsung TV under $1,000
Specifications
Available Screen Sizes: 55, 65, 75, 82, 85 inches
Screen Type: QLED
Refresh Rate: 120 Hz
HDMI Ports: 4
Size: 48.4 x 27.8 x 2.3 inches
Weight: 35.7 pounds
Reasons to buy
+Affordable+Great QLED color+Has Bixby, Alexa and Google built in
Reasons to avoid
-No discrete dimming zones-No Dolby Vision support
For a more mid-range QLED option, we also like the Samsung Q70T, which starts at less than $1,000 for the 55-inch model. It also offers the majority of Samsung's excellent smart TV capabilities, including voice interaction with Bixby, Amazon Alexa and Google Assistant, as well as the full ecosystem of apps and smart home compatible control features.
But it doesn't have any discrete dimming zones, instead using Samsung's dual LED backlight, which lets the set alternate between warm and cool colored LED backlights. As a result, the contrast and the HDR performance are more muted than what you'll see on the more premium Q80T, but you'll pay a bit less.
Read our full Samsung Q70T QLED TV review.
4. Most affordable Samsung QLED: Samsung Q60T QLED TV
Cheapest Samsung QLED TV
Specifications
Available Screen Sizes: 43, 50, 55, 58, 65, 75, 85 inches
Screen type: QLED
Refresh rate: 60Hz
HDMI ports: 3
Size: 57.1 x 32.6 x 2.3 inches
Weight: 49.2 pounds
Reasons to buy
+Rich color and sharp details+Alexa and Bixby inside; works with Google Assistant+Lots of apps
Reasons to avoid
-Blurring during fast action-Limited viewing angle-Dimming at edges of screen
If you want the most affordable Samsung QLED TV, then you want the Samsung Q60T. With a budget-friendly price and a combination of smart capabilities and solid QLED performance, it's a great option for anyone that wants to get Samsung QLED quality without spending a lot.
Unfortunately the Q60T ditches the full-array backlight of the more expensive QLED models for Samsung's less impressive dual LED backlight, which resulted in lower brightness and some noticeable dimming around the edges of the screen. It also has fewer HDMI ports. That said, the Q60T may be the least impressive of Samsung's QLED offerings, but it proves that even a less impressive quantum-dot enhanced TV can out-perform the best budget LED TVs.
Read our full Samsung Q60T QLED TV review.
How much do Samsung TVs cost?
With so many TVs to choose from, there's no single price point for Samsung TVs. But that also means that there's probably a great Samsung TV that fits your budget, so long as you're willing to be flexible on features and screen size.
Top end 8K and Micro-LED models can range from a few thousand dollars up to the tens of thousands. But Samsung's 4K offerings are far more reasonable. The Samsung Neo QLED 4K TV line ranges between $1,599 for the smallest QN85A Neo QLED model, up to $4,999 for the 85-inch Samsung QN90A, the largest in the Neo QLED family.
Less expensive models without the mini-LED backlight that makes Neo QLED start for as little as $549 for the smallest 43-inch model and up to $3,699 for the largest 85-inch QLED model.
Check out the full Samsung 2021 TV lineup for more models and details on pricing and size options.
What is QLED?
Samsung's QLED branding is well known in the TV world, but what does it really mean? QLED is shorthand for the combination of quantum dot and LED backlight, pairing LED backlight with nano-scale crystals called quantum dots that respond to light by producing additional light within a certain range of the color spectrum.
By combining these different hues of quantum dots with the triggering effect of the backlight, Samsung is able to boost the color gamut and brightness of the TVs, offering a major improvement over traditional LCD panels with LED backlight.
Samsung isn't the only manufacturer using quantum-dots – these days, you can find some excellent QLED TVs from manufacturers like TCL, Vizio and Hisense. But Samsung has consistently offered the best implementation of QLED technology that we've seen, pairing it with refined backlighting control, filtering and other expert touches to deliver the best TV performance short of offering a more expensive OLED display.
Are Samsung 8K TVs worth buying?
Samsung's 8K TV selection is second to none, with multiple model lines delivering 8K picture quality at premium, mid-range and value priced tiers of affordability and features. While every 8K TV is more expensive than similarly-sized 4K models, Samsung's range of 8K QLED TVs offers choice premium features, a range of sizes and even some of the most affordable 8K options on the market.
But the bigger question is whether anyone should buy an 8K TV, and on that issue, we think the answer is no. Check out our article Should you buy an 8K TV in 2021? to learn more about the present state of 8K and why it's not worth buying yet.
How to choose the best Samsung TV for you
When it comes to picking a smart TV, choosing the right brand is only part of the process. Once you've settled on getting a Samsung TV, you'll still need to find the model that's best for you, offering the performance, features and price that meets your needs.
Thankfully, Samsung's QLED TVs offer clearly defined differences between the different model lines.
| Model | Features |
| --- | --- |
| QN90A Neo QLED | Mini-LED backlight, Quantum HDR 32x dynamic tone mapping, Object Tracking Sound, |
| QN85A Neo QLED | Mini-LED backlight, Quantum HDR 24x dynamic tone mapping, upfiring speakers |
| Q80A QLED | Full array backlight, Local dimming, Quantum HDR 12x dynamic tone-mapping, 120Hz refresh rate |
| Q70A QLED | Dual LED backlight, Edge lighting, Quantum HDR tone mapping, 120Hz refresh rate |
| Q60A QLED | Dual LED backlight, Edge lighting, 60Hz refresh rate |
From smart functions to port selection, we offer plenty of advice in our TV buying guide, which explains the ins and outs of features like HDR, different types of display, and even extended warranties. And if you still have questions about smart TV features and capabilities, check out Smart TVs: Everything you need to know.
For the best picture, we recommend getting a set that offers high dynamic range (HDR) support. HDR10 is the base standard, while Dolby Vision is a higher-caliber format. Samsung TVs, however, use Samsung's competing HDR10 Plus format, instead of Dolby Vision.
Port selection is another chief concern. More HDMI ports will let you connect more devices, like game consoles and satellite boxes. And if you have a soundbar, you'll want to connect it using an HDMI port with eARC.
According to our guide What size TV should you buy?, you'll want to position the TV roughly the same distance from the TV as the diagonal measurement of the screen size – 50 inches from a 50-inch TV, 65 inches from a 65-inch TV, and so on. So take the room and placement of the TV into account when settling on the best screen size.
Interested in a specific TV brand, price range or screen size? Check out our picks for the best TVs in each.
Best TVs | Best 4K TVs | Best smart TVs for streaming | Best TVs for gaming
The best TVs under $1000 | The best TVs under $500
Best TV brands | Best TCL TVs | Best LG TVs | Best Roku TVs | Best OLED TVs | Best QLED TVs | Best 8K TVs
The smallest smart TVs | Best 43-inch TVs | Best 50-inch TVs | Best 55-inch TVs | Best 65-inch TVs | Best 70-inch TVs | Best 75-inch TVs | Best 85-inch TVs
Brian Westover is an Editor at Tom's Guide, covering everything from TVs to the latest PCs. Prior to joining Tom's Guide, he wrote for TopTenReviews and PCMag.
Sours: https://www.tomsguide.com/best-picks/best-samsung-tvs
Samsung Q60A QLED TV Review (2021) – Entry-Level QLED
Samsung Q7FN 65" QLED 4K UHD Q HDR Elite Smart TV QN65Q7FNAFXZA
Feature
Type: Boundless 360 with Clean Back Finish
Screen Type: Flat Panel
Backlighting: Edge-lit LED
Design: Q Style - Slim
Bezel Width: 4 Bezel-less
Slim Type: Slim
Color: Eclipse Silver
Stand Type (Color): T-Center
4K Ultra HD Connected
Style: Flat Panel
Color: Q Color
HDR (High-Dynamic Range): Q HDR Elite
Picture Engine: Q Engine
Quantum Dot Color
UHD Upscaling
Depth Enhancing Technology: Contrast Enhancer
Dolby
Sound Output (RMS): 40W
Woofer
Speaker Type: 4.1CH
Multiroom Link
TV SoundConnect
Bluetooth Headset Support
Wi-Fi Direct
Smart Hub: Yes (incl. Sports, Music and TV Plus)
Processor: Quad-core
Apps Platform: Smart TV with Bixby Voice, Apps and Full Web Browser
Bixby
Digital Clean View
Auto Channel Search
Voice Interaction: Spanish, French
Auto Motion Plus
Ultra Black: Ultra Black Elite
Dimming Technology: Supreme UHD Dimming
ConnectShare
Embedded POP
OSD Language: English, Spanish, French
InstaPort S (HDMI Quick Switch)
Anynet+ (HDMI-CEC)
Closed Captioning
Electronic Program Guide (Channel Guide)
Game Mode: Yes (Auto Game Mode, Game Motion Plus)
Ambient Mode
USB HID Support
One Connect
Eco Sensor
Auto Power Off
Easy Pairing
TV to Mobile - Mirroring
Mobile to TV - Mirroring, DLNA
Sours: https://www.newegg.com/samsung-q-series-65/p/16C-0003-004M5R
Similar news:
As we head into the fall and winter of 2021, the high-end TV landscape is just as confusing to new buyers as ever. The best TVs arrive with a raft of technical-sounding features -- HDR, Ultra HD 4K, 120Hz and HDMI 2.1 -- floated by a stable of familiar brands competing for your dollar. Two of the biggest, Samsung and LG, use similar-sounding terms to describe their more-expensive models, but Samsung's QLED and LG's OLED are as different as day and night.
For the last few years, Samsung, the most popular TV-maker in the world, has been branding its TVs "QLED." Its 2021 QLED lineup is massive, with Neo QLED models in 4K and 8K resolution, The Frame art TV, Serif and the Sero rotating TV all bearing the ubiquitous Q. Meanwhile, LG's 2021 OLED TVs include six series, from the relatively affordable A1 to a model that rolls up like a poster and costs $100,000.
Get the CNET How To newsletter
Receive expert tips on using phones, computers, smart home gear and more. Delivered Tuesdays and Thursdays.
The OLED vs. QLED battle goes beyond Samsung and LG. TCL also brands its best TVs "QLED" and other brands beyond LG sell OLED TVs, namely Sony and Vizio.
So which one is better? In our side-by-side reviews of picture quality, OLED beats QLED every time. One example came when we compared the best 2021 LG OLED TV -- the LG G1 series -- against the best 2021 Samsung QLED TV, the QN90A series. The Samsung came closer than ever to OLED picture quality, but the LG OLED still won. Another recent example pitted a TCL 8K QLED TV against another LG OLED TV, the C1 series. Again, the OLED TV won. Here's why.
Now playing:Watch this: LG C1 OLED TV review: The high-end TV to beat in 2021
6:59
QLED vs. OLED: Quick summary of the TV technologies
Let's start with a quick breakdown.
OLED stands for "organic light emitting diode."
QLED (according to Samsung) stands for "quantum dot LED TV."
OLED is a fundamentally different technology from LCD, the major type of TV.
QLED is a variation of LED LCD, adding a quantum dot film to the LCD "sandwich."
OLED is "emissive," meaning the pixels emit their own light.
QLED, like LCD, is "transmissive" in its current form and relies on an LED backlight.
A QLED TV is just an LCD TV with quantum dots
The main takeaway is that QLED is closer to regular old LCD than it is to OLED, which I (and most other experts) consider a distinctly different class of television, much like plasma before it.
Now playing:Watch this: What is quantum dot?
2:46
Quantum dots are microscopic molecules that, when hit by light, emit their own differently colored light. In QLED TVs, the dots are contained in a film, and the light that hits them is provided by an LED backlight. That light then travels through a few other layers inside the TV, including a liquid crystal (LCD) layer, to create the picture. The light from the LED source is transmitted through the layers to the screen's surface, which is why we say it's "transmissive."
Samsung has been using quantum dots to augment its LCD TVs since 2015 and debuted the QLED TV branding in 2017. Samsung says those quantum dots have evolved over time -- that color and light output have improved, for example. In my experience however, improvements caused by better quantum dots are much less evident than those caused by other image quality factors (see below).
Other TV makers also use quantum dots in LCD TVs, including Vizio and Hisense, but don't call those sets QLED TVs.
An OLED TV is not an LCD TV at all
LCD is the dominant technology in flat-panel TVs and has been for a long time. It's cheaper than OLED, especially in larger sizes, and numerous panel-makers can manufacture it.
OLED is different because it doesn't use an LED backlight to produce light. Instead, light is produced by millions of individual OLED subpixels. The pixels themselves -- tiny dots that compose the image -- emit light, which is why it's called an "emissive" display technology. That difference leads to all kinds of picture quality effects, some of which favor LCD (and QLED), but most of which benefit OLED.
Aside from the US brands mentioned above, Panasonic, Philips, Grundig and others sell OLED TVs in Europe. All OLED TVs worldwide, including those in the US, use panels manufactured by LG Display.
Now playing:Watch this: Samsung QN90A Neo QLED TV: Brighter than OLED, but is...
8:51
QLED vs. OLED image quality, compared
Based on my reviews, here are some general comparisons I've made between the two.
QLED TV picture quality varies more than OLED

Samsung and TCL each have multiple QLED series and the most expensive perform a lot better than the cheaper ones. That's mainly because the biggest improvements in the picture quality of QLED sets don't have much to do with quantum dots. Instead they're the result of mini-LED backlights, better full-array local dimming, bright highlights and better viewing angles, which help them outperform QLED (and non-QLED) TVs that lack those extras.
Meanwhile, every OLED TV I've reviewed has very similar image quality -- all have earned a 10/10 in picture quality in my tests. There's some variation among different OLED TVs, for example the LG A1 with its 60Hz panel compared to 120Hz on other OLED TVs, but they're not nearly as significant as the differences between various QLED TV series. 
OLED has better contrast and black level
One of the most important image quality factors is black level, and their emissive nature means OLED TVs can turn unused pixels off completely, for literally infinite contrast. QLED/LCD TVs, even the best ones with the most effective full-array local dimming, let some light through, leading to more washed-out, grayer black levels and blooming around bright sections.
QLED is brighter
The brightest QLED and LCD TVs can get brighter than any OLED model, which is a particular advantage in bright rooms and with HDR content. In my tests, however, OLED TVs can still get plenty bright for most rooms, and their superior contrast still allows them to deliver a better overall HDR image than any QLED/LCD TV I've tested.
OLED has better uniformity and viewing angles
With LCD-based displays, different areas of the screen can appear brighter than others all the time, and backlight structure can also be seen in some content. Even the best LCDs also fade, lose contrast and become discolored when seen from seats other than the sweet spot directly in front of the screen. OLED TVs have almost perfectly uniform screens and maintain fidelity from all but the most extreme angles.
Resolution, color, video processing and other image quality factors are basically the same
Most QLED and OLED have the same resolution and 4K, and both can achieve 8K resolution too. Neither technology has major inherent advantages in color or video processing areas. Check out OLED vs. LCD for more details.
QLED can get bigger and smaller (and cheaper)
There are only six sizes of OLED TV on the market today.
OLED TV sizes
48-inch
55-inch
65-inch 
77-inch
83-inch 

88-inch
Meanwhile, as QLED TVs are LCDs they are able to be made in a much greater range of sizes. Non-QLED LCD TVs can get even smaller.
QLED TV sizes
32-inch 
43-inch
50-inch
55-inch
58-inch
65-inch
75-inch
82-inch
85-inch
98-inch 
One big advantage, so to speak, that QLED and LCD have over OLED is the cost of mainstream sizes over 65 inches. Large televisions are the fastest-growing segment of the market and show no signs of slowing down. 77-inch OLED TVs cost $3,000 and up, significantly more than most 75-inch QLED TVs, and in larger sizes the difference is even more drastic.
What about OLED burn-in?
Burn-in happens when a persistent part of the image onscreen -- navigation buttons on a phone or a channel logo, news ticker or a scoreboard on a TV, for example -- remains as a ghostly background no matter what else appears onscreen. All OLED screens can burn-in, and from everything I know, they're more susceptible than LCD displays, including QLED.
All things considered, however, burn-in shouldn't be a problem for most people. From all of the evidence we've seen, burn-in is typically caused by leaving a single, static image element, like a channel logo, onscreen for a very long time, repeatedly. That's an issue if you keep Fox News, ESPN or MSNBC onscreen for multiple hours every day and don't watch enough other programming, for example. But as long as you vary what's displayed, chances are you'll never experience burn-in.
Check out OLED screen burn-in: What you need to know for more.
Which is better in 2021 and beyond, QLED or OLED TVs?
As I mentioned above, when I pitted the best 2021 OLED against the best 2021 QLED, OLED still won -- just like it has in previous years.
What about the future? Samsung is actually working on an OLED TV of its own (again), investing $11.1 billion in new facilities to create "QD display" tech that's basically OLED with a different name -- and quantum dots, natch. Rumors pin 2022 as the earliest customers could buy one.
Separately, and further down the road, Samsung is researching direct-view quantum dot, which dispenses with the liquid crystal layers and uses quantum dots themselves as the light source. Emissive QLED TVs have the potential to match the absolute black levels and "infinite" contrast ratio of OLED, with better power efficiency, better color and more. That's pretty exciting, but it'll be a few years before we see emissive QLED TVs available for sale. Hopefully, by then they'll think up a new acronym (EQLEDs?).
And then there's MicroLED. It's another emissive technology, once again spearheaded by Samsung but also sold by LG, that's on sale now for the super rich -- the largest examples cost more than a million dollars. As you might guess from the name, it uses millions of teeny-tiny LEDs as pixels. MicroLED has the potential for the same perfect black levels as OLED, with no danger of burn-in. It can deliver higher brightness than any current display technology, wide-gamut excellent color and doesn't suffer the viewing angle and uniformity issues of LCD. It's also friggin' huge. It doesn't involve quantum dots, at least not yet, but who knows what might happen when it comes to market. QDMLED, anyone?
For now, however, OLED rules the picture quality roost over QLED. 
More TV advice
Sours: https://www.cnet.com/tech/home-entertainment/qled-vs-oled-samsung-and-lg-tv-technologies-explained/
4529
4530
4531
4532
4533