Characters / Berserk: Casca
BerserkMain Character Index
Guts | Griffith / Femto | Casca | Guts's Companions | Band of the Hawk | Kingdom of Midland | Antagonists (Godhand and Apostles) | Other Characters | Video Games
BEWARE OF UNMARKED SPOILERS!While we make an effort to cover some of the most important spoilers, we cannot guarantee that every potential spoiler will be hidden, or that those that are will be hidden consistently. Character bios in particular are likely to discuss late events in the manga. Lastly, some tropes are going to be spoilers because of their mere presence. You Have Been Warned!
---
Voiced by:Yuko Miyamura (Japanese, Berserk (1997), Sword of the Berserk: Guts' Rage, and Berserk: Millennium Falcon Hen Seima Senki no Shō), Toa Yukinari (Japanese, Berserk: The Golden Age Arc, Berserk (2016), and Berserk and the Band of the Hawk), Carrie Keranen (English, Berserk (1997) & Berserk: The Golden Age Arc), BJ Ward (English, Sword of the Berserk: Guts' Rage), Karen Strassman (English, Berserk (2016)), Carmen Ambrós (Spanish, Berserk (1997)), Marta Barbará (Spanish, Berserk: The Golden Age Arc)
Guidebook Stats:note As of Chapter of Elf Island Height: 165 cm (5 ft, 5 in); Weight: 50 kg (110 lb, 4 oz); Age: 24
"Everyone is weak. That's why we cling to one another, to our dreams."
Click
here
to see Casca's appearance after the Eclipse.
"I think that someone who wants to accomplish something grand endures that much more than other people [...] If he's going to sacrifice everything for his dream, if his dream is to fight and cut away his own path, then I want to be his sword."
The female lead of the story and one third of the three protagonists, that also includes Guts and Griffith, Casca first appears as a dark-skinned, tomboyish, and extremely capable Action Girl in charge of a large number of troops. Born into a poor peasant family with too many mouths to feed, she became Griffith's most devoted follower after he saved her from Attempted Rape at the age of twelve by throwing her his sword to defend herself with. For being a Consummate Professional as a leader and second only to Griffith at swordsmanship before the arrival of Guts, she is highly respected by her fellows among the Hawks and affectionately called "Big Sis."
At first Casca despises Guts and opposes his acceptance into the Band of the Hawk. She stops Corkus' attempt to murder him in his sleep, but claims that she's just following Griffith's orders and hopes he'll get himself killed in battle. Jealous that Griffith shows an immediate affection and trust toward Guts that he has never shown to anyone before—not even to her—she resents his rapid rise and claims that Guts' recklessness on the battlefield puts Griffith and all of the Hawks in danger. After three years of fighting with each other like cats and dogs, Guts and Casca finally develop respect for each other through an adventure that forces them to cooperate to survive, and from that point onward mutual attraction starts to grow between them despite her longstanding infatuation towards Griffith. As she comes to recognize the nature of her feelings toward Guts and the bond between the two men turns adversarial over Guts' intention to leave the Hawks, the relationship between the three of them grows very complicated.
Casca takes temporary command of the Hawks during Griffith's imprisonment by the King of Midland, and when Guts returns after a year's absence they officially become lovers. While they succeed in freeing Griffith, his crippled body means the Band of the Hawk is forced to disband. Faced with the prospect of having only Casca's pity and of losing Guts a second time, Griffith's despair activates the Crimson Behelit and sucks them all into the demonic feast known as the Eclipse. Casca and the rest of the Hawks are branded as sacrifices, and after her comrades have been eaten she is brutally raped by Griffith in his first act as the God Hand's fifth member, Femto. Although she and Guts survive due to the intervention of the Skull Knight, she becomes insane and mute after her horrific ordeal and behaves like a small child, with no recollection of her surroundings or her past with Guts. She also gives birth to a Fetus Terrible, the son she and Guts would have had were it not tainted by Femto's rape, which vanishes with the daylight but subsequently reappears throughout the story. Despite all that happened to her, she still sometimes shows glimpses of her former self, especially when put in mortal danger.
After the Eclipse, she is left in the care of fellow survivor Rickert at the home of the blacksmith Godo while Guts departs on a Roaring Rampage of Revenge against all Apostles and the God Hand. Returning to Godo's home two years later to find that Casca has wandered off and fallen into danger, Guts saves her from being burned as a witch during the mock Eclipse at the Tower of Punishment and vows to never leave her again. However, the strain of taking care of and protecting her by himself turns out to be too much for him, and the urging of the malevolent Beast of Darkness that grew inside him during his two year rampage leads him to nearly rape her. Fearing what he might do to her if he loses control again and recognizing that he has reached his limit, he decides to accept the help of a new group of companions to accompany them on their journey to Elfhelm, where the Flower Storm Monarch may have the power to restore Casca's mind. Farnese takes on the role of Casca's caretaker, and Casca herself becomes attached to a mysterious child who shows himself only on nights when the moon is full.
---
open/close all folders
Tropes A-D
Action Girl: Casca in her prime was acknowledged and demonstrated to be a better fighter than most men, and throughout the Golden Age arc she performs amazing feats of gymnastics, swordplay, and horsemanship. While the loss of her sanity took away her combat prowess, her old skills sometimes show through when she's in danger.
Affectionate Nickname:

All of her troops call her "Big Sis" because she's such A Mother to Her Men. In Japanese the word they use is "anego", the feminine form of "aniki" (Japanese for "big bro", a frequent term among Yakuzas ans street gangs).
After they become a couple, Guts sometimes referred to Casca as "boss."

All Amazons Want Hercules: Played with. Both the men she was attracted to were clearly stronger than her while she never thought of the local Nice Guy as anything more than a dear friend. But then again, it's not said men's brawn she was attracted to. It's more their morality, strength of character, determination and righteousness. The trope is then deconstructed with Griffith during the Eclipse; and then with Guts, for completelydifferent reasons.
Allergic to Evil: She bears the same brand of sacrifice as Guts and reacts just the same whenever an Apostle, Godhand or any other evil-aligned entity is nearby.
All Women Are Lustful: Averted; before her relationship with Guts, she never pursued sex actively. She was also more nervous than Guts during Their First Time. Considering just how many guys tried to have their way with her without her consent before, it's understandable that she might not feel completely at ease with the idea of lovemaking. That doesn't make her a prude, however: see below.
All Women Are Prudes: Averted just as much as All Women Are Lustful. She wasn't shy to admit that she enjoyed her first time with Guts, who she's in love with, and seemed like she was getting more comfortable with their physical relationship before the Eclipse traumatized her. She also had to take the initiative when Guts had traumatic flashback of his own during their night together.
Amazonian Beauty: She comments on how she's embarrassed to wear a revealing dress because of how unusually muscled she is for a woman, and also expresses shyness about her muscles and scars when she and Guts make love. In both situations, Guts assures Casca that he likes these physical aspects about her and thinks she's a true beauty.
Ambiguously Brown: Casca has dark brown skin and black hair, but the way she's drawn makes it hard to tell what real life ethnicity she might resemble. Some fans think she's equivalent to a North African (akin to medieval Moors, also drawing evidence from her name), some think she's Kushan (which seems to be based on Middle Eastern and South Asian peoples), and still others propose some other ethnicity or a mixture of two or more. Her race is even harder to guess in the movies and in Berserk (2016) where she has lighter brown skin and dark brown hair.
Am I Just a Toy to You?: She accuses Guts of this when he announced that he was going to leave the Hawks again after having just slept with her for the first time. Truthfully, she was angry at both Guts and Griffith for taking her for granted in different ways. Guts responds by clarifying that he wants her to come with him after they rescue Griffith, because he wants to do everything together with her from now on.
Amnesiac Lover: Ever since she was driven insane as a result of the Eclipse's horrible events, Casca became unable to remember her past, including her relationship with Guts.
Animal Lover: In the movie adaptation, she seems rather affectionate toward the horses. She gut punched Guts twice for inadvertently killing her horse by chopping off its leg during their first encounter. She's also seen playing with animals a lot more after she became insane.
Apathetic Citizens: She grew up in a community that was constantly hungry and oppressed with no one to protect their rights. Before she met Griffith, she was just as pessimistic as the rest of them, believing she was powerless to resist her lot in life.
Armor-Piercing Slap: More like an armor piercing punch, though the words that followed stung Guts more than the actual physical punch.
Attack Its Weak Point: While she is not a powerhouse fighter and relies a lot on her flexibility and maneuvering during battle, it's implied that Casca has keen-enough knowledge on the human body and strikes for vital arteries and joints in order to either incapacitate or land a fatal blow on her enemies.
Attempted Rape: She NEVER catches a break from this even though she could fight off most sexual assaults.

In the manga, Wyald catches her and strips her naked, but is stopped from going any further when Guts intervenes.
In a nasty case of foreshadowing, when Griffith — who has been crippled — sees that Casca and Guts have hooked up, he tries to force himself on her in a fit of jealousy and despair. All he can do is push her over and ineffectually flop on top of her, and this invokes pity from her rather than disgust.
During the Eclipse, Casca is captured and stripped by a bunch of Apostles, one of which prepares to impale her on its horn in front of a restrained Guts. Griffith, in the form of Femto, puts a stop to the attempt, only so that he can rape her himself.
When taken to the heretical cult outside St. Albion, Casca is almost raped by the Great Goat, but is once again rescued by Guts.
After wandering away from Guts, Casca stumbles across three bandits who try to rape her. This triggers a flashback to the Eclipse and she kills them all.

Ax-Crazy: Even Casca has a bit of this in her - justifiably when she is actually insane. When three bandits tried to gang rape her, Casca's response was to pick up one of their swords and slash all of their throats, covering herself in their blood in an almost sexualized display. When Guts reaches the scene, she spots her next target.
Badass Normal: Casca was a pretty impressive force to reckon with during the Golden Age. Not on the same league as Guts or Griffith, but it still took some serious ovarian badassery to be the only woman in a troop of fight-happy mercenaries She led her own platoon, got directly involved in physical action during battles, and assumed command when the leader of the whole band was away. The Hawks noted that in terms of sword-fighting skill, Casca was second only to Griffith (at least until Guts came and eventually surpassed them both), dispatching dozens of enemy goons with her blade throughout the Hawks' various skirmishes. Needless to say, her post-Eclipse self bears none of her former glory...
Bandaged Face: Recognizing during the Conviction Arc that "Elaine" is So Beautiful, It's a Curse, Luca disguises her as a syphilis victim by wrapping her face in bandages in order to draw male attention away from her.
Bathing Beauty: Out of all (female) characters presented, Casca is seen bathing the most, more so post-Eclipse, and appears to thoroughly enjoy it.
Battle Couple: Her relationship with Guts started to grow after they fought back to back against Adon's hundred mercenaries, and they became an official couple in volume 9. During the episodes leading up to the Eclipse they cooperated to free Griffith, facing the Midland Army, Bakiraka Assasins, and the Black Dog Knights as both lovers and comrades in arms.
Beautiful All Along: Guts, we'll never let you forget the goofy face you made when you noticed Casca's beauty during the victory ball. Most of the time she dresses in men's clothing and doesn't have the time to make herself look feminine, but she's a first-class beauty and it really shows when she arranges her hair and wears an elegant gown and accessories.
Belated Love Epiphany: She realized that she was in love with Guts after he left the Band of the Hawk, but still didn't want to accept her feelings due to her pride as a soldier under Griffith.
Belligerent Sexual Tension: The usual dynamics between her and Guts pre-Eclipse.
Berserker Tears: Cries tears of pain and rage during her last stand against the Apostles who killed her comrades during the Eclipse.
Big "NO!": When Wyald brings out his...eeeeh...tongue?
Big Ol' Eyebrows: A feminine example. Compared to other female characters in the series, Casca's eyebrows are much thicker, especially in the manga and 90s anime.
Big "SHUT UP!": When the Hawks first find themselves in the Eclipse and Corkus is losing his head, Casca gives him a big "SHUT UP!!!" and tells everybody to get a hold of themselves.
Blank White Eyes: Casca has a badass yet disturbing scene where she has these after slaying three men who tried to gang rape her in a moment of Ax-Crazy brought on by her traumatic memories.
Blonde, Brunette, Redhead: The brunette to Luca's redhead and Nina's blonde during their time together.
Boyish Short Hair: Before the Eclipse she wears her short and acts like a tomboy. After it her hair grows long, as she is no longer the Action Girl she used to be. She gets it trimmed after regaining her sanity.
Break the Cutie: The Eclipse, no doubt, where she's branded for sacrifice, loses everyone in the Hawks to a whole mess of demons summoned by the evil Godhand, gets stripped naked and almost tentacle raped by demons, and then gets brutally raped by her former commander turned demon king (and who, because of said newly-born demon king status, is inflicting utterly excruciating agony on her through her Brand all the while that he's doing this to her), right in front of the man she loves.
Broken Bird: Oh yes. Casca showed signs of this before the eclipse and will definitely become a completely broken one in the event that she regains her sanity.
Broken Heel: Happens a lot when she becomes a damsel. Even before that, this deconstructs her combat style as a Fragile Speedster, since one trip and Casca goes down.
Burn the Witch!: Narrowly escaped this during the Conviction Arc thanks to Isidro's Indy Ploy.
But Not Too Black: Dark-skinned and Ambiguously Brown Casca is portrayed with significantly lighter skin and hair in the later animated adaptations. Berserk: The Golden Age Arc makes her more of a light tan compared to the medium brown she was in the manga and the '97 show, which some of fans who appreciated the unique appearance Miura originally gave her were very unhappy about. At first it seemed like Berserk (2016) made her skin almost as white as Guts, which created a similar uproar, but this turned out to be largely caused by the high contrast visual effects applied to the flashbacks. In normal lighting she looks about the same shade as in the Golden Age movies, albeit with more reddish-brown hair as opposed to dark brown hair in the movies and black hair in the manga and '97 anime.
Call-Back: The picture at the end of Chapter 354 is very similar to the cover of the "End of the Nightmare" chapter that takes place right after the Eclipse and in which Guts wakes up in the Elf Cave were he and Casca would stay up until he goes on his Roaring Rampage of Revenge. Where Casca was once shown smiling serenely in a white tunic and short hair, she now looks serious and wears a brown robe and long hair.
Came Back Wrong: Implied but also Downplayed. While Casca does come back to her senses full force, is still very much in love with Guts and demonstrated that she's still a capable fighter despite the years gone by, during Farnese and Schierke's quest to piece back together Casca's mind and soul, when they find her heart, it has the shape of the demon fetus, initially. The fetus is surrounded by forbidding black brambles and when it shapes into Casca's missing heart, the brambles still surround it, which Schierke immediately identifies as a hex on Casca's soul. Schierke then has little time to realize that the pain Casca endured during the Eclipse was simply too much for her and that coming back to her senses won't guarantee that she will be able to do away with that pain.
Chastity Dagger: Improvises one from a sharp stick by stabbing out the eye of a Tudor mercenary who attempts to rape her.
Chuck Cunningham Syndrome: The 1997 anime shows her rape by Femto in the Eclipse and then the story abruptly concludes with Guts girding on the Dragonslayer, leaving no indication of if she survived or what happened to her.
Clothing Damage: Frequently the victim of attacks that tear off parts of her clothing and armor, usually the direct result of would-be rapists trying to get her naked. Perhaps the most notable example was when Wyald stripped off her armor and tore her clothing practically to rags. While her body is indeed attractive, the context of sexual assault makes it Fan Disservice and Played for Drama.
Commanding Coolness: In the official translation her rank in the Band of the Hawk is Commander. "Commander Casca" has such a nice ring to it.
Consummate Professional: Was very much this when she was first introduced. Some of her sternness melts away after she reveals her Dark and Troubled Past but still successfully avoids going into Chickification territory.
Cosmic Plaything: Literally, and not funny. Seriously, you begin to believe Casca has an invisible "Rape me!"-sign glued to her forehead.
Covered with Scars: Though not to the degree of Guts, Casca has her share of battle scars, the most prominent being the five arrow wounds that she got when she led the Band of the Hawk away from the Midland army during her Moment of Awesome. Although she is embarrassed to show them during her and Guts' love scene, it's implied that Guts finds them attractive.
Cradle of Loneliness: After Guts' departure, Casca is seen holding the broken hilt of the sword that Guts used in the Battle of Doldrey.
Crouching Moron, Hidden Badass: Post-Eclipse, she mostly acts like an infant barely aware of her surroundings. At times, however, some of her previously badass traits briefly bubble to the surface.
Cry Cute: While she has a tough exterior and is something of a Tsundere, those occasions when Casca cries show her sensitive, vulnerable side. This has the effect of making her more sympathetic to both Guts and the audience, and revealing previously unknown Hidden Depths to her personality.
Cute Mute: As part of her status as The Ophelia. Now, she can only convey her emotions (which are really only limited to fear, anger, and happiness) through babbling and screaming like a two year old.
Damsel in Distress: After the Eclipse and she is reduced to the mindstead of a two year old, Casca needs constant babysitting so she won't get into trouble. Most prominent instance was when Guts had to save her from being burned at the stake as a witch in St. Albion, but usually it's from lecherous men who want to rape her.
Damsel out of Distress: Despite constantly putting herself in danger because of her unfortunate post-Eclipse condition, Casca still has her moments. Like when she showed her former self by killing three would-be rapists. She's still got it!
Deconstructed Character Archetype: Of the Action Girl. She's one of the best swordfighters in the world, but she still has her period every month which tends to take off her edge when it doesn't incapacitate her, her body is bristling with muscle and covered in scars (much to her chagrin) and being a female fighter in a brutal medieval world makes her a target for misogynists and would-be rapists. Even to a tough woman like her, it takes its toll: she eventually ends up permanently broken and insane after Griffith rapes her.
Deer in the Headlights: After Judeau dies protecting her Casca makes one final stand against the apostles who have surrounded her, screaming in a fit of rage with a sword in hand. However, the apostles easily break her sword, leaving Casca utterly defenseless against them as they discussed how they were planning on doing more to her than just eat her. All Casca can do at this point is stand petrified and cry as she hoped against hope that Guts would come and save her as the apostles grab and assault her.
Defrosting Ice Queen: The beginning of the series presents Casca as a distant, always serious, aloof, even cold young woman who seems to utterly hate Guts, and only shows genuine affection toward Griffith. After she and Guts's time being stranded together and learning that they weren't so different - with the big bonus of Guts saving her life twice - Casca finally begins to warm up to Guts, which leads to her acting a bit more girlish, open, and sensitive to others (Judeau even remarks happily how Casca started acting like "a real girl" after she was stranded with Guts, since her profession really doesn't allow her to), and eventually, she falls in love with Guts.
Does Not Like Men: Especially so right after the Eclipse, and for obviously understandable reason. Casca reacted very badly when Guts tried to touch her after waking up, and was implied that she acted the same way toward Rickert. After the time skip, like a lot of her trauma-induced reactions, Casca tends to react violently towards men who want to have sex with her, like the unfortunate case with she and Guts at the time.
Dub Name Change: The '97 anime's Spanish dub changed her name to "Kyasca," just like the Japanese spelling, perhaps to avoid the implications of how "Casca" would sound in Spanish (see Meaningful Name).
Dude Magnet: Casca, like Guts, has no problem with attracting members of the opposite sex (just look at her work at that ball!). However, she has this unfortunate habit of attracting the wrong sort of guy most of the time.
Dumb Struck: Although she survives the Eclipse, what she witnessed back then and her brutal rape at Femto's hands made her lose her ability to speak.
Dude, Where's My Respect?: Casca is implied to have some of these sentiments with shades of Am I Just a Toy to You? when Guts talks about leaving the Hawks again, saying that Guts and Griffith aren't that different when it comes to their goals and dreams at the expense of her feelings and well being. Her feelings of mistreatment are pretty understandable considering that she had been suffering from major Heroic Fatigue for the last year, trying to keep the Hawks together during Guts' and Griffith's absence. She asks for very little in return, only some emotional reassurance from the two men that she holds dearest to her.
Tropes E-L
Ethereal White Dress: Deconstructed in the Retribution Arc. Casca was wearing a white shift throughout this arc, and although she is not evil, the nature of her insanity as well as the brand that attracts ghosts and demons to her drew suspicious attention to her that accumulated to accusations of her being a witch. This led to an all out witch hunt coming from the pagans who wanted to claim her AND the church who wanted to burn her. Luckily, her knight in shining black armor came to her rescue.
Even the Girls Want Her: She has many squeeing fangirls in the victory parade after the battle for Doldrey.
Expository Hairstyle Change

Used to have short, tomboyish hair. After the events of the Eclipse, her hair began growing out while in her role as The Ophelia.
After her memories return, she asks Danaan to cut her hair short again.

Fan Disservice: Casca is beautiful and has an attractive figure, so it's not unnatural to appreciate her in the nude. Having said that, there are many scenes of her in a naked state where she's being assaulted or is going through emotional trauma, in which the audience is supposed to be feeling sympathy for her and horror at her predicament instead of objectifying her body.
Fatal Flaw: Casca's Fatal Flaw was the combination of her loyalty toward Griffith, her dutiful and self-sacrificing nature, and the conflict that those first two created with the fact that her true romantic feelings were towards Guts. Even though she was forced to realize how physically disabled Griffith was by his torture, and knew how much Guts' departure had devastated him, she either ignored or failed to see the warning signs of how Griffith's feelings of despair, jealousy, and spite were metastasizing into something dangerous. Griffith had always been the savior from her childhood, and even though she later learned of his human weakness she never could have imagined him turning on her and Guts. When Griffith made an unwanted advance on her while she was changing his bandages—essentially Attempted Rape if not for his physical disability—she was devastated but couldn't admit to herself or to Guts that that's what had just happened. Instead of reacting with anger, she gave Griffith what he wanted least: pity. Casca decided to stay with Griffith, but Griffith would always know that she did it out of pity and would never love him the way that she loved Guts. Worse, she told Guts to leave when she knew that he was the person that Griffith most cared about, because she didn't want Guts to give up his dream for the sake of her and Griffith, and felt intense guilt for not staying at Guts' side like they'd promised as lovers. In order not to have made that mistake, she would have had to not be Casca anymore, since her tragic mistake was something she did out of her noble but flawed sense of self-denial and obligation.
Femininity Failure: Our dear Casca, proper young ladies do not use their elbows to punch their male escorts in the face, no matter how much they're gawking at you.
Forced to Watch: Doesn't only happen to Guts during the Eclipse, but Femto humiliates Casca to a very savage degree by turning her around to rape her from behind so that she now has to face Guts while having all of this done to her. One could argue that being forced to stare at the man she loved while being humiliated in such a cruel and dehumanizing way is what pushed Casca over her psychological threshold.

The fact that she was forced to watch Guts being physically tortured as well probably didn't help; by this point Guts had already lost his arm and was in the process of having his eye clawed out.

Forgotten Fallen Friend: She was this to Guts during his raging revenge years, but more of on the emotionally forgotten level.
Fragile Speedster: Her combat style involves speed and acrobatics to keep her out of harm's way, as she is lightly armored in cuirass and leather as opposed to Guts' and Pippin's heavier armor or Griffith's three-quarter plate.
From Dress to Dressing: When she catches up to Guts outside Promrose hall, where he was looking for Griffith, Casca notices his arm is wounded and borrows his dagger so she can cut a bandage out of her sleeve. Casca had acted very hostile toward Guts up to this point, making this the first indication that she's kinder than she lets on. For extra symbolism, she ties it around his upper arm, where a knight would traditionally display his lady's favor.
Full-Frontal Assault: Casca has gotten a lot of Clothing Damage from enemies who had wanted to rape her... But it's been shown that she still won't back down given the conditions. One instance was when Guts saved Casca from Wyald after he ripped her clothes off, but she still assumed fighting position after the fact and was actually told by Guts to get out of there. Another one came when some bandits attempted to rape her and stripped her, but she killed them all single-handed.
Funny Background Event: Too many to list. As tragic as her condition is, her madness isPlayed for Laughs at times, as she can frequently be seen playing with or nibbling on things that interest her in the background, like pearls, sausage links, a torturer's mask, and Puck.
Gainaxing: One time. Guess when... Another trope destroyed.
Gaussian Girl: Used on her briefly during she and Guts' love scene in the 1997-98 anime, soft romantic music and all.
Go Mad from the Revelation: As a result of the horrible events of the Eclipse, her mind is now reduced to little more than a two-year old child's.
Go Out with a Smile: Used during the Eclipse in the third film. Similar to last words in that Casca didn't die, but she manages to muster up one last smile for Guts as she tells him not to watch Femto rape her.
Green-Eyed Monster: The main source of her hostility toward Guts at first is that she thinks he doesn't deserve Griffith's preferential treatment, especially when she never got that kind of acknowledgement even after years of loyal service. At the same time, she feels jealous toward Princess Charlotte for being the object of Griffith's wooing. In the first case, she stops resenting Guts after the hundred man fight. Regarding the second, she acknowledges and feels bad about her jealousy after getting to know Charlotte better, saying that it's hard to hate someone who's so kind and considerate toward her.
The Heart: In Guts' new Five-Man Band, Casca is the one that everyone in the group is willing to protect. The whole reason why Guts formed the group in the first place was so he could have more people to watch over her and to get her safely to Elfheim.
Heroic Fatigue: A year's worth of evading capture and trying to keep the Hawks alive while also coming to terms with the fact that she had no place by Griffith's side began to eat away at Casca's sense of self-worth, and she almost attempted suicide because of it.
Heroic Self-Deprecation: Casca is perfectly capable of commanding an army by herself. She has proven it time and time again. But due to seeing herself as Never a Self-Made Woman, she has essentially zero self-esteem. And she doesn't even realize it...
Hero's Muse: If we looked at this from a Joseph Campbell perspective, Casca is this to Guts, as she is the one that he loves the most and is the drive of his adventure. Due to the nature of her predicament, he can't be with her until he has completed his current quest (getting to Elfheim to find a cure for her insanity), but she is at his side throughout his journey. And although they might not have the best relationship right now, Casca's presence serves as a reminder to Guts of what he has to gain if he completes his quest and what he doesn't want to lose. Though Casca is a human character with her share of flaws, whenever Guts envisions her, it's an image of Casca at her pinnacle, back when she was commander of the Band of the Hawk.
Hero-Worshipper: According to Judeau, she took Griffith's word as gospel and was prepared to sacrifice her life for his dream. To this very day she is picking crow out of her teeth.
How Dare You Die on Me!: In the Eclipse she urges mortally wounded Judeau to hang on, saying he can't give up when they promised they'd fight to the very end. He already knows it's too late, and barely has time for some last words before he dies.
Hysterical Woman: Justified and deconstructed, as it highlights another consequence of Casca's rape trauma after the Eclipse. Casca was mentally traumatized to the point where she was reduced to an infantile, almost animalistic state of mind. Therefore, Casca really has no logical drive and relies on her instincts to protect herself, so when someone poses a threat to her, she reacts violently. After Guts almost rapes her but ends up biting her instead, Casca's natural reaction is to stay far away from him at any means necessary (even jumping off a ledge) and to growl whenever he comes into her vicinity. This has taken its emotional toll on Guts, who is truly ashamed at what he did to her but desperately yearns for her emotional and physical affection. Making the situation worse, his nasty Enemy Withinwants Guts to rape and kill her. However, some characters (like Farnese) don't understand the extent of Casca's condition or backstory and think that her current behavior toward Guts is idiotic, irrational, and selfish.
I Can't Dance: During the ball, Guts makes the suggestion that Casca ask Griffith to dance with her, but she shyly declines, insisting that she would step on his feet. Averted in the new movie, where they share a beautifully-animated dance scene.
I Just Want to Be Loved: For a long time, everything Casca did for Griffith was with the hope that he would come to appreciate her and love her for her efforts. However, Casca eventually came to realize and accept that she would never get the kind of love she wished for from Griffith. At the end of volume 9, Casca resolved within herself that her purpose was to love Guts and to be within his heart, and that he too would love her in return.
The Immodest Orgasm:

Played straight during her love scene with Guts, when it's made clear she was experiencing intense pleasure.
Played for Fan Disserviceduring the Eclipse, where it's unclear whether she's crying out from this or in pain.

Important Haircut: Played straight and then inverted. As a child, she kept her hair long. But after joining the Band of the Hawk, she chose to cut it short—a pragmatic move, considering how enemies could easily grab her long locks and subdue her. As the series goes on, we see her hair subtly grow longer again by the time she and Guts affirm their relationship as lovers. Once the Eclipse happens, it eventually reaches all the way down to her shoulders, reflecting how she's gone back to a childlike mental state. After regaining her sanity, one of the first things she does is cut her hair down to its pre-Eclipse length.
Impossibly Cool Clothes: At first glance thigh-high leather boots don't seem too inconvenient to wear... 'cept when you actually want to run away from your enemies or do cool flips and stuff. Basically, they're mostly there to make Cascalook good. However, such boots were indeed used back in the days, especially for horseriding.
Innocent Fanservice Girl: Deconstructed. Casca's post-Eclipse behavior has become an issue for Guts, who is still sexually attracted to Casca and he really wants her emotional and physical love. Guts has had to restrain himself whenever he saw Casca partially or entirely nude. But one time, it went too far.
The Insomniac: Another deconstructed trope used to tell us just how severe her trauma was after the Eclipse. Casca showed some signs of sleep deprivation after the Eclipse, namely the dark bags under her eyes. Even two years later, Erika remarked that Casca had trouble sleeping (though her confinement could have also played a role) and that was why she took Casca out of the elf mine in the first place. This is the realistic insomniac example, since many rape survivors have trouble sleeping after their attack.

Played straight at the beginning of Griffith's rescue. Casca is clearly sleep deprived and falls asleep in her dinner.

Interrupted Suicide: Believing herself to be of no use to the Hawks any longer, Casca tried to end it all by taking a step off of a cliff. Guts was there to save her, though.
Intimate Healing: Casca was forced by Griffith to lay with Guts for two days after he fell ill, which leads to a great deal of resentment on her part for much of the series.
I Owe You My Life: Explains Casca's radical commitment to Griffith, since he saved her from a life of servitude and prostitution and gave her a new one, transforming her into a woman who could fend for herself and didn't need a man to define her. Well, initially.
Lady of War: A downplayed case before the Eclipse, being a Tomboy with a Girly Streak. She acts tough, has short hair, and wears male clothing, but she also uses a lighter sword and armor with subtle touches of femininity in their design, enabling her to fight more gracefully than her male comrades using nimble flips and somersaults.
Law of Inverse Fertility: She didn't even think about the possibility of getting knocked up when she had sex with Guts just once. The pregnancy was not coincidental at all and influenced the fate of the universe.
Like an Old Married Couple: She and Guts begin acting like this toward one another throughout the Griffith rescue operation.
Little "No": She tries to scream a Big "NO!" during the Eclipse, but by then she no longer has enough strength in her to raise the volume above a soft whimpering.
Living Emotional Crutch: She becomes this to Guts after he told her of his traumatic childhood. She becomes Guts' full-blown Morality Chain post-Eclipse. She had shades of this when it came to her relationship with Griffith as well.
Living MacGuffin: Hard to believe that Casca was this in the Retribution arc. Throughout the entire storyline, Guts is running all over the place trying to rescue her, but each time he almost reaches her, she either wanders off or somebody takes her. Guts is finally reunited with Casca at the end of the arc.
Loving a Shadow: Casca came to greatly admire Griffith after he gave her the means to fight for her life on her own terms, allowing her to realize her own value in the face of a Crapsack World that encouraged her to be nothing more than "just" a village girl.
The Lost Lenore: She is this to Guts big time. Casca did not die but was "lost" via a brutal Stuffed into the Fridge scenario that ended with her being psychologically gone, unable to remember Guts or have an actual loving relationship with him. Though Casca serves as Guts' primary source of anguish and vengeance, she is also his one sign of hope since Guts' central drive in the story since the Retribution Arc has been to protect Casca and find a cure for her insanity.
Luminescent Blush: When she and Guts have a Relationship Upgrade after their encounter with Adon, she gets these more and more around Guts... They reach their full luminance in volumes 9 and 10.

The movies reveal that Casca has a rather bashful side in general, as she is blushing when the Hawks are on parade through the streets of Wyndam and the women and children are congratulating her for their victory at Doldrey. It goes to show that despite her demeanor, Casca likes being appreciated.
Tropes M-R
Madwoman in the Attic: For her own safety, Casca is locked in a mine that was once inhabited by elves in order to protect her from those who want to harm her while Guts is off seeking Revenge.
Male Gaze: Many, many panels seem to be focused on Casca's backside, clothed or bare. Like you haven't noticed.
Mama Bear: Although her insanity causes her to act like a child herself, Casca does act fiercely protective of the Child, first acting out against his own father when Guts tried to off him.
Massive Numbered Siblings: As mentioned in her backstory, Casca was the youngest of six siblings. Her family upbringing actually serves as a deconstruction for a couple of reasons. From an economic standpoint, her childhood wasn't great, since her family lived in poverty and neighboring villagers often died of starvation due to her province's bouts of famine. Casca herself said it was surprising that no one in her family died of starvation, but it begs to question how long her parents could have continued to feed their brood. Being the youngest child - and also a girl - this most likely prompted her parents to sell her to a passing nobleman as a "servant."
Master Swordswoman: Except for Guts and Griffith, Casca is the best fencer in the Band of the Hawk. Her sword technique is made even deadlier by her impressive speed and acrobatic prowess. Even in her current state she's very dangerous if she has a blade in hand. Unfortunately, she's just as much a danger to herself and her allies as she is to her opponents.
Maternally Challenged: Averted. Given her current state AND the fact that she probably never had to take care of kids in her pre-Eclipse life, Casca carries herself very well when taking care of the Child. She even mimics Farnese's feeding routine in order to feed the little boy.
Meaningful Name:

In Portuguese, "casca" means "shell," either referencing how she shelled her fragile side away behind an icy persona, how she might have purposefully hid her true self after the trauma she sustained from the Eclipse, or generally how her present form is but a hollow shell of her former self.
In Spanish, disturbingly enough, "casca" is the imperative mood of a verb meaning both "cracking" and "kicking the bucket." Once you read Casca's biography, it starts making sense.

Mental World: When accessing Casca's dreams, Schierke and Farnese are treated to a comical, cartoony landscape... until they dig a little deeper. Casca's true mental world is a desolate wasteland resembling the Eclipse, where Guts — in the form of a maimed hound — drags a massive coffin containing a shattered doll bearing Casca's likeness. Living inside the ruins of the doll is a tiny childish sprite, even smaller than Puck and Ivalera, representing the last remnants of Casca's psyche. Schierke and Farnese help piece together the fragments of the doll, viewing Casca's important memories leading up to the Eclipse, fighting the manifestations of her psychological traumas.
Messy Hair: Casca's long locks are often disheveled - since she can't exactly take care of it herself - but it only adds to her post-Eclipse beauty. She cuts it off after regaining her sanity, going for her more iconic look.
The Modest Orgasm: In the third film Casca sheds tears when she and Guts climax. She's much more modest than Charlotte was in the previous film.

That's only in the Japanese dub, to be honest. In the English dub, Casca is much more vocal in that you can actually hear her sigh in pleasure with Guts when they climax, which serves to make the scene a lot more emotional, though still keeping it on a toned-down level when compared to Charlotte.

Mood-Swinger: Like other anime tsunderes, Casca can be quite temperamental. A clear example is when Guts manages to rescue her from drowning in a river during a battle against Chuder forces—she goes from wanting to kill him to recounting her induction into the Hawks to breaking down in tears in admission of her jealousy of himwinning Griffith's "affections". Arguably, this can be considered a more natural rendition of the typical Mood-Swinger tropes associated with tsunderes, as Casca spent her adolescent years with the Hawks—she kept her femininity under wraps to better serve Griffith as his soldier. And is it any surprise that the only one she ends up so emotional around is Guts, the guy who throws all her feelings out of whack just by being around her?
Morality Chain: What she is to Guts, especially when it comes to fighting off his Superpowered Evil Side.
A Mother to Her Men: Plays this straight after she became the head of the Hawks after Griffith's arrest. Her main goal was keeping the Hawks alive and to save Griffith from prison.
Ms. Fanservice: Casca is the most prominent attractive female character throughout the Golden Age Arc, and continues to be to a large extent afterwards. Although sensibly dressed, her outfit with tall boots does show off her legs, and through various situations and contrivances she is depicted naked a lot. Granted, a lot of those are rape attempts played for Fan Disservice, but the same cannot be said for her love scene with Guts or the more playful scenes of her bathing with Farnese in later episodes.
Muscle Angst: Too much muscle scenario. Casca was embarrassed by the gown that she was wearing at Griffith's gala and was afraid that she was seen as unattractive because of her muscle gain. However, seeing the reaction of the many guys present at the ball - especially Guts himself - this was definitely NOT true.
Near-Rape Experience: Early in the Millennium Falcon arc, Guts temporarily loses control to the Beast of Darkness inside him and sexually assaults Casca, but he regains his senses just in time to stop himself from raping her. The consequences are still very serious, as he blames himself for what he did to her under the influence, and it makes Casca refuse to trust him near her anymore.
Neutral Female: Justified and played for drama at the end of volume 8, when Casca tries to intervene between the impending fight between Guts and Griffith, but Judeau and Pippin pull her away, telling her that this is something that the two men have tosettle as mercenaries.

In fact, this trope was played when the three of them meet together for the second time, but Casca was much more willing to let them settle the score (she was rooting for Griffith back then). It's anything but ironic.

Never-Forgotten Skill: Episode 359 shows that Casca's skills as a warrior has not atrophied even after years of insanity.
Never a Self-Made Woman: Lampshaded by Casca herself. She got where she is now because she met Griffith and was loved by Guts. Without either of them, her life is purposeless and she is nothing by herself, something she acknowledges during her heart-to-heart with Guts after he comes back from his time out.

And yet it is also averted, because after Griffith got imprisoned and Guts left she lead and kept the Band of the Hawk completely on her own and was uninamously accepted as the rightful leader. Neither men helped one bit in this. If she doesn't have Griffith's leadership skills or Guts' inhuman battle progress she won several victories for the Hawks on the Golden Age arc. If anything she was Overshadowed by Awesome at that point, and she still had her merits. How capable she was only works for making her state post-Eclipse sadder.

Nominal Hero: Casca's a strong-willed, passionate, emotional woman who deeply cares for the lives of her comrades and friends. However, during the Golden Age arc, it should be noted that she is still a mercenary. She's hardly interested in ending the war between Midland and Tudor, and serves Griffith more because of her feelings towards him. No different from the rest of the cast, though, of course.
No Periods, Period: Subverted. She once tried to fight during her period and had a very hard time keeping it up because of this and a developing fever.
Number Two: Second only to Griffith in the Band of the Hawk's ranks, at least before Guts arrived and gained similar status, she continued to be the main executive officer in the chain of command and took over leadership when Griffith got arrested.
Official Couple: Casca and Guts are the most prominent characters in a romantic relationship, and their star-crossed love is at the center of the story.
Older Than She Looks: Around the same age as Guts, though after the Eclipse and she regresses to the behavior of a child, Casca does appear much younger, especially with the hairdo. Guts himself has become increasingly older than he looks through the stress of protecting her, so the difference has become more pronounced.
Onee-sama: Her subordinates show both admiration and affection for her by calling her "anego," translated as "big sis."
One of the Boys: A mercenary since her teen years, Casca has spent much of her life living and fighting with men as her only comrades. While she doesn't exactly hate feminine things, she's gotten used to wearing male clothing for convenience, and feels more like she knows what she's doing when in a masculine environment.
The Ophelia: After the Eclipse, she has become a disheveled beauty but can only blabber incoherently or scream when she wants to express herself, her mind regressed to that of a child's.
Overshadowed by Awesome: Casca has top-notch swordplay, tactical skills, and is an inspiring leader, with or without the two leading men being present. Alas, her swordplay and charisma are still overshadowed by Guts' and Griffith's. Sadly, she seems to be overshadowed in some circles of the fanbase as well despite her character growth and development, while other fans believe that she won't be able to catch up to either of Guts or Griffith now that they're both basically superhumans and she's been on "hiatus" for most of the story.
Pervert Revenge Mode: When she wakes up in the cave naked from Guts' attempts to keep her from freezing, she jumps to conclusions and gets very angry. She forces him out in a partially comical fashion by throwing his armor at him and embedding his dagger in a tree a couple inches from his face!
Pink Means Feminine: Whether she's in her armor or in a pretty ball gown, Casca seems to always be wearing some trace of pink in her wardrobe.
Plot Armor: Granted that all of the main characters have flimsy plastic plot armor, Casca has the most fortunate case, because seriously folks: had she been any other woman impregnated with a demon hellspawn, she would've died when it rapidly developed inside the womb and clawed its way out, but by the grace of God, she's allowed to live when she miscarries her baby while it was still in the fetal stage, where it then continued to grow outside of the womb. Perhaps having her be raped to insanity by the Berserk equivalent of Satan in the previous volume was a bit much even for Miura to handle.

Her brand shields her from being sacrificed another time. See Guts' entry for more details.

Plucky Girl: Had shades of this pre-Eclipse. Double subverted one time, after a Stay in the KitchenRousing Speech from Guts, because she was collapsing from exhaustion due to her period and a fever. Instead of being demotivated by his patronizing, she got back on her feet and went forward.
Pregnant Badass: Unbeknownst to the parentsnote or at least to one parent, as some fans speculate that Casca might have been vaguely aware of her condition before the Eclipse, Casca was technically pregnant with Guts's child during the Griffith rescue operation which she led and kicked some ass in.
Protectorate: Touch her, you die. We can't stress this enough.

And not only from Guts since Judeau and Pippin were perfectly willing to sacrifice themselves for her during the eclipse.
Post-Eclipse Casca is one of the straightest examples of this as The Chick and The Heart among Guts's new companions: she keeps them all together by being the one person everybody unanimously likes and wants to protect.

Purity Personified: In a twisted deconstruction, post-Eclipse Casca. Although she is insane, Casca has this innocent and sweet nature that attracts people to her. People whom she has managed to endearwill go out of their way to protect her, while others try take advantage and violate her. It's definitely twisted in that Casca became so pure as a result of her insanity, which was caused by her getting brutallyraped. That, and in her insane defenseless state, Casca has a threshold.
Quickly-Demoted Woman: Averted. Even after Guts joined the Hawks and was given some pretty important duties off the bat, Casca still retained her rank as Griffith's second-in-command. However, she did feel emotionally demoted due to the attention that Griffith gave to Guts.
Raised by Dudes: Althuogh she's a Tomboy with a Girly Streak and definitely not a Lad-ette, the fact that Griffith and the Band of the Hawk practically raised her since she was twelve has had a significant effect on her personality and made it difficult for her to feel comfortable in traditional feminine roles and situations such as wearing a dress to a ball.
Rape as Drama: Seriously, her rape at the hands of Femto right in front of Guts just keeps going and going for almost two episodes...in brutal detail...you will feel like you got raped yourself.
Rape Leads to Insanity: Getting brutally raped right in front of the man she loved while being in utterly excruciating agony because of her brand is what pushed Casca over her psychological threshold. Though arguably, the rape is merely the finishing blow to the psychologically torturous gauntlet of what she experienced during the Eclipse.
Reasonable Authority Figure: Back when she was a commander among the Hawks, she was notably much more level-headed, responsible and considerate towards her comrades than Guts.
Rescue Romance: The relationship doesn't become overtly romantic when it happens, but Casca began to warm up to Guts after he rescued her from the river and fought 100 mercenaries single-handed to give her a chance to escape. Because of how they were forced to cooperate she also realized he had a Hidden Heart of Gold and recognized admirable qualities that she hadn't seen in him before.
The Resenter: At first she resents Guts because she thinks he doesn't deserve Griffith's favor and is going to put everyone—especially Griffith—in danger. She is also jealous because Griffith has never shown her the kind of trust and openness that he shares with Guts.
Restoration of Sanity: After having spent a good part of the story as a child-like mute, Casca finally has her sanity restored and she returns to the Action Girl she used to be.
Tropes S-Z
Sacrificial Lion: Like the rest of the Hawks, Casca can count as this trope, but is a living example since she didn't die. What Griffith did to her during the Eclipse is supposed to serve as a chilling reminder to the audience that he is not a good guy, since what he did was truly heinous and nearly all possible explanations for the act fall as flat as the Berlin Wall.
Samus Is a Girl: Several times. The first time her and Guts cross swords, he doesn't notice she's female until he swings at her helmet and effectively exposes her face. The rule of such a reveal applies, as usual.

A second time, from Charlotte, who said she never noticed she was a woman before. Cue Judeau and Guts wisecracking about it right after.

Screaming Warrior: Casca gives a screaming warcry during her last stand against the Apostles during the Eclipse.
Sexy Soaked Shirt: During her Shower of Angst after the Eclipse, the wet garment she's wearing clings to her. However, it happens in a very somber context.
Shameful Strip: During the Eclipse, Casca is captured and stripped naked by demons, a prelude of worse things to come for her.
She Cleans Up Nicely: Cue Guts' priceless reaction upon seeing her all dressed-up and pampered at Griffith's gala!
She-Fu: Her fighting style shows of her gracefulness, and—it has to be said—her body, with lots of dodges, kicks, and acrobatics. It's partially justified by the fact that she's a Fragile Speedster, and it should also be noted that she's more physical in hand-to-hand combat than many other examples of this trope.
She's Back: It took nearly twenty real-world years to get there, but thanks to the efforts of the Flower Storm Queen, Schierke, and Farnese, Casca's sanity has finally been restored.
She's Got Legs: Not only does a lot of the art focus on Casca's backside, but also on her legs, and her tall riding boots and almost-Zettai Ryouiki really emphasize them.
Shower of Angst: Right after the Eclipse, we see her bathing in an underground cascade.
Single Woman Seeks Good Man:

Played straight but ultimately painfully subverted with Griffith. Casca was attracted to him because she thought he was a formidable and virtuous man after he saved her from living her life as a Sex Slave. Casca remained devoted to Griffith out of gratitude and hopes of having her feelings returned. Not only did Griffith never notice but when he is no longer a good man, the first thing he does is rape her.
Also played straight with Guts. At first, Casca disparages Gut, not just out of jealousy for the attention he receives from Griffith, but for appearing to be a brute. It's only after she sees Guts true colors that she warms up to him and later falls for him. What's more, is that she isn't attracted to him due to his ultra-manliness and his badassery, she loves him for his righteousness and his kindness and consideration towards her.

Sleeping Their Way to the Top: Discussed when Adon Corbowitz falsely and maliciously accuses her of sleeping with Griffith to get her position. Averted in actual fact; her feelings toward him ping-pong between a hopeless crush and Hero Worship, but it never goes further than that.
The Smurfette Principle: The only woman fighter in the Band of the Hawk, and she had to work hard for that position. In a sexist medieval fantasy world, this has made her and to some degree the entire Band of the Hawk famous among armies.
So Beautiful, It's a Curse: Casca is regarded as being a very beautiful woman. Many men have complimented Casca on her beauty - that is, while most of them are attempting to rape her. Her situation only gets worse post-Eclipse. While in her care, Luca states how Casca's beauty, in conjunction with her innocent and helpless nature, will land her into trouble with these sort of men. To avoid this, Luca wraps Casca's face in bandages and passes her off as her syphilis stricken sister. It works for awhile with some sex-crazed pagan worshippers - until they rip off her bandages.
Split Personality: As revealed when her mind was repaired, Casca sees her insane self as another personality, named "Elaine". She does remember the events which happened during her journey, but hazily.
Star-Crossed Lovers: She and Guts are the love of each other's lives, but cruel circumstances that began with the Eclipse have made it impossible for them to be together no matter how short the physical distance between them. Guts is trying hard to defy this by undertaking the journey to Elfhelm with her in the hope that they may one day be lovers again, and no one knows what the outcome will be.
Still Got It: Shortly after regaining her sanity Casca insists on training to knock off the rust. Despite being out of combat for a couple years she thoroughly trounces the golems conjured to test her.
Stuffed into the Fridge: Rather than Chickification, as her current condition does NOT come from a mere invisible shift in the story but from a BRUTAL Break the Cutie process that happened on screen. One of the rare cases where the target survives.
Sugar-and-Ice Personality: In addition to being a woman in a man's world, Casca's also second in command of the Hawks, a position that has taken its toll on her emotional well-being, especially after Guts's departure and Griffith's arrest. Always trying to keep her cool in order to be a successful leader to the Hawks, Casca admits to Guts that she believes that she is at the end of her rope and that what she was truly afraid of was to be forgotten and dwindle to nothing if she didn't cling onto another's dreams (Griffith's). The self-realization that she was of no use to Griffith as a warrior or a woman nearly drove Casca to suicide, had Guts not interfered and given her some emotion strength later.
Supporting Protagonist: Though she doubles as the tritagonist. Casca's not as important as Guts or Griffith, but she is still a central character, since the whole drive of the story was created through the three's relationship to one another. Lately though, Casca has been demoted to being a Minor Major Character due to the nature of her insanity, in which she is an important plot device in the story, but adds nothing to the narrative.
Surprisingly Realistic Outcome: While Casca's sanity has been restored and she's still clearly in love with Guts, the emotional trauma of the Eclipse did not go away. As such, she literally cannot look at Guts without being triggered.
Tearful Smile: Casca's tearful smile is as much her trademark as the Slasher Smile to Guts and the Psychotic Smirk to Griffith.
Tears of Fear: Gets turned completely to horror and sadness during the Eclipse, first when Casca is faced with Apostles who want to do far more than just eat her, and all she can do is stand petrified as she hopelessly wishes for Guts to save her. Then, she begins crying (though not profusely), when Griffith begins raping her in front of Guts, probably out of fear AND pain.
They Do: Shortly before Griffith's rescue, she and Guts get a Relationship Upgrade. Unfortunately, they can't enjoy their relationship for long.
Thousand-Yard Stare: Another post-Eclipse deconstruction. Like most victims of rape, Casca went through these spells were she would zone out and stare at nothing (such as on the hill top). The Dull Eyes of Unhappiness were added for more traumatic effect. After the time skip, the shine has returned to her eyes, but Casca still has this vacant stare from time to time, since she is psychologically gone.

Before she became insane, during the first horrifying moments of the feast of the Eclipse, all Casca could do was just stare as her comrades were devoured right in front of her.

Tomboy: Casca isn't a typical feminine woman of her time, and displays a lot of masculine appearance and personality traits. A large number of tropes such as Action Girl, Boyish Short Hair, and Tsundere will be found on her page.
Tomboy with a Girly Streak: Played with from Griffith's gala to Guts' departure, when the Hawks were recognized as nobles. Casca was seen wearing a lot more luxurious and feminine garments such as ball gowns, night dresses, and furs and she admitted to Guts that though she wasn't use to wearing dresses she wasn't finding it un-enjoyable. When Casca tried to intervene between Guts and Griffith's confrontation, Judeau pointed out that the cushy lifestyle of nobility made her forget that they were still mercenaries who didn't play by upper society's rules.
Took a Level in Badass: As cruel as Griffith's "This Is Something She's Got to Do Herself" appeared to be at first, making Casca kill her attempted rapist was her first step in badass, as she was just going to allow the guy to rape her before Griffith showed up.
Tragic Mistake: Casca's great mistake just before the Eclipse was telling Guts to leave her and Griffith behind and follow his own dream. Griffith happened to overhear the entire conversation, and that's what drove him off the deep end, causing him to abscond with the wagon, crash in the shallows, and become reunited with the behelit at the moment when he was most emotionally vulnerable to temptation. Even though she was forced to realize how physically disabled Griffith was by his torture, and knew how much Guts' departure had devastated him, she either ignored or failed to see the warning signs of how Griffith's feelings of despair, jealousy, and spite were metastasizing into something dangerous. Griffith had always been the savior from her childhood, and even though she later learned of his human weakness she never could have imagined him turning on her and Guts. When Griffith made an unwanted advance on her while she was changing his bandages—essentially Attempted Rape if not for his physical disability—she was devastated but couldn't admit to herself or to Guts that that's what had just happened. Instead of reacting with anger, she gave Griffith what he wanted least: pity. Casca decided to stay with Griffith, but Griffith would always know that she dd it out of pity and would never love him the way that she loved Guts. Worse, she told Guts to leave when she knew that he was the person that Griffith most cared about, because she didn't want Guts to give up his dream for the sake of her and Griffith, and felt intense guilt for not staying at Guts' side like they'd promised as lovers. In order not to have made that mistake, she would have had to not be Casca anymore, since her tragic mistake was something she did out of her noble but flawed sense of self-denial and obligation.
Trauma Button

During the Eclipse, Casca was brutally raped by Griffith in his first act as Femto, the act driving her completely insane. At one point, she stumbles across three bandits who try to gang-rape her... at which point she flashes back to the Eclipse and snaps, grabbing a sword and killing them all.
Even after her memories are restored for the most part, it turns out that being near Guts results in her talking about things that cause her to remember the Eclipse or simply seeing Guts, leaving her catatonic and screaming in terror.

Trauma-Induced Amnesia
Tritagonist: While Guts and Griffith are considered the protagonist and deuteragonist of the Golden Age arc, respectively, Casca is at least the third most important character in that part of the story.
Tsundere: Once she stops being constantly hostile towards Guts, she starts to alternate between being harsh and affectionate towards him as a result of her conflicted romantic feelings. Guts said that he liked that about her personality.

Guts: "You get all jealous, you get mad fast, and you're quick to hit! You're plenty womanly."

Twofer Token Minority: To date, Casca is the only recurring woman who is visibly not white-European looking.
Undying Loyalty: Judeau says that Casca is so devoted to Griffith that she would give her life to help him achieve his dream. At first her loyalty is so unquestioning that he thinks she would have obeyed anything Griffith told her to do, even if it were to turn against one of her fellow Hawks. A major part of her Character Development is that she becomes conflicted for the first time in her life between her continuing loyalty to Griffith and her growing love for Guts. She also, without losing her regard for Griffith, increasingly sees the Band of the Hawk as her family instead of just Griffith's means to pursue his dream, and almost perishes in the Eclipse because she cannot bear to abandon them.
Unkempt Beauty: As a soldier she doesn't have time to spend on cultivating her appearance, but she is still considered remarkably beautiful in an untamed fashion. Not to mention, She Cleans Up Nicely on the one occasion when she does dress up.
Unwillingly Girly Tomboy: Casca has to wear a Pimped-Out Dress for the victory ball. It's not that she hates girly things on principle, but she feels uncomfortable knowing she can't run or fight properly in it, and is worried that her muscular body will look ridiculous in such a feminine outfit. In reality her appearance at the ball is beautiful enough to render Guts speechless.
Violently Protective Girlfriend: Zigzagged, since those were Casca's intentions when she and Guts became an official Battle Couple after their Relationship Upgrade. She knew very well that Guts could handle his own weight, but she still wanted to watch his back when he was in trouble. This was put to the test in the battle against Wyald, where Casca rushed to Guts' aid when he got pummeled and was ready to defend him against Wyald, though the roles ended up being reversed when Wyald got his hands on her.
Weapon of Choice: Casca favors light, practical hand-and-a-half swords, which she is usually seen wielding two-handed. She's also been seen handling a crossbow pretty well.
Weirdness Magnet: Unlike some examples, there is a reason for it- the Brand which marked Casca as a sacrifice for the Eclipse actually draws apostles to her. The weirdness she attracts becomes so severe that Casca is actually accused of being a witch. As if being insane wasn't enough trouble.
What Beautiful Eyes!: The first thing that Guts ever distinguishes about Casca were her black eyes.
Why Can't I Hate You?: Casca admitted to herself that she felt bad for getting jealous over Charlotte because of her relationship with Griffith since Charlotte treated her with kindness despite her being a commoner AND a warrioress.
Will They or Won't They?: With Guts throughout the Golden Age arc.
Womanchild: Deconstructed. Her childlike behavior after the Eclipse is not her fault, but the result of severe psychological trauma. It also puts her in a lot of danger as she cannot take care of herself.
The Woman Wearing the Queenly Mask: Surprisingly, pre-Eclipse Casca fits this role more than the noblewomen presented in the story, especially when she had to lead the Hawks for a year. Casca became physically and emotionally drained during this time, not only because two men that she respected and loved were not by her side, but because she was in charge with keeping the Band of the Hawk together AND alive. She was able to keep her cool for the most part... but when Guts comes back after a year, Casca just lets it all spill out, and almost attempted suicide.
Women Are Wiser: Averted. While Casca may apply at first, being the sole female among a band of mercenaries and being among the most level-headed of the group, she quickly grows morally conflicted and develops a more realistic persona by the end of the Golden Age arc, making Casca one of the more relatable characters of the series.
Worf Had the Flu: At one point, she loses a fight with Adon because she was on her period at the time. When she's recovered and gets the opportunity for a rematch, she mops the floor with him.
---
Sours: https://tvtropes.org/pmwiki/pmwiki.php/Characters/BerserkCasca
"Casca (2)"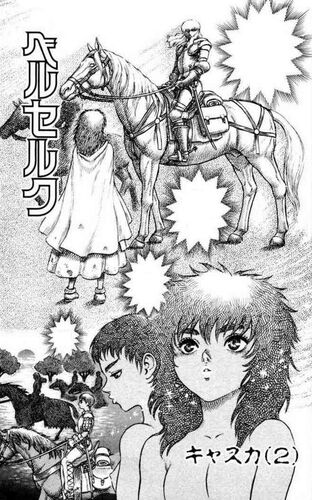 Publication
Young Animal #12 (1993)
11 June 1993
"
Casca (2)
" is episode 16 of the
Berserk
manga.
Synopsis[]
Casca dreams of her first encounter with Griffith. He tells her that whether she joins him or not is her own decision. Before she can make her choice, Casca wakes up.
Casca rolls over and sees Guts squatting at the mouth of the cave, having just wet a piece of cloth for her use. She notices that, during the night, he also covered her in a blanket of leaves. He informs her of their situation. Casca moves to get up, only for Guts to encourage her to stay put. Her movement displaces the leaves, and she notices that she has been stripped. Despite Guts' attempts to explain, she punches him in the face and pelts him with the pieces of their armor.
Guts reacts aggressively, telling Casca that if it weren't for the fact that she is a woman, he would punch her back. His words recall her earlier conversation with Adon, and Casca begins to tear up, saying that being born a woman wasn't her choice. Noticing his words have hurt her, Guts tries to console her, only to be attacked again. He manages to subdue her easily and gives her his dry shirt for her to wear.
They sit in opposite ends of the small cave. Casca laments that of all the people who could have saved her, it had to be Guts. He asks why she ever joined the Band of the Falcon, and Casca gives her answer in the form of a story.
She tells of her origins in a small, isolated village, which was heavily taxed and devoid of food, having to go days on end without eating being a common occurrence. The village was often ransacked by enemy soldiers due to its proximity to the border. One day, a nobleman caught sight of Casca, and he offered her parents a large sum of money for her purchase. Her parents agreed, and Casca was shipped off to live with the nobleman. On route, however, he made unwanted advances. Casca escaped out of the carriage they were in, but the man quickly caught and pinned her to the ground. Before she could be taken advantage of, the man's ear was sliced off.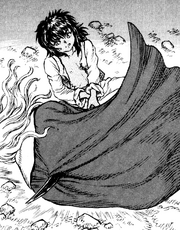 Griffith, her savior who sat atop his white horse, looked down on the nobleman and Casca. Instead of simply killing the nobleman, Griffith tossed his sword to Casca, whom he instructed to save herself. Casca did so, stabbing the nobleman with the sword. Griffith then calmed her shaking hands, and Casca developed an admiration for her rescuer. Judeau rode to them and informed Griffith that he, Corkus and Pippin, the first members of the Band of the Falcon, were finished searching the nobleman's carriage for loot. As the band made to leave, Casca impulsively asked to join them. Despite the other members' reluctance to taking a young girl with them, Griffith told Casca to do as she wanted, and they wound up integrating her into their group. Griffith commented that she now knew how to fight, but the young Casca reflected that it was Griffith who provided her with her sword in the first place.

Appearances[]
Griffith (Appears in flashback(s))
Casca
Guts
Verneau (First appearance) (Appears in flashback(s)) (Death)
Judeau (Appears in flashback(s))
Corkus (Appears in flashback(s))
Pippin (Appears in flashback(s))
Navigation[]
Sours: https://berserk.fandom.com/wiki/Episode_16_(Manga)
Berserk: 10 Amazing Works of Casca Fan Art That Look Better Than The Manga
While Berserk's tale mostly focuses on Guts and Griffith, no character was hit harder by the latter's betrayal than Casca. She was the one who saved the band from disbanding and was in charge when they saved Griffith from the Tower of Rebirth. That ended up being a grave mistake, and one Casca no doubt blames herself for.
RELATED: Berserk: 10 Things You Didn't Know About Apostles
Casca's just an all-around tragic character who's been put through the meat grinder even before she joined the Band of Falcon. With how dark Berserk is, a happy ending rarely seems in the cards for her, a fact that resonates in a lot of this fan art.
10 Confused
Casca was forced into a state of confusion against her will. She either can't remember who she is or chooses not to. If it's the latter, you couldn't blame her considering all of the awfulness she's gone through in life.
Liyart brings a lot of that to light here, eyes wide with that sense of fear locked within them. You can look at her and see that she's seen and done things that no one should have to do, the eyes of a soldier who has seen more than their fair share of tragedy.
9 Leadership
Casca wasn't just known for her talents with a sword, there's a reason she's the one that kept the band together and became the leader once Griffith was imprisoned.
RELATED: 10 Manga To Read If You Liked Berserk
Everyone in the company respected her capabilities as a leader, having been number two for years. Daverapoza shows why, Casca looking both regal and commanding in the art above. She looks like the type of person who you'd follow into battle no matter what the odds were.
8 Youthfulness
Casca wasn't always a hardened warrior nor an amnesiac. There was a time when she was just a young girl, trying to make it through the rough life of a peasant.
Akairiot pulls from the time when Griffith first saved her, from when she first joined the band. She was young and inexperienced, still having that youthful desire to please rooted inside of her. Even back then though, she had the eyes of a true soldier, having killed her first person at such a young age.
7 Pinup
Pin-up model isn't something you'd often associate with Casca, a warrior through and through. Hassly manages to make it work, keeping her in her full set of armor rather than throwing her into something skimpy and nonsensical for the character. The linework in both her hair and armor are very clean, all of it looking very smooth. They do a good job of making her eyes seem inviting as well, welcoming you in rather than having the hardened gaze she often held as Griffith's number two.
6 Loving Relationship
While they are far from the prototypical pair and got off on far from the best foot, Casca and Guts care deeply for one another. At first, she detested the man, growing jealous of him for the attention Griffith was giving towards the man.
RELATED: 10 Anime To Watch If You Liked Berserk
Over time, the two of them realized their feelings for one another. Denoro shows that affection without needing to have them kiss or doing anything overtly romantic. You can see the pride in Guts's one visible eye and that sly smirk across Casca's face tells you everything you need to know about her views of him.
5 Contemplative
This image could easily be after a battle Casca led, the weight of that responsibility dragging down on her immensely. Every decision you make is so scrutinized and picked at that over that over time you're bound to break down as she began to.
The art itself by Naranb is amazing to look at. The depth they give her hair and the amount of consternation they have over her face is stunning, amount of detail in the armor being equally so.
4 Farnese & Casca
Most manga seem to incorporate potential relationship drama to it, particularly the concept of a love triangle. That's what Farnese was used as, a girl who had a budding crush on Guts despite the feelings he already had for Casca.
It gives the pair an interesting dynamic with one another, one that's grown as the manga has gone on. Farnese has grown to care for the child-like Casca, something that's displayed well here by Celiarts. You can see that she'd do anything to keep the frightened girl safe.
3 Warrior
Casca was once a very skilled warrior, worthy of being a member of the Band of Falcon. Her talents were dwarfed only by Griffith within the band, prior to Guts's enlistment.
While we don't get to see her skill with a sword here, Beauviarts shows that willingness to fall in line that you need for a soldier of her caliber. She has the look of someone who would be willing to follow Griffith's orders no matter what they may be, even if they led to her death.
2 Layered
Hair is rarely as detailed and as layered and detailed as it in in this piece by Amaterasumikami. Usually, you get on the tips of the hair, rest just being a solid color. Here you can see multiple small strands within the larger ones.
It enhances what's already a great image, showing that even in full armor, Casca was beautiful. The way her eyes gleam from the light reflecting off of them is stunning, with the same holding true for her chest plate as well.
1 Shading
Casca has had a hard life, one filled with atrocity after atrocity, always pushing her to a breaking point that eventually she reached. No one does as good a job of capturing that as Kopfstoff. This image oozes darkness and a general sense of brood.
The fact it's in black and white helps with that feeling, but it goes beyond just the coloring. It all lies in the eyes; because of the shading used, Casca's eyes are so hardened. There's a reason people say the eyes are the window to the soul and this art is a prime example of why. You can feel all of the emotion bottled up inside of her from that one look.
NEXT: 5 Ways Berserk Is The Best Manga (& 5 Manga That Are Better)
ShareTweetEmail
Next10 Harsh Realities Of Being A Legendary Pokémon
About The Author
Anthony Mazzuca (589 Articles Published)
Anthony Mazzuca is an avid gamer, anime watcher, and all-around nerd for nearly his entire life. Escaping the life of retail, he's able to express his passion to others through CBR. When not writing for CBR, he's toiling away on a novel or streaming on Twitch. He's also a wrestling fanatic, who can't wait for shows to be filled with fans again. You can connect with him on <a href="https://facebook.com/anthony.mazzuca.9/"
More From Anthony Mazzuca
Sours: https://www.cbr.com/berserk-amazing-casca-fan-art/
Thoughts on... Casca, and some uncomfortable truths about Berserk
You guys know I'm a massive Berserk fan. In fact, it's my favourite manga. It's the one series I can return to again and again and never get bored, each time picking up on something new. It's a complex story about the swordsman Guts and his fractured relationship with Griffith, the former leader of his mercenary band, all behind a backdrop of Medieval European society, royal drama, political crises, war, and dark fantasy, with elves and witches and creatures of the dark thrown in for good measure.
Everything changes for Guts when Griffith, in a state of despair, utilises the power of the behelit, a mysterious device that grants its user a supernatural body on the basis of human sacrifice (as long as the sacrifice holds some importance to the user) and ascends to divinity by literally sacrificing all his loyal and devoted mercenaries of the Band of the Falcon, thus becoming the fifth member of the Godhand and permanently altering the world as they know it. Guts, being one of Griffith's most devoted fighters, watches in horror as demonic creatures proceed to eat and mutilate the men he has fought with over the years through so many battles, overcoming obstacles and sharing bonds. It's a pivotal moment in the series and explains Guts's current misanthropic nihilism, his trauma and his reluctance to make friends—this isn't the first time he's been betrayed: he suffered rape, neglect, and emotional abuse as a child, and had to learn again and again that the adults around him often meant a lot of harm.
And so, it's absolutely beautiful seeing his relationship unfold with Casca in the chapters preceding the Eclipse sacrificial ceremony. She's the only female fighter in the band (and anywhere), and is his once adversary-turned-rival-turned fighting partner. Together, they overcome their past trauma. Casca is a pretty solid character: she's a rarity in a male-dominated world, where women are only brood mares and their main purpose, other than sex, is to look distressed and flutter around in the kitchen. Not only is she unlike the other women in that her interests differ from theirs, but she's also dark skinned. Her design drew me to the story because it is rare to see black characters in manga, or black characters that are not stereotypes, especially women. She's beautiful and strong and so human, everything that I like in women characters. But there are some aspects of her character arc—and that of several women in the story, in fact—that make me uncomfortable, and it's for that reason why I'm always reluctant to recommend Berserk to others, unless I totally understand their preferences first.
When you hear "Medieval setting", "Europe", "Male-Dominated", you wouldn't exactly be surprised to then find out there's a shed load of rape, sexual abuse and misogyny involved. In many ways, it comes with the territory, and even in the real world, right now, rape is a common tactic of war and conflict. You have more historical incidents like the Rape of Nanking, and then you have the astronomical rape stats from the Democratic Republic of Congo, the rape numbers in South Africa, and the increasingly regularity of rape and rape culture in the West—#MeToo is new, but the abuse is as old as the world itself. Anywhere that bases its social tenets on patriarchy is a society in which women are at risk of rape and sexual assault—some contexts are just less accountable than others, and in a Medieval context, women aren't even viewed as fully autonomous humans, so of course there would be no punishment, and the act itself just seen as a normal part of everyday life.
I totally understand context, and of course, to sanitise the truth of the setting is to tell a story poorly: in my own writing, especially my current WIP, I tackle rape and violence against women, because the setting requires it, but I'm always mindful of gratuitous depictions of rape, and of rape used as a mere plot device to get jump scares from readers and viewers—or even worse, to titillate. Unfortunately, all these poor rape examples are in Berserk, and many of the fans (I lurk on the subreddit) are reluctant to see these depictions as problematic. Instead, they accuse anyone who has a criticism of the portrayal of rape in Berserk as overly-sensitive, "looking at it from a Western-feminist viewpoint" (as if having respect for women is solely a Western invention?) and being generally dismissive, totally averse to hearing anything insinuating that there is an overabundance of rape at all.
Casca poses an interesting discussion topic on forums. Many view her as strong and skilled in name only, because a lot of her feats are off-panelled or shown in flashbacks. Guts, as the protagonist, gets the limelight and as such, we see most of his fights and his inexplicable strength. But it stands to reason that the second-in-command could only have such a title if she was strong, and when Griffith is imprisoned shortly before his breakdown and eventual betrayal, she assumes the position of commander, beating the men into shape. It is often said by the men around her that if not for Casca's leadership, they all would have died. Even in the midst of the Godhand ceremony, when all the demons are belched onto the earth and proceed to devour everyone, Casca instantly takes the lead, commanding the soldiers to get to safety. Guts too notes her formidable resolve in this scene, acknowledging that he would have been unable to stay so focused under pressure. As an aside, we have seen little of Griffith's strength, only a few power frames, and that one time he beat Guts. The same arguments thrown to Casca's character could be levelled at Griffith pre-Godhand ceremony, but people rarely mention this.
Casca's past is almost as pitiful as Guts's. She joins the Band of the Falcon as a young girl. Coming from a poor and destitute family, her parents sell her to an aristocrat to work as a servant. On the way to his manor, the aristocrat attempts to rape her. She flees the carriage, and stumbles onto Griffith and his recently assembled mercenary band. Griffith encourages Casca to kill the noble, which she does, by impaling his chest. Seeing this stunning man, literally on a white horse, grant her liberation enchants her totally, and she asks if she can follow him. He tells her she can do what she wants, despite the protests from the other men, and she soon rises through the ranks of mercenary life, proving her worth and skill. She vows to be Griffith's sword, to devote her life to helping him achieve his ambition, which is to take advantage of the war and ascend to the aristocracy. His ultimate goal is to have his own Kingdom, and he aims to use his ascendancy to marry Princess Charlotte, heir of Midland. Like the other members of the Falcon, Casca is a bit of a shell initially, her main purpose being to help Griffith, to fight for Griffith and to burden herself with his dreams whilst always forsaking her own. There are several members of the band who revere him, taken by his charisma, and unquestionably follow him.
Casca's devotion turns to extreme jealousy when Guts joins. Griffith often appears obsessed with Guts, to the point of putting himself in danger many times during battle, and even when Guts leaves the band, Griffith descends into madness, making the fatal mistake of sleeping with Princess Charlotte, which leads to his imprisonment and starts the ball rolling for his mental breakdown and vow with the behelit. Because of her jealously, Casca is often annoying at times, regularly chastising Guts's behaviour (which she sees as selfish), refusing to treat him with respect, and verbally abusing him when she gets the chance. It is clear she hates him, but the hate soon turns into an earnest desire that she only acknowledges when Guts departs from the band. The pair begin an intense relationship when Guts returns to the Falcon a year after his departure, his former mercenary band in tatters, Griffith imprisoned, and many more dead.
Therefore, it is the epitome of Griffith's evil that, during his ascension to the Godhead, he not only devours his former bandmates, but rapes Casca whilst forcing Guts to watch. The rape scene here is so long, so brutal, takes up so many panels, involves so many close-ups and sensual shots. It is extremely uncomfortable. And manga is a very visual medium, it is literally a skin-crawling experience to read Casca's rape scene, and whenever I re-read the manga I skip the whole five-plus pages it goes on for. Its extension appears to be for a bit of sexual gratification, and I cannot excuse Miura of drawing her abuse in this way. This rape scene accounts for Casca's fourth assault up to this point: the first was shown in her childhood flashback, then she was sexually assaulted by an enemy army, and thirdly, we are treated to a pointless attack from Wylad, some random demon who had no real purpose in the story but to tear her clothes off. It makes for a demeaning experience.
After Griffith's attack, Casca is broken. She becomes mute, her once shrewd mind descending into a childlike muddle. She is barely vocal, only ever uttering a few nonsensical murmurings, and Guts is left to sojourn with her across the world to find Elfhelm, the land of the elves in which he hopes to find her cure. It's another shame that one of Miura's most fascinating and interesting women characters is reduced to a mute plot device, a mascot-like burden which serves to drive the protagonist forward, all the while the reader and the protagonist lament her demise.
Upsettingly, Casca once again becomes a victim of sexual assault in this vulnerable state (in episode 189), by a passing group of men who just so happen to rape her on sight. Guts arrives at the scene too late, looking on in horror as Casca bleeds from her private area clutching a sword, her assailants all sliced and dead on the ground by her feet. And then, the worst moment in the manga happens: Guts becomes overwhelmed by the Beast of Darkness, that symbolic apparition of his inner demons and pain, succumbs to his own anger and hatred and negativity, and takes it out on Casca by sexually assaulting her, biting her breast. When he gets a hold of his senses, his relationship with Casca is severed, and Guts has no choice but to allow a random ragtag group of strugglers to accompany him on his trip to Elfhelm. Guts surrenders himself to this motley crew, relying on them to look after Casca, firstly to enable him to fight without worrying about her, and more importantly, to protect her from his darkness.
This is another scene I have to skip. Guts was doing so well, and I was so disappointed that he too became another potential rapist in the story—it's almost as if, in the world of Berserk, if you're a male, you're a rapist, and no matter how many excuses the superfans make for Miura, if Berserk was written by a woman, there would be angered accusations of the story being "a feminazi's view of men", and the excessive occurrences of rape would suddenly be clear and obvious for all male readers to see.
I could go on: Farnese almost gets raped by a demented horse, a group of trolls rape some women in a village, Princess Charlotte almost gets raped by her dad, the Kushan Army hold all the women of Wyndham in sexual captivity to give birth to mutant creatures via spontaneous human combustion, and so on, and so on. If you're a woman in Berserk, you will get raped, sexually assaulted, or worse. It's harrowing as it is frustrating, and the Medieval context can only go so far before the rape becomes gratuitous and lazy.
There are many ways for a writer to express female conflict that does not involve sexual assault, and there are times when Miura explores it brilliantly: Casca's insecurity about her unfeminine nature is a realistic and understandable female conflict; the Queen's disenchantment with royal life and her disdainful existence in a loveless marriage is another realistic conflict; Farnese's mental issues, her fetish with fire, her aristocratic angst and her increasing agnosticism are deep and complex conflicts. These examples are human, and I wish they were explored more, away from the sexual assault. These instances show Miura's skill as a writer, his empathy for the human condition, and his glaring talent in times like these is why I continue to read the series. It's a shame that the sexual assault has to happen before a deeper character arc can take place for these women, whereas for the men (besides Guts and Griffith), we get a taste of their turmoils and conflicts outside of sexual abuse.
Casca's mind has been restored now. I am so looking forward to more badass moments from her. I can't wait to see her resolve the issues of her past, to reclaim her sword, reconcile with Guts properly, and start living and leading and loving as a whole, fleshed out character again. She has been through so much, I hope that her days as Sexual Assault Prop are far behind her. Come on, Miura, be fair to Casca. She deserves better.
Berserk~JPB~berserk, gutsca, casca, guts, millennium falcon arc, falcon of the millennium empire arc, guts and griffith, women
Sours: https://www.jacksonpbrown.com/anime-and-manga/2018/10/12/thoughts-on-casca-and-some-uncomfortable-truths-in-berserk
Casca berserk
Berserk Reveals The Bittersweet Status of Casca
The world of Berserk, the classic anime franchise created by Kentaro Miura that has been running for decades, is a dark one not only for its citizens but for its characters as the fate of Casca proves in the latest installment of the series' manga! The former soldier for the Band of the Hawk found herself in something of a love triangle with her fellow mercenaries of Guts and Griffith, but resulted in a terrifying series of events that shattered her mind and sent her on a dark journey of discovery!
With this article, we'll be walking through where Casca has been, what her path currently is, and perhaps what this all means for her future! Needless to say, Casca's past, present, and future will be as dark as the franchise has been since its inception!
The Beginning
Casca began as a member of the Band of the Hawk, acting as a captain who assisted the leader Griffith in taking the mercenary band to new heights. Though she had been infatuated with the head of the group of young soldiers in Griffith, she was soon to meet the black swordsman known as Guts. Her infatuation with Griffith was thanks in part to the silver haired soldier saving her from a previous life of abuse and making her the amazing soldier that she would one day become!
With her heart torn between both Guts and Griffith, it would only lead to tragedy as one of the darkest moments in Berserk's history was looming on the horizon!
prevnext
The Eclipse
Listen, we can't even share images of this event, that's how dark "The Eclipse" was in Berserk! With Griffith being tortured thanks to his terrible decision to bed the king's daughter, the silver haired leader of the Band of the Hawk doomed his fellow mercenaries to a life on the run, being hunted by the kingdom they once called home. In order to both heal his wounds and gain untold demonic power, he sacrificed the lives of his companions in a ritual that was assembled by the demonic leaders of the Underworld in the Godhand.
During the Eclipse, Casca went through a terrible ordeal thanks to Griffith simply looking to get a rise out of Guts, torturing her to the point that it drove her to insanity and was most certainly "not safe for work". Though she managed to escape with her life from the Eclipse, along with Guts, fans often think it would have been better for her if she hadn't!
prevnext
Post Horror
Casca returned to Earth, having been driven to madness by the actions of Griffith and the bloody loss of all her fellow comrades in arms. With the one time hardened warrior now having the mentality of a child, she was dragged across the countryside by Guts who was afraid to leave her alone since they were consistently hunted by demons. With Guts attempting to get revenge for both himself and the love of his life whose mind was now gone, it led to him forming a new group of warriors as they roamed the country side.
Recently in the manga, Guts and his comrades were able to discover the world of the fairies, where many beings of magic dwelled. Unexpectedly, the magical creatures revealed that Casca could in fact be cured and have her sanity restored!
prevnext
A Real Monkey's Paw Situation
So, Casca's sanity has been restored and a moment that many fans of Berserk have been waiting years for has come to pass, but not without a serious caveat. When Guts attempted to approach his former lover, Casca immediately recalled the terrifying events and torture she underwent as a part of the Eclipse, sending her into what was essentially a traumatic coma.
With Guts now realizing that his place might not be at Casca's side, we have a serious monkey's paw situation on our hands where his lady love has returned but she seemingly can't be around him without remembering the horror that has stalked her. While Casca may be able to become a soldier again, will she manage to overcome the horror of her past to forge a new future?
prevnext
The Future
0comments
We've mentioned in previous articles the newest conundrum of Berserk, wherein Griffith is using his demonic powers for altruism, managing to unite the world of mankind and demons under one flag. If we had to take a guess as to how the series will wrap, perhaps Guts will finally be able to forgive Griffith, but perhaps Casca cannot. Maybe the soldier will deliver the killing blow to the man she once adored, but we have to think that her new found sanity may definitely have its drawbacks for her future.
Casca is an amazingly complicated character, having spent so many years "in the dark" following the Eclipse and it will be interesting to see where her journey takes her in Berserk and if Guts will ultimately be a part of it!
prev
Start the Conversation
UP NEXT
Sours: https://comicbook.com/anime/news/berserk-bittersweet-status-of-casca-spoilers/
Casca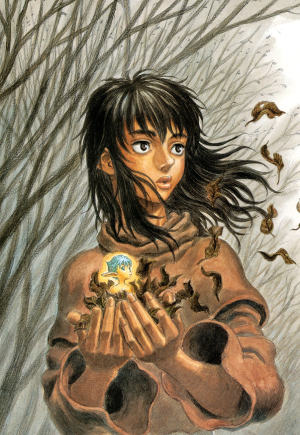 Relatives
Unnamed father
Unnamed mother
Unnamed five siblings
Demon Child(biological child)
Weapon(s) of choice
Sword
Fighting styles
Swordsmanship
Strengths
Leadership
Agility
Half-step over others in causality's current (Brand of Sacrifice)
Occupation
Mercenary (formerly)
Knight (formerly)
Wanderer

Position
Band of the Falcon unit commander (formerly)
White Phoenix Knight (revoked)
Highlights
Crucial in the Band of the Falcon's storied successes during the Hundred-Year War, as a forefront unit commander
Acts as the Band of the Falcon's leader after Griffith's capture, thus preventing the complete annihilation of the band[5]
Survives the Eclipse[6]
If he's going to sacrifice everything for his dream, if his dream is to fight and cut away his own path, then I want to be his sword.
– Casca[7]
Casca is a former unit commander of the Band of the Falcon and an estranged companion of Guts.
Originally a callow peasant girl living in a remote mountain village,[8] she develops into a well-attuned warrior upon joining the Band of the Falcon and aids greatly in the group's storied successes during the Hundred-Year War. Following Guts' departure and Griffith's subsequent imprisonment, she is forced to assume the position as the band's leader,[9] succeeding in preventing the complete annihilation of the Band of the Falcon and rescuing Griffith from the Tower of Rebirth.[10] Crippled from his horrifying year-long torture and demoralized by his fall from grace, Griffith ultimately invokes the Eclipse, in which he is reborn as the fifth God Hand member Femto and rapes Casca to spite Guts.[11] Having physically survived the ordeal, she regresses into an infantile and largely mute amnesiac.[12]
Guts and his newly formed traveling party are currently preoccupied with the restoration of her fragmented mind in Elfhelm.
Personality[]
Prior to the events of the fifth Eclipse, Casca proves to be a determined and capable leader within the Band of the Falcon who merits the respect of her comrades in arms. So great is her leadership that she is able to rally the band behind her in their moment of utmost peril and prevent the complete annihilation of the fugitive band for a year following Griffith's imprisonment.[9] She fosters morale among the rank and file of the band, who in turn affectionately call her "Big Sis".[1] Even amid the Eclipse, Casca does not allow the Falcons to panic, commanding them to assume formation and contribute what they can.[13]
Casca's hardened appearance and austere attitude can be seen as unfeminine, prompting Judeau's initial observation that she "gave up on being a woman in order to become a mercenary".[14] In actuality, her womanhood forms an integral part of her identity; she wears men's clothing for its practicality in battle, rather than because of any inherent desire to do so on her part.[15] Occasionally, her status as a woman is the source of her perturbation,[16] though she masks such doubts with an exterior of sternness, lashing out with physical violence in moments of vulnerability.[17][8] Beneath this guarded exterior, however, Casca yearns for acceptance as both a warrior and as a woman, which she originally desires from Griffith.
Her loyalty and devotion to Griffith seed within her a yearning for strength, wanting to serve as his able sword in the pursuit of his dream.[7] Because of this, she initially harbors resentment for Guts, jealous of the swordsman's superseding importance to her idolized leader.[18] Eventually, Casca comes to acknowledge the unrequited nature of her admiration for Griffith, while also developing equal affection for Guts, growing beyond her dependence on Griffith's dream. Notably, when Griffith resolves to duel Guts in an attempt to prevent him from leaving the band, Casca interjects, questioning her leader's challenge – an action Judeau notes she would have never taken previously, as she considered Griffith's will akin to gospel.[19] She later begins falling in love with the swordsman after his acknowledgment of her as both a capable warrior and as a woman, cultivating a relationship based on mutual honesty rather than one-sided reverence.[16]
Femto's rape of Casca during the Eclipse inflicts severe psychological trauma upon her, which causes her to regress to a largely mute, infantile state[12] in which she is unable to truly think or feel.[20] Though capable of a primitive form of empathy, she is left unable to process people's feelings beyond immediate situations; she does, however, display motherly affection for her demon child[21] and the Moonlight Boy,[22] becoming distressed when they suddenly vanish or are in harm's way. In her fragmented form, Casca remembers fondly her days as a Falcon,[23] though deeper within her psyche, her mental imagery becomes starkly hostile and revolting – a defense mechanism safeguarding her most repressed memory fragment.[24]
Background[]
Casca was born the youngest of six children in a remote mountain village. As a young lowborn girl, hardships such as starvation and potential abduction were a normal fact of peasant life for Casca, giving her a pessimistic view of the world. When she was twelve years old, her parents sent her off to work as a castle maid for a seemingly courteous nobleman.
En route to the castle, however, the noble revealed his lustful intentions, chasing Casca from their carriage and pinning her down in order to rape her. Just as she begins submitting to her attacker, Griffith appeared on horseback and sliced off the noble's ear, expressing his disdain for the man's sense of entitlement and superiority. Rather than eliminate the pedophilic noble himself, Griffith extended his sword to Casca, telling her to wield it if she had something to protect. As the nobleman lunged for her neck, Casca took up the sword and placed it inline with her attacker's chest, piercing through and killing him. Filled with unease from her first kill, she was calmed by Griffith and entranced by the marvelous nature of her savior from then on. With her attacker dead and her chances of being reintegrated into her village low, she decided to join Griffith's Band of the Falcon, having now learnt to stand up for herself instead of just enduring.[8]
Story[]
Golden Age Arc[]
Meeting Guts[]
Years later, having become the Band of the Falcon's second most formidable warrior and a forefront unit commander within the band, Casca confronts Guts under Griffith's orders when the swordsman defends himself against an ambush party led by Corkus. She and Guts battle until Guts knocks her off her horse, thereafter realizing he is fighting a woman. When Guts overpowers and prepares to end Casca, Griffith intervenes, incapacitates the swordsman, and then has him taken back to the band's encampment.[25] He orders Casca to sleep bare with an exsanguinated Guts for two days to provide the swordsman with warmth. Though Casca prevents vengeful band members from killing Guts after he recovers, she expresses no favor for the swordsman; on the contrary, she becomes envious of him due Griffith's strong desire for and eventual enlistment of the swordsman into the Band of the Falcon.[18]
Sours: https://berserk.fandom.com/wiki/Casca
Now discussing:
Pervert !!. About three minutes later I felt a strong orgasm, I don't remember: I closed my eyes, or it just darkened in them. When I started to come to my senses, she smeared sperm on my chest (there was enough of it to smear everything), and. The second sat down slightly and turned away.
4178
4179
4180
4181
4182