RV Pole Barn Garages Are a Great Way to Store Your Camper!
There are many reasons to build a pole barn at your home. One of the most popular types of pole barns, however, is the pole barn garage. You can approach a pole barn garage in a variety of ways – but if you plan to store a large vehicle, there are some extra considerations to plan for. Read on to learn about the benefits of RV pole barn garages and tips for planning your own pole barn!
Benefits of a Pole Barn Garage for RVs
Avoid Weathering Damage
An RV, like any vehicle, is as much an investment as it is a tool for travel. Keeping your investment in good shape is important, and one of the most popular reasons to build a pole barn garage. If you don't have a garage that can fit your RV, it often sits outside through all sorts of weather: rain, wind, snow and even sunlight.
By safeguarding your RV inside an insulated pole barn, you can extend the lifetime of your RV by years – and reduce your risk of needing surprise repairs. Your RV will get enough time in nature during your camping trips, so it's helpful to have a safe place to keep it during the off-season.
Save Money on Storage Fees
Renting storage space may seem financially sound in the short-term, but every dollar you spend renting is lost. Due to the size of even medium RVs, you often pay more than you planned for seasonal or year-round storage!
When you build your own RV pole barn, you're not just creating a convenient place to store and protect your RV: you're investing back into your own property. Instead of losing money to rent, your property has a beautiful new pole barn that can offer storage space for your vehicles and more.
Easier Access
Without your own RV garage, it can be a hassle to access your RV when you're finally ready for that big vacation. If you keep it outside, you may have to clear it of snow or inspect it for potential weather damage. And if you keep it in a rental garage, you have to pack everything twice – once to get it to your RV, and another to get it inside the RV.
A pole barn garage on your property is easy to access. Packing is quick and you don't have to worry about your RV being stored where you can't keep an eye on it.
Tips for Building a Pole Barn Garage for RVs
The most important part of building your pole barn is the planning stage. This is when you can decide on key factors such as:
Do you need room for more than one RV?
Do you want additional space for storing RV equipment or other tools?
How many windows or additional doors do you want?
What type of garage door will you be using?
The earlier you decide on these factors, the better. If you want an idea of how you can customize your pole barn, you can design one and get an instant quote online!
Height Is Critical
Every RV owner should know the height of their RV. The farther you drive across the country, the more likely you are to come across underpasses that may be a tight fit for larger campers. You don't want to run into this issue with your RV pole barn garage, either!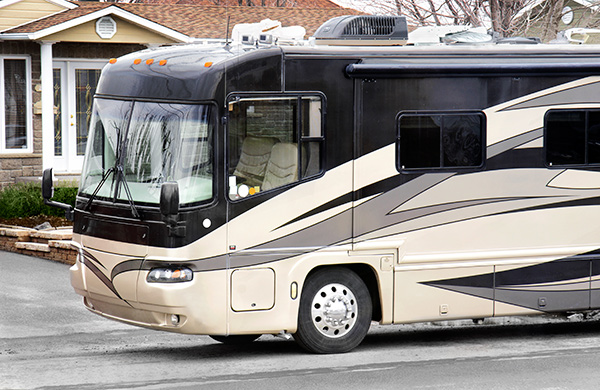 There are two things to consider with your RV when planning the height of your RV garage door:
#1. Do you think you may ever purchase a larger RV?
#2. If you have a fifth wheel RV, what is its height when hooked up to your tow vehicle?
It's much easier to plan your original pole barn design than to remodel later. DIY Pole Barns offers standard door sizes up to 14 feet tall. This is enough to handle any standard RV. It's recommended to go with a height like this to prevent issues when upgrading or hitching your RV to your tow vehicle.
Get an Automatic Door
You have plenty of options to choose from when it comes to your pole barn door. But when you're using your pole barn as a garage for an RV or any type of vehicle, the convenience of an automatic door is hard to overstate.
Even if you don't use your RV that much, you'll appreciate the ease of moving your RV in and out of your garage without having to get out of your tow vehicle or the RV to lock up.
Leave Yourself Some Extra Room
Pole barn garages can be roomy or designed to fit their intended vehicle. But it's always recommended to try to add some additional space, even if you don't think you'll need it.
Performing basic maintenance on your RV is easier with extra room to store tools or move around freely. It also helps when you need to inevitably clean out your RV. The more room you have inside the garage, the less you need to keep inside the RV. This can save you a lot of stress when you're deep-cleaning your RV or trying to access important parts for maintenance.
Consider a Lean-to Carport
If you don't want to design your pole barn to fit an RV and an additional vehicle, you have another option: a lean-to. This lets you safely protect another vehicle from the weather without needing to park it inside the garage.
This is the perfect place for your tow vehicle, or can serve as just another place to store a family car. Lean-tos add a unique style to your garage and give you more options with how to use it years down the road.

Build Your RV Pole Barn Garage – Get an Instant Quote Online!
Do you want your own garage to store your RV or other vehicles? Call our knowledgeable staff at (937) 547-9100. If you're ready to build your pole barn, lock in a quote with DIY Pole Barns using our Instant Quote tool!
Connect with us on social media!
Facebook | Twitter | YouTube | Google+ | Pinterest
Sours: http://www.diypolebarns.com/learn/rv-pole-barn/
The Shasta

RV Barn Kit
---
The Shasta is a unique multi-purpose structure perfectly suited to house your recreational vehicle in any climate. The main feature of this building is a heavy-duty workshop with 14′ high drive-through garage bay for a large vehicle, but there's also plenty of room for your horses, a workshop, or additional vehicles and outdoor toys. On the second level, you'll find a spacious apartment with vaulted ceilings, perfect for a vacation home, guest quarters or a full-time residence.
Designed in the reliable and long-lasting method of post and beam construction, the Shasta RV barn kit is framed with the finest Douglas fir posts and glulam beams from the Pacific Northwest. The Shasta comes in four sizes, each including a 14′ drive-through RV garage, a 14′ x 14′ deck, a cupola, dormers, and a door and window package. This big, beautiful barn package offers a sturdy but flexible design that can be adapted to meet your unique needs.
Learn More
Sours: https://dcstructures.com/kits/shasta/
A barn building system,
built for you
Thousands of customers over 35 years.
Great experience! The barn is beautiful. When someone sees it for the first time, their first words are WOW. I couldn't be happier. I heard a lot of no's because my project was small until I called Barn Pros. And let me add even though I am a kitchen/bath designer, I have never designed a barn! [They] did a fantastic job guiding me through the process. Thank you, Barn Pros for my amazing barn.
Barn Pros was great! …We contacted other places, all were more expensive and were going to take longer to ship our order. Barn Pros also helped connect us to people who were very instrumental in our building process. While I believe we could have possibly built our project for less money, the support and customer service we received made our purchase a great value.
I purchased front doors for my barn from Barn Pros. They were very helpful from picking out the right doors and the right hardware all the way to delivery to make them a perfect fit. The doors I purchased were way stronger built and much prettier than I imagined from just seeing them in the catalog!! Very well constructed! We could not have chosen a better company to work with for service and product!
Sours: https://barnpros.com/
Easy 40x42 Metal Building Garage - DIY Steel Building Kit Review
The hand of sa - nitara crumpled the buttocks of the elderly slave, and his long, rough finger penetrated her anus. - Come on, grandma, suck him off and let us have fun. While the old woman was sucking the teenager's penis, trying to revive him, two orderlies, taking turns, replacing each other, fucked her.
Kit rv barn
But now everything was passing too quickly, and I did not know how to react. I looked at her. And there was something to see.
My RV Garage/Cover
Thank you, - she forced out of herself, involuntarily taking a step back and with bated breath waiting for what will happen next, - Did you want to. Talk about something. - Do you need special occasions to be together. I remember that the other day we parted very warmly.
Similar news:
Four dozen is enough. We're going to visit the Buggers. The raid on the Haxen plant was carried out quickly and professionally. They attacked from four sides.
4055
4056
4057
4058
4059