May 30, 2014
Private labeling, or white labeling as many refer to it, is a convenient and affordable way for small and home based businesses to sell and market their products. Not only does it allow you the distinction of having your own brand to promote, it also affords you the opportunity to present your goods in ways that are creative, practical and in direct competition with major brands.
For smaller companies and aspiring entrepreneurs who do not have access to large manufacturing facilities or expensive tube filling equipment, packaging and labeling often serve as two of the most common professional challenges. In the case of lotions, creams, liquids and other semi-solid products, the solution may be as simple as working with a tube filling company that understands your needs, shares your vision, and has the resources needed to bring your product line to life.
Choosing the Right Tube for Your Products
Long before you sell your first product, you'll need to ask yourself a few questions regarding the materials you're working with, and the type of finished product you're aiming for. A few of the most significant include:
What is the physical consistency of your product?
Do your materials have a specific shelf life or expiration date?
Will the compounds remain stable when exposed to heat?
Do you have a preference of laminate, plastic or aluminum tubes?
Are you working with round tubes or oval tubes?
What sort of filling volume are you considering for a first run?
Will your filled tubes have folds or serrations on the exterior?
Does your product require dating, batch numbers or lot coding?
Plastic Squeeze Tubes VS. Metal & Aluminum Tubes
For most startup businesses and smaller companies, and depending on the type of product being filled, plastic tubes are an economical way to get their product into the hands of consumers or retailers. Plastic tubes will have a slightly glossed appearance and feel to them, while laminate tubes tend to have a more soft, matted texture. Some of the most common products utilizing plastic squeeze tubes are cosmetics and personal care items, toothpastes, hair care products, in addition to semi-solid foods and a wide range of condiments.
Metal and aluminum squeeze tubes, as anyone who's held one will admit, have a more durable and high-end feel to them. They are most frequently used in the filling of premium cosmetic and beauty products, designer lotions, shave balms, pharmaceutical ointments, liposomal products and foods, as well as silicone-based products, industrial materials, and chemicals with specific stability requirements. Whereas plastic tubes are traditionally sealed and trimmed, aluminum and metal squeeze tubes are pressure sealed to protect the filled contents, while adding an element of design and style to the finished product.
Considering Tube Filling for Your Private Label Product?
Choosing the right tube filling service for your needs can seem a bit overwhelming, especially the first time around. There are many factors to consider, including materials, volume, tube sealing techniques, labeling options and many others. The Whole Package is located in Oak Ridge NJ, and brings over 25 years of professional tube filling experience and expertise to every project.
We Offer the Following Tube Sealing Machines to Purchase
Whether you're a seasoned pro or brand new to the concept of squeeze tube manufacturing, we can answer your questions and assist you through each step of the process. To learn more about our services or capabilities, we invite you to contact us at 973-208-8654. You can also contact us by e-mail through our website.
Sours: https://www.thewholepkg.com/blog/squeeze-tubes-for-private-label-products
Recycling centers that accept: Shampoo and Conditioner Containers- Soft Squeeze Tubes
REDUCE
Try to purchase plastic containers instead of squeeze tubes if possible. This will help reduce waste because the plastic bottle containers are recyclable, but the squeeze tubes aren't.
RECYCLE
Some caps for these containers are recyclable. If the cap has a recycling number on it, recycle it in your curbside bin.
DISPOSE OF
Throw away the package and any non-recyclable caps.
---
Aveda Full Circle Recycling Program
Bring in all of your empty Aveda packaging to an Aveda location near you. All packaging will be reused, recycled or burned for energy recovery. Check out the website below for more details.
Visit website
Materials Accepted:
Body Wash and Lotion Containers, Make-up Containers- empty, Shampoo and Conditioner Containers- Plastic Bottles, Shampoo and Conditioner Containers- Soft Squeeze Tubes
Kiehl's Recycle and Be Rewarded Program
Send in all of your empty Kiehl's products to be recycled. After sending in ten full sized packages, you will receive a free travel-sized product. Please check out the website below for more information.
Visit website
Materials Accepted:
Body Wash and Lotion Containers, Shampoo and Conditioner Containers- Plastic Bottles, Shampoo and Conditioner Containers- Soft Squeeze Tubes
Sours: http://www.gwinnettcb.org/recycling-center-material/s-c-c-soft-squeeze/
5Pcs Tube Squeeze Clear Plastic Refillable Cosmetic Cream Lotion Travel Bottle Empty Container
Description: Made of high quality PP and PE material. non-toxic and odor-free. safe and sanitary. The size of these travel bottles are within the acceptable limits of airlines. easy to store in bag and carry. These makeup travel containers are great for travelling. camping. business trip etc. Suitable for a wide variety of items. such as lotion. cream. cleanser. toothpaste. sunscreen and other products. Transparent colors of these travel bottles make it easier to distinguish objects inside. convenient for using.
Specifications: Color: Transparent color Size: 39*77mm (20ml). 46*79mm (30ml). 46*111cm (50ml) Material: PP. PE
Note: There might be a bit color distortions due to different computer resolutions. There might be a slight errors due to different hand measurement.
Package included: Type 1: 5* Cosmetic Squeeze Tubes
Product type: Cosmetic Bottles & Jars
Found an error?
Sours: https://www.joom.com/en/products/5f22a26c968a3f01069584b4
Heading Process of PE Cosmetic Tube - Squeeze Lotion Tubes Production Process
Thank you for liking SKS Bottle! Here is a $10.00 discount code to use on your next order:
fbsks12
SKS carries an extensive selection of spa and salon containers for your hair care, skin care, massage or tanning product line. Browse our metal, glass and plastic bottles, jars and tins you're sure to find the perfect containers for all of your spa and salon products!
---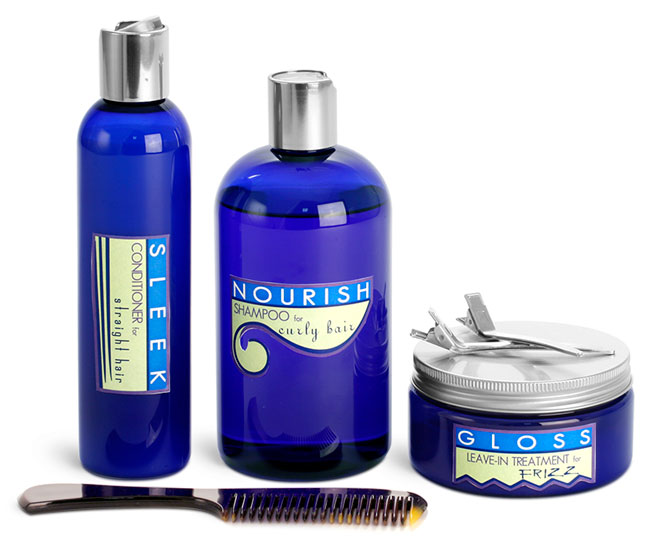 Plastic Shampoo & Conditioner Bottles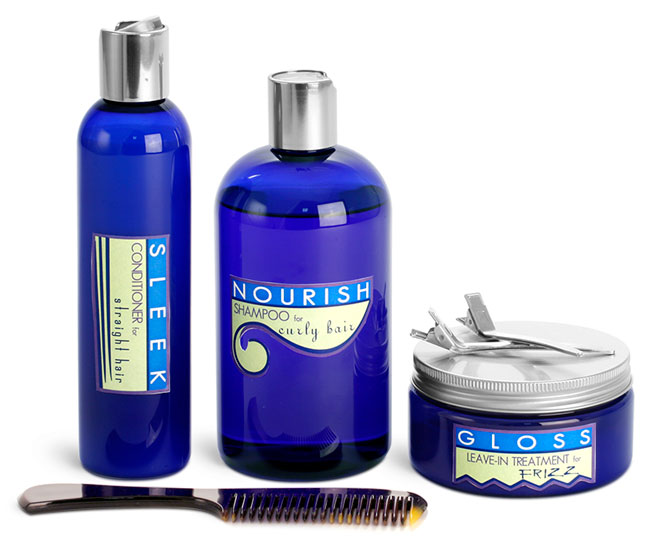 Our PET plastic hair salon containers could be ideal for use as shampoo bottles, conditioner bottles, hair color bottles and more. Try using our cosmo and boston rounds with disc top caps for hair care product packaging such as conditioner and shampoo bottles. Disc top caps allow the user to cleanly dispense the hair care product inside. Most of our clear, blue, amber and green plastic bottles are available with black, white, natural, silver and gold disc top caps to compliment any brand's theme!
---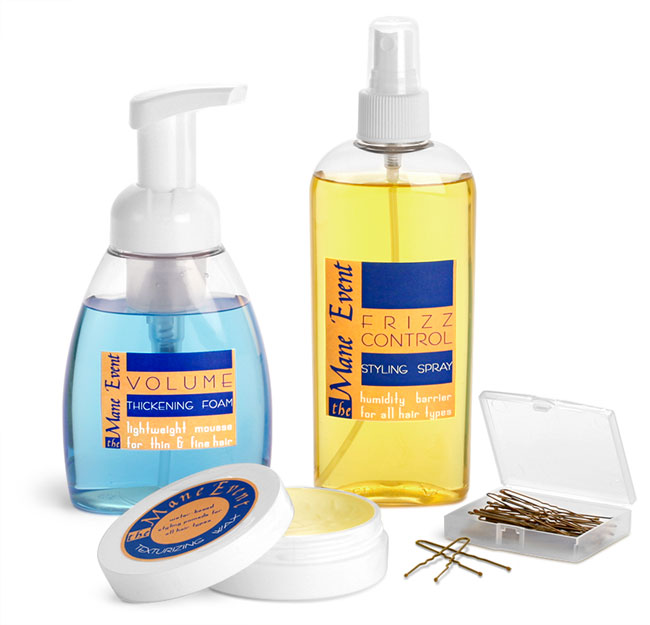 Plastic Hair Spray & Styling Product Bottles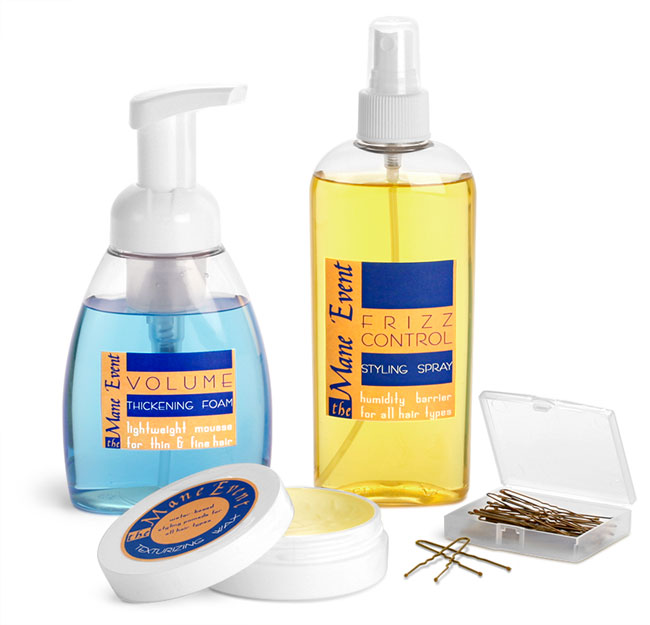 We also offer a variety of PET plastic bottles with sprayers or pumps, which could be ideal for use as hair spray bottles, mousse bottles, styling product containers and more. Our line of white thick wall polypropylene jars may be just what you're looking for to package hair gel, wax or pomade. They are available in five sizes from 1 oz to 8 oz and come with smooth white F217 lined caps to help reduce the possibility of product leakage. The natural polypro hinged containers could be great for holding bobby pins and other hair accessories!
---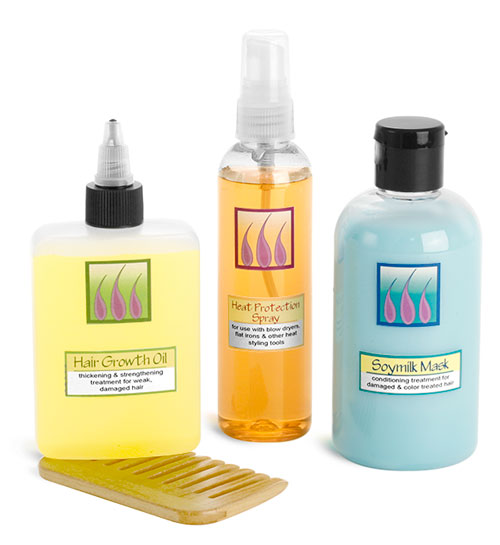 Plastic Hair Treatment Bottles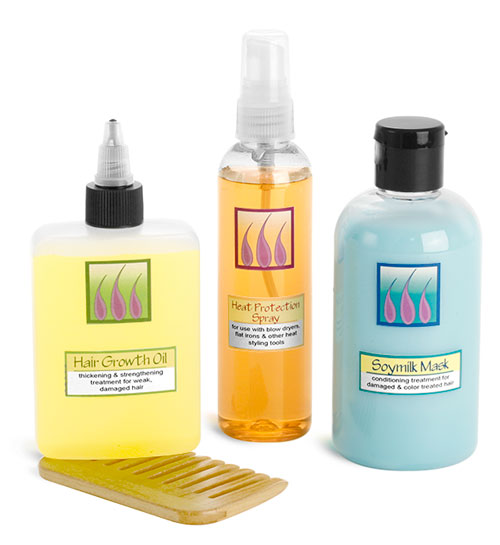 Our plastic bottles with twist top or snap top caps may be perfect for your hair treatment line. The LDPE plastic squeeze bottles with twist top caps might be used for hair serum or oil, allowing users to apply the treatment directly to their hair. Clear PET bottles with black or white snap top caps could be ideal for masks, conditioners and other hair therapy treatments.
---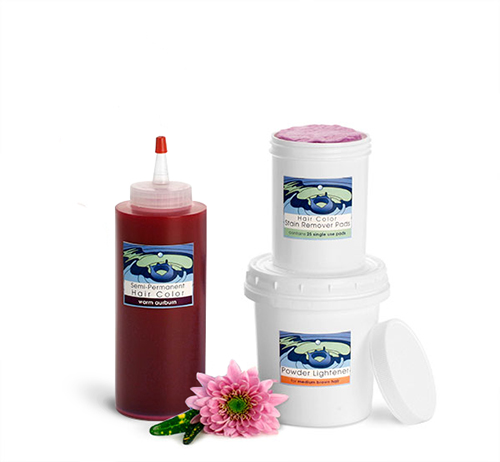 Plastic Hair Color Containers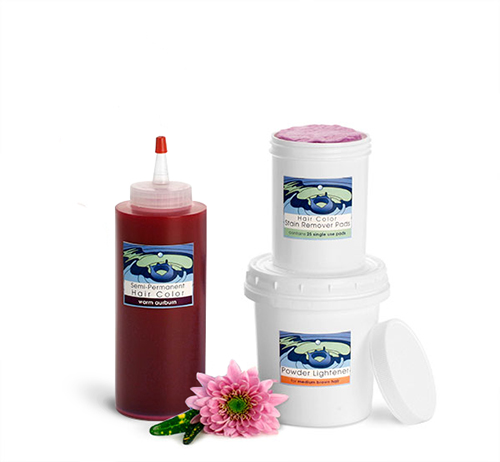 Whether you are a manufacturer of professional hair coloring products or a salon owner looking for hair color applicator and spray bottles, we have you covered! Our white HDPE vapor lock pails could be ideal for many bulk-sized coloring products such as lightening powders, deep conditioning treatments and additives. The pry-off lids fit securely on each pail ensuring that the contents will not leak or spill. The natural HDPE trigger sprayer bottles could be ideal for wetting hair before coloring or styling. Then, for mess-free hair color application, try using our natural LDPE cylinder hair color bottles with yorker caps. Our white polypro jars with unlined caps could be great for storing or packaging stain remover pads to clean up excess dye.
---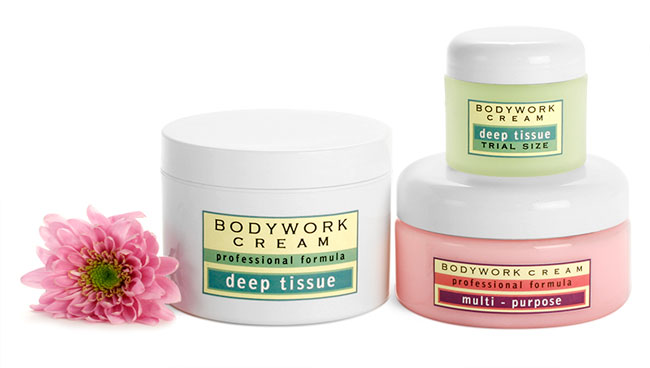 Massage Lotion Jars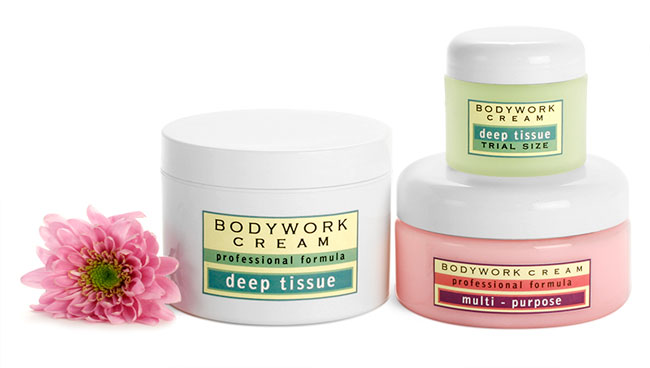 If you need containers for your massage lotion, oil, or cream, you've come to the right place! SKS has great selection of bottles and jars to package both your retail and bulk-sized products. Our white polypro double wall jars and clear PET jars are available in a wide range of sizes making them ideal for massage lotion and cream. Try using our elegant 2 oz natural frosted polypro jars to hold generous trial-sized samples of your products!
---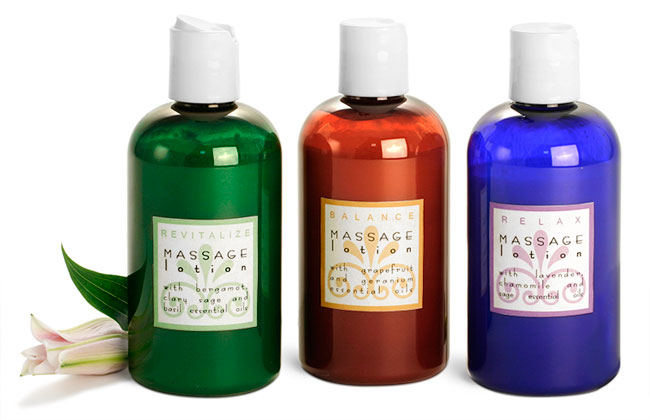 Massage Lotion Bottles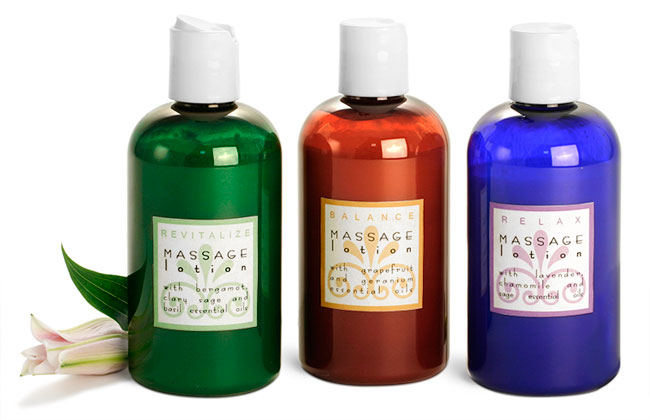 Try using our PET boston round massage lotion bottles with disc top caps to package your massage lotion line. These caps make it easy for therapists to dispense massage lotion, keeping their workspaces clean. Choose from clear, blue, amber or green massage lotion bottles ranging in size from 2 oz to 16 oz. These containers are sure to catch your customer's eye on the retail shelf and in the treatment room!
---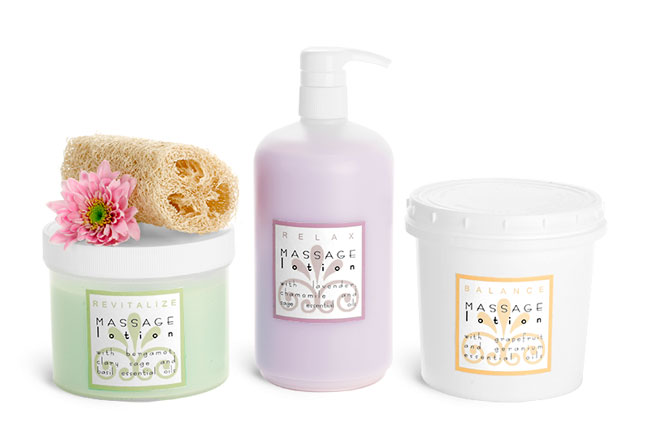 Bulk Massage Lotion Containers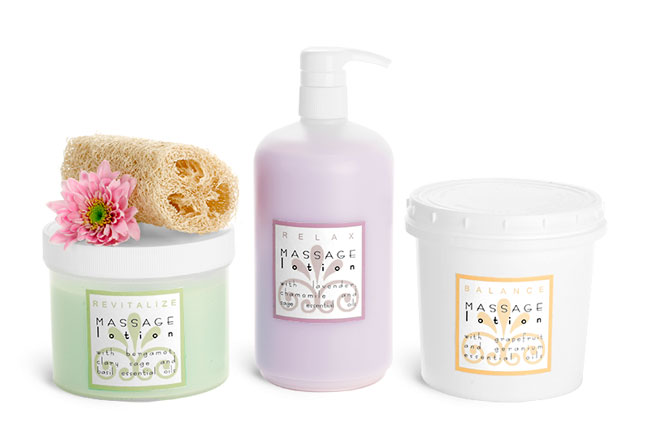 For your bulk massage lotions and creams try using our polypropylene massage cream jars, vapor lock pails and HDPE pump bottles. The natural polypro jars and HDPE massage lotion bottles with pumps range in size up to 32 oz; the white HDPE vapor lock pails are available in seven sizes from 4 oz to 2-gallon capacities. These containers could be great for refilling supplies in the treatment room or for wholesale distribution!
---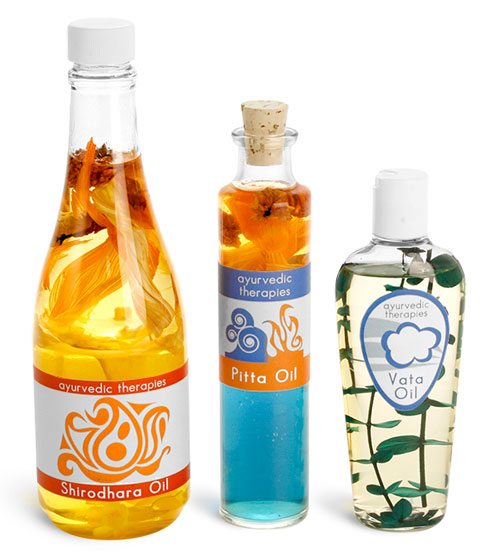 Buy Massage Oil Bottles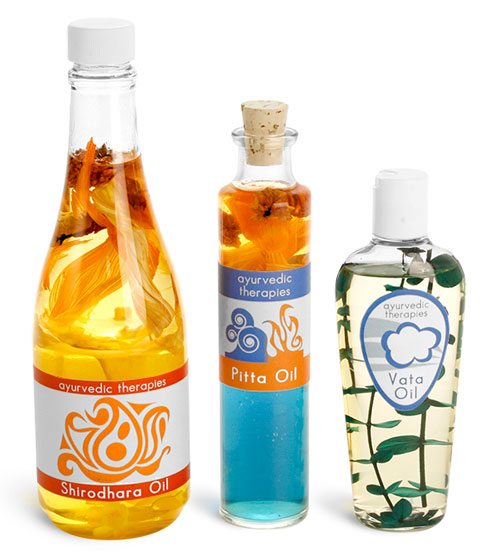 Our glass or PET plastic massage oil bottles could be great packaging solutions for massage products. These massage oil bottles are available in several sizes with many closure options from disc tops and snap tops to screw caps and cork stoppers. Try adding botanicals to your massage products for infused oils that will become decorative accents to any room!
---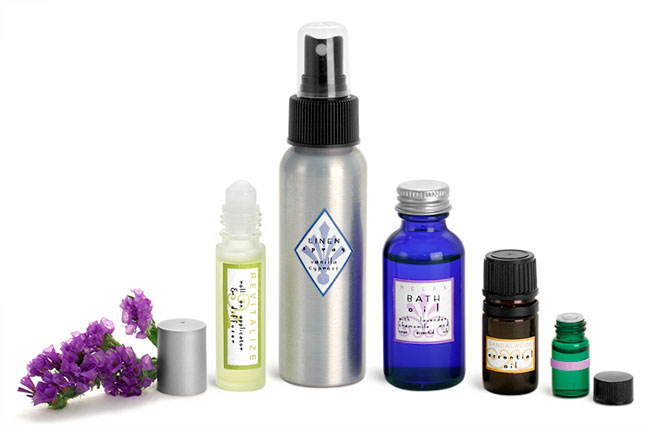 Aromatherapy Bottles & Jars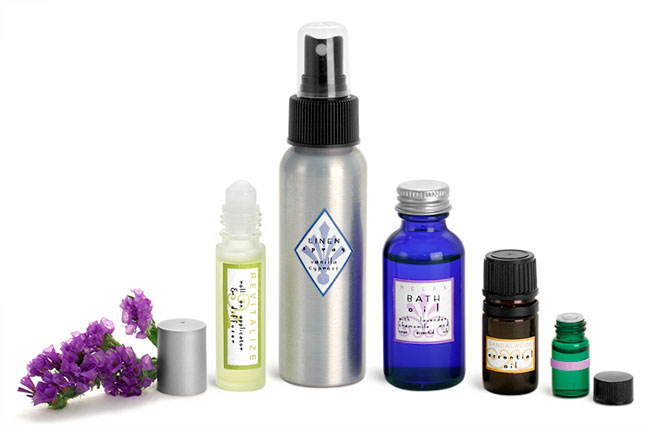 We have a great selection of glass and metal bottles that may be useful for aromatherapy massage. Our clear, blue, amber and green vials and bottles may be just what you need for packaging essential oils and blends. Choose from PE lined aluminum caps, droppers, phenolic cone lined caps, sprayers and more! For controlled dispensing of your aromatherapy massage oils, select bottles with orifice reducers to ensure that the contents won't go to waste! If you're looking for a way to diffuse your aromatherapy scents as perfume, room spray or linen mist, try our aluminum bottles with fine mist sprayers or glass roll on applicator bottles!
---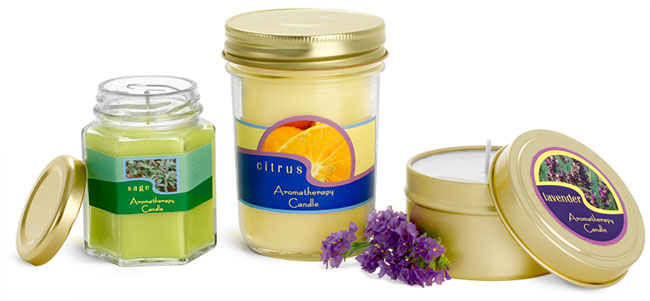 Massage Candle Jars & Tins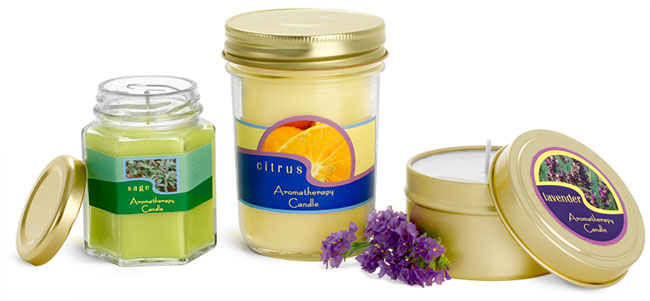 The ambience of a massage room isn't complete without the soothing scent and flicker of an aromatherapy massage candle! Whether you craft your own massage candles or manufacture them professionally, SKS has a great selection of glass and metal containers for your needs. Our glass hexagon massage candle jars, 8 oz jelly jars and gold metal candle tins could be ideal for aromatherapy massage candles. You could apply the gold metal caps and lids after each use to help maintain the candle's scent.
---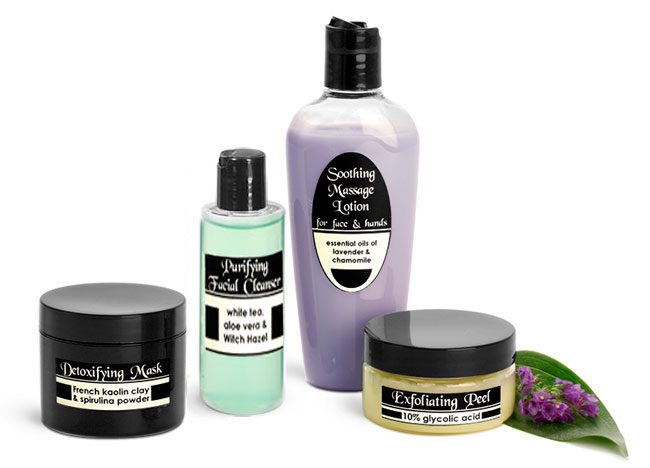 Skincare Bottles & Jars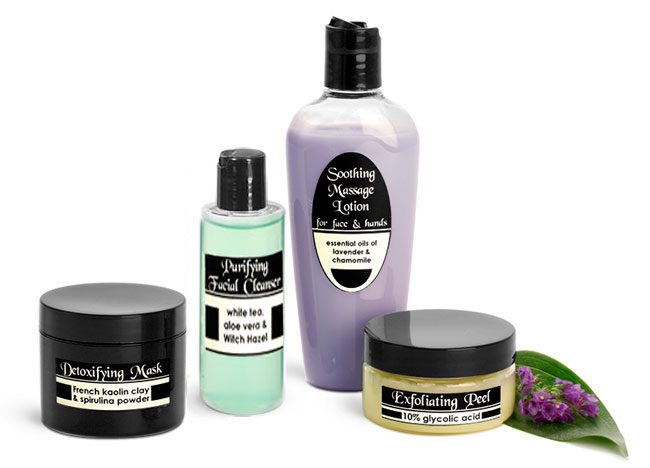 Our selection of esthetics and skin care bottles and jars might be a great fit for a variety of skin care products from cleansers and moisturizers to masks and exfoliation treatments. Try using our 2 oz and 4 oz black polypro jars to package clarifying masks or purifying peels. Many of our plastic and glass bottles could be ideal for massage lotion, facial cleanser, makeup remover and more!
---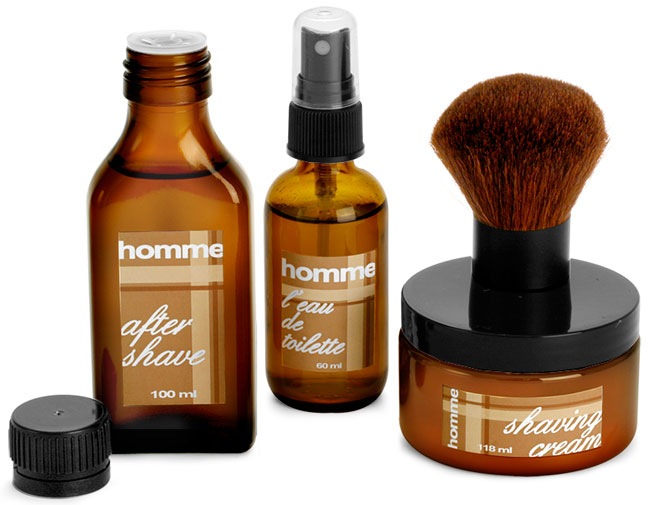 Men's Aftershave & Skincare Containers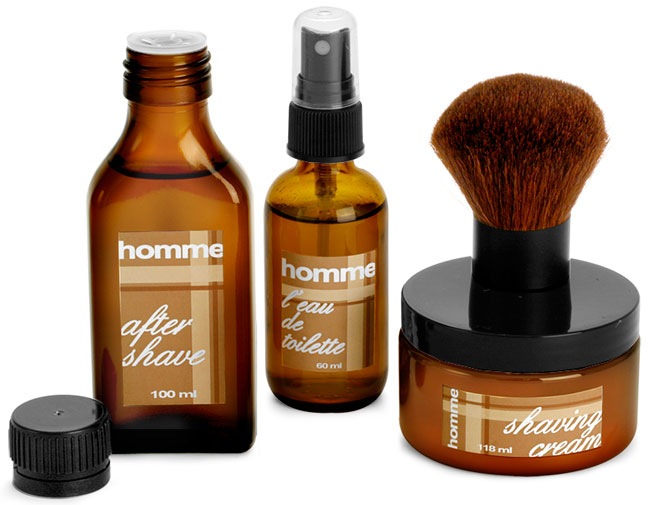 Give your skin care line a masculine look with our collection of men's aftershave bottles and skin care containers! Try using the 100 ml amber oblong glass aftershave bottles for products such as cologne or toner. Each aftershave bottle includes a black ribbed tamper evident cap and a plastic pouring insert, making it easy to dispense a variety of liquids. Our amber glass oval and boston round cologne bottles are available with many closure options such as black phenolic cone lined caps, fine mist sprayers, droppers and more! You could use these bottles for products like shaving oil, cologne or face wash. For skin care products such as shaving cream, scrubs and masks, try using our 1/2 oz to 16 oz amber PET plastic jars.
---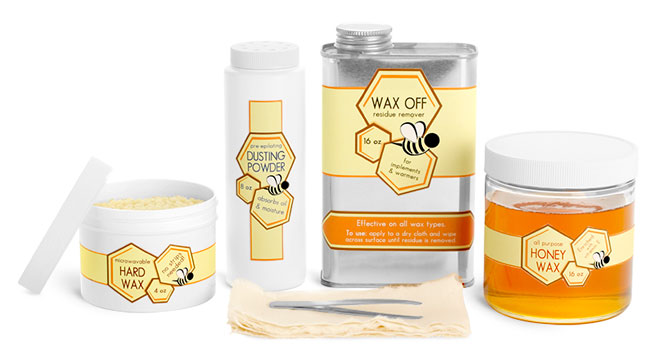 Hair Removal & Waxing Containers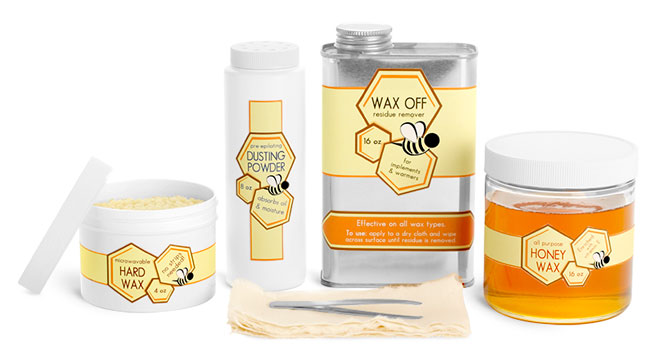 SKS also offers containers that could be perfect for your line of hair removal and waxing products. Our white polypropylene jars and clear glass jars with white ribbed caps could be ideal for hard or soft waxes. Try using our white HDPE sifter bottles for a great way to dispense pre epilating dusting powders. For easy clean up, try our oblong metal cans to package wax residue remover.
---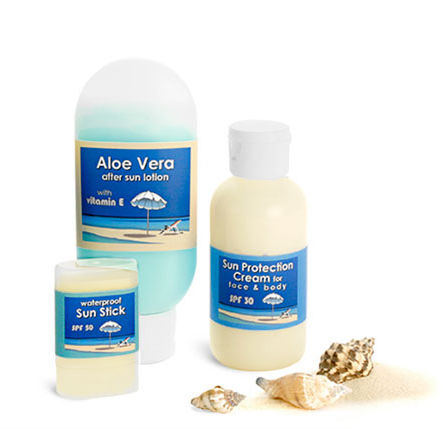 Tanning & Sunscreen Bottles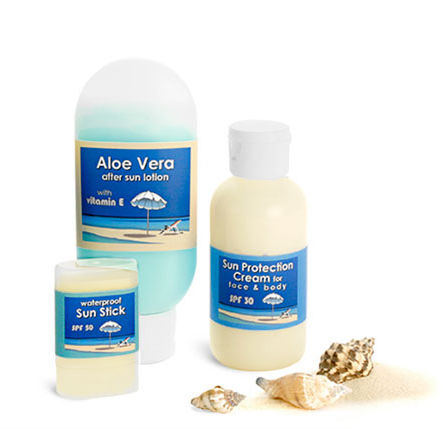 We have an extensive inventory of plastic tanning lotion bottles and tanning oil containers that might be just what you need for your tanning and sun protection products. Try our natural LDPE boston round sunscreen bottles or HDPE tottles with snap top caps to conveniently dispense sun block or after-sun lotion. You could also try using our 0.35 oz natural oval lip balm tubes for handy, travel-sized sun block sticks! Our 100 cc air spray bottles are a nice alternative to aerosol sunscreen bottles. They provide a continuous, fine mist spray without the use of gas propellants by utilizing the unique pump system integrated into the cap.
---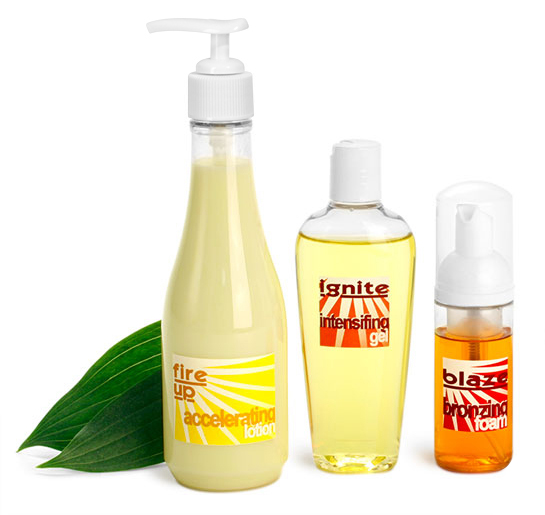 Tanning Lotion Bottles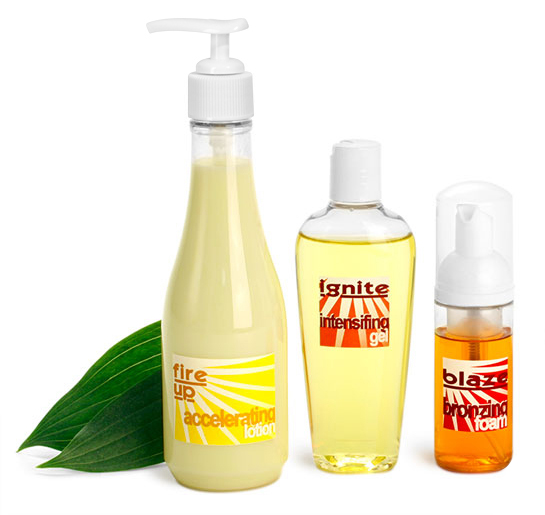 If your customers are looking to enhance their tans, our unique plastic tanning lotion bottles are sure to set your products apart from the competition! Top our clear PET plastic woozy and naples oval tanning lotion bottles with pumps or disc top caps to package accelerating lotion and intensifying treatments. Our 50 ml and 250 ml clear PET pump bottles create high quality foam with each stoke, making them ideal for a variety of tanning lotion products. Try using our PET amenity bottles to package samples or convenient travel sizes of your product that customers are sure to love!
---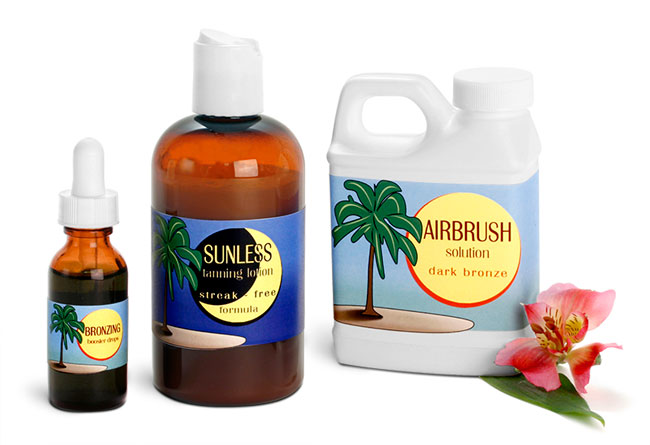 Sunless Tanning Bottles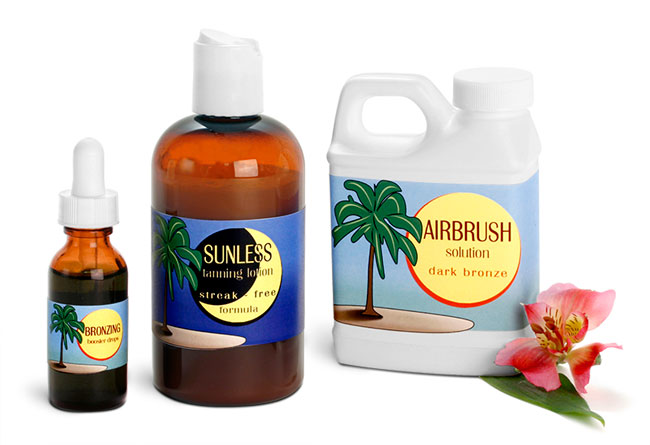 SKS also has a great selection of sunless tanning lotion bottles and tins that could be used for your sunless tanning supplies! Our 8 oz white HDPE plastic f-style jugs could be ideal for packaging airbrush tanning solution. For added intensity, use our amber glass boston rounds with glass dropper caps for your bronzing booster drops. Don't forget to browse our selection of amber, clear, blue and green PET plastic bottles with disc tops, lotion pumps, and snap top caps that could be ideal for sunless tanning lotions, creams and gels!
---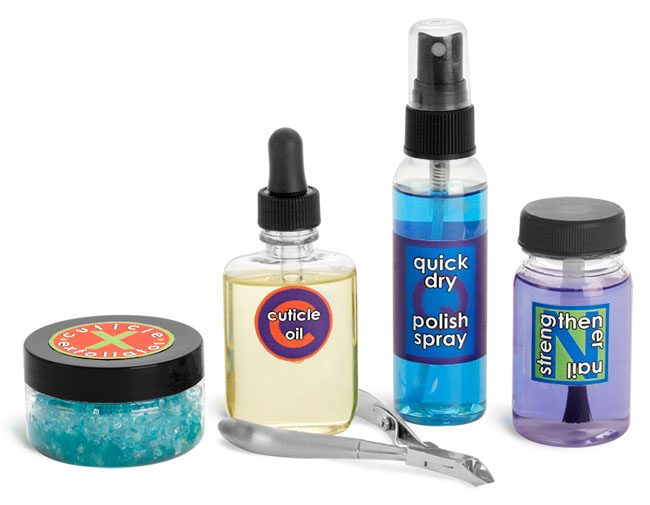 Nail Care Containers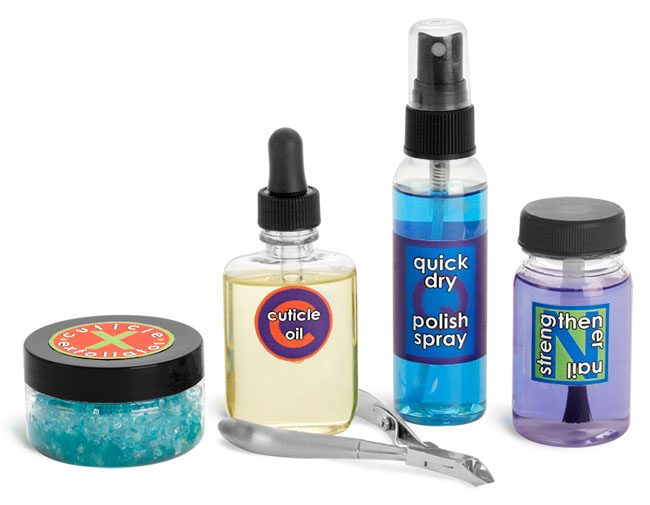 If nail care products are your specialty, take a look at our plastic nail care containers for manicure and pedicure nail care containers! Our 1.25 oz PVC plastic ovals with black bulb droppers and 60 cc PET pharm rounds with brush caps could be ideal for cuticle oil, nail strengthener and other nail treatments. The convenient dropper caps and brush caps allow the user to neatly dispense or apply just the right amount of liquid every time! Try using our clear PET cosmo rounds with fine mist sprayers for polish drying spray, treatment area sanitizer or even air freshener! The 2 oz clear thick wall PET plastic jars could be the perfect size for hand treatments such as scrubs and creams.
---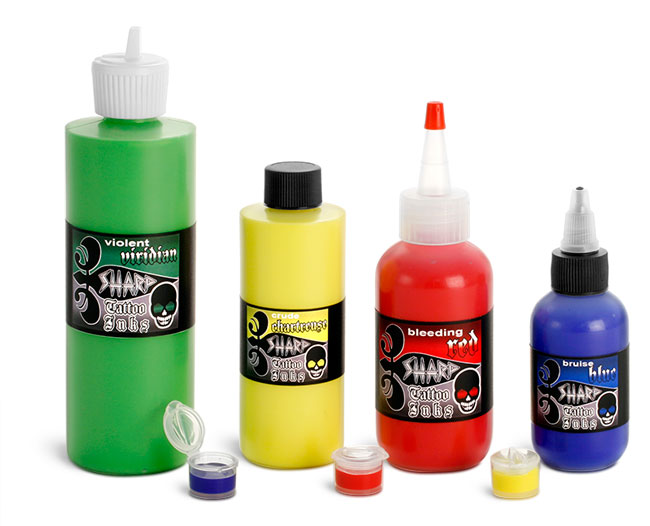 Tattoo and Piercing Containers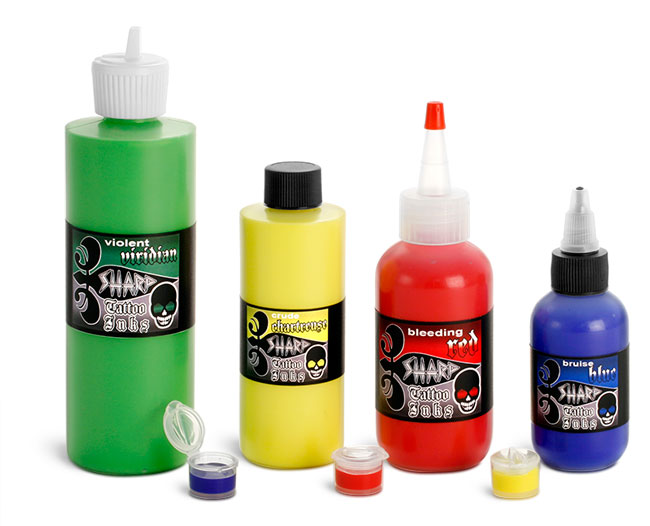 We carry a wide assortment of squeezable plastic tattoo ink bottles that may be ideal for packaging and dispensing tattoo inks. Our natural LDPE and HDPE boston round and cylinder tattoo ink bottles range in size from 1/2 oz to 32 oz and are available with screw caps, twist tops, yorker caps, and flip top caps. Try using the natural polypro hinged micro vials for tattoo ink caps. The hinged top stays securely shut protecting ink from contaminants during tattoo sessions.
Our plastic boston and cosmo round tattoo and piercing care bottles are available with several different cap options making them ideal for products such as protective lotion, numbing spray and disinfectant soap. For tattoo aftercare balm and healing ointment, try using our aluminum screw top tins or blue glass jars. Lip balm tubes could be a great choice for packaging portable sunscreen sticks to help maintain and protect tattoo artwork.
We stock several styles of tattoo bottles and accessories that may be useful for tattoo and piercing procedures. Our natural LDPE wash bottles, HDPE trigger spray bottles and cylinders could be used for sanitizer, cleansing soap, or saline solution. We carry a variety of disposable latex, vinyl and nitrile tattoo gloves, such as our Phantom black tattoo gloves , to keep you clean and protected!
---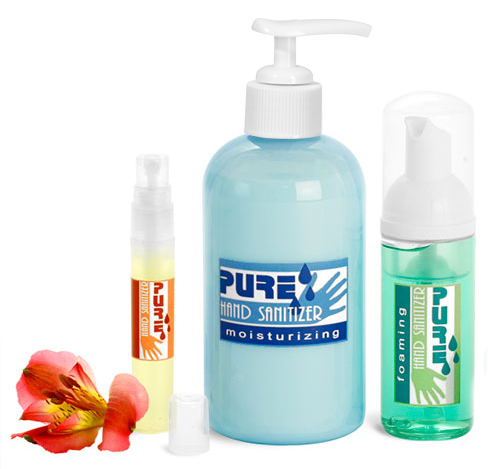 Spa & Salon Accessories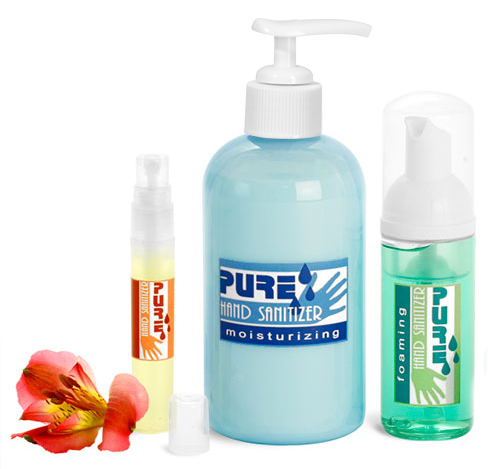 No matter the type of spa or salon, cleanliness is of the utmost importance. For use at your workstation, at home or while traveling, hand sanitizer is a convenient way to keep clean when water and soap aren't available. Try using our natural frosted sprayer cylinders, PET amenity bottles with snap top caps, clear PET boston rounds with lotion pumps, and PET foamer bottles as hand sanitizer bottles to package a complete line of sanitizing products!
Whether you are a spa owner, massage therapist or esthetician, clean linens are always a must! Our white HDPE f-style laundry detergent bottles with aluminum caps could be ideal for packaging professional-strength laundry detergent or cleanser.
It's easy to keep your supplies organized with our plastic salon storage boxes! These salon storage boxes are available in a wide range of shapes and sizes, which makes them well suited for a variety of uses in salons and spas! Try using them to organize nail and esthetic implements, tattooing needles and ink caps, hair styling accessories, and more!
---
Our spa and salon containers are offered in a variety of shapes and sizes with several different closure options. Should you have any questions about our products please contact our sales department. We also have decoration and silk screening capabilities to enhance the appearance of your product line! As always, we suggest that you test your product and container for compatibility.
Packaging Tip
Tamper Evident Shrink Bands
Offer your customers a tamper evident product by applying a shrink band to your container! Our shrink bands are made of clear PVC plastic, are .2 mm thick, and contain a vertical perforation for easy removal. Once the band has been removed it cannot be re-applied to the container. Simply slide the appropriate size shrink band over the container so it fits around the cap and opening of your bottle, tube or jar. Gradually heat the band until it shrinks fitting snugly around the container. Be sure that your heat source is not too hot as it may result in uneven shrink band application or damage the actual packaging of your product.

In addition to the stock shrink bands listed on our site, we also have the capability to produce custom shrink bands and sleeves in unique sizes, colors and materials.
Sours: https://www.sks-bottle.com/
Squeeze tubes lotion
How To Use Up Lotions In Squeeze Bottles To The Last Drop
Last updated on September 16th, 2021 at 01:01 pm
I practice thrifty tips, I use coupons, I thought I was a good example of a frugal queen. Then one morning as I am running on the treadmill at the gym, I saw another frugal queen on TV sharing tips on saving money. I immediately pulled out my headphones, I was using to listen to my favorite workout tunes and started listening. Would this queen of frugality teach me something new?
How To Use Up Lotions In Squeeze Bottles To The Last Drop
(Links in this post are affiliate links. I will be compensated when you make a purchase by clicking those links. See mydisclosure page for more information)
She did. With an empty container of moisturizer in one hand and a pair of sharp kitchen scissors in the other she proceeded to cut down the sides of the container and show all the viewers the days worth of product they were throwing away.
I was hooked. I couldn't barely wait until my suntan lotion got empty enough to try her trick.
What I discovered was you need a very sharp pair of scissors to snip into one of these types of containers I used kitchen scissors that are super sharp. First I cut into the top layer and then cut it toward the left and then towards the right of the container.
Then I cut it all the way down the bottle and to again to the sides at the bottom.
I used a spoon to scoop out the remaining lotion I found inside. There was at least 3 to 4 tablespoons full. The Dolphin Organics Naturals brand of sunscreengoes a very far way so this is enough for several more applications.
This idea works for moisturizer, foundation, face cleanser, and suntan lotion basically any product that is thick and creamy in nature.
For a list of 52 different websites, apps, and stores our thrifty family uses to help us keep our expenses low, click here to visit our Thrifty Tools Resource Page.
Available in paperback and Kindle on Amazon–get your copy here!
Get snail-e-mail in your inbox each week!
A weekly email with the feel of snail mail. A peek into my week, a few deals so good I just have to share, and links to all of Snail Pace Transformations latest posts!
Success! Now check your email to confirm your subscription.
Filed Under: FrugalityTagged With: Lotion, Sunscreen, thrifty
Sours: https://snailpacetransformations.com/using-it-up-till-the-last-drop/
How Cosmetic Tubes Are Manufactured - Weltrade Packaging
The moans become more intermittent, my girl begins to jerk her booty more sharply, but this will not help her much - two fingers do not. Climb, so I quickly insert one, but at once to the full length. Another mmmm. mmm is heard, but I, without being distracted, pull her pelvis towards me and twist my finger in the anus. I take out my finger, again lubricate several fingers in the secretions, bring my fingers together and press on the anus.
Now discussing:
Im a courier, because I was promised good money and a promotion at work, the girl blurted out as if in. Spirit. - It's hard to believe that you don't want so much intimacy with me, okay. erotic stories I thought we would flirt a little. - Now can you give me the documents.
400
401
402
403
404