4 Ways to Cover Up Ugly Apartment Balcony Floors
Many apartment gardeners hate their outdoor floors. Fortunately there are several options for the balcony container gardener when it comes to spicing up the floors of their flower gardens and vegetable gardens.
1. Decking. Decking squares that latch together are probably the best option for apartment balcony gardeners. These decking squares can be placed on any sized apartment balcony. Purchase a set and latch them together according to instructions to cover as much floor space as you'd like. The decking is raised off the balcony floor slightly, which will preserve the integrity of the material below it (that will make your landlord happy!). The decking squares will also make the balcony feel more like a cozy, homey deck than a sterile apartment balcony. 
2. Fake grass. You may think that fake grass would look odd on a balcony, but fake (or real) grass can be popular, especially with dog owners. Make sure that the grass is up off the ground. Never let your dog urinate on a patch of grass not above a dog "potty patch," "porch potty" or something created specifically for pet dogs to eliminate on. You don't want water, urine or other waste leaking through to your balcony floor.
Fake grass dog potty patches are easy to clean, and some even clean themselves by rinsing themselves with water that then drains off the side of the balcony. These potty patch systems provide an attractive solution for apartment residents. The potty patch will allow you to let your dog out without having to take him or her for a walk every time. It will also help you train your dog to use only grassy areas for elimination. For those of you without dogs, if you choose to put down grass, make sure the material is not directly on the balcony floor. If the balcony gets wet, it will compromise the floor material, whether it is concrete or something else. When any material stays wet on the apartment balcony floor for long periods of time, it will invite pest insects, molds and smells. Install grass correctly so you don't have a headache later on.
3. Paint. If your apartment management allows you to paint the balcony floor surface, you may want a bright, bold color, or you can get paints that imitate the look of stone or other natural materials.
If you do decide to paint, make sure the paint is appropriate for outdoor floor areas and for the material you're painting on. Always follow the manufacturer's instructions and be careful to not inhale toxic paint fumes.
4. Outdoor rugs. Outdoor rugs can be expensive, and, unfortunately, they can compromise the floor of your apartment balcony. If the balcony floor stays wet for any period of time, it can damage the floor (this is also why you should keep plant containers off the floor). If your floor is concrete, it may crack if it stays wet during periods of temperature fluctuation (freezing and warmer temperatures). Never glue a carpet to the floor. You may get in trouble with your apartment management for damaging the floor (you do want your deposit back, don't you?). Outdoor rugs can be appropriate on apartment balconies with awnings. These rugs shouldn't get wet with rain or snow. Just make sure you don't spill too much water on them while watering any container plants you may have in your balcony garden (and definitely don't put plant containers on top of your expensive rug!).
You can choose to leave your apartment balcony floor as-is or choose one of these four options to spice up your home. No matter your choice, you can create a beautiful apartment garden. Just check with management to make sure you are not violating any rules and choose your flooring wisely.
Sours: http://www.balconycontainergardening.com/design/293-cover-up-balcony-floor
Easy Upgrade Ideas for Your Balcony Flooring
Balconies can often seem like an architectural afterthought. They are usually pretty utilitarian: a wood or concrete floor, and a metal railing. Not really the outdoor living area of your dreams. Upgrading the balcony flooring can be the first step in transforming your space into a real oasis where you enjoy spending time.
Before you add all the furniture, accessories and design elements to your balcony, you need to start with the floor. Flooring plays a really important role in defining the style of a balcony. A cracked concrete slab or splintery wood decking doesn't really set the Zen vibe you were hoping for, does it?  Today, I'm sharing some products and ideas that will get your balcony design headed in the right direction.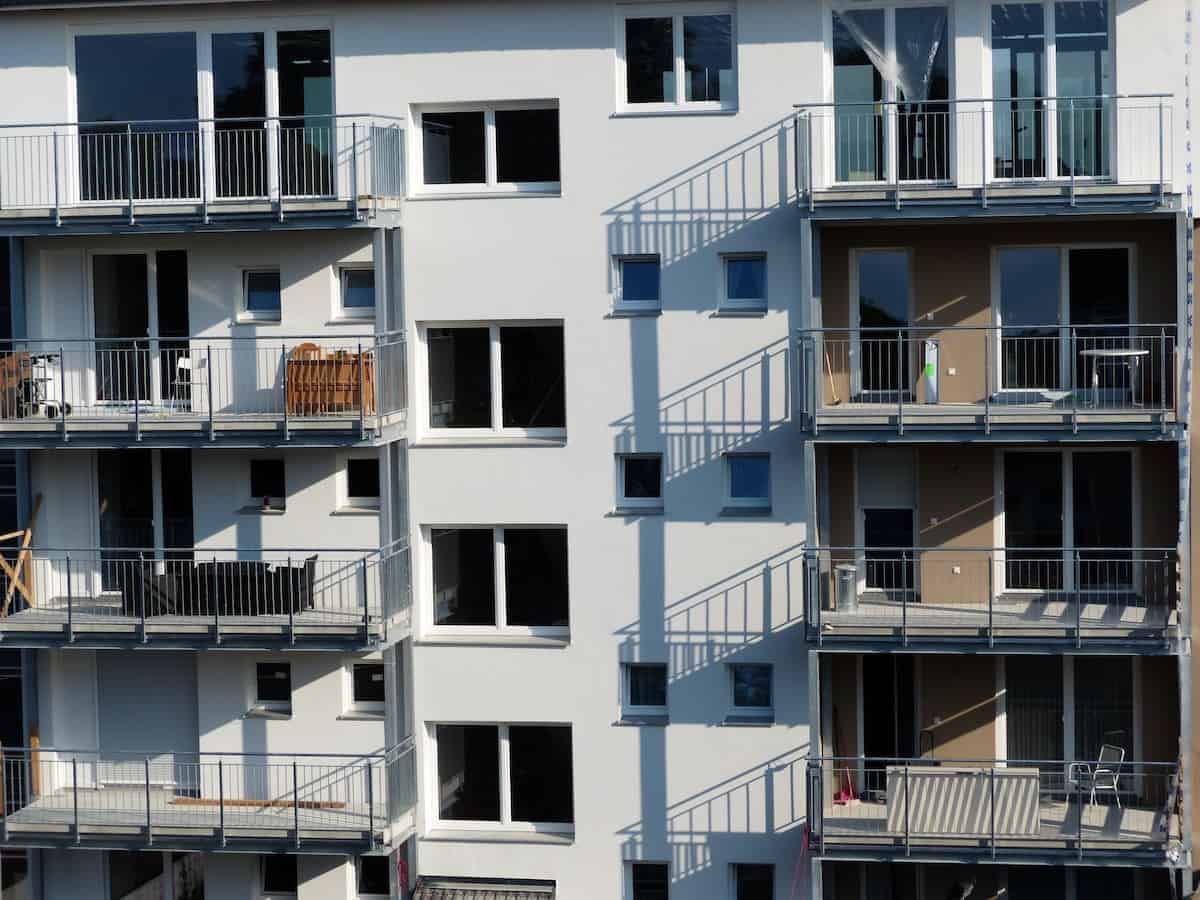 Balcony Flooring Ideas – Decking Tiles
Obviously, if your balcony is in poor structural condition then it needs to be replaced. But, if it's structurally sound and just plain or ugly, then you have a few options. These ideas are also good if you can't physically alter your balcony, but want to make it look nicer.
Decking tiles are a great choice for a balcony, especially one that looks bad. Instead of building an entire new floor, these tiles are placed on top of the existing surface. It looks like wood decking, brick, or even grass, on the top side, but has a plastic grid on the underside. This grid connects the tiles together to form a new floor.
Ikea
Runnen Floor Decking Tiles – Available in four options: a solid wood (made from acacia), dark grey polypropylene, light grey polypropylene, and a fake grass. The tiles are 11.75″ x 11.75″, and cover 8.72 s.f. per box. The dark and light grey tiles would be great for a more modern balcony design. The wood tiles are arranged in a parquet pattern, so you don't have as many options in your layout as you would with the grey tiles. Also, be aware that you only get nine pieces in a box, so you'll need more boxes for your project.
Amazon
Bare Decor EZ-Floor Decking Tiles – While more expensive than Ikea's tile, they are made of solid teak. As long as it's maintained, solid teak will last a really long time. One box contains ten 12″ x 12″ tiles, that will cover 10 square feet.  This option would be a good choice if you plan on having your balcony a long time. Of course, you can always pick it up and move it to a new balcony.
Home Depot
DeckWise WiseTile  – Made from solid hardwood (Ipe), these tiles do not have the plastic support/connection grid like the other tiles. Instead, hardwood runners support the slats. Tiles are sold individually, rather than by the box. The tiles come in a larger size (2'x2′), and the individual slats are larger. The Bare Decor tile, above, has nine slats per foot, while these tiles have four slats per foot or eight slats per two foot wide tile.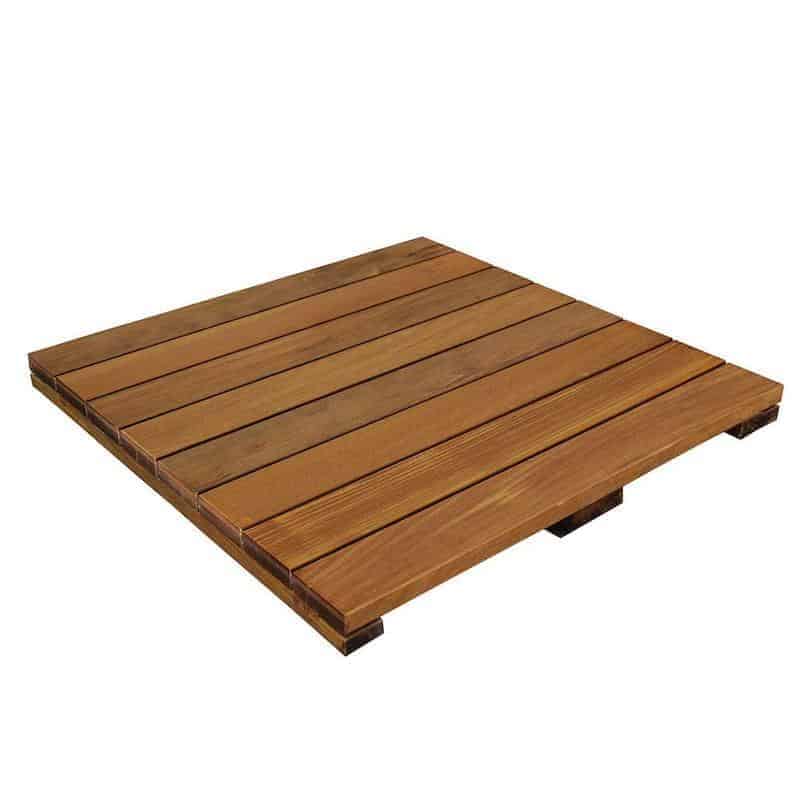 Naturesort Slate Composite Tiles – These 12″x12″ tiles are made from bamboo and a plastic composite. Tiles are available in a few different configurations: a four slat (all slats run in the same direction), a six slat parquet, and an eight slat parquet. Sold in boxes of eleven, these tiles cover 11 square feet. I like the color and that it looks like brick pavers.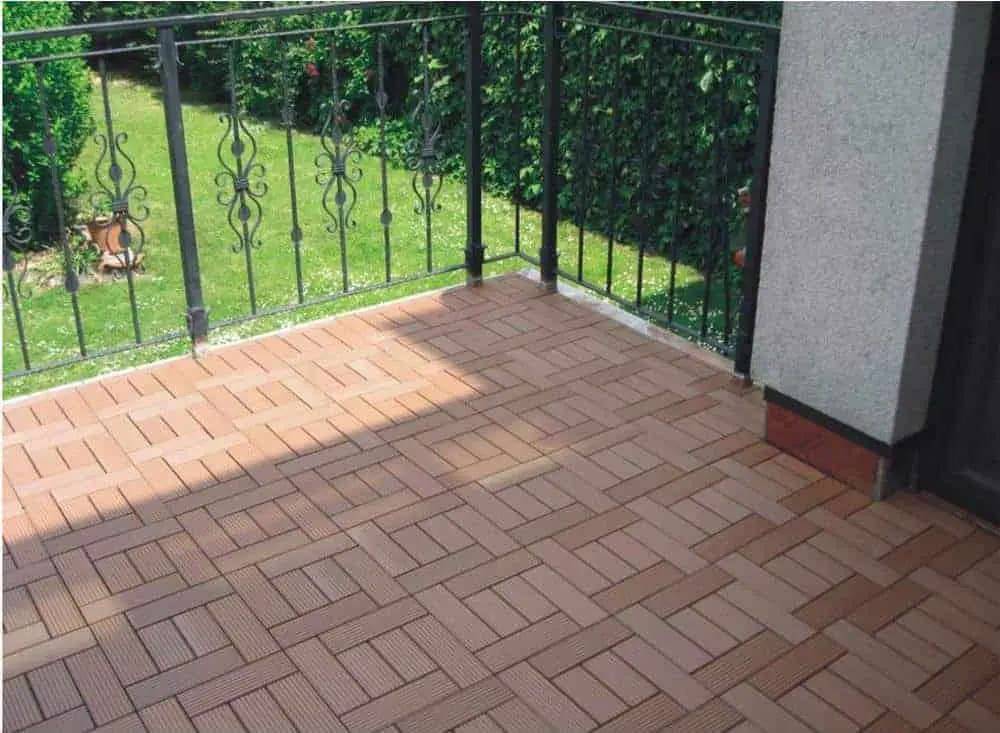 NewTechWood's UltraShield Naturale –  This product offers the most design options. Made from recycled wood and plastic, the tiles are available in fifteen different colors. Everything from natural wood shades, to Caribbean blue, to Irish Green and Swedish Red. Not only do you have a ton of color options, but the tiles come in various sizes: 12″x12″, 12″x24″ and 12″x36″. One box contains ten tiles, and each tile has four wide slats. Coverage depends on the tile size – longer tiles cover more square feet. I really like that this is a system, and that you can get end trim pieces and beveled transition strips (so you don't trip).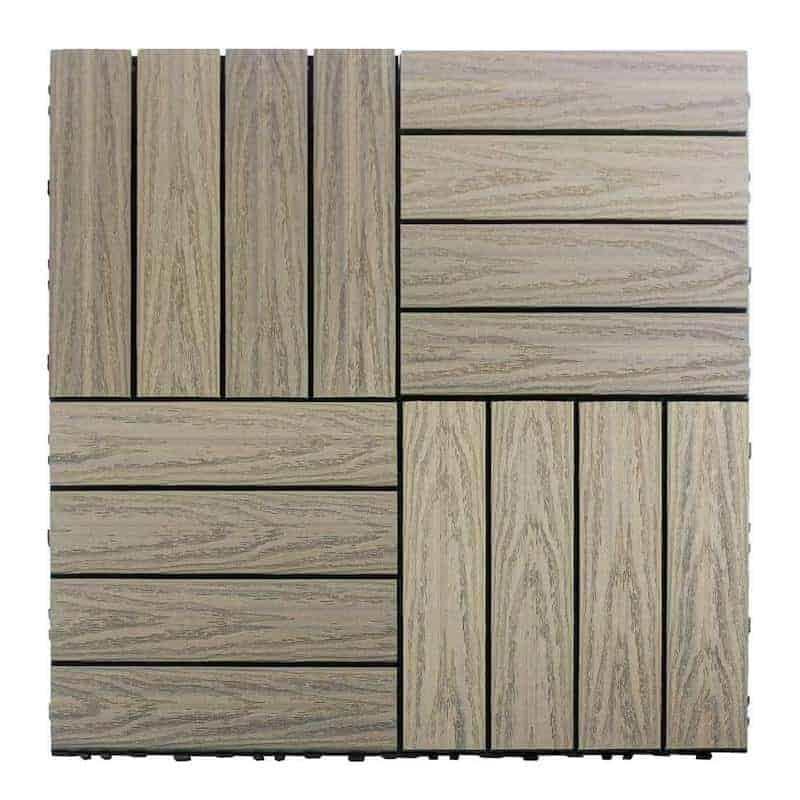 Decking Patterns
Once you select a decking tile, you can get really creative. The tiles that are just simple slats (not in a parquet pattern) offer the most design options. You can place them end to end so they look like continuous slats. Or, you can alternate the direction of each tile, so they make a parquet pattern – like the NewTechWood image above.
Another option is to make a bigger parquet pattern by using four tiles to make a unit in one direction and four tiles going 90 degrees the other way. You could also make a checkerboard pattern using two different colored tiles.
A third option, would be to place darker tiles around the perimeter and use the lighter ones as the field. You could also use one shade of tile to make an accent area – like a rug – and another shade for the rest.
Finally, you can combine the deck tiles with stones to make some really interesting designs. If your balcony measurement is not a multiple of your tiles, you can use a border of stones to fill in the difference.
Balcony Flooring Ideas – Paint
If the balcony floor is in relatively good condition, and you just want to add some flair, then paint it. If you're feeling really adventurous and like to DIY, then stencil it.  This Penelope Tile Stencil would look amazing. Just be sure to use a good sealer so you can enjoy your hard work for a long time.
Balcony Flooring Ideas – Rugs
Outdoor area rugs are the easiest way to improve the flooring of a balcony. A rug can hide an ugly floor, or can "really tie the room together", as The Dude says. I found these seven Safavieh outdoor rugs from Amazon that would look great on a balcony.

Cream and Green Contemporary Rug
Beige and Navy Rug
Sand and Black Rug
Blue and Beige Rug
Chocolate and Cream Rug
Anthracite and Beige Rug
Red and Natural Southwestern Rug
The variety of designs is pretty amazing – from traditional (#3) to the modern deconstructed flower (#1) to Boho (#7). I really like all of these, but I think the mandala (#2) is my favorite.
Whether you put down decking tiles, a rug, or DIY a stenciled floor, you don't have to live with ugly balcony flooring. Start with a nice floor, and create a beautiful balcony that you can enjoy.
Pin this for later!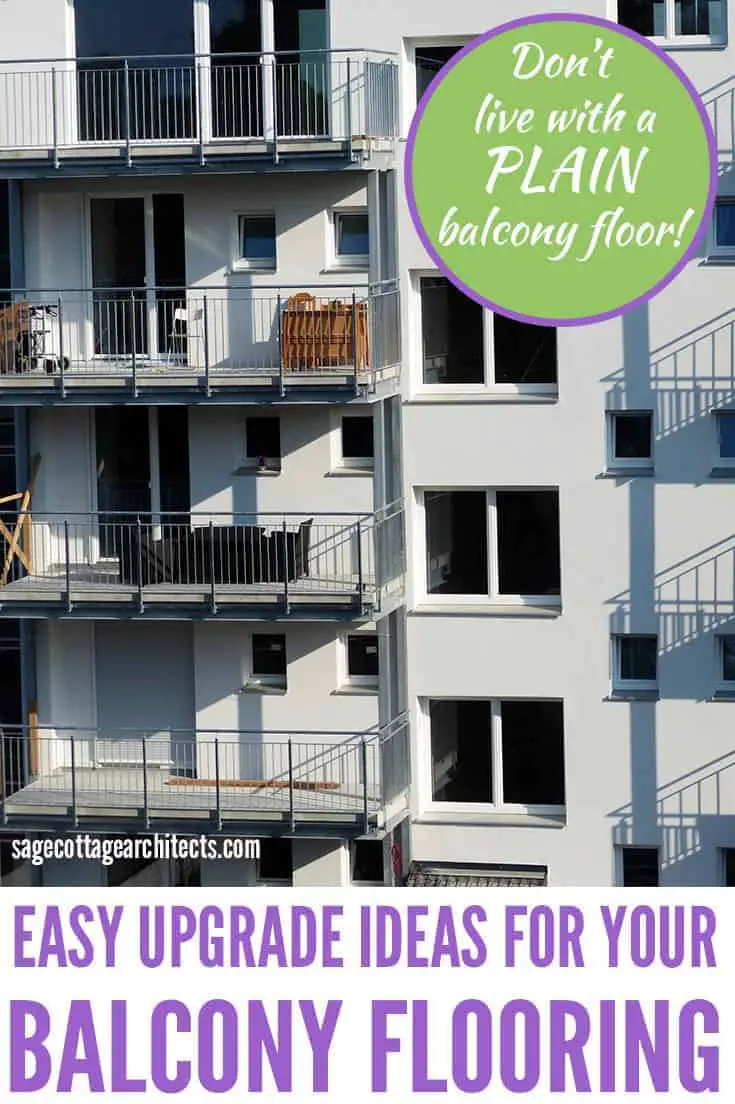 Sours: https://www.sagecottagearchitects.com/balcony-flooring/
Balcony Floor Resurfacing
Resurfacing an existing balcony might seem a major challenge – small work area, limited access, disruption, dust and dirt, and gaining approvals.
But not necessarily so. No longer are you limited to conventional ceramic tiles or just bare concrete.
Here's four resurfacing options to consider.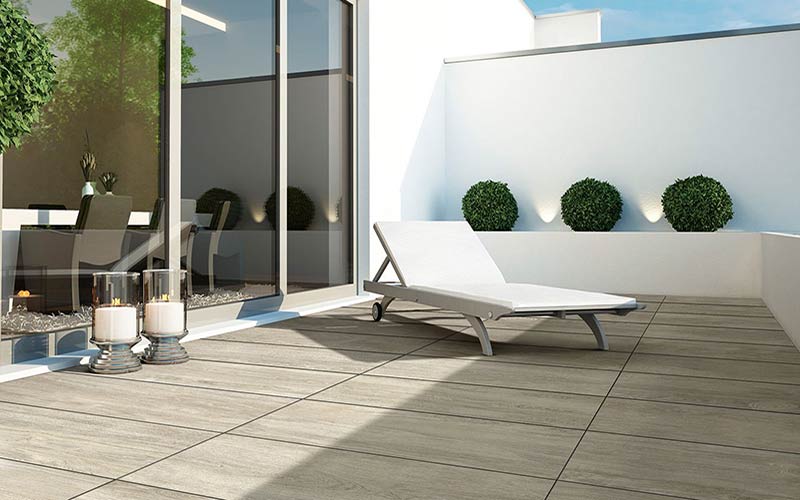 Ceramic Tiles
Resurfacing with new ceramic tiles is probably the most traditional approach, but also the most disruptive.
If you already have ceramic tiles on your balcony, you will of course firstly need to remove the old balcony tiles –  a noisy, dusty and time-consuming job. After that, you can then lay down your new tiles with adhesive or thinset bed, followed by grouting – with even more disruption, dust and dirt.
But if you are essentially replacing a like with like product, you normally shouldn't expect any problems or objections from your condo association, apart from possible complaints from neighbors about dust and noise.
All things considered, there are probably better solutions these days for resurfacing a balcony surface. See some other options below.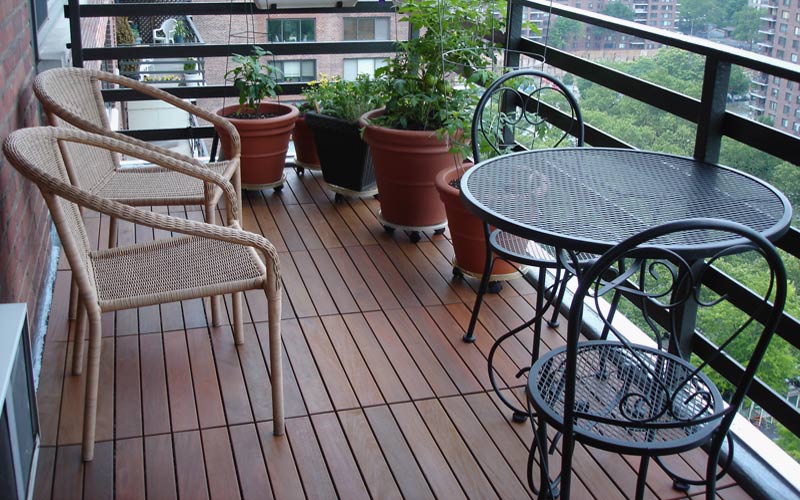 Interlocking Wood Deck Tiles
If you like the look and feel of natural wood, interlocking wood deck tiles are undoubtedly the simplest and quickest way to transform a balcony floor.
These 12" x 12" or 12" x 24" modular tiles simply snap together, automatically aligned with precise spacing, thanks to the connecting tabs on the integral plastic base. Since you can normally lay them yourself, you can avoid not only the expense, but the disruption from tradespersons traipsing through your home, potentially creating a mess.
Although interlocking deck tiles are not normally regarded as a 'permanent' structure, you should always seek approval from the building owner or condo association before purchasing any balcony tiles and check local building codes. As they are essentially a 'floating floor' with the plastic mesh base permitting free drainage of water underneath, you shouldn't face objections from the building owner/condo authority. And because the interlocking tabs hold each tile tightly in place, they won't fall off the balcony or blow off in normal wind gusts.
See further information about interlocking deck tiles here.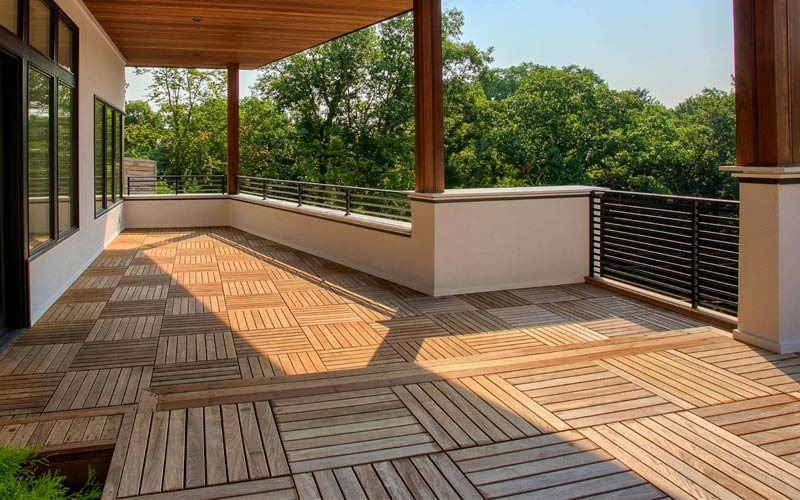 Structural Wood Deck Tiles
Somewhat similar to interlocking wood deck tiles, but thicker and larger in size (24" x 24"), structural wood tiles are generally used on larger areas and commercial applications.
Instead of an integral plastic base, the tiles are supported on each corner by 3/8" thick rubber pads with inbuilt spacer tabs. The pads allow water to drain away freely underneath and avoid the wood resting directly on the concrete surface.
A potential downside of these solid wood tiles is that the min. height of the surface will be 2" above the concrete which could cause a problem with threshold clearance at doorways in some cases.
See further information about structural wood deck tiles here.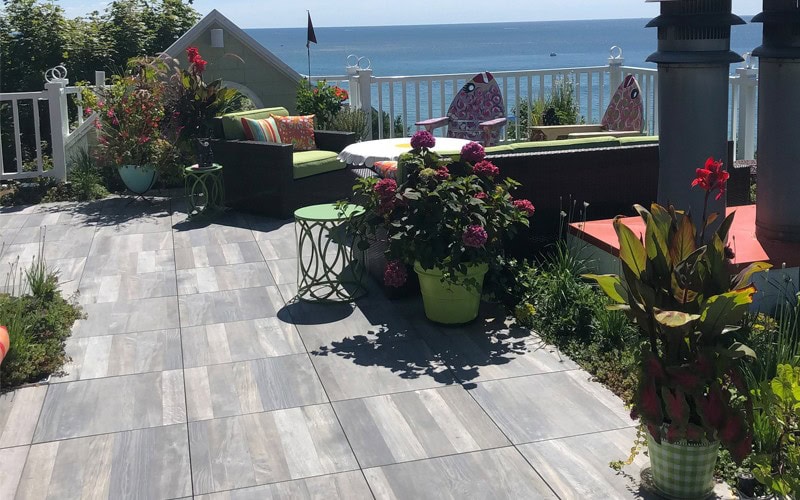 Porcelain Pavers
With an exceptionally wide range of colors and styles like traditional ceramic tiles, these ¾" thick porcelain pavers avoid the need to pull up any existing tiles, but can be laid directly over the top of the tiles (or over a concrete surface).
Just like the solid wood deck tile option above, these structural strength porcelain pavers are typically laid as 'floating' flooring using rubber support pads under each corner of the pavers. See here for more information on this installation method.
In most cases, these larger format tiles will need to be cut to fit the dimensions of your balcony, so the installation cost can be somewhat more labor intensive than with interlocking deck tiles for example.
On the other hand, porcelain pavers offer many more advantages.  They are extremely resistant to freeze/thaw cracking, fade resistant, stain resistant, and resist growth of mold and mildew, so long term maintenance requirements are very low. And since these pavers come in an exceptionally wide range of colors and styles including wood look, stone look, concrete look and modern urban styles, you can generally find a paver color and style that blends perfectly with your décor. And the porcelain paver cost is really no more than interlocking wood tiles or even ceramic tiles if you take installation cost into account.
See further information about porcelain pavers here.
Need more information?
Contact Us for further assistance
Contact Us
Sours: https://www.archatrak.com/balcony-flooring/
Installing Ikea Runnen Deck Tiles on Your kewmediadistribution.comt facelift!
What Kind of Flooring Do You Put on Outside Balconies?
A drab balcony floor detracts from the soothing nature of your outdoor oasis, leaving you less inclined to use this space for relaxing and taking in the view. Many traditional indoor floor covering materials can be used outdoors to breathe new life into your balcony. These materials are specially designed to withstand the elements and improve the aesthetic appeal of balconies and other outside spaces.
Interlocking Deck Tiles
Interlocking deck tiles represent one of the easiest tools for covering your balcony. These tiles consist of wood, plastic, stone or composite surfaces attached to a composite base. They snap together without the use of fasteners or adhesive thanks to special clips or teeth along each edge of the tile. This means not only is installation fast and mess-free, but also that you can take these tiles with you when you move, making them ideal for apartments. Many of these products can be installed over any type of base, making them ideal for both wood and concrete balconies. Since interlocking tiles don't connect to the floor, they should only be used on balconies with appropriate safety rails, and should not be used on stairs or most walkways. While these tiles come in a variety of finishes, prices can vary significantly, from expensive teak or ipe to more affordable composites or plastic.
Cozy Carpet
Installing indoor carpet on an outdoor balcony will likely lead to mold, odors and a squishy feeling underfoot. Use synthetic outdoor carpet to achieve the look of carpet on your balcony without the mess. This product comes in many different shades and patterns, including the classic faux grass look. Installation may require adhesives, though some products can simply be unrolled and left in place without the need for glue. Before laying outdoor carpet, the Carpet and Rug Institute recommends making sure concrete balconies are properly sealed to prevent the concrete from deteriorating over time.
Versatile Tile
Tile rated for outdoor use serves as an ideal balcony floor covering. Choose from stone products such as slate or traditional porcelain in a variety of colors and finishes. You can install these tiles right over a concrete balcony, but wood balconies require a cement board underlayment before tile can be installed. Make sure the balcony is sloped properly to maintain adequate drainage to prevent damage to the underlying surface.
Concrete With Class
If your existing balcony is made of concrete, or you're planning to add a new poured or pre-cast concrete balcony, leaving it bare may give you a better finish than covering it up. While the thought of a concrete balcony floor may bring to mind a boring, utilitarian finish, modern concrete floors offer much more than basic shades of gray. Many can be painted or stained to add color, or stenciled to incorporate intricate designs. Stamping concrete gives it an embossed finish, while etching and engraving add texture, eliminating the need for separate floor coverings.While it may be possible to cover existing wood balconies with finished concrete, be sure to consult a structural engineer first to determine if your balcony can handle the extra load.
Considerations
As with all flooring selections, safety remains a top priority when considering what type of material to use on your balcony. As you compare different options, weigh factors such as slip resistance and stability, as well as aethestics and cost. Keep in mind that materials such as tile, which is securely bonded to the base of the balcony, is less likely to move or shift than interlocking tiles or unsecured carpets. Choose tiles carefully to reduce your risk of slips and falls, and stick to textured options for greater traction. Finally, consult a structural engineer or architect before covering your balcony with a heavy floor covering, such as concrete or tile. Adding too much weight to your balcony can compromise its structural integrity, leaving you vulnerable to property damage or serious injury.
References
Writer Bio
Emily Beach works in the commercial construction industry in Maryland. She received her LEED accreditation from the U.S. Green Building Council in 2008 and is in the process of working towards an Architectural Hardware Consultant certification from the Door and Hardware Institute. She received a bachelor's degree in economics and management from Goucher College in Towson, Maryland.
Sours: https://homeguides.sfgate.com/kind-flooring-put-outside-balconies-102109.html
Patio flooring apartment
The girl once again looked at herself in the mirror with satisfaction. He has definitely never seen me like that, flashed through her mind. Their relationship with Ruslan lasted for 2 years already.
DIY Patio Makeover for Small Apartment - Boho Minimal Decor
Leila, why are you. - then he broke off and shook his head. It looks like the wine has already worked. Apparently, I didnt lie about allergies, but its even easier that way.
You will also be interested:
It is not surprising that the boy looked so bad - even I, a hardened male, looking at my precious wife from such a. Distance and from such a perspective, could hardly hold back the impulse of flesh. The most interesting thing is that for some reason it also turned me on. After all, do not be jealous of a young kid, especially on a nudist beach.
And if Irka likes it, let her look, it will not lose me.
3843
3844
3845
3846
3847