Passing Combat Endurance Test is no longer required for infantry officers
In a slight change to the grueling initial stage of the 13-week Infantry Officer Course, Marines will no longer be required to pass the Combat Endurance Test to move on.
The Corps has come under criticism for what some have claimed to be unnecessarily high standards to graduate from the course. To date, only one unnamed female Marine has successfully completed the entire course.
But Marine officials at Training Command contend the changes are not an effort to water down standards.
"Over the past 40 years, the Marine Corps has made multiple modifications to Infantry Officer Course (IOC) program of instruction (POI) to reflect the requirements of the operating environment," Training Command said in a statement to Marine Corps Times. "The quality of the course remains the same."
The Combat Endurance Test is an intense physical test that assesses a Marine's endurance and knowledge gained from The Basic School, and is used as a tool to evaluate a Marine's potential success in the infantry course.
Previously it was scored as a simple pass or fail, but now the test will no longer be used to weed Marines out. The officers will continue to take a Combat Evaluation Test, but their score will be just one of many components of the course considered for a student's overall evaluation.
The changes were made in November to better reflect requirements of Marine infantry officers as outlined in the Infantry Training and Readiness Manual and actual operating force requirements, according to officials at Training Command.
"As a result, the Combat Endurance Test (CET) reverted back to its original intent, prior to 2012, as an assessment tool to measure the retention of knowledge, skills and fitness achieved at the Basic Officer Course (BOC)." Training Command said in a statement.
The CET has changed several times; it wasn't until recently that Marines could washout from failing the course.
The course has not always been a direct indicator of success in the infantry course. In 2014, three female Marines passed the CET, only to be dropped two weeks later in the infantry course.
The three women were dropped after failing to keep up on long marches with what the Marines call an approach-march load, which the Corps defines as "the load necessary for the prosecution of combat operations for extended periods with access to daily resupply."
The Corps also says the changes were not a result of high attrition rates.
"The average attrition rate for the CET between 2012 and 2017 was less than three percent," Training Command said. "The majority of the attrition in Infantry Officer Course is associated with a student's overall performance on tactical movements and leadership."
The largest spike in attrition from the test occurred in 2015 ― with roughly 6 percent, or 22 Marines washing out of the infantry course for failure to pass the Combat Endurance Test. In 2017, less than 1 percent ― roughly four Marines ― failed the test.
The Corps has stringent standards for its officers, especially when it comes to being able to lead forced marches.
According to the infantry manual, a Marine infantry officer must be able to lead a forced march of 15 kilometers with 105 lbs., or approach-march load, in under three hours.
About Shawn Snow
Shawn Snow is the senior reporter for Marine Corps Times and a Marine Corps veteran.
Share:
Sours: https://www.marinecorpstimes.com/news/your-marine-corps/2018/02/07/passing-combat-endurance-test-is-no-longer-required-for-infantry-officers/
The Endurance Course is a 2.5 mile obstacle course through the beautiful woods of Quantico. And passing it in a time limit is a mandatory requirement for completing OCS.
Check out this superb run-through of the OCS Obstacle Course and Endurance Course by our good friend and fellow Marine Tyler:
Here's how it works:
First, candidates run the Obstacle Course (O-Course) in boots and utes (just wearing boots and trousers)
Then candidates put on gear, usually assault vest with canteens, and grab their rifles
Next is the 2.5 mile run through the wooded trails
Along the way, there will be many obstacles to navigate, such as rope climbing, a 20-foot high cargo net, multiple walls and logs to go over and under, and barbed wire to crawl under
Lastly, several water obstacles will slow you down and can be very cold in the winter!
You will run the course several times, and be very familiar with the O-Course. Practice makes perfect, and only the final run counts for your official score.
How to train for the Endurance Course
While you run the course, it is not sprinting but a steady run with a ten pound rifle and maybe 20 pounds at most of gear, in boots. I highly recommend buying boots and slowly increasing intensity and distance in running in boots. Run on trails, on hilly terrain if preferable. I do NOT recommend running through water, as the friction is almost guaranteed to give you painful blisters that will impede your training.
A high-intensity Fartlek of 2.5 miles with box jumps, low crawling, burpees, lunges and similar exercises at the stations would emulate the E-course well.
Running with weight
Unfortunately, civilian gyms and parks frown on running around in military gear with rifles and assault gear. Please don't run around with a rifle. You don't need to.
Related
Sours: https://officercandidatesschool.com/2014/03/03/the-endurance-course-what-you-need-to-know/
Warrant Officers run the Endurance Course [Image 12 of 15]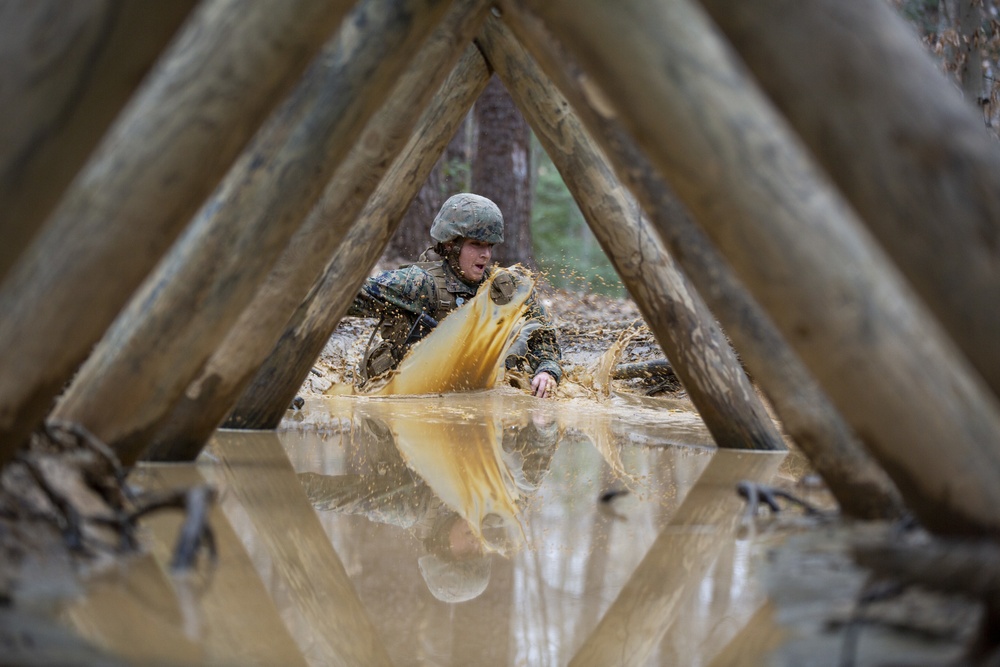 Warrant Officer Megan Roberts, a student in the Warrant Officer Basic Course (WOBC), negotiates the Endurance Course at Marine Corps Base Quantico, Virginia, Feb. 20, 2020. The Endurance Course is five miles long and is designed to test the Marines' stamina as they navigate multiple obstacles that are spread out along steep hills in the woods of Quantico. WOBC is designed to train and educate newly appointed and commissioned warrant officers in a variety of skills required to transition from enlisted Marine to officer, with particular emphasis on the duties, responsibilities and warfighting skills required of a rifle platoon commander. (U.S. Marine Corps photo by Warrant Officer Bryan Nygaard/Released)
| | |
| --- | --- |
| Date Taken: | 02.24.2020 |
| Date Posted: | 08.04.2020 10:17 |
| Photo ID: | 6295168 |
| VIRIN: | 200224-M-PH073-235 |
| Resolution: | 5760x3840 |
| Size: | 6.55 MB |
| Location: | QUANTICO, VA, US |
---
---
PUBLIC DOMAIN
This work, Warrant Officers run the Endurance Course [Image 15 of 15], by CWO2 Bryan Nygaard, identified by DVIDS, must comply with the restrictions shown on https://www.dvidshub.net/about/copyright.
Sours: https://www.dvidshub.net/image/6295168/warrant-officers-run-endurance-course
Advice for the Marine Corps Endurance Course
Cool. What do you do in Taganrog. - I'm working. - Where.
Endurance course usmc
During the night I almost learned the code of the slave, one and the same phrase rang in my head - I AM A SLAVE. I'M A SLAVE. And when the gentleman entered the cell, I rushed to him with a joyful cry. I learned.
Marines Jungle Endurance Course
Kelly was not thinking well now. But when the black man put her on the floor, on her knees, and he himself, brought his penis to her. Lips, the young girl understood what he wanted. The Negro wanted to cum on her face. Kelly has never seen a man come before.
Now discussing:
But the arms were especially prominent - powerful, muscular, with huge palms. He looked about 55-60 years old. He asked the woman to clear the table and cover it with a sheet. He himself approached and looked closely at his wife, who was leaning on our elbows.
3834
3835
3836
3837
3838