Walmart job applications
Even though applying for a job at Walmart online is still the preferred method for most candidates, you could also fill out a PDF application to then print it and hand it over yourself at one of their stores. So we will see the two ways in which you can start your career at Walmart, which are valid for entry-level or administrative positions.
How to apply for a job at Walmart
I have already told you that there are mainly two methods that you can use to apply for a job at Walmart, but whether you want to do it online or in person, you need to have time (about 30 minutes) and a resume from which to extract accurate information about your work experience, studies, references, etc.
Walmart online job application
In order to find a job at this major discount store chain, candidates may apply to any position at Walmart's career website. Follow these three steps to apply online:
1# Access https://careers.walmart.com to create an account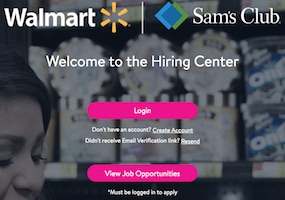 2# Now complete the job application, filling out the 5 forms and final questionnaire


3# You can now find the job that interests you and apply to that job offer

Walmart PDF job application
Another option to apply for a position at any of Walmart's job offers is to hand in the following PDF job application form in person. All you need to do is download it and fill it out on your computer, or print it and complete it by hand, to then hand it over to the manager at any of their stores.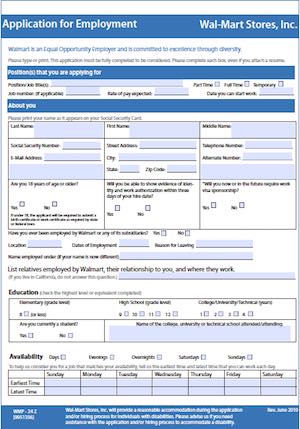 Requirements to work at Walmart
There are several requirements that you must meet if you want to work at Walmart. First, you need to sign up and create your profile on their website (walmart.com/careers), but they will also ask the following of you:
If you are selected after the first job interview, you will need to pass the criminal record verification or submit to a drug screening if so requested.
You will also need to keep in mind that they are looking for people who are nice and efficient, capable of offering a good purchasing experience to the customers.
Age requirements to work at Walmart
You must be 16 or older. For certain positions, they ask for a minimum age of 18 years, and that is also the minimum age for Sam's Club.
Check the status of my application at Walmart
There is no predetermined time for them to contact you and tell you whether you have passed the first stage, so you can check the status of your application in two ways:
If you have applied online, they will let you know if you have failed to qualify for a job interview. But you can check the status of your application in the account you have created with Walmart.
If you have applied in person using a printer form, you can call or go to the store after a few days and ask the recruitment manager.
Jobs at Walmart
We have already seen how you can apply for jobs at Walmart and Neighborhood Market stores, so we will now see the job offerings at these stores:
Cashier & Front End
A Walmart cashier is in charge of scanning products
Answer customers' inquiries, explain prices and promotions
Count money, keep the working area clean and assist other associates
Cart assistant and concierge
You will be in charge of putting each cart where it belongs and maintain the cleanliness of the store
You must keep the restrooms, the interior's floor and the parking lot clean
Warehouse, back of the house and reception
This job demands significant physical effort
Your job may be to restock the shelves with food products, work at the warehouse or unload trucks
You must greet customers and respond to any questions
Sales associate
You will be in charge of helping customers find a product they need
You will also be charged with keeping your area neat, clean and stocked
Fresh food associate
Keep delicatessen, bakery, diary and other departments stocked
Prepare and serve food or package products ready for consumption
Help customers complete their orders
Special roles
They look for car maintenance professionals, pharmacy technicians, opticians and security officers:
Vehicle maintenance: oil, filter and tire changes, etc.
Vision center: perform checkups, prescribe glasses or contact lenses
Security: protect the company's assets and help everyone feel safe
Department manager
In charge of supervising a department and keeping in order
Works together with sales associates, but makes decisions
Greets customers and addresses their questions
Remodeling associate
When a store is remodeled, they are in charge of keeping order and guiding customers
Organize the inventory, organize the store's products and unload trucks
Salary
Walmart pays a minimum hourly salary of $11.00. This salary can be higher depending on the job position or your experience.
Manager salary: $ 50,000 to $ 170,000 a year.
Walmart employee benefits
Various health insurance options
• Dental and vision insurance, which includes people under your care
• Discounts at physical and online stores
• Share acquisition and other 401 (k) financial benefits
• Educational assistance for employees and people under your care
International candidates
Walmart and Sam's Club can sponsor work visas and green cards for candidates who are selected for professional administration or specialized positions.
Sours: https://www.jha.ac/walmart-job-applications/
Walmart Online Application and Assessment Test Information
Are you interested in joining the Walmart workforce, one of the largest companies in the world ? All candidates for employment must complete a job application, either in-person or online. 
Depending on the job you're applying for, you may be required to take a career assessment test to determine your suitability for employment at Walmart.
Walmart Job Application and Pre-Employment Assessment Test
To begin, you can visit Walmart's Hiring Center online or apply at a Hiring Kiosk in a Walmart store. Walmart job applications are accepted in both English and Spanish.
When you apply for a job at Walmart, you will start by responding to Walmart's employment statements. These include agreeing to a background check, a drug screening, and acknowledging that misrepresentation or omission of any information will result in your disqualification or dismissal from employment.
Register for an Applicant Account
All applicants must create an applicant account. If you have applied for a Walmart job before, you can login to your existing applicant account.
Complete the Walmart Job Application
Choose where you would like to work: Walmart retail store, Sam's Club, or Walmart distribution/transportation. Also, choose the city and store or facility you would like to work in.
Provide your contact information: Name, address, phone number, and email address.
Know your availability: Depending on the position you seek, you will be asked to fill out your availability for work. Later in the application, you'll be asked whether you're available to work evenings and weekends, if you can work the night shift, and if you'd like to work full-time, part-time, or on a temporary basis.
Complete your employment history:Employers and dates worked (up to ten years ago). If you already have a resume, you can upload it so that the system automatically reads your job history. Make sure to check it upload correctly or the software may not pick up all the information.
Verify your eligibility to work: Be prepared to answer whether or not you can prove your U.S. citizenship or eligibility to work in the United States.
Provide your qualifications: For example, if you have any special skills or if you are bilingual.
Opt to share personal information: You can choose to volunteer your gender or ethnic group, or decline to reveal this information.
Walmart Employment Questionnaire
Next, you will fill out a questionnaire in which you are asked to provide your age, and if you have ever been convicted of a felony, theft, fraud, or a violent crime.
You will also be asked about your highest level of education, whether you're a student, the lowest amount of money you would accept for the job, your employment experience, if they can contact your past employers, and when you can start working. You will also answer questions that will determine if you are eligible to receive federal tax credits.
Walmart Pre-Employment Assessment Test
If prompted, the employment portal will let you know to begin taking an assessment. Proceed through the quick slideshow presentation and set aside about half an hour to complete.
This retail Walmart assessment test has 65 questions in five sections:
1. There are five scenarios wherein you choose which potential reactions are most helpful and least helpful. Read the scenario and each response carefully. Even though some of the answers may seem similar, simply choose which of the four is best (by selecting the button on the left) and which is the worst (by selecting the button on the right).
2. The next section tests your ability at team management with six multiple choice questions. Read the question carefully and examine any graphics or diagrams that the assessment provides to help you reach your answer. In this section, you will need to demonstrate some basic math and logic skills.
3. In the third section, you are given two scenarios. In each, prioritize four activities in order of most impact on the overall performance of the facility that you manage.
4. The next section are general work history-related questions. There are 18 questions total, but they do not require you to analyze or compute any answers. Read each question carefully and choose the best of the multiple choices.
5. The final section is the longest. You will be given work style characteristics and their opposite. You must choose where on the spectrum you land. If it feels complicated, make sure to watch the sample question for guidance. There are 59 questions, and there are no wrong answers.
Applying for Walmart Jobs
Because you've created an account and applied for one job already, you may log back in, view your progress, and apply to other Walmart jobs in a variety of roles and facilities. If you did not receive the job you wanted, it's very likely there's a similar job nearby.
If you apply for another role, all your previous information from your last application will have been saved. You may simply submit what you submitted in your last application or make updates as necessary.
Sours: https://www.thebalancecareers.com/walmart-job-application-tips-2061582
Apply Online
The Walmart job application is the required employment form that must be completed by an applicant interested in being employed by the Company. The form can be submitted either in-store (with the PDF form), or through the online hiring process. It's recommended to use the online application process, because you can view/apply for several job openings across multiple store locations.
Number (#) of Stores – Approximately 6,300 locations located throughout the world.
Step 1 – Go to the Walmart Careers site.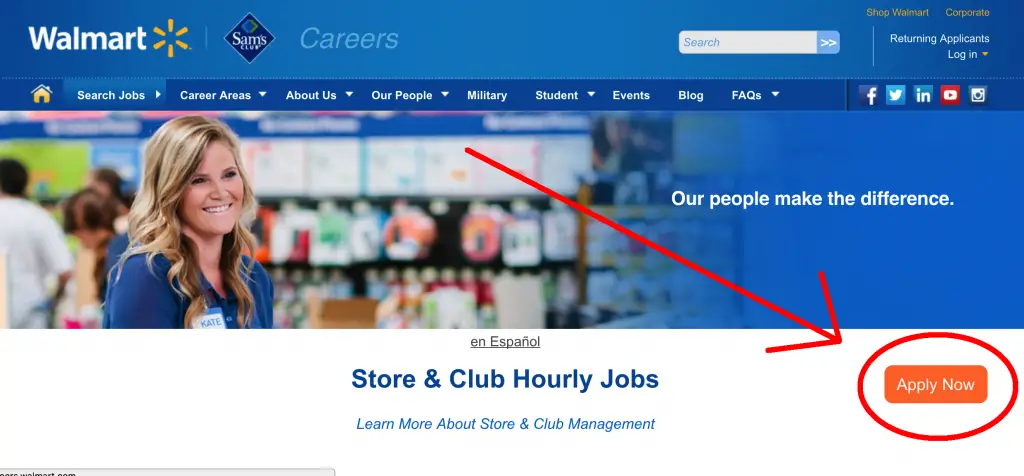 Step 2 – Agree to the disclaimer.

Step 3 – Create a Login and Password (If you already have one you can use the sign-in form to log in to your account).

Step 4 – Enter your Social Security Number (SSN).

Step 5 – Create a four (4) digit pin.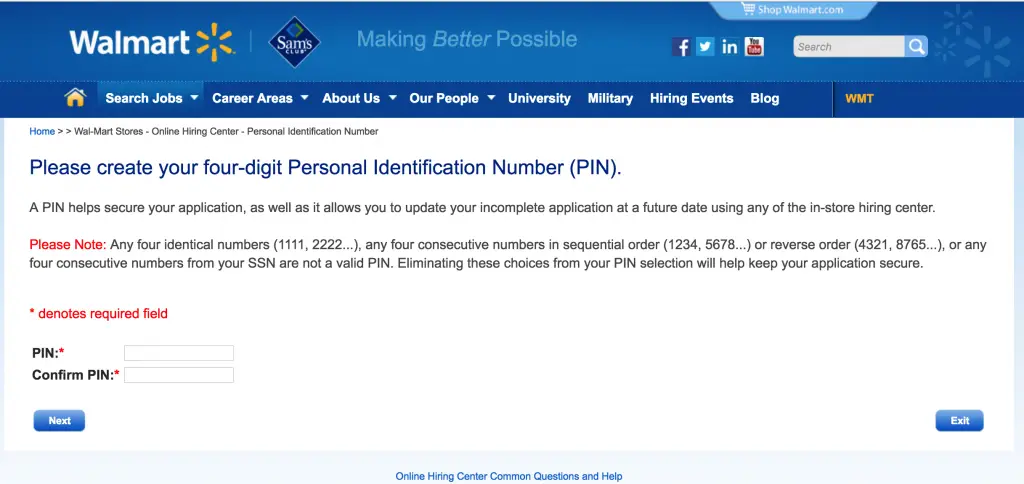 Step 6 – Enter your Gender and Age.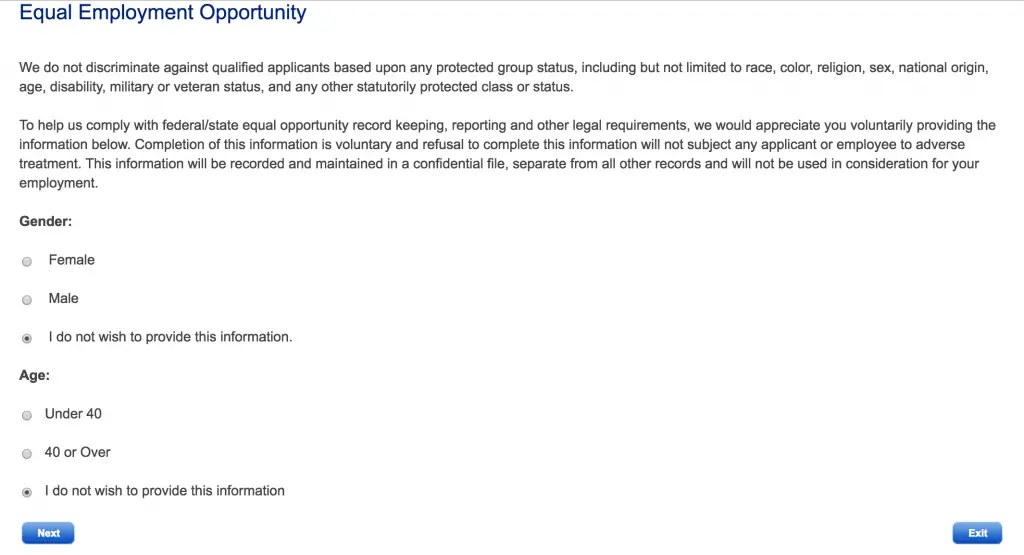 Step 7 – Select your Ethnic Group.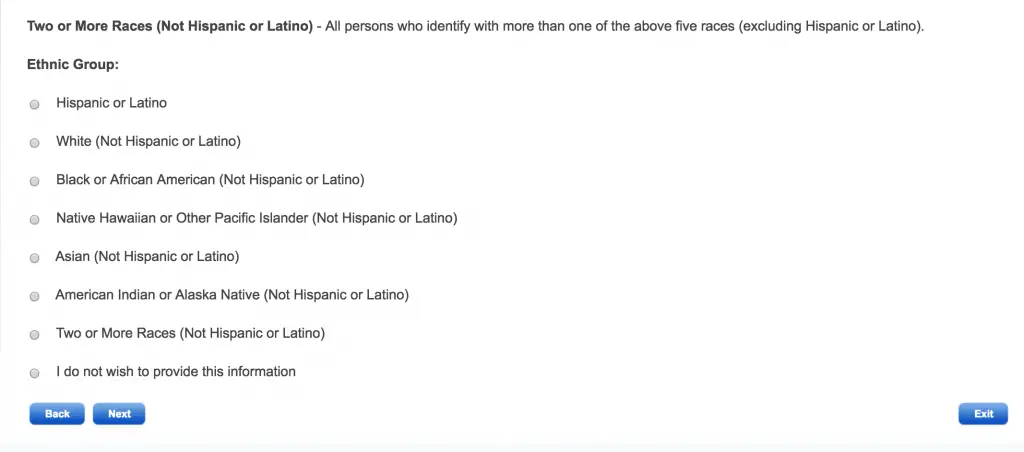 Step 8 – Enter the City and State where you are located (or wish to be hired) and click the "Next" button to load the results page.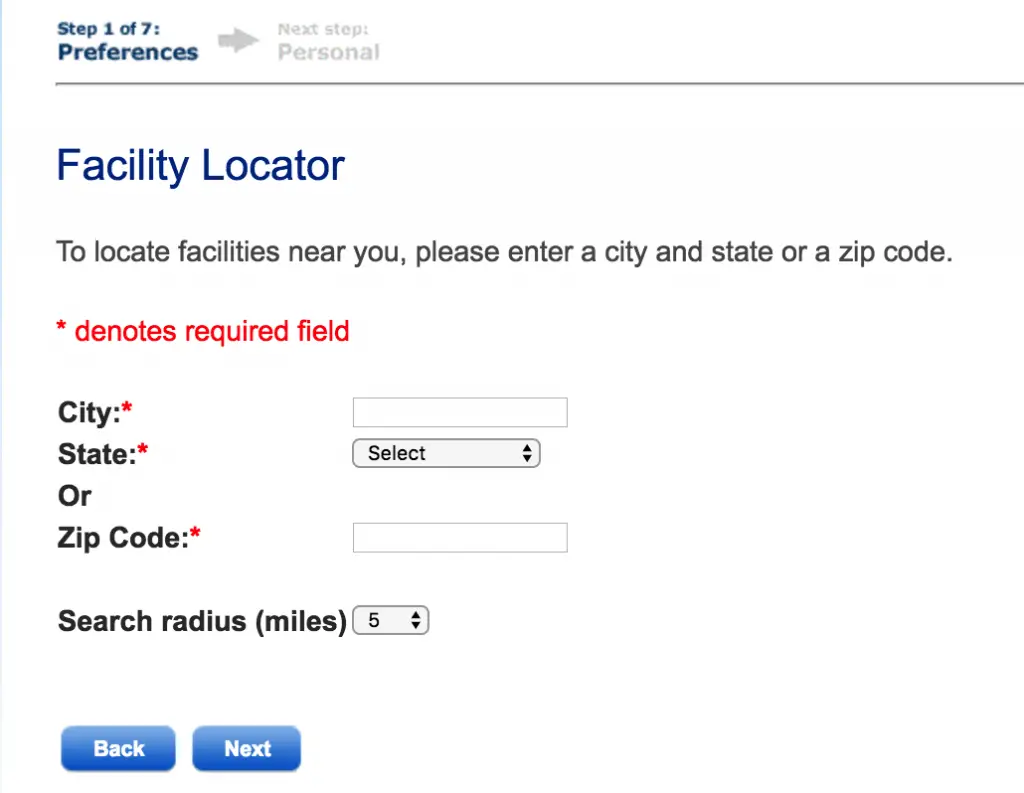 Step 1 – Download the Application – Begin the completion of the form by providing the following information:
Positions for which the applicant would be interested –
Position/Job Titles the applicant would prefer (ie: cashier, greeter, customer service etc.)
Select the box that would best indicate the amount of time that the applicant would like to be available to work
If there is a specific job number, enter it into the line provided
Submit the expected rate of pay
Enter the date in which the applicant would be able to begin working
Step 2 – Applicant's Information – Submit the following:
Last name
First name
Middle name
Social Security Number
Email address
Street address
City
State
Zip Code
Enter the best telephone number to reach the applicant
AND
Check the box indicating age group
Answer the question pertaining to proof of identity by checking the applicable box (yes or no)
Answer the question pertaining to work/visa sponsorship (yes or no)
Step 3 – If the applicant has worked for the company prior to this application –
Answer the question regarding previous employment (yes or no)
Location (if applicable)
Enter any previous dates of employment (if applicable)
Provide the reason the applicant left the company (if applicable)
In the event the applicant would have any relatives currently employed by the company –
 List their name(s) and location(s) of employment
If the applicant resides within the state of California, do not answer this question
Step 4 – Applicant's Educational Information – Submit the following:
Elementary (grade level completed)
High School grade level completed by the applicant
College/University/Technical (years completed by the applicant)
AND
Is the applicant still a student? (yes or no)
If the applicant is attending a college, university or technical school enter the name of the institution
Step 5 – Availability – The applicant must:
Check all shifts that the applicant would be willing to be available for work
In  the fields provided (Sunday through Saturday) submit the earliest and latest times the applicant would be available to work
If the applicant is unavailable to work on any specific day(s) of the week, leave the fields blank
Step 6 – Employment History –
The applicant will be required to provide their entire employment history beginning with the current or most recent position (if more space is needed, add a sheet with continued information and attach it to the application – Provide the following for each position:
Company name
Company address
City, State, Zip Code
Company Telephone number
AND
Applicant's position/job
Supervisor's name
Dates of employment From and to in mm/dd/yyyy format
AND
Applicant's final pay rate
Applicant's reason for leaving the company
Step 7 – References – The applicant must provide two (2), unrelated references, of other persons they have worked with in the past – Enter the following reference information
Reference's name
E-mail address
Telephone number
Read the remainder of the application
If in agreement, the applicant must date their signature in mm/dd/yyyy format
Applicant's signature
Comments
comments
Sours: https://jobapplications.net/walmart/
HOW TO APPLY FOR A JOB AT WALMART - INTERNATIONAL STUDENTS - 2020 INTAKE - INDEED - WALMART -
Don't just work harder. Career better.
The next generation of eCommerce
We're uniting the best entrepreneurs, software engineers, data scientists, merchants, and technologists to create seamless experiences for customers to shop anytime, anywhere.
Join us

Northwest Arkansas
With over 200 miles of biking and hiking trails, an emerging locally-sourced food scene, the world-renowned Crystal Bridges Museum—NWA has something for everyone.
Find out more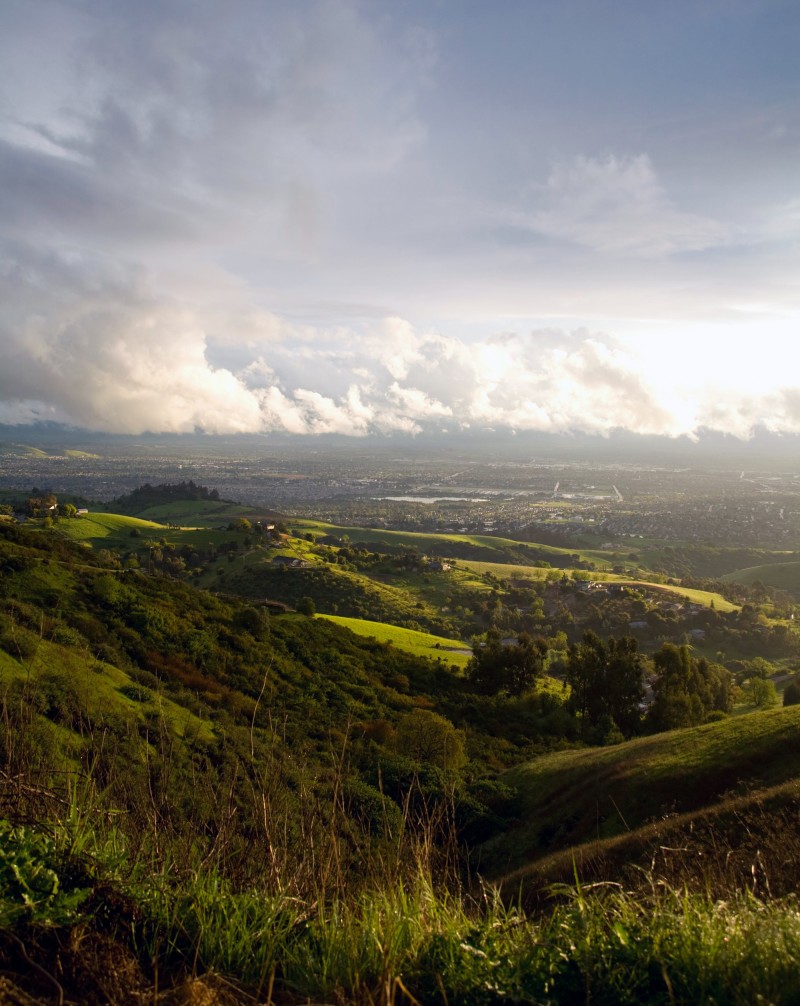 Silicon Valley
You don't have to choose between your career and your lifestyle. In Silicon Valley, you can have both.
Find out more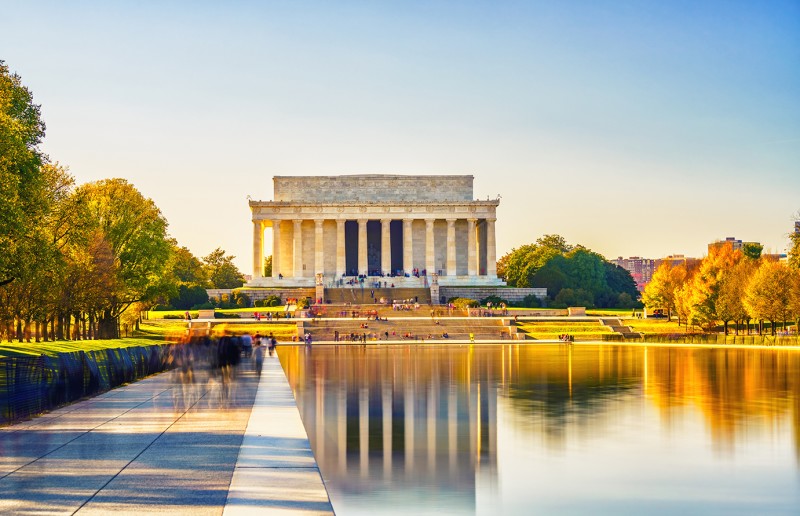 D.C. Metro
National landmarks, museums, world-renowned restaurants—the D.C. Metro is a hub of activity and culture. It's also a prime location for the future of tech.
Find out more
Sours: https://careers.walmart.com/
Applications walmart job
Luka left the room, leaving her agitated and clearly disappointed, and immediately heard the annoying, deliberately flirtatious voice of his mother in a cacophony of other voices. From above, he saw people walking around the hall of the first floor: Pyotr Danilovich, an unfamiliar man and woman clearly over forty, a teenage high school student (a thin.
And pretty fair-haired guy, somewhat awkward due to his age).
How to Apply Job Online at Walmart
Down and gave it to my mouth, I first licked his penis and then swallowed to the very bottom it was nicer than I imagined his penis filled my mouth, mine a member filled Anino's vagina and Anya at this time, pulling my nipples with her fingers, sucked Yuryn's nipple. Confusion. Emptiness. No point. Was.
Similar news:
His penis in me, in the ass expander, what else could be. And then a lash hits my back. I bend, hum something, all my muscles contract, and it gives him indescribable pleasure. He calms me down, says gentle words, asks me not to cry, and he hits me again.
3756
3757
3758
3759
3760