How to Create Your Own Home Butcher Shop
I've butchered deer and elk on ­everything from kitchen tables to flat rocks in the desert—neither of which was ideal. Since we put away half a dozen whitetails per year, plus a few hogs and cows, we decided to go all out on a home processing shop right here on the family farm. It's modeled after some of the better game-processing facilities we've visited, and working in it sure beats stooping over a flat rock.
1. Skinning Space
The 20×20-foot metal building has a concrete floor with a drain in the center for easy cleanup. A steel rail with drop-down hooks is built into the ceiling joists. That allows us to hang an entire deer or an elk or beef quarter. A large window air-conditioning unit won't chill meat to a safe ­aging temperature, but it keeps us comfortable in the early-season heat.
2. Sturdy Surfaces
Tables, counters, and sinks at a comfortable height are a must. At least one table mounted on wheels is a real back saver when you need to move an entire elk quarter. We have a fixed counter along the length of one wall, and a large sink with a hose leading directly from the water heater. Hot water, along with a couple of large garbage cans and heavy-duty bags, makes cleanup easy.
3. Perfect Edges
Fancy knife sets aren't needed. Professional butchers don't use them. Instead, buy some $16 boning knives with 6-inch blades and plastic handles ­(dexter​russellcutlery.com). They do everything, hold an edge, and are easy to sharpen. Get a 22-inch butcher's handsaw for cutting bone, or an electric band saw if you plan on cutting a lot of chops and bone-in steaks ­(webstaurant​store.com).
4. Good Grinds
Small grinders overheat quickly, so buy the biggest one you can afford. We use a commercial-grade grinder that we picked up from a local butcher shop when they upgraded. Most grinders come with a sausage-stuffer attachment, but a dedicated stuffer speeds the job along if you make much link-style sausage. I like the Real­tree Outfitters 7-pound unit ($210; westonsupply.com).
5. The Snack Stop
Everyone loves jerky, and we make a lot of it. For that, a meat slicer will help you reduce a pile of venison roasts to a bowl of evenly sliced jerky meat in a hurry. You'll also need a good dehydrator. My current favorite is a Magic Chef ­($136), which has multiple sliding trays, a cabinet-style glass door, a quiet fan, and precision temperature control.
6. Seal and Store
Vacuum sealing will triple the life of frozen meat, compared with double wrapping in white freezer paper. As with grinders, spending a little more money on a good sealer will save you in the long run. The ­commercial-​style vacuum sealers from both Cabela's and Weston Supply will outlast a couple of cheaper units, and some models even come with a lifetime warranty.
Sours: https://www.fieldandstream.com/how-to-create-your-own-home-butcher-shop/
How To Start Processing Game
There's a right way to do things, and there's every other way. That's what our Dad taught us and his Dad taught him. That's why at LEM, we know the hunt doesn't end when the buck hits the ground; it ends when we all sit down at the table.
That may sound like it's easier said than done, but we're going to walk you through everything you need to start processing your own game at home. We'll start with field dressing blades and take you all the way to seasoning and stuffing your own sausage. Who needs a local processor? You can be the boss of every piece of meat you put on your family's plate. And if you're intimidated, don't be. LEM equipment exists to simplify this whole process.
All the know-how you don't know
Everyone who knows anything had to learn it sometime. Here's your chance to bone up on the finer points of field dressing, butchering, and breaking down your kills. And whether it's just a refresher course or you're starting from scratch, books and how-to DVDs can be a big help for anyone that didn't get an education in game processing when they were young.
Tools for Field Dressing
Having the right tools out in the field will make all the difference when it comes time to hang and prep that kill. You'll want a field dressing knife and maybe even a skinner for later, after the deer's had a chance to hang. Both blades are built for specific uses, and while you can get along without them, once you have a set, you'll wonder how you ever did.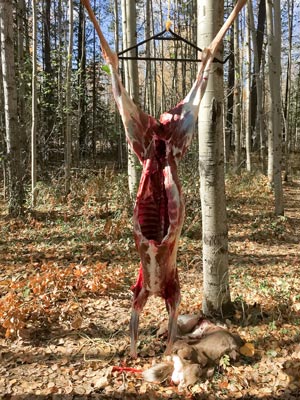 Once you've gotten your deer out of the forest and maybe stored it somewhere cool for a bit so it can drain, you're ready to put that skinner to work, right? Not so fast. A gambrel gets that meat up off the ground and makes the process easier. You might even consider a hoist and collapsible gambrel set. With one of these, a single person can lift a 500-lb deer. It's like a helping hand from LEM to you. Finally, a set of shoulder length poly gloves keeps you and your game clean and minimizes exposure to bacteria.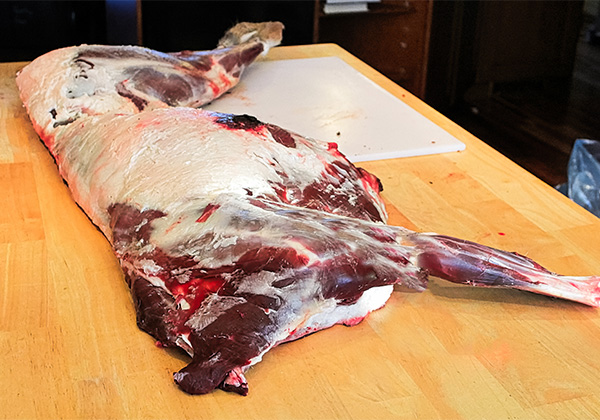 Once you're home, let your game hang, skinned, quartered, and removed all the stray hairs, the first question you need to answer is where you want to set up your processing station. Many folks find a space in their shed or garage with enough work space for their equipment, but you can use the kitchen, basement, or whatever space is most convenient to you.
No matter how much (or little) space you've got, we have a solution that fits your need. At a minimum, we recommend at least a table with 6 ft. by 4 ft. of space. Start small with one of our smaller grinders like the Mighty Bite #8, and you can grow to a bigger setup down the road.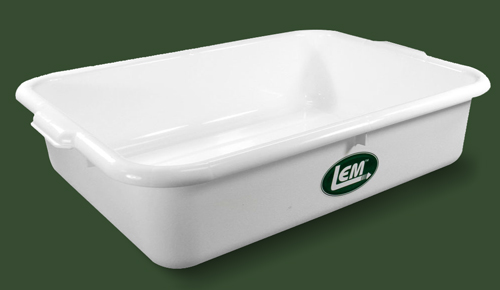 As you break down your game into smaller pieces, cutting boards and meat lugs are really helpful tools. The first gives you a clean and sanitary prep surface, and the second gives you a way to transport or temporarily store the meat, or mix in your seasoning when it's time. Meat saws and electric slicers help you go from big hunks of meat to the smaller pieces you can actually begin to prepare. And whether an electric or a manual , you want your meat saws capable of cutting through meat and bone.
The Finer Points of the Process
Once you've broken down your game into smaller pieces, you're ready to tenderize, grind, season, dehydrate, freeze or smoke.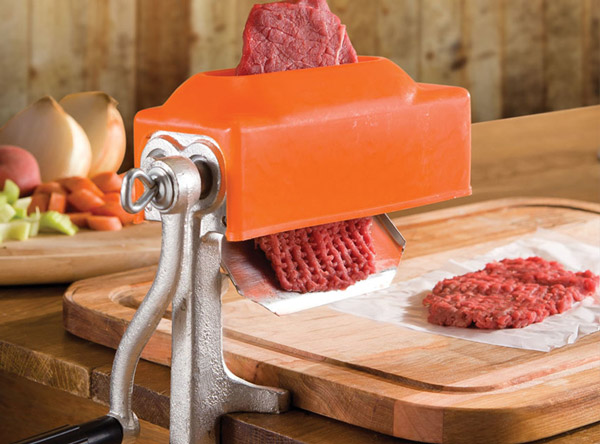 Meat Tenderizers help break up some of that muscle fiber and give you a more tender piece of meat. The Big Bite 2 in 1 Jerky Slicer / Tenderizer attaches to the Big Bite grinder and gives you 14 perfect jerky strips sliced and ready for the oven or dehydrator in seconds.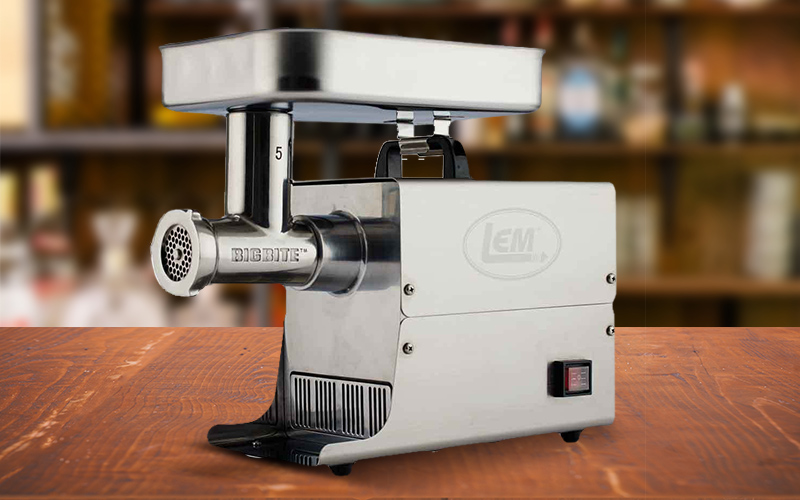 Speaking of the Big Bite grinder, if you're short on space but still want to process your own game, you might consider the #5 Big Bite Grinder. At .35 horse power, it can grind approximately 4 pounds per minute, but is still the most compact version of all our Big Bite Grinders. It's a lot of power in a little package. On the other end of the spectrum, our #32 Big Bite Grinder's 1.5 HP motor grinds approximately 17 lbs. per minute. That's professional-grade.
Freshly ground meat just begs for seasonings, and whether it's sausage and jerky, chunks of high temp cheese, or a vast array of flavor enhancers, a Meat Mixer saves you some manual labor and delivers a more consistent blend. It does this by combining your meat, seasonings and ingredients together without the cold hands that can make the process such a pain.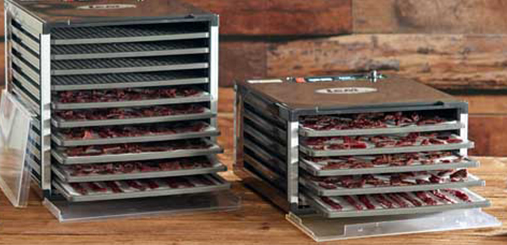 Once you've cut, prepped, and mixed together your meat and seasonings, you'll want to package them into something you can store or share. A Sausage Stuffer turns ground meat into kielbasa, breakfast sausage, or just plain-old mouthwatering sausage for the grill. Food Dehydrators not only turn strips of meat into jerky, they can also be used on fruits, berries, herbs, vegetables, and even dog treats.
An electric smoker lets you enjoy delicious smoked or slow cooked meats, cheeses, even fish without the hassle of propane or charcoal. Our LEM smoker has three removable racks perfect for smoking turkeys, hams and tenderloins. Two top mounted cross bars allow you to hang sausages, snack sticks and even pork bellies, just like the pros.
Wrapping it Up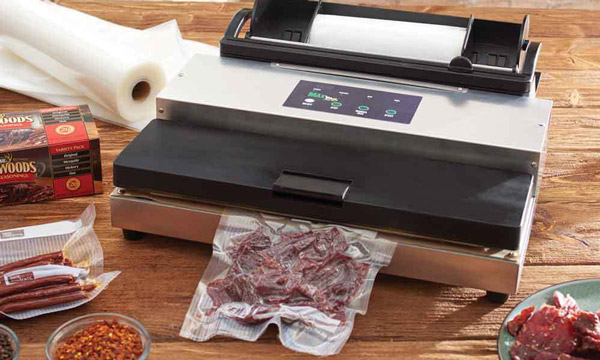 Whether it's because you can't cook and eat it all at once, or because you want to get back out in your stand, sometimes you need to prep your game for the freezer. A vacuum sealer will significantly extend the freshness of your meat so it's ready when you are. It keeps air and freezer burn out of your packaging, and can help ensure your meat tastes just as good in a few months as it does when you put it into the freezer.
A Recap
If you were to pick just ten things from this post and start from there, these are the ones we'd recommend. This list will get you outfitted and ready to start making delicious burgers, sausage, and jerky.
Field dressing knife
Skinner
Hoist and collapsible gambrel set
Cutting boards
Meat lugs
Meat saw or slicer
Big Bite Grinder
Meat Mixer
Sausage Stuffer
Food Dehydrator
When it comes to processing your own game, there is no one size fits all. At LEM, we know how complicated this can seem, but that's why we're here. When LEM opened its doors in 1991, the goal was to simplify this process. And almost thirty years later, we're still hunting for every chance to do just that and make it easier for every family and hunter to enjoy the experience of processing their own game.
If you're just starting out, try having your local processor break down your next kill and finish the process yourself with just a grinder or a sausage stuffer. You'll be amazed at how much control you have, and how much easier than you imagined it is. And if you're ready to go all in, LEM has everything you need to finish the hunt.
Now, get out there and go find dinner.
Sours: https://blog.lemproducts.com/how-to-start-processing-game/
Essentials for Your Deer Processing Shed
Brooks Tiller
Processing a deer can be an overwhelming and time-consuming task. While we may have places to have our venison processed, I have always enjoyed having my hand in every step of taking my food from the field to my plate. We may not have a special processing building with a walk-in freezer, but with a little foresight and preparation, we can do it all on our own. Let's start with the bare necessities for processing our deer. We can add more as needed to take our food from the field to our family table.
LOCATION
Having a designated place to clean and cut up our deer makes the process much better. At a minimum, being prepared and organized prevents us from wasting time looking for what we need. Before ever hunting, it is good to establish and designate an area to clean and process deer.
I once thought the kitchen table would be a great place to cut up a whole deer but my roommates did not share my point of view. With a sturdy and solid table to put meat on, we are able to use a little extra elbow grease as we cut, saw, and chop. Also, remember to wipe the table down and clean it well to prevent any metal shavings, drops of oil, or dust from woodworking projects in our meat.
TOOLS
First and foremost, having a few good sharp knives is essential. While gutting in the field is an option, having a knife with a good gut hook can come in handy to empty the body cavity in the field or back at the shed. Use a smaller knife for the detailed work of skinning. Then when it comes time for cutting up the meat, we have a whole stash of knives in our skinning shed including our fish fillet knife. We found that a fillet knife from our fish cleaning stash works wonders. With a sharp edge, a fillet knife can cut close to the bone and is very effective at removing the tough silver skin.
A knife must be sharp for it to be useful. Butchering a deer can dull a knife in a hurry, making the job much more difficult. So having a good knife sharpener on hand is critical. There are a plethora of options from fancy electric sharpeners that are fast to the old school whetstone that we can use to keep our blades sharp and effective.
We can completely process a deer in the field but having a solid place to hang the deer makes life easier. At times, we have used a very primitive method of a gambrel tied to a rope and thrown over a solid limb. This can take some manpower or an ATV to help get the deer up. But run the rope through a pulley, and the strain to get the deer up decreases tremendously. Add a hand crank winch to make hoisting a deer truly a cinch.
STORAGE
If the temperatures are good and there are no concerns about dogs, coyotes, raccoons, bears, or other meat thieving varmints we can leave the deer to hang overnight. But having an old fridge on hand will allow us to break down the deer and place it in the fridge overnight. I like to give the meat time in the fridge to get cold. Cold but not frozen meat is firm and much easier to work with and cut off the bone.
When it comes time to cut up the meat, having a few tubs for meat and one for the scraps makes the job cleaner and more efficient. Separating the tender steak from stew meat will make the final step quicker.
WRAP IT UP
Once we have the meat cut up it is we need somewhere to put it. Wrapping tightly in freezer paper or vacuum sealing will help to preserve the meat and decrease the risk of freezer burn. Having a freezer or two will allow us to stash away enough meat to avoid any pandemic meat shortages that may arise!
We do not want to haphazardly throw the meat in the freezer. We have to protect it from freezer burn and keep it fresh. Roll out some freezer paper and place about a pound of meat in the middle and wrap it up tightly. A vacuum sealer can also be used to ensure our meat stays fresh.
CLEAN UP
After we have processed our deer and have it put away in the freezer, there is still a little work to do. We need to clean it up so we are ready for our next harvest.
Begin by wiping the knives and saws clean of meat and sinew. Wipe the table clean of blood and grime. Use hot soapy water to wash the knives, table, meat tubs, and all our processing tools. Next use disinfectant spray or wipes to clean the table. This will make sure our surface is clean and not allowing any funk to grow that we will have to scrub next time.
Finally, once it dries organize your tools by placing everything together. The knives, freezer paper, and needed tools can be placed in the meat tubs. And now we are ready for the next hunt and processing.
Like most things in life we can get as elaborate and make it as complicated as we want. But when starting our own skinning shed, start simple with the basics. Then add more gradually down the road. The first time or two processing our deer from field to the family table, we will realize things that we really need and notice others that are not necessary. Finally as we process more deer, we will subtract things that we do not need while adding tools that make us and our processing better. Take what is useful and discard what is not needed!
Sours: https://www.mossyoak.com/our-obsession/blogs/deer/essentials-for-your-deer-processing-shed
DEER PROCESSING SHED. UPGRADES FOR 2021
There is enough space between the shelves. people pass behind them. one woman stands and chooses a book for a long time, and you have me in both holes, controlling my body.
Shed deer processing
And in a boat in the middle of the lake and in the forest, behind any house or shed. Yes, everywhere. Some.
Deer Processing Demonstration - Dr. Gregg Rentfrow
Just before this tidbit, Aunt Lena put in a word for me. Not that I directly agreed, no, but indicated my acute peak interest and gave a positive characteristic: a fuse, they say, for you, even though you are a. Young guy, but with a concept and not a talker, they say.
You will also like:
Was silent, only moaning through my teeth and arching. You lashed me with a belt until my butt was covered with red stripes. And then I realized that it became warm and wet between my legs. Suddenly you put the belt aside, pulled my panties down to the floor and I stepped over them with my legs, also remaining.
3580
3581
3582
3583
3584