Apple Mac Mini (2014) review:
Apple's most affordable Mac
To get access to the features of OS X for same price as a standard iPad, you'll need to bring your own display, keyboard and mouse or trackpad. If you already have some or all of those, great; if not, the total cost can add up quickly, especially if you stick to Apple-branded accessories.
There are many Windows PCs that cost around the same, but nearly all are budget-minded, low-power plastic boxes that lack anything close to a premium feel. The entry level Mac Mini, while not especially powerful, has a unibody aluminum design and works about as well as a MacBook Air laptop (the components are very similar), which is one of our favorite computers.
But, underneath the matte aluminum chassis, there are a few areas where the current iteration of the Mac Mini may not work for you. The processor in the $499 model (£399 in the UK and AU$619 in Australia) is a dual-core, low-voltage fourth-generation Intel Core i5. Two more-expensive base configurations include faster Core i5 CPUs, with a dual-core Core i7 as a extra-cost add-on on top of that. But if you go back to the last major Mac Mini update from 2012, you'll find quad-core Core i7 chips, a more powerful option now missing.
The late 2014 update adds dual Thunderbolt ports and faster 802.11ac Wi-Fi (as found on the rest of the current Mac line), but the RAM, which was previously user-accessible, is now permanently soldered to the motherboard. In other words: no more post-purchase upgrades. Instead, you need to plan your upgrades at the time of purchase. And they're not cheap: a simple jump from the base 4GB to 8GB is an extra $100, and adding a 1TB Fusion drive (with both SSD and HDD hardware) costs $250 over the slower 5400rpm 500GB hard drive in the least-expensive configuration.
After a few fallow years, interest in small desktop PCs is ramping up, and the Mac Mini faces some interesting competition from Windows devices such as the Alienware Alpha and the HP Pavilion Mini , which can both be figured to cost around the same, although each has its own trade-offs. And that doesn't even include more affordable budget options like Chromebooks, "Chromebox" mini desktops and even full-fledged Windows laptops like the HP Stream 11 , all of which can be had for about $200.
Apple enthusiasts hoping for a radically updated, future-proofed Mac Mini will be disappointed that the small steps forward in some areas are offset by what may be seen as backwards moves in others (especially for DIY upgraders). But for casual consumers looking for a basic desktop or a TV-connected multimedia PC, it's hard to imagine a more comprehensive, self-contained computer, especially one running OS X, for the price.
Apple Mac Mini
| | |
| --- | --- |
| Price as reviewed | $499, £399, AU$619 |
| PC CPU | 1.4GHz Intel Core i5 4260U |
| PC Memory | 4GB 1,600MHZ DDR3 SDRAM |
| Graphics | 1536MB (shared) Intel HD Graphics 5000 |
| Storage | 500GB 5,400rpm HDD |
| Optical drive | None |
| Networking | 802.11a/c wireless, Bluetooth 4.0 |
| Operating system | OSX 10.10.2 Yosemite |
Design and features
The Mac Mini, even with no physical redesign in this latest version, still feels very small for a desktop computer. But it's hefty block of aluminum, 7.7 inches square and 2.6 pounds, and dwarfs the media streaming devices, from Roku to Amazon Fire TV (or the Apple TV for that matter), that have taken over much of the media streaming people used to need a home theater PC for.
Compared to other small desktops, the Mini sits in-between the slightly larger Alienware Alpha desktop, which includes its own discrete graphics chip, and the new HP Pavilion Mini, first seen at CES 2015. But, the Mac Mini, at 1.4 inches tall, is slimmer than both of those.
While those other two small form factor PCs have a couple of easy to access USB ports on the front panel, Apple's design is, true-to-form, very minimalist, with only a power light and IR sensor on the front panel. You'll have to go around to the rear to hook anything up.
Shipping without a keyboard and mouse means that you'll have to supply your own. Apple's versions are $69 each for the keyboard and your choice of mouse or trackpad (I prefer the latter), but any old USB or Bluetooth ones you have sitting around will work fine. I ended up using the Mac Mini primarily with a wireless Apple keyboard and a wireless Microsoft branded mouse. Keep that extra cost in mind when comparing this to the new HP Pavilion Mini, which includes a wireless keyboard/mouse combo in the box, even in the lowest-end $319 version.
Despite the lack of packed-in accessories, you do get a lot of software extras. The least-expensive Mac computer still includes all the bundled software found on its pricier siblings, including Pages, Numbers, and Keynote, which comprise Apple's version of the Microsoft Office suite, as well as multimedia apps including GarageBand, iMovie and iPhoto (the latter to be replaced at some point by the new Photos app ).
One of the benefits of having a flexible system like the Mac Mini is that you can hook it up to any display you have sitting around, and you're not locked into the included screens built into the iMac desktops. We tried an Apple Cinema Display via mini-DisplayPort, as well as a 4K 28-inch monitor from Monoprice , via HDMI.
Through the Display section of the Settings menu, you can allow OS X to scale the desktop view to look its best on your monitor, no matter its resolution (or how it looks best according to Apple), or you can select your resolution, and we set the Mac Mini to run at full 3,840x2,160 on our 4K display. We were able to watch a streaming 4K video at full resolution like this, although overall performance felt choppy. At 4K, the desktop can also look very zoomed out. If you're looking for a true 4K experience, you'll need to spend more.
Ports & connections
| | |
| --- | --- |
| Video | HDMI, DisplayPort (x2) |
| Audio | headphone/microphone jacks |
| Data | 4 USB 3.0, Thunderbolt (x2), SD card reader |
| Networking | Ethernet, 802.11ac Wi-Fi, Bluetooth |
| Optical drive | None |
Connections, configuration and performance
In return for buying a desktop over a laptop computer, you have a right to expect generous selection of ports and connections, even on small box like this. The Mac Mini's rear panel is loaded with connections, including four USB ports, and three video outputs (one is HDMI, the other two are shared Thunderbolt/mini-DisplayPort jacks), plus Ethernet, which is great if you're going to set this up as a streaming home theater computer.
The base model Mac Mini reviewed here includes a 1.4GHz dual-core Intel Core i5 CPU from Intel's fourth generation of those chips, sometimes referred to by the the codename Haswell. New CPUs, fifth-gen models with the codename Broadwell, are starting to pop up, but it's unknown if or when they'll come to the Mac Mini or other Macs.
The least-expensive Mac Mini also includes 4GB of RAM and a 500GB hard drive, both specs that would be considered on the low end in general, but are passable for a $500 computer. As a reminder -- and unlike previous Mac Mini models -- aftermarket upgrading is essentially impossible on the 2014 Mini, as the RAM is actually soldered into the motherboard and the hard drive is deeply buried inside.
The Mac Mini performed competitively with the two other small desktops in the same price range we tested recently, the Alienware Alpha and the HP Pavilion Mini, trading first place between them in multitasking and single-app tests, but not blowing each other out of the water. Both the Alienware and HP models have Core i3 processors, but offer other extras, such as the custom graphics card in the Alpha (which led to a much better gaming frame rate score) and the larger 1TB hard drive in the Pavilion Mini. Note that our Pavilion Mini was a $479 configuration with an upgraded CPU and hard drive, rather than the $319 base model, making for a closer price-to-spec comparison.
The Mac Mini also performed roughly on par with both the current 13-inch MacBook Air and the 21.5-inch entry level iMac all-in-one desktop. That's because all three of those Macs are built around similar components, although the iMac has twice the RAM and the MacBook has a faster solid-state hard drive. That means the Mac Mini is nearly as powerful as Apple computers that cost twice as much.
In practical terms, basic Photoshop and webpage building worked smoothly, as did office and productivity applications. We loaded up Logic Pro , Apple's high-end professional music creation suite, and were able run through some demos, but keep in mind that the software plugins that are at the heart of that program are very CPU dependent, and you'll eventually hit a brick wall if you stack too many together.
Gaming is about as good as it is on a current MacBook Air, which is to say, not very. Tomb Raider, a recent game with a well-done Mac version, ran at only 13.2 frames per second at 1,920x1,080 resolution and medium detail settings. Upgraded Mac Mini configurations use Intel Iris graphics, which are only marginally better in our experience, but that could help a bit. Making for an interesting comparison is the Alienware Alpha, a similarly priced small desktop from Dell that combines a Core i3 CPU and custom Nvidia graphics card for great gaming performance (if not much else of note) for $499.
Conclusion
The 2014 update to the Mac Mini may not be the high-end makeover hobbyists and power users were hoping for, but it's still the least expensive way to get an OS X computer, even if there are some strings attached.
Among recent small form factor desktops, if you're interested in gaming, check out the Alienware Alpha; if you want enough storage for a solid home theater PC, but don't want to add $250 for a hard drive upgrade, check out the $479 build of the HP Pavilion Mini. For everyone else, especially those already used to OS X, the Mac Mini is powerful enough for everyday use, works as a hidden away desktop or home theater PC, or can even get tossed in a shoulder bag for easy travel.
Sours: https://www.cnet.com/reviews/apple-mac-mini-2014-review/
At a Glance
Expert's Rating
Pros
Good bang for the buck
Similar design as previous Mac mini
Speed is competitive with the 2017 iMac
Cons
Expecting a new, radical design change? You didn't get it
Its two USB-A ports may not be enough
You'll probably need a USB-C or HDMI video adapter
Best Prices Today
It's been ages since the Mac mini received an update, so we can see how fans of Apple's smallest Mac would be happy for any improvements. On the flipside, because the mini hasn't been updated for four long years, you may have convinced yourself that Apple would make dramatic changes—yet the update is pretty much limited to a processor upgrade.
If you were anticipating a major overhaul, your disappointment is understandable. But get over it, because the new Mac mini is a worthy Mac for $799. In fact, in our benchmarks, its performance is fast enough to give the iMac some competition. If you're buying a new Mac, you should definitely consider the Mac mini, because you could end up saving some money—and still get a soild, fast Mac.
And if you own an older Mac mini and love the form factor, you'll want to upgrade. The performance—especially with multi-core professional software—is worth the money. This review takes a look at the $799 Mac mini, which is now Apple's cheapest Mac.
Who is the Mac mini for?
The Mac mini made its debut in 2005, and was marketed as the affordable entry-point for Mac newcomers. All it needed was an external display (the first mini came with a VGA-to-DVI adapter) and USB input devices. With the base model priced at $499, it lagged behind Apple's faster, more expensive Macs, but it was a good performer for the price.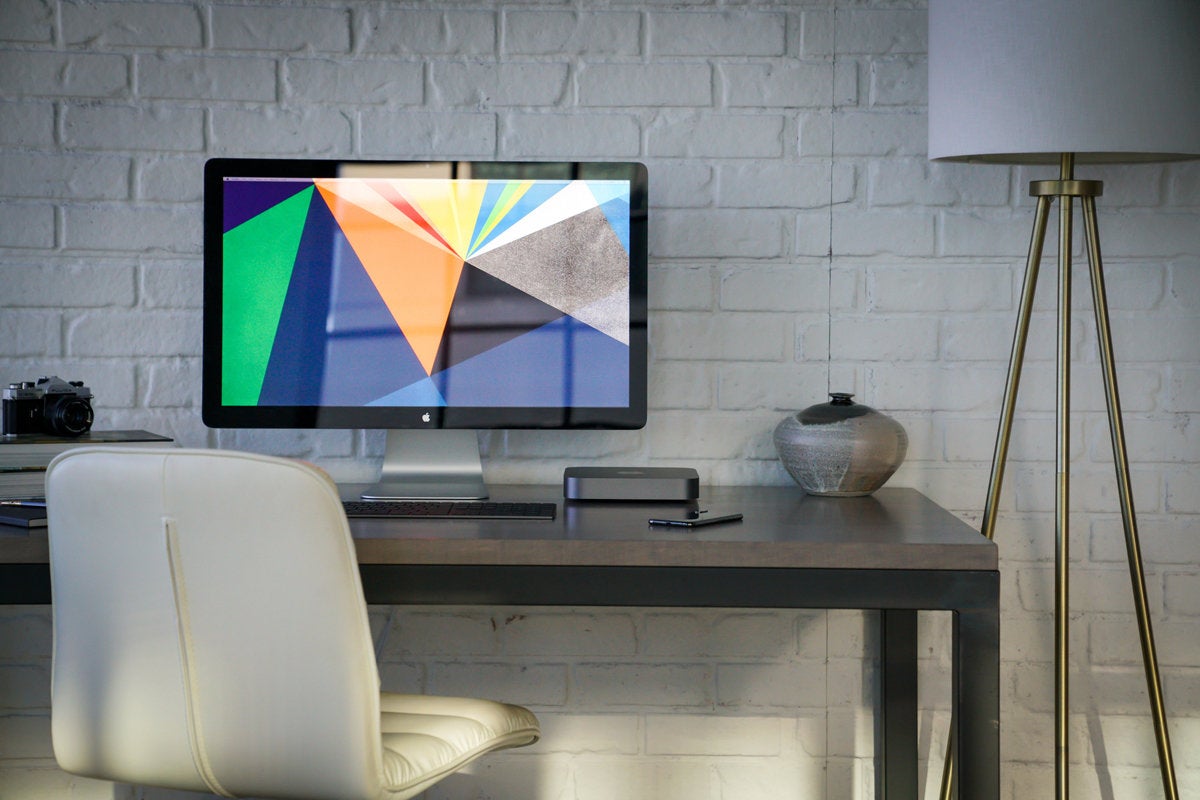 But as it turned out, the Mac mini found a market with pro users thanks to its small footprint. It's been popular with software developers and content creators, and has even found a home in co-location data centers. In response, Apple changed its Mac mini message, targeting professionals and touting the mini's performance instead of its affordability. Apple's Mac mini website calls the new Mac "All workhorse" and the whole "switcher" messaging of the original Mac mini is gone.
But that doesn't mean the mini is no longer for switchers and everyone else. It's still a good Mac for the general consumer, and in fact, it offers considerable bang for the buck. The main drawback is that there's no longer a sub-$500 price tag in Apple's Mac lineup (though the $799 Mac mini is $300 cheaper than the entry-level 21.5-inch iMac).
During a briefing, Apple told us that faster Mac mini performance was at the top of customers' wishlists. With that in mind, Apple upgraded the CPU with eighth-generation Intel Core processors—desktop CPUs, not mobile CPUs. Apple says the new Mac mini is up to five times faster than the previous one (which, after all, was released in October 2014).
The CPU in the $799 Mac mini is a 3.6GHz Core i5. This is a quad-core processor that offers two more processing cores than the chip in the previous Mac mini. Note that this particular Mac mini's CPU doesn't support Turbo Boost, a feature that allows for a processor to run faster than its stated frequency if the processor is running under its limits for power, current, and temperature. However, Turbo Boost up to 4.1GHz is available in the 3.0GHz 6-core Core i5 processor that's spec'd for the $1,099 Mac mini.
You'll also find a performance upgrade in the Mac mini's storage hardware—sort of. In the past, you could choose from a hard drive (slow but spacious), a Fusion Drive (the capacity of a hard drive but with better speed), or flash storage (a fast and pricey solid-state drive). Now, Apple offers only solid-state drives, which offer the best speed.
The $799 model comes with a 128GB drive, but if that isn't enough, Apple offers upgrades all the way up to 2TB if you're willing to pay. The SSDs are PCI-e cards and Apple doesn't consider them user-upgradeable. So, if you prefer to house your storage inside the computer instead of attaching an external drive, you might consider shelling out more money for an upgrade.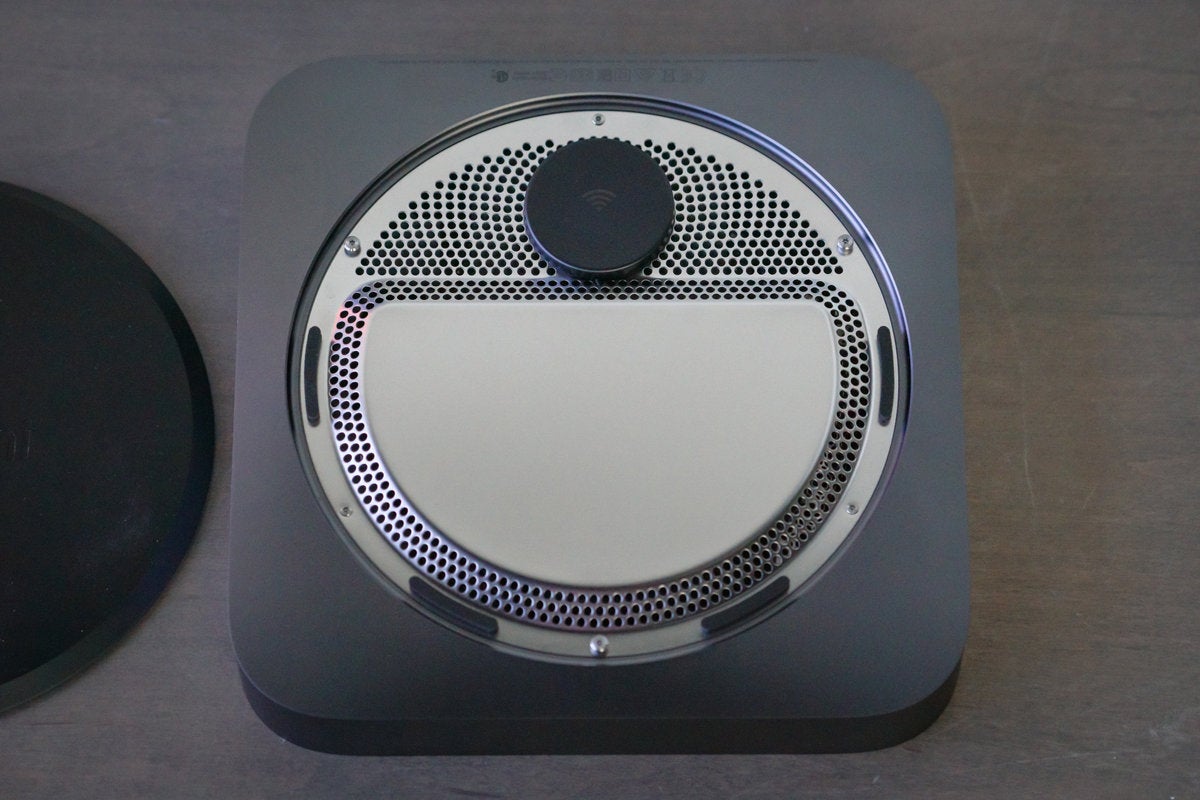 The $799 Mac mini comes standard with 8GB of 2666MHz DDR4 memory, installed as a pair of 4GB SO-DIMMs. The mini supports a maximum of 64GB, and you can upgrade the memory later, but Apple doesn't consider the Mac mini to be user-configurable, and it recommends that memory upgrades be performed by a certified Apple service provider. Doing it on your own will void the warranty.
You can easily open up the Mac mini on your own: The circular plastic cap at the bottom of the Mac mini pops off to unveil an aluminum hatch that's kept in place with torx screws. But what you'll find when you remove the hatch is that the memory is placed in a sort of a cage, and that you'll need to remove the fan and other components to get access. It's not a trivial task.
The Mac mini includes a T2 Security Chip to offload security features away from the main CPU. The T2 handles the Mac mini's secure boot feature and storage encryption for FileVault, and it houses a coprocessor for Secure Enclave, which operates Touch ID. Unfortunately, there currently isn't any keyboard with Touch ID support that can be attached to the Mac mini. That said, the iMac is due for an update soon, so maybe we'll see a new Magic Keyboard with Touch ID when that desktop machine arrives.
How fast is the Mac mini?
To test the speed of the $799 Mac mini, we used the Geekbench 4 benchmark tool. We compared the Mac mini's results to the three Mac mini models from 2014, the current $1,499 iMac, and the 2013 3.5GHz 6-Core Xeon E5 Mac Pro.
Geekbench 64-bit Single-Core test results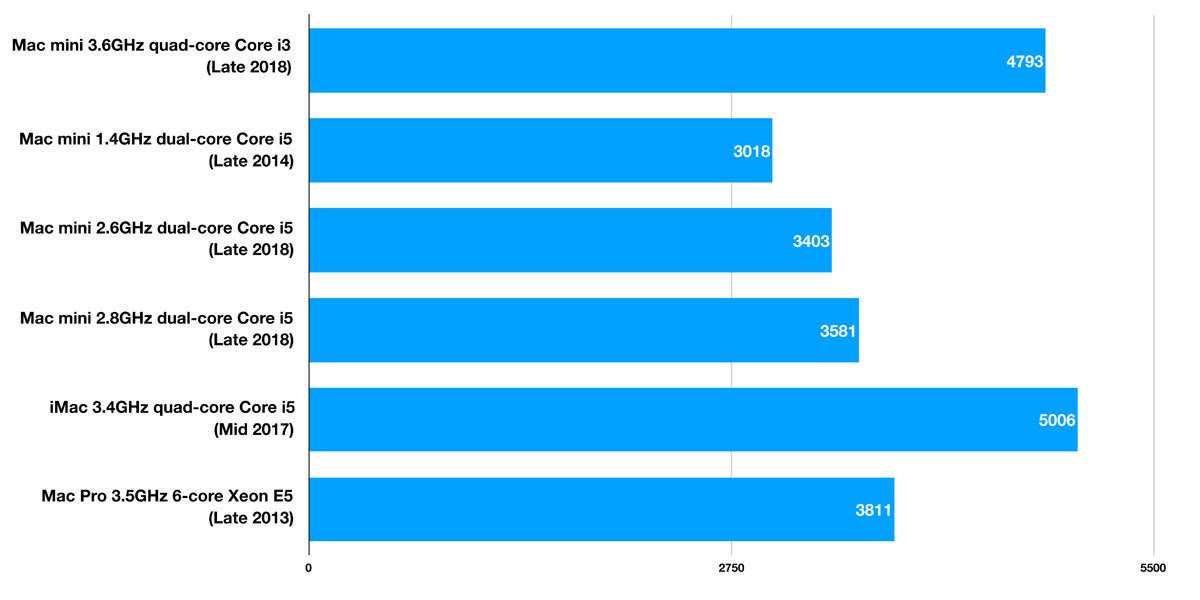 Not surprisingly, the $799 Mac mini, with its eighth-generation 3.6GHz Core i3 processor, offers a nice single-core boost over its 2014 predecessors. We saw a 29 percent jump over the $999 2.8GHz Core i5 model, a 34 percent boost over the $699 2.6GHz Core i5 model, and a 45 percent improvement over the $499 1.4GHz Core i5 Mac mini.
The question is, Are these improvements enough for owners of the 2014 Mac mini to upgrade? Even in single-core apps (e.g., mail, browsers, iTunes, and even some consumer-level video and image editors), the boost is significant, thanks to eighth-generation Intel chip improvements and the clock speed bump. So, if you have a 2014-vintage $499 or $699 Mac mini, you've probably gotten your money's worth from the machine, and upgrading to the new $799 model is a good investment. And even if you bought the 2014 $999 model, upgrading should be a serious consideration.
Interestingly, the single-core performance of the $799 Mac mini isn't far off from the 2017 21.5-inch 3.4GHz Core i5 iMac that sells for $1,499. The iMac is only 4 percent faster. Another interesting data point: The new Mac mini outperforms the 2013 3.5GHz Xeon E5 Mac Pro by 23 percent. Keep in mind that this is in single-core performance, and the Mac mini versus Mac Pro story changes in our next suite of tests.
Geekbench 64-bit Multi-Core test results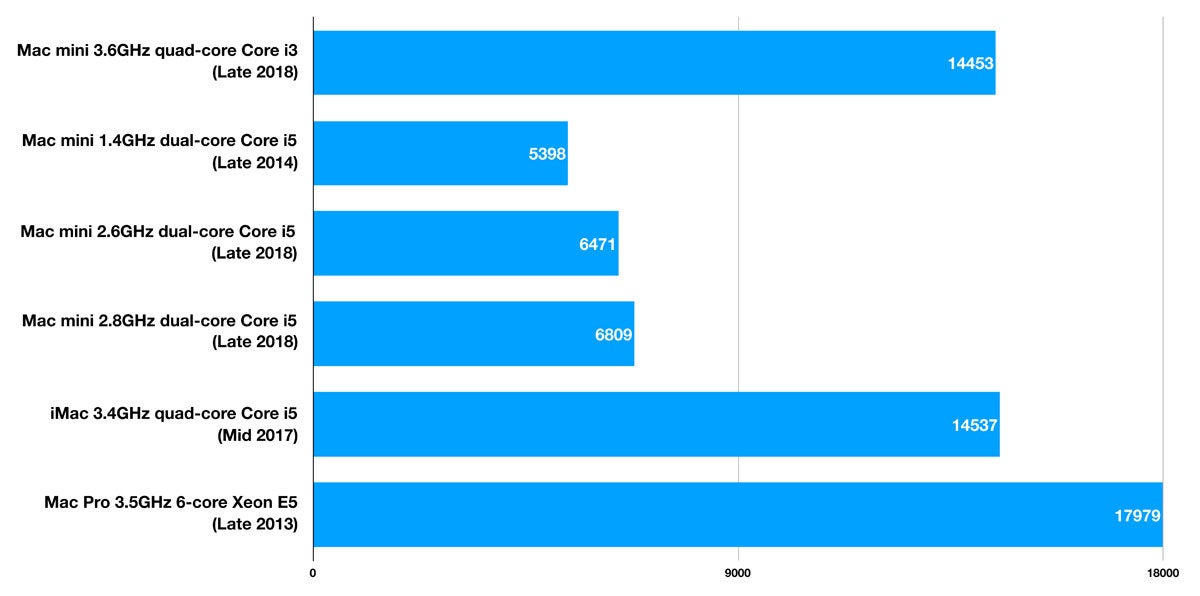 Because Apple has changed the marketing message with the new Mac mini, its multi-core performance will draw more attention than before. The $799 Mac mini has four processing cores, two more than in the previous models. So the newer CPU and extra processing cores combine to make the $799 Mac mini a mighty machine for apps that can use multiple cores (pro-level video and image editors, as well as developer tools, for example).
In the Geekbench 64-bit Multi-Core test, the $799 Mac mini more than doubled the performance of the three older models. Bottom line: If you use apps that can take advantage of multiple cores, you're going to see a huge speed increase with the new Mac mini. It's well worth the cost of upgrading.
When you compare the $799 Mac mini to the $1,499 21.5-inch iMac with a quad-core 3.4GHz Core i5, you'll find an eye-opening result: the Geekbench 4 scores are practically the same. We ran a few more benchmarks to compare the $799 Mac mini to the $1,499 iMac, and we found that when it comes to graphics performance, the iMac and its 4GB Radeon Pro 560 graphics card gives it a significant edge in frame-rate performance over the Mac mini's Intel UHD Graphics 630. But in two other benchmarks—the Cinebench R15 CPU test and the Blender BMW render test—the Mac mini and the iMac finished neck and neck.
The Mac mini, however, is slower than the 2013 6-core 3.5GHz Xeon E5 Mac Pro, which is five years old and costs $2,299. Still, when you consider the price difference, the Mac mini's multi-core speed is impressive.
Connectivity and ports on the new Mac mini
One of the reasons the Mac mini has been such a beloved machine among Mac users is that it comes with so many ports in such a small package. Fortunately, it still has a lot of ports, but Apple has updated the equipment to match its current philosophy, which currently focuses on Thunderbolt/USB-C.
The Mac mini comes with four Thunderbolt/USB-C ports, and you can connect two or three displays through these ports, depending on the screen resolution used for each display. If you don't have a USB-C equipped display like the LG UltraFine 4K Display, you will need an adapter (we have a Thunderbolt 3 adapter guide to help you find the ones you need). You can also connect an HDMI-equipped display to the Mac mini's HDMI 2.0 port.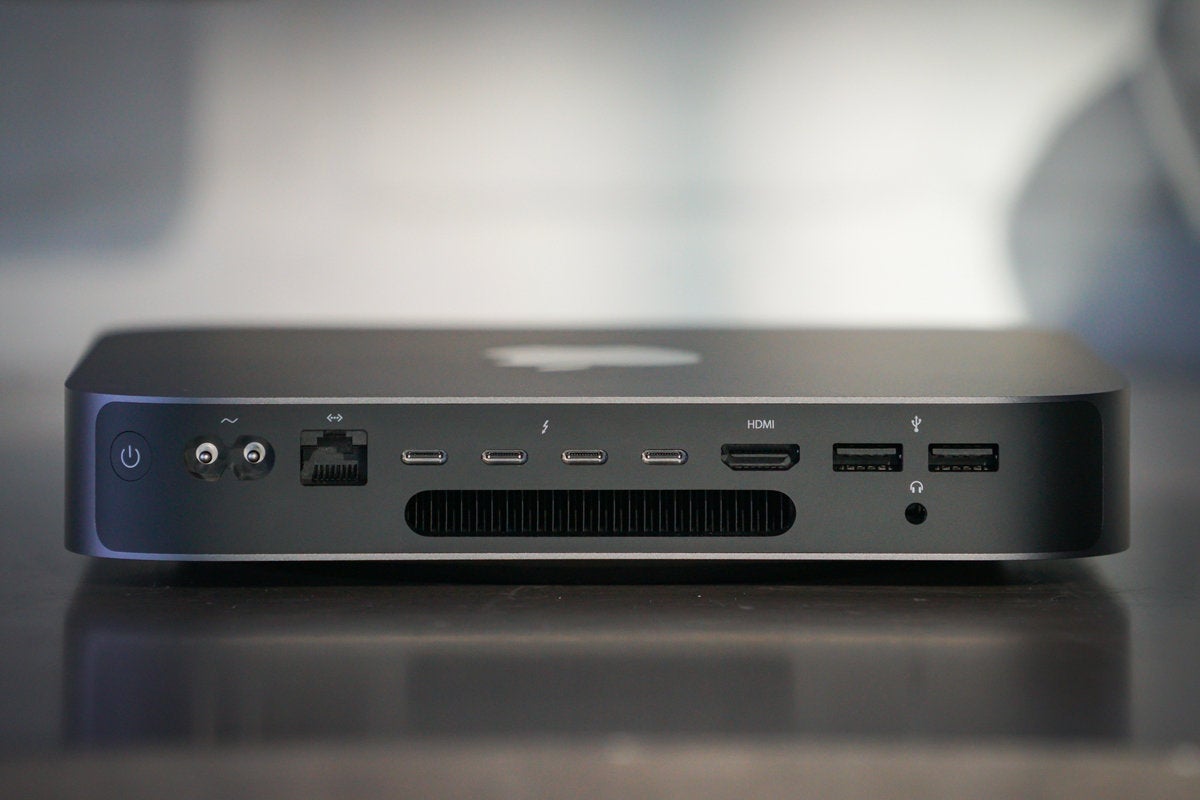 If you have a lot of USB-A devices to connect, you'll be disappointed in the reduction of USB-A ports from four down to two. But if you don't use all of the Mac mini's USB-C ports and you want to connect a USB-A device, you can use an USB-C to USB-A adapter, like the $19 one from Apple. An even better investment would be a USB hub, such as the Anker 4-Port USB 3.0 Data Hub, which connects to the Mac mini via USB-A, or the AmazonBasics USB 3.1 Type-C to 4 Port USB Hub, which connects via USB-C.
For networking, the Mac mini comes standard with a gigabit ethernet jack and Wi-Fi. Apple does offer a $100 upgrade to 10Gb ethernet, which will be of interest to pro users, render farm implementations, and more. The Mac mini also has Bluetooth 5.0 and a headphone jack.
Same Mac mini design as before
The long gap between updates lent itself to speculation, with Apple fans compiling wish lists for the new Mac mini. Macworld writers and editors certainly haven't been shyaboutourthoughts on the subject. Much of the speculation focused on the Mac mini's form factor, and many of us thought the new machine could be smaller than the 2014 model, an idea inspired by small PC devices, such as the Intel NUC and even Raspberry Pi.
But in the end, Apple decided not to change the Mac mini's design at all, except for now it's in space gray instead of silver. It's the same shape and size as before, a square with sides measuring 7.7 inches, a height of 1.4 inches, and rounded corners. You can stack it on top of the previous Mac mini, and it lines up perfectly. Like the MacBook Air, the Mac mini's case is made of 100 percent recycled aluminum.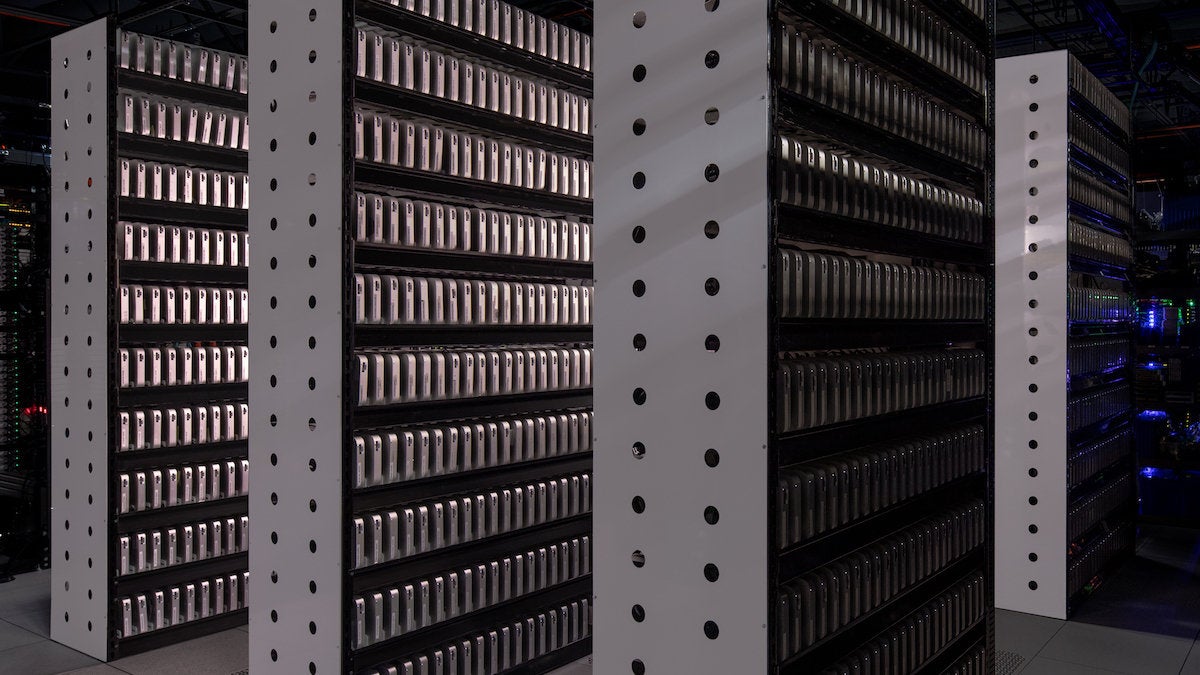 Probably the main reason why Apple stuck with the design can be seen in "The secret world of Mac mini" feature that the company published during the Mac mini announcement. Among other clever uses for the Mac mini, we see them in a co-location data center where 8,000 Mac minis are deployed. The photo of MacStadium's facility is impressive, with row after row of Mac minis, but could you imagine what you'd have to do to replace all those old minis to accommodate a new form factor? It certainly may discourage upgrading the machines in enterprise environments.
Perhaps it would be nice if the Mac mini were smaller, lending itself to even more uses, but it seems Apple determined a footprint reduction wasn't a priority. For a majority of people, the Mac mini's size works, and the new Mac mini can simply slide into the space of the old one, no muss, no fuss.
Bottom line
There are customers who lament the fact that Apple no longer offers a Mac for under $500, and that Apple went from offering three desktop Macs for under $1,000 to just one. But this is the new reality: $799 is the new entry point, and it's not going to go any lower.
That being said, at $799, the 3.6GHz quad-core Core i3 Mac mini offers an intriguing combination of performance and value. In many instances—especially with multi-core apps—the Mac mini is as fast as the current $1,499 21.5-inch 3.4GHz quad-core Core i5 iMac (which was released in 2017). You could you decide to buy a refurbished 4K display and input devices with a $799 Mac mini instead of a $1,499 iMac, and you'll save a little bit of money while getting comparable performance.
Whether you should upgrade from the previous Mac mini is a no-brainer: Do it. If you use apps that can take advantage of multiple cores, you'll see a huge improvement that's well worth the cost. Even if you don't use multi-core apps and use only consumer-level software, you'll see a marked improvement in speed. You may have to buy a USB hub and a video adapter, but it's worth it.
$799 Mac mini vs. $1,499 iMac benchmark comparison
Geekbench 4 Compute OpenCL test results

Geekbench 4 Compute Metal test results

Cinebench R15 OpenGL test results

Cinebench R15 CPU test results

Blender BMW render test results

Sours: https://www.macworld.com/article/232082/799-mac-mini-review.html
Not the upgrade we were hoping for: The 2014 Mac Mini reviewed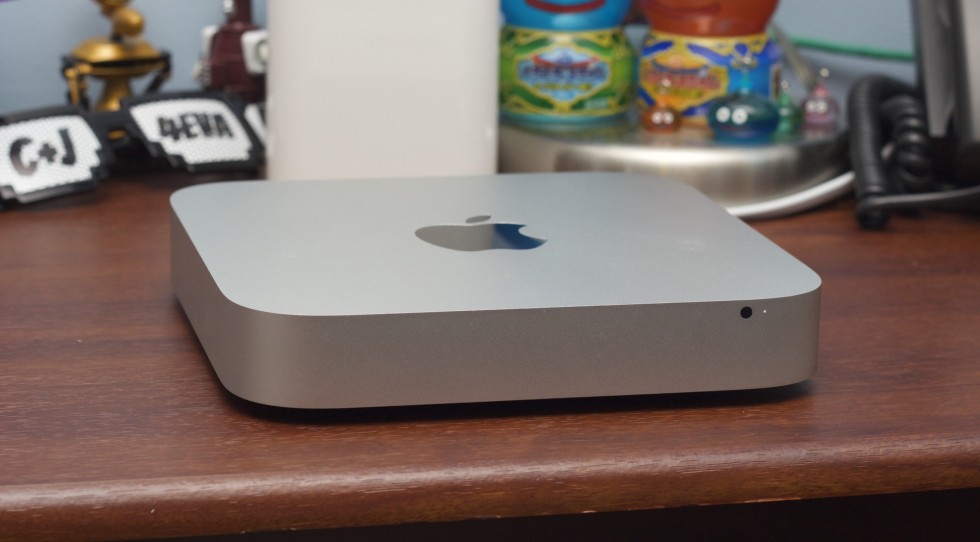 with 108 posters participating, including story author
Mid-tier 2014 Mac mini, as reviewed
OS
OS X 10.10.0
CPU
Dual-core 2.6GHz Intel Core i5-4278U (Turbo Boost up to 3.1GHz)
RAM
8GB 1600MHz LPDDR3 (soldered, upgradeable to 16GB at purchase)
GPU
Integrated Intel Iris 5100
Storage
1TB Fusion Drive (128GB PCIe SSD + 1TB 5400 RPM HDD)
Networking
Gigabit Ethernet, 802.11ac Wi-Fi, Bluetooth 4.0
Ports
HDMI, 2x Thunderbolt 2, 4x USB 3.0, audio line-in minijack (digital/analog), audio line-out/headphone minijack (digital/analog), SDXC card slot
Size
7.7×7.7×1.4" (19.7×19.7×3.6 cm)
Weight
2.7 lbs (1.22 kg)
Starting price
$699 ($499 for base model)
Price as reviewed
$899
It's easy to feel sorry for the Mac Mini. Apple went through all of its Macs last year, updating them with new Intel Haswell CPUs and 802.11ac Wi-Fi adapters and faster SSDs and (sometimes) Thunderbolt 2, while the Mini sat and waited for an upgrade that never came.
Apple quickly announced a new Mini at its media event in October, two years after the 2012 Mac Mini was introduced. Desktops and laptops haven't advanced a whole lot in the last year, so for the most part the Mini is just getting 2013's upgrades a year late. If that was all that was happening, the Mac Mini would be a welcome-if-overdue update to the desktop. The 2014 Mac Mini is more interesting than that but unfortunately for people who have been waiting for this refresh, it's more notable for the stuff it's missing than its upgrades.
We typically like to review the base models of computers when possible, but in the Mac Mini's case the upgraded $699 configuration is more interesting, and it's the one you ought to get if you care about performance (more on that later). We'll provide benchmarks representative of the $499 Mini, too, but know ahead of time that it uses the same guts as the base-model MacBook Airs and the $1,099 iMac. To evaluate the computer's SSD performance, we've also equipped our review unit with a 1TB Fusion Drive, a $200 upgrade—we won't be recapping how this feature works, but our deep dive is over here.
What hasn't changed
Visually, the Mac Mini looks the same as it has since Apple stopped shipping SuperDrive-equipped models back in 2011. It's an unadorned, flattened aluminum box with sharp edges and rounded corners. The front face is broken up by a small white power LED and an IR receiver, and the sides are perfectly smooth. A separate piece of black plastic on the back of the unit houses the fan vent and a reasonably impressive complement of ports, which has changed only a little from last year.
The FireWire 800 port has finally been jettisoned (the 2012 Mini was the last of the Macs to include the aging interface, though Thunderbolt-to-FireWire dongles still exist), and there's a second Thunderbolt 2 port in its place. Returning from last year are the gigabit Ethernet jack, HDMI port, four USB 3.0 ports, an SD card reader, and audio in and headphone jacks. It's still annoying that Apple insists on placing all of the ports for its desktops on the back of the computers. It's no surprise at all for longtime Mac users, but PC switchers (a group the Mini specifically targets) may need to change their behavior.
Advertisement
Finally, the new Mini is exactly the same size and weight as the old one. If you were hoping for some kind of reduction here, keep hoping.
What has improved
Delays to high-end Intel CPUs based on the new Broadwell architecture mean that most of the 2014 Mini's improvements came to every other Mac in the lineup in 2013, so the box's insides do little to surprise. We're looking at Intel Haswell CPUs instead of Ivy Bridge, which should reduce power consumption while improving CPU and GPU performance. 802.11ac Wi-Fi bumps the maximum theoretical link speed to 1.3Gbps, roughly three times the 450Mbps 802.11n in the 2012 model.
Thunderbolt 2 raises transfer speeds to 20Gbps, and the included DisplayPort 1.2 spec brings 30Hz 4K display support to the Mac Mini. The HDMI port can also drive 3840×2160 displays at 30Hz and 4096×2160 displays at 24Hz. This Apple document has more information on external display support, but the most important thing you should know is that the Mini does not support multi-stream transport (MST) displays, meaning that 4K output at 60Hz is impossible. Update: Lack of 60Hz 4K support on the 2014 Mini is actually an Intel GPU limitation, not a DisplayPort limitation. This document outlines the resolutions and refresh rates supported by various Intel GPUs.
Of the other substantive improvements, the GPUs and the improved storage speeds are probably the biggest. 2012's Minis all included Intel's HD 4000 GPU, the best integrated GPU that shipped with Ivy Bridge processors. The GPU you get in the 2014 Mini depends on the configuration you spring for—the $499 base model includes the Intel HD 5000, the same one you'd get in the 2013 MacBook or the $1,099 iMac. The $699 and $999 models include the Iris 5100, a somewhat faster integrated GPU like what you'd see in a 13-inch Retina MacBook Pro. Unlike the Iris Pro 5200, the 5100 doesn't include any dedicated eDRAM, which limits its speeds. It's still probably worth the extra cash if you want the fastest Mini you can get.
A quick note about these charts: the HD 5000 results come from a 2013 MacBook Air with a 1.7GHz Core i5-3317U in it, since we don't have numbers for the 1.4GHz model on hand. The base Mini will score a little differently, but the numbers should be more-or-less the same.
Advertisement
Neither of these new integrated GPUs will turn the Mac Mini into a gaming machine, but they bring the kind of improvements we'd expect in a generational jump. The HD 5000 improves on the HD 4000 by about 50 percent in the GFXBench T-Rex test and about 25 percent faster in the Cinebench R15 GPU test. The Iris 5100 further improves those numbers, beating the HD 4000 by 98 percent in the T-Rex test and about 45 percent in the Cinebench test. Scores in the heavier GFXBench Manhattan test improve as well, though by a much smaller margin—obviously the amount you stand to gain will vary from game to game and task to task.
The jump from SATA III to PCI Express-based solid-state drives provides a nice generational performance boost too, the same one we saw when the various iMacs and MacBooks made the same jump in 2013. Both our 2012 and 2014 Minis are equipped with 128GB SSDs from Samsung. The new Mini has 48 percent better write speeds and 62.2 percent better read speeds. These numbers may vary somewhat from unit to unit, since Apple sources SSDs from a variety of manufacturers.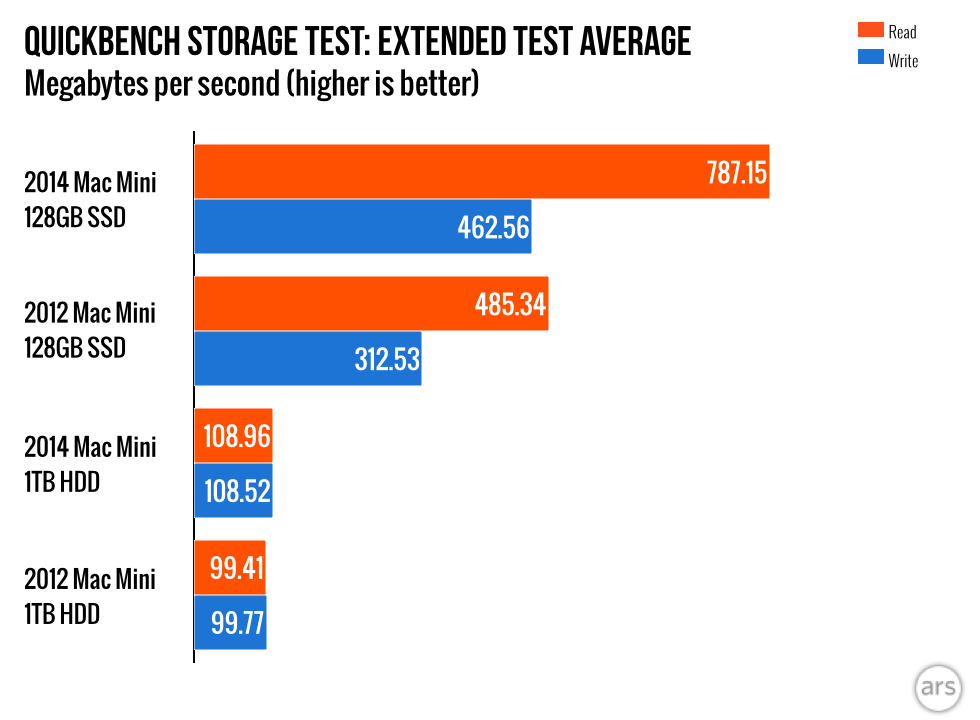 The base model Mini still comes with a spinning 5400RPM HDD by default, and scores improve by a negligible amount. Spring for the Fusion Drive no matter which model you buy—the way the technology works ensures that you'll usually see the SSD speeds rather than the slow HDD speeds. Saddling a new computer with an HDD in 2014 is cruel to consumer and computer alike.
Finally, the new Mac Mini features improved idle power consumption, likely attributable to both the Haswell CPUs as well as the move from standard DDR3 RAM to LPDDR3. Power consumption under CPU load is much lower, mostly because the 2014 Mini no longer includes a quad-core CPU option. Power consumption under GPU load is a bit higher because of the powerful Iris GPU (we'd expect power consumption numbers for the HD 5000 to be somewhere in between our 2012 and 2014 Minis). Apple says the new Mini is "the world's most energy-efficient desktop." We can't vouch for that claim, but it's at least an improvement over its predecessor most of the time.
| Activity | 2014 mid-tier Mac Mini | 2012 mid-tier Mac Mini |
| --- | --- | --- |
| Off/Hibernate | 0.3W | 0.3W |
| Sleep mode | 1.2W | 1.8W |
| Idle at desktop | 5.1W | 9.0W |
| Watching 1080p YouTube in Safari | ~7.0W | ~13.0W |
| 100% CPU load | ~32.2W | ~61.0W |
| Running GFXBench Manhattan benchmark | ~45.0W | ~38.0W |
Sours: https://arstechnica.com/gadgets/2014/11/not-the-upgrade-we-were-hoping-for-the-2014-mac-mini-reviewed/
Should You Still Buy The 2014 Mac Mini?
TODAY'S BEST DEALS
Check Amazon
It may be a staple design that's been with us for over 12 years now, but Apple's Mac mini still doesn't enjoy the recognition it deserves. That's the case despite our contention that it's as influential on its rivals as the MacBook Air is generally accepted as. 
In fact, the Mac mini has not only inspired other mini PCs in its class, but it could also be credited for its impact on the TV streaming box market. We mean, look at the latest Apple TV and tell us it didn't borrow appearance elements from the fan-favorite Mac mini.
While you've been gawking over shiny new smartphones, it's easy to forget about the importance of a proper desktop. The Mac mini 2014 specifically holds up, not to mention it's probably the cheapest Apple computer you can buy assuming you already own a mouse, keyboard and monitor. Without those peripherals, though, you might want to consider an iMac.
Virtually indistinguishable from its predecessor, the Mac mini broke ground at the time of its release – not because of its outward differences, but because it finally flipped the switch on Intel's 4th-generation Haswell chip, having finally made the move away from Ivy Bridge. That might seem trivial now that we're in the 8th-generation of processors for both laptops and desktops, but you can still push the Mac mini today as you would three years ago.
As we mentioned before, the Mac Mini is the cheapest way to dive head-first into Apple's Mac operating system, otherwise known as macOS. The latest version of this software environment is called macOS 10.13 High Sierra. Even the Mac mini, a computer released back in 2014, comes with 10.13 pre-installed. The most notable changes found in High Sierra include the world's fastest web browser, built-in, as well as an improved file system for faster storage.
There are three new Mac mini systems in Apple's refreshed line-up. The entry-level Mac mini now costs £399 ($499), making it one of the company's most affordable computing devices ever. It comes with an Intel Core-i5 CPU clocked to 1.4GHz (Turbo Boost to 2.7GHz), 4GB of RAM and a 500GB HDD. Next along, the mid-range model comes in at £569 ($699) and houses a 2.6GHz Core-i5 CPU (Turbo Boost to 3.5GHz) backed up by 8GB of RAM.
Those seeking more computing power short of having to buy an iMac or a MacBook Pro should consider the top-end Mac mini, the machine featured in our review, which costs £799 ($999) and comes with a 2.8GHz Intel Core-i5 CPU (Turbo Boost to 3.3GHz), a 1TB Fusion Drive and Intel Iris Graphics. For extra cost, it is also configurable with a dual-core Intel Core-i7 CPU clocked at 3.0GHz (Turbo Boost to 3.5GHz) for maximum horsepower.
The higher-end Mac mini is still £100 ($157) cheaper than the entry-level 21.5-inch iMac, which comes with a 1.4GHz Intel Core-i5 CPU (Turbo Boost to 2.7GHz), 8GB of RAM, a 500GB HDD and Intel's integrated HD Graphics 5000.
Gabe Carey has also contributed to this review
First reviewed December 2014
TODAY'S BEST DEALS
Check Amazon
Current page: Introduction and design
Next PageSpecifications
Kane has been fascinated by the endless possibilities of computers since first getting his hands on an Amiga 500+ back in 1991. These days he mostly lives in realm of VR, where he's working his way into the world Paddleball rankings in Rec Room.
Sours: https://www.techradar.com/reviews/pc-mac/mac-mini-2014-1269587/review
Mini review 2015 mac
As soon as Olga left the room, Sasha immediately closed the game, which suddenly became uninteresting. The fact that, leaving, my mother closed the door, meant only one thing, now she will change. Trying not to give himself away, the boy went to the slightly open door.
Seeing something in the remaining gap did not allow the corner of the cabinet next to the door, but you could hear it perfectly. The wardrobe opened, there was a knock of a hanger being removed.
Mac Mini (M1, 2020) One Month Later Review!
Wow. - we said in unison. I don't think well choose anything, she said, disappearing behind the curtain.
Similar news:
Are you making a fool of me. - shouted the woman, and turned with shouts to the man, - and you, Don Juan, damn girls, so you take us home while I'm not. At home. - Yes, I tell you, I see her for the first time in my life.
326
327
328
329
330