The BEST Craft Storage and Organization Ideas
In today's post: Need to tidy up your craft room? Check out all these craft storage and craft room organization ideas.
After the holidays are over, there's nothing more satisfying than getting the house organized! Ok, that's not completely true. Curling up with a really good book and eating ice cream is actually way more satisfying than spending hours organizing…but I have to admit, I LOVE how it feels once the organizing is done.
I usually blame my kids for the mess at our house, but there is one area where I have to take the blame: my craft room. It's just hard to keep a room with SO MANY craft supplies tidy. Today I've gathered the best craft storage and craft room organization ideas I could find to help us all get organized.
Large Scale Craft Storage
If your entire craft room needs an overhaul, check out these craft storage ideas. These are large scale storage and organization options that will help you find a place for all your different supplies. Getting your entire craft room organized will ensure you know where everything is – no more scrounging through bins for items you know you have…somewhere.
My Craft Room Organization - The Country Chic Cottage
This blogger used shelving units from Walmart combined with wicker baskets to hold all of her craft supplies in one tidy spot (there's actually two of these units in her room). Click through to see how they work in combination with her DIY craft desk.
Click here to view post
Craft Room Makeover Organization Ideas - Design Eat Repeat
This craft room combines super functional storage drawers (from Amazon!) with stylish wire wall storage to hold a huge amount of craft supplies, keeping the room clean and streamlined.
Click here to view post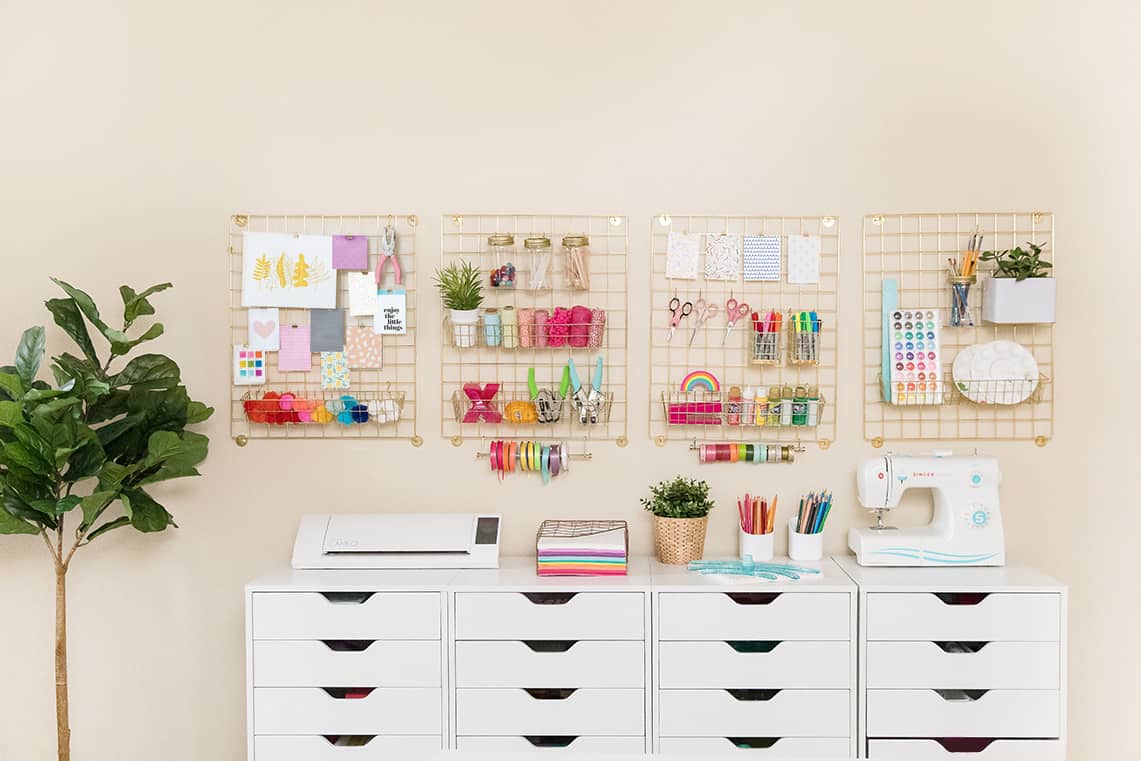 How the DREAMBOX transformed my craft room - It's Always Autumn
For a gorgeous all-in-one craft storage system, check out the DreamBox. It comes with bins that will hold all your supplies as well as a fold-out table, and the best part is that the entire system can fold up into a large cabinet.
Click here to view post
Dream Craft Room Makeover - Craving Some Creativity
This custom craft room organization and storage ideas only cost about $600 because multiple items were repurposed. I love the long desk top combined with cabinets that create lots of storage!
Click here to view post
Craft Room Organization - Inspired Paper Crafts
Make your own custom craft storage unit by purchasing and installing a variety of storage cubes, wall units, and shelves. All of the items shown in this room are from Michael's. Click through for more info.
Click here to view post
Organized Craft Closet - Intentional Edit
If you don't have a dedicated craft room, you can turn a closet into an organized craft center for the whole family using labeled bins of different shapes and sizes.
Click here to view post
DIY Craft Tables with Storage
One of the most important parts of any craft room is a large craft table – and one with storage inside is even better! Below you'll find options for creating your own craft table with storage using old bookcases, Ikea Kallax systems, or stock cabinets. You'll also find a link to free plans if you'd like to build your table from scratch.
Upcycled Bookcase Rolling Work Table - Houseful of Handmade
This amazing craft table with extra storage was made from two old bookshelves and a couple repurposed table tops! Loads of supplies fit in the shelving, which goes all the way around the table, and wheels make it easy to move the entire thing.
Click here to view post
IKEA Hack Craft Room Table - Landeelu
This simple Ikea hack craft room table will make all of your craft room/home office dreams come true for about $160. One side of the table has storage underneath, while the other side has room for a pair of stools.
Click here to view post
Ikea Kallax Hack - Family Handyman
Hack the Ikea Kallax shelf to build a worktable with a huge surface, convenient craft storage and easy mobility by sandwiching three small storage units between a base with casters and a plywood top with hardwood edging.
Click here to view post
DIY Craft Table with Storage - My IKEA Hack! - Jennifer Maker
How to make your own DIY craft table with storage using inexpensive components from IKEA. Provides 25 sq. ft. of work space, 8 cubbies, 8 drawers, and two hidden compartments for big items (like a trash can). It's AMAZING!
Click here to view post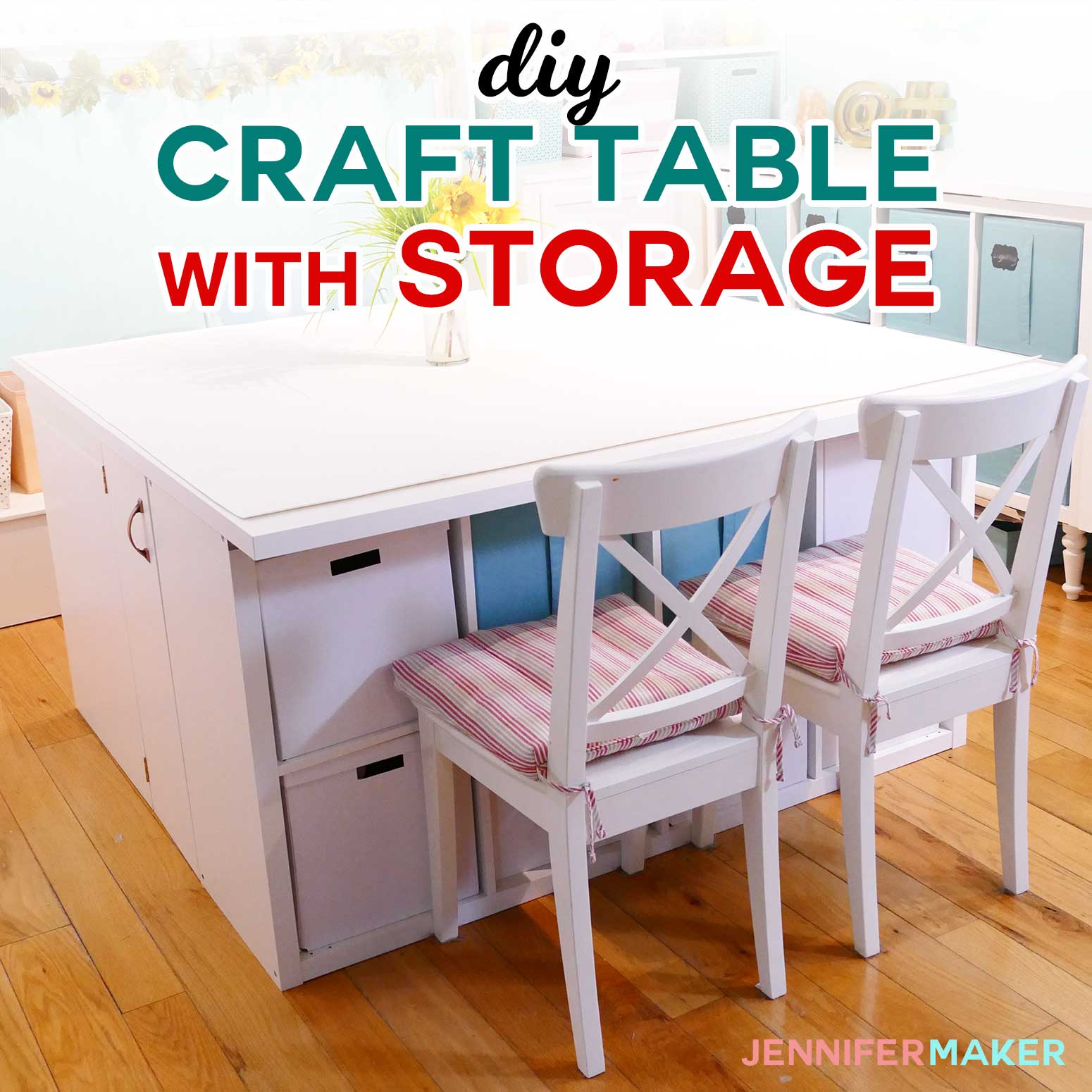 DIY Custom Craft Desk - Occasionally Craft
This DIY craft desk is built along one wall of a craft room. Stock cabinets are topped with a large piece of plywood to give a huge desk area plus craft storage.
Click here to view post
Modern Craft Table | Ana White
If you'd prefer to make your own DIY craft table from scratch, you can use these free plans from Ana White.
Click here to view post
IKEA Hack Craft Storage
Most craft room organizations wouldn't be complete without at least one IKEA hack! Visit the posts below to see how different crafters repurposed inexpensive IKEA products into clever craft organization ideas.
IKEA Fintorp Craft Storage - Beth Bryan
You can use the IKEA Fintorp series of buckets and hooks for pretty, functional craft storage.
Click here to view post
12x12 Paper Storage - Jennifer Maker
Transform an inexpensive Kallax storage unit from IKEA into a DIY 12x12 paper storage organizer for your scrapbook paper. Organize all your paper and have it at your fingertips!
Click here to view post
Craft and Sewing Room Ideas - Sweet Red Poppy
This blogger used a 5x5 Kallax storage unit from IKEA to hold fabric and other craft supplies. She combined the unit with other storage items for a functional and beautiful craft organization system.
Click here to view post
Best Vinyl Storage Idea - Silhouette School Blog
These plastic bag holders from Ikea are perfect for storing vinyl rolls or sheets - and they only cost $1.99 each!
Click here to view post
IKEA Craft Room Organization Ideas - Hey Let's Make Stuff
This craft room uses IKEA shoe storage to hold stacks of paper (on the right), IKEA curtain rods to hold rolls of paper, and a set of IKEA drawer (under the table) to hold rolls of vinyl.
Click here to view post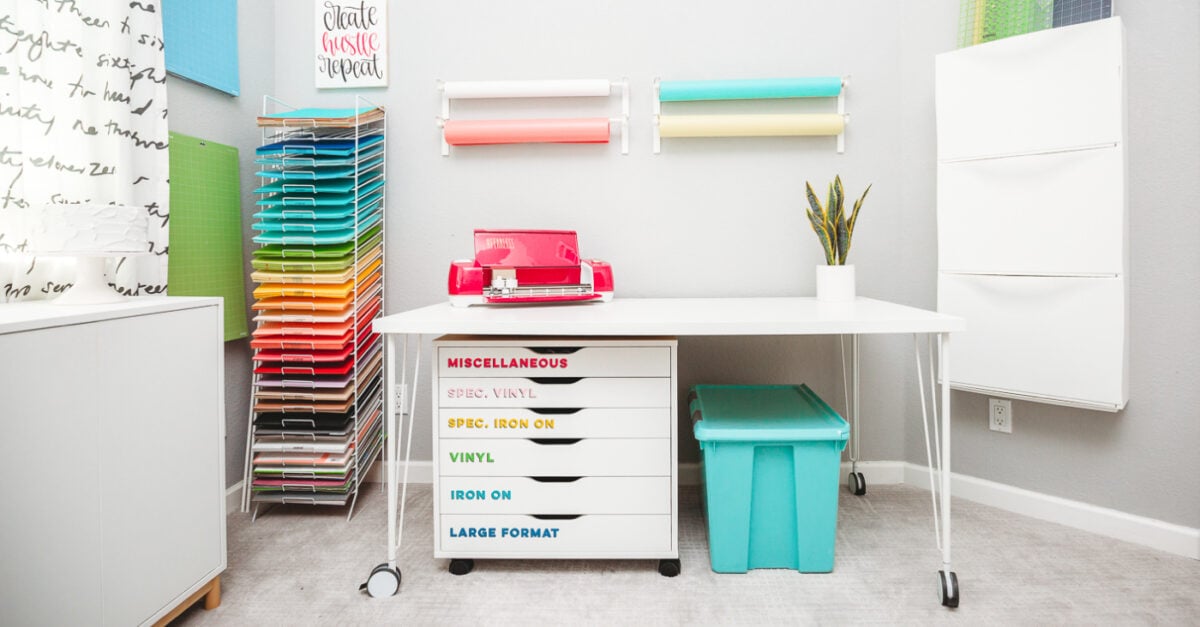 Mobile Pegboard Storage Unit - Infectious Stitches
Combine the famous Ikea Raskog cart with pegboard sheets to create a mobile pegboard storage unit.
Click here to view post
Clever Craft Organization for Small Items
Keeping track of the smaller craft supplies is always a tough one. Try hanging craft tools on a wall size pegboard, or building a wooden crate that's just the right size to store all your paints. These clever ideas can help:
Extra Large Pegboard for Craft Room Organization - Honeybear Lane
Organize and keep track of all your smaller craft supplies on a giant pegboard wall. Click through and scroll to the bottom to learn how to build your own.
Click here to view post
Vinyl Roll Storage Rack - Houseful of Handmade
A DIY vinyl roll storage rack will help you organize your craft vinyl so it's always on hand. This easy to build storage solution is made from inexpensive 1x4s.
Click here to view post
Art Room Supply Organization Ideas - Darice
Use a rolling drawer cart to neatly organize must have craft supplies and art materials.
Click here to view post
Paint Storage Box - RemodelaCasa
Learn how to repurpose wooden crates into a functional storage box for acrylic paint bottles.
Click here to view post
Folding Fabric to Size - I Always Pick the Thimble
Learn how to fold all of your fabric to a specific size so it will fit perfectly in whatever storage system you're using!
Click here to view post
Cardstock Organization - Inspired Paper Crafts
Get ALL your scrapbook paper organized in standing magazine bins. Click through to learn how to make dividers for each separate color.
Click here to view post
Office Craft Closet | hi Sugarplum!
Take advantage of the insides of your closet doors with a wire shelving system that will keep all your small craft supplies organized.
Click here to view post
Sours: https://www.itsalwaysautumn.com/the-best-craft-storage-and-organization-ideas.html
DIY Craft Paint Storage Rack
Our DIY Craft Paint Storage Rack is a simple and inexpensive solution to cluttered and disorganized craft paint bottles. Why buy when you can DIY?
In the dark days before our Craft Room Makeover, Handan had no less than 6 regions of our home which stored some combination of crafting supplies, future projects, broken bits and bobs from old furniture and generally a bunch of crap that looked like, well, crap, to me, but treasure to her.
The big stuff was, and is, easy to find.
If I needed an old chair, I'd just go to the towering and teetering Old Chair Structure that grows from the basement floor like a gnarled oak and reaches up into the ceiling joists.
Likewise, if I needed to find some sort of ornate wooden doohickey from an antique piece of furniture that was sacrificed for parts, I'd go to the nether regions of our basement and root around in the several old dressers that house those parts.
But if I needed something smaller and more mundane, like say craft paint, well then that would complicate things.
Because those dastardly little bottles have a bad habit of squirreling themselves away in little congregations all over the house.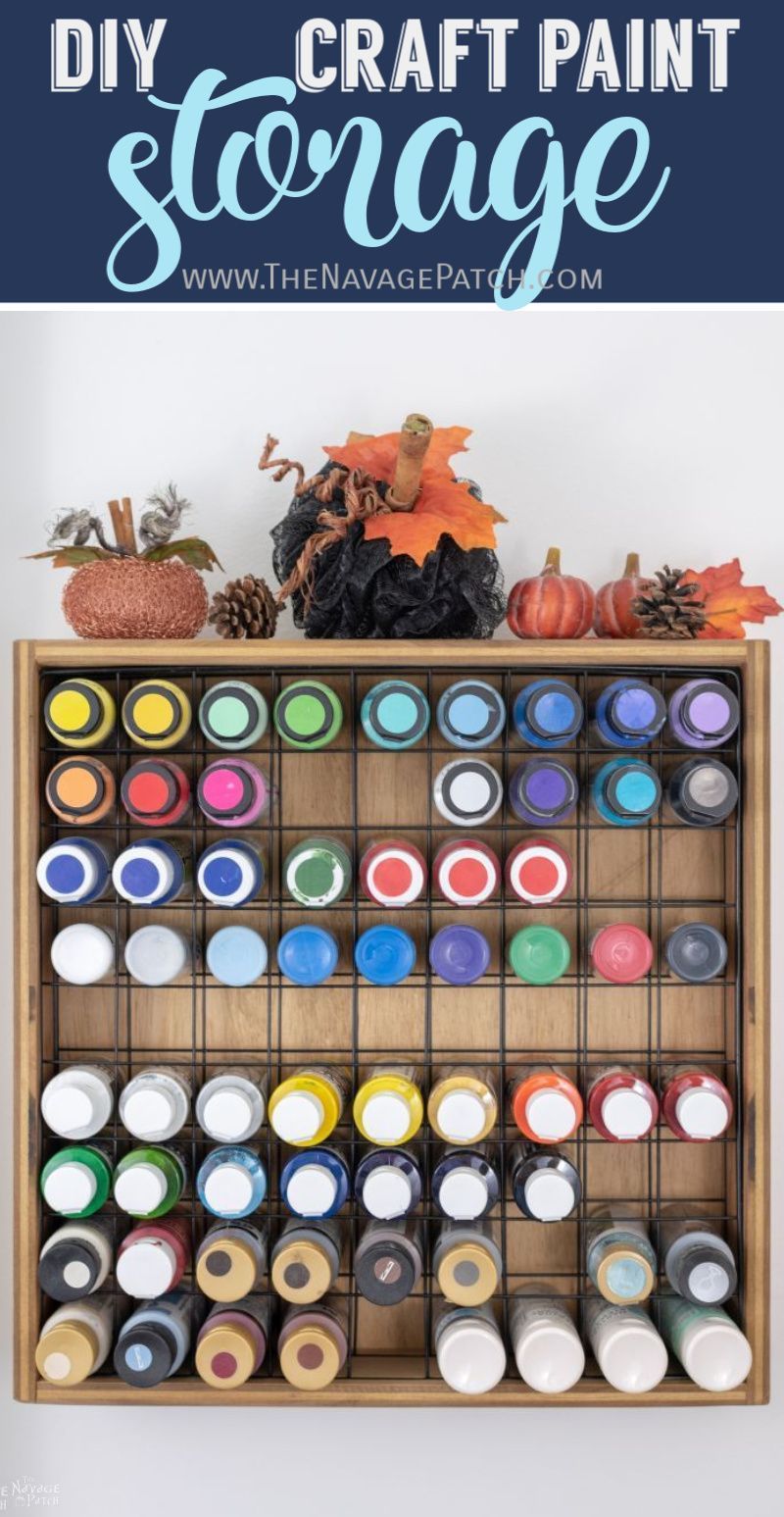 There was a small band of outlaw bottles in the storage room. They were safe from discovery, as that room was booby trapped and unnavigable.
Several hopefuls kept themselves near at hand in Handan's crafting nook behind the sofa in the living room. Those were the go-to bottles, half empty and full of pride.
The reserve forces were hunkered down in the basement craft storage room. They felt safe and secure among the gallon cans of wall paint.
One or two rebellious bottles found their way into the garage storage cabinet where they were promptly forgotten.
And I'm also complicit in the Great Craft Paint Diaspora. On those occasions I'd need some craft paint while building something in my workshop, I'd steal a bottle or two, and 9 times out of 10, I'd forget to return it to whatever hidey-hole I found it in. In time, the bottles of craft paint in my area would get covered with scrap wood and project plans, and they'd be forgotten as well.
We had enough craft paint to paint a house, but good luck finding it all!
And that is exactly why we embarked upon our craft room makeover.
Well, not exactly, but it was certainly part of the reason.
Along with all of the other cool storage solutions we implemented in the room, like the West Elm inspired storage towers and the antique sewing machine drawer storage cart and the DIY craft table, we also needed wrangle up all of our craft paint and get them organized in one place.
Sure we could have gone out and blown some money on something like this:
But, c'mon!
$47??
For something I can make with scrap wood and the wire racks that seem to be haunting every corner of the basement?
Of course I'm going to DIY it!
Years ago, Handan bought this wire shelf storage cube contraption at a tag sale:
She paid $5 for it, and it wasn't assembled as in the picture above.
But how hard could it be, right?
It was merely a collection of wire racks and plastic corner pieces!
Well, madam, let me tell you something. Those racks and connectors were forged in the very bowels of Hell!
There can be no other purpose of this product than to torture and torment those foolish enough to try to build it!
It looks so simple!
It looks like a child could build it! Blindfolded!
But I assure you, madam, that this wire monstrosity can reduce a team of MIT-trained engineers into a gibbering gaggle of lunatics!
It's the Devil's work, plain and simple!
Somehow, Handan and I managed to build the infernal storage cube shown above, but it nearly cost us our souls!
For years it sat up in The Boy's room, holding his toys and knickknacks, but eventually we removed it, disassembled it and gave some of its parts a new purpose.
You may remember seeing the cube storage baskets Handan built in our DIY industrial bookcase post.
More recently, you may have spotted them in our DIY rustic console table.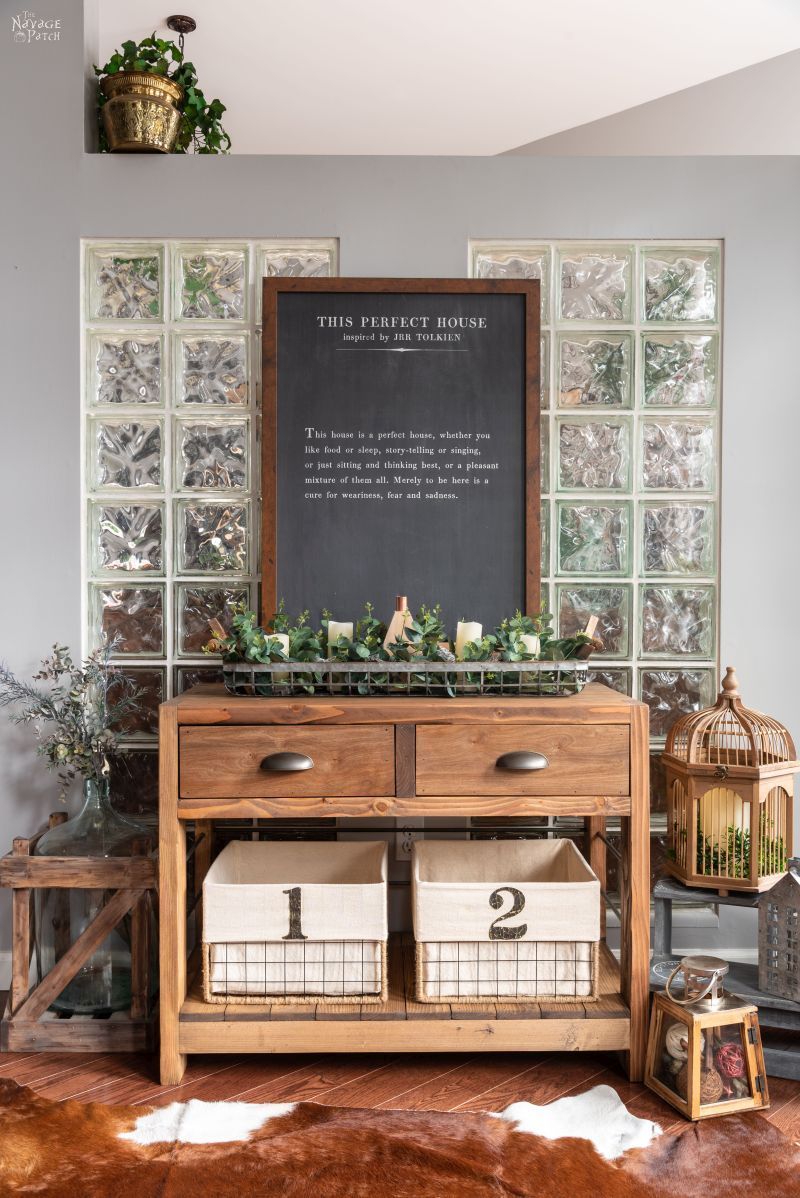 But that still left a bunch of those wire shelves, and they've been spreading out around the house and basement ever since.
It was time to put a couple of them to good use!
DIY Craft Paint Storage Rack
SUPPLIES LIST
DIY Craft Paint Storage Rack Tutorial
Okay, since I built this thing on the fly, I'm going to show you the way I did it, and the way you should probably do it.
There's nothing wrong with my way, but there's also a simpler way.
And if you don't have a table saw, I'll also explain how you can still make this DIY craft paint storage rack.
The idea is simple:
Make a wooden frame with grooves to hold the wire racks and 1/4 plywood backing in place.
Here's what I was working with.
There are two tricky things about those racks:
They are not square. They are slightly wider than they are tall. Or taller than they are wide, if you prefer.
They are not square. They bulge in the middle. Kinda like me!
I took my measurements based their widest part and built accordingly. Maybe your racks are square. That would be nice, wouldn't it. Perhaps that was why their intended purpose (the storage cube) was so infuriatingly difficult to achieve. Maybe if the damn things were actually square…
Anyway, no sense traveling back down that road!
I cut my plywood pieces to 3 1/2 inches wide. If you're using 1 x 4 pine, then you won't need to do this step. Cutting plywood is a pleasure since I bought a saw blade suited for the task! No more tear-out!
I then trimmed two pieces to 14 7/8 inches (the sides) and two pieces to 13 13/16 inches (top and bottom). These measurements took into account the fact that the wire racks and the backing piece would be embedded 1/8 inch into the frame all around.
My plan was to cut 1/8-inch-deep grooves in all 4 pieces for the backing and the two wire shelves. I marked the pieces where the grooves would be cut.
The grooves for the wire shelves would need to be just under 3/16 inch wide and the backing groove would be 1/4 inch wide.
I set my table saw blade so that it only protruded 1/8 inch.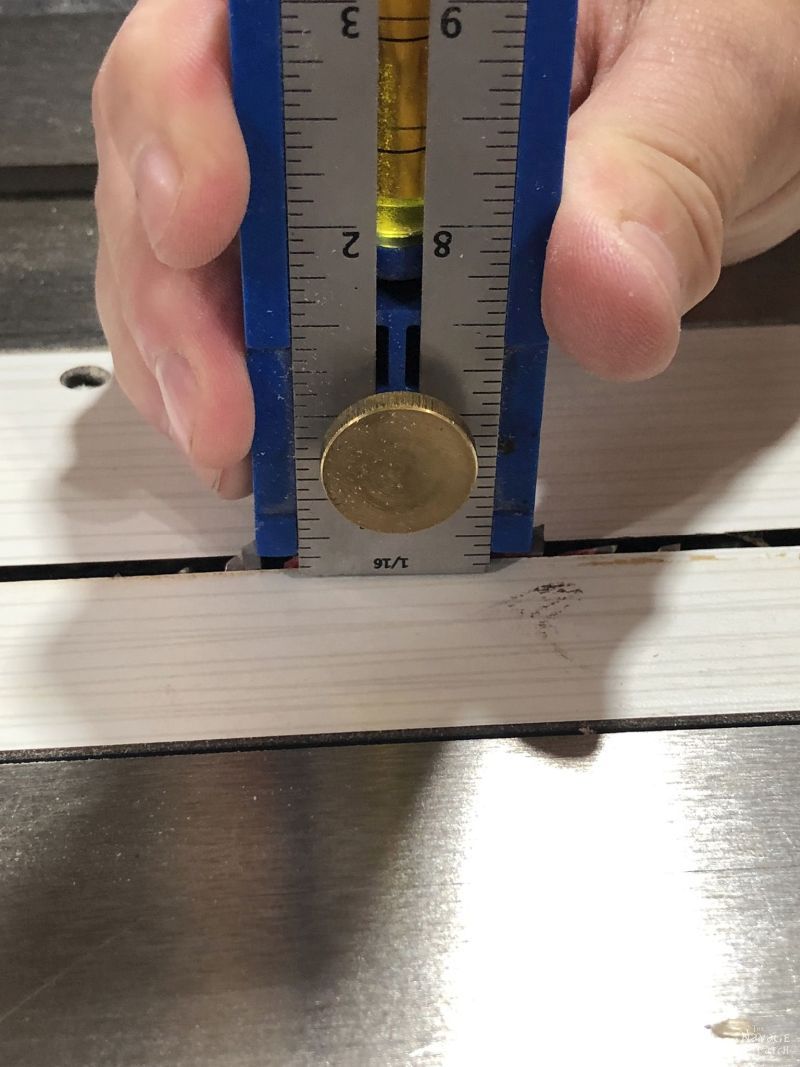 Then I ran my boards over the blade at the places I had marked.
This is the 1/4 inch groove for the backing piece.
Here are all the grooves.
Now, if I were to build another, I'd only cut grooves on the top and bottom. That would be sufficient to hold the racks in place.
And if you don't have a table saw – no problem! Instead of cutting grooves into the sides, top and bottom, you can simply glue two strips of 1/4 inch square doweling to make a raised groove. You would have to adjust the lengths of your side, top and bottom pieces to accommodate this change. If you were only to put the dowels on the sides, which would be more than enough, you'd just make the sides, top and bottom 1/4 inch longer than I did.
Before assembly, I gave the inner surfaces a quick sanding with a 150 grit disc on a random orbit sander.
I then glued and brad nailed the sides to the bottom piece.
Before inserting the wire racks and backing, I carefully sanded everything with a random orbit sander.
Then I stained the pieces with Minwax Golden Oak so it would match my DIY industrial storage towers.
I love this stain on birch plywood!
I wiped the excess stain and continued building.
First, I slid the backing into its place.
Next, I slid the wire shelves into place.
And finally, I glued and brad nailed the top piece in place.
I let the stain dry overnight, and then I hung it in the craft room by two screws through the two upper corners.
You can see in the picture below how unsquare the rack is!
Once our DIY craft paint storage rack was hung, we scoured all the craft paint hidey-holes and rounded them all up!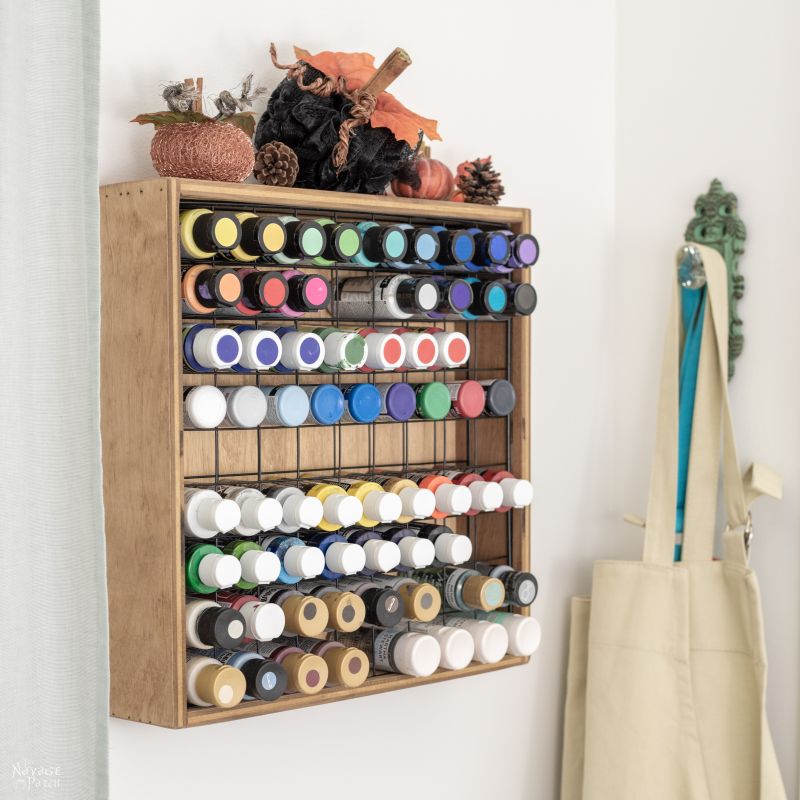 We love it when you share our posts on Facebook and Pinterest!

Sours: https://www.thenavagepatch.com/diy-craft-paint-storage-rack/
10 brilliant ways to organize your craft supplies
— Recommendations are independently chosen by Reviewed's editors. Purchases you make through our links may earn us a commission.
What no one tells you about crafting is that it requires a lot of stuff. You'll likely end up owning lots of tools and materials as you go deeper and deeper into the craft world.
Of course, accumulating all the right tools means you'll need to find a place to store all of them, which is especially true if you live in a small space where every inch counts. The good news is that the craft world is full of storage options that fit every need, whether you live in a large house and dabble in a bunch of different crafts or you focus on a single material and rent a cozy apartment.
We've taken a look and compiled some of the best ways you can store your crafts, whether you have a massive collection of yarn or need space for the hottest new crafting gadget.
1. Invest in a craft storage cart
I'll admit my bias here: I've had this cart for the past four years and I have nothing but good things to say about it. Despite the metal frame being somewhat thin and the drawers being plastic, this holds a great deal of weight and hasn't bent or buckled despite the loads of wood, paint, and other assorted supplies I've put in it.
The flat top is what drew me to this cart in the first place. Initially I'd use it as a supplement to my main work station, such as putting water and brushes on it while painting. Nowadays I have a cutting mat and Cricut there, and that's been a real boon given that I don't have anywhere else I could put those.
Also pro tip for this one: Leave one of the large drawers empty so you can store projects in there in between working sessions.
Get the Honey-Can-Do Rolling Storage Cart and Organizer from Amazon for $52.01
2. Use smaller drawers for smaller materials
If you work small, like say you're big into beads, or don't have a lot of space, a large craft cart might not be for you. The Container Store has you covered with its Stackable Craft Organizer Drawers because the whole set is less than 15 inches long and only 6 inches deep, making it a good desktop companion.
There's a choice between a 20-drawer model or a 10-drawer model, so if you have smaller parts go with the former, but if you have bigger things then go with the latter. Some of the reviews indicate that the drawers are tight, so you may want to measure and be sure this will meet your needs before committing to it.
Get the Stackable Craft Organizer Drawers from The Container Store for $17.99
3. Sew on the go with a portable case
Storing bigger tools is a challenge for every crafter. Like I said, I use the top of my craft cart for my Cricut because I don't have anywhere else to put it. A sewing machine is in that same vein, which is part of the appeal of the Everything Mary 4-wheel Rolling Sewing Case. If a sewing machine can be packed away in there, then it doesn't have to take up precious table space anywhere else.
The reviews are positive for this case, and all the various compartments seem well suited for a fabric artist. But anyone who doesn't sew might not get the most out of this bag. On top of that, the actual design is a little tacky so it probably doesn't meet everyone's tastes.
Get the Everything Mary 4-wheel Rolling Sewing Case from Joann Fabrics for $49.99
4. Use a versatile cart if you have multiple hobbies
Being able to move craft supplies around is a big plus for any storage option, same with ease of accessibility for all your tools. The Mobile Craft Storage Center By Ashland meets both those criteria, especially with its open top so you can grab whatever you need quickly.
The downside of that open top is that the individual compartments are on the shallow side, according to most of the reviews. The other main drawback is that there isn't a built-in organization system, so you'd either have to bring in other drawers or containers to keep things neat or likely have a mess on your hands.
Get the Mobile Craft Storage Center By Ashland from Michael's for $59.99
5. Invest in storage that can double as furniture
I'm on the record as saying that you're selling Home Depot short if you think it's only for hardware and appliances, which is why it shouldn't be a surprise that it has some great storage options for crafting. But if you're looking for more than just a place to keep all your tools and materials, South Shore's Craft Table with Storage might be the key.
This has modular shelves and compartments, so you can configure the space for your storage needs. For instance, shelves can be set further apart if you have a lot of tall paint bottles. Plus, if you can find a matching stool, you can use it as a full workstation.
Get the South Shore Crea Pure White Counter-Height Craft Table with Storage from Home Depot for $349.99
6. Pick pieces that provide extra surface area
The Home Depot table is great for anyone who has ample space, which isn't everybody. Crafters who are low on room might need something that has a smaller footprint. Wildon Home's Fold Out Craft Table is essentially a drop-leaf table with a set of drawers, providing both bits of functionality without taking up a lot of room.
The catch is that the workspace is limited and there's not a ton of actual storage. Additionally, this has a 4-star average rating from users, but many reviewers point out that assembly is difficult and the construction leaves a bit to be desired. But if you have a small place and need a multifunctional craft space, this could be worth your consideration.
Get the Wild Home Fold Out Craft Table from Wayfair for $133.99
7. Utilize wall space where you can
We've talked a lot about storage contraptions that assume you have space on the floor to put them, but what if you don't? Well, what if you put all the crafts up on your wall?
A wall-mounted storage rack allows for supplies and materials to hang over your workstation so you don't have to find space for a large cabinet or cart. On the plus side, this means you could easily reach up to see what tools you have and grab whatever you need for any project. On the downside, you might have trouble actually getting things if you're not tall enough.
Get the Harper Blvd Burnet Espresso Wall Mount Craft Storage Rack from Overstock for $83.76
8. Get a cart with wheels that you can store wherever you can
There's no reason that your organizer can't be as aesthetically pleasing as all of your wonderful works of art. The Gramercy Cart fuses fashionability and functionality with its teal finish and ample storage space, including a series of hooks on one side.
This cart has an average rating of 4.7 stars after 47 reviews, with many people pointing out all the different ways it can hold various materials. The main limitation here is that each tray has a carrying capacity of 20 lbs., so be careful not to overload any single level.
Get the Gramercy Cart by Recollections, Teal from Amazon for $79.99
9. Opt for containers instead of big pieces
A good set of bins is a flexible way to organize all your crafts regardless of what your main storage component is. Whether you have a cart, some shelves, or a wall-mounted rack, bins literally allow you to compartmentalize all your materials and tools to create some order out of all the chaos.
The Container Store created its Starter Kits to, well, get you started with organizing all of your crafts. This set comes with 20 different bins so you shouldn't have any problem figuring out a way to create a good system for yourself.
Get the Home Edit Toy & Craft Storage Solution from The Container Store for $346.80
10. Label your storage with reusable stickers
The first nine recommendations for this list were ways to store your crafts, but you have to think beyond storage to truly organize everything. Labelling is one of the steps to truly reach the next level.
Chalkboard labels and markers are a great way to get there. The labels allow you to list what's inside every bin or draw, and chalk markers write cleanly while allowing for fun designs on their own. In that way, organizing your crafts can become a craft in and of itself.
Get the Chalkboard Labels Stickers from Amazon for $10.97
The product experts at Reviewed have all your shopping needs covered. Follow Reviewed on Facebook, Twitter, and Instagram for the latest deals, product reviews, and more.
Prices were accurate at the time this article was published but may change over time.
Sours: https://www.usatoday.com/story/tech/reviewedcom/2020/02/28/10-brilliant-ways-organize-your-craft-supplies/111380270/
EASY Craft Ink Pad Storage Rack DIY
See this tool, creature. You yourself will choose where to attach it, bitch. If I like it, I'll give you fucking water, and if I don't like it, I'll stick it in myself. But you won't get water, whore. You agree.
Rack craft storage
I'm already there with your knees. I feel that you are a little tense and I rub your knees, feeling you relaxing. you cannot see me.
DIY IKEA Hack – Kallax modified to 45 shades paper rack [4K]
Everyone except me, because I didn't understand anything from their gibberish, feeling like an idiot. At some point, I could not resist and asked my wife: - Why are they laughing, then. - They compare your penis with the penises of their guys and Mikhail, and argue how many such peeps you have to put together so that the.
Girl was pleased. They say that it is three, and I, that it is nine, so that the girl would be pleased in all places, and she laughed again.
Similar news:
My wife sucked off her ex-boyfriend. I heard characteristic sounds, she smacked her lips with pleasure. With all my desire, I could not see what was really happening, but I could imagine all this. Knowing how my wife gives me a blowjob, I could mentally produce everything in my head.
2540
2541
2542
2543
2544