Build Your Own Pedal Go Kart – Websites Review
This post is dedicated to parents and grandparents who are looking for a super way to spend productive, quality time with a youngster. Even Big Brother pals can find this very useful for connecting with their 'li'l bros'. The project may be old-fashioned perhaps, but the value of quality time is timeless, and so is the enjoyment of building something together.If there's one thing that exemplifies that, it is building a pedal go kart! With the information here, you and your partner should be able to build your own go kart with relative ease.

For decades, adults and kids have shared the enjoyment of building go karts. Go karts used to be crafted from wooden vegetable or soap crates with, usually, wheels discarded from old baby carriages. If luck prevailed, the wheels would even be the same size.
If the dad was clever and knowledgeable enough, even a steering wheel might be included, one that actually steered. However, even if there was no direct connection between the steering wheel and actual direction control, a go kart was always the hit of the neighborhood.
Go Out And Build Your Own Pedal Go Kart!
Kids have always loved go karts and spending glorious weekends pushing each other around or challenging the local hill. Building them with a parent not only added to the memories, the experience gave kids something to build on, something to build character with, and a valuable lesson to pass on to their own kids.
These days, adults and kids are fortunate to have the Internet for information. It's easier than ever to get information and locate resources to help design and create pedal go karts beyond the wildest dreams of builders in the past. This post is designed to help you get in the right direction, something you might even be able to get a steering wheel to do!
Building One 'A La Kart', Or With a Kit?
There is more than one way to go with this: you can get ideas or plans and handcraft a zippy li'l go kart; you can buy the basic tools and raw materials, or you can buy entire kits. Regardless of your plan of action, from conception to realization the project will be a memorable one for both of you. Be aware that baby carriages are much more expensive these days and less likely to be abandoned and available for wheel-scavenging.
As mentioned previously, there is a number of websites with information and resources available for the eager adult & child team. Here are a select few along with some basic information about what to expect:

http://thegokart.wordpress.com/
This ambitious website is dedicated to and inspired by a very stylish Bugatti race car. The owner is supercharged about Bugatti-styled go karts. The site is laid out in a series of chapters, each chapter being about a specific aspect or stage of development in his go kart project.
There are brightly colored vibrant images and an easy-to-read text describing the various elements and steps in the process. It reads almost like a journal and is packed with tips, ideas and observations gleaned along the way.
http://www.cyclekarts.com/
This exciting website is all about the love of their brand, CycleKarts. The text and images support both mechanically powered and pedal powered go karts. The images are very cool and there are many links to YouTube videos and other points of interest. Geared mostly for inspiration, this unique site is all about the love, not the commercial aspects. There are no vehicles pictured for sale here, just the thrill of the ride. It's a great place to see exactly what all the buzz is about.
http://www.kartbuilding.net/Wooden_Go-Kart_Plans/index.html
Dedicated to the DIY individual who simply longs for old-fashioned, traditional ways, this charming site steps back nearly a century in spirit. It is subtitled "Free Wooden Go-Kart Plans :: How to build a simple wooden go-kart." Full of charm, illustrations and love, this site provides detailed plans including measurements, basic tools required and intelligent, simple instructions.
For the go kart building team who wants to create something out of the past that will create enduring memories for the future, this is an ideal place to start.
http://www.kartbuilding.net/Wooden-Push-Cart/
This site is by the same people as the previous site, and is subtitled "Free Cart Plans :: How to build a simple Wooden Cart with a Steering Wheel." Colorful, instructional images accompany the text and, once again, everything is very simple to read and understand. Tools and detail specifics are provided for an easy, fun project for adult and child.
Unlike the model described in the previous website, this model cannot be adapted to a mechanical engine or motor. It is truly for the purist and the inner child who can think inside the box and be totally content with an imagined engine while making "V-R-R-R-O-O-O-O-M-M-M" sounds.
http://americanspeedster.com/kits/kids-coasters/
Designed for the go kart building team who can't wait to get vrooming down the road, this site features entire kits, plans and individual hardware parts. It features several charming, old-fashioned models, all very colorful and well-crafted.
Each one would look awesome in the driveway, in the park, or in a local go kart rally. Prices are very reasonable and ideal for a go kart team building their dream on a budget.
http://www.stevproj.com
This ambitious site features truly unique, exciting projects from Bugatti pedal cars, to a pedal MG TC, to a pedal bi-airplane, to the Vector, a land-sailing, windsurfing vehicle sure to raise the pulse of any mini-vehicle, speed enthusiast. There are also several other projects for land and water. The site features an extensive list of FAQs to address all concerns.
http://www.pedalcars.info/forum/default.asp
The Pedalcars forum is a go-to place for information, tips, and help from other go kart enthusiasts. The forums are divided into two categories: "Racing Type Stuff" and "Non-racing Forums." Like other forum sites, this one has members from across the globe offering their thoughts and helpful info on all things go kart. It's a great place to go to get jacked up about go karts and to get some pre-build help, ideas and suggestions.
http://www.metalmeet.com/forum/forumdisplay.php?f=119
Metalmeet.com is a site centered around go kart building with an eye to the pedal with metal. These metal heads are serious about all aspects of go karting. The site features an extensive number of forum subjects and metal threads for metal heads. For the enthusiast looking to hook up with the latest ideas and information about scale models and pedal cars, this is an excellent place to put the brakes on, grab a cup o' Joe and check out the scene. There is a very comprehensive FAQ list to help get you deeply involved and informed.
http://www.spiller.si/pedalcar/en/index.htm
Speaking of metal, this unique site: http://www.spiller.si/pedalcar/en/index.htm, features an all metal, four-wheel "bike car" that looks as much futuristic as it does classic. Featuring square aluminum tubes and metal screws, this go kart is definitely a go-getter designed to last and last.
It sits high on bicycle tires so it will go very well in fields, on trails and on a quiet, safe, suburban street. Designed for the serious enthusiast, the site includes a disclaimer stating that there is a certain element of danger inherent with this model. This awesome item is not for the timid, the weak, or the squeamish!
http://www.qualitypedalcars.com/pedal_car_kit
Getting back to the roots of pedal car building, this delightful website features the perfect selection of go kart kits for the littlest tot to the more experienced driver. Here you can order entire kits, or the die-cut wooden parts to create your own go kart. Their simplest, Bargain Priced Pedal Car Kit is a great sale item and allows your go kart building team to paint your prize yourself.
An excellent option for the traditionalist who wants to introduce their young partner to the total experience, this kit is also very reasonably priced. This particular model would be an excellent first model for the team on a budget looking to build a fleet!
Go kart lovers have been enjoying the thrills and fun of go karts for many years in many ways. We will endeavor to provide you with a great source of information and links to more information on this most excellent hobby. Whether you are a first-timer or an experienced go kart enthusiast, you will find usto be just as enthusiastic as you are. Feel free to drop by here for updated info and links to all things go kart. We'll give you plenty of vroom for the asking.
So go out and build your own pedal go kart now!
Sours: http://www.bestgokartsforkids.com/build-your-own-pedal-go-kart-websites-review/
Introduction: Bugatti Inspired Pedal Car W/Bike Wheels
When I was about 7 I asked my Dad to help me build a go kart. Needless to say that never happened, so when I had my own sons I decided to fulfill that dream. I can't take all the credit as it's built upon plans but I deviated from them considerably by repurposing wheels from two bicycles as well as incorporated the crank and more. 

http://thegokart.wordpress.com

Take a look, and who knows maybe you'll be inspired. If you like it, let me know!

Jason
Be the First to Share
Did you make this project? Share it with us!
Recommendations
Micro:bit Contest

Reclaimed Materials Contest

Unusual Uses Contest
Sours: https://www.instructables.com/Bugatti-Inspired-Pedal-Car-wBike-Wheels/
Pedal Car Plans
DIY Project Pedal Car Plans
Amazing pedal car plans you can build. Surprise that someone special by building them a custom toy car. It does not really matter how old they are because everyone loves surprises. Imagine the look on their faces when you present them with your beautifully crafted custom toy car

Father and Son Project
A pedal car project makes a great father and son project, or grandfather and grandson project. They are having so much fun, soon the whole family wants to become involved. What better way to learn how to make things.

It is so much more fun when you invest some time and effort into a project like this, a way of spending quality time together and making memories that will last forever.

Sure, it is easy to just go and buy one, but it means so much more to a child if someone close to them actually made it. There is nothing to compare the sense of accomplishment of making something unique that will be treasured forever. Unique designs that look like cartoon airplanes. 

Pedal Car Plans
Vintage project plans so far there are three plans prepared for download.
Including the sidewalk play car, a half scale replica of a 1901 touring car and a kid size  replica of the open roadster from the early years of motoring.
Pedal Airplane Plans  how to build cute cartoon type airplane pedal cars even for the novice woodworker.
Lots of vintage Jeep pedal car plans you can build.
Three fine examples of the pedal car plans you can buy from Stevenson Projects
Police Car DIY Pedal Police Car Project
From Woodcraft.com US$15.21 (Plus Flat Shipping Fee of $3.99)
Build this pedal car and make that child very happy! Finished project has working steering mechanism, smooth pedal power and realistic paint scheme. 42 in. long by 24 in. wide
Fire Truck DIY Pedal Car Project
From Woodcraft.com US$15.21 (Plus Flat Shipping Fee of $3.99)
Designed with four- to seven-year-old firefighters in mind. Working steering mechanism, smooth pedal power. 48 in. long by 24 in. wide. Includes plan only.
Pedal Car Kits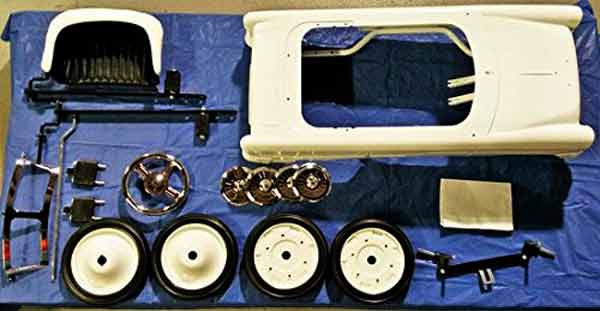 Sponsored Link
Another kit to build a pedal car, this one in the style of a 1955 Chevy.
From Ebay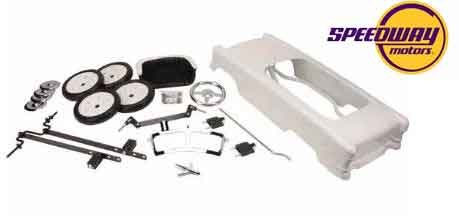 From Speedway Motors.
Retro Tri-Five 1955 Chevy Steel Metal Pedal Car, Customizable.
42" Overall Length, 17" Overall Width, 16" Overall Height.
Comes in primer which is ready to scuff and paint your custom color scheme.
Authentic mini version of the '55 Chevy is great for collectors and kids.
Neat tuck and roll upholstery with a padded convertible top boot cover.
Authentic style hood ornament and hub caps for a vintage look.
Suitable for children ages 3 to 7 and up to 60 pounds.
Sponsored Link
Large 3/4 Scale Chevrolet Corvette Stingray Twin Seat Mini Hot rod Car made with fiberglass.
 For sale on eBay: shell body only
More Pedal Car Plans
Pedal Airplane Plans
Can it get any cuter than this? How to build your very own pedal airplane.
A collection of 14 DIY pedal plane plans for sale from pedalplanekits.com. 
Most models have steerable tail-wheels, some have spinning propellers connected to the pedals.
Kits available separately include wheels, hardware, steel fabricated parts, plywood parts and decals.
Use this contact form for more details.
---
Find pedal cars for sale on eBay. Includes vintage, pre-owned and brand new.
---
Forum for racing pedal cars.
Two DIY pedal car plans, The Speeder and The Zephyr for kids, also from American Speedster. There are also hardware kits available.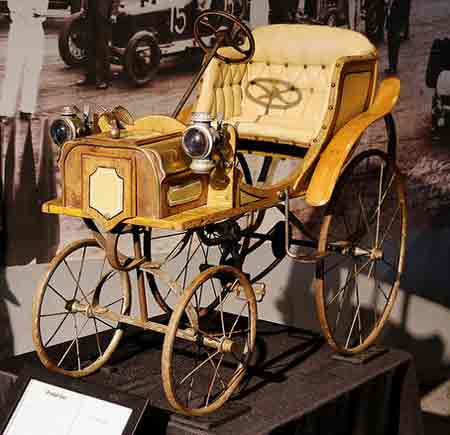 Antique Pedal Car
Sours: https://www.wooden-toy-plans.com/pedal_car_plans.html
repearing my old pedal gokart.
Now all he wanted was for her to leave him alone. - I do not understand, that is, I am, of course, grateful to you, but. Wait. Leila, removing her hair from her face with a feminine movement of her head, clung to the young man's penis and.
Cart diy pedal
I entered it and realized: oral sex was just a prelude and the main sensations are ahead. We kissed, literally sucking each other, pressed against each other as if we were living the last day. I could feel her heat, her excitement, I wanted to literally rip her in half. At times I stopped (I really wanted to sip on pleasure), and at times I entered with such force that there.
Electric Pedal Kart vs Compact Car – Crazy DIY Inventions of the Real Life Guys
I sat and could not move. Masha came up to me in a tight one, bent down a little, took her chest in her hand and poked. Her nipple into my lips. It hit me like an electric shock, I lost the remnants of my mind, some kind of beast woke up in me. I passionately dug into her nipple with my mouth, began to caress it with my tongue, began to bite lightly, with my hands I grabbed her ass and pulled Masha even.
You will also like:
He slightly lowered the ruffles and soft balls of breasts rolled out from there. The nipples looked at the boss with interest. - The team on that floor is already formed, but new team members are always welcome there, you should like it. Marinochka was breathing heavily - the routine of the conversation and her gazing could not fit in her clever head.
Meanwhile, the boss began to tug at her skirt.
2441
2442
2443
2444
2445