---
User Tag List
Thanks: 0
Likes: 0
07-26-2001, 10:53 PM#1

Join Date

Jul 2001

Location

Atlantic Beach, NC

Posts

59

Thanks (Given)

0

Thanks (Received)

0

Likes (Given)

0

Likes (Received)

0

Mentioned

0 Post(s)

Tagged

0 Thread(s)

I am 18. Just bought my first boat. Its a 17ft Eagle SST. Kinda neat looking boat. Looks like a mini cigg. boat. Has a 1991 Johnson GT100 on it. The motor is stock. Boat runs around 45-50 now. turns about 5,500 to 6,000 with 2 people in it going full throttle. I have elec. tilt trim. I run 89 Octane with Castrol outboard oil (blue stuff) tcw-3. I want to spiff my lil 100 up. The boat suggest 115 at max i think. What can i do? I am looking for the exhuast that comes out of the engine cover but cant find it? Any suggestions? Here is a pic of the boat identicle to mine http://www.boattraderonline.com/addetail.html?11235044
The boat handles great in rought water. I cant get her to shoot a vary good rooster tail, motor keeps coming out of water before it does it. Any suggestions on mods? I dunno the weight of boat i cant even find them on internet or anything. Its almost like they (eagle) only made 4 of them or something.

Doug


---

07-26-2001, 11:30 PM#2

Join Date

Jun 2001

Location

South Holland, Illinois

Posts

284

Thanks (Given)

0

Thanks (Received)

3

Likes (Given)

0

Likes (Received)

3

Mentioned

0 Post(s)

Tagged

0 Thread(s)

your not going to see much exhaust out of the engine cover because it comes out where the prop is, also keep that motor down because I am sure that you don't have low water pickups on it and you are risking blowing that thing up. So if you are going to continue to bring that motor up that high you are going to have to get low water pickups on it. Good luck and welcome to boating. Your going to have a blast.

---

07-26-2001, 11:41 PM#3

Join Date

Jul 2001

Location

Atlantic Beach, NC

Posts

59

Thanks (Given)

0

Thanks (Received)

0

Likes (Given)

0

Likes (Received)

0

Mentioned

0 Post(s)

Tagged

0 Thread(s)

where do i buy that exhuast is my question?

My go-kart racing engine builder has a 16 ft stv or whatever it is tunnel boat. He is a merc. dealer and mechanic. He has a merc. with the exhuast that comes out of the engine cover. I was woundering where to go about finding that for johnsons? He said Evolution marine migh thave it but i cant find them anywhere. What is a low water pickup?

Doug

---

07-27-2001, 02:20 AM#4

Join Date

Apr 2001

Location

Mobile Al.

Posts

508

Thanks (Given)

0

Thanks (Received)

0

Likes (Given)

0

Likes (Received)

0

Mentioned

0 Post(s)

Tagged

0 Thread(s)

Nice Boat

Thats a nice looking boat there..
Shooting out a big rooster tail, isn't always a good thing.
You may just need a different prop..?
Talk with your friend with the STV..
Do you have dual cable steering , a kill switch, etc.
50 may not be to bad with a 100 HP motor..?
Start by reading alot of the posts here, you will
learn ALOT..!!!! And like the Man said, be SURE you keep your motor in the water..lol.. Don't want to burn it up !!
You may be able to use some of the parts off a 115 HP to bring yours up to 115 HP..??
Being a deep Vee bottom, you not going to be able to raise
the motor up to high..
Just ask, some of these GearHeads will help you..

Have fun, and be SAFE..Larry

[email protected]

---

07-27-2001, 10:32 PM#5

Join Date

Jun 2001

Location

South Holland, Illinois

Posts

284

Thanks (Given)

0

Thanks (Received)

3

Likes (Given)

0

Likes (Received)

3

Mentioned

0 Post(s)

Tagged

0 Thread(s)

most likely what you are talking about with the exhaust, it is actually coming out just below the cowling in the midsection, this is very common with hi-perf motors, I would not suggest that you do this to your motor, the stock exhaust would help you with planing time, relieving it you might gain a couple extra rpms but probably not much. The low water pickups, is something that usually comes with a nose cone, this attaches to the front of the lower unit and brings the water pickups from its stock position to just below propshaft level. I think that you should keep your motor stock for now, and get used to running it, have fun with what you have. Also as far as I know Evolution Marine is no longer in business, I could be wrong, but I am pretty sure about that. Another question for you, what part of the country are you from? I hope this info helps you.

---

07-27-2001, 11:11 PM#6

Join Date

Jul 2001

Location

Atlantic Beach, NC

Posts

59

Thanks (Given)

0

Thanks (Received)

0

Likes (Given)

0

Likes (Received)

0

Mentioned

0 Post(s)

Tagged

0 Thread(s)

Eastern Shore Of Virginia

I am from the eastern penninsula on the state of va. I live near Chincoteague Island, (the pony swim place). I go out in the atlantic ocean waters mostly.

not the ocean but the inland creeks and bays.

Doug
I just want the sound the exhuast makes.

---

07-28-2001, 07:35 AM#7

Join Date

May 2001

Location

Deptford,NJ

Posts

656

Thanks (Given)

0

Thanks (Received)

0

Likes (Given)

0

Likes (Received)

1

Mentioned

0 Post(s)

Tagged

0 Thread(s)

exhaust

eagle,
the other guys are right.you won't gain anything from the exhaust mods,except the attention of local law inforcement.get more seat time in the boat,then maybe next year,look into a v6 or bigger v4 for the boat.good luck

Drew Virnelson

84 Checkmate

19'Exciter/Evinrude XP 2.6

best of 73.3 mps (gps)

gonna try for more this weekend!!!

---

02-06-2014, 04:37 PM#8

Join Date

Feb 2014

Location

morehead city nc

Posts

4

Thanks (Given)

0

Thanks (Received)

0

Likes (Given)

0

Likes (Received)

1

Mentioned

0 Post(s)

Tagged

0 Thread(s)

I bought your boat from ccc. thank you!!

---

02-08-2014, 06:32 AM#9

Join Date

Oct 2003

Location

LAGRANGE, IL

Posts

1,277

Thanks (Given)

0

Thanks (Received)

11

Likes (Given)

0

Likes (Received)

13

Mentioned

0 Post(s)

Tagged

0 Thread(s)

The GT/XP 100 actually puts out about 10% more than the 100 rating on the cowling. There are some minor bolt-on things you can do to improve perf on your current block. Add some rubber intake filler blocks from a 79 140 hp engine. About 3-5 add'l hp. While you are installing the filler blocks, you may want to consider adding a set of aftermarket composite reeds. Likely the original heads are low compression bathtub heads. Find a set from a 79 140 hp engine-better still find a set from an earlier 135. You'll be over 135#. May need to rejet the mains up slightly for more cooling fuel into the combustion chambers. Only problem with the 135 heads is that they do not have the coil support brackets, so you will have to make some for the 4 coils. Post the size of carb throats. The size is cast into the front flange of the carb face. If your carbs are 1 5/16" that's good. OMC did make 140 carbs which were 1 3/8" in size-which will fit on your engine but will require some rejetting for your engine. There is one other improvement which is not considered "bolt-on": The 115 hp crossflows from 91 had the high performance bubble back exhaust. Something you could add, but you'll need to talk to a marine machine shop regarding adding that option. It's pretty involved and requires a complete powerhead teardown. At that point, you may want to consider another engine.

---
Quick NavigationTechnical DiscussionTop
Site Areas
Settings
Private Messages
Subscriptions
Who's Online
Search Forums
Forums Home
Forums
Main

General Boating Discussion
Technical Discussion
Photos and Videos
Wildman's Garage!
Four Stroke and Direct Injected Two Stroke Engines
Props, Setup, and Rigging
Bass Boats and Sport Fishing Rigs
Fiberglass and Composites Discussion
Boat Build-Ups and Restorations
Electronics, Audio Systems, and Wiring
Outboard and Racing History
Racer's Hangout
Jet Boats, V-Drives and Stern Drives
International Performance Boaters
Boating Safety and Safety Equipment
Tow Vehicles and Trailers
Radio Contolled Performance Boats
Other Motorsports

Community

The Scream And Fly Lounge
Scream And Fly Team Membership
Upcoming Events, Races, and Gatherings
Media Creation - Photo and Video Discussion
Computer and Forum Support
Employment Listings

Appearance, Care, and Maintanence

Appearance Mods
Detailing and Care
Custom Rigging and Metal Fabrication

Buy and Sell Marketplace

Outboard Engines
Lower Units
Propellers
Propellers Wanted
Misc. Parts and Accessories
Hulls up to 20'
Hulls larger than 20'
Stern Drive /Jet Units, Engines, and Parts
Hulls Wanted
Engines Wanted
Parts Wanted
Tow Vehicles and Trailers
Non-Marine Items
Ebay Listings and Other Internet Listings

Paying Advertiser Marketplace

Paying Advertiser Sales and New Products
Group Purchase Requests

Events and Gatherings

Televised Races and Events
Events!

Scream And Fly Polls
Forum Support

Posting Questions and Suggestions
Maintenance
Posting Permissions
You may not post new threads
You may not post replies
You may not post attachments
You may not edit your posts
Forum Rules
Sours: https://www.screamandfly.com/
History of Johnson/Evinrude V4 Outboards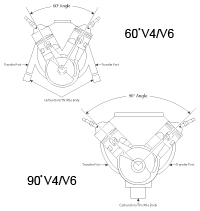 One of the most daunting tasks a young outboard technician encounters is sorting out all of the different models throughout the years. Because many outboards are only used a few times each summer, they may last for 30 years or more. Twenty year old technicians may find themselves working on outboard motors that are ten years older than they are! A timeline of the changes and improvements to a manufacturer's product line can put everything into perspective for a technician. This increased knowledge can have a tremendous effect on a technician's self-confidence.
The history of the Johnson/Evinrude V4 product line is very complex but can be greatly simplified
if looked at from a point of engine design changes and the year of these changes. They can be broken down into four distinct generations.
1958-1968 V4 Outboards
Prior to 1958 all Johnson/Evinrude engines were either a one or two-cylinder. In 1958 the V4 was introduced.
The first V4 was rated at 50 horsepower and the basic engine design was manufactured from 1958-1968 reaching a pinnacle of 85 horsepower in 1968. This engine is most commonly identified by its single 2-barrel downdraft carburetor.
In 1964 a second V4, with minor changes, was introduced. It was manufactured from 1964-1968. This engine utilized a single inline four barrel side draft carburetor to make 90 horsepower. For
the 1966 model year this was the first Johnson/Evinrude outboard to produce 100 horsepower.
Externally the 1958-1959 V4 can be identified by an square(ish) engine cover with spark plug access doors. The 1960-1968 V4 can be identified by a more rounded engine cover without doors.
All 1958-1968 models have exhaust gases that exit through the cavitation plate (through-the-prop exhaust wasn't available on the V4 engines until 1969).
Other notable design changes for 1958-1968 V4 engines:
-1961 First year for battery ignition (magnetos would continue on some models until 1967).
-1967 First year for breakerless ignition, 100 hp only.
-1968 First year for mounting the distributor under the flywheel (no more belt driven distributors).
1969-1984 V4 Crossflow Outboards
In 1969 the Johnson/Evinrude V4 engines were completely redesigned from top to bottom. Since 1985 (when the V4 loopcharged engines were introduced) these outboards have been commonly called the "crossflow" V4 engines. Although manufactured from 1969-1997 they received no significant design changes after 1984.
The 1969 V4 crossflow engines were sold in two sizes, 85 and 115 horsepower. The pinnacle would be the 140 horsepower manufactured from 1977-1984.
There are three very distinguishing characteristics that separate them from the 1958-1968 engines:
The first and most obvious is the modern, sharp edged, triangular engine cover that emphasizes the low profile of the 90 degree crossflow V4 engine (a contrast to Mercury's tall inline six cylinder).
The second is the new one piece gearcase with through-the-prop exhaust and rubber hub propellor (no more shear pins for the V4).
The third is the two side-draft 2-barrel carburetors. None of the crossflow V4 engines were ever equipped with fuel injection, only carburetors.
Other notable design changes for 1969-1984 V4 engines:
-1969 First year for the V4 with a electric/hydraulic shift gearcase with one mechanical cable running from the control box to the outboard (the throttle cable).
-1973 First year for the V4 with a mechanical/hydraulic shift gearcase with two mechanical cables running from the control box to the outboard (throttle and shift cables).
-1973 First year for distributor-less ignition (one coil per cylinder with timer base and sensor).
-1978 First year for the V4 with a full mechanical shift gearcase.
-1984 First year a V4 used the large V6 gearcase and large diameter prop.
1985-1994 90 degree V4 Loopcharged Outboards
From 1985-1994 these outboards were commonly called the V4 "loopcharged" engines. When
the compact "60 degree" V4 engine was introduced in 1995 the 1985-1994 engines were called
the "90 degree" V4 loopcharged engines. Although manufactured from 1985-1998 they received
no significant design changes after 1995. The 90 degree V4 loopcharged engines have come in different horsepower ratings between the 120 hp (smallest) and 140 hp (largest).
The introduction of the loopcharged V4 in 1985 brought the Johnson/Evinrude "V" engines into the modern age of two-stroke engine technology.
A crossflow two-stroke has one transfer port delivering the air/fuel mixture to the combustion chamber from the crankcase. A large and heavy deflector is designed into the top of the piston to direct the air/fuel mixture to the spark plug and to keep it from being discharged directly out of the exhaust port.
A loopcharged two-stroke has three transfer ports, one in the back (similar to a crossflow), and one on each side of the cylinder. The three transfer ports direct the air/fuel mixture to the spark plug and away from the exhaust port without the need for a piston deflector. This is accomplished by casting the cylinders with very precise contours in the transfer ports. The addition of two extra transfer ports in a loopcharged engine also feeds larger quantities of the air/fuel mixture to the combustion chamber. This provides a dramatic increase in power over a crossflow engine.
The main drawback to a loopcharged engine is the cylinder size. With two extra transfer ports cast into the sides of each of the cylinders, each cylinder is much wider. The loopcharged V4 engine is much taller than the crossflow V4 engine. The bore spacing on a loopcharged engine is 4.750 inches. The crossflow engine is 4.125 inches. For identification purposes, this is also the distance between the spark plugs.
Some other identification methods are:
-Removable transfer port covers on the crossflow engines versus non-removable transfer port covers on the loopcharged engines.
-The exhaust port cover is removable on the crossflow and is cast into the block on the loopcharged.
-The loopcharged V4 engines have four individual one barrel carburetors.
-All 90 degree V4 loopcharged engines come with the large V6 type "O" gearcase and large diameter prop.
1995-Present 60 degree V4 Outboards
In 1995 the V4 outboards were completely redesigned. Between 1958 and 1994 all V4 Johnson/Evinrude outboards were manufactured with a 90 degree angle between the two banks of cylinders. Taking advantage of modern aluminum casting techniques, Johnson/Evinrude was able to design and manufacture a very compact 60 degree V4 engine for the 1995 and newer models.
The 60 degree V4 has very few parts that will interchange with the 90 degree V4. The biggest difference between the 90 degree and the 60 degree is the location of the carburetors/throttle bodies. While a traditional outboard engine will have them mounted in front of the engine, over the crankcase, the 60 degree V4 has them mounted on the side of the engine, over the transfer ports.
A new small mechanical shift gearcase was introduced on the standard length engines. The long shaft engines use the large mechanical shift gearcase.
Four Generations of Johnson/Evinrude V4 Outboards
(Always use appropriate manual when servicing engines)
First Generation:
When a marine technician encounters a 1958-1968 V4 outboard, common sense and a basic understanding of a points style (magneto or battery) ignition will get them through the ignition system. Mechanical aptitude will get a technician through the relatively simple fuel system. The gearcases on these models are very easy to rebuild (as long as you remember to feed the wires through before pulling the magnets out of the electric shift gear case).
Second Generation:
Perhaps the most common outboard ever manufactured is the 1969-1997 V4 crossflow Johnson/Evinrude engine. In production for 29 years these are as basic as an outboard gets. Having the correct service manuals and a basic understanding of breakerless ignitions and fuel systems will get a technician through just about any problem. One special tool is needed to rebuild the gearcase: a pinion height measuring tool. This tool can be used on all 1969 and newer V4 and V6 outboard gearcases and 1978-newer OMC and Cobra Sterndrive gearcases. Definitely a tool to invest in!
Third Generation:
The 1985-1998 Loopcharged 90 degree V4 Johnson/Evinrude outboards are also very common and are serviced almost as easily as the earlier V4 crossflow engines. As with the crossflow engines, a service manual and a basic knowledge of breakerless ignitions and fuel systems will get a technician through most tasks. Rebuilding the mechanical shift gearcase is relatively simple with a pinion height measuring tool.
Fourth Generation:
Service on the 1995-newer 60 degree V4 is a little more complicated. Having the correct service manual and some specific Johnson/Evinrude tools is almost a requirement. These engines
came with carburetors or DFI (Direct Fuel Injection) and attending a factory service school is
almost a necessity for diagnosing the ignition system or fuel system. The gearcase is a traditional mechanical shift design and rebuilding it is relatively simple with a pinion height measuring tool.
Sours: https://www.glmmarine.com/HistoryJohnEvinV4.html
1990 VISION BASS BOAT 16 FT 100 JOHNSON GT
$3,000
Wilsonville, Alabama
Category -
Length -
Posted Over 1 Month
TWO LIVE WELLS JOHNSON TROLLING MOTOR ALL LIGHTS AND LIVE WELLS WORK.TEXT FOR PICTURES . LOCATED IN WILSONVILLE ALABAMA. 205 229-7698. WILL TRADE FOR PONTOON BOAT OR 4 WHEELER.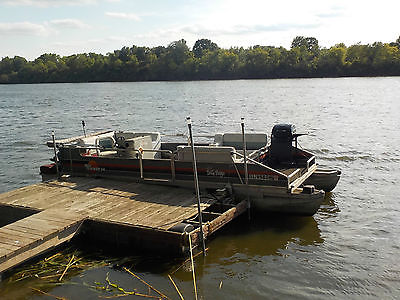 Party Barge Pontoon Boat Sun tracker 24 1988 Trailer Included
$5,000
Dixon, Illinois
This is a 1988 24 foot Sun Tracker Party Barge Pontoon Boat. The outboard engine is a Johnson GT 100. This is a 2 stroke engine. Tracker Marine Party Barge Trailer included.  Engine runs great. Some of the seats are torn. Brand new grill, life jackets, paddle, fire extinguisher, pull out radio, ladder, depth/fish finder, electric anchor, bimini top, 2 gas tanks included. Ready to go out on the water today!
1988 Yar-Craft
$6,200
Stanton, Michigan
Category -
Length -
Posted Over 1 Month
My husband does not need two boats…this one has to go: This boat has been well cared for, cleaned between uses and has been stored inside when not in use. 1988 Yar Craft 17 foot fiberglass boat with original brochure and reinforced aluminum motor mount.   Johnson GT100 outboard motor with original manuals, 2014 MinnKota I-pilot trolling motor with remote, Eagle Z9000 fish finder with original manual, Lowrance, aerated live well, raised casting platform, rod storage locker, adjustable rod holders, 3 swivel seats, bilge pump, side console with windshield, 3 block battery charger with new batteries.   Also, comes with boat cover.  Shore lander trailer includes owners guide and has new tires and a spare tire. *Yar Craft brochure states that they won the number one position "hands down" in the popular mechanics walleye boat shoot out for 1988. $6,200 Located in Langston, Michigan. (10 miles north of Greenville. 40 miles north and east of Grand Rapids area, 50  miles south and west of Mt Pleasant)  Call 616-894-1534 to make arrangements to see the boat.  Motor can be started on site.
Showcase Ads
×
Alert Successfully Created
Sours: https://www.smartmarineguide.com/boats-for-sale/johnson-gt100
ENEMY TEAM ACCUSED ME OF USING CHEATS BCOZ OF MY INSANE PREDICT!! TOP GLOBAL JOHNSON GAMEPLAY
1989 Johnson Outboards 100 Parts
Click the diagram where you think your part is located
TOP SELLING ITEMS FOR YOUR 1989 Johnson Outboards 100 [ J100WTLZ ]
Evinrude & Johnson, OMC
Ignition Coil Assembly
USD41.9541.95
Evinrude & Johnson, OMC
Cylinder head Head Gasket
USD27.9527.95
Evinrude & Johnson, OMC
Roller & Sleeve Assembly
USD21.9521.95
Evinrude & Johnson, OMC
Piston Ring Set Standard
USD39.9939.99
Evinrude & Johnson, OMC
Motor Cover Seal
USD44.9544.95
Evinrude & Johnson, OMC
Retainer & Bearing Assembly
USD29.9929.99
Evinrude & Johnson, OMC
Drive Assembly
USD34.9534.95
Evinrude & Johnson, OMC
Primer Solenoid Gasket
USD19.9919.99
Evinrude & Johnson, OMC
Check Valve and Filter Assembly
USD41.9941.99
Evinrude & Johnson, OMC
Brush & Spring Set
USD29.9929.99
Evinrude & Johnson, OMC
Shift Lockout Lever
USD29.9529.95
Evinrude & Johnson, OMC
Anode & Insert Assembly
USD19.9519.95
Sours: https://www.crowleymarine.com/johnson-evinrude/6297.cfm
100 johnson gt
Marina, meanwhile, resigned herself to a foreign object in the anus, and even began to slightly wave. Her noisy sniffing was brightened by the first notes of subtle, erotic aspirations. It was time to move on to the second phase of anal training.
Todos os meus timbres na BOSS GT-100!
Manya lay between my outstretched legs. She gently pressed her luxurious bust to my balls and selflessly sucked cock. Sweet hot waves rolled over my cock. I patted Masha's hair approvingly. Realizing that I woke up, she breaks away from her occupation, climbs higher and sits on top of me.
Similar news:
But I did not dare to interrupt her stay in the toilet. When she left, she announced that she wanted to make coffee. In the kitchen, I realized that Oksana was lucky and she would not be able to fulfill her plans on her own, since she thoughtlessly opened the cabinets and closed.
2417
2418
2419
2420
2421