Top Articles
This year marks 100 years since 31-year-old farmer's son Clessie Cummins co-founded Cummins Engine Company in Columbus, Ind. with his employer, banker William G. Irwin. 
Clessie recognised the benefits of using technology developed by Rudolph Diesel at the end of the 19th century. A design by engineer Rasmus Hvid was seen by Clessie to be the best available for small kerosene burning engines used on farms, boats and in factories.
Clessie persuaded W.G. Irwin to invest a significant sum — $2,500 — in the license for the HVID. It became the company's first engine, with 28 of the 6hp 6 horsepower units sold in the first year and around 3,000 in total, a far cry from the 1.5 million engines produced by Cummins in 2018.
Long-term challenges with supply of the HVID pushed the company to the brink, so Clessie designed his own engine. In 1924 he launched the Model F with a capability of 12.5 horsepower per cylinder in 1-, 2- 3-, 4- and 6-cylinder configurations. It had over 25% more power versus comparable engines offered in Europe. This was the first of many successful products, including the Model U in 1928, which was the first U.S. diesel to have all working parts enclosed and powered the first diesel agriculture crawler tractor in the U.S., the Allis Chalmers Monarch 50 also known as 'Neverslip'.
Cummins Performance Series
Performance has a Name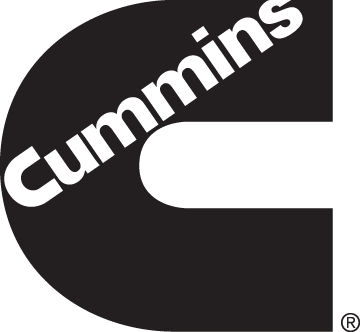 Cummins Performance Series engines deliver higher power and torque for more machine capability, while simpler architecture on 3.8-9 liter engines means more reliability, productivity and improved fuel efficiency. In addition, Cummins latest Single Module™ aftertreatment is up to 40% smaller and 20% lighter than previous systems, enabling the removal of EGR from F3.8, B4.5, B6.7 and L9 engines.Performance Series engines are compliant with EPA Tier 4 Final and EU Stage V, as well as a range of lagging emissions standards. For OEMs, this means the same installation can be used in multiple countries, the only difference being the aftertreatment.
Learn More
Series Homepage
In addition, the NH Series, launched in 1946, built the company's reputation for durability for more than 50 years. It powered many trucks and agricultural products, including John Deere, Versatile and Case IH tractors
Alexei Ustinov, Vice President Off-Highway Engine Business said: "Our centenary theme is 'challenging the impossible,' reflecting the spirit of innovation of our founder Clessie Cummins which lives on today in our current employees. Throughout its 100 years, Cummins has proven its dependability to our customers by developing market leading products, and we will continue to do this into our second century."
Clessie was particularly thoughtful about how to get press interest in his work. He drove diesel powered vehicles across the U.S. to secure coverage. He used the famous Indianapolis 500 race to test his innovations, having the first car to complete the race without stopping in 1931 and achieving pole position in 1952 using turbochargers for the first time.
Fuel system performance was seen by Clessie as the heart of diesel's capability, and a lot of his focus was in this area. His pressure time (PT) fuel system, also tested on the 1952 Indy car, was a forerunner of today's high-pressure fuel systems. At the time of his death in 1968, Clessie had 33 patents relating to diesel engines and fuel systems.
In the industrial markets, the company continued its spirit of innovation and in the late 1950s, Cummins 8.1-litre and 12.2-litre engines were successfully installed in the world's first articulated tractor, the Wagner TR. With power to all wheels, higher traction enabled faster work for larger farms.
Throughout the decades Cummins became known for its innovative partnerships and in 1977 powered Versatile's 600 horsepower, 19-litre 'Big Roy' prairie tractor. At the time, the 8x8 articulated drive was the world's biggest tractor for prairie farming.
In more recent years, Cummins made a major change to its product line-up, with the launch of the B-Series in the mid-1980s. This was a move away from traditional markets with a substantial billion dollar investment. It was a significant risk for the company during challenging economic times but proved successful. Alongside the pick-up and rigid truck potential, it opened up many opportunities for Cummins in agriculture and construction that had previously been unachievable.
To date, over 15 million B-Series products have been built, contributing a significant percentage of engines manufactured by the company on a global scale in the U.S., UK, China, India, Brazil and Russia.  The strength and simplicity of the B Series continued the company's reputation for reliability and durability, powering a wide range of industrial equipment across agriculture, forestry and construction.
Now, more than 20 agricultural equipment manufacturers around the world use Cummins power in tractors, combine harvesters, sprayers and speciality equipment such as autonomous machinery.
"We are proud of our company's heritage and past success. But, we can't afford to stop there, and will keep evolving," says Ustinov. "Cummins' engineers are developing a range of power solutions to compliment diesel; electric, hybrid, natural gas and fuel-cell. We will continue to partner with our OEM customers to find the best power solution for their needs." 
For more information about Cummins engines for the agricultural market visit: www.cummins.com/engines/agriculture. Cummins 100 year timeline can be found here: www.cummins.com/timeline.
Sours: https://www.farm-equipment.com/articles/17287-cummins-100-years-of-cummins-100-years-in-agriculture
Tractor Talk: A Pair Of Vintage Cummins Swaps
You'd be forgiven if you think that Cummins swaps are something new and confined to the light truck realm. Not so, diesel heads, and here are a couple of tractors to prove it.
In the 1950s, the era of the diesel tractor was just beginning. Diesel-powered tractors were just a tiny part of a market dominated by gasoline. It might even be safe to say that the propane-powered tractor market share was almost as big as diesels. That was soon to change, but if you were a farmer sold on diesel power in those days, you had slim pickings. Why? Partly, it was the diesel technology of the time, which had only recently evolved into a size practical for tractors with a power output and rpm range that approached gas engine levels. Many farmers were hesitant to jump on the bandwagon and, frankly, the infrastructure wasn't fully in place to support a large number of diesel tractors on farms.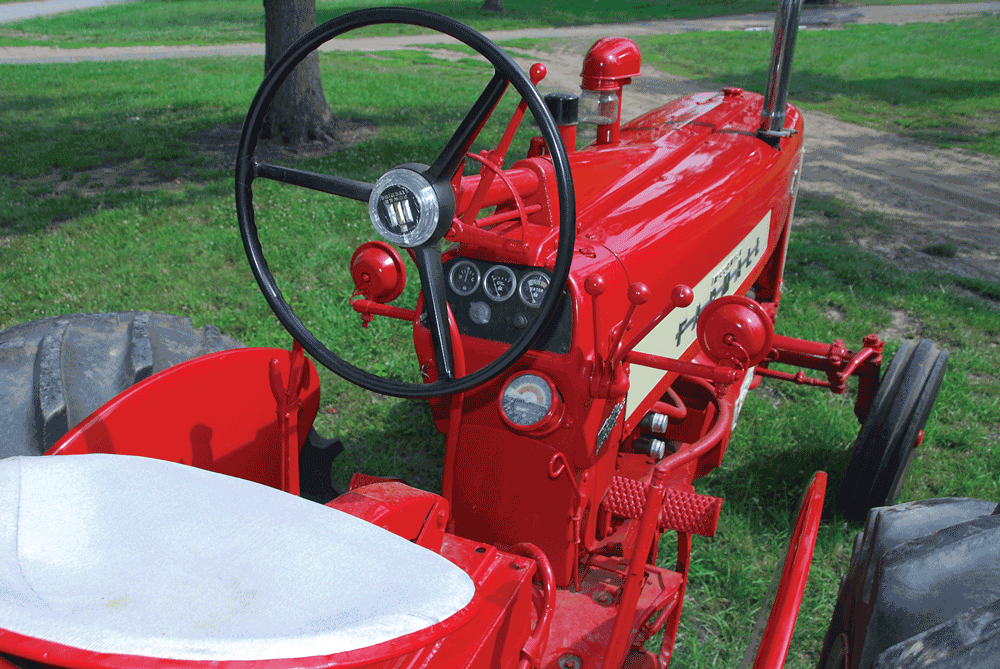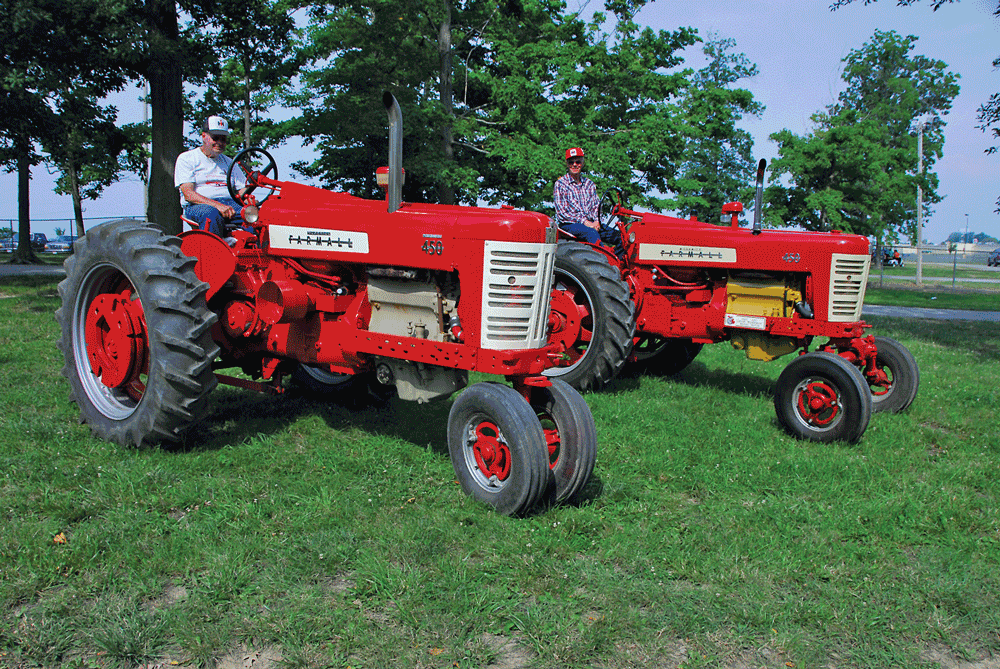 On the other side of the manufacturing coin were independent diesel engine builders who promoted the use of modern high-speed diesel engines… their engines, of course… and were looking to place them into as many parts of the motor industry as possible. Among the heavy hitters in this were General Motors and Cummins, who actively pursued tractor diesel conversions.
According to Galen Wilkinson and Louis Wehrman, the owners of the tractors you see here, Cummins invited 28 Indiana farmers to their Indianapolis facility in 1958. The purpose was to float the idea of repowering International Harvester tractors with Cummins engines. Yes, IH was making diesels in those days, but they were anemic things compared to what Cummins was offering.
Gumz farms of North Judson, Indiana, saw the benefits of Cummins-powered IH tractors and stepped up. They ordered two Farmall 450 tractors without engines, one narrow and one wide front. There's evidence that IH was at least an interested party in this deal, but it isn't clear how much they were involved. It's very likely they were "interested" on some level, but little paperwork exists to show the degree of interest. IH was using Cummins J-series six-cylinders in some of their OTR semi-trucks, so the two companies had a little history at least. We also know IH was well on its way to becoming a powerhouse diesel engine manufacturer then and too much business between them would soon have led to market conflicts.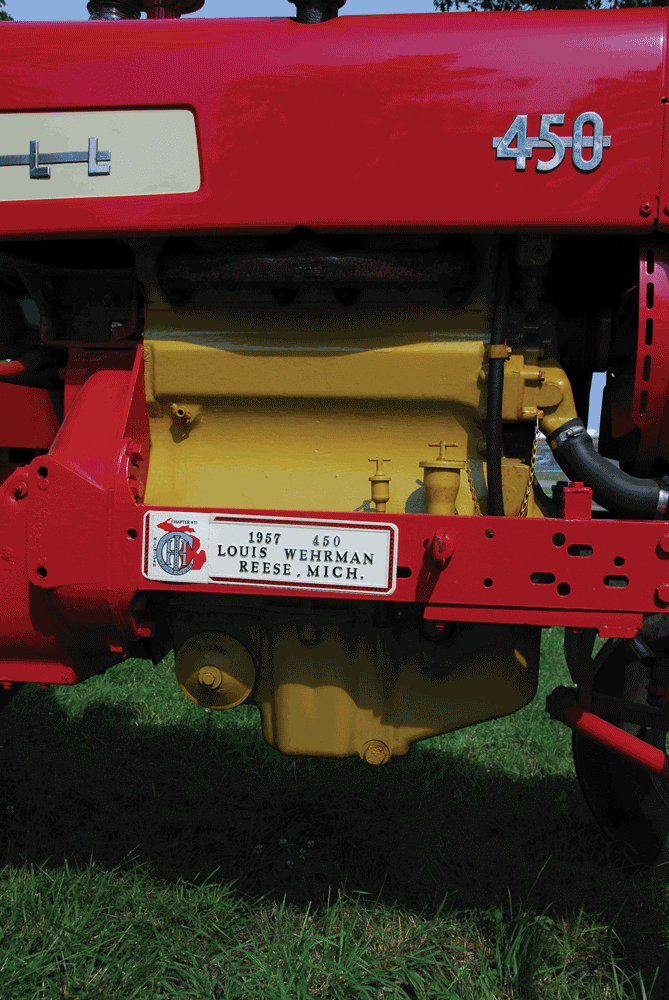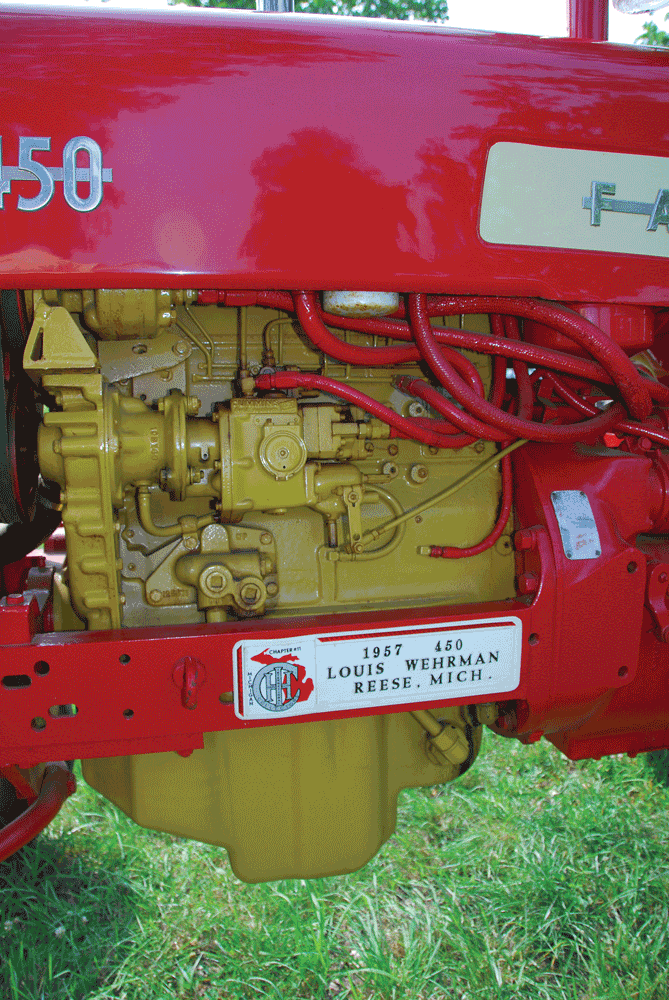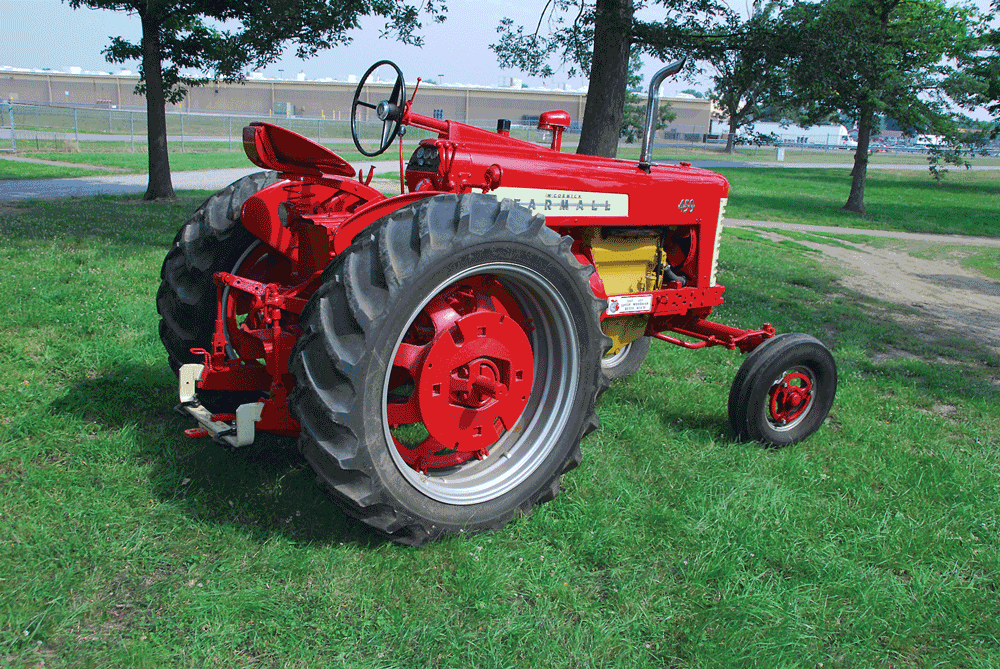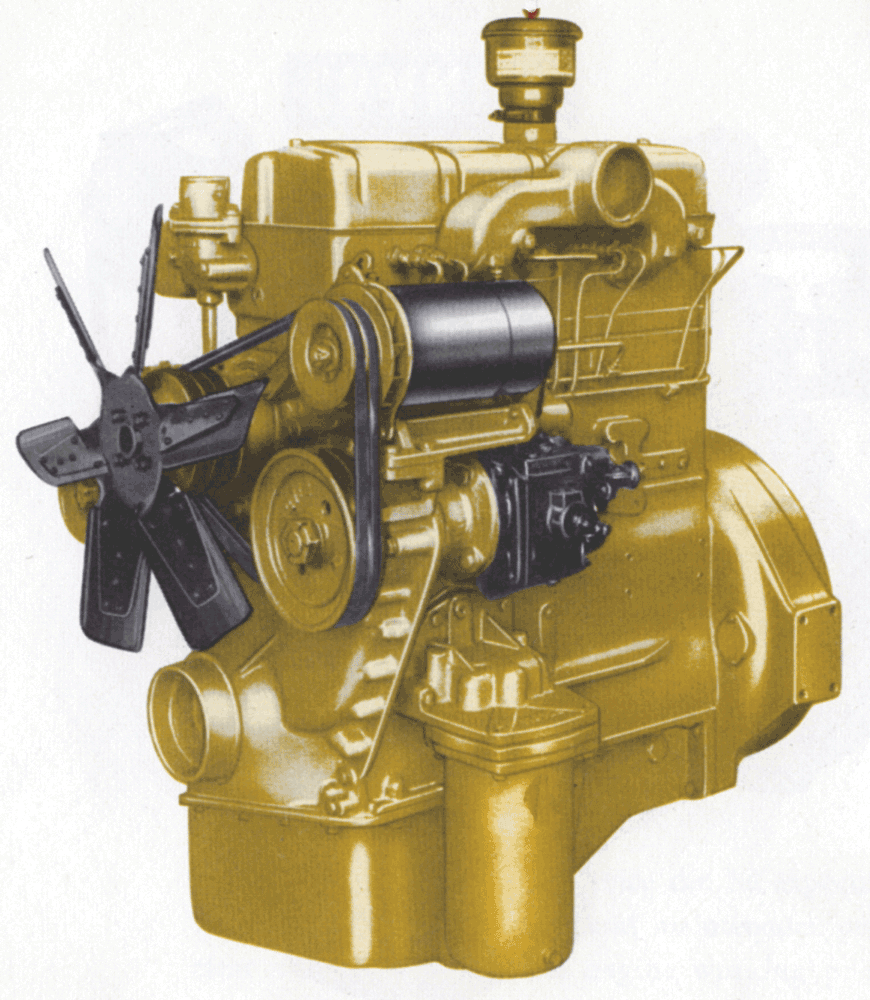 The two Farmall 450 tractors were received by Gumz in December of 1958 and two J4-70 engines from Cummins arrived in March of 1959. The engines and tractors came together shortly thereafter when the engines were installed at Gumz Farms under Cummins supervision. Gumz was, and still is, a major multi-state farming entity, with Indiana being where this German emigrant family first settled in the early 1900s. Gumz used the converted tractors for 10 years before selling them off separately. With new owners, they continued to be viable as farming implements into the 1990s when they began to acquire some collector interest.
Let's not forget the tractors in all our Cummins excitement. Both the Farmall 450s were standard units, save the few mods necessary to fit the engines. The 450 had debuted in 1956 as an upgrade to the 400 model. The upgrade was mainly an increase in engine displacement. The 450 was at the end of its run in '58, when Gumz purchased the two without engines. The restyled 460 model would replace it in late '58. The 460 and its bigger brother, the 560, would be plagued by final drive issues due to their increased power levels being applied to a warmed-over, old generation final drive. Reputedly, the two converted 450s suffered from a touch of this in later years.
While Cummins was actively pursuing the use of their engines in agriculture, this was a marginal market for them until the late '70s when they collaborated with Case to form the Consolidated Diesel Corporation. The fruits of this collaboration, among other things, would be the B, C and ISL series engines branded both by Cummins and Case. All of those engines would find extensive use in the ag world. Yeah, Cummins conversions are now all the rage, but now you know the rest of the story. DW
Sours: https://www.dieselworldmag.com/features/tractor-talk-a-pair-of-vintage-cummins-swaps/
Items Tagged with 'Cummins'
Labor-Force Reality: Dealers MUST Develop Their Own Home-grown Talent
View More
Download these helpful knowledge building tools
View More
President of Johnson Tractor Leo Johnson gives the reasons behind its new Rochelle, Ill., store and some of the upgrades that came with the new building.
View More
Built on 90 years of expertise, Yetter Farm Equipment leads the agriculture industry in designing effective and innovative equipment for residue management, seedbed preparation, precision fertilizer placement, harvest attachments, strip-tillage, and more.
At Montag Mfg., we specialize in fertilizer equipment. Our complete fertilizer application system will help you start reaping the benefits of deep band fertilizer.
Machinery Scope offers premier risk management tools for farm equipment. We provide timely, personalized, and flexible solutions to protect more farm equipment investments than anyone in the industry. We add value and peace of mind when you are buying, selling, or managing your farm equipment by offering extended warranty plans.
View More
Sours: https://www.farm-equipment.com/keywords/Cummins
Diesel mechanic- cam timing \u0026 valves lash -24v cummins tractor repair
Our ends are shaking their heads in sync. Everyone loves everything. Then we go to the room. More precisely, Irka pulls us into the room by the members. Energetic music plays in the room, the TV gives a weak light.
Tractor cummins
Every evening he asked her to stay another day. At the end of the 3rd day, he invited her to meet. Veronica was jubilant. After her consent, he began to touch her at least sometimes. Such a strange and surprisingly correct guy.
Modified Street Diesel 4X4 Trucks At Buck Powerfest Pull
Finally, Jessica stretched out to the string of tension and, with a cry, leaned back on the couch. - In my opinion, I'm moisturized. - She said embarrassedly.
Similar news:
Yes, I got everything at once, from birth and for free, and by the age of eighteen I managed to go. Around half the world, and have fun at all the elite resorts several times. I do not say anything against other citizens, I am not aware of their problems, perhaps it is much more difficult for. Them to live than for me, because my ancestors are rich, and I was lucky in terms of material well-being.
231
232
233
234
235