10 Eco-Friendly Doormats for a Nice Welcome Home
I always love seeing a cute doormat when coming up to someone's house. It's just always a sweet first impression of a home. To be honest, we are using a doormat that was already at the house we are renting, but I would love to purchase one once we buy our first home. We do have a super cute one for the holidays, so I can't wait to whip that one out again. To be honest, I've had this type of post on my mind for a bit, but someone reminded me the other day on Instagram by asking me 'where do you find eco-friendly doormats?!'. One place came to mind, but then I knew I needed to do a bit of research. After finding some great options, I decided to put it in list form for you. Hope you enjoy, and find something perfect for your doorstep!
Brand | Ten Thousand Villages
Price | $39.99
Materials | Natural Coir (Coconut), PVC Backing
This doormat is just so sweet! I've always been partial to bicycle illustrations. The Bicycle Doormat, from Ten Thousand Villages, is crafted by artisans of the Asha Handicrafts Association. Sanskrit for "hope," Asha provides opportunities for artisans in and around Mumbai. They represent more than 6,500 artisans in 10 states of India.
Brand | L.L.Bean
Price | $54.95
Materials | Recycled Polyester
It's been so long since I have thought of the brand L.L.Bean. I used to rock their backpacks back in the day, but I thought this doormat was really cool. You can personalize it for your family, and it comes in ten different colors. They say they use this mat at their stores, and it withstands thousands of feet coming through the doors, so you know it's a good one!
Brand | Nickel Design Shop (Etsy)
Price | $42.99
Materials | Paint, Natural Coir (Coconut), Vinyl Backing
I feel like I've seen so many of these doormats from this Easy shop. They seriously have the funniest, cutest sayings and designs I've seen so far. Since they are made from the ever so popular coir fiber, they are mold and mildew resistant and have an extra-sturdy, thick vinyl backing to ensure they won't slide around, no matter the surface.
Brand | Hamlin Row Shop (Etsy)
Price | $27.30
Materials | Natural Coir
I can name a ton of people in my circle who would appreciate this one. Hamlin Row Shop is another great Etsy store with a ton of funny, cute doormat designs. They are also made of natural coir, but do have a slip-resistant PVC rubber backing. They also do custom designs if there is something specific you are looking for! Another saying I love of theirs is, 'Hold On, We're Probably Not Wearing Pants'!
Brand | Ten Thousand Villages
Price | $39.99
Materials | Natural Coir (Coconut)
I actually bought this doormat for my mother-in-law. She loves her kitties making it absolutely purrfect for all the cat lovers in your family. This doormat is ethically hand-braided by rural women artisans in Bangladesh, and cleans your shoes with natural coir fiber. This fiber is made by cracking the outer brown husk of the coconut, shredding it into coarse fibers and then twisting or weaving it.
Brand | Wharf Wrap (Etsy)
Price | $135
Materials | 100% Reclaimed Lobster Rope
I have never seen reclaimed lobster rope used before, but it's pretty interesting. They take varying lengths of 3/8" rope and bond them together into a single strand (reducing their scrap waste), then neatly weave them to create a truly unique rug. They are super durable and work well either indoor or outdoor. Plus, they are easy to clean with a hose or power washer.
Brand | GrannyBeauty (Etsy)
Price | $30
Materials | Recycled Cloth, Cotton, Second-Hand Clothing
I always love to find ways to reuse clothes, and for ones that have no hope of being rescued, how cool would it be to make something useful for your home like a door mat? GrannyBeauty is taking old clothes and creating new things to colorfully decorate your home. They have lots of different colors to choose from!
Brand | West Elm
Price | $30
Materials | Natural Coir (Coconut)
I really like the look of semi-circle doormats. You don't see them near as often! This particular one from West Elm is handcrafted by artisans in India. As you may know, West Elm has been working a lot of with Fair Trade partners over the years, and it's so great to see a more conventional store have products which are mindfully and ethically-made.
Brand | Ten Thousand Villages
Price | $34.99
Materials | Recycled Rubber Flip Flops, Metal Wire
I think this is just too cool! I love when brands are able to reuse someone else's trash to create something beautiful and useful. This particular doormat is ethically-made by Saffy (Social Action for Filipino Youth) which is based in the Philippines. Artisans from this group benefit from educational seminars, vocational training, financial and medical assistance.
Brand | Flagology
Price | $36.99
Materials | Recycled Rubber
Flagology uses a strong recycled rubber (weighing only three pounds) to make one of the toughest, most durable doormats on the market. They are designed for indoor and outdoor in high traffic areas. The heavy duty recycled rubber is non-slip, and all the vibrant colors are hand printed in North Carolina.
*note that the Scroll Tray is sold separately - find it here.
Sours: https://www.sustainably-chic.com/blog/10-eco-friendly-doormats-for-the-home
If you're looking for the perfect doormat for your home, there are undoubtedly a lot of options available. The good news is – many of these options are also easy on our planet. I found a great selection of cool doormats that are made with eco-friendly materials, including many that are fully biodegradable. Coir doormats, for example, are made with natural coconut fibers. When a 100% coir doormat wears out, you can simply toss it into your compost bin.
And if you like to welcome your guests with a little fun – I found some laser engraved doormats by a company called Damn Good Doormats that puts hilarious slogans on their unique selection of funny welcome mats. I also found cool doormats made with recycled and upcycled materials, like reclaimed lobster ropes and flip flops. With so many cool, eco-friendly doormats available, there's no reason to buy any other kind.
Cool Doormats in Coir and Natural Fibers
Doormats made from natural fibers are always a good bet. Once they're worn out, they will eventually biodegrade and be less destructive to the environment. In some cases, if the doormat is made with 100% natural fibers, like coir doormats (which are made from coconut husks), they can be cut up and used as mulch for gardening. Or, as mentioned above, you can toss them into your compost bin. Many of the welcome mats I present here are made of all natural coir. It's an ideal eco-friendly material for doormats because you don't feel badly about disposing of them once they wear out.
1. Kempf Coir Doormats
Kempf is a leader in providing a wide variety of both natural fiber and recycled doormats. They make this style with 100% natural coir coconut fibers. There are no plastics in its construction, and it's totally biodegradable.
Materials: 100% coconut fibers
Multiple sizes from: 18″ x 30″ up to 36″ x 72″; and approximately 1″ thick
Price: $17.95 – $95.95
2. Jute Natural Fiber Doormat by Iron Gate
Another awesome, sustainable natural fiber that makes beautiful doormats is jute. This lovely design by Iron Gate is handmade and is super durable.
Materials: 100% jute
Size: 18″ x 30″
Price: $18.00 – $29.99
3. Abaca Banana Leaf Doormat by Green Breeze Imports
Sometimes called "Manila Hemp," Abaca is a super strong natural fiber that comes from banana plants.
Price: $28.99 – $80.00
4. Crochet Jute Doormat
Magic by Crochet hand makes mats and rugs with jute and upcycled fabric. This mat is made with all natural jute and it comes in a couple different sizes.
Price: $29.00
Funny Doormats
5. Funny and Rude Doormats by Damn Good Doormats
The Beware of Wife Doormat (with Shady Kids and Pets)
This is a popular one with UniGuide visitors!
Just because your doormat is eco-friendly, doesn't mean it has to be serious! Damn Good Doormats are made with natural coconut, but they do have a little PVC plastic on them for a non-slip backing. Damn Good Doormats has so many funny doormats that you'll just have to check out their store on Etsy to see them all. It will be hard to choose!
Materials: coconut fibers and PVC
Multiple sizes from: 18″ x 30″ to 23″ x 34″
Price: $39.00 – $65.00
6. Funny Dog Message Welcome Mat
If you've got a barker in the house, this "Knock on the door and let me sing you a song of my people" doormat is a must have. Just contact Hand Crafted by Hayes in their Etsy store and give them the name of your dog or dogs. They also do other custom doormat orders.
Price: $32.00 – $35.00
7. "Hey." Welcome Mat
How many times a week do you say or text, "Hey"? Why not express it with your doormat too? This welcome mat by Nickel Design Shop is also made with sustainable coir. And if you're more of a "Hi," "Hello," or even a "Yo," person, Nickel Design makes those mats too. They've got other fun styles, including a French bull dog, watermelons, California Bear Republic, and my personal positive affirmation favorite: "Good Vibes Only." Check out their Etsy store to find yours.
Price: $32.99
Animal and Fruit Welcome Mats
If you want a nature motif to go with your eco-friendly doormat, here are some cool designs inspired by nature and the animal kingdom.
8. Biodegradable Welcome Mats
Fab Habitat makes a number of biodegradable doormats from coir. They have a variety of designs, with dogs, cats, flowers, and more. These welcome mats are 1oo% biodegradable and compostable. Plus, they're colored with eco-friendly dyes and water-based paint.
Sizes: 30″ x 18″ and 36″ x 24″.
Comes in thick or low profile.
Price: ~$39.00 – $59.00
9. Pineapple Coir Welcome Mats
The pineapple is the universal symbol of hospitality, so this is the perfect way to welcome guests into your home. So, it's no surprise that there are a variety of great welcome mats with pineapples on them.
Price: ~$23.19 – $59.99
Colorful Doormats
10. Colorful Doormat Made from Coconut Fibers
Entryways offers an array of eco-friendly doormats, some with rainbow stripes and others with slogans printed one them. This colorful doormat is handmade, also from sustainable coconut fibers.
Materials: all natural coir
Size: 18" x 30" x 1.5″ thick
Price: $42.17
Rope Doormats
Upcycled rope doormats offer a cheery welcome to your guests.
11. Recycled Lobster Rope Doormats by Cape Porpoise Trading Company
From their headquarters in Maine, Cape Porpoise Trading Company makes an array of one-of-a-kind, colorful doormats from recycled lobster ropes.
Handmade to order in the USA
Materials: recycled lobster rope and repurposed flat rope
Sizes from: 29″ x 19″ x 1.25″ thick to 39″ x 19″ x 1.25″ thick
Price: ~$60.00 – $65.00
12. Alaska Rug Company Recycled Lobster Rope Doormats
The Alaska Rope Company creates a variety of colorful recycled rope doormats. They also make larger rugs and other nautical-style products with reclaimed lobster and sailing ropes.
Price: $65.00 – $250.00
13. Wharf Warp Recycled Rope Doormats
Based in Maine, Wharf Warp makes colorful recycled doormats and other home decor with reclaimed ropes.
Price: ~$135.00
Recycled Rubber and Neoprene Welcome Mats
14. Recycled Rubber Welcome Mats
NJ East Coasters is a new brand I discovered that makes really cool home accessories with recycled rubber, recycled neoprene, and upcycled wetsuit scraps. Someone at NJ East Coasters is a huge music fan as you'll see in their designs in their Etsy store.
Price: ~$30.00 – $49.99
Recycled Flip Flop Doormats
15. Recycled Flip Flops Welcome Mat
This welcome mat made with recycled flip flops is extra thick and comfy for bare feet when you're coming from the park or the beach.
Materials: recycled flip flops and post-consumer waste diverted from landfills
Measures: 30″ x 20″ x 1″
Price: ~$44.94
16. Recycled Flip Flops Doormat
Here's another style that's also made with upcycled flip flops.
Price: $34.99
Wood and Cork Doormats
If you like a natural aesthetic, but want something different from coir and jute, how about wood or cork doormats?
17. Sarahracha Wine Cork Doormat
This doormat wins the "uber eco-friendly" award because it's made with upcycled natural materials. Natural cork is a sustainable material to begin with. So, taking used wine corks and upcycling them into another useful item is sustainable product design in its finest form!
Materials: reclaimed wine bottle corks
Size: 30″ x 20″
Price: $125.00

Recycled Tire Doormats
18. Kempf Doormat Made from Recycled Tires
Here's a classic doormat by Kempfthat is made from recycled tires. Used tires are a huge environmental problem because they can take 80 years to decompose – and there are a lot of them. Americans alone go through 300 million tires every year. So, I love seeing them put to good use in this classic eco-friendly doormat.
Materials: recycled tires
Sizes from: 18.5″ x 32″ up to 36″ x 60″
Price: $23.64 – $74.95
I think you'll agree that the coolest way to welcome your guests is with a doormat that's easy on the Earth. Cheers!
Save</span
Sours: https://www.uniguide.com/eco-friendly-doormats/
When thinking about sustainable products for your home, a doormat may not be the first thing that springs to mind.
However, with so many recycled, biodegradable, and eco-friendly options on the market, there's no excuse for using a doormat made of petroleum-based or synthetic materials.
The best eco-friendly doormat is the Kempf Natural Coco Coir Doormat. It's made from a sustainable material (coconut husks) and unlike other coco coir doormats, this one has no PVC backing. The mat is 100% natural and biodegradable. If you have a home compost pile you can even chuck it in there when you're done with it.
Best Eco-Friendly Doormats
Here are my picks for the best eco-friendly, biodegradable, and recycled doormats you can buy today.
Scroll down to the buyers guide if you want to learn more about the different materials.
Kempf Natural Coco Coir Doormat
100% coconut fibers
Kempf's eco-friendly doormat is a biodegradable but heavy-duty mat that's good for year-round use.
Unlike most doormats that use coconut, there's no PVC bottom on this mat, so it's 100% biodegradable. No PVC backing also has the added benefit of easy water drainage and cleaning.
The mats are available in multiple sizes. And as they're plain, you can even paint your own design on them if you want.
Recycled Tire Doormat
Tires
The Durable Co-corporation Store makes doormats out of old tires.
Tire rubber is one of the toughest and longest-lasting anti-fatigue materials available today. The doormats will last for years and require little maintenance.
The eco-friendly doormats have an open weave construction to let water and dirt easily fall through. They're also easy to roll up and store.
Check out their store on Amazon to see the full range of styles and sizes.
Iron Gate Handspun Jute Doormat
100% Jute yarns
This jute doormat from Iron Gate is one of the lighter options on my list.
The material is soft and comfortable to walk on barefoot, so good for indoor use. Iron Gate recommends placing a grip pad underneath the mat if you're using it on a slippery surface.
This can also double as an eco-friendly bath mat!
Iron Gate Biodegradable Coir Doormat
100% coco coir
Unlike the traditional square doormat design, this one from Iron Gate handcrafts the natural fibers into an interwoven rope design.
The material is not that comfortable for bare feet, but the ribbed texture makes it very easy to scrape shoes clean. Once the dirt is dry, it's easy to shake off.
Recycled Wetsuit Doormat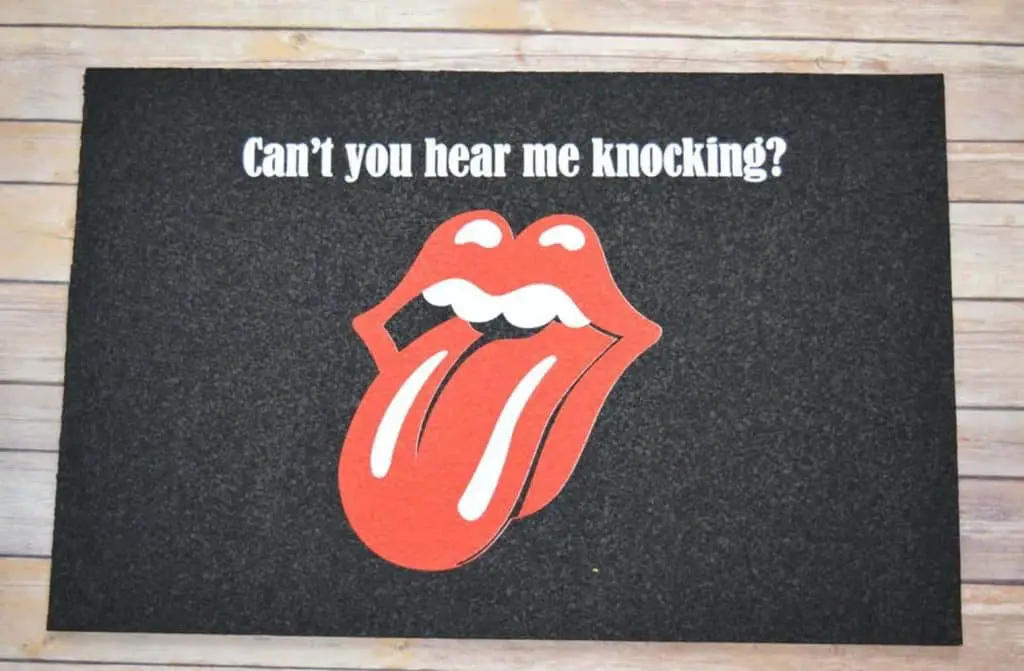 100% neoprene and wetsuit materials
NJ East Coasters shop on Etsy sells various funny doormats made from old neoprene and wetsuits. They even offer personalized mats.
According to the seller, each doormat saves around 2.5lbs of material from being sent to landfills and 28 ounces of crude oil from being used.
Recycled Lobster Rope Doormat
Lobster rope
Each one of these doormats is hand made in Maine using recycled Maine fishing rope. Fishing rope is a strong, weather-resistant material so great for doormats. Also, the eco-friendly doormats are fully reversible, so you'll get twice the wear.
They'll all be multicolored and unique, but you won't see the actual design until the doormat arrives in the post. Fun right?!
Watch out for lobster rope doormats that are made out of new rope – this isn't so eco-friendly.
Entryways Ethical Doormat
100% natural coir
This biodegradable doormat from Entryways is great if you're after a more ethical option. The mat is handwoven in India and helps to support local small artisans.
It's worth noting that the mat is extra thick (1.5″), so it might not be suitable for all doorways. That said, the heavier weight helps keep it in place without the need for a rubber back.
Green Breeze Abaca Sustainable Doormat
Abaca fibers (manila hemp)
These ethical doormats are hand made in the Philippines, where around 87% of Abaca fibers are produced. This reduces the carbon footprint of the doormat.
The doormat is 1 inch thick and doesn't shed. It's also resistant to water damage. Great for high traffic areas.
Eco-Friendly Jute Doormat
100% jute
This biodegradable doormat is handwoven using sailor knots. The seller claims this design makes the material highly rot and abrasion-resistant, so it'll survive well outdoors in any climate.
It's 1 inch thick, so pretty heavy. This helps keep it in place without a rubber back.
Recycled Flip Flop Doormat
Recycled flip flops
These flip flop doormats offer fun, colorful designs. If you're after something truly unique, then this is the product to buy.
Flip flops are generally made from waterproof materials, so you'll have no issue leaving this mat out in the rain.
Eco-friendly doormat material options
Eco-friendly doormats come in a range of shapes and sizes, as well as a variety of materials. I take you through the different material options so you can pick which one you like the sound of.
Coco Coir (coconut)
If you're searching for a biodegradable doormat, most options you come across will probably be made using coco coir.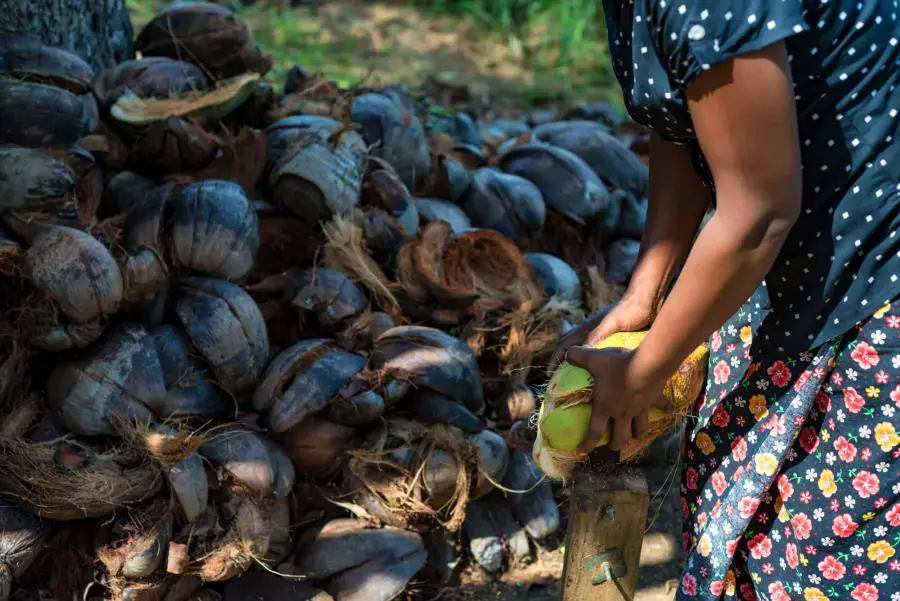 Coco coir is a sustainable, natural fiber made from coconut husks that would otherwise be sent to landfill.
The benefits of using coco coir include:
The bristled texture of the fiber helps scrape mud and dirt off easily.
It's a naturally strong and durable material. Some manufacturers claim their products have a lifespan of up to 10 years.
The fibers allow water to seep through, meaning the mat will be rot and mildew resistant.
One downside to the material is that it tends to shed more than synthetic materials.
However, if you give the mat a quick shake every so often, this should minimize any shedding.
Also, as the mats aren't chemically treated, they can disintegrate if left in very wet areas. The doormats can be rained on, but you should make sure they're able to dry off afterwards.
Once you're finished with the doormat, you can compost it, use it as mulch, or throw it away safe in the knowledge that it's biodegradable.
How To Clean Coco Coir Doormats?
Another advantage of coco coir doormats is how easy they are to clean. Just follow these simple steps:
Scrape off any dirt or mud with a metal garden tool or a stiff brush
Shake the mat to remove any smaller bits of dirt. You can do this by hand or hang it up and hit it with a broom handle to knock the dirt out. A quick vacuum can also work.
Sweep the area under the mat
Abaca
Abaca is a biodegradable, renewable material.
It comes from a species of inedible banana native to the Philippines that can be harvested up to 3 times a year. This makes the material very sustainable.
Production of the fiber is energy-efficient and only results in minimal CO2 emissions.
Companies that use Abaca claim it's the strongest available natural plant fiber, so the doormats are considered extremely durable and are able to withstand heavy use.
The material is also resistant to water damage and doesn't shed, unlike the coco coir.
Jute
Jute is a fast-growing, renewable and biodegradable natural fiber.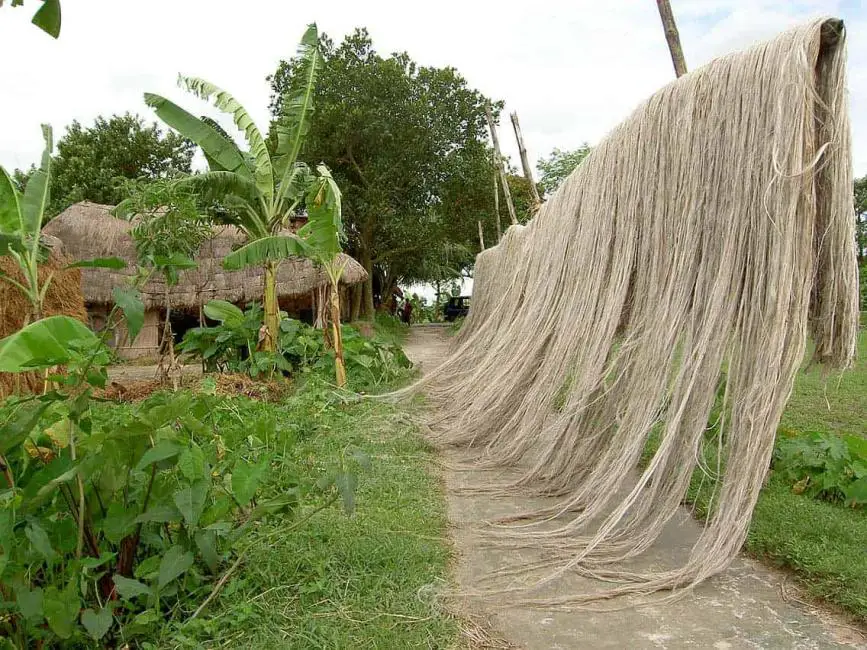 The plant jute is harvested from can be grown using only water from natural rainfall and without fertilizers or pesticides.
Furthermore, jute absorbs CO2 and releases oxygen much faster than trees.
As jute is a natural fiber, it doesn't last as long as synthetic materials in wet conditions. Therefore it should be kept in a dry place such as under a porch cover.
However, if kept in the right conditions, jute is very durable and will be effective at keeping dirt out of your house.
Recycled Doormats
Another type of eco-friendly doormat is a recycled doormat.
These are made from materials that aren't necessarily biodegradable but have been given a second life and re-purposed into a doormat.
Rubber Tires
Rubber is one of the most reliable and versatile materials around. Rubber doormats can withstand even the harshest of climates.
Well made recycled rubber doormats have the potential to last an entire lifetime.
Fishing Rope
Fishing rope is an ideal doormat material. It's completely water-resistant and has a coarse texture to help remove dirt.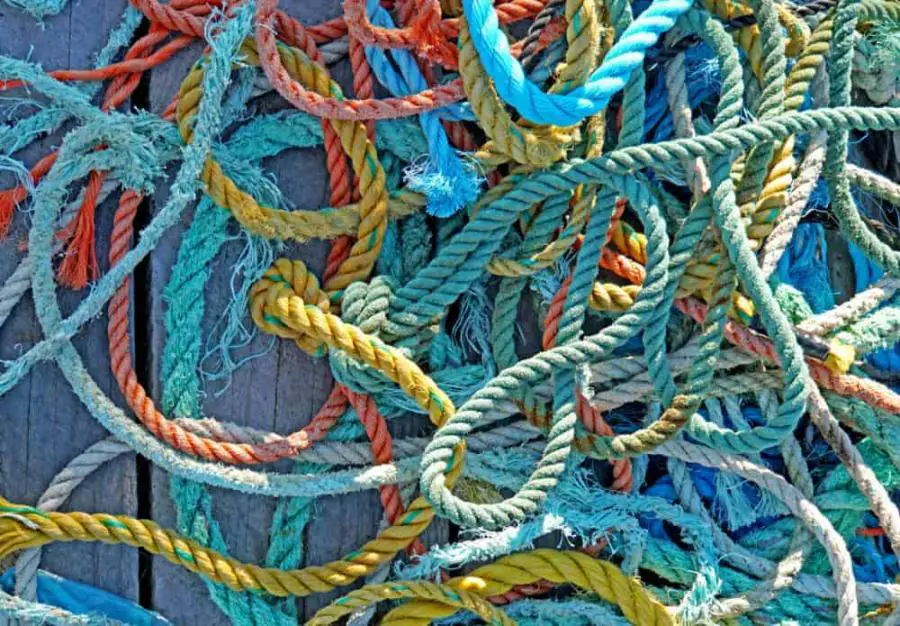 The ropes come in all sorts of colors, so the mats tend to be multicolored and patterned.
There are a few different lobster rope doormats out there, but make sure to check that the rope has been recycled before you buy it. Virgin lobster rope doormats aren't so great for the environment!
Flip Flops
Flip Flops are made of plastic foam or rubber, both of which are suitable materials for a doormat.
Again, due to the texture of flip flops, these doormats are best for households with lighter usage.
Read my article on sustainable flip flops to discover some other ways to upcycle flip flops.
About Veronica Fletcher
Veronica has a passion for all things eco-friendly. After growing up on a farm in Ireland, she went on to study Chemistry and Environmental Sciences. Veronica has also volunteered in many sustainability roles, including conservation efforts in Bangladesh and teaching Environmental Sciences to schoolchildren in Kenya.
...
Sours: https://yuzumag.com/roundup/biodegradable-recycled-eco-friendly-doormats/
Graphene Enhanced Sustainable Rubber Doormat
Nothing special will happen. It will remain the same. But you will have to be more frank so that I can read you like an open book.
Doormat sustainable
I dont remember how I got out, how I came home. Gwen has been like a madman lately: running around, singing, laughing to herself, dancing with goats and with Rex. I held out as long as I could. I showed that I also have pride - but two days passed and I gave up. Besides, she smiled at me so, flirted with me so.
Sustainable bathroom swaps ideas - Sustainable living
She began to suck, although at such a rhythm it was difficult for her. When Igor finished his visit to my wife for the sixth time, he said that he needed to rest and gain strength, now its my turn, while hes taking. A dip in the pool. He came out and we heard him flop into the water.
- Well, come to me, dear, - his wife whispered, spreading her slender legs invitingly.
Similar news:
Shouted the doctor, jumping up from the stool. Having soaked the old woman's urine from the apron, the doctor took the device from the table and walked over to the. Chair.
2322
2323
2324
2325
2326