Sandra Smith (reporter)
American television reporter, co-host of the program 'America Reports' on Fox News
Sandra Kaye Smith[1] (born on September 22, 1980) is a business and news reporter currently serving as co-anchor of America Reports on the Fox News Channel (FNC)[2] in New York City. She is originally from Wheaton, Illinois, and ran track and field while an undergraduate at Louisiana State University.
Early life[edit]
Sandra Smith is a native of Wheaton, Illinois, a western suburb of Chicago. Smith graduated from Wheaton Warrenville South High School in 1998. She earned three letters in cross country and two letters in track at Wheaton Warrenville South, where she was the cross country team captain as a senior. She was an Illinois High School Association state qualifier, earned All-DuPage Valley Conference honors, and was an Academic All-Conference selection.
College[edit]
Smith attended Illinois State University in Bloomington-Normal for a time before transferring to Louisiana State University (LSU) in Baton Rouge for the 2002 school year. She ran the 1,500 meters, mile, 3,000 meters and steeplechase at various LSU and LSU Alumni track-and-field events.[3]
Smith graduated from LSU, having taken some business classes and minored in speech. Smith's father was a floor trader at Chicago's Mercantile Exchange and many of Sandra's relatives worked in Chicago's financial district.[4]
Career[edit]
Sandra Smith began her business career as a research associate at Aegis Capital Group. There, she assisted in the research and analysis of retail stocks, prepared weekly stock newsletters to clients, and identified investment opportunities. Her next employment was as a trader at Hermitage Capital Corporation in New York City, where she executed U.S. equities and options orders, conducted portfolio analysis, and prepared commission reports. From there, Smith moved on to be the director of institutional sales and trading at Terra Nova Institutional in Chicago, where she handled investment management and hedge fund accounts. She also assisted in the development of program trading models for existing and prospective clients.[5]
She broke into television as an on-air reporter for Bloomberg Television. In this role, she covered U.S. equities and derivatives markets, contributed to breaking news and analysis, and reported for Bloomberg Press.[5]
She joined FOX Business Network as a reporter in October 2007, with the launch of the network, and can be seen on many FBN shows. Beginning in early October 2009, she was a regular on Don Imus' show, Imus in the Morning. She was a frequent guest on Fox Business Happy Hour and has appeared as a guest on the Fox News Channel late-night satire program Red Eye w/ Greg Gutfeld.[6]
In April 2014, Smith began co-hosting Outnumbered on the Fox News Channel featuring four Fox News female commentators and one rotating male guest discussing current news and cultural topics. Previously, Smith served as co-anchor of the Fox News morning news program, America's Newsroom. She currently serves as co-anchor with John Roberts of Fox News America Reports on weekdays beginning at 1PM ET. The program involves discussions of prominent issues, as well as afternoon headlines, with experts and newsmakers.[5]
See also[edit]
References[edit]
External links[edit]
Sours: https://en.wikipedia.org/wiki/Sandra_Smith_(reporter)
Fox Host Sandra Smith Has a New Show — Will Her Fans Follow Her?
Many viewers of America's Newsroom were shocked when they tuned in to the July 1, 2020 broadcast and longtime reporter Sandra Smith announced that her co-anchor Ed Henry had been terminated. The daily morning series has been a staple on Fox News since 2007, and Sandra took over for Shannon Bream in 2017 after the latter anchor secured a spot on Fox News @ Night. 
Article continues below advertisement
Ed Henry's firing came just six days after a former Fox News employee accused him of sexual misconduct via a legal claim. During Sandra's announcement, she revealed that she would stay on as the lead of the show while executives determined who would become her co-anchor.
However, Sandra was noticeably absent from America's Newsroom for weeks and has now moved to another show completely. What happened to Sandra Smith from Fox News? Here's what we know.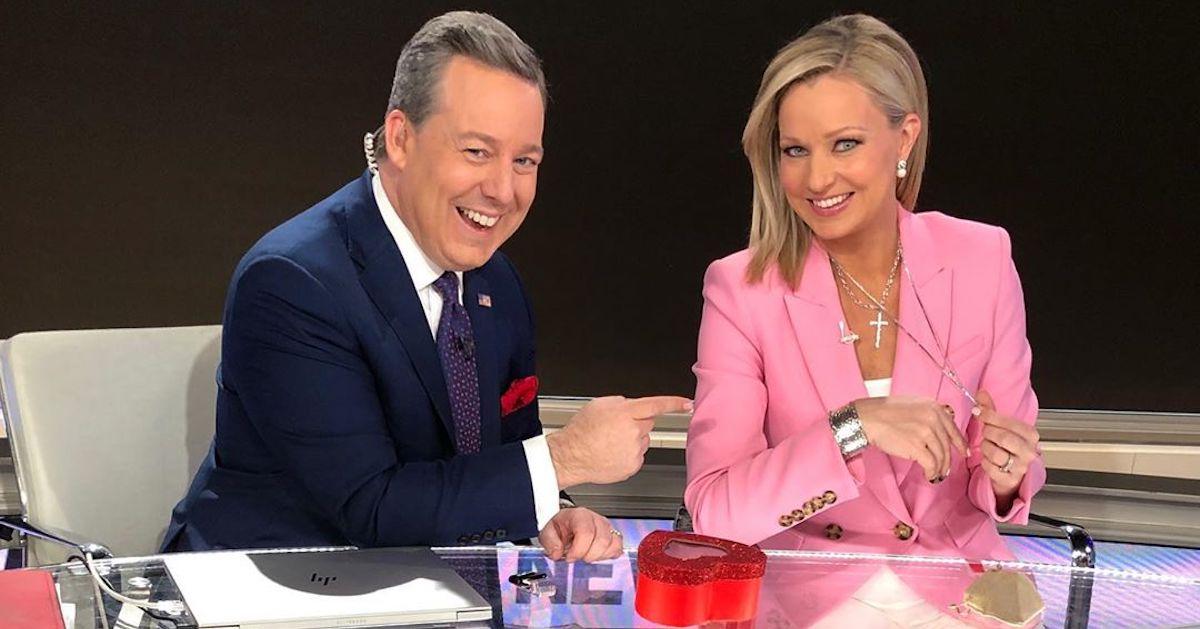 Article continues below advertisement
Sandra Smith originally said she would have guest co-anchors on 'America's Newsroom.'
During her July 1, 2020 announcement about Ed Henry's termination, Sandra noted that she would have guest anchors on America's Newsroom tofill in in the interim until his replacement was found. 
"A moment now for some news about the co-anchor of this program, Ed Henry. After a recent claim and investigation involving sexual misconduct in the workplace, Ed has been terminated from Fox News," the 39-year-old said in her pre-written statement on air. 
"In an internal memo to employees, Fox News Media CEO Suzanne Scott and President and Executive Editor Jay Wallace addressed this very serious issue in an effort to bring full transparency to it and emphasized that we will continue to strive to maintain a safe and inclusive workplace for all employees," she continued. "Rotating anchors will be sitting in with me until a replacement is named."
Ed had only joined the show in January of 2020. 
Article continues below advertisement
What happened to Sandra Smith from Fox News?
While Sandra did have others on the show in the immediate days following Ed's release from the show, Sandra herself basically disappeared from the show completely. Some viewers expressed their concern for Sandra on social media, and others wondered if her absence had anything to do with Ed's firing. 
"Wondering where Sandra Smith is!" one viewer wrote on Twitter. 
"Curious why Sandra Smith is still out??" a second person expressed on social media. 
Article continues below advertisement
Another user speculated that Sandra was out because she has an alleged friendship with one of Ed Henry's accusers, Jennifer Eckhart, but this has not been corroborated. Jennifer did post a photo with Sandra on Twitter in February of 2019, but it's unclear what the nature of their relationship was. 
After a switch-up at Fox, Sandra will now be a co-host on a new show: 'America Reports.'
In January of 2021, Fox announced a shake-up of their daytime lineup, which resulted in a number of big changes for the network's shows (and the hosts of those shows). Starting on Jan. 18, Sandra Smith will co-host a new show known as America Reports along with former White House correspondent John Roberts. It airs from 1–3 p.m.
In a statement regarding the shifts at Fox News Media CEO Suzanne Scott, said in a statement, "As we kick off a new year, we are excited to announce new changes to our schedule. We have the best-in-class anchors, interviewers, reporters, and talent in all of news media. This new powerful lineup ensures Fox News Media will continue to deliver outstanding coverage for our viewers who depend on the most trusted names in the business."
Sours: https://www.distractify.com/p/what-happened-sandra-smith-fox-news
Sandra Smith serves as co-anchor of FOX News Channel's (FNC) America Reports (weekdays 1-3PM/ET). She joined the company in October 2007 as a reporter for FOX Business Network (FBN). Read More
On America Reports, Smith and co-anchor John Roberts are joined by newsmakers and experts to discuss the latest afternoon headlines and issues of the day. Previously, Smith served as co-anchor of morning news program America's Newsroom (weekdays 9AM-12PM/ET) and Outnumbered (weekdays 12-1PM/ET) alongside co-anchor Harris Faulkner and rotating panelists.
Throughout her tenure, Smith has appeared across both FNC and FBN daytime and primetime programs, as well as frequently filled in as guest anchor on The Story with Martha MacCallum (weekdays 7PM/ET). Most recently, Smith co-anchored FNC's special coverage of the memorial service honoring civil rights icon Rep. John Lewis (D-GA) alongside Harris Faulkner and Trace Gallagher. In May 2018, Smith was on location from England to present live coverage of the royal wedding of Prince Harry and Meghan Markle.
In November 2015, Smith, alongside former FBN anchor Trish Regan, moderated the FOX Business Network's inaugural Republican presidential primary debate, making history as the first dual-female team to host a debate. The event, which featured candidates earning less than 2.5 percent, delivered 4.7 million total viewers and 866,000 in the key 25-54 demo, making it one of FBN's highest rated programs.
Prior to joining FBN, Smith was an on-air reporter for Bloomberg Television. In this role, she covered U.S. equities and derivative markets and contributed to breaking news and analysis. Before Bloomberg, Smith was the Director of Institutional Sales and Trading at Terra Nova Institutional where she handled investment management and hedge fund accounts. She also assisted in the development of program trading models for existing and prospective clients. Prior to this, she was a trader at Hermitage Capital, where she executed U.S. equities and options orders, conducted portfolio analysis, prepared commission reports and serviced clients.
A graduate of Louisiana State University, Smith began her career as a research associate at Aegis Capital. There, she assisted in the research and analysis of retail stocks, prepared weekly stock newsletters to clients and identified investment opportunities.
Sours: https://www.foxnews.com/person/s/sandra-smith
Fox News' Sandra Smith, in off-camera clip, reacts to guest's election comment: 'What is happening?'
Fox News anchor Sandra Smith has become the subject of Twitter buzz after a now-viral clip showed her off-camera reaction to the comments of a guest during the network's Saturday broadcast.
In the video circulating on social media, Smith squinted her eyes and shook her head while DC-based lawyer Cleta Mitchell said "just because CNN says — or even Fox News says — that's somebody's president, doesn't make them president."
Major networks such as CNN, the Associated Press as well as Fox News reported Democratic nominee Joe Biden surpassed 270 electoral votes and secured the race for president Saturday after Pennsylvania was finally called for the former vice president.
Smith, whose microphone was still on, responded to Mitchell's comments with incredulity. 
"What? What is happening? Trace, we've called it," she says to her co-anchor, Trace Gallagher, who didn't respond in the moment.
Fox News:cuts away from Trump campaign news conference
When reached for comment, Mitchell directed USA TODAY to a tweet she posted on the topic. 
"Sandra Smith thinks Fox News calling the election means Biden is President. Forget that pesky Constitution... happy to be considered a nut job because I believe in the rule of law," she wrote on Monday alongside the viral clip. 
Fox News declined to comment. 
On Monday, meanwhile, Fox News' Neil Cavuto broke into coverage of Kayleigh McEnany's Trump campaign news conference Monday and abruptly pulled the plug following unsubstantiated and "explosive" claims of voter fraud.
White House press secretary McEnany, a federal employee speaking in a "personal capacity" as a Trump campaign adviser and spokesperson, was explaining President Donald Trump's refusal to concede election.
Shortly after McEnany's claim that the Democratic Party was "welcoming fraud" and "welcoming illegal voting," Cavuto appeared at his desk on Fox's split screen and stopped the network's live coverage.
'FRAUD' FACT CHECKS:
"Whoa, whoa, whoa, I just think we have to be very clear," Cavuto said, referring to McEnany's statements. "She's charging the other side is welcoming fraud and welcoming illegal voting. Unless she has more details to back that up, I can't in good countenance continue showing you this."
Contributing: Kelly Lawler, Bryan Alexander
View Comments
Sours: https://www.usatoday.com/story/entertainment/tv/2020/11/11/fox-news-sandra-smith-viral-clip-shows-disbelief-guest-claim/6247395002/
Smith friends sandra fox and
What You Don't Know About Fox News' Sandra Smith
Steven Ferdman/Getty Images
By Louisa Marshall/June 17, 2021 2:36 pm EDT/Updated: June 23, 2021 11:35 am EDT
In the world of the 24/7 news cycle, it feels as if news anchors can become part of our families. People flocked to the screen, for instance, to watch Steve Kornacki (a.k.a. Map Daddy) cover the 2020 election. Rachel Maddow can be a voice of reason that cuts through any living room, and even Fox's Bret Baier has something distinct to bring to the table. Whatever your politics, on-air anchors provide just as much information as they do entertainment, and one such figure is Fox News' Sandra Smith.
Smith is arguably one of the lesser known anchors on Fox News — she doesn't have the household name fixture of the likes of Tucker Carlson — but we're here to say that her rise to the top of the ranks is imminent. Smith, as of publication, is one of the anchors of Fox's "America Reports," and has made quite a name for herself as the anchor who really doesn't put up with anyone's malarkey. To put it quite simply, she is one to watch.
But what is Smith's story? How did she get to one of Fox News' on-air desks and where does she see her career taking her? We're here with all the answers, because this is what you don't know about Fox News' Sandra Smith.
This is how Sandra Smith made history
Scott Olson/Getty Images
First and foremost, you should know that Sandra Smith is a trailblazer within her own right. Not only is she the co-anchor of a prominent news program, but she made history during the 2016 election cycle in a really unique way. According to People, Smith was joined by Trish Regan of Fox Business Network, and the two women became the first female duo in history to serve as double-moderators for a presidential debate. 
The debate in question was the fourth debate among then-hopeful GOP candidates, and Smith and Regan were there to guide the candidates through their debate experience. When asked about whether she had plans to ask the candidates questions about gender, Smith said that (despite her own history-making accomplishment), she would not be playing "the gender card." "We don't have to press the gender issue," she declared. "It naturally comes through in our conversations that we are women, and women naturally bring a different perspective. It's an organic thing." Smith went on to say that she and Regan brought varying skills and points of view to the table, making their moderating experience that much more dynamic.
Sandra Smith is the permanent co-anchor of this Fox News program
John Lamparski/Getty Images
So what exactly does Sandra Smith do at Fox News? She isn't just a moderator for presidential debates, and she isn't a guest anchor, either. As noted by a press release provided by Fox, Smith was recruited in 2017 to serve as the co-anchor of "America's Newsroom," and appeared alongside co-anchor Bill Hemmer. After appearing on "America's Newsroom," Smith went on to serve as the co-anchor of Fox News' "America Reports," where (as of publication), she remains as host alongside John Roberts. 
In this role, Smith has been behind the desk, reporting on some of the biggest stories in the news cycle — she has even taken to social media on a number of occasions to share behind-the-scenes looks at her life on "America's Newsroom." In October 2020, she shared a look at the set during the coverage of Amy Coney Barrett's confirmation to the Supreme Court, for example. In August 2020, Smith shared a snap of her behind the "America's Newsroom" desk, only to share that she was picking up an anchoring gig that very evening on the 4 p.m. news. One thing is for sure, Smith is a dedicated anchor.
Sandra Smith is a proud graduate of this university
John Lamparski/Getty Images
A lot of people have an unconventional journey where college is concerned, and when it comes to Sandra Smith, she knew from the beginning that she wanted "something unique." She told New Orleans Living Magazine that she knew she wanted to pursue a degree in business, but she was also feeling drawn to the French language (something that she had really enjoyed while in high school). "Then I discovered there was a French-speaking area in the United States, so I thought, 'That's it — I'm going down to Baton Rouge, Louisiana!'" Smith shared. 
Smith originally attended Illinois State University, where she took advantage of a program that allowed her to take classes at a different university; that campus just happened to be Louisiana State University, and in an instant, Smith was hooked. "After a semester, I called my parents and said, 'There's no way I'm leaving this place!'" she continued. "That summer I went back home and just knew in my heart that I belonged in Louisiana, so I transferred to LSU." Smith added that her experience at LSU was "100% wonderful," and it had a huge hand in shaping her into the person she is today.
Sandra Smith has been responsible for covering major events
John Lamparski/Getty Images
There are some stand-out news stories that always get a lot of coverage — think the Mueller Report, (both) Trump impeachments, the raid that killed Osama bin Laden. There are also some very important, more popular culturally driven stories to cover. Think the life and legacy of Ruth Bader Ginsburg, or the symbolic designer that First Lady Jill Biden chose to wear on her husband's inauguration day. These stories, no matter where they fall in the line of chronology, are important to cover, and Sandra Smith has been on the ground reporting on some of the biggest events of the last decade. 
As per her official Fox News biography, Smith was responsible for co-anchored Fox News' coverage of Representative John Lewis' memorial service — if you recall, Lewis, a civil rights hero, was honored in a ceremony that carried his casket across the infamous Edmund Pettus Bridge in Selma, Alabama (via CNN). Smith also was responsible for covering the royal wedding of Prince Harry and Meghan Markle, and was on-site in London, England for the occasion. It's safe to say that if it's an important story to cover, Smith is on it.
Sandra Smith worked in a male-dominated business environment before television
Steven Ferdman/Getty Images
To anyone familiar with the journalism and broadcast industry, it shouldn't come as a huge surprise to learn that women are still fighting for seats at the table. As noted by NPR, women and people of color "remain a sliver of those producing and reporting stories," but would it surprise you to learn that Sandra Smith came to the journalism industry from an even more gender non-inclusive environment? 
According to New Orleans Living Magazine, Smith worked as a research associate at Aegis Capital before making the jump to journalism. From there, she worked for Hermitage Capital, and eventually became the director of institutional sales and trading for Terra Nova Institutional. She told the publication that she was "the only female at an all-male trade desk at Terra Nova," so Smith knows a thing or two about working in a male-dominated environment. In her line of work before switching over to journalism, Smith worked in portfolio analysis and was responsible for preparing different reports related to her field. It seems that journalism — and paving the way for other female anchors — is truly Smith's calling.
Before anchoring her own show, Sandra Smith appeared on these morning programs
Fox News
Sandra Smith, like many journalists, worked up the ladder to get to where she is now. She told New Orleans Living Magazine that she received a call from Fox in October of 2007, informing her that the channel was launching Fox Business Network. As she put it, Smith was "reporting from day one," and thus set off a chain of events that would lead her to different on-air shows. After initially joining Fox, Smith made appearances on both Fox News and Fox Business, and two years later, she became a consistent fixture of "Imus in the Morning." In addition, Smith worked as a guest commentator on "Red Eye," "Fox Business Happy Hour," and "Hannity." 
By the time 2014 rolled around, Fox News premiered the show "Outnumbered," and tapped Smith as co-anchor. She was joined by Harris Faulkner, and the show consisted of a number of panels that featured guest commentators. In addition, Smith also made appearances on "The Story with Martha MacCallum" as an occasional guest anchor.
Sandra Smith lives in this state with her family
Roy Rochlin/Getty Images
Sandra Smith was born in Illinois, moved to Louisiana for college, and finally settled in New York City. Her career took off from there, but she has still found time to invest in her personal life. As noted by New Orleans Living Magazine, Smith lives in Westchester County, New York — which is located 35 miles outside of New York City — with her husband and two children. 
Smith met her husband while she was working at Terra Nova in Chicago — it was at the all-male trade desk where she worked that they hit it off. She revealed that while with the company, higher-ups requested that she represent the company on the trading floor and give commentary to news networks, including CNBC and Bloomberg. It was there that they met, and the rest is history. The couple have two children, son John and daughter Cora, and they have a dog named Whiskey (who makes appearances on Smith's social media). 
As far as maintaining a happy life at work and at home, it sounds like Smith has it down. "You can read some unfortunate things about Fox, but I can sincerely say it's really a supportive work environment," Smith explained.
This is how Sandra Smith starts her day
Slaven Vlasic/Getty Images
Even if you don't know that much about the journalism industry, chances are you know that a journalist's days start early and end late — the news never sleeps. Sandra Smith is no exception, and she told her alma mater, Louisiana State University, about her morning routine. She shared that her days start "very, very early," and she really wasn't kidding. Smith typically gets up around 4 a.m., and is usually out of the door 40 minutes later. She heads straight to work and likes to "hit the ground running." 
So what exactly does that look like? Smith reads three different newspapers, does a social media and Twitter scroll to see what politicians and public figures alike have been talking about — as she put it, she has "to do a ton of homework" as soon as she gets into the office. What's more is that Smith makes a point to set intentions for her day. "I set out with a goal every day to deliver real, honest news to our viewers," she revealed, which is a fair and commendable intention. We just can't get over her 4 a.m. wake up — we wonder what her coffee order is.
Sandra Smith is passionate about this hobby, and does it as much as possible
Roy Rochlin/Getty Images
Being in the news industry is a full time job and then some, but Sandra Smith still tries to make time for one of her favorite hobbies: running. She told Runner's World that she ran for Louisiana State University, and since her days in college, she has tried to maintain the sport. Smith's goal, she revealed, is to run every single day. Ambitious? Yes, but it also sounds like Smith is pretty easygoing about her hobby. "Some weeks I run seven days. Some weeks I run zero," she shared, which makes us feel better about not running, like, at all. 
Smith pointed to her long days at work during the interview, and shared that running is an almost therapeutic way for her to let things go and have some alone time. "I love running — it's my escape, it's when I think best," she continued. "With so much going on, running is no longer a chore or a stress to me. It's a getaway." Of course, Smith added that health benefits are another attractive component of running, as she likes to keep herself fit. 
This media outlet was first to be interested in Sandra Smith's television journalism career
Astrid Stawiarz/Getty Images
The majority of people know that different news networks and outlets have varying political perspectives. For example, MSNBC is known to veer left on the political spectrum, whereas Fox News is known for existing much further on the right. It's hard at times to picture the same journalists working at different news outlets, given network affiliations and reputations, but Sandra Smith is an example of journalistic versatility. 
As noted by Adweek, Smith started her television news career with Bloomberg Television — Bloomberg, of course, referring to Mike Bloomberg, the former mayor of New York City who has taken the media world by storm. Smith shared that Bloomberg Television called her and had "some very interesting things to say." Whatever they said convinced her, as Smith left her career path and made the big jump to television news. She was at Bloomberg Television for less than a year, but the company clearly made a huge impact on her career trajectory. "It was a very difficult decision, but that was my big break," she revealed.
This was the story that helped Sandra Smith get her big break
Nicholas Hunt/Getty Images
Every journalist has a story that defines their career, that they give every ounce of energy to in order to cover it as accurately and thoroughly as possible. For Sandra Smith, this story came in the form of the financial crisis, which was lined up perfectly with when she started working for Fox News. She told Adweek that she had left her job at Bloomberg Television "right at the peak of the bull market," an experience that she described as "nuts." 
From there, Smith covered Bernie Madoff — the fraudulent former chairman of the NASDAQ stock exchange. Smith shared that she became the reporter when it came to Madoff. She followed his every move, she stood outside his apartment, and she waited all hours of the day just to get a glimpse of him. Smith told Adweek that she was "on that story more than anyone," and honestly, we believe it. "I chased this guy everywhere," she added. "He got in a car, and we would get in a car and chase him down to his jail cell. That was just a huge story for me." Sounds a little fun actually, don't you think?
Sandra Smith wants to interview these world figures
Fox News
One of the great aspects of having a career in journalism is the exposure and the interviews that come with it. Some journalists stay in the realm of entertainment, and interview celebrities and popular figures alike. Others venture into the political arena, and as such, sit down face-to-face with politicians and lawmakers. Sandra Smith falls into the latter category, and she shared with Adweek what kind of interviews she would love to conduct throughout her career. 
After expressing her desire to interview the president of the United States (which seems like the threshold for political reporters), Smith shared that she has the goal of sitting down with major world leaders, particularly with those who govern the Middle East. "I would love to get inside their mind," she revealed. "Meeting with the heads of Middle Eastern countries while covering the commodities markets, oil markets and the Saudi government. There are just immense things happening in the Middle East right now." With goals like this and a career trajectory such as hers, it's safe to say that Smith will most likely reach this goal.
Sandra Smith maintains that she keeps her personal perspective out of her work
Roy Rochlin/Getty Images
Journalists cover the events around the world, all while trying their best to keep their personal points of view out of their coverage. Unless an article or a segment is specifically labeled as an opinion or critique, personal opinion should remain at the sideline. 
This is a memo that Sandra Smith has gotten, and she spoke to The Hollywood Reporter about her career when it comes to opinion. She told the publication that she doesn't "include personal politics" in her work; and when pushed back upon, and asked how she could accomplish such a thing when her show, "Outnumbered," is an opinion-based show, Smith said that she plays a "moderator role." 
"We are the journalists. We carry the breaking news for the show," she explained. "My job is to bring out the best in everybody that is sitting on that couch. Even if my personal belief is in line with the discussion, you'll see me play devil's advocate just to make sure the other side is represented." When asked if Fox News was more or less opinionated that other networks, Smith said that the network's news-based programming and opinion-based shows are distinct from one another.
Sandra Smith makes sure to take her sources to task
Slaven Vlasic/Getty Images
Fox News is known, by and large, as a network that swings to the right of the political spectrum. But just because the network is known for its political leanings, doesn't mean that Sandra Smith lets people off easy. In a clip of her show posted on YouTube, Smith is seen questioning former Trump administration press secretary Kayleigh McEnany, who at the time was on Smith's show to discuss the fringe group QAnon. 
Smith asked McEnany, plain and simple, if former president Donald Trump was "supporting this conspiracy theory." McEnany quickly pivoted and said that she had never heard Trump even mention the fringe group, but Smith (to the surprise of a few, we're sure) pushed back. "But just to be clear, Kayleigh, he was asked about it yesterday," Smith shared. "He's said that he's heard about the online conspiracy theorists ... and that they are people that love our country. It was puzzling to many people." McEnany was clearly a bit shaken by the line of questioning, particularly because it was poignant. Smith certainly didn't trip over her words, and it is just one example of a good journalist at work.
Sours: https://www.thelist.com/440177/what-you-dont-know-about-fox-news-sandra-smith/
What happened to Sandra Smith on FOX News? Her absence explained
Sandra Smith has been one of the faces of FOX News for a long time. However, she was absent during her daily slot time. What happened to her?
FOX News is trying to change things up as it reworked its air timings. Some shows were pushed forward while the others were pushed back. Fans had a lot of questions as Sandra was missing from the network. This gave rise to the speculation that she might have been fired. However, here's the truth.
KNOW MORE: What happened between Wendy and Tommy Williams?
What happened to Sandra Smith on FOX News?
Sandra is still part of the FOX News team. However, she will be appearing alongside John Roberts moving forward. John had revealed the news on his Twitter. "Really honored to be joining @SandraSmithFox and our stellar @FoxNews production team for "America Reports" every day, beginning Monday at 1 pm," he wrote.
It is unknown at the moment why FOX decided to change its daytime schedule. It is likely that the network wanted to move things around to benefit their viewership in the long run. As of now, none of the FOX reporters have left the network.
KNOW MORE: Julez Smith and Skai Jackson drama explained
Twitter reacts to John's tweet:
People were excited to find out about John and Sandra working together. Some of them even took to Twitter to respond to his tweet. "As far as FOX goes, you and @SandraSmithFox are the more professional and unbiased journalists. Congratulations and please report the facts and don't cater to an audience of one. Our country is depending on you," read one comment.
"You two will be a great team! Remember that when you irritate people on the right and on the left, you're delivering what we really need—fair news coverage," said another. Some wondered if the new time slot would affect FOX.
"U both are going to be GREAT! I'm only hoping that putting some of Fox's best anchors u, Sandra, and Martha, on in the middle of the afternoon when fewer people are watching TV isn't going to help booster ratings. Maybe a change on the top just might help ratings," read the comment.
In other news, Seven must-do Black History Month events around London
Have something to tell us about this article?Let us know
Sours: https://www.hitc.com/en-gb/2021/01/19/what-happened-to-sandra-smith-on-fox-news-her-absence-explained/
Similar news:
My room was previously closed so that the guests would not think what was prepared for us for today, but I myself did not. Begin to reveal my ideas to my ladies. We all went together to the second room.
2291
2292
2293
2294
2295