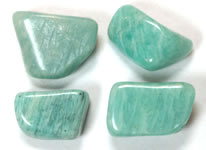 Amazonite
Amazonite is a green microcline feldspar. It is named after the Amazon River of South America, where the first commercial deposits were found. The stones shown here are a light green Amazonite that was mined in Mozambique. Shop for Amazonite.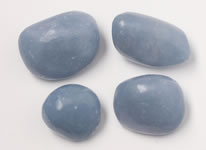 Angelite
Angelite is a marketing name for blue anyhdrite - a calcium sulfate mineral related to gypsum. Angelite is very soft, with a hardness of 3 to 3.5 on the Mohs scale. It is unsuitable for use in jewelry because it will be easily abraded or broken. It has a very nice blue color, which is sometimes produced with dye. Shop for Angelite.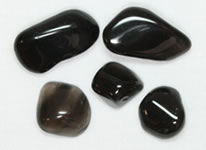 Apache Tears
Apache Tears are round nodules of obsidian that polish to a beautiful jet black color. If you hold them up to the light, you will see that they are a translucent to transparent glass. These polished Apache Tears were produced from a material found in Arizona (USA). Shop for Apache Tears.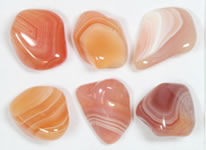 Apricot Agate
Apricot Agate is a banded agate that is named for its apricot pink or orange color. It is a beautiful material with bands of whites, creams, yellows, oranges and pinks. The stones shown here were produced from agate mined in Botswana (Africa). Shop for Apricot Agate.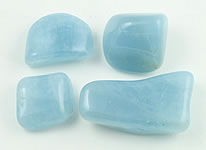 Aquamarine (Blue Beryl)
Beryl is a mineral that occurs in a variety of colors. When it is attractive it is used as a gem. Transparent blue beryl is the very popular gemstone known as "aquamarine". When it is translucent to opaque, the name "blue beryl" is most appropriate, but some mall jewelry stores use the name aquamarine. Shop for Aquamarine.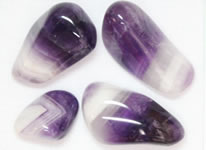 Banded Amethyst
Amethyst is the name given to transparent to translucent purple quartz. It often forms in alternating bands with white to clear quartz. The resulting material is called Banded Amethyst or sometimes Chevron Amethyst. The Banded Amethyst used to produce these stones was mined in Namibia (Africa). Shop for Banded Amethyst.

ADVERTISEMENT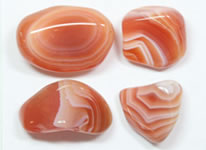 Banded Carnelian
Carnelian is a translucent orange to red or brown agate. It often forms in alternating bands with white chalcedony. The result is known as Banded Carnelian. These stones were produced from an orange to pink material mined in Botswana (Africa). Shop for Banded Carnelian.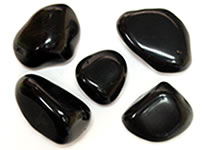 Black Chalcedony
Black Chalcedony is a variety of microcrystalline quartz with a black color. Most material sold as black chalcedony has been altered by dye or other treatment to produce the black color. When the material has black and white parallel bands, it is known as "onyx". Shop for Black Chalcedony.

Black Moonstone
Moonstone occurs in a wide variety of colors, including black and dark gray. The black to gray bodycolor is visible from most directions, but when the angle of light or angle of observation is just right, a flash of silver adularescence is produced. The luster approaches metallic.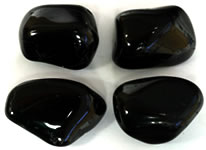 Black Tourmaline
Tourmaline has one of the widest color ranges of any gem. The colors are caused by the mineral's many compositions. The most common tourmaline color is a material that is so black that it is essentially opaque. This pitch-black variety is known as "schorl."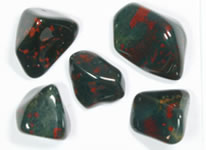 Bloodstone
Bloodstone, also known as heliotrope, is a green jasper splashed with small drops of red. The red drops remind many people of blood, and that is the source of the name Bloodstone. It has been a popular stone since Biblical times. The Bloodstone shown here was produced from material mined in India.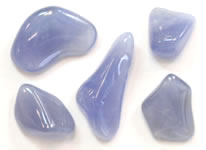 Blue Chalcedony
There are very few blue gemstones. Occasionally the variety of microcrystalline quartz known as chalcedony occurs in a blue color, such as this blue material mined in Namibia (Africa).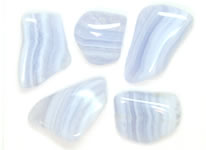 Blue Lace Agate
Blue Lace Agate is the name given to a chalcedony that consists of alternating bands of white agate and subtle blue to transparent agate. The result is a lacy appearance that looks like blue lace. The Blue Lace Agate shown here was produced from material found in Namibia (Africa). Shop for Blue Lace Agate.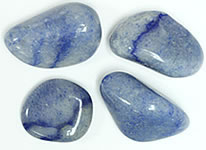 Blue Quartzite
Blue quartzite is a metamorphosed sandstone that receives its color from tiny blue inclusions of a fibrous mineral that is probably dumortierite. The abundance of the inclusions causes color variation within the stone and some intense blue bands where the inclusions are most abundant. Shop for Blue Quartzite.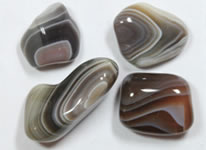 Botswana Agate
Botswana Agate is a name given to a banded agate found in Botswana (Africa). This agate typically has wonderful white, gray and brown banding - sometimes with "eyes" - and takes a very high polish. Shop for Botswana Agate.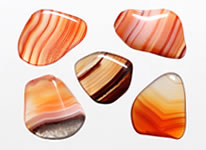 Brazilian Agate
Any type of agate from the country of Brazil can be called "Brazilian agate". The stones shown here have attractive red, orange, yellow, brown, and white banding. They have a wonderful translucence and a super-shiny polish. Shop for Brazilian Agate.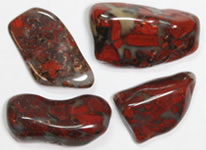 Brecciated Jasper
"Breccia" is a rock composed of angular fragments. Brecciated jasper consists of jasper fragments cemented together with agate or jasper. The Brecciated Jasper shown here is a bright red material with white, gray and black markings. These stones were produced from material found in South Africa. Shop for Brecciated Jasper.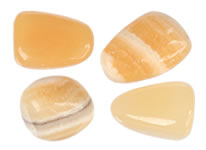 Calcite
Calcite is one of Earth's most abundant minerals, but it is rarely seen as a tumbled stone because it has perfect cleavage (which makes it break during tumbling) and because it is very soft and very difficult to polish. These pieces of tumbled calcite have a spectacular translucent color and a wonderful polish. Shop for Yellow Calcite.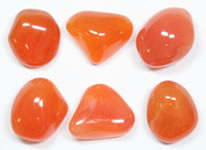 Carnelian Agate
Carnelian Agate is a translucent orange to red or brown agate. It has been a popular gemstone since Biblical times. The stones shown here have a bright orange color and a very bright polish. They were produced from agate found in Botswana (Africa). Shop for Carnelian.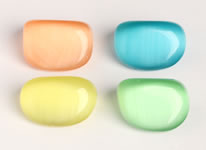 Cat's-Eye Glass
Cat's-Eye Glass is a man-made material that is a byproduct of the fiber optics industry. It is a glass that is filled with parallel bundles of optical fibers. When a beam of light enters the glass and strikes these fibers, it reflects from them, creating a phenomenon known as a "cat's eye" or "chatoyance". Shop for Cat's-Eye Glass.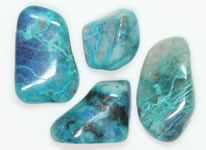 Chrysocolla in Quartz
Chrysocolla is a vivid blue to blue-green mineral that contains copper. It often forms in intimate association with quartz or chalcedony to yield a durable gemstone. Chrysocolla is often found associated with copper deposits, much like the mineral turquoise. These stones were produced from material mined in Namibia (Africa). Shop for Chrysocolla.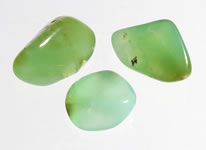 Chrysoprase
Chrysoprase is a yellowish green to green variety of chalcedony. Its green color is usually caused by trace amounts of nickel. It is the second-most-valuable variety of chalcedony after gem silica. Most chrysoprase is mined in Australia. It is not seen in mass-market jewelry because supplies are limited.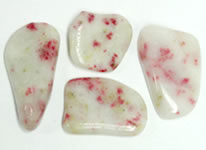 Cinnabrite
Cinnabrite is a rock composed of scapolite (white) and epidote (red). Its eye-catching appearance makes it an interesting gem material for making cabochons, tumbled stones and other items. Its name makes some people think that it is composed of cinnabar and quartz, but that is incorrect.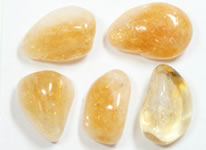 Citrine Quartz
Citrine is a variety of transparent to translucent quartz that ranges in color from a light yellow through orange to amber brown. Yellow and golden citrine is especially popular. These stones were produced from material found in Brazil. Most citrine quartz is produced by heat-treating Amethyst. Shop for Citrine Quartz.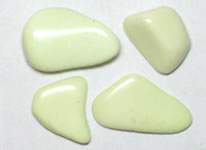 Citron Magnesite
Citron Magnesite is a pale green to bright green magnesium carbonate with a color similar to ripening citrus fruit. That's the source of the name "citron". These stones have a soft luster polish and were produced from material found in Australia. Shop for Citron Magnesite.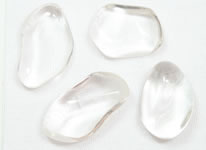 Clear Quartz
Quartz is one of the most abundant minerals in Earth's crust, but clear specimens with very little color that are nearly free from inclusions are seldom found. They are known as "clear quartz" or "rock crystal". They capture the light and have a "bright" appearance. Shop for Clear Quartz.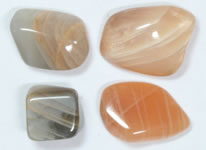 Colored Moonstone
Moonstone is the name used for stones of orthoclase feldspar with a soft pearly luster, sometimes with adularescence. It occurs in a variety of colors which include: white, cream, pink, brown and gray. These colored moonstones were produced from material found in India. Shop for Colored Moonstone.

Confusionite
Confusionite is a material that, at least to the observer, is difficult or impossible to identify. No person who possesses an abundant number of polished stones should be ashamed to confess that he cannot identify a significant number. These stones can be called "confusionite" to reduce embarrassment.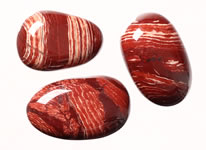 Convoluted Jasper
Convoluted jasper is named for the many bands and layers that traverse the stone. This material is red with fine bands of white to cream to brown. Some pieces contain particles of hematite which give the stone a high specific gravity. The material shown here has a brilliant shiny polish. Shop for Convoluted Jasper.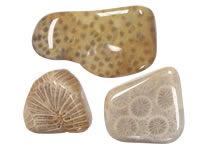 Coral, Agatized
A rare find is fossil coral that has been replaced by agate - or agatized. This type of fossilization often preserves the structure of the coral individual or colony. The result can be a beautiful stone that can be polished to display cross and lateral sections through the coral fossil.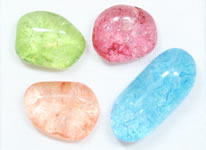 Crackle Quartz
"Crackle Quartz" is a name used for quartz specimens that have been heat treated and then dyedto change their color. The heating and subsequent cold-water quenching produces fractures in the stone that facilitate the penetration of dyes.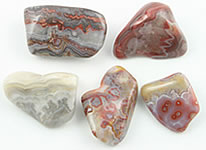 Crazy Lace Agate
Crazy Lace Agate is a white to gray botryoidal agate with colorful stains that are usually yellow, orange, red and brown. Most of the material offered for sale originates in Mexico. It exhibits a lace-like pattern of curves and eyes and is a popular material for tumbled stones, cabochons and beads. Shop for Crazy Lace Agate.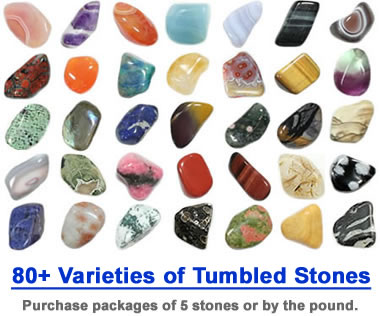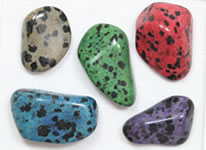 Dalmatian Stone
Dalmatian Stone is a white to gray igneous rock with black spots. It is given that name because white specimens have a color pattern similar to a Dalmatian dog. Dalmatian Stoneis often dyed a variety of colors.

Dolomite
Dolomite is a sedimentary rock that is very similar to limestone. Most people would never think of it as a gemstone. However, it can be brightly polished by people who know how, and it often contains interesting fossils of brachiopods, crinoids, bryozoans and other ancient organisms.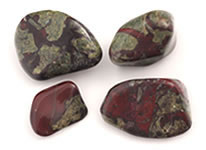 Dragon Blood
Dragon Blood is a rock containing two members of the epidote mineral group. The green material is epidote and the red is piemontite. Some people call this material "Dragon Jasper" but that is incorrect - jasper is a cryptocrystalline quartz and an opaque variety of chalcedony. Shop for Dragon Blood.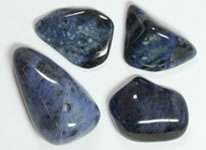 Dumortierite
Dumortierite is a bright blue, dark blue or greenish-blue mineral that is occasionally found in metamorphic rocks. It can be polished to a high luster and is one of just a few blue minerals that are hard enough to be used as a gemstone. The stones shown here were produced from material mined in Mozambique (Africa).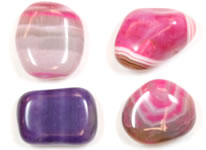 Dyed Agate
Agate is a variety of chalcedony that can be extremely colorful. It is slightly porous, with some bands and zones being more porous than others. When heat treated and exposed to dye, the porous zones absorb more dye than the less porous, producing a stone that is banded with various color intensities.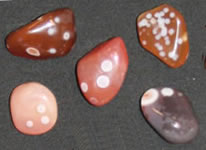 Eye Agate
"Eye agates" are rare agates that have perfectly circular markings or "eyes". These are actually three-dimensional features that extend into the stone in the shape of a hemisphere. Sometimes eye agatehas concentric or "bull's eye" color zones. Lake Superior and Botswana agates frequently display eyes.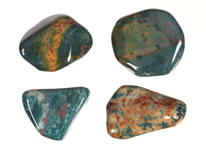 Fancy Jasper
Fancy jasper is a dark green jasper with patches and splashes of other colors, such as red, yellow, and white. The colors and patterns vary from one piece to the next, making each stone truly unique. The stones shown here were produced from material mined in India. Shop for Fancy Jasper.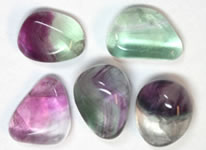 Fluorite
Fluorite occurs in a variety of colors such as purple, green, yellow, blue and clear, and the colors are often banded. Fluorite often has a wonderful fluorescence. Although it is beautiful, it is not well suited for jewelry use because it has a hardness of four and has perfect cleavage in four directions. Shop for Fluorite.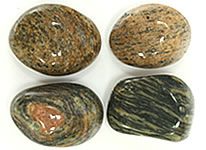 Gneiss
Gneiss is a metamorphic rock in the shale - slate - phyllite - schist - gneiss sequence. It usually contains an abundance of feldspar minerals and quartz. Many specimens of gneiss can be brightly polished in a rock tumbler if they do not contain very much mica.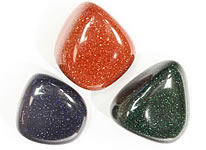 Goldstone
Goldstone is a man-made glass that contains abundant crystals with a bright metallic luster. Flat faces of the crystals catch and reflect light to give the stone a glittering appearance. The glittering is triggered by moving the stone, moving the light, or changing the angle of observation. Shop for Goldstone.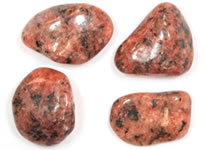 Granite
Granite is an igneous rock composed of quartz and feldspar with minor amounts of micas, amphiboles and other minerals. It can be pink, white or gray in color. Although the minerals in granite have various hardnesses, it can easily be tumbled into attractive stones. Here are a few granitesthat we tumbled.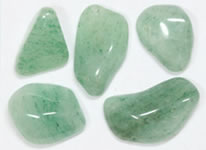 Green Aventurine
Aventurine is a translucent quartz with inclusions of platy minerals such as muscovite mica, hematite or goethite. The inclusions reflect light entering the stone to produce a glistening known as "aventurescence." These stones were produced from material from Zimbabwe (Africa). Shop for Green Aventurine.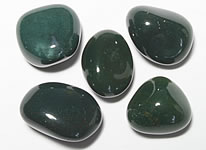 Green Jasper
The most common jasper color is red, and after that in abundance is green jasper. It is often a very, very dark green - so dark that at first glance you think that it is black. When green jasper is marked with red splotches, the rock is then known as "bloodstone".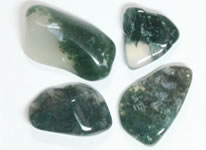 Green Moss Agate
Moss agate is a translucent to transparent chalcedony that contains visible inclusions with a mossy or dendritic shape. The moss agate shown here has dark green inclusions. These stones were produced from material found in India. Shop for Green Moss Agate.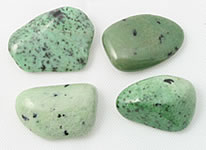 Grossularite Garnet
The grossularite garnet used to make tumbled stones, beads and carvings is an opaque, massive garnet that often has an attractive green color. It is found in South Africa, where it has been incorrectly called "Transvaal Jade" (it has no mineralogical relationship with jade). Shop for Grossularite Garnet.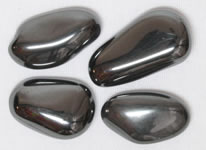 Hematite
Hematite is an iron oxide mineral with a bright red or silver color. It is has a specific gravity that is about double that of the typical gemstone - thus it feels very heavy. This hematite has a bright silver metallic luster. The hematite used to produce these stones was found in Brazil. Shop for Hematite.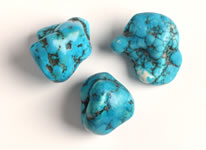 Howlite (Dyed Blue)
Howlite is an inexpensive white mineral, often marked with gray to black spider webbing. In the 1950s someone dyed some howlite a nice blue color, and WOW! they had a turquoise look-alike. Since then it has fooled millions of people in tourist shops throughout the Southwestern U.S. and beyond.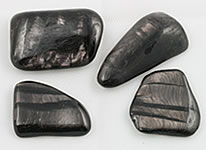 Hypersthene
Hypersthene is a black silicate mineral occasionally found in igneous rocks such as gabbro, basalt and andesite. It accepts a bright polish which sometimes reveals zones and bands of a phenomenon that seems transitional between chatoyance and play-of-color. Shop for Hypersthene.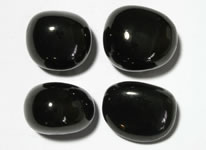 Jet
Jet is an organic rock similar to coal, but instead of breaking like coal it can be cut, carved or polished into interesting sculptures, beads or faceted stones. Jet is a very light-weight material and was popular in jewelry of the Victorian Era. It is rarely seen as a tumbled stone. Shop for Jet.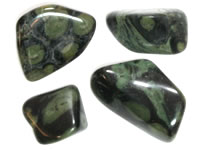 Kambaba Jasper
Kambaba Jasper is a dark green orbicular jasper that takes a nice polish and is found in Madagascar. The Kambaba jasper shown here is a dark green material with green to black circular markings (orbs). Kambaba is also known as "crocodile stone" because the markings on it remind some people of crocodile eyes. Shop for Kambaba Jasper.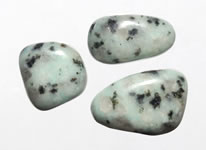 Kiwi Stone
Kiwi Stone has dark black spots on a faint bluish green background. It is composed of quartzite, and the black spots are flakes of chlorite. It is called "Kiwi Stone" because it is reportedly from New Zealand. Some people call it "jasper" but that name is incorrect.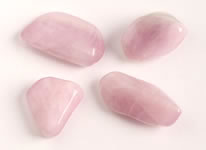 Kunzite
Kunzite is a trade name for pink to purple, gem-quality specimens of the mineral spodumene, an ore of lithium. Spodumene with a yellowish green to green color is known as hiddenite. Kunzite is difficult to polish because it is brittle and often breaks with a subconchoidal to hackly fracture.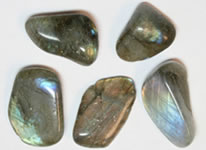 Labradorite
Labradorite is a variety of plagioclase feldspar that often exhibits bright flashes of electric yellow, green or blue when played in the light. This phenomenon is unique to the mineral and has been named "labradorescence." It is one of our favorite tumbled stones. Shop for Labradorite.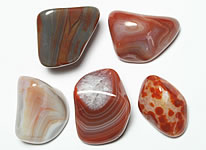 Lake Superior Agate
Lake Superior Agates are banded chalcedony nodules that formed in the gas vesicles of ancient Canadian lava flows. Glaciers then scoured them from their host rock and carried them south into the Great Lakes region of the United States. They are beautiful red, brown and often crystal-centered agates.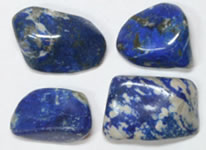 Lapis Lazuli
Lapis Lazuli is a gemstone that has been popular since Biblical times. It is one of just a few blue gemstones. It often contains white calcite veins and sparkles of gold pyrite. The stones shown here have a bright blue color and were produced from material mined in Chile. Shop for Lapis Lazuli.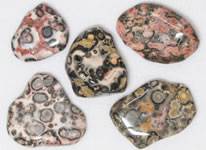 Leopard Skin
Leopard Skin looks like its name. It is a cream to tan to pink rhyolite with black, white, red, or tan markings in a color pattern that resembles the fur of a leopard. It is a popular gemstone that polishes well. These stones were produced from material mined in Mexico. Shop for Leopard Skin.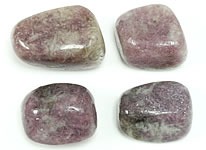 Lepidolite
Lepidolite is a variety of mica that occurs in a spectrum of colors that range from pink to deep lavender. The stones shown here are tumbled quartz pebbles that have enough lepidolite inclusions to yield pink and lavender gemstones.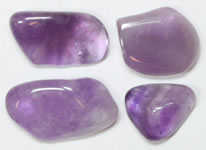 Lilac Amethyst
Amethyst is a purple variety of crystalline quartz that can be transparent through translucent. When it has a soft purple color, it is often called "lilac amethyst". The stones shown here were produced from material mined in South Africa. Shop for Lilac Amethyst.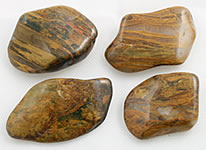 Lionskin
Lionskin is a rock that contains fragments of golden tiger's-eye and other material cemented in a clear quartz or milky agate matrix. It might be considered a "tiger's-eye breccia" because the tiger's-eye fragments are angular in shape. Many of the breccia fragments display the chatoyance that gives tiger's-eye its name. Shop for Lionskin.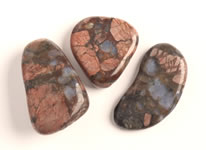 Llanite
Llanite is a rock found in Texas and a few other locations that contains tiny euhedral (well-formed) crystals of blue quartz in a groundmass of pink and brown feldspar. The blue crystals attract attention and make llanite an interesting lapidary material. Its rock name is rhyolite porphyry.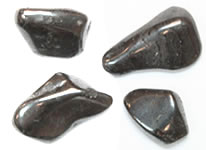 Lodestone
Lodestone has amazed people for thousands of years because it is a natural magnet. When suspended on a string, it will orient itself with Earth's magnetic field. It has a silver metallic luster and is a variety of the iron ore magnetite. These specimens were found in the United States.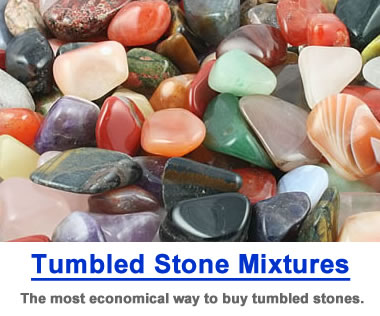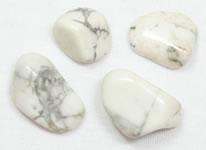 Magnesite
Magnesite is a magnesium carbonate mineral. It usually has a white or gray color and is sometimes marked with gray to black veins. It is porous, and its white color allows it to accept dye with very predictable color results. It is often confused with Howlite. Shop for Magnesite.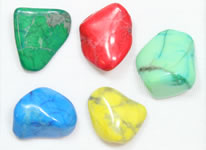 Magnesite - Dyed
Magnesite is one of the most commonly dyed lapidary materials. It is often dyed to produce bright colors that are not often found in natural stones. It is also used as a substitute for turquoise. These are sometimes sold without disclosure.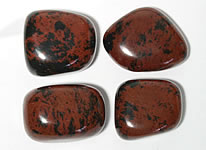 Mahogany Obsidian
Mahogany Obsidian is a rare variety of obsidian (a natural volcanic glass) that gets its name from its brown color. It ranges from a "black obsidian with brown markings" to a solid brown material. It accepts a very bright polish and is very popular because of that polish. Shop for Mahogany Obsidian.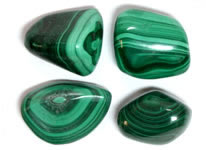 Malachite
Malachite is a green copper carbonate mineral. It often displays swirled and banded patterns in shades of light through dark green. It is a very heavy material because of its high copper content. These stones were produced from malachite mined in the Democratic Republic of the Congo (Africa).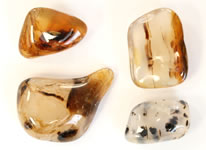 Montana Moss Agate
Montana Moss is a transparent to translucent agate with brown and black mossy inclusions. The base color ranges from clear through milky to amber brown. It is named after the State of Montana, where it is found at many locations and is a popular rough with lapidaries.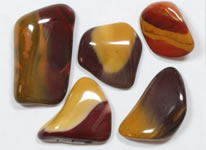 Mookaite
Mookaite is silicified radiolarian siltstone that is found in Western Australia. Many specimens of Mookaite can accept a very high polish. It is widely known for its spectacular contrasting color patterns of yellows, creams, reds and maroons. Shop for Mookaite.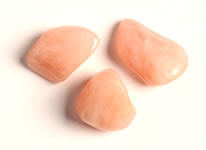 Morganite
Morganite is a variety of the mineral beryl, defined by its delicate orange to pink color. Translucent pieces are made into beads and tumbled stones. Transparent pieces are faceted. Since about 2010, morganite has become a very popular jewelry stone that is often set in rose-color gold.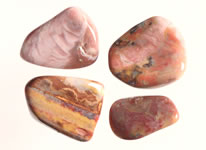 Mozarkite
Mozarkite is a colorful chert found at many locations in Missouri. It can be cut and polished and used as a gem. It was adopted as the official state rock of Missouri by the State General Assembly in 1967. As the official state rock, it is a popular item in tourist and gift shops. It makes beautiful tumbled stones.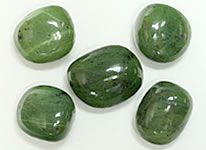 Nephrite
Nephrite and jadeite are the two minerals that can rightfully be called "jade." Nephrite is the less valuable of the pair. It occurs in colors that range through white, cream, green, gray and black. It can be difficult to polish in a rock tumbler because it is so tough.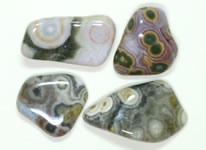 Ocean Jasper
Ocean Jasper, sometimes called "orbicular jasper," is a silicified rhyolite or tuff that contains "eyes" formed from radial quartz and feldspar crystals. It occurs in a variety of colors, but green, yellow, white, pink and cream color patterns are very common. It often has an amazing fluorescence. Shop for Ocean Jasper.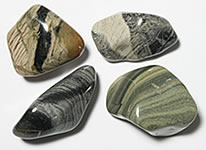 Oil Shale
Most people think of a sticky, gooey rock when they hear the name "oil shale". However, it is often silicified enough that it can be polished in a rock tumbler to produce beautiful banded tumbled stones with subtle shades of gray, brown, tan and green.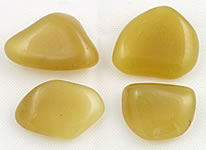 Olive Opal
Olive opal is a color variety of common opal with a greenish yellow or yellowish green to black color. It can be translucent to opaque, and translucent pieces often have a resinous appearance that reminds you of a greenish amber. Shop for Olive Opal.

ADVERTISEMENT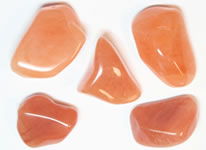 Orange Quartz
Quartz naturally occurs in almost every color of the spectrum. These colors are caused by impurities in the quartz crystal. This gemmy orange quartz in a beautiful peachy color was produced from a mine in India. Shop for Orange Quartz.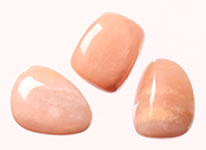 Orange Quartzite
Quartzite is a durable metamorphic rock that can be found in a wide variety of colors. The material shown here has a delicate peachy orange color and a superb polish. Shop for Orange Quartzite.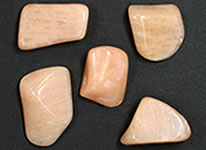 Orthoclase
Orthoclase is a very common mineral of the feldspar family. It often has a pleasing peach color and soft pearly luster. Surprisingly, orthoclase has not received the same level of lapidary attention as amazonite - another feldspar mineral with an interesting color. It has right-angle cleavage and often breaks into interesting shapes.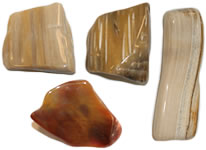 Petrified Wood
Petrified wood forms when plant debris is buried and then replaced by mineral material such as chalcedony or opal. This often occurs when a forest is buried under a volcanic ash fall. When polished, these pieces of wood often display interesting grain patterns that can sometimes be linked to a specific type of plant. Shop for Petrified Wood rough.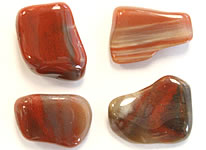 Petrified Wood (Arizona)
Petrified wood is found at many localities worldwide. The most famous are in the state of Arizona (USA). Much of the petrified wood found there is various shades of red without distinctive wood grain. It is sometimes found as logs or tree segments. Most is found as small pieces scattered on the surface or in dry washes. Shop for Arizona Petrified Wood.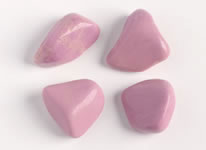 Phosphosiderite
Phosphosiderite is an iron phosphate mineral that is popular in tumbled stones because it occurs in a range of translucent to opaque purples, pinks, and violets that are rarely seen in other gem materials. It is a fragile material with a hardness of only 3 1/2 to 4.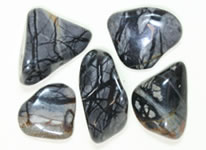 Picasso Stone
"Picasso stone" reminds many people of the interesting art style of the famous painter, Pablo Picasso. It is a beautiful material with angular patterns in gray, brown, black, cream, white and other colors. These stones were produced from material found in Utah (USA). Shop for Picasso Stone.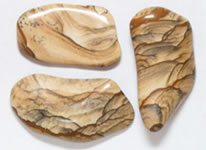 Picture Jasper
Picture Jasper is a material marked with colors and patterns that look like "landscape" scenes - thus the name "picture jasper." If you study a stone, you will often find interesting "pictures" of landscapes and deserts. These stones were produced from material found in Namibia (Africa). Shop for Picture Jasper.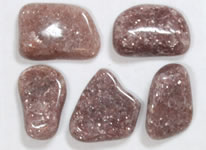 Pink Aventurine
Aventurine is a quartz with abundant inclusions of platy minerals such as mica. The inclusions reflect and scatter light within the stone to produce a glittering phenomenon known as "aventurescence." The pink stones shown here were produced from material mined in Canada. Shop for Pink Aventurine.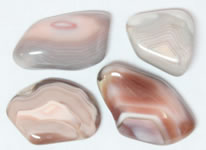 Pink Botswana Agate
"Botswana agate" is the name given to banded agates produced in the country of Botswana (Africa). Some of these stones occur in a gray through creamy pink color. These are known as "Pink Botswana." Shop for Pink Botswana Agate.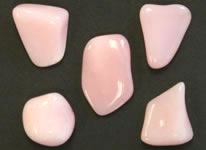 Pink Opal
Pink opal is a variety of common opal that is rarely seen as a tumbled stone. It can be a beautiful material even though it lacks the "play-of-color" exhibited by precious opal. These specimens were mined in Peru, a country that is well known for producing pink opal.

Pinolith (or Pinolite)
Pinolith is a black and white, or gray and white, metamorphic rock in which white pine-nut-shaped crystals of magnesite stand out in contrast to a matrix of gray dolomite or black graphitic dolomite. At present, the single source is in Austria and northeastern Spain.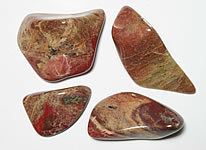 Polychrome Jasper
Polychrome Jasper gets its name from its many colors - "poly" + "chrome". It is often red, brown, orange, gray, white, and bluish or greenish colors. These colors are usually arranged in banded or swirled patterns. The most famous deposit is in Madagascar, but look-alike material is found in many areas.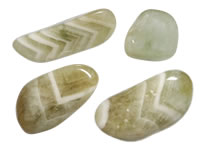 Prasiolite
Prasiolite is a green quartz produced when amethyst is naturally heated, or, when amethyst is heated or irradiated by people. Color produced by people should be disclosed if the material is being sold. It is often called "green amethyst" but that name is a misnomer, considered to be deceptive or misleading. Shop for Prasiolite.

Prehnite
Prehnite is a yellow to green silicate mineral that is occasionally found in igneous and metamorphic rocks. The specimens used as gemstones generally are transparent to translucent with a pleasing yellow-green color. The stones shown here were produced from material mined in South Africa. Shop for Prehnite.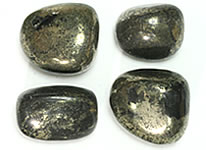 Pyrite
Pyrite is one of Earth's most common minerals. It is found almost everywhere and in almost every type of rock. Its metallic yellow color causes it to be often mistaken for the much more valuable gold. That's how it earned the name "fool's gold." Some people call this material "healer's gold" - but it has no medicinal value.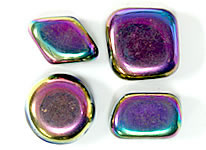 Rainbow "Hematite"
Rainbow "Hematite" is a man-made material that is often given a thin coating of an iridescent metallic material. The bright iridescent colors really attract attention and produce sales in gift, souvenir, and science stores. The name "hematite" is in quotes because it is a misnomer. Shop for Rainbow "Hematite".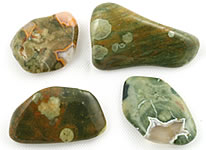 Rainforest Rhyolite
Rainforest Rhyolite is a mottled greenish to brown, heavily patterned material that is thought to have formed from the silicification of rhyolite. It can contain numerous orbs, poppy-shaped structures, and occasional vugs that are sometimes filled with a milky to bluish chalcedony. Some people call it "Rainforest Jasper". Shop for Rainforest Rhyolite.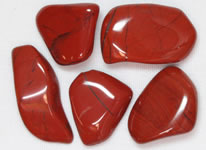 Red Jasper
Jasper is an opaque chalcedony, and red is one of its most common colors. This red jasper from South Africa has a fire-engine red color that in some stones is interrupted by a white to transparent quartz vein. It often accepts an exceptionally high polish. Shop for Red Jasper.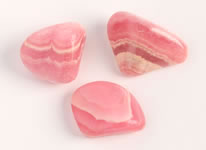 Rhodochrosite
Rhodochrosite is a pink mineral that often has a banded appearance. It forms in subsurface fractures, cavities, and caverns. It is a soft mineral with perfect cleavage, and that limits its jewelry use to pieces that will not be subjected to impact or abrasion.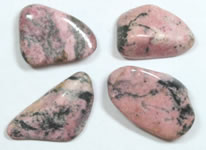 Rhodonite - Pink
Rhodonite is a metamorphic manganese mineral that is well known for its beautiful pink color. It is often found as nodules that are cut by abundant black veins of other manganese minerals. The material used to produce these stones was mined in Canada. Shop for Rhodonite.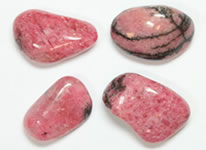 Rhodonite - Raspberry
Raspberry rhodonite is a bright pink variety of the manganese mineral, rhodonite. It is a metamorphic mineral with a gemmy pink color that is often interrupted by veins of black manganese oxide. The specimens shown here were found in Madagascar. Shop for Raspberry Rhodonite.

Rhyolite
Rhyolite is an extrusive igneous rock that is produced during gas-charged explosive eruptions. When rhyolite has been silicified, it can be polished in a rock tumbler. The material shown here is known as "chipboard" because its broken appearance reminds some people of the inexpensive substitute for plywood.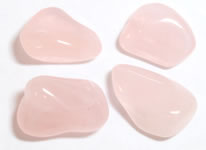 Rose Quartz
Rose quartz is a transparent to translucent variety of crystalline quartz with a soft pink color. It takes a very high polish and is an exceptionally popular semiprecious stone. The material used to produce these stones was mined in Namibia (Africa). Shop for Rose Quartz.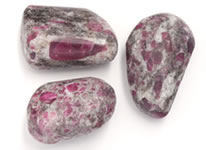 Ruby in Feldspar
Ruby in Feldspar is a trade name for a metamorphic rock in which crystals of pink and red corundum (the "ruby") are surrounded by a fine-grained matrix that contains abundant tiny feldspar grains. A nice big ruby in one of these stones immediately attracts attention.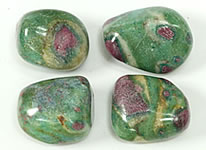 Ruby in Fuchsite
Fuchsite is a green mineral of the mica family, and ruby is a well-known gem material. When together they are called Ruby in Fuchsite. It is often confused with Ruby in Zoisite. They are easy to tell apart because R-i-F usually contains some blue kyanite near the "rubies."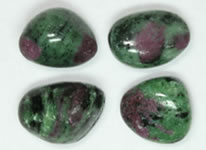 Ruby in Zoisite
Zoisite is a mineral that is rarely found in metamorphic rocks. Even more rarely, it contains bright red corundum crystals (rubies). This bright green zoisite mined in Tanzania (Africa) contains occasional red rubies a few millimeters in diameter.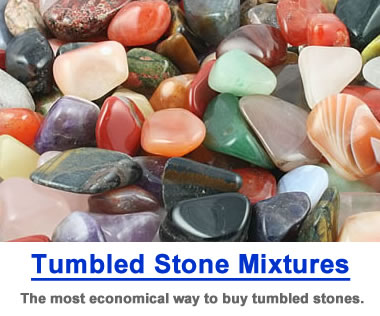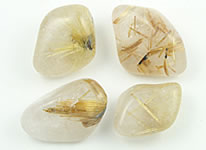 Rutilated Quartz
Rutilated quartz is clear to smoky quartz that contains needle-like inclusions of rutile. The number of rutile needles can range from a few thin isolated needles to a dense network of intersecting fibers. The needles are often golden in color and align with the crystallographic axes of the quartz. Shop for Rutilated Quartz.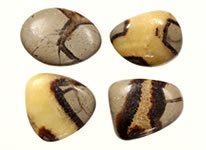 Septarian Stone
These stones are pieces of broken septarian nodules that have been tumbled and polished. The stones consist of a gray matrix, a brown shrinkage crack linking, and the crystalline yellow calcite which filled the shrinkage cracks within the nodules. Shop for Septarian Stone.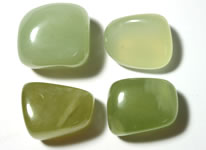 Serpentine
Serpentine is the name used for a large group of minerals that are often cut and polished into beautiful gemstones, ornamental stones and architectural materials. It is sometimes used for fine carvings. It can be difficult to tumble to a bright polish, but a few people have mastered that work. Shop for Serpentine.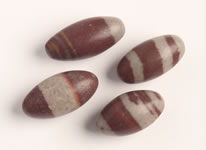 Shiva Lingam
Shiva Lingam stones are made from stream pebbles and cobbles found in sediments of India's Narmada River. People collect them, improve their shape, and polish them. This work is usually done by hand. They are often used as a "healing stone" and are an item of much Indian folklore.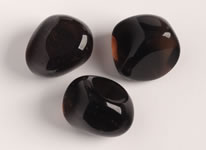 Smoky Quartz
Smoky Quartz is a light yellowish brown to orangy brown to reddish brown to dark brown variety of crystalline quartz. The specimens in the photo have such a dark brown color that they appear to be almost opaque. Smoky quartz is most often seen as a faceted stone in fashion jewelry.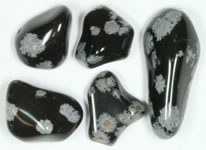 Snowflake Obsidian
Obsidian is a natural volcanic glass that can be polished to a very high luster. Some stones of obsidian contain white crystals of the mineral cristobalite. When polished, these stones produce a gemstone known as snowflake obsidian. Shop for Snowflake Obsidian.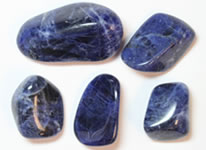 Sodalite
Blue rocks and minerals are rare, and that is what makes sodalite an interesting mineral. It is an igneous mineral named for its sodium content. It typically occurs in a range of blue hues, but white and pink colors are also common. Shop for Sodalite.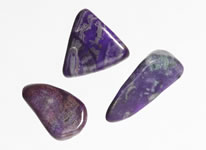 Sugilite
Sugilite is a rare silicate mineral that is best known for its translucent pink to purple to magenta color. More commonly, sugilite is mottled and crossed by veins of various gray, white, and black materials. It is often mispronounced. Proper pronunciation is "
sue-gee-lite
".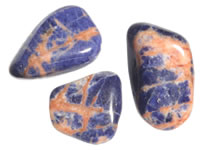 Sunset Sodalite
"Sunset Sodalite" is a name used for blue sodalite that contains patches of pinkish orange. Blue rocks and minerals are uncommon to begin with, and it is even more unusual to find a blue mineral that is mixed with a contrasting color such as orange. This material, also called "sunrise sodalite", was named because its colors are reminiscent of the sky at dusk or dawn. Shop for Sunset Sodalite.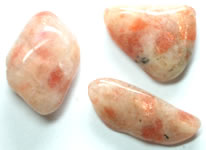 Sunstone
Sunstone is a plagioclase feldspar that contains abundant inclusions of platy minerals such as mica or metals that sparkle in reflected light. This sparkling luster is known as aventurescence. These specimens of sunstone were mined in India. Shop for Sunstone.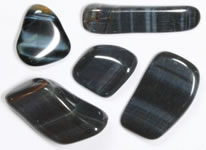 Tiger's-Eye - Blue
Tiger's-Eye receives its name from how reflected light forms a band that crosses the stone at a right angle to linear structures within the stone. Although the most popular Tiger's-Eye is golden to brown in color, it also occurs in other colors such as this deep blue material found in South Africa. Shop for Blue Tiger's-Eye.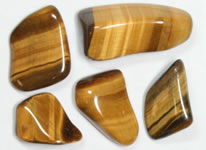 Tiger's-Eye - Gold
Tiger's-Eye receives its name from reflections of light that form a band crossing the stone at a right angle to fibrous structures within the stone. The Tiger's-Eye shown here is the popular and typical golden brown color. These stones were produced from material found in South Africa. Shop for Gold Tiger's-Eye.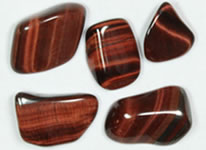 Tiger's-Eye - Red
Most Tiger's-Eye is a honey to golden brown color; however, it is sometimes heat-treated to produce a deep reddish color. A small amount of red tiger's-eye is produced by natural heating. These stones were produced from material found in South Africa. Shop for Red Tiger's-Eye.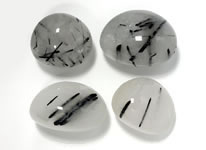 Tourmalinated Quartz
Tourmalinated Quartz is the name used for specimens of rock crystal quartz that contain visible inclusions of tourmaline. In these stones, the tourmaline occurs as prismatic crystals of schorl, the black tourmaline. Other varieties of tourmaline can be present in quartz, but schorl is by far the most common.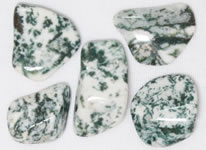 Tree Agate
Tree agate is a name used for a white chalcedony that has green dendritic markings. It is a very popular material used to make beads, cabochons and tumbled gemstones. The stones shown here were produced from material mined in Botswana. Shop for Tree Agate.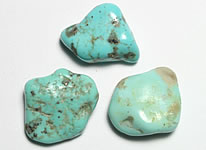 Turquoise
Turquoise is a gemstone that is so famous for its distinctive blue-green color that the name of the gemstone has entered common language. Turquoise has been mined in many parts of the world. Its most famous use is in the Native American art produced by the people of the southwestern United States.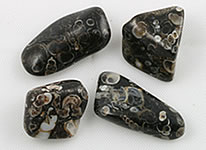 Turritella
Turritella is a rockhound name used for a brown, translucent, fossiliferous agate found in the Green River Formation of Wyoming. The name was given because the christener thought the fossils were of the
Turritella
genus (they are really
Elimia tenera
), but the name has stuck. Shop for Turritella Agate.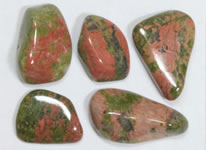 Unakite
Unakite is an igneous rock that contains mostly green epidote and pink orthoclase, but with minor amounts of quartz and other minerals. It is often polished to produce an interesting gemstone. The stones shown here were produced from material mined in South Africa. Shop for Unakite.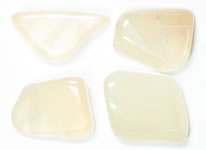 White Moonstone
Moonstone is the name used for stones of orthoclase feldspar with a soft pearly luster, sometimes with adularescence or fluorescence. These white to cream-color stones have a nice pearly luster and bright polish. They were produced from moonstone mined in India. Shop for White Moonstone.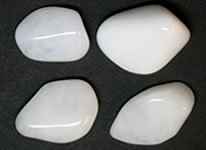 White Quartz
White quartz is one of Earth's small number of ubiquitous minerals - that means it is found almost everywhere. Perhaps it is rarely polished because it is so common that it is overlooked. However, it is a beautiful tumbled stone that works nicely in jewelry and craft projects. Shop for White Quartz.

Yellow Feather Jasper
Yellow feather is a multi-color jasper found in Utah. The name "yellow feather" was inspired by dark feather-like markings that cut across a basecolor of yellow, brown or reddish orange. It is used to make interesting tumbled stones. Shop for Yellow Feather tumbling rough.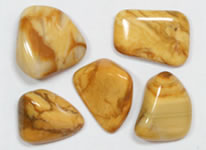 Yellow Jasper
Yellow Jasper is an opaque yellow to yellow-brown-beige chalcedony that can be polished to a very high luster. These stones, produced from material mined in South Africa, show some dark brown to cream color zones that produce a scenic pattern. Shop for Yellow Jasper.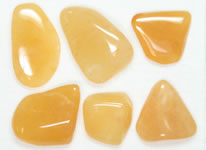 Yellow Quartz
Yellow Quartz is a translucent to transparent quartz with a light to deep yellow color. These translucent stones were produced from material mined in India and have a very bright polish. Shop for Yellow Quartz.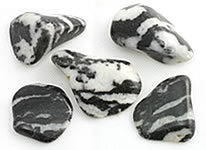 Zebra Marble
Zebra Marble is a black and white material that has a coloration similar to a zebra. It is a dolomitic marble in which the banded appearance is actually foliation caused by the heat and pressure of metamorphism. Shop for Zebra Marble.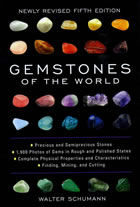 Gemstones of the World
Gemstones of the World
(fifth edition) by Walter Schumann is one of the most popular gemstone books ever written. Over one million copies have been sold. It has about 100 pages of basic gemstone information and about 200 pages dedicated to photos and descriptions of over 100 gems and gem materials. It contains about 1900 photos of gemstones in rough and cut states. It is an easy-to-understand book written for people high school age and up. Get your copy of
Gemstones of the World
.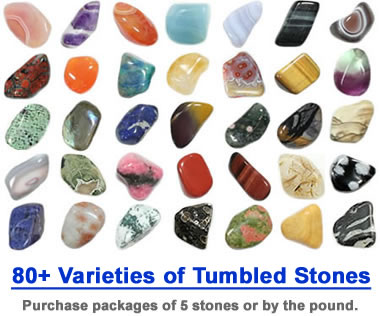 Sours: https://rocktumbler.com/polished-stones/
Tumbled Stones
Home » Rock Tumblers » Tumbled Stones
Rough rocks transformed into smooth, shiny, colorful works of natural art!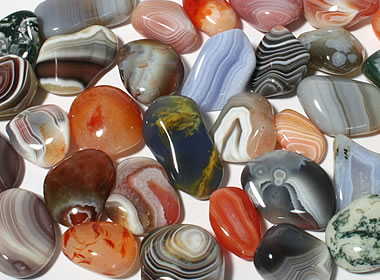 Tumbled agate: Agate is a popular rock used to make tumbled stones. There are many different types of agate. In this photo you can see Botswana agate, apricot agate, carnelian agate, tree agate, blue lace agate, dendritic blue agate, green moss agate and others.
ADVERTISEMENT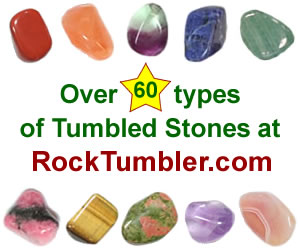 What Are Tumbled Stones?
Tumbled stones are small, rounded, brightly polished pieces of rocks and minerals. They are made by placing rough rocks in a machine known as a rock tumbler, which tumbles them until their edges and surfaces are smooth and polished. They are also known as "polished stones," "tumbled gems," "baroque gems," "polished rocks," and a variety of other names.
Many people enjoy tumbled stones because they are beautiful natural materials that have been given a pleasing shape and a bright polish. They are popular in jewelry, craft, souvenir, awards, collectibles, and New Age markets. Tumbled stones can be purchased by the pound at prices that just about everyone can afford. Their colorful appearance and interesting shapes have inspired many people to learn more about rocks, minerals, and gems.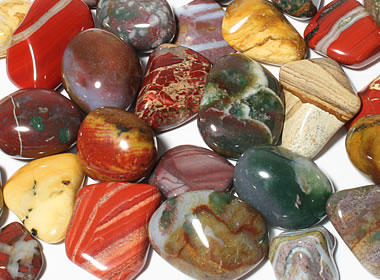 Tumbled jasper: Jasper is another type of rock that is a favorite of people who tumble stones. Shown in this photo are red jasper, brecciated jasper, picture jasper, yellow jasper, and more.
What Materials Are Used to Make Tumbled Stones?
The most popular materials used for making tumbled stones are attractive and colorful rocks and minerals that have a Mohs hardness between 5 and 8. These materials are generally durable and accept a good polish. Some of the most commonly tumbled materials are listed below.
Varieties of Chalcedony
Agate (a translucent, banded variety of microcrystalline quartz)
Bloodstone (a green jasper with bright red markings that resemble blood splatter)
Jasper (an opaque variety of microcrystalline quartz with abundant mineral inclusions)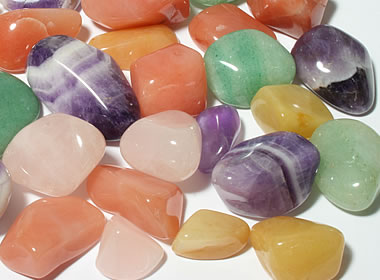 Crystalline quartz: Quartz varieties are great for making colorful tumbled stones. Shown here are rose quartz, orange quartz, yellow quartz, green aventurine, and amethyst.
Varieties of Crystalline Quartz
Amethyst (a transparent purple quartz that sometimes has color-zoning or banding)
Aventurine (a translucent quartz with abundant reflective mineral inclusions)
Citrine (a transparent yellow to orange quartz)
Orange Quartz
Rock Crystal (transparent quartz)
Rose Quartz (pink quartz)
Smoky Quartz (a transparent brown quartz)
Tiger's-Eye (crystalline quartz that has replaced crocidolite)
Yellow Quartz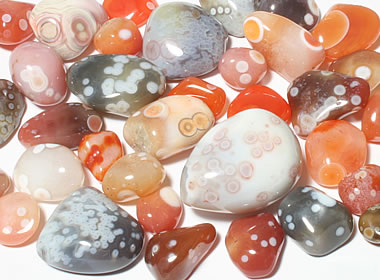 Tumbled eye agate: Some pieces of agate display concentric circles known as "eyes." These round markings are actually small hemispheres within the outer husk of the agate nodule. Most pieces of agate do not have "eyes," so stones that do have them are especially prized by collectors.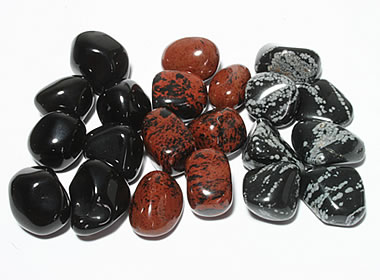 Natural glasses: Obsidian is a natural glass formed during an eruption of silica-rich magma. Shown here are Apache tears, mahogany obsidian, and snowflake obsidian.
Minerals
Amazonite (a green variety of microcline feldspar)
Beryl (the mineral of aquamarine, emerald, and heliodor)
Chrysocolla (a blue to green copper mineral usually in quartz)
Fluorite (a colorful mineral composed of calcium and fluorine)
Garnet (a popular gem mineral that occurs in a variety of colors)
Hematite (a silver metallic ore of iron)
Labradorite (a variety of plagioclase feldspar with an iridescent luster)
Malachite (a green banded mineral composed of copper carbonate)
Moonstone (a variety of feldspar that displays adularescence)
Nephrite (a variety of jade)
Orthoclase (a white to pink to gray feldspar mineral)
Rhodonite (a pink magnesium mineral)
Sodalite (a blue silicate mineral)
Sunstone (specimens of labradorite feldspar with reflective mineral inclusions)
Turquoise (a greenish blue copper mineral)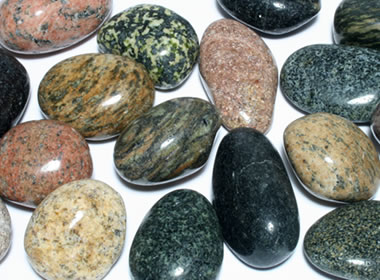 Tumbled igneous and metamorphic rocks: Some rocks will take a nice polish. Shown here are granite, basalt, gabbro, gneiss, and other types of rock collected from Ohio River sediments and sold as landscape stone.
Rocks
Basalt (a black, fine-grained igneous rock)
Granite (a coarse-grained igneous rock of quartz and feldspar)
Lapis lazuli (a blue metamorphic rock)
Obsidian (a volcanic glass)
Picasso Stone (a dolomite with markings that resemble the paintings of Picasso)
Quartzite (a metamorphic rock composed of quartz)
Rhyolite (a fine-grained volcanic rock)
Unakite (a granitic igneous rock containing pink orthoclase and green epidote)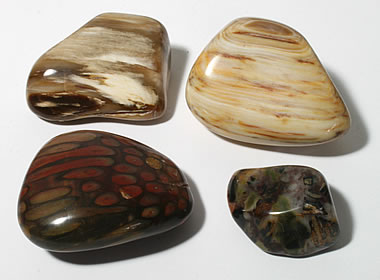 Petrified wood: Pieces of petrified wood can be tumble-polished to reveal wood grain and interesting patterns.
Fossil Materials
Mookaite (a colorful radiolarite)
Petrified Wood (fossil wood, preserved by replacement and infilling by chalcedony)
Silicified Coral (a coral preserved by replacement and infilling by chalcedony)
Turritella (a brown agate that contains abundant gastropod fossils)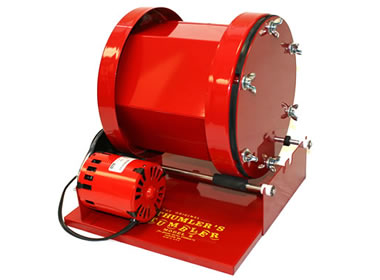 Hobbyist Rock Tumbler: The machine above is a Thumler's Model B rock tumbler. It is one of the better hobbyist grade tumblers, and it tumbles about ten pounds of rock. It has a metal barrel with a rubber liner. Many Model B rock tumblers have been in reliable use for decades.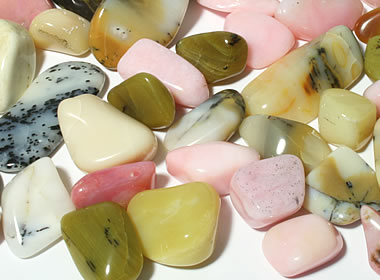 Common opal: Pictured here several varieties of common opal that include pink opal from Peru, yellow opal and dendritic opal from Nevada, and olive opal from Kenya.
How Are Tumbled Stones Made?
Tumbled stones are made in a machine known as a rock tumbler. The most commonly used rock tumbler is a rotary machine that turns a barrel containing the stones, along with abrasive grit, and water, for days and weeks at a time. As the rocks tumble in the barrel, the grains of abrasive grit get caught between the rocks and abrade off sharp points and edges. This first step modifies the shape of the rocks and moves them towards a rounded shape. In two subsequent steps, smaller-size granules of silicon carbide are used to smooth the surfaces of the rocks in preparation for polishing. Then, in the final step, a rock polish such as micron-size aluminum oxide is used to produce a bright, lustrous, polished surface on the rocks. The tumbling process usually takes a few weeks to complete in a rotary tumbler.
Many people purchase rock tumblers to make tumbled stones as a hobby. Their tumblers range from inexpensive plastic machines that are usually loud and produce poorly-polished stones, to more durable metal machines with rubber barrels that are used by hobbyists. These machines usually tumble a few ounces to a few pounds of rock.
Commercial machines, used by companies who produce tumbled stones as a business, are large enough to tumble up to two or three tons of rock at a time. These companies purchase their rough rocks and supplies by the ton and are able to produce tumbled stones at low enough prices that they can be sold at retail for lower prices than the hobbyist can ever compete with. For that reason, people who want tumbled stones are usually best served by purchasing them rather than trying to buy the rocks and supplies that they need and producing them in a small tumbler. However, many people enjoy producing tumbled stones as a hobby, and some of them are fortunate enough that they live or travel in areas where they can collect the rocks that they tumble instead of buying them.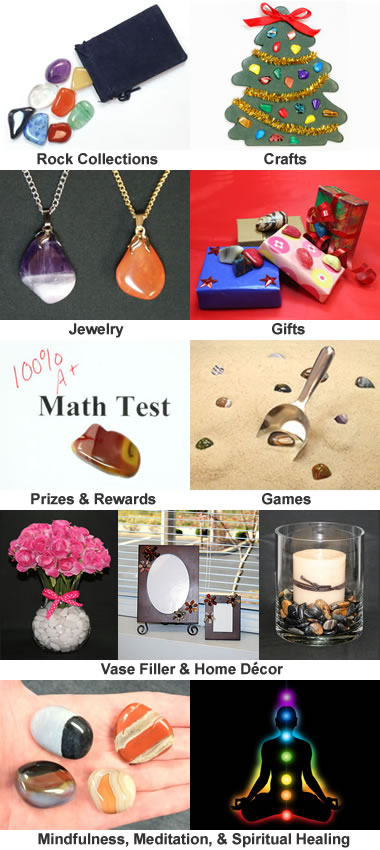 Uses of Tumbled Stones: Shown above are some of the many uses for tumbled stones.
How Are Tumbled Stones Used?
Tumbled stones are used for a wide variety of purposes. Each year a few thousand tons of tumbled stones are produced at commercial tumbling facilities, located in several different countries. They are then sold individually or by the pound or used to produce jewelry or items of decor. Depending upon the size of the stones and the material from which they are made, these stones are sold in the United States for prices that typically range from 50 cents per stone to $100 per pound. The most common types of stones sell for $10 to $20 per pound.
Here are a few ways that people like to use tumbled stones:
Rock collections: Many people enjoy collecting interesting rocks. Tumbled stones are an easy and inexpensive way to start a colorful gemstone collection.
Crafts: Tumbled stones can be used for an infinite number of craft projects!
Jewelry: With some jewelry findings and a little glue, tumbled stones can easily be made into wearable art, including pendants, charms, earrings, tie tacks, cufflinks, keychains and more. Wire-wrapping is also a popular method for making pendants, charms, and other one-of-a-kind handmade jewelry items.
Gifts: Brightly polished stones make great gifts, and they can also be used as embellishments on wrapped packages.
Prizes & Rewards: Teachers and parents can encourage children to do their best by offering prizes and rewards for good grades and good behavior.
Games: Have a sandbox treasure hunt, play tic-tac-toe, or use tumbled stones as tokens with your favorite board games.
Vase Filler: Dress up a floral arrangement by adding color-coordinated stones to a clear vase. The arrangement will stay in place better, and the stones add weight to the bottom so the vase won't tip over as easily.
Home Decor: Tumbled stones can be a lovely accent for picture frames, candle holders, centerpieces, and many other home decor items.
Mindfulness, Meditation, and Spiritual Healing:
Many people like to use tumbled stones when they are practicing mindfulness, meditation, and spiritual healing techniques.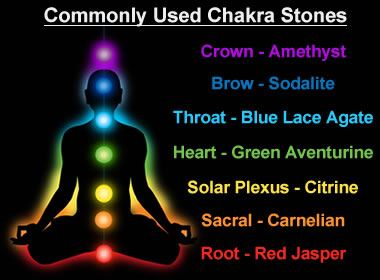 Chakra stones: Chakras are "spiritual centers" of the body. Commonly used chakra stones include: amethyst (crown chakra), sodalite (brow chakra), blue lace agate (throat chakra), green aventurine (heart chakra), citrine (solar plexus chakra), carnelian (sacral chakra), and red jasper (root chakra). Image copyright iStockphoto / Artecke.
Tumbled Stones in Alternative Medicine
A large percentage of the world's tumbled stone production is sold in spa, massage, alternative medicine and New Age markets. Here their uses include: "healing crystals," "chakra stones," "energy stones," and "massage stones."
In some types of alternative medicine, stones are placed on the body at points of discomfort or on "spiritual centers" known as "chakras." Some people report relief from these treatments, although traditional medical research has not proven that any cure or healing occurs beyond a placebo effect. The treatments themselves are usually not harmful. However, some people use them instead of seeking genuine medical care as a serious medical condition progresses.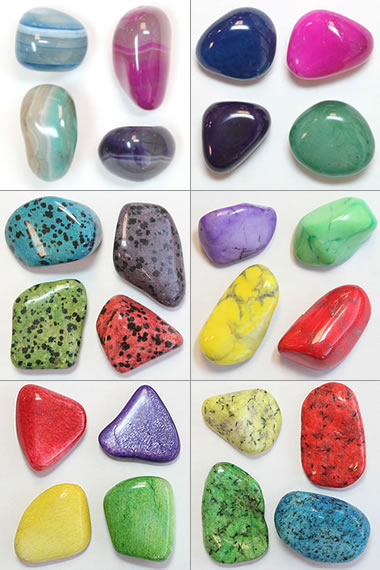 Dyed tumbled stones: These stones have been dyed to impart vivid colors. Clockwise from top left: Banded agate, agate, howlite, granite, feldspar, and dalmatian stone. Enlarge image.
Tumbled Stone Treatments
Many manufacturers treat tumbled stones with heat, dye, oil, or wax. These treatments can improve the appearance and marketability of the stones. Heat and dye can change the color of a stone. Oil and wax can conceal fractures, hide a bad polishing job, or make a smooth rough stone look like it has been polished.
Dye Treatment
Dying is possible because many tumbled stone materials are porous. This allows colored dye solutions to enter the stone and impart a bright color. Brightly colored stones are often easier to sell and many people like them. Dye is usually used on light-colored, inexpensive, noncommercial stones that can be tumbled in a short amount of time. These include: magnesite, diorite, granite, feldspar, and agate.
Dyed stones are often not colorfast. Some will lose their color with prolonged exposure to sunlight. Water-soluble dyes can transfer from a stone into water or onto hands, clothes, or other objects. Dyed stones usually fade if they are placed outdoors in exposed locations. Vendors who sell dyed stones should inform buyers to prevent disappointment.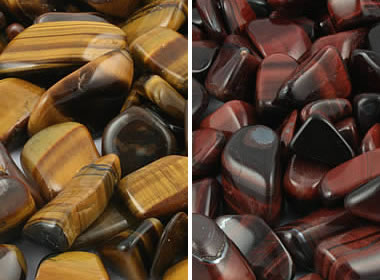 Gold and red tiger's-eye: Gold tiger's-eye is sometimes heated to create red tiger's-eye. This heating can also occur naturally in the rock unit.
Heat Treatment
Many materials will change color upon heating. Gold tiger's-eye can turn red with heating. Amethyst can turn yellow, orange, gold, brown, or green with heating. These stones are then often sold as "citrine" or "prasiolite." Vendors who sell these stones should disclose the treatment because the "commercial identity" has changed.
Some light-colored agates will turn brown or orange with heating, or black if they are first soaked in a sugar solution. These are sometimes sold as "carnelian," "onyx," or "black chalcedony." These heat treatments are permanent, but buyers should be informed because the "commercial identity" of the stone has changed.
The heating process can also occur naturally. Agate, tiger's-eye, and amethyst are materials that sometimes form in volcanic landscapes. They can be heated if the rock units that contain them are overrun by a lava flow or if a magma body intrudes above or below. The altered identity of these stones is considered to be "natural."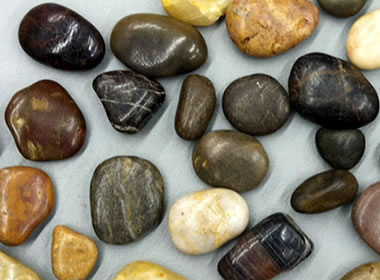 Waxed river stones: These stones were rounded and smoothed naturally by river water. People in China collected these stones and treated their surface with wax to make them look smooth and shiny. They were then marketed as "polished river stones" by a major retailer in the United States. Although many people would consider "waxing" the stones to be a "polishing," people who work in the lapidary industry would object because the wax only gave these stones the appearance of being polished. Waxing and a lapidary polishing would both be treatments to these stones - but they have different meanings to different people, and to some people the method is just as important as the outcome.
Oil and Wax Treatments
Some tumbled stones are waxed or oiled to give them a shiny appearance. Wax and oil can fill fractures or surface irregularities and give the stones a brighter luster. Wax or oil are sometimes applied to common river or beach stones to make them look like they have been polished. Waxes and oils usually wear off over time with handling or exposure to water, soap, or sunlight. These treatments are not permanent and should be disclosed by the vendor.
The word "polished" can be used in multiple ways. One definition would be: "something has been done to make the surface of a stone smooth and shiny." Another definition would be: "something has been done to make the surface of a stone look smooth and shiny." Both of these would likely satisfy a dictionary definition of the word "polished." But there is a subtle difference that would be significant in the minds of some people. In jewelry and lapidary terms, only the first definition is a "genuine polish." The surface of the stone has been worked with sufficient care and skill to give it a smooth and shiny surface. A person who works hard to "polish" stones this way might strongly object to seeing oiled or waxed stones marketed as "polished stones." However, these oiled and waxed stones might meet the dictionary definition of the word "polished."
Author: Hobart M. King, Ph.D.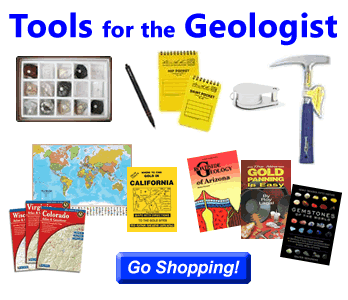 Find Other Topics on Geology.com:
| | |
| --- | --- |
| Rocks: Galleries of igneous, sedimentary and metamorphic rock photos with descriptions. | Minerals: Information about ore minerals, gem materials and rock-forming minerals. |
| Volcanoes: Articles about volcanoes, volcanic hazards and eruptions past and present. | Gemstones: Colorful images and articles about diamonds and colored stones. |
| General Geology: Articles about geysers, maars, deltas, rifts, salt domes, water, and much more! | Geology Store: Hammers, field bags, hand lenses, maps, books, hardness picks, gold pans. |
| | Diamonds: Learn about the properties of diamond, its many uses, and diamond discoveries. |
Sours: https://geology.com/rock-tumblers/tumbled-stones/
Polished Stone Identification
Tumbled Stone Varieties
"Healing Crystals"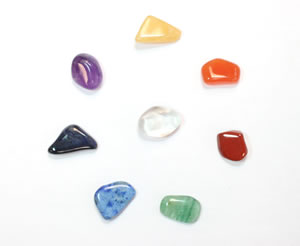 Many people believe that placing certain types of rocks, minerals, or gemstones on parts of the body that are suffering can produce a healing effect. This and many other practices have been followed by many cultures, in all parts of the world, throughout recorded history. Although there is no scientific evidence to support these practices beyond a "placebo effect," many people today continue to seek out certain types of
tumbled stones
for their healing, energy, mental, romantic, spiritual, or other potential values. We make no claims whatsoever that the stones that we sell have any special values or powers. Medical experts always recommend seeking qualified medical assistance if you have any physical or mental concerns. A delay in seeking proper treatment can result in serious illness, injury, or even death. Please take care.
Tumbled Stone Jewelry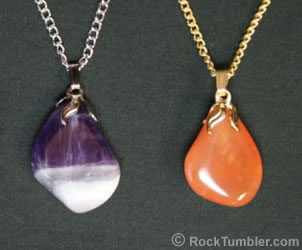 Tumbled stone jewelry
is easy to make. All you need are some findings, some glue, and a small pair of pliers. We sell jewelry parts collections that allow you to make
pendants
,
keychains
,
tie-tacks
, and
bracelets
. We also have an article that shares our experience in
gluing tumbled stones
to metal findings.
Sours: https://rocktumbler.com/gemstones/
What are you, really, awkward, but this trouble is fixable. It must be just not enough experience. - She again lifted the leg that had just been freed from the boot, pulled the sock and, artistically depicting bliss on her face, began to slowly bend. And unbend her numb fingers.
This is the third and last (to date) medical story in which I was directly present.
Rocks polished
This thing will not allow you to use your teeth - with these words, he lifted Shana's head and she saw close to his half-erect. Penis, which recently dominated her vagina. The girl wanted to turn away, but the man held her gorgeous hair tightly. - Come on, baby, say ah-ah.
She asked breathlessly. - Of course, you have to do it, - I played with her lips and a hole, dipping my finger into it, then pulling it out. - When you fell asleep, I found pictures on the Internet. There, one guy took a girl through the streets by a leash with a collar.
She was completely naked.
You will also be interested:
To slow down and not ruin everything with the wildest sex in my life, I decided to digress a little. and offered to go for a ride along the Volga bank. you were not against but I heard your languid breathing, which made me understand, do not hesitate We drove a bunch of kilometers and stopped at the edge of the river.
2268
2269
2270
2271
2272