Elvis Presley's Abandoned Tiki Paradise
The moment Elvis Presley floated down the lagoon at the Coco Palms Resort with Hawaiian flowers around his neck, serenading his new island bride in 1960s panavision technicolor, the hotel had solidified its place as one of the most desirable couples' destinations on the planet. It would forever be the setting of the classic mid-century American film Blue Hawaii, starring Elvis Presley and the resort's famous grounds, which included a 17-acre coconut grove. But fast-forward to present day and it would appear that Elvis has definitely left the building…
Lead image (c) Mindy Seyler
Above: Elvis checking in to the Coco Palms; Below: the resort today. 
Image (c) Sunshine 
Images (c) Mindy Seyler 
The Coco Palms Resort opened in January 1953 on Kauaʻi, Hawaii with a collection of 24 rooms, four employees and just two guest reservations on the books. But business wouldn't take long to pick up. By the mid-1950s, Metro-Goldwyn-Mayer had already marked it as a paradise hotspot when the studio filmed Miss Sadie Thompson there, starring Rita Hayworth, and the guest list quickly began to fill up with familiar names including royalty and rock stars alike. And then came Elvis…
Paramount pictures scouted the Coco Palms to host the on-screen wedding of Elvis Presley and his co-star Joan Blackman for Blue Hawaii, which hit cinema screens in 1961, becoming an instant classic, along with the soundtrack which featured Elvis's hit song, "Can't Help Falling in Love". Most of the last 20 minutes of the movie was shot on and near the grounds of the Coco Palms resort, where Elvis himself stayed during filming in cottage number 56, which still stands on the property today.
After the runaway success of the film, the hotel became the go-to vacation destination for couples, either to tie the knot, floating down the resort's iconic lagoon and recreating the famous finale of Blue Hawaii, or for honeymooners seeking a piece of Presley's paradise.
For decades, the luxury resort benefited from the film's success, and right up until its closure, the Coco Palms was the location for a whopping 500 weddings a year on average.
View the film's wedding finale below:
Image (c) Mindy Seyler
Even through the economic slump of the 70s and 80s which significantly slowed down tourism for the Hawaiian islands, Coco Palms held its place as the premier resort of Kauaʻi, offering the same quality of service (and Elvis nostalgia), even after an ownership change in the 1980s. But there was one final storm the resort wouldn't be able to weather and Presley's legacy wouldn't be able to save it from…
Elvis pictures at Coco Palms with Priscilla 
In 1992, hurricane Iniki hit the island. Nearly 9,000 homes were either completely destroyed or all but flattened. The damages amounted to the equivalent to $3 billion in modern day currency. The Coco Palms resort had been no exception to the storm's wrath and the repairs needed were monumental.
Countless insurance companies went bankrupt in the aftermath of the storm which sent the island into recession. While Coco Palms and other hotels battled in court for their much-needed repair costs, the resort remained in tatters.
Image (c) Ger and Audrey
Over the next twenty years, the Coco Palms would become an entirely different place from the paradise resort pictured in the postcards and brochures of its heyday. Tour groups visited for all the wrong reasons, curious to see the eerily decaying 1950s landmark in ruins. Announcements of redevelopments failed one after another and the false promise of new investors began to sound like a broken record player (perhaps playing an Elvis song), as the grounds continued to deteriorate and fall victim to vandalism and theft. Elvis' cottage number 56 was regularly raided.
(c) Swell maps
Above: What's left of the bar (c) M Seyler; Below: the old tropical cocktail menu.
Above: Buffet/ chef's area of the dining room (c) J Boldman ; Below: the luncheon menu circa 1960.
Image (c) Bob and Jo 
Above: Elvis and Priscilla at the Coco Palms dining room; Below: The dinner menu circa 1960 that they likely would have been ordering from.
Image (c) JBoldman 
Image (c) JBoldman 
Image (c) Ingrid Rowe
Image (c) Chaffneue 
Until now, much of the proposed and failed redevelopment plans have been rather ambitious investments that involved massive renovations and the installation of extravagant condos, spas and additional facilities on the property which had once been the ancestral home of Kauaʻi's last reigning queen, Queen Deborah Kapule, until the mid-19th century.
Image (c) Sheila Place 
One of the more promising but sadly ineffective redevelopment plans was supported by none other than South Park creator Trey Parker, whose parents had honeymooned at the resort. A part-time resident of the island, Parker gave a substantial donation to the group Friends of Coco Palms, which intended to preserve and respect the cultural heritage in their efforts to revive the iconic hotel.
Trey Parker even went as far as writing the Coco Palms resort into the storyline of one of South Park's episodes…
While the future of Coco Palms resort is still very uncertain, new permits are being sought out by a Honolulu-based group, Coco Palms Hui LLC, which has already taken steps to clear the debree from the property, some twenty years after Iniki. Although progress is slow, the developer intends to keep the spirit of the Coco Palms Elvis days by keeping costly modifications to a minimum.
"We hope that Coco Palms becomes the true place of aloha that it was prior to Hurricane Iniki, there's quite a bit to do. It's a full renovation job. We'll be peeling the buildings back to the studs, but all the structures that exist today will stay as they are."
If Elvis isn't hiding out somewhere in Las Vegas and is indeed in paradise, maybe he's still in the building (or watching over it) and there's hope for the Coco Palms yet…
Further interest links:
Save the Coco Palms in Kauai Facebook page / More images from a visit to the resort in 2013 / Website for tours of the historic Coco Palms / Website with updates, photos and memorabilia. 
via Sometimes Interesting
Sours: https://www.messynessychic.com/2014/01/23/elvis-presleys-abandoned-tiki-paradise/
Recent Posts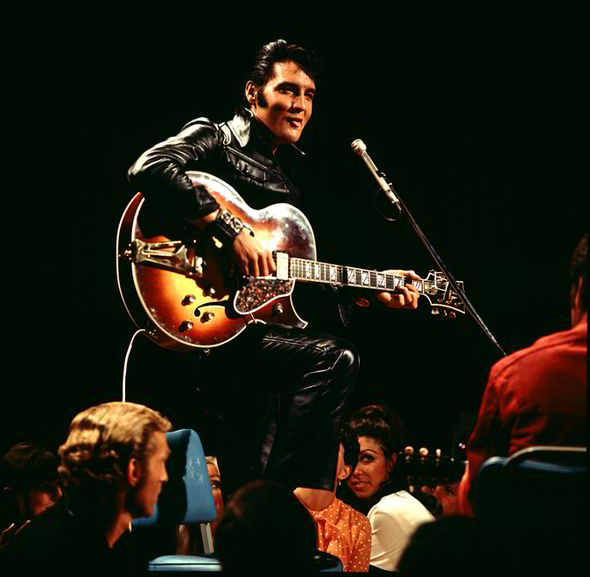 My favorite era of Elvis will always be the '60s…
I guess I've always liked Elvis, but I really, really got into the King around 2000. I remember thinking I need to add some Elvis to my music collection and what better way to do it than buying the Elvis: The Complete 50's Masters box set.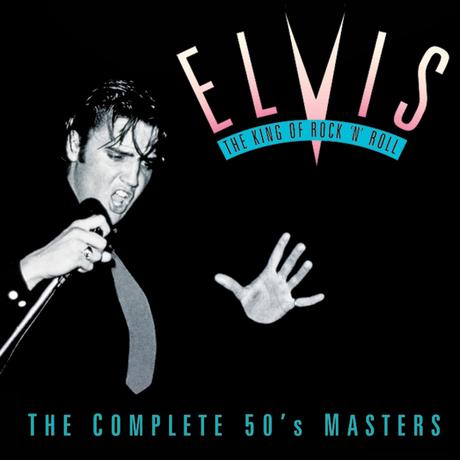 This five-disc set had everything Elvis recorded during the 1950s. It had all the hits like "Jailhouse Rock" and "Don't Be Cruel," but I really liked listening to all the lesser known tracks like "Gotta Lot Of Livin' To Do" and "A Big Hunk Of Love," which are my two favorite Elvis tunes.
I wore those CDs out and I wanted to get more Elvis. Next decade: the '60s!
Elvis spent most if not all of the '60s making movies. He was in about twenty or so films and didn't really tour much, but he did record soundtracks for his films. I made a point to start collecting these soundtracks.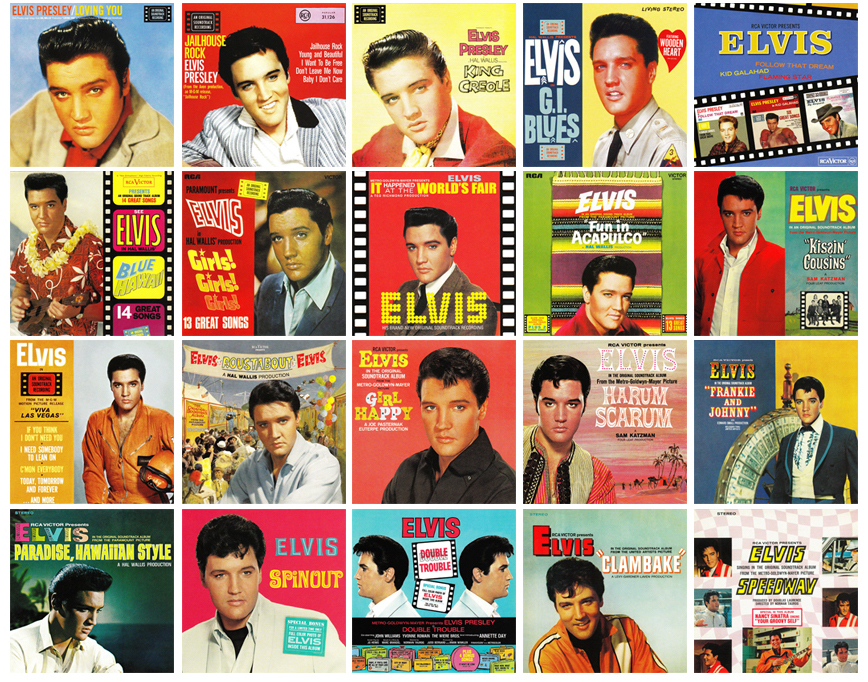 The Elvis movies were pretty cool for the most part, but sometimes they could be a little cheesy and hokey. What wasn't cheesy and hokey were the tunes! There are some great songs like "C'mon Everybody," "Do The Clam," "Speedway," and of one of my favorites, "Rock-A-Hula Baby!"
I've watched all the Elvis movies, but the one that sticks with me the most is Blue Hawaii…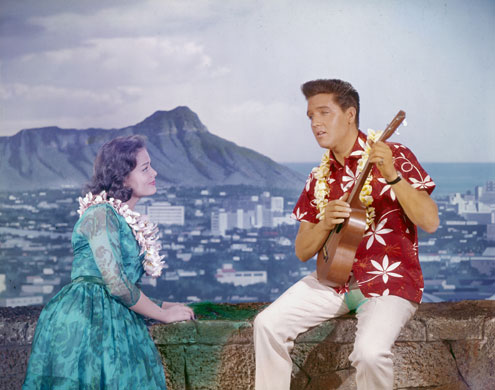 The movie just looks awesome! Blue Hawaii is a snapshot of Hawaii from the '60s in beautiful Technicolor!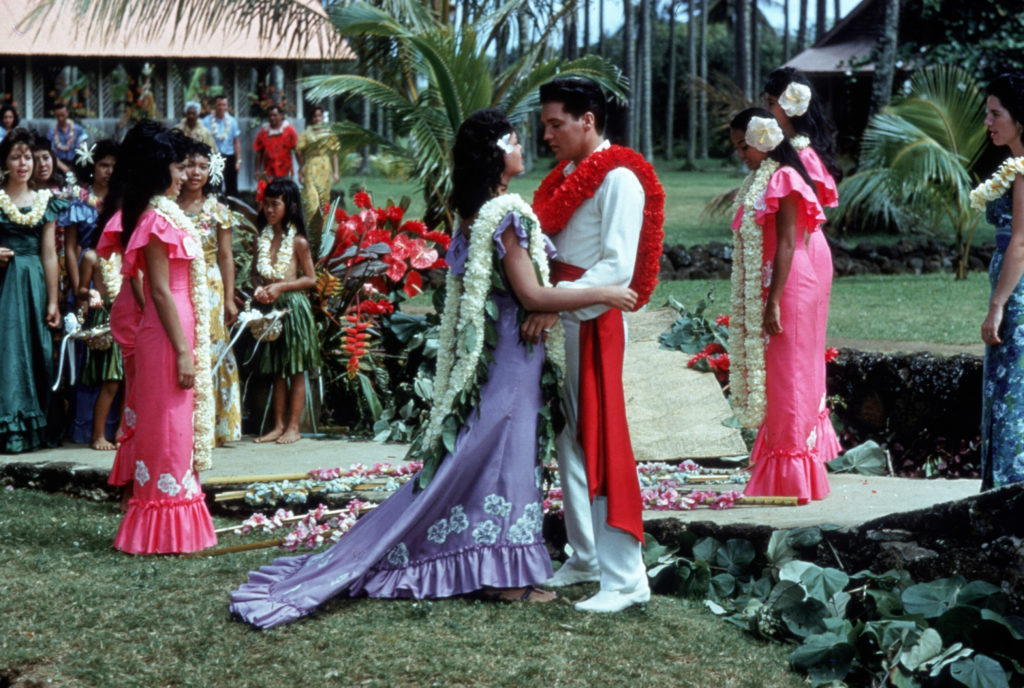 I remember watching Blue Hawaii in my very small and cramped apartment in Brooklyn and thinking: "I need to go to Hawaii some day!" It took me seventeen years, but I finally made it! But I digress…
In the beginning of 2001, my friend Tom and I decided to drive across the country on Route 66…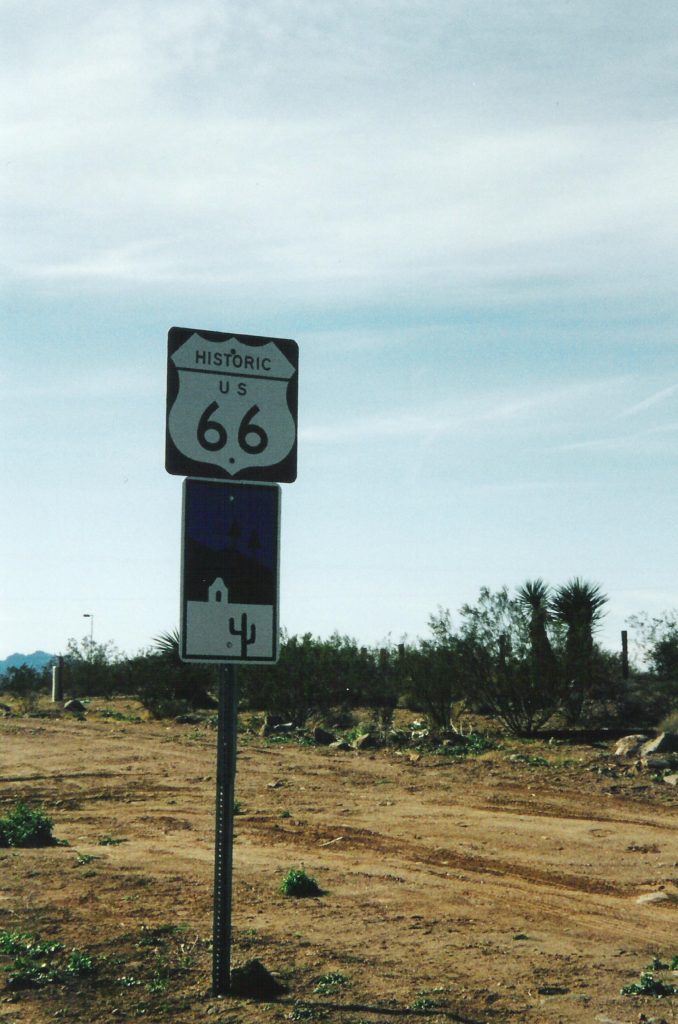 We drove the entire thing from Chicago…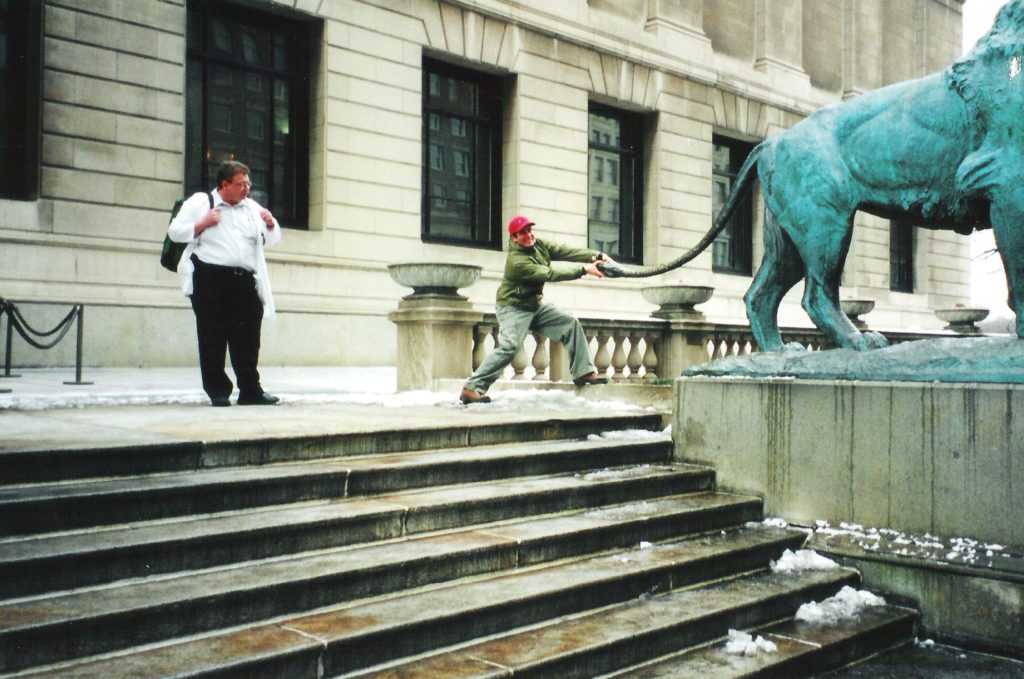 …to LA…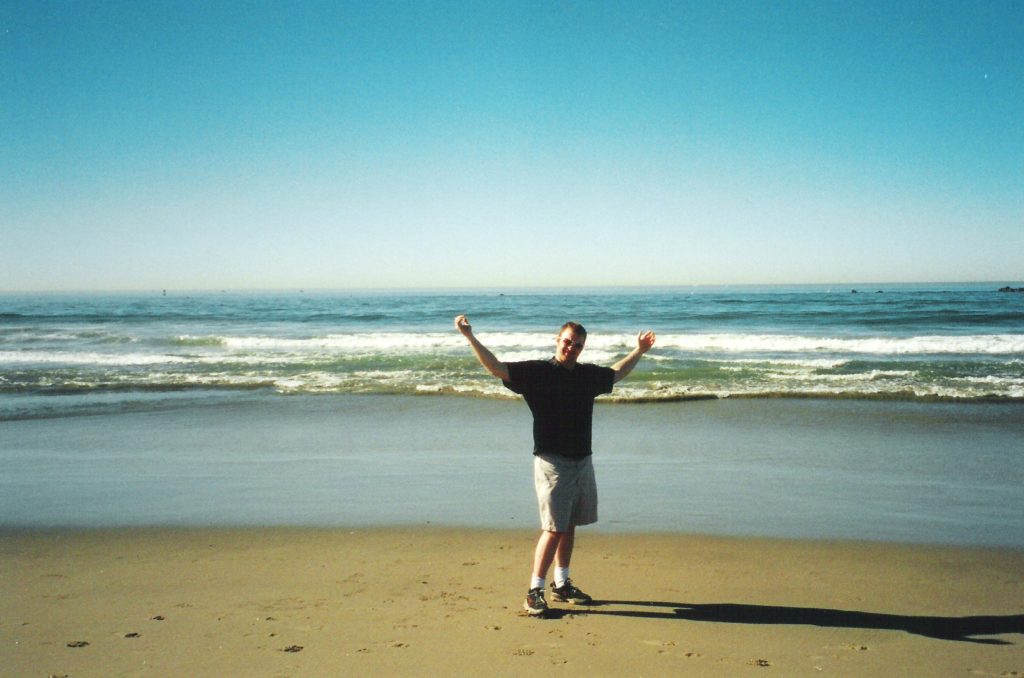 On our way back to the East Coast we decided to stop in Memphis and visit the home of Elvis Presley, Graceland…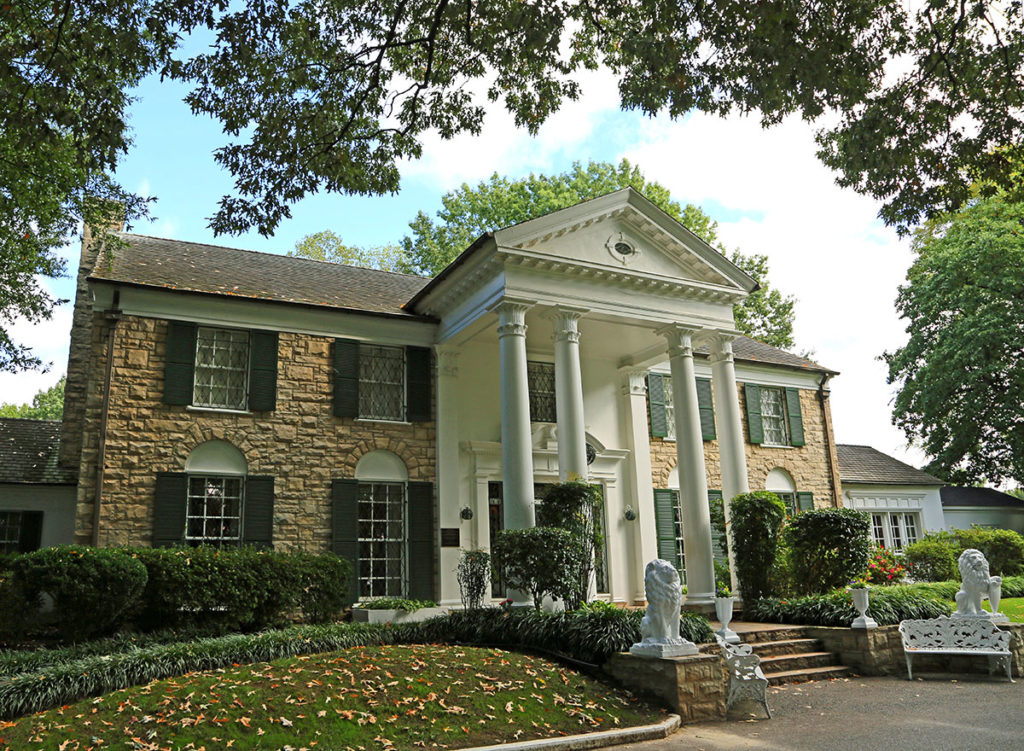 Walking through the home of the King of Rock 'N' Roll was like a religious experience for me. Aside from the main living room, the entire place had a '70s feel to it and I loved it all! Then I walked into the Jungle Room…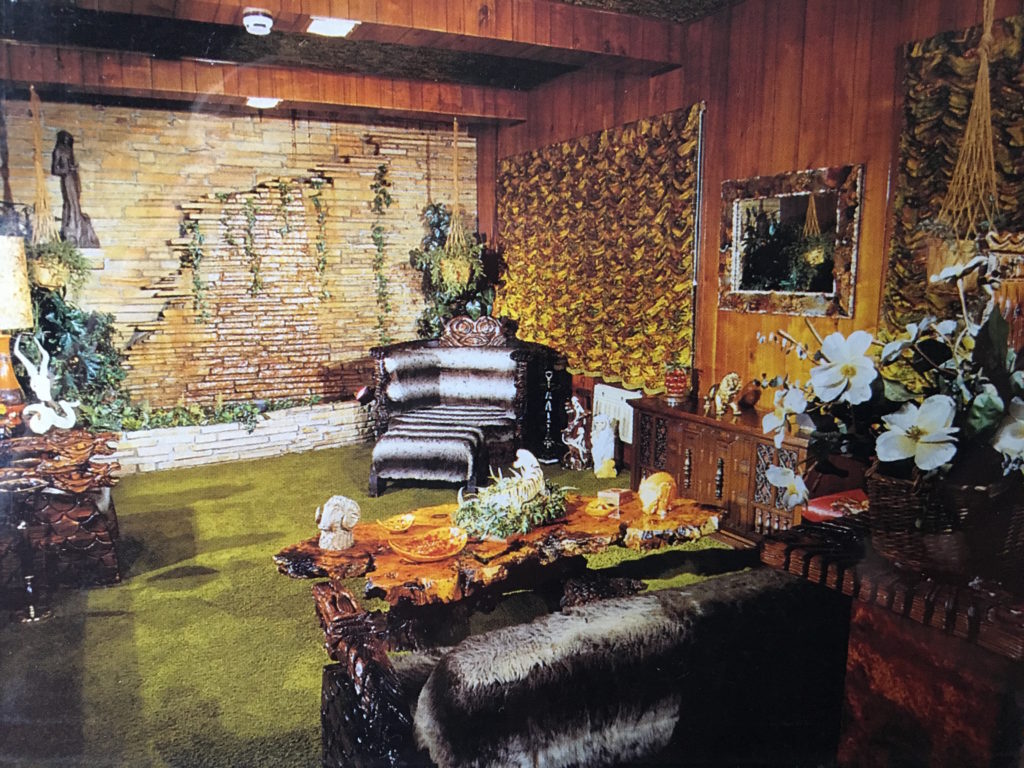 Wow, just wow! I don't think I need to describe the Jungle Room; the picture says it all. I remember thinking one thing in my mind over and over again: "This is so cool, this is so cool!" I was really taken by the Jungle Room and I remember the tune "Tiger Man" was playing  Everything was right in the universe at that moment and it stuck with me. That was February 2001. Here is a 360 view of the Jungle Room!
Fast forward to now and after visiting over sixty Tiki bars across the country…
It really kills me when people call Tiki "kitsch." Kitsch is considered to be things that are tacky or in bad taste. When I think about Tiki bars, I think about how cool they are. The Tiki Ti in LA is cool…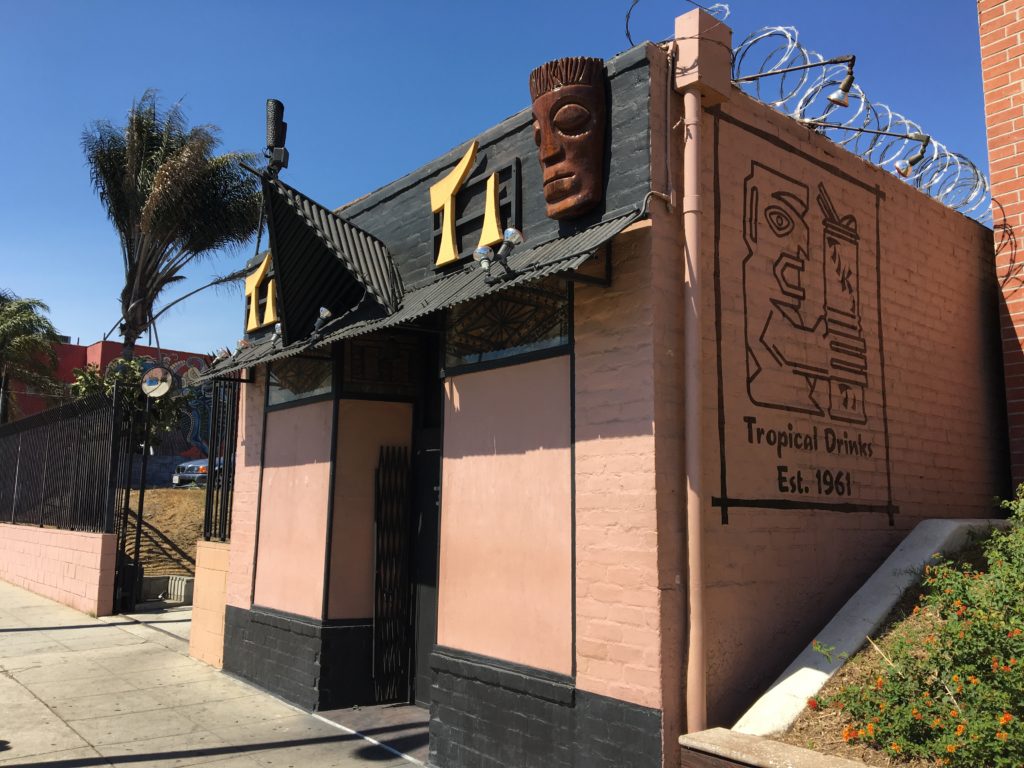 The Mai Kai in Fort Lauderdale is even cooler…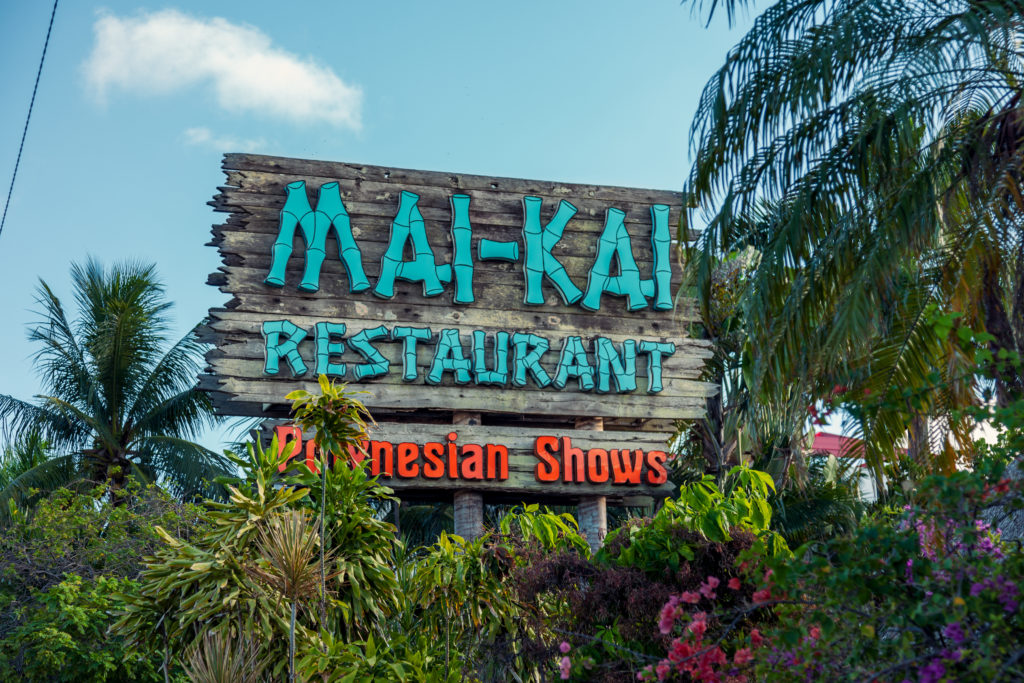 And Elvis Presley is not only the King of Rock 'N' roll, he's the King of Cool!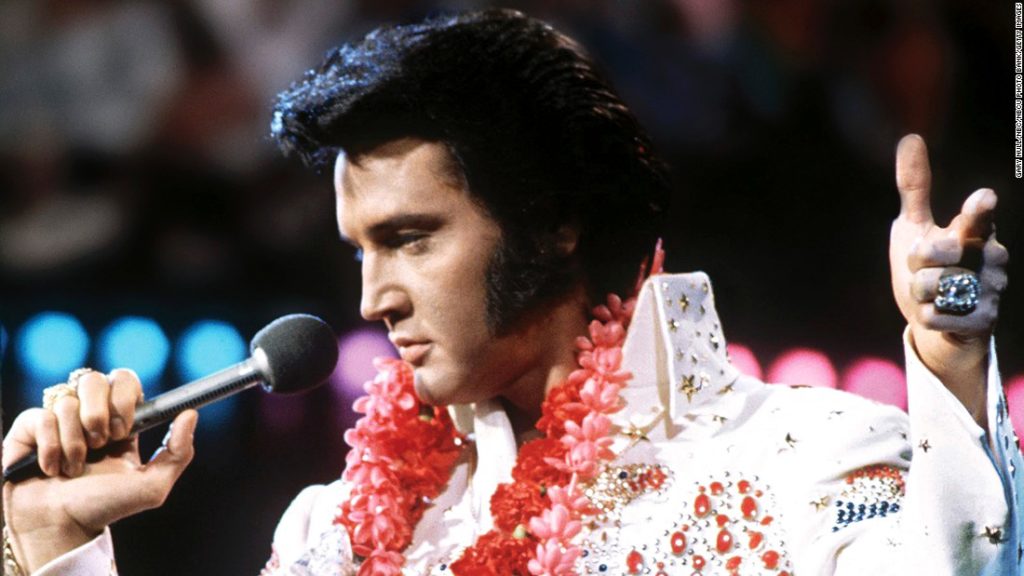 There's a definite connection between Elvis, Hawaii, and Tiki. If Elvis is cool with Tiki, Tiki is cool with me!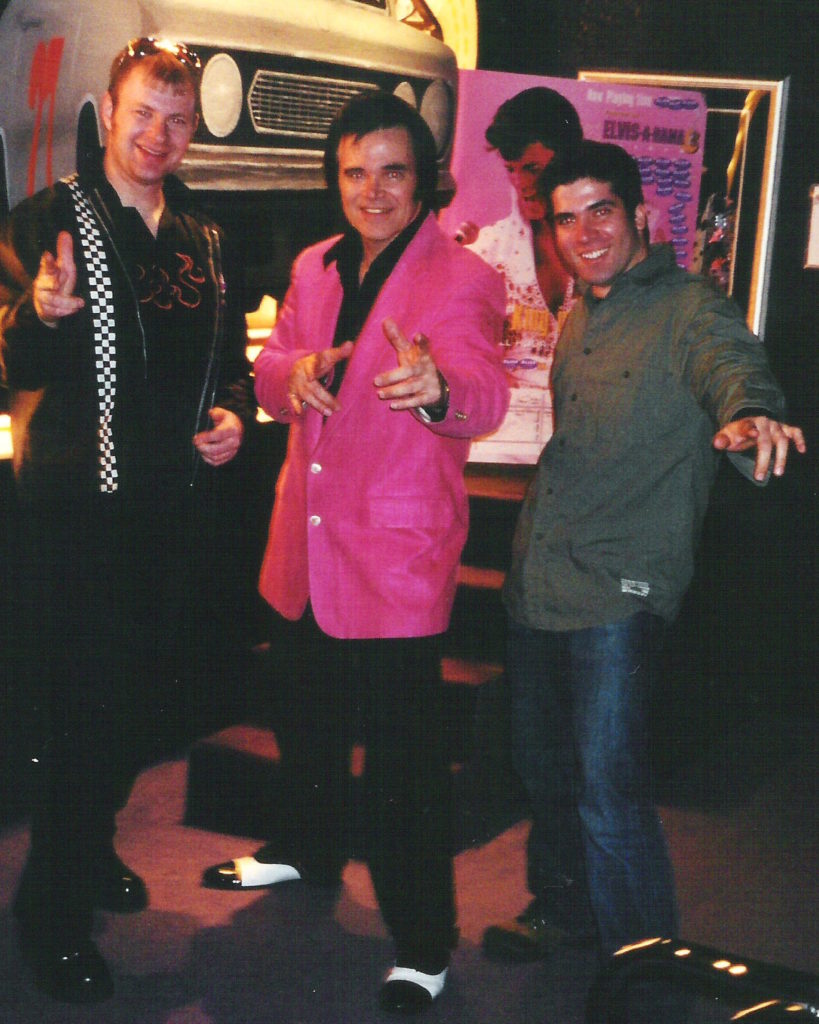 Sours: http://www.tikiwithray.com/my-tiki-origins-3-elvis-presley/
Tiki Bob – Elvis Presley Blue Hawaii – Promotional Edition
Description
This highly coveted Tiki mug depicts Tiki Bob, a cartoonish face cut into a palm trunk. This mug has a classic fogcutter shape and on the lower side of it is a white oval with text.
Color: Light brown, white, and black
Material: Ceramic
Shape: Tiki Bob
Dimensions: 3½" wide x 8½" tall
Weight:
Capacity Size: 20 fl. oz.
Unique Markings: "Hal Wallis Production Elvis Presley "Blue Hawaii" A Paramount Picture T.O.A. Convention 1961 New Orleans, LA." is written on the side of this mug and the bottom of this mug is unmarked.
Typically Served With: Fog Cutter
Special Notes: 
Average Value = $ 2,495.00

(A more detailed history of average value is listed under the "Pricing History" tab above)
---
You must be logged in to contribute information about Tiki mugs.
---
Submit Price
You must be logged in to submit prices.
Sours: https://thesearchfortiki.com/tiki-mug/tiki-bob-elvis-presley-blue-hawaii-promotional-edition/
Tiki With Ray Episode 10: Elvis And Tiki
Thanks to Critiki member NautiTiki, Critiki has six new pictures of Elvis' Jungle Room at Graceland in Memphis, Tennessee. The Jungle Room is a masterpiece of garish '60s interior design, and is lousy with Witco. Legend goes that Elvis fell in love with this furniture at first sight, and bought the whole set as soon as he saw it in the local furniture showroom. I know that feeling, Elvis.
As luck would have it, Basement Kahuna has two of these Witco "Marco Polo" sofas, just like the ones in the Jungle Room, and he's looking to get them into loving homes. Get in contact via Tiki Central.
Sours: https://news.critiki.com/2016/02/08/elvis-tiki-gracelands-jungle-room/
Tiki elvis
Elvis Presley Blue Hawaii Tiki Bob Mug
This is a copy of the popular logo tiki mug for Tiki Bob's in San Francisco. This one was produced as a promotional item for Elvis Presley's movie, "Blue Hawaii" and is marked as such in black at side near base. Serenely happy and simple tiki face in white against a rich brown pole backdrop, with black painted mouth and eye details.
Release
Notes

*This mug is one of the most coveted vintage designs produced because of the association with Elvis. For instance, on December 8th, 2020 one sold on eBay for $2,650.00
Physical Characteristics
Material

Ceramic

Shape

Tiki

Colour

Brown

Marking

"Hal Wallis Production" "Elvis Presley" "Blue Hawaii" "A Paramount Picture T.O.A. Convention 1961" "New Orleans, LA" in black at side near base
Sours: https://mytiki.life/tiki-mugs/elvis-presley-blue-hawaii-tiki-bob-mug
Tiki-Taka Style was Smashed by Bayern Munich at Allianz Arena
The call was one and only. It was HE - the man of my dreams. Always fit and restrained, serious and calculating, but so affectionate and gentle. My heart, as always, at such moments was beating furiously, my hands trembled. I picked up the phone and cooed: Yes, honey.
You will also like:
My desire at the moment was unidirectional and only one person could satisfy it, who is probably now happily sleeping in someone else's arms. I had a whole night to understand that I wanted a woman for the first time, and so much as I. Didnt want anyone or anything stronger.
2261
2262
2263
2264
2265