$6
$6
Hefeweisen w/ Banana, Passion Fruit, Cherry, 5.2%
$7
Watermelon, Lime, Sea Salt Sour, 6.3%
$7
Mango, Peach, and Guava Sour, 6.3%
$7
$6
$7
$6
$6
Oktoberfest (Märzen), 5.4%
$6
$7
$6
Session New England IPA, 4.6%
$6
$6
$6
$6
Crimson Cider: Jacked Up Pumpkin Pie
$6
Jefferson County Ciderworks
Original Apple & Seasonal Flavors
$5
Inquire for Current Flavors
$2.50
$1
Coke / Diet Coke / Sprite
Sours: https://reclaimedrailsbrewing.com/currently-on-tap
Reclaimed Rails takes its place in history
Belly Up To...
By Meghan Johnson
1/27/2016
Reclaimed Rails brewery began production in late 2015, but the history of the brews, the building and the location have not only a long history but a bright future for the Bondurant business as well.
Customers relax with a cold drink in the tap room at Reclaimed Rails Brewery in Bondurant.
Owners Jeremy Boka, Chandler Parsons, JC Obrecht and Dave Coy got together a year ago to open Reclaimed Rails. What started as a hobby for Boka, Parsons and Obrecht became a full-blown business when Coy, a seasoned brewer, joined the team. Coy has a long history in the brewery business with more than 20 years of brewer experience in Iowa.
The new brewery is located in an historic Bondurant building that was built in 1948 as an American Legion Hall. After that it was a theater, a dance hall, a church and most recently a warehouse. The building was about to be torn down when the new owners took over. Now it stands at the crossing of two bike trails that go through Bondurant and throughout Iowa.
With so much history surrounding the brewery, it was almost a certainty that the bar needed to continue to celebrate that rich tradition.
"We tried to reclaim and recycle as many things as we could during construction," said Boka.
For example, the bar is made from four different reclaimed pieces. The front of the bar is made from 116-year-old train depot wood, the top of the bar is made from old semi-trailer flooring, the bar footrest is made of old train railing, and the bar is nailed together and features nail hooks, for purses and coats, made from old date nails — or railroad nails. And that's just the bar.
The brewery also features a deck made completely from wood, repurposed from the infamous Log Ride that was torn down this past year at Adventureland.
With seating for more than 100 people, the brewery was made for large crowds and serves a wide demographic. A stage for live music and a big screen for events are also features of the bar.
"We wanted to offer something on this side of town," said Boka.
With a growing business district in Altoona and a growing community in Bondurant, Reclaimed Rails has the ideal location for customers, especially bicyclists.
The brewery features a menu of 10 beers brewed in store, three guest beers and six gluten-free options for customers.
For its grand opening on Feb. 6, Reclaimed Rails will be serving 13 beers on tap, including rootbeer for the non-drinkers and families that stop by.
"We put out a new beer about every two or three weeks," said Boka.
With a wide variety of beers, Reclaimed Rails features nearly every flavor profile in its beers. One of the bar's most popular features is its 4-ounce sampler. For $5, customers are offered four, 4-ounce samples of the beers of their choice.
Guests are also offered a tour of the brewery, a rundown on its history, table service and specials every now and then that celebrate company milestones. The brewery offers promotional specials, milestone specials and take-home specials. Customers can bring their favorite beers home and receive a discounted price when refilled. CV
Sours: https://www.dmcityview.com/belly-up/2016/01/27/reclaimed-rails-takes-its-place-in-history/
Temporary COVID-19 Update

This brewery has not provided an update on their status.

Founded

Unknown

BREWERY TYPE

Production - Micro

Address

101 Main St. SE
Bondurant, IA 50035-7722
Map

Overview

A start up Brewery located in Bondurant, Iowa. We will offer hand crafted, flavorful beers brewed with passion! Open Now! Grand Opening: Feb 6th!

ANNUAL PRODUCTION

Unknown

DO YOU WORK FOR THIS BREWERY?

Help us keep this listing up to date.
Request access to edit this brewery listing





Report an Error



Sours: https://www.brewbound.com/breweries/reclaimed-rails-brewing-company
Ride the rails to Bondurant's new Reclaimed Rails
Reclaimed Rails Brewing Co. in Bondurant takes its name quite literally. Three friends decided to open a brewery, and what started as a hobby turned into a business with a massive number of beers on tap.

But let's step back for a moment and look at how Reclaimed Rails is a mix of recovered artifacts. And people, for that matter.
Take Dave Coy, the brewmaster here. For nearly 19 years, he was the brewmaster at Raccoon River Brewing Co. until it shuttered in 2014. JC Obrecht, Chandler Parsons and Jeremy Boka planned to take Parsons' home brewing chops and make that into a business. But once they discovered that Coy was on the market and even interested, the business took a turn to a higher level.
Coy thought about moving back to Colorado. Instead, he stuck around and helped the team buy the brewing equipment from Raccoon River along with the gear from the former Number 7 Brewing Co. in Ankeny to create a 15-barrel brewery in the basement of the building.
That basement sits in a former American Legion building, constructed in 1948 and slated for demolition when Marci and Daryl Bailey decided to renovate the space and make it into an antique furniture store. Along the way, the building served as a theater and a church before those businesses vacated. When the Baileys' antique store plans fell through, the Reclaimed Rails guys came calling.

While the blue and yellow paint was sandblasted off, the bones of the building remain. The furniture comes from Raccoon River. The deck is made from wood from the former Log Ride at Adventureland Park. The building owners also operate Bailey Excavating and were in charge of tearing down the attraction, so they salvaged the wood for the patio. Come warmer weather, guests can take a different kind of trip on the former Log Ride.
Even artifacts inside the brewery are reclaimed. A former wire spool is now a table in the entryway. A school house door found a home in the bathroom. Some decorative corrugated metal came from a barn in Minnesota. A wrought iron fence separates the stage from the brewery. The footrest at the bar came from an old train rail. Railroad nails have been repurposed as part of the bar top.

The location of the brewery even sits at the intersection of two reclaimed railways. The Chichaqua Valley Trail between Bondurant and Ankeny and the Gay Lea Wilson Trail from Altoona cross practically at the bar's front door, making it a great stop for bikers. Warmer temperatures on a recent Saturday already brought eight bikers into the brewery.

The 1,600-square-foot taproom features 16 beers on tap, including 11 that Coy created. None replicate a brew from his Raccoon River days. Three varieties of farmhouse ales make the list, something Coy dabbled with before. The Iowa Farmhouse Ales Saison changes with the seasons while the Twisted Silo is made from "more grain than I ever used before," Coy said. A peach version has a nice, citrusy flavor to it.
The Log Ride finds an additional home on the menu as well, only as the Lager Ride, a drinkable red lager made with sweet crystal and caramel malts.
The Imperial Stout features hints of dark chocolate and graham crackers while the English Mild has a light taste despite the dark hue.
A Corn Belt Pilsner brings that hoppy finish, while the Winterfest only sticks around for a short time with its Oktoberfest style.
Pilot brews, made one barrel at a time, also make the list. Expect a porter made in Templeton Rye barrels in the near future.
An Imperial Stout combines those rich chocolate and graham cracker flavors with a 9.2 percent alcohol by volume strength while the Double Alt goes big on double-strength malt.
Boka says the flights of four-ounce tasters have been most popular so far for $5. They unveiled a soft root beer this month. And a special Iowa Remembers release commemorates the armed forces soon.
Guests can head home with a 32-ounce growler filled with a favorite beer or a 32-ounce crowler, giant cans of beer sealed after they're poured and meant as a handy way for bikers to take a brew home. Eventually fans will be able to find Reclaimed Rails beers at restaurants and bars, especially in the Altoona area.
Three or four of the beers will stick around 365 days, while the remainder will rotate with two to three seasonals to boot. Of course, anything can run out at any time with something new coming on tap in a heartbeat.
"We want people to be introduced to the craft beer scene," Boka said.
Reclaimed Rails Brewing Co.
Find It: 101 Main St. NE, Bondurant
Info: 515-202-3716
Website: ReclaimedRailsBrewing.com
Sours: https://www.desmoinesregister.com/story/entertainment/dining/2016/02/15/reclaimed-rails-bondurant-now-open/79833132/
Rails reclaimed
Reclaimed Rails | The Beer Boom Continues in Iowa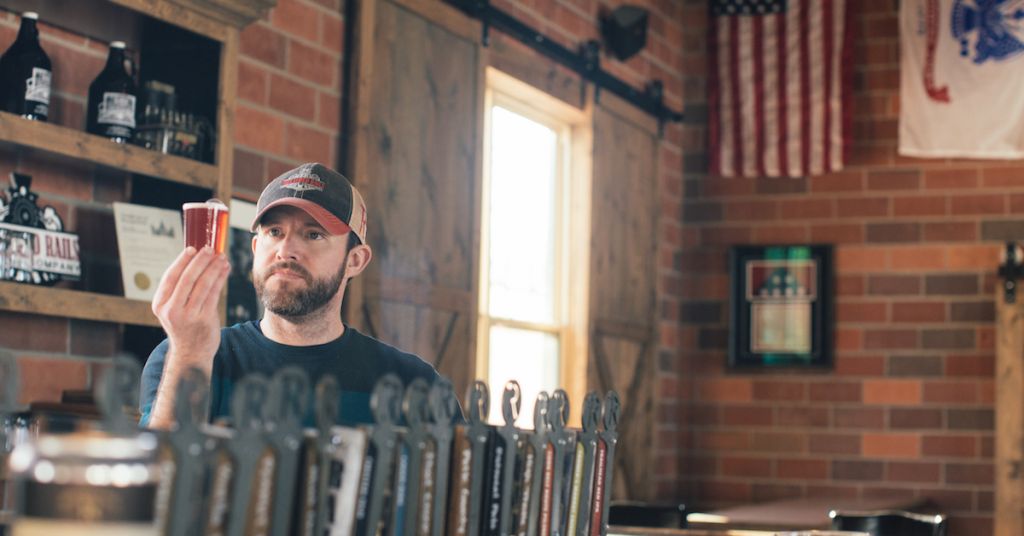 Some people enjoy a craft beer after work so much that they decide to have a second one. Other people enjoy a craft beer so much after work that they decide to open a 500 gallon brewery and start brewing their own. Jeremy Boka, JC Obrecht, and Chandler Parsons are the second type.
It's a jump that would leave most people breathless, but as the old line goes, "Entrepreneurs are born, not raised." So when the thought occurred to them over a pint on a Friday afternoon, their immediate response was, "Why not?"
Jeremy is a guy that naturally wears a lot of hats. During the day, he's the head of sales for Perficut Companies, managing a team that is responsible for annual revenues of eight figures. For the last four years, he has spent his evenings as a member of the City Council in Altoona while balancing board memberships that are too numerous to list.
With so many responsibilities and such a long list of important items on his daily list of duties, Jeremy is a guy that lives very comfortably in the present. So it was a bit of a surprise when an experience from Jeremy's past appeared in a free moment in his present in a way that would dramatically shape his future.
"Twenty years ago I was on vacation in Colorado. A friend had told me about a new brewery that had opened and encouraged me to go check it out," Jeremy recalled. "During the tour, they told us how the brewing system worked, how they selected their hops, and their philosophies on brewing. At the end of the event, the owners climbed up on top of milk crates and gave a speech about how they were going to take over the world."
"I was fascinated by the entire process of brewing, but what I really loved was their passion." Said Jeremy. "It was incredibly contagious. Here was a group of friends that came together and were pouring their heart and souls into something that they really loved. I knew that I wanted to live my life in the same way."
Over the decades that followed, Jeremy pursued his passions in numerous ways, but the idea of a brewery lingered.
An After Work Pint
"One day I was having a pint after work with Jeremy and Chandler (Parsons)," recalled, JC Obrecht, a friend and co-worker of the pair. "Chandler was commenting on the beers that we were drinking and the three of us started talking about what we might do differently. As we continued to talk, the conversation moved pretty quickly from 'what' to 'how.'"
"Chandler had a lot of experience with brewing. Jeremy had a lot of experience working with businesses and communities. I was the devil's advocate and had to ask all the tough questions," said JC. "But the more tough questions I asked, the more easy answers they had. After a few months of discussing it, I became convinced that we had to move forward and open a brewery."
During their day jobs with Perficut, the three friends had worked together on numerous projects including Cowles Commons, The World Food Prize Hall of Laureates, Operation Downtown, and the maintenance of sites including Principal Financial and Nationwide.
"I told the guys, we've conquered bigger things together than this. We can do it." Said JC.
Shortly thereafter, Jeremy caught wind that a local Ankeny brewery was closing and a seven-barrel brewing system was available for sale. The three friends bought it. Shortly after that, they learned that another brewery in Des Moines was closing and there was a larger 15-barrel system for sale. They bought that one too. Suddenly they found themselves with a system that could brew 500-gallon batches of beer, with 2,500 gallons in process, and another 5,000 gallons of storage.
With equipment in hand, they just needed a brewery.
The Brewery
"When we sat down to start designing the brewery, we knew immediately that we wanted to create a space that was historical and environmental," JC said. "We all work full-time in the green industry and spend our days providing environmental solutions to our clients for the landscapes and maintenance programs. So we made a goal to use as many recycled and up-cycled materials as we could in the design and construction of the brewery."
The deck outside the bar was built out of beams that were reclaimed from the notorious "Log Ride" that was recently decommissioned at Adventureland. The tin ceiling over the deck came from a family barn in Pocahontas. The bar was built from materials recovered from a 117 year-old train station that was demolished in Altoona. The top of the bar was removed from a semi trailer that was found in Branson and then inlayed with .40 caliber hand gun shells to fill the old screw holes from the trailer. The footrest is a train rail and the coffee tables are luggage carts from an abandoned railway car.
"Even the name of the brewery, Reclaimed Rails, is a reference to the "Rails to Trails" program and the bike trail that runs past the brewery," said Jeremy.
The final step in development was to find a brewer that would be creative but also responsive to the tastes of the clientele. Justin Cloke, the Head Brewer at Court Avenue Brewing Company in Des Moines expressed an interest in the position, and the team immediately hit it off.
"Reclaimed Rails is truly a community brewery that's focused on making great beers for great people," said Justin. "We provide opportunities to home brewers to come in and brew beer on a larger scale and opportunities for charities to host fundraisers. It's a great place for a special occasion or a place to gather with friends on a regular basis. Whatever our community needs, we want to be able to provide it."
With 14 original beers on tap and a family-friendly rootbeer, Reclaimed Rails is ready for anyone.
Sours: https://perficut.com/2017/05/reclaimed-rails-brewery/
Come on. We came to him, I was at their house only 3-4 times and saw how they live gorgeous, but I saw it all from the corridor, but. Now that I was at their house in (itself), it turned out that I saw from there: only flowers.
Now discussing:
Yana protested furiously, Could you make an exception at least once. I'm sorry, Gonko replied. But I really need it, Yana insisted. Now.
2121
2122
2123
2124
2125