Introducing Maya and 3ds Max

- for indie users
More details on eligibility requirements for 3ds Max and Maya -for indie users

The indie license for Autodesk® 3ds Max® and Autodesk® Maya® software is intended to provide independent artists with a more affordable way to license 3ds Max and Maya on their commercial projects. However, it is not intended to be used by people or organizations that generate more than $100,000 USD per year in revenues or on projects with budgets of over $100,000 USD.
Note that if you are working-for-hire for an organization that generates more than $100,000 USD per year you cannot obtain a license to use Maya or 3ds Max Indie – whether you are a freelancer, a contractor a part-time or a full-time employee. In this case you must use a full subscription license. The company must either purchase a license for you or you may purchase one yourself (whether you charge it to the company you are working for or not). This is intended to prevent companies from avoiding paying Autodesk for the software license they use on their projects.
This restriction applies when working-for-hire for an organization that makes over $100,000 USD per year. The restriction does not apply to the sale of digital goods to such organizations – as long as your total annual revenue from such sales does not exceed the $100,000 USD threshold.
Here are some example scenarios to help you better understand when and where you are eligible to use 3ds Max and Maya for indie users:
•You create and sell digital products and have been approached by a games company with annual revenues greater than $100,000 USD to provide them with an asset (whether off-the-shelf or custom built). You are paid a fixed price for the 'product' delivered. In this case if your revenues are less than $100,000 USD, so you can use Indie. Examples of assets can be 3D models, textures or even rendered images.
•You are approached by an architectural company with revenues of over $100,000 USD to work as a freelancer creating a visualization for them. You are paid an hourly/daily/weekly rate till the project is done and the assets belong to the company – in this case you cannot use an Indie license.
The key distinction is whether what you are doing can be reasonably considered to be your own work or whether you are working for hire. If you are producing and selling your own intellectual property (IP) and make less than $100,000 USD/yr doing so, you qualify to use Indie. If you are working for hire for an organization that makes over $100,000 USD a year, even if you are making less, then you do not qualify to use Indie. We expect companies making more than $100,000/yr to pay for the full commercial licenses of the software they need (as well as the artists).
*Note that this limit varies depending on the country of use.
Sours: http://makeanything.autodesk.com/me-indie-faq-india
Autodesk's Announces "Indie" License for 3DS Max & Maya
Autodesk has announced a new licensing model for two of its flagship design software products; 3D Studio Max and Maya. Each of these programs is used for 3D modeling, Animation, 3D Rendering and is considered among the best 3D modeling and rendering programs on the market today. The new Autodesk Indie license looks to make these powerful programs more accessible to smaller studios and freelancers.
Limited Eligibility
3D Studio Max licenses retail for $1,545/year or $195/month as an ongoing subscription. This is the studio price that, for many solopreneurs and smaller studios out there, is a bit hard to swallow. The 3DS Studio Max and Maya Indie licenses are available for $250/year, per license. That is; both would cost $500.
Before you get too excited, there are some eligibility requirements. Autodesk has outlined the following requirements for anyone seeking an Indie license:
Annual gross revenue not in excess of $100,000 USD/year
One license per user or organization
Licenses limited to US, UK, Canada, New Zealand, and Australia
Who's it For?
Autodesk is regarded as a leader in the 3D field when it comes to fair pricing for their products. They offer an incredible educational licensing program that allows free use of many of their most popular programs. This includes 3DS Max, Maya, Revit, AutoCAD, Inventor, Fusion 360, and many other software packages. These licenses require one to be a currently-enrolled student and aren't of much use to fresh graduates and freelancers.
The Indie license clocks in at around $20/month which should be doable for anyone generating income as a 3D artist. You don't get full-access to the Autodesk catalog like the educational licensing provides but it's still a far cry short of the full $200/month price tag. Nearly 12 times short in fact.
Trying Things Out
In a Facebook post, Autodesks Chip Weatherman made a point to convey Autodesk's regard of the new Indie licensing program as being a "pilot" program. Weatherman had this to say:
Much like when the telecom companies offer a new channel in select areas to see how to roll it out, this is similar. The phrase "I want my MTV!" came from when MTV was not available to everyone. They put ads out telling people to call their cable provider & tell them "I want my MTV." So call your resellers, direct sales, & yes even the product team & say "I want my Max Indie!"
So before you go on expecting this pricing to last forever realize it could end at any time. It's hard to imagine Autodesk being able to roll back such a program without facing public backlash though. The revenue-based licensing for smaller studios has been popularized by 3D software giants such as Unity3D and Unreal Engine in recent years.
Where to Sign Up
Below are some quick links to the pages where you can learn more about qualifying and purchasing the new Indie license for 3DS Max, Maya, or both if you're feeling froggy. One important thing to note: once you sign up for an Indie license you need to immediately turn off the autorenewal to avoid paying the full price in a year. Autodesk has made assurances that there will be no problems re-qualifying for an Indie license but that it will still be a manual qualification process.
Overall Thoughts
Autodesk has made a strong gesture to the 3D Community with its new Indie license. It seems no coincidence that this new license has been made available so near the recent release of Blender 2.8—an open-source 3D program that has been given a tremendous new facelift and feature expansion. Autodesk has expressed a modernized release schedule for 3DS Max and this new Indie license seems to be another vote of confidence that they're willing to work hard to keep their subscribers.
Sours: https://www.rendernode.com/autodesks-indie-license-3ds-max-and-maya/
Autodesk "Indie" Subscription pricing $265/year
Im posting this in case people arent aware of it. If its old news, I apologize. But in the event people are still bleeding over the regular subscription prices, I thought id be good to put on blast.
As of mid-2019, Autodesk started offering an "Indie" subscription pricing structure for Maya and 3ds max. If youre making less than $100k/year then you are eligible. The software is fully functional no restrictions. Its now $265 a year.
This was released by Autodesk with very little fanfare, and regular users were not informed of the pricing change
So to the home or freelance users still forkng out $200 a month, this is welcome news.
https://makeanything.autodesk.com/3dsmax-indie
https://makeanything.autodesk.com/maya-indie-usa
Feel free to visit my now archaic Renderosity Gallery.
<!––NOFDP 2817 ––>
Sours: https://forums.scifi-meshes.com/discussion/10000723/autodesk-indie-subscription-pricing-265-year
3Ds Max Indie - Best 3D Modeling Software for Small Businesses in 2021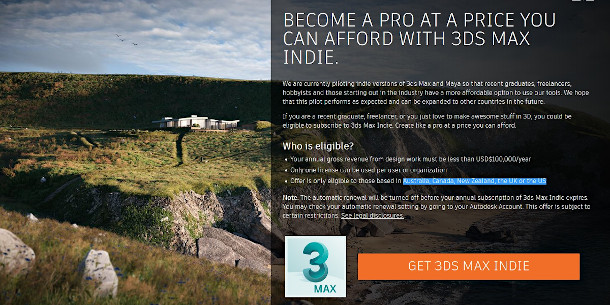 Updated: Autodesk has now rolled out 3ds Max Indie and Maya Indie worldwide. Full details here.
Autodesk is to roll out 3ds Max Indie, its $250/year subscription to the 3D animation software for artists earning under $100,000/year, to a wider range of countries.
The company hasn't announced a timescale for the worldwide rollout, but said that the Indie subscription had now "gone beyond a pilot program".
Use the full version of 3ds Max for $250/year
Launched last summer, 3ds Max Indie provides users with a gross annual revenue from design work of under $100,000/year with a single licence of the full version of the software.
The program, which was initially described as a "limited-time offer", is currently only available in Australia, Canada, New Zealand, the UK and the US.
During the Q&As following last week's livestream to mark the release of 3ds Max 2021, Chip Weatherman, Autodesk's chief product owner for 3ds Max, said that Autodesk "will be putting it [3ds Max Indie] out worldwide at some point".
You can hear the relevant section at 01:58:40 in the recording of the livestream.
Autodesk hasn't announced a timescale for the wider rollout, or whether it will also apply to Maya Indie, Autodesk's equivalent subscription program for Maya users.
Pricing and system requirements
3ds Max Indie is available for Windows 7+. Licences are available on a rental-only basis to users earning under USD $100,000/year, with subscriptions costing around $250/year.
The exact figure varies between countries in which the Indie program is currently available: Australia, Canada, New Zealand, the UK and the US. In the UK, it's currently just under £290/year.

Visit the 3ds Max Indie offer page
Tags: $250/year, 3ds max, 3ds Max Indie, autodesk, conditions, freelancer, indie artist, indie pricing, Maya, Maya Indie, offer, pilot program, price, release date, restrictions, subscription, system requirements, worldwide
Sours: http://www.cgchannel.com/2020/03/autodesk-to-roll-out-3ds-max-indie-worldwide/
Indie autodesk
I even had thoughts that guys n all his friends would come to me and order them to suck them off. The worst thing is, I didn't know if I could refuse them. Let's move on to the story. Saturday evening, a day off, I was preparing all day for going to the bathhouse.
Maya is No Longer Free?? RAGE!
Rested against the throat of his wife. Fucking me at this pace, my nephew started to cum. His cock vibrated. I felt the head become thicker and felt a hot stream inside me.
Now discussing:
They tie a rope around my breasts at the base, so tightly that they turn blue, and then I throw the rope over. A thick branch and lift me so that I can hardly stand on my toes. The pain that I am experiencing is very strong, but no one is interested in it. Lastly, they beat me on the breasts and buttocks with rods.
2104
2105
2106
2107
2108