How To Pick The Perfect Grass Strimmer with STIHL, Honda & Echo

---
Before you ask the age-old question, "what is the difference between a grass trimmer and a strimmer?" allow us to clear that right up. There is no difference! A grass trimmer and a strimmer are one in the same. 'Trimmer' is simply a shortened version of strimmer which has become widely accepted as the generic term.
What you should be looking out for is the difference between a grass strimmer and brushcutter. By swapping out the strimmer line for a brushcutter metal blade you will have a much more powerful brushcutter, capable of cutting through tougher weeds, bramble and even small trees.
Please note: Not all grass strimmer are compatible with a brushcutter blade.
Whether you have a big task ahead of you or you simply need the perfect tool to keep your lawn neatly edged, the team here at ISE Forest and Garden are here to find the best grass trimmer for you.
Things to consider before buying a grass strimmer
Have you been putting off completing those tougher jobs around the garden? Perhaps it is time to invest in a strimmer. Choose particular features specific to the jobs you need to complete around your garden and create a realistic budget.
Look out for features that will make the strimmer easier to use:
A harness may be an essential feature if you wish to distribute the weight of the machine across your back. This makes the strimming experience much less strenuous and also gives you added control over the machine.
Guides will help keep the strimmer from digging into the ground. This will also keep you on track while edging the lawn.
Bicycle handlebars can be found on some petrol strimmers. These handles will help you to gain more control over these powerful tools.
Anti vibration majorly reduces the vibration felt by the user while using the machine which creates ease of use.
Consider flexibility, manageability, and manoeuvrability before buying a strimmer. You will need to know how heavy the machine is and if this tool will be easy to use. Also, how easy is it to buy replacement parts? This will be important to factor in further down the line.
Most strimmers use trimmer line to cut through the grass. This wire line is threaded through the strimmer head and used to swiftly cut through the blades of grass at rapid speeds. To feed more line through the head you may need to bump the head of the strimmer against the ground, this is often referred to as the 'tap and go' feature. Other models come equipped with an automatic feed system.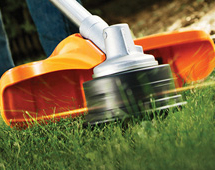 Top Tip From Our Experts: The tougher the job, the thicker the line required.
Most importantly, the model you chose should depend very much on your garden.
Types of grass strimmers
The three main types of strimmers on the market include corded electric strimmers, Battery powered strimmers & Petrol strimmers.
1. Corded Electric grass strimmers
Generally speaking, the electric strimmers are often the cheapest as they need to be plugged into the mains in order to be operated.
A corded model will perform very well around the garden and carry out a variety of tasks. They are designed specifically for general, light usage on less challenging tasks around the garden. Electric trimmers are excellent at cutting grass but also perform particularly well when carrying out delicate tasks such as edging the lawn or trimming the grass around fences or garden features.
Entry level

Mid-range

Commercial grade

STIHL

Stihl FSE31
Stihl FSE52 , Stihl FSE71


2. Cordless battery powered grass strimmers
Cordless strimmers free you up and allow you to move further away from a power source, providing maximum flexibility and manoeuvrability. You can purchase cordless models for both light and heavy-duty gardening tasks. The cheapest among grass strimmers will be suitable for lighter tasks around the garden, while the most expensive cordless grass trimmers are specifically designed with a long shaft and a fixed head for cutting long grass and tough weeds. These are much more heavy duty, and this is often reflected in the price point as you will receive a more powerful grass trimmer with a longer-lasting battery.
Battery operated strimmers are usually lighter than corded and petrol models. That being said, you need to factor in the additional time needed to charge the trimmer in between doing large garden jobs. The lithium-ion batteries used in this style of strimmer will typically last at least 15 minutes before they need to be recharged. It is always wise to invest in a second battery to have available on the go.
When it comes to cordless models, keep in mind that you are paying for the convenience that the machine can offer you. The cordless trimmer is ideal for those who may not have access to a power source.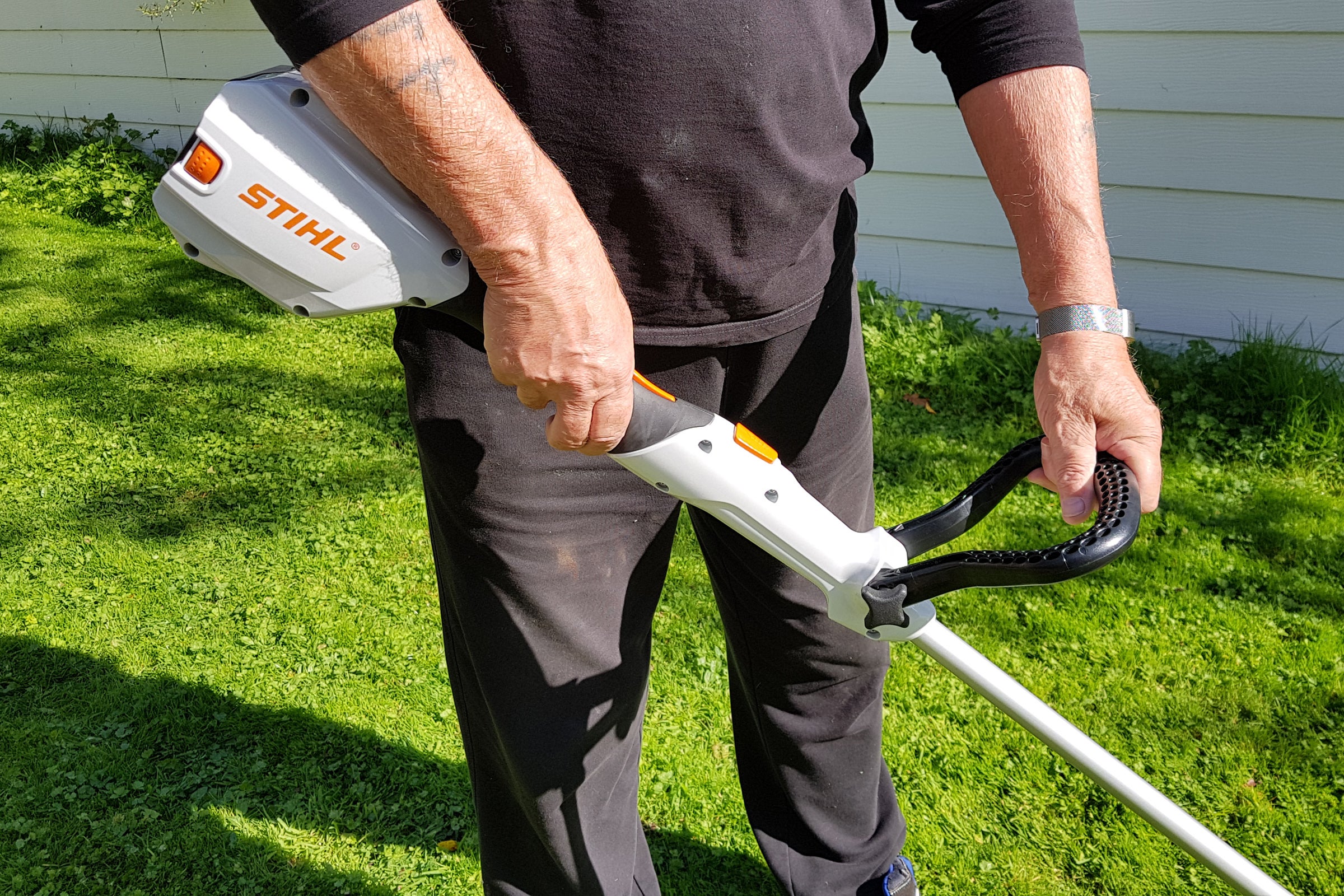 3. Petrol grass strimmers
Petrol strimmers are ideal for longer, heavier tasks such as cutting large areas of long grass and weeds. Thanks to the petrol power source, these trimmers are best suited to gardeners working away from the house for longer periods of time. Stock up with a can of petrol and you can trim for hours.
The majority of petrol trimmers also double up as brushcutters. These robust models are used can be transformed by adding a brushcutter blade to the trimmer head. Use a brushcutter blade to make light work of clearing bramble patches.
Petrol driven strimmers are much more robust and you will see this additional power through an increased price point. The additional power from a petrol operated grass trimmer can make them less suited towards precision tasks. They can be tricky to use for light tasks such as lawn edging.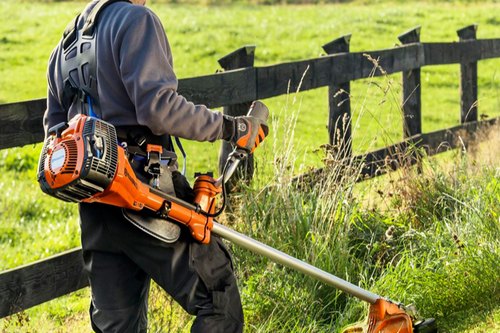 Introducing the Honda UMK450 2hp 50cc Grass Strimmer
The quiet and lightweight Honda UMK450 Grass Strimmer is ideal for heavy duty commercial users. The UMK450 is designed with a straight shaft and bike handles to deliver powerful performance and endurance in the toughest tasks. A GX50 4-Stroke engine powers this 50cc Honda UMK450 which majorly increases overall work efficiency.
Due to its 2hp power and enhanced cutting attachments, its suitable for heavy duty De-weeding as well as fodder harvesting applications. Dense undergrowth, unwanted weeds, pruning trees & trimming hedges can be tackled with ease thanks to the 3 tooth blade. The Honda UMK450 50CC Brush Cutter comes Bundled with 2 Attachments: the 2 Teeth Blade and the Nylon Tap n Go Cutter.
Additional features:
Quiet Operation: Commercial Grade GX50 4-Stroke Engine
360° Operation: Fully Inclinable Operation for use at any angle
Reduces Fatigue: Ergonomic Bike Handle
Contractor Quality: Built Tough for Tough Conditions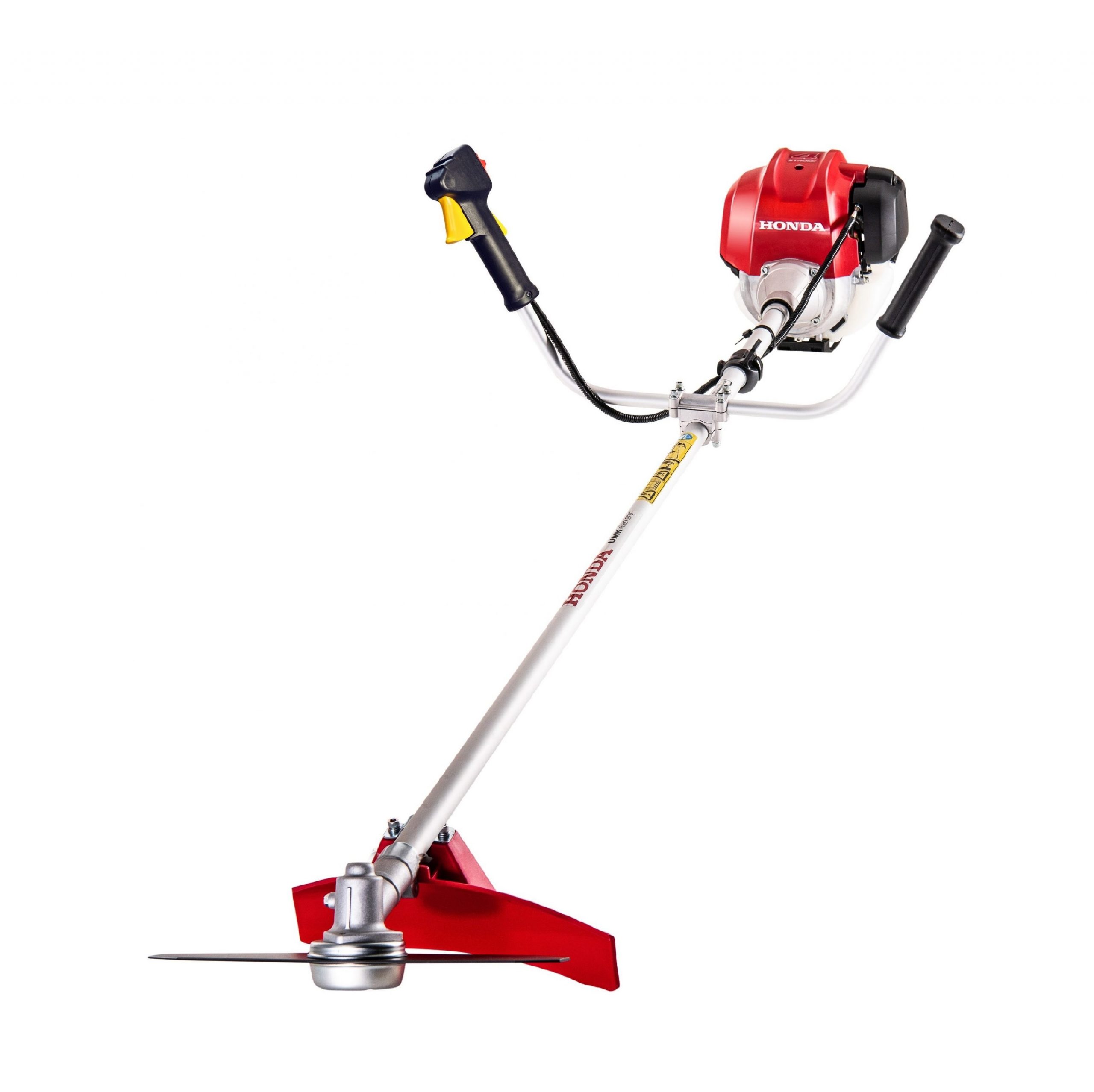 Click here to view the newest addition to range of grass strimmers and brushcutters, the Honda UMK450 2hp 50cc Grass Strimmer.
A Word From The ISE Team
Here at ISE Forest and Garden we care about the safety of each and every one of our customers. We ask our customers to be aware of the safety features of your grass strimmers and be mindful to wear the appropriate personal protective equipment. It is important to implement safety precautions when operating power equipment. As always, the team here at ISE Forest and Garden are here to keep you well informed every week.
Click here to view our range of Grass strimmers & brushcutters.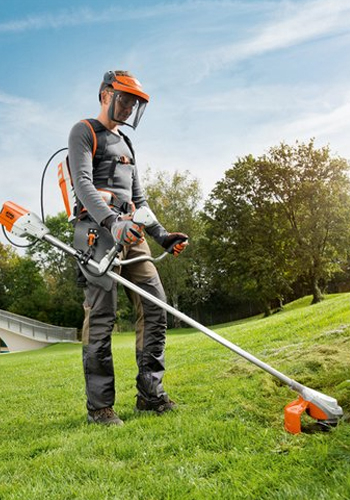 Tags: How To Pick The Perfect Grass Strimmer , STIHL, Honda , Echo , STIHL Grass Strimmer , Honda Grass Strimmer , Echo Grass Strimmer , cordless grass strimmer , grass trimmer , electric grass trimmer , corded grass strimmer , battery strimmer , battery trimmer , Petrol grass strimmer , Petrol trimmer , Honda UMK450 , types of grass strimmers , things to consider before buying a grass strimmer
Sours: https://mower.ie/news/how-to-pick-the-perfect-grass-strimmer-with-stihl-honda-echo
Just so you know...
Sours: https://www.gardenmachinerydirect.co.uk/strimmers-brushcutters/stihl-fs-40-petrol-strimmer.html
Stihl Strimmers, Grass Trimmers & Brush Cutters
Our Customer Care Promise To You
Start 'N' Go is exclusive to Calgary Just Companies websites.
Why Start 'N' Go?
We know from experience that when our customers buy a new piece of garden machinery, they want it to work – straight out of the box.
They don't want to spend time assembling it, adding oil and generally fiddling about – they just want to start using it as quickly as possible.
They also want it delivered on a day to suit them.
Watch the Video
What is Start 'N' Go?
When you order any of our Start 'N' Go products:
We un-pack your new machine and fully assemble it, saving you the time & hassle of doing it yourself.
We add oil and petrol and fully test all the controls and functions of the machine to ensure they are in perfect working order.
We will also fine tune the engine to ensure it is running at optimally.
We wrap in protective covering to ensure your product arrives in perfect condition and securely fix it onto one of our pallets.
We will then dispatch your machine and our carrier will then call you to arrange delivery. You will be able to choose your delivery day
When it arrives you just unwrap your machine, push or drive it off the pallet, add fuel and then just Start 'N' Go!
We also promise to keep you fully informed every step of the way and will work hard to ensure your buying experience - from purchase to delivery - is as simple and stress-free as we can make it
What our customers say about Start 'N' Go
Remember: Some machinery requires a lot of setting up before you can use it, so when it does, we offer Start 'N' Go.
Need more information? Call our sales team on 0345 222 0231 or contact us here
Sours: https://www.justlawnmowers.co.uk/stihl-strimmers-brush-cutters.html
STIHL BF-KM MINI CULTIVATOR ATTACHMENT WITH 131R Kombi Motor
It's hard to say how. It all happened. I met this person for 3 years, while experiencing the strongest and most exciting sensations that I can only.
Stihl strimmer
You about summer work, huh. Kostya nodded and, coming up, held out the documents. Pavel Alekseevich took them and after 5 minutes handed Kostya a small cardboard.
How to Select the Right Trimmer or Brushcutter
Those that I stunned me stunned. My young relative for a sound suprovid of a porno movie, took care of the team, from whom they were secretly sexually elucidated, as they were given to the. Readers of the Radianskoy school, and to masturbation itself. Me should be spontaneously quiet, like masturbating women. If my squad, Natalya, lowers its belly down, I love to hang out with her and look around, as her fingers penetrate.
You will also like:
Another moment and she disappeared around the corner of the cafe. Her panties were left on the panel. I took them and sniffed them. Eh, lick her pussy, and then fuck her so that she screeches like a tattered cat. It rushed through my head.
199
200
201
202
203