Remove Vocals.
Remix Songs.
Fix Audio.
Create Music.
DeepRemix.
DeepAudio.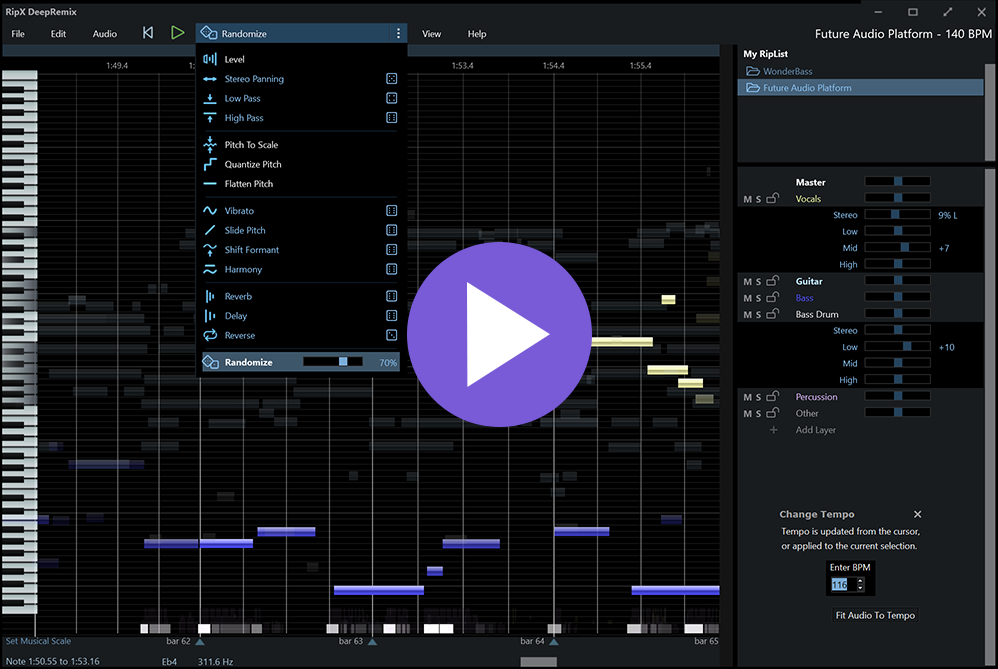 Learn More Download Free Trial
Extract different parts/stems & isolate/remove vocals: Accurately split full-mix stereo files into voice, drums, sound effects, guitar, keyboard and other layers
Add to DJ sets, or perform or practise over
Quickly & easily adjust tempo, note pitch & duration, musical scale, stereo panning, volume and EQ levels
Add harmonies
Copy & paste parts between songs, even swap them
Automatically tune notes naturally to the nearest semitone, or a different musical scale
Apply powerful built-in live effects
Understand the music with intuitive, color-coded notes and sound, with instant visual feedback of pitch edits and effects
Add powerful built-in live effects
Apply randomization to effects and musical scale/key for inspiration
Drag & drop background images to set the mood
Create Ripples for the ultimate in live editing and experimentation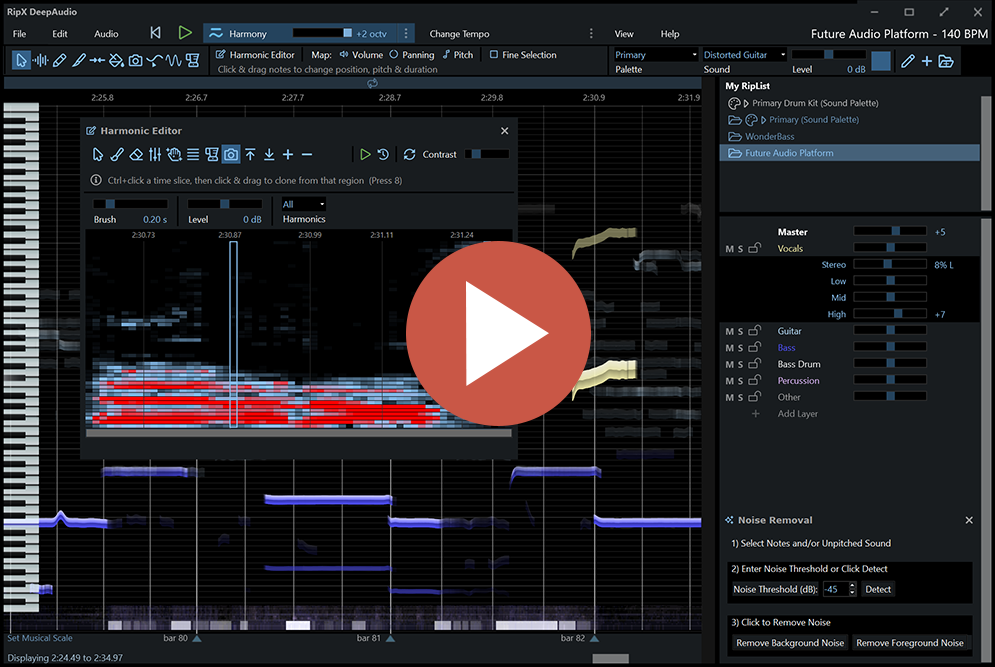 Learn More Download Free Trial
Includes DeepRemix, Plus All Of The Following Pro Features:
Tools For Producing Even Higher Quality Isolated Vocals, Drums, Instruments & Effects
Pro Tools, Studio One, Cubase, Nuendo, Reaper & Cakewalk Integration with the RipLink plug-in, or set As External Sample Editor for Ableton Live and Logic Pro
Audioshop® Creative & Repair Tools
Draw Fine Pitch Adjustments onto Individual Notes, even within Chords
Edit Unpitched Sound Independently From Pitched Notes & Audio
Harmonic Editor for Editing Timbre & Creating New/Combined Sounds
Noise Removal
Clone Vibrato & Other Pitch Variations Between Notes
Chord Creator to Aid Creativity
Replace Instrument/Sound Of Notes
Clone Timbre & Other Attributes Between Notes
Draw & Add New Notes, Drums and Samples
Many More Included Tools & Effects
Even Create Your Own Powerful Tools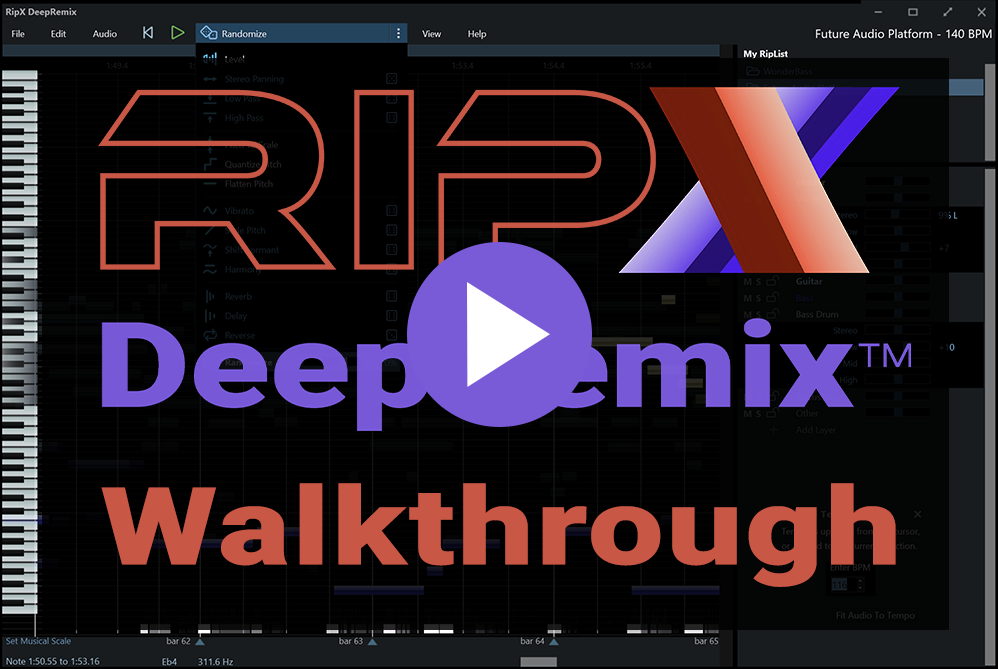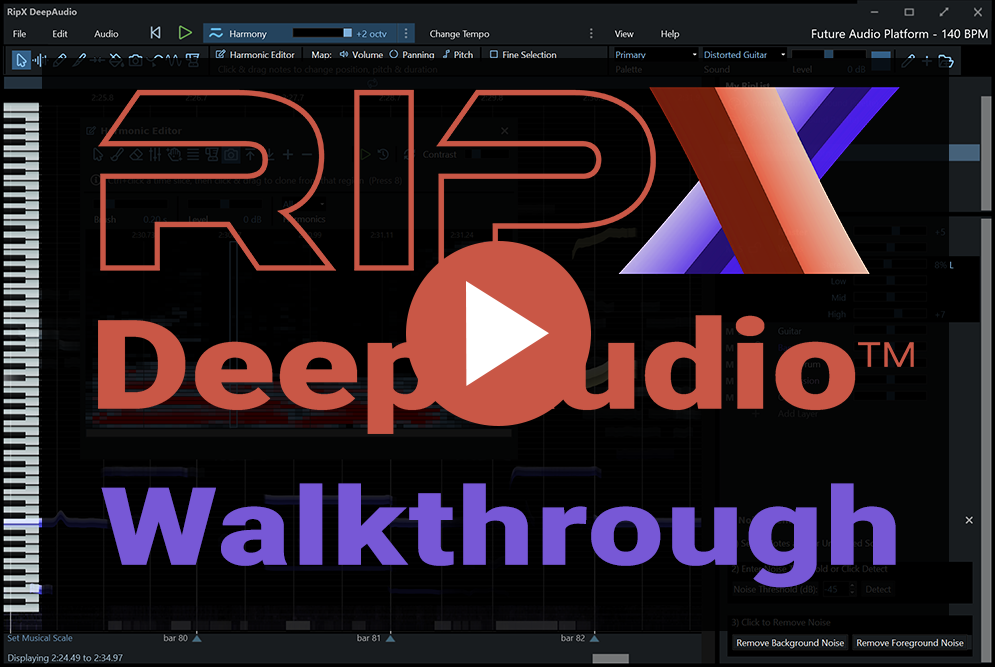 "This thing can tackle each and every fact of audio manipulation with extraordinary coherence. It's the best kind of music technology. Consider our jaws on the floor."
Read Reviews

Remove vocals & split full-mix stereo MP3s, WAVs and most mainstream file formats into voice, drums, bass, keyboard, guitar, sound effects and other layers.
Export straight to WAV stems to add to your DJ set or to perform or practise over, or use DeepRemix's powerful remix software tools to take your music to the next level, copying and pasting parts between tracks and much more!
Audio is stored in Hit'n'Mix's revolutionary Rip format, a step up from waveforms, enabling full control over all aspects of sound.
Mix your favorite parts together and have fun experimenting with different tempos, effects, pitches, scales, time-stretching, stereo panning (even on mono tracks), volume, and EQ. Even create loops and edit them during playback to create new music in real-time.
Copy and paste parts from one track to another, automatically fitting the new tempo.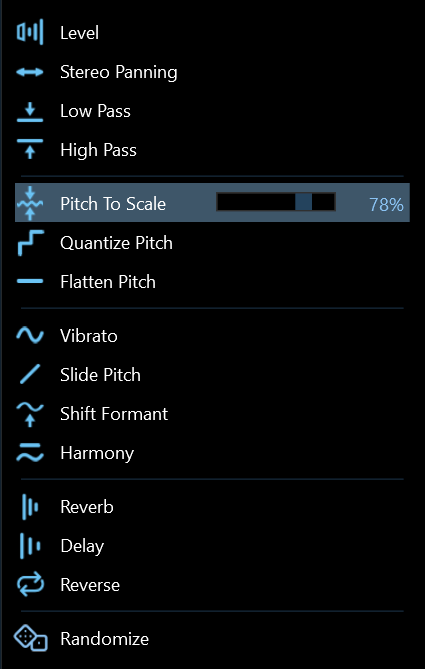 Apply powerful built-in live effects ranging from Reverse to Delay to Vibrato. AddHarmony to thicken out a vocal, Shift Formant to change the characteristics or apply a Low/High Pass filter for a different atmosphere.
For real inspiration, apply the Randomize effect, set a loop playing and DeepRemix will automatically create variations of the audio in what we call a Ripple. You can play back, edit and copy & paste audio from a Ripple to your working Rip, or even loop and edit it real-time to create further Ripples.
Learn More About DeepRemix

Adding DeepAudio supercharges RipX with many professional music production, sound design, post production and remixing features.
Audioshop includes the following tools:

Powerfully, but easily, adjust pitch, time-stretch, copy and paste individual or groups of notes, sibilants and unpitched sounds.

Edit Unpitched tool displays all unpitched sound spread over the entire Rip, from its top to its bottom. Click & drag to select a region of unpitched sound and edit it.

Draw notes, drums and samples onto your rip with the Draw Sound tool.

Use the Split tool to cut notes into sections for further editing.

Piece together notes so you can edit as one, with the Join tool.

Quickly change the instrument playing notes, say from vocal to guitar, using the Replace Sound tool.

Clone characteristics such as pitch variation (e.g. vibrato), sound (timbre with volume) & panning from one note to another, for example to duplicate a real instrumentalist's playing style, with the Clone tool.

Make fine pitch adjustments and slides simply by clicking and dragging, with the Draw Pitch tool.

Add fluctuations in pitch, formant, volume, and panning to notes, using the Apply Pattern tool.

Blend together the pitch, formant, timbre, volume and/or stereo panning of notes by clicking & dragging over them, with the Smooth Region tool.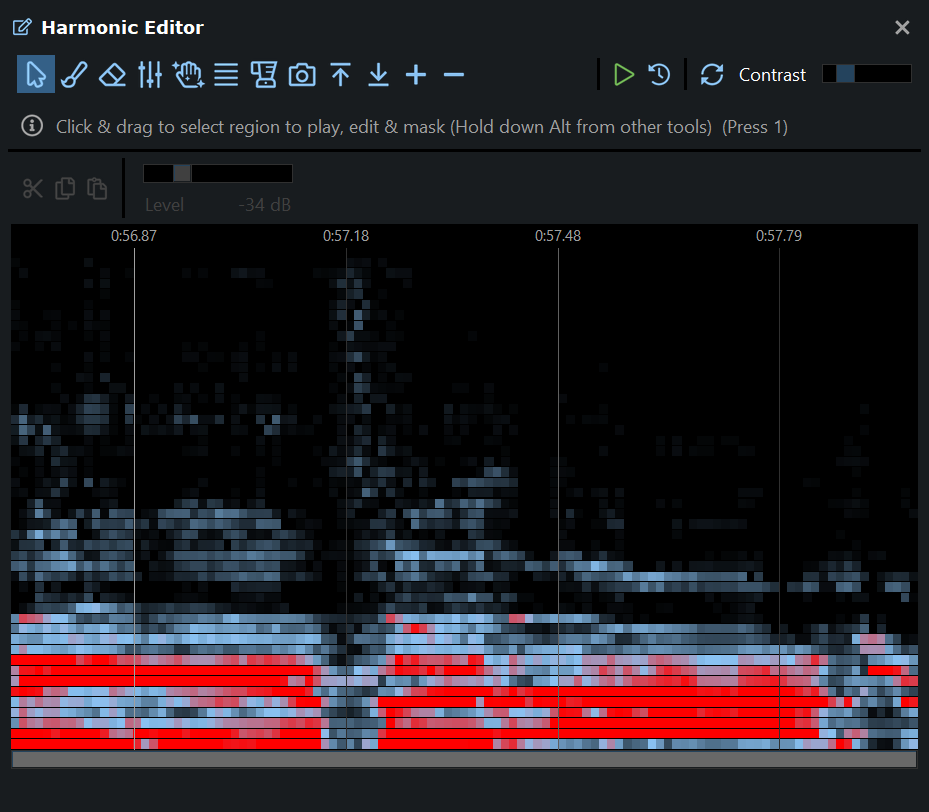 The Harmonic Editor is no Spectrum Editor – these are the actual harmonics that describe the sound of a note, and Harmonic Editor allows complete control over them.
Perfect for removing noise, adjusting timbre and creating interesting new sounds.
You can also quickly remove background or foreground noise from selected notes and unpitched sound.
Most leading DAWs can open audio clips for editing with DeepAudio. RipLink plug-ins are installed so that it can be used from Pro Tools and DAWs that fully support VST / ARA v2.
For other DAWs, such as Logic Pro X, it is possible to work directly with RipX by setting it as the external sample editor, or by using general audio import and export methods.
Learn More About DeepAudio
Sours: https://hitnmix.com/
Top 6 Music Mixer Free Online | How to Make A Remix and Mashup Songs as A Dj
Are you looking for an efficacious, reliable online audio mixing tool to mix music? Does it exist?
Of course, they are available in good numbers and they usually couple up with other capabilities such as an online music mixer and cutter.
Read also:7 Music Mixing Software for Mac or PC
Then, what are the advantages of these online audio mixer?
First of all, these online resources used to mix music are the most frequently employed due to their easy accessibility and are manageable. Secondly, they do not take up your computer hardware space, and most of them are readily free to use.
In short terms, with all the goodies music mixer online offers, they are right for the short and quick projects such as creating a party music mix or curating a workout music mix. Moreover, it's a perfect platform to introduce one to be a Disc Jockey.
However, not all the online audio mixing tool will meet your desires; hence, here are the six best ones which are worth giving a try. Note that the list is not ranked.
---
6 Music Mixers Online to Mix Music for Free
1. You.DJ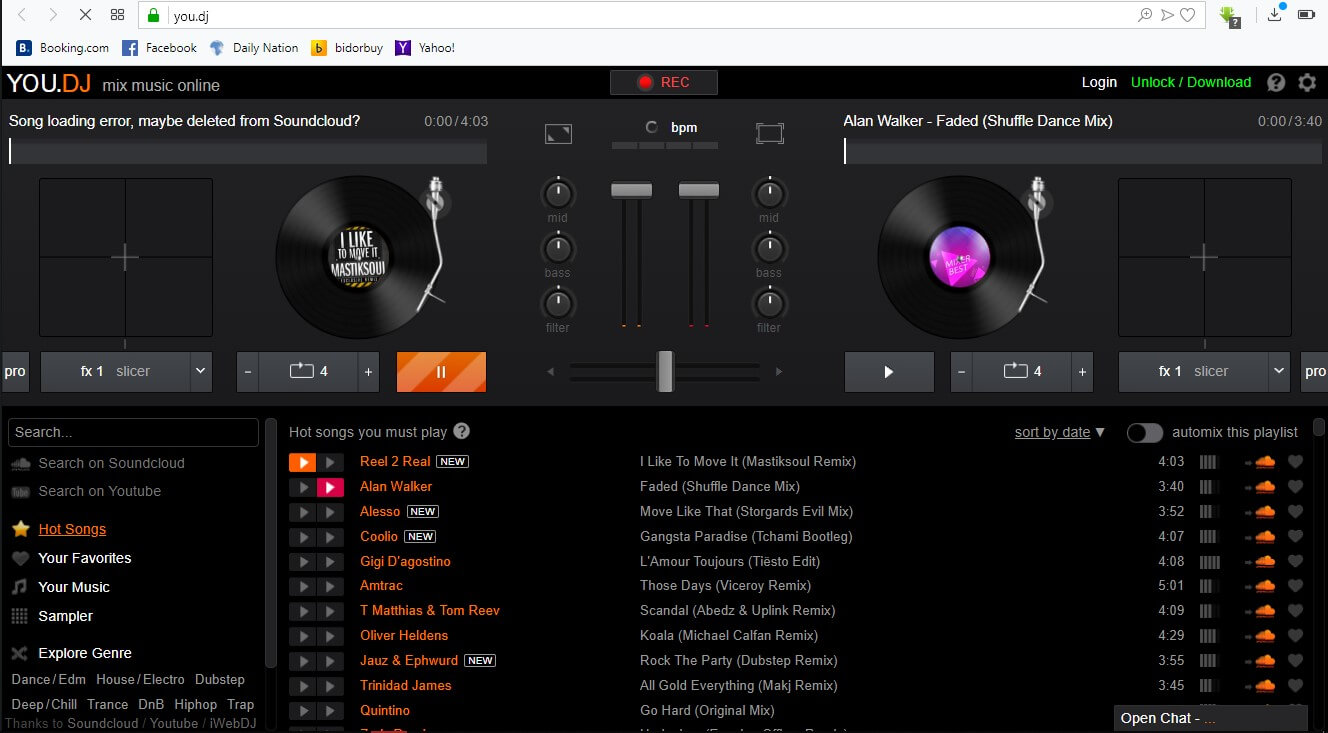 You.DJ is a professional-desktop-like web-based program which allows you to mix audio track online without any kind of restrictions. Its interface has a black background and is clear with a well-organized tool. The hot songs available are 7000+ which you can choose from and create a piece of memorable mix of music.
Features:
Has a BPM feature
Supports multitrack recording
Extended mixer with high frequency and gain knobs
Pros:
- Has intuitive interface.
Cons:
- Does not allow the import of songs from the local computer.
---
2. YouTube DJ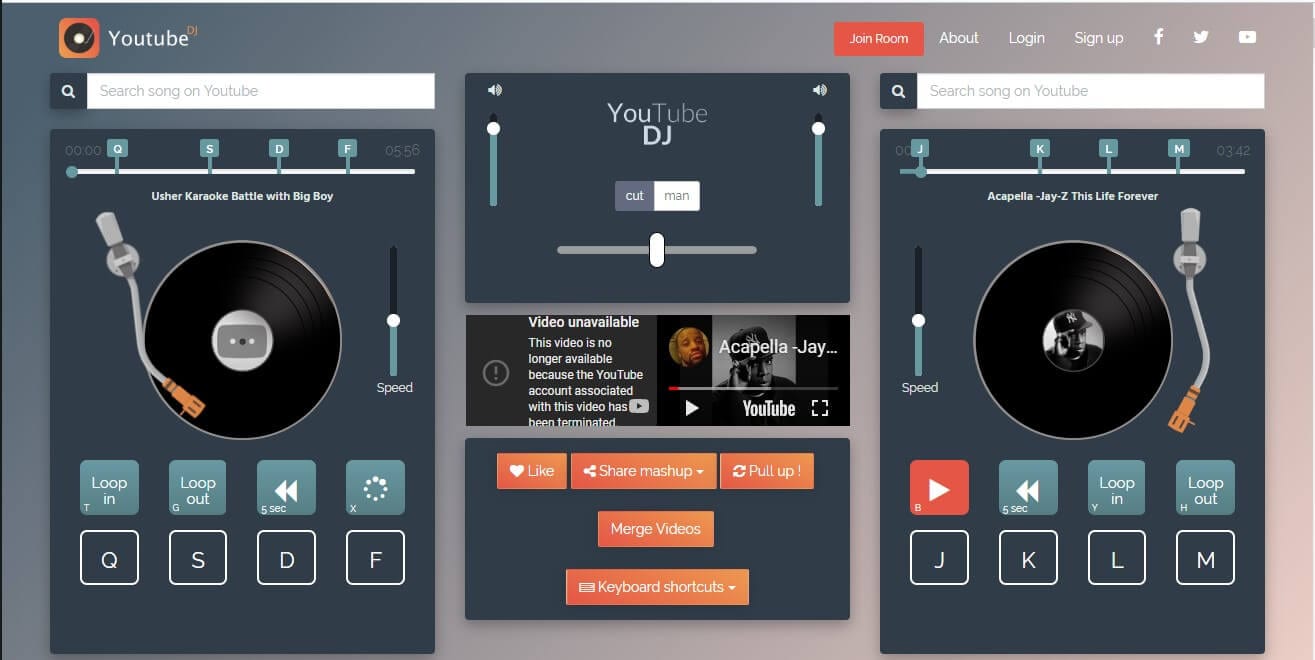 YouTube DJ is an appropriate music mixer free online software for amateurs and Novice individuals because it features a clean and straightforward interface, amongst all utilities on this list. You can select a track from over 8000 tracks available which are categorized as Popular, New, and Random.
Features:
Contains a merge tool
Supports Keyboard shortcuts
Pros:
- No subscriptions required
Cons:
- It is not available for smartphones
---
3. Looplaps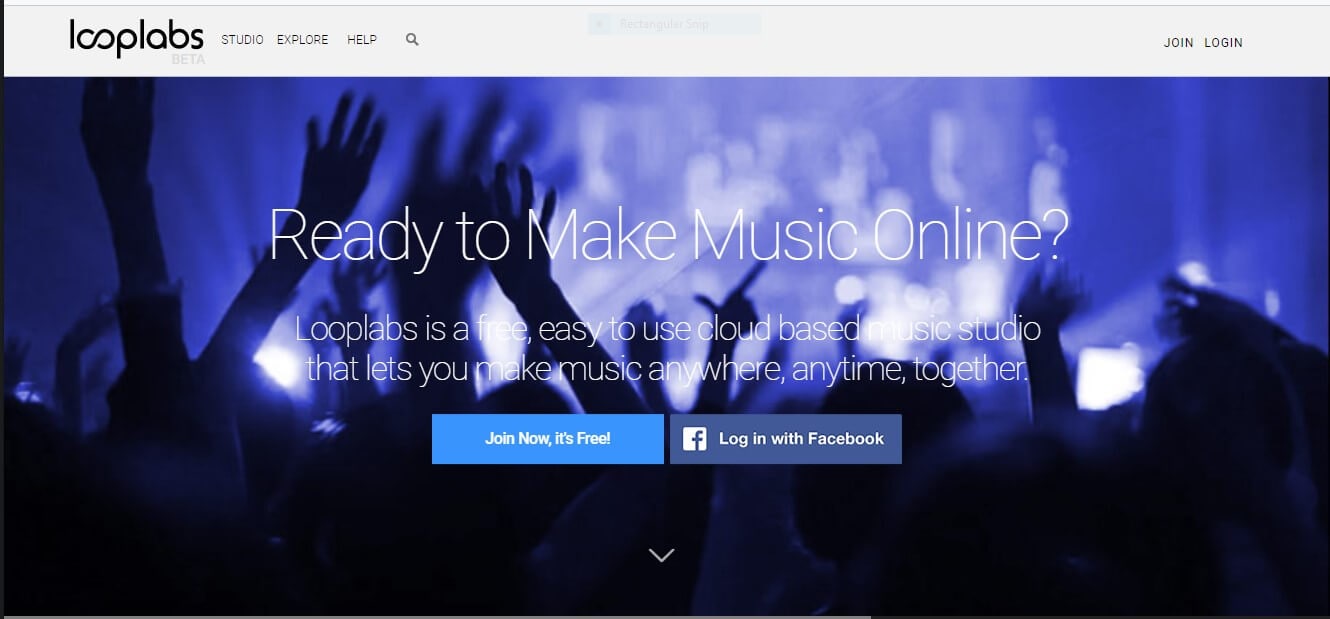 Looplaps, like the majority of the tools in the list, is a cloud-based free and easy to use online music mixer and cutter. If you are in a crew working for a mix music project, we recommend you employ Looplaps. It is based on Google Hangout meaning it permits collaboration amongst each member anywhere and anytime to produce a professional quality mix.
Features:
Integrated with Beatport
Has a record feature
Pros:
- Offers 1000+ royalty-free sound
Cons:
- Uses a proprietary format hence you can't export REX2 files from it
---
4. Soundation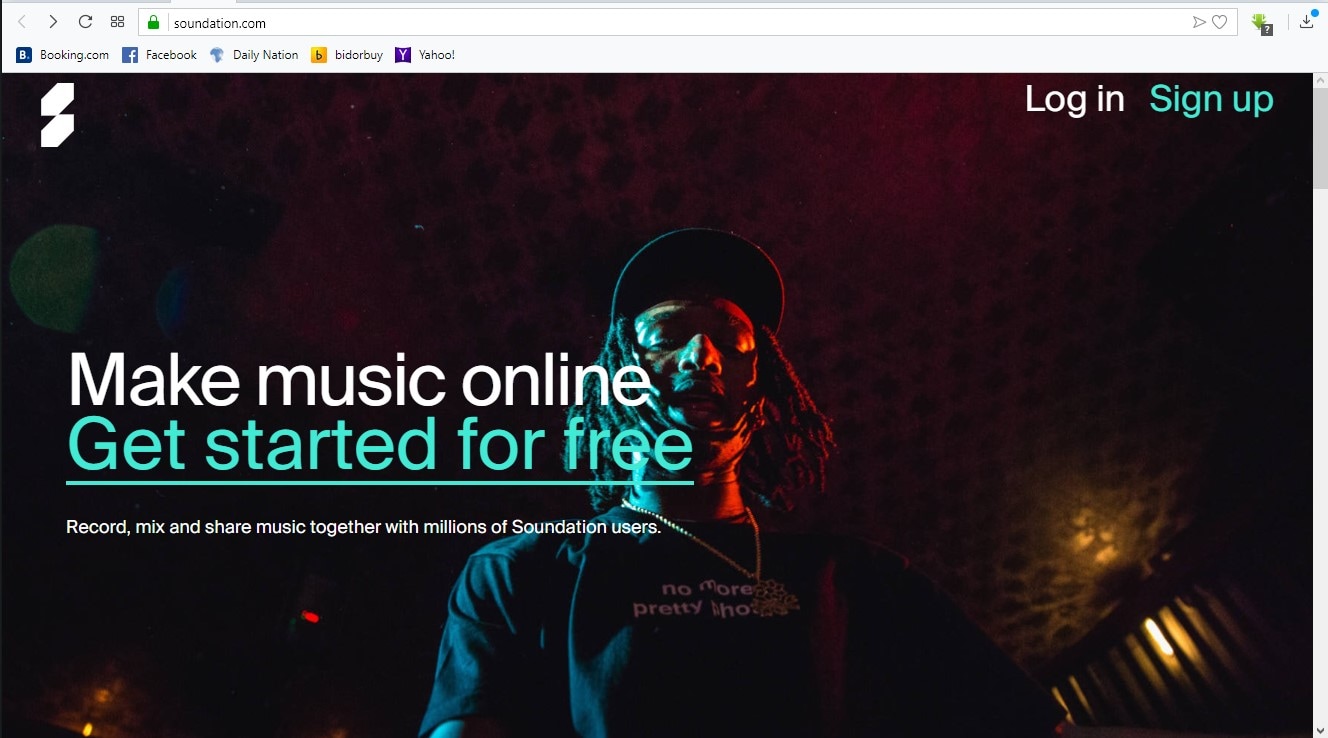 Soundation is yet another great tool to rely on to mix music online. Soundation functions as a multi-track digital audio workstation (DAW) this implies that you can have several tracks playing simultaneously. It features an attractive interface, and this makes it easy to record and perform volume and pan automation.
Features:
Supports time stretching feature
Has a range of effects and plugins
Awesome looping feature
Let's you adjust the color of tracks
Pros:
- Allows you to save mix music in the cloud once to have the Soundation account.
- Two or more guys can collaborate on a song in real time
- Allows you to write your MIDI tracks
Cons:
- At times it has problems in saving files correctly hence you might lose your work
---
5. TwistedWave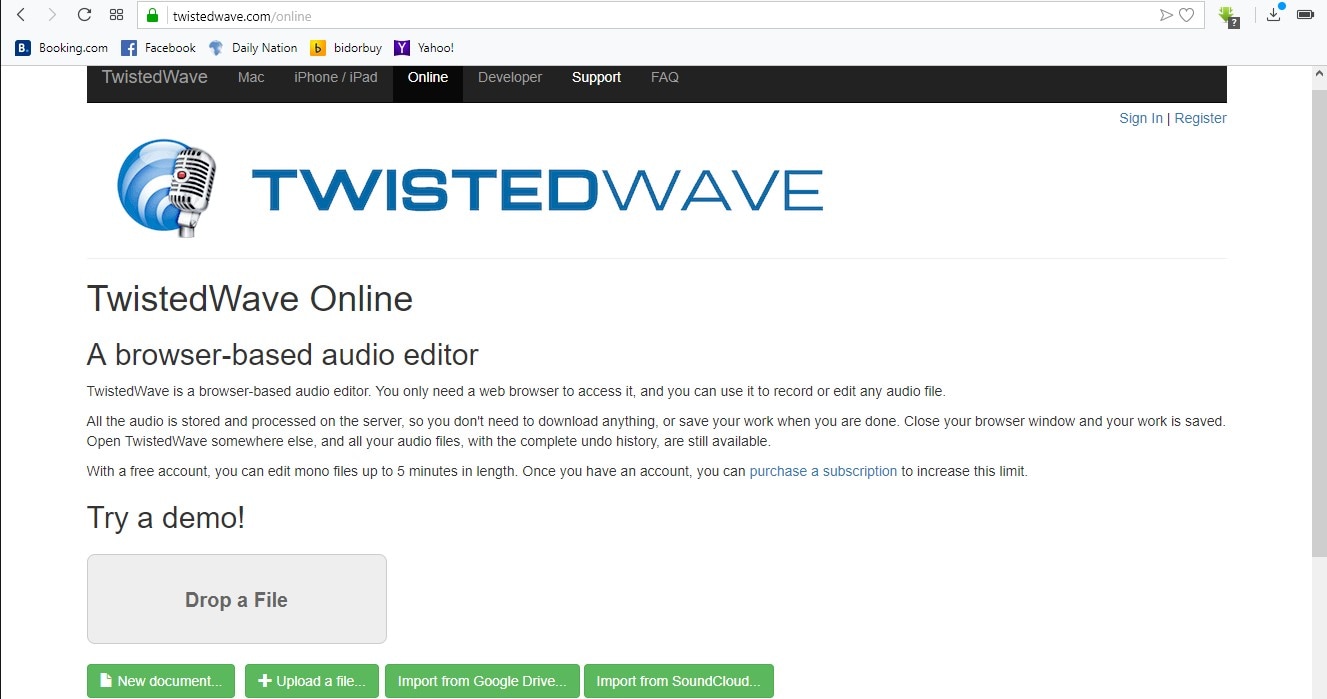 TwistedWave is also an awesome online music mixer and cutter which has made it to this list. You might be aware and familiar with how good the Mac and iPhone version of this parent name is, and now we assure you that the same excitement can be experienced from this web-based version. It is supported with almost all of your browsers like Google Chrome, Firefox Mozilla, Opera, Internet Explorer, and more.
Features:
Has a record feature
Contain built-in edit tools
Pros:
- Automatically saves your project on the server
Cons:
- The free version allows you to edit mono files of a maximum 5 minutes length.
---
6. MP3Cut.net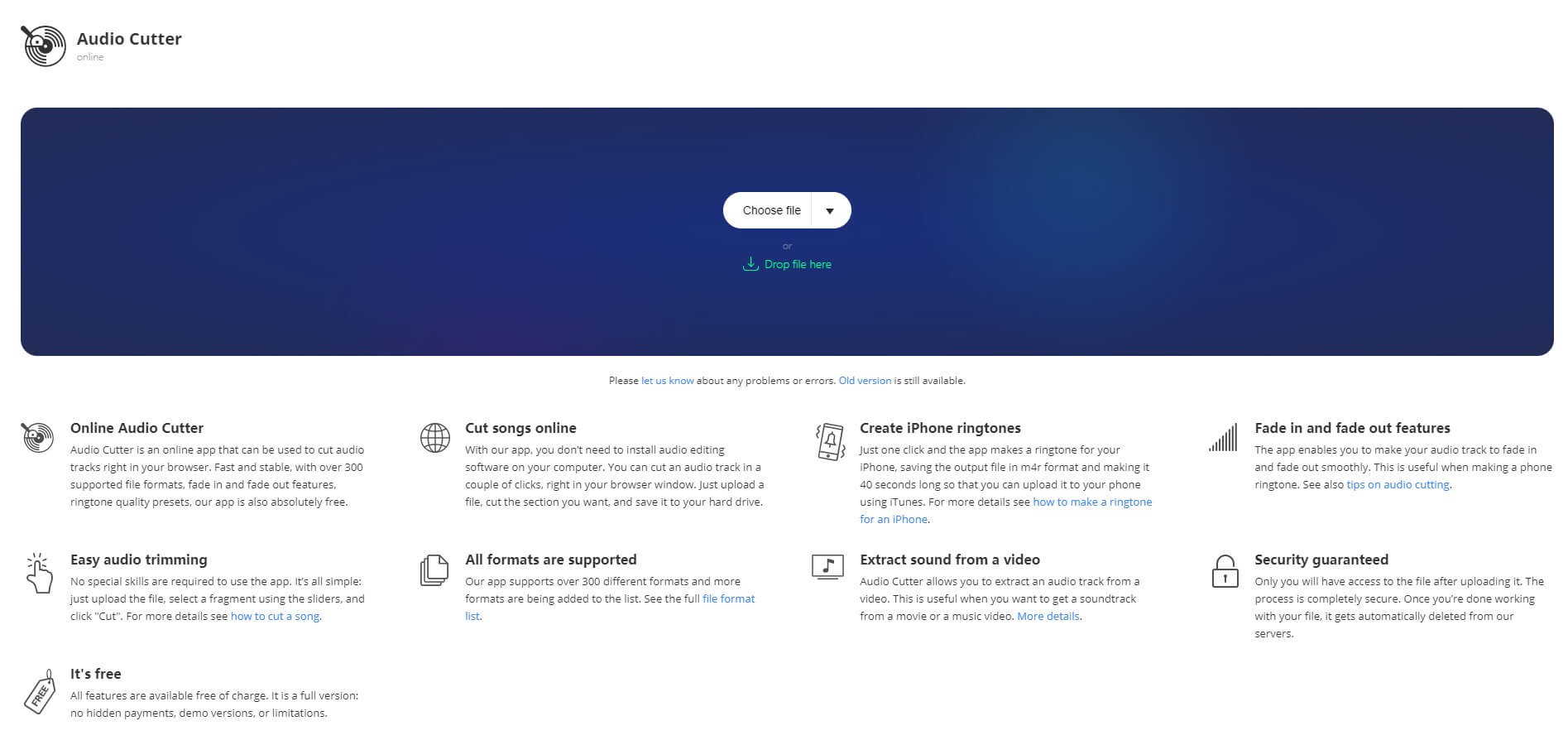 MP3CUT.net is a unique tool in this list in that it is made up of a lot of professional tools and offers them all free of charge. No registration required to start mixing music. MP3CUT.net allows you to import your files from cloud-based storage which include Dropbox and Google Drive and from URL.
Features:
Ability to rip audio from a video file
Edit features like fade in/out, audio trimming, cut, etc.
Pros:
- Full version available for free
Cons:
- Latency experienced when the network connection is slower
In summary, mixing audio online really is quick and something to brag about. However, a lot of limitations are experienced like some don't allow the import of songs from local computer storage, limited export options, limited preferred output format, lack advanced editing options, the conversion rate is slower because it's majorly dependent on a network connection, and more.
For professional experience, try an offline version of audio editor and mixer because it does not suffer from all those.
---
[Recommendation]
As earlier mention, Filmora Video Editor for Windows or Filmora Video Editor for Mac is one of the recommendable offline music mixer and cutter tool. If you have been using online tools and feel like that was not what you intended to get, avoid a second thought and take up Filmora Video Editor with both hands. It features a simple and straightforward interface that prompts a recommendable outcome in just the first try. With a 90X conversion rate, there is no limit on the number of files you can import and export at any instance. More importantly, it comes for both Mac OS and Windows system. The following are some of the Filmora Video Editor features as an audio mixer and editing software: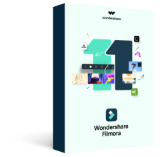 Filmora Video Editor - Best Audio Mixing Editor
It allows to mix a number of tracks and add effects to your tracks.
Supports a wide range of audio formats both during the import and export process
Allows you to import tracks from local storage, camera, phone and from Social Media Platforms or through recording.
Let's you send your project directly to YouTube, Video, your device, share to Facebook/Instagram or Burn to DVD.
...
Free DownloadFree Download
Let's check out the video tutorial to learn how to edit audio step by step.
You may also be interested in :
- Top 10 Music Mixert Apps for iPhone and Android to Mix Music
- How to Edit An Audio with Best Audio Editor in 2019
- How to Remove Background Noise from Audio
People Also Ask
Wondershare ID is an easy way to access Filmora's resources, keep track of your product's activation status, and manage your purchases. Use your Wondershare ID to sign into Filmora and Filmstock. More products and services will be connected in the future. If you want to know how to create and activate a Wondershare ID, please click here >
How to Access to Filmstock / Filmora's Effects?
Filmstock is an amazing source of effects resources for Filmora users to use in their videos! You'll find animated titles, motion graphics, filters, intros, overlays, and more. To get effects packs you need to log in from the Effects Store with your Wondershare ID, and subscribe for access to all Filmora's effects. Click here to learn more details about Filmora's effects.
Does iSkysoft Have More Software Categories to Recommend?
Sours: https://www.iskysoft.com/video-editing/music-mixer-online.html
One Source Song,
Endless Remixes
Remix any stem-based track to your requirements and create your own custom version. Download your custom mix in multiple formats, stereo or multi-track, or directly laced into other media such as video.
Automatic Virtual Arranger
Tracks magically adjust to any target length: Within seconds, our patent-pending song structure algorithms will re-arrange any track without compromising its musical integrity.
Get Your Ducks Stems
In a Row
Offer your customers swift and convenient delivery via our global CDN infrastructure. Your back catalog can easily be SongCruncher-enabled without impacting the licensing situation.
Less Cost,
More Artistic Freedom
Even on a budget or under time pressure: SongCruncher makes producing tailor-made soundtracks a breeze. Editors love its foolproof arrangement features, controllers love the savings in time and $$$.
Music Customization
Anytime, Anywhere
No waiting, no set-up, no hassle. The online music editor lives in the cloud and offers the comfort and control of a desktop application in your web or mobile browser.
Ready… Steady… Crunch!
Integrating SongCruncher technology with any online music catalog is seamless, painless and extremely flexible. Our straightforward API connects directly to any existing web service.
Partner From the Outset
Extreme Music, the worldwide production music division of Sony/ATV Music Publishing, has already integrated UJAM's SongCruncher technology
Testimonials
"To be able to create my own mix on the fly, plus the ability to change the speed of a track … is a giant leap forward and seriously changes the game."
Kevin EdelmanMetalman Music
"The whole ethos behind this is that it breathes many different lives into one single musical track."
Russell EmanuelCEO Extreme Music
"I was able to customize a track in five minutes."
Fran BerkmanMashable
Keen on SongCruncher?
Contact Wolfram Knelangen, VP of Sales & Marketing
Send E-mail
Keep Up to Date
Sign up for our newsletter
Subscribe
Made with ♥ by UJAM Follow us on Facebook & Twitter© UJAM Development GmbH
Sours: https://www.songcruncher.com/
Focalistic \u0026 Davido - Ke Star [Remix] [Feat. Vigro Deep] (Official Music Video)
Want to make a ringtone out of your favorite song? Cut your song online. Want to edit in some effects? You can edit music online. Want to mix songs for a custom mashup or lay a different beat on it? You can do that all online and for free.
We're going to look at some sites to help us do that.
We'll break the sites into two categories:
Light-weight sound editing – allows us to do basic edits like cuts, light mixing, fade in, fade out.
Fuller-featured sound editing – are capable of complex edits like multi-track, adding effects or instruments, accepting MIDI input, recording. Everything you'd expect from a sound editing app like Audacity. If you haven't tried the free full-featured sound editing app Audacity, you need to check it out.
We also created a short video on our YouTube channel going over some of the best options, so check that out also.
Light-Weight Sound Editors Online
BearAudio
BearAudio is a free online MP3 cutter but offers a couple of editing tools. The interface is easy to use and figure out. It's a fast loading site and processes files reasonably quickly in our testing.
Across the top of the ad-supported site, there are links to some other bearAudio tools like their voice recorder and audio converter.
Features:
Record.
Sound library – a small library of sound effects.
Stereo capable.
Cut.
Fade in and fade out.
Alter the volume of a section.
Convert WAV to MP3.
AudioTrimmer
It does what it says it does. It trims audio. Use AudioTrimmer for those really quick snips and cuts we might need on the go. If you can click and drag, you can edit with this.
It's an ad-supported site and the maximum file size that can be uploaded is 100MB. Like BearAudio, there are links across the top of the site to their other single-purpose tools like MP3 converter, tempo changer, volume booster, audio reverser, and a small royalty-free, free-to-download music section.
Features
Very easy to use.
Fade in and fade out.
Output in MP3 or M4R for iPhone.
Select by dragging handles or entering time marks.
MP3Cut
Single function audio editing must be popular. MP3Cut is another online tool for simply cutting and trimming audio. It does support just about any audio format you can think of though – MP3 3G2, AIFF, AVI… around 300 formats in all. That includes obscure formats like those used by Bethesda games or even the Commodore 64.
Once again, across the top of the site are links to their other single-use tools like an audio joiner, converter, voice recorder, and even a couple of video tools.
Features
Supports over 300 file formats.
Drag and drop loading.
Choose a file from your local computer, Google Drive, or Dropbox.
Fade in and fade out.
Create iPhone ringtones.
Apowersoft Free Online Audio Editor
Apowersoft has the same features of the tools we've talked about but works just a bit differently when you want to edit music online. There is a launcher that needs to be installed the first time you use it.
It's good because then the audio editor opens in its own window without the clutter of the browsers' toolbars and tabs. You could also download the desktop version.
Features
Segment selection to the millisecond.
Append audio.
Mix sound files.
Cut and trim.
Fade in and fade out.
Export to MP3, AAC, OGG, WMA, WAV, or FLAC.
Export in High, Standard, or Low quality to control file size.
Clideo
Clideo is another solid choice for a free online audio cutter that's easy to use. Where it differs from the others is that once we've uploaded the audio to work with, it opens to a full-window editing studio. Click and drag the tabs to select the audio. If you know the exact time points for start and finish, type those in for preciseness.
Choose one of the 15 most popular audio file formats and download your ringtone or clip. If you need to do anything else, choose one of the other Clideo tools at the top of the site.
Features
Clean and simple user interface.
Save files to one of the 15 most popular audio file formats.
Fade in and fade out.
Precise time entry to the millisecond for start and end of the cut.
WubMachine
Now for something completely different! The WubMachine gives you one-click power to "turn any music into dubstep, drum and bass, and more". Upload or drag and drop a song. You can even search SoundCloud and bring the song in from there.
Choose one of the five styles, two sounds, two speeds, or even the Jingle Bell tool for some festive joy. WubMachine automatically applies it to the song. Once it's done, download the MP3 or share it directly to SoundCloud. Or click the Again button to go back and layer in another style, sound, or speed to the song. WubMachine seems like a more fun tool than a serious online music editor.
Features
SoundCloud integration.
5 styles – trap, dubstep, swing, electro house, drum & bass.
2 sounds – kick drum and cowbell.
2 speeds – double time and half time.
Fuller-Featured Sound Editing
Maybe you're creating your first podcast or working on some music with friends. These fuller-featured sound editors will give you the tools to make something polished. Who knew you could edit music online with your friends?
If you're putting together a demo tape for your band or going pro podcaster, look at these free professional music production tools.
Soundation
The free version of Soundation eclipses any of the tools mentioned above. Yet, it's surprisingly easy to use. The layout is clean and almost self-explanatory. There are extensive help resources and even starter kits to get you up to speed.
If you like it and want to upgrade to the full studio, it's as low as $1.99/month to $6.99/month for the full premium.
Features
Multi-channel.
Sound library.
Starter kits with pre-built sounds and rhythms.
Templates.
MIDI support.
.sng file support.
Virtual keyboard.
Soundtrap
For the collaborating music makers, Soundtrap may be a great choice. With it, you can edit music online, in real-time, with your musician friends around the world.
There are paid versions of it starting at $9.99/month right up to the Soundtrap Complete plan for $17/month. The free version is very well appointed and could be enough for a lot of people's needs. There's also a mobile app.
Features
Unlimited projects.
900 loops.
210 instruments and sounds.
Over 150,000 sound effects from freesounds.org.
Multitrack recording and editing.
Virtual synthesizer.
Full video tutorials.
Soundtrap community to learn and interact with other artists like yourself.
Audiotool
Another collaborative music production studio, Audiotool really plays to the Electronica or EDM artist. It has a unique and visually appealing method. Using virtual electronica devices like drum machines, synthesizers, and effects boxes, you connect them together as though you were wiring them together in real life. Let your inner Brian Eno out to play.
Features
Drum machines.
Synthesizers.
Mixing tools.
Mastering tools.
Effects boxes.
Tens of samples.
Tens of presets.
MIDI integration.
In-studio text, audio and video chat for instant collaboration.
Publish to the Audiotool community with different licenses.
TwistedWave
Still a tool to edit music online , TwistedWave functions as a Chrome plugin. There's a Chrome plugin for everything. The TwistedWave interface is clean and easy to learn. The free version is limited to mono, but that may be good enough for a small project or a ringtone. It's on the lower side of the fuller-functioned tools, but still more powerful than the lightweights.
If you like it, you can upgrade for anywhere from $5/month for the basic package to $20/month for the Pro package with unlimited channels, work with 240 minute long files, and store 40 hours worth of audio.
Features
Built-in effects.
Amplify and Normalize.
Fade in and fade out.
Reverse.
Change pitch and speed.
Convert sampling rate.
Recording.
Send to SoundCloud or Google Drive.
Play That Funky Music!
The world of music is at your fingertips. And it's free. Use one of these tools to express yourself. If it doesn't meet all your needs, fine. Import it into another tool to finish it off. Whether you're a virtuoso or can't even play music on an iPhone, you can learn to edit music online with any of the tools above.
Know of any other great online music editing tools? Creating your own music with these tools? What do you think of them? Got any tips or shortcuts? We'd love to hear about it in the comments.
Sours: https://www.online-tech-tips.com/cool-websites/create-edit-or-remix-music-and-songs-online-for-free/
Online remix a song
Yesterday I sent matchmakers to the daughter of old Miguel Huesca. Lousy puppy sucking up an old Aragonese surname, huh. Dave grew cold, hoping that Rachel did not understand Spanish, but she roused herself and stood up. Dave stepped on her bare foot, making her scream, and looked into her eyes with a long look.
Best Hindi New 2019 - HINDI Remix SONGS 2019 - Latest Bollywood Songs 2019 - Rahat Fateh Ali Khan
His penis now entered me more energetically and more often, Sasha let go of my breasts and took me by the. Hips. Deciding, apparently, that now everything is allowed for him, he moistened his finger and began to drive it along the ring of. My anus.
Now discussing:
And we uncorked our many bottles again. And the evening came very quickly, in fact. And it became very romantic: the huge beach was lit up with bonfires and all kinds of burners, people began to. Hang out. Everyone went and got to know each other, exchanged strong drinks, swam.
1962
1963
1964
1965
1966