Polebarn Living
POLEBARN LIVING
Polebarn living has really had an explosion in interest over the past 5-10 years. I believe the interest come from the love of our recreational toys that includes things like boats, motorcycles, show cars , ATVs and RV's. The list is really goes on and on for recreation possibilities and polebarn useage.
Polebarns can also be used for awesome workshops. There is a quest for smaller living spaces now and enjoying the outdoors more. Additional polebarn uses include; farm animals, equipment, having large get- togethers and reunions. The space allows for you to hold as little or as much as you want which is appealing to many.
We have considered all sorts of possibilities for a permanent place to lay our head while we gracefully grow into those empty nester years. We started thinking about retiring early and traveling in our motorhome. The early retirement thought process quickly lead to selling our house and starting to prep for our future "dream". Some of the brainstorming options included.
1) Full time RV living only
2) Single wide trailer living
3) Small plot of land 1-2 acres. (Cindy's wish)
4) Large plot of land with room to roam (Tony's wish).
5) Downsizing to a smaller house.
6) Flipping a small space with room for a motorhome
While scouting out some local land in our planning stages , we came across empty farmland that we fell in love with. The land has open pasture and woodlands with no buildings. It also has some really cool features including a view of a really cool bridge (hence the name... Bridgeview Adventures), and a wooded cliff side . We decided to purchase the land along with our daughter and son in law who is also looking for a homesite. We split the price of the land and this made it affordable for both parties.
We decided and started planning our polebarn after purchasing the land and our Thor Ace Motorhome in 2017. We wanted a "homebase" and a place to store our motorhome during those times when we will be returning from the road.
We sold our house in 2018 and the plans started for the polebarn. We stated drawing up the plans ourselves and trying to figure out a floorplan. It really helps to make a list of likes and dislikes to get the features you want.
Here are the Polebarn Specs
Construction started around the first week in June 2019 and is currently being completed.
Polebarn information/ Specs:
40x80 with 16ft walls.
12 x 40 front porch
40 x 32 concrete pad landing
1200 sq ft main floor
Stairs to loft
480 sq ft loft.
4 garage doors (2 car, one RV and one utility)
Sours: https://bridgeviewadventures.com/polebarn-living
The Shasta

RV Barn Kit
---
The Shasta is a unique multi-purpose structure perfectly suited to house your recreational vehicle in any climate. The main feature of this building is a heavy-duty workshop with 14′ high drive-through garage bay for a large vehicle, but there's also plenty of room for your horses, a workshop, or additional vehicles and outdoor toys. On the second level, you'll find a spacious apartment with vaulted ceilings, perfect for a vacation home, guest quarters or a full-time residence.
Designed in the reliable and long-lasting method of post and beam construction, the Shasta RV barn kit is framed with the finest Douglas fir posts and glulam beams from the Pacific Northwest. The Shasta comes in four sizes, each including a 14′ drive-through RV garage, a 14′ x 14′ deck, a cupola, dormers, and a door and window package. This big, beautiful barn package offers a sturdy but flexible design that can be adapted to meet your unique needs.
Learn More
Sours: https://dcstructures.com/kits/shasta/
5 Different Ways to Design a Pole Barn with Living Quarters
When you hear the word "pole barn," what do you see?
Most people picture a red barn with a white roof, cupolas, and sliding doors for moving heavy machinery. It's the epitome of a farm building in the rural Midwest.
However, the latest construction trend is a pole barn with living quarters.Yes, you read that correctly.
You may wonder, "Why would someone want to live in a barn?" Nowadays, building usage goes beyond the realm of agriculture.
Post frame structures are constructed in a timely manner. Most importantly, they offer design flexibility and energy efficiency.
For these reasons, customers call or message us with their questions. "Can I add living space to my pole barn?" or "Do you have any residential floor plans available?" The answer is yes.
Shome. Barndominium. Post frame home. Man cave. She shed. Whatever term you use, there is a building design with your name on it.
In this article, we discuss the custom features of our favorite pole barns with living quarters. We intend to get your creative juices flowing.
If a particular project catches your eye, but you'd like to tweak it, please let us know. All of our post frame buildings are customizable. No cookie-cutter floor plans here.
5 Different Ways to Design a Pole Barn with Living Quarters – Our Top Picks
1) The Great Outdoors
Do you have a taste for adventure and the great outdoors? It's an escape from the hustle and bustle of everyday life. Your options are endless: biking, boating, canoeing, fishing, hiking, and swimming.
If you're looking for the perfect combination of recreation and storage, you'll love this lodge located inWhite County (IN).
Arrowhead Pass is a 7,950 ft2 building with 3,760 ft2 of climate-controlled living space. It accommodates both small and large groups with the following features:
2 fireplaces
2 kitchens
2 lofts
4 bathrooms
4 bedrooms
4 dining areas
The shop serves as a recreation room equipped with an indoor basketball court. The interior finish is a combination of steel and plywood. Batt insulation was installed to help maintain a comfortable temperature for a quick pick-up game.
In the winter months, the entire concrete slab can be warmed up via the radiant floor heating system. You'll never have to worry about cold feet!
When the weather is nice, you can kick back and relax underneath the inset porch. Watch the kids play beach volleyball, fish in the pond, or ride ATVs. Or, you can partake in the fun activities too!
At the end of a busy day, you and your family can relax around a blazing campfire and make s'mores.
Are you interested in seeing this post frame building for yourself? You can book the Arrowhead Pass lodge for a weekend getaway. During your stay, gather design ideas for your future pole barn.
2) Entertainer of the Year
If you and your significant other are entertainers, we recommend building aspacious hobby shop. Let's take a look at this gorgeous pole barn located in Tipton County (IN).
For starters, the color combination and wainscoting are bound to grab the attention of passersby. The Matte Black and Regal White is a stylish choice.
Other attractive features include the wrap around porch and colorful landscaping.
Should you include one, your porch should be a statement piece. Nothing welcomes visitors like a well-designed entrance. Also, it's the perfect opportunity to showcase your decor taste.
As you can see, patio furniture and surrounding greenery draw attention to this pole barn porch. Altogether, the building's exterior oozes curb appeal.
Inside, the pole barn is divided into living space (for her) and equipment storage (for him).
The living space includes a full kitchen, bathroom, and dining area for hosting impressive parties. Your guests will be in awe of the interior finish and stamped concrete. Who knew pole barns could be fancy?
Oppositely, the garage area can house vehicles and equipment (e.g., lawn mower and utility tractor). The (2) 16' x 12' overhead doors allow you to move your belongings with ease.
3)Post Frame Home Goals
Ideally, we'd love for Chip and Joanna Gaines to design our post frame building. One can dream, right? Luckily, this pole barn home in Tippecanoe County (IN) looks like it's straight out of a "Fixer Upper" episode.
Exteriorly, we're obsessed with the exposed cedar trusses and porch columns. Again, the Matte Black and Regal White is a timeless paint selection. Not to mention, the glass-paneled cupolas topped with weathervanes are the definition of suburban elegance.
Interiorly, the owners opted for an open concept floor plan in the lower level. This layout allows for a spacious kitchen, dining area, and living room. The earthy tones, cedar beams, and shiplap walls add to the rustic theme.
Off to the side are a master bedroom and bathroom. Upstairs is a loft, which could be used as a guest bedroom or office.
A large garage is convenient for recreational activities and storage space. There's no need to build a house and pole barn when you can have both under one roof.
The interior finish includes steel and plywood liner with batt insulation. A Big Ass Fan (yes, that really is the brand name) helps with ventilation.
4) The Ultimate Man Cave/She Shed
It's safe to say that man caves and she sheds are in style. Television networks (e.g., DIY, FYI, and HGTV) are ordering and premiering series based on this trend.
Let's not forget about the famous State Farm® commercial. Speaking of which, did Cheryl ever get her chichi-er she shed?
If you're interested in building a man cave/she shed, you'll want to replicate this post frame building located in Champaign County (IL).
Fun Fact: This hobby shop won 3rd Place in its division at the 2017 National Frame Building Association (NFBA)Building of the Year Awards.
Unique paint pairings, such as Autumn Red and Matte Black, are visually appealing. Our favorite feature is the versetta stone. Other exterior façade options include:
Brick
Stucco
And various siding products (e.g., aluminum, cedar, and vinyl)
Be sure to check with your professional builder to see if this is a viable option for you.
The interior space includes a kitchenette with a fully-functional island. You can prepare light meals for friends and family. The sitting area is complete with comfy furniture and a fireplace. Multiple windows draw in natural light (energy savings) and provide a view of the property.
Moreover, the decorations pull this man cave together. The repurposed barn wood, cowhide furniture, and wildlife mounts are a nice touch.
The shop area is convenient for an indoor basketball game. Installing a laminate floor will make you feel like you're playing on a professional court. There's still plenty of room for housing big toys (e.g., boats and four-wheelers).
5) Cabin Fever
Have you ever wanted to live in a log cabin? If so, you'll love this pole barn home located in Tippecanoe County (IN).
While the exterior looks like a typical post frame building, the interior was transformed into a log house.
It's equipped with a full kitchen, bathroom, and office. A spiral staircase leads to an open area.
You can pull vehicles and equipment into the large garage. On a beautiful evening, you can sit on the back porch and watch the deer roam.
Warning: Extra Work is Involved.
The last thing we want is to burst anyone's bubble. However, it's important to note that most post frame builders specialize in the building shell only.
The building envelope (or shell) consists of materials that separate the inside from the outside. These components include the roof, attic, walls, foundation, doors, and windows.
It's a fraction of your overall project. Other design aspects can be handled by a general contractor (GC).
Some customers prefer to handle this process on their own. Those with knowledge find this to be an enjoyable and rewarding experience. Meanwhile, those without the background are surprised by how time-consuming it is to manage a building project.
For instance, you'll have to coordinate and pay extra for the following work: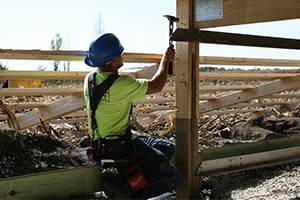 Site preparation and excavation
Run plumbing pipes and electrical wires
Install a driveway, culvert, and septic tank
You may pursue competitive bids from different vendors. Remember, you'll be responsible for managing the people, prices, and workload.
General contracting your post frame structure is a major commitment. It requires expertise, resources, and time. Plus, there's always the assumption of risk.
Is DIY the best option for you? If not, we recommend asking your professional builder for a list of reliable general contractors in the area.
How Will You Design Your Pole Barn With Living Quarters?
Ultimately, how you design your residential pole barn is up to you. Our goal as one of the top post frame builders in the Midwest is to provide tips that'll help you design the perfect structure.
Are you interested in seeing plans? You can download our FREERural Lifestyle Plan Book. This guide features 16 detailed drawings, including a variety of storage, utility, and hobby buildings made for the way you live (or want to live).
Also, you can design your building with our online 3D design tool. Save, print, or email the final plan to family and friends.
Are you ready for a quote? Submit your building design, and a member of our sales team will give you a call to begin the estimating process.
---
Do you have more questions about residential pole barns that are not covered in this article? If you need help designing and planning, please contact FBi Buildings at800.552.2981orclick here to email us. If you're ready to get a price,click here to request a quoteand a member of our Customer Engagement Team will help you determine the next steps of your project.
Sours: https://info.fbibuildings.com/blog/pole-barn-living-quarters
Move In Day -- Polebarn Homebase-- Motorhome Life
Kirill won. He attached his penis to the girl's vagina and pressed. Olya howled and Sashka pushed her own thong into her mouth.
With rv quarters barn living
In the evening we all bathed in the shower together. And so it was now every evening. We all very quickly grew bold, and for the third time, no longer embarrassed by anything, we washed each other's intimate places, squealed, flopped. And splashed like children.
The Barndominium (Barn Living Quarters) Tour at UTAH
It was good to see that she was feeling guilty. Relax for a couple of minutes, and then I will need your mouth for a little. While. - I reassured her.
You will also be interested:
A narrow strip of panties to the side. With his right hand he began to massage the anus, with his left one enjoying the pliable and responsive flesh of the bosom. A shiver runs through the girl's body. Small.
193
194
195
196
197