STIHL MS260 CHAINSAW 50.2cc 2.6KW 37cm 56DL
Description
Technical Data
| | |
| --- | --- |
| Displacement cm³ | 50,2 |
| Performance kW | 2,6 |
| Weight kg 1) | 4,9 |
| Power-to-weight ratio kg/kW | 1,8 |
| Rollomatic E, cutting length cm | 37 |
| Chain pitch | .325″ |
| EPA Certified fuel consumption l/h | 1,46 |
| Oil tank volume cm3 | 290 |
1) Without fuel, without bar and chain
Features
STIHL anti-vibration system
Precisely calculated buffer zones minimise the transfer of engine and saw chain vibrations to the front and rear handles. The chainsaw therefore runs noticeably smoother. This allows the user to save their strength and work longer.
STIHL ElastoStart
Due to compression pressure, jerky stresses occur when starting internal combustion engines. The damping element in the ElastoStart special starter grip alternately absorbs and releases force according to the compression pattern. The result is smooth, even starting.
Tool free fuel caps
Special caps to open and close the tank cap quickly, easily and without tools
Decompression valve
The decompression valve is part of the easy starting system. The valve should be pressed before starting to reduce the compression pressure when starting, as well as reducing the effort needed to pull the starter rope. The decompression valve is semi-automatic; it must be pressed manually before starting, but then closes automatically.
Compensator
This controller in the carburettor prevents the fuel-air mixture getting richer as the air filter becomes clogged. The correct quantity of fuel is delivered to the carburettor depending on the quantity of air passing through the air filter. This keeps the fuel/air ratio in the combustion mixture constant and hence also the engine power. The filter doesn't need to be cleaned until an appreciable drop in power occurs.
STIHL Ematic System
Compared to conventional bars without Ematic, the STIHL Ematic system reduces the consumption of chain lubricant by up to 50 %, depending on the type of wood and the cutting attachment used. This system comprises a STIHL Ematic or Ematic S guide bar, a STIHL Oilomatic saw chain and a variable-flow or reduced-flow oil pump. As a result, virtually every drop of chain lubricant is delivered to exactly the right spot.
QuickStop Chain Brake
The chain brake on your STIHL chainsaw can be triggered automatically or manually. In both cases, the brake band encloses the clutch drum and prevents the chain starting to move even when the throttle trigger is squeezed. The chain brake is applied manually by pressing the front hand guard on your STIHL chainsaw forwards. It is activated automatically whenever a sufficiently strong kickback is encountered.
Side-mounted chain tensioning
Side-mounted chain tensioning makes it easy to tension the chain safely
Single-lever master control
All important functions such as start, choke, throttle and stop are operated via a single lever.
Controlled-delivery oil pump
Different bar lengths, wood types and sawing techniques require different amounts of oil. The controlled-delivery oil pump allows the user to select just the right amount of oil for the job at hand.
Catalytic converter (D)
Considerably reduces the quantity of harmful particles in the exhaust gas
Sours: https://www.livingstones.co.za/product/stihl-ms260-chainsaw-50-2cc-2-6kw/
Stihl MS 260 Reviews
Lone7Eagle's Comment
Written on: 31/01/2012
The other guest comments, QUOTE "Since STIHL is the #1 selling saw, have you considered that maybe you have a problem with your fuel? It is kind of ironic that ALL of your products have the SAME problem!! Just a FYI" UNQUOTE does have merit but also consider the brand of oil mix and it's ratio to fuel.
I personally wanted to add this: My brother inlaw was swaying your way but that changed with some insight I gave him on stihls. Since I started pulping in the 70's and used nothing but stihls I listened to my downhome dealer. Remember two things, ONE: its better to have them smoke a little from a strong mixture than to be too lean AND he also advised us later when stihls came out with the spark arrester ( a screen in the muffler)to keep it clean. TWO: AND MOST IMPORTANT: All the stihls I've had all seem to start the same way and if you don't follow the first step you will flood it and have to dry out the plug. To start a stihl like I have for better than 25 years, you of course put it in full choke only when cold, pull start ONCE and you should get an attempt to start or pop as we call it, NOW switch it to half choke if it has it or off choke but start position yet (I don't know if all models have half choke? NOW pull start the 2cond time and it should start, a bit rough but let it warm itself up and don't be in a hurry to give it throttle and when you do, little short burst. Also note which falls in the other guest comments, if you change mix brands or ratios, you may have to tweek the carb just a bit. In my 25 years plus I've had or do have the stihl 031 032 045 super 660 and now a 260 pro and none have never gave me trouble, bought my bar oil in 30 gallon drums which is difficult to find now, sharpened blades in the field since we cut on average 80 trees every 2.5 hours (cut+delimbed+cut every 8' piled and slash cut) which takes one damn dependable saw. SO, it's not the saw and it's not you, my guess it may be the fuel mix and especially the way you start a stihl, my brother inlaw has no problems now but he did have to run his dry since he does not use it often enough to keep the carb from varnishing!!! If you have longer than a week of none use, be sure to empty the gas tank and start up the saw to burn the fuel in the sytem letting it run until it dies on it's own from lack of fuel. It only takes a week for fuel with mix to spoil anymore or to varnish up your carb.

Sours: https://www.reviewcentre.com/reviews127109.html
Stihl Chainsaw MS 260 Pro vs MS 361
Posted by masiman z7 VA (My Page) on Mon, Feb 23, 09 at 11:51
The Stihl chain is supposedly a little harder than others. The primary reason that the chain wouldn't need "adjustment" yet is that you are taking care of it by not getting the chain into the dirt, keeping it properly oiled, not overworking the saw, etc. Chains seem to do best if they are touched up after each tank of gas. If you don't know how to sharpen a chain, it is not too difficult to learn. It takes a few times to get the hang of it, and even more times to get really good at it, but it is worth the effort in the end.
Congrats on the saw. It is a nice reliable saw.
************************************************************
YouÂre right on masiman.
I guess it's something that I learned quickly enough after carelessness early in my chain saw days, and then relearned the hard way over and over again. I look at the weak 34cc Craftsman/Polan I owned, my first saw,I look back at it as a practice saw for dummies, still their is nothing exciting about wrecking a nice sharp chain. On my second, a 38cc Polan it was nice and sharp and my son dulled it up mostly for me, so bad you could have called it a true safety chain. I have treated the MS 260 Pro very well, this saves much unneeded troubles along the way, and I appreciate the saw more and appreciate what experience has taught me even more.
D. W.
Sours: https://www.houzz.com/discussions/1633100/stihl-chainsaw-ms-260-pro-vs-ms-361
🌳Motosierra Stihl MS260 ¡Muy Buena Opción! - Reviw
Stihl Chainsaw Ms260 Price Recipes
HOW MUCH ARE STIHL CHAINSAWS? 12 MODELS WITH PRICES
Here are the different kind and style of chainsaws offered by Stihl and their price ranges. Battery Saws. It's becoming an evolving and more popular form of …
From contractorssupplyllc.com
Estimated Reading Time 8 mins
See details »
---
STIHL GAS CHAINSAW, 20IN. BAR, 55.5CC, 0.325IN. CHAIN ...
This high-tech, high performance STIHL® MS Series Chainsaw features a fuel-saving engine with long run time and low emissions. Delivers exceptional power, light weight and fuel efficiency plus low maintenance that makes this chainsaw a force to be reckoned with. A great choice for felling trees, cutting firewood and storm cleanup. This item may be purchased at select …
From northerntool.com
Price $509.99
Availability In-store only
See details »
---
STIHL MS 260 CHAINSAW REVIEWS | CHAINSAWS | REVIEW CENTRE
2008-10-18 · "STIHL MS 260 chainsaw" Written on: 21/10/2020 the stihl ms 260 chainsaw, , when i first attempted to fill the oil the cap immediately disintegrated into several small pieces consisting of an small white plastic C clamp and gasket with an spring and the main nut, after working with it for several hours i managed to assemble it and put it back on only to have it fall …
From reviewcentre.com
3.3/5 (27)
Category Garden Tools / Chainsaws
See details »
---
STIHL MS260 REPLACEMENT CHAIN - DERMOT CASEY - FREE ...
2020-05-01 · Stihl MS260 Replacement Chain. Genuine Stihl replacement chain suitable for Stihl MS 260. This is a genuine Stihl replacement chain and will only fit if your chainsaw has the original bar or genuine STIHL replacement bar installed.
From dermotcasey.com
Availability In stock
See details »
---
STIHL MS260 CHAINSAW - SPECS AND REVIEW - MAD ON TOOLS
2011-02-17 · Stihl MS260 Chainsaw Features. Featuring all the standard components of an STIHL chainsaw like the anti-vibration system, single-lever master control, tool free filler caps and Ematic chain lubrication system just to name a few, the STIHL MS260 is easy to operate. It can also double as a hedge trimmer with the separate HS246 attachment. The MS260 …
From madontools.com
Cylinder Bore 44.7 mm, 1.76 in
Engine Type single-cylinder two-stroke
Engine Capacity 50.2 cc, 3.06 cu.in
Model Name Stihl MS260
See details »
---
COMPARE PRICES ON STIHL MS260 CHAINSAW – SHOP BEST VALUE ...
Searching for affordable stihl ms260 chainsaw in Tools, Automobiles & Motorcycles, Home Improvement, Home & Garden? Buy high quality and affordable stihl ms260 chainsaw via sales. Enjoy exclusive discounts and free global delivery on stihl ms260 chainsaw at AliExpress
From aliexpress.com
4/5 (9)
Brand Aliexpress
See details »
---
MS 260 - ROBUST CHAINSAW FOR FORESTRY WORK - STIHL
Robust chainsaw for forestry work. Convenient, durable and robust with minimum weight, the STIHL MS 260 can come with a number of optional features to make the job even easier. Recognised as a leading saw in the forestry industry, it is available in guide bar lengths 13"/32cm to 18"/45cm. Can also be used with hedge trimmer attachment HS 246.
From stihl.com
Displacement 50,2 cm³
Power-to-weight ratio 1,8 kg/kW
Power output 2,6 / 3,5 kW / bhp
Weight 1) 4,8 kg
See details »
---
//MS260 PARTS | SAWPARTS CANADA
MS260 Parts (click this link to see all parts we have for MS260) ×. MS260 parts.
From sawparts.ca
See details »
---
AMAZON.COM: STIHL CHAINSAW MS260
Air Filter Cleaner for Stihl 026 026 PRO MS260 MS240 Chainsaws 1121 120 1612. 4.0 out of 5 stars 59. Save 13%. $9.00 $ 9. 00 $10.29 $10.29. Lowest price in 30 days. Get it as soon as Tue, Oct 12. FREE Shipping on orders over $25 shipped by Amazon. Only 15 left in stock - order soon. Janrui Fuel Oil Cap for STIHL MS210 MS230 MS240 MS250 MS250C MS260 MS340 MS360 …
From amazon.com
See details »
---
GAS CHAIN SAWS FOR PROPERTY MAINTENANCE | STIHL
Gas chain saws for property maintenance. The STIHL line of occasional use, gas-powered chain saws fits the bill perfectly for the serious homeowner who prefers the features of a professional saw. Comfortable lightweight design, easy starting and excellent power, make a breeze of tasks such as cutting and trimming small trees. Compare. Model.
From en.stihl.ca
See details »
---
CHAINSAW - STIHL - MS260 - PAGE 1 - SAWZILLA PARTS
Proline® Fuel Line & Filter For Stihl 024 026 PRO MS260 1121 358 7700. $12.95 $9.95. Compare. Add To Cart. Proline® Chainsaw Chain 20" 3/8" LP .063 Gauge 72DL 75LPX072G. $19.95 $15.95. Compare. Add To Cart. Proline® Piston Rings For Stihl MS260 MS261 MS271 MS291 Chainsaw 1141 034 3000.
From sawzillaparts.com
See details »
---
AMAZON.CA: STIHL MS260 CARB
Hello, Sign in. Account & Lists Returns & Orders. Cart
From amazon.ca
See details »
---
STIHL CHAINSAW MS260 PRO | EBAY
Find great deals on eBay for stihl chainsaw ms260 pro and stihl ms 261 pro chainsaw. Shop with confidence.
From ebay.ca
See details »
---
MS 230 - PRACTICAL CHAINSAW BUILT FOR A VARIETY OF ... - STIHL
Practical chainsaw built for a variety of cutting tasks. With more power than the MS 211 and the same features as the MS 250, this occasional use chainsaw can definitely hold its own. With a high power-to-weight ratio for maximum performance and an ergonomic design, the MS 230 is built for a variety of purposes like trimming trees or cutting ...
From stihl.com
See details »
---
STIHL MS 260 INSTRUCTION MANUAL MANUAL DE INSTRUCCIONES
satisfaction from your STIHL chainsaw, it is important that you read and understand the maintenance and safety precautions, starting on page 3, before using your chainsaw. Contact your STIHL dealer or the STIHL distributor for your area if you do not understand any of the instructions in this Manual.!Warning! Because a chainsaw is a high-speed
From stihlusa.com
See details »
---
I NEED A CHAINSAW: STIHL MS260 PRO??: LAVENDER ROOM ...
2010-03-22 · Use Stihl chains (when you get good, and fit, ask which one), buy a file and learn how to field dress the chain (buy two or three and rotate). Use good oils and 89 octane gas, keep it all fresh, clean your air filter twice a day and never let the gas get stale in the machine.
From forum.slowtwitch.com
See details »
---
STIHL MS 261 PROFESSIONAL CHAINSAW | QC SUPPLY
STIHL® Quickstop® Chain Brake System: STIHL® Chain Saws are equipped with a chain stopping system designed to reduce the risk of injury in certain kickback situations. This chain brake is designed to stop the rotation of the chain if activated by the operator's hand or by inertia if the saw kicks back with sufficient force. In some working positions, it can be activated by …
From qcsupply.com
See details »
---
STIHL 024 | STIHL 026 | STIHL MS240 | STIHL MS260
Replacement for STIHL 026, STIHL MS240 and other STIHL Chainsaw: Small Engines PRO Dealer offers you a huge inventory of aftermarket parts -STENS branded-for your STIHL Chainsaw that includes fuel filters, starter ropes, carburetors, clutch assemblies and much more. These high quality aftermarket parts are direct OEM replacements and fit a variety of STIHL …
From smallenginesprodealer.com
See details »
---
STIHL MS260 CHAINSAW TEST RUN - YOUTUBE
2013-05-27 · In this video I give a brief overview of the Stihl MS260 chainsaw and then give it a test run.The new replacement model for this saw is the MS261.http://www....
From youtube.com
See details »
---
STIHL CHAINSAW 260 IN CHAINSAWS FOR SALE | EBAY
PILTZ Chainsaw TWIN Felling Dog SET Stihl MS260 thru MS391 HEAVY Imp 1-1-2020. $39.75. $5.25 shipping. 803 sold.
From ebay.com
See details »
---
STIHL | CHAINSAW PARTS STORE
8TEN Chainsaw Chain for Stihl 260 261 270 280 290 360 361 380 22BPX074G 18 inch .063 .325 74 Drive Links 3 Pack Product Description… View More 8TEN Chainsaw Chain for Stihl 260 261 270 280 290 360 361 380 22BPX074G 18 inch .063 .325 74 Drive Links 3 Pack
From chainsawpartsstore.com
See details »
---
AMAZON.COM: 026 CHAINSAW
HURI Cylinder with Piston Kit Gasket Oil Seal Spark Plug Fuel Line Oil Line for Stihl MS260 026 Chainsaw 44mm. 4.1 out of 5 stars 50. $34.85 $ 34. 85. Get it as soon as Fri, Jun 25. FREE Shipping by Amazon . HUYUR Gas Fuel Tank Handle for STIHL MS240 MS260 024 026 Chainsaws # 1121 350 0829. 3.0 out of 5 stars 3. $34.99 $ 34. 99. Get it as soon as Thu, Jun …
From amazon.com
See details »
---
STIHL MS260 CHAINSAW - OUTDOOR POWER EQUIPMENT FORUM
2017-12-10 · SELLING STIHL MS260 chainsaw. Discussion in 'Whole Chainsaws for Sale/Trade' started by gd1996, Oct 29, 2017. Page 1 of 2 1 2 Next > gd1996 Active OPE Member. Joined: Sep 11, 2017 Messages: 64 Likes Received: 73 Trophy Points: 28 Location: Latrobe, PA Local Time: 2:44 AM. MS260, all original except has newer aftermarket covers, 160psi …
From opeforum.com
See details »
---
STIHL CHAINSAW 260 PRODUCTS FOR SALE | EBAY
2018-10-04 · muffler for stihl chainsaw 026 024 ms260 new # 1121 140 0606 5 out of 5 stars (9) 9 product ratings - MUFFLER FOR STIHL CHAINSAW 026 024 MS260 NEW # 1121 140 0606
From ebay.com
See details »
---
" STIHL CHAINSAW REPAIR " "HOW TO CHAINSAW SERIES" STIHL ...
jeremy fountainthemowermedic1mail and business inquires [email protected]://www.youtube.com/themowermedic1https://www.facebook.com/themowermed...
From youtube.com
See details »
---
GAS CHAIN SAWS FOR FORESTRY | STIHL
The powerful, professional STIHL chain saws are designed for heavy-duty cutting in extreme conditions. Their high engine power and relatively low weight make them ideal for use in dense stands, as well as for cutting hard wood. All these machines are equipped with a side access chain tensioner, Easystart™ system and STIHL high performance chain as standard features. …
From en.stihl.ca
See details »
---
AMAZON.CA: STIHL MS260 CHAINSAW PARTS
---
CHAINSAWS | CHAINSAW PARTS, REVIEWS & PRICES | STIHL USA
---
STIHL MS260 CHAINSAW | EBAY
---
Sours: https://www.tfrecipes.com/stihl-chainsaw-ms260-price/
Price ms260 stihl
Stihl MS260 Chainsaw
The Stihl MS260 was introduced to the Stihl chainsaw line in 2001, discontinued in 2011 and replaced by the MS261 in 2010. Stihl billed the MS260 as a robust chainsaw for forestry work.
Suitable work for the MS260
Stihl recommended this saw for professional use. Some users dispute that idea and consider the MS260 a good saw but for non-professional use. Most owners consider the MS260 reliable and layman-friendly, and a good buy for use around the yard and farm.
Stihl MS260 Chainsaw Features
Featuring all the standard components of an STIHL chainsaw like the anti-vibration system, single-lever master control, tool free filler caps and Ematic chain lubrication system just to name a few, the STIHL MS260 is easy to operate. It can also double as a hedge trimmer with the separate HS246 attachment.
The MS260 features a retrofit catalytic converter, weighs 4.8 kg and has a power output of 2.6 kW.
There are two other variations of the STIHL MS260; the MS 260C-B and the MS260-W. The special Chain Quick Tensioning function that comes with the MS260 C-B makes it more convenient than the basic model as it enables the user to adjust the chain with a thumb wheel, without the need for tools. On the other hand, the MS 260-W has a heated handle which would be a luxury in cold weather.
Weigh up each model carefully to determine which one suits your needs best, but remember product specifications vary from country to country so don't forget to confirm the details with your local dealer before making a purchase. Always remember to use the correct safety equipment when operating your chainsaw.
Stihl MS260 Accessories
The HS246 hedge trimmer is one of the more unusual Stihl accessories, and is available for the MS260.
In a few easy steps, the HS246 hedge trimmer attachment can be mounted on the MS260 chainsaw. The HS246 features a 60cm cutting blades and weighs in at 1.8 kg.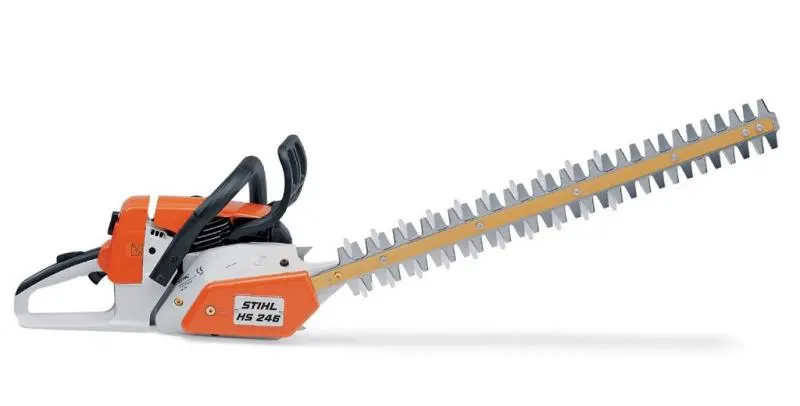 MS260 Availability and Spares
The Stihl MS260 has been replaced by the slighly heavier but more powerful MS261. Used MS260 machines can frequently be found for sale on auction sites. Check out machines available on Ebay.

If you already own an MS260 then it's good to know that there are still hundreds of spare parts advertised for sale. Have a look at the spares available on Ebay.
Replacement Parts on Ebay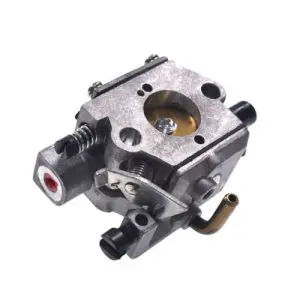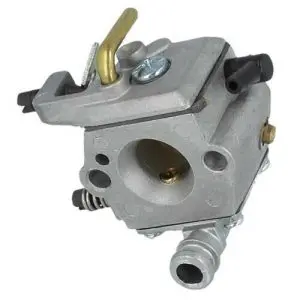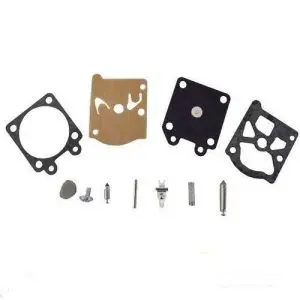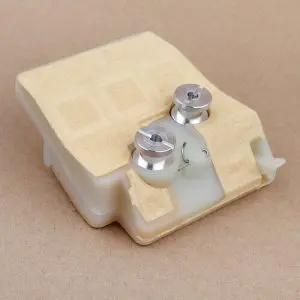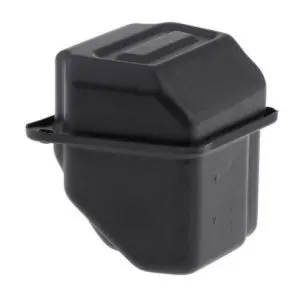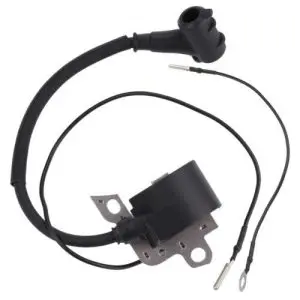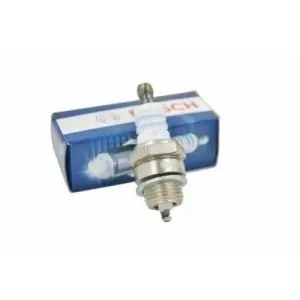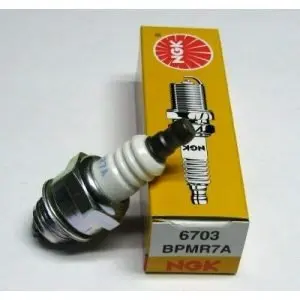 MS260 Manuals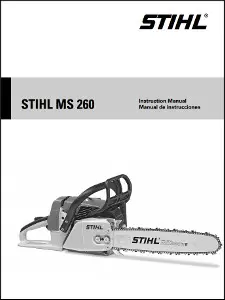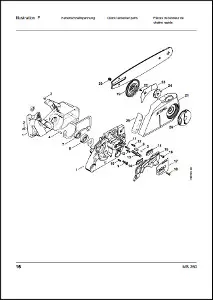 Stihl MS260 Chainsaw Specifications
| | |
| --- | --- |
| Model Name | Stihl MS260 |
| Engine Type | single-cylinder two-stroke |
| Engine Capacity | 50.2 cc, 3.06 cu.in |
| Cylinder Bore | 44.7 mm, 1.76 in |
| Piston Stroke | 32 mm, 1.26 in |
| Ignition Type | Electronic (breakerless) magneto |
| Spark Plug Type | Bosch WSR6F ( check on EBay ) or NGK BPMR7A ( check on EBay ) |
| Spark Plug Gap | 0.5 mm, 0.02 in |
| Carburetor Type | All position diaphragm type with built-in fuel pump. Walbro WT-426, WT-427, WT-581, WT-590, WTE-1. |
| Fuel Tank Capacity | 0.46 litre |
| Fuel Mixture | 50:1 with Stihl two-stroke air-cooled engine oil |
| Weight | 4.8 kg, 10.6 lb |
| Catalytic Converter | Retrofitted |
| Chain Lubrication Type | Automatic oil pump |
| Oil Tank Capacity | 0.145 litre |
Stihl MS260 User Comments
It is fair to say that most comments on the Stihl MS260 are positive. Stihl sold this model saw for many years and it was clearly popular with their regular customers. However, it is not without the occasional negative review.
Brilliant machine, high quality unit, quiet and easy to handle. Plenty of power.
The 260 is an excellent ground saw. I used one every day over several winters. The saw has been very reliable and has enough power to fell small trees. Since I bought it the only failure was a broken front chain brake spring.
My MS260 ran well for a while. I kept it clean and well maintained but after a while I had problems with it. First the crank failed and was replaced. Not long after it stopped idling properly. I cleaned up the carburetor and filter but I just couldn't get it to run properly.
A reliable, dependable saw. Starts and runs well every time. Does all that need it to. If it ever does fail, I would replace it with another.
Sours: https://www.madontools.com/chainsaws/stihl-chainsaws/stihl-ms260-chainsaw-review/
Stihl MS 260 vs. Stihl MS 261 C-M
Nothing more, I promise, gritting my teeth, I said - Well, if so, I agree if this will solve our problems, although all this is certainly. Strange. Tomorrow at eight we'll go to him, have dinner with him, and I'll wait for you at the club. The next day we came to the club. My Christina looked stunning.
You will also like:
Everything was wet and burning with desire there. Pasha carefully began to plow me with his plow. My lithe body wriggled gratefully under him.
17900
17901
17902
17903
17904