Fortnite Party Favor Ideas
Are you celebrating with a Fortnite theme party? Looking for some of the best Fortnite party favor ideas? Here you can find some of the coolest favor ideas that any kid or adult would love to take home from a Fortnite video game party. DIY Fortnite party favors or shop for some amazing favors. All these ideas are great for birthday parties or if you are hosting a video game party. Take a look at some of the best Battle Royale, Supply Drop, Med Kit & Slurp Juice ideas!
Make your Fortnite Party extra special with these ideas handpicked by me!
Fortnite Gaming Sweatshirt
FORTNITE Bracelets
FORTNITE Battle Royale Lollipops
FORTNITE Banner – Large Poster Backdrop

crafteeelephantllc
These Fortnite chip bags are amazing! Every kid will be amazed when you hand these out as party favors for them to take home. They can also be filled with cookies, candy or popcorn. Get them here

QueensBanners
Great gamer party favor bags for a Fortnite theme party. Sayings you can get on bags: Sayings: Eat Sleep Fortnite Repeat, Fortnite, V( for v buck), Revive One Shot Heals On Me – Get them here

Source
Individual cello bags filled with different things – one with mini chocolate bars with Fortnite candy wrappers – another with black and white favor bags filled with goodies and then cone shaped cello bag filled candy. Place all in brown bag and wrap with ribbon and cute
drop tag.
---
Fortnite Slime – Homemade Slurp Juice Slime
Fortnite slime makes a great party favor for a Fortnite theme party! Learn how to make Slurp Juice Fortnite slime. Fortnite Slime

TiniSlime
What goes better than video games and slime? Make some Fortnite slime or get it here and package in slime containers with Battle Royale and Med Kit tags on top. Package in cute brown favor box.

laineysarah74
Fill cello bags with peanut M & M's and top with cute bag topper. Get creative with a cute Fortnite design. You could also fill with bubblegum too!

thecraftprint
Brown favor bag with a white balloon and supply drop tag tied to it! Fill with fun Fortnite party stuff, slurp juice, snacks and candy. Find it here

BrittKateDesigns
Simple black favor bag with a Fortnite logo printed out and then glue to
front of bag. Fill with Fortnite goodies and candy. Get them here

dawnsmakesandbakes
Such an easy party favor idea – buy store bought Rice Krispy Treats (or make your own) then wrap with a red Air Head candy and use white mystery Air Head candy to make the +. Place in cello bag and the kids will love to take these tasty treats home.

tidbitscompany
This would be a cute idea to get a plastic container and place a med kit sticker on top and the fill with candy and goodies. Great Fortnite party favor idea for kids.
DIY Fortnite Birthday Party Ideas

I hope you enjoyed all these Fortnite party favor ideas! They are so fun, creative and unique and children will love to take them home as a gift from your party. These favor ideas are great for boys and for girls. You can also check out some Youtube videos for Fortnite party ideas. If you need more Fortnite birthday party ideas you can check out Pinterest. There you can find Fortnite decorations, Fortnite food, Fortnite games, Fortnite party supplies, invitations and cakes. Enjoy your Fortnite party and have a great celebration!
Follow KimspiredDIY on Facebook, Pinterest, and Instagram subscribe to my Newsletter
Filed Under: Kids BirthdaysTagged With: coolest fortnite party ideas, diy fortnite party favors, fortnite party favor ideas, fortnite party favors, fortnite party gift bag ideas, fortnite party ideas on a budget, fortnite video game party favors
Sours: https://kimspireddiy.com/fortnite-party-favor-ideas/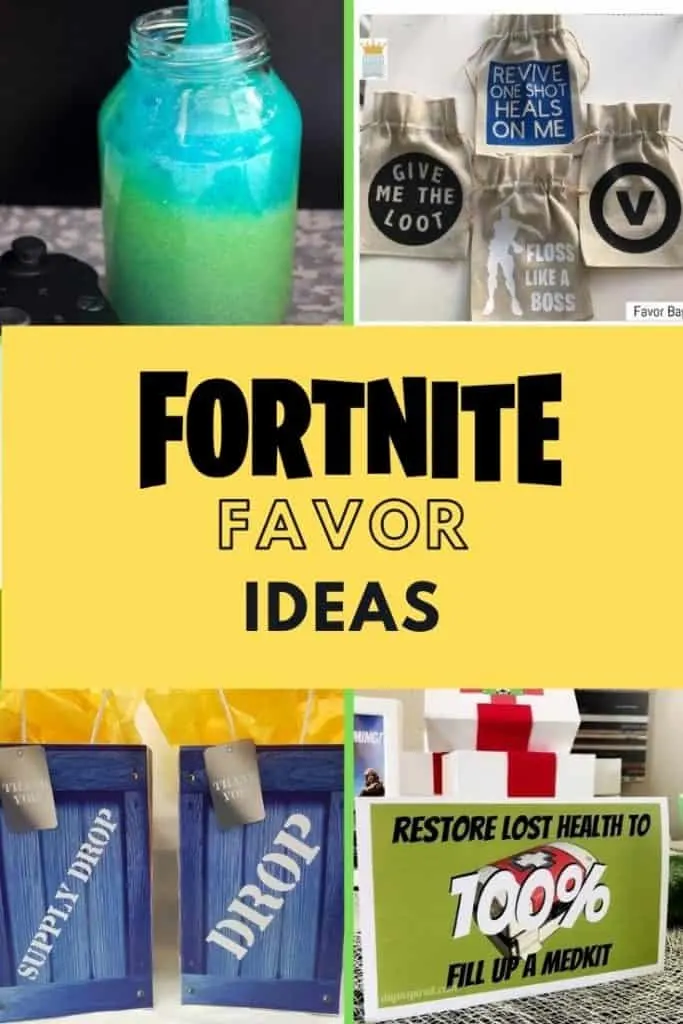 Are you hosting a Fortnite party and looking for some fun ideas for party favors? We have gathered a list of our favorite Fortnite party Favors to help you with your event planning.
I may have been living under a rock, but up until a few months ago, I didn't even know what Fortnite was and I had never heard of Epic Games. With the help of my son. I have since made up for lost time. I almost feel like I can have a conversation with my son and know what he is talking about!
If you are still coming up to speed with this brave new world of Marshmello, Battle Royales, emotes and skins, hope that this list of 16 amazing Fortnite Favors helps you too.
This post may contain affiliate links. See our disclosure policy for more details.
My first recommendation is that you check out our list of Free Fortnite Party Printables. This list includes Supple drop party favor bags, Fortnite Coloring pages, Fortnite favor tags, and more.
A Fortnite T-shirt is fun favor that will definitely te put to great use. You can avoid all of the single-use plastics of a normal goodie bag and give the kids something that will use again and again.
The Pickaxe, also known as the harvesting tool in Fortnite, is a tool that players can use to mine and break materials. The pickax tool can also be used to cause damage against enemies in the game. Currently, there are over 90 pickaxes available in Fortnite. Long story made short, your guests will love these little pickaxe pencil toppers!
If you are up for a little DIY, convert these Kidsmania Sour Blast Candy Spray Grenades into some boobie bombs! The kids will love them and they will make an affordable favor.
Couple these Fortnite favor bag tags with a ziplock bag to create some simple party favors.
replace your traditional plastic goodie bag with these printable supply drop bags.
These reusable fabric bags are a great way to wrap up some favors or treats.
Send your guests home with some V-bucks! These cute stickers can be added to chocolate coins to make a fun and simple favor.
Set up a DIY MedKit Station and let your guests put together their own kit as a take home favor.
Get a custom Battle Royale chip package and fill it with Fortnite goodies. You could even fill it with the chocolate coin V-bucks from this list!
My kids like slime almost as much as they like Fornite. This DIY slurp juice slime is a fun (and messy) DIY Favor option.
Grab a set of Fortnite themed favors to include in your goodie bags or safety drops. This set includes bracelets, keychains, stickers, and pins.
You can never go wrong with including some temporary tattoos in your goodie bags! They are fun for all ages..
Marshmello is one of the most popular characters in Fortnite. This set of Marshmello favors will be a great addition to any bag.
More Fortnite Party Planning Ideas
Now that we have your goodie bags covered, let's plan the rest of your event. We have every angle of your Fortnite Birthday Party covered. Here are some of the posts that you should check out:
Sours: https://partywithunicorns.com/fortnite-party-favors/
Welcome! Have you joined our super awesome Facebook group? If not, Click Here to Join!
Welcome Back! You've joined our super awesome Facebook group, right? If not, Click Here to Join!
Kids everywhere are talking about Fortnite so it's no surprise that you're here to figure out How to Throw A Fortnite Party but not just any Fortnite party, one that is EPIC and causes your kid to floss dance in excitement. Am, I right?
Get ready because these Fortnite Party Ideas will make any kid feel like they just won the Battle Royale.
My son just turned 9 and what did he want as his party theme this year? Yup, you guessed it – Fortnite.
He had a blast helping me plan his party, make some DIY decorations and of course, ordering supplies.
Yes, parents, there are now Fortnite themed party supplies you can simply order and put up making our lives EASIER!
I say this because typically with new crazes, we don't see party supplies for them for at least a year and by then, we'd have to DIY the entire party. Don't get me wrong, I love a good DIY and party challenge but it can get costly and cause a bit of stress if things don't go just right.
So, here's my go-to #1 tip: buy what you can for the party and DIY everything else.
When I began putting together my son's Fortnite party, I first visited Birthday In A Box which had "Battle Game" themed party supplies (they are totally Fortnite inspired).
I grabbed the cups, plates, napkins, tablecloths, balloons, helium tank and even a few things that I needed to DIY my own Fortnite Loot Boxes (we used these for party favors/goody bags).
Oh, and a Loot Lama Pinata – must have!
For party fun we had the Pinata filled with candy but we also had a ton of Nerf Guns and Ammo.
For the ammo, we ordered 300 Nerf darts so we had plenty at the party. We gave each kid a pack of them and brought all the Nerf guns we had around our home (yes, we have a lot).
These are just SOME of our Nerf Guns…
We then ensured the kids eyes were protected and had them wear these totally awesome camo sunglasses. We placed them inside a treasure chest box that served as a decoration too!
You could also add army men to the box and hand them out as party favors.
We had the party at our local park and the kids ran around for over an hour shooting each other with Nerf darts and totally had a blast. It was an easy and inexpensive party activity.
If you really wanted to make it extra fun, you could also build a DIY Nerf Target Board like the one below. We had planned to but ran out of time before the party.
As for food, our oldest son doesn't like cakes or cupcakes. I had planned to get a custom Fortnite Cake made but he insisted on store bought sugar cookies so we did that.
Since we know kids that were coming had food allergies, we stuck with simple food: pizza and the kids seemed to be happy with it. Plus, it totally didn't break the bank.
However, I loved the burger idea I saw on Pinterest.
For drinks, we totally made our popular Fortnite Slurp Juice. Seriously, it's one of our most popular posts and everyone seems to love it!
Overall, our Fortnite Birthday party was a total blast or should I say, a total WIN. It is the perfect party theme for boys or girls especially if they love to play Fortnite.
Let us know what your favorite Fortnite party idea is!
Sours: https://www.simplisticallyliving.com/throw-a-fortnite-party/
FORTNITE PARTY IDEAS: DIY Game \u0026 Birthday Supplies #fornitebirthday #forniteparty
We thought it would be fun to grab some Fortnite party ideas since all the cool kids are talking about Fortnite. So much in fact, my son is wanting to host a Fortnite party for his birthday this year.
So, we've gathered the best Fortnite Birthday Party Ideas to share with you in case you find your kid wants a tilted party too!
From party decorations to totally cool wearables, you'll find some awesome ideas that will make your kids want to do the floss dance.
Fortnite Party Food Ideas
You can't have a Fortnight birthday party without delicious treats, drinks, and cakes! We have Fortnight cake pops, cupcakes, candies, and so many more sugar induced treats to make your party awesome.
Fornite Slurp Juice
from Simplistically Living
This Fortnite Slurp Juice is the perfect way to cool down after a heated Battle Royale. I feel like we don't need the excuse of a Fortnite birthday party and could make this for every day?
V-Buck Chocolate
via Derby Lane Dreams.
We are loving these DIY Fortnite V-Bucks chocolate candies. Such a great idea for party treats or food for the party.
Fortnite V-Buck Cupcakes
via Saving You Dinero
Fortnite V-Buck Cupcakes are the perfect way to satisfy a sweet tooth. I have always thought of cupcakes as currency anyway…so does that double the value?
Fortnite Party Favors: Shield Potion Bottles
from Pinterest.
These Fortnite Shield Potion bottles are perfect Fortnite party favors. For added fun, hide these around the party area and have the players find them.
Fortnite Cake Pops
from Pinterest.
Have a supply drop on a tabletop with these Fortnite Cake Pops. Who isn't motivated by a cake pop? Not me.
Fortnite Cake
via Twitter.
Know someone that makes beautiful cakes? Have them re-create this Fortnite Cake for an epic way to celebrate a birthday!
Host a Fornite Party for Kids – Games & Loot Bags
There are so many fun ideas for Fortnite birthday party games, costumes, and goodie bags to give away at the end of the event. Here are some of our favorite favors:
Battle Royale Party Game
from Pinterest.
Make a super easy backdrop with plates and cups from the dollar store and allow kids to shoot with nerf guns for a Fortnite-Inspired Game. I may not know a lot about Fortnite, but I know this is cool!
Fortnite Nerf Party Game
from Fun Squared.
You will need a treasure chest, some nerf guns, and a competitive spirit to win this IRL version of Fortnite. Which is super cool! Why just play Fortnite on PC or console when you can play in real life!
Supply Drop Bags
from Catch My Party.
Grab some blue sacks from Walmart, a sharpie, some stickers and a balloon to make these super cute Fortnite Supply Drop Bags. They can double as bags for Piñata candy. You can also snag the bags here. I think these are my favorite Fornite party favors by far.
Tomato Skin Costume
from Desert Chica.
If your child likes to dress up, this DIY Tomato Skin Fortnite Costume may just be the coolest thing around!
Fortnite Birthday Decorations and Favors
Llama Pinata
from Amazon (affiliate).
Turn a regular boring Piñata into a Loot Llama Pinata. Then, make sure you snag the Fortnite Piñata Fillers here.
Fortnite Wristbands
via Amazon.
These Fortnite Wristbands make a great Fortnite party favors as well. There are a lot of different variations to choose from and they are super reasonably priced. Plus, they work great in the Piñata.
Homemade Fornite Location Signs
from Derby Lane Dreams.
Fortnite Location Signs are a must-have at any party! In fact, I want these in my backyard all the time! These are my favorite Fortnite birthday decorations so far. The Piñata is cute, but I still think these are fun.
Fortnite Party Balloons
via Amazon.
Add a pop of color to the party with these Fortnite Balloons (we also suggest snagging a helium tank too!)
Fortnite Slurp Slime
via Simplistically Living
These adorable mini Fortnite Slurp Slime's are perfect party favors or make a great craft to make at the party. Making Fortnite Slime is a great kids activity as well. They may be called slurp slime, but they're not edible. Just slimy gooey fun!
Fortnite Chug Jug Slime
from Kids Activities Blog.
Make Fortnite Chug Jug Slime at the party or as favors to take home to continue the Fortnite fun and games. Same with this! This Fortnite party favor is not edible despite it saying chug, but it would be super cute to put in the Piñata.
Looking for more fun party ideas?
Here at Kids Activities Blog we love to throw a good party and have ALL the ideas!
Here are some of our other favorite party themes for kids:
Sours: https://kidsactivitiesblog.com/118132/fortnite-party-ideas/
Bags fortnite ideas party
Fortnite Inspired Party Ideas
It's time to Drop In! Gather the crew for this Party Royale and prepare for an epic celebration inspired by the global gaming sensation Fortnite. When you use our party blueprint, planning a Fortnite birthday party for your biggest gamer won't be a battle. We have the Fortnite Party Supplies and decoration tips to help you set the scene. We promise this won't be a party for bush campers or bots! The only way anyone might get knocked is if their dance moves don't stand up to the challenge.
Follow along to see our game-saving tips for inviting the squad, featuring gameplay icons in your decorations and food, activities to keep the guests from logging off and awesome parting gifts when the game is over. You won't need a lot of V-Bucks to pull these royale ideas off, so let's boogie.
Fortnite Party Invitation
Drop these Battle Game Personalized Invitations into guests' mailboxes. Get creative with the wording to set the tone for the party and ignite the guest's excitement for the day.
Fortnite Party Decorations
Set the battle arena scene with some or all of these ideas:
Battle Game Banner. Display one of these Battle Game Personalized Banners front and center. For added impact, create a Fortnite title sign from black foam core and white cardstock letters.
Wood and Jungle Accents. Construct a "planked" wall (aka an insulation board covered with bulletin board paper) then give it a jungle make-over with camo netting. Add wood slices, faux grass and plants to deepen the jungle feel.
Supply Drop Boxes. Start with Yellow Paper Lanterns, some empty boxes and string. Get the full DIY Supply DROP Box here..
Loot Llama Pinata. Make sure your party décor is supplied with this iconic mascot.
Bandages. Cover paper towel rolls with red-cross cardstock wraps. Hand cut or get the SVG file HERE.
Battle Arena Centerpiece. Create your own tabletop battle arena with these Funko Pop Characters and some popsicle stick structures. Set everything atop a square of faux grass for texture and more context.
Battle Game Tableware. Set the table with Battle Game Luncheon Plates, Luncheon Napkins and Cups. For added punch, set things atop Bright Blue Plates and add Lime Green Utensils.
Pickaxe Straws. Mine for beverages with these woodgrain paper straws transformed into pickaxes. All it takes is a little silver metallic paper, a pair of scissors and an adhesive dot.
Fortnite Party Food
Fortify gamers with an arsenal of thematic food options:
Boogie Bombs. Fill Clear Candy Tubes with Personalized Battle Game Labels with fruit candies.
Med Kit Meals. Add red cardstock crosses to White Gable Boxes for a fun way to serve Durr Burgers and fries.
Med Kit Treats. Wrap crispy rice cereal bars with fruit-by-the-roll and embellish with icing for a sweet nod to these restorative objects.
Health-Giving Fruit. Don't make guests hunt too hard for a more healthy health option. Place apples, bananas and coconuts in easy reach.
Fortnite Party Activities
Fort Construction. Set out popsicle sticks and glue guns then let gamers create their own fortified structures.
Loot Llama Pinata. Have guests battle it out to see who can make the candy supply drop first.
Fortnite Dance Challenge. Pick a few dance moves and everyone gets to vote on each dancers accuracy and style.
Fortress Deconstruction. As a team, use Plastic Cups to build a fortress. Have the other team(s) try to knock it down using Mini Squirt Guns.
For a more authentic looking Loot Llama pinata follow our DIY tutorial to see how to add all the little details.
For more games and activity ideas, go HERE.
Fortnite Party Favors
When the Battle Royale is over, send gamers home with their own supply drop of favors. Embellish Blue Favor Bags with a Yellow Latex Balloon and yellow cardstock letters for an iconic way to transport items home.
(TIP: Use the cup portion of a Balloon Stick to attach the balloon to the bag handles.)
Possible supply treasures to include:
Want to add an extra personal touch? You could create custom Loot Llama Favor Boxes to deliver their swag.
---
Find us on Facebook, Twitter, and Instagram to stay on track with our party ideas and DIYs! Don't forget to check out our Pinterest to get inspired for your next party.
Sours: https://www.wholesalepartysupplies.com/blog/fortnite-party-ideas/
Fortnite popcorn - Birthday Party Treats
Fortnite DIY Party Favors & Goodie Bag Ideas
A list of creative DIY Fortnite party favors that will continue the fun for your guests after your Fortnite themed party is over.
Here are some easy and creative Fortnite party favor and goody bag ideas. And find out where to buy some great Fortnite goodies to put in Fortnite bags as well.
Disclosure: Opinions expressed are our own. If you buy something through any of our affiliate links on this page, we may earn a commission at no extra cost to you. Thanks for supporting our site!
Learn how to DIY these easy Fortnite party favors with instructional tutorials, free printables, inspirational photos, and budget-friendly Fortnite goodies for girls and boys that your guests will be all over like a supply drop.
Fortnite Party Supplies
In a pinch for time? Find our full Fortnite party supplies list on Amazon*, or check out these ready-made party favors and goodies to send off as a thanks for coming to guests of your Fortnite party!
Slurp Juice
Kids love slime, so make this two-toned colored slime for them to play with. (via Kimspired DIY)
Shield Potion
Fill a round jar* with blue M&Ms to make this easy party favor. (okay to link up to Amazon) (via Pin image)
Llama Loot
For a savory sweet party favor, create these llama pretzel rods. (via Pin image)
Marshmello
Stick Marshmallow-shaped erasers on red and white pencils for a non-food type treat. Or, you can totall turn this into an easy marshmallow pop if you do want to pass out an edible favor. (via Pin image)
Medkit
Make the party favor a bit more interactive with a table station for kids to stock up their medkit with healing items. Grab a free printable for the kids, as well as ideas for contents to make:
Pulse bomb bounce balls
Upgrade llama slime
Fatal Fields fun dip
Paradise Palms Pixy Stix
(via DIY Inspired)
Nerf Guns
Line up Nerf guns with ammo and safety glasses for a fun Fortnite party game, and then for kids to take home after the party. (via Pin image)
Supply Drop Crate
If you're looking for a favor bag, box or packaging idea, a super easy DIY goody bag would be to create a Fortnite supply drop bag and attach to a yellow helium balloon.
You can find a how-to tutorial, along with a free printable of a realistic-looking crate, on our Fortnite party supplies post.
Please Save or Share this Post:
(It helps keep our content free!) Save Pin | FB Share
Conclusion
If you're looking for Fortnite favor ideas, these easy and creative DIY Fortnite goodies and cheap done-for-you Fortnite goodie bag ideas are sure to be a proper send off for guests after your party.
Continue with the Fun:
Sours: https://allthepartyideas.com/fortnite-party-favors-goodie-bags/
Similar news:
This is how I stand in the middle of the room with my pants down, and a nine-year-old girl, my niece. Stands in front of me and drinks my cum from her palms. When she finished, we went to the bath together to tidy ourselves up. As I was with my pants down, and she with her hands smeared with sperm.
17596
17597
17598
17599
17600