The times of shaggy mop tops and bleached spiky hair have sunk into oblivion. New life realia make new rules, dictate the trends, and develop new fashion. The latest teen boy haircuts have taken hair to an absolutely new level. And in this article, we'll discuss all the hair trends for teenage boys that are taking 2021 by storm.
It's an issue of huge importance for teenagers to look good, attractive, and alluring. Trendy haircuts are one of those integral details that make a huge difference when it comes to teenage boys image and style.
In this gallery, you'll find a variety of hair ideas for 14-year-olds starting high school as well as for elder teens who already go to college. There are fresh versions of comb over, quiff, crop top, shag, different medium length hair ideas, solutions for teenage guys with wavy and curly hair, straight hair, thick and fine hair, so-called "e-boy" haircuts, and more.
Wanna find your iconic hairstyle that is a mixture of edgy, stylish, and cute? Scroll down.
Best Hairstyles for Teenage Boys

@kendy.cut
What haircut should I get? First, decide if you wanna keep your hair short, grow it out a little bit, or wear long layered haircuts. Most trendy haircut ideas are long on top short on sides – something in-between the short and medium hair. They are easy to get and simple to style, using the appropriate hair products: wax, pomade, gel, or hairspray.
However, if you don't want to follow a well-trodden path and look for something less popular and more extraordinary, you'll also find some fresh style options in our gallery.
Boys Fade Haircut

@neringa_bonar
A skin fade haircut has become a modern classic style: edgy, but neat, bright, but basic. A high fade on the back and sides is an integral part of most trendy haircuts for teen boys. The long hair on top contrasts with shorter sides, and this dramatic blend effect makes this cool style stand out.
The best thing is you have an endless amount of styling options since the longer crown can be slicked back, disconnected, swept to the side, hard parted, brushed up, and more. Another cool thing is that you can visually correct the face shape by making the fade high, medium, or low. And the top section can help add an extra couple of inches of height.
To get perfect fade haircuts, visiting a barber is a must! Bring some photo references to make sure you and your hairstylist understand each other right. And… be prepared to visit a barbershop once in a couple of weeks to keep your high fade clean and sharp.
Crew Cut

@rockybarber6
Timeless and classic hairstyles like a crew cut will never lose their popularity among more conservative boys, or guys who just like keeping it simple. Another obvious but significant advantage of this cool hairstyle is how low-maintenance it is.
A crew cut is a go-to style for active and athletic teenage boys who play sports. Also, these teen boy haircuts are very versatile, easily adaptable to any style, and make the face more defined.
With this teenage boy hairstyle, you won't need to look for a very good specialist – a crew cut is a staple in barbershops so that every barber and hairstylist can cut it decently. Still, you'll need a gradual taper fade down to the neck, and you can choose the average length of your style: it can be shorter (2 on the sides, 4 on the top), or longer (up to 4 on the sides and 6 on the top.)
The High and Tight

@gents_hq
Many teen hairstyles actually are high and tight. This is another short, basic, military-inspired haircut, which is still not the same as a butch cut or a buzz cut. The latter is short all over, while a high and tight cut is long on top short on the sides and back. This is a strong, noticeable hairstyle for teenage guys that works magic for every hair type and is especially loved for its low maintenance.
The sides and back of these cool haircuts are usually cut with a number 1 attachment to the clipper, or even shaved (for an edgier skin fade effect). The top can be cut with scissors and you are the one who chooses the length, which is comfortable for you. If you're into daily styling rituals, pick clipper setting number 7 or 8, for an easier, more classic style, choose number 6 or even 5.
The Side Part

@rockybarber6
The side part is a classic hairstyle that has been around for about a hundred years, and it's still popular with boys, teenage guys, and adult men. A side part is great for teen boys with an undercut since this detail (the parting) adds some juice to a classic style.
Side part cuts are the best hairstyles for boys who want a sharp, clean appearance. A hairstylist should find the right position of a side part, which works best with your face shape and hair type. You can also ask for a hard part: in this case, the parting will be shaved in, eventually, you will have to wear it constantly until it grows out.
You can randomly sweep the hair on top to the side for a careless everyday look, or use a water-based styler, like pomade to achieve this glossy, shiny effect of a formal teenage boy hairstyle.
Side Blown Undercut

@fade_designer_dhaval
Unlike the previous side part style for teenage guys, this side-blown undercut looks more careless, lightweight, and rules-free. Indeed, it completely reflects the idea of the rebellious teen spirit. That's why most teenage boys would opt for this one if choosing between the two.
The hair around the sides and back is cut short, and the top is kept pretty long like in the side part haircut. But the main difference is that in this undercut all your hair should be brushed up and swept to the side by blow drying, without any defined partings.
Teenage guys hairstyles like this are perfect for teen boys with naturally straight hair, thick hair. For teenage guys with fine hair, it will work too but with the help of texturizing hair products.
Straight Mohawk with Fade

@barbarianstyle_net
Straight hair can look boring, but if you put in some effort, you'll absolutely win this war with commonness. And if you go a bit further and get a mind-blowing mohawk with fade, you'll just become an absolute champion. A young man beginning college can be adventurous enough to give this crazy hawk a chance. Younger teenage boys with understanding parents may also try a variation of this mohawk.
The skin fade design around the ears can be personalized and adjusted to many different teen boy haircuts. As for the hawk, you can experiment with the colors and texture.
Mohawk hairstyles for teenage boys are an easy task for a well-trained hairdresser – they are unlikely to be messed up. The sides and back should be shaved clean, and a strip in the center kept long.
The longer the mohawk is, the more stronghold hair products you'll need to keep it in place.
Ivy League for Teenagers

@menshaircutsnyc
A traditional Ivy League haircut will work for a teenage boy only in case it carries with it some modern features that spice up the look. Ivy League is another, more sophisticated level of a crew cut, which implies a classic shape and a smart look. To tell the truth, it's not every teenage boy who enjoys these retro vibes.
To breathe new life into a good old Ivy League haircut, add an ideal side part and build the volume with a sculpting foam and texturizing clay.
Long Hairstyles for Teenage Guys

@mattgabrich
Long young men haircuts require more time for everyday care. No wonder, since the longer the mane is, the more visible all the flaws of the hair are. So, to look good with longer hair, teenage boys should keep it clean and healthy.
If you're ready for the challenges of long hairstyles for teenage boys, scroll down the page to find great ideas of long and medium length cool hairstyles.
Comb Over Haircut

@karinasammons
Comb over is one of those cute boys hairstyles, which are associated with the red carpet ceremonies. In the case of teens, this style is definitely meant for special occasions only, but, for sure, to rock the party.
Some stronghold pomade with a lot of shine will be necessary to get this look. When styling, first apply some product on the hair forward and blow-dry it up, and back, and to the side; then, apply the pomade on the rest of the hair and sweep it to the side and back with a comb.
Spiky Hair

@hairby_e.samarron
A lot of 13 years old hairstyles have arrived into our times through the decades. Spiky hair, which was an integral detail of all cool haircuts in the 90s, is making a comeback now. But it's not greasy anymore: now it's almost wind-blown with soft spikes that look just great.
You can hardly achieve this style with curly hair or wavy hair, but naturally straight hair is meant for spiky teen boy haircuts. To keep this soft look, use a mousse for styling every morning. Also, remember that the shorter the cut is, the easier it is to achieve and maintain the best effect of a spiky hairstyle.
Messy Fringe

@reneecutshair
Well, this one is a certain flashback to the 90s, when most teen guys wore their medium length hair in this messy way.
Good for straight hair, a messy fringe brings a carefree take on a casual and classy look for teenage boys. The fringe should fall far below the brows, so this messy hair cut is great for teenage guys with long faces. However, it also works well with other face shapes.
As for the hair on the sides and back, it can be cut in any way you like, but in this photo, it is done with scissors for a shaggy layered hair vibe.
A young man beginning college will adore this popular teen boy haircut since it's ideal for a wide range of situations: from ceremonies to casual outings.
To texturize the hair, tousle it with or without hair product depending on the natural texture of your medium hair.
Faux Hawk with a Burst Fade

@brixway
This is another modern interpretation of spiky hairstyles with a fresh twist. Thanks to that perfect burst fade on the sides and soft spikes, this spiky hairstyle is up-to-date and so much loved by teenage guys.
Definitely, it's easier to build such a top on thick hair. And if you add some dye, that brush-up look will become even more bubbly and live.
The Man Bun / Long Hair Top Knot

@iam_richiefresh
Talking about hairstyles for teenage guys with longer hair, we can't but mention man buns and top knots. A man bun teen hairdo is more conservative, while a top knot has a kind of samurai-influenced flair.
The benefit of this hairstyle for 15-year-olds is that it combines long and short haircuts. You can wear the top section loose and enjoy your longer hair, but you also can pull it up into a top knot and get a kind of short hairdo.
You'll need some patience to get this style since you have to grow out at least 8 inches on top to be able to tie it up in a tight, neat knot or bun.
Hard Part Comb Over + Mid Taper Fade

@_auguststyles
The hard part comb over with mid taper fade is that very hairstyle, which popular boys from high school wear. It shines with perfection and turns all the heads.
On one hand, it's a pretty classic combover style, but in combination with that sharp geometric hairline and ideal skin fade, this haircut for teenage guys is a game-changer.
To get this look, the hair should be washed and blow-dried properly. While blow-drying, comb the hair back in a diagonal way, add some pomade. Choose a low shine or medium shine finish for a formal occasion.
As for guys with curly hair and wavy hair, the locks need to be straightened first.
High Bald Fade + Short Top + Brushed Up Front

@barber_shop_knor
This striking haircut for teenage boys is a perfect summer hair resolution: trendy, noticeable, and fashion-forward. Bald fade haircut on the sides won't bring any discomfort during the summer heat, while the high-reaching top adds energy to any situation.
Especially appropriate for teen boys with coarse and thick hair, it conveys carefreeness and freedom. Since this short brush-up gives extra height to the hair, it's ideal for round and square face shapes.
To style this crown, apply some pomade or hair wax to damp hair and style it upright, and modify it according to your preferences.
Fade + Hair Design + Textured Spiky Hair

@barber_h3ath3r
This is another example of how classic hairstyles for teenage guys can be completely upgraded with only one small detail. It could be one of those average spiky fade haircuts if it wasn't for that shaved-in hair design. You can play with different variations of design over a high fade to highlight the uniqueness of your style.
As for the top section, just give it some volume and texture. Brush it slightly forward and a bit to one side and enjoy the result.
Dreadlocks

@kiwi_fonnaturals
Dreadlocks are very popular hairstyles for teenage boys with Afro hair. Why so? – It's the easiest way to keep unruly coarse afro curls in place, neat, and clean. Another advantage of dreadlocks for teenage boys is that they really look cool. And this already is a big reason to give it a try.
You can experiment with the length of your dreadlocks and find the comfortable one. Also, you can play with the "pattern" at the bottom: equal square sections, like in the photo, can be replaced with triangles, circles, and other irregular shapes.
Line Up Haircut

@daquaro_barberspot
There are many variants of how line-up hairstyles for teenage boys can look, and a good french crop is only one of them. The sides are traditionally faded so that the top stands out with its volume.
Why does this line-up haircut look so perfect? The balanced contrast is the key. Firstly, the color: deep dark roots and trendy cold blonde ends make magic together, emphasizing the cheekbones and facial features as well. Secondly, the length: that extreme drop from long layered hair to 0 fade on the sides always looks mindblowing.
Medium Length Teen Boy Haircuts

@jerem.dc
Medium length teen hairstyles are meant to suit everybody. They work fantastically with straight hair, tame wild curly hair, and level-up naturally wavy hair. If it's a classic cut, it can be changed to suit a situation: for formal occasions, the hair can be effortlessly swept back and smoothed down; for casual occasions, medium hair requires minimal styling in a messy way.
For styling, use light hold or medium hold products so that your hair was neither weighed down nor looked greasy.
Fade + Messy Textured Hair + Beard

@mainpointsalon
The temple fade (also known as a temp fade) is another incredibly versatile option for boys with medium and short haircuts. Many teen hairstyles are pared with a temple fade to balance the disconnected careless crown, and, often, the teen stubble too.
Such fade haircut combination is great for highly active teenage guys: even if the top section style is ruined, those perfectly blended sides will always keep the whole look nice, clean, and edgy.
You can adjust the cut to your face shape by changing the blade guard: if you pick the transition from number 2 to number 4, you'll get a longer fade.
The top curls in the photo are so shiny and have so much life in them. To keep yours in the same condition, you'd better not neglect care products for curls.
Disconnected Undercut

@artistryspasalon
The undercut is that versatile style you can fearlessly experiment on without taking any risks. Being basic, different types of undercut teenage boys haircuts perfectly suit all face shapes.
In this case, the undercut high fade haircut gives new life to curly hair. The texture on top can be different. What we see here is the curls that retain their shape, spiced up with extreme blonde highlights, and swept forward, falling down the forehead.
In this hairstyle, curls are cut to suit and frame the face without making a curly mess.
To style the curls like this, use a curl cream with medium or strong hold, apply it on slightly damp hair.
Twisted Curls for Black Guys

@barbarianstyle_net
Well well well… Here we go with a creative version of an undercut for black guys, or an unboring variation of a top knot. Whatever you call it, this twisted curls teen boy hairstyle has 0 chance to be unnoticed.
This combination of buzzed sides, back, and front, edgy hairline, and those soft fluffy knots is mind-blowing.
Perfect for casual wear, the hairstyle will fit in a trendy teenage guy look.
Short Afro with Bald Fade

@uniquekuts
Wearing natural Afro texture without taming it has always been a bold choice. That's why coarse and unruly curly hair caters perfectly to dreadlocks. Modern trends also recommend more controlled versions of Afro hairstyles for teenage guys.
These tiny dreads with fluffy ends stand around the crown randomly, while the sides and back are shaved.
This teen style requires minimum maintenance since the dreadlocks stay in place, and the sides are very short. You'll only need to roll the dreadlocks regularly and keep the buzz cut clean.
You can also add extra shaved-in design on the sides to personalize the look.
Surfer Shag

@avenue.man

This beach-inspired medium length surfer shag is perfect for summertime. It's not a very long hair style, so a teen boy with natural texture will have no trouble wearing this shag with a messy fringe. Indeed, this style will work best with thick hair, wavy hair, high foreheads, and distinctive cheekbones.
Lile a classic shag, this cut is based on layers, which are made with a razor instead of a clipper or scissors.
The hair on top should be fairly long to allow you to play around with it quite a bit.
Man Bun

@barbarianstyle_net
Here is another variant of a man bun for teen boys who prefer long hair. The base of this hairstyle is an undercut: the sides are shaved clean, so is the forehead hairline. The top section is divided into two halves with a central parting. Both halves are swept back in perfect french braids, which blend together in a tiny twisted bun.
You can experiment a lot with the style of your bun – these braids are only one of the options.
Caesar Haircut

@hannahgwinhair
Caesar haircut is an option from the list of classic short haircuts for teenage guys. Though it has been around since the time of Julius Caesar, who used this style to visually hide his balding, it's still very popular, and nowadays it usually plays a role of a trendy detail in the look rather than a trick to cover some flaws.
It's great for boys who live active lives.
Teen Edge Up

@mancaveutc
When you sweep your hair forward up, it's always an edge up. Rebellious, free, and trendy. You can also call it a variation of quiff. Whatever, a messy fringe, which is slightly longer than the rest of the hair is always a good idea.
To get this hairstyle, you'll need to ask for a high bald fade on the sides and back, a buzz cut on the top part of the head, that gradually blends into a longer fringe.
The benefit of this haircut compared to classic undercut-based popular hairstyles is that the "styling area" is rather small: all you need is to brush up the fringe and optionally add some hair mousse.
Short and Slicked Back

@iam_richiefresh
Slicked back styles are a great option to serve as a so-called transition hairstyle – the style you wear while growing out your hair. The thing is if using a hair gel or hair wax, you can keep in place even rather short locks.
The easiest in maintenance this look will be for boys with fine, shiny, thick, and straight hair. In this case, teen boys only need low or medium-hold products so that the hair looks natural and unstyled. For boys with textured, wavy hair, strong-hold products are required. But make sure you don't overdo it 'cause your trendy hairstyle can turn into a scruffy greaser.
So, how to get the style? After washing your hair, spread some styling product over it, and comb it back by blow-drying it. At the roots, you can use dry shampoo for extra volume and a cleaner look.
Thin Brush Up with Tapered Sides

@mivida_salon
Teenage guys with thin hair can add thickness and texture to their hair by using these lifehacks: keep the hair messy, style it in multiple directions, use a seawater spray, a dry shampoo, or any other texturizer.
With thin hair, you can wear taper fade without affecting the face shape a lot, so use the chance. The mess around the hair length looks so natural thanks to matte medium and low-hold hair products, so you'd better pick them for your taper fade thin brush-up.
French Crop and Goatee

@chuckgeezy
Just like the Caesar cut, the French crop is one of those low-maintenance cool hairstyles that look great on its own even without any styling. That's why it's believed to be among the best hairstyles for teenage guys.
The difference between a French crop and a Caesar cut is in the hair length. For a Caesar cut, short hair is enough, while for a French crop, you'll need slightly longer hair. French crop looks softer and works well for fine hair.
Ask your barber to give you a scissors taper on the back and sides or a clean low skin fade. Older teens can also add a goatee and mustache that look amazing in tandem with a medium-length French crop.
Adding a couple of dreadlocks is another creative variant of how to spice up this look.
Blonde Faux Hawk

@iam_richiefresh
A faux hawk looks eccentric on its own, not to mention if it's paired with the acid blonde. Short around the sides and back, this fade haircut gradually becomes longer as it pulls towards the vertex.
Such haircuts for teenage guys take styling with hair gel or wax to keep the volume and direction.
Similar to mohawk and pomp, a faux hawk is meant for expressive teen guys. The best combination in appearance will be with high cheekbones, a strong chin, and an oblong face shape.
Neckline Design with Messy Top

@rockandlookestilistas
There are lots of ways to create a messy top. You can carelessly sweep all the hair up and tie it in a top knot like in this photo. You can dishevel the crown with fingers, spreading some hair product, and let the hair fall down. You can keep the locks not very long and brush them up while blow-drying.
Whatever you choose, buzzed sides and back are what you get. Often, teen boys make them faded, rearer, they add a personalized design over it to make the whole hairstyle unique.
This is only one idea of how to do your neckline design. Stay creative and you'll take your messy top hairstyle to a completely new level.
Side Swept Taper Fade

@davidgstylist
If we look at the side-swept cut and at a taper, and even if we mix them together, as a result, we get a classic, ordinary, rather trivial style. But why doesn't this side-swept taper fade teen haircut look so boring?
The details are the key.
In this case, the double hard side part is the juicy detail. Sharp and edgy, it makes the whole cut more vivid.
As for the top part, you can change the styles every day. But this Elvis manner looks always appropriate, so try it out at least once.
Layered Mop Top

@artyom_chempion
To say that layered mop-top hairstyles for teenage guys are exploding TikTok is to say nothing. Taking its roots somewhere in the 60s', after several waves of fantastic popularity in different decades, the mop-top has revived again as a trendy style for teen boys.
This great medium-to-long length option for young men covers the forehead and wraps the ears, so it works great for boys with oblong faces and large foreheads. This cut slightly compresses the face but helps to correct the shape of the head by means of full-volume layers.
The Burr Cut

@meraki_artisanhairdesign
A burr cut is a nice option for a young gentleman, who can't sit still in one place. You can also call it a buzz cut or a military cut, either way, this short hair style won't cause any discomfort or trouble. No need to style, blow-dry, and even with dirty hair it doesn't look scruffy.
To make it playful, you can experiment with a tiny shaved-in design line, and also add a geometric edgy hairline. The only thing you have to be concerned about is visiting your barber regularly since this style requires a timely trim.
Modern Cowlick

@rockandlookestilistas
Coarse, thick hair can be tough to work with. And in this case, a modern cowlick will tame your teen's unruly locks.
A modern cowlick is a short hair style with longer hair at the front. This blend gives a hint of undercut, and the hairline along the scalp is so defined.
To get this style, you'll need a slight undercut on the sides. To style the cowlick fringe up, use a matte and medium hold paste on dry hair, brush the hair up.
If you wanna have a more defined texture, apply the hair product on slightly damp hair (when it's towel-dried).
The Ponytail

@marcovfialho
Wow! If you think that ponytail teen boy's haircut is not as wild as a mohawk, just look at this burning teenager pony and go back on your words.
Such haircut ideas are for adventurous teen boys only. Extremely bald high fade makes it more dramatic, and the shaved-in hard part design extends to the eyebrow, which is such a unique and creative idea.
This photo is proof that if you want your ponytail to look cool, it's not enough just to grow out the hair and never go to the stylist.
Every detail counts.
Cornrows

@hairby.miranda
Cornrows boys haircuts are traditional Afro styles but they work great for other hair types too. You need to create rows of braids that lie close to the scalp and lead them from the forehead to the back.
Normally, they are formed in straight lines, however, you can play with them building different patterns on the scalp.
Cornrows slicked back hair is a low-maintenance style and can be left in for a pretty long period of time. In other words, the cornrows hairstyle is a versatile and comfy option. If a teen boy wants a style, which is a little out of ordinary, just pick cornrows.
Popular Side Part Cut

@nick_vidal_official
Popular hairstyles for popular boys. Indeed, this side part medium length hairstyle for teenage guys emphasizes the independence and masculinity of a boy. The only concern is to keep the hair clean – if you follow this tip, nothing can ruin this perfect style.
Modern Wet Look Hairstyle for Boys

@estebanault
Wet look hairstyles for boys can seem old-fashioned and scruffy if you try to imagine them. But if you look at this photo, you'll discover that this type of teen hairstyle has broken all the rules and limitations we could imagine.
The touch of color is an absolute game-changer. These pastel shades mix together in a fantastic rainbow, which will definitely emphasize the uniqueness of a teen's personality and attract a lot of attention.
Buzz Cut

@ilen_mend
This buzz cut on the edge with induction cut gradually reduces the hair length to the shortest possible down around the ears and at the neck. No doubt and no wonder, this cut is low-maintenance and it allows to decorate the sides of the head with razor-shaved patterns, similar to this line on the side.
This short hair fade haircut works amazingly with a wide range of face shapes and hair types. To get this style, just tell your hairstylist that you want a buzz cut with bald fade.
Quiff with a Hard Part

@barbarianstyle_net
The quiff has always been quite popular with teen boys, so it's a win-win choice for teenagers who favor a classy appearance. Despite being rather traditional, a quiff is also a very noticeable hairstyle that can look rather bold.
Thus, teen boys can style the quiff according to their mood right here right now: yep, teens can change from angels to demons so fast.
We highly recommend choosing a quality stylist for a great quiff. The basic idea is to make the hair longer on top and shorter on the sides and back. But only those perfect lines and fade made by a highly professional barber will take the cut to another level.
To get the look from the photo, you'll need to style the front section up and comb back diagonally.
Short Sides + Longer Messy Hair on Top

@marcovfialho
Here is another option of how to style haircuts for teenage guys with short sides and longer hair on top. Don't try to hide your messy hair, on the contrary: show it off in a fantastic long tousle. This "rolled out of bed" style will only emphasize the teen spirit.
To make the best conditions for a perfect tousled undercut, skip a haircut for a while to grow out your hair to the necessary length. Next, ask your barber to give you a clean fade haircut on the sides and back.
And, finally, to make a transition from untidy and scruffy to effortlessly chic, use some soft hold hair gel or cream for curly hair, spread it on your palms, and gently run your fingers through the curls to slightly define them.
Also, consider growing the fringe an inch longer than the rest of the mane.
Bowl Cut

@estebanault
Great for Asian guys and other teen boys with naturally straight and glossy hair. Yep, smooth hair is a guarantee of a problem-free bowl cut that stands out.
So, if you are the lucky one with natural silk hair, don't miss the chance to try it out at least once in a lifetime in an outstanding bowl haircut.
The bowl cut means you grow your hair up to a medium length and cut it around like if you put a bowl on your head. The hair is swept in all directions with the center in the vertex area. The edgier the line of the "bowl", the better. You can make it straight or curved like in the picture above. The base of this short haircut is the 0 buzz on the sides and back.
You can nicely combine your facial hair with a bowl cut if you'd like to.
Wavy Crop

@avenue.man
A wavy crop is probably the most obvious variant of teen boys haircuts for wavy hair. However, it doesn't make this option boring and unattractive. On the contrary, a traditional wavy crop will turn all the eyes to you if your hair looks healthy, neat, and voluminous.
Thus, the first rule of a wavy crop is proper care. Don't neglect using special hair care products for curly hair, styling products should also be meant for curly hair to make your locks more shiny and defined. All these will create a look of healthy curls that can't but allure everyone.
FAQs

@iam_richiefresh
What hairstyles do teenage guys like?
When I was a teen I hardly had any sense of style. My dad was my stylist and every time he took me to the barber's and asked to give me a crew cut. It was ok.
However, modern teenage boys are way more experienced and sophisticated in the question of the best hairstyles for teenage guys. They follow the trends through Instagram and TikTok, wanna copy celebrities' hairstyles.
Thus, being a parent of a teen boy, we should consider lots of things when choosing a haircut for them.
But remember one thing: the basic haircuts for teenage guys haven't changed dramatically. It is all about details now: new trends update good old hairstyles by means of small but significant changes. So, your task is to keep up with those small trends and introduce them over a well-tested hairstyle, which fits your teen's face shape and hair type.
By and large, teenage guys enjoy the styles based on:
Undercut
Taper fade and bold fade
Texture with taper mix
Modern variations of a combover, Ivy League, and crew cut
Fauxhawk
Messy bangs
The topknot and man bun
Soft spikes
Quiff
Generally talking, all these are haircuts with medium or long hair on top, and each of them requires the right hair product.
If talking about the specific favorites of teens, number one right now is the so-called "e-boy hairstyle", which features a central parting with curtain bangs. Usually, it's a mid-length hairstyle that works best with straight hair.
Another trend, which is popular with teens is an edgy super-short fringe combined with a shaggy mess all over the top. Layers and spikes are also often included in this mix.
And finally, we can't but mention bright color games. The crazier the combination – the better. Also, it can be a solo color, which is contrasting to the facial features too.
One more thing you need to bear in mind when choosing a cut is how suitable it is for the face shape of your boy. The best hairstyles for teenage boys are flattering, their task is to balance and harmonize the look. It shouldn't happen that an oblong face is stretched even more with a voluminous crown and bold sides.
The same should be considered concerning the distinctive facial features: unproportional mouth, wide or narrow forehead, plump cheeks, or high cheekbones.
For instance, if your teen boy has a very high forehead, you should offer them hairstyles that partially or completely cover the forehead. For this purpose, you can try hairstyles with bangs and side-swept hairstyles.
One big issue with WOW hairstyles is that often a school or college dress code doesn't allow the students to wear very eccentric and outstanding styles. Here is the solution that will build a compromise between the rebellious teens, strict parents, and school rules:
Probably, the best thing about the majority of modern haircuts for teenage guys is that they are easy to transform. Thus, a mohawk, for example, can be combed back and down – and voila: you get a hairstyle of a straight student A. Same can be done with most haircuts for teenage guys. And this is awesome!
How to cut a boy's hair?
If you're asking "How can I cut my teenage son's hair at home?", you should keep this determination till the end of the process.
Don't get scared – you can easily do it. All you'll need is a pair of scissors, clippers, a comb, and a mirror.
There are several base hairstyles you can choose from, which we've mentioned above. So, first, you'll need to decide which style you want and have a reference picture on hand.
To give your teen's hair a little trim:
Trim the hair on the back of the head using a clipper.
Rinse some moisture and comb the hair in the style you want.
Take the hair into the comb till several inches are over the comb bristles.
Cut these extra inches with scissors.
Repeat the same with other sections of the hair.
Try to cut the hair from the ends vertically, not horizontally, to stay safe and be able to control the length.
To make a basic fade:
Start with clean hair.
Separate the top section away.
Use the clippers with the number 4 setting to create a high fade.
Pull the clippers away towards the top for a smoother finish.
Next, use the number 3 but this time end the fade a bit lower than the previous one.
Repeat the same with number 2 and number 1 alternately, ending each fade lower than the previous one.
Finally, clean up the neckline and the area around the ears with no attachment on the clippers.
Now, start working with the top section. Begin from the front, moving back
Grab small sections across the head, fix them between the fingers and trim the necessary amount off.
Use a part of the first section as a guide for the second one.
To cut your teenage son's hair with scissors:
Take a pair of sharp scissors, a water spray bottle, a comb, and crocodile clips
Follow the direction from the front to the back.
Pick up a small section across the head, hold it between the fingers, and trim the desired length off.
Use either the tips of the scissors only, or cut straight across.
For long hair, separate it into several sections and move from underneath to the top.
Conclusion
Finding the right best hairstyles for teenage guys can be a real challenge, there are several important factors to consider, including the kid's face shape, hair's texture, if the teen (or the parent) is ready to style it every day, how versatile it should be, and how long you want it to last. We hope so much that with this in-depth article and gallery full of fresh teen hair ideas, we've managed to help you decide on the right look for your young gentleman.
Remember that hairstyles for teenage guys are an endless field for creativity, so don't mind them being a bit over the edge sometimes. Teen years are the perfect time in life to try something truly mind-blowing. And even school regulations can be followed if you're creative and flexible enough.
Don't forget, that haircuts for teenage guys are all about various details, so keep up with the latest trends and offer your teen to incorporate those fads in their hairstyle.
Make sure that the hairstyle of your son reflects his personality, highlights his facial features, and expresses his mood.
If you are a teenager and confused about what kind of style to choose from this incredibly huge list of overwhelming options, just start with a fade or an undercut. Later on, in small steps, add extra details and features to the style, and subsequently, you'll find your perfect, unique, personalized hairstyle.
Sours: https://hairstyleonpoint.com/trendy-teen-boy-haircuts/
50 Superior Hairstyles and Haircuts for Teenage Guys
Hairstyles for teenage guys are an endless field for creativity. They can be a bit over the edge and that's just fine. When else in your life will you try something truly mind-blowing and even crazy? Oh, well, there are certain school regulations. The following hairstyles will help you to fit in them and still find the hairstyle that expresses your mood!
Best Hairstyles for Teenage Boys
Here are hairstyles and haircuts that make you go "wow". Tapers, fades, spiky cuts, gelled looks, preppy styles… Now is the best time to opt for something trendy!
#1: Sharp Side Part for Boys
A sharp side part can totally transform an otherwise typical hairstyle. Basically, the barber will shave off a thick line of hair to really make the part standout. The rest of the hair can remain medium length or very short.
#2: Cristiano Ronaldo-Inspired Boys Cut
Soccer player Cristiano Ronaldo is known for his skills and his killer haircuts. A teen guy will love copying his locks, especially a short and jagged pompadour like this one.
#3: Traditional Brush-Cut Hairstyle
With tapered sides and a textured front, this classic cut is universally flattering and age-appropriate on boys and men alike. This hair style for boys works best for fine-to-medium hair textures.
#4: Undercut Hairstyle for Teenage Guys
This style mixes business with fun by combining a more conservative layered style on top with the funky shaved sides. Perfect for aguywho likes to test out his look before fully committing. If you want to give the look a "hipster" vibe simply gather the longer strands into a tiny ponytail or a "man-bun."
#5: Soft Taper with Texture Cut
When it comes to guys haircuts, we're seeing more designs that combine a polished mane with some texture. Wavy hair can be created using tools if it doesn't come natural. Keeping the top brushed back is where you'll get that dapperness.
#6: Textured Top and Temple Undershave
If you're looking for a style that is masculine and modern, try a cool undercut haircut with a short textured top. This look is about two inches at the longest, so be sure to tell your barber the exact length you want, or ask his opinion on what will work best for you.
#7: Slicked Style for Boys
Boys haircuts can (and should!) be just as stylish as the many options for men. You don't have to wait till you're older to experiment with new looks. This nice cut features a shaved side part and slicked hair with spikes in the front. The line up makes it look super clean!
#8: Boys Long Undercut
This European hairstyle is now becoming popular all over the world, and we can totally understand why. You get the perfect mix of suave layers and masculine buzzed hair. To style, blow dry the hair straight up and back, working a texturizing pomade in.
#9: Short Teenage Cut
Good haircuts for teens should still be fuss-free. This mid taper style has been brushed forward and allowed to air dry. While this teen has straight hair, his cut will work great with wavy and curly textures as well, because the closely cropped sides promise a neat look any way.
#10: Side Blown Undercut
For fashionable boys hairstyles, turn to the undercut for inspiration. Long hair on top and short hair on the sides and back is totally trendy right now. One of the best things about this look is how versatile it is to style. You can blow it back, create a pompadour, or part it on the side.
#11: Short Fade Haircut for Boys
This clean and fresh style is great for showing off pretty curls in a boyish way. The keys to nailing this look are a smooth fade and a line up. When you first get a fade, ask for it to start low. Then if you like the look, you can later experiment with a high fade.
#12: Cool Haircut for Curls
Natural texture is in right now, not just for girls but for boys too. If you want to work with your natural curls and waves, then don't cut them too short. Instead let them be the star of your new look. Brushing your hair forward instead of back, cuts down on volume for a slicker style.
#13: Textured Waves with Low Fade
If you want to find easy to style haircuts for boys, then choose something that doesn't have to be blown out or treated with products. Keeping the length at less than two inches is the safest option if you want to be able to wash and go.
#14: Teen Haircut for Thick Wavy Hair
The temple fade style is a favorite for teenage guys with wavy hair. By having the fade start lower on your head, you preserve more of that gorgeous texture! Fading out to skin at the ears and the nape offers a clean, modern finish.
#15: Popular Side Part Cut
What's the coolest way to rock the long-on-top trend? Definitely a side part. This chic style is fashionable and a little bit subversive all at the same time. You want your hair to look sleek, but not too perfect, so try blow drying it smooth but keep your product use spare.
#16: Cool Boys Pompadour
Trendy hairstyles for boys are all about transforming retro styles into something more modern. This look features a soft, touchable pompadour that is one or two shades lighter than the natural base color. To keep this look in place, try a hairspray that is dry, not sticky.
#17: Ivy League for Teenagers
The Ivy League is a perfect boys hair cut. It is stylish enough to impress your friends and something your family will love too. This version looks especially cool because of the cute little pompadour. For styling that is structured and not stiff, try using mousse and heat protectant before you blow dry, and skip the products after.
#18: Popular Cut with Long Top Layers
Here's a style that will enhance the fashion factor of any outfit. To keep it looking super cool, style your hair to the side every morning but don't make it overly perfect. Instead, blow dry your hair only half dry (just enough to mold in the necessary direction) and then let your natural texture come through.
#19: Spiky Fauxhawk for Boys
Every little boy has dreamt of having a fauxhawk or a mohawk at some point, right? There's no better way to show off a punky, boyish spirit. This is a great version of fauxhawk, because it is not too out there—this is still a look that is school-appropriate.
#20: Side Part Teenage Hairstyle
For guy haircuts that give off a sharp, polished vibe, go for a side slicked look. To keep it modern, flip the front part back to frame the face better. Get a line up and shaved side part. These will upgrade the retro style with a more urban edge.
#21: Modern Long Top Fade
We can think of a few celebrities who would be jealous if they saw this haircut. This is almost too adorable to stand. Someone has a lot of swagger for his age! To recreate this look, opt for a designed side part and cool, piecey locks on top.
#22: Short and Slicked Back
Who doesn't love teen hairstyles that exude confidence? Whatever new look you decide to try, make sure it's something you're comfortable with. This style—with medium-length hair on top—is a great alternative to the long top undercut because it is so much easier to pull off and style every day.
#23: Boys Undercut Ponytail
If you want to go for super long hair on top, don't forget one of the coolest styling options available to you: the ponytail. Guys with ponytails on top and shaved hair on the sides pretty much always look amazing. You can also try a simple bun to switch things up.
#24: Perfect Haircut for Teen Guys
Best haircut ever. Really, this is fine barbering. The blend of a side pompadour and taper fade with a neat line up…well, it's impressive. If you're curious about trying this, the easiest way to ask for the cut will be to share this picture with your barber.
#25: Handsome Layers with Shaved Sides
Some of the most fashionable haircuts for teenage guys feature long layers on top. While many guys wear comb overs and slicked back hairstyles, you can make your own statement with a chopped cut brushed onto the forehead.
#26: Modern Pompadour
Pompadours were huge in the 1950s and 1960s. Today they are slowly but surely making a comeback. To give this classic style a modern twist, all you have to do is try something interesting with the sides. Trimming them super short will really elevate the Pomp.
#27: Undercut for Boys
Versatility is important when it comes to boys haircuts. That's why something like the undercut is perfect for the young and the old. While some parts are short, the top has a nice height, making it ideal for boys and teens who aren't ready to go full on buzz cut. An undercut of this type works for all hair types except fine hair, so keep that in mind.
#28: James Deen Boys Hair
Was there anyone more fashionable than James Deen? Probably not. Try copying his hairstyle but adding a contemporary accent such as cuts on the side. Teenage hair that is medium, thick, wavy, or curly can pull this off. Just be sure to tell your stylist to keep the sides short.
#29: Straight Mohawk with Fade
There seems to be no limit when it comes to haircuts for boys with straight hair. However, a short mohawk with a fade for a boy who is about 10 or 11 years old will be most age appropriate. Since it's on the shorter side, it's suitable for school, but the fade adds some fun and flare.
#30: Razor Up-Sweep Mohawk
Teenage guys with longer hair will love an up-sweep mohawk, especially if it has a more naturally vertical form as opposed to putting a whole bunch of hair gel to get it to stay in place. This look has dimension because it's long on top, medium in the middle and super short on the bottom.
#31: Low Fade for Thick Teenage Hair
Teen hairstyles that cater to thicker locks are great. This one in particular will appeal to guys who are looking for a medium cut with just a very subtle skin fade by the ears. It's smooth in appearance, but doesn't have any blunt cuts on top so it's a much more relaxed.
#32: Fade with Short Front Flip
You don't see many front flips on young teenage boys. But it's a super cool option which, when combined with a low fade and a shaved line in the middle, is so unique. You don't have to copy this exact design, but if a front flip is what you're after, ask your hairstylist what else you can do to add a little something extra to the whole look.
#33: Medium Teen Faux Hawk
Faux hawks are one of the most popular guys hairstyles. Here, you see that the top is thick with even length all the way to the back of the head. It then gets shorter down the neck and on the sides. It's important to note that the sides aren't super short, allowing for faster growth if a boy wants to change things up soon.
#34: Teen Edge Up
An edge up hair cut involves the barber straightening the hair line. Normally the hair is cut much shorter than this, but keeping the top medium or long allows for some youth that is found in most boys hairstyles.
#35: Boys Hedgehog Style
Hedgehog hairdos usually imply that the hair will be a bit spiky. It's a good skater boy choice for teens who aren't excited about the idea of going too short. Just remember, this is going to require some hair product.
#36: Teen Skin Fade with Layers
Hairstyles for boys who want layers and shorter hair are few and far between, but here you have that trendy skin fade with a lot of range thanks to the different lengths on top. The up-swept bang adds extra body as well.
#37: Classic Comb Over
You can refer to this as a classic side part or a comb over. The tapered hair is an elegant choice for guys. When it comes to school photos, prom, and other special occasions, you really can't go wrong.
#38: Modern Wet Look Hairstyle for Boys
Hair products aren't just for girls. This sleek style uses gel to create a wet, "surfer" look. It's pretty much the groomed guy's equivalent to the "wash and go." You may want to load up on the product so that the style stays wet-looking throughout the day.
#39: Haircut with A Side Part
A classic look, this side part hairstyle with volume is a good option for boys with rounder face shapes as it adds the length. Plus it is easy to master, just comb over wet hair to create a bump and you're good to go. This go-to "heartbreaker" look was highly sought after in the 90s based on the characters like Zach Morris from Saved by the Bell—a great retro look now that the styles of that decade are becoming a trend again.
#40: Side Bang And Side Undercuts
A great way to balance out a longer bang is to shave the sides to make it the focal point of the look. This haircut is perfect for young men with fine hair.
#41: Spiked Guys Haircut
If you usually spike your hair, swoop it slightly to the side for an instantly different look. In this instance, the more gel the better to help the style to maintain its height and shape. A great option for a guy who is particular about his look and enjoys being stylish.
#42: Facial Hair with Shaved Sides and Spikes
Standard beards are so last year! Show off your facial hair with a shaved strip in front of the ear and a seriously spiked top. This guys haircut is age-appropriate without seeming childish.
#43: Fade Haircut For Boys
Another example of a brush cut, this option brushes hair forward for a more natural look. Paired with a smooth fade on the sides and back, it offers a statement boys hairstyle that doesn't require any particular styling.
#44: Reverse Layered Cut
Take the idea of a basic haircut and elevate it simply by brushing your hair in the opposite direction. Long layers on top provide versatility—you can brush forward for a bang or style a back sweep in a sort of pompadour. The faded sides provide a slight edge for a no-nonsense teen who likes options.
#45: Cool Fauxhawk Boy`s Haircut
This style has major attitude, especially paired with attention-grabbing red hair. Kids will love this style as it has a similarity to the popular Marvin the Martian cartoon for a fun, carefree look.
#46: Rock Star Guys Hairstyle
This heavily layered messy style is extremely popular with the lead singers of popular rock bands making it the perfect look for a teenage boy looking to enter the cool crowd in high school. For those that don't mind extra maintenance, ask your stylist for subtle highlights throughout the cut to add dimension to the layers.
#47: Laconic Hairstyle
Young English actor Asa Butterfield appeared at the "Ender's Game" premiere, dressed and styled like an elegant dandy. The stylish suit and white shirt were completed with a fashionable hairstyle. Asa's nape and temples were cut short, and his bangs were lifted and combed to one side. The cut and style flatter the young actor and complement his evening look ideally.
Jaguar PS/ Shutterstock.com
#48: Preppy Mod Look
Justine Bieber changes hairstyles when his moods change. One of his best formal looks is into preppy style. A swoop to one side and medium length work wonderful for Justine. His sleeked up hair features great shine and looks super neat.
Jaguar PS/ Shutterstock.com
#49: Popular Hairstyle for Wavy Hair
Ansel Elgort's hair is cut with approximately the same length at the sides and top and styled with definition to bring out his wavy texture. We'd say the length is critical in this picture. If you grow out your hair a bit longer on the sides, you risk getting an untidy look. Spray wax is a worthy product to achieve the texture like Elgort's.
HelgaEsteb/ Shutterstock.com
#50: Short-To-Medium Boy Haircut
Guys with fine straight hair, who do not like very short haircuts, can follow Joel Courtney's example. The haircuts with bangs that are worn loose and a bit messy are extremely popular among teenagers. Adding a light wet effect achieved with wax, you'll easily come up with a cool hairstyle like Joel's.
Helga Esteb / Shutterstock.com
Sours: https://therighthairstyles.com/20-superior-celebrity-hairstyles-and-haircuts-for-teenage-guys/
101 Coolest Teenage Boy + Guy Haircuts to Look Fresh
Teenage is the time of enjoyment and living life to its fullest. When it comes to the hairstyle of teenage guys, you better give them space for tremendous creativity. Teen boys change their haircuts like seasons, for this, they want a lot of choice in their hands to have different yet coolest looks.
Most Popular Haircuts and Hairstyles for Teenage Guys
Teen boys have a hint of cuteness on their faces with help to have an ultimate the boy next door look, but when you spice it up with the right haircut, it can help you look magnanimous. Here is a list of some fresh haircuts for teenage guys to look at his best.
#1: Layered Faux Hawk
Teenage guys usually go for a more dramatic look, this hairstyle, on the other hand, denies the fact, as it a very subtle and decent haircut. This cool haircut for boys will give you a typical look of a boy next door.
#2: Side Parted with Highlights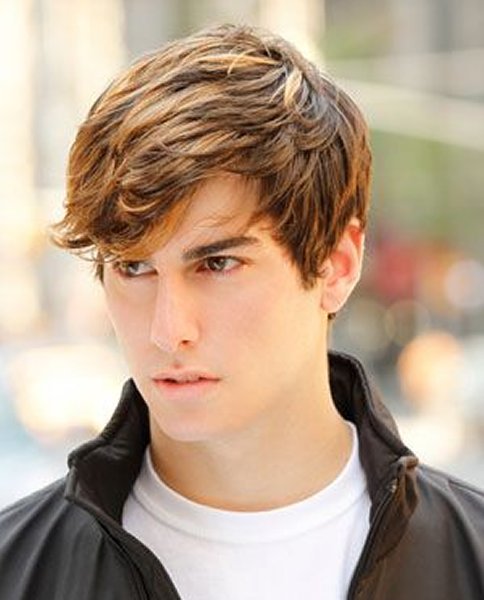 Now, this is the teen boy haircut I was mentioning before. This hairstyle is a very certain look at guys because it not only gives you a good fashion but also gives a hint of cuteness to you.
#3: Full Long Curls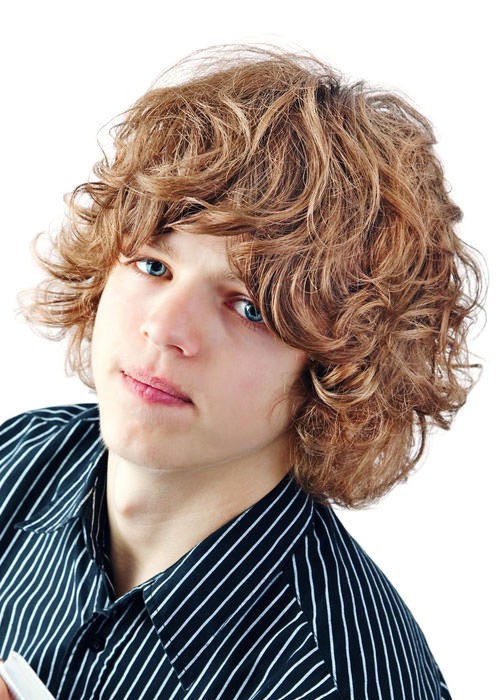 It is a classic look for curly textured hair. Curly hair on young guys looks exquisite; it gives your face a good frame and a volume to your hair.
#4: Sharp Bangs
This teenage guy hairstyle, as the image shows give a very edgy look to your personality. It is something like that Japanese animation Death Note, so if you are a fan, you must be choosing this one.
#5: Layered Spikes
This amazing teen boy hairstyle is a classic look for the teenage guys all over the world. For teenagers it is the ultimate style of fashion, making a puff on the crown with your long front layers.
#6: Shades with Small Spikes
This technique gives a very light and subtle look to your face. It mostly suits on the teenage guys with broad, round or oval face shape.
#7: Side Parted Look by Zayn Malik
Zayn Malik has been famous among girls because of his cute boy next door look. This particular style is a very decent out of all. Although older guys prefer this look, the image shows it can suit men of all age.
#8: Combed Back Layers
Justine Timberlake, again a style diva. He is most famous for his innocent looks, but this style sure gives his personality an edge, with a lot of sleekly combed back layer. This is a classic young men haircut.
#9: Short Spikes
Jensen Ackles aka Dean Winchester a heartthrob from one of the most famous CW series, Supernatural, is showing a great look for teenage guys.
#10: Side Parted Bangs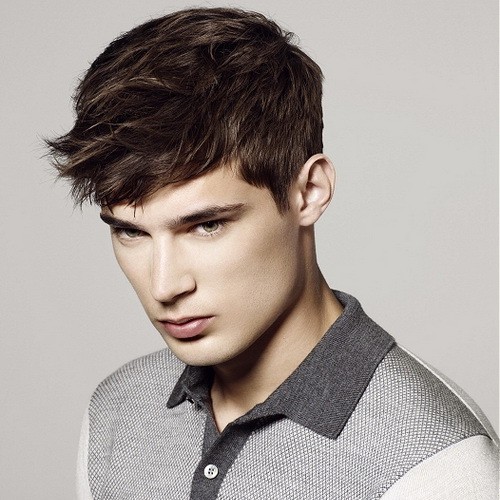 Bangs haircuts are mainly for those teenage guys who have long or sharp faces. Bangs do not require a lot of styling as compared to the spikes and are quite easy going.
#11: Highlighted Bangs
This style looks very decent on teenage boys with chubby, round or oval face cuts. The addition of highlights above the crown gives it a fuller look.
#12: Crazy Highlights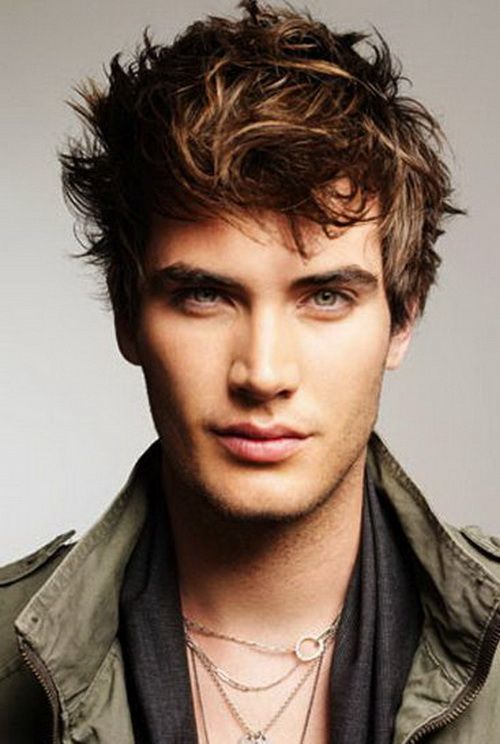 This style is the look most teenage guys want a perfect blend of highlights and layers. This perfect doesn't require a lot of time to create just mess it up and you are ready to go out.
#13: Cool Spikes
This haircut is a very relaxed style of teenage boys. It mostly suits the guys with round, broad or oval face shapes. Plus it up with highlights and make it look magnanimous with perfect styling.
#14: Highlighted Spikes
Spikes are the most desired look among the teenage guys. It suits the best on younger boys with round faces to give a bit of a length to the face. Additional highlights on the crown make it, even more, fascinating.
#15: Bold n Black

This particular teen boy hairstyle has darker shades of highlights on the top, and along with that also have excellent sleek styling. This look never gets old.
#16: Curly Bangs
Who says that guys with curly hair texture can't style their hairs according to the fashion? Well, this look of the image entirely denies this fact. Teenage guys with slight curls have the advantage of reasonable volume, so it doesn't take time to style this look.
#17: Side Parted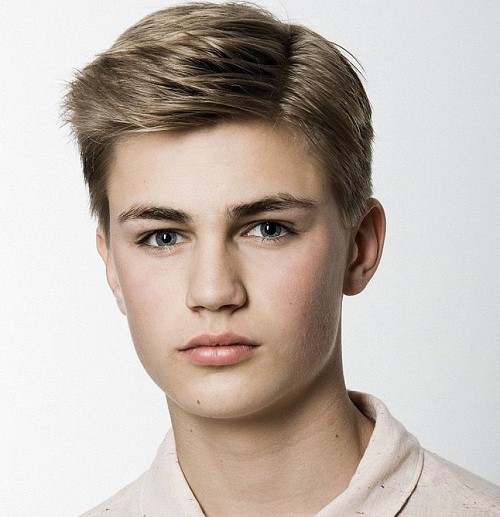 This young men haircut looks good on the men of all ages. Side parted look is a classic hairstyle; teenage boys can creatively design it with a bit of highlight and spike to have a chocolate boy look.
#18: Spiky Look by Zayn Malik
Zayn Malik's smart and cool young guy haircut made him prominent in his boy band One-Direction. So in case, if you are looking for a cute, decent look, you can sure go for this style.
#19: Spiky Spikes
Spikes are the preferred look for round faces; it also creates a fuller look on the crown. You can style it up with highlights, if not, then you can keep it as it is still it give you a very mature and confident personality.
#20: A Decent Look
It is one of the most popular young men haircuts for men because of their carefree nature; they do not want long styling sections for their hair. Although it is an entirely messy look still gives out a much-groomed personality of yours.
#21: Curly Blonde
Teenage guys with curly hair have a hard time deciding their look. The bonus factor what curls have, is their voluminous look, and you do not need to apply moose or any other product in your hair for styling them. Just go with your natural hairstyle. You can also check these old school hairstyles for men.
#22: The Bieber's Hairstyle
Teen pop sensation Justine Beiber is extremely famous among young boys and girls. Boys! Are you looking for impressing your girlfriends? Well, then why not choose the style they love the most on their favorite singer.
#23: Sexy Pompadour
Boys! Are you looking for the perfect to on prom with your girls? Then this might be the look you should choose. It is a sexy fashion, and it gives you very mature and decent look, also gives the idea to your girl that you are a keeper. This style seems best on all face shapes.
#24: Lush Mane
It is the perfect style for teenage boys with wavy hair. Remember the look of "Gossip Girl" star Penn Badgley in the movie "John Tucker Must Die" where he was a high school junior? Well, this is the same look, so if your girlfriend is a fan, why don't give it a shot?
#25: Highlighted Spikes
This style in the image is perfectly carried by "Inception" star Leonardo DiCaprio. It is the right style for men with round faces and short hair. Makes you look like a heartthrob.
#26: Angled Faux Hawk

With the help of angular Faux Hawk, one can easily create volume in their hair. Faux Hawk is perfect for you if you have thin or light hair texture, or you are facing problems like hair fall. The short layers on the back help a lot to have a fuller look.
#27: Shaggy Look

Shaggy style has been very famous in young guys. Many stars during their teenage have perfectly carried this look during their teenage like Zac Effron, Justine Beiber, etc.
#28: Side Bang with Highlights

Talk about the stars of the teenagers, Zac Effron the most famous of all. Zac has this particular look in his one of the most famous teen movies "17 Again", and because of "High School Musical" and "17 Again" he became the style icon for all young boys.
#29: Ultimate Coils
Now, this can be a tough look to decide how to style. Guys with this kind of textured hair should always go for a shorter length because it can be a real hard job to style this many crunches.
#30: Faux Hawk
Again a look from extremely handsome Zac Effron, this particular look has Faux Hawk with perfectly blended highlights to give an absolute dynamic look.
#31: Pointed Bangs
Bang, unlike spikes, don't suit on all face shapes. You have first to analyze your looks and face cuts to go for this style. It mainly suits the boys with long or oval faces.
#32: Messy Pompadour
Pompadour is an absolute classy look; it is all about enhancing your personality. It takes time to style this look but if you are going for a messy one, then you won't need a lot of time to design it.
#33: Cool Faux Hawk
It is a slightly higher Faux Hawk, with an extended layer on the front and comparatively smaller layers on the back. With this haircut you can have various alternatives; you can also style it up with spikes.
#34: Side Parted Faux Hawk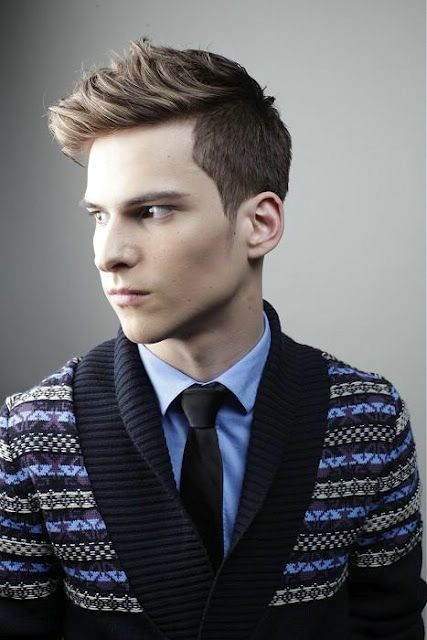 The ultimate thing about this style is that it has many things in just one. There are faded sideburns that make it look epic also it has side parted look with a hint of undercut, faux hawk combined with highlights, so it is the best of all worlds.
#35: Sleek Combed Back Layers
It is impeccable and neat for you. If you are looking for a look that gives a little height to your face and personality, then this must be your preference. This style suits every type of face shapes.
#36: Blond and curly
Dyeing your hair blond is a brave step, but it will surely make you stand out of the crowd. Blond and curly hairstyles add some romance to a boy's image. The sides are cut short and the top is left long and curly. No special maintenance is required for this hairstyle.
#37: Asymmetrical spikes
Spikes are always in style and so is the asymmetry. Your long taper fade will look even more unique, if you apply some hair gel to make asymmetrical spikes. The hairstyle will take less than a minute to create and will last all day long.
#38: Shaggy and textured
This original hairstyle is created by brushing the back part of the hair forward. The bangs are also left long and are spiked up a little by some hair gel. This hairstyle will look especially impressive if some highlights are added.
#39: High and greasy taper fade
This haircut will look well regardless of the amount of gel you use for it. However, if your hair is curly and unruly, the gel will be your best friend. Ask your hairstylist for a high taper fade and leave the top long enough to make bangs.
#40: Soft side swept bangs
This hairstyle might be a little hard to take care of, but it looks really romantic. The hair is left long enough to create side swept bangs. The fringe should be lifted up a little with the help of some hair gel. The result makes a soft and a little messy impression.
#41: Short spikes
Boys who are into sports don't have time or patience for long hairstyles. But they still want to look cool. These short spikes are the easiest haircut which will require almost no care and is very easy to handle. Got some time? Use hair gel to make spikes. No time? No problem! The result will still be nice and cool.
#42: Long taper fade
Long taper fades look very interesting on men with dark hair. You will need the help of a real professional hairstylist to make this scissors fade since the trimmer will not do the job. An hour spent in the barber's chair is definitely worth the result.
#43: A short side-parted pompadour
This is a complicated hairstyle which will surely turn some pretty heads your way. You will need to get a medium taper fade and leave the top part long enough to style into a voluminous pompadour. Make an obvious side part to underline the top.
#44: Modern cowlick
Cowlicks are mostly the thing of the past, but a modern variation can become a part of a really cool hairstyle. You would need to leave your bangs long enough to style them upwards and to the side. A loose strand of combed over hair should fall down your forehead.
#45: Fohawk pompadour
This fohawk pompadour is hard to make, but the result will be stunning. The hair is shaved off the most part of your head to create a very high fade. The top part is left about 5 inches long. It is styled into a combed over pompadour. This is a unique teen boy haircut you can definitely try in 2021.
#46: Side parted lateral comb over
If you want a cool yet romantic look, you can get this complicated hairstyle. The taper fade is created with the help of the scissors, so there are no shaved parts. The long top part is combed over on one side, while the other reveals an obvious hair part.
#47: Ivy League
When you want to look really cool, you should consider getting a neat Ivy League haircut. This variation implies getting the hair on the sides the same length while leaving the top long enough for a stylish high comb-over.
#48: Low comb over
Want to look like a real macho without making any outrageous hairstyle decisions? Get this easy to make comb over. You will need to ask your hairstylist for a long taper fade and then arrange the top part into a comb over with the help of a lot of hair gel for a greasy look.
#49: Textured spikes
Textured spikes are a great way out for guys with thick and unruly hair. They will need some daily maintenance, which is obviously worth it. Another way to diversify this hairstyle would be to dye the top part blond.
#50: Curly shag
Curly shags are considered romantic by many girls. So, if you have nice curls, why not flaunt them? You will need to make sure that your hairstyle is as neat as possible by applying some hair gel and getting regular touch-ups at the hair salon.
#51: Short and shaved
This hairstyle is a great choice for boys who don't like frequent salon visits. This haircut is one step away from a military hairstyle. The only difference is in the top part. About an inch or two is left on top. No styling needed!
#52: Low fade with spiky bangs
This low fade with spiky bangs is great for boys who want to look stylish without much hassle. After you get out of that hair stylist's chair, all you will need to do is spike up your bangs with the help of some hair gel. If your hair is thick, it will stick up on its own.
#53: Textured crest
This textured crest will be created in a matter of seconds with a bit of hair gel. The hair should be left just a little longer on top than on the sides. This haircut is great for guys with curly hair which is hard to subdue with hair products.
#54: Short bob with long bangs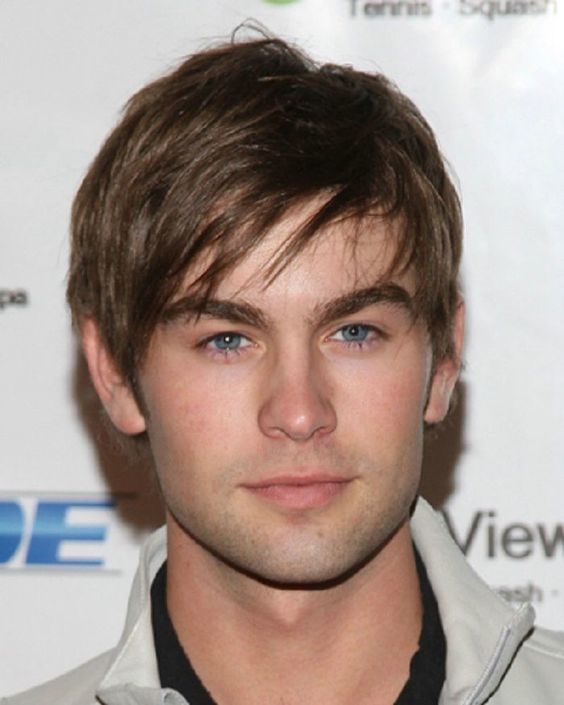 If you are not afraid of a little hair hassle, you can go for longer hairstyles, such as this short bob with long bangs. Eye reaching fringe creates a very romantic look and outline your eyes. If you have nice and thick hair, why not flaunt it?
#55: Highlighted ends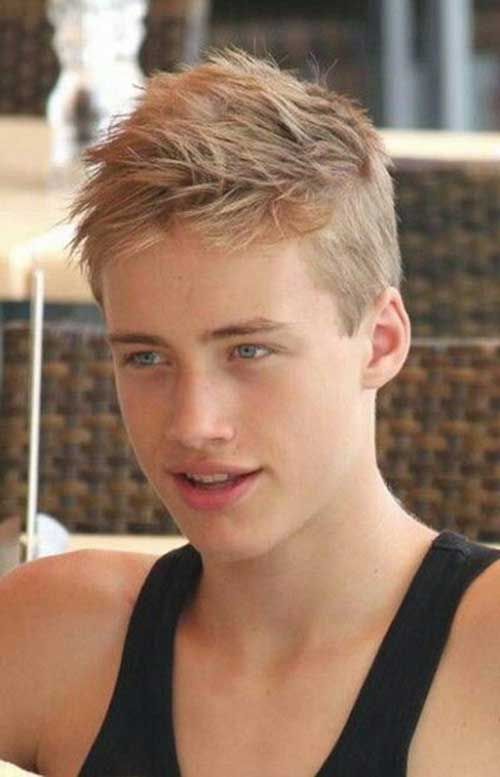 One of the greatest ways to make an impression without cutting your hair is dyeing it. Don't go overboard with wild colors, if you don't want to be outrageous., You can just color the tips of your hair to create an unique hairstyle.
#56: Undercut with messy bangs
Undercut is usually considered a short haircut. However, you can shave just the lower parts of the sides and leave a lot of hair on top. Then the top part can be swept forward to create a voluminous impression and some thick bangs.
#57: Bob
If you have wavy hair, then you should think about getting a short bob to show it. Guys who are not afraid of hair brushes can sport such bobs to make a real impression on the girls. Add a chin strap to complete the sexy look!
#58: Messy spikes
This great and messy look will really be a hit with the girls. All you will need to get is a low scissors fade and then arrange your hair as messy as you wish. There is no need to spend hours on a hairstyle. Just spike it up and go!
#59: Shaggy Hair
A shaggy bob will look really great only if you are ready to style it daily. This hairstyle is great for guys with wavy hair. You can make a side part to add some neatness to this hairstyle. Just don't forget it brush it on a regular basis.
#60: Get creative
If you've got long hair, the time has come to get creative about it. Brush the hair forward to create long bangs and keep them intact with some hair gel. Go for creative messy and neat looks whenever you wish. Experiments are always welcome.
#61: Side swept wispy bangs
Men often overlook a very important part of a cool hairstyle – the bangs. Bangs can add your image a lot of styles and outline your facial features. Wispy bangs are not high in maintenance. All they require is regular brushing.
#62: Side parted comb over
This side parted comb-over is perfect for men who don't like short hair, but still want to keep their image neat. The sides are neatly cut to be about a quarter to half an inch long. The side part is made on top and the long hair is combed over on one side.
#63: Shag with long bangs
Messy shags look very cool on teenage boys but they need some special care. Hair must be kept clean and brushed in order not to look unpleasant. Add long bangs to outline your eyes and give your image more originality.
#64: Spiky cut with asymmetrical bangs
This spiky cut will definitely help you make a statement. Asymmetrical bangs will look very cool since asymmetry is in style. Ask your hairstylist for wispy asymmetrical bangs and you can make the spikes on your own.
#65: Short comb over
Like short hairstyles but don't want to do any shaving? Get a short comb-over. You will need to ask the barber to make a low fade and leave about 3 inches of hair on top. Brush it backward and secure with some hair gel.
#66: Impressive fohawk
Want to get an impressive hairstyle without too much hassle? Get a fohawk. The hair on the sides is not shaved but trimmed really short. The hair on top is left about 5 inches long. The rest is up to you. Make your fohawk as wild as you wish!
#67: Simple textured haircut with wispy bangs
Textured haircuts are great for guys with thick hair. They look impressive on their own. But if you add some bangs, your image will be changed right away. It will become much more interesting and stylish and will let you stand out of the crowd.
#68: Greasy bob with a crest
Got a special occasion coming up? Go for this really creative greasy bob with a crest. A simple shaggy bob can be easily turned into this impressive hairstyle by smoothing down the sides and spiking up the middle.
#69: Curly spikes
If your hair is curly, you can make an incredible hairstyle by cutting the sides very short, so the curls are not visible and leaving a bit of the curly on top. Then you can use hair gel to make interesting curly spikes. Time to experiment!
#70: Fast and easy
If you are not into complicated stuff and just want one of the easiest haircuts, then this simple style is for you. Make your hair all the same length – about 1 inch. You can use hair gel to make a short comb over whenever you want some diversity. This haircut will look nice and neat without any maintenance.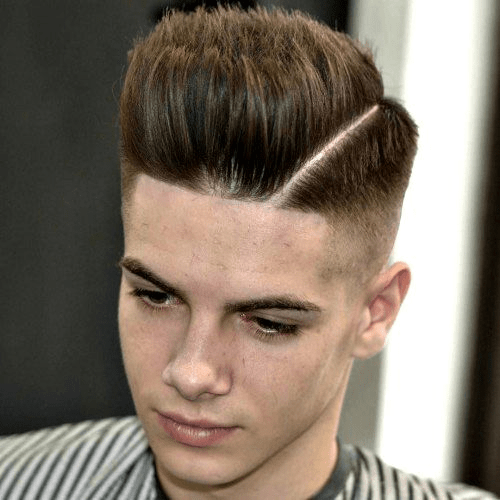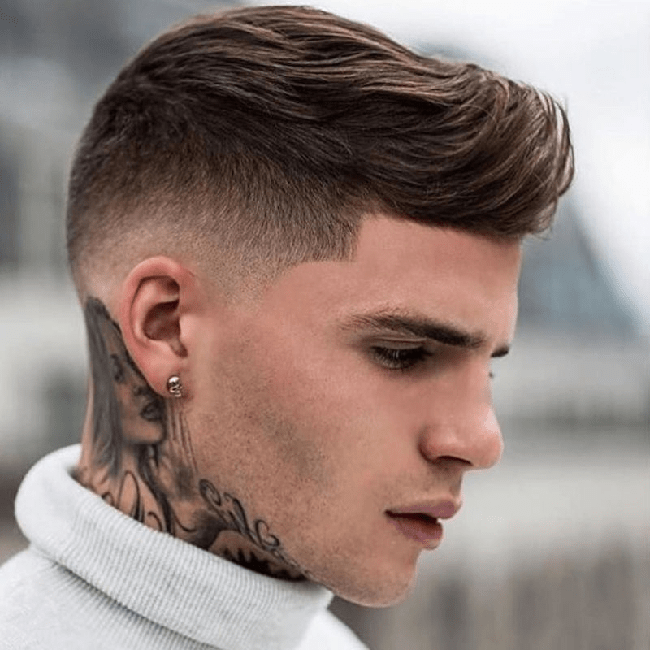 These are some of the most common and desired haircuts and hairstyles for teenage guys. Teenage boys are full of adventures, and when it comes to hairstyling, they are truly the risk-takers in choosing the best style for them.
It doesn't matter whether they have a curly or straight textured hair they always pull it off quite nicely. We are looking forward to your comment about our collection.
Sours: https://hairstylecamp.com/coolest-teenage-guy-haircuts-to-look-fresh/
Trying Trendy 2021 Teenage Boy HAIRCUTS- Connor Finnerty
Back to school is a time for new clothes and fresh hairstyle. Check out these 21 teenage haircut for guys that combine the latest trends and easy-to-wear looks.
If you're into standing out from the crowd, try a hair design or trendy textured style. If staying cool while playing sports is more important, a fade haircut looks good with minimal effort.
Some of these haircut require some product while others don't. Styling hair is easy. Just work a pea-sized amount of product between palms to heat it up and work it through hair. Most looks can be styled with fingers alone but other like the comb over, look best when finished with a brush or fine-toothed comb.
These are some of the best haircuts for boys and teenage guys.
1. Spiky Texture + Hair Design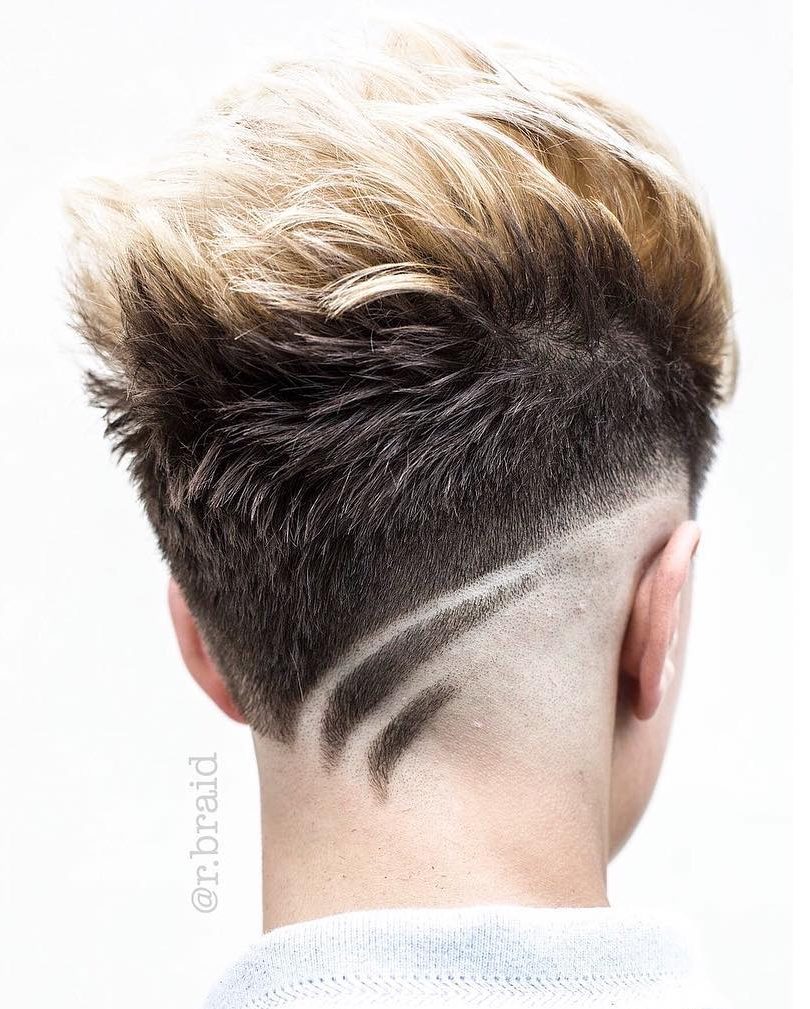 Braid Barbers
This cool cut combines blonde color, trendy texture and the latest looks, a neckline hair design. Get just one of these elements or all of them.
2. Comb Over Fade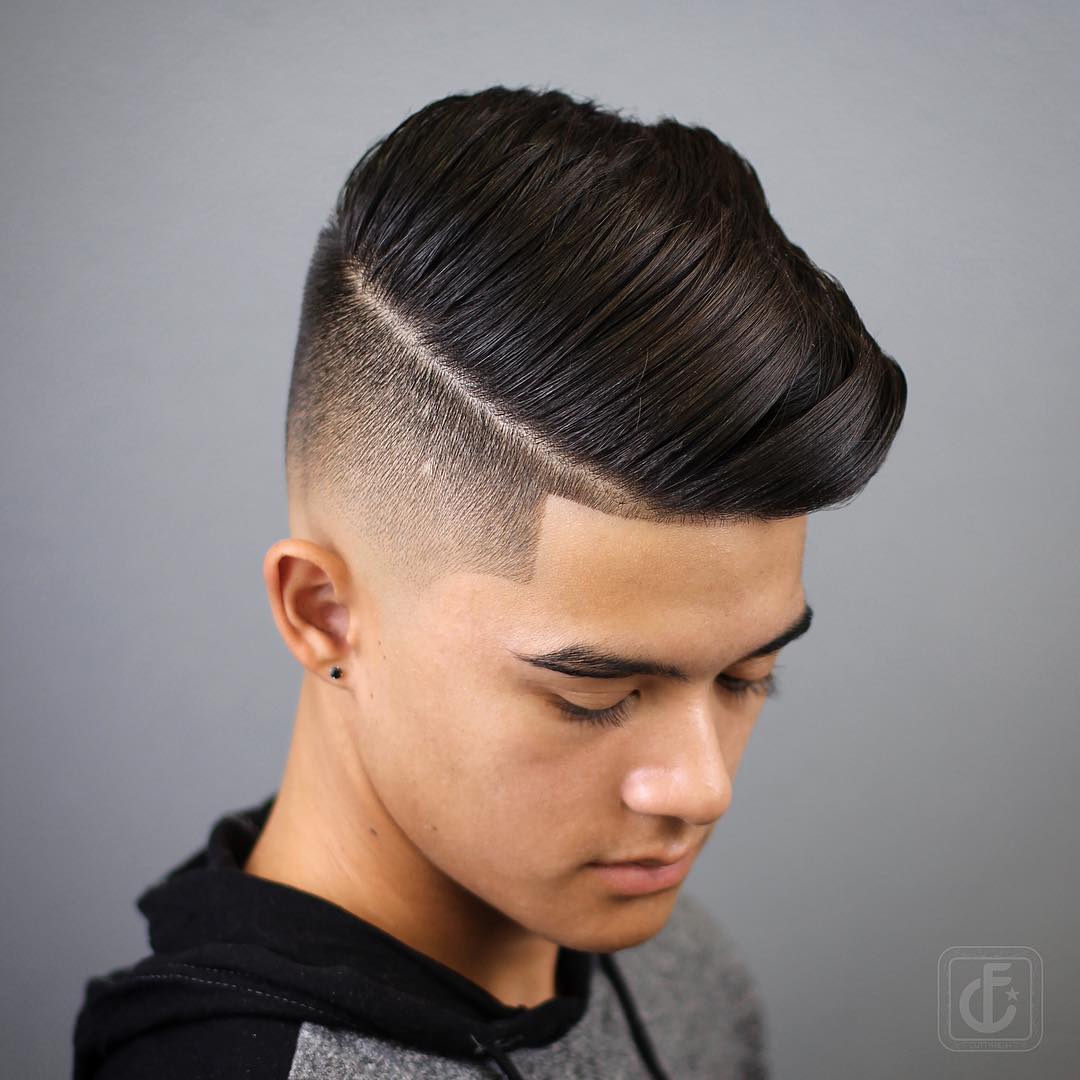 CuttyFresh
The comb over fade is one of the most popular haircuts for men because it looks cool and is easy to style. Just work a low shine or matte product through hair and comb it over to one side.
3. Textured Crop + Blunt Fringe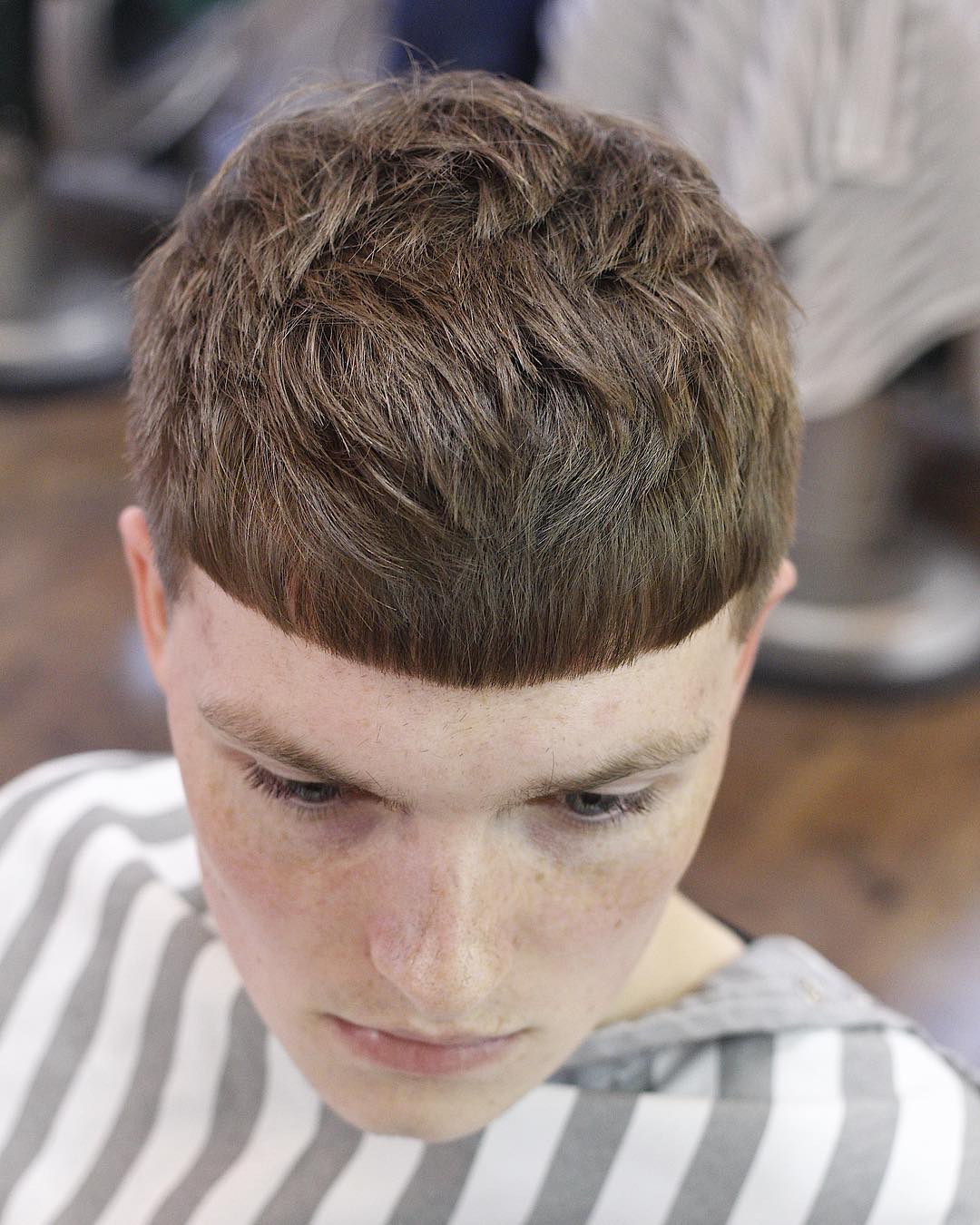 Mr. Liptrot
This is one of the hottest men's trends for short hair and especially for younger men and teenagers. It features layers that are styled with texture on top and sometimes has this fringe cut straight across the forehead.
4. Short Quiff + High Fade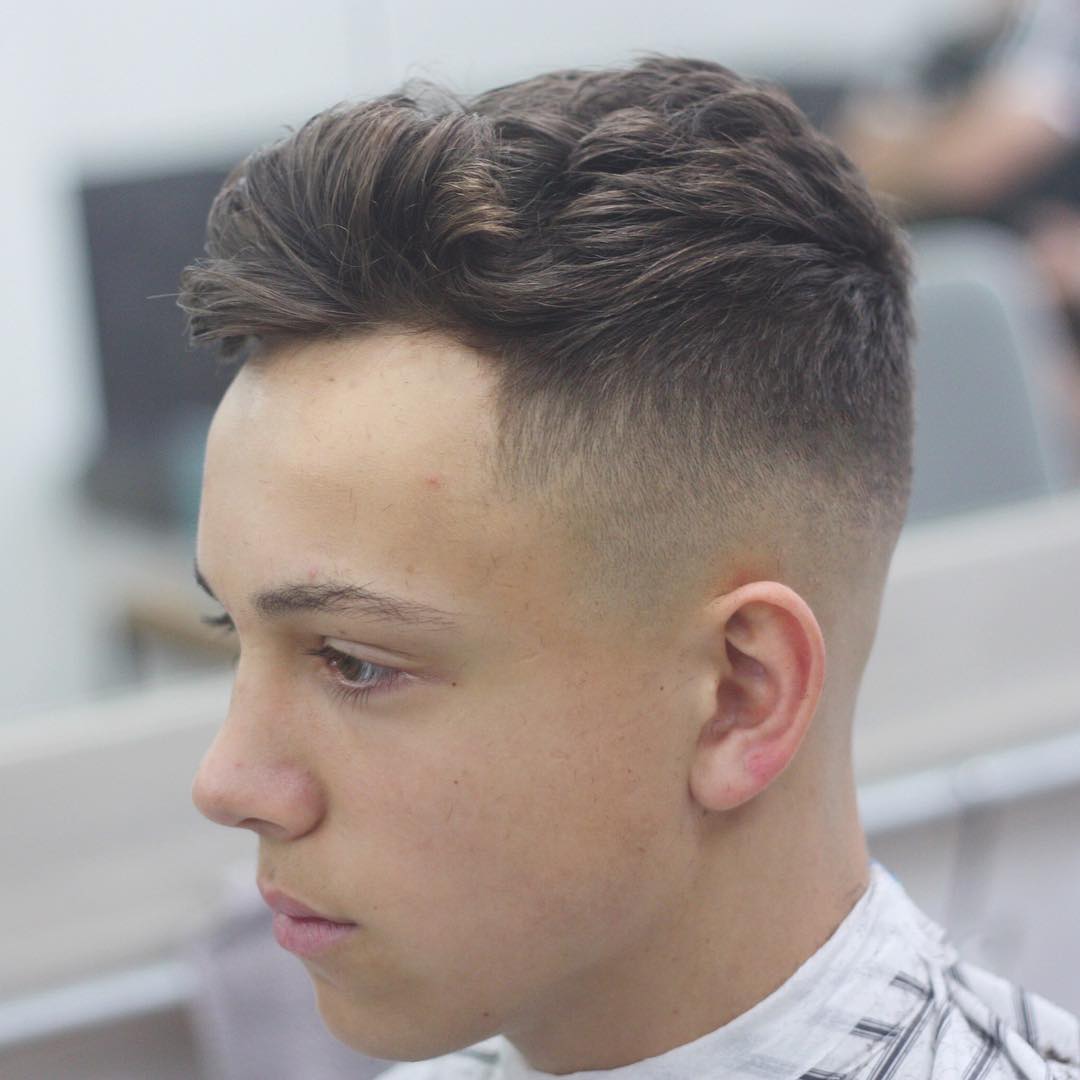 Josh Connolly
This short hairstyle is even easier to style. Add a touch or product at the forehead and work hair up and back. This cut works for thick, wavy and curly hair.
5. High Fade Haircut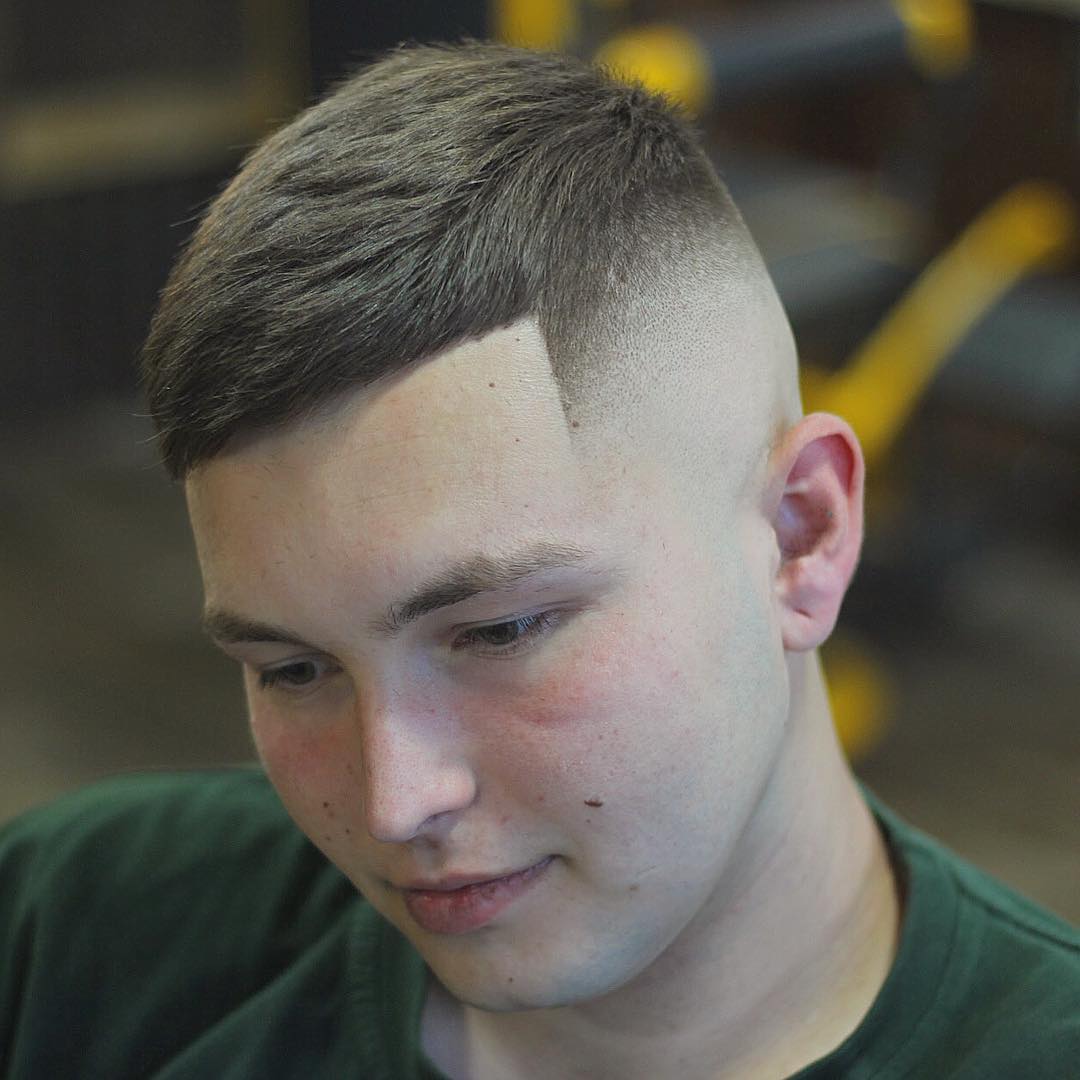 Charlie
A shorter version of the crop, this cut doesn't need any styling.
6. Buzz + Hair Design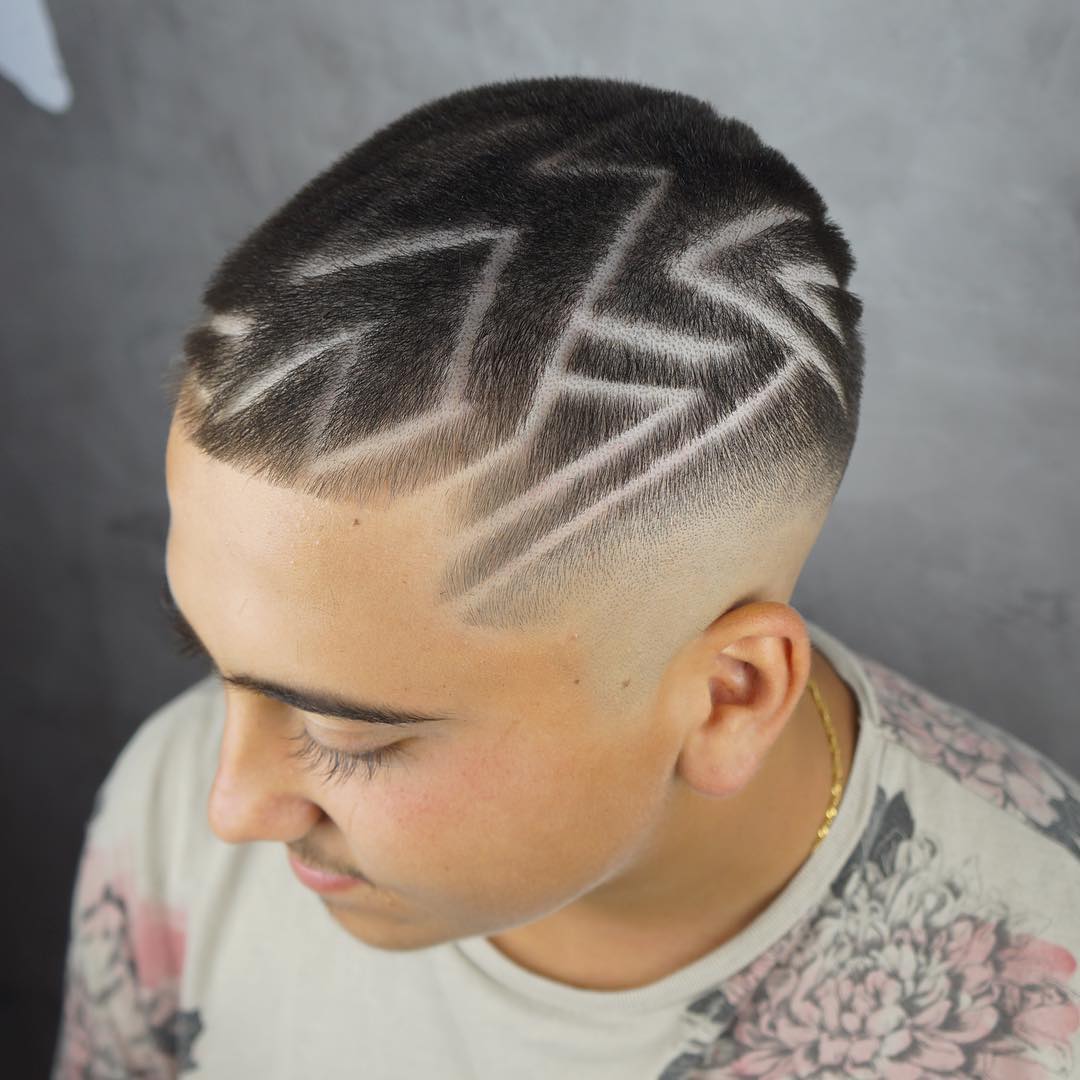 JuanFran Peluquero
Geometric lines shaved into a buzz fade are sure to get you noticed.
7. Burst Fade Mohawk + Hair Design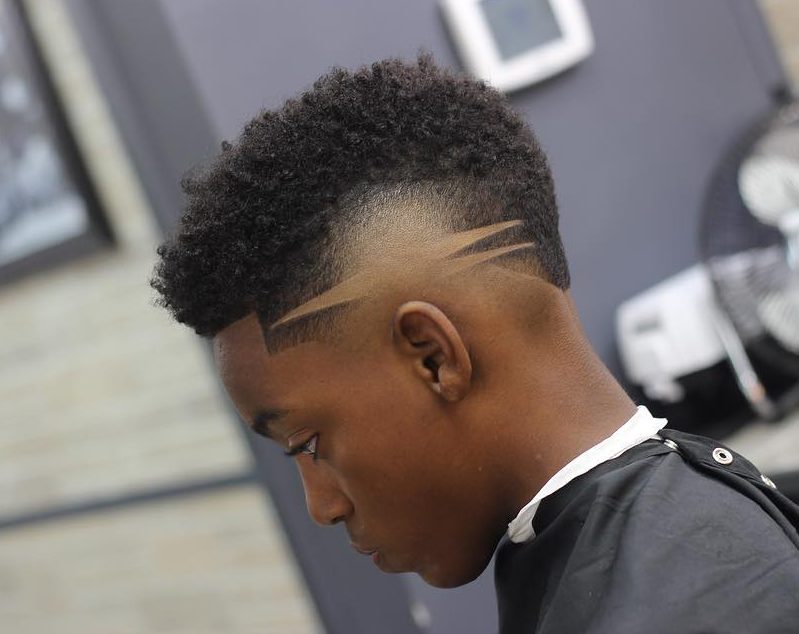 Hawk the Barber Prodigy
Short mohawks are another huge hair trend for guys this year. This one adds a shaved design to the classic burst fade frohawk.
8. Side Part Hairstyle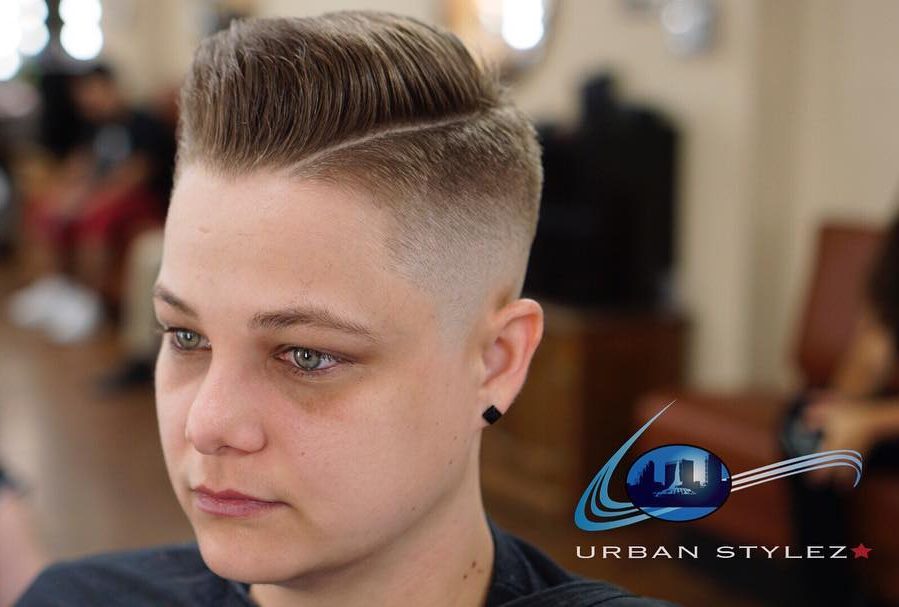 Urban Stylez
Another way to wear the side part, aka comb over, is with a defined part.
9. Pomp Fade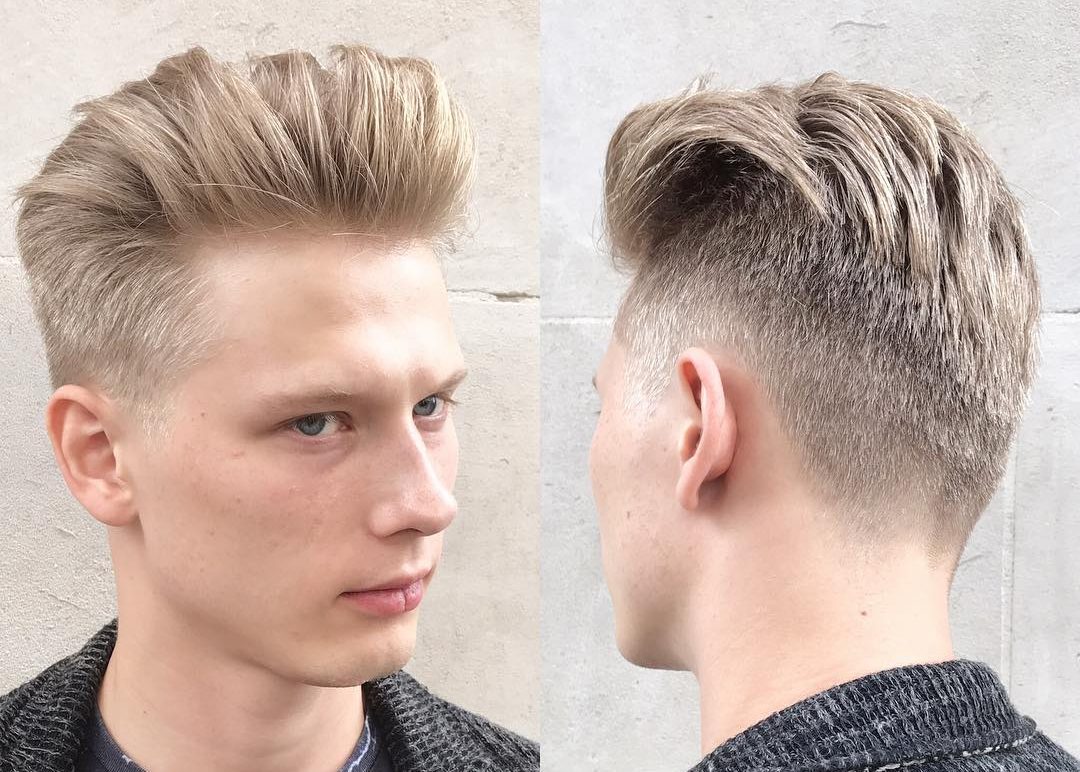 Charlie Cullen
Pompadour-inspired hairstyles are easier to style than they look. Blow-drying helps but it can be done with just product. Try something classic like Layrite if you're just starting out. This cool long on top haircut can also be styled over to one side or worn loose.
10. Hair Design + Curly High Top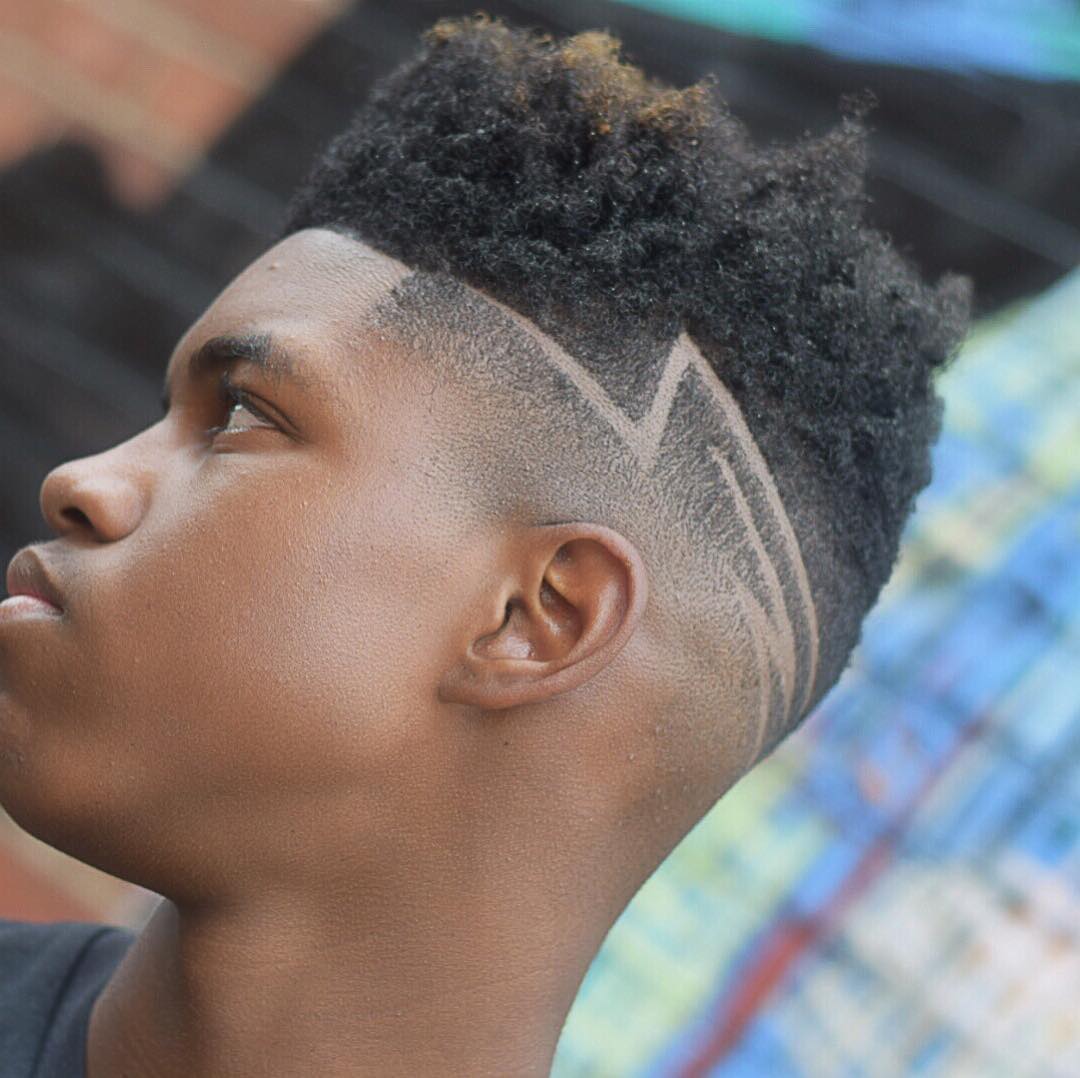 Ramon B. Gibbs
This fresh look contrasts linear zig zags with kinky curls on top.
11. Curly Hair + Low Bald Fade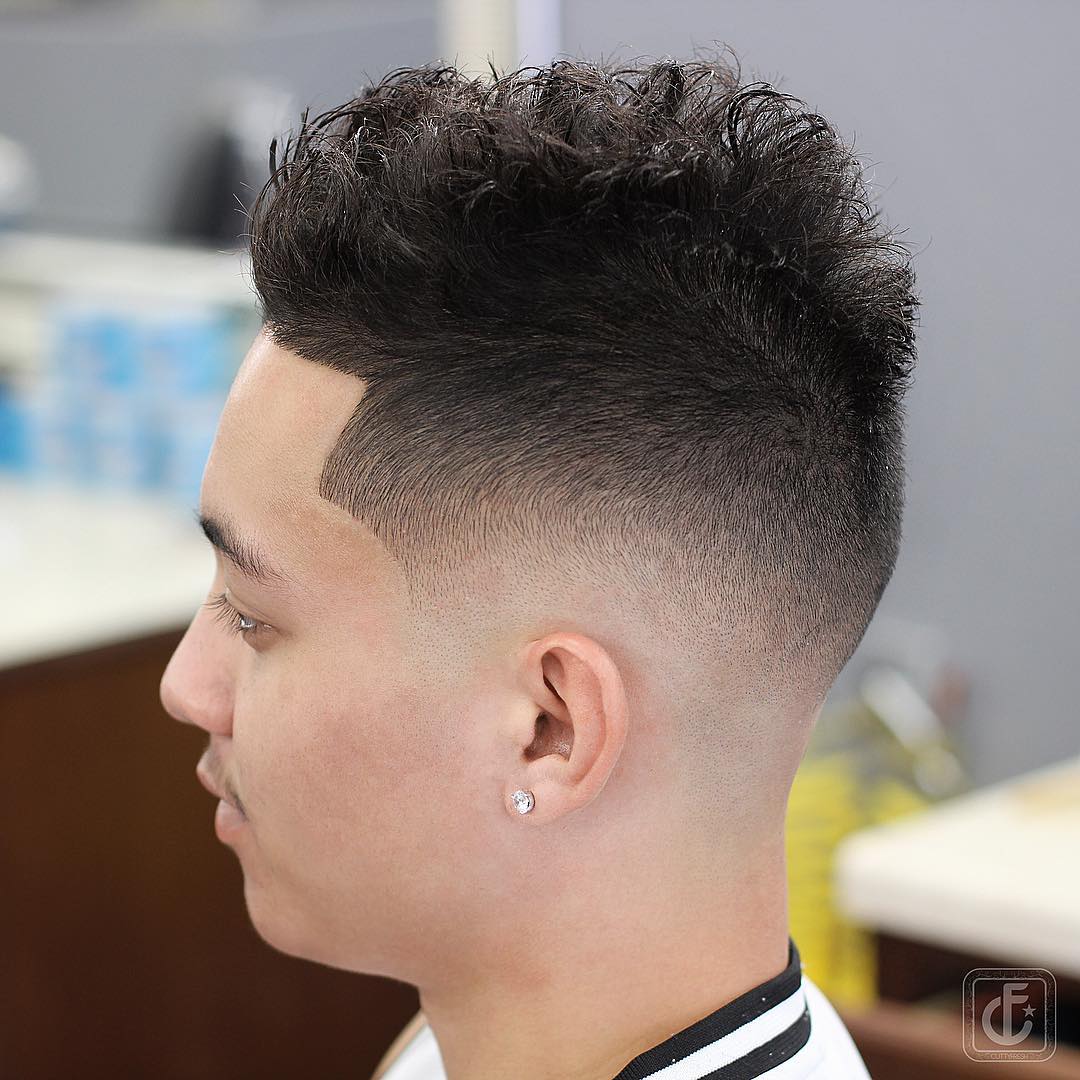 CuttyFresh
This cool cut features texture on top and fade that starts high and goes to the skin down low.
12. Buzz + Fade + Line Up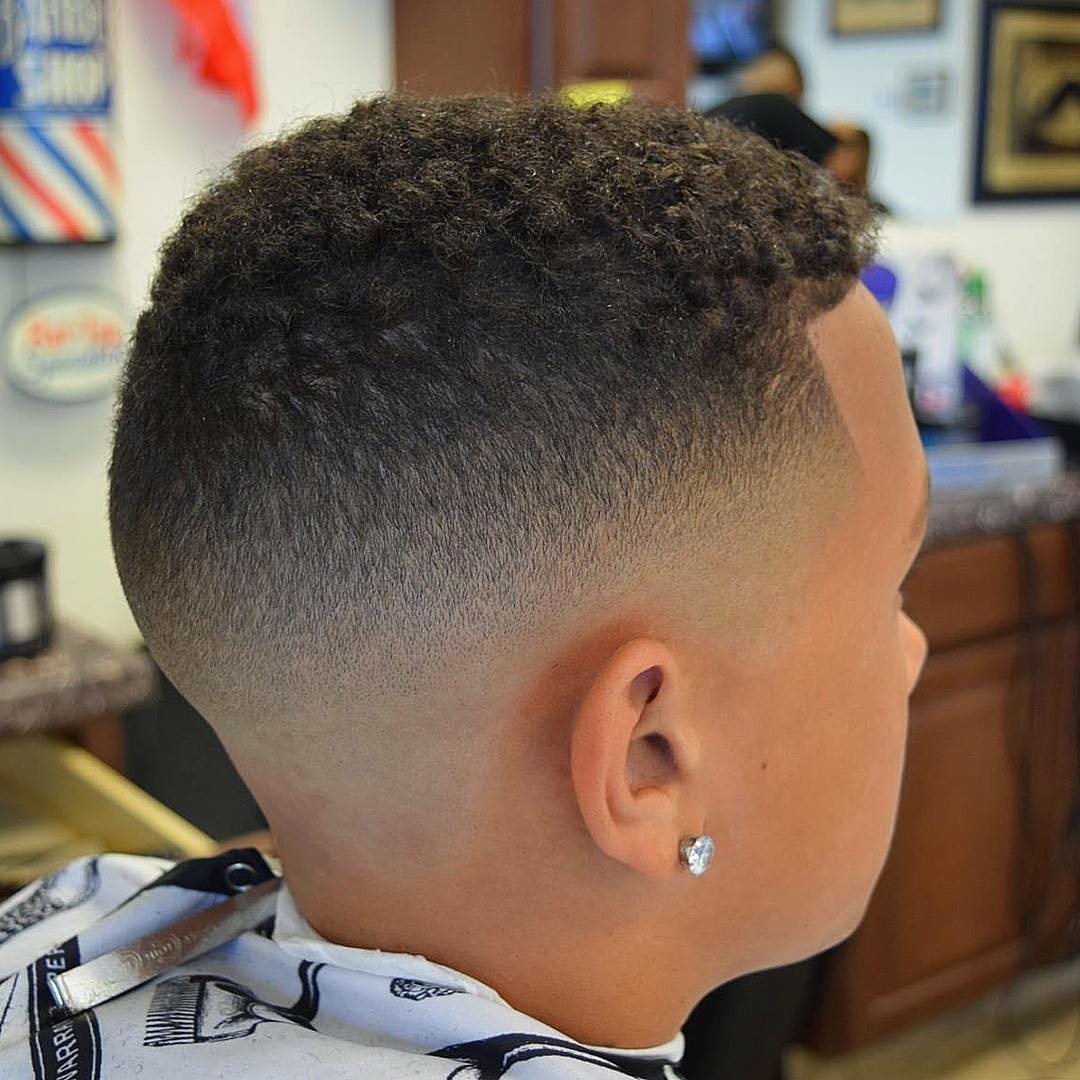 Gerry Barber
This is one of the most popular buzz haircuts for guys of a range of hair types. It works well for curly and black hair, like Drake, as well as as any thick locks. It's a cool cut for guys wanting a no maintenance look.
13. Wavy Fringe

Charlie Cullen
Don't just cut off that wavy or curly hair. This long on top, short sides and back combines texture and fringe trends with easy to manage sides.
14. Low Fade Haircut + Jagged Bangs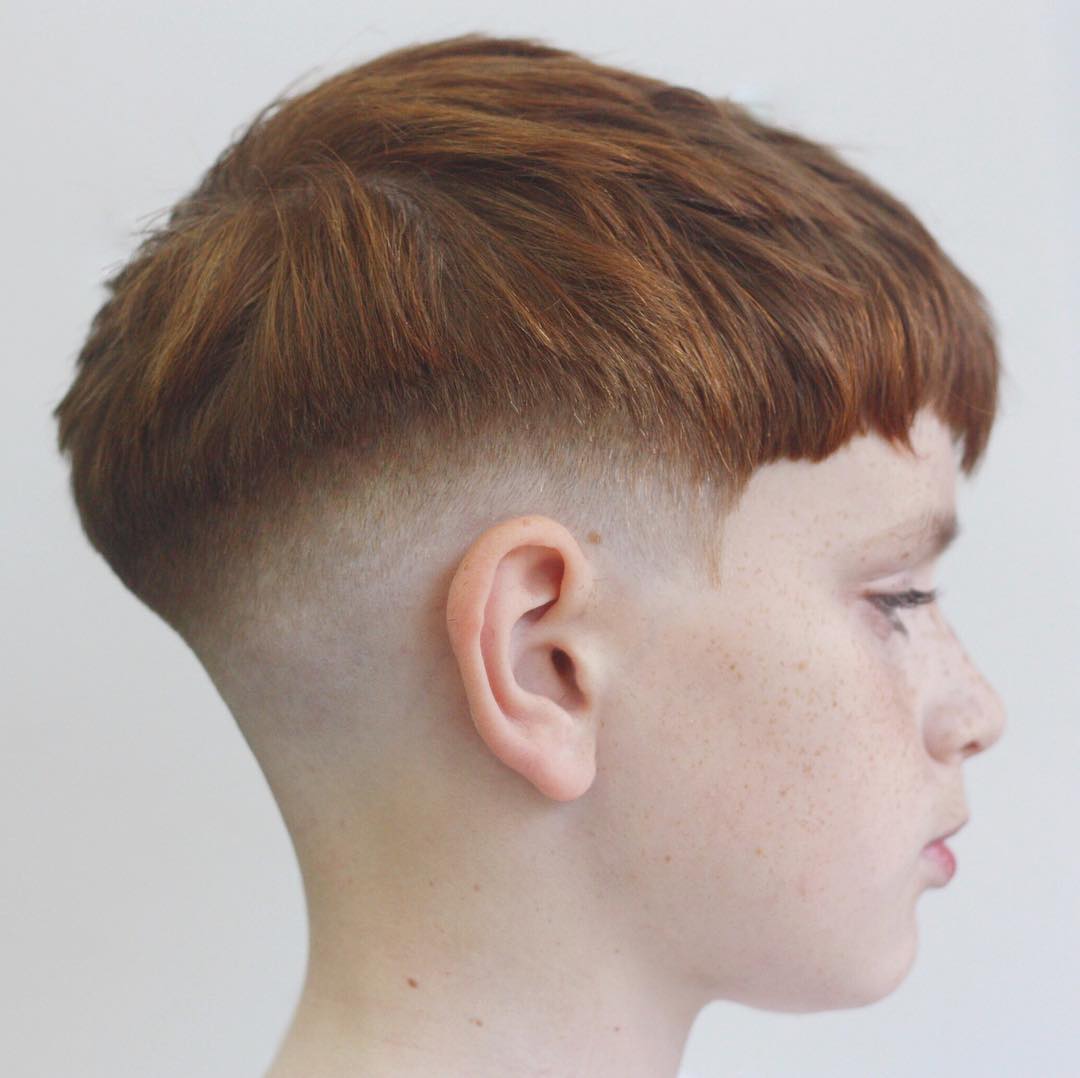 Josh Connolly
All kinds of bangs for guys are on trend this year. This fresh cut features a blurry fade at the back and jagged fringe at the front.
15. Textured Pomp + Side Part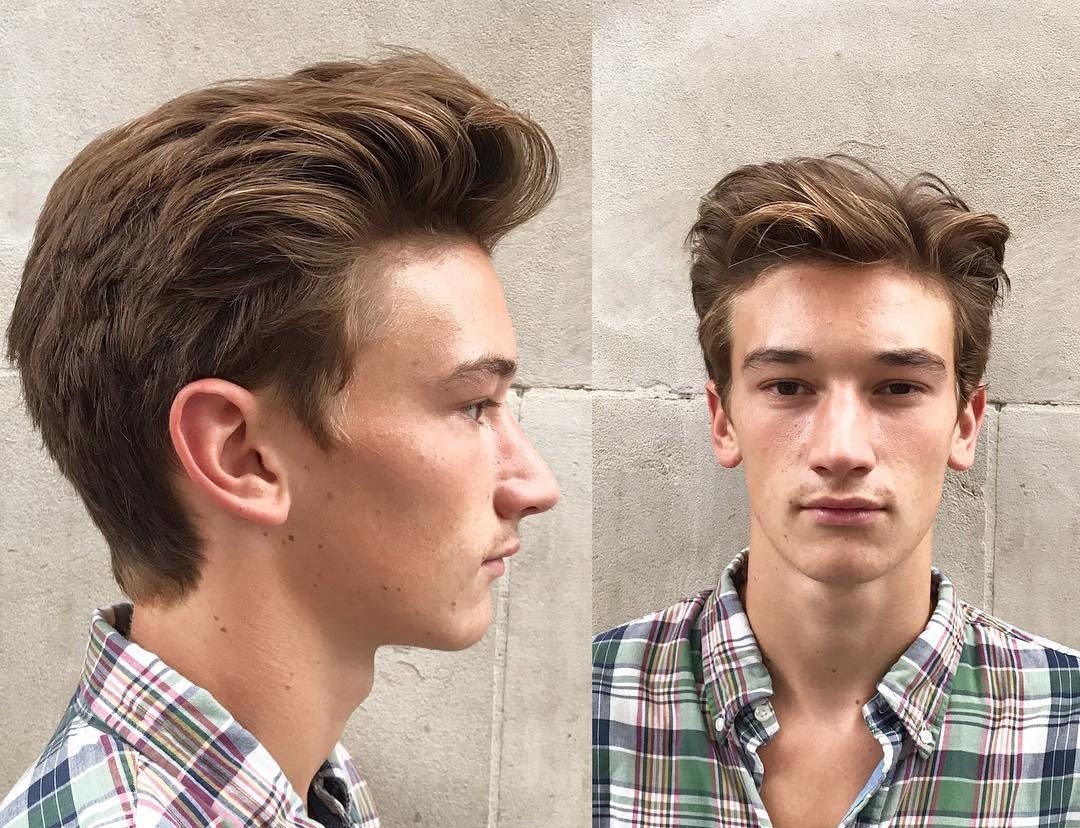 Charlie Cullen
Another hair trend for guys this year is longer looks and tapered sides. This cool has both plus lots of textured volume. It's easy to style with a texturizing product and fingers.
16. Flat Top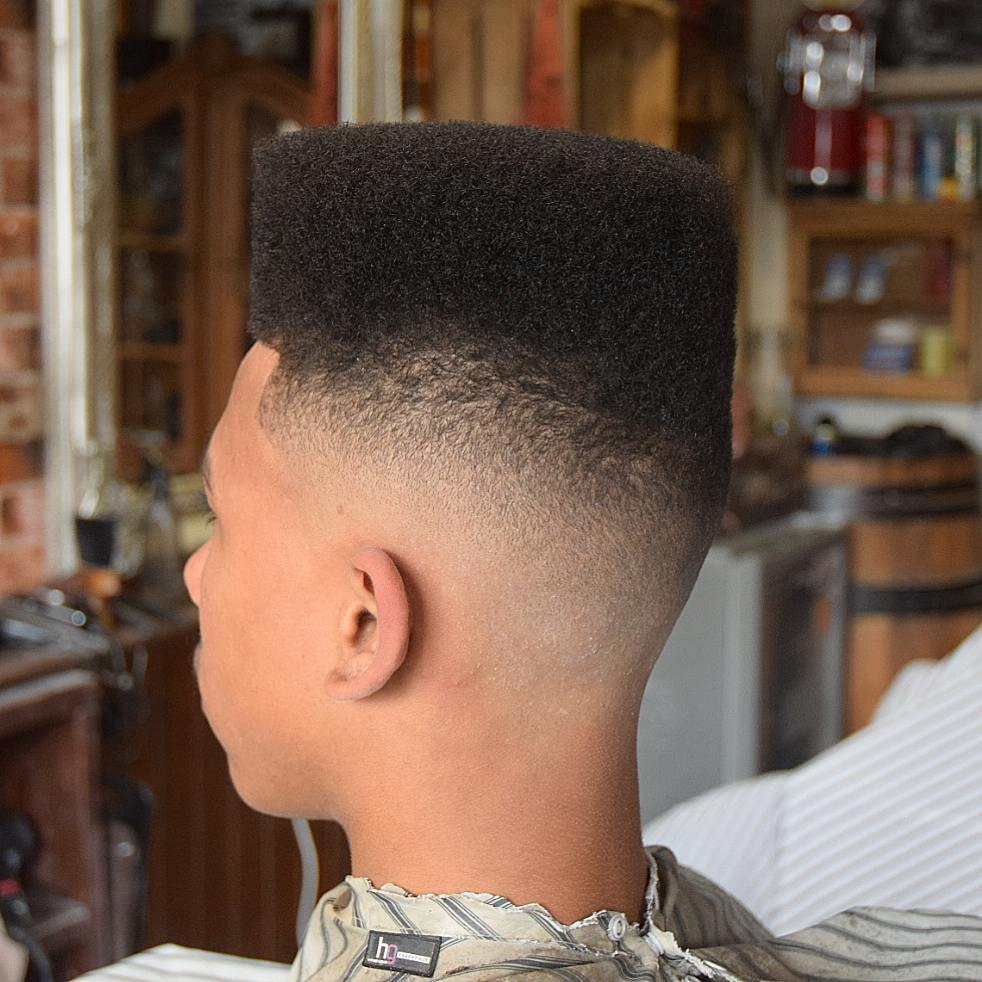 Ben Warren
Another longer hairstyle for guys that is huge this year is the flat top. Wear it with a 90s-inspired drop crotch or your favorite skinny jeans.
17. Burst Fade Haircut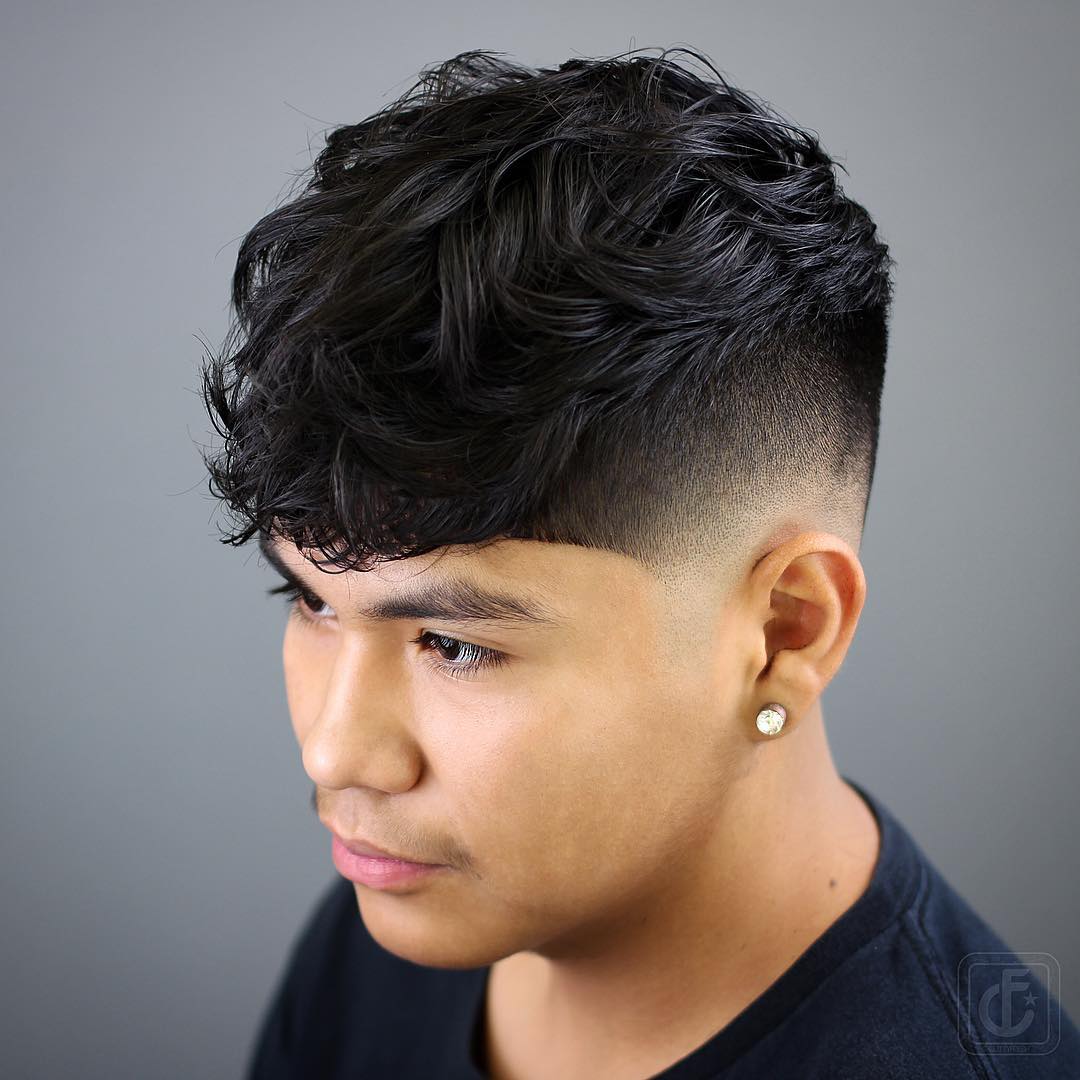 CuttyFresh
This cool burst fade haircut for wavy hair leaves plenty of texture on top styled down over the forehead.
18. Spiky Faux Hawk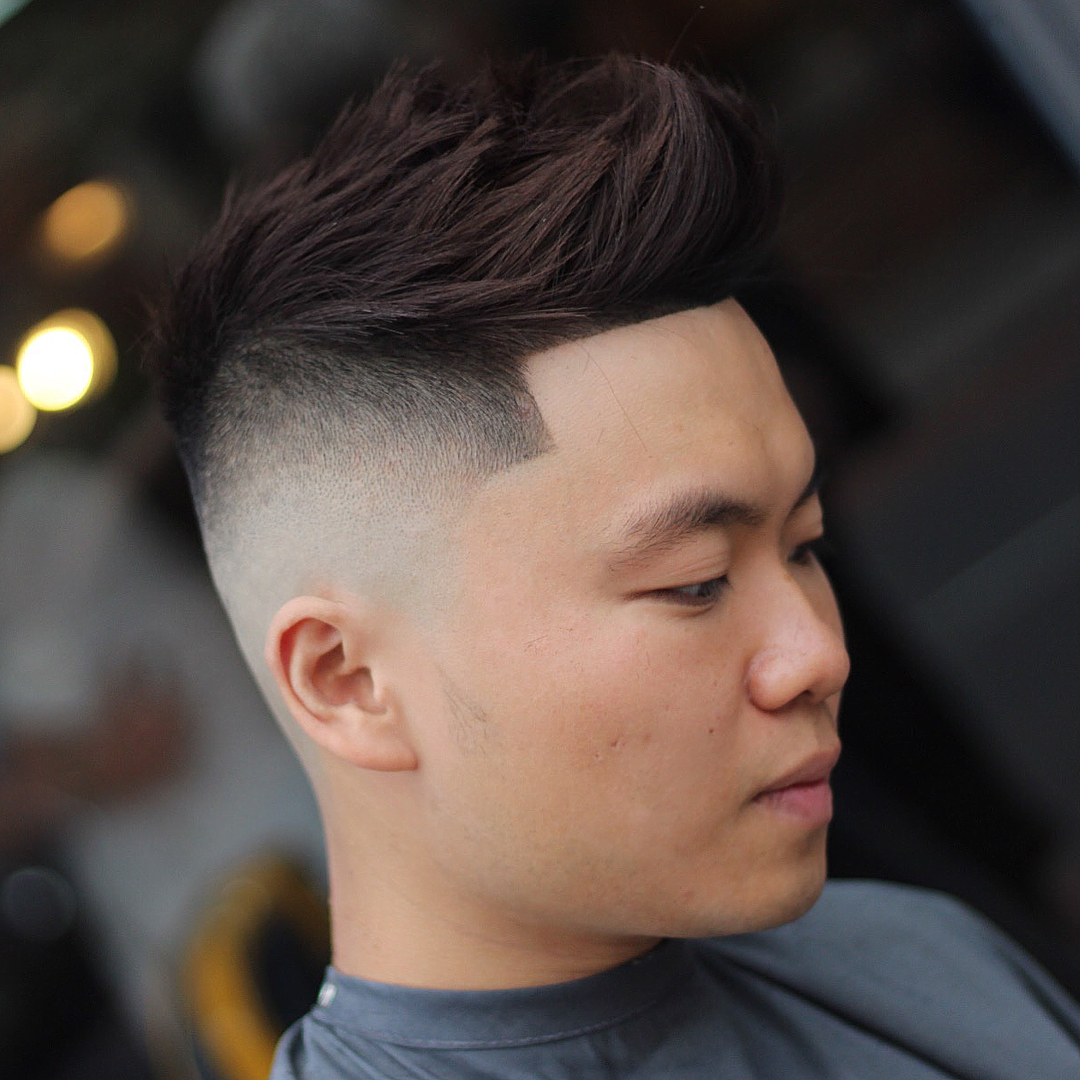 Charlie
The faux hawk, aka fohawk, is a men's hairstyle that persists because it is so flattering. The high fade haircut could also be styled into a slick back or worn loose.
19. Mid Bald Fade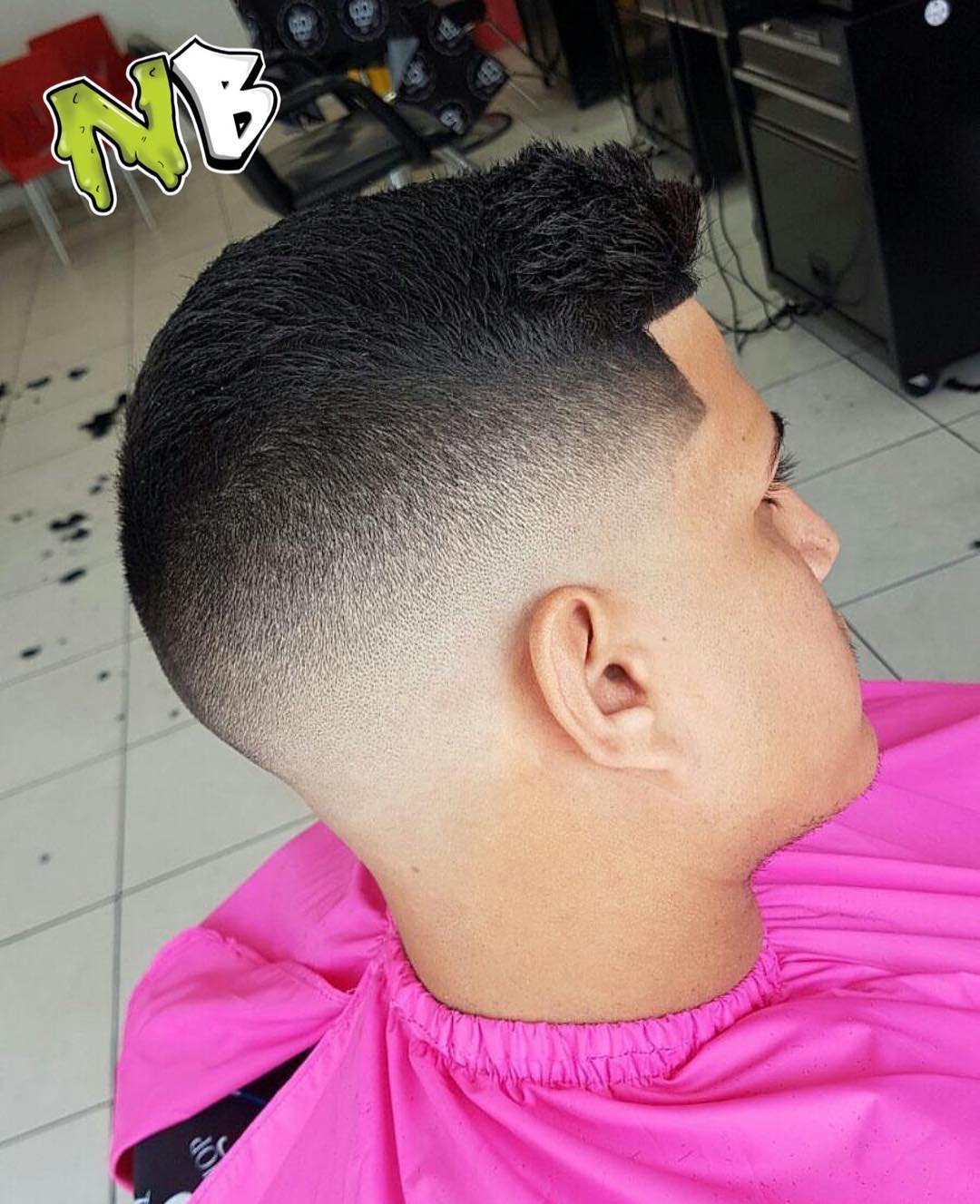 Nasty Barbers
High school can be busy between classes, sports and socializing. A fade haircut with some length on top makes sure hair is on point at all times.
20. Mid Fade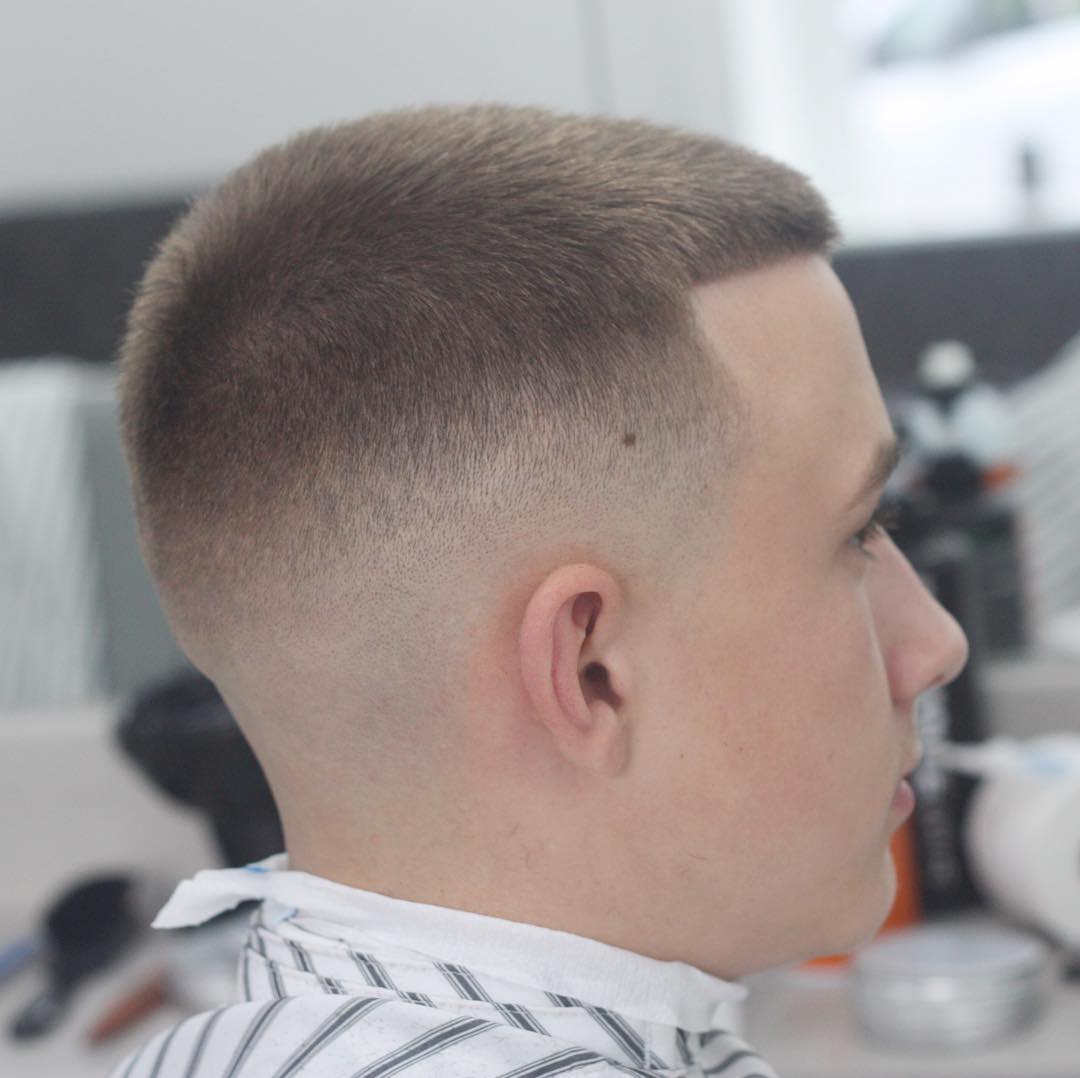 Josh Connolly
This fresh cut looks great before, during and after gym class.
21. Textured Crop + Shaved Lines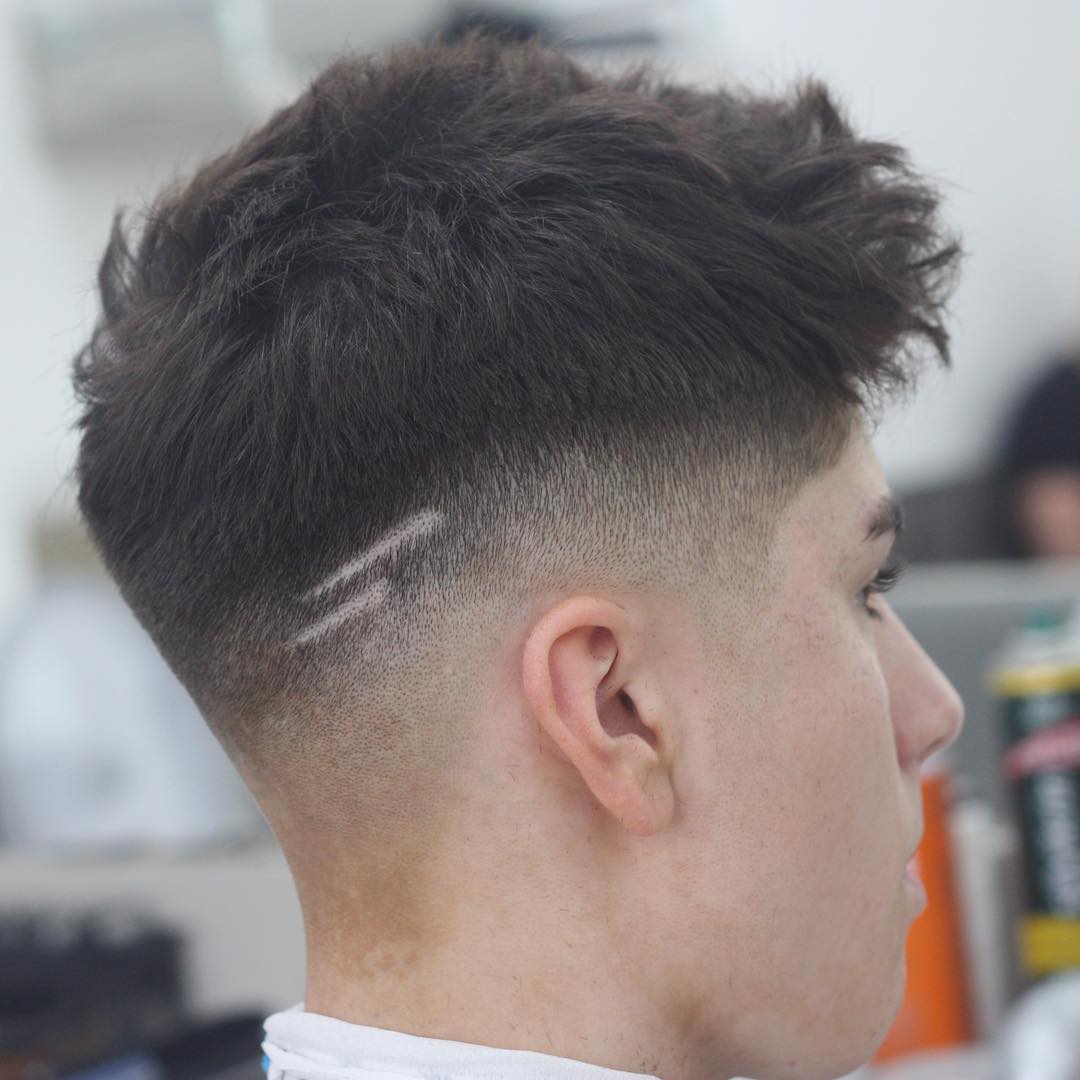 Josh Connolly
This on trend look combines this year's hottest haircut with a pair of shaved lines at the back.
This post may contain affiliate links. Please read our disclosure for more info.
Sours: https://www.menshairstyletrends.com/teenage-haircuts-for-guys/
Haircuts teenage boy
60 Best Hairstyles for Teenage Guys in 2021
Are you a teen boy looking for some inspiration for your next haircut? Here are the 60 best hairstyles for teenage guys in 2021!
There will be hairstyle ideas ranging from curly, wavy, straight, and long hair.
No matter what type of hair you have, you'll be sure to find a hairstyle that works for you in this extensive list!
Note that some pictures might not be of teen boys. The pictures are just meant for inspiration
Let's dive straight in!
Best Hairstyles for Teenage Guys in 2021
Each section will be split up into 15 different haircuts with different types of hair. It will go in order from curly, straight, wavy, and then long hair.
Hairstyles for Teenage Guys with Curly Hair
If you have curly hair, then these 15 hairstyles will definitely be for you!
1) Short Sides, High Top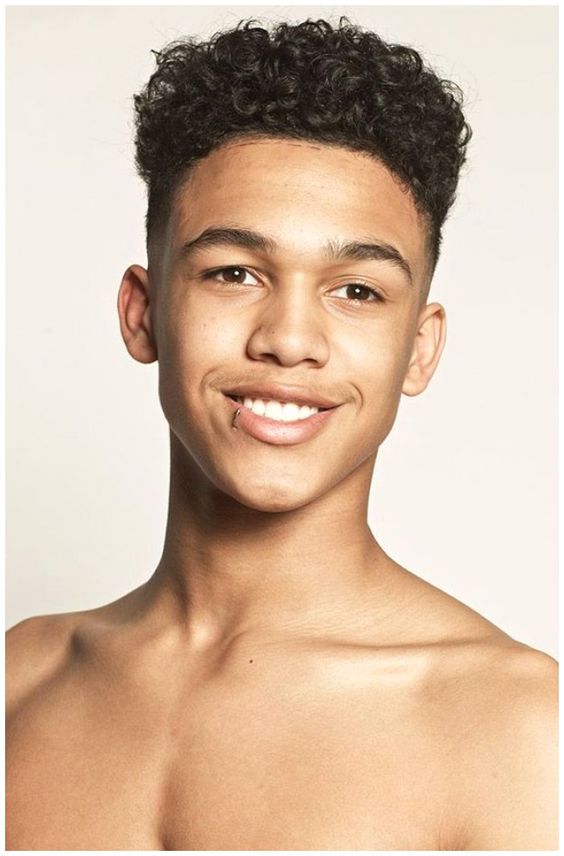 If you have medium length curly hair, then this is definitely a style you can rock!
It offers a clean and modern looking cut without sacrificing the look of those curls. You really just need to get the sides cut super short and you're good to go.
2) Short and Tight Curls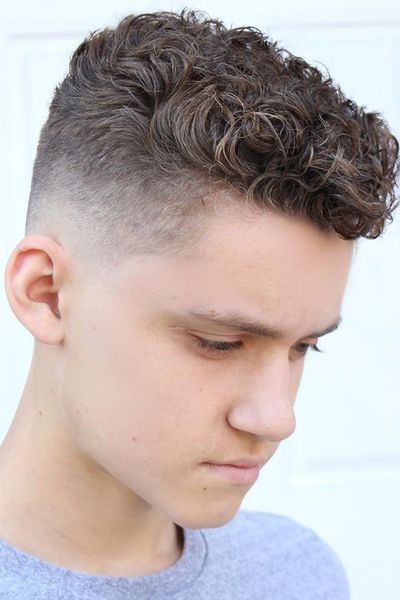 This is easily one of the best hairstyles for teenage guys with curly hair because of its simplicity.
If you have short curly hair and like the modern look, then definitely consider getting this style during your next haircut.
Ask for a short fade on the side and to just clean up some of the more messy curls. You can also see if your barber can add some texture to up the hairstyle!
3) Messy Curls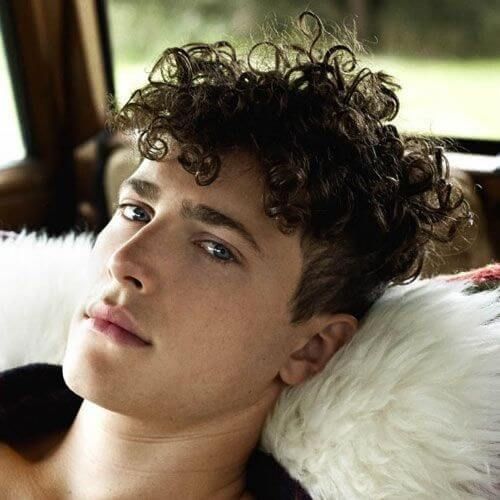 If you have wild curls, this is the hairstyle to embrace it! You can still go short on the sides, but you can let everything else go loose.
If anything, you can purposefully make the curls go loose and spread everything out on the top. This haircut looks much cleaner when the sides are slightly longer than a tight fade.
Related Post: 10 Stylish Fall Outfits for Teenage Guys
4) Middle Part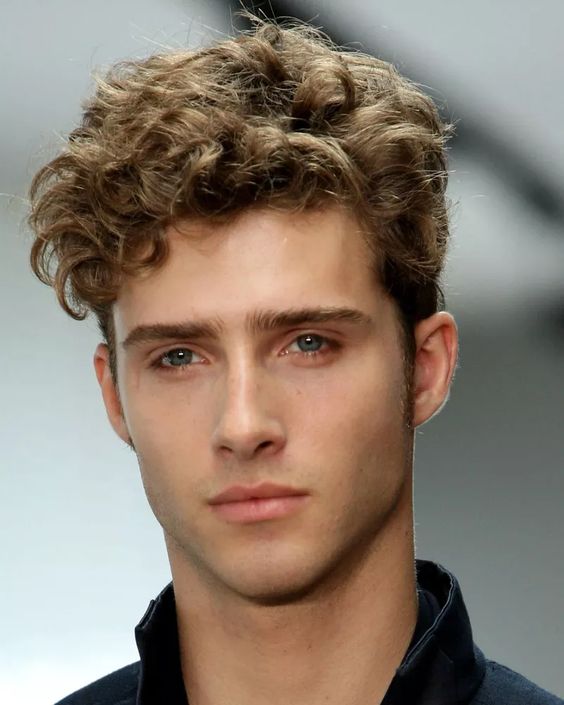 While this hairstyle is not the traditional middle part that most straight haired teen guys can rock, it is a messier version of it.
Again, embracing those curls is exactly what makes these hairstyles stylish. If you put some of your hair in one direction and the rest in another, you can pull off this look.
It works especially well when you have thicker curly hair and enough volume to split up the hair!
5) Curly Fringe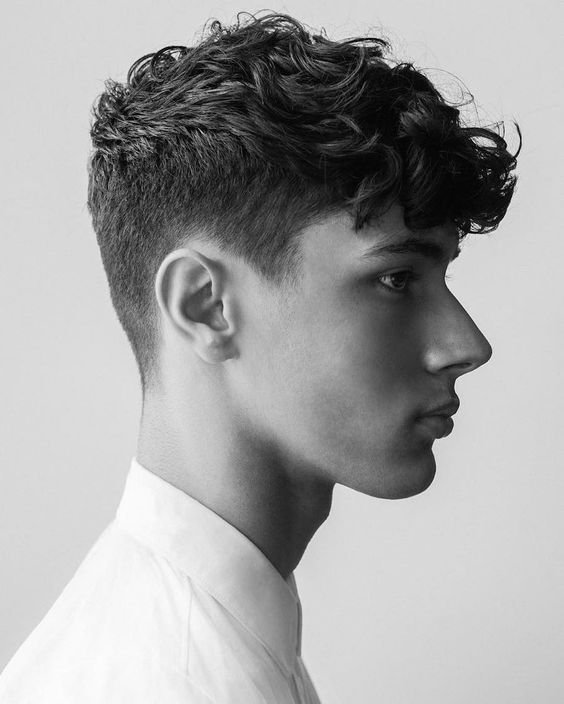 Fringe styles are extremely popular hairstyles for teenage guys in 2021 because the hair is naturally heading outwards towards your forehead.
The back and middle sections of your hair can go a little more flat while most of the work is done in the very front.
You can add a little height and texture or keep it on a downward slope to match the angle of your forehead.
6) Faded Fringe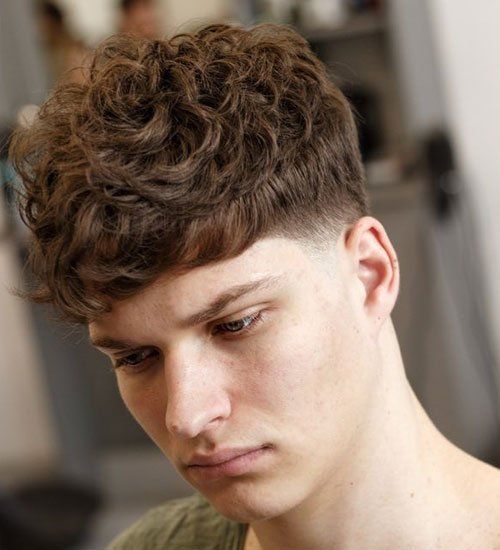 The faded fringe is excellent for those who still want the clean looking sides while also adding a bit of flare in the front.
Simply ask for a short fade at your next haircut and then style your hair forward. Focus on keeping your hair low and close to your head.
This hairstyle works especially well when your hair is right in between curly and wavy, since it is a straighter looking cut.
7) High Volume Curls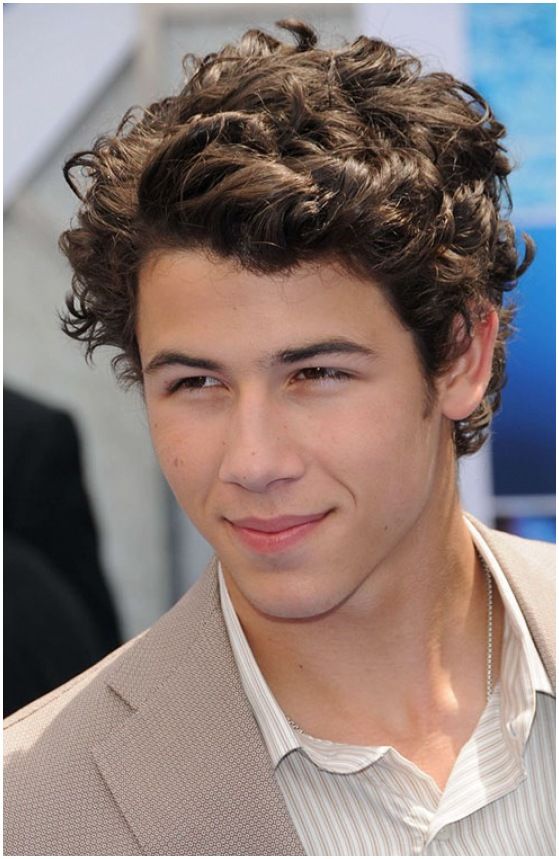 If you've got medium to long hair, then you'll love this hairstyle that was used by none other than Nick Jonas himself!
If your curls are similar to his, this hairstyle will be a piece of cake to recreate. All you need is a bit of product to keep those curls from straying too far from the head.
It should look like it's messy, but controlled. As if you meant for it to look the way it does!
Related Post: Ab Workout for Teenage Guys
8) Bouncy Defined Curls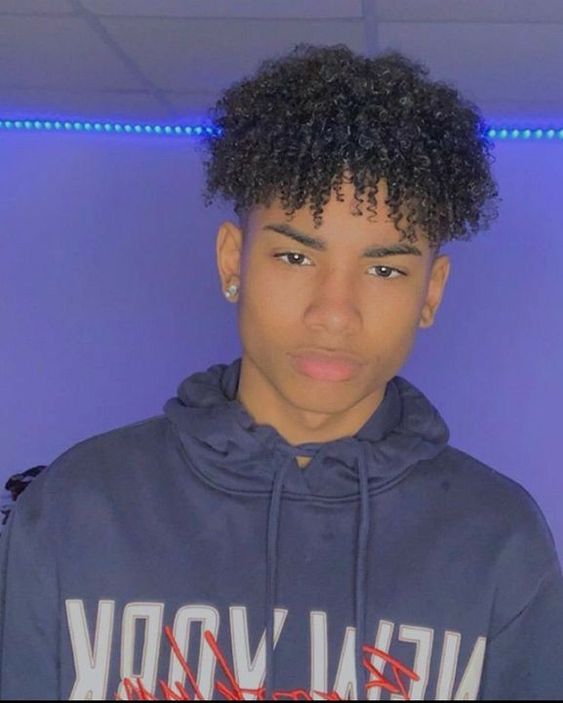 If you are blessed enough to have curls like this teenage guy (above), then you should 110% be rocking this at all times!
It still allows you to go shorter on the sides and show off those amazing curls at the same exact time.
This is definitely the best curly hairstyle for black teenage boys on the list!
9) Angled Fringe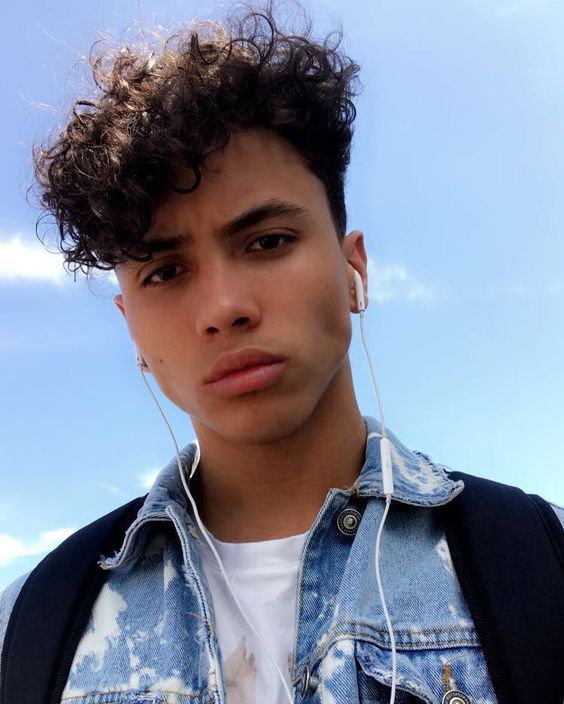 If your curls tend to naturally lean forward, then consider the angled fringe. It is essentially a normal fringe that is angled either to the right or left.
As you can see from the model above, his hair is angled toward the right side of his face. Meanwhile, the sides are still well-kept and maintained.
You want the sides to be relatively short on this one. Make the fringe become the center of attention in this hairstyle.
10) Heavy Forward Curls

Got thick, heavy, and curly hair? Consider utilizing this hairstyle!
It works especially well for teenage guys with middle eastern hair since it maintains a steady and consistent look for curly hair.
For this, style the hair so that the curls are all angled towards the forehead (without turning it into a fringe)! You want your hair to be nice and high instead of straight and low.
Related Post: How to Flirt with Any Girl
11) Curly Swoops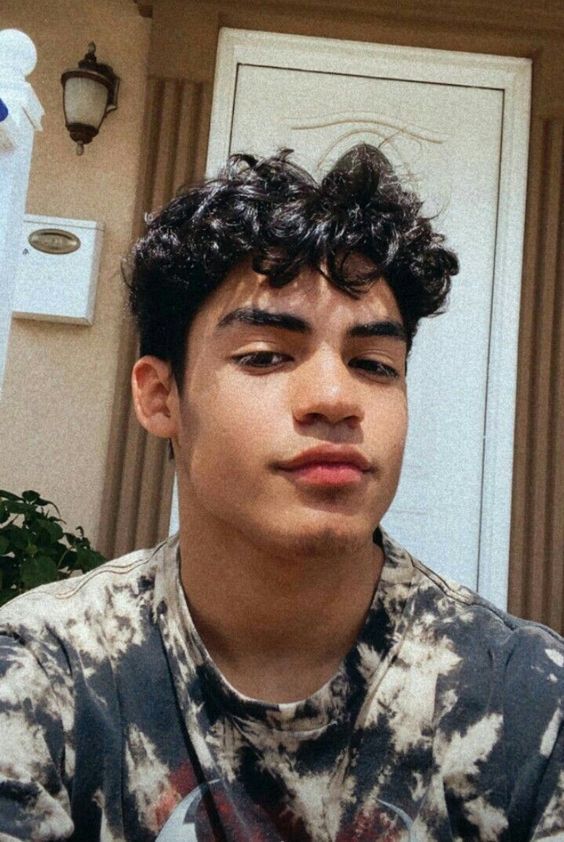 If you want a similar hairstyle to a fringe that doesn't sacrifice the entire forehead area, try out these curly swoops.
Think of this haircut as a curly haired version of Superman's haircut. The hairstyle where he has a curl going down his face.
Notice how the model above has just a few curls coming down to his face instead of 90% of his hair.
12) Tall Rounded Curls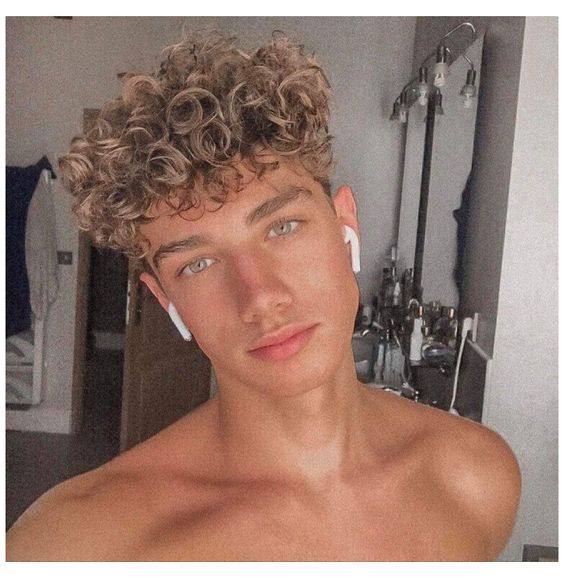 Curls that actually complete full circles are even harder to deal with than curly hair that creates half loops and mimics wavy hair.
If your hair creates those big curly circles, then this is definitely your most stylish bet for rocking those insane curls.
You will most likely need some hair product here to keep your hair up nice and high while also maintaining the organized look. You don't want messy curls here.
13) Light Side Part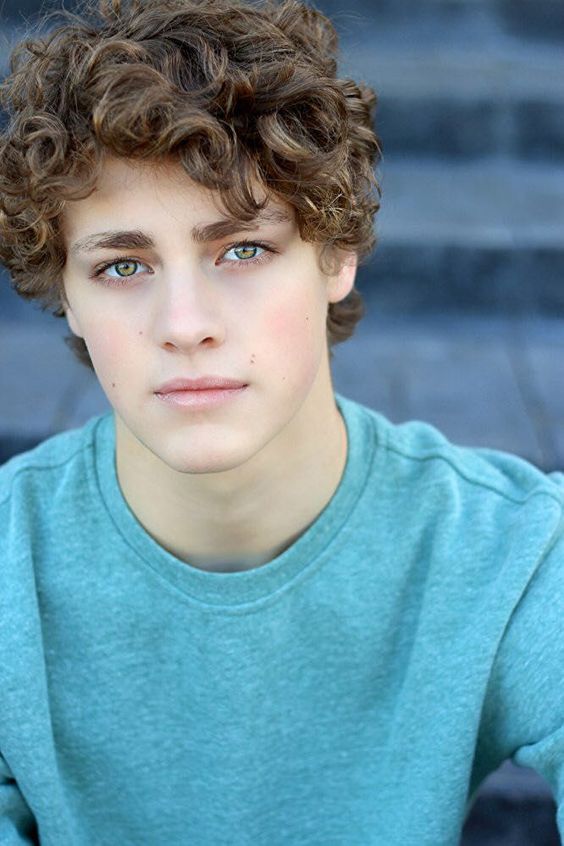 Similar to a side part for someone with straight hair, this curly haired version looks so much more natural!
As long as your hair is more curly than it is coiled, then you can easily pull off this light side part hairstyle.
Pick one side of your hair and move your hair over to the opposite side. Refer to the photo above for inspiration.
Related Post: 10 Coolest Backpacks for Teenage Guys
14) Fringe Undercut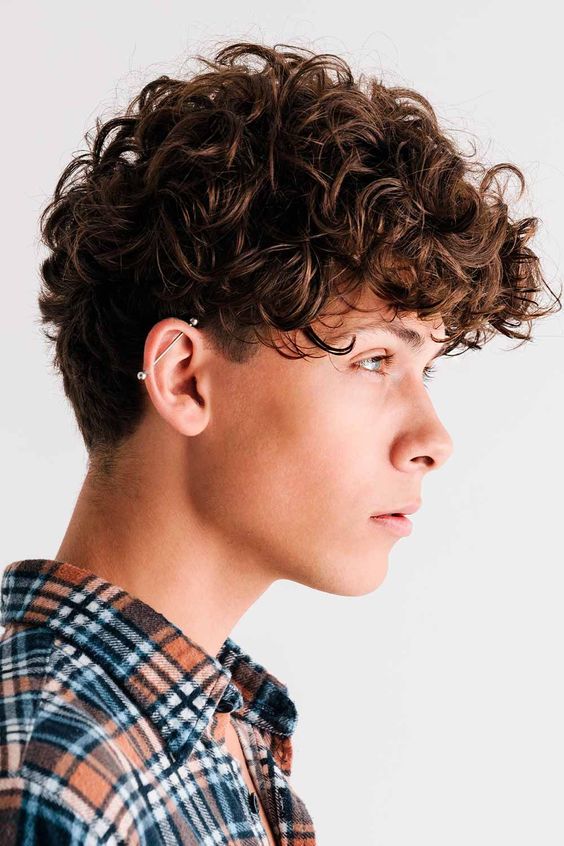 The fringe undercut is one of the best hairstyles for teenage guys with curly hair! It looks clean, natural, and works with most curly haircuts.
For this, you want to get your sides buzzed super short. Then, texture your curly hair so that it has volume and length.
After that, bring your hair over your sides so that you're essentially hiding some of your buzzed sides. That's it!
15) Long Hair, High Volume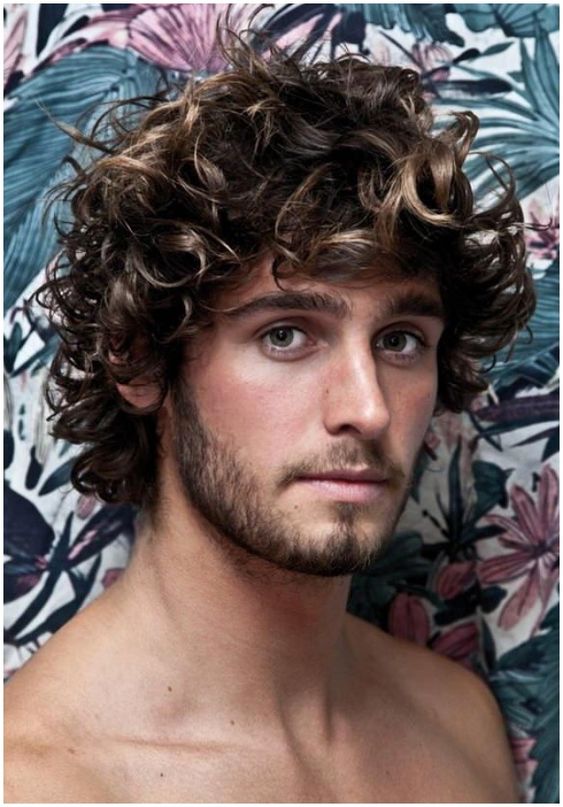 If you have much longer hair than most teenage guys on this list, you're going to like this one!
The long hair, high volume hairstyle is a perfect way to let those curls loose, while still giving them volume.
You'll need some product to keep everything controlled. However, the messy style can also fit when you have long enough hair.
Hairstyles for Teenage Guys with Straight Hair
If you have straight hair, consider checking out these next 15 cool haircut ideas for teen boys!
16) Straight Comb Over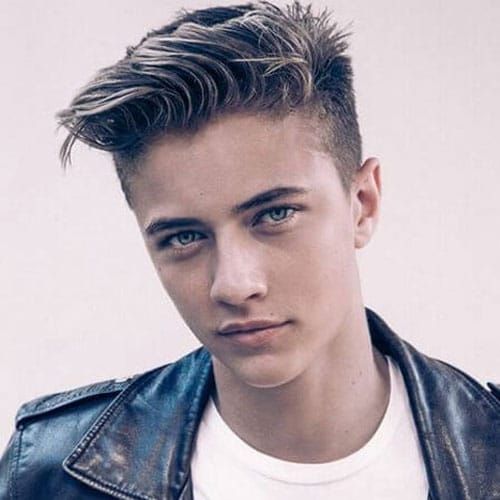 The straight comb over is one of the best hairstyles for teenage guys with straight hair in 2021!
It offers texture, style, and volume all in one haircut.
To copy this hairstyle, ask for a short buzz on the sides and to keep the volume on top. Comb over all your hair on top in one direction while keeping your hair high.
17) Fade with Forward Volume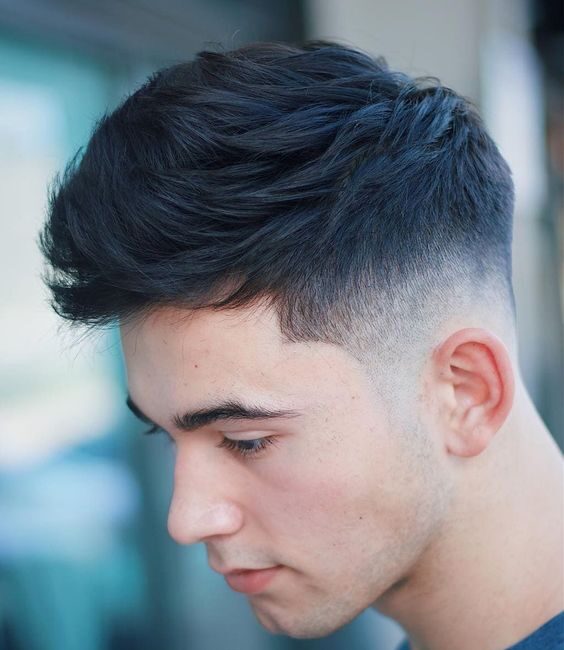 If your hair naturally goes in a forward direction, this hairstyle is definitely for you!
Get a fade on the sides and bring all your hair forward and up on the top. You can add direction to your hair by brushing it to a side or keeping it in the middle.
It's versatile and one of the easier hairstyles to manage on this list if you have straight hair.
18) Side Part Comb Over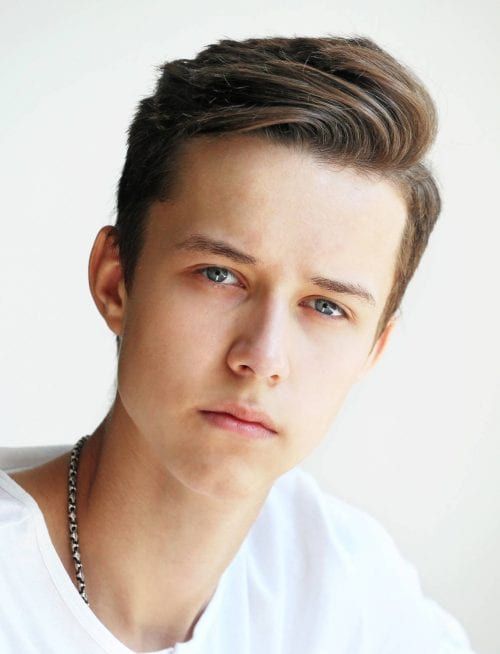 Similar to the straight comb over, the side part comb over allows you to swoop the top of your hair to one direction.
The big difference… you can keep a bit of length on the sides by implementing a side part and not fully buzzing your sides.
Remember to keep the height on top in order to maintain that voluminous shape. You don't want the sides to take over the look.
Related Post: 25 Best Hobbies for Teenage Guys
19) Angled Fringe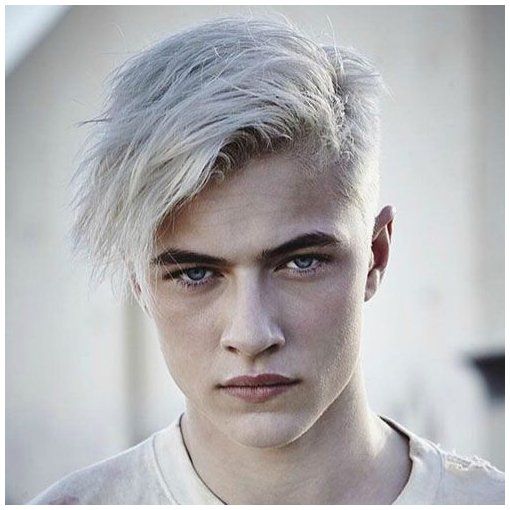 If you have longer straight hair, you might find a fringe haircut to be a worthy choice for you.
A fringe is basically any hairstyle where your hair goes down, past your forehead. The model above has his hair going on an angle over the right side of his forehead.
To copy this, straighten your hair completely forward and comb it down on an angle. It's also recommended that you shorten/buzz the sides of your hair.
20) Messy Volume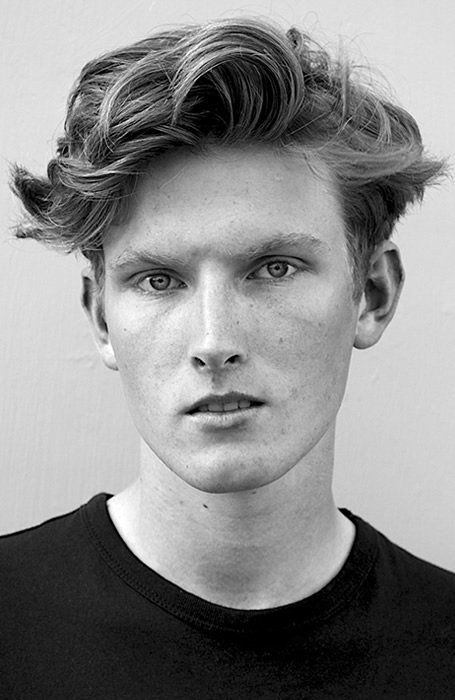 Want a super low maintenance, but stylish hairstyle? Consider this messy volume look.
You might need a bit of hair product to keep everything up nice and high throughout the day. However, the messy look requires no extra maintenance.
Leave the sides long and turn your hair into a purposeful accident with a ton of volume!
21) Disconnected High Fade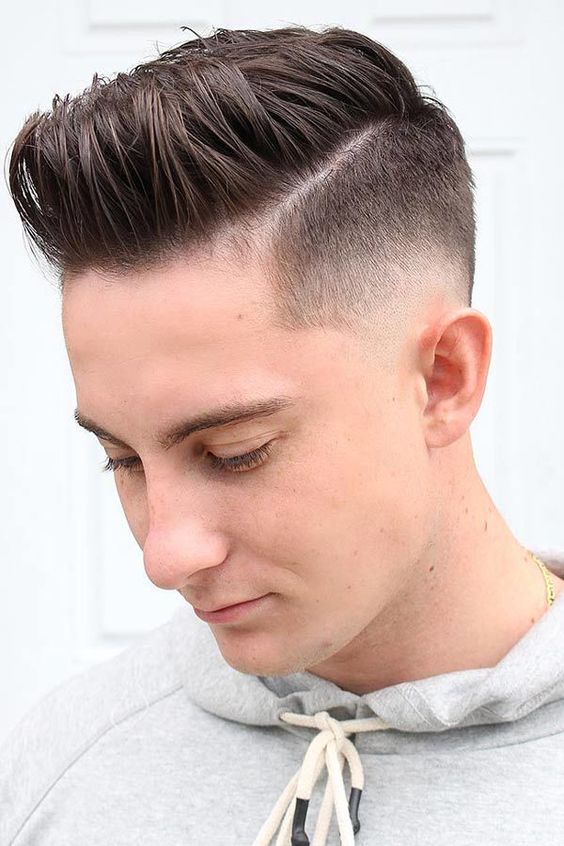 The disconnected high fade is one of the most stylish hairstyles for teenage guys out there.
All you need to do is get a high fade on the sides and bring everything up from all angles on the top.
Use the model above as a reference for how the hairstyle is supposed to turn out. Pay attention to how the front is lifted straight up while every other part goes towards it.
22) Side Swept Undercut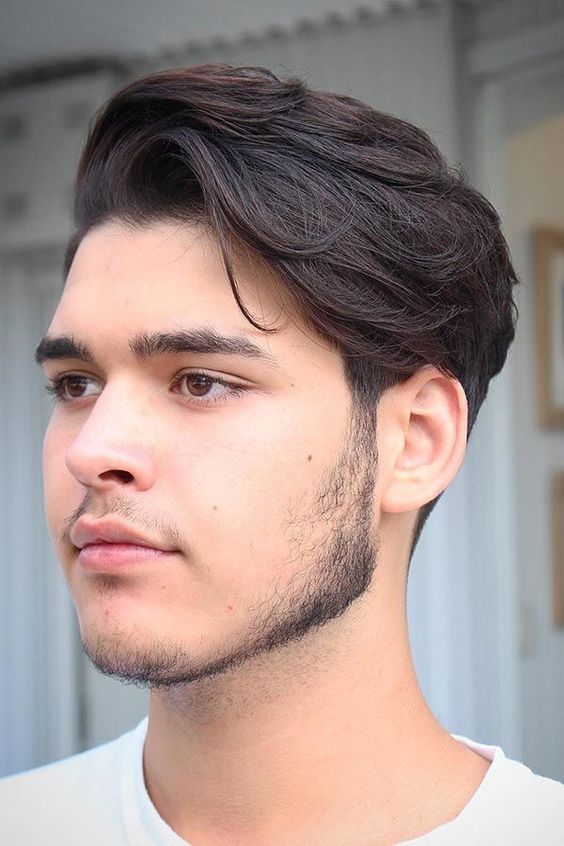 The side swept undercut is extremely popular amongst teenage guys because of the modern look it has.
An undercut is essentially where the top of your hair goes over the buzzed sides, making it look like you cut underneath your volume.
Sweep all of your hair on top to one side of your head, allowing it to hang slightly over your sides. That's all there is to it!
Related Post: Full Body Workout for Teenagers at Home
23) Straight Combed Quiff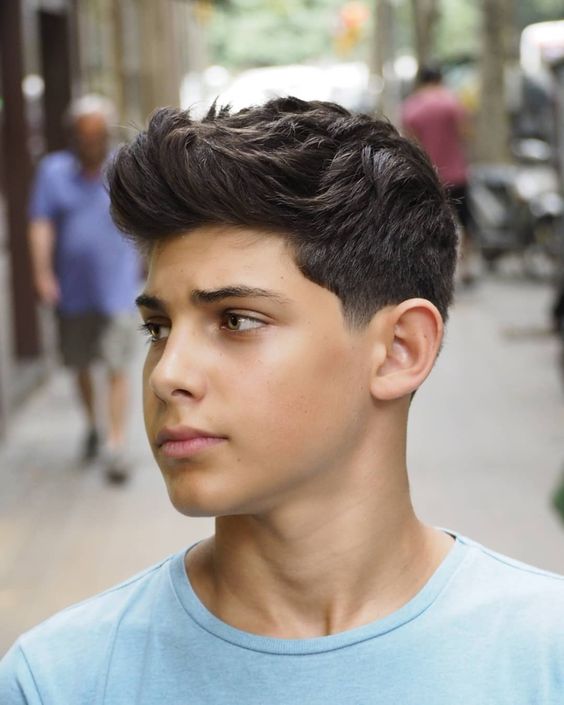 A straight combed quiff is an easy hairstyle for teen guys with straight hair to replicate.
If you have medium length hair, brush everything forward and up. This will create a quiff.
After that, make sure your sides are cut short, but you don't have to buzz them if you don't like that look.
The model above is a great example for how you can copy this look!
24) Side Part Undercut Fade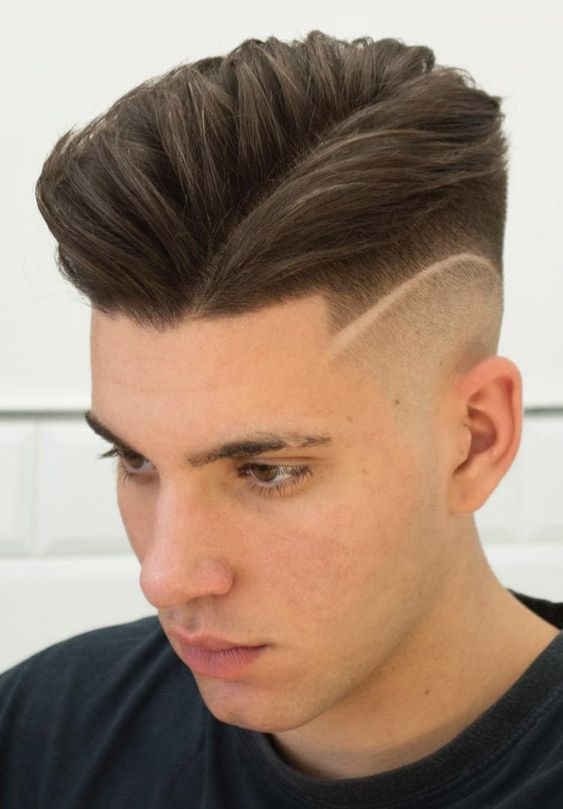 If you like the side part look, try out this wacky variation that adds a bit more style to the look!
Part your hair closer to one side on the top and brush both sides in opposite directions. Make sure that the shorter side is still long enough to create an undercut.
For the sides, you can get a straight buzz or fade them out for a more modern hairstyle.
25) Side Hanging Fringe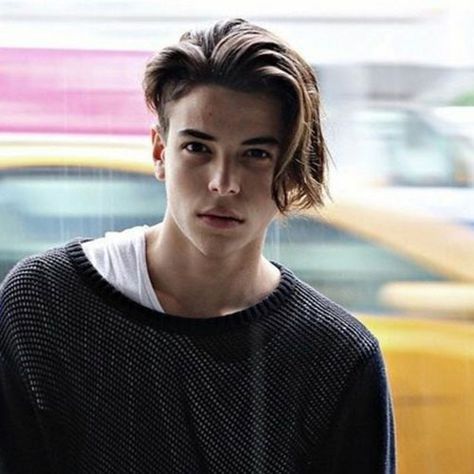 If you have straight long hair, this is a great hairstyle for you as a teenage boy.
As the name implies, take the longest part of your hair and have it hang on the side of your face.
You can incorporate a side part or turn it into a side swept undercut for maximum hang. Cut your hair to the proper length so that it's not hanging too far down.
26) Straight Pompadour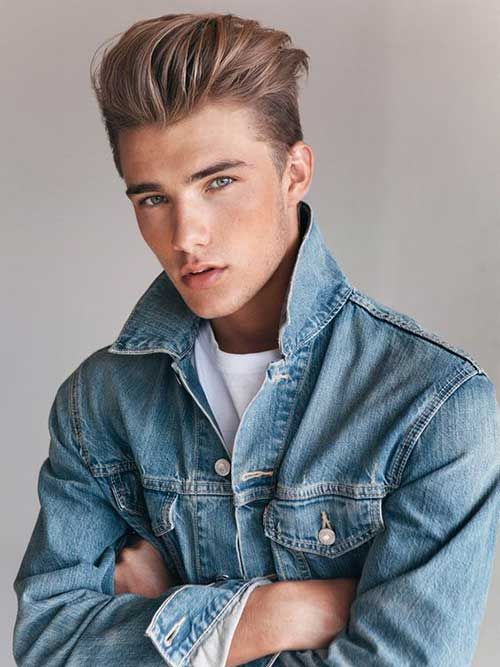 A straight pompadour is one of the best hairstyles for teenage guys with straight hair because of how modern it looks!
A pompadour is essentially a high mound of hair near the very front of your head, making it the centerpiece of the style.
You will likely need to use a shaping cream to help you maintain that height. Buzz the sides short and comb the top up and slightly back.
27) Textured Short Hair Quiff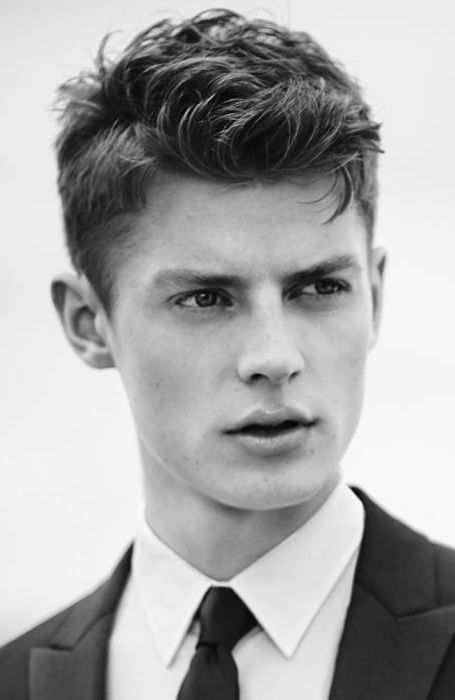 If your straight hair tends to get a bit wild, you might want to take advantage of natural texture to make it stand out.
All you need for this is a relatively short haircut where the sides are cut short (but not buzzed) and the top has enough hair to make a small quiff.
This will give you height and texture for an already short hairstyle. Plus, it's a lot easier to manage on a daily basis.
28) Short Pompadour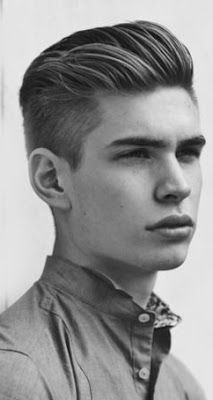 The short pompadour gives you all the volume you need without sacrificing a low maintenance look.
This hairstyle can go on for days without the need for any product or shaping cream to keep it up high.
If you have thick straight hair, it will be extremely easy for you to keep up with this haircut because your hair will naturally stay up for you.
29) Curtain Middle Part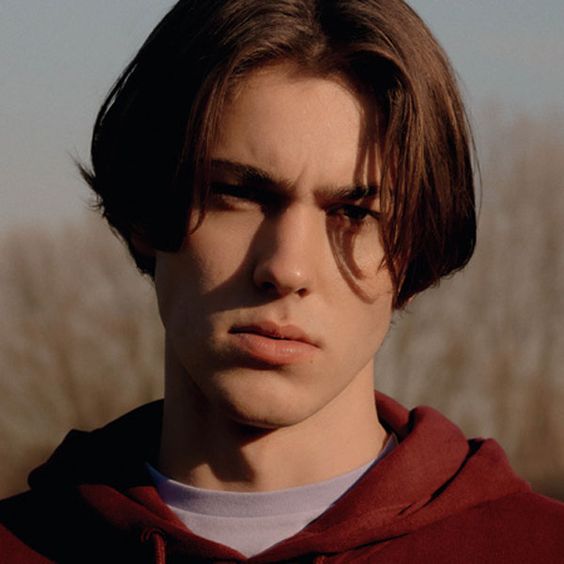 The curtain middle part hairstyle has become extremely popular amongst teenage guys with straight hair.
It doesn't require much effort since all you have to do is part your hair down the middle and brush each side in opposite directions.
Try to keep your hair length up to your ears, but no lower than that. Once the hair hangs past the ears, it no longer has the same curtain effect.
Related Post: 10 Stylish Winter Outfits for Teenage Guys
30) Combed Back Straight Fade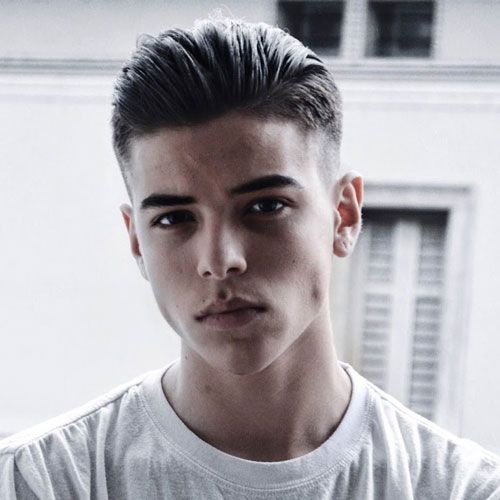 A simple and elegant look for a young guy doesn't require much. Just a simple combed-back style will do!
All you have to get is a fade on the sides and brush all your hair straight back from the very front.
You can add volume by raising the front of your hair a bit and bring the back side down. It's great for formal occasions too!
Hairstyles for Teenage Guys with Wavy Hair
Wavy hair is one of the coolest hair types there is. Hopefully these 15 wavy haircut ideas give you some inspiration!
31) Messy Side Part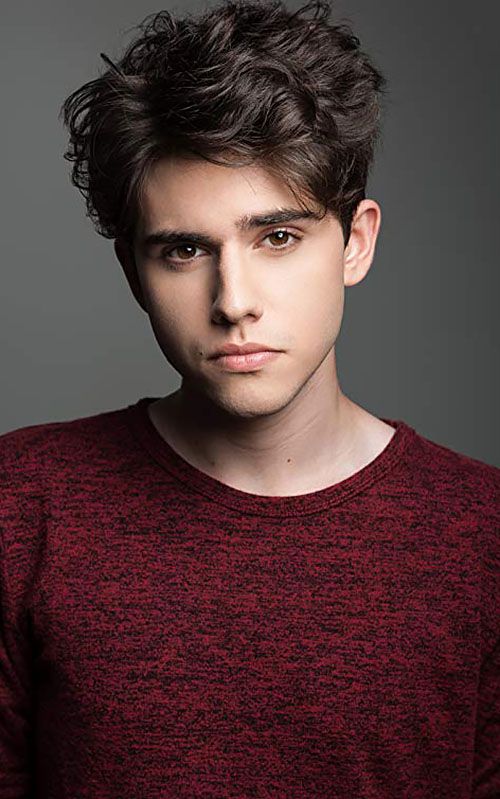 If your wavy hair tends to get a bit out of control, take advantage of it with this hairstyle!
For this haircut, all you need to do is grow out your hair to a medium length. After that, part your hair on one side.
Bring the shorter half down towards your ear. Take the longer half and brush it over to the opposite direction with your fingers.
32) Long Sides and Volume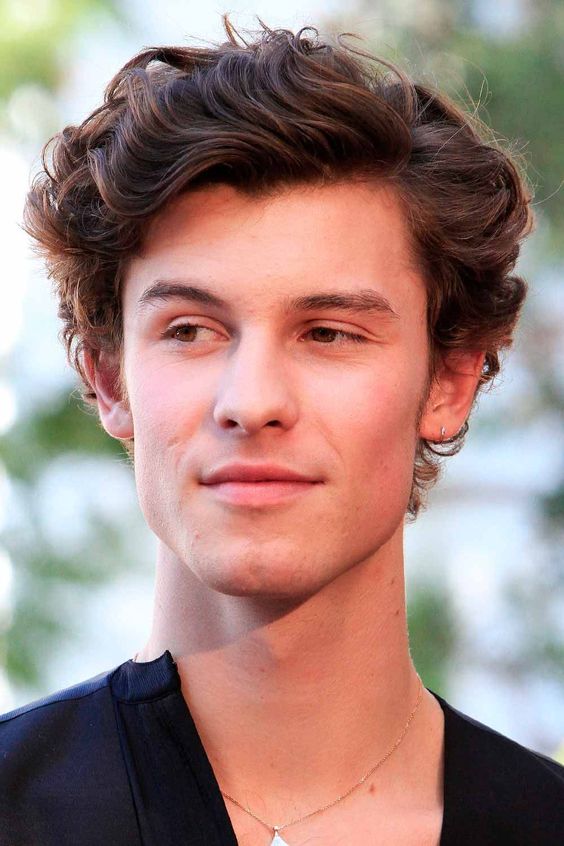 Long sides and volume is an easy way to capitalize on really wavy hair. It requires haircuts less often and is not super hard to maintain.
You can incorporate a side/middle part to this if desired. On top of that, having longer sides makes your face look skinnier and smaller.
It does, however, make the top of your head appear larger. Keep that in mind when deciding the right hairstyle for you.
33) Wavy Quiff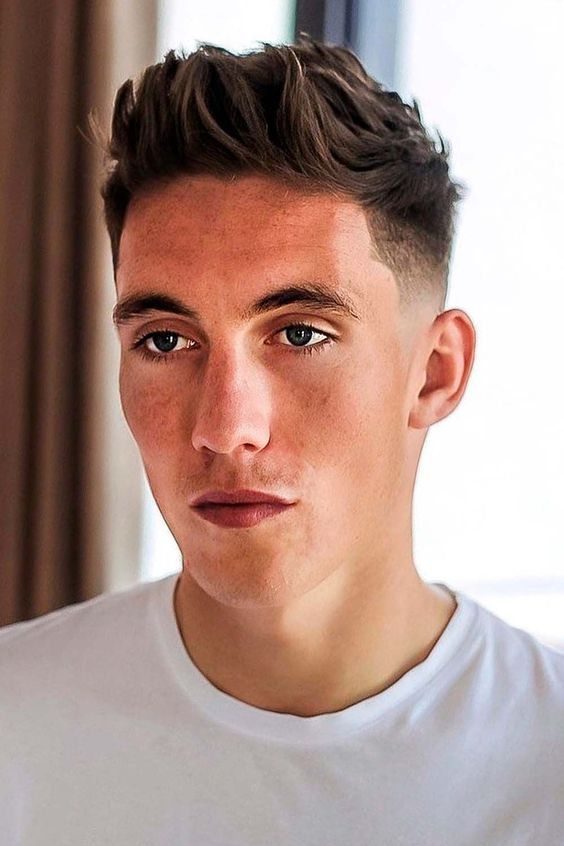 The wavy quiff is one of the best hairstyles for teenage guys with wavy hair! It's clean and modern for any teen boy.
It works mostly for short to medium length hair since you want enough hair in the front, but not too much that it gets messy.
For this hairstyle, ask for a short buzz on the sides. Brush the front of your hair upwards and bring the rest of your hair towards the front!
Related Post: 10 Stylish Summer Outfits for Teenage Guys
34) Textured Quiff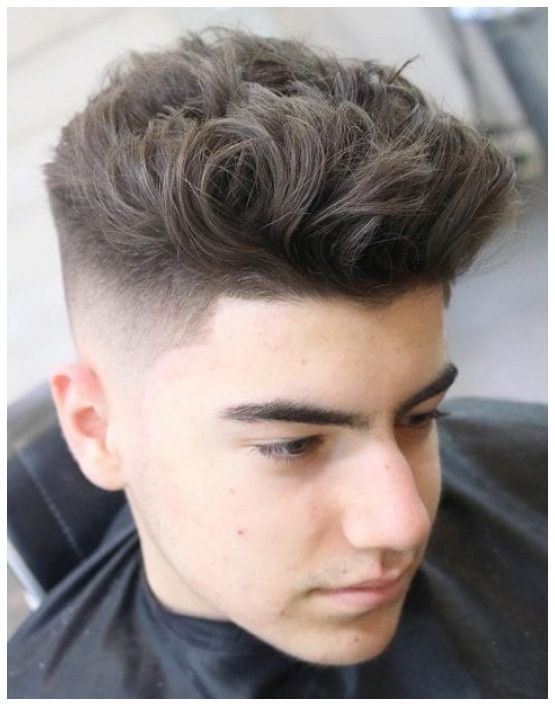 The textured quiff is very similar to the wavy quiff above. However, there is one main difference…
Most of the hair in this hairstyle is brushed up and textured, instead of all the hair going forward.
This can be useful for adding more volume to your look, appearing taller, or having more style with an outfit!
35) Brushed Back Waves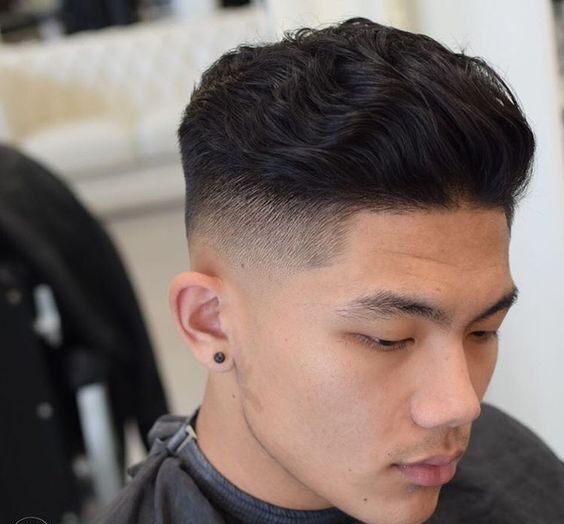 The brushed back waves are essential for maintaining a clean look when it comes to wavy hair!
Wavy hair can be styled like many straight hairstyles. Plus, wavy hair has access to even more possibilities.
However, it can be uncontrollable. With this hairstyle, you can use a bit of product to keep things under control and slick everything back.
Buzz the sides and keep the top as long as you desire. It might help to use a comb for this type of hair.
36) Short Hair Fringe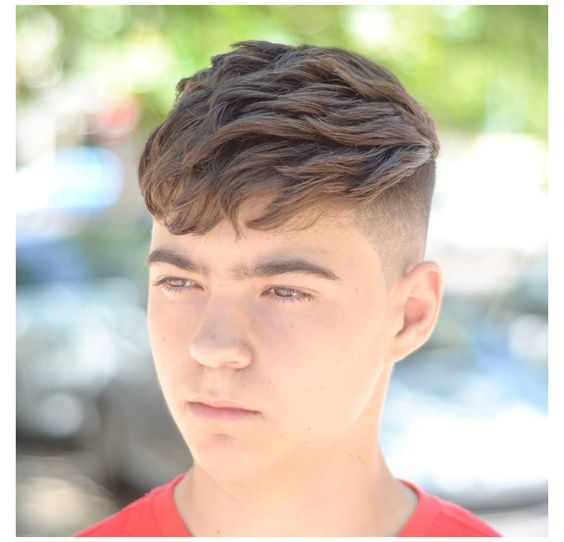 If you have short wavy hair, the short hair fringe is one of the coolest hairstyles for teenage boys to utilize.
All you need to do is buzz the sides super short. Then, bring all that wavy hair forward so that it sits over your forehead.
If you have acne on your forehead, you might want to stay away from this hairstyle since it locks in sweat.
It also doesn't give your forehead room to breathe, but it does offer a bit of natural protection from the sun.
37) Waves Haircut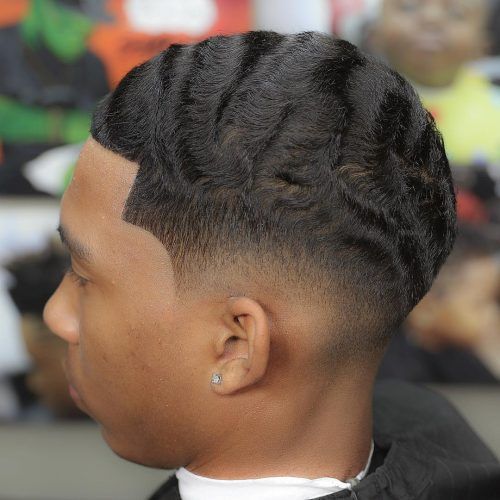 For all the black teenage guys out there, definitely consider getting waves for your next haircut!
It's easy for short hair and only requires a bit of maintenance compared to many other popular hairstyles.
Just remember to keep brushing consistently and consider wearing a durag at night to prevent the hairstyle from coming undone.
Related Post: 10 Stylish Spring Outfits for Teenage Guys
38) Medium Length Wavy Undercut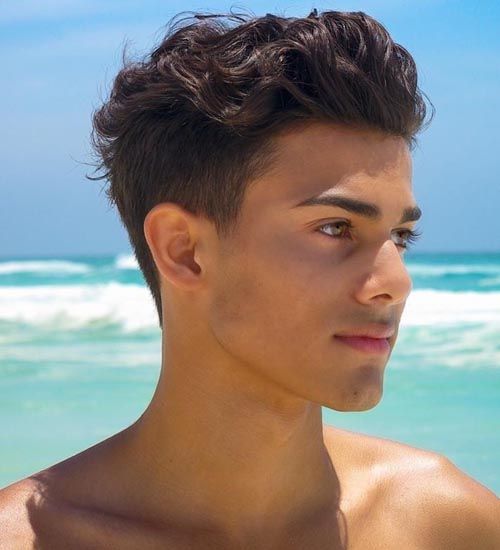 The medium length wavy undercut is one of my favorite hairstyles for teenage guys with wavy hair in 2021 because of how good it looks!
For this haircut, buzz the sides somewhat short and leave as much hair as you can on top.
Let the top of your hair hang slightly over the buzzed sides to complete the undercut look. Use the model above as a reference.
This hairstyle is especially nice for teen boys with thick hair as well!
39) Short Hair Side Part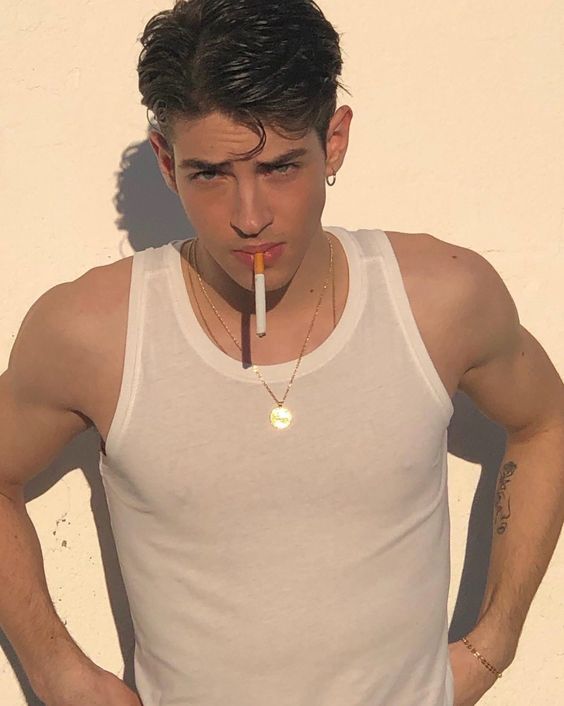 If you have thinner and shorter hair, this hairstyle is definitely for you!
A simple side part on top is all you really need to keep this hairstyle alive. Buzzing the sides is optional, but recommended for a cleaner look.
You can also let a few hairs hang over your forehead (like the model above) for a bit of added "bad boy" style.
40) Textured Fringe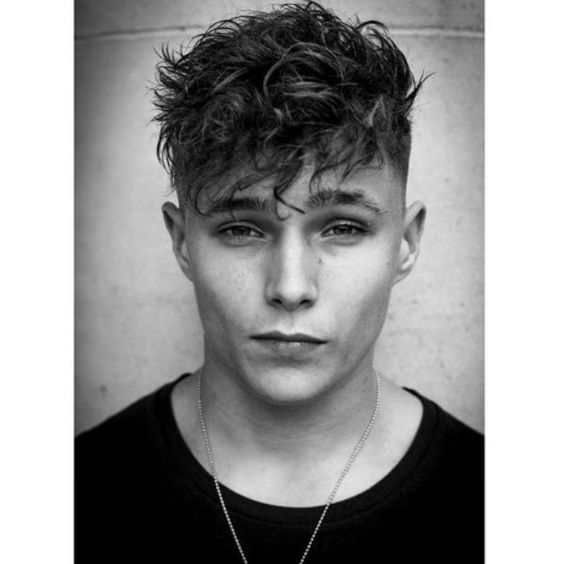 The textured fringe looks like a hairstyle that is uncontrollable, but you meant it that way. Think of it as a preplanned mess in the best way possible.
A fringe is simply a term used to describe a hairstyle that hangs over the forehead. The rest is really up to you, but adding a bit of texture here works really well!
Using a bit of product will help raise those hairs from your head and increase the overall volume on your head.
41) Slicked Back Pompadour
When you combine a slicked back look and a quiff, you get the ultimate hairstyle… the slicked back pompadour.
A lot of times, slicking your hair back means that you're sacrificing volume for maintenance. However, the pompadour allows you to slick everything back and keep the front nice and high.
Cut your hair just enough so that you don't have excess hair near the back of your neck. Aside from that, the length is really your choice!
Related Post: 7 Styling Tips for Teenage Guys
42) Medium Length Middle Part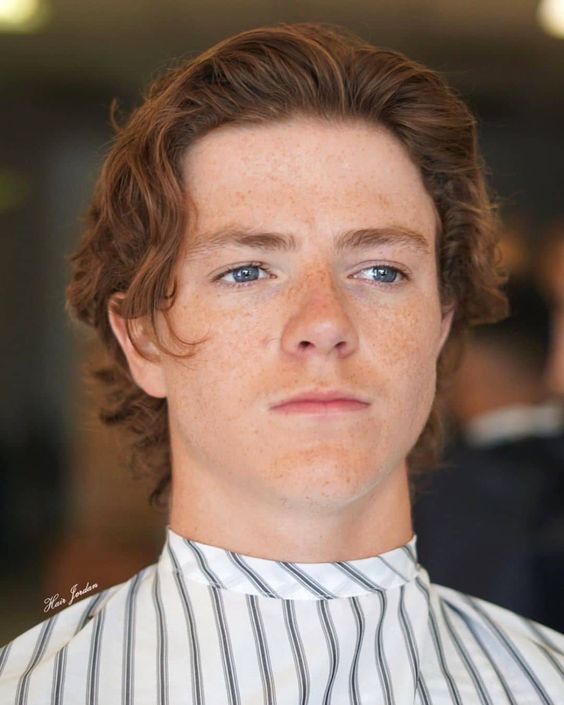 For those teenage boys with longer hair, a middle part might be an excellent way to go.
Your hair can stay pretty messy as long as the middle part is noticeable.
Many notable celebrities with medium length hair have copied this hairstyle for years, including Tom Holland.
43) High and Tight Fade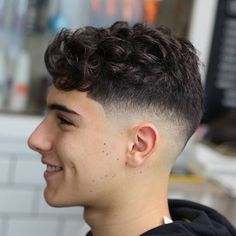 Not sure whether your hair falls under the category of wavy or curly? Go with this hairstyle and it won't even matter!
Get a tight fade that leads up to the top. Clean up some of the straggler hairs at the very top to modernize the look.
Combining the high and tight look together gives you an easily manageable wavy hairstyle as a teenage guy.
44) Heavy Fringe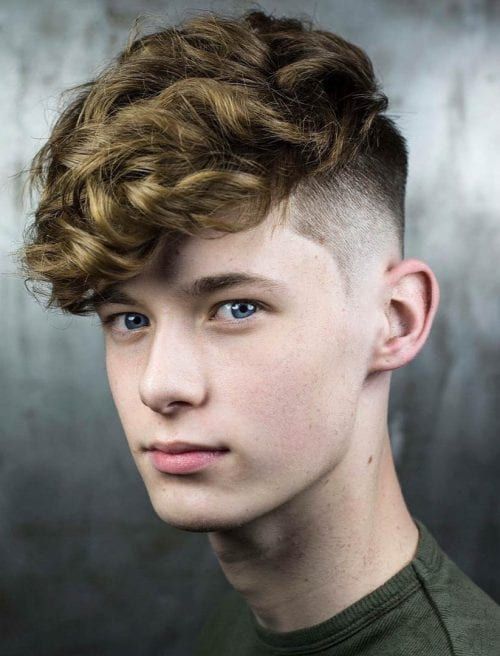 If you have heavy, wavy hair to begin with, then consider this heavy fringe look.
This hairstyle allows you to keep all the volume in the world without sacrificing buzzed sides or frequent haircuts.
For this, get the sides buzzed and bring all your hair forward (allowing it to hang over your forehead).
Again, if you have a lot of forehead acne, this might not be the hairstyle for you.
Related Post: How to Get Clear Skin for Teenage Guys
45) Textured Pompadour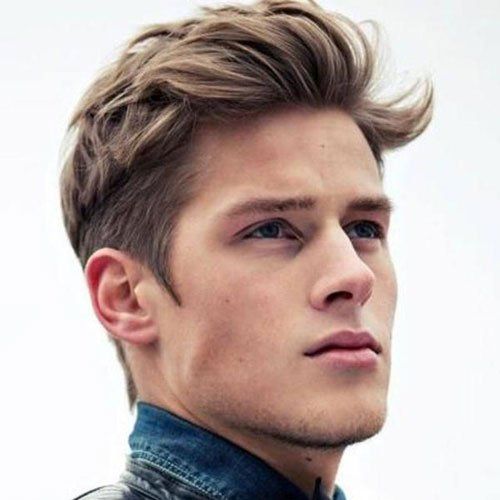 The textured pompadour is one of the most stylish hairstyles for teenage guys with wavy hair. As a teen, you want something simple that still looks fantastic.
This is exactly the haircut for that. The sides are not buzzed super close and the top has a bit of freedom around the top.
You can brush the front slightly in one direction (as shown above) to add a bit of direction to your hair.Product will probably be needed for styling this.
Long Hairstyles for Teenage Guys
Hair getting a bit long? Check out these 15 awesome long hairstyles that you can rock all year long!
46) Light Middle Part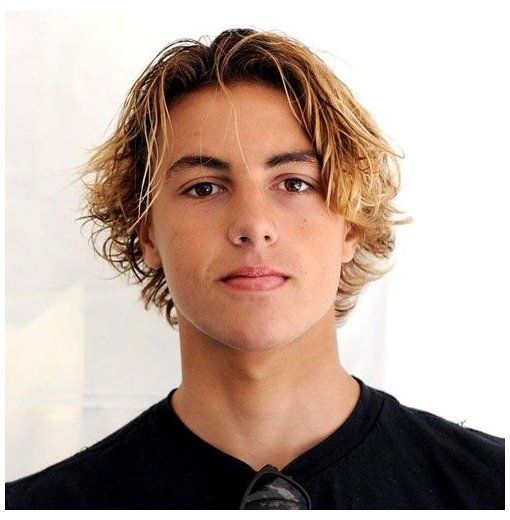 If you have medium to long hair, then this hairstyle is definitely for you!
A simple light middle part is a perfect way to add a bit of style to your hair without doing anything too crazy.
Simply brush both sides of your hair gently so that there is a slightly noticeable part in the middle of your head!
47) Heavy Fringe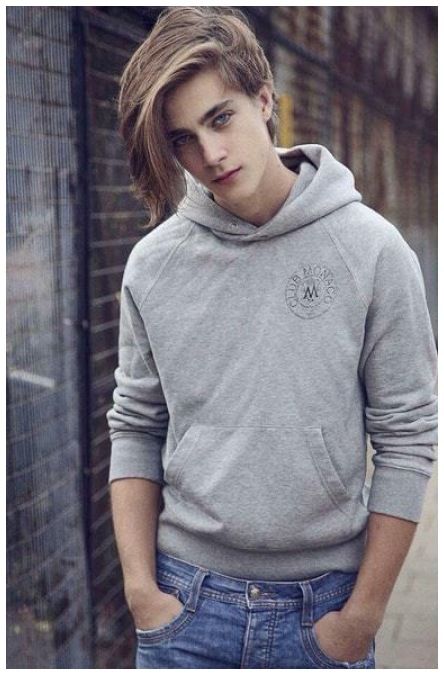 If most of your long hair is at the top, then you might like this heavy fringe look.
All you have to do is brush over all your hair on top to one side so that it sits over your cheek and falls naturally.
This is probably one of the harder hairstyles to maintain since you're dealing with a lot of hair in front of your face.
48) Long All Over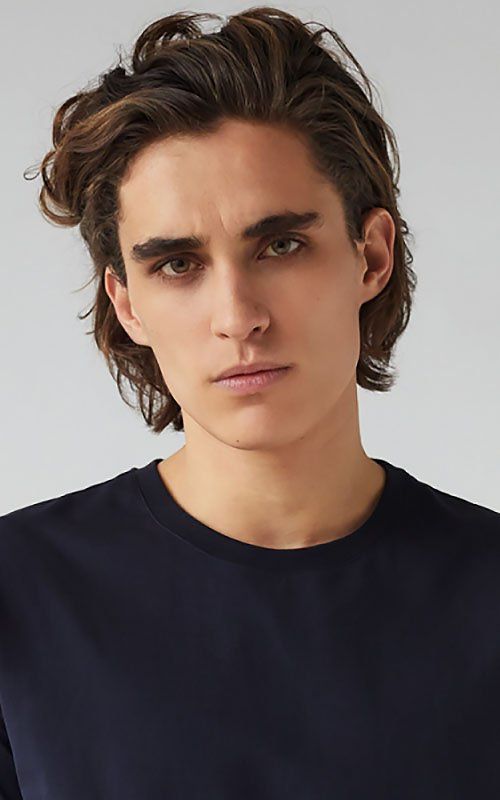 Long all over is easily one of the best hairstyles for teenage guys with long hair because of its simplicity!
If you have medium to long hair, just tuck everything behind your head and ears so that everything is facing back.
You can still have fun with the top and play around with different types of brush ups. It's best if your hair is cut right before your neck connects to your back.
Related Post: Best Workout Gear for Teenage Guys
49) Heavy Side Swept Undercut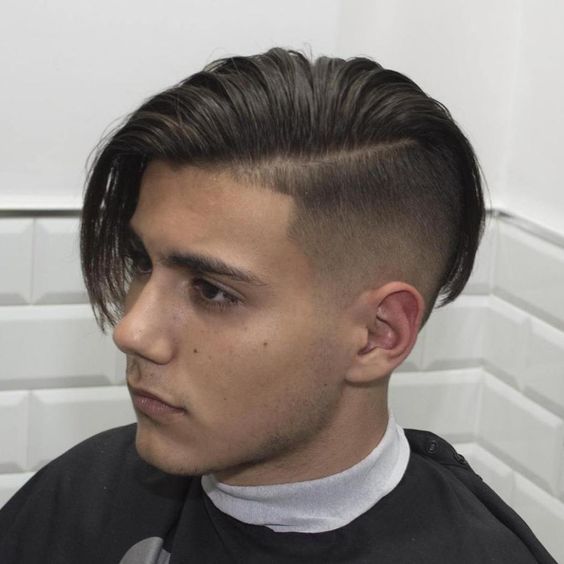 Similar to the heavy fringe, the side swept undercut is a cool way to show off your long hair without it going down your neck.
For this hairstyle, get the sides buzzed short and ask for an undercut. This will allow you to see clear separation of the hair on your head.
Brush everything over to one side and you're good to go!. This is a great option for teen boys with straight long hair.
50) Long Hair Side Part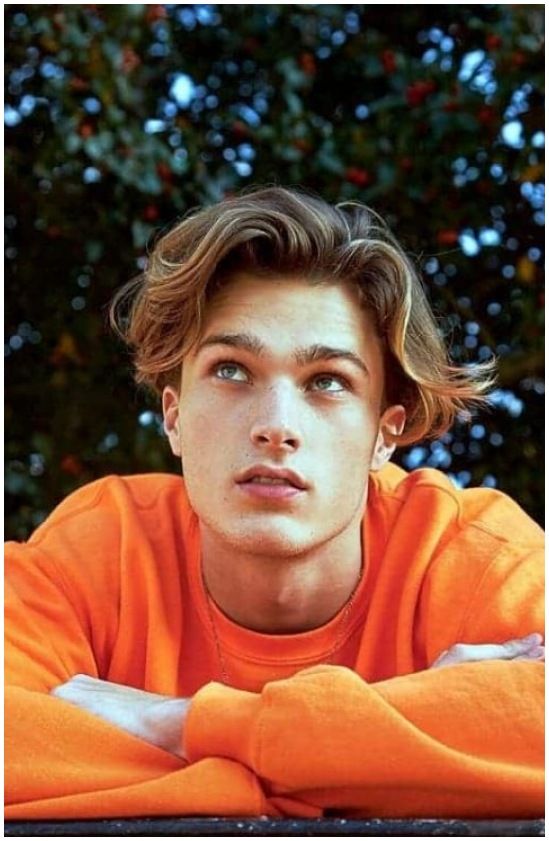 The long hair side part is a super popular hairstyle for teenage boys with long hair. It's incredibly trendy right now!
Instead of getting the sides buzzed, leave everything long and add a side part in your hair.
This way, you get to keep the awesome side part look while also maximizing your volume and height.
51) Pulled Back High Pompadour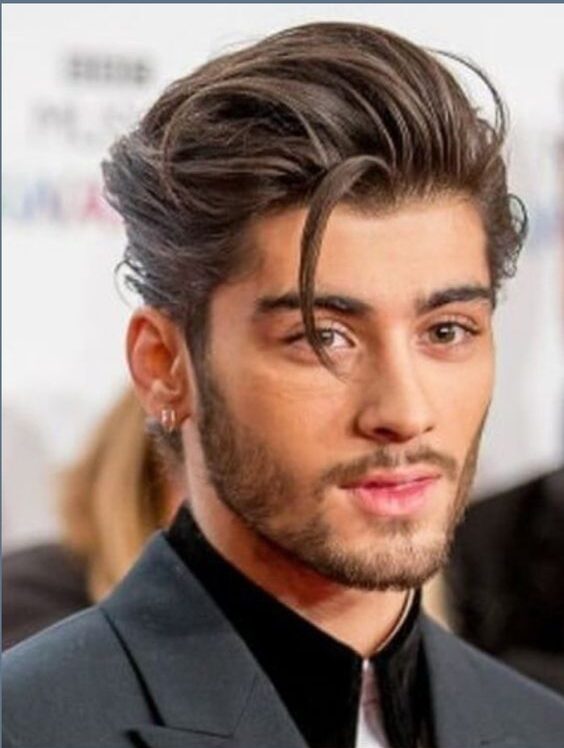 If you have hair length that sits closer to medium, then you'll love this pompadour style!
You essentially pull all your hair back on the sides and on the top. However, the top is pulled back in a way that still gives it volume.
You really want to aim for height with the front of the hair to perfectly finish off this incredible look.
52) Man Bun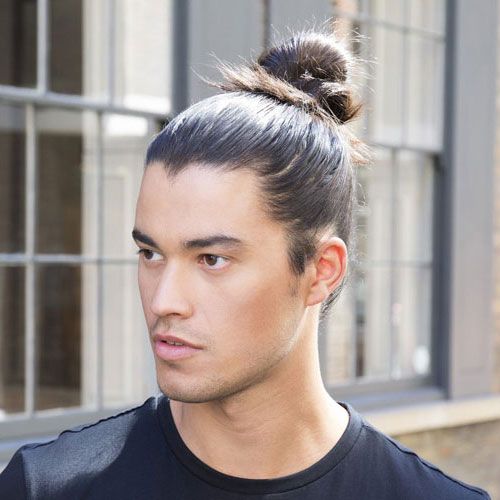 The man bun is one of the most simple and easily manageable hairstyles for teenage guys with long hair.
All you need is a good hair tie to keep everything in place for you.
You can tie up all of your hair or go for a more unique look…
Buzz the sides short and leave the top super long. Then, you just tie up all the long hair at the top for a more modern look.
Related Post: 15 Shaving Tips for Teenage Guys
53) Short Dreads Undercut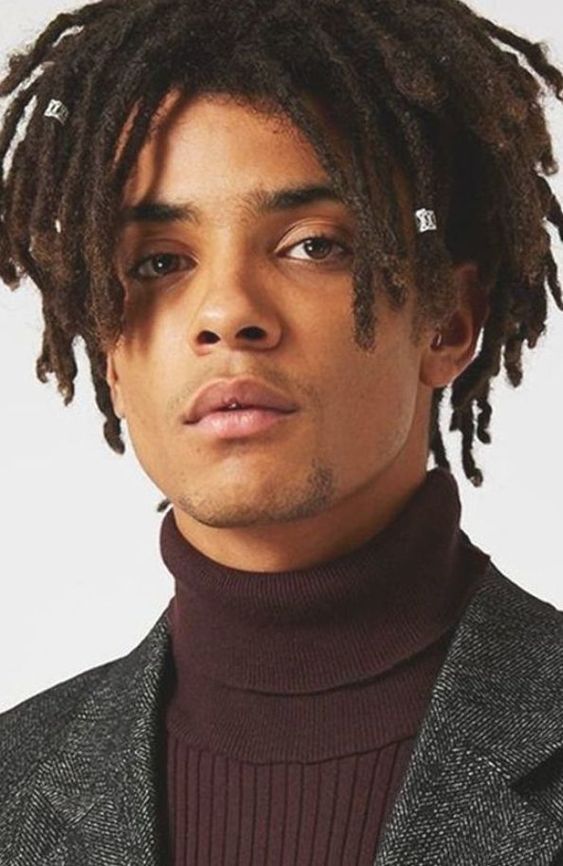 The short dreads undercut is a sick option for black teen guys with long hair that need some styling!
Twist up your dreads, let them hang, and create an even layer of them across your head.
You don't even need any hair ties for this one, making it an easily manageable hairstyle (at least until the hairs start to loosen up a bit).
54) Half Up, Half Down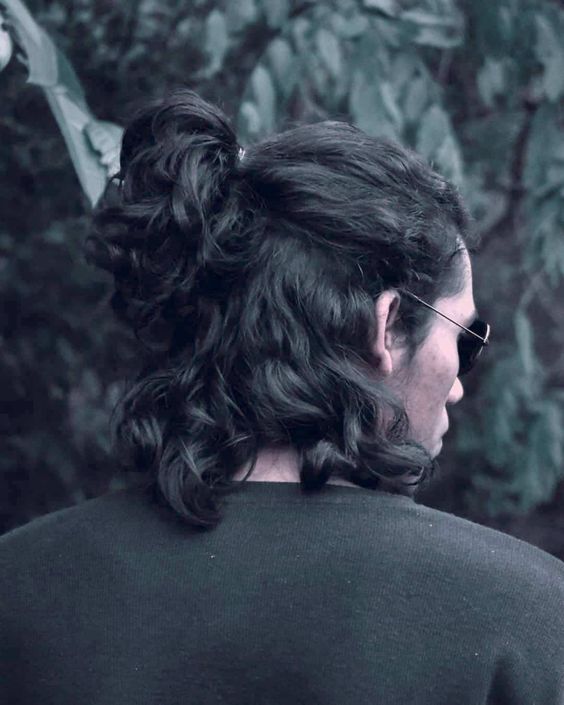 If you have really long hair, you can make a "half up, half down" look.
Essentially what you're doing is creating a man bun at the top and letting the rest of your hair hang.
Be sure to separate both sections of hair before tying up the man bun. If you don't, you'll end up missing a lot of hairs (which makes it look super messy).
55) Dreadlocks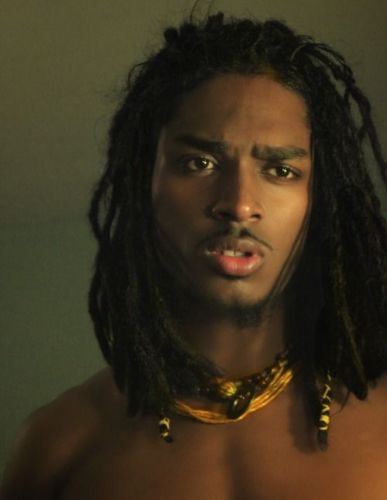 Dreadlocks is another excellent hairstyle for black teen guys that want to rock a longer look.
Make those dreads nice and tight and don't forget to keep up with them regularly. If you've dealt with dreads before, then you know how much maintenance you might need.
It's definitely not the easiest hairstyle on this list, but it sure is the coolest looking one!
56) Curly Afro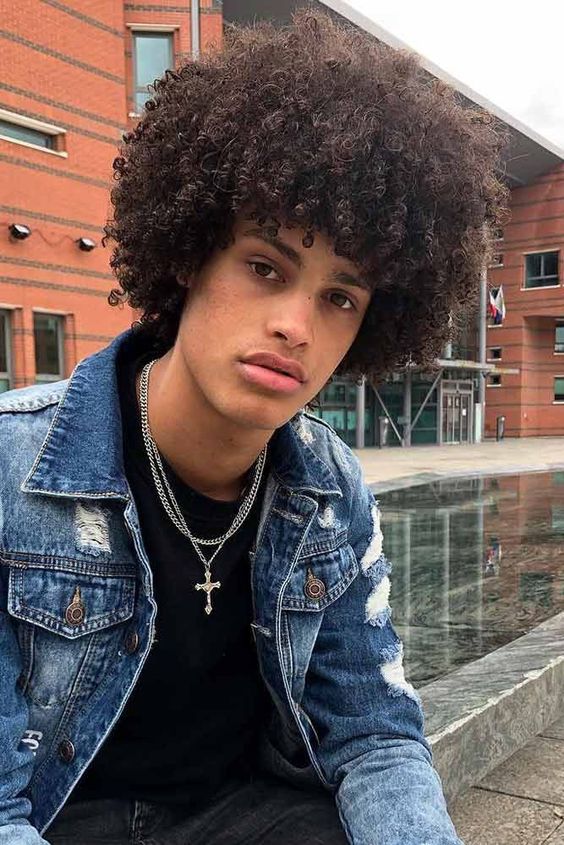 The curly afro is made for those guys with curly hair that has been growing out for years now.
Rocking a massive afro is always going to be a trendy and cool look as a teenage guy with long hair.
Again, maintenance is a must with this hairstyle, but the pay off is so worth it in the end!
Related Post: Daily Routine for Teenage Boys
57) Messy Side Sweep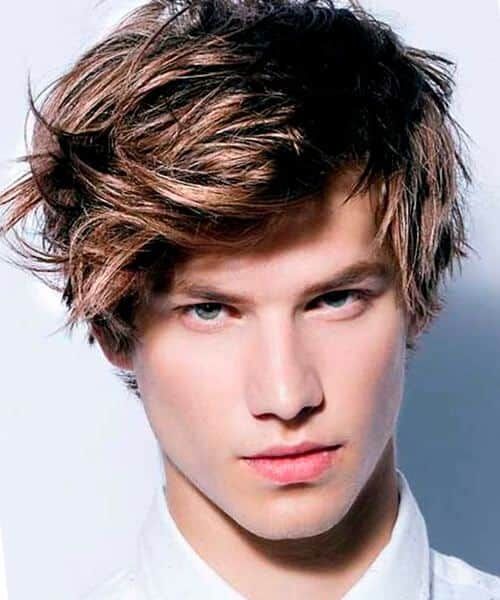 If you have a mix between straight and wavy hair, then this hairstyle is definitely for you!
A simple messy side weep is basically a light side part that sweeps the longer portion of the hair to one side.
It's easy and can be made in a matter of seconds if you gently brush over your hair to the side. The point is to keep it a bit messy, so go with that if you like it!
58) Fringe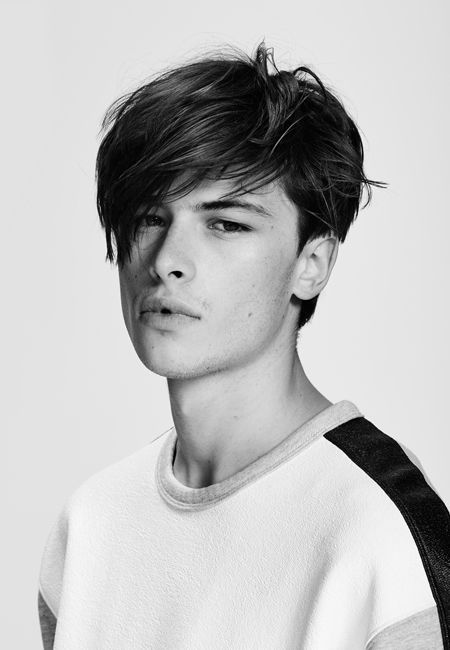 A fringe is a super classic hairstyle for teen boys. All you have to do is comb your hair to the front of your face.
It's best to comb it over slightly in a certain direction, but that's completely up to you.
You can also make this look even more modern by buzzing the sides and leaving the top nice and long.
59) High Brush Up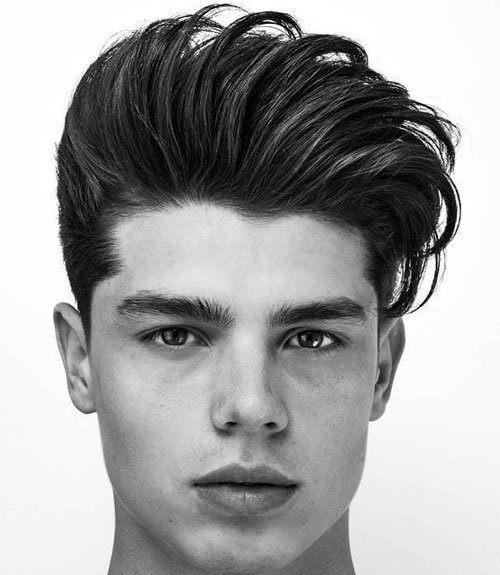 A high brush up is going to give you the most height and volume out of every hairstyle on this list.
You can keep the sides really short or let them loose while you brush up the front of your hair.
You will definitely need a good hair product for this hairstyle in order to keep that hair as high as possible without it losing to gravity.
Related Post: How to Manscape for Teenage Guys
60) Straight Middle Part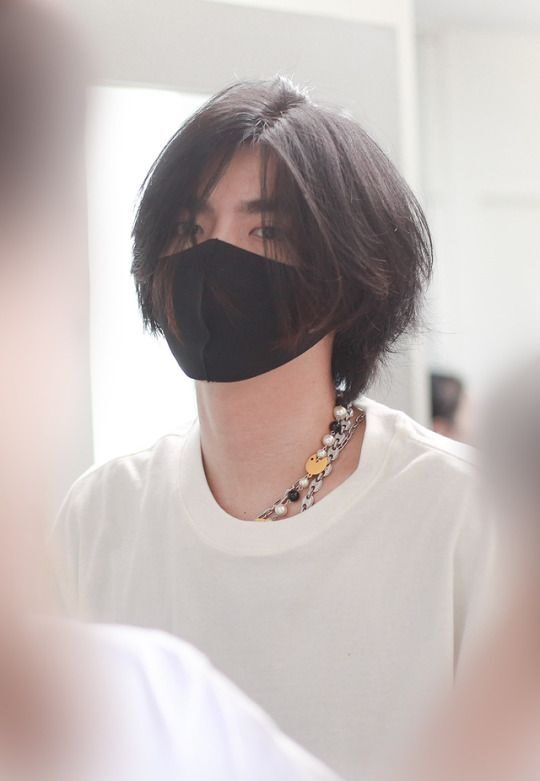 The straight hair middle part is great for asian teens or teen guys with really straight long hair.
Simply divide your hair straight down the middle and part both sides in the direction of the hair.
You can also make the part just a bit off center to give one side a little more volume (as seen in the model above).
Hopefully these 60 different hairstyles for teenage boys gave you some inspiration for your next haircut!
If you have any comments, questions, or suggestions leave them down below. Thanks for reading!
Daniel Friedman
Hey, I'm Daniel! I am the Founder of Modern Teen! I love sharing everything I've experienced and learned through my years of "young adulting". I designed this blog to build a community of young adults from all around the world so we can grow together and share our knowledge! Enjoy and Welcome!
Sours: https://modernteen.co/best-hairstyles-for-teenage-guys-2021/
FRESHHH Kids Cut - Simple To Follow Steps - Haircut Tutorial - Wahl Guard System
This is so. But no one except us should know. I would not admit it now, but today I also had a prophetic dream. My mother came to me and said that it was time for Larochka to find out. But she didnt say what to find out.
Now discussing:
(Thank you!). - Arzomiidi. Sen yangi mi shu yerda. (Nothing.
1596
1597
1598
1599
1600