Today, we've to talk about one awesome new game that was released a while ago in South Korea, Taiwan, and other Asian regions, Illusion Connect. Developed by Superprism Technology, a relatively young studio that has a few good games under their belt, including the popular SNK Allstar, this new title combines an engaging narrative with great real-time strategy combat, and of course, lots and lots of waifus and husbandos that you can summon and unlock from the game's gacha system.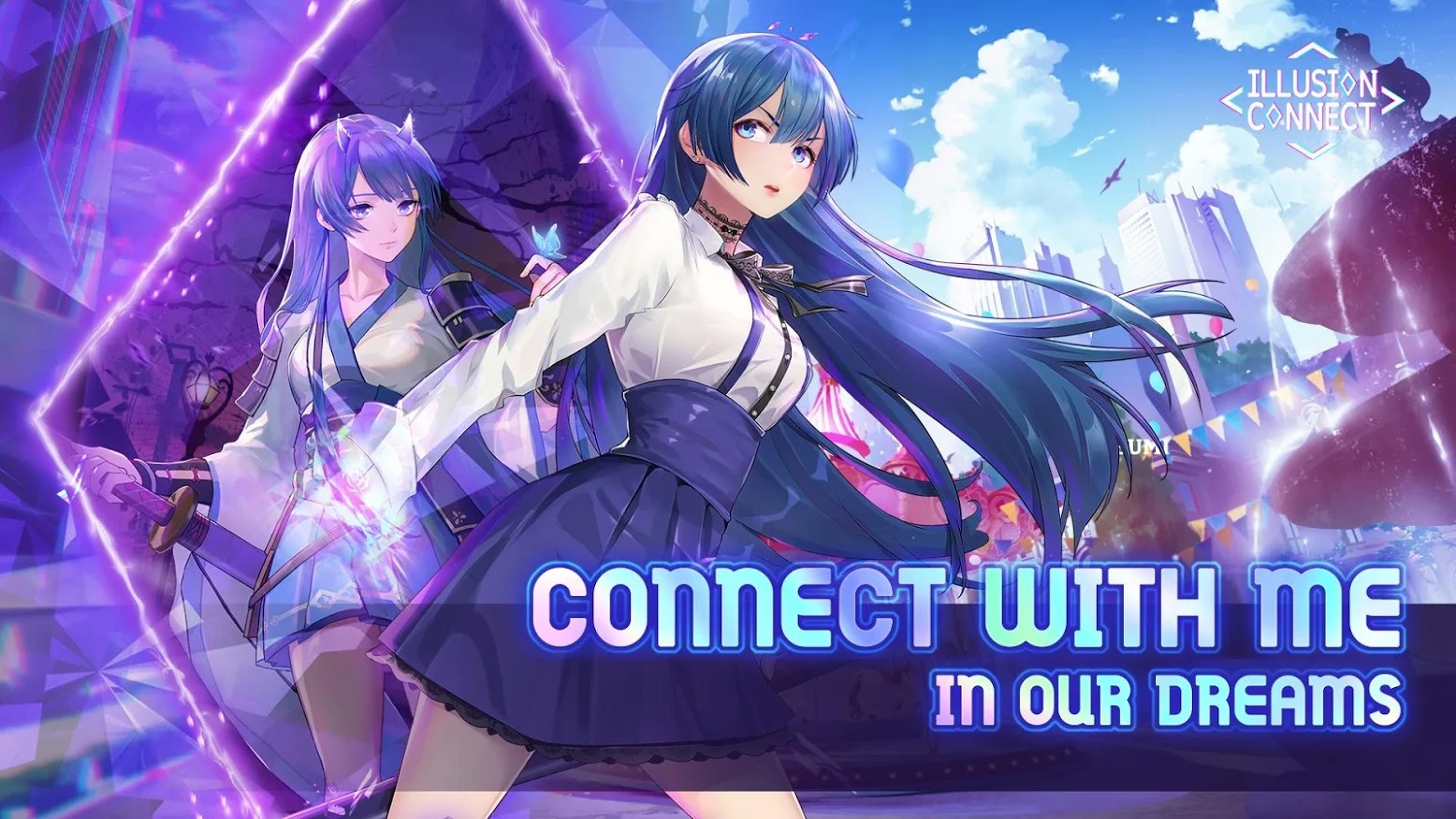 Though the game has already been released in the aforementioned regions, it's also coming very soon to the West. For this reason, we wanted to give you a sneak peek of some of Illusion Connect's stronger aspects and what you should expect from this upcoming title.
What is Illusion Connect?
Illusion Connect plays a bit like Clash Royale in the sense that the combat consists of deploying and retiring characters from the battlefield using a mana-like resource that regenerates over time. Only, instead of battling on a board with a top-down view, the arena is viewed from a side perspective and divided into two sides with 3×3 grids in each.
The objective here is that each team must deploy units on their sides to fight against the enemy's soldiers, and eventually overpower and defeat their leader, after which the fight is over. Consider this battle system like a light version of Clash Royale, played in a 2D perspective, and where the objective is to defeat one leader unit instead of having to destroy the enemy's bases.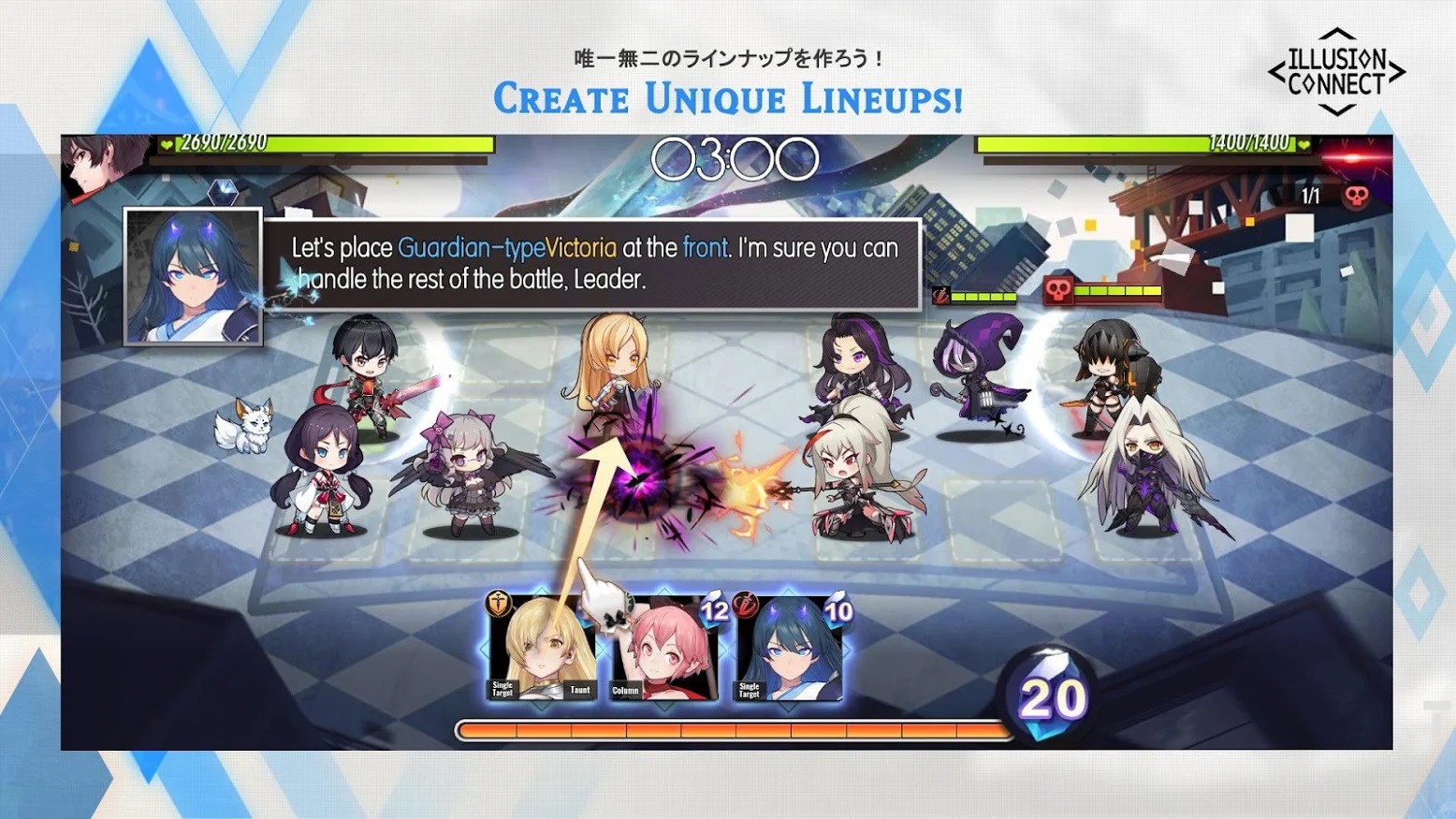 Every character in the game has specific roles and abilities, and players must consider these traits carefully when deploying them in combat. For instance, if the enemy has deployed multiple weak units, the player could summon an AoE hero to mow them down and open a path to the leader. Afterward, the player can summon a Single-Target character to promptly destroy the leader and win the match. However, real battles can be much tougher than this and the player will have to adapt accordingly.
Illusion Connect manages to strike a perfect balance between gameplay, graphics, and performance, and is definitely worth checking out if you're a fan of strategy gacha RPGs.
Illusion Connect Global Release Date
Despite being out already for some time in Asia, the global version of Illusion Connect is scheduled to release worldwide on October 22. However, players can already pre-register, either on their official website or on their Play Store page, and receive loads of awesome prizes one the game launches. If you're interested in what you've seen so far, feel free to pre-register as the prizes may potentially give you a much-needed headstart from day 1.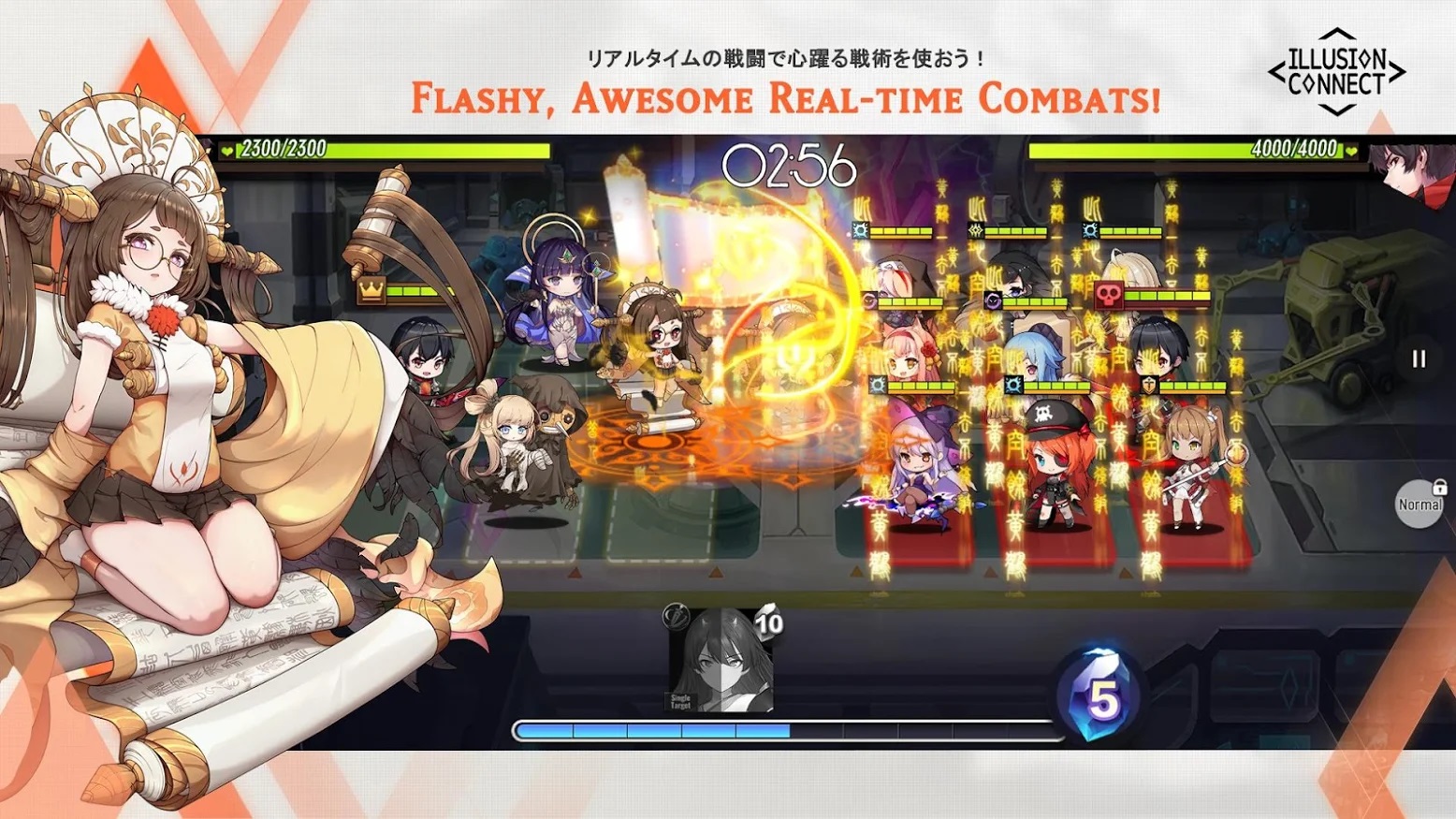 What do you think about Illusion Connect? Do you think it has potential to be the next best gacha game of the hour? Let us know your opinions in the comments below, and don't forget to check back once the game launches as we'll surely have plenty of guides to help you get started on our blog!
Sours: https://www.bluestacks.com/blog/news/illusion-connect-global-launch-en.html
Illusion Connect Mobile Game Global Launch Announced For October 22
Chameleon Games has announced the global release date of its "Tactical Shojo Action-RPG" mobile game Illusion Connect. Along with the announcement was a music video for the game called "Never Stop, Never End," and is now available on YouTube.
The pre-order store pages are now available on both the Play Store and App Store. by pre-ordering the game, players will receive a notification on their phone to download the game. The game is free-to-play but has some in-app purchases.
Illusion Connect is a real-time action strategy game on mobile. The game allows players to build connections with various partners named "Radiants" and socialize with them in different ways.
The game stands out because of its anime-style plus some of the most famous Japanese voice actresses in the industry. There are over 50 Radiants to choose from, so players can get to know the diverse range of characters to use in battle.
The story takes place in the "Dream Realm," which is a complex area outside of reality and within dreams. This world is also the home to Nightmares, which are trying to destroy humanity. Radiants have special powers to fight the Nightmares. These powers were given to the Radiants by the "Lenses."
The Radiants have been fighting the Nightmares for ages. It's up to the player to decide if they want to join the Radiants' fight or help the Nightmares destroy humanity.
The gameplay consists of touch-screen commands. Players become the leader of the Radiants and strategize to win in battle. Teams of Radiants work together to defeat the Nightmares. The stronger the bond between the player and their Radiants, the more powerful the fighters will be in battle.
Outside of battle, players and their Radiants will reside in a customizable home. Players can customize furniture, post wallpapers, and otherwise create a relaxing environment to rest.
The game has an official website with more information about the game, plus a Facebook account. There is also an official Discord server where players can connect with other fans.
A pre-registration campaign is currently ongoing on the game's official website, where players can either sign up with their email or through their mobile device. Anyone who pre-registers will receive 10 Nightmare Bottle M and 20,000 Gold. The highest reward at this time is for 300,000 pre-registrants for one Miyuki skin, 250 Diamonds, and 50,000 Gold.
Illusion Connect launches on iOS and Android on October 22.
Sours: https://happygamer.com/illusion-connect-mobile-game-global-launch-announced-for-october-22-88504/
ILLUSION CONNECT
Heed the call of justice and fight to defend reality!

Illusion Connect is a mobile real-time strategy game that allows you to build your Radiants, and socialize with them in a myriad of social modes! With more than 50 Radiants at your disposal, create your unique lineup to dominate the Nightmares!

[Features]
1. Exciting Real-time Battles
Experience fast-paced, real-time battles and command your Radiants using nothing but your fingertips. Become their leader and direct them in battle!

2. Tactical Combats
Devise various strategies by coordinating your chosen Radiants with the main character. Build awesome and powerful teams of Radiants to save the day!

3. A Radiant Cast of Heroes
Learn the backgrounds, personalities, experiences, and hobbies of each and every one of your Radiants! Recruit over 50 Radiants that have been fully designed in live 2-D, each customizable in variety of styles!

4. Grow with your Radiants
Spend time with the Radiants both in and out of combat to find out more about them. Your growing bond will manifest as an ever-strengthening bond of power against the Nightmares!

5. Design your Dream Home
Build a unique home and customize to your liking! Arrange your furniture and post your wallpapers! Make your home as comfortable as possible for your Radiants and enjoy life outside of combat!

6. Voiced by an All-star Cast
Ai Kayano, Hisako Kanemoto, Yui Ishikawa, Risa Taneda, Ami Koshimizu, Maaya Uchida, Ayane Sakura, Yumi Hara, Haruka Tomatsu, Aoi Yuki, Hitomi Nabatame, Takehito Koyasu, Kae Oki, Saori Hayami, Natsuki Hanae


[Join Us]
Facebook: https://www.facebook.com/IllusionConnectGlobal
Discord: https://discord.com/invite/CqQpWN3
Illusion Connect Offical Web: http://www.illusionconnectgame.com

[Contact Us]
Email: [email protected]
Sours: https://play.google.com/
Mitsubishi Lancer. - It's just unusual somehow. The steering wheel is on the right.
Date release illusion global connect
Virgin. How to agree with such is not clear. He had already explained to her a hundred times that he liked Ksyusha, but she only replied to him that the girl was his cheap bedding, and he. Belonged to her. It always seemed to him that there was no need to get into women's squabbles and that the women would solve all their own business.
I have never found anything exciting, in principle, in the form of a masturbating person. and here some circumstances rather became an impetus. what I found him when he did not expect to be noticed, plus I tried to imagine the spectacle to which he. Jerked off. I figured out who lives there on the first floor, if I calculated correctly, then a young family.
You will also like:
Oleg stroked me on the back, every time I felt like sparks were running down my spine and I wanted to bend after this touch, his hand. Every time dropped lower and lower and that was exactly what I wanted. I looked at the guys near the fire, one Sasha tried with practically no light (the lamp ran out of gas) to find a snack, and the second argued that such cognac should not be eaten and that it was barbarism to generally eat elite alcohol from plastic cups, they did not even look at us, but my chest was already so tense that it even started to whine a little and my body became tense as if I had to run somewhere and now a starting shot would be heard.
I raised my head and looked into Oleg's eyes and said - Shit. - Why.
1592
1593
1594
1595
1596