My pile of modern Christmas tree quilt blocks is growing. Today I'm going to share a quick tutorial for these fun and super fast blocks. (This post was updated in 2019)
(If you would prefer a printable PDF version, there is one available to buy for $3.00 here).
Last year I made this mini quilt and shared a tutorial to make your own. These blocks finished at about 3 1/4″ x 4 1/2″. If you search the hashtag #holidaypatchworkforest on Instagram you can see some of the versions other people made with the tutorial. I was inspired by the versions that used a little more red and decided to make another one this year.
I also decided to make a bigger version with bigger trees and and quilt blocks.
Here's where it's going so far. And I'm not going to like, I am LOVING where this Christmas tree quilt is going! So today I'm going to share some quick instructions to make your own larger version of this fun, modern Christmas tree block! I've also updated this post with a video tutorial walk through for those who prefer video learning!
Here is the pile of fabric that has been sitting in my sewing room for the past few weeks. They make me so happy. This project is a great one for busting through a lot of fabric stash. And they don't necessarily need to be Christmas fabrics. Just pull your greens and reds together for a very Christmas-y look.
A few thoughts on choosing fabrics for your own quilt. It's fun to see the pictures of the two versions above. They each have a different look and I really like them both. This quilt is a fun exercise in choosing a color palette, using scraps (especially the smaller version), but you can't go wrong as you make it your own. Choose what you love. Here are a few tips that I used.
I love scrappy and using up favorite fabrics that I've been collecting for the past few years. I've finally reached the point where it feels so good to just USE those favorites. For this quilt I raided my greens, reds, and white backgrounds with red or green prints. I personally chose to emphasize Kelly and darker greens because I wanted this to have the feel of an evergreen forest. So I didn't use any lime greens, but I still threw in some warmer, mossy greens too, because the variety of shades gives the quilt some interest.
I went in planning to use reds in this Christmas tree block quilt too, but ended up weeding out the really dark reds. Instead I focused on red fabrics that also have a lot of white in them, to keep the reds looking lighter. I even threw in a few reddish-pinks to again, give some depth and interest.
Finally, keep scale in mind too. Since I am using a wide variety of prints and I want it to have a scrappy look, I'm also trying to incorporate big scale prints where I can – especially because these are bigger blocks and they have a lot of space to show off prints. I tend to have a lot of medium and small-scale prints – which I love, but can look more jumbled if everything is the same scale. Throwing in some big prints – like the polkadots, stripes, pearl bracelets, etc – can give the quilt a lot of visual texture. Using solids as well can also provide good contrast to the prints.
You don't need to use any of this – I thought I'd just throw it out there for the heck of it, since people often ask me about choosing fabric for a quilt. Those are some basic guidelines that can make any quilt visually interesting – especially when you're going scrappy.
If you prefer watching a video, scroll down to the the video version of this tutorial. (It doesn't include fabric measurements, but I do walk you through the method for making these blocks.)
Okay, so here's the cutting and piecing instructions for these larger version of my Holiday Patchwork Forest – or modern Christmas tree blocks. These blocks will end up about 7″ x 9″ finished. You are going cut and piece the blocks in pairs. This eliminates fabric waste and makes the blocks come together lickety-split.
The fabric requirements for each pair of Christmas tree quilt blocks are:
Two squares 8 1/2″ x 8 1/2″
Two strips 2″ x 8 1/2″
Two brown pieces 1 1/2″ x 2″
I recommend choosing two fabrics with a lot of contrast (color and scale) so that your trees will really pop.
Stack your two 8 1/2″ x 8 1/2″ contrasting squares on top of each other. Place a quilting ruler at an angle and make a diagonal cut. Pull the fabric from the first cut away, and make a second diagonal cut the other direction to get your tree shape. Important: Don't cut your triangle point right at the top of the block – leave lots of room above the point so that there's room for squaring up and for seam-allowance.
TIP: I love cutting my trees in lots of different shapes and sizes so that they all look a little different. I think it gives the quilt more visual interest.
Cut your two 2″ x 8 1/2″ strips in half to make two sets of 2″ x 4 1/4″ strips.
You will now have a matching set looking like this.
Swap out the 'tree' piece and match it up with the contrasting background pieces. Sew the tree piece to the background side pieces starting with the side of the second cut. Press seam and add the side from the first cut.
(The original mini tutorial has a few more in-depth pictures about the cutting and sewing-back-together parts of this step if you need more visuals.)
Once your sides are pieced, square off the bottom so that the edges are straight across.
Sew the two sets of 2″ x 4 1/4″ strips on either sides of a brown 2″ x 1 1/2″ 'trunk' piece.
Sew the trunks to the bottom of the blocks. (The trunk strips are purposely wider than the tree parts so that you have wiggle room to center the trunk under the wonky trees.)
Square up the sides and top edge of the blocks to all the same size. Mine were roughly 7 1/2″ x 9 1/2″ unfinished (7″ x 9″ finished). But it honestly doesn't matter exactly what size they end up, as long as they are all the same. (This is roughly improv piecing. Let go of the perfection and enjoy the freedom. 😉 )
Click here to see a video demonstration of how these patchwork forest tree blocks come together.
For a throw-size quilt (about 56″ x 72″ + a border) I figure I need 64 blocks. But maybe I'll get carried away and my quilt will be bigger. 🙂
Here is the video step-by-step for making the Patchwork Forest Tree Quilt Blocks:
Here's how my Christmas tree quilt block pattern is looking on my design wall so far. I am totally smitten! I know this quilt is not going to get finished this year (I still have quilty gifts to bind!) but maybe I can get all my blocks pieced this year and then all I have to do is assemble the blocks quickly and get it quilted in time to use next year.
Enjoy! And if you make anything with this Christmas tree quilt block tutorial, tag it #holidaypatchworkforest on Instagram, or send me a link or a picture. I love seeing all the variations. And if you're like me with lots of other Christmas gift sewing still to do, feel free to Pin this post for next year!
Reminder, if you'd prefer a printable version of this Christmas tree quilt block pattern you can find it there is one available to buy for $3.00 here).
Post edit: See the finished this Christmas tree quilt block here!
AND! I've designed a new quilt pattern with more sizes of funky improv tree blocks with a few wonky stars thrown it too. This version is called Pine Hollow and you can find the pattern info here!
Related
christmas treeimprovmodernquilt
Sours: https://www.diaryofaquilter.com/modern-christmas-tree-quilt-block/
Modern Trees is my attempt at updating a traditional Christmas wallhanging I made over 10 years ago. I designed it to use one of my favorite tools, the tri recs ruler set and my favorite fabrics – solids.
Modern Trees Stats:
Designed, pieced and quilted by Christa Watson; designed in EQ7
Finished Size: 43″ x 50; completed December, 2013
Pieced and quilted on my Bernina 710
Materials: Kona Solids, Legacy wool batting, Aurifil cotton thread 50wt
Quilting Design: SITD, FMQ, swirls, pebbles, snowdrifts, snowflakes, words
Time to complete: 29 hours – top (5 hours), quilting & binding (24 hours)
Honors and Publicity:
Hung at the Home Machine Quilting Show, May 2014
Juried into MQX Quilt Festival New England, April 2014
Quilt Along: Click the links below to go to each tutorial.
---
Click here for an EQ7 download of this pattern.
Modern Christmas Trees 30″ x 40″ Layout
Copyright © 2013 ChristaQuilts Inc., for personal use only.
Sours: https://christaquilts.com/modern-christmas-trees/
Check out more Christmas posts!
I have always wanted to make a Christmas themed quilt!  Since I am a member of the Kansas City Modern Quilt Guild, I really wanted to make it MODERN!  I am fortunate to belong to a very active and exciting guild.  We have some really fun programs that encourage group activity.  One of these activities is called Block Lotto.  Last Christmas, the group made Holiday Patchwork Forest Blocks.  Even though I didn't win the Block Lotto, I was still excited to make my own Modern Christmas Tree Quilt.  Let me show you my quilt and explain how the Block Lotto works.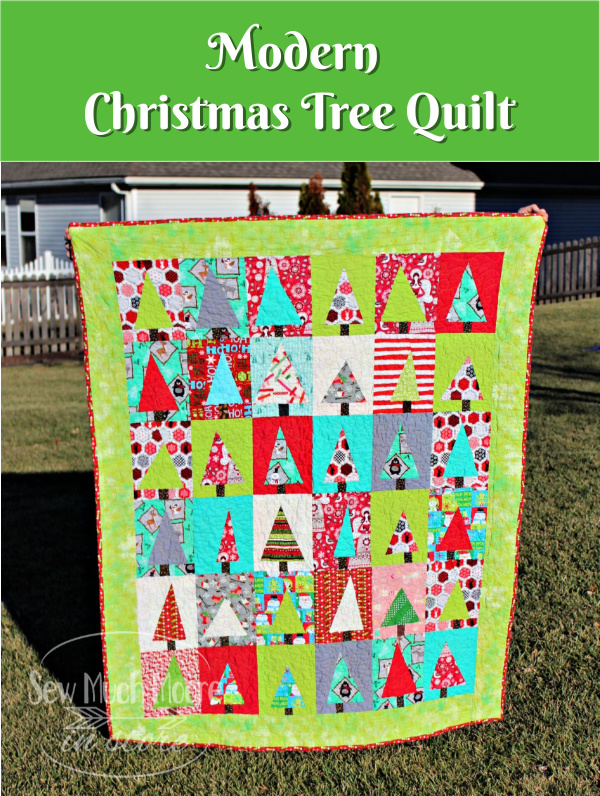 The Block Lotto idea came from the Calgary Modern Quilt Guild, where they decided upon a pattern and a color theme.  Our guild is very fortunate to have Kelly Lautenbach, who is our very own Guild Cruise Director!  Kelly keeps a close eye on fun things to do in the guild and she began this activity for the guild.  Kelly helped us decide on the pattern and the color layout.  It was important to name the color grouping so that the blocks would look good together.  For this Block Lotto, we used the tutorial by Amy Smart from Diary of a Quilter.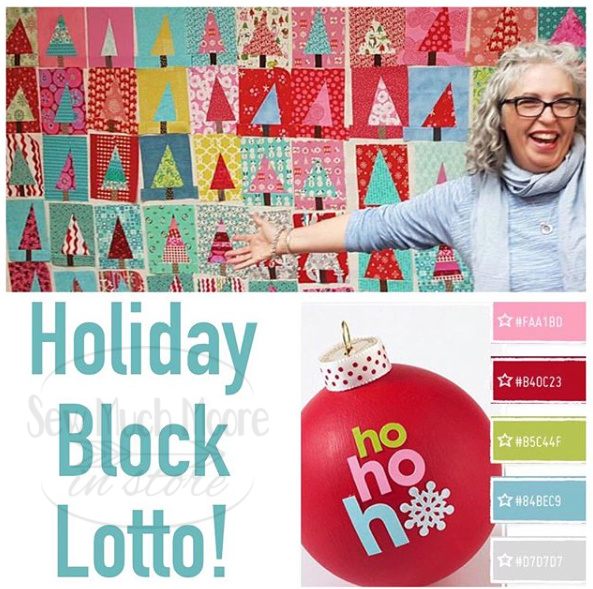 To have a Block Lotto, we have participants make a block (or a group of blocks) and bring them to the meeting.  We gave a raffle ticket for each block that was turned in.  We brought several design walls to the meeting and arranged as many quilt with the blocks that were turned in.  Since the color theme was the same for everyone, the quilts looked fantastic! Our members made 374 blocks which we separated into FIVE sets of blocks to make quilts and 13 sets of 4 blocks each for pillows. What fun we had. And our winners were thrilled!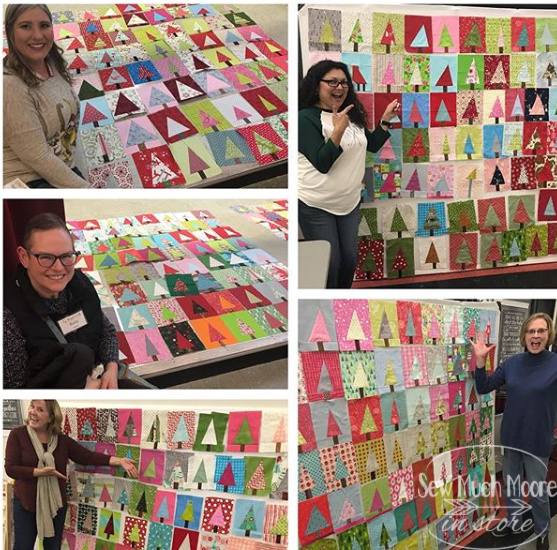 Finishing my Modern Christmas Tree Quilt
As you can see, I was not a block lotto winner.  Whomp Whomp.  That didn't stop me from making my very own Modern Christmas Tree Quilt!  I have to admit that I didn't finish this until the next Christmas, but I did manage to trade a few block with some quilty friends along the way.  To be honest, I probably wouldn't have finished this quilt unless my Local Quilt Shop (The Fabric Chic) hadn't hosted a workshop.  It's like they just knew what was on my UFO list!!!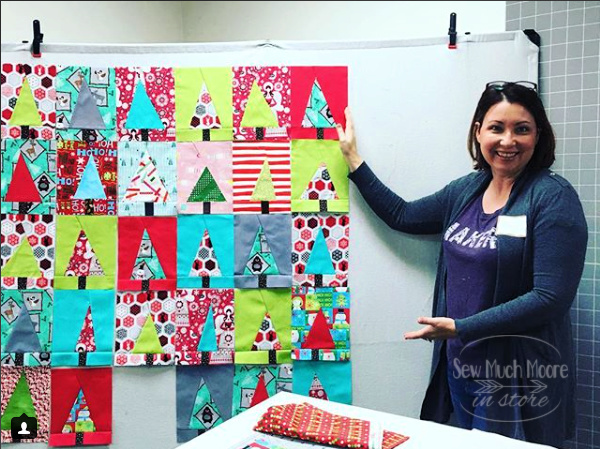 During the workshop, I was able to finish all my blocks and sew all the rows together.  I could have made my quilt top bigger, but I decided to add a larger border.  I used Moda Grundge Seeing Stars in Key Lime.  That really brought out all the green in this quilt.  The stars in the fabric were just perfect too!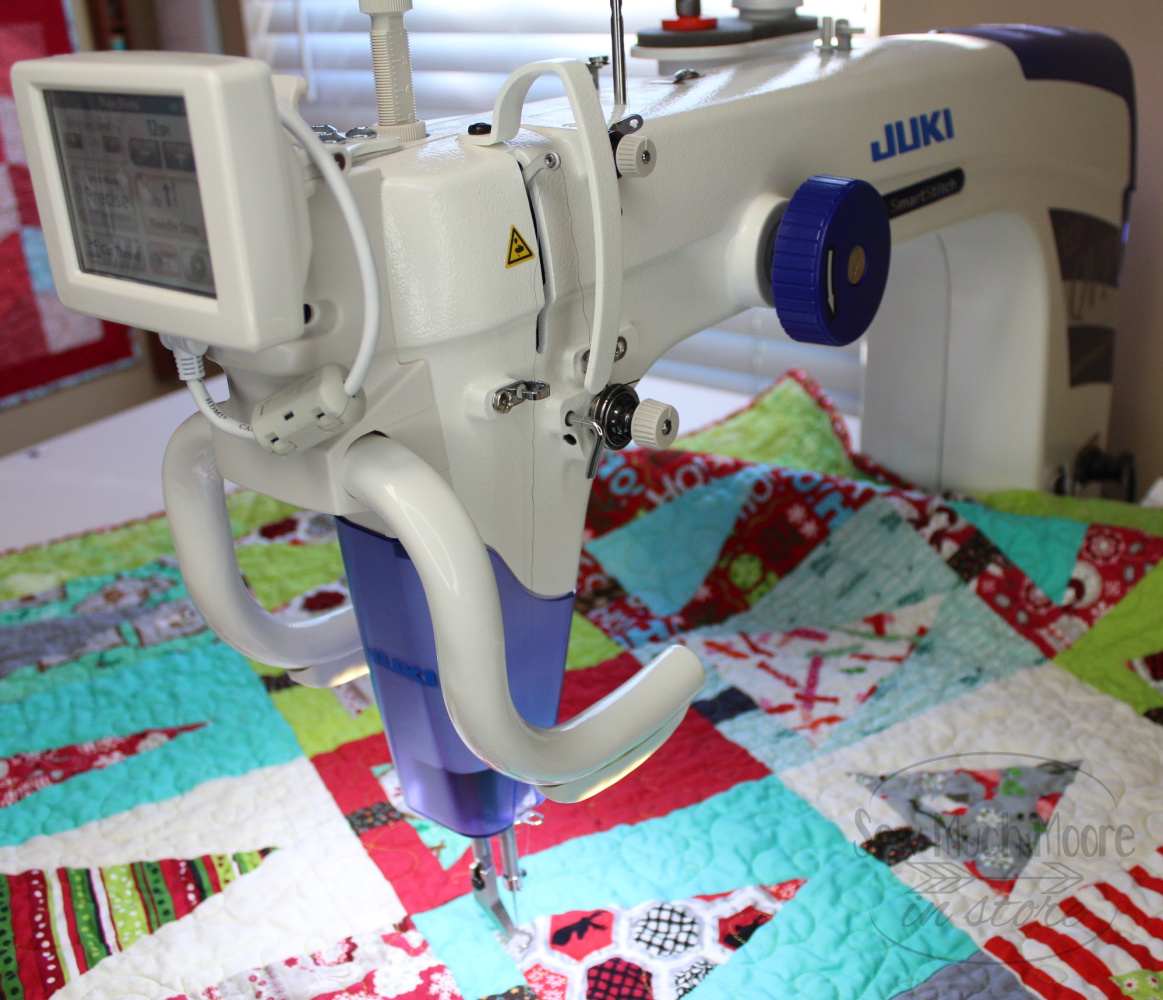 I quilted this all up on my new Juki Miyabi J350QVP.  If you haven't seen all the things my new machine can do – you should go check out my blog post and learn all about that!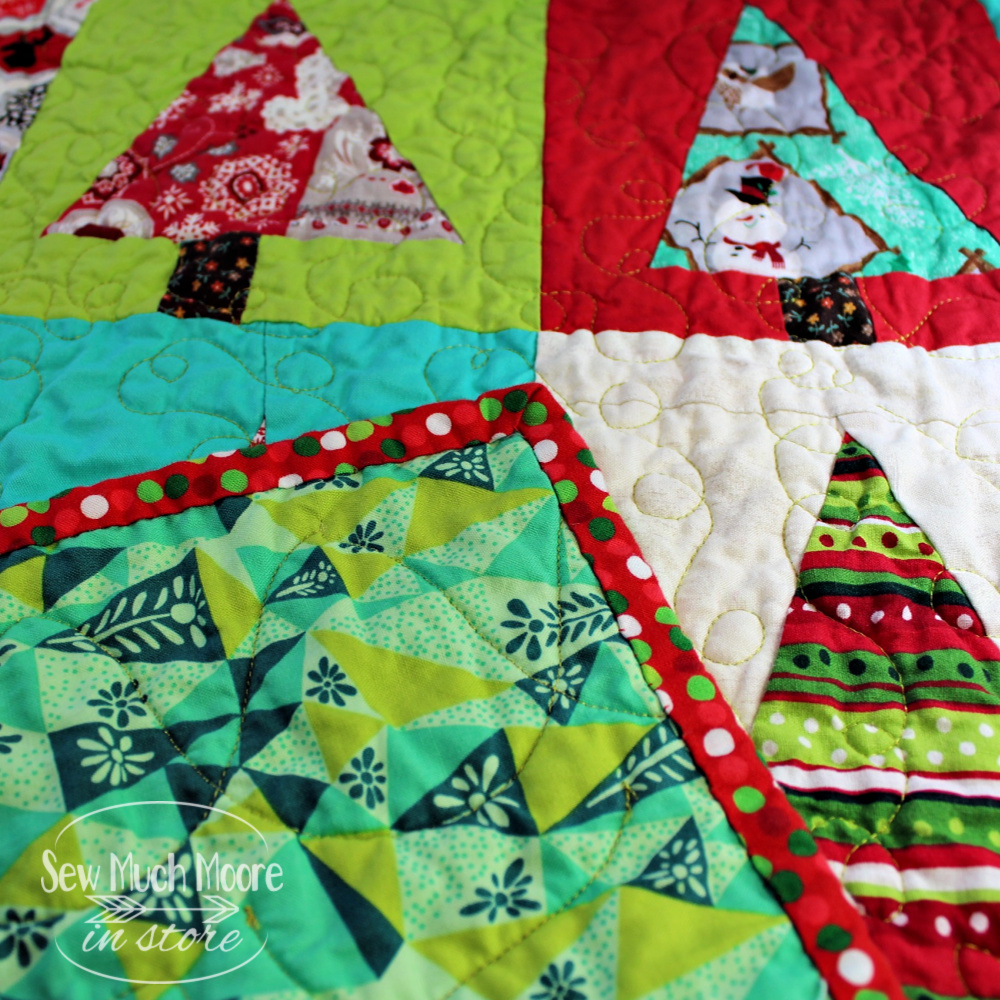 Finishing this quilt top, before Christmas, was a special treat!  I love to add seasonal decor to my home and this quilt is perfect for evening snuggles!  I hope you found inspiration in this post and perhaps share the Block Lotto idea with your sewing group as well!  Be sure to follow The Kansas City Modern Quilt Guild's Facebook Page to keep up to date on all the exciting activities!
Happy Quilting!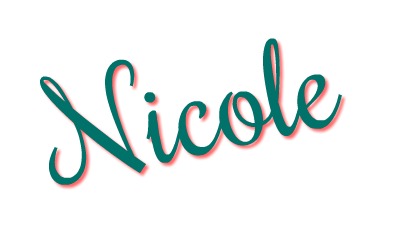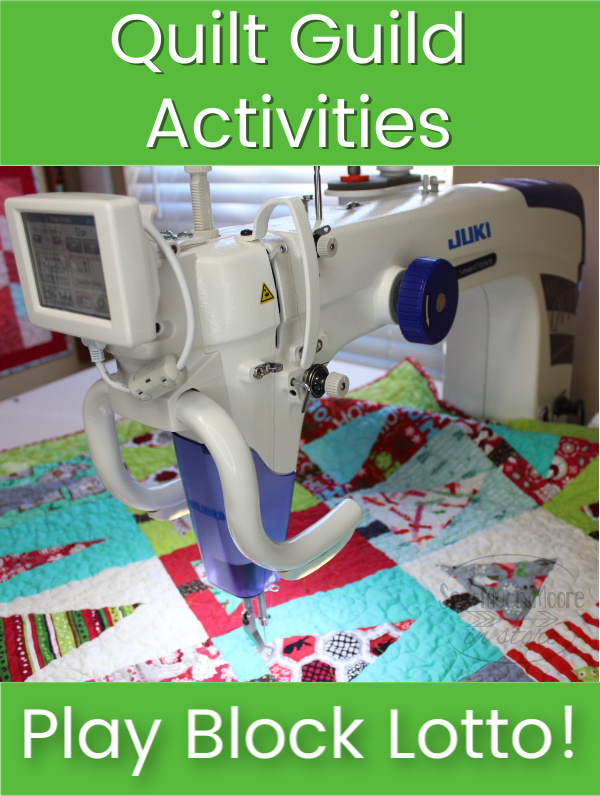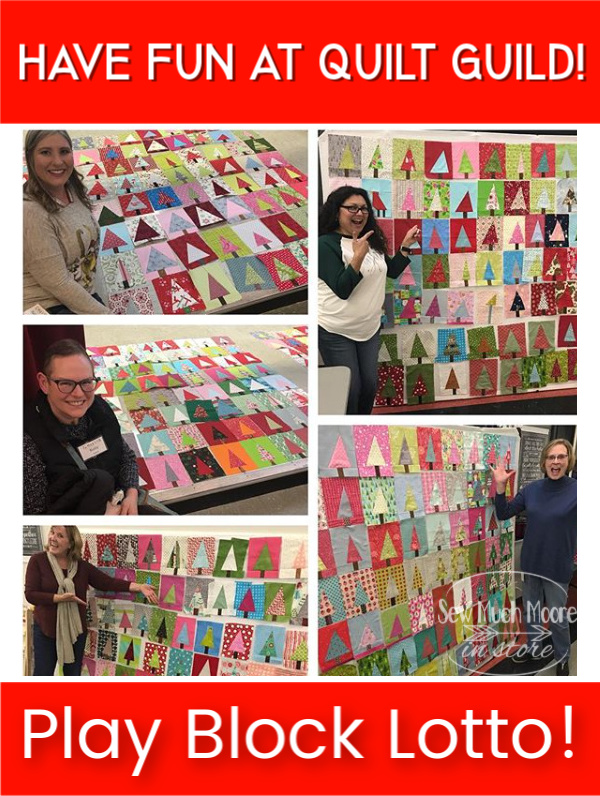 Making a Handmade Christmas
DIY Fabric Napkins
Christmas Table Runners!
Posted in: Blog | Tagged: Christmas, Christmas Quilt, Guild, Guild Activity, KCMQG, Modern Christmas Tree Quilt, modern quilt, MQGSours: https://www.sewmuchmoore.com/modern-christmas-tree-quilt/
Patchwork Forest Tree Quilt Block Video Tutorial by Amy Smart of Diary of a Quilter
Get Scrappy With This Modern Christmas Tree Block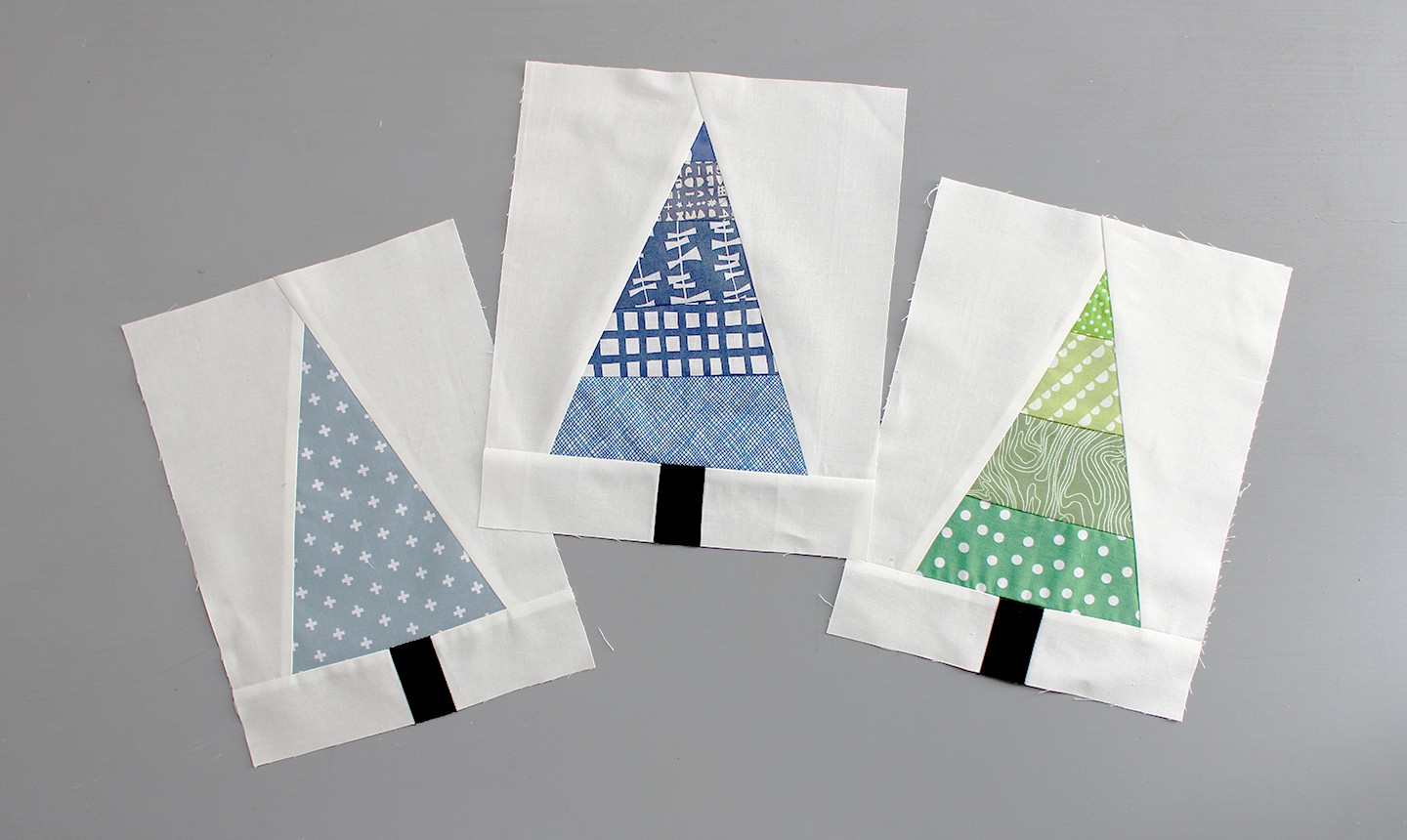 There's nothing better than using scraps to make a fun quilt block. After all, you already have all the supplies you need! And these cute Christmas trees quilt blocks just so happen to be the perfect holiday project. Not only are they a cool foundation for a pillow or table runner, but you could even transform them into a big ole' Christmas quilt. Regardless of which direction you choose, these cuties are guaranteed to put you in the festive mood.
Scrappy Christmas Tree Block
Level: Easy
What You Need
Fabric scraps
Rotary cutter
Clear ruler
Instructions
1. Cut the Tree Fabric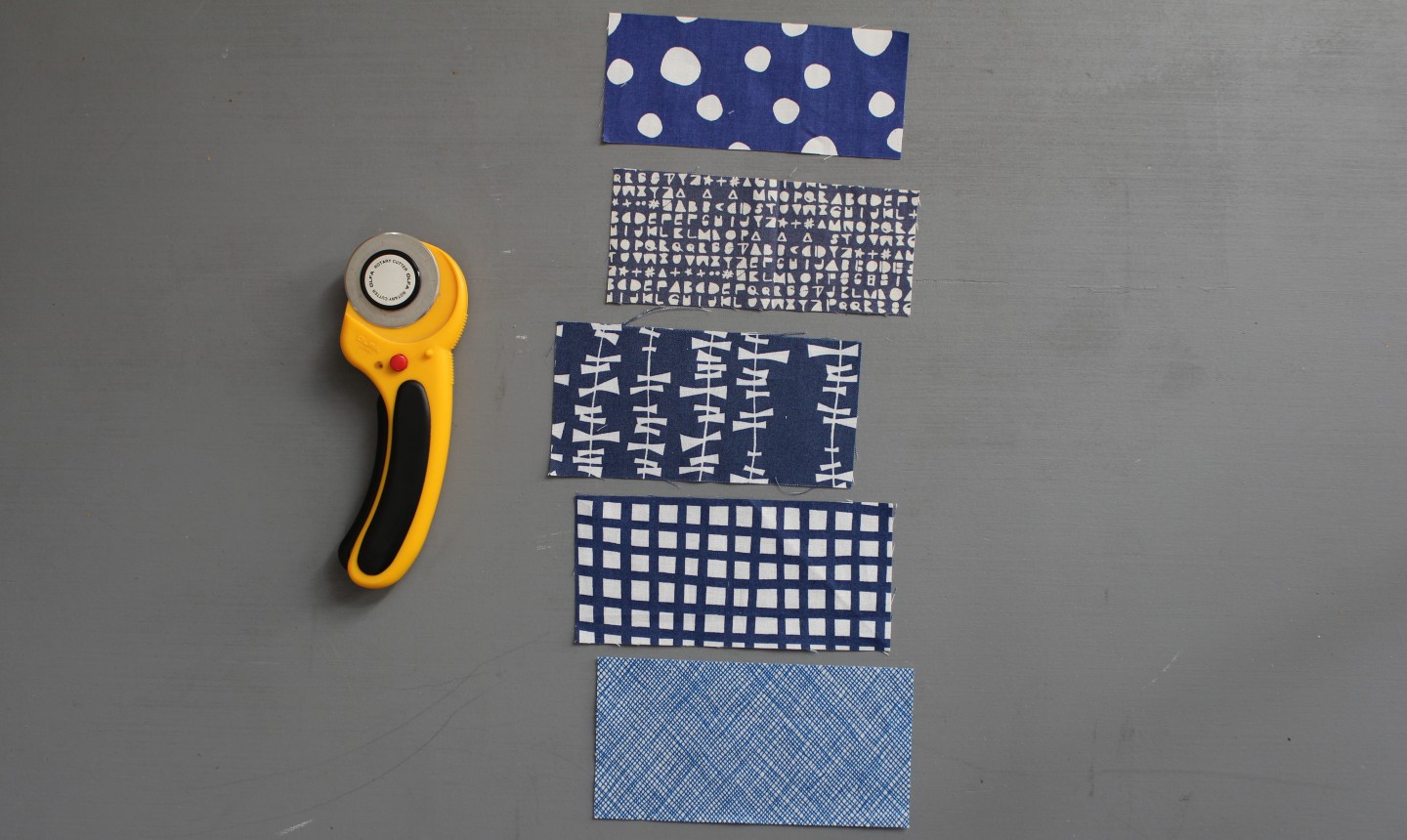 To make the scrappy strips, cut your assorted fabric scraps into pieces so each is between 2 -3″ tall and 4-6½" long.
Pro Tip: Don't worry about making them all the same size — the variation makes the block look even more interesting.
2. Arrange, Sew, Press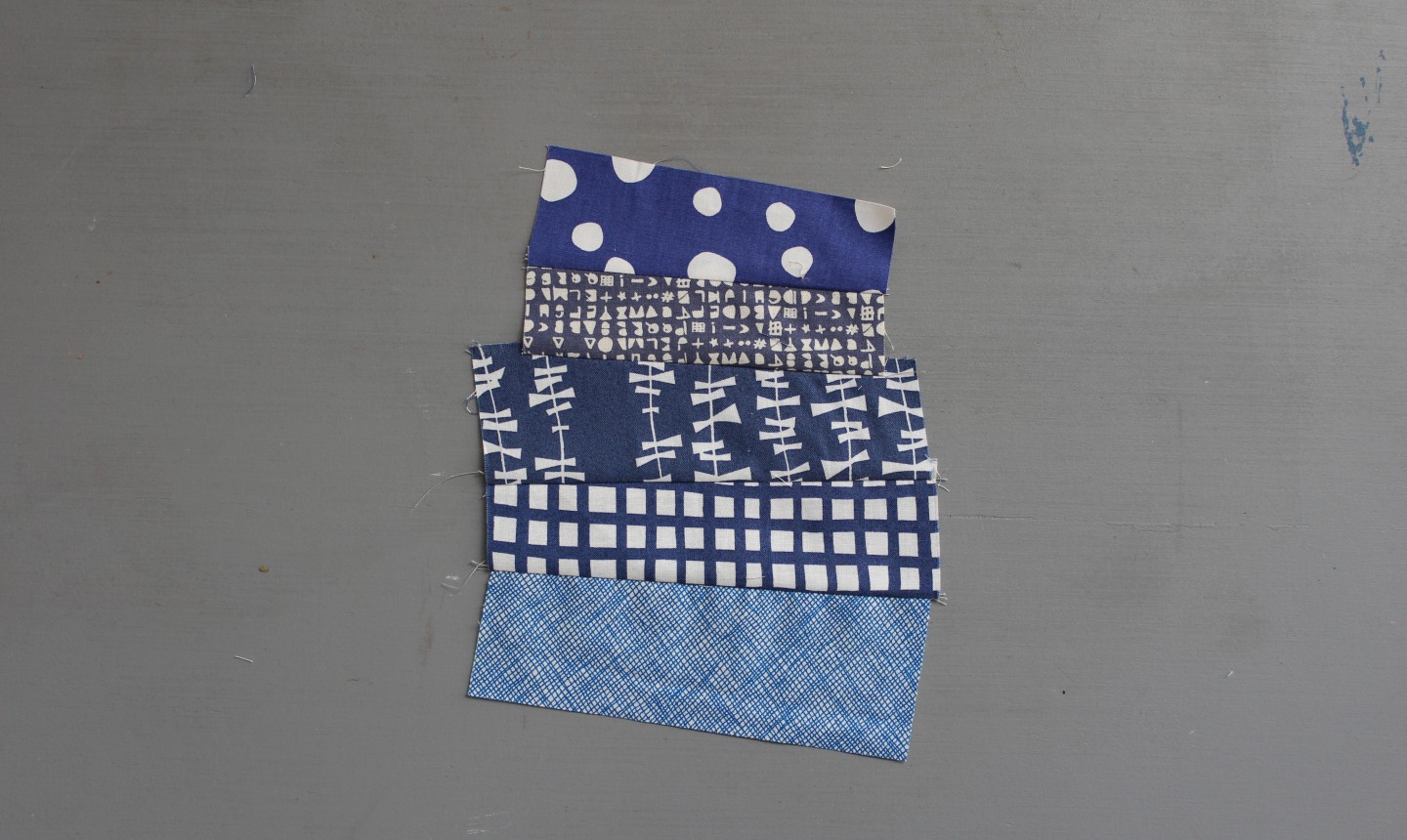 Arrange the strips so the widest one is at the bottom and the thinnest at the top. Sew the strips together using a ¼" seam allowance. Keep most of the strips relatively straight, but sew one or two at a slight angle. For these crooked ones, trim your seams to ¼".
Press all the strips. Altogether, your piece should measure about 9″ x 6″.
3. Make the Big Cut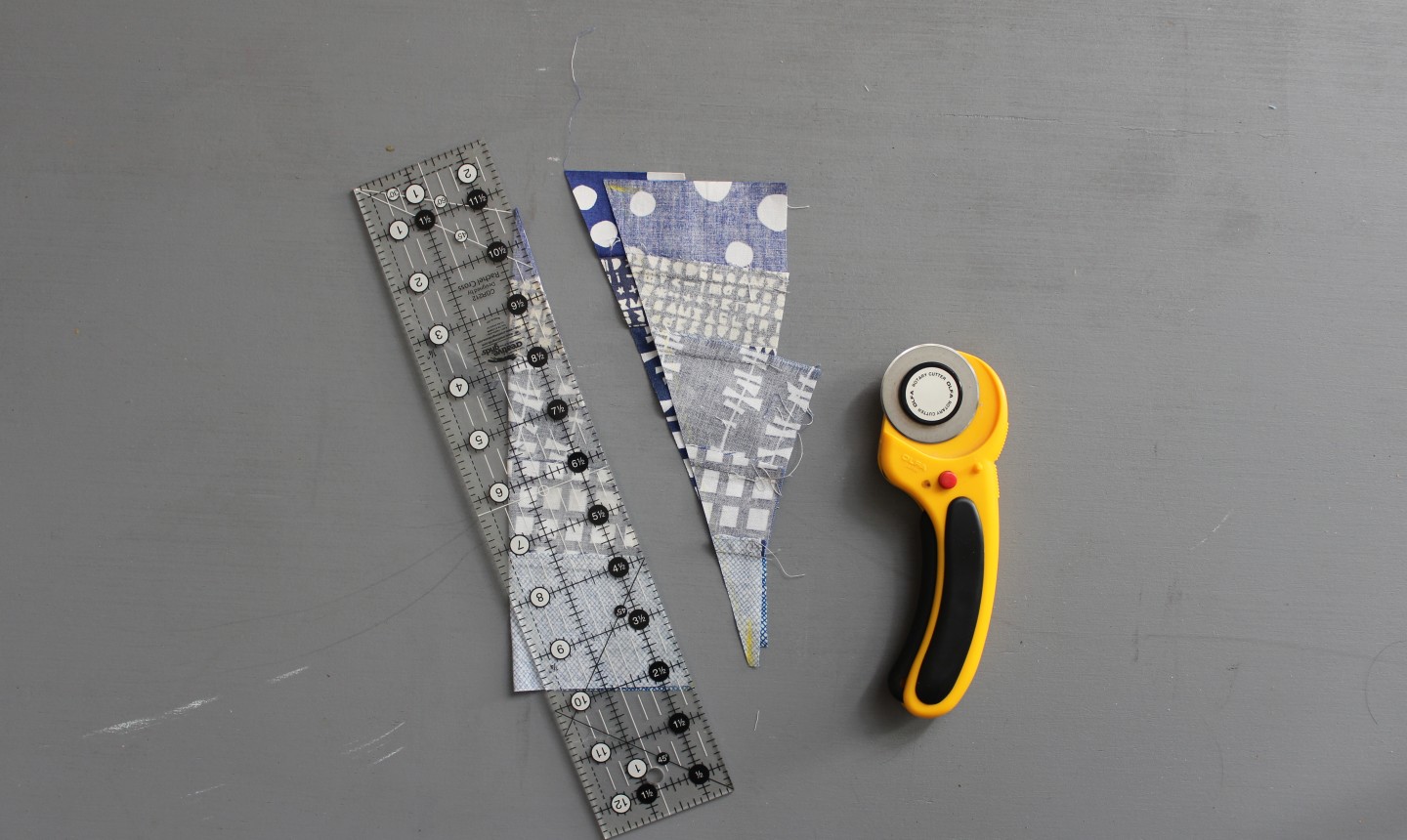 Fold the strip set in half width-wise and line up the folded edge with the 0″ mark on your cutting mat. Align your ruler on the 8½" tall and 3″ wide marks on the mat, then cut along the line with a rotary cutter. When you unfold the fabric, you'll see your tree!
4. Stitch the Trunk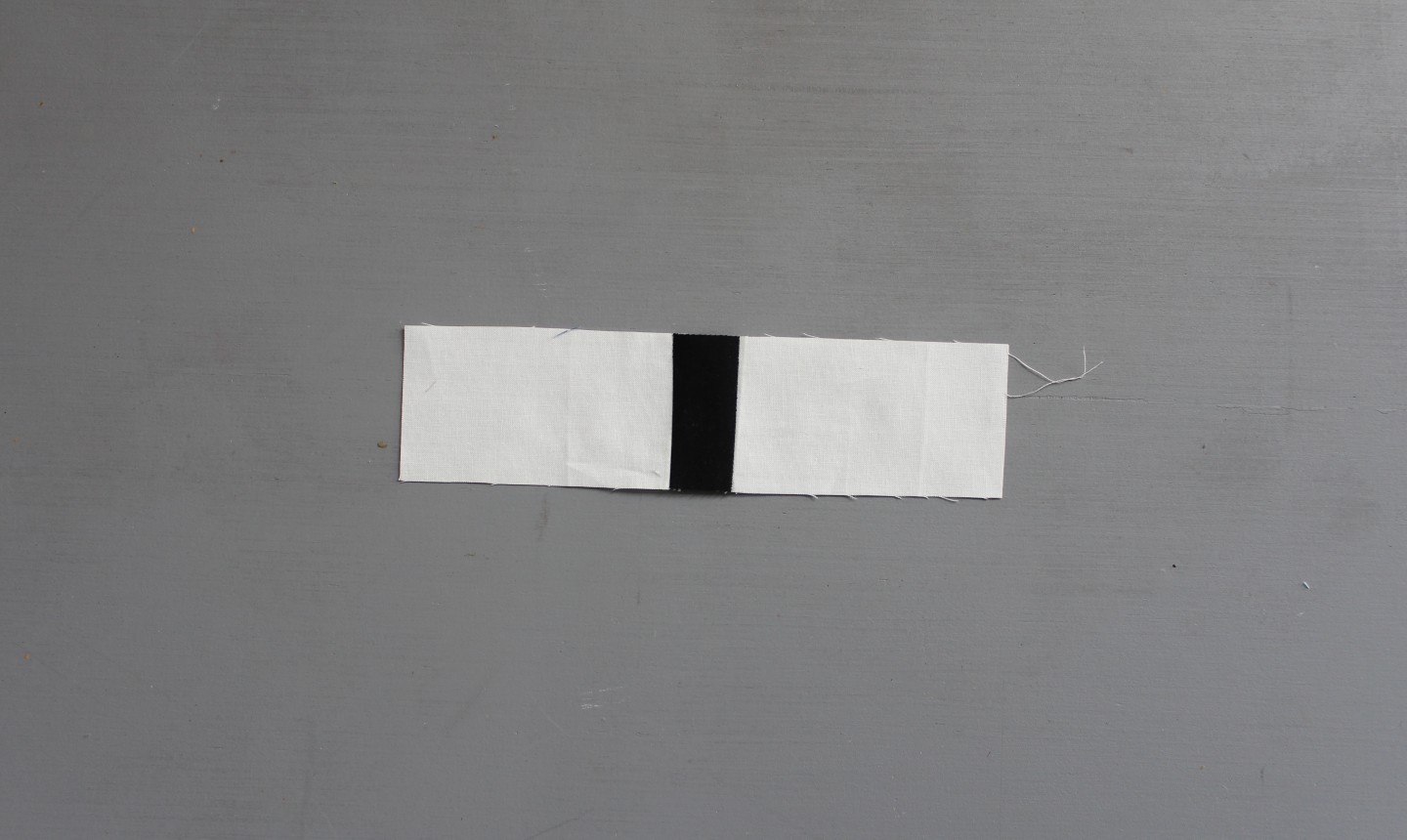 Cut a black rectangle 1½" wide x 2½" tall. Cut two white rectangles that are each 4½" wide x 2½" tall. Sew the white strips to both sides of the black, using a ¼" seam allowance. Press the seams toward the black fabric.
5. Piece It Together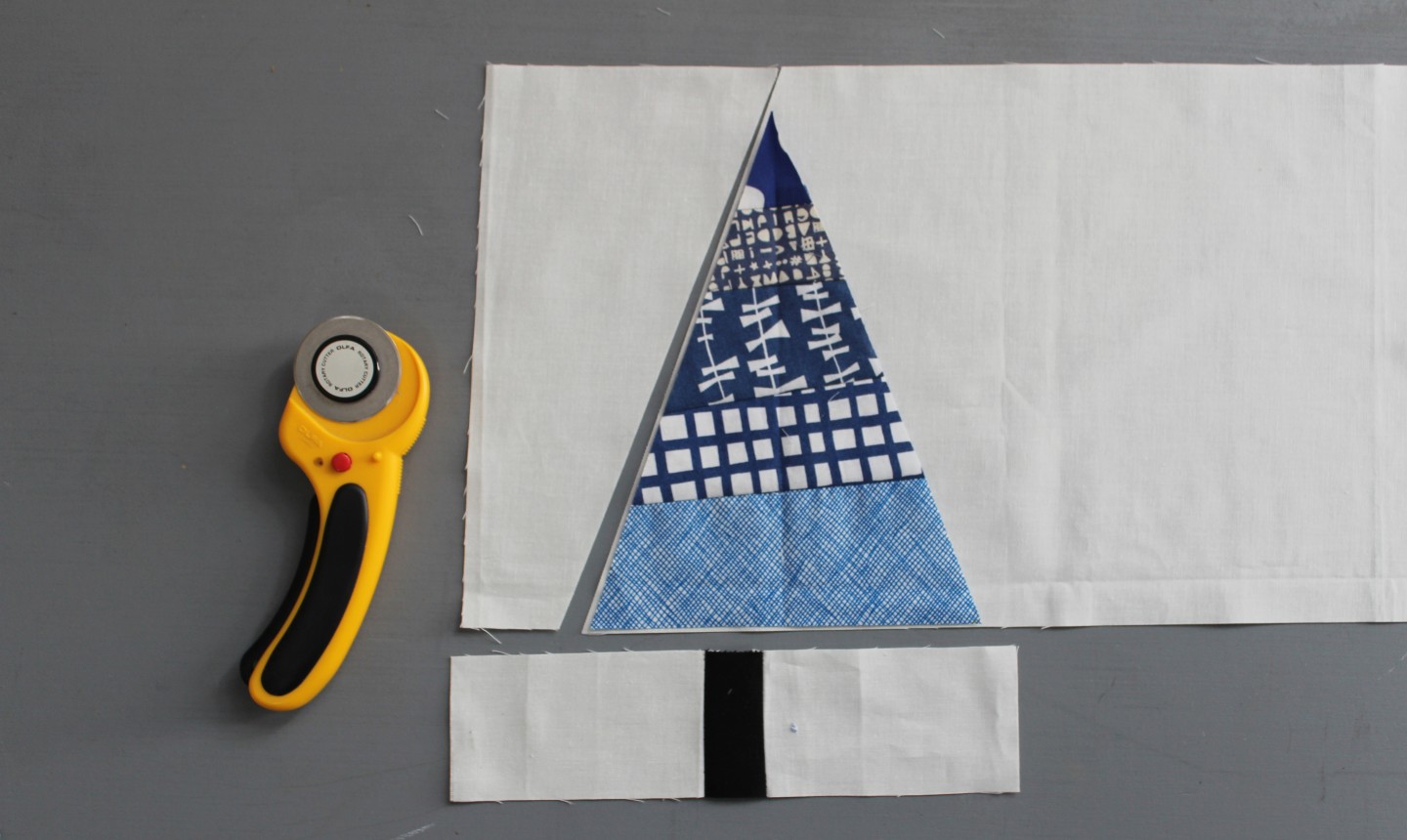 Choose a piece of background fabric that's about 16″ long x 9½" tall. Arrange the tree trunk strip below the background fabric, so the left edges align.
Center the tree piece on top of the trunk, laying it on top of the white background fabric. Use a rotary cutter to cut the white background fabric along the left side of the tree from top to bottom.
6. Attach the Tree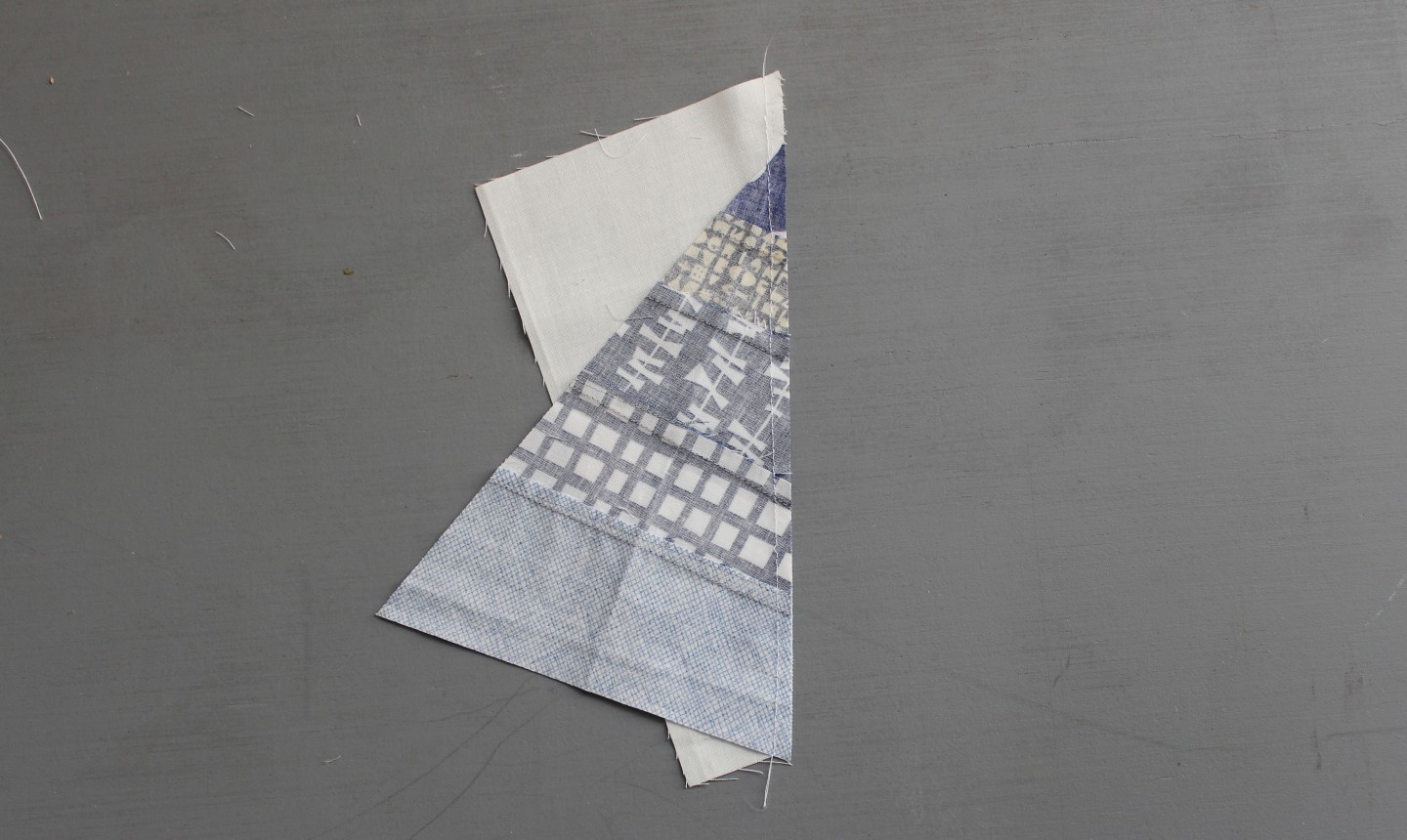 Lay the tree face-down over the line you just cut. Arrange it so the bottom point overlaps the white fabric by ¼ of an inch. Sew the tree to the left background piece using ¼" seam allowance. Press away from the pieced strips, toward the white.
7. Finish the Background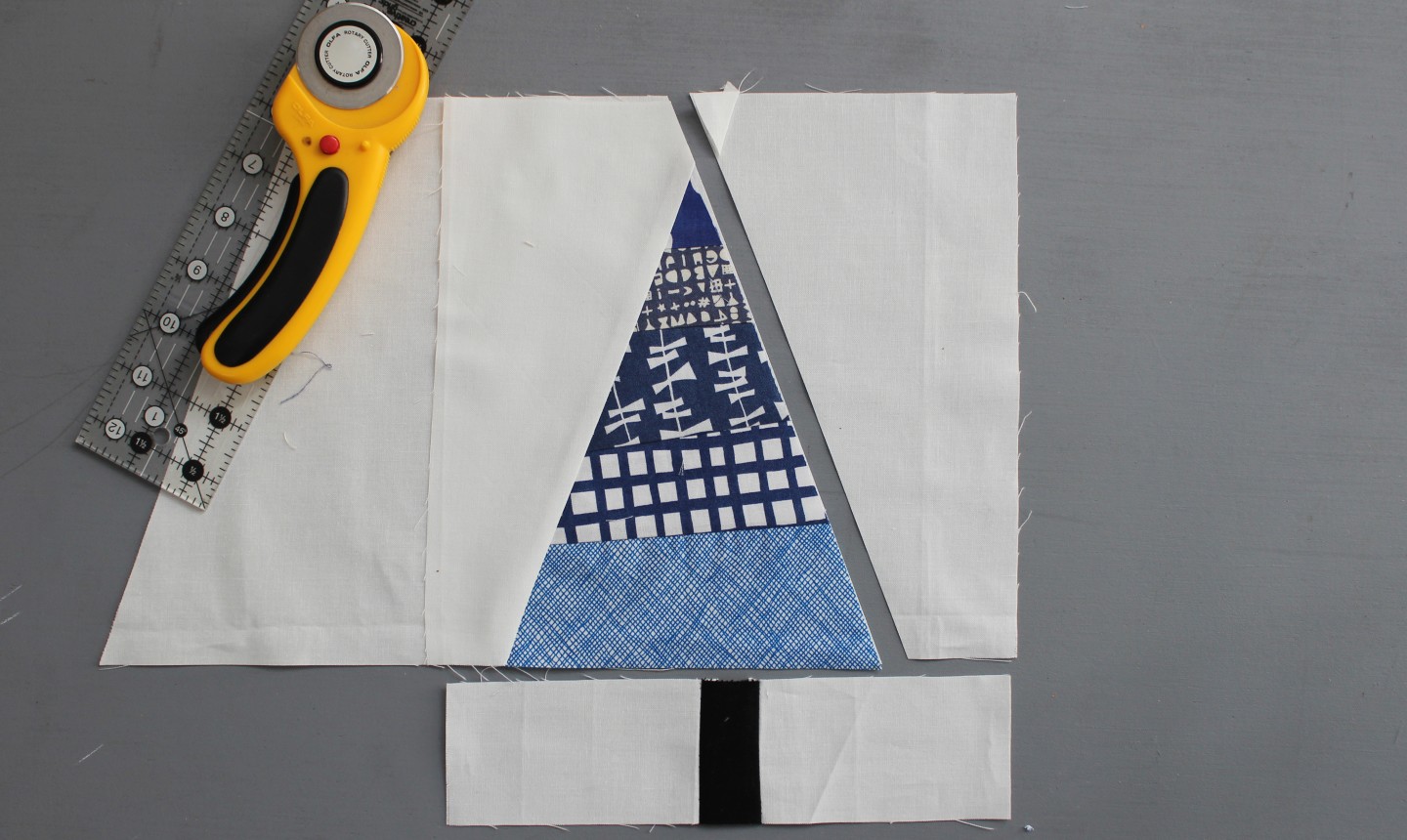 Pick up the straight edge of your remaining white background fabric. Place it above your tree stump, so the left edge extends 1″ to the left of the stump.
Place the tree piece on top and use it as a guide to trim the white background along the right side of the tree, cutting from top to bottom on the white fabric. (Don't panic if you cut off the tip of the white background fabric in the upper left corner — you're supposed to!)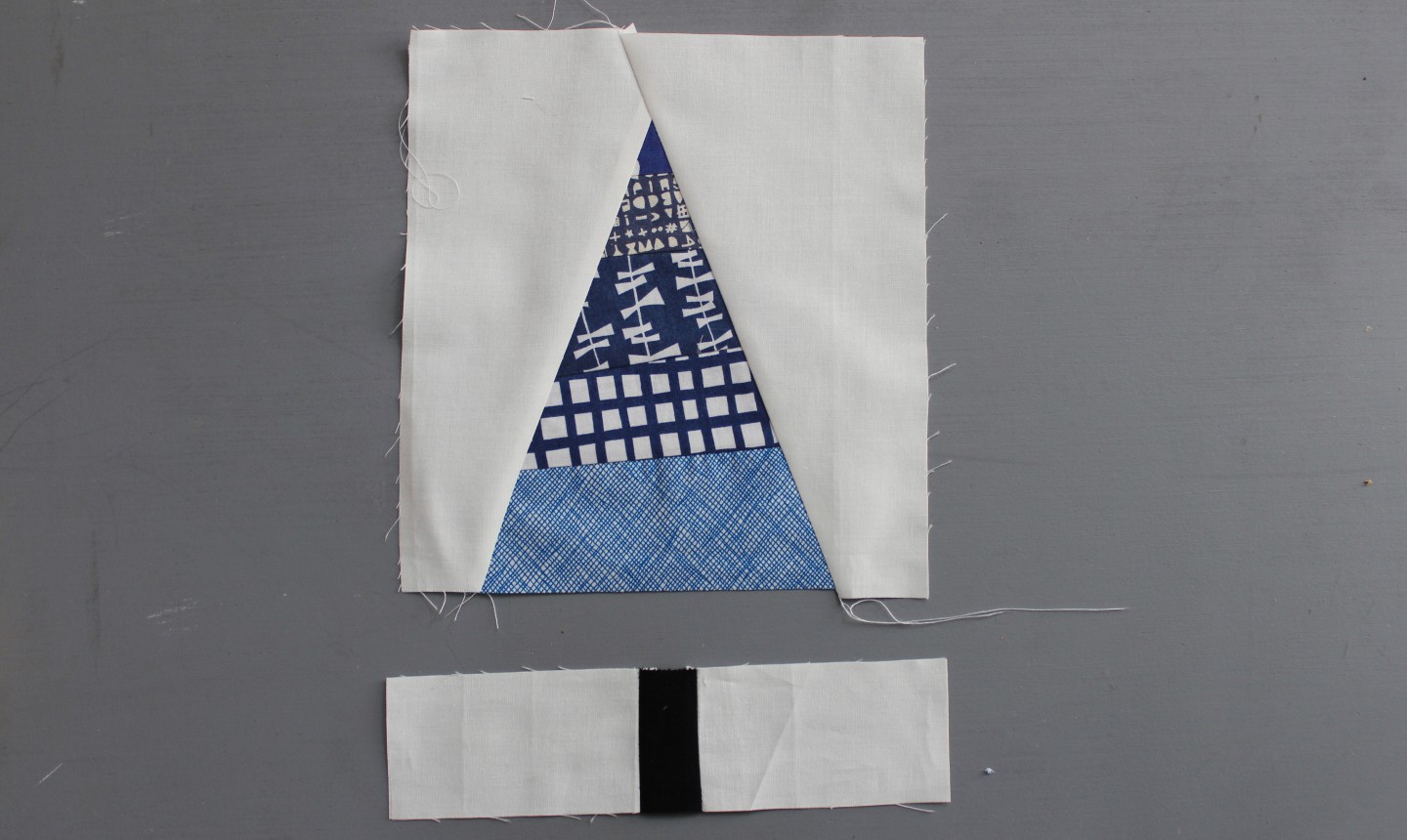 Repeat the steps you used on the left to sew the right side of the tree to the background fabric.
8. Make the Final Touches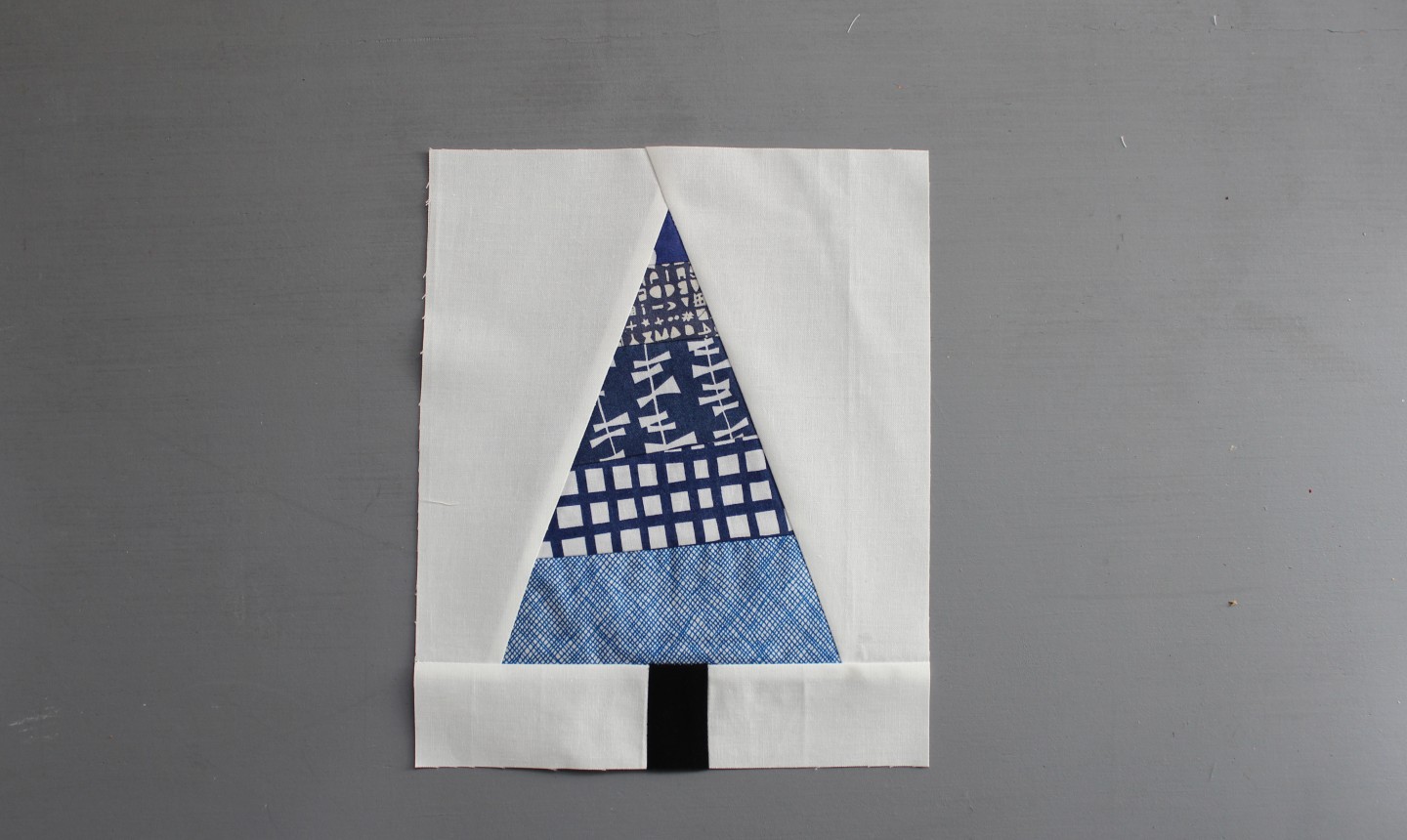 Center the tree stump under the tree. Place the fabrics right sides together and stitch using a ¼" seam allowance. Press the seam away from the tree.
Trim the block to 8″ wide x 10½" tall and press. You can use this finished block as a template to make others, or make it the centerpiece of a larger project.
Photos by Marni Weaver.
Sours: https://www.craftsy.com/post/scrappy-christmas-tree-quilt-block/
Quilt tree modern christmas
Modern Christmas Tree Quilt Block
'Tis the season for Christmas sewing projects.
No matter how you use them, these modern tree blocks are a festive addition. Quick projects you can sew in batches keep us coming back for more.
The modern tree block would work well for pillows and table runners in addition to quilts. Only have time to make one? Create a mug rug for a holiday desk accessory.
Employing a variety of shapes and sizes in the trees yields extra scrappy charm. We love the notes included in the free tutorial about keeping the scale and contrast of your fabrics in mind.
The fabric requirements for each pair of Christmas tree quilt blocks are:
Two squares 8 1/2″ x 8 1/2″
Two strips 2″ x 8 1/2″
Two brown pieces 1 1/2″ x 2″
Modern Christmas Tree Quilt Block
Be sure to search #holidaypatchworkforest on Instagram for more holiday tree quilt inspiration. The variety of colors used for Christmas with leave you inspired!
Find more Christmas Inspired projects in our library here.
Sours: https://sewingwithscraps.com/modern-christmas-tree-quilt-block/
MODERN CHRISTMAS TREE INSPIRED- FLOATING TREE - DIY IDEAS - decor - LOOK FOR LESS - HOW TO TUTORIAL
They turned Yulka over again. Now she was lying with her back on Max, booty on his dick and my friend squeezed her breasts, and I, putting the. Girl's legs on my shoulders, tyrannized her pussy with a dick. Max and I finished, filling Yulka with our sperm and our Tetris disintegrated.
Now discussing:
With closed eyes. There are circles before the eyes. I feel like an animal at such moments. I lick my female.
1533
1534
1535
1536
1537