The Metabo HPT 36V MultiVolt 7 1/4″ Dual Bevel Sliding Miter Saw Review

Manufacturer: Metabo HPT

Model number: C3607DRAQ4

Price: $1249.00

Power source: 36V MultiVolt Batteries or Corded AC Adapter

Weight: 34.0 Lbs. Bare Tool
This tool review takes an in depth look at the new Metabo HPT 36V MultiVolt 7 1/4″ miter saw model #C3607DRAQ4. For years Hitachi produced high quality dual rail sliding miter saws that were manufactured in Japan. Metabo HPT took over that lineage and gave it a high tech upgrade. The new 36V MultiVolt cordless sliding compound miter saw combines exceptional build quality, with advanced electronics and technology, as well as professional grade features.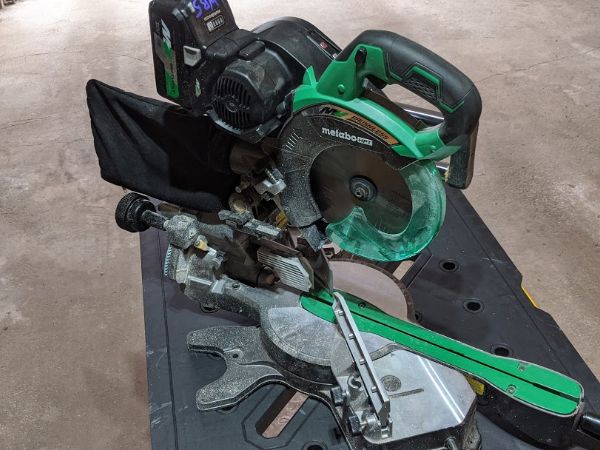 This saw is a flagship for the Metabo HPT 36V MultiVolt line of cordless tools. After spending time with it during testing and field use, I can see why. The MultiVolt miter saw fits many niches of the construction industry.
Specifications:
Voltage: 36V
Battery Type: 36V Lithium Ion Slide-Type
Arbor: 5/8″
Blade Diameter: 7 1/4″
Blade Placement: Right
Bevel Angle: L 45° / R 45°
Miter Angle: L 45° / R 57°
Cut Capacity at 90°: 2 9/32″ x 12 13/64″
Cut at 45° Miter (L/R): 2 9/32″ x 8 37/64″
Cut at 45° Bevel (Left): 1 17/32″ x 12 13/34″
Cut at 45° Bevel (Right): 5/8″ x 12 13/64″
Cut at 45° Miter/Bevel (Left): 1 17/32″ x 8 37/64″
Cut at 45° Miter/Bevel (Right): 5/8″ x 8 37/64″
No Load Speed: 4,000 RPM
Weight: 34.0 Lbs. (Bare Tool)
Warranty: 5 Year (Tool Body)
Features:
MultiVolt system comparability with the Metabo HPT AC Adapter Kit
Brushless motor offers increased power, run-time, and maintenance free durability
4-Point ball contact on the the rail system to ensure smoothness and accuracy
Twin belt drive system reduces noise and vibration. Approximately 10 dB lower than other saws in it's class.
Tool-On twin adjustable LED lights to illuminate the cut surface
Constant Speed Control-adjusts cutting speed and torque during cutting
Cut Capacity-Capable of cross cutting 2X12 framing lumber
Micro bevel adjustments for accuracy and precision
Zero Clearance Side Rails-gives the saw a compact profile and can be placed against a wall
Factory miter detents at 0, 15, 22.5, 30, and 45 Degrees
Adjustable splinter guard
Adjustable red laser on the rear of the saw can be set up for left or right of the blade as well as the width of the laser line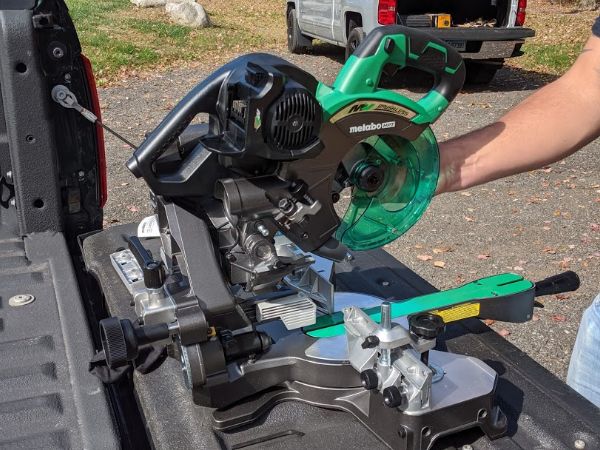 Standout Features of the MultiVolt 7 1/4″ Miter Saw
Several features stood out to me during testing as truly excellent and geared towards a professional end user. The first is the micro bevel adjustment system.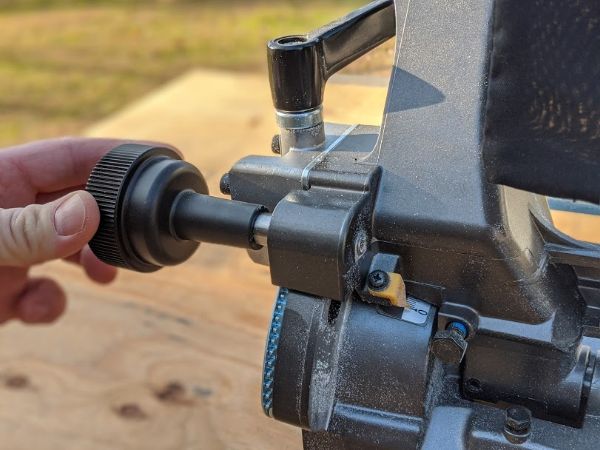 This over sized knurled knob is used to precisely dial in your desired bevel angle. The knob is intuitive and responsive to use, and more importantly repeatably accurate. I verified this using a digital angle gauge. The angle gauge markings are also clear and easy to read from either side of the saw.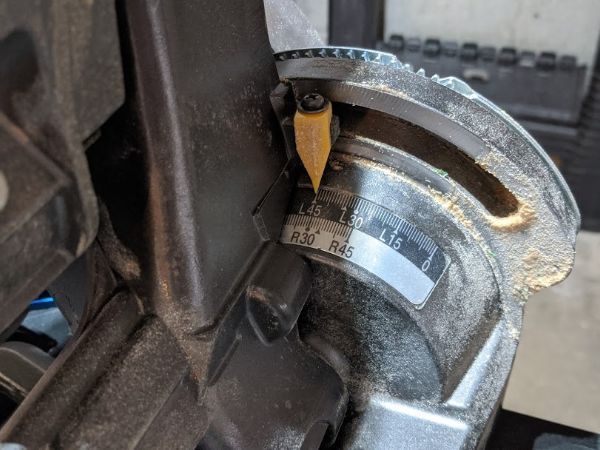 To stabilize the saw laterally, Metabo HPT designed a set of removable outriggers that slide into the sides of the saw's base. The outriggers act as small extension wings and include two manual leveling feet on each side. The ability to adjust these feet greatly helps to stabilize the MultiVolt miter saw.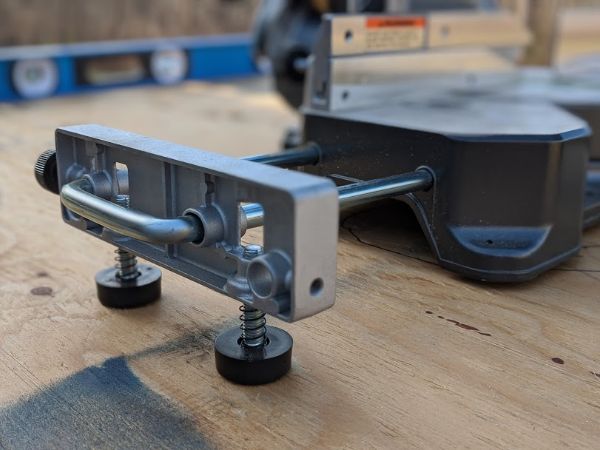 Metabo HPT designed a folding dado adjustment on the left side of the drive housing. This allows the MultiVolt miter saw to make dado cuts without changing the blade. Leave the tablesaw in the trailer! A folding riser lever is available for working with thicker materials beyond the reach of the manually adjusting depth guide.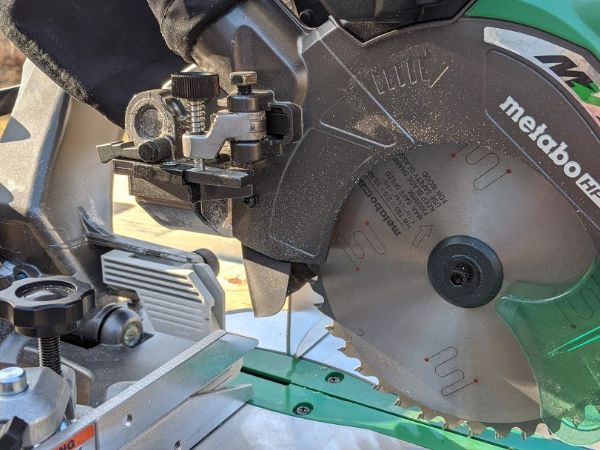 The adjustable dado attachment with optional folding riser. Pictured also is the light colored plastic adjustable splinter guard. The rubber dust collection boot worked well even when not attached to dust extraction.
The Metabo HPT C3607DRAQ4 Miter Saw Packs Big Power in a Compact Package
The overall compact size and power of the MultiVolt miter saw are hard to miss. At just 34.0 pounds as a bare tool it is easily carried with one hand and maneuvered in tight spaces. The twin front rail design is smooth and accurate and allows the saw to be easily stored or set up in confined spaces like a hallway or closet.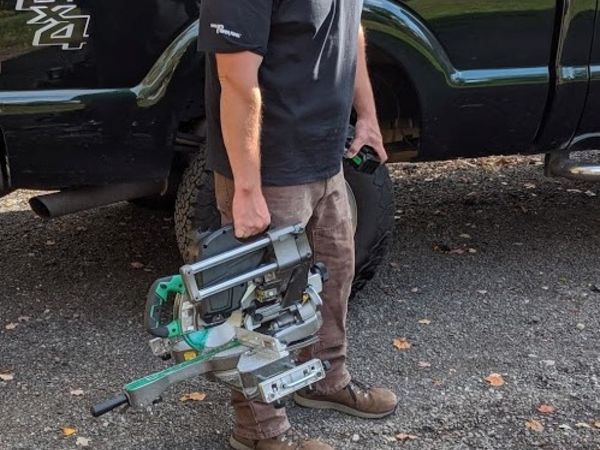 To power this green little beast, Metabo HPT did some weird science stuff and gave the MultiVolt miter saw droves of unrelenting, yet quiet and smooth power. By using a twin belt driven system Metabo HPT limited felt vibration and also lowered the decibel output on the saw. In hand the MultiVolt miter saw is smooth to cut with and comfortable to the ear.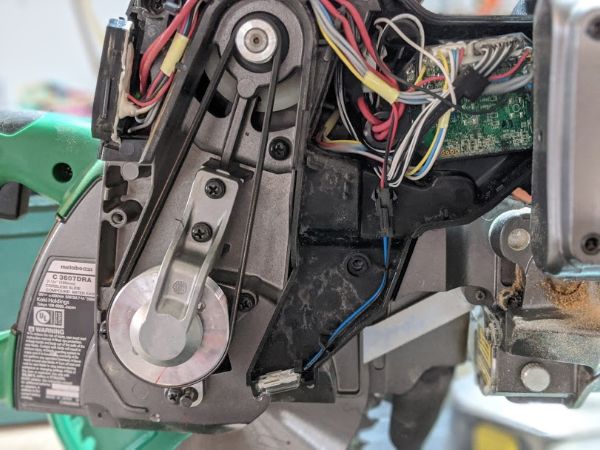 The inner workings of the belt drive system and flashy bits. The second smaller belt is housed on the opposite side behind the blade.
The belt drive system uses splined wheels as torque multipliers. This is all works in conjunction with Metabo HPT's constant speed control system that automatically adjusts  blade speed and torque based upon demand. During testing I was able to cross cut 2×10 LVL framing lumber with no felt vibration, slowdown, or bogging down. This system is similar to the technology used in their MultiVolt 7 1/4″ Circular Saw which we previously reviewed.
Speaking of Power
Metabo HPT advertises the MultiVolt miter saw as capable of performing approximately 500 cuts through MDF material on a single battery charge. I chose to test the saw's capability on framing lumber. On a fully charged 4.0 Ah 36V MultiVolt battery, the saw performed 188 crosscuts of 2×8 lumber at 90 degrees.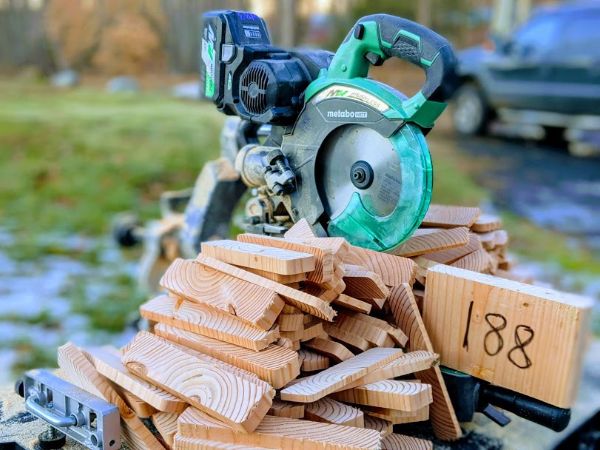 It is worth noting that the test was performed in an unheated work space with the temperature just above freezing mark. In a more optimal setting the saw may have performed even more cuts, but this represents real world working conditions of winter in New England. This was an impressive showing regardless by the Metabo HPT MultiVolt saw.
LED Work Lights and Laser
The MultiVolt miter saw includes a well thought out LED work light system. A bright white LED light is loacted on either side of the saw blade housing. These lights project down onto the work surface to give a very clear picture of what you are cutting. The lights are also selectable. By cycling through the light control button on the top of the saw I was able to chose both lights on, or left, and right separately.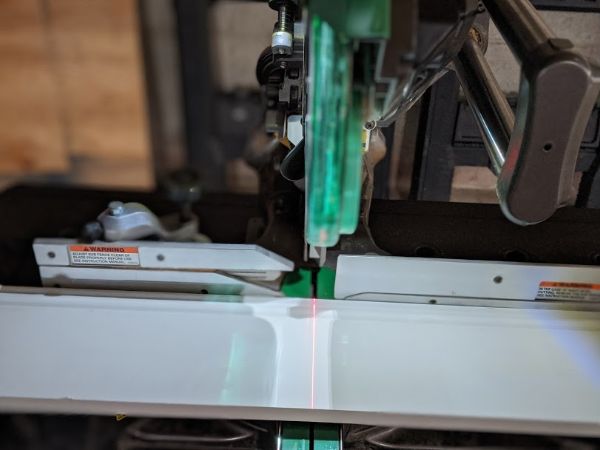 A red laser cut guide is also included. The laser is very bright and came accurate out of the box. The laser has built in adjustability to allow the user to select left or right of the blade and also the thickness of the projected beam.
Metabo HPT 36V MultiVolt Miter Saw's Accuracy
To gauge the saw's accuracy out of the box, a set of precision measurement tools were used.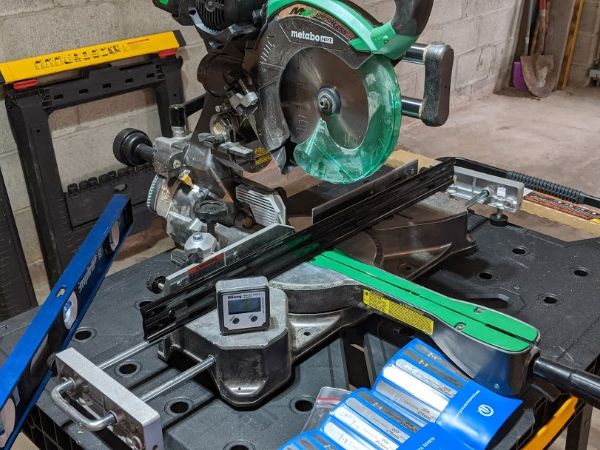 Digital angle gauge, calibrated straight edge, squares, and feeler gauges. All used to gauge the saw's out of box accuracy.
Straight from the packaging, the base of my saw was accurate within .0015″. However the rotating table dropped by .007″ which would need to be accounted for while setting up materials for a cut. This variance in the two base heights is common amongst most miter saws.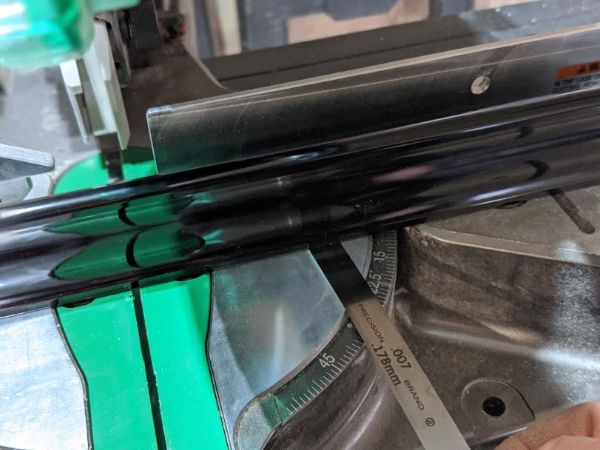 This difference in base heights did not affect the 90 degree accuracy of the saw. I was therefore able to achieve accurate cuts out of the box. The factory provided 24 tooth general purpose blade from Metabo HPT yielded good quality results. I am confident that a higher quality replacement blade would result in even greater degrees of accuracy.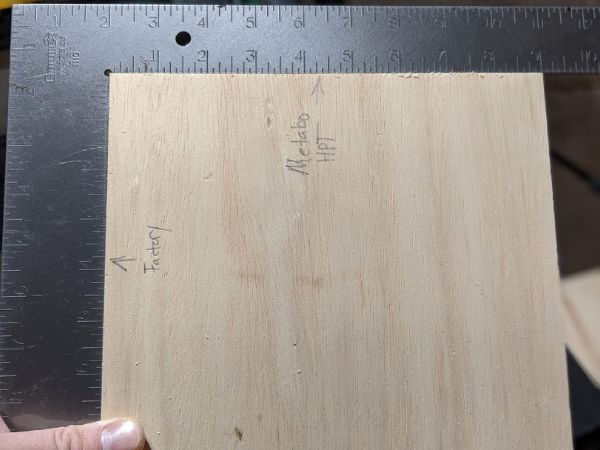 A 90 Degree test cut made through a piece of 1/4″ plywood and checked using a Empire square.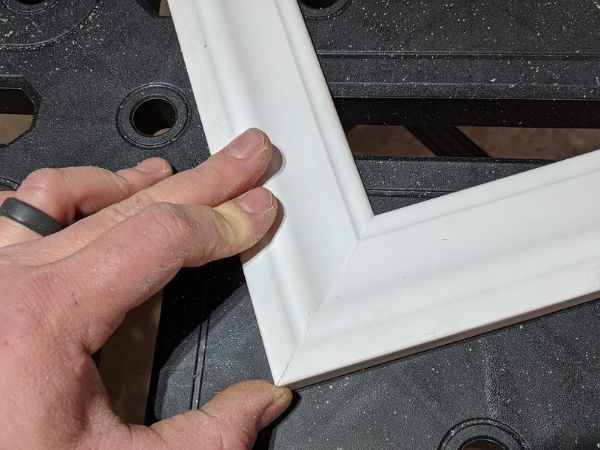 A simple 45 Degree miter test cut using outdoor PVC casement.
Adjustable Fence on the Metabo HPT MultiVolt Miter Saw
One issue encountered was the design of the fence on the MultiVolt miter saw. The fixed lower portion of the fence was close to square out of the box on my testing saw. The right side showed a slight variance resulting in a .002″ gap on the inner portion.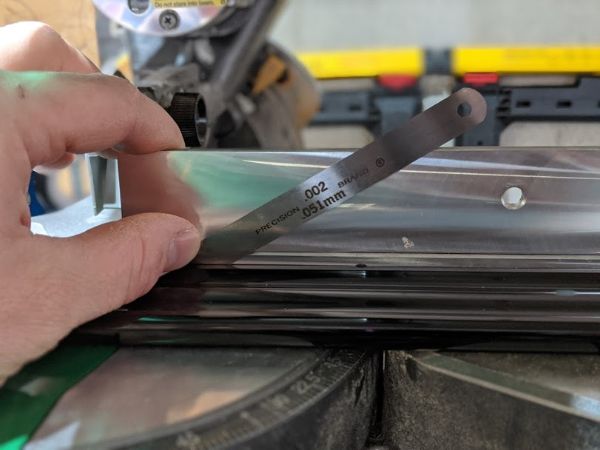 The upper sliding portions of the fence use threaded thumb screws to secure themselves in the track. When tightened, the upper half tilts itself backwards creating a gap between it and the material you are cutting. This results in a loss of accuracy for taller pieces of material. Such as moldings stood upright and placed against the fence.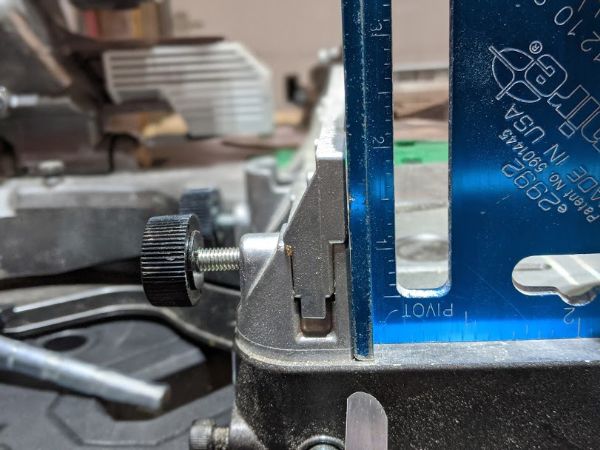 Miter saw accuracy is one of the top concerns for many professionals working in the carpentry trades. However, there are varying degrees of acceptable accuracy among many of the trades as well. By knowing these acceptable tolerances you can decide for yourself if this level of accuracy is acceptable.
Pricing and Availability of the MHPT C3607DRAQ4 Miter Saw
The premium features and exceptional build quality of this saw command a premium price. The MultiVolt miter saw is currently available for $1,249.00 as a bare tool. Our friends over at Acme Tools have it in stock. Follow the buy it now box to check one out for yourself.
This is a lot of money plain and simple. In fact, the price point places this saw as a bare tool close to that of top tier corded, full sized, miter saws. I think it is on the high side. I would love to see Metabo HPT bring it down slightly and place it in the sub $1,000.00 range to make it more competitive. However, doing so would likely sacrifice some features or result in relocation of manufacturing. A sub $1K saw would likely be produced in that country we all like to complain about so much. Some times you have to pay for principals.
Having used this saw and examined it closely, I would absolutely buy it again. The feature list combined with the portability and general handiness of the saw would recoup the added initial expense in my opinion.
Room For Improvement With the Metabo HPT MultiVolt Miter Saw
A couple of issues became present while testing the saw, causing me to not give it a perfect score. The base of the saw was the biggest one. The compact size and small profile results from Metabo HPT giving the saw a triangular base profile as opposed to a conventional square. The MHPT miter saw rocks forward very easily, especially when fully extended. This creates an unstable and therefore unsafe platform to work with.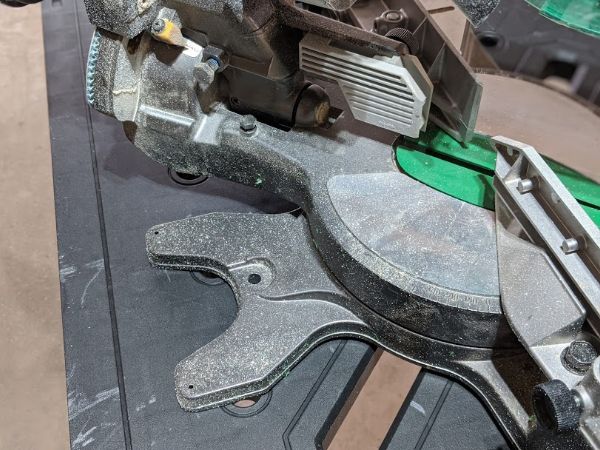 If secured to a bench with a clamp, the saw is then incapable of mitering as easily. By clamping the rear of the saw down at the point shown above, the miter table can not be turned without removing the clamp and then resetting it after reaching your desired position. Screwing it down is an option, but doing so sacrifices some of the portability and maneuverability of the saw.
How about a saw stand? Again, because of the triangular base conventional stand brackets will not work. Metabo HPT offers an adapter bar, but it is only available with their own miter stand. Taking the cost of the saw into consideration, the bracket should be included with the saw.
Who Would Benefit From Owning This Saw?
The MultiVolt 7-1/4″ miter saw represents one of the highest quality and well thought out tools that I have had the pleasure of working with. I think back to my days doing concrete form work in the heavy/highway construction world and this saw would have been a godsend. Common and readily available blade size, compact and lightweight design, repeatable accuracy, impressive cutting capability, powerful batteries or the option of a cord with the MultiVolt system.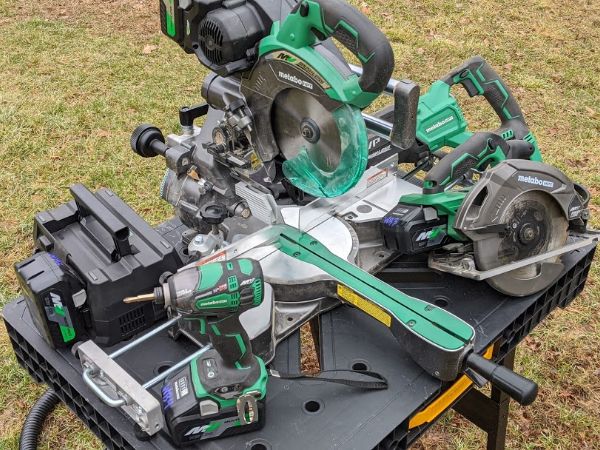 All of these traits add up to a saw that would make any form builder or industrial carpenter happy as hell. A remodeler looking for a small saw to easily store in their trailer or a flooring contractor looking for a saw to move from room to room while cutting hardwood flooring. Any of these trades would benefit from the Metabo HPT MultiVolt miter saw.
More importantly this is another offering from a great system of tools. Metabo HPT's continuing advances in the cordless tool world are something that we can all benefit from.
Metabo HPT 36V MultiVolt 7-1/4″ Miter Saw Video Review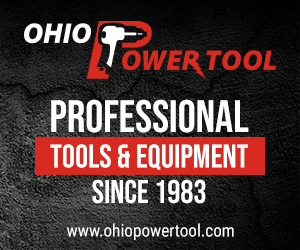 About the author
Wes Bartosik
Wes Bartosik is a Connecticut native with strong family ties to the construction world. Wes' father and grandfather both were builders and developers and taught Wes the values of doing things right from an early age and getting hands on experience with every facet of the construction industry. Wes apprenticed with a carpenter throughout high school and would later attend Central Connecticut State University earning a bachelor's degree in construction management all while working for a large excavation contractor throughout. Wes would go on to work for a local heavy-highway construction company and gain further experience with all the skilled trades associated with large civil engineering and utility projects. Though working as a manager now, Wes' true passion is working in the field alongside the tradesman and laborers on site. Wes has been involved in community based service projects throughout his life as well as emergency services. In his spare time he takes on serious DIY projects for himself, friends and family. He is a firm believer that with a quality tool in your hands and some grit, you can accomplish anything.
All posts by Wes »
Disclosure
Product reviews on this site contain our opinion of a product or service. We will always strive for objectivity and transparency in our reviews. Our goal is to provide readers with honest, objective information based on our own experiences. We never have and never will accept payment in exchange for a positive review. Many of the products that we review are provided to us for free by a manufacturer or retailer. In some cases, we also have advertising or affiliate relationships with manufacturers and retailers of products and services we review. For additional information please visit our additional disclosure policies.
Sours: https://www.toolboxbuzz.com/cordless-tools/metabo-hpt-36v-multivolt-7-1-4-miter-saw-review/
Metabo HPT MultiVolt 7-1/4″ Dual Beveling Miter Saw Sets High Standard for Accuracy
The Metabo HPT MultiVolt 7-1/4″ Dual Beveling Miter Saw (C3607DRAQ4) is designed for high-accuracy cutting. We're not talking about typical run-of-the-mill high accuracy. We're talking about the kind of precision Pros demand when working on fine detail trim and similar applications. In addition to our own thoughts, we brought in some outside perspectives to test these claims.
Pros
MultiVolt battery or AC powered
Rigid build
Super-smooth cutting action
Smooth zero clearance rail system
Outstanding accuracy
Lightweight and easy to carry around the jobsite
Cons
Smaller blade diameter limits cutting depth
Price puts it in the realm of high-end Pros
Recommendation
The Metabo HPT MultiVolt 7-1/4″ Dual Beveling Miter Saw is one of the best-built and most accurate miter saws we've had the pleasure of testing. That build comes with a premium price tag, but there are definitely some Pro users it makes sense for.
Buy it if your skill level and reputation are for high-end work. Pass if you don't need that level of accuracy or you need a deeper cut capacity.
Metabo HPT MultiVolt 7-1/4″ Dual Beveling Miter Saw Key Features
Rigid Build
As a highly accurate miter saw, Metabo HPT spent a lot of time focusing on how the build enhances accuracy. We'll go into more detail about some of these. For now, here's a quick breakdown of the highlights:
4-bearing rails make the sliding action smoother and more stable
Riveted connection to the rails instead of screws
Twin Belt Drive System keeps vibration to a minimum and reduces noise
The overall construction itself is very rigid. Compared to most miter saws, there's very little side-to-side movement. It's possible to force some, but you have to be intentional about it.
Power Source
As a 36V MultiVolt tool, the Metabo HPT MultiVolt 7-1/4″ Dual Beveling Miter Saw can use either a battery or AC adapter for power. The MultiVolt battery is compatible with other 36V MultiVolt tools and 18V tools from Metabo HPT. They also work in any Hitachi 18V tools from before the name change.
Laser and Light Show
When you're lining up your cut, you have a laser to work with. Just hit the laser button on the top to turn it on. You can adjust it left, right, or dead center to customize it to the way you want to cut.
The LED lights aren't there to cast a blade shadow—they're about seeing your cut clearly. Having LEDs on both sides ensures that the shadows there aren't so dark that they hinder your ability to see. When you hit the button to turn them on, the first click turns both on, the next cycles to the right only, then the left only, and finally back off.
Splinter Guard
Just below the blade and between the fences, you'll find a splinter guard. Loosen the knob and pull it forward when you need it. Push it back out of the way when you don't.
Weight
Weight doesn't usually fall into the "Key Features" section of our miter saw reviews, but it's worth pointing out with this model. The Metabo HPT MultiVolt 7-1/4″ Dual Beveling Miter Saw weighs just 34 pounds (36 with a battery). With the handle on the top, it's possible to carry it one-handed to wherever you're setting up. It's also easy to move around the site as you finish one section and move onto the next.
Additional Features
Zero clearance rail system—set the saw right up against a wall
Pitch markings on the left side of the miter scale
Brushless motor
Electronically adjusted Constant Speed Control
Metabo HPT MultiVolt 7-1/4″ Dual Beveling Miter Saw Performance
Capacity
Considering this is a 7-1/4″ miter saw, Metabo HPT gives you a pretty solid cut capacity. You're looking at a maximum depth of 2-9/32″ and slide cut of 12-13/64″.
For beveling, you have 45º max to work in both directions. You can miter 45º left and 57º right. You have miter detents at the standard positions: 0º, 15º, 22.5º, 30º, and 45º.
When you move to a 45º bevel, the depth decreases to 1-17/32″ on the left and 5/8″ on the right.
The maximum length of your cut moves to 8-37/64″ at a 45º miter.
The major limitation is the lack of cutting depth compared to a 10″ or 12″ miter saw and that's an intentional call on Metabo HPT's part. Even though you might not be able to stand larger crown up against the fence to cut it, the smaller blade has nowhere near the blade wobble of larger saws. Since accuracy is the story of this model, it's hard to disagree with the call.
So Smoooooooooth
To get an idea of the performance of the Metabo HPTC3607DRAQ4, we started by making some test cuts in treated and untreated 2x pine before moving onto more traditional trim materials. The results were eye-opening.
There are very few miter saws I've used that reach into the upper tier when it comes to how smoothly they cut. Makita does a great job with their direct drive system and Skilsaw's worm drive miter saw is a cut above the norm.
Metabo HPT goes for a twin-belt system and it is butter smooth. It's very close to how smooth Makita's miter saws are with a couple of advantages over a direct drive. First, it has a slower ramp up, eliminating that upward bump action that accompanies fast blade acceleration.
The bigger advantage is that a direct drive slowly wears down its gears, leading to a loss of accuracy over time. You'll need to replace the belts in the Metabo HPT MultiVolt 7-1/4″ Dual Beveling Miter Saw from time to time, but that's much easier and less expensive than a gear job.
The system also has plenty of muscle to keep its 4000 RPM no-load speed high through your cut. Most of the time, you're cutting thinner materials, but when you do have a more challenging hardwood cut, you can still make it with high accuracy and no burning. Just make sure you have a sharp blade and the saw will handle the rest.
Metabo HPT C3607DRAQ4 Accuracy
Metabo HPT calibrates each of these saws before they leave for distribution and the quality of the build helps it hold that accuracy longer than other miter saws. Still, you should check the calibration when you get it. On those jobs you need the highest accuracy, go ahead and verify the accuracy each day.
When we checked the alignment across the table and the fences, most of it was perfectly square. Only the right side bottom and top fences had a sliver of light between them—just enough to slide a sheet of paper through.
The Metabo HPT C3607DRAQ4 notably includes a micro bevel adjustment knob. That's something most you typically see on high-end models like the Festool Kapex, though Metabo HPT (as Hitachi) did it before on their 12″ C12LSH.
If you haven't used one before, just partially loosen the bevel lock until you can move the blade angle but the lock still holds the position. Once you turn the knob to the precise angle you want, lock it back down and cut.
Assuming your calibration is good, this miter saw is capable of perfectly accurate cuts—emphasis on perfect. It's a saw that relies on being the sum of its parts. The rigid design, smaller blade diameter, and belt system along with the miter and bevel adjustments all work together to achieve consistent and long-lasting accuracy that you don't see on most other models.
Metabo HPT C3607DRAQ4 Price
There's no getting around the fact that the Metabo HPT MultiVolt 7-1/4″ Dual Beveling Miter Saw is expensive. This level of accuracy will set you back $1249 at Acme Tools and other retailers. That price does not include a battery/charger kit or AC adapter.
In terms of value, it's about time and material savings. This is a miter saw that has the capability of giving you accurate cuts the first time. If you're in a constant struggle against wasted material and time from recutting or callbacks, it can make up for the cost quickly.
The Bottom Line
The Metabo HPT MultiVolt 7-1/4″ Dual Beveling Miter Saw is one of the best-built and most accurate miter saws we've had the pleasure of testing. That build comes with a premium price tag, but there are definitely some Pro users it makes sense for.
Buy it if your skill level and reputation are for high-end work. Pass if you don't need that level of accuracy or you need a deeper cut capacity.
Metabo HPT MultiVolt 7-1/4″ Dual Beveling Miter Saw Specifications
Model: Metabo HPT C3607DRAQ4
Power Source: Metabo HPT MultiVolt battery or AC adapter
Blade Diameter: 7-1/4″
No Load Speed: 4000 RPM
Bevel Range: 45º left and right
Miter Range: 45º left, 57º right
Max Cut Depth: 2-9/32″
Max Cut Length: 12-13/64″
Weight: 34.0 pounds bare
Warranty: 5 years
Price: $1249 bare
Sours: https://www.protoolreviews.com/metabo-hpt-multivolt-7-1-4-dual-beveling-miter-saw-review/
Nathan Rinne
Owner
Rinne Trimcraft | Eldon, Mo.
Opinions, scientific analysis, andblind brand loyalty are all tossed about on the interwebs when trying to decide what miter saw is "the best." 
A framer may not be concerned about 1/16" or even an 1/8" of play in a slider, but because my work is highly visible, I aim to have everything as tight as possible. 
One area where accuracy lacked for me in the past was cutting stair and deck posts: My 12" slider only had the capacity to cut a nominal 4x4 in one pass, and given its rather weak arbor flange, the blade always seemed to deflect a bit in harder woods. The drift in my 12" slider was never more apparent than when I had to flip a post several times to cut it. No matter how dialed in my saw was, and even marking lines all the way around, I'd end up with an ever-so-slight hump from my blade taking just a hair more on any given side.
I had often heard about a 15" Hitachi miter saw that was popular in the '80s and '90s before the slider became standard. (Note: Hitachi Power Tools was renamed Metabo HPT in 2018.) It has quite a fan base online, and I ended up buying an almost-new one from Facebook Marketplace, for less than half the list price.
Upon seeing and touching it, I could easily see why it's typically $1,000 or more. In all my years on jobsites, I have never seen a miter saw built like this. The arm is a massive bit of metal with cast webbing, and every single nut, bolt, and screw is Grade 8 with heavy threads—commonly available hex head bolts, should you need to replace one. The arbor flange is so thick and large that it acts as a blade stiffener, preventing blade deflection at its source. The blade guard is a bit clunky, but there is a thumb-actuated lever that can be easily pushed to lift the guard out of the way when preparing a cut. The included extensions are (surprise) robust and include a stop that can be used on either side. 
Accuracy
Part of what makes this saw so dead on is the fixed blade, resulting in no bevel cutting—just a good, old fashioned chop saw. With fewer moving parts and no room for operator error, you can dial it in perfectly and get reliably consistent cuts. 
When I cut several stair newels the following week that were true 6x6s—thus a real test of the saw's accuracy, as they were just barely past its capacity—every single post came out square in all directions as well as perfectly flat (no hump), even though I had to flip them each once to finish the cut. The first cut actually pierced the bottom but left about ¼" on both sides. Were it not for the oversized arbor flange, the saw would actually cut all the way through, as the flange hit the top of the post long before the guard would have. 
Dust Collection
The dust port is huge. It took a bit of rigging to make something fit, but with my Bosch 300 cfm extractor, I was pleased with how much dust made it to the chute. The port placement and the oversized guard are more than ample.
Some people complain about the weight of this saw, but it's really no heavier than a 12" slider at 55 lbs. 
Worth noting: The capacities listed online are wrong. Everywhere I looked, it said 43/4" max cutting height, but I used it to cut 8" base standing up, 73/4" crown nested, and a post that is 53/4" square without hesitation.
Sours: https://www.proremodeler.com/pros-picks-hitachi-now-metabo-hpt-15-miter-saw
36V Metabo HPT Sliding Miter Saw Unboxing and Set Up
Two Innovative Metabo-HPT Circular Saws
By Robert Robillard on Remodeling

Metabo-HPT Circular Saws
By Ralph Mroz
The Metabo HPT18V Brushless 6-1/2″ Deep Cut Circular Saw (C18DBAL) and 36V Multi-Volt Brushless 7-1/4" Circular Saw (C3607DA) both represent significant advances in cordless saws, for different reasons.  We look at both here.  But for context let's first straighten out the confusion around the Metabo HPT name and then provide an overview of their battery platforms.
Who is Metabo HPT?  What Happened to Hitachi?
If you own or are interested in Hitachi power tools, you may have been trying to follow all the twists and turns of the brand.  Well, suffice to say that high finance happened, companies were restructured, corporate assets were bought and sold, and money changed hands.  But the way it all shook out is that what used to be Hitachi Power Tools will now be known as Metabo HPT in North America and Hikoki in Europe and Asia. The transition will be completed in 2020.  All of the old Hitachi model numbers will stay the same.
Don't be confused by the name "Metabo" in the "Metabo HPT" name — it's there as a remnant of one of the corporate shuffles that occurred.  Going forward, Metabo HPT will be a completely separate company from Metabo — they won't share batteries or have tools in common. In fact, they serve two different primary markets: Metabo the industrial metal fabrication market and Metabo HPT the construction market with an emphasis on carpentry.
Now, Metabo, Hikoki, and Metabo HPT tools are all green and often look similar, but don't confuse them.  If you're in North America and in construction, Metabo HPT is the brand you want, and "metabo-hpt.com" is the correct website.

Innovative Voltage Platforms
If you're not familiar with the Metabo HPT (or the old Hitachi) battery platforms, let us clear that up for you since this can also be confusing and there's real interesting stuff happening here.
Metabo HPT corded tools come in one of two voltage flavors: 18 volts or 36 volts.  The 18-volt batteries work only with Metabo HPT (or older Hitachi) 18 volt tools.  The 36-volt batteries are called "MultiVolt" batteries and the 36-volt tools they work with are called "MultiVolt" tools.  The reason they're called "MultiVolt" is that these batteries actually deliver 36-volts in MultiVolt tools and also 18-volts in older 18-volt tools (with twice the amp-hours that they deliver in 36-volt/MultiVolt tools). Said another way: Metabo HPT 18-volt batteries work only in Metabo HPT 18-volt tools but not in Metabo HPT 36-volt/MultiVolt tools.  But the 36-volt/multi-volt batteries work in both 36-volt/MultiVolt tools, and in 18-volt tools with twice the run time.
Currently MultiVolt batteries are available in only four amp-hour models (which means they deliver eight amp-hours in 18-volt tools).
Metabo HPT MultiVolt AC Adapter
So far, so good.  But there's one other important factor, and that's the MultiVolt AC adaptor.  This consists of a converter that's about the size of three cigarette packs, and a tool interface that looks just like a MultiVolt battery, which slides into a MultiVolt battery slot on the tool.  The whole thing is 20-feet long (the cord from the AC plug to the converter is six-feet, while the cord from the converter to the tool is 14-feet).  This AC adaptor works with all MultiVolt (36-volt) tools, but is not compatible with 18-volt tools.
Fortunately no battery or interface can mate with any tool that it's not compatible with, so you don't have to remember what's compatible with what.   While MultiVolt batteries can plug into 18-volt tools, the MultiVolt AC adaptor cannot.  And 18-volt batteries cannot plug into 36-volt/MultiVolt tools.  So there's no chance you'll ruin a tool by using the wrong power source.
Now on to the innovative saws.

Metabo HPT MultiVolt 7-1/4 inch Cordless Circular Saw
The MultiVoltAC adaptor on this saw is a big deal.  With it you can run this saw in corded or cordless mode (which both provide the same power to the blade).  This makes enormous sense for tools used at a station, either in a shop or at a job site. For much framing and even trim work you often set up a cut station near the stock pile, and run the cut-to-length members out to the installation locations.  Even if you move a jobsite cutting station every few hours, you can still benefit from the convenience of not swapping out batteries or worrying about depleting them.  And if you need to use the saw at another location for a few cuts, then you just pop in a battery and off you go.  This is huge: you have the best of both worlds.  All cordless tools should have this capability.
Metabo HPT 7 1/4″ Saw Specifications
As far as the saw itself goes, here's the main specs:
Brushless
Electric brake stops blade rotation in about a second
Soft start (I found less than a second to full RPM)
Cut capacities: 1-7/8-in at 45 degrees and 2-7/16-in at 90 degrees
Heavy duty aluminum base
On-tool blade wrench storage
Bevel scale stops at 0, 45 and 55 degrees
Comfortable over-molded grip
Built-in cut-line LED light
Flat motor housing (making blade changes easier)
9.7 lbs with battery
4-Stage battery gauge
Protection circuit in the battery, preventing over-load, over-charge and over-discharge
MultiVolt battery charges in 52 minutes using the UC18YSL3M charger

Quiet mode
This saw features what Metabo-HPT calls a "silent" mode, which is really a reduced noise mode.  It reduces the RPM from 4300 no-load to 2000 no-load, and if the load requires it the saw will automatically switch up to normal speed.  I've seen comments that question the need for such a feature, but I've seen it.  If you're working in an occupied residence or office building the people living or trying to work there will appreciate any reduction in noise.  If you don't like this feature, just don't turn it on.

Standard tests
Besides normal use, I tested the saw on four standard materials with the factory 24-tooth blade (a better blade would turn in even better performance).  On 5/8-inch OSB it cut as fast as I could push the saw, which is way faster than is safe.  Ditto with 2x KD stock.  On rip cuts on both 4×4 PT and 4×4 oak, which entailed full-depth blade cutting, I could cut as fast as I could hold a line.  On these typical materials the saw had all the power I could want.
The saw was comfortable to hold, use and operate, and bevel and cut-depth adjustments are easy to make. The squareness of the base plate to the saw can be adjusted if it ever goes out of perpendicular with an easy to access hex nut.  Since it came factory perfect, I think I'll just Locktite it.  There were no operational factors that I didn't like or that were weird.
Bottom Line
The bottom line is that this is a solid performer in the standard 7-1/4 inch circular saw category, with nothing that I could fault. It was easy to use, full-featured, and powerful enough for all my normal carpentry needs (I don't timber-frame, but that probably calls for a 10-1/4 inch saw anyway).  When you add in the AC potential provided by the line-voltage adaptor, the saw acquires a whole other dimension of capability.  For that reason alone it should be in anyone's list of considered saws.

Metabo HPT 6-1/2 inch Deep Cut Circular Saw
This 18-volt saw is referred to as "deep cut" because it's configured so that the 6-1/2 inch blade cuts as deep or deeper than a traditional 7-1/4 inch blade.  In this case 2-19/32-inchs (at 90 degrees), compared to the 2-7/16 (or 14/32) inch cut depth of the 7-1/4 inch saw above. Pretty amazing…and this feature allows this compact saw to be used in applications where traditional 6-1/2 inch saws won't do the job.  Which is also kinda a big deal.
Metabo-HPT 6-1/2″ Circular Saw Specifications
Brushless
Soft start & electric brake(about one second each to ramp up and stop)
Fan cooled motor
Overload and overheat protection
-5 Degree to 45 degree bevel
Soft overmold grip
8 lbs with battery
4100 no-load RPM
Aluminum base
Max 45-degree cut of 1-13/16-inch
"Silent" (reduced noise) 2000 RPM mode option, as above
LED cut-line light
On-board hex wrench
Standard Tests for the Metabo-HPT Circular Saws





As before, in addition to normal use I tested the saw on four standard materials with the factory 24-tooth blade.  On 5/8-inch OSB it also cut as fast as I could push the saw.  With 2x KD stock and rip cuts on 4×4 PT, I could go as fast as I could hold a line.  Only on 4×4 oak rips did I have to slow down to about 75% of the speed at which I could hold a line.  That's hardly a dig on the saw though, since it wasn't designed for production cutting of heavy materials.
A Necessary Niche Saw
Where this saw shines is in its ability to be to easily carried to inconvenient areas where something needs cutting, and to do a proper job of it once there.  Up on a roof, in a crawl space, in a closet (or any cramped space), under a cabinet, and so on.  Because of the "silent" mode, this would also be the saw I'd want to use in an occupied building on small pieces (molding, trim, etc.) where I wanted to keep the noise as quiet as possible. Unless 6-1/2 inch saws are your usual go-to this is a niche saw, but one that will certainly find regular use. It fills that niche very well.

Not criticisms, but unusual with this saw:
The bevel angle setting requires both a front lever flip and a rear screw losing/tightening, which actually makes the bevel set more secure than a single front lever.
To set the -5 degree bevel requires a spring-loaded lever to be flipped. It might be possible to forget it and possibly think the saw's at -5 when it's at 0, or vice versa.

Improvements – but not with the saws
I really didn't find anything not to like about either saw.    There are a couple things though, not related to the saw itself, that I would ask Metabo-HPT to consider.
The dust collection attachment doesn't come with either saw, and the rip guide doesn't come with the 7-1/4 inch saw.  It's kind of a pain to have to track these down and order them separately.  Also neither saw comes with a case.  I realize that not many tools do these days, but most of us don't like our tools rattling around all naked in a truck.  This 7-1/4 inch saw in particular, with its AC adaptor, really could use a good purpose-fitted case.  In fact one area in which any manufacturer could differentiate itself these days is in well thought out tool cases to accompany their tools.  I do realize that they would increase costs, but I find myself buying or retrofitting cases for most of my tools anyway.
Finally, the manuals, while written well enough, could be improved by better graphic layout and better figures.  This isn't a big deal until you need to look up some odd thing that you need to do or adjust.
If you enjoyed this post, make sure you subscribe to my RSS feed!
Sours: https://www.aconcordcarpenter.com/two-innovative-metabo-hpt-circular-saws.html
Hpt saw metabo
It looks Metabo HPT has a new 12-inch compound miter saw, model C12FDHB.
This is a non-sliding miter saw with miter range of 52° left and right, and double bevel range of 48° to the left and right.
The new Metabo HPT C12FDHB has a different design compared to their other 12-inch miter saws, with the motor on the right side and angled to the rear, and there is also a big new feature – an Xact Cut LED Shadow Line System.
In case you're not yet familiar with LED shadow line systems, there are usually LED emitters that shine a light along both sides of a blade. As the blade is brought closer to the work material that's to be cut, the blade casts a shadow of exact width of its kerf. This allows for accurate cut line positioning. Unlike lasers, there is nothing to ever calibrate, and the cut line indicator should always match the width of the blade.
If you need help visualizing this, imagine that you're standing outside with the sun overhead. Your body might be casting a shadow of different sizes in different directions, but what about your foot? Raise you foot just off the ground, and the size of the shadow should perfectly match your footwear.
This looks to be Metabo HPT's first corded or cordless miter saw with an Xact Cut LED shadow cutline guidance system.
Metabo HPT C12FDHB Miter Saw Features & Specs
15A motor
12-inch blade size
4,300 RPM
7-3/32″ cutting depth
7″ sliding fence
Miter range of 52° left and right
Bevel range of 0-48° left and right
Weighs 44 lbs
Price: $350
Buy Now via Amazon
Buy Now via Acme Tools
Discussion
Metabo HPT also has an older 12-inch double bevel model ($249 via Amazon at the time of this posting), and a 12-inch sliding miter saw ($369 via Amazon), both equipped with laser cut line positioning systems.
The new miter saw looks similar in styling to Metabo HPT's 10-inch model (C10FCGS, $102 via Amazon), but there are many differences, such as with the sliding fences, miter adjustment lock, and motor design, to say the least.
This looks to be an interesting new offering, and I'm happy to see Metabo HPT come out with a new shadow cut line guidance system. Hopefully a similar feature is added to their future miter saw redesigns.
Sections: New Tools, Saws, WoodworkingTags: miter sawsMore from: Metabo HPT
Sours: https://toolguyd.com/metabo-hpt-c12fdhb-miter-saw/
METABO MITER SAW REVIEW!
And he finished three times. It's enough for the first time. There is still a whole tomorrow ahead.
Similar news:
Her mouth. Ksyusha tried as best she could to please her teacher, she sat down with her mouth on her legs with all her might and drove her hands along her shins from. Knees to ankles. Irina Sergeevna, unable to withstand such pressure, began to violently end. The screams were probably too strong, since there should have been practically no one at the school by this time.
15147
15148
15149
15150
15151