The Union Contact Pro is one of those bindings that often get recommended to riders that love the park or want a mellow smooth, buttery cushy binding. It isn't without faults but it is often one of the top the bindings we recommend in this category.
The 2020 Union Contact Pro is pretty much the same as the 2019 except it received a hand me down ankle strap from the Union Strata. This makes it more supportive than the old super thin ankle strap while still giving it a lot of freedom of movement.
Days:  Many over the years.
Riders:  James (Size 9, 5'10" 185-195lbs) and most of our crew.
Boots: Adidas Tactical ADV,
Insoles: Sandsole Custom Insoles
Boards: Gentemstick Mantaray 156, Loaded Algernon, Capita Mercury, Lib Tech Terrain Wrecker, Lib Tech TRS,  Capita Outerspace Living, Capita Ultrafear, Never Summer Proto Type Two, Yes Greats, Yes Jackpot, Never Summer Funslinger, Lib Tech Box Knife,
Highback Flex: Pretty mediumish when pulling it back but the Capita Contact Pro has a very easy twist characteristic of many union bindings.
Binding to Boot Adjustability: So you don't have an adjustable gas pedal/toe ramp but you do have an adjustable heel loop so you can get most boots in the size range to center up pretty well in the binding which some bindings don't allow you to do in all sizes. It's missing tooless adjustments which is nice to have but you can rotate the high backs, forward lean and all those things you would expect from a good snowboard binding.  Also, the ankle strap/heel loop screws don't come loose anymore and haven't for the last few seasons since they updated the washers.
Stance Width Adjustability: Because of the Union Contact Pro's mini-discs, the bindings can set up pretty close to any stance width you want.
Comfort: From the way the high back twists and resists biting into your calves to the footbed that fits most boots the Contact Pro is pretty comfy. No binding can be comfortable for every foot but this try's pretty hard. The ankle strap is pretty comfortable if you don't over crank it down. If you are someone who does you might feel the harder plastic bite into the boots. We say that you shouldn't crank down any ankle strap too tight as it's bad for your feet but some just can't break the habit. If you are one of those there won't be any binding that will work for you as each one will cause more pain over time to the point where you will have to get a new binding.
Boot Support: Sooooooo much more support than the past pencil-thin ankle strap that the 2019 and older Union Contact Pros had. There is still some freedom of movement but now riding in uneven terrain will be massively better than before. I like the current straps but if you don't there are often other options here.
Turn Initiation/Response: Very smooth response that isn't as sharp as the Atlas or Force but still more responsive than you would think for a binding like this. What is cool about the Union Contact Pro is it can match up well with a super-easy turning soft park ride or a medium-stiff all-mountain ride.
Buttering: The mini-disc is pretty much the only point of contact with the Union Contact Pro on the board. The rest is a pretty soft/cushy EVA foam so it helps the board flex naturally underfoot and it's a great choice for those that like to butter. It does take all that EVA foam a little bit to break in and when they do the screws will stop coming loose but that is pretty annoying at first. For us, it's not a deal-breaker as we find there is always something with any binding that's annoying so it just comes down to what you can and can't tolerate.
Ratchet System: Very smooth and reliable.
Shock Absorption: Lot's of EVA foam from throughout the base plate that makes slow speed shock absorption excellent and it also works well going bigger. It also rides really damp at higher speeds but isn't quite as damp as the Strata. I also like riding these in powder on easy turning boards like my Jones Mind Expander because the baseplates can absorb a good bit of shock. In the past, I would use the team ankle strap instead so it would have more support though. Now you can just use what it comes with.
So overall, the Union Contact Pro does a lot of great things so if this kind of binding appeals to you then we say give it a go.  I personally own 3 pairs of Superpro's which are very much like the Contact Pro Scotty Steven's model and use them any time I get on a mellow or park oriented ride.
The 2019 Union Contact Pro is a binding with lots of freedom of movement in the ankle, really good butter ability and super cushy shock absorption at a very reasonable price.
The 2019 Union Contact Pro is the same as 2018 except for these small changes:
The price dropped and it took over for the now discontinued Contact as the mid to lower priced option in the line.  The Strata took over where the Contact Pro used to be.
Union added a new washer to the ankle strap screws that keep them from coming loose. I've tested these on my Superpros and they work like they say they do.
So in 2019, you get a little better binding at a much lower price.
Ethics Statement: We don't get paid by the manufacturer to write these reviews.  No one is perfect and we do make money from the "Where To Buy" links below, but this is our best attempt at an honest and objective review from an average riders' perspective.
Days: 2
Riders: James
Boots: Adidas Tactical ADV, Burton AMB
Insoles: Sandsole Custom Insoles, Footprint Insole Technology Gamechangers
Boards: Lib Tech TRS
Highback Flex: The Union Contact Pro has a medium-ish to medium soft flex.  It's got a super easy twist but when you pull towards the heel the high back it's a little firmer
Boot Adjustability: So these aren't as great as the Force or Atlas because you don't get the adjustable toe ramp but you can still dial out the heel loop to the boot length so it's still very good. There is also that new washer that keeps the heel loop/ankle strap screws from coming loose so you don't have to worry about checking to see if the heel loop is tight anymore.  Union listens to their buyers, reviewers like us and shops as well as their pros and that's why you have this new washer. You can't adjust the ankle strap angle without un centering your boot because it's connected to the heel cup positioning but I'm ok with that as long as my boot is properly centered.
Stance Width Adjustability: The mini disc isn't as good as the full-size discs but I've been always able to get the stance width I want on boards like Asymmetrical Twins that need to be centered for a good review or on boards that don't care as much.
Comfort: These bindings are super comfortable and don't cause any pressure points anywhere. The only issue, for some, is the small ankle strap can cause your boot to fold around the ankle differently than most and cause pressure points.
Boot Support: There isn't much support here but you can buy the team straps if you want it to do a little better in uneven terrain that often can be tough on your ankle with so little support. If you want a lot of freedom of movement the Union Contact Pro shines for that more surf/skate feel.
Turn Initiation: If you play around with the Contact Pro in a shop you would think this would turn a board super slow but actually, it is pretty responsive and powers more than just the quick/easy turning freestyle oriented boards you would think it only would.
Buttering: The Union Contact Pro is one of the easier buttering bindings out there and it's up near the top of the industry when it comes to this.
Ratchet System: Man, thinking about how the ratchets used to be and how they are now is pretty cool. They have evolved the last few years into some really reliable and smooth ratchets.
Shock Absorption: There is a lot of cushy, resilient EVA foam that works well to absorb shock without making the board stiffer underfoot.
So all in all the 2019 Union Contact Pro is a very recommendable binding at a very good price. If you want a little more support, more response and a little better dampening then the Strata is the call.
The 2016 Union Contact Pro is still a great binding but it's not a binding we would want in our quiver unless we changed out the new thin ankle strap to the bigger/more supportive one in the past. If it wasn't for the new ankle strap this would still be a highly recommendable favorite.
2015 Union Contact Pro and Below Review
The Union Contact Pro had some big upgrades in 2014 and remained pretty much the same for 2015 except it has a toolless toe strap.  The contact pro has amazing feel underfoot and it's one of our favorite freestyle to all mountain freestyle bindings out there but it's also not just a freestyle binding.  It's got a lot of response for such a soft butter friendly binding as well.
One thing to mention is the 2015 Union Contact Pro has a shorter Ankle Strap Connector.  It should be fine with most boots but some have had problems with lining up the fit perfectly around your boot.  If you are one of those contact Union and they should be able to get you a longer 2014 Ankle strap connector.  Other than that the ride is pretty much the same and the 2014 review stands without change.
Days: 30+
Riders: James, Peter, Stephen, Jimbo, Mary, Ginger and many others.
Boots: Burton Ion, Burton SLX, Burton Imperial, Nike Kaiju, Burton Ambush, Burton Ruler,
Boards: Jones Mountain Twin, Yes Greats, Rossignol One Magtek, Never Summer Proto, Lib Tech TRS and many others.
Upgrades for 2014 and 2015– There is more padding than in the past which great on the body. There is also a mini disc instead of a standard sized disc so there is even more of a reduced dead spot than the other bindings out there. So now you have a little disc which is the only true contact with the board and the rest has an EVA foam buffer.  This makes the flex underfoot exceptional.  There is an improved tip to tail response as well as edge to edge response.  It butters/presses better than before and makes for an all-around better ride.  It's right there with the top end Burton Re:Flex tech but still offers its own unique feel.
Weight: 3.6lbs
Flex: The high back has a similar flex as the 2013 Union Contact Pro.  It's got one of the easiest flexes when you pull right back and bends back a bit at the top.  It's a little more on the medium/soft side when you twist it but overall the whole high back is pretty soft
Adjustability: One thing to mention about all Union Bindings is they have really only one angle to have the ankle strap where most bindings have 2 or 3 places to put them.  Conversely, you can adjust the heel loop to go in and out so you can customize the fit to your boot better.  Unlike the Contact and all other Union bindings, it doesn't have an adjustable toe ramp which is more of a problem for those that are in the smaller and larger end of the sizing spectrum.  For me, it's no problem but I've heard others have issues. For 2015 Union added a tool free toe strap so that makes 2015 better than 2014.  You might be able to buy the new toolless screw from C3 if you have the 2014 Contact Pro.
Comfort: There is great comfort here with the Union Contact Pro. The ankle strap and toe strap fit well without too much pressure on most boots.
Heel-Toe Response: For such a soft binding you would think the response would be worse but it's pretty responsive. It's much smoother than the most of the higher end Union bindings which normally feel sharper.  There is a bit more response than the older models.
Tip-Tail Response: The 2014 Union Contact pro has amazing butter skills and it was right there with the top end Re:Flex bindings at Burton. The board flexes really well underfoot and it makes the board it's attached to butter really well.  There is very little contact with the board and also the screws on the mini disc are much closer together.  It's pretty much these small little discs that are touching the board and that is it.  It's also Burton channel compatible and with the 2 screws so close together you can actually get a little more set back going than Burton EST or even Re:Flex bindings.
Boot Support: The semi-new ankle strap is now pretty much the standard for most of Unions bindings. It's got a better support on the outside and a lot of freedom in the inside.
Ratchet System: The 2014 Union Contact Pro toe strap has improved as well over the previous models.  They reduced the pressure from 10lbs to 7lbs so it's easier to unstrap. It's still not the best toe strap out there but I have found it to be pretty complaint free after many days on this binding. It's pretty easy on and off and keeps getting easier the more I ride them. Before I had trouble just grabbing the toe strap anywhere to get it off but now it just comes right off.
Shock Absorption:  This has a shit ton of EVA foam all over the binding and it's very very shock absorbent.  It's the kind of binding you would like to have under your feet if you land flat.
2014 Binding Comparison
The Union Contact Pro 2013-2011 is establishing itself as an excellent freestyle to all mountain binding. It's one of the softer flexing bindings in Unions line but doesn't think it's not responsive. There were some nice changes to the 2014 model.
Days: 20+
Riders- James, Peter, Jimbo, Kyle
Boards: Jones Mountain Twin, Salomon Sabotage, Yes Greats
Boots: Burton SLX, Burton Imperial, Nike Kaiju,
In 2012, it took some effort to flex the highback but 2013 doesn't take much. You can also bend the top part of the high back directly back where this barely could be done last year. We'd say that last year would be a Medium Flex where this year is soft. Union removed almost every unnecessary part of the base plate to eliminate full contact with the board. This allows for a more natural flex underfoot and Union has been doing this for years.  It's surprising to see that the high backs are not as noodley as the Union Flite.  They are still soft but far from Urethane. The 2013 Contact Pro is the same design as the 2012 but the high back is much softer. We like this change and feel it suits the more freestyle feel that most riders want when considering this binding.
For 2012, Union added a new larger asymmetrical ankle strap that makes this a much better freestyle binding than before. There is more support around the ankle and easier lateral movement.  The Toe Strap is new as well and well liked.  It fits over the toe better than the previous toe strap.
Sours: https://thegoodride.com/snowboard-binding-reviews/union-contact-pro-2011-2021-snowboard-binding-review/
Union Force
They are a great binding for someone who rides all over the mountain, and can't afford to have their bindings let them down. They come in bold, solid colours. Like all Union bindings, they have a big, comfortable ankle strap which has tool-less adjustment so you can adjust it even with gloves on.
Adjusting the forward lean on the Forces is easy, and can be done quickly while you are out riding even if you are wearing thick mitts or gloves. They have tough buckles, which are made from magnesium rather than aluminium and can stand up to a lot of abuse. In the end, the magnesium buckles have four times the strength of aluminium with only half the weight.
The Stage IV base is stiff, and is combined with dual density injected bushings, which help them flex, absorb impacts and don't hide the true flex of the board. There is a lifetime warranty on the base.
The Force uses extruded aluminium heelcups, which keep their true shape no matter how much wear and tear you put your bindings through.
Union rate these highly for all sorts of terrain, and in my experience riding them, they are right. They perform well everywhere, have enough flex that they can be tweaked and pressed out in the park, but still handle more aggressive riding just as well.
Features of the Union Force
Stage IV Base
Magnesium Buckles
Multizone Highbacks
6/10 Baseplate Stiffness
6/10 Highback Stiffness
Multi Density Thermoformed EVA Bushings
Extruded Aluminum Helcup
Force Highback
Sonicfuse Straps
The 2016 Union Forces come in Green, Black and Orange, but previous seasons they came in lots of different colors, which will still be easy to find.
Who are Union Forces good for?
The Forces are a good choice for someone who wants to ride all over the mountain, and have a binding that will perform as well in the park as they do in powder, and want to spend around $220.

What size bindings do I need for my boots?
| | | | |
| --- | --- | --- | --- |
| Mens | S/M | M/L | L/XL |
| Mondo | 230 -265 | 260 – 290 | 285 – 320 |
| UK | 4 – 7.5 | 7 – 10 | 9.5 – 13 |
| US Women | 5.5 – 9 | 8.5 – 11 | 11+ |
| US Unisex | 5 – 8.5 | 8 – 11 | 10.5 – 14 |
| Euro | 37 – 41 | 40.5 – 44 | 43.5 – 48 |
2016 Season
Green

Orange

Black

Sours: https://snowboardrobot.com/binding-reviews/union-force/
Staff Picks: Our Top 6 Union Bindings For 2019/2020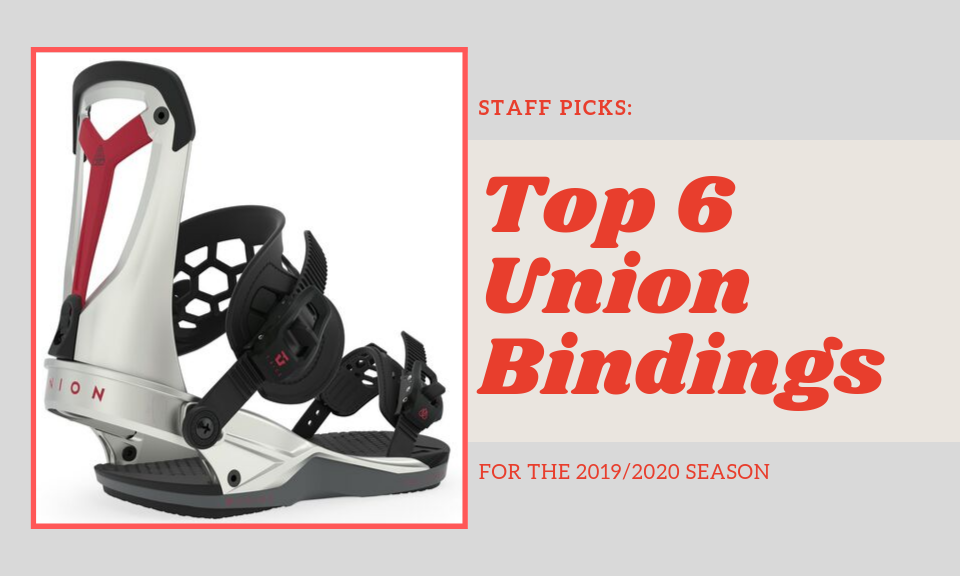 Union bindings has lots of new stuff at better pricing than ever! Here we go through our top 6 bindings for this winter.
Staff Picks: Our Top 6 Favorite Union Bindings For 2019/2020

Union bindings are the most sought after bindings year over year. We consistently sell out of these things before Christmas every year. Not only that, but we get a ton of great feedback on how they ride, feel and last. This year we decided to put together a list of our Top 6 Favorite Bindings For The 2019/2020 Season!

The first thing you might notice looking at all the Union bindings over the past couple seasons is how much better the straps got. Union did a lot of research and development on their straps to make them thinner, stronger and more comfortable. You'll also notice the ratchets on them are always attached directly to the nylon skeleton on the strap, making them super strong.

A little back-story on Union Bindings:
Union made their name in the binding world when two designers from Drake Bindings left to start their own thing. After their no-compete clause ended Martino Fumagalli and George Kleckner had a "re-union" in Seattle, Washington to launch the brand. With a logo designed by the famous Aaron Draplin, they set out to make the world's highest quality bindings possible. Over the years they've been working to bring the highest-end materials possible to snowboard bindings, such as extruded aluminum, injected magnesium and forged carbon.

SHOP UNION BINDINGS HERE

UNION FALCOR BINDINGS:


The highest end bindings we carry, The Falcor is personally designed by Travis Rice himself down to every little detail and named after his yacht. You'll notice on these bindings that they have lots of small differences from every other union product in the line, because he worked one on one to design every little detail. You'll notice stuff like the ratchets are slightly bigger than every other binding because he likes to wear big mitts, or that the forward lean adjuster is smaller than any other bindings because he needs to keep them low profile for the style of riding he does. These aren't quite the lightest bindings on the market, and they aren't the stiffest, but they might be the stiffest binding for their weight. Did we mention they are still incredibly light, even the highbacks are hollowed out and made with forged carbon, a product originally developed by Lamborghini because it's super light and super strong. We've got to say, if these bindings are good enough for Travis Rice's insane attention to detail, they should be good enough for anyone.
See More Here

UNION STRATA BINDINGS:


As of last year, the Strata took over the place of the Contact Pro in the line at the $360 price range. Torstein Horgmo dedicated insane hours to working with Union to design these bindings. Union even got him to wear a motion capture suit while testing these bindings to see exactly what parts of the bindings get pressure while under the pressure of Torstein's riding. They took that data, and developed an algorithm to place the holes in the highback and make it the exact torsional stiffness needed to perform at his level. This is the all mountain binding that you can put the test anywhere and still have fun riding it tweaking grabs with your friends. Since it's inception, it's become the #1 most requested binding by team riders and shop employees.
See More Here


UNION FORCE BINDINGS:

The Union force is almost a brand of it's own at this point. A binding that has been in the line since the start (15 years) and is our #1 selling binding year after year. The Force is the best priced binding that still gets the full Union tech package, this means Magnesium ratchets, full 4 corner bushings on the base of the bindings, toolless highback and strap adjusters, along with the famous Duraflex ST base (see below). They've also updated the straps on the Force (like most Union bindings lately), so they look really good and feel insanely comfortable. When you hold this binding in your hand, you can tell why it's the #1 binding around, we call it "The One Binding To Rule Them All".

Duraflex ST is a nylon material that Union spent years and tons of money inventing with the help of Dupont engineering. This material is what made for their famously durable bases and lifetime warranty.
See More Here


UNION CONTACT PRO BINDINGS:


Originally designed by Gigi Ruff, the Contact Pro was top seller at the $360 price point for years. Since the introduction of the Union Strata last season, they have been able to bring the price down on these to $289, making it possibly the best value binding on the market. The Contract Pro binding is famous for introducing the Union Mini Disc. It also gets it's name because only 5% of the base material actually touches your board, the rest is a soft bushing that allows the base of the binding to flex under your feet, giving it an amazing surfy feel. These were also the bindings that brought out the now super popular Union mini discs. Like the Force bindings, the strap got redone this year and looks really amazing, super thinned out and mega comfortable.  

This is also the binding where you can get a Scott Stevens pro model colorway, which is always super popular.
See More Here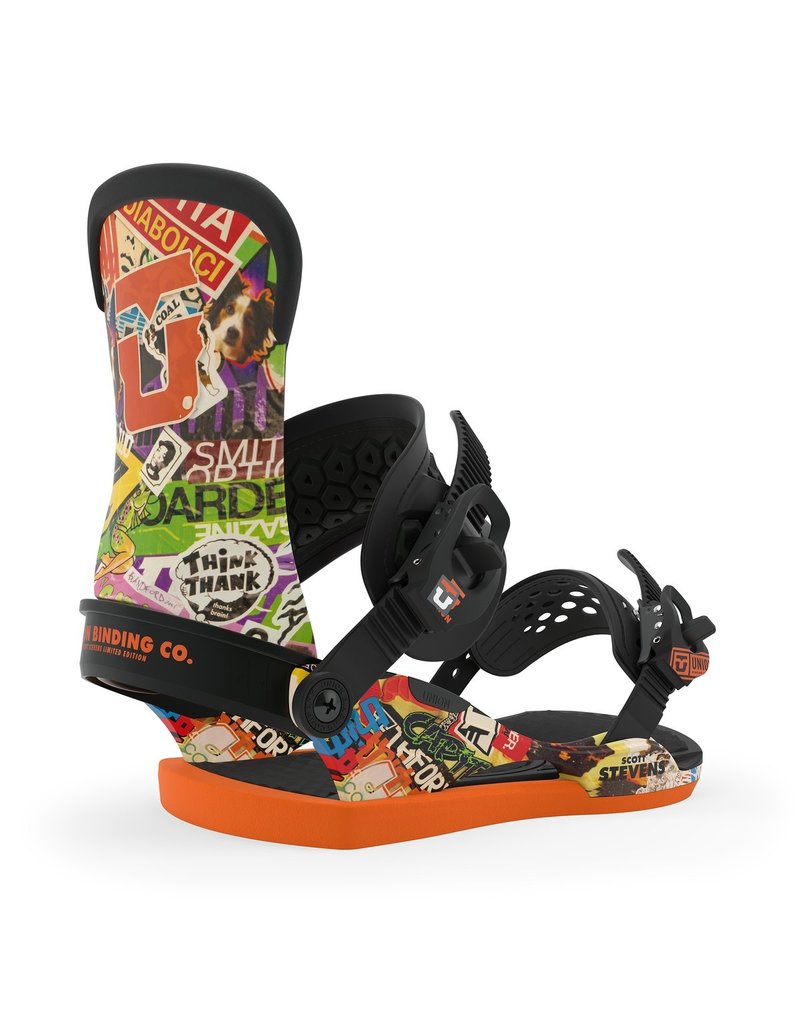 Union Scott Stevens Pro Bindings 19/20
UNION FLITE PRO BINDINGS:


The Flite Pro bindings, aka the fucking light bindings, are the ultimate bindings for someone on a budget. New for this year, they brought the price down from $230 to $199.95. I think it's safe to say that these are the best binding on the market for under $200. Originally designed by Gigi Ruff, he designed the highback to look like a BBS car rim.  These are a softer flex and playful binding perfect for cruising the park and groomers. Even though they come in under $200 they still have the Union Warranty that their bindings are famous for.
See More Here
Thanks for reading! We hope you enjoyed this and taught you a little something about the new Union Bindings line! Leave a comment below telling us how much you enjoyed it or how bad we suck!

Also, sign up for our newsletter for updates on new gear and limited sales stuff!
Sours: https://shop.shredzshop.com/blogs/blog/staff-picks-our-top-6-union-bindings-for-2019-2020/
Union Binding Comparison - CONTACT vs FORCE vs ATLAS
The Union Force is a solid choice for those that want a full-size disc, love a responsive  damp binding but also want it at a reasonable price  If you can swing it, the Union Atlas is a binding we prefer a little better but if you don't need the canted footbed and Asymmetrical High Back then this could work.
2016-2019 Union Force Review
Most of the review from the 2018 Force still stands in 2019 except one thing. The 2019 Union Force changed out the washer system that holds the heel cup/ankle strap/high back in place.  The ankle straps don't come loose anymore and I have already tested a pair on my Union Super Pros.  They work really well.
Ethics Statement: We don't get paid by the manufacturer to write these reviews.  No one is perfect and we do make money from the "Where To Buy" links below, but this is our best attempt at an honest and objective review from an average riders' perspective.
Days:  Many over the years but about 3 with the 2018 model.
Riders: James,
Boots: Adidas Tactical ADV, Burton AMB,
Insoles: Sandsole Custom Insoles, Footprint Insole Technology Gamechangers, Footprint Insole Technology Gamechangers Lite, Footprint Insole Technology Gameghangers Low Profile
Boards: OZ Custom Woody, Capita Mercury
Highback Flex: There is a softer twist than you would think but it's super stiff when pulling it straight back.
Boot Adjustability: The Union Force is one of the best in the industry when it comes to dialing out any size boot to fit centered in this binding so it fits centered on your board.  They have an adjustable heel loop and adjustable toe ramp so if you are on the smallest size or biggest size of the size range for your size it won't be weird like some bindings with a fixed heel loop are. The toe and ankle straps also can adjust really well to match your boot size too. On top of that, you can rotate the high back two different ways so it works well with the boot. The only minor issue is you can't adjust the ankle strap angle unless you pull the heel loop out or in and then un-center your boot. I can live with a fixed ankle strap angle though.
Stance Width Adjustability: Excellent here too. This is a big disc that has a long track to slide back and forth on.  Since you can dial out the binding really well to fit your boot centered you can turn the discs so they slide from tip to tail and get the exact stance width you want. Also if you have or want a board with an extra pair of set back inserts for powder (1.5″ back instead of .75″) The Union Force and Atlas are the only bindings that will work with boards like this because they need a full-size disc.
Comfort: Very comfortable and I don't really have too many complaints. The ankle strap that's been used from 2016-2019 is pretty good and that's important because that's usually the culprit when people complain about comfort. It's not super cush but it doesn't seem to cause issues with most boots.
Boot Support: Upon comparing the ankle strap now on the Force to the past ones I realized that it's a little less wide but it's a lot longer so the support evens out.  It gives pretty good support but also allows some room for movement and I like it.
Turn Initiation: The Union Force has a sharp response to it but it doesn't overpower a board as some responsive bindings can.  They dial it back just enough so it's more on the med/fast end so it can work with a wide variety of boards from slower turners to pretty quick/easy turning boards.  It's really close to the Atlas that we love so much.
Buttering: Not a strong point here with the Force but it is far from dead underfoot and it can butter well enough. You can get a lot more out of the Union bindings with mini-discs.
Ratchet System: So different from how they used to be back when I first started using Union bindings.  They are super smooth now and never catch up.  They always come on and especially off with ease.
Shock Absorption: They aren't the class leaders but there is enough EVA foam here to put them near the top. The binding feels like it dampens the board it's mounted too as well as absorb shock very well.
So at this price point, the Union Force is a pretty recommendable binding and it would probably be a favorite if we all didn't like the Atlas a bit better due to the canted footbed and better base plate. So if you can live without those features and want to save a little money the Force is a great call.
2015 and 2014 Union Force Snowboard Binding Review
The Union Force 2014 and 2015 model has had some big but long overdue changes that make this a better binding than before. The only real difference between the 2014 and 2015 Force 2015 has a tool free toe strap which is great. Also, the 2015 ankle strap connector is a little shorter than 2014 so if the fit is a little off just contact Union and they will get you the longer 2014 ankle strap connector which will fix the issue.
2014 and 2015 Union Force Review
Days: 25+
Riders: James, Peter, and Jimbo
Boots: Burton Ion, Burton SLX, Nike Kaiju
Boards: Jones Mountain Twin, Rossignol One Magtek, Never Summer Cobra, Lib Tech TRS XC2 BTX, Rome Agent Rocker, Never Summer Proto and many more. 

Weight: Size M/L 4.0lbs with discs and screws
So the Union Force has been the same for a long time but this year it finally got the long overdue overhaul it deserved.  The old force wasn't bad it's just that the other technology in Unions line surpassed it a few years ago when Union upgraded many of their bindings. It wasn't as recommendable as the other bindings but now it most certainly is.  So here are the changes to the 2014 Force over 2013.
New High Back– Same kind of look here as the old but the top is no longer rounded and it looks more like the SL, Atlas and even the Contact.
New Base Plate– I would have thought that the Force would have taken on the base plate that the Atlas, SL, and MC but they kept the general design that all the older models had. On first look, you would think it's the same base plate but they re-did the heel to provide a shit ton of padding. It seems that the toe has more padding as well and it's now going to have shock absorption that is almost as good as the Contact Pro and Factory which is the leader of the Union line in this aspect.  Nice upgrade!
New Toe Ratchet– So I can't tell you how many times I encountered people complaining about the sticky toe straps.  I've never heard a complaint about the ankle strap but just the toe strap.  I was really surprised that Union let this complaint fall on deaf ears for so many years.  I just thought it wouldn't ever be addressed but I received another surprise this year because the toe ratchet is a lot easier to release than previous models.  They reduced the pressure from 10 lbs to 7 lbs and it's a lot easier to get on and off.  So far this year I haven't had one issue getting it off.
Flex: Despite the new design the flex feels very much the same and it offers a similar but better feel than the older model.  It's about medium to almost med/stiff when to twist it and pretty stiff when you pull back.
Adjustability:  The heel loop can be adjusted to fit your boot size which is good but the way it's set up makes it more difficult to rotate your high back.  Because of this you also can't adjust the angle of your ankle strap like you can with many bindings.  2015 added something long overdue which is a tool-free toe strap and a better tool free ankle strap which makes it much better to adjust on the hill.  So with Union bindings, it's a give and takes.  You get a rather unique custom fitting to your boot size at the sacrifice of the ankle strap and high back adjustability.  The rest is on par with most other bindings.
Comfort: The ankle strap system is about the same as before but the toe strap is pretty different.  It's smaller and conforms better to most boots. The softer footbed adds a little comfort as well.
Turn Initiation: a Same great response that is greater than you would think for the way the binding looks and flexes.  It's very sharp and responsive edge to edge. It's great for a board that requires a little more work edge to edge.
Buttering: Pretty close but a little behind some of the other bindings in the Union line like the Factory and pretty far behind the Union Contact Pro when it comes to flex underfoot. In one day I put the Force, Union Contact Pro, Burton Cartel and Burton Genesis on the Lib Tech TRS. There was a lot of screwing going on but not the good kind. Anyway, it was interesting how different bindings changed the TRS. The easiest bindings to butter with are the Union Contact Pro and Burton Genesis.  Then the Burton Cartel was about the same and then the Force was a little behind them.  It was interesting though that the TRS became a little more damp with the Force, the Contact Pro along with the Genesis the least damp and the Cartel was in the middle. The Force borders between good and great for response and it's kind of a tossup of which rating to give it.
Boot Support: Not much has changed here in terms of support.  Its the same binding that allows a good amount of freedom on the inside and a little more support on the outside. It's pretty tweakable. The wider high back is a nice upgrade too making it allow you to get more support/response.
Ratchet System: The demo models we looked at and tried had the toe strap similar to the ankle strap but the production models I've seen in the shops and the one I have doesn't have this.  It's a little sticky but better than past years models.  I'd like to see Union change their toe strap so it's a little easier.
Shock Absorption: Very nice upgrade when it comes to shock absorption.  There is a lot more EVA foam in the heel so it offers an easier ride on your feet, knees, and hips. It's much better than the metal top with a little foam sticking out in previous models.
What does all this mean?  It's still the same responsive binding with a reduced dead spot underfoot at a good price.  What makes this great now is it's got excellent shock absorption, better high back and modern feel to it. It's the kind of binding that is now going to be very recommendable and a nice step up.
2014 Binding Comparison
The Union Force 2013 to 2010 Review
We were hoping the 2013 Union Force would have a new high back and base plate but it's the same as in 2012.  These have been great bindings for many years but now we feel that the Atlas is a better do anything binding than the force.
Days:40+
Riders: Too many to count
Boards: Too many to list
At first glance, the union binding line has a very traditional look compared to allot of other bindings out there and the Union Force is no exception. After your first day on them, you look at them again and they will look more modern than any binding out there. This binding is made for someone who knows what they want, doesn't like to fiddle around, set it up once and never think about it again. You cant get too tweaky with these like you can with Burton and flux.
This review hasn't changed much over the last few years because this binding hasn't. The only changes for 2013 and 2013 are the Ankle and Toe Strap. Before 2013 and 2013 this was one of our top all mountain recommendations but the last 2 years it's rarely or ever recommended mainly because Union came out with the Atlas. In our opinion, the Atlas does a far better job compared to the Force for all mountain riding.
Stiffness– They feel medium soft torsion-ally but when you pull straight back they are very stiff. The high backs are right up there with Burton's team-high back in length and very close to being some of the most responsive high backs out there.
Comfort: Union understands what it is like to ride every day. If set up properly you can almost completely avoid any pressure points. The toe and ankle straps come in at the right angle. The base plate has a cap that covers the plates which help the sole of your boot line up exactly the way it should. The one complaint for comfort with the ankle straps could have more of a taper in the center. That way there would be less pressure on the forward lean. If you don't crank down the straps real tight this won't be an issue but just our 2 cents. Another issue is the toe strap buckle. It is a little more difficult to get it off that most toe straps. We'd like to see something similar to the ankle strap or a little more of an extension over it to make them work.
Response– Despite the Union Force's semi flexy nature, these bindings respond jackrabbit gigolo fast. Its fast like Mike Tyson before he started biting ears. But seriously we haven't felt a response like this from any other binding out on the market that has the general flex. If you come from an old pair of Burton's the quick response might almost be too much for you. These are great all mountain bindings. There is allot less binding/board contact so it helps you get a little more out of your turns and tricks. The toe response is probably the best in the industry. We are not sure if it is the design of their gas pedal or the minimal contact that the binding has with the board but something is exceptional about turning with these. This is a bit of a bold statement but some of the riders felt that these were slightly better than the Burton C60's. The high backs are about the same height as the cartel team-high back. Surprisingly enough they are almost the same width as well. It has a lot of lateral flexibility but if you were to pull this straight back to the heel edge you will be surprised at how stiff this feels. The toe response seemed to match perfectly with the heel response where most bindings are laking a little on the toe side.
Adjustability: A lot of companies have nearly toolless adjustment these days (check out Flux) so its a little disappointing to see that you need a screwdriver for almost every adjustment except part of the ankle strap and high back. Despite that fact, you can still tweak these bindings out to fit your weird feet/riding style. The heel and toe can slide out/in where most companies have only the toe. The drawback with the heel adjustability is that angle of the ankle strap will lower. Most other bindings have 2 to 3 positions for the ankle strap angle where this only has one. The high back has 3 holes so you can adjust the high back to line up with the rail of your board where Burton has a channel so you can really dial it out. If they could change these issues we mentioned then there is no excuse to buy the Cartels over this binding. All and all the adjustability is pretty good.
Dampening- There isn't much you can't do with these bindings. These are designed to be good every where so if speed is your only thing then there are better bindings out there. However, they do perform as good or better than most in their category.
Shock Absorption– Not bad but could use some work here. Instead of using padding across the entire heel there is some sort of metal over the padding. We'd like to see the same set up as theUnion Atlas, Union Force SL or Union Force MC where it's all dense padding on the back heel.
The 2011 Union Force and Below Issue
After many days on the hill, we found one issue with the Union Force and Force SL aroud the Ankle. The small strap does not give you that feeling you are locked in and supported like many larger ankle straps do. When riding stiffer boards through chopped up mogul powder runs to get back to the chair your ankle feels very exposed and there is a lot more stress. On groomed runs or in most situations in the par,k you don't notice this. If the Ankle strap had more volume on the side we think this might eliminate this feeling in less than ideal situations and create more stiffness. It's not something that will be a problem for everyone but some will not like this at all. Because the turn initiation is exceptional it makes the ankle problem worth putting up with but we'd love to see an investment in a better ankle strap and more adjustability around the ankle.
Unions Toe straps can be a bit sticky and especially so for those that like to crank em down tight. For some, this is a big problem and for others, it's not that big of a deal. Until Union address this issue, here are some pointers on how to make the toe strap less sticky so you can enjoy the bindings better qualities.
The 2012 Union Force changed the toe strap.  It better fit's over the toe which we like but we would of liked it better if they added the new asymmetrical ankle strap that the Atlas , Force SL , Contact Pro, Asadachi and Force MC have.
A Quick look at the 2012 Union Force
The 2011 Union Force are almost exactly the same bindings as the 2010 Union Force except for a very slight change in the ankle strap.  It has some air bubles in it but that is about it.
Sours: https://thegoodride.com/snowboard-binding-reviews/union-force-2010-2021-snowboard-binding-review/
Bindings good union are
Union Force Bindings Review
Hello and welcome to my Union Force bindings review.
In this review I will take a look at the Forces as all-mountain-freeride snowboard bindings.
As per tradition here at SnowboardingProfiles.com I will give the Forces a score out of 100 (based on several factors) and see how it compares with other all mountain bindings.
Overall Rating
Bindings: Union Force
Price: $229 (USD recommended retail)
Style: All-Mountain Freeride
Other Uses: All-Mountain, Freestyle
Flex Feel: Medium-Stiff (on the softer side of medium-stiff) – 6.5/10
Rating Score: 79.8/100
Compared to other Men's All-Mountain-Freeride Bindings
Out of the 13 men's all-mountain-freeride bindings that I rated:
The average price was $283 (USD)
The average score was 79.8/100
The highest score was 94.7/100
The lowest score was 56.4/100
The Force ranked 8th out of 13
Sizing
Check out the table below for the available size for the Forces.
| | | | |
| --- | --- | --- | --- |
| Size | Fits Men's US Boot Sizes | Euro Boot Sizes | UK Boot Sizes |
| S | 5.0 – 8.5 | 37.0 – 41.0 | 4.0 – 7.5 |
| M | 8.0 – 11.0 | 40.5 – 44.0 | 7.0 – 10.0 |
| L | 10.0 & up | 43.0 & up | 9.0 & up |
Note that for the 2016 and earlier models Union used different sizing – the following is how the new Union sizings match with previous year's models (2017 sizing first and prior years second). 
---
Who are the Forces Most Suited to?
---
Union's Force bindings are great for anyone looking for a binding in that just above mid-flex range for riding the groomers or backcountry – whether you want to ride fairly aggressively or want to ride more casual or ride freestyle – or do all of the above (as all-mountain bindings should).
The ideal snowboarder for these bindings is someone looking for one set of bindings (rather than owning separate bindings for different purposes) and that want their bindings at an affordable price, but still have good response and not be too soft.
If you have more than one board, these bindings should match well with most boards – maybe except for the flexiest street/jib boards and the stiffest freeride boards.  But they'll work well with everything in between.
---
The Forces in More Detail
---
O.k. let's take a more detailed look at what the Force's are capable of.
Demo Info
Bindings: Union Force 2017, M/L
Date: March 29 & March 31
Conditions: Groomed – hard packed. Some spots of icy snow and some slushy spots. And some softer pack spots too. Conditions were quite slow in general even though it was hard pack. The wet concrete-like slush on top was enough to slow it down a fair bit. (pretty much the same both days I rode these bindings)
Bindings angles: +18/+3
Flex
The Forces are medium but really bordering on medium-stiff.
Union have two separate flex ratings. One for the high back flex and one for the base plate flex. The Force ratings are:
High-back: 7/10
Base Plate: 6/10
Which is pretty accurate, I would say – they feel like they're not quite as stiff as 7 but more than a 6.
The high backs are designed to flex more in certain spots so that you can tweak them when you want to but their stiffer in the right spots to give you some great response.
Butterability/Board Feel
They don't have the mini-disc like the Contacts, Contact Pros, Falcors , Ultras or Ultra FCs (in the Union line) but they still butter really well considering that. Better than other Union bindings without the mini-disc in my experience.  They flex well with the board with minimal dead spot. Not as well as the Union bindings with the mini disc though.
Adjustability
You can adjust most parts of the binding It's pretty easy to adjust on the fly as the adjustments are virtually all tool-less.
Assuming you pick the right size bindings for your boots, you'll be able to dial these in for a great fit.
Shock Absorption
The shock absorption is great on these bindings. It's another thing that Union do really well. Pretty much all of their bindings have at least great if not excellent shock absorption.
It definitely makes a difference for comfort over time and you definitely notice it if your landing jumps, dropping off lips, ollying over rollers etc all day.
Entry/Exit
Like most Union bindings, the Forces have great ratchets and this makes them pretty smooth to get on and off quickly.
Let's Break up this text with a Video
Check out the video below for more on the Union Force bindings.
Comfort
There's no canted footbed – but they are otherwise tick all the boxes comfort-wise. That's partly down to the awesome shock absorption and partly down to quality straps and adjustability.
The straps comfortably conform to your boots and the adjustability means that you can set them up just right so that you can avoid any potential pressure points.
Responsiveness
These bindings are really quite responsive – one of the most responsive I've tried at this price point for sure.
Ankle Support
They have a looser feel to them in terms of ankle support. A surfier feel. If you like that then great, but if you prefer more ankle support or a more locked in feeling then they may not work as well for you.
---
Score Breakdown and Final Verdict
---
Check out the breakdown of the score in the table below.
| | | |
| --- | --- | --- |
| FACTOR | RATING (OUT OF 5) | CONTRIBUTION TO FINAL SCORE |
| Responsiveness: | 4.0 | 20/25 |
| Board Feel: | 4.0 | 12/15 |
| Adjustability: | 4.0 | 12/15 |
| Ankle Support: | 2.0 | 6/15 |
| Shock Absorption: | 4.5 | 9/10 |
| Comfort: | 3.5 | 7/10 |
| Entry/Exit: | 4.0 | 4/5 |
| Flex: | 5.0 | 5/5 |
| TOTAL after normalizing | | 79.8/100 |
The Forces remain one of the cheapest, good quality bindings out there. For this price, I can't think of any binding off-hand that can match the Force for performance.
These bindings have been going for 13 years now and Union seems to have found the formula for a quality binding at a really great price.
They'll do a great job for anyone looking for a binding that won't break the bank but is still respsonsive and good quality – and for anyone looking for one pair of bindings for multiple boards.
Sours: https://snowboardingprofiles.com/union-force-bindings-review
Union Binding Comparison - CONTACT vs FORCE vs ATLAS
Union Force 2019-2020 Snowboard Bindings Review
Bindings
When you think cult following you think Rocky Horror Picture Show, Tommy Wiseau's masterpiece The Room or The Grateful Dead circa 1977, you don't necessarily think of a snowboard binding. Yet, here we are… The Union Force has a stronger and more consistent fan base than most Premier League teams.
Whether you're just at the beginning of your snowboarding journey or a grizzled mountain veteran, chances are you have either happily owned a set of Forces, know someone who happily owns a pair, or are gagging to get your hands on a pair. They're a staple of the Union line, hell they're a staple of the sport itself.
"They're a staple of the Union line, hell they're a staple of the sport itself"
The Force is mostly unchanged (if it ain't broke…) bar a few tweaks, they've added a pin through the toe strap to ensure even if it's sketchy it'll still hold.
The Heelcup is a 3D aluminium that boasts an impressive strength to weight ratio, and Union are so sure of its robustness they've slapped a lifetime guarantee on it.
Union's Universal Disk is able to fit both inserts and channel system, so if you've got a mixed quiver you can chop and change to your heart's content.
A padded ankle strap keeps your foot snug and secure and adds a bit of extra support when you're cranking through turns. An Ultragrip toe strap forms round the front of your boot and gives and extra dash of responsiveness edge to edge.
A good value binding that can handle the abuse you're likely to put it through, the Force is definitely a force to be reckoned with.
"It's been said a million times already – the Union Force has to be one of the best all-rounders of all time. They're snowboarding's answer to popping on the kettle and slipping into a pair of sweat pants after a long day at work. Nothing fancy, nothing luxurious, just straight-up comfort that everyone can appreciate.
No big changes from the Force this year, thankfully. You get the same highback, baseplate and buckles that make them some of the most versatile and affordable bindings out there.
There's enough flex to spend the closing weeks of the season lapping the park and enough rebound to go Mach Ten down the Harakiri.
I've never had any issues with pressure points or straps working themselves loose on the Forces either. No surprises here though. That's what Union are renowned for.
"If your budget is hovering just below the £200 mark, do yourself a favour and step up to these. If you've got £250 to spend, why not save yourself a few notes and invest the change in a better snowboard?"
If I had to fault anything it would be the screws, which have been known, on occasion, to work themselves free without much warning. I only rode the Force for one day this season, so I can't categorically say the problem has been resolved, but there were no signs of them coming loose by the end of the day.
Normally when testing a product I try and evaluate it purely on performance alone. Then, once I find out the price I try to consider how well it lives up to it. If you told me the Force cost £260 this season I'd still think they were worth it. There's really nothing to fault here.
If your budget is hovering just below the £200 mark, do yourself a favour and step up to these. If you've got £250 to spend, why not save yourself a few notes and invest the change in a better snowboard? Whatever you screw these into you'll be absolutely ripping."
"Strong as an ox! If you want something that can keep going after multiple seasons' worth of abuse, bets don't come much safer than the Force.
"These are quite stiff, so feel a lot more suited to charging than messing about"
"These are quite stiff, so feel a lot more suited to charging than messing about. As you can probably tell just by looking at it, there's not a whole lot of flex in that highback. Not a bad thing, of course.
While the straps aren't hugely techy, they do their job well without any danger of pressure points. You can find more effective shock-absorbing elsewhere, but they're not far off the industry's best – especially when you consider the price tag.
Naturally there's a real 'solid' feel to these, which won't be to everyone's taste, but if you lean more towards the reliability of aluminium over the malleability of urethane, then these won't let you down."
Related Articles
Newsletter Terms & Conditions
Please enter your email so we can keep you updated with news, features and the latest offers. If you are not interested you can unsubscribe at any time. We will never sell your data and you'll only get messages from us and our partners whose products and services we think you'll enjoy.
Read our full Privacy Policy as well as Terms & Conditions.
Cookies help us deliver our services. By using this website, you agree to our use of cookies. Learn More
Accept
production
Sours: https://whitelines.com/snowboard-gear/reviews/bindings/union-force-2019-2020.html
You will also be interested:
Union STR 2019-2020 Snowboard Bindings Review
Bindings
You get bag loads of bang for your buck with the Union STR. It's designed to behave similarly to the Atlas, but with a price tag that'll have you laughing. Union are famously bomb proof, and the STR is no different. It's built with the same high-quality materials you'll see through the line.
Mid flexing in all aspects, the STR is perfect for a rider who's still finding their feet on the hill. The binding is soft enough that it's going to give you a bit of leeway if you're having a wobble, but will allow for precise and fast energy transfer when you push it.
"You get bag loads of bang for your buck with the Union STR"
Both the highback and baseplate are Duraflex, which is designed especially for cold temperatures. Slight padding round the calf adds some extra comfort for those long days on the hill, and the EVA foam underfoot soaks up chatter and absorbs some shock from bigger landings.
The straps are cut out to save weight and to make them pliable. They'll form round the shape of your boots to ensure a tight fit.
The discs are compatible for channel, 4×4, and 4×2 insert patterns so you're about as versatile as they come. If you're looking for a nifty bit of gear that'll allow you to grow as a rider and can stand the test of the elements, then the STR is a good place to start looking.
The STR are a great value pair of All-Mountain bindings, having ridden the new Contact Pro and the Strata models, both more expensive, I can say the STR stands up well in comparison.
Very much a medium flex the STR sport a 6/10 base and 5/10 high back. For All-Mountain action they felt good in the right areas, carving felt controlled and responsive spearheaded by a good fitting highback, in the park the kickers and boxes felt pretty good, dampening landings well, these bindings are clearly made for abuse.
"The base really absorbed shocks well allowing a smooth comfortable ride even in challenging conditions"
Like all Union bindings, they felt bomb proof, very well made, nothing flimsy or half-assed. My boot fitted in very well, the straps are very comfortable and the ratchets latched on with confidence. No malfunctions, nothing came loose or caused any pitching. Adjustability is on point, I really dig the Union systems, no complaints in that department.
The base is the only major difference from their STR's more expensive family members. The board could feel a little absent underfoot and there seems to be a slightly unnatural flex between the board and the bindings. However, the base really absorbed shocks well allowing a smooth comfortable ride even in challenging conditions.
Overall, the STR are a great pair of bindings for Beginner all the way through to expert. They are very good value standing up to bindings of much higher price tags.
Related Articles
Newsletter Terms & Conditions
Please enter your email so we can keep you updated with news, features and the latest offers. If you are not interested you can unsubscribe at any time. We will never sell your data and you'll only get messages from us and our partners whose products and services we think you'll enjoy.
Read our full Privacy Policy as well as Terms & Conditions.
Cookies help us deliver our services. By using this website, you agree to our use of cookies. Learn More
Accept
production
Sours: https://whitelines.com/snowboard-gear/reviews/bindings/union-str-2019-2020.html
10641
10642
10643
10644
10645