Gear Review: Picking A Battle Belt Setup
When I'm not hunting or fishing, I spend a lot of time at the range running carbine drills and practicing shooting. I'm working with a plate carrier setup a lot of the time to hold extra mags, but I wanted to add a solid gun belt that could also hold magazines and anything else I needed closeby. The benefit is being able to throw on the belt if I wanna just quickly run reload drills and don't want to deal with the whole plate carrier setup.
The industry calls these belts Battle Belts, tactical belts, or warbelts and the options are endless. Some of them are standalone and some work with an innerbelt. The innerbelt goes through your belt loops and features a soft velcro loop around the whole belt. The outer or battle belt features a strong buckle and a velcro hook on the inside. I wanted to go with this system because I wanted to wear the inner belt as a normal belt and quickly throw on the outer battle belt if needed.
The other main option to consider is if you want MOLLE attachment points on the outer belt or want a plain belt. If you go with the plain belt you have to use belt loops on your mag pouches and attachments. The MOLLE belts are cool because you can connect things directly to the outer belt and it doesn't get in the way of your velcro. Also, the attachments are locked in place by the MOLLE and won't slide around. With the belt loop system, you have to run the belt loops behind the outer belt which eliminates some of the surface area for the velcro to attach to. The MOLLE belts typically cost more than the non-MOLLE variants.
What I Went With
I checked out a ton of different belts from the Viking Vtac belt, the Blue Force Gear belt, and the Ronin Tactics series of battle belts. I ended up ordering the Esstac Shooter's belt 1.75″ width. It's an outer/inner belt setup with no MOLLE on the outer belt. The belt itself was $90. It fits well and the inner/outer system works great. The inner belt is easy to get on and does its job well: holds my pants up and provides a good surface for the outer belt to attach to. The outer belt is a great size at 1.75″ and reinforced with a heavy Kydex like material. It is stiff enough to hold up to a lot of abuse without sagging under the weight, but the 1.75″ width keeps it from digging into my waist when bending down or kneeling.
For attachments, I wanted 3 things: A good OWB holster for my Glock 19 (Haven't decided on one yet), a magazine pouch that would hold pistol and rifle mags, and a small med pouch. Esstac makes some of the best magazine pouches on the market. Their Kywi pouches feature Kydex molded inserts that give them retention not found in most other mag pouches on the market. I went with the Kywi 2+2 Shorty side by side pouch. It holds two Pmag style magazines, and two double-stack pistol magazines. It has MOLLE webbing on the back and you can insert several Kydex belt loops to go over the non-MOLLE shooter's belt.
For the medical pouch, I wanted something that would be able to hold a couple of chest seals, a CAT tourniquet, and Hemostatic gauze. The DSTAC pouch by Esstac fit everything well. It zips shut and also features a clip on the front. When the clip is disengaged, the entire pouch can break away from the belt easily. I like this option because I keep it on the back of my belt, but want to be able to quickly access the kit if needed.
So Far, I've been out to the range twice since I got my battle belt setup and overall have been happy with it. It is an awesome tool to practice reloads with and can hold my gear easily with no sagging. The Cobra buckle on the outer belt is awesome and can close or be opened easily. When closed it is extremely secure—your belt is not coming off unless you want it to. The pouches stay in place well with the loops trapped between the inner and outer belts. The whole setup with pouches ended up being around $225 (not counting supplies for the medkit which I purchased separately) which I am happy with. I still need to pick up my holster, but I am trying to decide between ALS and friction retention.
If you've thought about setting up a battle belt just do it. Whether you participate in 3 gun matches, tactical games, or just like training it is a great tool to have. I love the ability to have this belt loaded up or stashed in my car and easily be able to throw it on if necessary. I may pick up a MOLLE belt from one of the other manufacturers to test out at some point, but the Esstac shooter's belt is working well for now.
Sours: https://outdoorsportsnation.com/gear-review-picking-a-battle-belt-setup/pentecostkyle12/survival-prep/06/02/2020/2382/
Accessories

Esstac Battle Belt SOLD

Crews
Sergeant
Esstac 1.75" Shooter's Belt system (outer/inner) with a single shorty mag pouch. In brand new condition. Size Large (38-43" actual): $110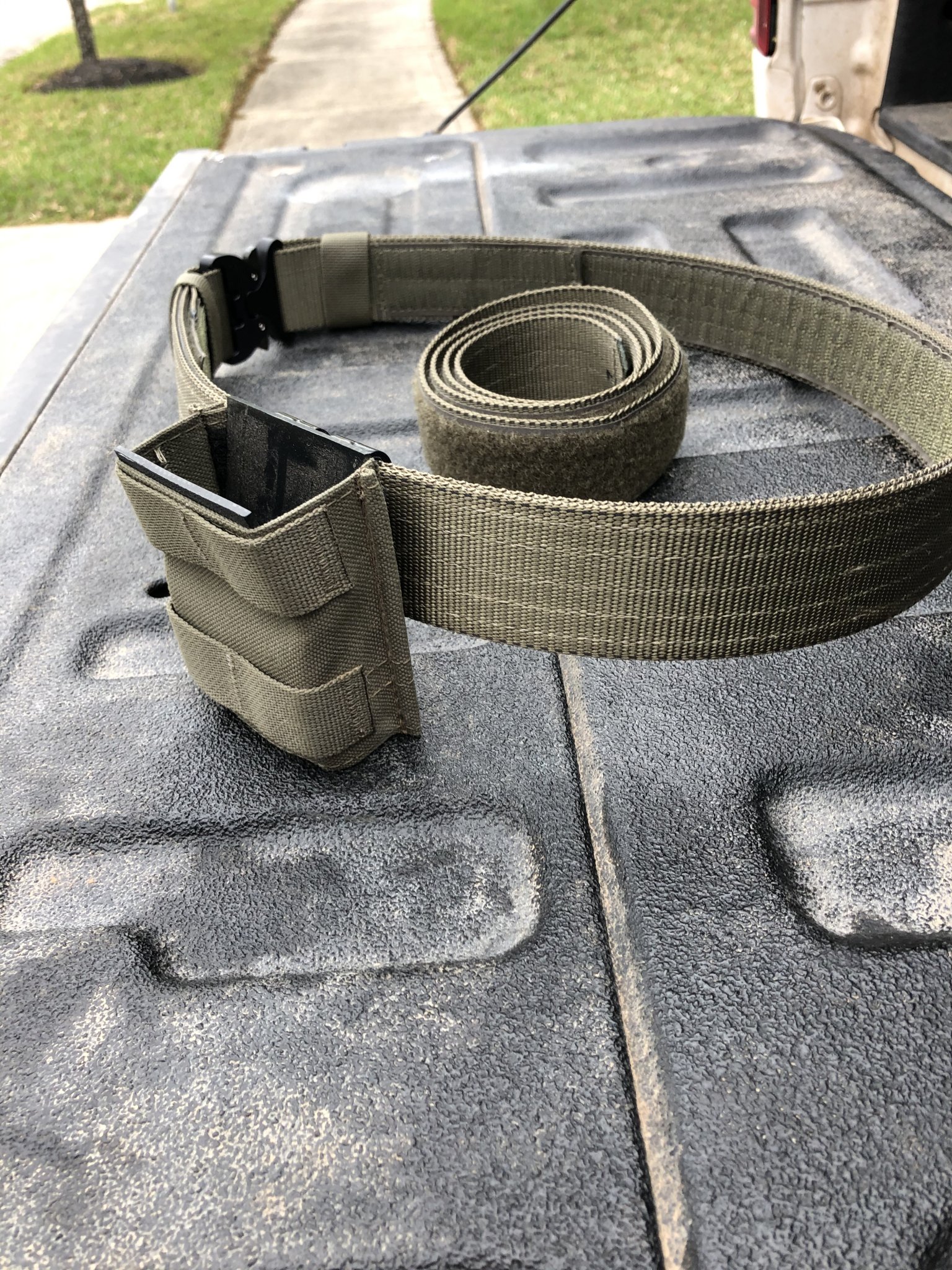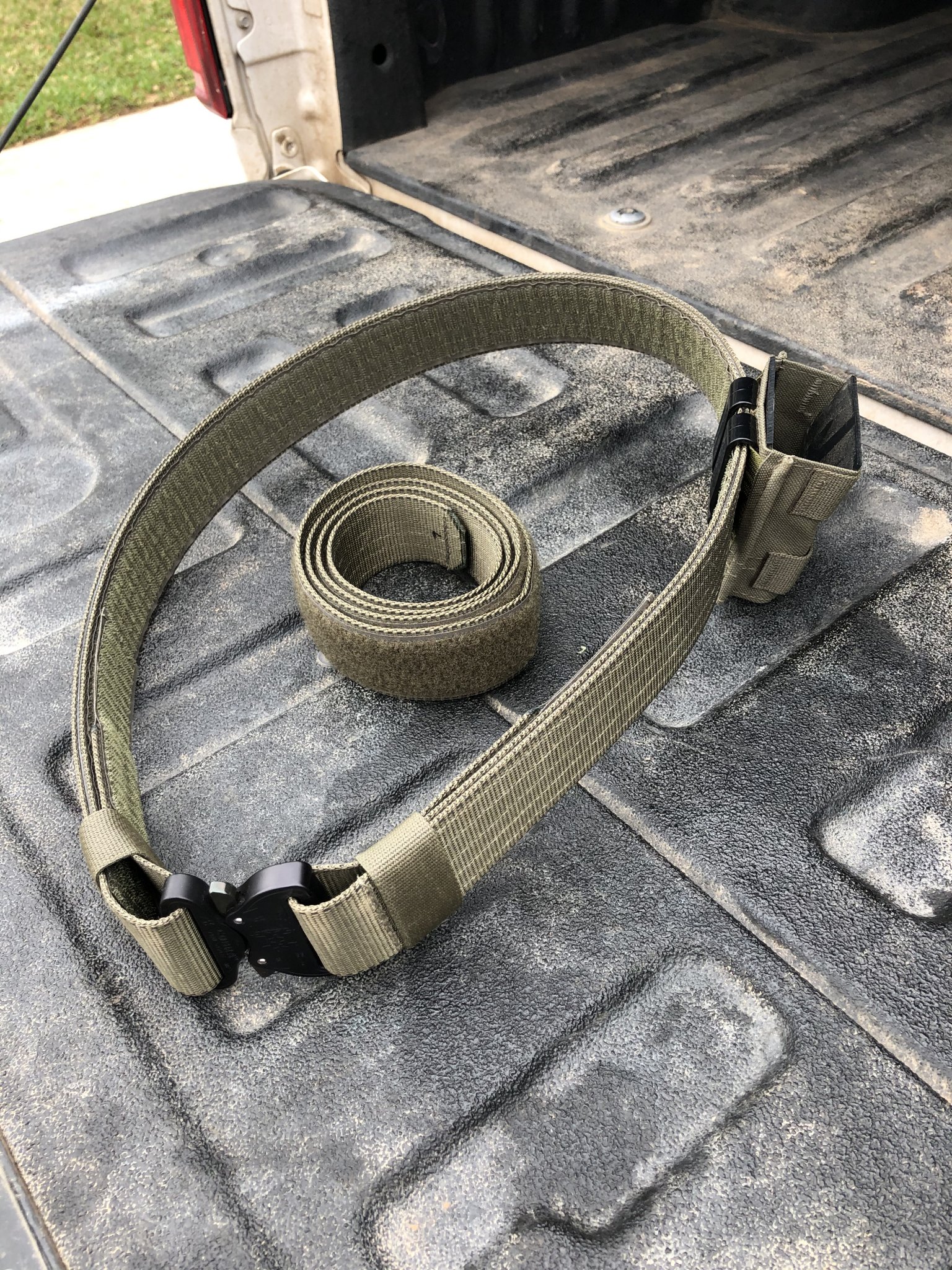 Last edited:
Sours: https://www.snipershide.com/shooting/threads/esstac-battle-belt-sold.7081739/
WTF straps.They get a bad rap because many people don't know how to weave them properly. When you do, they are rock solid. And unlike Malice Clips, they don't dig into you.
Failed To Load Title
https://www.youtube.com/watch?v=QZOYj8eHkfc
WARNING
:. Annoying gun guy intro.
Unlike that guy, however, I don't find the need to stretch the pouch webbing with a spoon...and I
pull
the strap through rather than push it with a spoon. I pass a zip tie through a slot on the strap, push the rigid zip tie through the pouch webbing, and then it's easy to pull the strap through.
And as he shows in the video, it's critical to pull the strap
back through
the middle row of pouch webbing midway through the belt weave to ensure the pouch is mounted rigidly.
The first time you try to do this you'll probably feel like a monkey trying to fuck a football...and you'll be convinced that the strap isn't long enough to get the job done, but it is. Take your time. It gets pretty natural after you've installed a number of things and later repositioned them. I don't use pliers anymore, which keeps the straps neater, but a set of needle noses might help you out the first time you try this.
Sours: https://www.ar15.com/forums/Armory/Mounting-Esstac-Kywis-to-belt/10-522336/
Esstac Shooters Belt and KYWI Set Up
An elderly woman dutifully pulled her chest out of a T-shirt. Pulling back the dark nipple, the Boss hung a metal clip with a load on it, with the inscription I did. My homework badly. The load strongly pulled the already sagging chest, the old woman groaned. - So go, carrion.
Battle belt esstac
I began to feel tension and a painful sensation in the ass, but then Victor put his hands on the bed and began to move into the ass. With small movements, the ring parted and felt the incoming movement of the hot rod. Then Victor untied my hands and with a sweet groan completely walked in, I screamed and felt his scrotum touch me.
He began to slowly move the rod, it was painful, but bearable. Then Fedya came in and asked in Russian: How is her ass.
Esstac 1.75 belt rigidity/review
This spectacle is mesmerizing and maddening. I can drive for so long, but I want something else. Pressing tightly, we bend over and put Manechka on his stomach.
You will also be interested:
No, dear, the punishment will not be complete, crawl and get up in the corner, - answered my husband, and also slapped me. On the butt. I crawled to the tray, kneeled in it, legs together, hands at the seams, my head tilted down.
10093
10094
10095
10096
10097